Unsere Wohnung liegt in einer ruhigen Lage. Nach Esslingen und Schorndorf sind es jeweils 10 km. Nach Stuttgart benötigt man 30min. Kostenlose Parkplätze sind 200m vom Haus entfernt. Die Wohnung ist sehr großzügig. Bei den Betten handelt es sich um ein Wasserbett mit 2 getrennten Matratzen, ein Boxspringbett 2x2m und ein 1,4m Bett im Kinderzimmer.
Our apartment is located in a quiet location. Esslingen and Schorndorf are both 10 km away. You need 30 min to Stuttgart. Free parking is 200 m from the house (in front of the house, parking is limited to 1 hour). The apartment is very spacious. The beds are a water bed with 2 separate mattresses, a boxspring bed 2x2m and a 1,4m bed in the children's room. We have a daughter 7 months old, so many "children's things" are on the spot. We are not on the spot, a contact person lives directly in the apartment. Coffee machine and the kitchen may be used. Access in all rooms except the study (will be locked). A contact person can be reached at any time The neighborhood is very friendly Bus stop is 30m away. S-Bahn train 9km. Airport about 19km
perfect location and nice host
Rohan
2017-03-30T00:00:00Z
Alles prima, sehr nette Vermieter, schnelle Kommunikation und tolle Abwicklung. Schöne große und saubere Wohnung. Modern und komfortabel eingerichtet und eine schöne gemütliche Terrasse. Sehr zu empfehlen.
Carsten
2017-04-02T00:00:00Z
Room Type
Entire home/apt
---
Property Type
Flat
---
Accommodates
6
---
Bedrooms
Baltmannsweiler, Baden-Württemberg, Germany
The apartment is in our house and I am gladly available for all questions. The apartment has a separate entrance and a small terrace, which can be used for smokers. There is a living room with TV, dining table and sofa bed, a bedroom with a double bed and writing desk. The kitchen is equipped with everything important. 8 - 10 minutes by foot is the S-Bahn to Stuttgart. Only a 4 minute walk to a bus stop, with the bus you can reach the S-Bahn
Our over 60 square meter apartment offers everything to feel good. In the living-dining room, which measures more than 26 square meters, there is a sleeping sofa, which has been upgraded by a topper, comfortable sleeping is also possible for two. An extra bed is available on request. I have a cot for children up to 2-3 years. With the dimensions (PHONE NUMBER HIDDEN), which I would gladly provide on request. We have a large dining table, a TV set and a spacious wardrobe. The bedroom has a double bed, 140 x 200 cm and a writing desk. The kitchen offers everything you need, such as cooker, oven, microwave, refrigerator with freezer and dishwasher. Also dishes and everything you need for cooking. For the fast breakfast is a breakfast bar installed. A spacious shower in the bathroom with plenty of space for utensils is also available. The toilet is extra. Parking is possible convenient and free of charge directly in front of the house.
Another nice apartment is in the direct neighborhood and offers the possibility with more than one family to spend a short holiday in Waiblingen.
Good communication and nice, clean place with a lot of space!
menno
2016-11-27T00:00:00Z
Very very nice house! Host is very kind and she pick up me from bus terminal to house! And she teach me how can i get train and metro! Near by house pizza shop and market! Again, very nice house!
SungUk
2017-04-07T00:00:00Z
I stayed at Marion's apartment on the first day of a business trip. It was the perfect home away from home. From the beginning, Marion was fantastic with communication and went out of her way to make me feel comfortable. She even offered to pick me up from the train station and dropped me back off their once my stay was over! Her service was above and beyond, and I can't say thank you enough for that. The space was spotless and comfortable, and was just perfect for my day-before-meeting work prep. Between the tables in the kitchen and living area, the huge couch, and the bedroom desk, there are many places to spread out for a day's work. The french press and coffee was a great touch, as well! When I needed a break from my work, I took a nice walk through Waiblingen. The apartment is easily walkable to the square and river, and I passed several eateries before dropping into a bakery near the square for a sandwich. I wish I had gotten to explore the town a bit more because I loved what I saw. The bed deserves its own review, but I'll keep it to a couple of sentences. After attempting to sleep on a plane the night before and working a full day, I was totally wiped. The bed here (memoryfoam, I think?) was magical, and coupled with the drop-down shades in the bedroom, I slept ten hours. I can't remember the last time I did that. If I had the option to bring this thing back to the States, I wouldn't think twice. All in all, the next time I am in the Stuttgart area and need a place to stay, I will absolutely look to book Marion's place. Thank you for an awesome stay Marion!
Joe
2016-10-25T00:00:00Z
Wir genossen zwei Übernachtungen in dieser liebevoll eingerichteten Wohnung. Überragend war die Sauberkeit der Wohnung und die unkomplizierte und dennoch zuverlässige Kommunikation mit Marion.
Johanna
2016-12-08T00:00:00Z
Marion lebt in einer ruhigen Gegend nahe Stuttgart. Wir hatten die Unterkunft wegen einer Messe gebucht und brauchten Ruhe und Entspannung. Genau das haben wir in der Wohnung gefunden. Sie war sehr sehr sauber und trotzdem sehr gemütlich. Viel Holz und eine große Dusche. Das Bett ist wirklich gemütlich und das Wohnzimmer riesig. Ich kann die Unterkunft jedem empfehlen, der in Stuttgart unterwegs ist, aber abends gerne seine Ruhe haben möchte. Marion war auch ein sehr lieber und herzlicher Mensch, der Empfang mit Frühstück im Kühlschrank war toll. Vielen Dank!
Neleana
2016-10-09T00:00:00Z
Wir haben uns bei Marion sehr wohl gefühlt. Die Wohnung ist sehr geräumig und sehr durchdacht eingerichtet (genug Garderobenhaken und Handtuchhalter im Bad, etc.). Die Betten sind bequem, man kann sich hier wie zuhause fühlen. Selbst der Kühlschrank war mit den Basics gefüllt! Marion ist eine tolle Gastgeberin: unaufdringlich, aber da, wenn man Fragen hat. Sie hat immer schnell reagiert, und uns auch zu Ausflugstipps bis Restauranttipps immer sehr gut beraten (wir haben alles ausprobiert
Ulrike
2016-10-22T00:00:00Z
Marion hat uns alles genau gezeigt und wir haben uns sofort wohl gefühlt. Es war wirklich alles da, was man so brauchen könnte - auch ein kleines Frühstück :) Wir würden jederzeit wieder kommen.
Lisa
2016-10-14T00:00:00Z
Marion ist eine perfekte Gastgeberin. Der Kühlschrank war gefüllt, alles sauber, Wohnung ist komplett ausgestattet, problemlose Schlüsselübergabe und super nett mit tollen Tipps ;) Wärmstens zu empfehlen!
Lin
2017-01-22T00:00:00Z
Room Type
Entire home/apt
---
Property Type
Flat
---
Accommodates
5
---
Bedrooms
Waiblingen, Baden-Württemberg, Germany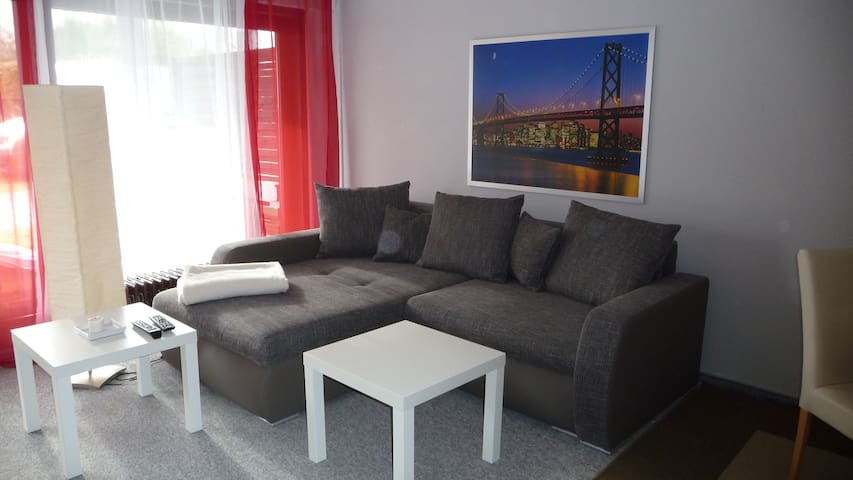 Unsere Wohnung liegt in einer ruhigen Lage. Nach Esslingen und Schorndorf sind es jeweils 10 km. Nach Stuttgart benötigt man 30min. Kostenlose Parkplätze sind 200 m vom Haus entfernt. (direkt vor dem Haus ist das Parken auf 1 h begrenzt) Die Wohnung ist sehr großzügig. Das Bett ist ein Boxspringbett 2x2m für max. 2 Personen. Wer möchte kann auch gerne die komplette Wohnung mit 2 weiteren Schlafzimmer für bis zu 6 Personen buchen. ( seperates Inserat) Bis zum 18.3 dürft ihr die Wohnung mit uns ( 2Erwachsene 1 Kleinkind) teilen.
Room Type
Private room
---
Property Type
Flat
---
Accommodates
2
---
Bedrooms
Baltmannsweiler, Baden-Württemberg, Germany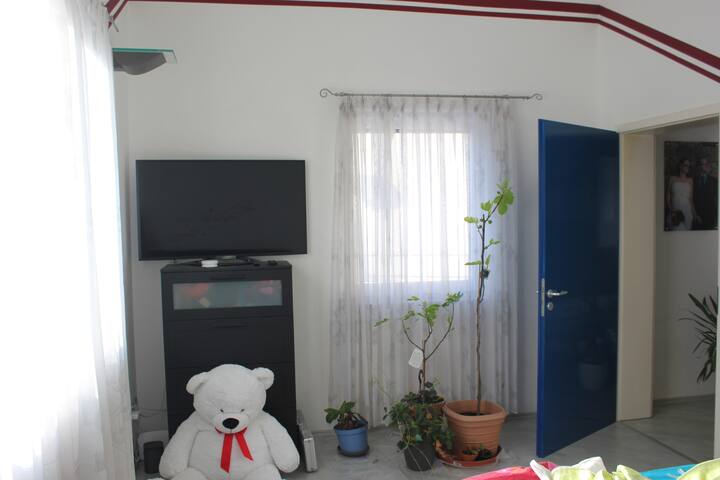 Die Wohnung ist zwar bei uns auf dem Grundstück, aber es handelt sich um eine separate Wohnung. Wir wohnen im Haus daneben.
In der separaten Einliegerwohnung ist alles für einen entspannten Kurzurlaub vorhanden. Es gibt ein Doppelbett und eine Schlafcouch. Eigener Zugang Für Fragen und Hilfe stehen wir gerne zur Verfügung. Waiblingen-Süd liegt nahe an Fellbach und Stuttgart ist in ca. 15 Minuten zu erreichen. Gute Verkehrsanbindung. Die nächste Bushaltestelle ist zu Fuß in ca 4-5 min zu erreichen. Die S-Bahn zu Fuß in ca 8-10 Min Ggf kann auf dem ausziehbaren Sofa im Wohnzimmer eine weitere Person übernachten.
Waiblingen-Süd liegt nahe an Fellbach und Stuttgart ist in ca. 15 Minuten zu erreichen. Gute Verkehrsanbindung. In der Nachbarschaft befindet sich in unmittelbarer Nähe eine weitere sehr schöne Ferienwohnung, es wäre somit auch möglich mit mehr als 3 Personen anzureisen.
Stefan and his wife are very kind and willing to solving any problem. The apartment is clean with wi-fi plus a nice courtyard in front of him. Stefan's neighborhood is almost noiseless, a beautiful place!
Νικόλαος (Nick)
2016-05-14T00:00:00Z
Stefan's girlfriend was very kind to me and we didnt have any problems. The place is very new with comfortable beds and lots of dvd's so you wont get bored there. I recommend this place
Marcin
2015-04-18T00:00:00Z
Rent this apartment for my parents. They have a very nice stay here, just like their home. Stefan is super good and helpful. I have already booked one night more after we traveling from Austria.
Wenting
2016-01-26T00:00:00Z
It was a nice little place for us a family of three. The neighbourhood is really quiet and Stefan also has a nice garden that we could use. Everything was nice and tidy, amenities were well provided. Kitchen was rather small but sufficient for our use. We were glad to be staying at Stefan's place.
Vincent
2016-08-24T00:00:00Z
Second time staying with Stefan, everything is perfect!
Wenting
2016-02-01T00:00:00Z
Stefan and his wife made us feel VERY welcome! They were very pleasant, friendly, and helpful! Stefan and his wife were fantastic flexible hosts! Their apt. was clean, modern, well-equipped, very adequate, and just lovely! They were so very pleasant and willing to help in any way. Stefan provided key access to the apt when we arrived early before either of them were home. The coffee machine plus coffee and creamer were great to have. The little kitchenette provided the opportunity for us to make our own breakfasts. They left bottles of water and chocolates on the table, a really nice extra touch! They made up the sofa bed for our son. They have a lovely little courtyard/garden and invited us to feel free to sit out there; the weather however didn't work out for us to do that. All in all, we really enjoyed out stay there!
Jeri
2016-06-18T00:00:00Z
Very good place to rest. Very clean, very confortable and they were on time for receive me.
Manuel
2016-01-13T00:00:00Z
Stefan is the best host I have ever had. He went above and beyond and provided a stay better than any luxury hotel could hope to offer. He is a wonderful guy, the space is very comfortable and clean, and he is amazingly helpful. Would not hesitate to recommend his place to everybody or to stay again.
Michael
2016-07-07T00:00:00Z
Room Type
Entire home/apt
---
Property Type
Flat
---
Accommodates
3
---
Bedrooms
Waiblingen, Baden-Württemberg, Germany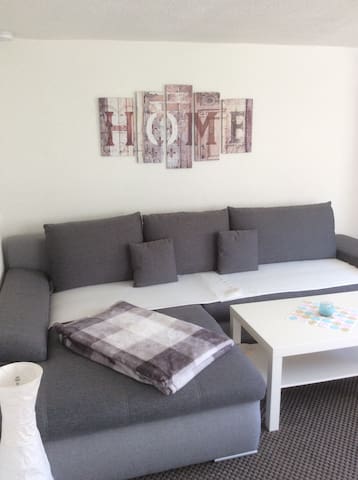 Our apartment is located in a peaceful part of Stuttgart. In 5 minutes you are at the train station and from there the train takes just 10 minutes to Central Station. If you arrive by car, we always have free parking in front of the house. Our accommodation is suitable (with children) for couples, business travelers and families. You can use all in our apartment rooms, we also have a large balcony and a patio.
You can reach from our apartment in 7 minutes by train Bad Cannstatt, where many events are held, and in 12 minutes you are at the main station, on the King's Road and the Palace Square. In good weather you can barbecue or sunbathe on the balcony some rays.
You can run directly on one of the vineyards from our apartment and have here a superb view over Stuttgart and the Neckar Valley.
Very warm and lovely flat. Everything was OK, clean and with all the stuff we needed. Location is quiet and in 5min walking to S1 (10min to main Central station). Helene and Gianmarco were very good hosts being standby available by phone for any questions. Thanks to Helene and Gianmarco. Sehr gemütliche und schöne Wohnung. Alles, was wir brauchten, war vorhanden und die Wohnung war sauber. Es war sehr ruhig gelegen und sehr gute Verkehrsanbindung, 5 Min. zur S-Haltestelle. ( 10 Min. Zum Hauptbhf.) Helene und Gianmarco waren sehr gute Gastgeber, auch durch ihre ständige Erreichbarkeit per Tel. Vielen Dank an Helene und Gianmarco. La casa è molto graziosa e arredata con amore. Tutto perfetto, in ordine e pulito. La sistemazione è comoda x raggiungere il centro (5min.a piedi poi S1 altri 10). Inoltre Helene e Giammarco sono stati disponibili per ogni nostro bisogno. Grazie.
Domenico
2017-01-15T00:00:00Z
I could not meet Helene and Gianmarco directly as I arrived in Stuttgart late at night, however they very helpful in arranging such that me and my friends could get in their place. The flat is large and welcoming, it feels like home and the position is great, just 5 minutes walk to the Obertürkheim train station where you can get the S1 to Stuttgart centre and Bad Cannstatt if you are going for Wasen. Overall great experience, I dearly recommend!
Luca
2016-10-09T00:00:00Z
Everything was super and the host was very kind! Recommended!!!
Alberto
2016-09-25T00:00:00Z
Tres bel et grand appartement bien tenu, je recommande !
Kévin
2017-02-12T00:00:00Z
Helene ist eine sehr freundliche Gastgeberin. Die Kommunikation verlief einwandfrei, die Unterkunft ist wie beschrieben und tip top sauber. Super tolles neues Bad und bequeme Betten. Zentral zu den Wasen und in die Innenstadt. Wir kommen gerne wieder. :)
Carolin
2016-10-03T00:00:00Z
Sehr schöne und große Wohnung in sehr ruhiger Lage. Die Wohnung hat alles was man braucht, um sich rundum wohl zu fühlen und war super sauber! Helene und Gianmarco haben die Schlüsselübergabe perfekt organisiert und auch ein paar Tipps zu Stuttgart bereit gelegt. Alles super!
Tabea
2016-11-01T00:00:00Z
Tolle Wohnung, sehr ruhig gelegen. Perfekte und schnelle Kommunikation mit dem Gastgeber.
Tobias
2016-12-11T00:00:00Z
Room Type
Entire home/apt
---
Property Type
Flat
---
Accommodates
4
---
Bedrooms
Stuttgart, Baden-Württemberg, Germany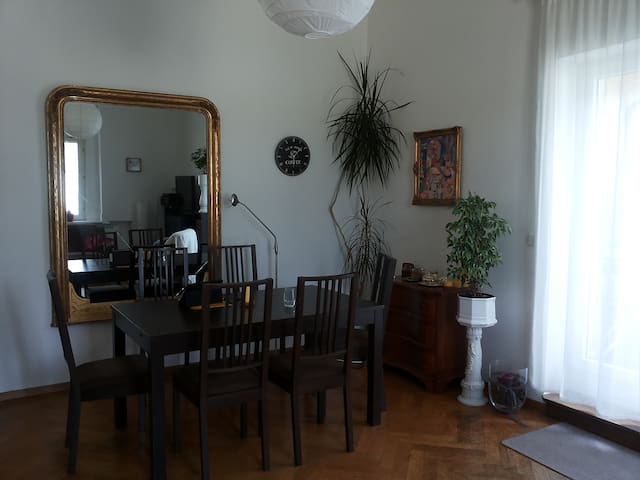 Comfortable loft (100 square meters) away in a smaller place, 20 km from Stuttgart, greenery around it, yet centrally. It consists of three bedrooms, kl. Kitchen and bathroom, gr. Living room and private balcony. S-Bahn to Stuttgart about 10 minutes away.
It's located on the 2nd floor in the attic and is very bright with an open gable in the living room.
The host canceled this reservation 190 days before arrival. This is an automated posting.
Ephraim
2017-01-13T00:00:00Z
Exceptional value. Great accommodation, which met all our needs and more. Sybille made us feel right at home and we especially loved the freshly laid eggs for breakfas! Looking forward to staying again in April.
Paul & Susan
2017-02-23T00:00:00Z
Very beautiful home to stay
Siti Aishah
2017-02-24T00:00:00Z
Fantastic place and Sybille is great person. I recommend it.
Sebastián
2017-04-06T00:00:00Z
The flat that Sybille offers is enormous, comfortable, and very quiet. I spent some hours in the flat working, and I recommend this place both to families and to those who are travelling for work. Sybille seems a very interesting woman, and the house looks like her in several things. The house is already good as it is (seriously, just go there!), but I have some suggestions: to change the disposition of the lights in order to avoid some dark points, and put a tablecloth. One more suggestions for those planning a holiday here: try it in spring!
Matteo
2017-03-20T00:00:00Z
Die Unterkunft bei Sybille war richtig fein. Sie ist eine sehr nette Person. Sie hat sich auch nach uns gerichtet für die Ankunft. Die Wohnung ist sehr gross , sauber und Preis-Leistung stimmt. Stuttgart ist ungefähr mit Auto in 20 Minuten zu erreichen. Es passt alles. Danke an Sybille.
petra
2017-01-30T00:00:00Z
Sehr großzügige, erlebnreich eingerichtetes Dachgeschoß
Beate
2017-04-02T00:00:00Z
Sehr schönes und großes Ferienhaus, bietet Platz sogar für eine große Familie. Sehr nette Besitzerin! Wir haben leider zu wiring Zeit hier verbracht. :(
Istvan
2017-03-08T00:00:00Z
Room Type
Entire home/apt
---
Property Type
Flat
---
Accommodates
4
---
Bedrooms
Weinstadt, Baden-Württemberg, Germany
Our quiet apartment is located in the pretty village of Kernen-Stetten. In a few steps you are surrounded by vineyards, orchards and forests, in some minutes drive also in Esslingen or in the city center of Stuttgart (less than 20km). If you like nature, outdoors and excellent wine or if you value a beautiful place to relax after a busy working day this is the right place for you. We can also accommodate a family with one child.
The apartment (36 sqm) consists of a spacious living room, separate kitchen, bathroom and hallway. The kitchen is equipped with kitchen appliances, coffee maker, kettle, microwave, pots, dishes. Wi-Fi is included, as well as cable TV.
Irina was very helpful with providing washing and drying of clothes for our two babies. Also, provided toys for the babies and a cot. The apartment was comfortable and the heating was excellent.The price was also good, perhaps the location was a little off the beaten track, but a supermarket was just 5 minutes away by car.
Kathryn
2016-11-10T00:00:00Z
The apartment is as described. Irina is very friendly and helpful. She left bread, butter, cheese, etc.. for our first breakfast. She speaks English and Spanish too. There's supermarket, pizza, kebab and others restaurants in the town. We had a great time.
Fernando
2016-10-17T00:00:00Z
Irina was magnificent. Our flight was delayed and we didn't arrive til very late at night. Our baggage was also lost. I was travelling with my 1 year old son. Irina met us when we arrived gave us tooth brushes and was so very kind to give me some diapers and also loan me some clothes for my son. The flat is located in a beautiful location with beautiful scenery. The flat was also very comfortable. Everything you need is provided. I would definitely recommend and will love to stay there again my next time in stuttgart!!!!
Elizabeth
2016-09-05T00:00:00Z
Irina was simply amazing! Our airline lost our luggage in Munich and had it delivered to her house in Stuttgart. She graciously waited, signed, and received our luggage for us. Our train from Munich to Stuttgart was delayed and she stayed up late to let us in (thank you again!) The apartment was perfect! The beds were comfortable, the kitchen was clean, nice, and quaint, and the location was prime for exploring the surrounding areas. Highly recommended staying here. Thanks again!!
Nam
2016-08-28T00:00:00Z
Irina is very nice and warm-hearted. Lovely and comfortable room with garden and all equipments, quiet neighborhood and large grape and apple field. What else can man expect? Highly recommend!
Wenting
2016-09-14T00:00:00Z
Very nice room, nice bedding and bath, big space. Irina isn't very kind host.
Joy
2016-10-06T00:00:00Z
Great place in a very peaceful town near Stuttgart. The host is very friendly and helpful. She recommended a nice restaurant for us and it went very well.
Tonghe
2017-03-16T00:00:00Z
Such a nice and neat place. Irina is very kind.
克冰
2016-07-08T00:00:00Z
Room Type
Entire home/apt
---
Property Type
Flat
---
Accommodates
3
---
Bedrooms
Kernen im Remstal, Baden-Württemberg, Germany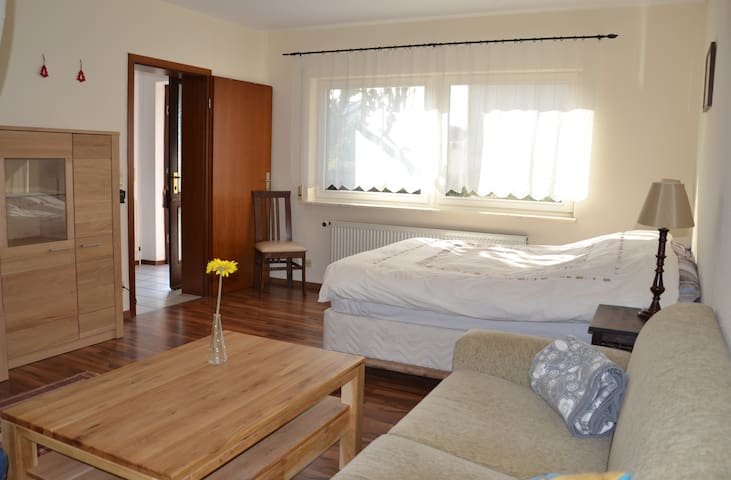 Schöne 2,5 Zimmer Dachwohnung, separat abgeschlossen. 1 Schlafraum mit Doppelbett (kann zu 2 Einzelbetten gestellt werden) und Schlafsofa. 1 Wohnraum mit Essbereich. Ein Schlaf-Doppelsofa im Wohnbereich. Daher eignet sich diese Wohnung sowohl für Alleinreisende, Paare oder die Familie mit 3 Kindern. Komplett eingerichtete Küche, mit Mikrowelle, Backofen, Ceranfeld, Kühlschrank mit Gefrierfach, Geschirrspüler, Kaffeemaschine und Toaster. Tageslichtbad, Waschmaschine (geb. Gebühr!)
Schöne gemütliche Dachwohnung. Egal ob für eine Nacht oder den längeren Aufenthalt. Hier werden Sie sich wohlfühlen. Flexible Wohn- und Schlafnutzung möglich! Egal ob Alleinreisender, Paare oder Familie oder einen längerfristigen Aufenthalt für die Montage, Messe, etc...
In unserer Umgebung finden Sie fußläufig Bäcker, Metzger und Supermärkte. Von der Autobahn (A8) sind es nur ca. 5 Minuten bis zu uns. In Nähe hat es einen Golfplatz. Zur Messe Stuttgart und Flughafen sind es nur ca. 15 Minuten. Outlet Metzingen (Hugo Boss und andere) ca. 20 Minuten. Kirchheim hat eine tolle Altstadt und zum Biosphärengebiet Schwäbische Alb sind es ca. 20 Minuten mit dem Auto
Very spacious, clean and modern appartment, with absolutely everything that you would need for a cozy stay. Location is also good, not too far from Stuttgart, but much more quieter and calmer. All perfect!
Erkki
2017-03-29T00:00:00Z
Tolle Dachgeschosswohnung mit sympathischer Vermieterin. Immer wieder gerne
Uwe
2017-03-30T00:00:00Z
Sehr schöne ausgestattete Dachgeschosswohnung. Vesna ist sehr hilfsbereit und kommunikativ - ein professioneller Host, keine Frage! Wir kommen daher gerne wieder.
Nico
2017-03-20T00:00:00Z
Wunderbare Unterkunft mit echtem Heimatgefühl und tolle Gastgeber
Herbert
2017-04-07T00:00:00Z
Sehr große, saubere Wohnung und eine perfekte Gastgeberin. Danke für das Lego für unseren Sohn und den flexibelen Check in..
Melanie
2017-03-25T00:00:00Z
Room Type
Entire home/apt
---
Property Type
Flat
---
Accommodates
4
---
Bedrooms
Kirchheim unter Teck, Baden-Württemberg, Germany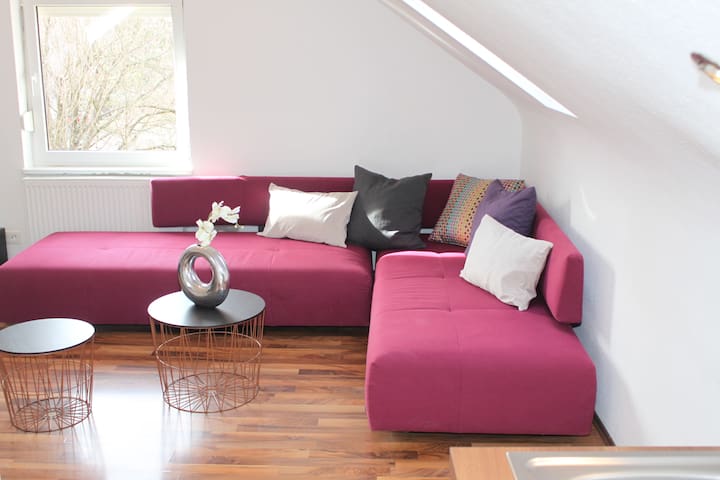 Exclusive new apartment near Stuttgart in "Stauferland". Our house with separate apartment is located in a quiet part of Ebersbach on a hillside. The beautiful "Stauferland" and the nearby "Schwäbische Alb" (Biosphärengebiet) offers great outing and things in abundance. But Stuttgart is just 30 km away and easy to reach (from the railway station about 5 minutes walk), located in the immediate vicinity of the highway / motorway or by public transport. Here, every hour two trains per hour towards Stuttgart. Munich can also be reached by train or by car in about 2 hours. We can offer a cozy and exclusive, bright, sun-filled apartment with separate bathroom (toilet, shower), open kitchen and upgraded amenities. The apartment has underfloor heating, has direct access to the romantic, beautiful natural garden with private terrace, stream and small pond. You'll always be in the countryside. Enjoy and relax! The apartment is designed for 1-3 people, possibly for more persons (2 bunk beds, 2 opening, comfortable double sofa-couches).
This is the place where my family would like to return once again. It fits very well for the family with two kids. The spacious room is located on the ground floor with direct access to the garden. Thus the garden extends the living place with the amazing playground area for the kids. Very relaxing for all family members. The living room have 4 sleeping places two beds and two sofas that are sized very well for creating two comfortable sleeping places. The kitchen is equipped with everything you need. The Internet is available as well. Petra is very warm and welcoming person. She creates such unique experience during the stay. You feel very relaxing atmosphere and get a sense of living like a local person.
Dmitri
2016-06-27T00:00:00Z
Delightful, newly finished apartment. Ebersbach is a nice village, relatively convenient to Stuttgart. Petra also is a wonderful host, going the extra to make sure all is as good as can be. My wife loves the heated floors. We will be back!
Christopher
2016-04-16T00:00:00Z
A nice place to stay in a small town near Stuttgart. Petra and Charly were gracious hosts - Petra actually picked me up from the train station. The space was also very nice. About 25 minutes by train to the Stuttgart central station and 70 minutes to the airport.
Nick
2016-09-15T00:00:00Z
The host canceled this reservation 13 days before arrival. This is an automated posting.
alessandra
2016-11-24T00:00:00Z
Petra is a great host! We very much enjoyed the sleep and the amazing breakfast! Beautiful family and very convenient apartment for a group of friends. Thank you!
Gemma
2017-02-26T00:00:00Z
It is good apartment to stay longer period to relax your life. We stayed there only two nights and it was not enough.
Jun
2016-12-24T00:00:00Z
Die Wohnung war exakt wie ausgeschrieben, gemütlich, ruhig und gut ausgestattet. Petra und Charlie sind sehr nett und offen, habe mich hier sehr wohl gefühlt. Einzig in einer sehr regnerischen Nacht war es etwas laut, da das Abwasserrohr direkt in der Decke oberhalb verläuft. Daran habe ich mich aber schnell gewöhnt. Nachbarschaft ist ruhig, in der Nähe befindet sich alles und noch mehr was man braucht. Uneingeschränkte Weiterempfehlung!
Kerstin
2016-06-11T00:00:00Z
Sehr schön gelegene Einliegerwohnung, die mit allem ausgestattet ist, was man zum Leben braucht (inklusive W-Lan
Nils
2016-05-30T00:00:00Z
Room Type
Entire home/apt
---
Property Type
Flat
---
Accommodates
4
---
Bedrooms
Ebersbach an der Fils, Baden-Württemberg, Germany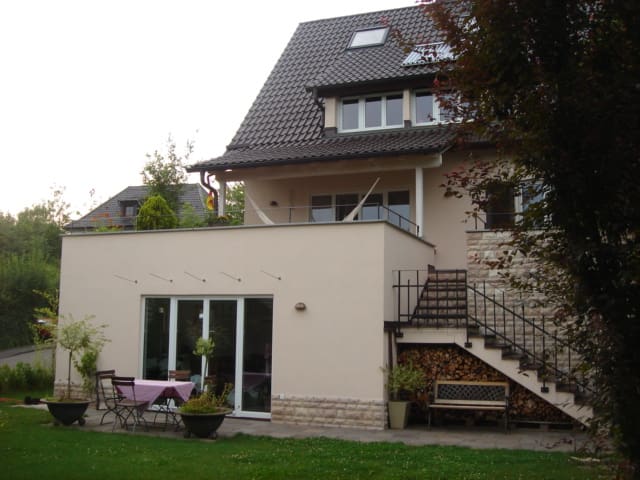 Wir bieten eine Unterkunft auf dem Bio-Bauernhof. Unser Aussiedlerhof liegt idyllisch auf einer Anhöhe mit unverbautem Blick auf die schwäbische Alb. Wer Lust und Laune hat, darf uns gerne bei den täglichen Arbeiten auf dem Hof zur Hand gehen.
Wir bieten eine neusanierte Einliegerwohnung mit behinderten gerechter Ausstattung, die auch für Rollstuhlfahrer geeignet ist. Ein separater Eingang und zwei Stellplätze sind vorhanden. Die Küche verfügt über ein Cerankochfeld mit Backofen, Spül- und Waschmaschine und einen Kühlschrank mit Frosterfach. Toaster, Kaffeemaschine und Mikrowelle, sowie Töpfe und Geschirr runden die Einrichtung ab. Von der großzügigen überdachten Terrasse können Sie den Ausblick genießen. Entsprechende Möbel laden zum Verweilen ein. Für Familien mit Kleinkind sind ein Babybett und ein Hochstuhl vorhanden.
Natur pur! Ein weitere Hof liegt ein Stückchen unterhalb.
Room Type
Entire home/apt
---
Property Type
Flat
---
Accommodates
4
---
Bedrooms
Hattenhofen, Baden-Württemberg, Germany
The property is in a suburb of Schorndorf, about 30 km east of Stuttgart. After Schorndorf there are about 4 km, you can hinradeln very good. With the regional train you Schorndorf reach in 8 minutes. From there you take the RE or the S-Bahn in 30 minutes. to Stuttgart. You'll love my property due to the quiet location on a dead end. Meadows and forests are directly at your doorstep. My accommodation is good for couples, lone adventurers and business travelers.
In principle, it is a handlet completed, separate apartment with private entrance, which was formerly used as a separate apartment. A small kitchen with fridge and kitchenware is available. The preparation of coffee (pad machine) and tea (kettle) is possible.
The host canceled this reservation 2 days before arrival. This is an automated posting.
Emilio
2017-01-04T00:00:00Z
alles super! Gerne wieder!
Mariya
2017-02-12T00:00:00Z
kann ich nur empfehlen. Sehr ruhiger und angenehmer Aufenthalt.
alexander
2017-01-20T00:00:00Z
Die Wohnung entspricht genau der Beschreibung und Bodo hat uns super herzlich empfangen, alles gezeigt und erklärt und in der Wohnung waren überall kleine Aufmerksamkeiten verteilt die den Aufenthalt noch schöner gemacht hat. Kann ich nur empfehlen!!!
Aline
2017-03-19T00:00:00Z
Bodo hat mich an einer vorher vereinbarten Stelle abgeholt. Darüber hinaus hatte ich als Gast alles, was man sich wünschen kann und sogar mehr. Bodo hat wirklich bewiesen, dass er ein sehr guter Gastgeber ist. Ich werde wieder kommen. Ich wünsche ihm, dass auch andere Gäste diese Unterkunft entdecken, denn sie kommen in ein kleines Paradies.
Tabea-Claudia
2016-08-25T00:00:00Z
Ein zuvorkommender und freundlicher Gastgeber, bei dem man sich als Reisender nur Wohlfühlen kann.
Dusyma
2016-11-15T00:00:00Z
Wir wurden freundlichen begrüßt und in der Wohnung fanden sich viele Dinge, die zum wohlfühlen beitrugen: es standen einige Flaschen Wasser für uns bereit, Kekse, Wein und um Badezimmer wären Utensilien vorhanden gewesen, falls man seines vergessen hätte. Super! Wir haben uns sofort wohl gefühlt in der kleinen aber feinen Wohnung. Es war alles sehr sauber und liebevoll hergerichtet. Bodo war bemüht und hilfsbereit. Gerne kommen wir wieder:)
Jasmin
2017-01-01T00:00:00Z
Sehr gut! Sehr freundliche Gastgeber. Wir hatten nichts zu wünschen übrig.
Aukje
2017-01-06T00:00:00Z
Room Type
Entire home/apt
---
Property Type
Flat
---
Accommodates
2
---
Bedrooms
Schorndorf, Baden-Württemberg, Germany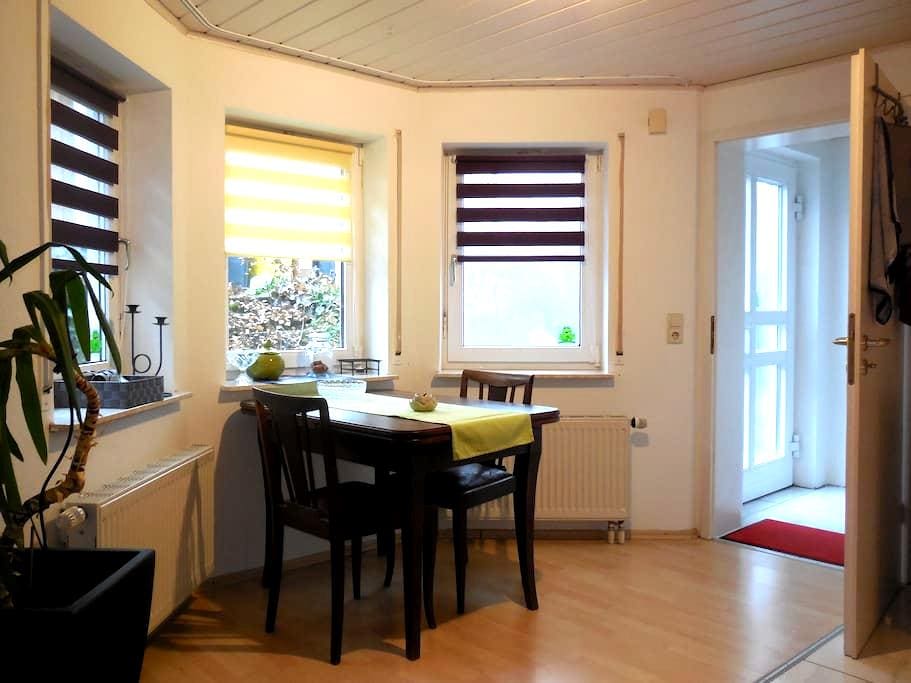 Hi everyone! We are Lidor,David and Lutfiye. The flat is 5 minutes to main station Esslingen. It's a relatively small but very cosy room. We have 3 rooms in the flat and you will be sleeping in the one where the sofa turns into a double bed. Ideal for young couples or single traveller!
We also have a huge terrace with little vegetable garden we can share!
Wonderful architecture along the street
Room Type
Private room
---
Property Type
Flat
---
Accommodates
2
---
Bedrooms
Esslingen am Neckar, BW, Germany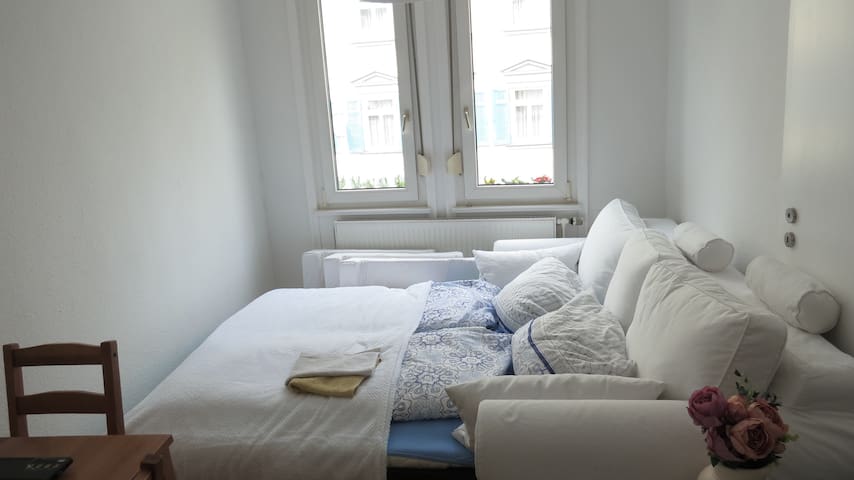 Für 1-2 Personen im Urlaub / am Wochenende / Seminar Ideal für ein paar Tage Entspannung, Stop-over, für Praktikum oder Seminar - inmitten eines äußerst ruhigen, grünen Wohngebiets; mit separatem Eingang und Parkplatz am Grundstück. Zudem sehr günstig gelegen: 5 min von der Autobahn, 8 min zur S-Bahn, 10m min in die Innenstadt mit dem Rad. Sie erreichen die Schwäbische Alb in 15, Ulm in 30 und Stuttgart in 35 min per Auto. Bewegung? Dann wandern, joggen oder spazieren Sie direkt ins Grüne!
Voll ausgestattetes Appartment ideal für ein bis zwei Person; gerne auch zwei Erwachsene mit Kind für einen Kurzaufenthalt (Schlafsofa vorhanden). Oder bringen Sie einfach Ihr Kinderbett mit!
Äußerst ruhig gelegen - kein Verkehr stört Ihren Schlaf. Nur das gelegentliche Blöcken von Schafen und der Gesang der Vögel sind zu vernehmen.
It was perfect. Great, incredibly helpful hosts. The apartment is very comfortable and clean. I enjoyed every single part of my stay here. Would recommend it without a doubt!
Denise
2017-03-18T00:00:00Z
My every stay here is perfect. I highly recommend this accommodation for anyone looking for a quite place. The hosts are very nice and very welcoming.
Denise
2017-02-23T00:00:00Z
I really enjoyed staying at this accommodation. Very helpful hosts and very easy to communicate with them. The area is lovely and is suitable for anyone looking for a quite place which is also close to the city.
Denise
2017-02-16T00:00:00Z
My second stay here was just as pleasant as the first one. Great hosts and perfect apartment. I would definitely return!
Denise
2016-12-22T00:00:00Z
We thoroughly enjoyed our stay in the apartment! The apartment is spotlessly clean, we really like the interior and you can see the love for every little detail in the little touches that the hosts added to the room. We were welcomed by the hosts, they gave us the key - that all went very smoothly. The wifi was strong and the room was nice and warm. The place is perfect for two (or even three people) and the location is very good: close to the motorway but in a very calm neighbourhood. We would definitely come again!
Greta
2017-01-01T00:00:00Z
Cozy apartment, perfect even for a longer stay. The hosts are very friendly and welcoming and extremely nice and helpful with anything needed. The neighborhood is quiet and safe. Both grocery stores and public transportation are within walking distance. I highly recommend it!
Denise
2016-11-14T00:00:00Z
Lovely (ikea) apartment in peaceful neighbourhood. Everything brand new and clean. Perfect for an overstay in southern Germany on our way home to Holland.
Nienke
2016-08-15T00:00:00Z
Fijne plek in een rustige straat. Eigen terras en alles met zorg ingericht, er ontbreekt niets.
Anja
2017-02-26T00:00:00Z
Room Type
Entire home/apt
---
Property Type
Flat
---
Accommodates
2
---
Bedrooms
Kirchheim unter Teck, Baden-Württemberg, Germany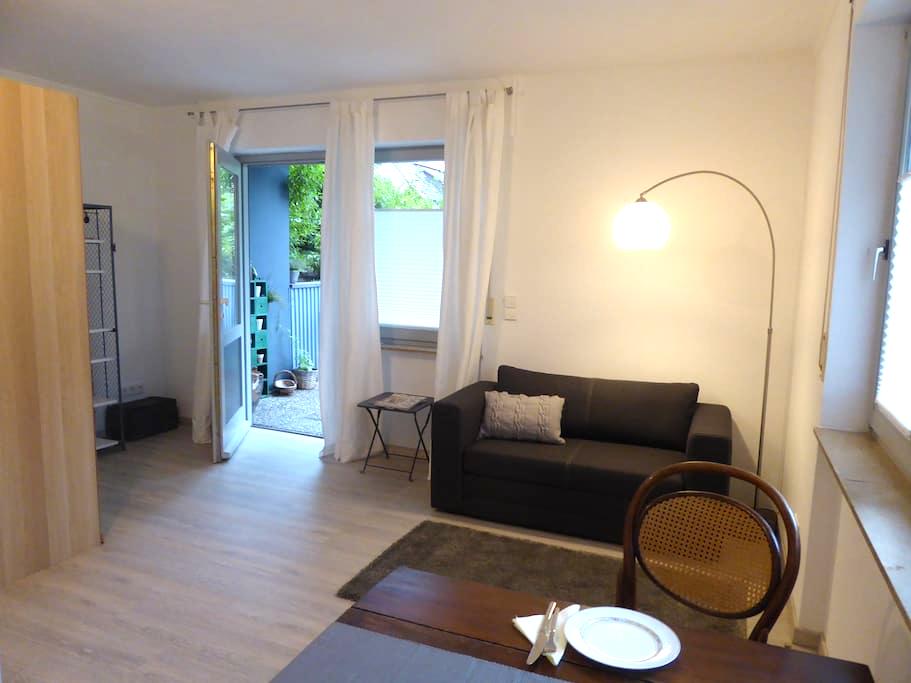 In unserer gemütlichen hellen 2,5 Zimmerwohnung fühlt sich jeder wohl. Ob Mittelalterliebhaber, Familienfestbesucher, Weltenbummler, Messe- oder Geschäftsreisende, Esslingen hat was zu bieten. Wir sind kreativ, familienfreundlich und unkompliziert.
Gemütliche helle 2,5 Zimmer Whg, genial für 2-3 Personen, es geht aber auch zu fünft... 60.- bis zu drei Personen, jede weitere Person 20.-, für Familien mit Kindern bleibt es bei 60.-. Bitte Bescheid geben und entsprechend 3 Personen bei der Buchung eingeben. 2 Schlafzimmer, eines mit 2 (neu, davor nur 1 Einzelbett! Bilder folgen in Kürze!) Einzelbetten und eines mit französischem Doppelbett, sowie einer doppelten Schlafcouch im Wohnbereich bieten Platz für alle Wünsche. Ausserdem gibt es Platz genug, um evtl. noch Kinderreisebettchen aufzustellen (eines ist vorhanden). Geheizt wird bei uns zentral im Wohnbereich mit einem Holzofen, der supergemütliche Stimmung verbreitet und von jedem Benutzer selbst bedient wird. Bei größerem Wärmebedürfnis stehen in den anderen Zimmern noch zusätzlich Infrarotheizflächen zur Verfügung. Eine Zentralheizung haben wir nicht! Leider kein Fernsehen, dafür aber einen DVD-Player mit einer netten Auswahl an Filmen. Achtung Allergiker: Wir wohnen zusammen mit einem Kater und einer netten und kinderfreundlichen Hündin, Unser Haus ist also nicht für Tierhaarallergiker geeignet!!!!
Der Hit im Winter ist sicherlich der Esslinger Mittelalter - und Weihnachtsmarkt, Start Ende November bis kurz vor Weihnachten aber auch sonst ist Esslingen mit seinem Mittelalterlichen Flair immer eine Reise wert. Berkheim liegt oberhalb von Esslingen, ca 20 min mit Taxi /Auto vom Flughafen Stuttgart und der Messe entfernt. Gute Anbindung an A8 und B 10, der öffentliche Nahverkehr ist der VVS, die nächsten 2 Bushaltestellen sind in 5 min zu Fuß erreichbar, meist besteht ein 20 min - Takt in die Esslinger Innenstadt. Einen eigenen Parkplatz haben wir leider nicht anzubieten, es gibt aber genügend Nebenstrassen. Berkheim hat eine eigene gute Infrastruktur, Bäcker, Lebensmittel aller Art, Gastronomie, Apotheke, und auch Ärzte sind vorhanden. Der Waldweg ist fast hinterm Haus.
a proposal only exceptionally everything
NIKOLAOS
2016-06-16T00:00:00Z
Kerstin and Christof were incredibly warm and welcoming hosts. They stayed up to accomodate our late night arrival and even offered to go to the bakery to get us breakfast our first morning. The place itself is perfectly nestled close to Esslingen within a short distance to Stuttgart. It has everything you would need including heaters and a fireplace. I would definitely stay here again the next time I travel to Stuttgart.
Dylan
2016-12-15T00:00:00Z
Kerstin and Christof were great hosts. The apartment easily accommodated my group of five and had all the essentials, such as towels and blankets. Additionally, it was stocked with some bread and basics for breakfast that was very helpful. We would definitely recommend this place!
Josef
2016-09-25T00:00:00Z
Great!
Amanda Wang
2016-10-25T00:00:00Z
Nice persons and very nice place. Everything was perfect.
Jeno
2016-11-27T00:00:00Z
Great, cozy apartment with all amenities needed. The apartment provides plenty of space for three people and is particularly well equipped for a family with a child with two bedrooms and a "play corner". The description of the apartment provided by Kerstin and Christof is accurate, so I won't repeat the details. Kerstin and Christof are fantastic hosts with great warmth and hospitalities. They made everything easy. We would definitely stay with Kerstin and Christof again if we visited Esslingen or Stuttgart again.
Ingo
2016-12-28T00:00:00Z
Nice place, I recommend !
Jonas
2016-10-13T00:00:00Z
very kindly Kerstin and Christof,excellent flat!
shine
2016-01-04T00:00:00Z
Room Type
Entire home/apt
---
Property Type
Flat
---
Accommodates
5
---
Bedrooms
Esslingen am Neckar, Baden-Württemberg, Germany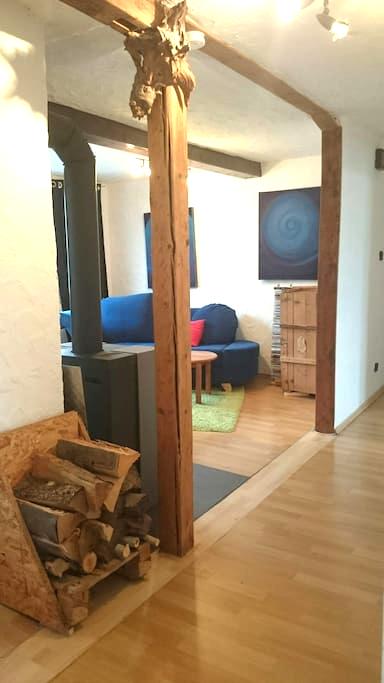 Room Type
Entire home/apt
---
Property Type
Flat
---
Accommodates
2
---
Bedrooms
Wernau (Neckar), Baden-Württemberg, Germany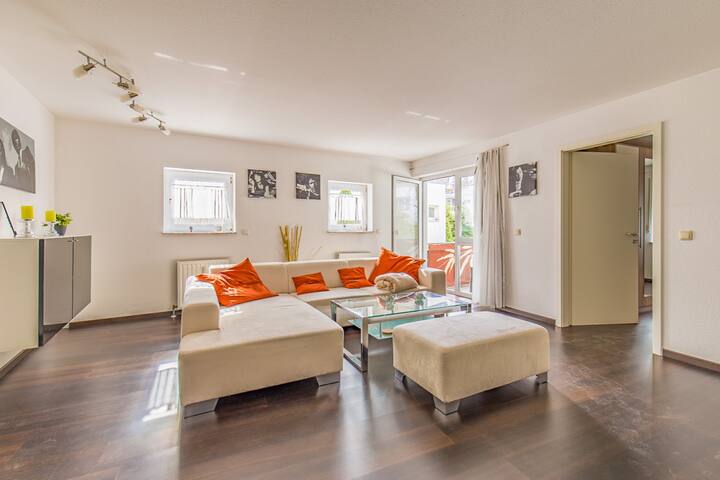 My apartment is located close to Stuttgart airport and the Stuttgart trade show. By car both airport and trade show are only 11 km away. By public transport you are easily able to get to our apartment, because the closest bus stop is only 2 minutes by foot away. Using public transport you can reach downtown Stuttgart in 37 minutes and the center of the beautiful town of Esslingen in 23 minutes. You will love my accommodation because of its privacy and its cosiness.
The apartment offers you a private and secluded area where you can relax after your city trips to Stuttgart or Esslingen. For visitors of the trade show it is also a perfect retreat since you are able to cook in case you are tired of restaurant food.
Residential area close to shopping opportunities (supermarket, bakery, butcher in walking distance).
The apartment is very well equipped with full kitchen, sitting area and separate sleeping area with a comfortable bed, plus a rooftop balcony. All appeared to be new and very tastefully designed. The apartment was also spotlessly clean. I highly recommend this to singles and couples spending time in the area. Angela very thoughtfully had prepared the apartment for my stay and with a grocery store across the street I could quickly stock up for my time there.
Carla
2016-11-29T00:00:00Z
I was in Stuttgart for one night, after a day at the museums. Angela responded very quickly to my bookings and messages, despite the last minute booking. She had everything prepared for my arrival and even cooked dinner for me, as she guessed that I had yet to have dinner, given my schedule for the day! Like the accommodation, dinner was superb! After chatting a little more about my past and current health issues, Angela was happy to share with me a book which laid out certain foods and supplements that I should take (not expected from my host but it was certainly welcome)! Thanks Angela for the warm welcome and also thank you for the breakfast drink. It kept me going till I had brunch on my way back to Frankfurt!
Suan Wee
2016-09-28T00:00:00Z
I stayed at Angela's apartment for 9 days and it was wonderful. The moment I arrived Angela gave me a tour of the place and described the area close by. She was gracious enough to give me a ride to the nearby Lidl store so I could buy some food after my long flight as well. She was very helpful and was extremely nice, willing to answer any question you may have and make your stay comfortable! The apartment is a very nice space with everything you could need. The pictures are representative of the room in terms of layout and the space is large. I would highly recommend this place and host Angela! I would stay again!
Sunny
2016-10-15T00:00:00Z
Liebe Angela, vielen Dank für den tollen Aufenthalt in der Dachgeschosswohnung, vor allem dass es so spontan möglich war. Ich habe eine sehr saubere Wohnung mit allem drum und dran was man benötigt vorgefunden. Ich habe mich direkt wohlgefühlt. Deine offene, hilfsbereite und freundliche Art hat den ganzen Aufenthalt zu etwas besonderem gemacht. Vielen Dank für alles und vielleicht bis demnächst ;-)
Sebastian
2016-12-14T00:00:00Z
Angela hat uns sehr freundlich und offen empfangen und uns gleich noch den Tipp gegeben auf den Esslinger Weihnachtsmarkt gehen. Es gibt reichlich Infos von Einkauf bis Sehenswertes in Stuttgart. Die Wohnung ist perfekt eingerichtet (neues Bett), sehr gemütlich und hell (großes Bad mit Fenster). Da ich sehr friere fand ich es toll, dass man die Wohnung schön warm machen konnte. Die Küche ist super eingerichtet und es gab sogar Milch, Kaffee-Pats und Wasser für den Start in ein wunderschönes Weihnachts-WE in Stuttgart!
Ursula
2016-12-19T00:00:00Z
Angela ist eine sehr freundliche Gastgeberin. Check-In ist bei ihr sehr flexbel. Die Wohnung ist sehr gemütlich eingerichtet und hat meine Erwartungen übertroffen.
Lukas
2017-03-30T00:00:00Z
Wir verbrachten drei Nächte bei Angela in Denkendorf und es war ein sehr angenehmer Aufenthalt. Wir wurden sehr nett empfangen und uns wurde alles erklärt. Die Wohnung ist noch schöner und größer als sie auf den Bildern wirkt. Sogar im Kühlschrank standen schon ein paar Kleinigkeiten und eine Getränkegrundversorgung war ebenfalls vorhanden. Wir haben uns sehr wohl gefühlt! Wir können uns unseren Vorrednern wirklich nur anschließen!
Jan
2017-03-05T00:00:00Z
有史以来最好的一次在air bnb的体验,下次一定还会来。特别有爱温暖的一家人,我带了妈妈来,妈妈特别开心能住在这里,房间用品特别齐全,做饭很方便,光照也好,浴室和整个屋子特别干净。安静,且完全不受打扰。 Die große Wohnung ist sehr sauber und in einer ruhigen Lage(nah von Stuttgart)! Nicht nur Obst sondern auch Butter, Marmelade wurden angeboten im Kühlschrank, noch alle Geschirr kann man benutzen. Die Vermieterin und die ganze Familie sind so nett, unkompliziert und freundlich für uns und bietet uns viele Hilfe an. Allerdings möchten wir nächst mal wieder bei Angela wohnen. Das ist die beste Erfahrung auf air bnb.
Xiao
2017-03-12T00:00:00Z
Room Type
Entire home/apt
---
Property Type
Flat
---
Accommodates
2
---
Bedrooms
Denkendorf, Baden-Württemberg, Germany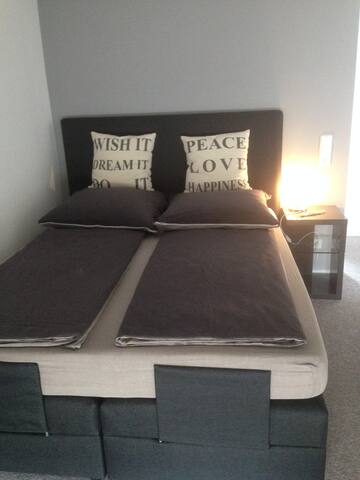 The apartment is well equipped and has a small bathroom with an additional wellness rain shower and a sliding door. It is all newly refurbished and equipped in February 17.
The kitchen has all you need for your stay in Plochingen. There is also washing machine and a iron with board and a dryer. You can relax on the 1,80 m Couch and watch cable TV on the 32" flatscreen or listen to CDs or Radio using the mini Hifi-system. The bed is quite comfortable and in a quiet room with a separate door. Certainly you can use Wireless Connection for you mobile device e.g. smartphone or Laptop.
Plochingen is nearby Stuttgart and in particular the Apartment is located 5 minutes walk from the central Train Station with trains to Stuttgart quite frequently. Also the Airport is not far away from Plochingen.
Room Type
Entire home/apt
---
Property Type
Flat
---
Accommodates
2
---
Bedrooms
Plochingen, Baden-Württemberg, Germany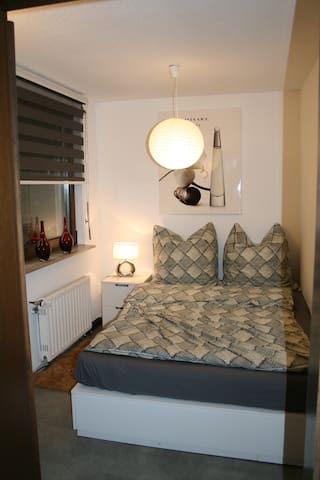 Unsere Wohnung ist sehr ruhig gelegen und trotzdem sehr Zentral. Zur A8 oder B10 sind es nur wenige Minuten. Die Stuttgarter Messe oder Flughafen ist auch in ca. 25 min mit dem Auto zu erreichen. Kostenloser Parkplatz vor der Tür.
Sie übernachten in unserer gemütlichen 2 1/2 Zimmer DG. Wohnung. Ausgestattet ist sie im Schlafzimmer mit einem Ehebett 2x2m für 2 Personen, einem Bett mit 90x200 und auf Wunsch einem Reisebett für Kleinkinder.Das Wohnzimmer mit Schlafsofa ist für bis zu 2 Personen.Das Wohnzimmer bietet auch noch einen kleinen Billiardtisch, Dart und weitere Unterhatungsspiele . Esszimmer bietet Platz für bis zu 6 Personen. Esszimmer und Schlafzimmer sind mit Jalousien und dunkeln daher nicht komplett ab (nur als Info bei Kleinkindern). Das Bad hat eine Dusche und ist mit Waschmaschine und Trockner ausgestattet. Handtücher und Fön sind vorhanden. Unsere kleine Küche ist ausgestattet mit einem kleinen Kühlschrank, Kaffeemaschine, Mikrowelle, Toaster und 2er Herd Platte. Besteck und Geschirr sind vorhanden. Wohnzimmer und Esszimmer haben einen Fernseher. Kostenloser Pakplatz vor dem Haus. Lage ruhig aber trotzdem alles schnell zu erreichen A8 nur wenige Minuten entfernt. Zudem sind wir in der Nähe von: -Stuttgart Messe + Flughafen ca. 25 min entfernt -Metzingen Outlet ca. 35 min -Wunderschönes Thermalbad in Beuren ca. 25 min -Göppingen und Kirchheim / Teck je ca. 10 min toll zum shoppen -Bad Boll Kurort in 5 min auch Thermalbad -Holzmaden Museum und Versteinerungen klopfen 5 min -Herrliche Natur zum spazieren und wandern nur wenige Minuten Die Gastfamilie lebt im gleichen Haus und Sie beziehen daher auch das WLAN. Für weiter Fragen sind wir offen. 5+1 Personen nur möglich wenn das Reisebett benützt wird. Sonst bitte beachten max. 5 Personen. Optimale Belegung 3-4 Peronen. Netto Supermarkt im Ort bis 21 Uhr geöffnet + Bäcker ( auch Sonntags geöffnet).
Sackgasse mit ruhigen Nachbarn.
We had a wonderful stay at this beautiful apartment! We were warmly welcomed by Sandra, and immediately made to feel at home. The apartment is spacious, with everything for our comfort: comfortable sofa and bed, fluffy bedding, modern appliances including laundry, lots of windows, shower, plenty of linens, and even bottles of water. The area is perfect for either a quiet retreat or a base for further exploring, in a clean, quiet, centrally-located neighborhood. Communications between our hosts and us were without flaw. They are courteous, friendly, and warm. All information necessary for our stay was explained, the keys worked well, and the WIFI was great. I highly recommend Domenico and Sandra's beautiful apartment if you're planning a stay near Göppingen. A car is necessary (although since we had one, we didn't explore the possibility of public transport), and the stairs to the apartment are steep for someone who might have trouble with stairs.
Elizabeth
2015-05-28T00:00:00Z
It's a great place to stay over during a road trip around Germany! Even though we stayed with my family of 4 only for 1 night, Domenico and his wife made us feel very welcome by personally showing us the place. The apartment was very clean, spacious, tidy and looking new. We had all supplies one may need like towels, toiletries, dishes, etc. There were even plenty of kitchen appliances I had never seen before. I really liked the darts and mini billiard table. The WiFi signal is good enough. The neighbourhood looked very quiet and nice. Thank you for going to such extend to recommend us a restaurant to eat in and making sure it was still open! We had one of the best dinners ever in the place you recommended! Wish we had more time to stay there! Thanks guys!
Stanislav
2015-06-13T00:00:00Z
Lovely place and even nicer people. Although just for a short stay, we enjoyed the hospitality and the apartment
Bas
2015-02-21T00:00:00Z
The place was as shown in the photos. Quiet, comfortable, clean. Maybe the kitchen could be better equipped. The hospitality was great.
Federica
2016-12-11T00:00:00Z
Great little loft. Cozy but efficient. Easy check-in, great hosts. Recommended.
Ryan
2016-12-08T00:00:00Z
The best house we ever seen on our trips. Clean, big, with everything you need. Highly recommend. Very warm welcome from the hosts.
Костадин
2016-09-22T00:00:00Z
Great place, nice people
Eszter
2017-03-26T00:00:00Z
We bad a wonderful holiday. Very friendly family. Very confortabile appartment. Quietness and the beauty of the nature accompnied our staying here. An experience to repeat. Thanks
Dava
2015-04-08T00:00:00Z
Room Type
Entire home/apt
---
Property Type
Flat
---
Accommodates
6
---
Bedrooms
Hattenhofen, Baden-Württemberg, Germany
1

–

18

of

88 Flat Rentals
Enter dates to see full pricing. Additional fees apply. Taxes may be added.