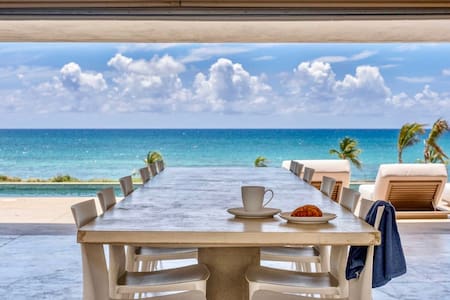 SUPERHOST
Entire villa · 16+ guests · 10 beds · 5 bathrooms
Stunning Eco-Luxury Villa on Caribbean Sea
Encantada Vieques is a five acre estate bordering the Caribbean Sea, just west of Esperanza on the southern side of Vieques. This brand new home is an open-air luxury villa designed by famed architect John Hix to maximize your time spent enjoying Vieques' natural beauty. The home features absolutely stunning views of the Caribbean from every room, including five outdoor showers. Lounge in the 94 foot infinity pool, enjoy roof deck cocktails and walk down to Coco Beach. Book now, bring camera!
What guests are saying:
"There are so many wonderful things to say about Daniel and Tania's home! The wonderful view, the sunrises, the sunsets, the location, the amenities, the pristine pool, the rooftop terrace, the landscaping, the fully equipped kitchen to cook in, the huge fridge... we could go on. Our party of 8 had an unforgettable time. I don't think any of us wanted to leave. Yes it's an echo villa and there are bugs around so just prepare for that. It did not affect our stay. We cooked breakfasts and two amazing dinners, including a cookout in the grill. Everything came out delicious. We played card games and dominoes. Went on an amazing bio-bay excursion in see through kayaks recommended by the host. Karen is a delight to welcome you. We need to be back soon!"
Close enough to hear THE WAVES and be cooled by the Tradewinds. If you want to SAVE MONEY on luxury accommodations and expensive rental cars Mon Repos "My Rest" is a artsy studio in the heart of the fishing district of Morropo (Just 2 blocks 2 the ferry dock) and the first house on the North Shore Road (a surfers delight).
What guests are saying:
"We absolutely adored our stay here! We were honestly sad to go. The beds are INSANELY comfortable and everything is so adorable and "authentic" island style. There's wild horses, dogs, cats, and roosters everywhere and some even peak into the garden in the front! (Super adorable atmosphere in the front yard btw) it's all so charming. There's also goats in the back! That was so fun. That being said, we were realistic in our expectations- Vieques is a small and low-key island. We didn't expect luxury - we wanted clean comfort, great location, and to be surrounded by natural beauty. Darla and Isabela provided us with the perfect place for all of that! One other thing - I wish the listing did a better job of explaining JUST how high a hill and how far we would have to walk to get to the place. My wife has a disability and it was very challenging getting to the property by foot from the ferry - granted, we did not inform anyone prior to booking, did not rent a car prior to arriving (do this months ahead of time. Trust us), and STILL loved the accommodations! I just felt it important to note for anyone else unprepared like we were. So lastly: When we visit again (because we know we will) we will do 2 things: 1) make sure to rent a vehicle far in advance and 2) make sure we're staying here!"
Encantada Vieques is a five acre estate bordering the Caribbean Sea, just west of Esperanza on the southern side of Vieques. The home is a luxurious renovation of a 2br/2bath casita, supremely located on gorgeous Coco Beach. The property includes electronic gate access.Stay in this newly renovated, luxury home and walk to your own beach that was literally the set of Victoria's Secret Swim 2015. You've never seen better sunsets. Yes, come to Vieques. Yes, stay here. You will not regret it.
What guests are saying:
"This house was a very beautiful home and lovely to stay in Vieques. It's nestled on large, gated property far from the main house that still makes it feel private. From there house its a short walk to the private beach on the property. The private beach is great to explore and sunbathe. We rented a car and also went to other beaches on the island to explore as well but we loved having the option of having the private beach to come Home to. The house amenities were amazing. The kitchen had everything you needed to cook any meals. A lovely bonus were the wild horses on the property. It was so beautiful to watch them as you relax on the porch. This home is was perfect for a secluded getaway during the times we are living in. The house is very clean and we were provided with disinfectant and anti bacterial soap. We also recommend taking the flight to Vieques. We too the boat to the island and waited for over 3 hours for the boat which also got crowded. We took a flight back San Juan which was a much better experience. Overall, we recommend this stay for a perfect getaway!"