Beautiful, new apartment in mid-town Goor. Fully equipped. Very luxurious and beautifully furnished apartment. Own front and back entrance. Appropriate for long-term lease is possible in consultation. Also for rent: Bike, car, moped own house
This is the oldest hus Goor. unique home Everything new.
Nice place, quiet. Everything you need is close by.
I stayed at this place for 2 months and enjoyed it a lot. It is a new, spacious, and modern-looking apartment with several rooms. All the necessary equipments are included; the kitchen is big and fully equipped, bathrooms looking very clean and luxurious, and the apartment has private washing machine, dryer, iron and board, TVs, high-speed WiFi, etc., which are very convenient. It is clear that the owner has paid great attention to the details while building this place, making it a joyful experience to stay there. There is also a small garden in the backyard free to be used by the guests. The apartment looks exactly like in the advertised pictures. The owner and his family are very nice and more than happy to help. They gave me a ride from and to the train station upon my arrival and departure, and were flexible with the checkin and checkout dates. Any necessary repair/modification was done within the next day at the latest. They were also open to any suggestions I had for improving the place and/or including extra equipments within the apartment. The apartment is located in a nice part of the town, within 10 min walking distance from the train station and the shopping center. The town itself is quite cosy, people are generally friendly and helpful, and the shopping district contains all the major stores. Overall, I had a great experience staying at this place, and would have stayed longer if there would have been no schedule conflicts.
Kevin
2016-07-01T00:00:00Z
Alles top geregeld!
Tijn
2017-02-03T00:00:00Z
Prima locatie, luxe inrichting, rustig en toch centraal gelegen. Erg goed bevallen en wij kunnen het iedereen aanraden
Tijn
2017-02-23T00:00:00Z
Prima locatie, alles top geregeld en erg nette, vriendelijke mensen. De puppy's maken het wel extra mooi om hier te verblijven
Tijn
2016-08-01T00:00:00Z
Alles top geregeld
Tijn
2016-08-31T00:00:00Z
Room Type
Entire home/apt
---
Property Type
Flat
---
Accommodates
4
---
Bedrooms
Goor, Overijssel, Netherlands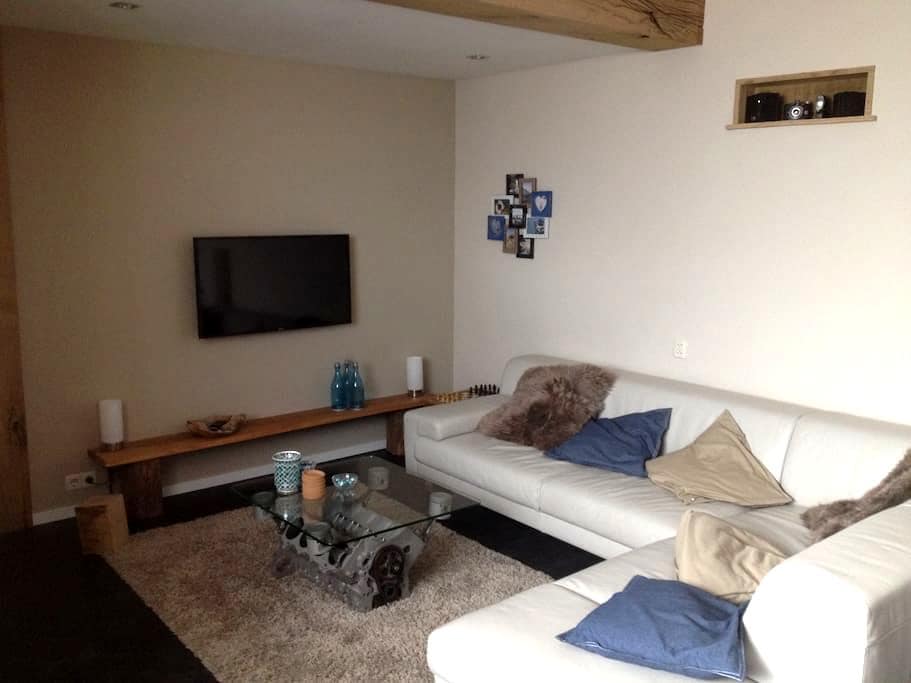 on the first floor a luxury apartment with a loft for sleeping and a sofa bed with large bathroom with bath and a kitchen with dishwasher. Located in a wooded area with beautiful walking, cycling and riding.
It was a pleasure to stay with Ina and Johan on their farm. They're kind and helpful hosts and Johan even picked us up from the train station. The appartment is spatious, new and clean. There are about six more rooms in the farm, and you share a breakfast room with the other tenants, so it's not 100% private. Bike rental is possible for €10 a day.
Ronald
2015-08-16T00:00:00Z
It was really funny, the host was perfect and helpful
Thomas
2015-11-09T00:00:00Z
Bij aankomst werd er direct thee/koffie aan geboden. Wij hadden het 4 persoonsappartement gehuurd waarbij er twee van ons op de slaapbanken zouden slapen. Dit is niet optimaal en aangezien er nog andere kamers vrij waren, mochten wij hier van Ina kosteloos gebruikt van maken. Van te voren hadden wij de wens opgegeven fietsen te willen huren, welke zonder probleem voor ons werden gehuurd en op zondagochtend voor ons klaar stonden. Het was een heerlijk verblijf in een heel fijn appartement en in een prachtige omgeving.
Miranda
2014-11-18T00:00:00Z
Op bezoek bij Ina en Johan! Met de Sallandse Heuvelrug om de hoek en op tien minuten rijden van Nijverdal ligt de boerderij op een prachtige plek tussen de bossen en de weilanden. We worden opgewacht door Ina die ons de kamer wijst. We zijn vrij om overal op de boerderij rond te lopen. Naast de ganzen en de kippen komen we een paard en een eigenwijze Alpaca tegen. Bij de koeien treffen we Johan die met liefde al onze vragen over de boerderij beantwoord. Een echt hoogtepunt zijn de jonge kalfjes! We hebben met veel plezier genoten van de boerderij, de omgeving en de gastvrijheid van Ina en Johan. Kortom een heerlijk plekje waar we zo weer naar terug zouden gaan. Harm en Steph
Harm
2014-09-15T00:00:00Z
Een geheel nieuw appartement met mooi duurzaam interieur. Verhuurders zijn erg gastvrij. Er was zelfs speciaal voor ons een traphekje en kinderstoel aangeschaft! Onze kinderen hebben genoten van de stal met koeien, de alpaca en de speelgoedtractor. Een echte aanrader voor een paar nachten in een rustige omgeving, met het leuke centrum van Nijverdal op een paar minuten rijden.
Karin
2014-07-28T00:00:00Z
Wij kijken met veel plezier terug op ons verblijf bij Ina en Johan Westra. Zeer goed verzorgd appartement, fijne ontvangst, zeer compleet en lekker ontbijt en een super leuke boerderij waar we naar hartelust mochten knuffelen met de pas geboren kalfjes. We komen graag nog eens terug!
evelien
2014-11-24T00:00:00Z
We werden warm welkom geheten door Ina met thee en iets lekkers. Het appartement was ruim en schoon. De vide met tweepersoonsbed is voor grote mensen misschien wat aan de krappe kant, maar wel knus. Ina was flexibel qua indelen van de kamer, rekeninghoudend met onze wensen voor de kinderen. Het was leuk om op het erf rond te kijken en de kinderen waardeerden de trampoline erg.
Gerdien
2014-10-19T00:00:00Z
Die Unterkunft war super! Die Kommunikation hat auch imVorfeld einwandfrei funktioniert und es hat alles gut geklappt. Die Wohnung ist sauber und entspricht vollends den Beschreibungen und Bildern. Sie ist sehr zu empfehlen!
Christine
2014-10-05T00:00:00Z
Room Type
Entire home/apt
---
Property Type
Flat
---
Accommodates
4
---
Bedrooms
Notter, Netherlands, Overijssel, Netherlands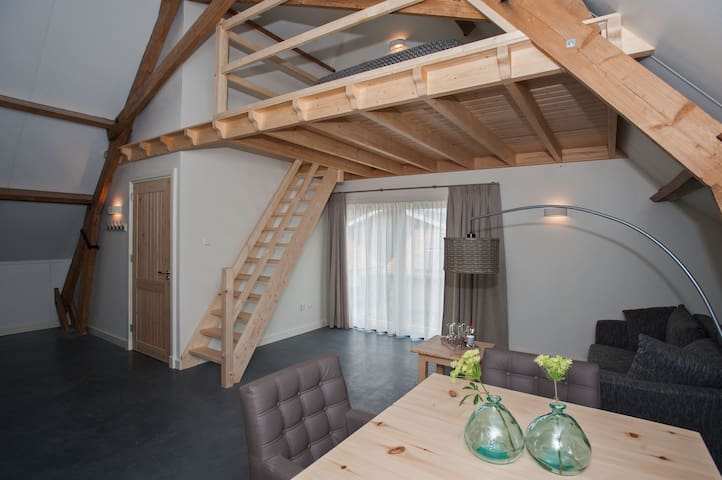 country house
Room Type
Entire home/apt
---
Property Type
Flat
---
Accommodates
2
---
Bedrooms
Lochem, Gelderland, Netherlands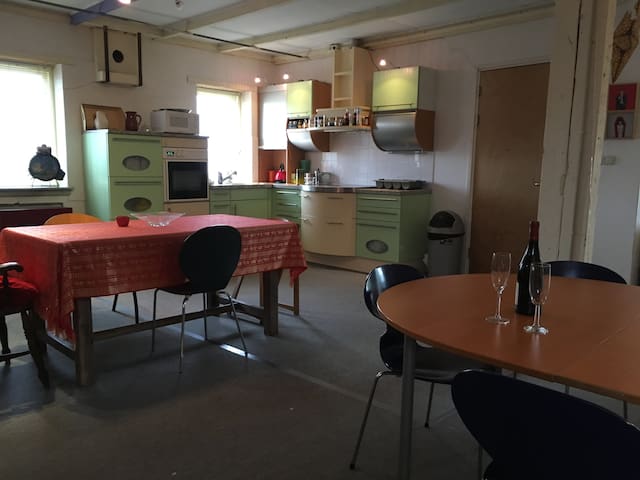 My room was close to nature and forest, great views, restaurants and eateries. You'll love my place because the outside is lovely, lots of peace and quiet and a nice garden. My room is suitable for couples, solo adventurers, business travelers, families (with children) and furry friends (pets).
Room Type
Entire home/apt
---
Property Type
Flat
---
Accommodates
4
---
Bedrooms
Markelo, Overijssel, Netherlands
My room is suitable for couples, solo adventurers and business travelers.
All begganegrond, unike pretty steep, modern, fully equipped.
You live in the center of Goor (Hof van Twente) In a very quiet area.
Room Type
Entire home/apt
---
Property Type
Flat
---
Accommodates
4
---
Bedrooms
Goor, Overste, Netherlands
Verschillende intieme of ruime appartementen voor 1-3 personen. De monumentale boerderij staat vrij in de natuur. Voor mensen die een plekje zoeken waar ze tot rust kunnen komen en evt. gelijkgestemden ontmoeten.
Erve Veldink is een centrum voor bezinning en inspiratie in een boerderij onder monumentenzorg met een geschiedenis die teruggaat tot de 14e eeuw. Het ligt aan de rand van het dorpje Haarlo, midden in het typische Achterhoekse coulissenlandschap, met haar besloten karakter en schitterende doorkijkjes, waar bos, weiland, akkers en beken elkaar afwisselen. Prachtig voor wandelen, fietsen, sterren kijken en tot rust komen. Op 4 km afstand ligt een mooi zwemmeertje met strand. In de boerderij is ook een nieuwe wellnessruimte beschikbaar. Er zijn mogelijkheden voor: biologisch-vegetarische maaltijden, retraite, massage, cranio-sacraal, klankheling, coaching en meer... Let op! er zijn meerdere appartementen, sommigen tegen meerprijs. Informeer naar beschikbaarheid en prijzen.
Heerlijke dagen in app. de Eend gehad. Gezellig klein en overzichtelijk, fijne badkamer. Erve Veldink heeft een fijne warme sfeer en dat komt zeker ook door gastvrouw Eef! Er is een klein biologisch winkeltje wat handig is.
Laure-Vivien
2016-01-02T00:00:00Z
Room Type
Entire home/apt
---
Property Type
Flat
---
Accommodates
3
---
Bedrooms
Haarlo, Gelderland, Netherlands
Een prachtig gelegen ruime zolderkamer. In het landelijk gebied net buiten Deventer. De hele locatie is omgeven met eeuwen oude bomen. U heeft een eigen badkamer, toilet en keuken. U kunt hier heerlijk wandelen en fietsen. In de begane grond is een galerie voor actuele kunst gevestigd. Behalve de zolderkamer is er nog het romantische bakhuis. Piepklein maar erg knus. Badkamer, toilet en keuken zijn aanwezig in de naast gelegen ruimte.
Heerlijk tot rust komen in klein paleisje. Goed bed en eigen keukentje met gasfornuis.
Aafra
2017-04-06T00:00:00Z
Uitzonderlijk mooie locatie, waarbij je een prachtige losstaande bovenkamer hebt middenin een galerij. Zeer hartelijke mensen, tezamen een fantastische ervaring.
Jurrit
2017-03-26T00:00:00Z
We werden warm ontvangen door Harm en Henriette en voelden ons helemaal in de watten gelegd in deze bovenwoning boven een kunstatelier. Eindelijk kwam een droom voor twee nachtjes uit... Even ons eigen kleine boerderijtje met rietendak. Een heerlijk bed, een prachtuitzicht, een prive badkamer en gezellig uitgeruste keuken voor ons zelf, een verwelkomende fruitmand vol, heerlijke opties voor ontbijt en lekkere theetjes... O ja zelfs fietsen die we mochten lenen. Alles prima verzorgd. Ondanks de regen is een droom afgelopen weekend een beetje uitgekomen. Graag tot ziens Harm en Henriette.
Joyce
2017-03-19T00:00:00Z
Room Type
Private room
---
Property Type
Flat
---
Accommodates
2
---
Bedrooms
Lettele, Overijssel, Netherlands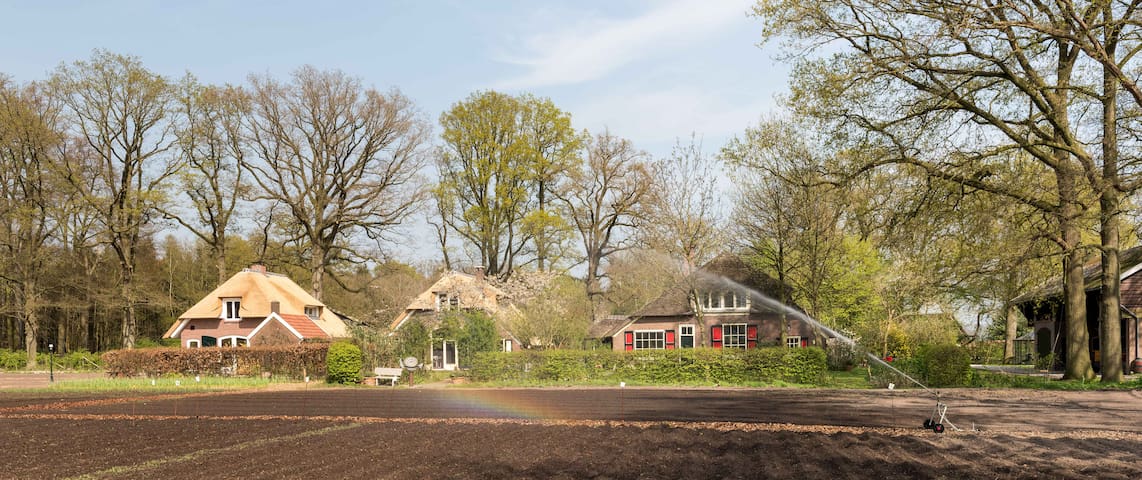 This magnificent monument stands in the center of Almelo. This means that it is in the blue zone, but walking is free parking at 500 m. Your host is my father, I have created this website for it and manage it, but so will stay with him.
This space is suitable for couples and solo travelers who are put to rest. From your room you can use a terrace afternoon has sun.
By a park walk in a few minutes into the heart of Almelo, including the [bus] station is loopafstand.Tevens you can bike or on foot as well explore the outskirts of Almelo.
Room Type
Private room
---
Property Type
Flat
---
Accommodates
2
---
Bedrooms
Almelo, Overijssel, Netherlands
The beautiful "Garden of Neede" is located in the secluded village of Neede. A fully equipped eco-friendly apartment, which is powered by solar panels and a heat pump, ensures for a high comfort environment. The apartment includes all comforts of modern day life and includes a private sauna.
The apartment features a living room with a kitchen, which is equipped with all appliances including oven / microwave, refrigerator and dishwasher. The bedroom has a comfortable double bed, separate toilet and a separate bathroom with large sauna. A unique accommodation in a prime location, within walking distance of nearby located shops and restaurants. Perfectly located for all cycling and walking routes through the beautiful countryside of the Achterhoek. If you want to come with 4 persons it is possible to book an extra room with private toilet and bathroom
The 'Achterhoek' is characterized by its bocage landscape which lends itself perfectly for cycling and walking. Other possible activities include horseback riding, nordic walking, canoeing, taking a ride through the countryside in a covered wagon or admire the scenery from above in a hot air balloon.
We had a wonderful stay at the Garden of Neede and the listing definitely deserves its name. Our hosts were there to meet us in spite of our late arrival and we also enjoyed breakfast in the wonderful garden on two occasions. The place had everything we needed and we highly recommend it to anyone who is looking to stay in the area.
Franz
2016-08-30T00:00:00Z
This is a beautiful place to stay! The gardens are stunning, you have your own entrance, privacy and a calm neighbourhood. The house is decorated to a very high standard with excellent cleanliness and quality throughout.
Alex
2016-09-30T00:00:00Z
Großen Dank an Marianne und ihren Mann! Wir waren über Silvester dort und unser Aufenthalt war einfach nur wunderschön und erholsam. Die Wohnung war sehr sauber und gemütlich und man konnte vollkommen zur Ruhe kommen. Ein Highlight der Wohnung ist natürlich die Sauna, die man ganz für sich allein hat. Eine kleine Wellness-Oase sozusagen. An die kleine Wohnung grenzt ein riesengroßer Garten, durch den man spazieren gehen kann und die Natur genießen kann. Marianne und ihr Mann sind sehr herzlich und man fühlt sich bei den beiden direkt wohl und sehr willkommen. Das kleine Dorf Neede kann man mit einem Spaziergang erkunden, es gibt ein paar Bars und Cafés. Alles in allem haben wir den Aufenthalt sehr genossen und können es nur weiterempfehlen! Danke für eure Gastfreundschaft ❤️
Mona
2017-01-01T00:00:00Z
Ons verblijf was super. Na een aantal dagen fietsen was dit een super locatie om te verblijven. De sauna in combinatie met de prachtige tuin waren heerlijk. Het ontbijt was uitgebreid en goed verzorgd. Jammer dat we door het mindere weer niet buiten konden ontbijten. Het viel ons op dat er één tweepersoonsbed aanwezig. In de advertentie is aangegeven dat er twee bedden aanwezig zijn. Voor ons geen probleem. Misschien handig om te weten voor de volgende gasten. De foto's bij de advertentie zijn hier duidelijk in.
Vincent
2016-07-31T00:00:00Z
Het huis van Marianne is mooi, schoon en leuk ingericht. Er is een prachtige tuin, heel erf mooi. Marianne en haar man waren zeer gastvrij. We hebben genoten van ons verblijf. Onze beoordeling is 10 van 10. Gewoon super.
Daria
2016-07-23T00:00:00Z
Prachtige tuin, fijne ruimte en gastvrije en vriendelijke mensen!! Wij hadden een bruiloft in de buurt tot laat, maar dat maakte niet uit. We werden warm en hartelijk ontvangen, mochten uitslapen en laat uitchecken (zodat ik ook nog even kon genieten van de heerlijke sauna). Het ontbijt in de tuin was een genot, met name ook door het uitzicht op de parktuin.
Marieke
2016-06-13T00:00:00Z
Schöne Unterkunft mit neuwertigem hohem Standard! Das Apartment liegt in einem idyllischen Park mit einer großzügigen und überdachten Terrasse. Wir haben uns sehr wohlgefühlt, Marianne ist eine perfekte und aufmerksame Gastgeberin! Ideal zum Entspannen in der Natur!
Regina
2016-05-23T00:00:00Z
Room Type
Entire home/apt
---
Property Type
Flat
---
Accommodates
2
---
Bedrooms
Neede, Gelderland, Netherlands
Romantic bed and breakfast in our 4 appartments 'Hooiberg', 'Bedstee' and 'Ooievaarsnest' on our formal farm in the east of The Netherlands. The 'Hooiberg': is for 2 persons
Romantic bed and breakfast in our 'Bedstee', on our formal farm. for 2-4 persons, in The Netherlands (east).
Bathmen is a cozy village in Salland, between Deventer and Holten, in the province of Overijssel. Bathmen is surrounded by beautiful forests, nature lovers a unique area. From the village pump on the Brink launch four marked trails ranging from 4 to 11 km. Bathmen also has a private stroll route of about 25 km passing through the hamlets Dortherhoek, Zuidloo and loo. Several routes are available in leaflet form (free) and bring you the most beautiful places and sights.
Dank Else voor een prettig verblijf. We hadden wel enorme mazzel met het weer maar het zwembad was erg fijn met deze hoge temperaturen. We vonden het een hele mooie plek om lekker bij te komen.
Ingeborg
2016-09-14T00:00:00Z
Room Type
Entire home/apt
---
Property Type
Flat
---
Accommodates
2
---
Bedrooms
Bathmen, Overijssel, Netherlands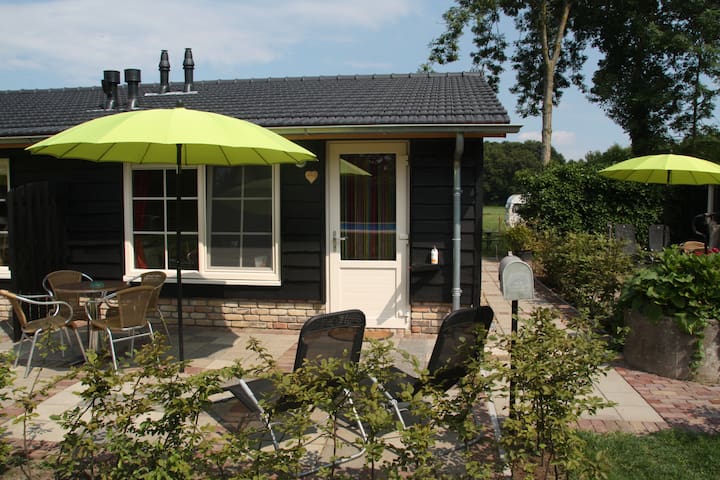 Rest relax and enjoy That can in Azelo to B&B erve Boskott'n. The name is traditionally a nickname. Where it may come from is not clear. Maybe a cottage (house) in the forest? B&B erve Boskott'n has a studio with a double bed and sofa bed with private bathroom and toilet. By default you will find a hairdryer, reading, kitchenette with coffee maker, microwave and a two burner electric stove and minibar. Of course modern media present. In the morning during breakfast you can enjoy the typical nature of Twente. In fine weather you can sit out on the terrace. The studio has a private entrance. We are located on the outskirts of Twickel Estate where it is gorgeous. Beautiful walking and cycle routes starting from the B & B and a cycling map, await you. Experience the tranquility and hospitality of the beautiful Twente B&B erve Boskott'n. The LA walking the Marskramerpad and Havezatepad lies in the immediate vicinity. You can also rent a bicycle to explore the area. You can also make for a small fee a nice tour with Harry along the aeream in the oldtimer fire truck Unimog.
We had a fabulous, relaxing stay in Annelies and Harry's B en B. They looked after us and made our stay really "gezellig" (cosy, inviting, pleasant). The room is very comfortable with wonderful views on the garden and beyond. Everything was provided, including a lovely breakfast with a dutch flavour. On our last day, Harry took us for a ride around Delden and Deldense Bos (forest) in his Unimog; the high seating giving us a great view of the beautiful scenery. The house is in a great location for walking and bike riding and a short ride to Borne. A castle (Kasteel Twickel) is only 4 km away and although closed to public access, the drawbridge and views of the castle are excellent and the lovely gardens can be visited. We would definitely love to come back.
Hans
2015-06-02T00:00:00Z
The host canceled this reservation 20 days before arrival. This is an automated posting.
Kelly
2016-07-02T00:00:00Z
Words fail me to describe the kindness that was showered on me and my family by Annelies and Harrie. Both of them were very generous during our short stay with them. They were perfect hosts. They received us at the Borne station and helped us settle in the cottage. In the evening, they took us in their ancient Mercedes Unimog truck on a long drive through the forests and then to Delden, an absolutely gorgeous small town. They explained the workings of the navigable canals around, showed us an ancient water mill and took us for a long walk on the wooden deck in the marsh land. We cycled around the countryside and Harrie also took me on a joyride on his perfectly restored M.A.N. Tractor (1957 make). The big breakfast they served was delicious and their hospitality impeccable. Annelies even taught my daughter some Dutch patiently, and Harrie showed my son tricks with the mechanisms he has with him. The cottage is in a picture perfect setting suffused with nature and solitude. It is elegant and most tastefully done. Every little thing in the cottage conveys the great attention to detail given by the hosts and every gesture had a personal touch. The room and the surroundings were maintained extremely clean and neat. Thanks Annelies and Harris for a most memorable holiday. We would certainly return for a longer time in future. We strongly recommend this accommodation for every family that loves nature and solitude.
Nitin
2016-04-17T00:00:00Z
We werden heerlijk welkom geheten met een krentenwegge en koffie. Annelies en haar man waren heel vriendelijk en hebben ons op alle manieren geholpen.
Ro
2016-03-31T00:00:00Z
Room Type
Entire home/apt
---
Property Type
Flat
---
Accommodates
3
---
Bedrooms
Ambt Delden, Overijssel, Netherlands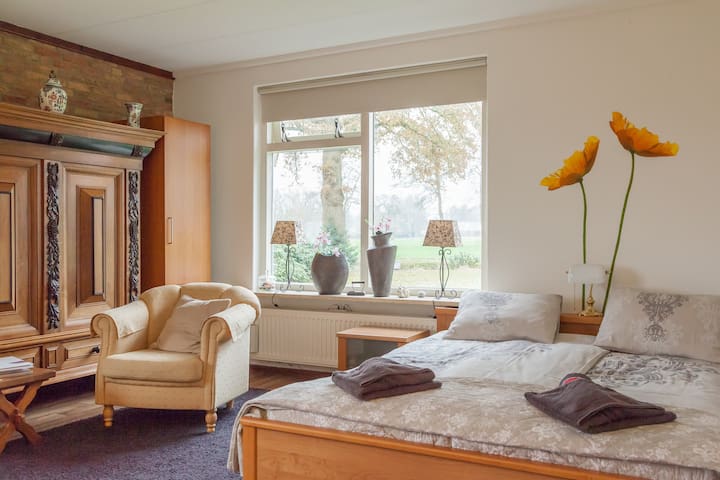 Ons appartement heeft twee tweepersoons slaapkamers, een badkamer, een aparte wc, een woonkamer en een open keuken. Wasmachine en droger zijn aanwezig, alsook gratis WI-FI en TV. Het appartement bevindt zich in de binnenstad, waardoor u wordt omringd door vele gezellige café's en restaurants. Ook sfeervolle winkeltjes ontbreken niet.
Fully furnished apartment with two bedrooms 1 1/2 bathrooms, patio, 3D tv and free wifi. Located in the center of Lochem, close to all restaurants, the theatre and the church (exposition space)
Die Gastgeber waren bemüht,die kleinen Mängel sofort zu beheben. Lage und Appartement sind toll.Der Preis ist aber dennoch zu hoch
julia
2016-03-23T00:00:00Z
Room Type
Entire home/apt
---
Property Type
Flat
---
Accommodates
4
---
Bedrooms
Lochem, Gelderland, Netherlands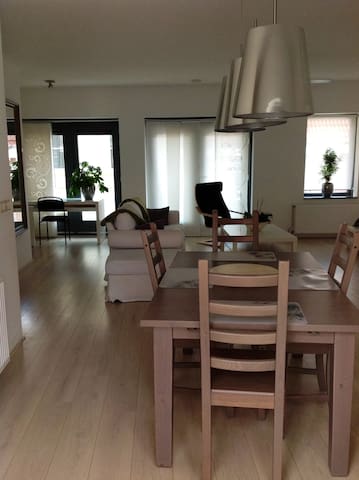 Het appartement is gesitueerd in een landelijke omgeving op een paar kilometer van Enschede en Haaksbergen. Er zijn veel faciliteiten zoals een zwembad, sauna, bowlingbaan en een wellness centrum. Tevens is er een gratis parkeergelegenheid & WiFi.
Het appartement ligt in een bos van 25 hectare en biedt een scala aan recreatieve activiteiten op het eigen terrein. Het appartement is onderdeel van een resort, daarom kunt u kosteloos gebruik maken van de sauna en een uniek binnenzwembad. In het appartement heeft u toegang tot een privé balkon op begane grond en er is uiteraard WiF aanwezig, kosteloos. Het appartement is uitgerust met een volwaardige keuken, badkamer met douche en bad, woonkamer en 2 slaapkamers. U kunt in de gezellige lounge van het hotel heerlijk ontspannen in de comfortabele stoelen bij de open haard, en tegen betaling genieten van een drankje of snack. Restaurant Moods serveert internationale gerechten en een aantal regionale specialiteiten, bereid met ingrediënten uit de omgeving. Tot de wellnessfaciliteiten behoren een sauna met een Turks stoombad, een binnenzwembad en een dompelbad. Er zijn tegen een toeslag ook veel verschillende schoonheidsbehandelingen beschikbaar. Ook kan u, tegen betaling, gebruik maken van een bowlingbaan en 2 tennisbanen die onder alle weersomstandigheden gebruikt kunnen worden. De snelweg A35 kan in iets meer dan 5 minuten rijden bereikt worden. Vragen? Neem gerust contact met mij op. Ik antwoord doorgaans binnen het uur.
Bad Boekelo est un lieu très joli et calme où l'on peut se réunir et profiter en famille (activités de l'hôtel). La location était très bien et plus grande qu'on ne l'attendait ! Birgitta est une hôte très sympa qui apporte une petite touche personnelle pour chacun de ses hôtes (petit mot sur la table). Merci Birgitta et "tot ziens" !!!!
Clémence
2015-11-10T00:00:00Z
Het was goed toeven in dit appartement. Woning zag er uitstekend uit. Alles wat je nodig hebt is aanwezig, met uitzondering van een pizzasnijder. Maar goed, hoe vaak heb je die nou nodig? Wij toevallig wel maar dat mocht de pret zeker niet drukken. Gewoon een prima appartement! Een groot voordeel is dat men tevens gebruik kan maken van alle faciliteiten van het aangrenzende hotel. Het appartement ligt op de begane grond, waardoor je er gratis en voor niks een enorme tuin bij krijgt. Een fijne, rustige omgeving. Een uitstekende plek om even tot rust te komen en ook gezinnen met jonge kinderen kunnen hier prima vertoeven. Ook het contact met Birgitta verliep prima. Alles bij elkaar opgeteld zeker een aanrader!
Jasper
2016-09-12T00:00:00Z
Verhuurder heel acuraat en plezier in de beantwoording van de mail. Flexibel in de aankomst en vertrektijden. Ondanks dat de aankomst tijd onzeker was geen probleem. We konden een half uur voor de verwachte aankomst een berichtje sturen. Birgitta stond ons op te wachten om de sleutel te overhandigen. Prima ingericht appartement en vele kleine extra's zoals koffie en thee, schampo en badschuim en ruime keuze aan servies en bestek en een welkoms boodschap op tafel. We hebben een prima tijd gehad in Boekelo. Lekker gewandeld en hardgelopen. Prima afstand tot Enschede wat voor ons de hoofdreden was voor de komst. Birgitta is een prima gastvrouw. Ze heeft er alles aangedaan om ons heerlijke dagen te bezorgen. Ze heeft zelfs nog een kledingstuk naar ons gebracht die we vergeten waren.
gieneke
2015-10-31T00:00:00Z
Een heerlijk appartement op de begane grond met prachtig uitzicht op het groen. Met gebruik van de faciliteiten van hotel. Lekker zwemmen. Gezichtsbehandeling bij de Welness (van tevoren boeken). Bij receptie van hotel kun je tot 21.00 uur 's avonds broodjes, krentenbol of croissantje voor eigen ontbijt bestellen. Onze dochter heeft heerlijk geslapen in de tweede slaapkamer. Hartelijke ontmoeting met de eigenaren bij ontvangst en vertrek. Komen graag weer als we naar het oosten van het land gaan!
Fred
2015-10-24T00:00:00Z
Unser Aufenthalt in Birgittas Wohnung war sehr schön! Die Kommunikation im Vorfeld war unkompliziert und sehr freundlich. Alles verlief gut. Die Wohnung war schön. Holländische Waffeln sowie Tee und Kaffee warteten als Begrüßung auf uns. Wir können Birgitta als Gastgeberin und die Unterkunft zu 100% empfehlen! Herzlichen Dank! Claudia und Familie
Claudia
2016-02-11T00:00:00Z
Ein ruhiges Ort , schön Ort , zum enstpannen empfehle ich jeden , Birguitta eine sehr nett Gastgeber und hilfsbereit , ich komme auf jeden fall mal wieder
Samo
2016-02-05T00:00:00Z
Sehr freundlicher und netter Kontakt Die Unterkunft liegt in einem sehr schönem Resort außerhalb von Enschede in einem Waldgebiet :-)
Petra
2015-11-03T00:00:00Z
Geweldig weekend in Boekelo gehad. Wat een rust en mooie natuur. Heerlijk kunnen zwemmen in het zwembad wat tot 23u open was en buiten wandelingen kunnen maken. Ook de bar bij het hotel met gezellige zithoekjes is een aanrader. Appartement was top voor vier personen, goed schoon en ideaal met twee badkamers. Goede bedden, kortom een fijn appartement. Goede snelle communicatie en zeer behulpzaam met ideeën. Bedankt voor je attentheid Birgitta!!
Lenneke
2016-02-14T00:00:00Z
Room Type
Entire home/apt
---
Property Type
Flat
---
Accommodates
4
---
Bedrooms
Enschede, Overijssel, Netherlands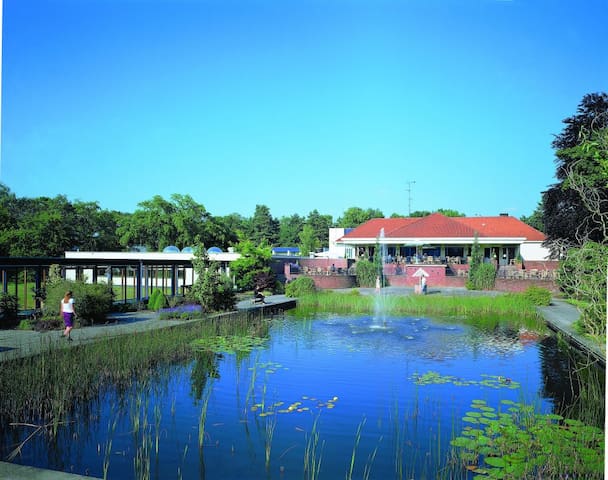 The Ooievaarsnest' are for 2-4 persons, In this 2 appartment is a kitchen, and it has a beautiful vieuw.
Romantic bed and breakfast in our Ooievaarsnest, on our formal farm. for 2-4 persons, in The Netherlands (east).
Bathmen is a cozy village in Salland, between Deventer and Holten, in the province of Overijssel. Bathmen is surrounded by beautiful forests, nature lovers a unique area. From the village pump on the Brink launch four marked trails ranging from 4 to 11 km. Bathmen also has a private stroll route of about 25 km passing through the hamlets Dortherhoek, Zuidloo and loo. Several routes are available in leaflet form (free) and bring you the most beautiful places and sights.
Sehr freundlich. Sehr indyllische Gegend. Laute Bahn direkt am Haus.
Christoph
2016-07-22T00:00:00Z
Zeer gastvrij en heel gezellig appartement met herlijk ontbijt. Kom graag een keertje terug.
Katelyn
2016-08-09T00:00:00Z
Erg gezellig huisje van alle gemakken voorzien. Heerlijk ontbijt en het ligt in een rustige en prachtige omgeving. Echt een aanrader!
Jochem
2015-10-24T00:00:00Z
We reserveerden last minute (in de middag) voor een onverwacht nachtje in de omgeving. Heerlijk plekje! Met zorg en aandacht voor details. S ochtends wordt er een lekker ontbijtje gebracht. Zeker een aanrader!
Alef
2016-06-05T00:00:00Z
Room Type
Entire home/apt
---
Property Type
Flat
---
Accommodates
2
---
Bedrooms
Bathmen, Overijssel, Netherlands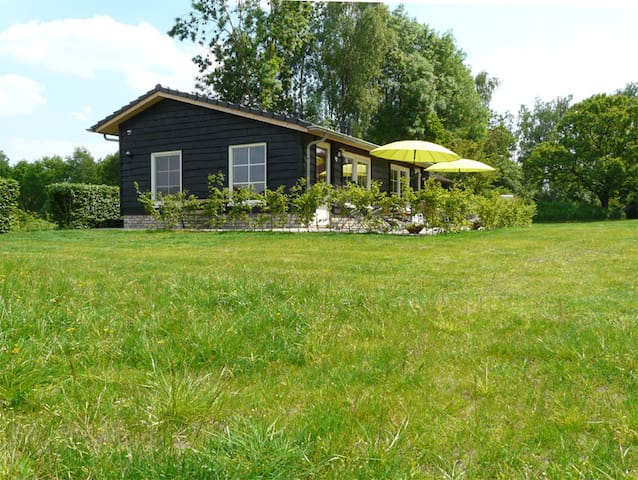 On Location Center located luxury 2 bedroom apartment with brand new kitchen (two cooking islands). From the house (balcony) one has a beautiful view of the green terrace. Walking distance from the center of Hengelo (50 m) and the railway station (50m).
Room Type
Entire home/apt
---
Property Type
Flat
---
Accommodates
2
---
Bedrooms
Hengelo, Overijssel, Netherlands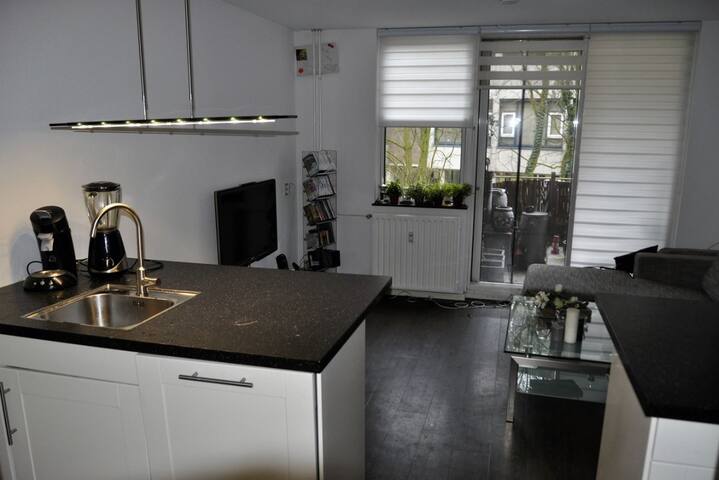 Located in the village of peat Vriezenveen the cozy apartment "Ready". It is behind the farm above a detached Kapschuur. The apartment is fully equipped with a pleasant terrace in the orchard. For young and old there is to do in the vicinity of everything. Located in walking and cycling.
Cozy, cozy apartment under the fir trees of an entire Kapschuur (100 m2).
Here you will find a wonderful variety of nature with a "silver lining" as previously Achterbroek, a beautiful walking and cycling, the Sallandse Heuvelrug, The Reggedal and Europe very highly regarded unique mire "the Engbertsdijksvenen", where hiking a special experience is. Twenterand offers many recreational opportunities in an area with many cycling, hiking and riding trails. And where you can still relax and enjoy the friendly atmosphere of Twente. You have not yet discovered? Now it's high time !!!
Our stay was great, the place is perfect, newly renovated and put together with great care. Beautiful interior and very cozy. There is everything you need for short or longer stay. We regretted not having more time to spend at the apartment and garden. The distance to Slagharen is 30min by car so also very recommendable for families who are planning to visit the park.
Sanna
2016-08-14T00:00:00Z
Mooie locatie met veel ruimte. Fijn ontvangst en alles tot in te puntjes verzorgd. Aanrader dus!
Remko
2016-09-10T00:00:00Z
Wij werden verwelkomd door Henk zelf (die ons op stond te wachten) en werden verrast door een fles rode wijn als welkom-geschenk. Het appartement is net zoals in de foto's en brandschoon! Henk en, zijn vrouw, Karin hebben werkelijk aan alles gedacht om het appartement als een thuis in te richten. Fantastisch! We hadden zelfs een keuze gehad uit diverse soorten fietsen toen we een dagje een tour wilde maken. We hebben ook prachtige wandelingen gemaakt in het Vechtdal en Sallandse Heuvelrug. 's Avonds konden we heerlijk in hun tuin zitten (picknick tafel of tuinset!) en werden door Henk uitgenodigd om fruit te plukken als er trek hadden. Het centrum van Vriezenveen is op 5 minuten afstand met de auto waar alles te koop is. Dit is een super aanrader voor iedereen die de drukte wilt ontvluchten en lekker de natuur in wilt (fiets en wandel mogelijkheden ten over!)
Mary-Ann
2016-07-20T00:00:00Z
Appartement Klaar is super! Alles spiksplinternieuw, smaakvol ingericht en comfortabel. Ideaal voor 2 personen. Het appartement is de zolderverdieping van een schuur achteraan het woonhuis van de verhuurder. Je kan er met 6 personen slapen, maar dan is er weinig privacy, daar alles zich in 1 ruimte bevindt (2 personen kunnen nog slapen in de salon en er is ook een kleine bedstee voor 2 personen). Goed uitgeruste keuken (vaatwasser, Senseo, combi-oven....), goede douche, zalig tweepersoonsbed en gezellige salon. Bad- en keukenlinnen zijn voorzien, evenals lakens. Er is een terrasje buiten en een picnicktafel in de boomgaard. In Vriezenveen op 1 km afstand vind je alle voorzieningen: een warme bakker, een supermarkt.... Wij hebben er 300 km gefietst in 4 dagen in een schitterende omgeving. Henk weet heel veel te vertellen over de historie van Twente.
Carole
2016-09-18T00:00:00Z
we waren de allereerste gasten op de prachtige boerderij van Henk, midden in het dorp Vriezenveen. Henk had ter ere daarvan een heerlijke fles wijn voor ons klaargezet.
chris
2016-06-27T00:00:00Z
Gewoon helemaal goed. Henk de gastheer is vriendelijk en uiterst behulpzaam. Er stond een lekker flesje wijn voor ons klaar en het ontbijt op 1e en 2e kerstdag was een ware traktatie. We mochten op 1e kerstdag zelfs gebruik maken van de overdekte verwarmde, buiten-bbq-plaats die de gastheer voor zichzelf voor 2e kerstdag had klaargezet. Wij hebben het heerlijk gehad!
Peter
2016-12-26T00:00:00Z
Mooi verblijf
Tanit
2017-04-02T00:00:00Z
We hebben genoten van het (helaas korte) verblijf bij Henk. Het appartement is zeer netjes, compleet, comfortabel, schoon en met smaak ingericht. We hadden een ontbijt besteld, en ik kan het iedereen aanraden: heerlijk! Een "terugkomer"!
Robert
2017-01-08T00:00:00Z
Room Type
Entire home/apt
---
Property Type
Flat
---
Accommodates
4
---
Bedrooms
Vriezenveen, Overijssel, Netherlands
Fijn appartement op loopafstand van het Centrum van Zutphen en van het Station. Twee slaapkamers, een kleine keuken met alle voorzieningen, badkamer en toilet apart. De woonkamer is voorzien van grote ramen en zo kijk je uit de berkel, bomen en als je goed kijkt de Oude IJselbrug.
Je komt binnen en loopt twee trappen op. De gang loopt uit in de keuken. Eerste links is slaapkamer 1 met een eenpersoonsbed. Slaapkamer twee heeft een tweepersoonsbed en een klein balkon. De woonkamer heeft een eettafel, twee banken en een fijne leren stoel. De grote ramen zorgen voor veel licht en een mooi uitzicht.
Op 2 minuten lopen van het centrum en het station Enkele minuten met de fiets/auto en je bent in een bosrijke omgeving Grotere steden als Arnhem en Deventer zijn goed te bereiken
The host canceled this reservation 3 days before arrival. This is an automated posting.
Oussama
2017-04-04T00:00:00Z
Prachtig uitzicht en lekker dichtbij het centrum.
Nicole
2017-03-19T00:00:00Z
Room Type
Entire home/apt
---
Property Type
Flat
---
Accommodates
3
---
Bedrooms
Zutphen, Gelderland, Netherlands
Ons comfortabel huisje in het mooie Salland bestaat uit woonkamer/keuken, een slaapkamer met comfortabel 2-persoons boxspring bed en ensuite badkamer. De keuken is volledig uitgerust. Het grote overdekt terras grenst aan een zeer grote tuin.
The reservation was canceled the day before arrival. This is an automated posting.
Lucine
2015-05-01T00:00:00Z
The host canceled this reservation 20 days before arrival. This is an automated posting.
Chris
2016-08-14T00:00:00Z
The host canceled this reservation 161 days before arrival. This is an automated posting.
Rianne
2016-12-24T00:00:00Z
The reservation was canceled 2 days before arrival. This is an automated posting.
thijs
2015-04-24T00:00:00Z
Arend-Jan communicated quickly and completely, clarifying that the price for a couple was 10 higher than what we'd reserved. We went anyway, had time for a gezellige coffee with Arend-Jan, and then had the place to ourselves the rest of the time. He's made terrific design choices in converting a stable to an elegant one-bedroom cottage, beautifully situated next to a big field. Peace, quiet, and comfort in the country! A great find.
Mark
2015-04-19T00:00:00Z
Heerlijk verblijf gehad in het zwaluwnest. Ontbijt was ruim voldoende en de woning lekker koel en rustig. Prachtig uitzicht, goed bed en van alle gemakken voorzien.
Samira
2015-07-03T00:00:00Z
Gastvrij ontvangen door Arend-Jan, zijn vrouw en zoon. We kregen direct goede tips om een mooie fietstocht in de buurt te maken en ook over de wandelingen in de buurt kregen we mooie informatie. Huisje was zeer netjes en voorzien van alles wat je nodig hebt. Kortom, we hebben heerlijk kunnen ontspannen!
Bastiaan
2015-04-07T00:00:00Z
Arend-Jan is erg gastvrij en het zwaluwennest is een zeer prettig verblijf. Plek leent zich uitstekend om van de rust te genieten. Ontbijt is uitgebreid en goed (zelf te bereiden, dus naar eigen flexibiliteit in te richten).
Marloes
2016-11-26T00:00:00Z
Room Type
Entire home/apt
---
Property Type
Flat
---
Accommodates
2
---
Bedrooms
Luttenberg, Overijssel, Netherlands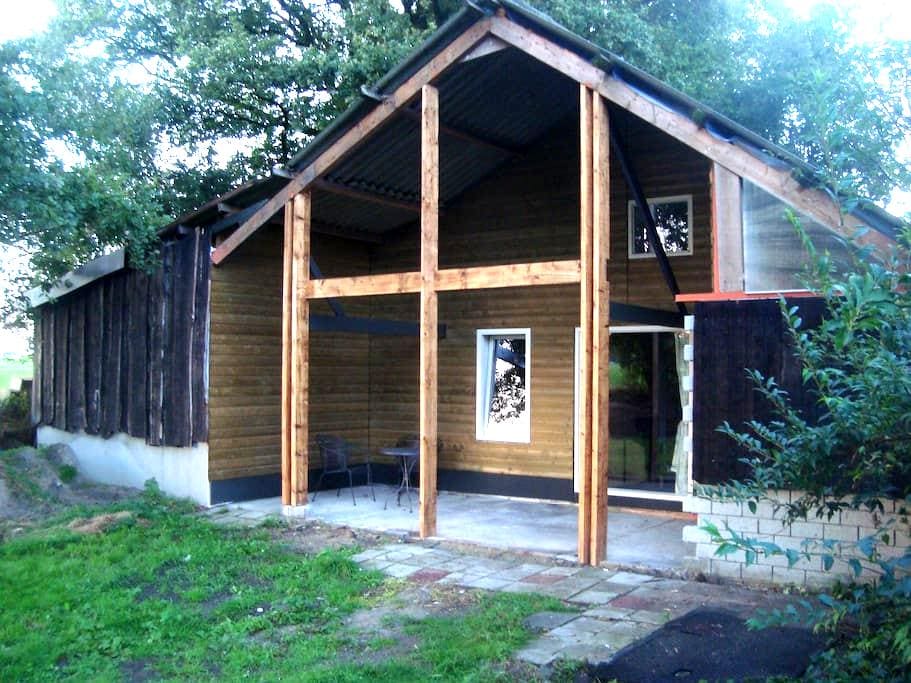 1

–

18

of

103 Flat Rentals
Enter dates to see full pricing. Additional fees apply. Taxes may be added.