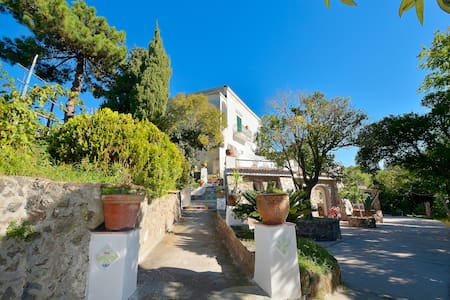 SUPERHOST
Entire guest suite · 4 guests · 1 bed · 1 bathroom
Villa Vincenzo Di Meglio - Apt.1 - Free WiFi
Apartment / annexe located in a 'historic Villa surrounded by a lush countryside. The apartment can accommodate 4 persons, and consists in a bedroom, a spacious living room with sofa bed, kitchen and bathroom.
What guests are saying:
"GianLuigi's place is fabulous! The villa is set on a gorgeous property where relaxing is easy! Strolling through the grounds eating fresh figs off the tree, picking some basil and tomatoes to go with our dinner outside on the patio and some lemons to use in our water - it was all fabulous. My daughter and I felt like we were in a scene from a movie :) There was even a cute little dog and cat that came by to visit while we enjoyed our dinner outside. Having Bruno pick us up and bring us back to the port was easy, delightful and a great perk. My only regret was that may daughter and I could only stay one night and didn't get to enjoy any of the other things Ischia had to offer. But most for us important was complete relaxation and that is exactly what GianLuigi's place offers!"
This is an apartment of about 80 square meters in a sixteenth century building, with a view of the sea, the islands of Procida and Vivara and part of the Phlegrean Coast, and of course of the Aragonese Castle. The apartment is located in the historical centre, the old town of Ischia Ponte, and is surrounded by all main facilities, shops, restaurants, chemist, food-stores, etc. The double bedroom and the main living area are on two different levels, connected by a few steps, there is a small single bedroom, a kitchen with sitting area, an entrance hall and three bathrooms, one of which has a shower. There are two entrances: one directly from the old town centre and the other one over a beautiful terrace (approx 15 m2) from the Aragonese promenade. You will find satellite TV (Astra) and Italian digital TV, as well as Internet and electric heating. The apartment has a four-burner stove, oven, fridge, washing machine, hair-dryer, microwave, kettle and sufficient kitchen-equipment and linens. Despite its very central location it is a very quiet place, perfect for those guests who would like to enjoy the beauties of the Gulf and Ischia's Old Town in a cosy and serene atmosphere. A few meters from the terrace the jetty is the mooring area for small fisher boats selling fresh fish, and 200 meters towards the centre you will find an ancient bakery with a wood-oven daily selling their delicious fresh bread.
What guests are saying:
"My 3rd stay with Erika. This spot is pure magic. I am a professional vacation property manager with many units and she the greatest hostess I have ever encountered. I don't know how manages what I believe is a first class luxury experience for economical prices. If you rent here, I recommend staying here for more days that you first intend. You will not want to leave. Your mind body and spirit will beg to remain longer. Forget the hustle of trying to see more places. Ischia - and Erika's apartments - have it all."
Monolocale di circa 30 mq. inserito in un immobile del XVI secolo con vista sul mare, sulle Isole di Procida e Vivara e naturalmente sull'Isolotto del Castello Aragonese. Ubicato nel centro storico del Borgo Antico di Ischia Ponte.
What guests are saying:
"Lovely apartment for 1-2 people right in the heart of Ischia Ponte, which to me is the best part of the island to stay. The view alone is worth the journey and stay. Erika picked us up promptly from the port and also dropped us off when it was time to leave. A great addition to our stay. We were greeted with cake, fruit and wine plus bottled water in the fridge. A lovely presentation. Apartment is cool and well maintained. Bathroom is well stocked. Wifi can be a bit weak at times but not a major problem for us as we had mobile data roaming. The neighbourhood is gorgeous, peaceful, with not only the sea but dozens of decent eateries at your doorstep but far enough not to make a noise. Truly a great and convenient locale. Walking to the main port takes about 25 mins. Fans of the movie The talented Mr Ripley will be happy to know that the apartment building/exterior features in the film. We're already making plans to return again sometime. Thanks Erika!"