A large and sweet room between Milano and Como. Completely independent, close to the Club House were it is possible to speak with the owner and other friends or relaxing drinking, reading, dreaming....
Un' oasi di pace tra tre bellissime città: Milano, Como e Varese. La camera è confortevole con un letto matrimoniale ed un letto a castello ed un bellissimo bagno privato dotato di finestra sul giardino
Lovely place and lovely host!
Anne
2017-02-25T00:00:00Z
just perfect!
Tina + Stefan
2016-06-27T00:00:00Z
The place is really cool, it's a hara, perfect to spend a night. There are a lot of kind animals. People are really hospitable and it's possible to have a dinner there and the food is really amazing :).
Cyl
2016-08-02T00:00:00Z
We had a great stay. It is half an hout drive from the como lake. We had a warm welcom by the owner. There were lots of animals like horses, dogs, cats and donkeys. Super for the kids. We asked to make us diner and we had a great diner made by the owner. The following morning we had a enormes and delicious breakfast. Michelle was a great host and made us feel very welkom.
Corstiaan en familie
2016-08-05T00:00:00Z
Simona was a great host, very friendly and caring. Great place for our kids with the horses, dogs and cats... Also breakfast was super!
Silke
2016-08-18T00:00:00Z
Perfect
Thijs
2016-08-27T00:00:00Z
Same as for the first visit ;)
Cyl
2016-08-08T00:00:00Z
Great place kind & friendly owners
Grace
2016-08-01T00:00:00Z
Room Type
Private room
---
Property Type
House
---
Accommodates
4
---
Bedrooms
Bregnano, Lombardia, Italy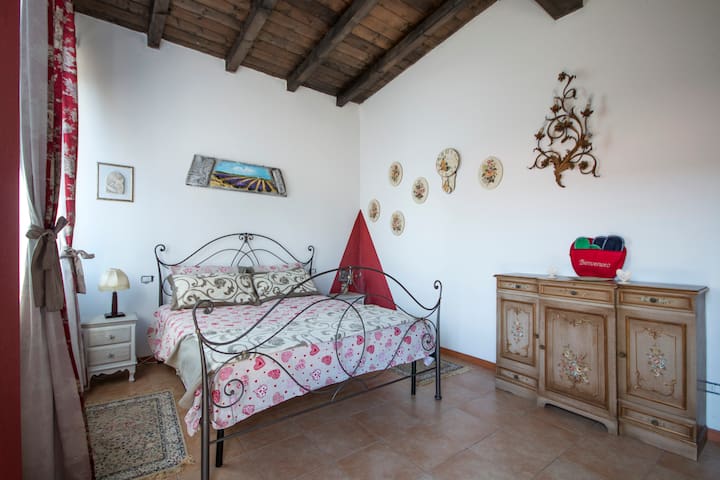 Indipendente, luminosa, confortevole con curato giardino privato. Crocevia strategico per Milano, città dell'arte e della moda, Como e il suo incantevole Lago, Foxtown e lo shopping di lusso, Lugano e la sua eleganza. FIERAMILANO-RHO. A9, Pedemontana
Appena rinnovata offre ogni comfort per far sentire l'ospite come a casa sua. Curata nei dettagli sia internamente, sia nel giardino privato da cui è circondata.
Residenza ubicata in verde e tranquillo paese tra Como e Milano, punto di partenza per note località.
La casa è un gioiello, pulita, tenuta molto bene, spaziosa e luminosa. E' fornita di ogni comfort ed è molto funzionale. E' estremamente comoda per arrivare a Como e non affatto lontano da Milano. I proprietari della casa si sono dimostrati estremamente gentili e cordiali, molto diponibili a venire incontro alle nostre esigenze. Ci hanno dato ottimi consigli per il soggiorno e sono stati molto attenti alla nostra privacy. La consiglierei a chiunque desiderasse passare qualche giorno in zona Milano o Lago di Como. Ancora un grazie a Valeria e famiglia che ci hanno accolti con così tanta premura.
Simone
2015-10-25T00:00:00Z
Room Type
Entire home/flat
---
Property Type
House
---
Accommodates
2
---
Bedrooms
Cermenate, Lombardia, Italy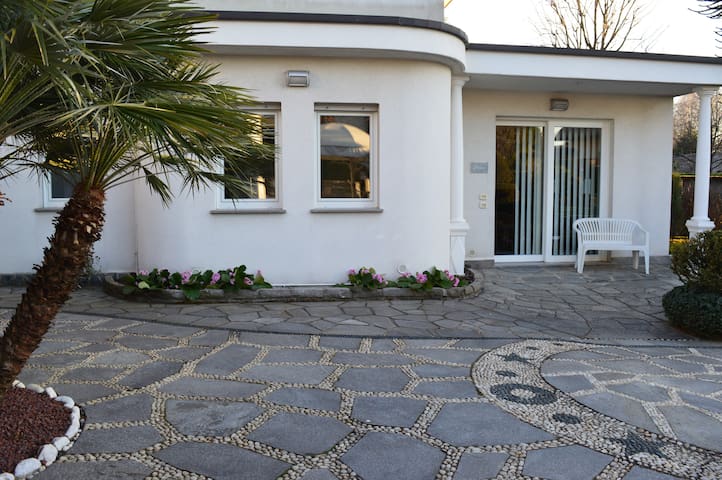 I've got a double bed in a cute mansarda brand-new (totally renovated 1 year ago). It's hot in winter and fresh in summer I've got blanket and a shared toilet, bathroom, shower at the 1st floor where I live. I live in a Country very near to Como, 4 minutes walking from the main train station that can easily link you directly to Como Lake or Milan in some minutes. My flat is really nice, made with a lot of wood, comfortable and wit new furniture.
Room Type
Private room
---
Property Type
House
---
Accommodates
2
---
Bedrooms
Cadorago, Lombardia, Italy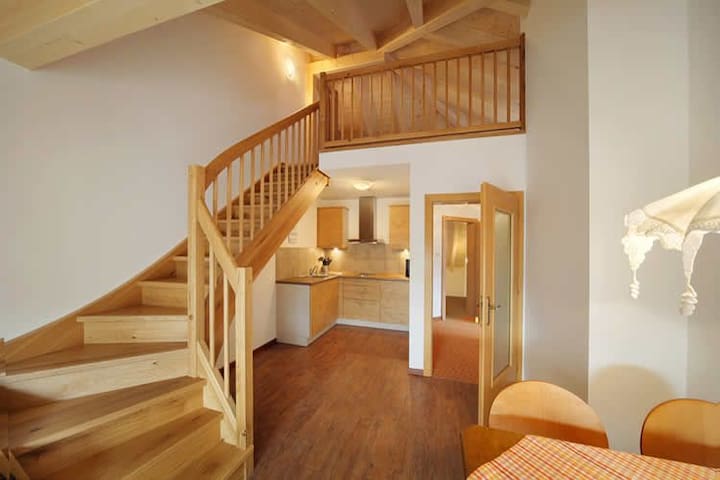 Grazioso appartamento immerso nel verde in zona assolutamente silenziosa, a 200 mt dall' ingresso della pedemontana (Cermenate-Lazzate),base ideale per chi lavora nella zona oppure per chi desidera visitare Como o Milano. Parcheggio privato anche per camioncini, camere calde e accoglienti schermo tv 50 pollici, bagno e cucina attrezzata(pronta per cucinare un piatto di pasta!).Ampio terrazzo sulla campagna pedemontana, Wi.fi libero in tutta la casa.Supermercati e ristorante a 2 minuti a piedi.
Affacciato sulla pianura pedemontana.
Room Type
Private room
---
Property Type
House
---
Accommodates
4
---
Bedrooms
Cermenate, Lombardia, Italy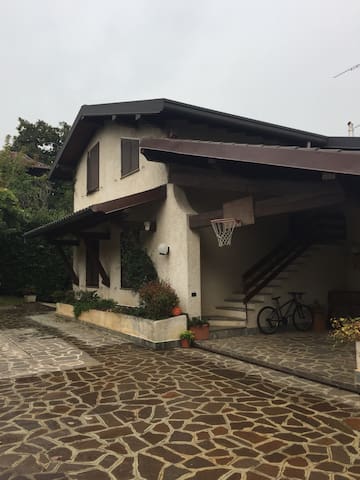 L'appartamento si trova all'interno di una corte e dista dalla città di Como circa 15 min in treno . Offre servizi di trasporto come pullman e treni . Il mio alloggio è adatto a avventurieri solitari.
Room Type
Private room
---
Property Type
House
---
Accommodates
1
---
Bedrooms
Bregnano, Lombardia, Italy
lovely double room with indipendent entrance and private bathroom in a courdyard of the small village centre. self-service breakfast available. Good location to get to Milan, Como and Lake Como, EXPO, Switzerland. private parking
simple and confortable room, typical village of the area. indipendent entrance and private parking
near bakery, cafe, take away pizzeria, gelateria, supermarket, pizzeria/restaurant
Eleonora is very polite and she did everything to help us, despite we arrived at the apartment very late in the evening. The apartment was very clean, with a private safe garage. Guanzate is a nice village and I strongly recommend a visit to the Pizzeria Cappadocia!
George
2016-08-11T00:00:00Z
Our stay at Eleonora's was really short but PERFECT. We arrived quiet late but Eleonora was still available to welcome us and she even had prepared for us a nice breakfast for the next morning. This is a perfect place between Milan and the Como Lake, which is a must seen !
Julie
2015-05-16T00:00:00Z
As I frequently need to break my trips around Como/Milan, I am tented to write a bad review to have more chances to find this room (actually an independent flat) available next time ;-) But honestly this is a very convenient accommodation for those that need a break in the area. Eleonora is very efficient and everything you need is there, and with clear instructions. Flat is kept very clean also for Italian paranoid standards..
Antonello
2016-08-03T00:00:00Z
The room of Eleonora looks like a good hotel room. But you feel yourself not as if you are at hotel but at home. She was very hospitable and we woud highly reccoment the appartment!
Юлия
2015-10-04T00:00:00Z
Our stay at Eleonora's room was great. Room is nice, with bathroom - totally independent. Parking box in Italy is great value. Eleonora is nice person, and she did everything for us to feel comfortable. As for Italy it is quite peaceful place with awesome ice creams nearby.
Mariusz
2015-08-07T00:00:00Z
The room is clean and has everything you need. Eleonora was very kind and helpful. We could use her garage for our car. A nice stop over for our trip to Tuscany. Close to the highway.
Lester
2016-07-23T00:00:00Z
Nice apartment, and very kind host!
Margot
2016-07-31T00:00:00Z
Our stay at Eleonora's place was very pleasant. She friendly welcomed us when we arrived and showed us the room and the garage where we could park our car. The room and bathroom were very clean and complete. Also the bed was comfortable. You could see that Eleonora had put some effort in the room, we had clean towels and even some small snacks and tea. Overall we definitely recommend this place and want to thank Eleonora and here family again for her hospitality.
Annemarie
2016-08-19T00:00:00Z
Room Type
Private room
---
Property Type
House
---
Accommodates
2
---
Bedrooms
Guanzate, Lombardia, Italy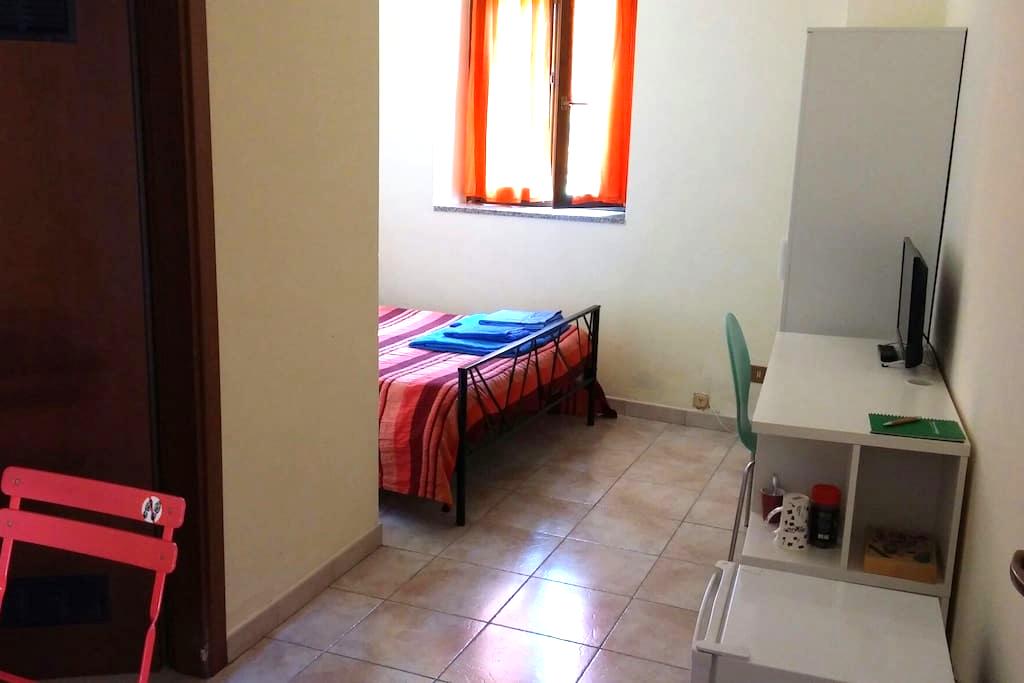 Would you like to get to Como and its beautiful lake or to Milan fair in just 20 min. but you are looking for the confort of a big cozy house where you can relax with a drink in the garden away from stress and noise? Welcome to our villa!
News 2017 : free unlimited Internet .Single family house with a lot of space and light and with beautiful garden of 1000 sm planted and fenced. Ground floor 150 sm: large living room with sofas and table and TV 40", kitchen fully equipped, 1 large double bedroom with small TV, 1 double bedroom, 1 room with 3 single beds. 2 bathroom (shower and bathtub). 3 additional folding beds to be placed as wished in 2 bedrooms or living room. In the basement: large tavern with fireplace, large table and babyfoot; 1 laundry with washing machine and iron, 1 bathroom with shower. Large porch with table for outdoor dining, barbecue and deckchairs for relax. Guests will find the beds ready with sheets and duvets and 2 towels for each person. Cleaning and hygiene of the linen is guaranteed by a professional laundry . Free parking for 4 cars inside the property.
The house is 100 m from the bus stop. From the house you can reach easily running/ cycling area, the characteristic town square, on top of a small hill 340 meters a.s.l., and the sanctuary of the 16th century. 300 meters from all services : supermarket, pharmacy, restaurant, pizza takeaway, bank etc. -1 km from sporting area in the green with outdoor swimming pools, tennis, horseback riding. -3 km from 2 top golf courses; -3 km from training center of Inter football club
We changed our arrival time, but Patrizia and I kept in contact and she was able to have her lovely daughter welcome us. We were given a thorough explanation of house rules and instructions as well as excellent advice for our travel needs. Great tip about parking and subway for Milan!! Her daughter even escorted us to a local restaurant in Guanzate. Unfortunately we were unable to try it since it happened to be closed that day :( We were all very comfortable as the house was large and spacious! The hosts graciously left us some snacks and beverages which we truly appreciated after our long journey. We would recommend this home to anyone wishing to visit Milan or Como. For our group of 9 people, it was affordable and convenient.
Rosangela
2016-08-05T00:00:00Z
Myself and my colleagues were in Milan for Salone del Mobile and Patrizia's house was ideally located for reaching the fair and the city as well for heading north to Como. The house felt homely, is of a very good size, clean and comfortable. Patrizia is an excellent host.
Nick
2016-04-16T00:00:00Z
Thank you Patrizia for the accommodations. Your house is lovely and the communication was excellent. Thank you again and we hope to stay there again next year.
marien
2016-05-31T00:00:00Z
The villa is perfect for your holidays at milan or Come Lake. We are spent a good time and Patrizia (the owner of the house) is nice, she is always available for tips or solve problems. We will come back ;)
Thibaud
2016-08-17T00:00:00Z
Simply unbelievable. Our group was taken care so nicely that all of waved good bye with heavy hearts. Patrizia and family are really super hosts. Even the house is so nice and perfectly located.
Hemalkumar
2015-11-17T00:00:00Z
Lovely stay in beautiful surroundings. We received a very warm welcome from Patrizia and her son Lorenzo. Thank you for the complimentary wine and snacks. Patrizia was available at all times, very helpful. Well appointed villa, bars, supermarket, restaurants all within a short walking distance. Very friendly locals.
Lynn
2016-06-28T00:00:00Z
We had a great stay, the owner, Patrizia, was very friendly, already before we'd even arrived. The accommodation itself was clean & had everything we needed, although did feel a little 'cold' from the bland & old decoration. The plug sockets confused & frustrated us (since there were 2 types of 3-holed sockets, which I've since learned is quite common in Italy), so plugging anything in was always a challenge. The tv in the lounge was old, not flat screen & therefore no way to connect to a computer for example (, no hdmi output), & there was no dvd player, but luckily I brought my own. The WiFi wasn't great at the beginning, but when we told the owner, she replaced the router, which did improve it, but was still rather slow & unreliable compared to WiFi we are used to. The bath took ages to fill, the water just trickling out, so I had to start it before the kids had dinner, for it to be ready at their bathtime. The house was very spacious though, plenty of room for our family of 7, & the beds were comfortable, & the kitchen well equipped. Generally, we were happy to stay there, & would consider returning again. Thank you for having us! :-)
Emma
2015-10-31T00:00:00Z
We really appreciated our stay in this spacious and well equipped house. The garden is beautiful and we enjoyed the terrasse after walking in Milan and the Expo. We were 2 couples with teenagers and children and everybody found a place to relax. Patrizia was really helpful, giving us all the information needed to visit the Expo, Milan and Como. It was easy to reach all these locations. Patrizia was very friendly and welcoming, she left us a complete book full of practical tips like shops, restaurant and how to get to Milan or Como. She speaks excellent excellent English and understand some French. Patrizia, thanks a lot for the nice pastries and food left for the first day, they were welcomed!
Maryse
2015-05-17T00:00:00Z
Room Type
Entire home/apt
---
Property Type
House
---
Accommodates
10
---
Bedrooms
Guanzate, Lombardia, Italy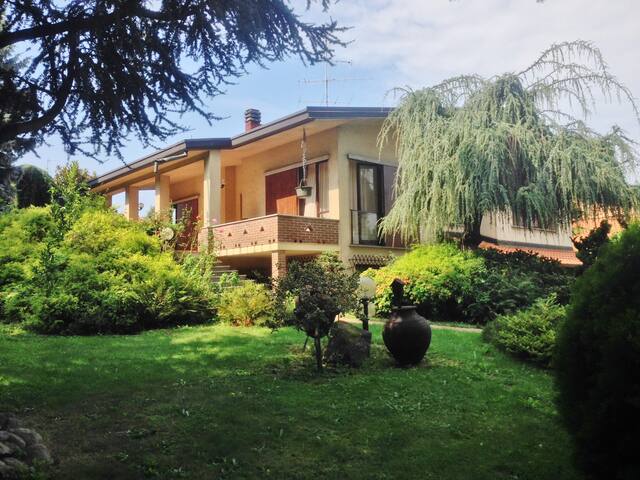 Mansarda con ingresso indipendente, confortevole. Situata in centro paese, comoda per raggiungere stazione di CARIMATE.
Alloggio comodo per coppia, semplice e con un bellissimo terrazzo con vista sul paese Montesolaro. Situato in centro paese con le comodità di edicola, supermercato, Chiesa, Bar e parco giochi vicino. Vicino a stazione di Carimate si può raggiugere la Svizzera o Milano.
Situato in centro di Montesolaro, paesino tranquillo e ricco di vegetazione. Bellissima passeggiata pedonale che porta fino in centro a Carimate.
Room Type
Entire home/apt
---
Property Type
House
---
Accommodates
3
---
Bedrooms
Carimate, CO, Italy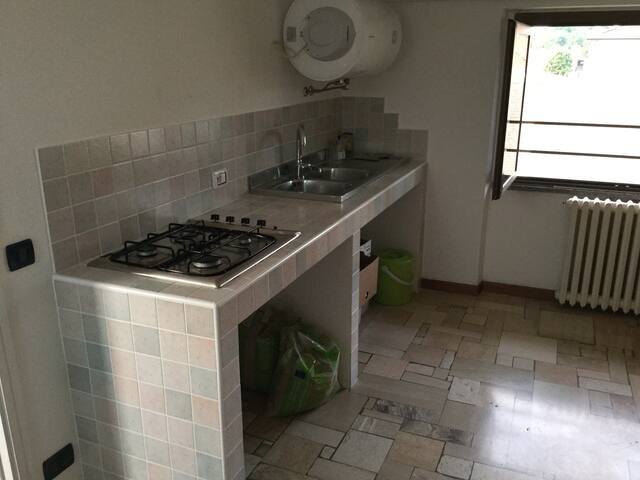 perfect location your own house with easy access to both all the shopping, shows, culture of Milan and also Lake Como with its beauty and famous boulevards. home of celebs from all around the globe Richard Brandson to George Clooney live like a celeb while on a budget
400 year old character filled- light and airy home in historical centre with a tower complete privacy, a garden to dine in, 2 minutes walk to lovely shops, restaurants cafes a walking trail park and the station which takes you by direct train to the centre of milan or Como in 20 mins
year old character filled village with all amenties historical centre with churches, Villa Somaini, art a tower nature trail, 2 minutes walk to lovely shops, restaurants cafes a walking trail park and the station which takes you by direct train to the centre of milan or Como in 20 mins. Central to everything! Malpensa international airport, Lake Como, Lake Maggiore, Switzerland 16 km. Easy access to motoway, and also public transport
This was a great start to our Italian adventure. Donna was so helpful, with lots of good advice. On arrival she showed us around the village to get our bearings and made us feel comfortable. Everyone we met was very friendly. We loved her cat, Bellagio, who was always there to greet us when we came home from our travels. The house was perfect for us, a family of four - it was so homely and we always felt relaxed here away from the rush of the city. This is an excellent base for travel to the great city of Milano, the relaxing fresh air of Como and its lovely Duomo and beautiful Lake Como. It is only an easy four minute walk to the railway station with trains every half hour to these destinations. A great location!
Marian
2011-09-29T00:00:00Z
The village of Lamazzo couldn't be more picturesque and Donna's house was great. Getting to and from Milan and the Fiera by train was quick (45min) and easy (though the last direct train from Milan is at 21:10). Donna was a great host and when we arrived she gave us a wonderful tour of the town, made some local introductions, and got us all settled in. Bellagio, the resident cat, was a delight to come home to after a day out and about. Really nice place to stay if you want a more rural experience than the big city. And Como is also a great, short 30 min day trip - we took the boat from Como to Bellagio and had a great day of it.
Daniel
2011-04-19T00:00:00Z
The host canceled my reservation 14 days before arrival.
Miriam
2011-05-13T00:00:00Z
Room Type
Entire home/apt
---
Property Type
House
---
Accommodates
4
---
Bedrooms
Lomazzo, Lombardy, Italy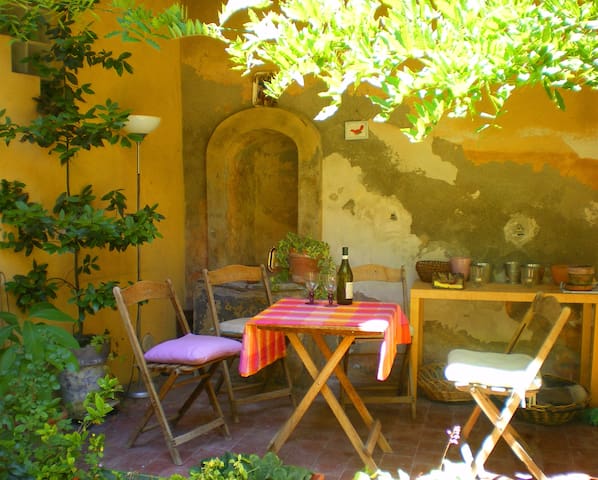 Cosy house in green surroundings. It can accommodate up to 4 people, two couples or family, comfortable for lakes CO and LC, 2 km from the highway and station Como-Milan, few minutes from Monticello Golf Club and Golf Club Pinetina. Price 40€ for rooms.
Comfortable house in convenient area but at the same time quiet in the green. It can accommodate entire family from 4 persons or 2 pairs. Possibility of bathroom and kitchen. Price is per room. Possible to rent by the hour.
Quiet area with lots of greenery around. But at the same time a few minutes drive from golf courses and Sant'Anna hospital. At 15 minutes from Lake Como.
Room Type
Entire home/flat
---
Property Type
House
---
Accommodates
4
---
Bedrooms
Ronco Vecchio, Lombardia, Italy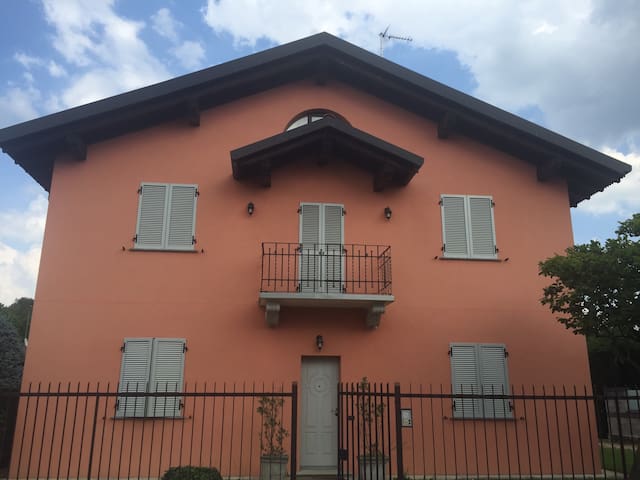 New unfurnished use the pool bedroom bathroom living room and kitchen and garden
newly built house with use of convenient puscina condominium. You are reached quickly from como lake and from Milan.
It is a brand new complex of terraced houses close to the famous golf mound golf and sports center of the nice pine forest appiano
Room Type
Entire home/apt
---
Property Type
House
---
Accommodates
4
---
Bedrooms
Cassina Rizzardi, Lombardia, Italy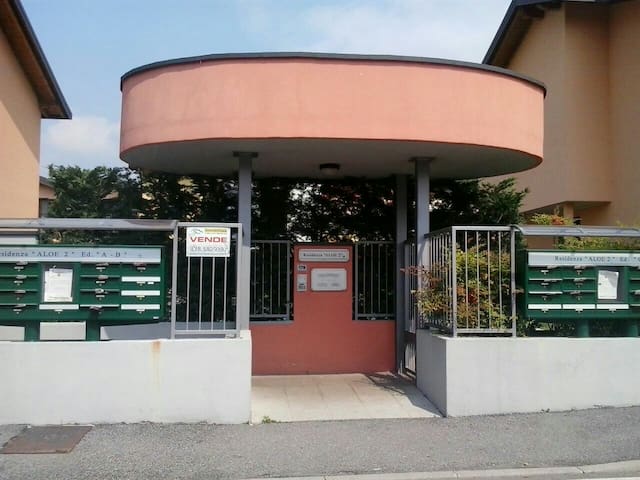 Situata nel verde in zona tranquilla e silenziosa ma allo stesso tempo a pochi minuti a piedi dal centro dove si trovano negozi, bar, discoteca, cinema. A 10km da Como (raggiungibile in bus) e a 40km da Milano (raggiungibile comodamente in treno dalla stazione di Mariano Comense). La cucina dispone di lavastoviglie, forno tradizionale, microonde, biancheria da cucina. Il giardino è attrezzato con tavolo e sedie esterne per poter pranzare all'aperto. Barbecue a disposizione.
Room Type
Entire home/flat
---
Property Type
House
---
Accommodates
8
---
Bedrooms
Cantù, Lombardia, Italy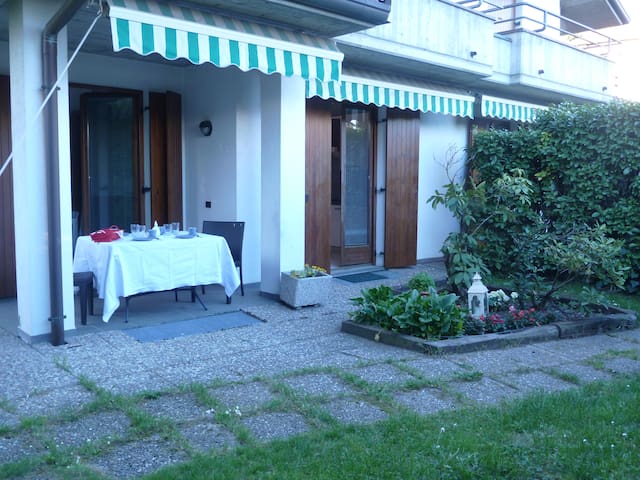 Large room with Double bed. + 1 single bed. SmartTV + NETFLIX Breakfast . Biological Private bath for guests. Private parking . Car - 15 min- Como / 40 min-Milan, Malpensa / 50 min Linate / 1 h to Orio al Serio.
I have never stayed at a place with such amazing hospitality. Enrico and his mom are genuinely nice people with such big hearts. My friend and I stayed in Cantù to visit Lake Como and we were literally overwhelmed with kindness. Enrico went out of his way so many times to make sure that we were happy and comfortable. The place was quite big, homey, and very clean. Honestly in my opinion, the best Airbnb that I have ever stayed at. If you are going to Lake Como, STAY WITH ENRICO! You will not be disappointed.
Vivian
2016-05-15T00:00:00Z
Our stay at Enrico and Anna's was a wonderful experience. They are very kind and generous people. They respect their guests' privacy but are available to answer questions or give recommendations. The house, room and bathroom are spotlessly clean. Anna's breakfast is such a treat with a wide variety of delicious and healthy products. Good vibes all over!
Suzanne
2016-08-14T00:00:00Z
We had a very nice and pleasant stay in Cantu. Enrico and his mother are very friendly and helped us with many things. The rooms were beautiful and clean. The breakfast was delicious and many-sided. We totally recommend this accommodation! :)
Juana
2016-10-18T00:00:00Z
Enrico and his mother were wonderful hosts ! They are very kind and welcoming. The bedroom and bathroom are very clean. There is also wifi and a little terrace. You can easily park your car in security. The breakfast was so perfect ! Enrico and his mother gave us tips to visit the area. The pizzeria near by is delicious. Thanks a lot for these two nights. We strongly recommand this place !!
Clémence
2016-08-23T00:00:00Z
Enrico and Anna were the best hosts we have so far. Their beautiful house with a nice garden is in a quiet, friendly and lovely neighborhood. They give you your privacy,an amazing breakfast and make u feel comfortable. The room and bathroom are very clean and luxurious. I would highly recommend a stay here.
Mallikarjun
2016-05-23T00:00:00Z
Enrico and his mother are the most kind ppl in Cantu. He picked us up on train anytime we need and help us with everything. His house is big and nice room and bathroom were clean. With his morning cafe was every day better. If we anytime will be near Cantu we will come to visit him again :) take care Kubo and Monika
Jakub
2015-10-27T00:00:00Z
Some people have the gift of hospitality, and definitely Enrico and his mother fit that. They were so hospitable! The room is big and very comfortable and we had fruits, water and chocolate waiting for us. Every morning we also had a nice breakfast prepared by his mother, who is a great guest too. Great people, very nice! Everything was very cleaned and organised and we were treated very well by them. Thank you Enrico and Anna for your hospitality!
Fernanda
2016-08-10T00:00:00Z
Enrico made us feel relaxed and cared for. There was an air traffic controllers strike in Italy and our flight was cancelled, but he was gracious in our arriving at 1:00 in the morning. After a long day of travel it was great to have such clean and elegant accommodations. Enrico's mom fed us with home-made jams and joyful conversation for breakfast. It was an excellent location for visiting lake Como and Milan. The home is quiet and calm. A fantastic experience at our first Airbnb stay.
Tom
2016-06-20T00:00:00Z
Room Type
Private room
---
Property Type
House
---
Accommodates
3
---
Bedrooms
Cantù, Lombardia, Italy
Capiago Intimiano è un paesino confinante con lo splendido Golf di Villa d'Este oltre che a diversi maneggi immersi nel verde. La città di Como si trova a 8 km e il confine svizzero a 10.
Room Type
Private room
---
Property Type
House
---
Accommodates
2
---
Bedrooms
Cantù, Lombardia, Italy
Casa indipendente su due piani, all'interno di una corte recentemente ristrutturata nel pieno centro del paese.
Casa ben attrezzata e pulita in posizione comoda e servita da bar, supermercato, farmacia. Il proprietario è stato gentilissimo e disponibile Sicuramente in futuro tornerò!
LORENA
2017-02-07T00:00:00Z
L'appartamento è molto bello,pulito a due passi dal centro. Claudio è un ragazzo molto gentile e disponibile Consigliatissimo
Emanuela
2017-02-18T00:00:00Z
Room Type
Entire home/apt
---
Property Type
House
---
Accommodates
4
---
Bedrooms
Lazzate, Lombardia, Italy
AGAIN SPECIAL PRICE! We get open after a long stop! Private car parking, wireless. Comfortable house:(5 people) 2 room, garden. Close to Como & its amazing Lake,Bellagio, Milano,Monza & F1 race
Close to Como, Lake Como, Bellagio, Erba, Fair Elmepe Erba, Milan, EXPO 2015, Monza and Lecco. The B & B is located 5 minutes from the center of Cantù, in the immediate vicinity of the hospital, just 200 meters from the Basilica Galliano, one of the most famous monuments of the Romanesque style in Lombardy dated 1007. In the city: museum of Wood and major companies including the "Riva 1920" , "Jumbo Collection"; nearby "Meritalia", "Poliform", "Tisettanta" and other. The home is equipped with two large rooms for a total of 5 people and a sofa bed for 2 persons, a comfortable bathroom and a spacious and bright living room with kitchen, The guests can stay for holiday or as a resting place for all business or you can simply use it as a base for several short trips. The house is so friendly that you feel right at home; You can also relax by taking advantage of the large garden adjoining; At the end of the day, close to the B & B, just 1 km away, you can also find a fitness gym with daily admission to maintain to train or slow down the tensions of the trip (Olympic Center via Domea 47 - week open until 23 on Saturdays and Sundays until 19 till 18) In the morning you can wake up in the tranquility of the area, take a refreshing shower and start the day with a breakfast that you will find in the B&B or going out to meet the locals and read the newspaper in a cafe in the city. Perfect for the purpose we mark the "Marra" very welcoming bakery-pastry shop that offers a wide variety of pastries and cakes. If you opt for this choice, when you arrive in Via Sesia 6 try asking Tino and tell him that his friend Flavio Fioretti sent you you there
In the city: After a walk in P.za Garibaldi and Via Matteotti, the so-called "Vasca", you can find small coffee for a short break and venture into the dialect "canturino" listening to the locals who probably will be talking about the Basketball Cantu and the last game played. The basketball team, the pride of the city and the second most titled of Europe after Real Madrid, play in the walls of the Palace Pianella friends, offering a show healthy inside of one of the warmest areas of Italy. If you're lucky, you could buy one of the last remaining places and spend a Sunday afternoon of sport. Known in Italy and in Europe for the manufacture of lace, Cantu has acquired over the years an international leader in the design and construction of furniture on an industrial scale and measure. In the town there are shops and a museum of wood for lovers of modern art, is available Showroom of my uncle in Via C. Battisti, 10 (ask during your stay), and if you are staying during the period of April to near the now famous Furniture Fair, Milan going to find from the most classical to the most extravagant news to the decor. In the same hall, next year will be held on the EXPO 2015 If you are fans of music, at Cantù in May you can participate or attend the "International Competition for Piano and Orchestra" now in its 24th edizione. In the city you can eat traditional Italian cuisine or enjoy some typical dishes in its taverns and restaurants in the vicinity of the apartment. You can taste a good pizza sitting at the table between people, book it by phone to take away and savor it safely home. Alternatively, if you're so inclined, you can start cooking after a quick shopping in one of several supermarkets, and stop at home watching television or relax on the outdoor terrace or garden. The best restaurant tavern "The Vignette", 5 minutes walk from the house, with typical dishes of Brianza (call to book and find out if there is place, at most try to call me that I will try to find the owner, my friend, asking if he Availability able to welcome); restaurant-pizzeria "Quadrifoglio" (for the best pizza in town); restaurant "Il Capolinea" (very large, with a good choice between pizza and traditional cuisine with English menu too); Other restaurants can be found just as valid to link to Tripadvisor. To take out pizza "Europizza" (tel. (PHONE NUMBER HIDDEN)). Nearby: Fields of golf: Golf Carimate Club Circle Golf Club Villa d'Este Wellness Wet Life : Wellness Center in Nibionno Monticello Brianza Spa - Spa and Wellness in Monticello Brianza Lecco riding centers: If you want you can take a relaxing stroll on horseback surrounded by greenery and nature: The Equestrian Center Sagittarius Urago-Via, 36 - Tavernerio ComoCentro Equestrian Team Sisters - Via Cantu, 33 - Riding the ComoCentro Pinetina-Road Larasca, 1 - Limido Comasco ComoCentro Riding The Cicognetta-off pasture - Vertemate Con Minoprio Como
We spent a few wonderful days in the area of Milan and the Lago di Como. Flavio's apartment was a perfect base for us to discover it! The apartment was very well equipped (wifi, tv, complete kitchen, even printed tourist-materials) and was very comfortable for our family of 5. Flavio and his sister Fabiola were very warmly welcoming and helping whenever we needed. Big thank you for them to make it easy and enjoyable for us!
Peter
2014-07-11T00:00:00Z
Nice appartement on 2nd floor. The sister of Flavio welcomed us and spoke English. We had great beds en a superb bathroom....the appartement was very clean and tidy. Good tips for restaurants in the neighbourhood from the sister! We we're only passing through for one night, but a couple of days is certainly an option! The village of Monza is close by (with the parc and the F1 circuit) and also the City Como and the lake. If the weather allows it you can stay in the backyard on sunbeds or in the pool if it is very hot. All in all i would recommend this B&B....
Patrick
2014-07-30T00:00:00Z
Flavio has a wonderful home. It is incredibly clean with a beautiful kitchen and comfortable beds. The Wifi Internet was great. The whole family loved the multiple spray heads in the shower; I loved the waterfall setting! Flavio was very accommodating, gracious, and quick to communicate. We enjoyed a day trip to Milan and sightseeing at Lake Como. The house has nice gardens for the children to run around and play. We appreciated the gated driveway to park our car. Highly recommended!
Eric
2014-06-23T00:00:00Z
Very nice day in Flavio's flat ! Fabiola was so nice, and the flat very cool. We wanted to stay longer ! Thanks again !
Romain
2014-08-24T00:00:00Z
The reservation was canceled the day before arrival. This is an automated posting.
Andrius
2014-10-09T00:00:00Z
Flavio and her sister were great hosts! Check in - we sent sms an hour before arrival and Fabiola was greeting us in time. There were plentiful cookies, jam, croissants, milk etc ready for breakfast. Apartment was spacious for family of five. One day was raining and we stayed in, there were many board games and plenty TV channels to entertain kids even in really stormy weather. There were also printed notes and suggestions what to do or see or where to eat, it was very handy! Big thanks to Flavio, who showed us around, we enjoyed it so much! Big thanks to Fabiola who so kindly checked us out in the middle of the night! I Strongly suggest this apartment for families or friends.
Annika
2014-07-02T00:00:00Z
Flavio and Fabriola were incredible hosts, the apartment was beautiful and so peaceful. Flavio and Fabriola recommended many restaurants and places to see. Definitely recommend!
Kim
2014-09-23T00:00:00Z
I stayed in Flavio's apartment for one night, with my wife and two kids, while travelling from the south of Italy to the Netherlands. We had a very good stay in the apartment. We could leave most of our luggage in the car since it was parked behind a gate, which was great. The house is very comfortable, and very tidy. There were some child games and toys that our daughters enjoyed a lot. Due to our short stay we could not enjoy the outside garden and pool. There is WiFi which works quite well, not too fast, but just fine. I will certainly remember this b&b for future holidays.
Bart
2014-07-31T00:00:00Z
Room Type
Entire home/apt
---
Property Type
House
---
Accommodates
5
---
Bedrooms
Cantù, Lombardia, Italy
On the edge of Como town, the old town and lake are a 2 min drive, 10 minute train or bus ride from the house or 20 minutes on foot. Como Camerlata train station is on the same street as the house, for trains to Como Lago or Milano Cadorna.
A double bedroom, sharing a bathroom with another double bedroom, in a house with lots of character and a beautiful garden, with outdoor dining facilities and a table tennis table! The room has a flat screen TV with local digital channels and a DVD player, with a selection of DVDs to choose from. Multi-region sockets exist throughout the house, so no need for adaptors!
Staying at Ray's was absolutely perfect for my holiday. Conor was a friendly, welcoming host - I received lots of information on the surrounding area, resulting in some nice dinners out and day trips (really worth getting the advice as I didn't have a huge budget). The house is a short easy trip into the centre, either by bus, train or walking. The house itself is lovely, relaxing, accommodating, peaceful... During my stay I really felt at home, which is, I imagine, exactly what Airbnb have in mind when they advertise what it is to 'belong' somewhere. As for Como, I can't wait to go back.
Ailsa
2016-09-15T00:00:00Z
Lovely home with a great well equipped kitchen. Enjoyed our stay very much
Alyssa
2016-07-30T00:00:00Z
We had a wonderful stay at Ray's House. His son Conor was a very friendly and welcoming host. Our room was beautiful and quiet - just as the rest of the house, not to forget the cosy kitchen and nice terrace. Thank you for having us, Ray and Conor!
Jannis
2016-11-02T00:00:00Z
The room is really big and clean and comfortable. Conor was a good host, showed us around the house on arrival and was there to answer questions when needed. The house is on the outskirts of town and we had a rental car so we used the room as a base for exploring the lake area. The train is really easy to take but the last train back from Como to the house (2 stops, 10 minute ride) is pretty early, 10:30 pm or so. Overall, it was a great value in a big, nice house.
Ellisa
2016-08-22T00:00:00Z
Ray and his wife are great hosts. The room I spent the night in was big, warm and clean. Moreover there was a nice detail in the room: a kettle with some variety of teas. Ray's house is big and beautiful and close to a train station that easily connect you with Como city center or Milan.
Marco
2017-01-01T00:00:00Z
I lived with Ray for 5 months, he was always really kind and on multiple occasions cooked me some really delicious things. He will respect your personal space, but also engage in interesting conversations.
Giulia
2017-03-09T00:00:00Z
Ray is such nice that picked me up at the station because I bought the wrong one. His house is really nice, clean and tidy. I felt warm and cozy there and really want to bring my husband next time. Highly recommend
ruby
2016-01-01T00:00:00Z
Ray was very helpful - the house is very clean. It is conveniently located close to public transport. Easily caught train to Lake Como. Within one kilometer is a cafe and restaurant.
Faith
2016-07-01T00:00:00Z
Room Type
Private room
---
Property Type
House
---
Accommodates
2
---
Bedrooms
Como, Lombardia, Italy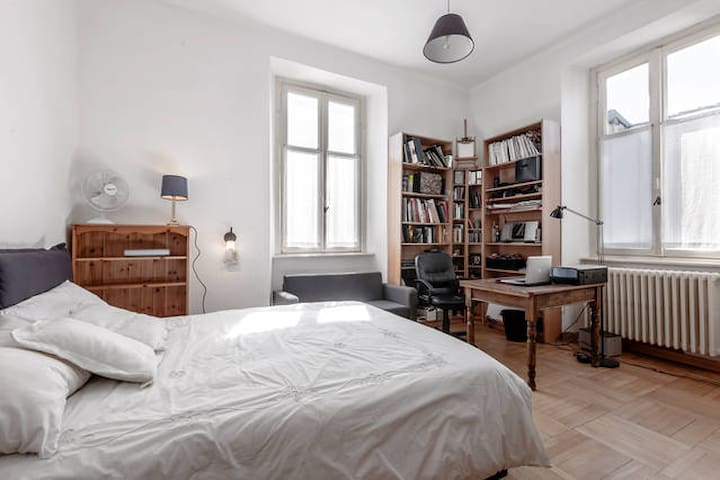 Enjoy your stay in a lovely loft furnished with custom-made interior design, with everything you need. A modern 3-level home - Stylish, comfy, in a quiet neighborhood and very close to Milan, Lake Como, Malpensa Airport, Rho Fiera Milan and Switzerland. Private parking with a direct access in the house and Fast FREE WI-FI. Perfect for business, leisure - for couples, friends, families and businessmen and businesswomen. A small entrance with a bamboo garden and a big patio.
Loft has a small garden entrance with natural bamboo and patio on the backside. Independent entrance, alarm system and hotspot wifi (or cable connection) The Lovely loft has 3 floors: - Living room with leather sofas and Kitchen full equipped and TV. - Mezzanine floor with King-size bed - Underground floor with big bathroom (shower and bath-tube) and cabinet - Direct access to the box (laundry area) from underground or from the backhouse.
Como lake is just 20 min. by car. Milano city center and Malpensa Airport are just 30 Min. by car. You can also enjoy Switzerland just crossing the borderline in 15 mints.
Davide was super responsive and easy to work with. Great value and home base for visiting Milan and Como.
Karen
2016-07-08T00:00:00Z
Davide was a great host, helped me out with bus schedules and other important stuff. the apartment is lovely and really modern. i would recommend the flat highly, but my advice is to rent a car. the centre of milano is 30 minutes away from the flat with car and it is complicated to travel with train and bus - but also an option. i had a great time there, the app is perfect if you want to visit milano and have a calm and quiet holiday at the same time!
Oscar
2016-03-10T00:00:00Z
We stayed one night at Davide's apartment. The apartment is quite spacious, the WiFi worked well, and we had all we needed for our stay. Communication with Davide was good, he responded to all our questions or comments before and during our stay. Thank you Davide!
Victorina
2016-07-20T00:00:00Z
Everything was fine!
Uwe
2016-05-05T00:00:00Z
Nice apartment, situated in a safe residential area, very close to lake Como and Milan. We enjoyed our stay in Davide place and recommend it to fellows travelers.
(EMAIL HIDDEN)
2016-07-31T00:00:00Z
Davide's apartment is gorgeous, very modern, and looks even better than the pictures. Davide was not present during our stay, however this meant we had the whole luxurious apartment to ourselves which was very nice and private. Davide's place is about 30 minutes to Milan Centre and we got the train to get there. It is also about a 30 minute drive to Lake Como which is lovely! The apartment is very spacious, very clean and contained all the amenities we needed. Despite Davide not being present during the trip, he communicated well with us and kept checking to ensure everything was ok and that we were enjoying our trip. Davide was a good host and I would definitely recommend his place to anyone.
Leah
2016-07-15T00:00:00Z
Davide was really kind and support us for any questions. We just stayed one night for a stop over but thank to the really nice accommodation, we could recover really good. If I would have chance again, I would like to stay there again.
Maya
2016-07-25T00:00:00Z
The house is fantastic the best in our stay on Italy, France. It's a bit far but if you are with a car like us, this house is perfect.
Lucas
2016-05-27T00:00:00Z
Room Type
Entire home/apt
---
Property Type
House
---
Accommodates
3
---
Bedrooms
Lurago Marinone, Lombardia, Italy
Vertemate Con Minoprio - Airbnb
:
Average

4.7

out of

5

stars from

459

guest reviews
1

–

18

of

37 Home Rentals
Enter dates to see full pricing. Additional fees apply. Taxes may be added.