An ideal location as a base for your travels, and as cozy place to relax. The location is quiet, surrounded by nature. Silence is dominant and you will be the only guest in complete privacy. An intimate and familiar atmosphere of simplicity.
The house is located in an ancient and fabulous small village of Chianti, surrounded by cypress trees, olive groves and vineyards, such as those seen in postcards! It's situated 9 Km from Greve in Chianti and 30 km from Florence. You will be welcomed in an intimate and familiar atmosphere of simplicity. An ideal location as a base for your travels, and as cozy place to relax in the shade of the laurel in the garden. The location is quiet and relaxing, surrounded by nature. Silence is dominant and you will be in complete privacy. Breakfast is not included and will be at your discretion and autonomy. Anyway you will find such little things at your disposal like milk, coffee, jams, bread, biscuits and corn flakes. The house consists of two bedrooms, bathroom, large living room with fireplace, kitchen and it's completely at your disposal. In the garden you can make wonderful grilled sipping fine wine surrounded by greenery. Nearby there are excellent restaurants, specialty shops and places. In Greve in Chianti you will find restaurants, butcher shops, supermarkets, banks, pharmacies and everything that can be of use. In Figline Valdarno there are supermarket and shopping center.
Emanuele was most welcoming and helpful and the house was even better than we imagined it would be. Great location with stunning views across the valley
Grant
2016-05-26T00:00:00Z
Staying at Emanuele's cottage was absolutely superb! Lovely house with everything you need to spend a relaxed and peaceful time over there. The scenery around the place is absolutely stunning! Unfortunately we didn't meet Emanuele, but her neighbour Danijela was extremely helpful! Looking forward to go back to Tuscany, particularly this lovely place. Thanks for everything!
Tiago
2015-09-20T00:00:00Z
The house is really charming and quiet. The region is stunning! Emanuele and Maya did everything to facilitate our arrival. We enjoyed a lot our stay. I strongly recommend it.
edern
2016-07-26T00:00:00Z
Our host was great in communication all we needed to know. The place was magnificent and exactly what we needed. We hope to be back soon !
Michael
2015-09-30T00:00:00Z
We stayed at emanueles house for 3 days and it was really really wonderful. Emanuele is a great host and very friendly. The view is a amazing and the house had everything you need. I would do it again and will come back soon.
Daniel
2014-08-06T00:00:00Z
The house was perfect for a quite week away! The place is easy enough to find, plenty of parking and we had everything we needed during our stay. An idea base to explore Tuscany! Would definitely recommend.
William
2016-05-21T00:00:00Z
Beautiful home with all the amenities we needed. Comfortable and cozy. Amazing view of Tuscany. I would definitely recommend to anyone!
Lauren
2014-07-30T00:00:00Z
Emanuele's place is full of character and the location itself is quite remote, so it's perfect if you are looking for some peace and quiet. It's also quite convenient if you want to explore the Chianti area. Would definitely recommend staying here!
Cezar
2015-10-29T00:00:00Z
Room Type
Entire home/apt
---
Property Type
House
---
Accommodates
3
---
Bedrooms
Greve in Chianti, Tuscany, Italy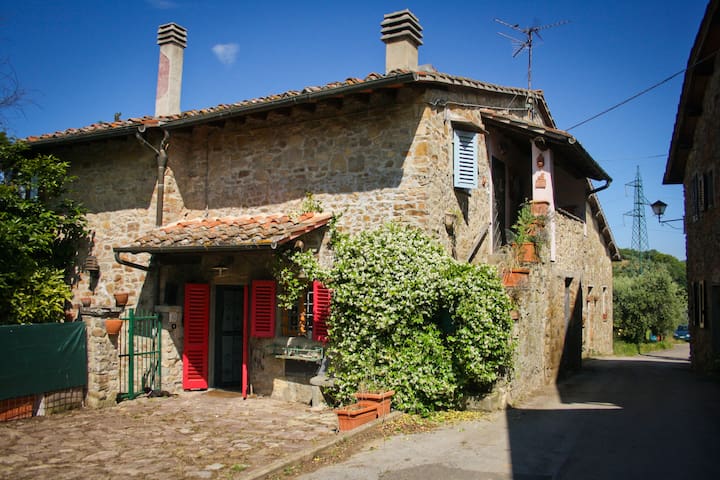 Charming apartment in Farmhouse in the countryside 5 km from Greve in Chianti. Superb views of the beautiful hills of Lamole.
The apartment comprises, on the upper floor, a double bedroom, a single bedroom and a bathroom with shower, while downstairs is the living room withofa be kitchenette, with a table and four chairs, and a bathroom with shower. Air conditioning in all rooms and free WIFI.
The apartment is suitable for a couple or a family with one child, who want to stay in a quiet place surrounded by nature. Place suitable for walking or hiking in the countries of Chianti or historical cities such as Florence and Siena.
Room Type
Entire home/apt
---
Property Type
House
---
Accommodates
5
---
Bedrooms
Greve in Chianti, Toscana, Italy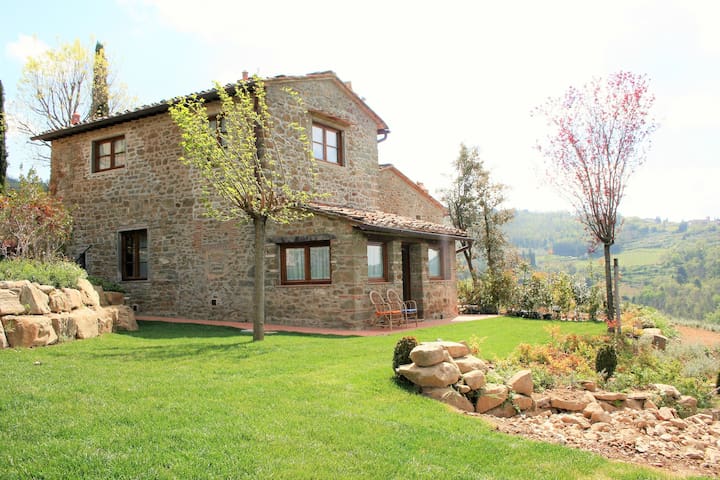 you'll love the privacy, the garden with view of the vineyards of Chianti and the atmosphere of the medieval village. The house is equipped with all comforts
Montefioralle is a medioeval borgo, all is as the medioeval period with stones on the floor and on the houses wall
What a great experience! Even better than advertised. Montefioralle is the most picturesque Tuscan town you will ever find with views that will leave you in awe. Do try the wine tasting at Chiaras family vineyard. It is worth the experience. Our only regrets is that we couldn't stay longer.
Joshua
2016-09-18T00:00:00Z
The house of Montefioralle is amazing. Everything little details was taken into account. We have everything we need there. Besides having a beautiful location with incredible views, the place is homy and welcoming. Very clean and new. Chiara was so helpful and kind. We highly recommend this place.
Gabriela
2016-08-14T00:00:00Z
Chiara's place exceeded our expectations! She was a perfect hostess, very responsive and communicative without being in any way intrusive. She gave us great hints about local restaurants, which was especially useful as my husband needs gluten free food and she recommended a great place (La Cantina) which served the best gluten free pizza he has ever eaten. The apartment itself was very comfortable, recently modernised, spotlessly clean and really well equipped. It was very cosy and we felt at home for our two week stay. In fact, the pictures don't do it justice. And the view, it was to die for! A beautiful terrace area with a view of the Chianti hills, which was the perfect spot to sit and enjoy a glass of Chianti Classico! We also really enjoyed the afternoon we spent at Chiara's family vineyard to which Chiara kindly drove us. Would highly recommend staying at Chiara's in the most beautiful and ancient hilltop village of Montefioralle.
Wendy
2017-04-10T00:00:00Z
Amazing place! This place is really amazing right in the middle of the medieval town Montefioralle with the most amazing view from the small garden. Chiara were very hospitable and we felt very welcome from the first second. The apartment was nice and clean and we really enjoyed our stay there and can definetly recommend this place to others going to Chianti.
Thea
2016-07-31T00:00:00Z
Staying at Chiara's was the most amazing Air BnB experience I have had. The opportunity to stay in a medieval town in Tuscany was truly special. My boyfriend and I loved our stay. We were impressed with the apartment. It was very clean and newly renovated. The view is spectacular and we loved sitting in the private garden looking over the vineyards. The location is ideal. We explored the region but looked forward to coming back to the quiet town. We also did a wine tasting at Chiara and her family's winery which was wonderful and I definitely recommend doing this. Chiara and her husband were great hosts. Very helpful and friendly. If I ever get the chance to come back to this area I will undoubtedly stay here again. Thank you Chiara!
Elizabeth
2016-08-16T00:00:00Z
We had a wonderful stay at Chiaras place. The flat was very clean and cosy. Her house is in a beautifull medieval village, perfect to explore the surrounding. The wine tasting of her familys vineyard was fantastic. We would definately come back.
Torben
2016-09-16T00:00:00Z
The Stay At chiaras Place was amazing. Everything is looking exactly like the pictures and the view from the nice Garden is fantastic. Eyerything was very clean and well prepared. Chiara Picked us up to Show us the way and the Apartment. She is really Helpful and it was so nice Meeting her. We definitly would come back and can Warmly recommend this Apartment.
Stephanie
2016-09-03T00:00:00Z
Chiara was a great host, picking us up from the bus stop and taking us to her lovely home up in the hills of Montefioralle, recommending places to eat along the way! The home itself is full of character but also incredibly clean and well decorated. Living just along the street, Chiara is easy to contact and ready to help if there are any problems - and her family own a beautiful vineyard up in the hills on the other side of Greve, which we enjoyed a trip to! Would definitely recommend and would love to come back
Katherine
2016-09-11T00:00:00Z
Room Type
Entire home/apt
---
Property Type
House
---
Accommodates
4
---
Bedrooms
Greve in Chianti, Toscana, Italy
The house is located within the beautiful village of Montefioralle in the Chianti hills, where you can live the experience of being immersed in the countryside. The town is located in a strategic position to visit Florence and Siena. The house has been decorated in a rustic way not alter its nature as an ancient country house, but inside you will find all the comforts of a modern home, as a hair dryer and wi-fi.
Entering the ancient village house you will find a kitchen with refrigerator, a small lounge while upstairs space is divided into two rooms, the first with double bed and bathroom (with shower), the second with three single beds. The house also has a small garden with a table for outdoor dining and a rooftop terrace. The house is located at the center of the country and to access it you have to climb a flight of stairs not equipped to care for the disabled.
Room Type
Entire home/apt
---
Property Type
House
---
Accommodates
5
---
Bedrooms
Greve in Chianti, Toscana, Italy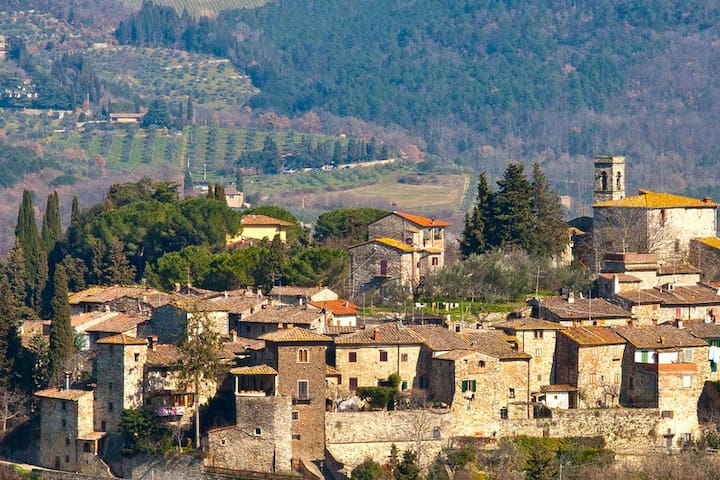 Typical farmhouse dating from 1200 immersed in the vineyards of Chianti Classico only 40 minutes from Florence and Siena. Equipped with a cozy room with a double bed and a single bed. Shared bathroom. For a quiet stay with magnificent view
Our accommodation is characterized by a great location, is located just 30 minutes from Florence and 40 from Siena. We guarantee a family atmosphere for a peaceful and relaxing stay in the heart of Chianti. Recall that the bathroom is shared. We should visit our typical farm family and taste the products we produce
Quiet and serenity that only nature can transmit. typical and characteristic villages just a few kilometers.
Elena and her family were one of the best hosts I've ever had. Elena was kind enough to pick us up from the bus stop and take us to her beautiful home where we were welcomed with a glass of wine from the family's winery by Alfredo. Elena showed us around the winery and Loretta made us a home cooked meal which was absolutely amazing. Wineries are super close by and the view is breathtaking. The guesthouse was super clean and lovely. I highly recommended elena's place any day!
Jane
2016-06-30T00:00:00Z
Elena and her family were great hosts and the house is in a beautiful location, has great views of the surrounding hills and is very close to Greve in Chianti. Very relaxing and a proper Tuscan experience. I would no doubt recommend staying at Elena's!
alejandro
2016-07-07T00:00:00Z
Elena's family is honestly amazing. We were VERY happy staying with them. This was the absolute best Airbnb experience of our trip. The place is beautiful and Lorenzo, Loretta and Alfredo are incredible. We wish we could have stayed for an entire week. Also, very nice wine tasting :) Thank you very much!!
Paulina
2016-07-20T00:00:00Z
This summer, I had a bike trip through Tuscany with a friend. The stop we made at the Elena's family agriturismo was the first of our trip. We arrived very late because of a storm, we were tired and hungry. Elena, Loretta, Lorenzo and Alfredo were waiting for us, they took care of us like if we were old friends with the best diner (especially the wine and the olive oil !) Loretta is a really good chef ! The agriturismo is very beautiful, the place is clean and absolutely charming. Elena, grazie per tutto ! Be sure I will be back !! We strongly recommend this place :)
Matthieu
2015-08-03T00:00:00Z
A beautiful villa in the very beautiful Greve in Tuscany but what makes it special for me is the love extended to me from Elena and all her family. Not for a moment did I feel like a guest, I felt like family. My comfort was their only concern for the 1 day that I stayed. And their graciousness made feel like I belong there.
Anamika
2015-06-20T00:00:00Z
This place is wonderful. Elena and her family are really hospitable and friendly. Really recommend the dinner and wine tasting.
Taavi
2016-08-13T00:00:00Z
Very nice stay at Elena's home ! Our host was very helpful and dedicated in making us feel comfortable. The view from the garden on Chianti's landscape is stunning.
benjamin
2016-09-28T00:00:00Z
Had a wonderful experience with Elena and her family! They were super welcoming and friendly. Plus, I loved their dog named Django! They showed us their cellar, made us breakfast and dinner and tasted their delicious Chianti Classico! I would highly recommend staying here.
Grant
2016-09-12T00:00:00Z
Room Type
Private room
---
Property Type
House
---
Accommodates
3
---
Bedrooms
Greve in Chianti, Toscana, Italy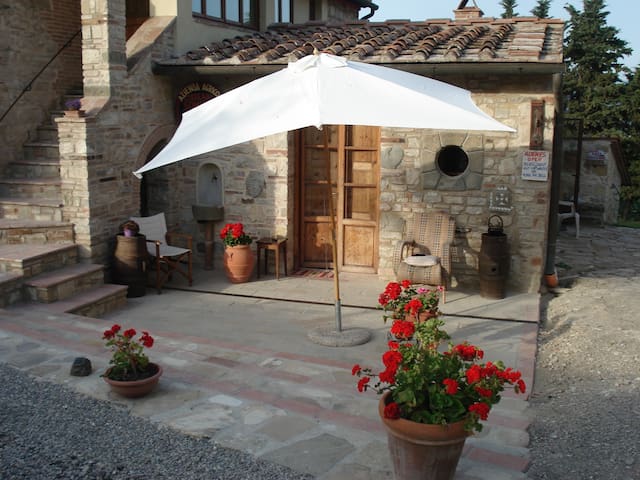 The house is a five minute walk from the center of Greve in Chianti, surrounded by the Tuscan countryside. It offers a private garden, parking and free WiFi. Perfect for couples or families who want to enjoy the tranquility and landscapes of Chianti. From January 2017 we have provided the home of a new and more powerful Wi-Fi
We spent 6 days during late September at Simone's house and had a great time! The apartment is just outside of Greve - cosy 10min walk to center - with nice views around. Greve is well located for exploring Tuscany by car - Siena / Montepulciano / Montalcino are good day trips and you can easily spend couple of days in / around Greve too. The apartment has an authentic atmosphere of a Tuscan countryside house - this also means that while it is well equipped it also comes with some of the quirky stuff (eg boiling water on the oven top for your tee, digging around in the cupboards while you find the right pan, slowish Internet and intermittent hot water at shower) Simone is very helpful and the check in/out process is very smooth and he is very quick in responding to any questions both before and during the stay. We would recommend this place for someone looking for the Tuscan experience!
Bela
2016-09-23T00:00:00Z
It was great time in this cosy apartment in the countryside house. Perfect Tuscany location. Simone is very friendly host and always ready to help.
Bella
2016-10-14T00:00:00Z
We stayed at Simone's place for a week and used the great location as a base for day trips to Siena, Florence and Chianti. The other reviews were accurate - you get the quaints of staying here with spotty wifi, intermittent hot water and we happened to visit during the mosquitoes season. The town center is nearby and had excellent restaurants and small shops. Check-in and out were smooth and Simone was very flexible with the arrival and departure times. Don't forget to bring cash for the additional tax per night per person!
Tina
2016-10-05T00:00:00Z
The property was fantastic... just like the hosts!!!
Sarah
2016-11-04T00:00:00Z
We had a nice 8 day stay here. Simone was very nice and the check-in and check-out was smooth. He picked us up from the bus stop and drove us to the house. It is about a 10 min walk to get to the main piazza. Everything looked as shown in the pictures and it was clean. There are extra towels and linens in a chest that was available to us. There is plenty of cookware, flatware, and utensils (you may need to dig through the drawers/cabinets to find what you need). However, I wouldn't say it was the most comfortable house as the title states for 2 reasons: 1) The wifi was very weak and is only accessible in the living room and dining room area. This is because the router is located in Simone's apartment upstairs, so essentially you are bumming off his wifi. We specifically asked if the wifi was reliable and strong prior to booking since my husband works during our travels, but we were not informed about the limited access. We would have also loved to relax and watch a movie on the bed, but the wifi disconnects as soon as you walk a few feet away from the living room. 2) The house is really cold and heating is paid separately based on usage. We really didn't want to rack up a big heating bill considering our extended stay, so we opted to build a fire in the fireplace instead, which was enjoyable. And thankfully, the bed was super warm. Just know that it is actually 2 twin beds, not one queen mattress. Overall, we enjoyed our time in Greve in Chianti, which is a great central location to visit nearby towns.
Jon and Hye Jin
2016-05-18T00:00:00Z
This house is great for holidays in Chianti area. We would love to stay longer. Amazing views, relaxing atmosphere, authentic entourage, excellent equipment. Location is perfect, easy to find and within easy walking distance to Greve center. Everything corresponds to all the previous reviews. Unfortunately, It was not always possible to achieve tightness of the shower doors and hot water in the bidet but the whole bathroom is quite comfortable. Yes, wi-fi is accessible in the living room, but it's not a big problem if you don't spend all holidays on the coach). We would surely recommend this place for vacation in Toscana, many thanks to Simone and his girlfriend.
Vladimir
2016-10-31T00:00:00Z
Simone was an excellent host. Lots of information about the Tuscan region was provided, regarding wineries and Tuscany. He responded to issues with the property almost immediately (internet connectivity was an issue only when we first arrived), and rectified the issue straight away. The property itself is quite spacious and has a very well equipped kitchen. Definitely recommend this place if you want to cook during your stay. Greve in Chianti is a charming location, and is drivable distance to both Florence and Sienna.
Christian
2016-06-05T00:00:00Z
This is a lovely space with a large kitchen and dining room. The views are great, and it's just at the edge of Greve, with a 10-15 minute walk to the town center. Simon was very responsive whenever we contacted him, although he was not able to resolve an issue with the water temperature in the shower, which was nearly impossible to stablize at a comfortable temperature. Hopefully he has resolved that. The bed was two twins pushed together, with a seam that was a bit uncomfortable. There is a lovely yard with fresh herbs growing there. It is also very quiet. The washing machine works well, and was very helpful. Be aware that it does take a long time to complete a cycle. WIFI worked well enough in the living room for us to watch Netflix on an I pad.
William
2016-09-28T00:00:00Z
Room Type
Entire home/apt
---
Property Type
House
---
Accommodates
3
---
Bedrooms
Greve in Chianti, Toscana, Italy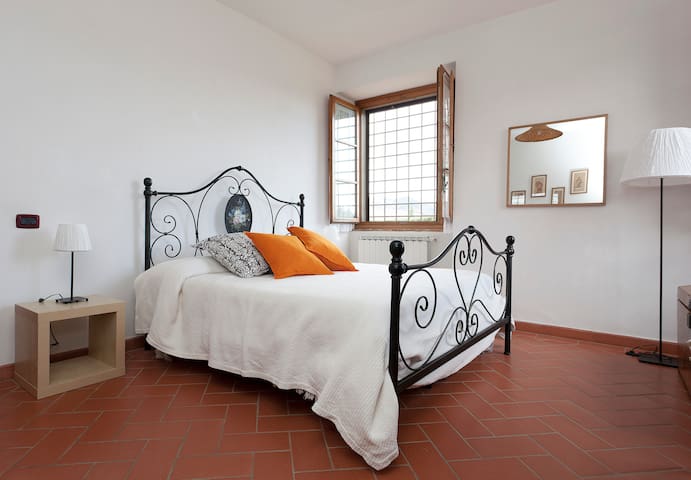 Once an old barn, "Fienile I Cipressi", recently and completely restored, is a three-storey house: on the ground floor there is a living-room with a fireplace and a kitchen/dining room (equipped with all the modern comforts), as well as a bathroom. On the first floor there are two double bedrooms and a bathroom (with shower and bathtub). On the upper floor there is a studio equipped with two single beds that can be used also as an additional bedroom. Guests will surely enjoy the deck and garden, a paradise for reading and relax. The outdoor area also features a barbecue grill and a dining table to enjoy the outdoors while cooking a typical Tuscan product on the grill. The house has a tv satellite system featuring all major international channels. The house is also equipped with an internet mobile wifi router, for guests use. The house is in the middle of vineyards and olive trees. The site is of untouched nature, very panoramic/romantic and charming. Very close to the house (4km, i.e. 5 minutes by car) there are the closest shops and the village of Strada in Chianti. The house is very close to Greve in Chianti (around 14 Km, around 10\15 minutes), Florence (16 Km, 20 minutes by car), and Siena (36 Km, 1\2 hour by car). Close to the house there is a golf course and a public swimming-pool. The neighborhoods offer wonderful walking itineraries and wine tasting experiences. There are some nice market places close to the house: Greve, Panzano, Arezzo with its antiques market. Upon request, we can arrange cooking lessons with an English speaking chef who will teach you to prepare a delicious Tuscan dinner. The prices include taxes, bed-linen, towels, the consumption of water, gas and power and final cleaning. Expenses for heating will be charged separately (on consumption - to be paid at check-out). At arrival we ask for a deposit of €100 against possible damages and/or losses or gas expenses. This deposit will be refunded at departure, expenses caused by damages or losses may be deducted.
We just returned from our stay here for a week between Christmas and New Years. It was a wonderful place to spend the holidays! We especially appreciated the fireplace with ample kindling and logs, a fully-stocked kitchen so we could cook some of our own meals with the awesome fresh ingredients from local stores, and how warm and cozy the 2nd floor master bedroom always seemed to be, no matter how cold it was outside! Great panoramic views from that room as well! A representative of our host met us at a local restaurant so we could follow him to the house at night, get a full tour of the place, and learn how certain things worked, which was very helpful and appreciated. Any questions we had about wifi, hot water heater, cost of gas, etc. were answered nearly immediately by email or phone while we were there. Hosts were very prompt, friendly, and accommodating. The hammock, swing, outdoor wood-fired grill, and grape vines and olive trees on property were great additions, and we loved hearing the wild boars snorting in the meadows below late at night! Lovely place for stargazing as well without light pollution in the way. Because we came in midwinter, we missed out on the pool and herb garden that other guests had mentioned in their reviews of summer stays, but we felt the villa was very cozy for the holidays, the house was clean, well-stocked, and well-cared for, and we liked the location - which was perfectly situated about 35 minutes from Florence, and between an hour and an hour-and-a-half from all other destinations - Lucca, Pisa, Siena, Arezzo, etc. The free wifi worked very well for us, but was limited to 2 Gb, which should be more than plenty unless you intend to stream movies. Be sure to pack enough euros to pay for your gas consumption in cash at the end of your stay (ours was around 120 for 7 days in the middle of winter). Lovely place to stay, great hosts, and a highly recommended villa if you'd like to stay in the heart of Tuscany.
Lara
2015-12-31T00:00:00Z
This place is Amazing!! The views are spectacular and the house is charming, yet large enough for many given the three bedrooms and two baths. Lucas was a wonderful host and his friends who met us were very gracious! We would happily come back again and recommend to others! Wine tasting in this area is outstanding as well! Thank you so much for everything - Lucas! We had a wonderful time! -Brian and Sue
susan
2014-05-31T00:00:00Z
We are a family of four (with 2 teenage daughters) and this house was perfect for our 4 nights in Tuscany - in fact, it could host another couple comfortably as we only used 2 of the 3 spacious bedrooms. We were met by Donatello and Giancarla at a nearby restaurant and we followed them to the house. The fire was already lit with firewood already collected, there was a bottle of local wine, and he even made us all tea and coffee - what a wonderful welcome! They took the time to kindly show us around the house and how everything worked. The kids loved the upstairs loft, the kitchen was large and well equipped, and our family loved gathering around the fire every evening for a hot drink. The Old Barn had an ample supply of shampoo, shower gel, toilet paper, bottled water, detergent, coffee and a selection of tea. Even though we went in winter with a few overcast and drizzling days, the view from the property was fantastic. The house is located very centrally - we did day trips by car to Pisa, Florence, Siena and San Gimignano and it's close to grocery stores in local towns. Communication with Luca and Laura was excellent. Thank you for a wonderful stay!!! Some tips for future travellers - wifi is provided by a 3G/4G modem that we were able to take with us on our day trips - extremely useful for (SENSITIVE CONTENTS HIDDEN) Maps and trip information throughout the day. Remember that you need to pay for gas usage on departure - ours was around 68 EUR for 4 nights in winter.
Jason
2016-01-06T00:00:00Z
Our stay in Luca's beautiful old barn in Chianti home was absolutely wonderful! The house is very charming, spacious (we had a group of 6), clean and included all the amenities you would possibly need (including AC's in all the rooms - especially for the hot days of August). You definitely need a car to get here and around the area. The house provides a gorgeous view of the countryside, perfect for a serene relaxing getaway. All the pages of recommendations Luca provided us (from restaurants to wineries to points of interest) were solid, and worked out great! Luca, Giancarla, and Donatello were all very gracious and hospitable hosts - we highly recommend!
Cynthia
2012-08-23T00:00:00Z
the villa is comfortable , completely redecorate, extremely clean. the rooms are spacious , furniture is a perfect mixed new and antique!! amazing view from the garden , been on top of a hill and have a look of all the chianti hills around don't have price!! thanks for the experience!! don't hesitate to book guys!!!
Gabriele
2012-05-02T00:00:00Z
The Barn provided an excellent Christmas rendevous for our family from Hong Kong (where our son works as an architect for a Dutch firm) and western Canada (where my wife and I live) as well as ready access to Florence and the heart of Tuscany. As a result, we made it the focal point of our visit to Northern Italy and built the rest of our trip around it. It is more then accommodation - it is a destination in itself - a heavenly place in a heavenly region. We particularly enjoyed the warmth of a fire in the hearth early in the morning and late at night and the full kitchen and dining room for our breakfast and evening meals - including our traditional roast turkey Christmas dinner. We appreciated that the kitchen was well stocked with essential ingredients for our food preperation when we arrived. Shops in nearby towns offered fresh vegetables , meat, pasta, cheese and bread. The two bedrooms on the second floor were perfect for accomodating my wife and I and our son without making use of the beds in the loft on the third floor. The utility room included laundry facilities for our 1 week stay. We made daily excursions with our rented car to Florence and other towns in the region (where we discovered some excellent restaurants). Lucca's friends (which included the owner) met us a resturant in the nearby town of Strada upon our arrival and guided us to the barn for a tour and offered us fresh coffee in front of the crackling fire, and then led us to a grocery store in Florence. They were available by phone, text or email if required throughout our stay and gave us excellent restaurant recommendations. In summary the Barn was everything we expected it to be and more.
Dennis
2014-12-27T00:00:00Z
Perfect spot, the house is amazing, communication was perfect even if we have been late for one hour. This is a secret spot and we can't wait to return. Super clean, super quiet. 10/10
Pierre-Mathieu
2015-09-19T00:00:00Z
Great house to get some R&R in Tuscany. Four of us stayed here for 4 nights in late March. The house itself is very clean, spacious, well decorated, and has everything you need. I loved the bird sounds and fresh air in the morning. Luca even left a bottle of wine, orange juice, and soda for us. We didn't get a chance to meet Luca as he was away as well for the holiday weekend, but he arranged for someone to meet us in Strada in Chianti to take us to the house. The house is located about 5-10 minutes from the main road (S222) or Strada in Chianti and could be hard to find if you don't pay attention when you're following the host to the house. Once on the main road (S222), it's only about a 20 minute drive into Greve and 25-30 minutes into Panzano. We visited a few vineyards not too far from the house, including Castella di Verrazano and Villa Vignamaggio.
Sunny
2013-04-01T00:00:00Z
Room Type
Entire home/apt
---
Property Type
House
---
Accommodates
6
---
Bedrooms
Greve in Chianti, Tuscany, Italy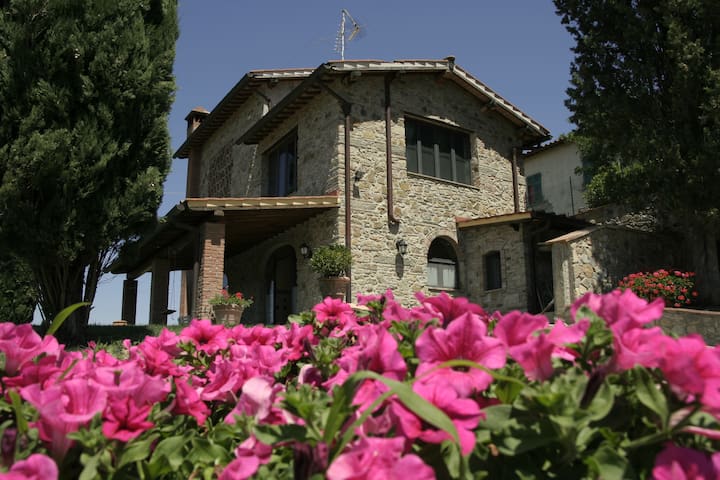 In the campaign of Greve in Chianti, in the heart of Tuscany's most beautiful, rent an independent study in a quiet hamlet of a few, old houses on a hill. It is a room of 30 sm, kitchen, bathroom, a large garden for guests.
The house is made of stone, old but completely renovated with ecological spirit. The fireplace warms the autumn evenings, when the Tuscan countryside is more beautiful. Complete privacy, but also can dine together and have breakfast by prior arrangement. The garden and the garden are at guests' disposal.The town of Greve in Chianti with its charming boutiques and shops, do not miss the Sunday markets! Is 2 km away. You NEED A CAR to get home and have freedom of movement. 4th Sunday of the month in the picturesque square of Greve held the organic market and ceramics. In the square of the Cellars is an interesting wine museum and wine tasting to excellent. Every year, on the first Sunday of May, the flower market with its colors and unforgettable fragrances. On Easter Monday, however, the central square hosts the antiques market with stalls from all over Italy, wonderful atmosphere, where you can make real bargains. This year, from 8th to 11th September in the squares and streets of Greve held the Annual Review of Chianti Classico And 'it needs a car to get to the house and to have full freedom of movement. Greve is located in a very attractive location to visit Tuscany; in particular, it is well connected with the cities of Florence and Siena, also by public transport. So during the holidays you can devote to art and history or dive and unwind in nature. Near Greve in Chianti, in Gaiole in Chianti, their are a famous cycling race "L'eroica". It was born for the love cycling, that which caused the writing of some amount history and of a lot of italian literature with the intent to seek the authentic roots of a beautiful sport, with a great popular soul people, and to discover beauty The route of "l'eroica" covers some of the most beautiful roads in the area of chianti, valdarbia and val d'orcia, but the highlight is represented by those stretches of white roads that still exist, that allow you to experience the atmosphere of cycling in another era. From 30th september to 2th octber 2016.
Carla and Rocco were the best hosts we had so far. They met us with a lovely smile, and made sure everything was to our liking. On the first night we got a little cold (The weather wasn't as expected) so in the morning they went and bought an electric heating panel especially for us, which made our nights warm and nice. Their place is cosy and clean, you'd feel at home right away. They also had us for coffee and cookies in the morning, so we got to know them a little better, and actually felt like a part of the family. The house is a bit outside of the city, so the surroundings are just amazing. You only hear birds and wind blowing through the trees, truely magical location. We were sorry we didn't book the place for longer than the 3 nights we had. The place is fully equipped, and Carla and Rocco were super helpful with any information we needed. Amazing stay, highly recommended. Thanks very much dear Carla and Rocco!
Mark
2016-10-15T00:00:00Z
The reservation was canceled 5 days before arrival. This is an automated posting.
Mariana et Irvin
2015-05-08T00:00:00Z
How do you know you have found a great place and great people? When you are really touched at your good bye and on your way home. That is how we felt after we left Rocco's & Carla's place. Our hosts were so kind and welcoming and the place itself is quiet, has a stunning view and was comfortably cool even during the hot August. We enjoyed breakfast and dinner on the terrace with a view over the tuscan hills, while the host's dog gave us company. All in all our most memorable stay during our two week trip through Italy. One thing to keep in mind though: I can't stress enough that you absolutely need a car to reach the place (by a narrow, winding and rocky dirt road - which is also good practice for the remainder of the roads there) and to explore the surroundings. Beware of italian drivers overtaking you at every corner :)
Moritz
2016-08-11T00:00:00Z
Hosts were very warm and friendly and made us feel right at home. The apartment was authentic Tuscan style home behind their main house. Sunsets over the hills were amazing. Just a great place to kick back and relax from it all. We didn't have any trouble finding it with phone gps and you definitely need a car to get there. The AC didn't work at the time but it wasn't needed as the days/nights were very cool. Hot water and water pressure was a 10/10 (we had some bad experiences on previous airbnbs). Kitchen was suitable for us. Sofa bed was ok, it got the job done. Would love to stay again! Thank you
Alex
2016-09-25T00:00:00Z
Our stay with Carla and Rocco was the perfect way to start our Italy trip. After spending hours on a plane and driving from Rome, we were unfortunate enough to get lost in the countryside, but after calling them they were more than happy to come to find us and make sure we made our way to the accommodation. Not only that, but they were kind enough to leave us some fresh tomatoes AND cook us some "pastachuta" for dinner which we were in dire need of and thoroughly enjoyed. The cottage itself is very cute. It's self contained with a pull-out sofa bed and kitchen and it has a wonderful view of the amazing Tuscan scenery. You have to drive everywhere but that's part of the whole experience and a necessity if you want the kind of privacy you're given here. Fantastic experience.
Dean
2016-09-20T00:00:00Z
We had a lovely time staying with Carla and Rocco. They were very welcoming and helpful. We were invited to join a 'welcome to summer' dinner with the neighbours as well as a farewell dinner in their home. The studio has everything you need and so well located to all of the places you would want to visit . We look forward to returning. Grazie Mille Carla e Rocco
Sue
2014-08-02T00:00:00Z
We had a lovely stay with Carla and Rocco in their studio next door to their home. It was scorching hot outside but the apartment stayed cool. The apartment is compact but has everything you need and ample size for 2. It was extremely clean and well looked after. The hosts were warm, very welcoming, and supplied homegrown herbs and vegetables for us. There was even juice and bread for breakfast when we got there! It was great to be able to use the entire garden and enjoy the view over the hillside or the comfortable shade around the house. The place is 10-15 minutes outside Greve so a car (and navigation) is a must, but the quiet surroundings, studio and hosts made it a wonderful place to stay. Thanks!
Bo
2015-07-26T00:00:00Z
Carla and her husband were brilliant hosts, they were so friendly and even invited us for ice-cream in the garden! Their studio is beautiful and had everything we needed, we saw it and immediately wanted to stay longer. Unfortunately, they were booked for the following night but they even offered to ask their neighbours if they had a spare bed! Lovely hosts and perfect, home from home accommodation for exploring the beautiful Tuscan countryside.
Kayleigh
2014-08-17T00:00:00Z
Room Type
Entire home/apt
---
Property Type
House
---
Accommodates
2
---
Bedrooms
Greve in Chianti, Tuscany, Italy
The farm surrounded by forest is 5.5 km from the center of Greve in Chianti, of which 3 km of well maintained gravel road and 30 km from Florence. The location and atmosphere make it unique as the views and sunsets that envelop it. If you want somewhere to relax and fully enjoy the nature and tranquility of the countryside, this is the ideal place.
The house overlooks a beautiful valley of olive groves and vineyards and the private room boasts stunning views
In Chianti the atmosphere is very familiar and quiet, everything is surrounded by green hills, vineyards, olive groves and woods that make the place unique.
El departamento de Simone es muy grande, cómodo, bien equipado y limpio. El cuarto es muy amplio y bien decorado. La vista desde la ventana es espectacular. Si bien queda lejos del pueblo (1 hora a pie aprox), es muy agradable caminar por esa zona. Además, Simone me fue a buscar y me llevo a la parada del micro, así que no tuve que andar con las valijas encima. Simone es muy agradable, simpático y atento con las necesidades, siempre se comunicó y se preocupó en que este cómodo desde el primer momento. No tiene muchas reseñas ya que alquila el cuarto desde hace poco. Recomiendo este lugar sin dudarlo, y cuando vuelva a esta zona definitivamente buscaré alquilar esta habitación.
Lucas
2017-04-07T00:00:00Z
Room Type
Private room
---
Property Type
House
---
Accommodates
2
---
Bedrooms
Greve in Chianti, Toscana, Italy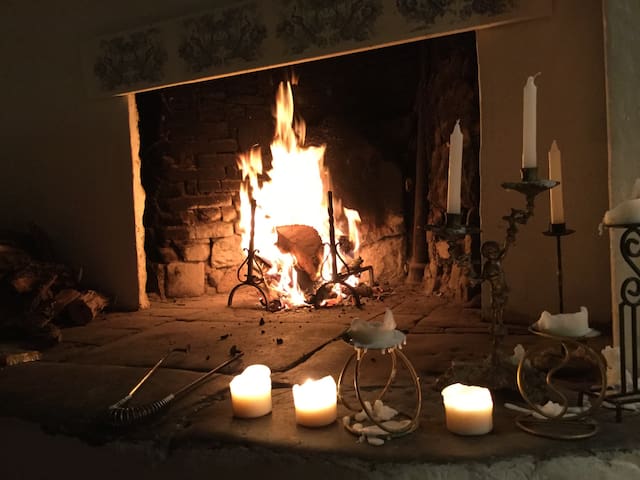 Melazzano is a well maintained, comfortable family home perfect for longer stays. Halfway between Florence and Siena and only 2 km from the small country town of Greve in Chianti it is the perfect base to visit the region and enjoy local food and wines. In a wildlife protected area the property is a haven of peace with stunning views over the distant hills and villages, and a hikers paradise.
Well furnished country house with two double bedrooms, living room with TV and stereo, fitted kitchen, dining room and a library with a good selection of international books and films. Garden furniture and dining table on the patio overlooking woods, olive groves, vineyards and distant villages. The location is exceptionally quiet with no light pollution. It is ideal for short walks or longer hikes in the surrounding hills and villages. What else can I say, just look at the reviews.
Five minutes from Greve's main square yet wonderfully quiet, just one neighbor producing wine and olive oil. Exceptionally peaceful with no light pollution, perfect for star gazing if the weather is right. Greve has a wonderful selection of cafés, restaurants and shops. Many famous sites to visit within a day: Florence, Siena, Arezzo, Pisa, San Geminiano. You can get to the sea within 2 hours. A path leads from the house up to Monte San Michele, the highest point in the Chianti with views towards Florence, Siena, San Geminciano and, on clear days, the sea!
Robert's place is excellent with an outstanding view of a typical wonderful of Toscana hills and valleys. It's the perfect place to enjoy peace and loneliness all being quite close to the most charming small city, exactly as exhibited in a lot of movies on the hearth of Chianti region. To say that it's easy to drink "a good wine" anywhere sounds almost like a pleonasm.
Flavio
2016-10-27T00:00:00Z
Robert was always available to contact and very helpful. Rustic house had everything one would need and was in a great location to enjoy Chianti and Tuscany. A few cobwebs inside, but overall great place and value.
Aaron
2016-05-22T00:00:00Z
Bob's house was a dream. The view from the outside and from pretty much all of the windows is astonishing: rolling hills and vineyards as far as you can see. The house is as charming and well-kept as the listing suggests. All the important amenities are provided, including a washing machine along with a clothesline in the gorgeous yard. The location is great, up a country road but only a few minutes' drive from the center of Greve. Bob was very communicative and friendly. Since we were staying for a full month, he arranged for the house to be cleaned halfway through our visit (for a small fee). We came with our toddler, and he arranged for a crib to be delivered for us and even offered to pay for it. And the restaurant he recommends is delicious; we went there three or four times. There were some small quirks during our stay, as with any accommodation in the countryside. For example, one morning (during a one-month stay), the water stopped running for a short period. But Bob was very responsive when we contacted him about it, and he is looking into resolving this.
Vauhini
2016-07-27T00:00:00Z
Oh. My. God. Tuscany was propably the best part of our trip over Italy. We recommend staying at Robert's place immensely. There, you can taste the local life and the nature, both of them, unforgettable. The Little Chanti House has everything - nice bed, clean bathrooms, spacious living room, well equipped kitchen and the view... THE VIEW WAS AWESOME! Moreover, Robert has been a great and polite host. He helped us in every detail and made us feel like at home. Highly reccomended!
Monika
2016-09-11T00:00:00Z
Robert was so accommodating and nice when we got in late from a long drive from Switzerland with kids. The house was beautiful and very unique. While we didn't spend much time in the house itself because we were traveling all over, this can be a house that is also good for a relaxing Toscana vacation as well. We would actually return to the house if we go back to Toscana. Great place, great host.
Dana
2016-08-26T00:00:00Z
I have had one of the greatest stay at Robert's place. The view is just amazing and the house is perfect with everything you need. I did not know Toscany and Robert's house is the perfect spot. Between Firenze and Sienna in the countryside of Toscany. I will go back for sure and I highly recommand this place!! Thank you Robert for your hospitality and advices!! Jean-Baptiste
Jean-Baptiste
2016-09-28T00:00:00Z
Wir hatten fantastische 2 Urlaubswochen in dem wunderschönen Ferienhaus. Der Empfang war sehr herzlich, das Haus absolut sauber, komfortabel und sehr geräumig auf großem Hanggrundstück mit vielen Olivenbäumen und herrlichem Fernblick gelegen. Die Küche ist perfekt eingerichtet, es ist wirklich alles vorhanden. Wir haben uns sehr wohl und wie zu Hause gefühlt und kommen sehr gerne im nächsten Jahr wieder. Auf der Terrasse läßt es sich herrlich essen und trinken, es gibt sonnige und schattige Plätze, ganz nach Wunsch, auch Liegestühle sind vorhanden. Für einen Regentag steht reichlich Literatur zur Verfügung. Das Ferienhaus von Robert ist super und fantastisch!!!
Peter
2016-06-09T00:00:00Z
La maison est au calme,sur les hauteurs de Grevé, au milieu des vignes et des oliviers du chianti. Idéalement placée pour visiter le sud de la Toscane, à mi-chemin entre Florence et Sienne (on peut prendre le bus à Grevé pour éviter les galères de stationnement à Florence). La maison de Robert est très bien équipée, la terrasse fort agréable. Nous avons passé un super séjour. Merci à Carla qui nous à accueillit.
Serge
2016-08-07T00:00:00Z
Room Type
Entire home/apt
---
Property Type
House
---
Accommodates
5
---
Bedrooms
Greve in Chianti, Toscana, Italy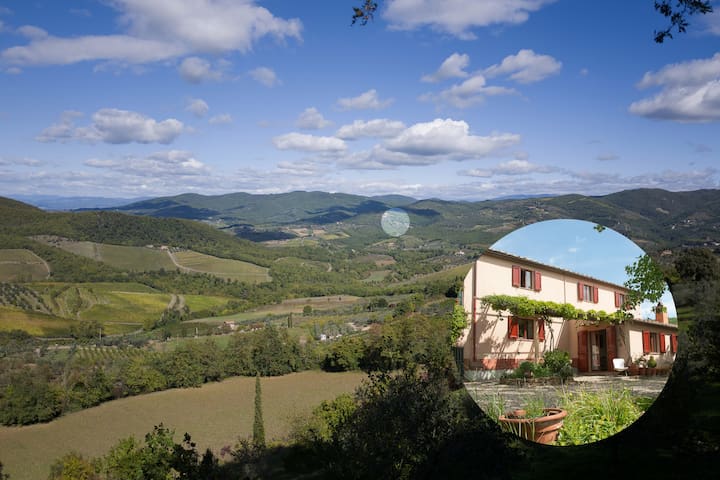 La Villa is a wonderful and charming house, situated in a very beautiful setting with extensive views over the surrounding hills, immersed in the peace and quiet of the heart of Chianti
Tuscan style apartment with fully equiped kitchen with (URL HIDDEN) bedrooms, two bathrooms. Spacious living room with fire place and sleepingcouch. Private panoramic garden with table and chairs. Internet Wi-fi available Built about the XIIth century, evidenced by the ancient watchtower, it has been recently restored by the owners in tuscan tradition, giving full value to the antique stone structure, the old wooden beams and the particularness in "pietra serena", the typical local grey stone. The panoramically situated swimming pool ( 6 x 13m )-(may-oct) to be shared with other guests- is connected in a big delightfull garden scented with roses and lavander. The property includes over 30 hectars of forest, vineyards and olive groves. Above all you can enjoy the scenery that Leonardo da Vinci, who lives in the Chianti area for a long time, immortalized the background of his famous paintings ACCOMODATIONS (160m2) (6+2 persons max ) : Ground Floor: Living/dining room with double sofa-bed, kitche/dining room (oven,freezer), 1 bathroom with shower 1st Floor: 3 double bedrooms, 1 walk-through living-room with single sofa-bed, 1 bathroom with bath.
You arrive at the property along about 700 metres of untarred road. Between the vineyards and the charming hills of Chianti, Lupinati is the right place for those who love to spend the holidays in the peacefullness of the unspoiled Tuscan countryside, surrounded by the atmosphere of medieval villages, ancient abbeys and cities full of art and rich history.
Das Haus ist sehr nett und nahe der Ortschaft Panzano gelegen. Dort findet man alles was man braucht. Vor allem sehr gute Restaurants. Es war alles da , sehr angenehme Betten und vor allem viel RUHE rundherum. Das einzige was nicht gepasst hat, war die Sauberkeit des Pools. Algen und keine Filteranlage eingeschalten und viel Schmutz im Wasser. Die Beschreibung des Weges war sehr gut. Zufahrt für größere Autos fast nicht möglich. Ich hatte mir die ganze Seite zerkratzt, da die Sträucher nicht zugeschnitten sind und alles für kleine Autos ausgelegt ist.Bis auf diese 2 Punkte aber alles in Ordnung. Empfehlenswert. LG aus Österreich
christian
2016-07-17T00:00:00Z
Très calme, séjour très agréable . L'arrivée se fait par un chemin de terre abrupte. La location n'est pas isolée elle est mitoyenne avec 5 ou 6 autres maisons/appartements.
Denis
2016-08-21T00:00:00Z
Room Type
Entire home/apt
---
Property Type
House
---
Accommodates
6
---
Bedrooms
Greve in Chianti, Toscana, Italy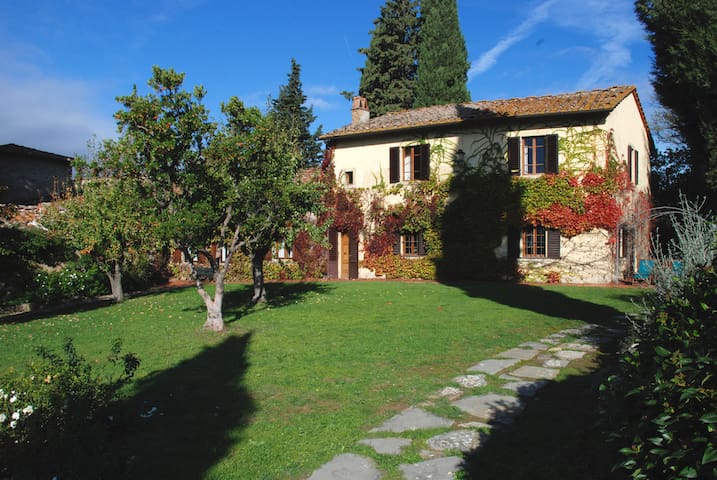 La casa e posizionata in una strada privata a 5 minuti di cammino dalla piazza,dai negozi, dai ristoranti e dal supermercato coop.parcheggio libero davanti casa. The house is placed in a private street with free parking, 5 minutes walking by the main square, shops, restaurants, market. Greve is the best way to visit Chiantishire. Tipical country house, cozy and relaxing.
la casa e divisa in 2 piani: il piano terra e' in affitto e al primo piano vive mio padre. Ogni piano ha il suo ingresso privato. la stanza da letto e' molto spaziosa e comoda. Ci sono lenzuoli, coperte, asciugamani, aciugacapelli e prodotti da bagno. Quiet and cozy house with free parking at 4/5 minuts walking by the main square, house is a duplex with 2 different entrance: ground floor is for rent, at first floor lives my father, the floors are linked by the stairs and a door that always closed for total privacy. We provide blanchett, towels,phon, shampoo
If you are looking for relax, slow life, good food, good wine, beautiful landscape, greve and chianti is what you need!
Matteo went out of his way to make our stay perfect. Communication was fantastic - he even gave us a lift from Florence as he was going that way. The house is fanstastic, really nice and countryside-esque. Matteo had provided some maps of the area, restaurant recommendations, fresh fruit and even a bottle of Chianti Classico!! It's a very short walk to the town centre, passing the co-op on the way (if you need it). The bus stop is just a five minute walk. Right next to the bus stop there was a lovely restaurant - La Cantina - the owner's great! Probably best to rent a car or a bike if you're coming to Greve for a few days as there were only two buses a day. Other than that this was a perfect AirBnB!!
Jessica
2016-09-21T00:00:00Z
Greve in Chianti was a very nice location. The host was more than accommodating, very hospitable, and knowledgeable about things to do in the surrounding area. Greve in Chianti was at a central crossroads to the Chianti villages as well. This location you can walk to or exercise anywhere in the village. The only cons to the actual site itself that the place needs to be listed at a lower winter rate. I'm certain many aspects are just fine in the summer, but the freezing floors, shower, and dining room are very cold regardless of the heat sources. The improvements would be to actually build a nice shower instead of just a faucet on the wall letting the hot water spray everywhere and to lay rugs down on the freezing tile in the bedroom during the winter months. In addition, build better lighting out in the walk way leading behind the house to the unit. The stairs are irregular and the sensor light only turns on after you tiptoe cautiously. Now imagine those steps with ice on them. People are paying to come stay here, invest some money into the unit to make it very comfortable.
John
2017-01-02T00:00:00Z
Matteo was very helpful and came to meet us to take us to where we were staying. The place was very cute and perfect for a couple of nights in Tuscany. Highly recommend!
Julia
2016-09-13T00:00:00Z
We had such an enjoyable visit to Greve in Chianti and Matteo was the perfect host. The apartment is very comfortable and in a fabulous location. It was so convenient being able to walk to the piazza and wineries. We will recommend Greve and Matteo's apartment to friends who want to visit the area. Grazie!
Kari
2016-10-16T00:00:00Z
Die Unterkunft liegt sehr zentral in Greve, alles im Ort ist fußläufig gut erreichbar. Auch wenn bei den Ausstattungsmerkmalen kein Herd und kein Kühlschrank angegeben sind, sollte in der Beschreibung noch einmal explizit darauf hingewiesen werden, dass beides nicht gegeben ist. Zur Unterkunft gibt es zwar einen privaten Eingang, innen ist der Zugang jedoch offen zur Wohnung von Mattheos Vater - wer also wirklich für sich sein möchte, sollte zumindest vorab wissen, dass die Wohneinheit nicht ganz geschlossen ist. Ein großes Plus: die Kommunikation mit Mattheo war super, er hat sich von Anfang an bemüht den Empfang herzlich zu gestalten und war für alle Fragen ansprechbar!
Simone
2017-04-08T00:00:00Z
Alloggio spazioso ed intimo, ottima accoglienza. Ideale per un soggiorno nel Chianti. Una bellissima esperienza
Valentina
2017-01-08T00:00:00Z
Room Type
Entire home/apt
---
Property Type
House
---
Accommodates
2
---
Bedrooms
Greve in Chianti, Toscana, Italy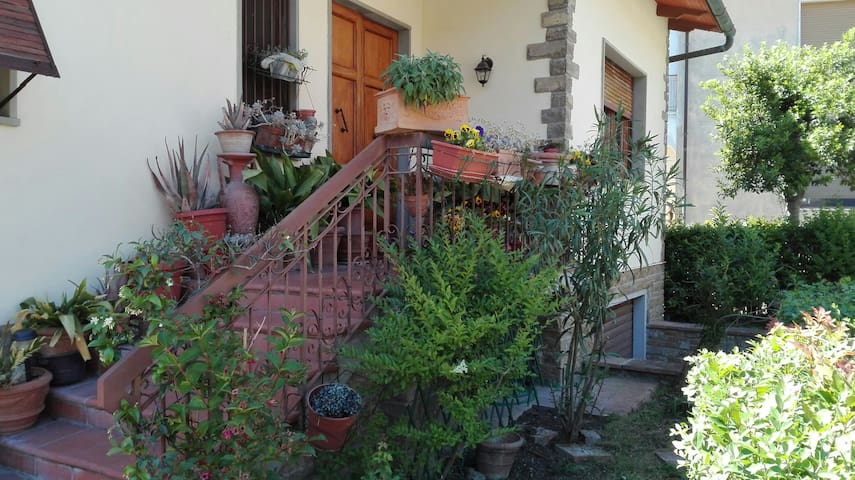 L'appartamento si trova all'interno della nostra azienda agricola ad 1 Km. da Panzano. E' di nuovissima ristrutturazione e ben curato nei dettagli, confortevole e luminoso, adatto per ogni tipo di soggiorno. Vista mozzafiato sulle colline toscane.
The apartment is newly refurbished and well cared for all detail . It is comfortable and lightful , suitable for any kind of stay
The apartment is 15 minutes walking and 5 minutes driving distance from Panzano. It is perfect to relax and enjoy a splendid view on the Chinati Hills.
This little piece of heaven in Panzano exceeded all our expectations. The "cabanna" was spacious with a full kitchen with everything needed, as well as several lovely rooms on different levels. The view defies description. Our hosts made us feel as welcome as family, and even provided us with some of their own excellent wine (unlabeled, but 100% San Gioviese, and as good as your find anywhere in Chianti country. Picked some rosemary to savor our meals. We look forward to returning soon.
Glenn & Deborah
2016-09-08T00:00:00Z
Nice apartment with beautiful view.
Stevan
2016-08-27T00:00:00Z
It is exactly what we envisaged from the website write-up.
Cameron
2016-12-18T00:00:00Z
Daniella was the most charming, hospitable and welcoming lady! Her place is Everything one would expect Tuscany to be. Spectacular views, superior amenities and vast quantities of old world charm. Walking distance to Panzano and within 15 minutes of many wineries. 6 stars if one could rate it that high!
Robert
2016-09-20T00:00:00Z
It is a really nice place and perfect for a stay in the chianti classico region. It is clean and comes with everything you need. We really enjoyed the view from the terrace - especially for the sunset in the evening. The neighborhood/area around is a beautiful and quiet. The place is close to many restaurants and vineyards. You can easily drive to Siena, San Gimignano or Florence. I would definitely come back.
Saskia
2016-11-06T00:00:00Z
Such a wonderful home in the hills of Panzano in Tuscany. If you are looking for great views and the family wine estate experience this is the place.
Trevor
2016-11-22T00:00:00Z
We had an amazing time at Carolina's beautiful apartment. It is exactly as it looks in the pictures. The views are breathtaking. Carolina was there to greet us and was responsive from the moment we booked until the moment we left. Our second day, there was a storm and the hot water wasn't working- within 30 minutes Carolina sent someone to fix it. She even gave us a tip about a wine festival that ended up being he highlight of our trip.
Sapan
2016-05-26T00:00:00Z
Amazing Tuscan getaway! Giovanni & Daniela's property is an incredible place to enjoy all the Tuscany countryside has to offer. Carolina and Marco were most helpful ensuring we had everything we needed for our stay. The apartment is well equipped with amenities including a washer, iron, towel heater, comfortable bed, full kitchen, and excellent wine from their vineyard. I'd recommend having a car for exploring the wineries and little towns in the area but without a car there is still plenty to do. Panzano is a great small town only a pleasant 20 minute walk away and it has plenty of excellent restaurants. Also make sure you visit Accademia del Buon Gusto at the top of the hill in Panzano. Stephano will give you an expansive wine tasting with regional history, local art and lots of humor! Pictures do not do the view or experience at Giovanni & Daniela's justice. Perfect apartment, perfect location, perfect view, perfect hosts, and a perfect getaway!
Chris
2016-10-26T00:00:00Z
Room Type
Entire home/apt
---
Property Type
House
---
Accommodates
3
---
Bedrooms
Greve in Chianti, Toscana, Italy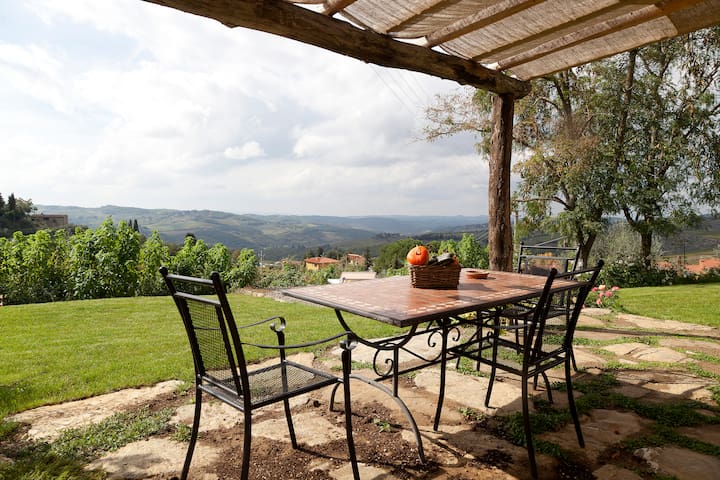 "The Lungo" All rooms of this charming part of the house are generously located on one floor. The modern renovation has left the traditional parts untouched. The living room is open towards the big and modern kitchen, with a table and a large, old fireplace. This house has a size of 95 m2. The spacious living room is equipped with another table and a cosy sofa with armchairs. The two bedrooms face West and therefore always remain cool and fresh.
Campolungo, a former winery with medieval origins, is located in the heart of Chianti Classico- between Greve and Radda, in the middle of olive trees and vineyards. Here, you can literally immerse yourself in Tuscany. Take a look at the smooth hills of the Chianti region, the flashy yellow broom, the red poppy flowers and the classic lilac lily of Lamole. Touch our fragrant Rosmary hedges and you will truly feel that you are in a flourishing paradise. Campolungo has been renovated in its authenticity. The different parts of the house are conceived as a powerful combination of modern style and tradition. Principled design harmoniously complements the traditional handycraft. This is why Campolungo is such a special place for those who appreciate the aspect of tradition and the comfort of the modern. We are a "locazione turistica" .
In the neighborhood there are vineyards and a smal village, which consists of a restaurant- which is wonderful to eat and a church, where concerts take place in summer time.
Room Type
Entire home/apt
---
Property Type
House
---
Accommodates
4
---
Bedrooms
Greve in Chianti, Tuscany, Italy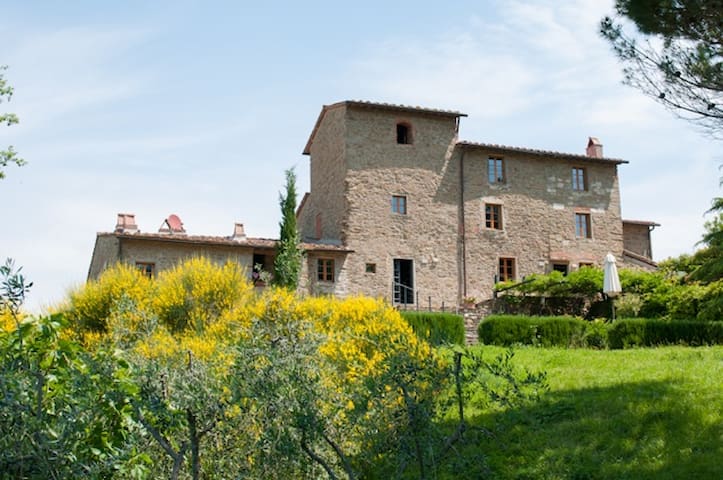 The "The Saint" winery is situated at 1 km (0.6 mile) away from Greve. "The Saint" Consists of a farmhouses - dates about 1100-, where it is possible to stay on an agriturismo Immersed in nature, amongst vines and olive groves.
l 'apartment consists of 2 double bedrooms, 2 bathrooms, living room with open kitchen, terrace with table and chairs. L 'apartment is equipped with satellite TV. , Wi-Fi, hair dryer, covered parking, pool access, Air Conditioning (extra) ...
Our farm is located in the middle wing nature surrounded by vineyards and olive groves and allows you true moments of tranquility, enjoying a beautiful view ..
The host canceled this reservation 147 days before arrival. This is an automated posting.
Jason
2017-01-29T00:00:00Z
Room Type
Entire home/apt
---
Property Type
House
---
Accommodates
6
---
Bedrooms
Greve in Chianti, Toscana, Italy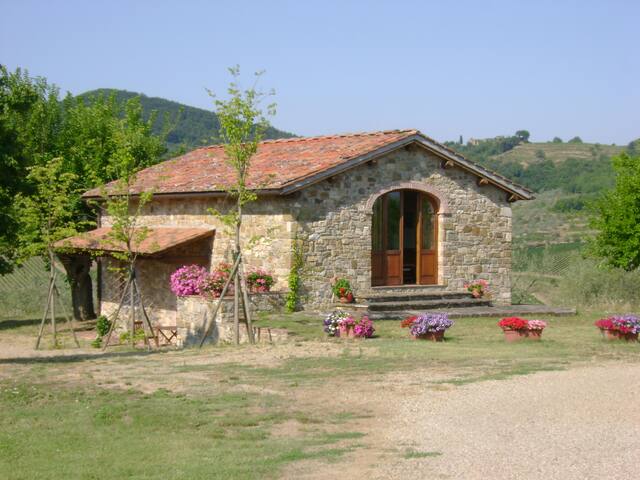 Le Refie sleeps 6 with easy access from the main road, the apartment has 800 mq of fenced private garden and a private pool for the guest of the apartment
Le Refie is part of a farmhouse of traditional Tuscan design that belongs to the Count Capponi domain. Le Refie sleeps 6 with easy access from the main road. 3 bedroomrs , 1 livingroom and dining room with fireplace, 1 bathroom with tub, 1 bathroom with shower
The Refie farmhouse and woodland belongs still nowadays to Count Capponi Owner of Villa Calcinaia estate (18 kms ) and former owner of Villa Carbonaia (300 meters far from the Refie farmhouse). Thanks to the altitude and forest land a very precious chestnut honey is produced in the estate . The nearest food-store from Refie apartment is in Lucolena Village(4,4km). It is a small shop that sells the essential staff. In Greve village(16,1kms, or 13 km via dirt road) one can find all sort of shops, restaurants , pharmacy ,banks and a supermarket that is open every day from 8.30 am to 1pm and from 4.00 to 7.30 pm. The supermarket is closed on Sunday. In the main square of Greve village there are some food-store open on Sunday morning. The house sits at the base of Monte San Michele right next to national parkland. Located only a few kilometers from the main country towns and cities (Greve in Chianti, 13 km; Figline, 12 km, Florence34,5 km, Siena 45,8 km).Le Refie is located at about 700 meters above sea level and even in the height of summer there is a gentle breeze in the evening so air-conditioning isn't necessary.
Room Type
Entire home/apt
---
Property Type
House
---
Accommodates
6
---
Bedrooms
Greve in Chianti, Toscana, Italy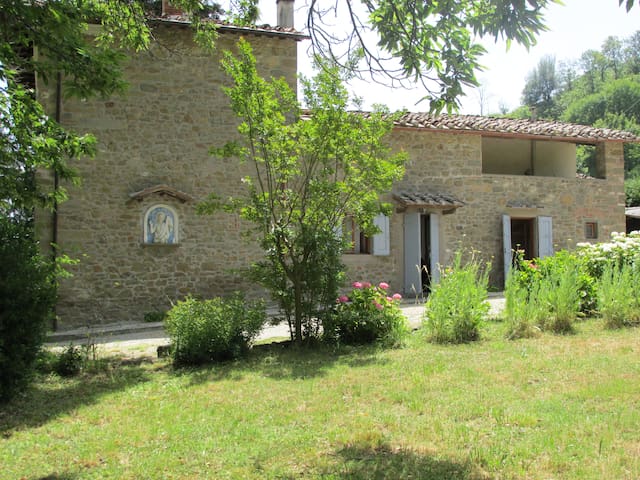 Villa offers four rooms, each with private bathroom and air condition (except ground floor room). The house has free Wi-Fi and is 5 min walking from the center of Greve. It's perfect for families or small groups who want to enjoy the Chianti area!
This is an ancient farmhouse dating from the end of the 15th century, perfectly restored with the use of quality materials. The house, located on a hill along the country road leading to Uzzano Castle, enjoys a wonderful view of the Chianti Classico hills and is less than 500 meters far from the historical market square of Greve in Chianti. The farmhouse offers four rooms, each characterized by a sober and elegant furniture, designed to make the most of any part of the house. Each bedroom, equipped with linens and television, combine the comfort of the modern with a refined search of the taste typical of a Tuscan mansion.
We enjoyed a wonderful family holiday in Teresa's home - she was delightful and helpful, though we did feel having to pay for air conditioning during the hottest month of the year was a bit unreasonable! The absence of a washing machine was also a disappointment. However, the house itself was beautiful, very, very clean and generally well appointed with comfy beds and spacious rooms. Being a short 5-10 min walk from the town centre was great too. We enjoyed some lovely meals in the town. Highly recommended as a true taste of Tuscany!
Gill&Tom
2016-07-31T00:00:00Z
The villa is lovely and clean, and very close to the town centre of Greve in Chianti. It has amazing views from the little courtyard garden and the beds are very comfortable.
Maria
2016-07-02T00:00:00Z
Overall we enjoyed our stay at Teresa's villa. Since we were 4 couples we especially liked having 4 bedrooms each with a private bath! The surrounding vistas were beautiful and a great central location. The villa is well maintained and good value. Unfortunately, there are 2 neighbouring dogs that like to bark sometimes all night long. Especially troublesome for the 2 bedrooms facing to the back! It would be great if something could be done about that!! If you plan to walk to town, take a flashlight with you for the walk back.
Dolores
2016-09-11T00:00:00Z
Teresa was very helpful in responding to questions before our arrival. A child's crib and high chair was there on arrival and she had explained the outside space and facilities. Also, we welcomed that Simone was able to drive us to a local wedding ceremony. We were very pleased that the house was so spacious, cool and spottlessly clean, and also that the location was within easy walking distance of the town.
Godfrey
2016-09-01T00:00:00Z
Beautiful house excellently and thoughtfully renovated - really uplifting to come back to or to relax in. Teresa was very accessible, always ready to help and made sure that our stay was as hitch free as possible. Greve is perfect for taking the bus into Florence. Siena is a little further but with use of a car in easy reach. We became fond of Greve itself, friendly local people and all you might need for food shopping. From the house the view looks out over the beautiful Chianti countryside - As a family of 5 we had more space then we really needed so the house felt luxurious but would clearly be suitable for a group getting on for twice that size. We all feel fortunate to have settled on this place to stay and hope to return to the area before too long. Many thanks, Teresa
Richard
2016-08-21T00:00:00Z
Lovely house with a great view surrounded by vineyards. Teresa is a kind host, always accessible. We enjoyed our stay a lot.
Nadine
2016-10-02T00:00:00Z
Teresa made us very welcome. The Villa and its surroundings were everything that I Had imagined about Tuscany. It was just beautiful. Teresa went out of her way to help us. She found us a nice place to learn Italian cooking. She told us about the wine festival and the free bus to get there. She drove me to pick up my friend from town. She also booked a special lunch to celebrate my significant birthday at the winery . There were 7 of us at the villa and we had flown in from everywhere. We had an amazing time and loved being there. The 4 bedrooms are big and comfortable. I had requested beds to be separated into single beds in 2 rooms and Teresa had done that. The room at the ground floor, first floor Nd top floor have amazing views. The bedroom on the top floor has 50 steps from bottom floor and you have to come down a floor to use the bathroom. All the bathrooms are nice. Kitchen is good. Overall a lovely location and great experience. You can walk into the town Greve within 10 minutes. Close to Piazza.
Pammi
2016-05-30T00:00:00Z
Everything was as expected. It was clean & comfortable and it made our vacation in Tuscany a wonderful experience.
John
2016-07-09T00:00:00Z
Room Type
Entire home/apt
---
Property Type
House
---
Accommodates
8
---
Bedrooms
Greve in Chianti, Firenze, Italy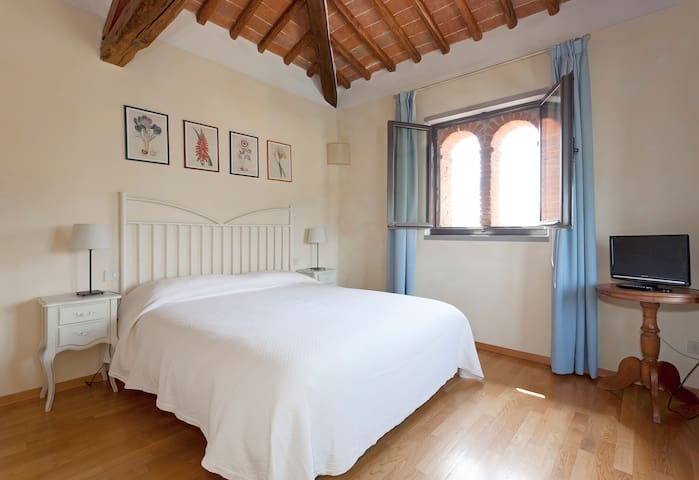 A house in the Chianti countryside, with great views over the vineyards and the famous Villa Vignamaggio . Perfect for those who want a little getaway or a relaxing holiday . There are several activities close to reach by car .
The house is cozy and full of colors! In winter it is nice warm up by the fire , and when the weather is fine it is better to go for a nice walk and enjoy the view of the hills .The house consists of two bedrooms , one double and one single , and in the living room there is a sofa bed for two persons.
The best amazing place to say the least. I can't imagine a better place in Tuscany. Love the home's charm and character. It was also great to meet the host as well...with their beautiful energy. Thank you for the unforgettable stay in Tuscany.
Gyan
2016-06-30T00:00:00Z
The views were breathtaking, and the house was the ideal place to really get to know this magical region. Pairing those two elements with comfort and privacy and you're left with a truly beautiful experience.
Caroline
2016-09-08T00:00:00Z
Really nice place but the dirt road to the house is very challenging for a small car. The view is breathtakingly beautiful. You'll need to stay a few days to really appreciate the place. Claudia and her husband are wonderful hosts. We really enjoyed staying there.
Fei Mian
2016-09-18T00:00:00Z
We enjoyed this rustic and authentic Tuscan villa set in beautiful farmland. It feels remote and is very quiet there even though you are just minutes from Greve and Panzano. Yes you need a car and yes, the last bit of road is a little challenging, but its all part of enjoying the region. The villa is comfortable and well appointed. The host was friendly and provided all the information we needed and communicated without delay.
Frances
2016-10-10T00:00:00Z
We had a great week-long stay. The cottage is located close to Greve and Panzano, but having a car is a must. The cottage is well-furnished and there is wonderful view from well-stocked kitchen. The host family is very friendly and caring...and knowledgeable about the area. Highly recommended.
Vik
2016-07-08T00:00:00Z
The first impression of the house was great. The second too. Even the thirth. Sitting in the window of the kitchen, watching upun the Toscany hills. The views are overwelming! Hearing only birds and wind. Warming by the fireplace. Enough in the house for making a good diner. Perfect bed. Good talks with our hostess. Once we hope to visit this house again.
Ton & Ellen
2016-04-30T00:00:00Z
Beautiful sight of Chianti fields and house.
Fabiola
2016-05-31T00:00:00Z
My wife and I loved our stay at Aixa's property. It really gives you the essence of Tuscany. The views of the hills are spectacular and the place itself is very spacious. Anytime I had a question, Aixa picked up our phone call right away. We would definitely stay here next time we come to Tuscany.
Shiraz
2016-05-20T00:00:00Z
Room Type
Entire home/apt
---
Property Type
House
---
Accommodates
5
---
Bedrooms
Greve in Chianti, Toscana, Italy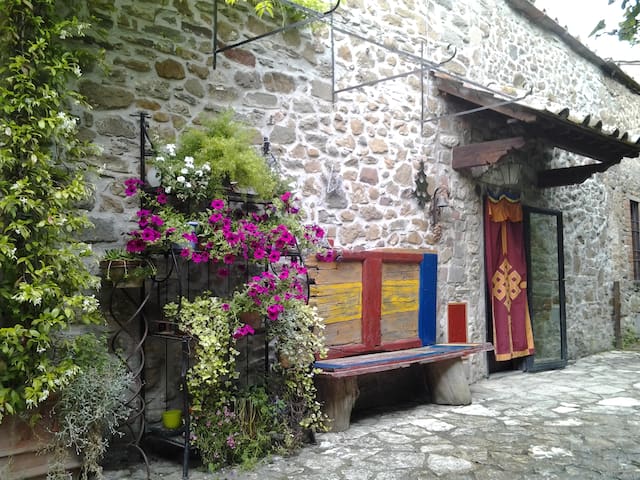 Greve in Chianti - Airbnb
:
Average

4.74

out of

5

stars from

424

guest reviews
1

–

18

of

139 Home Rentals
Enter dates to see full pricing. Additional fees apply. Taxes may be added.