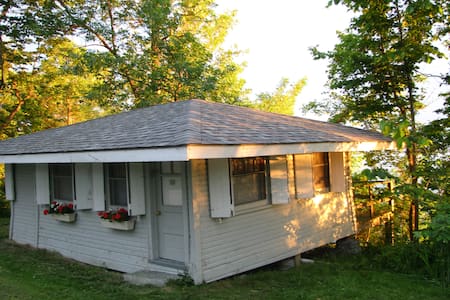 SUPERHOST
Entire guest house · 2 guests · 1 bed · 1 bathroom
Fisk Farm on Lake Champlain: Shore Cottage
Beautiful and historic Fisk Farm on Isle La Motte, Vermont overlooks Lake Champlain. Your stay in one of our two picturesque cottages helps to support our work of historic preservation, land conservation, and community well being. In May, June, and September we offer minimum two night stays in our charming Shore Cottage overlooking the lake are $125 per nite. In July and August the minimum stay is a week from Saturday to Saturday at $850 per night.
What guests are saying:
"Linda cabin offers an amazing view of Lake Champlain unfortunately for us the weather for the days we stayed we not very friendly for beautiful sunsets but non the less the location is beautiful! Only draw back was the location for parking was a bit of a walk to the cabin not much of a deal for me but if you have trouble walking just a little heads up for you. I would definitely chose to stay with Linda at the Fisk farm again if I am ever back up that way! Great amount of history and the walk though the quarry was like walking back in time."
This is a weekly rental. Cozy, immaculate, lakefront cottage on quiet, dead-end street with fabulous lakeside deck and swimming pool, efficiency kitchen, full bath, a/c and heat, 2 BR (1 within the main cottage, the second as a separate, stand-alone room in a separate cottage three feet away) sleeps 4. Fully furnished. All utilities plus WiFi and cable included. On-site parking. Easy access to downtown Plattsburgh, state park and beach, Point au Roche, hiking and biking trails, restaurants and cinema. Linens, toilet paper, dishwashing soap supplied. Absolutely no smoking, no pets. Again, please note, the two bedrooms are not physically joined. There is a three foot space between the two buildings. Please see the photographs.
What guests are saying:
"This place was an incredible value. A perfect retreat with lakefront amenities and a large private swimming pool. We used it every day to cool off and refresh. My son was in a FLW fishing tournament so the separate living areas were perfect. The style of the cottages were adorable and rustic. Plenty of seating and it was air conditioned so coming back from hiking, this was welcomed. His handyman, Eric was there each day (although he seemed to sneak in when we were gone) to maintain the pool and keep it sparkling clean. The beds were so comfy with plenty of pillows, and the linens and towels were clean and soft. If we are back in the area again, we will come here as a first choice for sure!"
Cottage on private lot directly on Lake Champlain. With spacious common space and breathtaking sunset views, this cottage is perfect for energizing from your busy lives. The cottage offers wonderful outside living: 3 kayaks and a canoe are at your disposal, a 5-burner BBQ for your chef skills, and a fire pit for quiet evenings by the camp fire. In addition, the lake offers excellent fishing, including salmon, lake trout, bass, and pike.
What guests are saying:
"We enjoyed our stay so much! Her adorable little house is super clean and well set up. It has been well decorated and is spotless. It fit us very well and we loved it! My only real tip for other guests would be that the hallway is sort of narrow and the ceilings are kinda low so might not be all that suitable for people with mobility issues or with very large or tall frames. However, if you have to miss out on the space for that reason, I'm sorry for you because by far the best thing about it is that, like the pictures show, It's right on the lake! As is, there's the yard, and then the lake. What I was amazed by (having never been to lake Champlain or this area) was how shallow the water was. You could walk out 50 meters and not be much above waist height. This also meant such warm water! One of the days of our stay we cancelled our excursion and just hung around the place swimming and kayaking and roasting hot dogs because it was too perfect to miss!"