Fully furnished, light, airy, double room with desk in spacious Victorian house. Separate living and dining areas. Quiet, considerate housemates. Foodies especially welcome. Gay friendly. Excellent transport links to central London.
Large, double fronted, Victorian, terraced property. Floorboards downstairs, carpeted upstairs. Garden with outside seating area. Bedding, towels, tea, coffee, juice, toast, cereal provided. Roadside parking available with visitor permit. We do like the house very quiet, calm and peaceful, so if you are after a party house this may not be the room for you. Please note the room is for single occupancy only, unless negotiated in advance. No added cleaning fees.
Very quiet, many young families. Very culturally diverse. Excellent market next to Upton Park tube station. Cafes, shops, takeaways close by on Barking rd and Green Street. Many restaurants and bars a short bus/tube ride away at Stratford and Canary wharf. 15 minutes away from Brick lane for market and curries. Close to Stratford Westfield shopping centre, London City airport, Canary Wharf, ExCel Centre and Olympic stadium.
I can imagine a tired, jet lagged traveller in serious need of rest, comfort and understanding. Add to that, being in need of some missing bit of vital kit in the toiletries department or whatever. Well, Susan is way ahead of us both. She has been a professional in other fields and seems dedicated in this stage of her life, to creating an environment catering to those needs. She also happens to be a thoroughly likeable person. One note of warning: Susan's place is well furnished and immaculate, thanks to her own hard work, care and consideration. Should you feel the need to just relax and leave things in a bit of a mess behind you, perhaps this isn't the place for you. I would like to mention, it is extremely quiet and peaceful in the immediate neighbourhood of Susan's home. It also happens to be a multi-cultural migrant area of London, where the streets near the tube station are crowded. It was my pleasure to be there for a week and was impressed with the simple courtesies in public. While turning to apologise for bumping someone, they were invariably doing the same to me. Thank you Susan, it was a pleasure.
Alf
2016-08-24T00:00:00Z
I love this place ! Every time again !
Yvonne
2017-01-21T00:00:00Z
Susan was very friendly. The house is impeccable and very clean. I would recommend her!
Elisabeth
2016-11-01T00:00:00Z
Staying at Susan's was wonderful!!!! She is a very warm, loving person. She did everything to make us feel welcome and her home was very welcoming and clean and cozy!!!!!!! Highly recommend this place!
Peter
2016-07-14T00:00:00Z
I enjoyed my stay at Susan's house a lot! Although I didn't use the house, the atmosphere was welcoming and nice. There are a lot of cereals to eat in the morning, which was very convenient! The room and bathroom was super clean and I had very relaxing nights. I can only recommend her place to you!
Jessica
2016-11-10T00:00:00Z
Susan was great. She gave me detailed instructions on the house rules/intricacies as well as how to get to all the locations in London that I wanted to go to. She even gave me her extra phone charger which was nice because I had the wrong adapter. Overall, it was a great experience.
Chris
2016-06-02T00:00:00Z
Carol was a brilliant, interesting host and couldn't have been kinder. Great attention to detail has been taken for the needs of the traveler. Her tasteful home was exceptionally clean and would highly recommend a stay there. Thank you for everything Carol. Angie
Angela
2016-12-05T00:00:00Z
Susan was very accommodating. She gave me great pointers on getting around London and a few good ideas of places to visit I had never heard of before. She was fantastic and I would definitely stay with her again.
Benjamin
2015-09-27T00:00:00Z
Room Type
Private room
---
Property Type
House
---
Accommodates
1
---
Bedrooms
London, United Kingdom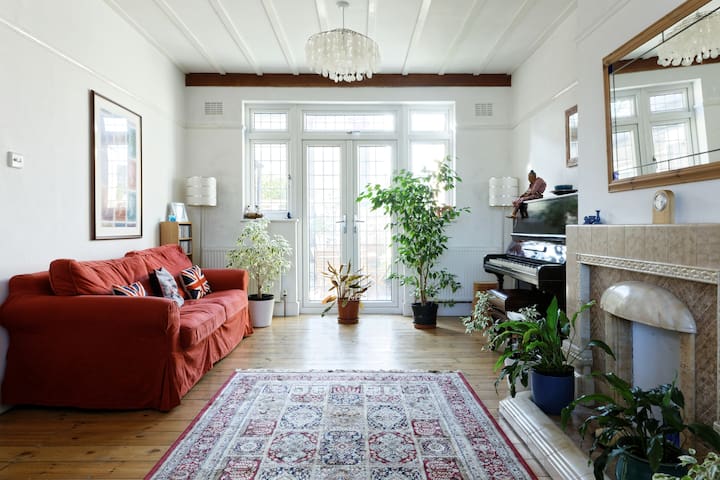 A mini apartment within the clock tower apartment at St Pancras Station, with its own en suite bathroom and kitchen and sitting area. It sits in Sir George Gilbert Scott's gothic revival railway hotel building from 1868. Ideal for 1 week holidays.
The apartment is in the clock tower above St Pancras International Station. This guest suite with a double bedroom on the 4th floor looks out over Kings Cross Station. The apartment has another double bedroom, also on the 4th floor being used by the owner or by other guests. This guest suite has all its own facilities not shared with others including in addition to the bed, a living area, a small kitchen/dining area and its own bathroom and shower. As the apartment is on the 4th and 5th floors and fully equipped with secondary glazing, the road and railway noise is very low and almost nobody notices it but I would advise delicate sleepers to be aware of it before booking. The suite is available for short or long-term letting and ideally suits couples on holiday in London for a few days or a week. There is additional bedding available by prior arrangement if one or two others want to stay but THIS NEEDS TO BE DISCUSSED WITH THE OWNER AT THE TIME OF BOOKING. Clean towels are provided as standard as are soap/shampoo. This listing is very heavily booked but it may be worth looking on my other listing (ST PANCRAS CLOCK TOWER MASTER SUITE) which is for the master bedroom which I let out when I am not using it. The main difference is that you would then use the main kitchen on the 5th floor. Or contact me with an enquiry and I will let you know. Little things are provided in the apartment, such as a hairdryer, international plug adaptors and umbrellas. Let me know if you need London Oyster cards for public transport (electronic cards for you to use and top up) or a UK SIM loaded cellphone. The clock tower was designed by Sir George Gilbert Scott like an Italian bell tower but never held bells. The clock never has and does not ring. On the 5th floor, the clock tower room's height lends itself to some extraordinary events. See YouTube for a video of an aerialist on a rope (Gisele Edwards) or a silk rope artist (ErialC).
Neighbourhood It is within walking distance of many of London's sights, from the British Library next door to the British Museum and the West End 20-25 minutes away. There are lots of shops in St Pancras Station. The best mainstream grocery store nearby is Waitrose in the Brunswick Centre. There is more public transport within 100m than almost anywhere else on the planet (buses, metro, rail). What is really exciting about Kings Cross now is its pace of development. New office buildings will house the European HQ of (SENSITIVE CONTENTS HIDDEN) and many other businesses. As offices are completed, they are fully let such is the demand for space in this area. The opening of new restaurants and shopping facilities now and over the coming years is transforming a former post-industrial desert to one of the most exciting parts of the metropolis.
Peter's place was amazing ! we had a great time at his place ! Thank you Peter for everything ! hope to come back to your enclosure soon !
Gon
2013-01-23T00:00:00Z
Interesting place, very spacious and comfortable - though its location means you have to be happy sharing it with a London that never sleeps.
David
2013-03-11T00:00:00Z
The location of Peter's place was very convenient for our purposes, with easy access to everywhere in London we wanted to go. 24/7 access via the building concierge made for easy flexibility in arrival and departure. The accommodations were clean and spacious. If Peter was not present, he was always immediately available by phone. We would stay again if the occasion presented itself.
Tom
2016-12-14T00:00:00Z
This is a fabulous place to stay (in one of the most impressive buildings in London) and the view of King's Cross station is brilliant. I really enjoyed the stay, and the room was cosy and I particularly enjoyed the heated bathroom floor! Peter was extremely helpful and easy to contact for questions :)
Fern
2016-11-30T00:00:00Z
I was very pleased to be able to hire the whole of the wonderful Clock Tower Apartment to celebrate my 50th birthday. The amazing spaces provided the perfect backdrop for a momentous event in my life adding a suitable sense of drama. The layout of the apartment encouraged everybody to explore and mingle with the added bonus of a grand piano in the main room. Peter let us visit well in advance to help plan the day and was available on the day to help us set up. If you are planning a big celebration then the Clock Tower apartment provides a unique experience at a fraction of the cost of any other venue. 5 stars!!!
John
2014-05-06T00:00:00Z
Exceptional in every way, this has to be one of the coolest pads in London. From the historic gothic splendor to the hosts contemporary attention to small detail - it's just amazing. Peter should be a national treasure. One gets the feeling you shouldn't be able to buy this sort of experience so if you can get your dates - it's priceless!
Richard
2015-06-30T00:00:00Z
The tower is amazing place and Peter is a great host. When we arrived, everything was ready for us. The location is perfect, the view is amazing and there is even a piano if you have someone to play it with you. I can definitely recommend anyone staying there and would like to return myself some time again.
Jakub
2017-03-21T00:00:00Z
Our stay with Peter was wonderful. St Pancras is a great location for trains and therefore, ease of getting around London. We had a lovely self contained room and bathroom within Peter's home. There were three of us a and one slept on the landing, which is semi private And worked well. We had a long stay which was great, and Peter attended to us wonderfully! Peter was always helpful nothing was too much trouble. I will be hoping to stay at the Clock Tower next time I'm in London!! Thanks so much, Peter!
Anthea
2016-03-27T00:00:00Z
Room Type
Private room
---
Property Type
Flat
---
Accommodates
4
---
Bedrooms
London, United Kingdom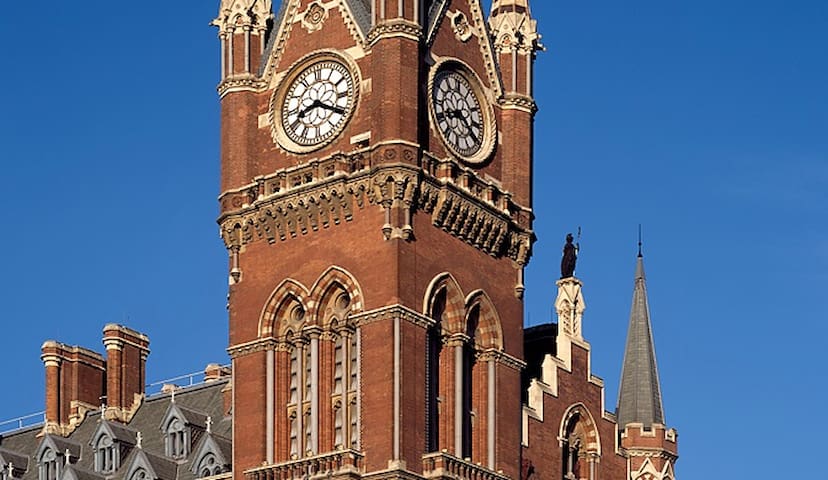 This room is located on the ground floor of the house. It is lovely, a very good size with a double bed and has a beautiful view of the garden, with your own door leading out to the patio. AND a plentiful breakfast is included in the price of the room! Blenheim Lodge is a beautiful house in a quiet upmarket residential area in North London, the perfect place to rest and recover after a busy day out sightseeing. You can take advantage of the big garden in the summer months, when it is full of colourful flowers and wildlife. Our house is in Zone 3, 20 minutes by underground to London Bridge and Kings Cross and just 10 minutes to Camden Market. The nearest station is East Finchely and is 5 minutes walking distance from our house. Cinema, shops, pubs and restaurants are minutes away from the house. If you do not mind changing rooms in order to cover your requested days please contact me as I might be able to book you in different rooms. Wi-Fi available Towels, bed linen and hairdryer provided. There is a shared bathroom located just outside your room. The continental breakfast is served between 7.30-9.30AM.
We arrived really tired after a long trek... Roger offered us breakfast before we departed for the first day of seeing London. One day we wandered past the East Finchley Tube station into town and stumbled across a really great coffee roaster. I regret not having more time in the area. Our accommodations were nice- very quiet, easily accessible to Tube station just down the street. We thoroughly enjoyed our short visit and can recommend Roger and Ari to prospective tenants! Thanks for your hospitality!
Steve
2014-09-26T00:00:00Z
This is the second time we've stayed with Roger and Agri and would recommend their place highly. We stayed in the downstairs garden room this time and loved it. We had access straight out onto a little patio and the garden beyond. It was a quiet and private spot. Roger and Agri are so very friendly, helpful and thoughtful. When they found out we were celebrating an anniversary, they bought us a bottle of champagne to celebrate. The location is terrific, so close to the tube station and bus stops. It's a safe, friendly neighbourhood with a few good cafes and restaurants nearby.
Bernadette
2016-09-26T00:00:00Z
The best place to stay in London! The house is beautiful and the room very clean and cosy. Lanna our host was very sweet and helpful. We enjoyed a lot the good breakfast with the view on the snowed garden. We will miss this place and PamPam the huggy cat ... :)
Chiara & Gabriele
2013-01-23T00:00:00Z
We spent a weekend in this beautiful "English Cottage". The place is cozy, with a beautiful garden, very well located next to the underground station. Our hosts were very friendly and smiling.
Bo
2014-03-24T00:00:00Z
The Blenheim Lodge was a great place to stay. Walking distance to public transport, stores, restaurants, and laundry. Agri and Roger are great hosts and are very helpful and welcoming. Loved the homemade scones and conversation at breakfast. Brian and Bam Bam (cats) were an enjoyable part of our stay. We would stay here again when we return to London.
Sharon
2011-07-12T00:00:00Z
One word- Perfect. This is EXACTLY what a Bed&Breakfast should be like- quaint, beautiful, & a relaxing oasis to a day of traveling. Agri & Roger were beyond amazing hosts. They not only shared their home with me but their joys of cooking, entertaining guests, & gardening. Their home is absolutely lovely and their garden is to die for. Would absolutely love to stay here again on my next trip to the UK!
Catherine
2011-07-20T00:00:00Z
I know the secret of their success - they love people and therefore it becomes mutual. "You are guaranteed to love this" – exactly. Love and kiss from Jolita and Maria
Niels Boe and Julia
2014-04-05T00:00:00Z
Both Roger and Agri welcomed and helped me prior to arrival by providing all relevant information on how to get from airport to their home. Upon arrival Agri showed me all one needed to know about the home, gave me tea and snacks, and became a friend. Their home and garden are lovely. You could not ask for a more tranquil environment. They have been hosting for a long time and know how to do it with style and friendliness! Transportation to Central London is easy. I would return anytime and recommend them highly.
Deanna
2014-06-18T00:00:00Z
Room Type
Private room
---
Property Type
Bed & Breakfast
---
Accommodates
2
---
Bedrooms
East Finchley, United Kingdom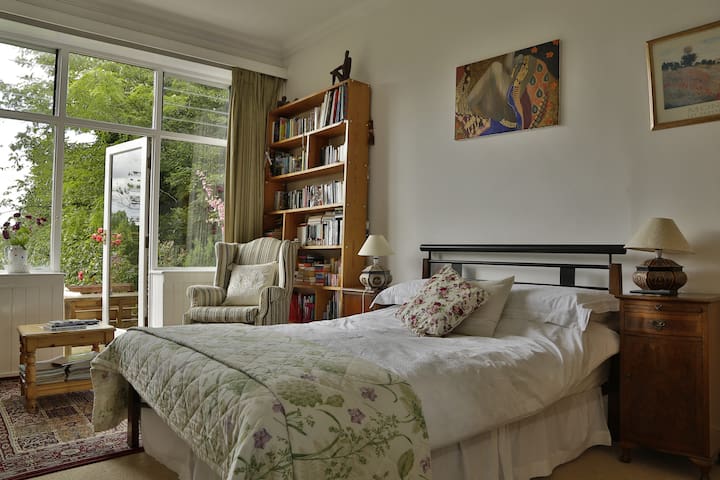 JESSIE the narrowboat is moored in the heart of Little Venice on the north bank of Browning's island just a stones throw from Paddington Station. Convenient, pretty and very relaxing.
Stay on this lovely individual, comfortable boat in the heart of London and experience the capital from a different point of view. Jessie is a 57 foot canal boat (or narrowboat) completed in 2011. She is 6 foot 10 inches wide. She can sleep 4 people in comfort, for 2 she is luxurious. The boat has a warm inviting interior and space on deck to sit and watch the world go by. The appropriately named Little Venice (a name coined by the poet Robert Browning) is a very pretty corner of London, famous as home to hundreds of beautiful canal boats and convenient base from which to explore the capital. Two underground stations and good bus routes to all parts of the city are a short walk away. There is something very special about returning to the peace and quiet of the canal after a day in the city. There are lots of local pubs, restaurants, cafe and shops in the immediate neighbourhood. Free Wifi connection. The sleeping accommodation is made up of a double cabin at the front with doors to a small but comfortable front deck. There are two single bunk beds to the centre of the boat and a very comfortable sofa which flattens out to a double bed in the living area. Which you choose to use is up to you. The bathroom has a shower, a cassette toilet, and a wash basin with shaving point. The living area is to the centre of the boat with a solid fuel stove for chilly evenings, a wall mounted digital TV (DVD/CD player). There is a large comfy sofa/bed (storage underneath for bedding). A folding dinning table and additional chairs allows for 6 place setting. The galley has a gas hob and oven with grill, a good size fridge with freezer compartment, a sink and draining board, cupboards and drawers housing all the usual kitchen equipment. Water is held in a tank onboard and needs topping up every few days (depending on your usage). This will be done by your host. The boat has a shore supply of electricity which powers the AC system. A DC system powers the fridge and waters pumps. A charger needs to be switched on to recharge the batteries. In the winter months heating is by the solid fuel stove which burns a combination of smokeless coal and logs which are provided. The stove can be controlled and kept going 24 hours but you need to allow for this in your daily routine loading the stove before going out and a little attention on your return. It keeps the boat warm and cosy. An eco fan assists circulation. Living on board is not quite like a conventional house and needs an understanding and patience with the obvious limitations in space and supply of resources. It may therefore not be for everyone.
What a fantastic place to stay for a mini trip to London. It was in an ideal location with easy transport links. Meg had thought of everything when it came to Jessie the Narrow boat. Was brilliant. The whole experience was great. Wouldn't hesitate to stay again.
Zo
2016-10-28T00:00:00Z
We had a lovely time on Meg's boat. Meg is a gracious and caring host who was available within minutes the few times we had questions. It is obvious she takes great care to make sure the boat is comfortable and has everything one needs, with a very clever use of space. Thanks Meg for allowing us to experience a week on a boat, making it a very special trip to London!
Gallia
2014-01-19T00:00:00Z
My husband and I just spent the most wonderful weekend staying aboard Jessie the Narrowboat. Jessie is perfectly situated, clean and charming. Meg was a wonderful host who was patient and efficient throughout the booking process and spent time explaining the necessities on arrival. Our morning was greeted by sunshine and ducks and our evenings spent curling up by the warm fire. The living accommodation is cosy and the kitchen well-equipped with everything you need. We decided to make the most of our time and cook dinner and breakfast onboard with fruits, teas and condiments well stocked in the cupboards. We're definitely coming back on Jessie again and are even considering a Narrowboat holiday now. Happy Customers.
Georgia
2013-11-05T00:00:00Z
Meg was a wonderful host! She was waiting to welcome us and show us around her boat. She left us with a great selection of fruit, bread, milk etc to get us started. She was also on call the whole time we were there in case we needed anything. We really could not ask for more from her! I have already recommended her to my friends and will continue to do so! The location was exactly as described, as was the boat. It was the best place we stayed on our holiday (we had a total of 4 locations) and the one to which I hope to return.
Renita
2014-07-18T00:00:00Z
Meg was a pefect host, we loved the stay on her boat
Wolfgang
2011-10-06T00:00:00Z
Meg was waiting for us on arrival, fabulous location had a really enjoyable stay on Jess.
Brenda
2016-03-13T00:00:00Z
Meg greeted my wife and I on arrival, welcomed us, oriented us to Jessie, and provided her contact information. Jessie's kitchen was nicely stocked and much appreciated. Jessie is a relaxing and comfortable, if slightly different, place to stay. We enjoyed the peace and quiet, green space and the resident geese and ducks. The listing description was very accurate – Jessie is very well maintained, very clean, has all the amenities (towels and things) and is quite fun to stay on. The neighbourhood is central and interesting. Hyde Park and Marble Arch are nearby (about a 20-25 minute walk). Paddington Station is a less than 10-minute walk (on pedestrian paths) and has an excellent 15-minute direct train to Heathrow. Very, very convenient. Thank you Meg for your great place to stay. We would happily return again.
Michael
2015-10-19T00:00:00Z
This was the perfect place to stay in London. And so cozy and very nice. We had a perfect stay. Couldn't believe it, it was so fun. Meg made us very comfortable and explained everything, gave great advice about how to get around and what to do. She even had night lights on the boat so it was easy to find it as we came home in the evening. And the ducks, geese and swans that swim by are magical. Meg is the best host. Thank you a Meg!
Heidi
2015-10-14T00:00:00Z
Room Type
Entire home/apt
---
Property Type
Boat
---
Accommodates
4
---
Bedrooms
Central London Narrowboat, England, United Kingdom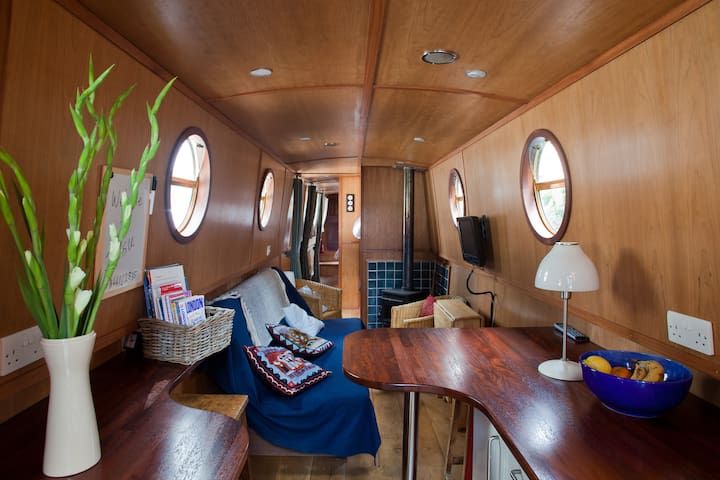 In general -we are easy going family,don't like to moan,respect our guests. When we open our doors at the same time we open our hearts .. We also have a double and single bedrooms for guests .You can find them in my profile.(Scroll down, left side -"LISTINGS")
In case -if you can't find availability@our Stylish oasis &good price single - check out our two other listings. You can find them in our profile , scrolling down - find other listings "stylish oasis and good price double" and " stylish oasis and good size single" From 1st of September we are opening our newly renovated double bedroom for airbnbers! If you can't get a place in our single - go to double instead just for couple pounds extra! Ask me please if you still can't find! Wanted to let you know - it's not a hotel or hostel - it's our home and we share it with other nice ,positive and respectful people who are not afraid to meet others from all world :). So if you expect hotel's service - I am afraid our home not suits your needs. Small single bedroom, reasonable price :). If we won't have the availability in calendar in one room for period you want to stay - feel free to ask about the option to split a stay between two rooms ( if you don't mind to swap the rooms) Warm welcome,private space.And more space - if you wish :) .You can have a nap in our garden under big Christmas tree and enjoy a tea or coffee in our conservatory . ---ATTENTION: if you query to stay in our house, please, introduce yourself in a request message ,describe purpose of your trip.Also fill the profile.Picture is required- we want to know who is going to be our guest----- --- If you are reviewed and already have some positive reviews ,feel free to book instantly(save your time instead of messaging).This option is not available for first timers :)
The most what I like about our neighbourhood is that we live 5 min apart Greenwich Meridian line:),so I easily can find our living place (approximately )in a world map:) .We live in Walthamstow and Meridian goes just 5 min on foot from us:) --Walthamstow village is ancient nucleus of present days Walthamstow .Increasingly fashionable area focused around independent shops,pubs and restaurants on Orford road. Mainly characterised by cosy streets of quaint cottage style houses.... --Wood street indoor market is a real gem and really ticks all the market boxes.If you miss the Camden market of old,then this is place for vinyl junkies... --Walthamstow market is the longest daily outdoor market in Europe. It occupies all but the last 100 metres of Walthamstow High Street (Tuesday to Saturday )and Farmers Sunday Market.... --Epping , Walthamstow forests nearby - we are happy to have them around :). --Walthamstow marshes (Lee Valley Regional Park)-a natural treasure and one of London's few remaining river valley grasslands.Saved from development to protect rare plant species,it's heaven for wildlife (email hidden) to escape the town without the hassle of going to country.You can forage ,walk and cycle there.Nearby WaterWorks centre with golf,cafe and nature reserve,plus an ice rink,horseriding,fishing,rowing and kayaking... --Hollow ponds and the roly-poly wooded terrain around them are a magnet for dog walkers,joggers,Sunday cyclists ,and families.You can hire a little boat and paddle about behind a couple of coots in surprising tranquility.... --Queen's Elizabeth hunting lodge is reachable by bus 212 from our house - nice surroundings and you can see and imagine how royals where living .... --Stratford Westfield - one of the biggest shopping malls and the Primark -one of the cheapest shops in all Europe -30-40min away by 158 bus/tube... If you have a car- parking on street is free of any charges.
The neighborhood isn't expected to walk around freely and a bit far from the city central; however, the location is relatively convenient and Raimonda is very nice host and super caring!!!
Sharon
2016-02-14T00:00:00Z
Raimonda & Paulius' place is really nice and cozy, feels like it was recently remodeled. Everything was clean, comfortable bed with a selection of pillows and a warm blanket, nice bathroom. Raimonda and Paulius were absolutely great, very helpful and a pleasure to talk to. I highly recommend their home and would be happy to stay there again.
Slava
2016-06-07T00:00:00Z
I stayed 2 weeks and it was perfect. A very clean and beautiful house with a wonderful garden with everything that you need, for live in comfortable way. Paulius and Raimonda are very good persons, always there for help you or for inform you if you have any questions. It was a pleasure to have a conversations with Raimonda who was very patient with me, cause my english level need to be improve. Their house is in a safe neighborhood, where there have a lot of shop were you can find everything that you need. It is from 20 minutes by feet to the underground or you can take a bus just next the house and there have night buses who can take you to this underground station. I had a very pleasent stay in your house, thanks again for all your hospitality and your kindness.
Myriam
2013-08-13T00:00:00Z
I had a lovely time in London, thanks to Raimonda and Paulius. I mostly dealt with Raimonda, who is a lovely and gracious hostess. I became gravely ill when I was scheduled to be in London and was unable to cancel on the airbnb app - Raimonda was so helpful and allowed me to stay the following weekend despite the airbnb app issue. Without her kindness, I wouldn't have been able to afford my much-anticipated return to London. You will not believe the close proximity of the bus station (walk out, turn left, walk 15 feet) and the easy bus ride to the tube stop. It can take about 30 minutes to get into the city center, but it's a nice ride. I definitely recommend their lovely home to anyone visiting London. They couldn't have made my stay any more comfortable or relaxed. Thank you!!
Mary
2013-11-12T00:00:00Z
Raimonda and Paulius are great hosts- i felt very welcome, comfortable and easy in their apartment. They are very friendly and generous and helped me to find my ways in London. The room is very nice and the place itself radiates with a perfect positive atmosphere. I can highly recommend !
Elisabeth
2015-06-03T00:00:00Z
Raimonda&Paulius are very kind, they explained me how to arrive to their house, best choices on transportation, and even let me get there earlier. Their house is lovely and they made me feel like i was home. I will repeat for the week.
Montse
2016-08-01T00:00:00Z
This is a very nice room! The host made me feel very welcome from the moment I arrived. She is very kind and warmth!!! Her house is incredible and she kept me feeling right at home. The bedroom is lovely and bright and spotlessly clean. Besides, I've seen a super cute squirrel in their garden. Everything is perfect! This is the best room I have lived and the host treated me like my mother. Highly recommend this cosy B&B. Hope to see her sometime again in the future!
NING
2016-06-14T00:00:00Z
If you want to feel at home while you're away from your actual home, this is the place you should stay at. Raimonda and Paulius are great hosts. I had a really great time in their lovely house. Raimonda is really helpful and always reachable. The house is clean and cosy. It's a bit far from the center, but it's really easy to get there with public transport.
Ece
2016-09-17T00:00:00Z
Room Type
Private room
---
Property Type
House
---
Accommodates
1
---
Bedrooms
London, Walthamstow, United Kingdom
Large bedroom with en-suite bathroom (shower, sink and toilet) and king-sized bed available until 11th October 2015. The room is in a shared house in a quiet (for London!) location. It is within 1 minutes walk of a bus stop and 6 minutes walk to nearest overground, Stoke Newington (not currently a disabled access station). There are lots of restaurants and bars close by. Other info: There is a kettle in the room with tea and coffee provided. Bedding and towels can be provided.
The room is one of three in a friendly household. My housemates both work full time and are very nice.
Really nice mix of people, great transport links, LOTS of choice in places to eat out. Great green spaces to walk around.
Cute room, has everything I needed.
Niels
2015-10-08T00:00:00Z
Room Type
Private room
---
Property Type
House
---
Accommodates
2
---
Bedrooms
London, United Kingdom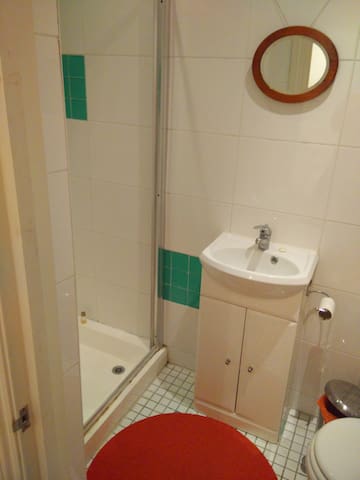 This luxury Studio accommodation is equipped with a double bed, a kitchenette and a small lounge area. The bathroom has toilet, bath and shower facilities. . This studio is 5-star quality. Located in Gants Hill (central line) 35-45 minutes from central London.
We are located in an area buzzing with a variety of restaurants, convenient stores, coffee shops.
Wonderful place and hosts, the best nights sleep I've had using air bnb! Easy to get to the O2 and central London. Will be using again
James
2016-11-30T00:00:00Z
Location is good you have everything in the room
Randall
2016-12-04T00:00:00Z
Lovely little studio flat, perfect for a getaway weekend to London for any couple. However one bad point is, having a shower if you're taller than 5ft 7 is a struggle as the ceilings are very low and slanted in the bathroom, I'm 6ft and had to sit in the bath and wash my self with the attached hose. Apart from that we had a lovely stay!
Callum
2017-01-09T00:00:00Z
Clean, warm and cosy modern apartment, responsive hosts, can't think of a bad word to say really!
Jack
2017-02-02T00:00:00Z
Friendly and bright appartement with 2 rooms and a small bathroom. Everything was very clean, the W-Lan connection was great and the hosts were very friendly too. If you needed something or had questions they were very obliging. The subway station is 5 min away, nearby were also restaurants and supermarkets. Perfect for a short trip to London!
Nina
2017-01-13T00:00:00Z
This is my Alirbnb experience and was far more than I expected. Carl and Elaine and Harley a very caring host. I love the place and can't help but keep thinking to come back again :)
Rozita
2017-04-03T00:00:00Z
I only stayed with Carl for two nights, but those two nights were more than sufficient to come to the conclusion that he has done a really nice job at making the studio feel like a home. You have your own entrance, which is particularly nice when you like to stay in London a bit late, and combined with a little kitchen, a private bathroom (be aware long people: the ceiling is quite low for someone that is 1.85 metres, but it's not really an issue) and a lovely bed, it's perfect for either a short citytrip or a longer stay. His wife even put out some bread, butter, milk, tea and jam for you to use, brilliant. The location is fine, the Tube station is just a short walk and the Central line takes you straight into town in half an hour. All in all, I had a really pleasant stay here and I would definitely recommend it to others. Unfortunately, I only met him and his wife once, but they seemed like really lovely and warmhearted people. Oh, and Carl, I don't know how you got that limo in there, but well done to you, haha!
Bart
2017-03-01T00:00:00Z
Absolutely great place: friendly, clean, all amenities provided. Best hidden gem in London: I have been to many places and Carl's flat is definitely one of the best. Tube station is close, takes 30 min or so to get to central London. Pubs nearby have Friday-Saturday events if you want to go local. There are so many little extras like the the separate heater, plug converters or the USB plugs for charging your phone, its amazing. Highly recommended!
Tibor
2017-01-31T00:00:00Z
Room Type
Entire home/apt
---
Property Type
Loft
---
Accommodates
3
---
Bedrooms
Ilford, United Kingdom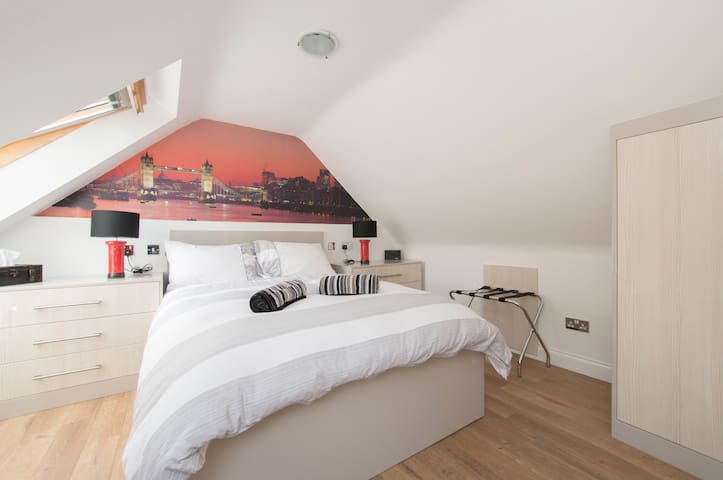 My place is close to from Stanstead airport . You'll love my place because of the ambiance. My place is warm clean and tidy solo adventurers, and business travellers.
Large space to stay. Warm and friendly hosts.
The host canceled this reservation 12 days before arrival. This is an automated posting.
Asim
2016-12-18T00:00:00Z
Room Type
Private room
---
Property Type
House
---
Accommodates
2
---
Bedrooms
Waltham Abbey, England, United Kingdom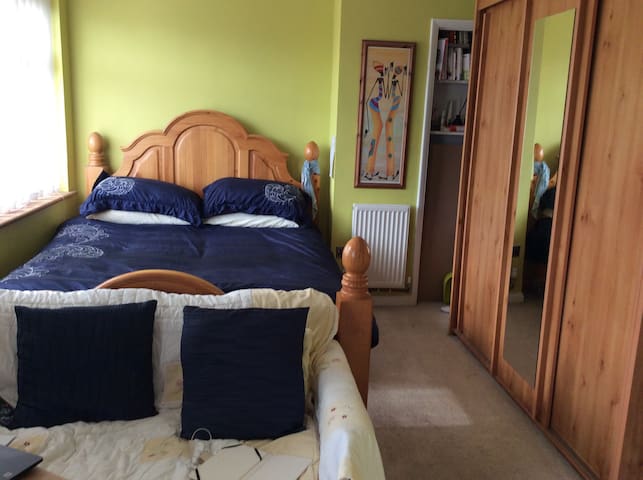 A large room based in a lovely 5 bedroomed house in Waltham Abbey. Only a short walk from the the towns shops, restaurants etc . 5 minute drive to Waltham Cross with trains directly to Liverpool Street.
Ideal for commuters wanting to save money by staying slightly out of London or for someone visiting London/Waltham Abbey
Near to the historic , quaint town of Waltham Abbey and to the beautiful Abbey Gardens .
Had a marvellous stay with Richard and Zoe. Nice big room with a comfy bed and plenty of pillows. I don't know whether Charlie and baby Jack were on their best behaviour, or if they're just naturally good kids. Either way, I didn't hear a peep.
Philip and Anghared
2016-04-08T00:00:00Z
The hosts made me feel welcome from the very beginning of my stay welcoming me on my arrival.
Diletta Colette
2016-09-15T00:00:00Z
Perfect. Would recommend :)
Paul
2016-10-14T00:00:00Z
lovely family, very flexible and welcoming. Clean and spacious room, a nice comfortable stay! Thank you xx
Carole
2016-11-06T00:00:00Z
Richard was efficient in responding to my enquirers. Both he and his wife were friendly and helpful. Thank you.
Marie
2016-02-15T00:00:00Z
The room was light and spacious. Only drawback for me was there was not a TV in the room. I cannot comment on comfort as I went out locally to meet friends and decided to stay out due to not wanting to return too late as its a family home with young children.
Angie
2016-04-13T00:00:00Z
Richard and Zoe made us feel very welcome from the moment we arrived. We had a fabulous stay. The room was perfect. Spacious, airy, almost doubles up as a lounge area too. Good location for what we needed.Richard and Zoe were on hand for any questions we had. Highly recommend !
H
2016-03-12T00:00:00Z
I stayed for one night, really nice place and friendly couple
Ahmed
2016-05-02T00:00:00Z
Room Type
Private room
---
Property Type
House
---
Accommodates
1
---
Bedrooms
Waltham Abbey, Essex, United Kingdom
Unique "Wooden House" apartment in London Marylebone, 10 mins walk to Hyde Park- Oxford Street, Marble Arch; 2 minutes to Edgware Road underground station. Very cozy and perfect for cozy winter months as well as for a relaxing summer stay.
The apartment consists of Master Bedroom with king size bed, medium-hard pillow top mattress, four duck feather pillows, anti-allergy king size soft Peter Jones duvet, reach cotton linens, built-in storage; living room or second bedroom with removable wooden wall, day bed-turns into king size, electric fire place and 42"TV (please refer to pictures provided); bathroom with shower over bath and open plan eat-in kitchen with dining area, electric cook top and over, microwave, kettle and toaster, Nespresso coffee machine with coffee pods, glasses, plates, cutlery etc. For little ones I have a high chair and portable baby cot. Please enquire prior to the booking. *Please note that the day bed will be prepared only when the booking is made for 3 guests or more. If you are two and require two beds please make a booking as three person, otherwise we will alter the reservation.
The location is fantastic for both business and pleasure. Lisson Street is a small street just off Marylebone Road. Grocery include: Mark and Spencer and Waitrose- 3-5 minutes away. Starbucks, Costa, Patisserie Valerie only minutes away as well as busy Edgware Rd. Hyde Park, Marble Arch, Oxford Street are within an easy 10-15 mins walk.
It was cozy and comfortable flat. Hosts were also perfect, kind and have an eye for choose or iterior. I was pleasured that could stay in that flat.
Jeong Wook
2016-10-16T00:00:00Z
Elena & Nick approach their AirBnB with a level of professionalism and proactivity seldom seen on this or other platforms. Pre-arrival direct communications, flexible meet-and-greet timing, a thorough orientation, an up-to-date information folder on the apartment and the area, high-speed internet, etc etc. Add this the fact that the apartment is 3 minutes walk from the Edgware Road Station (Bakerloo line entrance - the D&C line entrance is a couple of minutes more down the road) and you have all of Central London within fairly easy reach. Highly recommended, Ryan
Ryan
2016-06-24T00:00:00Z
Great flat, enjoyed my week's stay. The flat was well appointed and within walking distance to my office. Would definitely stay here again.
Matthew
2017-02-16T00:00:00Z
Nick and Elena...thank you both for sharing your beautiful flat and extensive knowledge of the area with us. From day one, we felt comfortable in our surroundings..which is saying a lot since it was our very first trip to London. Your flat was exactly as pictured and the amenities were even beyond what was promised. I would not hesitate at all to recommend your flat to anyone going to London!
Laura
2016-10-11T00:00:00Z
The apartment was great and Elena and her husband were lovely
Lydia
2015-09-25T00:00:00Z
I booked this place for my graduation trip. Nick and Elena are really warm, welcoming caring hosts, and their home is perfect for having a relax time away. Underground station is less than 5-minute walk. This place is pretty much within a walking distance from major stations like Marble Arch and Paddington. On our last day in London, our flight's scheduled to leave at 9.00pm but Nick&Elena were more than helpful to let us leave the bags in the apartment. Thank you so much again for a wonderful time. :))
Rarin
2016-07-23T00:00:00Z
I found Elena to be a very accommodating and gracious host, she took great care of us. The apartment is clean, nicely decorated and provided a nice getaway for me and my little family.
Nathalie
2016-12-01T00:00:00Z
Nick and Elena were great! Such a lovely 2 week stay in their apartment.
chantel
2016-11-20T00:00:00Z
Room Type
Entire home/apt
---
Property Type
Flat
---
Accommodates
5
---
Bedrooms
London, United Kingdom
My modern, cosy one bedroom flat comes with a charming garden, new kitchen and a memory foam sofa bed, allowing up to 4 people to stay near the historic town of Waltham Abbey. Good transport links to London and to Stanstead airport. Pubs and local shops all walkable!
This is a lovely little flat in a residential area, with great transport links to Waltham Abbey, Waltham Cross station, to London and to Stanstead airport. The flat can comfortably fit 4 people, if two don't mind being on the (memory foam) sofa bed.
This is a quiet, residential area and the neighbours are lovely. There are shops and pubs within walking distance - I recommend the Horseshoes- good local beer and reasonable food. There are lovely walks in the countryside really close to the flat, through Warlies wood- watch out for the deer and the bulls! They're easy to spot! Epping Forest is very close, as is the Lea Valley for cycle trails in to Central London.
The location was perfect for us after picking up our adult children from Stanstead Airport. It had great parking and was close enough to London to allow us to catch the metro at Loughton the next day. We appreciated the milk left and the well stocked kitchen. The beds were comfy, the place well heated and everything else was great.
Jenny
2016-12-11T00:00:00Z
Katie was a fantastic host, very flexible with checking in and out. Great communication and even provided tea, coffee ect and lovely fresh bread. Katie's apartment was perfect for us, a nice warm and cosy place to relax with a well equipped kitchen and comfy bed. Only a short drive from London and many supermarkets close by. Parking was also a bonus! Would definitely recommend to anyone and would love to stay again in the future.
Amy
2016-11-06T00:00:00Z
Katie's home is warm, comfortable, close to shops & pub for what you need locally, plenty of parking, close to buses to get to trains, great location & very quiet residential area - highly recommend
Kara
2017-03-18T00:00:00Z
Katie was a wonderful host who offered us her home encouraging us to make it ours. I stayed for 5 nights with my 77 year Italian aunt who spoke no English and had only left Italy twice before. The flat was perfectly equipped for two very different people and allowed us to relax which was needed as the purpose of our stay wasn't much fun. Having a lovely place to return to on a quiet street really helped our stress levels and the memory foam mattress on the sofa bed meant I had 5 delicious nights sleep. Katie was a really kind and understand host and I loved leafing through the books on her bookshelf! They reminded me of home. Thanks Katie. I really appreciated the stay.
Kate
2017-01-23T00:00:00Z
What a great little flat! I know where I'll be staying when I'm in the area from now on! Thanks Katie.
Charlotte
2016-12-30T00:00:00Z
Katie's home was perfect for what we needed for a little get away. Very easy to speak with and very accommodating. Was a pleasure!
Sarah
2016-12-04T00:00:00Z
Excellent suite of rooms, with ample nearby roadside parking
Julie and Alan
2017-01-15T00:00:00Z
Room Type
Entire home/apt
---
Property Type
Flat
---
Accommodates
4
---
Bedrooms
Waltham Abbey, England, United Kingdom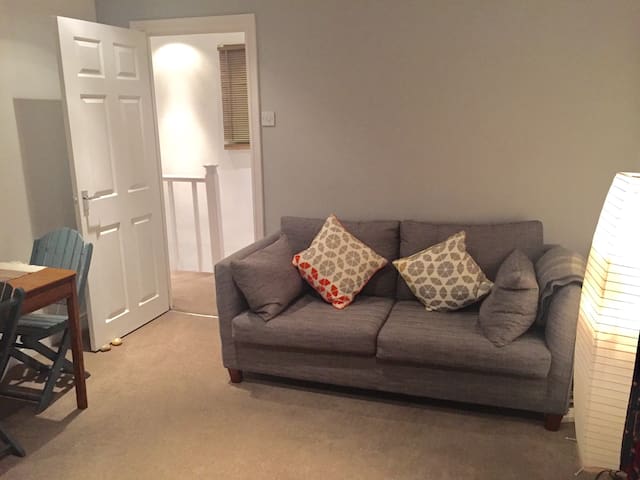 Our home is in the historic village of Waltham Abbey that allows you access to London by train within ten minutes. It is located in the town centre of Waltham Abbey and surrounded by all the required amenities.
There are two double bedrooms each equipped with a double bed. There is also an additional baby'r room with a cot off one of the bedrooms for those with young children.
Room Type
Entire home/apt
---
Property Type
House
---
Accommodates
5
---
Bedrooms
Waltham Abbey, United Kingdom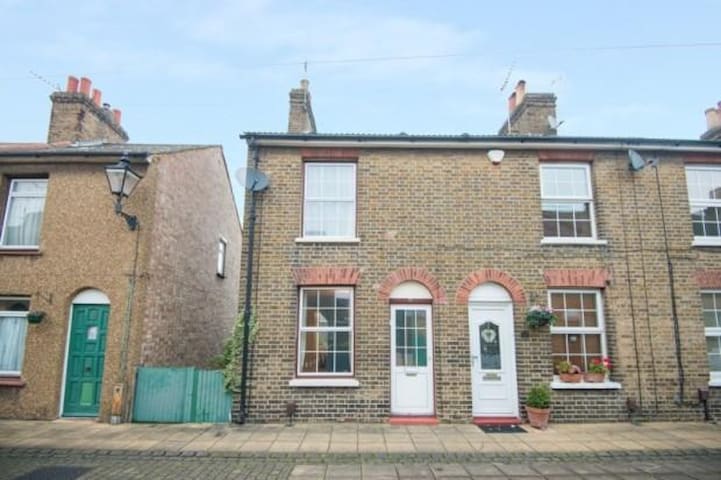 Newly refurbished bright and airy single room, situated in a quiet cul-de-sac 15 minutes walk to Hertford North station. Ideal for exploring the beautiful local counryside and villages but only 50 mins by train to London Moorgate. 2 mins walk to buses into the historic town of Hertford with its castle,theatre and variety of cafes and restaurants. The room has brand new furniture including a new bed, with a very comfortable memory foam mattress.There is also a blackout blind and central heating.
5-10 minute walk to local shops which include a co-op,fish and chip shop (with a reputation of being the best in the town ! ), bakers,post-office and chemist.
Laura is a great host, her house is very clean and quiet. The location is easy to walk to from the station or town centre.
Rose
2016-11-27T00:00:00Z
A lovely friendly home. The house is clean and tidy. The room was well appointed, warm and clean. All the facilities were excellent Laura and John are a lovely couple who were very hospitable and interesting to talk with. Thank you for a great overnight stay. Paul
Paul
2016-11-21T00:00:00Z
Lovely couple: friendly, welcoming, hospitable, warm, interesting to talk with them. comfortable home and room. I have stayed before and will do so again.
Bijal
2017-03-02T00:00:00Z
Beautiful house, great little room in perfect condition and a lovely host.
Lewis
2016-11-16T00:00:00Z
Laura is friendly and welcoming
jean
2017-01-18T00:00:00Z
Hospitable hosts, comfortable home. Am staying again so all good.
Bijal
2017-02-16T00:00:00Z
A warm and friendly welcome awaits you at Laura's.You will be treated as a friend or left alone as you choose.The room and house has everything to satisfy your daily needs.The location is excellent for Hertford and its environs.I would not hesitate to recommend Laura!
Ashok Arjan
2017-02-08T00:00:00Z
Great stay at Laura's place as before!
Glynn
2016-12-14T00:00:00Z
Room Type
Private room
---
Property Type
House
---
Accommodates
1
---
Bedrooms
Hertford, England, United Kingdom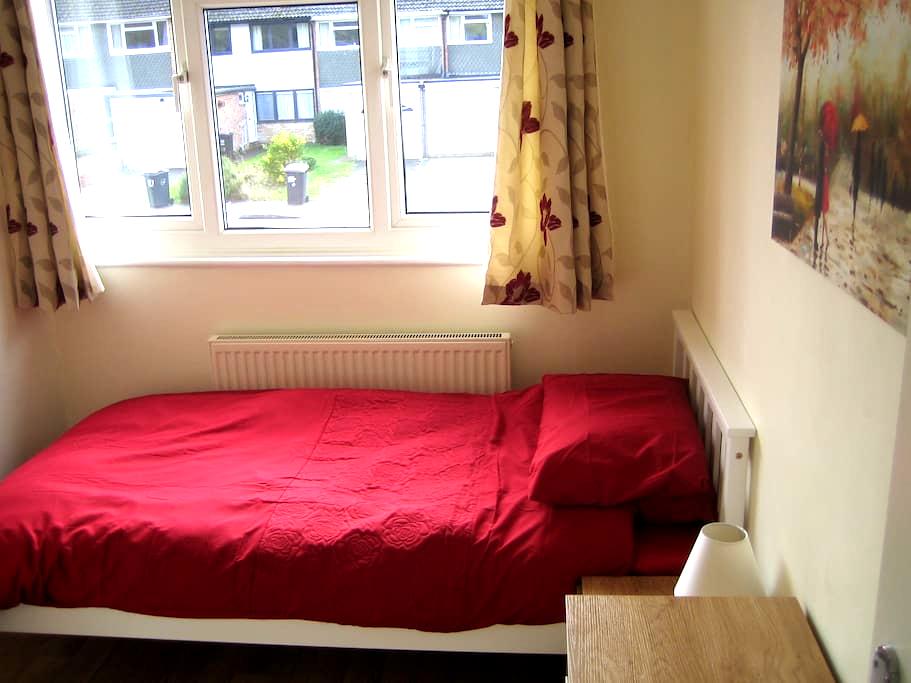 Tranquil single room with shared bathroom bathroom available in large home with use of kitchen and lounge area. Ten minute walk into the beautiful historic town of Hertford with plenty of bars, restaurants, theatre.
The host canceled this reservation 7 days before arrival. This is an automated posting.
Paul
2017-04-08T00:00:00Z
Very family friendly, Sue is very warm and welcoming into her home. Very comfortable stay will all you would ever need. Highly recommend stay.
Aaron
2017-03-31T00:00:00Z
I spent a peaceful and relaxed night at Susan's house. Very convenient for Hertford, great view from the window. I arrived quite late, but Susan was very accommodating. I felt very welcome. Thanks
Margarita
2017-03-30T00:00:00Z
Susan was amazing with me ! Her house is beautiful, everything is clean ! The house is just next to the center. I like my stay at Susan's home. I was in Hertford for my first day of work, and she completely helps me to feel good. She really take care of me. I have the sensation to be home ! Thank you again for everything, I hope to see you soon :)
Blandine
2017-04-05T00:00:00Z
Room Type
Private room
---
Property Type
Villa
---
Accommodates
1
---
Bedrooms
Hertford, England, United Kingdom
Our house is on the edge of Hertford (SG14 3HR post code), whose town centre has a great choice of restaurants, eateries and nightlife. There are two mainline stations into London and excellent road links, with the A10, A1 and M25 close by. The house offers light airy rooms, a comfy king sized guest bed (with tea & coffee making facilities), modern bathrooms and a TV/computer room for guests where they can work or relax. Suitable for couples, solo adventurers, and business travellers.
We are ideally located for easy access to Hertford town, Ware, Stevenage and Hatfield. London is served by Hertfords' two mainline stations, serving Liverpool Street and Kings Cross/Moorgate.
Quiet residential area of Bengeo on the edge of Hertford, next to open countryside and Nature Reserve, with beautiful walks.
I was late arriving and on arrival Neil made me a cup of tea and gave me some cake which was very kind and sweet. Perfect location Cozy room with a great bed, tea coffee making facilities in the room and i thoroughly enjoyed their company Emma & Neil are fabulous hosts... 10/10
Yasmin
2016-12-14T00:00:00Z
We spent a very relaxed few days with Emma and Neil. The house is spotless, with plenty of space. Emma and Neil are very easy to get on with and made us feel at home
Margarita
2016-11-30T00:00:00Z
I was back at Emma and Neil's, their hospitality and warmness like I am staying with close relatives, a fabulous stay with everything provided 10/10.
Yasmin
2017-01-24T00:00:00Z
Great place to stay. My second time, so must be good
Margarita
2016-12-06T00:00:00Z
Absolutely superb! Emma and Neil are fantastic hosts! Very friendly and accommodating. Immaculate and beautiful home. I cannot recommend them enough!
Paul
2017-02-03T00:00:00Z
Lovely warm house, clean and spacious, friendly and welcoming.
Margarita
2017-01-06T00:00:00Z
What a beautiful, clean and fresh place to stay. Emma and her family were so welcoming. The king size bed was incredibly comfy and it was lovely to come back here after a night out in Hertford. Would definitely come again.
Rhyanna
2017-03-19T00:00:00Z
We feel very much at home with Emma and Neil, and were pleased to meet Luke this time. A very friendly and welcoming family. Thanks
Margarita
2016-12-13T00:00:00Z
Room Type
Private room
---
Property Type
House
---
Accommodates
2
---
Bedrooms
Hertford, England, United Kingdom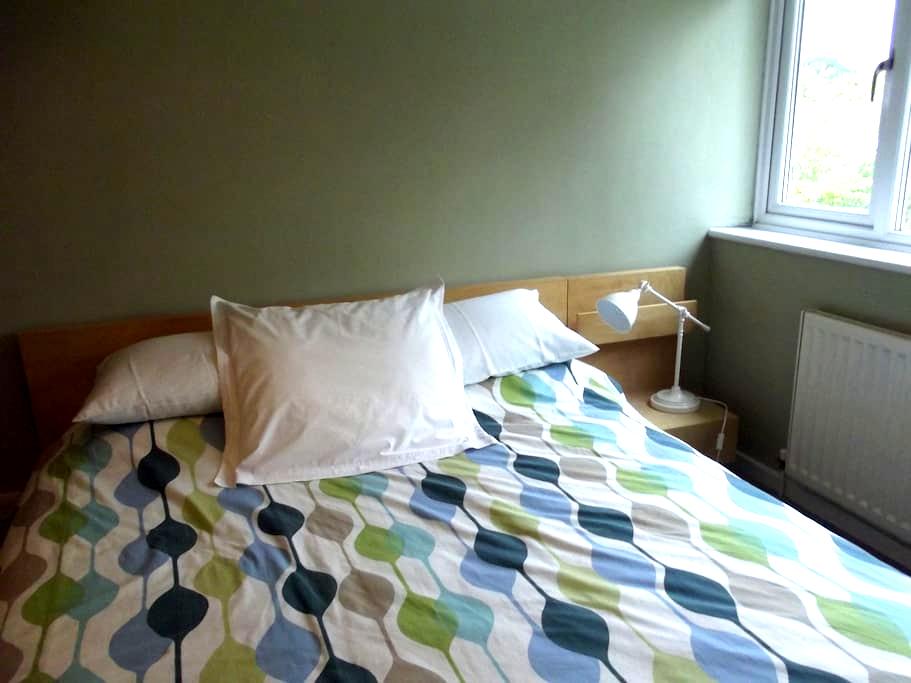 A bright airy room in the historical market town of Hertford. Hertford offers a true community feel with a mix of old and new, and is known for its lively social community with many coffee shops, restaurants, bars, pubs and music venues. With excellent transport links, direct rail links into London's King's Cross, Liverpool Street and Moorgate, and is well located for easy access onto the A10, A1(M), M11, M1 and M25 motorways, and only 30 minutes from the London airports of Luton and Stansted.
Excellent location, room very comfortable and Susan is a brilliant host. Had use of facilities at all times
Sean
2017-03-22T00:00:00Z
Perfect house, with perfect bedroom and bathroom, family very nice and gentle, everything is really nice!
Laura
2017-02-28T00:00:00Z
As an introduction to airB&B we have been made very wellcome by Susan The location is very good for Hertford town centre, yet quiet.. The room is a very good size and the bed is comfortable . Thank you again Susan
claire
2017-03-26T00:00:00Z
If you choose to stay with Sus in Hertford, you will not be disappointed. Sus is so welcoming and friendly and the room and her home were perfect for our two night stay. Sus was a mine of information regarding where to eat and bars to visit in town which was a 15 minute walk away. Parking at the front of the house was a bonus and it was great to chat with Sus over breakfast each morning. We would not hesitate to recommend a stay with Sus if you're wanting to spend some time in Hertford. Thanks!
Richard
2017-03-19T00:00:00Z
Stunning house and immaculately clean. Very welcoming and super helpful host. I will definitely stay here again if I'm back working in the area. Not a single fault!
Joanne
2017-03-25T00:00:00Z
What a great host! If you would like a 5 star hotel experience , look no further ! 100% recommendable ! We will definitely not hesitate to book again Mrs Susan's place ! Thank you , Sorin and Gabriella
Sorin
2017-03-11T00:00:00Z
Lovely home, comfortable stay, great hosts. I would definitely stay again.
Bijal
2017-03-16T00:00:00Z
Great host, lovely big bedroom with a very comfortable bed. Wifi was good and fast. Susan is very welcoming and makes a very good cup of tea.
Allan
2017-02-23T00:00:00Z
Room Type
Private room
---
Property Type
Villa
---
Accommodates
2
---
Bedrooms
Hertford, England, United Kingdom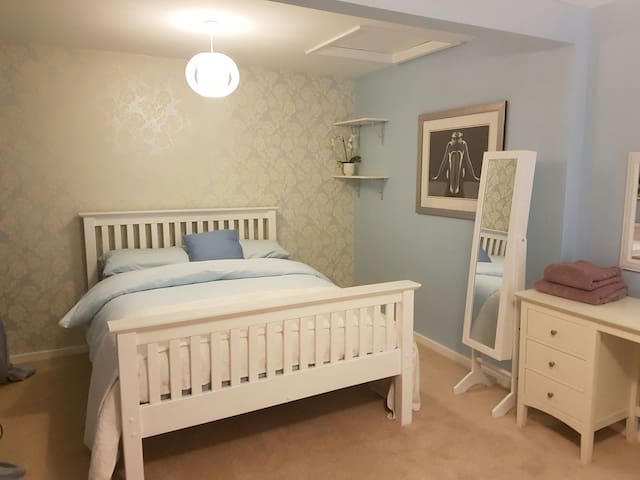 My purpose built cabin, described by many as "just like a cosy hotel room" has independent access so visitors are free to come and go. We are located at "Folly Island" a quiet Hertford enclave within a short walking distance to town and railway stations.
Supermarkets are a stones throw away. Folly Island is a quiet spot a couple of minutes from the town centre which offers a plethora of pubs, restaurants, coffee shops etc and a market every Saturday.
Elly's place was lovely! We had a very warm welcome from her on arrival, she told us a little about the town and how to get to everything. Her little 'shed' as we like to call it was just beautiful, very clean with everything you could ever need and even nice patio area to have a sit out and enjoy the weather. Great location, just a very short walk into Hertford Centre. We were a little concerned about parking at first but nothing to worry about, really close to Elly's and a cheap price for parking all day. We used the train to have a trip into London and the station is close by too. We definitely recommend staying here and would return if we are ever in the area again Thanks Elly!
Claire
2016-07-10T00:00:00Z
This is an excellent place to stay in the historic centre of Hertford, small but very comfortable. This was our second visit and I would unhesitatingly recommend it for a short stay in the area.
Philippa
2016-08-29T00:00:00Z
elly and greg were very helpful and friendly,the cabin was wonderful,i would definitely stay there again
dave
2016-07-16T00:00:00Z
I have used Elly's cabin for two 4 night stays while working nearby. It's ideal for me. It's comfortable and being detached from the main house with its own access is private. It's very close to the town and is a stone throw from supermarket, sports centre, and a large common criss-crossed with streams and canals which makes for enjoyable walks. There are a good selection of pubs to relax in afterwards. Elly and her partner, Greg, are terrific hosts.
Christopher
2016-09-22T00:00:00Z
Having stayed with Elly and Greg for two months, I can highly recommend staying in their cabin. Both are very welcoming and great hosts. They always made sure I have everything I needed and helped me out wherever they could during my stay at their place. Both are very social, used to invite me for a drink and showed me the local pubs. The cabin itself is great, offers some privacy and is quietly located although being just a few minutes away from the town center of Hertford. Being equipped with a bathroom and a small kitchen, the cabin has everything needed to stay even for quite long times. I highly recommend staying at Elly's and Greg's. Being my first AirBnB hosts, they have certainly set the standard very high.
Martin
2016-04-16T00:00:00Z
Secluded micro-house under a grapevine on an island a couple of minutes walk from the town centre, with an excellent host. Nothing to improve on here.
Stephen
2016-09-12T00:00:00Z
Elly and Greg were very welcoming hosts upon arrival and gave lots of helpful advice prior to our stay. The cabin was cosy and well furnished and we didn't have any problems with our stay. I couldn't find a fault.
Thomas
2016-06-28T00:00:00Z
Elly is a wonderful host, and was eager to be sure we had everything we needed. Her communication was quick and she sent plenty of info prior to our arrival. The cabin was sweet, quiet, private and perfect for our overnight getaway. Very close to the tow path to Ware. Great location, close to town center and lots of great pubs in the area.
Karin
2015-10-25T00:00:00Z
Room Type
Entire home/apt
---
Property Type
Cottage
---
Accommodates
2
---
Bedrooms
Hertford, United Kingdom
My place is set in 64 acres of park land with great views. Hertford Town is within walking distance with its two train stations with direct links to London. It is a great place for shopping, restaurants and bars. You'll love the combination of English history and lively nightlife if you want it. It is a romantic setting for couples and has two double rooms if you want to bring friends or one older child. London is within one hour on the train.
The Coach House is the original building next to the Mansion House with all its grand splendour. Balls Park in Hertford is a Grade I Listed mid-17th-century house. The estate and house are set in over 63 acres of parkland which is Grade II Listed and features on the English Heritage Register of Parks and Gardens of Special Historic Interest. The estate and house are believed to have been the inspiration for some of Jane Austen's novel Pride and Prejudice.
Hertford is a market town and the county town of Hertfordshire. It is a popular place to live with attractive classic and period properties as well as modern bars and restaurants. The nightlife is quite busy during the weekends and their are many haridressers, beauticians, boutiques etc to keep you occupied. Balls Park is just above the town - an easy 1 mile walk away - but it s tranquil and beautiful place to stroll or gaze out of the windows to the manicured grounds that surround the main mansion.
Accommodated us very well and we're very thankful for Tracey's help
Emrys
2017-03-10T00:00:00Z
Tracey is a great host .You have total privacy here. The house is beautiful and the grounds are beautiful.
Chris
2017-03-28T00:00:00Z
Amazing stay, the house is in the middle of a beautiful park. The bedroom has plenty of storage and it's en-suite: everything is very clean. Breakfast is provided (tea, coffee, toast etc). The host was brilliant, very helpful! Would definitely stay again!
Erica
2017-02-16T00:00:00Z
The apartment is located in Balls Park so the grounds are beautiful and kept very well maintained. The apartment itself is in excellent decorative order and the room was very comfortable. The host is very friendly and communicated very well throughout all aspects of booking, checking in and checking out.
Sharon
2017-02-24T00:00:00Z
Room Type
Private room
---
Property Type
Flat
---
Accommodates
4
---
Bedrooms
Hertford, England, United Kingdom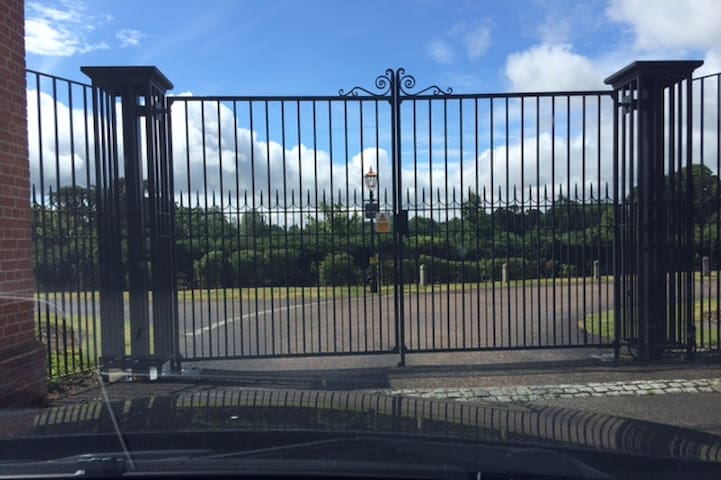 Enter dates to see full pricing. Additional fees apply. Taxes may be added.