House Family&Friends offers a unique experience of peace and harmony with nature, 15min from Porto Airport. A place for dreamers, Our House and A Refuge more welcoming with Natural materials, located in an area with beautiful cultivation, orchards and woods. A Blessed Local Hair S.Miguel-O-Angel!
Localização | Conforto | Natureza
A 5min a pé o miradouro de S. Miguel-O-Anjo, pode avistar os contornos do Porto, o sameiro em Braga, a Santa Justa em Valongo, o Monte Crasto em Gondomar, e no horizonte o mar. Diz-se que, antigamente, a festa era celebrada pelos pescadores da vila de Matosinhos para agradecer a proteção que o Anjo lhes concedia; além disso o Monte servia-lhes de ponto de referência, de farol, quando regressavam das fainas piscatórias.
Room Type
Entire home/apt
---
Property Type
Nature lodge
---
Accommodates
5
---
Bedrooms
Maia, Porto, Portugal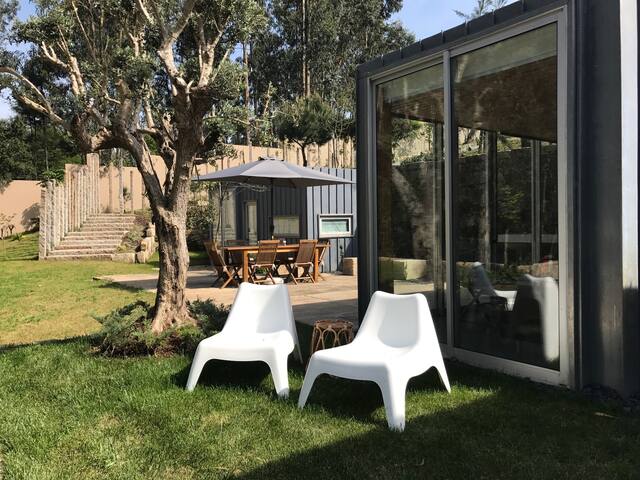 Private room in a family home, overlooking the Valongo Mountains, from which you can enjoy a fantastic sunset. The room has a wardrobe with drawers and hangers, shelves and a 2-meter desk along the room's window.
Private room in a family home, overlooking the Valongo Mountains, from which you can enjoy a fantastic sunset. The room has a wardrobe with drawers and hangers, shelves and a 2-meter desk along the room's window. The house has 2 shared bathrooms, a kitchen with fridge, stove and oven and a large living/dining room.
On the building you'll find a beautician, a cafe and a Brazilian cuisine restaurant. At the end of the street you'll find a supermarket. Within a 10-minute walk, there is another supermarket, a shopping center, pharmacies, various pastry shops, stationery stores and restaurants.
Room Type
Private room
---
Property Type
Apartment
---
Accommodates
1
---
Bedrooms
Maia, Porto, Portugal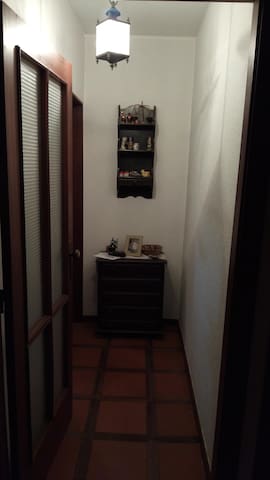 This is my lovely home in small city Valongo!of course near Porto!Way to Porto will take 30 min by bus and 15 min by car!we have parking near our house,that's why it will be comfortable for you!also if you want spend time with out driving you can take bus or Uber!it's also good solution!also we can help you to see our beautiful city's around)))
We have calm area! Here all people from Porto arriving to relax in their flats or houses! You can found here small coffee shop and supermarket!walking,running and no one will disturb you!
Room Type
Entire home/apt
---
Property Type
Apartment
---
Accommodates
5
---
Bedrooms
Valongo, Porto, Portugal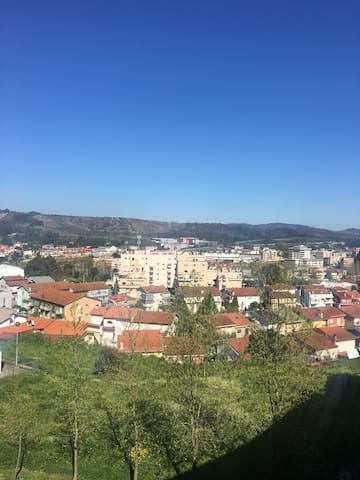 Apartamento simpático com ar romântico no Centro dda cidade junto ao Estádio de Futebol do Paços de Ferreira. Farmácia, café / pastelaria no prédio, próximo de restaurantes, piscinas municipais, jardim mun., supermercados a 20 min.da Cidade do Porto.
Apartamento T2 num 5º andar com 2 frentes com elevador e garagem para 1 carro.
Em Paços de Ferreira pode visitar as lojas de mobiliário, pois esta zona é conhecida como a Capital do Móvel, tem também a zona de comercio, discotecas, bares, parques urbano, piscinas municipais e o campo de futebol.
great
Thomas
2017-03-17T00:00:00Z
Nous avons été très bien reçu. L'appartement était très propre. Le séjour a été très agréable. Un grand merci à Daniela!
Marie
2016-08-11T00:00:00Z
Daniela, desde el principio se mostró muy atenta, viniendo incluso a recogernos porque nos perdimos al llegar al pueblo. Muchas gracias. El piso está muy bien, tal cuál se muestra en las fotos. Se trata de su vivienda habitual.
Geni
2016-08-03T00:00:00Z
appartement très bien situé proche du centre ville ,l appartement est lumineux ,très propre de très bonne qualité ,agréable , je le conseille. concernant le propriétaire ,cette personne est gentille ,agréable,elle prend souvent de vos nouvelles pour savoir si tout va bien, si il vous manque rien. a refaire, je le conseille fortement
jean-noel
2016-02-21T00:00:00Z
Room Type
Entire home/apt
---
Property Type
Apartment
---
Accommodates
6
---
Bedrooms
Paços de Ferreira, Porto, Portugal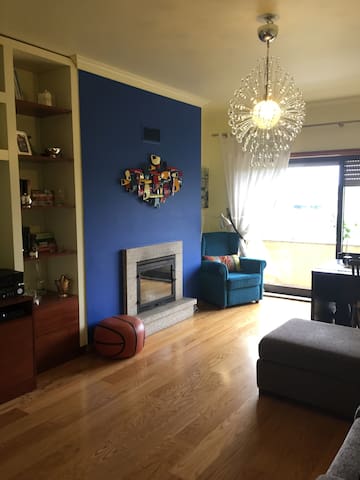 Beautiful, cosy and recently remodeled apartment, located near the Covelo Park, and near the Metro Station in Marquês (7-9 minutes walk), which is only two stops from the city center (less than 5 minutes) Full equiped kitchen, modern bathroom, free wifi Internet and cable tv. The bedroom has a double bed and a big closet. In the living room, there's a sofa bed for two people. We provide towels and bed sheets. The building does not have an elevator and the apartment its on the third floor.
Our guests are our friends. We are committed to help them to be as well, as confortable and "as at home" as possible. Apartment composition: a bright, elegant and comfortable living room, with an open fully equipped kitchen, a romantic and charming bedroom and a beautiful bathroom with shower. Decorated with exquisite taste down to the small details, the apartment has the special atmosphere that beautiful things transmit to those who live in it. Amenities for a convenient and satisfactory stay. This accommodation is ideal for a family and a group of friends.
Room Type
Entire home/apt
---
Property Type
Apartment
---
Accommodates
4
---
Bedrooms
Porto, Porto, Portugal
Nice and sunny bedroom apartment, located 20 minutes by subway from Oporto City Centre.
My apartment is cosy, comfortable and has everything you need to enjoy a nice and relaxing stay. When i am not traveling for work this is what i call home and it is a reflection of who i am. It is located in a quiet neighborhood, just across a metro station and 20 minutes away from the city center. There is also big shopping mall in the area and easy access to main highways.
The apartment is located in a quiet, family oriented neighborhood, with nice small shops nearby. There is also a playground for kids to play, 10 minutes away driving from one of the biggest shopping malls and quick access to the main highways.
Joana was very sympathetic and responsive. The flat is so awesome that we wanted to stay longer. Very nice location within Porto, but slightly noisy due to the fact that there are dogs in the area, often barking. Great value for money!
Benjamin
2016-08-24T00:00:00Z
Everything was clean and good. We enjoyed our stay. Thank you.
Sebastian
2016-09-01T00:00:00Z
The apartment is situated in what appears to be a safe neighborhood. The building is new, apartment is spacious and well-equipped. It takes around 40 minutes to get to the center, because metros take a bit longer to arrive. That's why it's important that the apartment is as cosy as possible. It fully resembles the photos from the site.
Amila
2016-08-06T00:00:00Z
Joana is very nice and her appartment is perfect next to the train station. No problems !!! :)
Thibault
2016-08-11T00:00:00Z
Bon séjour passé dans cet appartement et très bien accueillis par Joana. Appartement proche du métro permettant de rejoindre le centre de Porto en 30mins environ. Logement propre, sympa et fonctionnel. Quartier calme et parking en bas de l'immeuble.
Lucie
2016-07-15T00:00:00Z
Todo ha estado muy bien, aunque la casa está apartada del centro, tiene el metro al lado de casa y es muy cómodo ir en metro. La casa está muy bien, la única pega es que hace un poco de calor durante el día. Joana fue muy amable en todo momento y nos dio muchas facilidades, además nos hizo muy buenas recomendaciones sobre Oporto. La recomiendo!
Raquel
2016-08-25T00:00:00Z
Joana es encantadora y el piso es incluso mejor de lo que aparenta en las fotos. Joana a ayudado a que tengamos unas vacaciones fantásticas! Está un poco apartado del centro pero la parada de metro está en la misma puerta por tanto es bastante cómodo.
Javier
2016-08-20T00:00:00Z
Le logement est conforme et fonctionnel. Joana travaillait, nous avons donc été reçus par son amie et voisine. Tout s'est très bien passé. Le métro est en bas de l'immeuble donc très pratique pour se déplacer sur Porto. Seul (gros) bémol : le bruit. Les voisins du dessus sont assez bruyants, les gens des immeubles vivent entre 21h et 3h du matin en bas donc assez bruyants et enfin les chiens du quartier.. donc pour dormir fenêtres ouvertes, c'est un peu désagréable.
Karine
2016-07-24T00:00:00Z
Room Type
Entire home/apt
---
Property Type
Apartment
---
Accommodates
2
---
Bedrooms
Venda Nova, Porto, Portugal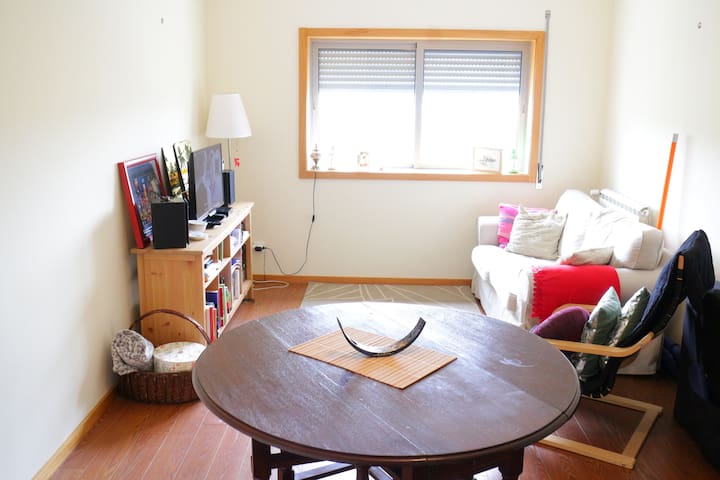 Apartment with lots of light, a terrace facing south, allowing outdoor dining and overlooking green areas inside the block. Very well located, 100m from Metro, Bus stop and Taxis. Near Supermarket, Bakery, Butchery, Fishmonger, Fruit shop, Restaurants, Banks, Pharmacy and Cafés.
Enjoy a wide view over Oporto city wile dining outdoors on the terrace.
Despite its proximity to the historic zone (2.5km), at 100m from the apartment there's a Metro Station, a Bus Stop and Taxis. Near by there's also a Supermarket, Bakerys , a Butchery, a Fishmonger, a Fruit Shop, Restaurants, Banks, a Pharmacy and Cafes.
It was a very nice place to stay. Bernardo is a kind person. Thank you and absolutely recommend him!
Titas
2017-04-01T00:00:00Z
The place was lovely and so were Bernardo and Inês. They left maps, travel tips and a little treat. We had a lovely time in Oporto!
Eva
2017-01-31T00:00:00Z
The host canceled this reservation 114 days before arrival. This is an automated posting.
Stefan
2016-09-13T00:00:00Z
I had a great time in Porto, in Bernardo's apartment. Me and my husband appreciated very much Bernardo's hospitability and quick response. Very nice person. The apartment is very cozy, spacious, you have everything you need. I recomand it!
Roxana
2016-10-19T00:00:00Z
Great apartment, location and hosts. 100% satisfaction :)
Adam
2016-12-21T00:00:00Z
The host canceled this reservation 133 days before arrival. This is an automated posting.
Julia
2016-09-28T00:00:00Z
We've stayed in Bernardo & Inês apartment for almost one month and I need to say that it's probably the best our Airbnb experience. The apartment is just great - it's even better that on pictures! it's very spacious, cozy, very well equipped. Here you can feel like home:) Apartment has everything you need to spend time in this beautiful city, here you can find separate very nice styled bedroom, kitchen with all the stuff and really cozy living room with candles and lights. Here you can find a lot of tips from host and previous guests - by the way that's great idea. Also I'd like to mention that location is very convenient - we always just walk by foot to center, but also just in 2min from apartment there is metro station so you can go everywhere you want. Near apartment there are supermarket and bakeries. We totally enjoyed our stay and hope someday will come to Porto and definitely try to book your apartment once more! Muito obrigado:)
Sasha
2016-11-25T00:00:00Z
A wonderful stay in a well equiped apparment with a great terrasse and really friendly hosts. Thanks for having us there.
Christina
2016-11-02T00:00:00Z
Room Type
Entire home/apt
---
Property Type
Apartment
---
Accommodates
4
---
Bedrooms
Porto, Porto District, Portugal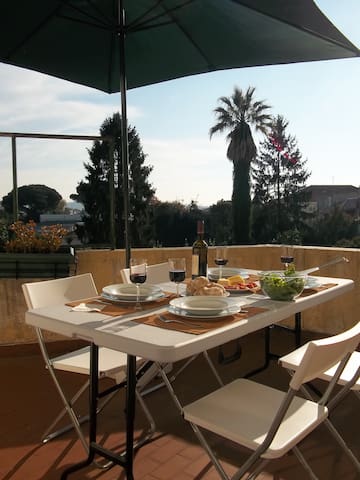 Estaçao de Campanhã
Room Type
Entire home/apt
---
Property Type
Apartment
---
Accommodates
6
---
Bedrooms
Porto, Porto, Portugal
Be welcome to a cozy mezzanine just remodeled, with one queen bed (160x195) and one sofa bed (110x190). You can find the necessary to have your breakfast or pre-cooked meals, and complementary water, coffee and tea. We also offer amenities, cable-tv and internet. You can find nearby several mini markets and restaurants, pharmacies, self-service laundry and ATM. Walking distances: subway 10 min, city center 20 min, Estádio do Dragão and shopping mall 15 min. We are glad to help you! :)
Studio 312 is a 35 square meter apartment with a mezzanine that divides the bedroom from the kitchenette. Please be aware that this unique bedroom as a low ceiling (1,70m), but to make up to you the shower is very comfortable :)
Quiet family neighborhood, with a garden close by. I advise you to try an amazing francesinha in the restaurant "Onital", second place at Francesinha ranking in Oporto. You can get to city center easily by foot and enjoy all that Oporto can offer.
Manuel is a wonderfull host ! Our trip in his flat was really great ! We recomend it !
Nin-Gal
2016-12-23T00:00:00Z
Everything was perfect! A wonderful apartment with a very friendly host! Manuel was very helpful all the time- thanks for that. The apartment was clean and good looking! You can also find everything you need! We can definitely recommend Manuel and his one-room-apartment!! Next time we would stay there again!! THANKS Manuel!
Alicia
2017-03-22T00:00:00Z
Thank you! Manuel was super kind and gave us good information about where to go and what to do! It was a pleasure to stay at your beautiful apartement!
Michel
2017-03-17T00:00:00Z
The place is perfect: very clean, recently renovated. The bed is big and comfortable, plenty of space in the shower. Absolutely recommended.
Katherine
2016-12-08T00:00:00Z
We had a lovely time in Manuel house. Manuel was fantastic: he gave us lots of tips on where to eat in Porto and he helped us in everything and in every request. In fact the communication was wonderful. The house is like the pictures, it has every comfort and it was spotless! I would definitely recommend it to everyone! Muy obrigada, Manuel :)
Dina
2017-01-29T00:00:00Z
Manuel's apartment was really clean and cozy. And he was very communicated and kind. It's definitely recommended.
지연
2017-03-28T00:00:00Z
Great modern, spacious, clean apartment located quite near to the city centre! Just a short metro trip and you're there! (Metro located just around the corner maybe 5min walk) Had a lovely stay. Great Host! Very welcoming and we got wine on arrival ! We were the first guests in this apartment and we would definitely recommend to anyone wanting to stay in Porto!
Annie
2016-10-23T00:00:00Z
Manuel is a great host. He takes care of everything. The place was comfortable and nice. We were walking to the city centre on foot. There was only one thing that can be bothering if you are an owl not an early bird:)- traffic on the road in the morning- but if you get up early to go sightseeing it shouldn't be a problem. In the evening the neighbourhood it really quiet and calm. I recommend this place:)
Martyna
2017-01-21T00:00:00Z
Room Type
Entire home/flat
---
Property Type
Apartment
---
Accommodates
4
---
Bedrooms
Porto, Porto, Portugal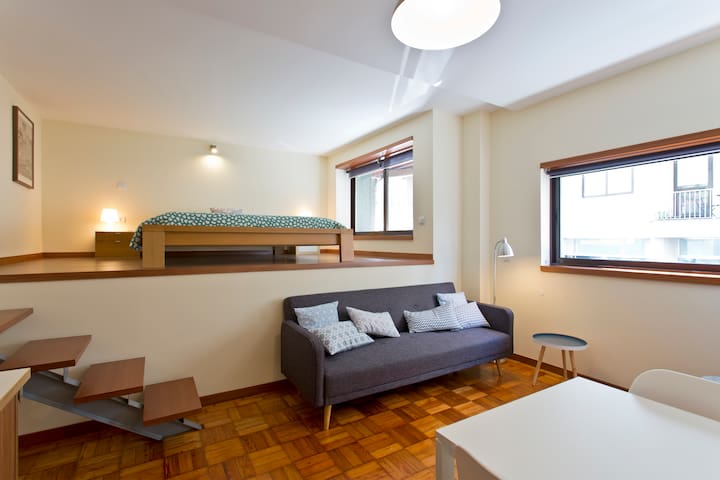 Welcome to Mauricio's Place, a low cost hostel that offers private rooms, nothing fancy at a very affordable price. You get a clean comfortable bed, n towels, fast wifi n access to the kitchen n fridge. Please know that as any hostel, it can sometimes be a little noisy. I rent 5 other rooms in the flat and that we have 2 bathrooms to share, reason price so affordable. If looking for a full fledge service airbnb or hotel service for the low price we offer please look for another airbnb.
I stayed at Mauricio's house for 3 nights and I liked. I asked some information and He answered me quickly. I book and move in the same day. The check-in time is good because is until 12am. The room is good to sleep and has a soft mattress. The house is been reformed I think. I was the first in my new room :) It'll be good only if add: An iron, microwave and an oven so we can cook at the house. The metro station is near. From Campo 24 de Agosto Station is about 10 minutes walking and from Bolhão Station about 10-15 minutes walking. If I was you I would stay in Mauricio's house. Thanks Mauricio.
Nataly
2017-02-20T00:00:00Z
- one of the two toilet was blocket nd wasn't cleaned during our whole stay - we didn't feel comfortable because everything was dirty and it smelled moldy - ten minutes walk to metro-station and supermarket (LIDL) - easy check-in - everything worked well, even though we didn't meet Mauricio
Christina
2017-03-06T00:00:00Z
Flat was not clean. It is ok if you do not need very clean place
Ariel
2017-02-23T00:00:00Z
Perfect place!!
Dimitar
2017-03-28T00:00:00Z
Sitio privado, luminoso y tranquilo.
Adri
2017-03-10T00:00:00Z
Boa relação qualidade-preço. Cama super confortável!
Maria Inês
2017-04-03T00:00:00Z
Bom preço, quarto com o básico para passar a noite.
Rui
2017-02-28T00:00:00Z
Room Type
Habitación privada
---
Property Type
Apartment
---
Accommodates
2
---
Bedrooms
Porto, Porto, Portugal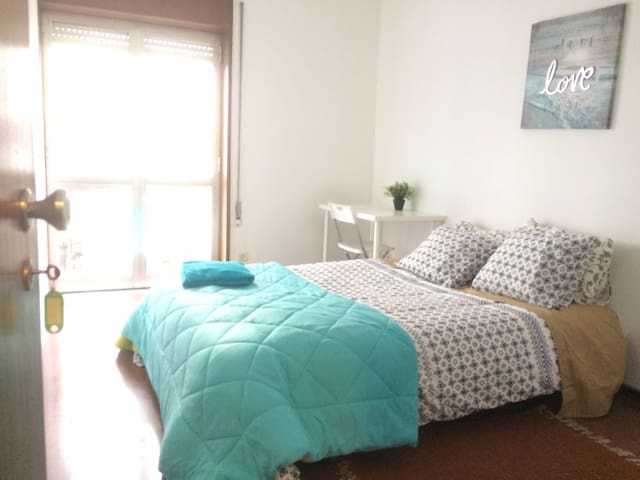 Spacious 1 bed bedroom. 1 full-equiped Bathrooms. Adding to the big sunny terrace, a huge full-equiped kitchen and a cosy living room. 15 minute bus ride to the center. Very quiet and safe neighborhood. Parking cars free. The house is cleaned at every check out
The space was really amazing, very organized and clean. I really recommend.
João
2017-03-01T00:00:00Z
A little out of the city centre, but easily accessible by bus. Great place, peaceful and relaxing.
Scott
2017-01-24T00:00:00Z
We really enjoyed our stay in Ricardo's appartment! Lots of equipments, cosy place and nice decoration. Our dinner on the terrace were nice. Thank you ! if you are afraid of the far distance to the center, don't worry, bus is quick and near to the place (it's 1.55 per ride with andante card)
Elven
2017-02-23T00:00:00Z
The house was just wonderful
anna
2017-03-22T00:00:00Z
It is never easy to choose a place where no one has ever been but from the very beginning Ricardo was reachable and answered all my (numerous) questions quickly before, and also during the whole trip. The lovely appartement is exaclty as described, the kitchen is totally equiped to cook your own meal and has some foods basics (sugar, oil, coffee...) and even more than expected (for exemple I had a fresh orange juice every morning thanks to the the juicer.)When I arrived he had some nice attentions to eat ready for me. The location for me was perfect as the bus station is right nearby ( 1 to 3 minutes depending which bus you take) and a supermarket Continent is at less than 5 minutes walking. Wifi worked great. The price you pay for what you get is just unbelivable, do not hesitate to book here if it is available. Ricardo is a really lovely host who cares about every little detail and who really wants to please his guest. If I come back in Porto I'll be back here for sure I was so hesitating but I have absolutely no regret and thank God I choosed it. All in all I have loved my stay, this is definitely one of my best Airbnb experiences maybe even the best.
Annick
2016-12-05T00:00:00Z
Great apartment. Comfortable, modern and with all necessary amenities. The area has many shops, cafes and supermarkets nearby. There are frequent bus lines that go to the city centre (15min away) and the bus stop is 2min from the apartment. Ricardo, our host was very helpful and friendly
Pamela & Rafael
2017-01-04T00:00:00Z
Excelente ligacao preço qualidade , únicos pontos negativos falta de elevador e alguns problemas de estacionar ! Excelent prix/qualité seuls points négatifs , absence d'ascenseur et c'est au 3eme étage , et des problèmes á parking !
Pedro
2017-03-08T00:00:00Z
Appartement agréable , très bien accueilli .
Françoise
2017-02-06T00:00:00Z
Room Type
Entire home/apt
---
Property Type
Apartment
---
Accommodates
4
---
Bedrooms
Pedrouços, Porto, Portugal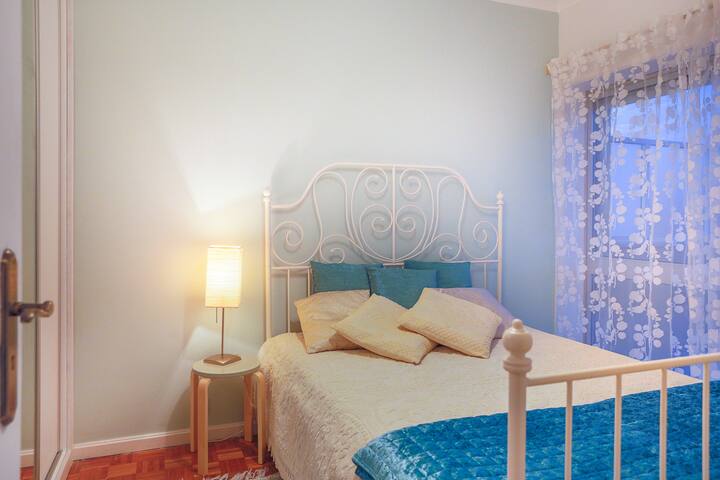 Apartamento espaçoso, boa exposição solar, sitio muito sossegado. Transportes publicos e serviços 24 horas por dia. Spacious flat , good sun exposure , very quiet place . Public transport and services 24 hours a day, 10 min in bus or 30min walk
Este é um dos quartos que está para alugar num apartamento partilhado. É um quarto simples com cama single, uma secretária e bastantes prateleiras para colocarem os vossos pertences. À chegada, são fornecidas toalha de banho e toalha de mão. This room is for rent in a shared apartment. It´s a simple room with a single bed, a desk and plenty of shelfs to put your stuff. Upon arrival , is given bath towel and hand towel.
O apartamento situa-se na zona mais alta da cidade, as Antas, e está integrada na cooperativa "A Tripeira". É uma zona bastante sossegada, basicamente uma zona residencial apenas acedida pelos moradores. É rodeada por espaços verdes, que propiciam uns banhos de sol, um piquenique ou apenas a leitura de um livro. No ultimo piso do prédio tem um terraço com 400m2 que pode ser acedido pelos hospedes. Tem vistas da parte Norte da cidade, Serras de Valongo e de Gondomar, Rio Tinto e de Mar no horizonte. Em 100 metros em redor da casa estão disponíveis uma loja de conveniência aberta 24h, cafés,ginásio, padaria, mercearia, bomba de gasolina. Em 250 metros : Farmácia, PizzaHut, paragem de taxis, talho, peixaria ,Correios, Hospital Conde Ferreira (Museu, biblioteca, jardins, Panóptico - unico na europa - (URL HIDDEN) ) Em 750 metros : Mcdonalds, esquadra da policia, igreja Santo António das Antas, Café Barcarola ( com uma das melhores Francesinhas da cidade ). Em 1000 metros situa-se o Estádio do Dragão, Shopping center Dolce Vita Porto com cinemas, hipermercado, lojas variadas The apartment is located in the highest part of the city, Antas, and is part of the cooperative " A Tripeira". It is a very quiet area , basically a residential area only accessed by residents. It is surrounded by green spaces , which provide a sun , a picnic or just reading a book. On the top floor of the building has a 400m2 terrace which can be accessed by guests. It overlooks the northern part of the city, Valongo and Gondomar saws , Rio Tinto city and can even see the Sea on the horizon. In 100 meters around the house are available a convenience store open 24 hours, cafes, gym, bakery, grocery store, gas station . In 250 meters : Pharmacy, PizzaHut , taxis stop , butcher , fish hop , post office , Conde Ferreira Hospital ( museum , library , gardens, Panopticon - unique in Europe ) In 750 meters : Mcdonalds , the police station, St. Anthony Church das Antas , Café Barcarola ( one of the top city Francesinhas, traditional Oporto dish ) . In 1000 meters lies the Dragon Stadium, shopping center Dolce Vita Porto with cinemas , supermarket , various shops.
I had a very nice stay at André's house. After my arrival André took me on a walking trip through Porto to show me around. As he's lived his whole life in Porto, he could tell a lot about the city and show nice local places. The room was also very good. I planned to stay 3 nights, but stayed one night longer because I became sick. André took great care of me. He bought medicines and prepared chicken soup for me. He's a great host! Thank you so much! I can really recommend to stay in his house!
Saskia
2016-08-13T00:00:00Z
Best place over night say
Renoy
2016-10-30T00:00:00Z
Andre was an incredible host who goes out of his way to show his guests the best of what Porto has to offer. Thanks A.
KIERAN
2016-08-11T00:00:00Z
Uma experiência de vida! André e Cláudia foram fantásticos! Sempre disponíveis a ajudar e a mostrar o que o porto tem de melhor. Um espaço bastante simples, mas com muita comodidade e privacidade. Adorei a estadia, recomendo a 100%!
Edgar
2016-09-01T00:00:00Z
Acolhimento muito simpático e sitio calmo. o André coloca os hospedes totalmente à vontade. Bom trabalho.
Rui
2016-08-19T00:00:00Z
A experiência foi positiva. Embora o André não estivesse em casa enquanto estive por lá, fez o que podia para me deixar a vontade. Sempre me passou as informações que precisei, com muita educação, e disponibilizou tudo o que esta descrito no anúncio.
Flavio
2016-10-08T00:00:00Z
Room Type
Private room
---
Property Type
Apartment
---
Accommodates
1
---
Bedrooms
Porto, Porto, Portugal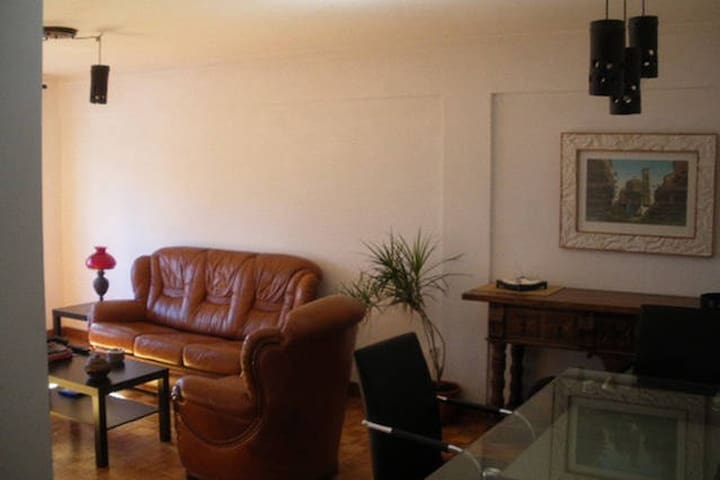 If you like music, arts and conversation, Cooking together or sharing a meal, Drinking a beer, wine or tea, Or just be quiet, focused on having time for yourself, Or even inspire yourself to finish That Project ... you will really like this house! Also, in 20 minutes walk, you go basically anywhere in the city center, and the metro station Marquês is 3 min from the house (yellow line). Just remember, have respect, you will be sharing my home.
If you want bring pet´s, talk with me!
Miriam is a great host and we really felt at home. The house is like a small collective and all the people we met was friendly and open and capable of tipping us on what to do, see and know about Porto. The house is simple but very beautiful and special. If you want heartspace instead of superficial comfort, you should choose the green house of marques❤️
Lethe
2017-03-27T00:00:00Z
Gracias Miriam por hacernos sentir como en casa!
Lilian
2017-03-18T00:00:00Z
Room Type
Private room
---
Property Type
Apartment
---
Accommodates
3
---
Bedrooms
Porto, Porto, Portugal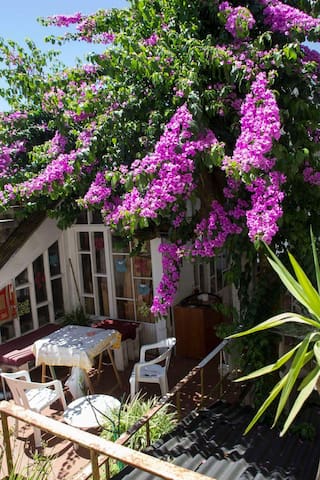 Cosy renovated apartment situated in a traditional neighbourhood next to the Church of Bonfim. Just a 7 minutes walk to Campanhã train and subway station and a 10 minutes walk from 24 de Agosto subway. It has good access to Porto downtown, to the beach and to the airport. The apartment has a private and spacious terrace and a fully equipped kitchen, where our guests will always have coffee, tea, homemade jam, toast or bread available. Accommodates up to 4 guests.
Helena was punctual and arrived at the agreed time to give us the keys. the house was fantastic to pass a weekend in Porto. Good place, to repeat undoubtedly.
Daniel
2017-01-22T00:00:00Z
Helena is a superb host with great attention to detail. The flat was immaculately clean, serene and well equipped, there was everything I needed for a comfortable stay. For sunny days, it has a large terrace. It is a short walk from a metro station (24 Agosto) and another one (Campanha) with convenient rail connections to Lisbon etc. You can also walk into the centre, it takes about 15 minutes. There are lots of grocery shops and a cafe around the corner where you can have breakfast. I would definitely recommend this place for an enjoyable and comfortable stay in Porto!
Bartek
2017-02-12T00:00:00Z
I had a really comfortable stay in the apartment. The communication with helena was nice and easy. The apartment was easy to reach, near the center (you could walk easiliy), it was nice to have breakfast at the terrace in the sun and the apt had everything we needed
Marie
2017-03-18T00:00:00Z
É um espaço muito interessante e acolhedor. A Helena recebe muito bem.
João
2017-02-15T00:00:00Z
Ótimo apartamento, com móveis e eletrodomésticos novos. A Helena é uma excelente anfitriã.
Fernando
2017-03-16T00:00:00Z
Room Type
Entire home/apt
---
Property Type
Apartment
---
Accommodates
4
---
Bedrooms
Porto, Porto, Portugal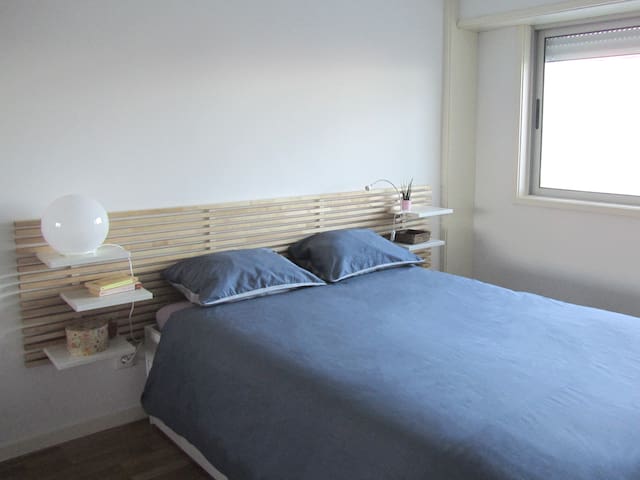 My place is close to nightlife, public transport, the city center, and parks. You'll love my place because of the neighborhood, the kitchen, and the light. My place is good for couples, solo adventurers, business travelers, and furry friends (pets).
The host canceled this reservation 74 days before arrival. This is an automated posting.
Lorraine
2016-10-17T00:00:00Z
Arian est très sympathique et réactif aux messages, ils nous a conseillé sur les quartiers à voir. Le logement est situé un peu en retrait du centre dans un quartier calme. Il y a un salon de thé tout près on nous prenions notre petit déjeuner tout les matins pour pas cher du tout. Le studio est très bien équipé, tout près du métro.
Marilyne
2016-10-26T00:00:00Z
El piso está en pleno centro de Oporto además, de ser súper bonito y acogedor. Nos encantó la experiencia y el anfitrión súper atento en todo momento.
Miryam
2016-10-30T00:00:00Z
Arian est un hote très souriant, sympathique, accessible et disponible. Il nous a très bien accueilli dans son appartement qui correspond parfaitement aux photos. Le petit bémol c'est que l'appartement est bruyant mais est compensé par la localisation de l'appartement qui est en plein centre de porto. Le lit est confortable, les sanitaires sont bien entretenus. Je le recommande pour une visite de Porto en couple.
Fiona
2016-10-16T00:00:00Z
Room Type
Entire home/flat
---
Property Type
Apartment
---
Accommodates
2
---
Bedrooms
Porto, Porto, Portugal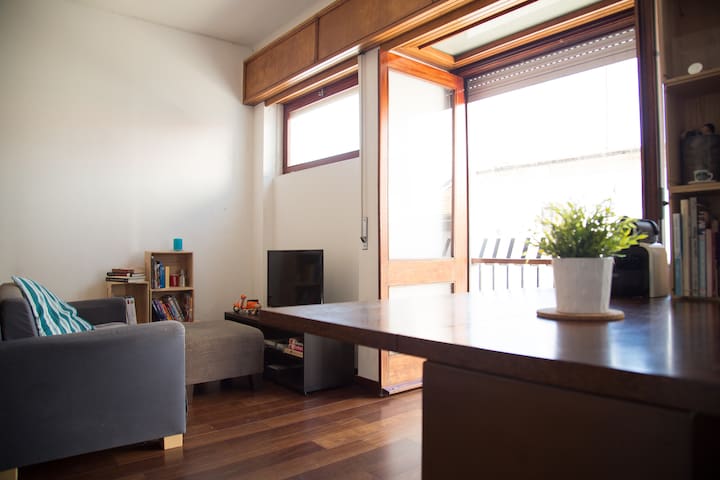 Practical and conveniently located 2 bedroom flat with all amenities for a comfortable stay. Right next to Porto's biggest train station so you can enjoy all the city has to offer! In this apartment can sleep up to 5 people comfortably. Fully equipped and comfortable. 5 minute walking distant to Campanhã metro and train station. Free Wifi is available on all areas of the apartment. Towels and bed Linen are provided for your stay.
Within a building that was herited from my beloved granny, this apartment is on the 2nd floor, accessible by stairs only. With great sun exposure, this flat has 2 bedrooms, 1 living room, a fully functional kitchen and a bathroom. The living room has a TV with international channels, there is also a comfortable sofa that turns into a full size sofa bed. The kitchen is equipped with everything necessary, from coffee machine, water kettle, microwave, toaster, oven and stove top, all utensils necessary for a home cooked meal can be found like pots and pans, cutlery and crockery. There is also a clothes washing machine. There is one bedroom with a double bed and another bedroom with 1 single bed.
Within 5 minutes walk to supermarkets, restaurants, coffee shops, bakeries and all sort of commerce. 15 minutes walk to all the main attractions in Porto. 5 to 7 mins walking to Freixo's harbour, Freixo's Palace and Press Museum. In the neighbourhood you can find all type of services: many restaurants, supermarkets, butcher, fruit shops, typical grocery stores, cafes, bakeries, take-away, ATMs, etc.
The staff were always available to help. We have found some issues with internet/tv connectivity but they try to help as much as possible. Besides that, the apartment lacks on thermal isolation so I don't recommend it during the winter period even with heater on you can feel some cold. There is also some noise from the high way near the neighborhood. Apart from those issues, the apartment is close to different public transportation (2 min walking) and groceries (5 min). It also has all the appliances needed and offers a good comfort (besides cold).
Delfim
2017-01-18T00:00:00Z
All great!
Cláudia & Rui
2017-03-18T00:00:00Z
The House is very beautiful and confortable. It is near to the center. The person who provided us the Keys was very kind. It is totally recommendable.
Leticia
2016-11-01T00:00:00Z
A very cosy flat, spacious, clean and comfortable! The host was very helpful all the time! We had a perfect stay in Porto! :))
Bozhana
2017-02-13T00:00:00Z
Casa simples e bonita, fria mas não o ideal para 4 pessoas mas sim 3.
Damien
2017-01-02T00:00:00Z
appartement très propre , bien agencé pour 3 personnes et bien placé pas loin du centre et du métro.Les hotes sont ponctuels , charmants et discrets. dommage que la chambre qui donne sur rue soit bruyante...
Dewi
2017-01-31T00:00:00Z
저렴한 가격에 쓰기는 좋으나 소음이 너무 심하며 히터를 2개만 줘서 추웟음
Jina
2017-02-27T00:00:00Z
Fomo recebidos por um concierge, que deu as informações necessárias. O apartamento é reformado e confortável.
Cristianne
2016-10-14T00:00:00Z
Room Type
Entire home/flat
---
Property Type
Apartment
---
Accommodates
5
---
Bedrooms
Porto, Porto, Portugal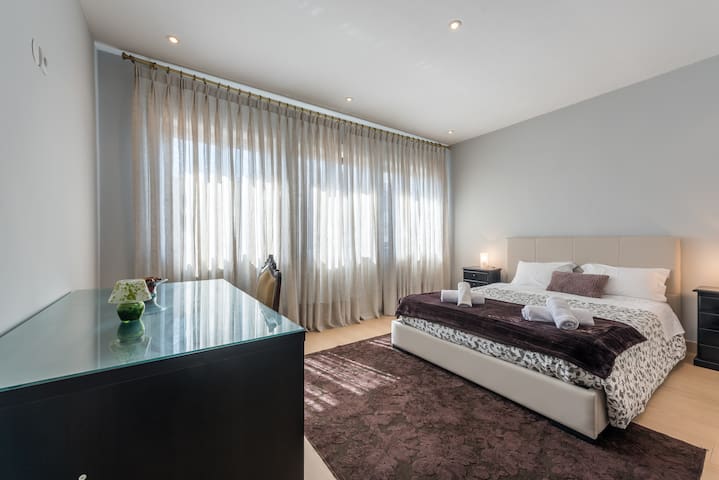 Situado a 1 km do estádio do Futebol Clube Porto Metro a 4 minutos a pé e autocarros a 1 minuto, dispõe de meios para chegar a qualquer lado. Metro casa -> ribeira (10 minutos)
Perfeito e calmo.
Room Type
Entire home/apt
---
Property Type
Flat
---
Accommodates
4
---
Bedrooms
Porto, Porto, Portugal
PETER CRIB'S is a simplistic design apartment for 6 people, has two bedrooms, living room, kitchen and en-suite.
Is located five minutes from the famous Ribeira do Porto with its restaurants, bars, cafes, cruises on the Douro River and the new cable car.
Some of the attractions of the city of Porto not to be missed are: Church of Cedofeita, the Clérigos Tower, the symbol of our city (Nicolau Nasoni eighteenth century) and the church of the same name, the church of San Francisco, of Roman origin and with its interior decorated with gilt. There are also several museums: Soares dos Reis, Casa de Serralves and Guerra Junqueiro. Another thing that can not be missed is a visit to the Caves of Port where in addition to a guided tour you can sample the various types of wine.
Room Type
Entire home/apt
---
Property Type
Apartment
---
Accommodates
6
---
Bedrooms
Vila Nova de Gaia, Porto, Portugal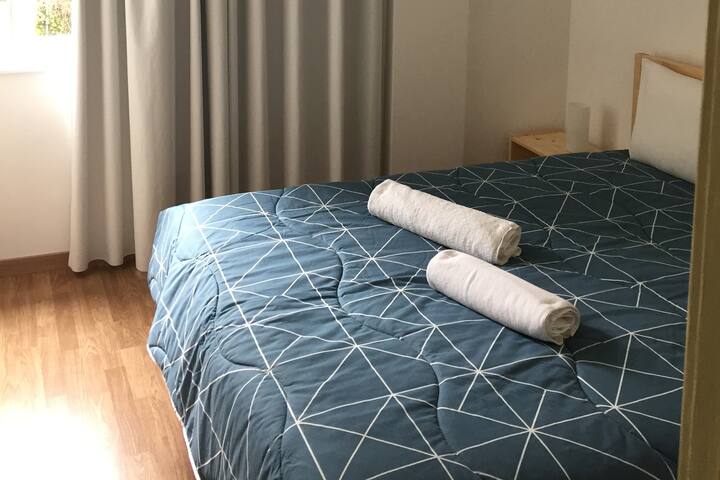 1

–

18

of

300+ Flat Rentals
Enter dates to see full pricing. Additional fees apply. Taxes may be added.