4000sf cozy & beautiful VIEW in the 46 PEAKS area accommodates 12 in Adirondack Park. Steps away from Lake Champlain, ferry to Burlington & Ausable Chasm, 35min Whiteface/Lake Placid. Ideal accommodations for families and outdoorsmen. Stone firepit, sauna (soon), pool table, games. Wildlife comes with the territory, safety comes first. Cool local cheesemaker, butcher and brewery near by.
Situated on a small hill top in the Adirondacks, the house has a beautiful view on lake Champlain. Lake Champlain is the 13th biggest lake in North America 120 miles long and up to 6 miles wide. The Adirondack Park and its 46 peaks cover more than twice the surface of Yosemite & Yellowstone parks combined. The house is vast and fully equiped for your comfort and safety. Up a private road, the house sits on 8 acres of land and wilderness. The house accommodates families, small groups and larger groups: - The outdoorzy with trails, wildlife, a large firepit, sporting equipment ... - The foody with a fully equiped kitchen (pasta maker, kitchenAid, fondue kit), large BBQ and large dining table ... - The indoorzy with a 55in flat screen, dvds, pool table, games, reading and internet. Hiking the 46 Adirondack High Peaks is recognized as one of the greatest challenges in the Adirondack Park. People come from all around to tackle these impressive mountains, and there is a select group that has climbed all 46 - the Adirondack 46ers. If you are interested in taking on the 46 peaks, then make sure you review High Peaks FAQs for rules, regulations, and all the info you need to know to get started.
The Adirondacks is a modest and beautiful region. The House is in a remote area, you can find anything you need in Plattsburgh (15min drive) for groceries and shopping. Lake Champlain is 2 miles down the road with a small beach and the ferry to Burlington marina (see internet for schedule). Ausable Chasm is 2 miles up the road (see internet schedule). Lake Placid and Whiteface Mountain are 40 minutes away and are worth the drive. Maggie's Pub at the Lake Placid Lodge (relais et Chateau) is absolutely fabulous. Go get organic dairy produce (cheese, ice cream etc) at Clover mead Farm corner Soper and Mace Chasm. Have a beer or four at Ausable artisanal Brewery down Mace Chasm road. The double kayak (strap on top of car) and sporting equipment are at your disposal in the garage.
Better than described! Stayed here with another couple and a toddler for four nights and we were blown away by the view, size, craftsmanship of the house, location, and taste. It's very close to ausable chasm, port kent ferry, and keeseville downtown- but it's up on a hill without neighbors or distractions in sight. These's also a great farmers market down the street. View looks better than can be described. The host, MC, was very attentive and flexible and she spared no cost on the amenities. Great kitchen and cooking gear- fantastic bed and sheets. We had a great time at this place and it was the perfect base to explore the Adirondacks and Lake Champlain!
Jesse
2016-07-22T00:00:00Z
This property is amazing! I didn't quite expect it to live up to the pictures, but it may actually be better in person. I rented this house for a relaxing summer weekend with family and friends, and I am really glad that I did. It is a secluded property with a breathtaking view of Lake Champlain as a backdrop. There is also a ferry from Port Kent, NY to Burlington, VT that's only about a 5 minute drive away. Mc is a great host: always available via text, and as hands off or involved as you want. The house is loaded with games, movies, firewood, grilling supplies, and a fully stocked kitchen for cooking. I highly recommend this property.
Joe
2016-07-05T00:00:00Z
I usually skip the process of writting a review but this time i completly think is worth the time and effort. I rented this house because we needed to come to SUNY Plattsburgh for my daughter's graduation. At first we were hesitant because it was 25 minutes away from university but I am beyond glad we did. This house is everything and much more what the add and previous review said. Beautiful, cozy, clean, spacious, well equipped, welcoming, organized, you will feel at home. The view either during the day as well as night time is a breathtaking experience. MC the owner the house will make your trip so easy, she is very welcoming, informative and easy to contact. My family and I couldn't believe we had in the house every single item we needed and we forgot to bring with us. The boys had a great time playing pool in the basement. Lookin forward to have the opportunity to come back. Hoping we as guests behave to the same level of service as the owner of the house!
Gina
2016-05-16T00:00:00Z
We enjoyed our stay at the house. The location is perfect for exploring the Lake Champlain and Adirondack area. The views from the house were amazing. MC was very responsive to any questions we had. We look forward to visiting again.
Elaine
2016-09-19T00:00:00Z
Myself and 9 other friends stayed at the Adirondack Mountain & Lake House for 2 nights. I asked to have a bachelor party there and despite the host's initial hesitation they were willing to put their concerns aside and give us a chance which was much appreciated. Our stay was amazing! The house and property is great, many amenities included, the host was very accommodating for our group. The view is stunning and the house is beautiful with a very upscale feeling. I would recommend this house to anyone and would stay here again!
Ethan
2016-05-09T00:00:00Z
As everyone has said before, the pictures do not do the house justice. Its HUGE. We brought 9 guests total and there was ample space for everyone. Its really well decorated and furnished, and feels very cozy. The view from the deck is phenomenal. Tons of board games and activities to do. MC keeps the pantry stocked with many things! We were able to bake a late night cake with no extra trips to the groceries. Very convenient! MC is a fantastic host. She always replied to me within minutes, whether I sent her late night messages at 3am or early morning at 8am. She's very accommodating, and does whatever she can to make your stay better. The house is about 40-50 minutes from Whiteface Mountain depending on weather. We went skiing there, very beautiful place. The internet is a little skimpy, but MC wrote that it can only sustain a couple devices. We tried using our chromecast but had issues initially. Once we turned off the Wi-Fi on our phones, the chromecast had no issues. Bottom line: if the internet isn't working, try disconnecting some devices. One thing to note is the clean up procedure. You should carve out about 3-4 hours of your final day here to restore the house to its original condition. A load of laundry takes just under 2 hours to complete, and you have to wash all the towels/sheets that you used, and then make the beds. Not a huge deal, but you need to plan for it. Overall, excellent experience. Highly recommend.
Mashrur
2016-12-30T00:00:00Z
Mc was very communicative and helpful to work with. The listing is very accurate. Very spacious and great for a bigger group or even a small one. The house is located in a beautiful part of the ADK's. It's secluded but yet close to Plattsburgh if you need anything. We very much enjoyed our stay.
Susanna
2016-10-30T00:00:00Z
Very nice house with interior design. MC was very responsive and helpful to us via email. All of the amenities were provided. The views are spectacular by day or by night when you are star gazing. Our family enjoyed staying here!
Jeannine
2016-08-28T00:00:00Z
Room Type
Entire home/apt
---
Property Type
House
---
Accommodates
12
---
Bedrooms
Port Kent, NY, United States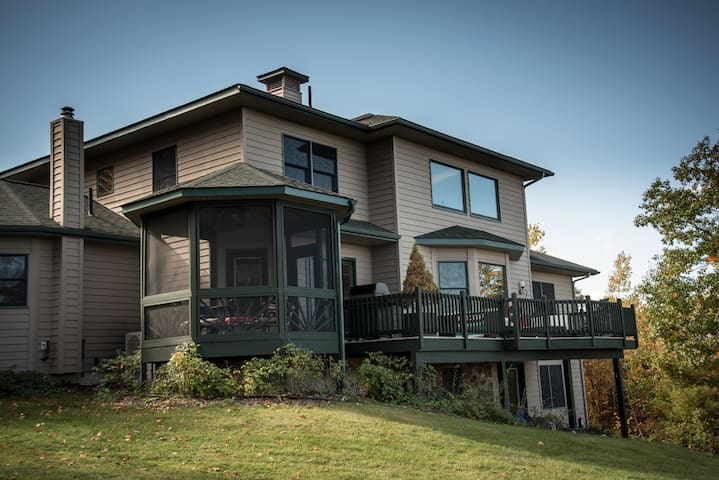 Welcome to Nestlewood Manor LLC. Your family vacation spot Traditional, Roomy, & Homey. Ideal for large group:single or multi-family vacation. Nestled between Lake Champlain, Lake Placid and the Adirondack Mountains. Close to Olympic Village, Whiteface, Vermont for daily ski outings. FLW and all fishermen welcome. Miles of water for boating & fishing. Plenty of parking for boats, campers, etc. Large deck & fire pit for perfect relaxing evenings. Fenced in back yard for pets. Montreal in 75 min!
A very "homey" environment. Pleasant relaxing space. Not too fancy yet charming enough to enjoy your stay in the area. Often have bands on the large deck in the front with tents and chairs throughout the lawn.
Located in a small village in the Adirondacks Mountains. Nestlewood Manor is located at the end of a small cul-de-sac and surrounded by woods and empty property. Just at the edge of town, so quick runs are easy to pick up last minute items, but you are out of the way enough to feel secluded.
We stayed at Jim and Heathers house for a ski vacation the week between Christmas and New years. It was about 35-40 minutes to Whiteface Mountain and 50 minutes to Lake Placid. The house was very spacious, comfortable, and clean and had everything that we needed. There were 16 of us and we never felt crowded. We thought it was nicer than the pictures on airbnb! Heather and Jim were very gracious hosts and always responded very quickly to any questions we had. Would definitely recommend this house. Would love to go back in the summer!
Lori
2017-01-01T00:00:00Z
Beautiful location, a little secluded but not too far away from everything. Perfect little getaway. Vermont is not too far away by ferry so it makes a nice day trip. Montreal is also close by. Great experience, definitely would recommend to people who want to travel to New York.
caroline
2017-03-17T00:00:00Z
This home was all that we could wish for a home away from home for the holidays! It was clean, cosy and spacious, large enough to accommodate our family of eight. The kitchen was fully equipped. The grounds are lovely. All our activities were easily accessible. Owners were very responsive. We would happily stay there again!
Arlene
2016-12-27T00:00:00Z
Room Type
Entire home/apt
---
Property Type
House
---
Accommodates
15
---
Bedrooms
Keeseville, NY, United States
Lake house on Private Beach, Lake Champlain. Au-sable Chasm, Boating, Fishing, Hiking, Burlington, VT shopping and restaurants, NY-VT Ferry, Lake Placid and Olympic Village, and Montreal are nearby attractions. Great day trip opportunities. Shallow swimming perfect for children. Views of Burlington and the Green Mountains across lake. Evenings with campfires on beach. Cabin with full kitchen. The lake house is good for families, couples, or solo adventurers. Bring own mooring and boat.
Very nice cottage. Had all the amenities advertised and then some. Location is a little out of the way, but the beach and views make it entirely worth it. One note, the walk to the beach can be long and the sand gets very hot. Didn't bother us but might be an issue for some. Thoroughly enjoyed our stay and would like to stay there again!
Amy
2016-07-06T00:00:00Z
Our hosts were fabulous! ....very positive, enthusiastic and responsive. We always felt welcome and they made sure our needs were met. All linens, towels, toilet paper and even paper plates were provided. We did have a small problem during our stay but it was happily resolved by our hosts just one phone call and 30-minutes later.
Julia
2016-08-06T00:00:00Z
What we loved about this cottage was the serenity and beauty of the area, especially looking out across Lake Champlain. The hosts responded to all emails quickly and were flexible on check-in and check-out dates. The house was well-stocked with essentials (towels, sheets, soap, etc). The downside this particular year was the limited rainfall, making the lake too shallow for our older kids to swim in. It would have been perfect for younger kids. The location is fairly remote, so while peaceful it was more challenging to find things to do with our teenagers to keep them occupied.
Lisa
2016-08-17T00:00:00Z
Room Type
Entire home/apt
---
Property Type
House
---
Accommodates
5
---
Bedrooms
Peru, NY, United States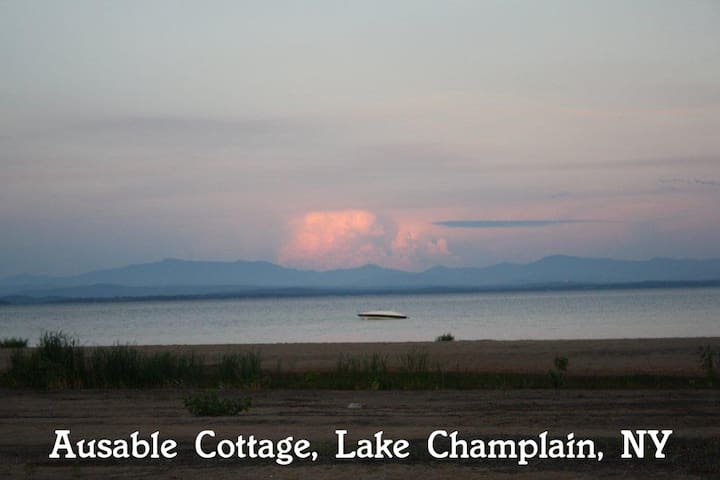 Comfortable, quiet, bright basement living space. Large private bedroom with full bed. Common area with TV, pool table, refrigerator. Close to Lake Placid, Whiteface Mtn, Ausable Chasm, Plattsburgh Airport, Montreal, & Burlington - Port Kent Ferry.
The living space was even better and bigger than the pictures! We loved everything about our stay. The kids especially loved using the pool and we ate all of our meals outside because the weather was so nice and there was a nice canopy by the pool with a table and 4 chairs. Thank you Chris and Ann!
Sarah
2016-08-02T00:00:00Z
I met Ann upon arrival, she welcomed me and showed me around. Also, met Christopher will taking a the tour. She answered all my questions and made themselves available to me. It is very spacious and the bathroom is amazing. They are very quiet. The dog would bark and we would hear it. Barking was never an issue when it was time to sleep. It is not a place to book if you are looking to cook or do laundry since these appliances are not available. Host stayed in there space and we didn't see them after the first meet... It worked well for us. I will definitely book this place again in the future. If you want to be away from the world this is the place to book.
Yara
2016-07-24T00:00:00Z
Room Type
Private room
---
Property Type
House
---
Accommodates
5
---
Bedrooms
Peru, NY, United States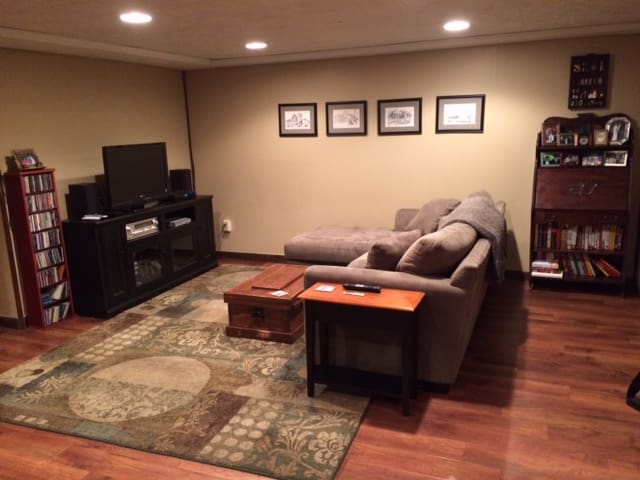 500ft from the biggest and most sandy beach on Lake Champlain and the Ausable River. View of lake from rental room. Kite surfing hot spot, kayaking, paddle boarding, sailing, snorkeling, canoeing. 4 min drive from train station and Vermont ferry.
14' x 14' lockable room, two chairs, 3' x 3' table, one fold out chair for single person, one queen natural latex bed, one small fridge. Access through main house for bathroom with stand-up shower. Shower is dedicated to guests.
Quaint, friendly neighborhood of camps where beach respect is priority. It's a neighborhood of all ages.
We arrived in the evening for a one-night stay, and Jude welcomed us and was really nice. He and his wife suggested a few places we could go to for a late supper. We ended up walking to the beach (1 minute walk) at around 11pm and sat in our fold-out chairs, with a bright moon and a starry sky. The room was spacey, really luminous with a nice view. Although there are a few houses between the property and the beach, we could still see the water. There is also an AC unit in case it gets too hot, which we used at night. The next morning we woke up to the smell of breakfast that Jude had made us. Was very good and healthy. He was kind enough to ask is beforehand if there was anything we didn't like or if we were allergic to anything. Jude offered a variety of boating options (canoeing, sail-boating, kayaking) as well as lessons for any of them. Since the kayaks and sailboat looked high-end, he does charge a fee to use them and offer lessons. We would have liked to do some water-sports, but it was very windy that day and we were running a bit short on time. We instead went on a short walk along the beach. Water was really warm and pretty clear. Will definitely come back when we pass by that area again, and will plan more time for water-sports. Very nice and welcoming family. A real BnB!
Geoff
2016-08-22T00:00:00Z
Room Type
Private room
---
Property Type
House
---
Accommodates
3
---
Bedrooms
Peru, NY, United States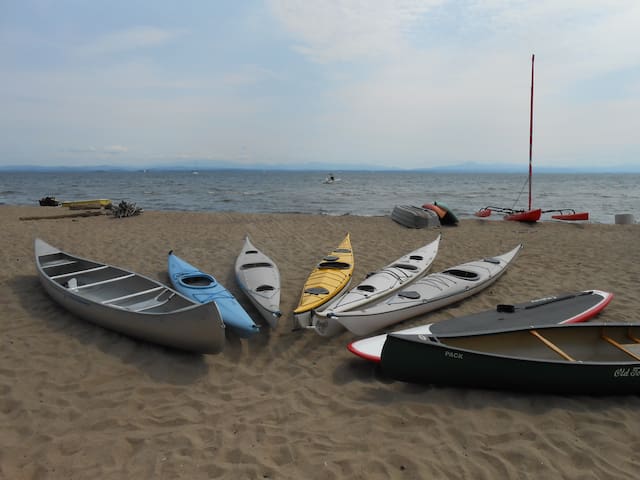 Enter dates to see full pricing. Additional fees apply. Taxes may be added.