The Artist's Cabin sits on the very edge of the Bay of Fundy and offers breathtaking views of the Bay, Kilmarnock Head, and Ministers Island. Located about 8 minutes from St. Andrews, it is within easy reach of extraordinary restaurants, grocery stores, a lively arts scene, great cafes, a world-class golf course, and amazing outdoor adventure opportunities including kayaking, hiking, and whale watching. The views will take your breath away and the local people will welcome you with open arms.
What guests are saying:
"Follow Krista's very specific directions, and you will discover a tiny cabin on the brink of the Bay! Inside is a quiet and warm space with just enough, but not too much, to enjoy your stay! The many panés of glass easily frame the beauty of the water and the coastline.We drank wine, read, walked the shore and slept in our short stay. An easy distance from the vibrant town of St. Andrews also. We found the cabin completely clean , the bed very comfortable, and the information provided thorough.the only thing we noticed was the front door was weathered and quite hard to close, and there are a few rotten slats on the doorstep. Otherwise, just lovely! Thanks, and we will be back next year!"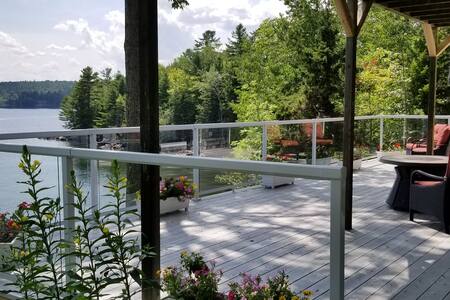 SUPERHOST
Entire guest suite · 2 guests · 1 bed · 1 bathroom
SEAWINDS, a luxury holiday rental w/deck on water!
Summer Haven, Fall Foliage or Winter Wonderland can be found at this former Yoga Studio on the water! Less than a mile from the 350 acre Ganong Nature Park, a breathtaking peninsula, where you will enjoy amazing views, trails, birds, wildlife, as you hike, cross country ski, snowshoe or slide. SEAWINDS for all Seasons! 20 min. from Canada's #1 destination St Andrews by the Sea! 5 km from HWY#1 or 10km from St. Stephen, NB (Ferry Point Bridge) border crossing Calais, Maine.
What guests are saying:
"Annabelle was an incredibly kind and gracious host. She left the day before open which was a blessing since our plans changed, so we came a day early. It was our favorite stay. She greeted us with a beautiful smile and spoke to us like we were old friends. The bed was so comfy, with several blankies and pillows of every level of firmness to suite one's preferences. The view was spectacular and I went through most of the hot chocolate. It rained and snowed, so we didn't get to try all of the amenities, but we had the most peaceful and relaxing break. She recommended lots of places to go and personally made sure we had everything we could want or need and then some. Annabelle is truly exceptional."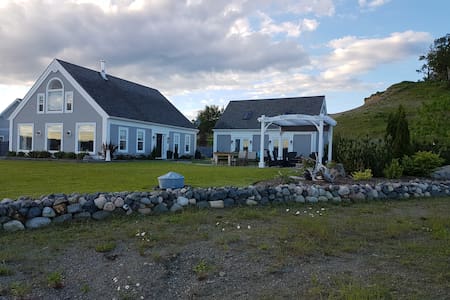 SUPERHOST
Entire guest house · 6 guests · 3 beds · 1 bathroom
Waterfront Guest House near St. Andrews, NB.
Separate guest house on the St. Croix River, just minutes from St. Andrews, NB. Access to beach. Newly renovated. Plenty of room, clean, skylights in each bedroom. Friendly owners and neighborhood.
What guests are saying:
"House: Some of the most beautiful lighting you'll ever see. Waterfront tables for a perfect dinner / breakfast setting. Immaculate 2 BR cottage with large bath, great wifi, comfortable beds. Easy water access for beach walks or boat launches. Very quiet and private setting, but not far from downtown St. Andrews. Hosts: Exceptional hosts that are welcoming and kind but honor privacy. They are also more than willing to offer advice about the area if you ask. They have two very friendly dogs which our kids loved, they kindly left us a loaf of very tasty (homemade?) bread, and were very generous with their kayaks. This stay was perfect for our family of four. Thank you Sandra!"