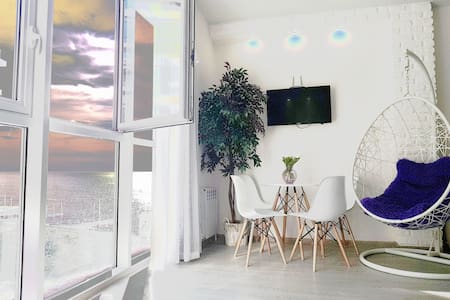 SUPERHOST
Entire flat · 5 guests · 2 beds · 1 bathroom
ПЕРВАЯ линия от моря. Бомбический вид на волны!!
Первая береговая линия. Дом бизнес-класса. Уютная студия с видом на море. Пляжная полоса 1 км. До моря 50 метров по ровному. В квартире есть все необходимое для комфортного отдыха! Холодильник, плита, посудомойка, кофе-машина, тостер, блендер для коктейлей и смузи, чайник, утюг, гладильная доска, фен, максимум посуды, стиральная машина, тропический душ, кровать-манеж, детская ванна. Во дворе: три детских площадки, ландшафтное зонирование, подсветка, парковка. Желаю вам незабываемого отдыха!!!
What guests are saying:
"The apartment is beautiful. Everything matches the photos and even better! How wonderful it is to wake up every morning and admire the sea by the window ☺️ Or open the window and hear the splashing of waves ... The apartment has everything necessary for living, everything is thought out to the smallest detail. And perfect cleanliness. Very close to the house there is a stop where trains stop. They can quickly get to Sochi. And the train ride to Imeretinskaya embankment is just a miracle! The train goes along the sea, it is impossible to take your eyes off the window, such a beauty)))) There is a bus stop next to the house, but I went by electric train and taxi. Oksana is a very friendly and helpful hostess, very pleasant in communication. I booked accommodation in less than a day, Oksana answered instantly. And with the early check in there were no problems. Oksana, thanks for everything! Now only to you)))"
Светлая однокомнатная квартира 48 кв.м., на 2-ом этаже в новом 25-ти квартирном доме. Расположена в тихом, зеленом районе Сочи на южном склоне горы Благодать, с видом на Черное море. Комфортное удаление от шума автомагистралей и прибрежной железной дороги. В то же время местоположение обладает хорошей транспортной доступностью. Отличное решение для путешественников семьей на автомобиле и любителей активного отдыха!
What guests are saying:
"We were in Dmitry's apartment from March 4 to March 17, 2020. Photos are fully true. The wife said that in reality it's even better than the photo conveys) the atmosphere of the house, comfort and perfect cleanliness. Everything is provided for in detail. My wife is a perfectionist, she was delighted with both the detailed guest guide and the fact that there are all the facilities and accessories that can be kept clean every day. On March 17, we rented another apartment for a long time, since in Sochi at work, the comparison was, of course, enormous. It was necessary to quickly put everything in order. But here, Dmitry's life experience came in handy. We bought exactly the same cleaning products and very quickly wiped off all the white surfaces and tiles to the ideal. It took a little more than a week, finally completely settled down and remembered that they had not written a review, although they remembered the wonderful owner and his apartment every day)"
Вас ждет светлая уютная квартира на 14 этаже нового дома в центре Сочи, с панорамными окнами и видом на море! Она находится в ЖК "Остров Мечты". На территории комплекса расположены детские развивающие центры, садики и большая игровая площадка. В пешей доступности Чёрное море, ЖД вокзал, центральный рынок и парк Ривьера. Апартаменты находятся на ровной местности, нет необходимости подниматься или спускаться с горы. Салоны красоты, кафе, продуктовые магазины, аптеки в паре минут от дома :)
What guests are saying:
"Everything was good and even above expectations, many thanks to Yana and Yegor! Stylish minimalist apartment, hospitable hosts, always ready to help, convenient location to go to other places - the railway and bus station are very close, the main resort street is also close, the sea is a bit far away, there is a supermarket right in the house. The apartment is equipped with everything necessary, in the summer the house can be very stuffy, but there is air conditioning. In general, the choice of apartment is very satisfied and grateful for the hospitality!"