Open plan 45m2 fresh and modern with a double bed and a sofa bed. A modern kitchen with most things, newly renovated bathroom. Balcony with a stunning view of Back Bay Harbour and the Sound where you can see the Oresund Bridge on clear days
Newly renovated, plenty of space, perfect for couples who want a timeout in everyday life, enjoy, Relaxation, Retreat
I Bäckvikens hamn där boendet ligger lägger färjan från Landskrona till året runt. Även båtar från Råå och Köpenhamn lägger har resor till Bäckviken under högsäsong. I Bäckviken finns även butik Paviljong 1916 och VenTaxi som drivs av Nilla o Pelle. Ninna Mandin Silver, Vens Glassfabrik, Bäckvikens Ven Tapas samt lokal fiskare
Room Type
Entire home/flat
---
Property Type
Apartment
---
Accommodates
2
---
Bedrooms
Sankt Ibb, Skåne län, Sweden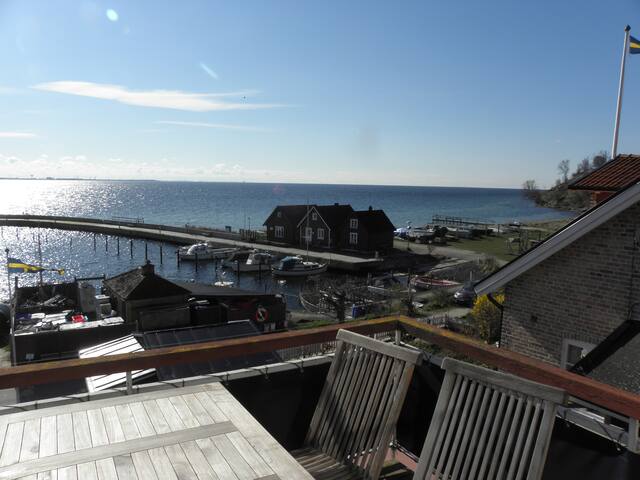 Kyrkbacken - Hven - Loftsleilighet med 1 soverom og 4 sengeplasser, 1 stue med kjøkkenkrok samt dusj og toalett. Utsikt mot Danmark. Egen uteplass med havsutsikt. Kyrkbackens havn med 2 restauranter, kiosk og sandstrand like i nærheten.
Hven ligger mellom Sverige og Danmark og var dansk helt til 1660. Her finnes det Tycho Brahemuseum, Hembygdsgård, restauranter, kiosker, badestrender, sykkelutleie og mange sykkelveier. Hvens Gamla Kyrka fra 1100-talet ligger vid Backafall. Her er det 3 til 4 sommerkonserter i juni og juli. Det er båtforbindelser fra Landskrona til Hven. Om sommeren er det også båtforbindelse fra København til Hven. For informasjon se Landskrona kommuns Turistbyrå.
Nærheten til havet og badestrender samtidig som man kan ta dagsturer til København, Louisiana, Landskrona, Lund og Malmö. Direkte tog fra Kastrup tll Landskrona og Skeppsbron hvor Uraniborg/Stjerneborg (båten til Hven) legger til. Fra Kastrup regner vi ca 1 time til Skeppsbron i Landskrona.
Really enjoyed our stay here in Backafall. The flat is very cosy with a very pleasant view of the Øresund. Comfy beds, as well as all necessary amenities were provided (we very much appreciated the milk in the fridge on the arrival day, the tea, the coffee - nice little plus that made the difference!!). We were also given the use of a bicycle which was very handy. Elsbeth and Kjeld are very nice people and extremely helpful. See you next year :)
Gareth
2016-07-10T00:00:00Z
We had a very pleasant stay on Hven. We lived in the apt under the roof, which was very cosy and spacious for two people. We found everything we needed in the apartment, and also bikes were provided. Elsbeth was not around this time as it was already off-season, but she was a very pleasant contact and took good care that everything was organised when we arrived. Definitely recommendable!
Bernhard
2015-09-07T00:00:00Z
We were nothing but pleased with this beautiful and perfectly located apartment on the gorgeous island of Ven. Elisabeth and Kjell greeted us when we came in and provided information about their place and the island. You can tell they want your stay to be satisfactory, but they strike a nice balance between being available and respecting your privacy. You stay in an apartment that spans the second floor of their historic house. The 2 room apartment overlooks kyrkbacken and the ocean. A newly put in Shower room with sink is attached to the apartment upstairs and the bathroom is by the entrance on the first floor. We had the flowering front yard to ourselves - perfect for breakfast, or just for some outside relaxation. The hosts had put breakfast items in the fridge prior to our arrival which was much appreciated, and they were perfectly accommodating to our arrival and departure times. My wife and I can highly recommend this gem, and i have a feeling we'll be back here sooner rather than later.
Martin
2015-08-03T00:00:00Z
Super trevligt boende på bästa läge, här finns allt man behöver för en bekväm och mysig vistelse på ven. Havet har man precis utanför dörren och Kyrkbackens hamn bara ett stenkast bort. Man bor på en rymlig ovanvåning med egen dusch, kök och matbord, gott om plats för 4 vuxna eller en familj. Egen toalett vid ingången en trappa ner. Elsbeth och Kjell var väldigt generösa och hjälpsamma, här känner man sig verkligen välkommen! Rekommenderas starkt!
Gustav
2016-06-27T00:00:00Z
Wunderbarer Urlaub bei sehr netten Gastgebern. Es ist kein Problem auf die Insel zu kommen. Die Fähre fährt regelmäßig zum Preis von ca. 15 € für ein Familienticket für hin und zurück. Sogar ein Auto könnte für ca. 140 € übergesetzt werden, ist aber nicht nötig. Am Hafen wartet immer zur Ankunftszeit der Fähre ein Bus. Die Ferienwohnung liegt am anderen Ende der Insel, an der schönsten Seite der Insel mit einem wunderschönen Hafen und kleinem Strand. Der Ausblick auf die See ist wunderbar. Die Wohnung ist sehr niedlich eingerichtet, man fühlt sich direkt sehr wohl. Im Kühlschrank wurde Frühstück für uns hinterlegt, was sehr freundlich war. Zur Unterkunft gehören 2 Fahrräder, sodass man ohne Mühe zum nahelegenen kleinen Supermarkt kommt, wo man sich gut versorgen kann. Ein toller Urlaub in schöner Umgebung bei netten Gastgebern. Wir würden gerne mal wieder kommen.
Sienna
2015-07-28T00:00:00Z
Väldigt trevlig, tillmötesgående och hjälpsam värd. Mycket charmigt boende med allt man kan önska. Rent & fräscht. Rekommenderas verkligen!
Lina
2016-06-20T00:00:00Z
Room Type
Entire home/flat
---
Property Type
Apartment
---
Accommodates
4
---
Bedrooms
Sankt IBB, Skåne län, Sweden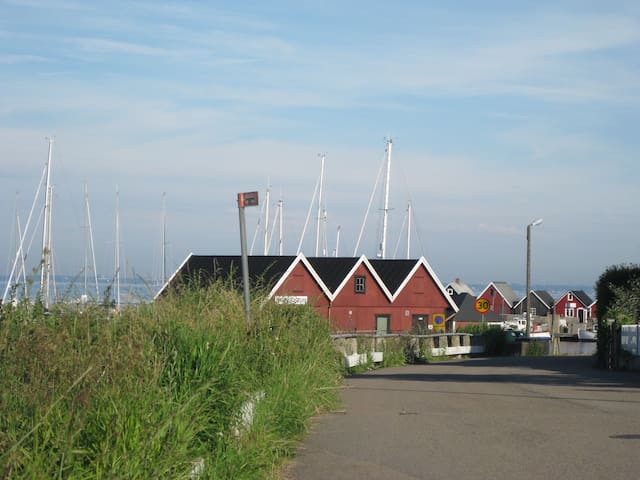 The Guesthouse has several comfortable flats with all facilities one needs. 1-4 rooms. Quiete surroundings in front of the beautiful Park; Shopping, Restaurants are 5 min from the Guesthouse. Host lives in the same building, easily to be contacted.
Former guests from all over the world express their satisfaction upon the high standard , situated near to everything, as well as comfortable beds. To be able to reach their hostess when needed, shows to be an extra Plus.
Quiete surroundings with a lovely Park opposite my Guesthouse. 5 min Walking distance to Restaurants, Shopping, Museum and Arthall.
We stayed at Heidi's place for three days, from 2-5 January 2017. The apartment was warm, very comfortable, well-situated, and contained everything we needed for our stay. Heidi is an extremely well-intentioned, friendly and very helpful host, who couldn't do enough for us. We arrived with quite a lot of luggage so we were extremely pleased and grateful when Heidi met us at the station and brought us to the apartment. The following day, she was thoughtful enough to call me to see if there was anything we needed. Nice touch! I would definitely recommend Heidi's place to anybody (single traveller, small family, business people). Tack så mycket, Heidi for a very nice stay!
Nigel
2017-01-05T00:00:00Z
Accueil très chaleureux et familial, Appartement plus que conforme à la description et très bien situé, proche de la mer. A recommander vivement. Merci Heid
Laurence
2016-08-16T00:00:00Z
Vi var meget tilfredse
Louise
2016-08-01T00:00:00Z
Room Type
Entire home/apt
---
Property Type
Apartment
---
Accommodates
2
---
Bedrooms
Landskrona, Skåne län, Sweden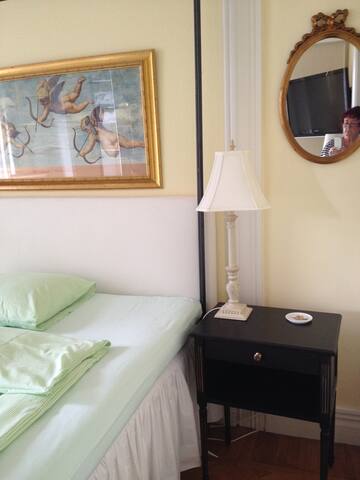 Underbart 3 bädds rum med centralt boende i ett lugnt område med mycket bra buss- och tågförbindelser med nära till Köpenhamn, Malmö och Helsingborg.
The hostel is near central and can find everything there, nice host. Recommend.
MaX
2016-05-29T00:00:00Z
it was nice, clean and comfortable to stay! Hosts were very kind and helpful. Room, kitchen, laundry, yard and all the facilities were very complete! Thank you so much :)
yinmin
2016-08-28T00:00:00Z
Mila was very nice when there had a new person who gonnan to stay in another room that she informed me in advence I will shared kitchen and shower room whith others. There's prety apple treets in from and back yart, it's very joyful when watch them from window. Lanskrona is a small town and very quite, if you wanna have good rest, here could be the god place.
Ray
2016-08-05T00:00:00Z
The House is very Central. The room is big enough for two People. The Communication with Mila was very uncomplicated.
Marcel und Lena
2016-08-17T00:00:00Z
Mila was very kind and understanding when I had problems with my booking and gave me clear instructions on how to get to her place. The rooms were tidy and the facilities were all great.
Jay
2016-08-13T00:00:00Z
Very good!!!!?
Thijs
2016-05-15T00:00:00Z
The host canceled this reservation 10 days before arrival. This is an automated posting.
fukashi
2016-08-25T00:00:00Z
Friendly, warm and welcoming.
Troy
2015-12-16T00:00:00Z
Room Type
Shared room
---
Property Type
Apartment
---
Accommodates
3
---
Bedrooms
Landskrona, Skåne län, Sweden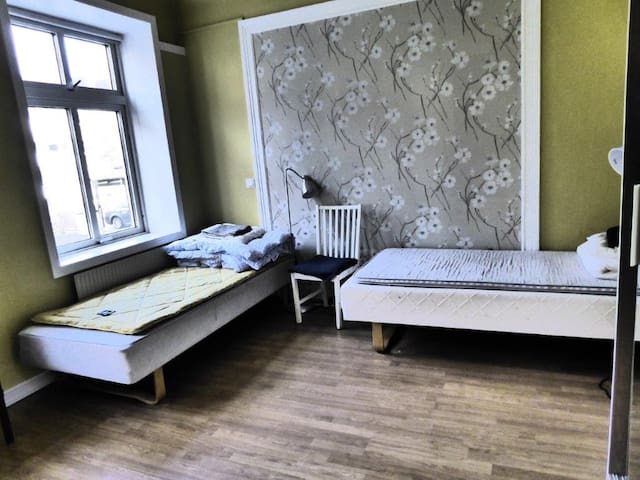 This fully equipped Apartment, containing 2-4 beds, situated in a quiete area next to a lovely Park, City Center and the beach. A Bus stop only 100 m walking distance. Shops and various Restaurants only 5 min from our building.
The Apt is warm and welcoming; we are eager to make your stay as satisfying as possible; assisting with advice and meet our guests at arrival or whenever they might need us. The beds are made and towels are included.
You will find the castle, the Citadell, lovely gardens, a Park surrounding the Castle, the Museum, the Arthall and several international Restaurants or Pubs; all within walking distance.
Very nice house, the landlady was at the departure a bit in a rush, but finally everything worked out. Maybe just a busy day...
Andre
2016-07-25T00:00:00Z
Die Gatsgeberin hat sich rührend um alles gekümmert und hat den Aufenthalt sehr angenehm gestaltet. Das Apartment ist zentral und nah genug an der Küste. Einkäufe und spaziergänge/ Joggen am Strand sind somit ohne weiters möglich. Das Apartment ist darüber hinaus gut ausgestattet und das WLAN funktioniert perfekt.
Thomas
2016-01-22T00:00:00Z
Central beliggenhed. Stor og veludstyret lejlighed. Anbefales
Mai
2016-07-22T00:00:00Z
Väldigt bra läge, 5-7 min promenad till det fina Landskrona museum, och 10 min promenad till Landskrona slott. Vi bodde i ett familjerum med trevlig inredning och härligt högt i tak. Mycket rent och fräscht. Själva huset ("Fritschka Villan") är från slutet av 1800-talet, intressant arkitektur och historia. Tyvärr har Landskrona stad genom årtiondena förstört mycket av sin egen gamla bebyggelse, så detta hus, liksom många andra i stan, ligger inklämt mellan fula 60-/70-tals-lådor. Kan varmt rekommendera detta boende.
Sara
2016-10-17T00:00:00Z
房东太太非常热情 主动要求到火车站去接我们 人非常的好 虽然已经70多岁但还是拥有一颗少女的心 房间布置的仅仅有条 房东太太是个很心细的人 她出租的房间一应俱全 而且做事很认真 并且不会在你租用房间时有过多的要求和打扰
Rich
2016-10-12T00:00:00Z
Room Type
Entire home/apt
---
Property Type
Apartment
---
Accommodates
2
---
Bedrooms
Landskrona, Skåne län, Sweden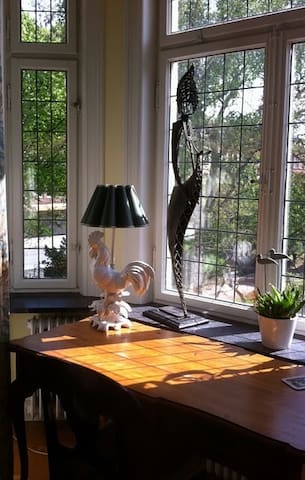 Mycket trevligt 3 bädds rum med centralt boende i ett lugnt område med mycket bra buss- och tågförbindelser med nära till Köpenhamn, Malmö och Helsingborg.
Would definately come back. Great place to recharge our batteries! My dog also loved it :) Really comfortable, even better than the pictures. Thank you Mila for lovely stay!
Emily
2016-08-04T00:00:00Z
Mila offered a nice and quite flat in the heart of Landskrona. The flat has a fully stocked kichen and access to washing machines. I would stay there again.
Florian
2016-02-06T00:00:00Z
I spent two more nights in the other room across, and liked it as well. The house has anice athmosphere, and is really well located. If I return to Landskrona one day, I would stay there again!
Diane
2016-08-21T00:00:00Z
The host canceled this reservation 7 days before arrival. This is an automated posting.
Mengxu
2016-08-25T00:00:00Z
My day in Landskrona was just what I needed, to rest and sleep well. Nice and cozy place with full equipment kitchen, located in quiet neighborhood.
Jugoslav
2016-03-14T00:00:00Z
wonderful
Marius
2017-02-11T00:00:00Z
Great listing!
Sohail
2016-08-26T00:00:00Z
Mila and Gunnar were nice and helpful. We really enjoyed our stay!
Anastasia
2016-08-24T00:00:00Z
Room Type
Shared room
---
Property Type
Apartment
---
Accommodates
3
---
Bedrooms
Landskrona, Skåne län, Sweden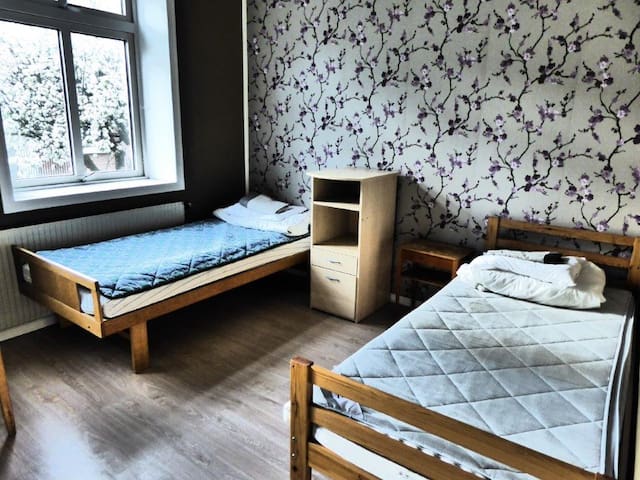 Fair 4 beds apartment close to Copenhagen. Pleasant, nice apartment with 1 large bedroom, kitchen and bathroom / WC. Suitable for a person, even for a small family (4 people). Fully equipped for their own cooking, laundry facilities, internet, TV.
Med bra buss och tågförbindelser når ni Malmö på 25 minuter och Köpenhamn centrum på bara 50 minuters resa.
Close to city and shops and and love sea side to walk along just only 20 minutes walk away.
Clean appartment with comfortable beds.
Anneke
2016-07-02T00:00:00Z
Fine place to stay for a short period, houses 3-4 close people comfortably. Hosts were friendly and helpful.
Philippe
2016-12-06T00:00:00Z
good experience and comfortable
Andrew
2016-06-24T00:00:00Z
It was a fine stay for one night during our trip to Norway. Shops and restaurants nearby.
Iris
2016-07-07T00:00:00Z
The perfect apartment for up to four people with everything you need. It is very central, a supermarket is close by and it is not far from the coast. Mila was so kind to make sure we received all the information we needed before arrival. Unfortunately we missed Mila and Gunnar's visit as we explored the area. We only stayed one night and had to leave quite early the next day so we did not have the pleasure to meet them in person. We definitely recommend staying here and would be happy to visit again!
E K
2016-07-03T00:00:00Z
The apartment was good and the kitchen was well equipped. Check in is flexible by entering a PIN to open the door.
Max
2016-07-23T00:00:00Z
It was a well equipped and clean appartment. The communication with Mila was very accurate and pleasant. It exceeded our expectations.
Friso
2016-08-03T00:00:00Z
A cozy apartment, was just perfect for my holiday! Will definitely choose the apartment during my next trip to landskrona!! :)
Ashfaq
2016-03-28T00:00:00Z
Room Type
Entire home/apt
---
Property Type
Apartment
---
Accommodates
4
---
Bedrooms
Landskrona, Skåne län, Sweden
It is 5 minutes walk to center of Landskrona wher you can see defferent nice view and it is close also to the ferry going to beoutifull island name Ven.1 hour train going to DenmArk and 30 minutes to Malmö or Helsingborg.
The room is a bit big and it is relaxing.
They always say Hej and smile.
Room Type
Private room
---
Property Type
Apartment
---
Accommodates
2
---
Bedrooms
Landskrona, Skåne län, Sweden
We have a completely renovated three room apartment of 71m2 in Landskrona. The apartment is on 1 st floor and is consistent with the window facing the street and courtyard. The property has no lift. The property has cable and Wifi
In the best place close to center and with a nice silent surrounding and bakery and small grocery shop around the corner We have this nice flat on the first floor sleeps 4 people have 2 bedrooms 1 bathroom and we have cable tv and wifi. Its located less than 5 min walk down town and easy with communication if you like to take the bus or train. Its easy to find parking at no extra cost Bakery and grocery shop around the corner
Location and nice an d quiet neighborhood
We rented 2 flats from Annika for X-mas period. The neighborhood is quiet and it is walking distance to down town Landskrona. Annika is very nice person, always willing to advise, assist and help. The flats were clean and in good condition. We had very nice stay in Sweden.
Piotr
2015-12-28T00:00:00Z
Super clean and quiet
Ellen
2015-07-15T00:00:00Z
Asunto oli siisti ja huonejako erinomainen. Takapihalla oli puutarha, joka oli kauniisti hoidettu. Viihdyimme erinomaisesti ja voimme suositella kohdetta 4 hengen seurueelle. Annika on mukava henkilö, jonka kanssa kaikki sujui moitteettomasti.
Mia
2015-07-28T00:00:00Z
Goed ingericht en groot schoon appartement met heel veel opberg ruimte voor spullen en kleding. Goede wifi en tv. Alles was aanwezig vooral in de keuken was alles er van afvalzakken tot vaatdoek. De tuin is ruimer dan de foto met het zitje. Annika is een hele leuke vrouw waar je met alle vragen terecht kunt. Ze helpt je met alles. Lanskrona is een leuke plaats meteen aan zee. Maar de omgeving is de moeite waard. Suppermarkt en bakker op 2 minuten lopen. We komen vast nog eens terug.
Marjo
2016-08-16T00:00:00Z
Room Type
Entire home/apt
---
Property Type
Apartment
---
Accommodates
4
---
Bedrooms
Landskrona, Skåne län, Sweden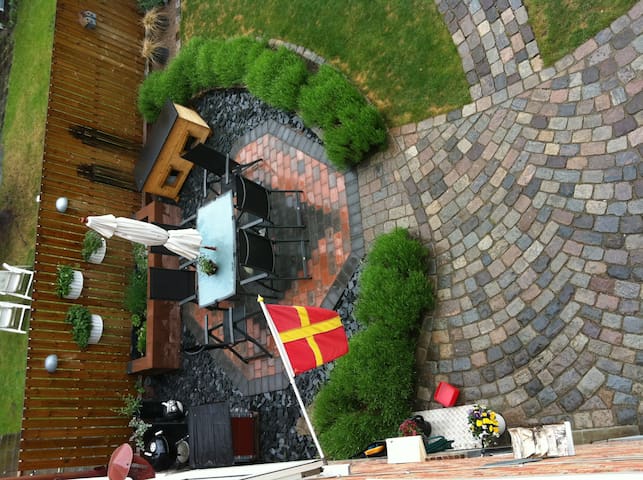 2 Room Apartment is situated on the 2nd floor of the private house. The apartment consists of a bedroom (with a king size bed), living room (sofa bed is provided and an extra bed, TV) and a kitchen (equipped w/ microwave, stove and oven, refrigerator).
The apartment is situated in the quiet neighborhood in the north-western part of the city, within 15 min walk to the downtown.
Supercool hosts, cool flat. Fully equipped kitchen. I have spent there two months and it was not easy to say good bye to the place. Way above the standard service. Weekly housekeeping included in the price. Any problem solved instantly. I highly recommend this flat and the landlords.
Petr
2016-09-30T00:00:00Z
Det var en ren och fräsch lägenhet med fin inredning och bekväma sängar. Kanske inte stans finaste gata men trevlig stämning och nära till centrum och koloniområdet. Lätt att parkera på gatan utanför. Dessutom ett bra bageri längst ner på gatan. Värdarna var mycket bra på att svara på frågor och hjälpa till.
Petter
2016-07-24T00:00:00Z
Room Type
Entire home/apt
---
Property Type
Apartment
---
Accommodates
4
---
Bedrooms
Landskrona, Skåne län, Sweden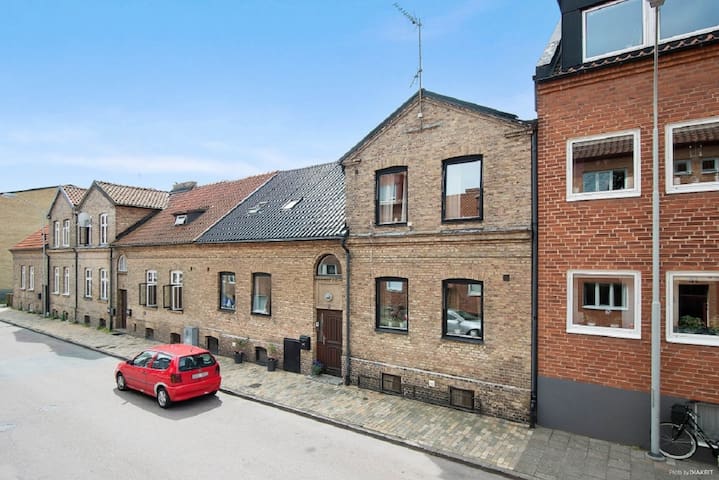 Min bolig lægger tæt på restauranter og spisesteder, stranden, familievenlige aktiviteter og offentlig transport. Min bolig er god til par, forretningsrejsende og familier (med børn).
Room Type
Entire home/apt
---
Property Type
Apartment
---
Accommodates
4
---
Bedrooms
Humlebæk, Denmark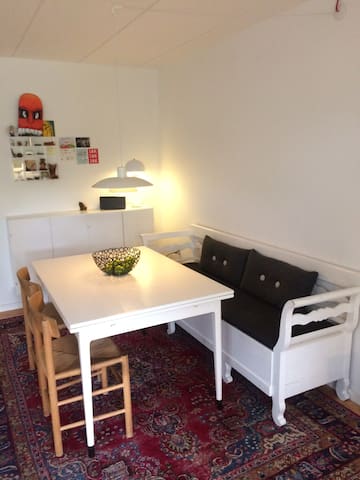 The residence is located close to the beach and large natural areas. There are museums and culture nearby, including Louisiana, Helsingor, Kronborg and Fredensborg Castle. There are 30 km. Copenhagen by train or by car. The accommodation is simple and modern with a stylish design. There is a large living room with high ceiling, modern kitchen with fridge / freezer and dishwasher, loft with two beds, double bedroom and bathroom. The charm, tranquility and the simple design makes the apartment an ideal holiday. The owner lives in the house.
Solveig was simply... Perfect!!! We felt like at home. A very relaxing place after a tour around north sealand. For our child a special place insidie the house and outside too, a garden and a big tree to run and have fun.
Lucia
2016-08-20T00:00:00Z
Fantastic open plan living, great ambiance, beautyfull surroundings and view on garden. Much eye for detail. We loved it and felt at home right away. Host friendly and eager to help. We would book this again :-D
Febe
2016-09-05T00:00:00Z
The host canceled this reservation 188 days before arrival. This is an automated posting.
Oliver
2017-01-22T00:00:00Z
We were very warmly welcomed by Solveig and she was very willing to give us information. The appartment is part of an old farmhouse, located in a beautiful, quiet environment. There are lovely villages and beautiful beaches. And the museum of modern art Lousiana is nearby. Humlebaek seems far away from Kopenhagen, but with the train - free with a Kopenhagen card - you are quickly in the center. In short, highly recommended.
Gemma
2016-08-13T00:00:00Z
Nous avons passé un agréable séjour chez Solveig qui est au passage très sympathique et disponible. L'endroit est calme et charmant à 40 minutes du centre de Copenhague et 10min de Louisiana. Le logement est propre et fonctionnel. Il y a un couchage pour deux personnes dans une chambre, un canapé lit dans le salon et un autre lit 2personnes en mezzanine sous les combles (difficile d'accès). Le fils de Solveig a également sa chambre dans le gîte, mais n'y passe que pour aller dormir. Nous vous recommandons cette adresse pour son calme, la gentillesse de l'hôte et si vous souhaitez découvrir les environs de CPH.
Thibault
2016-09-11T00:00:00Z
Room Type
Private room
---
Property Type
Apartment
---
Accommodates
4
---
Bedrooms
Humlebæk, Denmark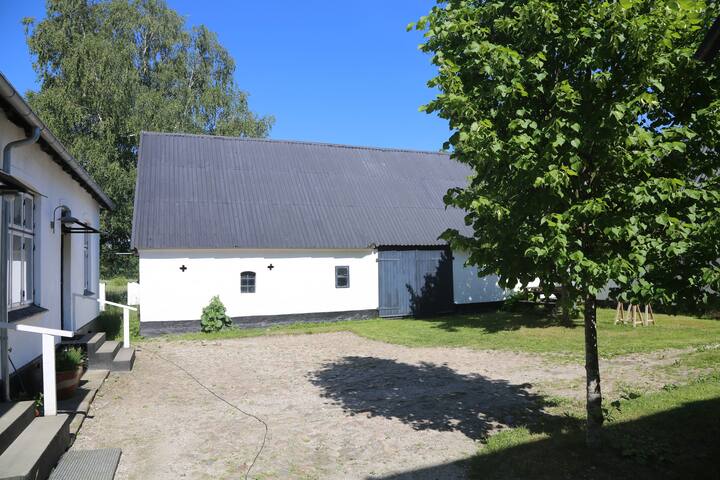 Cozy apartment near the forest and the beach and station. Handy with light décor with both dishwasher and washing machine. Fits well for two people, but the opportunity to be three as the sofa in the living room can be pulled out into a bed.
Room Type
Entire home/apt
---
Property Type
Apartment
---
Accommodates
3
---
Bedrooms
Humlebæk, Humlebæk, Denmark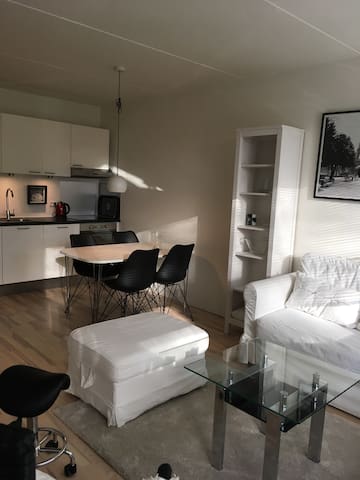 + This apartment is distinguished for its personal touch + Your have separate entry and share the apt with no-one + The area is calm + Louisiana art exhibition and much more in the neighbourhood + Easy access trains, busses and motorway + Nice view over Oresund with Veen and forests + Nice sandy beach nearby + Carpark very close to the building entry
+ This is a full-fledged, small private apartment in a calm apartment block with good view over Oresund and forest + The apartment is small but well furnished so you feel it is spacious and not crammed at all.
+ Nice, calm and cosy neighbourhood + Charming small town with nice location, tiny but advanced cinema; Irma grocery store, butcher, wine and cheese trade, and trails for walking the wonderful surrounding nature.
I stayed 3 nights at Michael apartment while my apartment was being renovated and really enjoyed it! I had a few nice and quiet days of work on my computer in the apartment - for that it is well suited! Michael was very friendly and helpful in all communications and Michael's father in law Jan was kind and offered to pick me up on arrival at the station - and even offered to take me to do grocery shopping if I needed. A few things in the apartment (light in the bathroom and a radiator) didn't work, but that wasn't an issue for me. Jan told me they already called a guy to fix it. All in all the place and stay worked out as I had hoped!
Søren
2016-03-07T00:00:00Z
Michaels´s apartment with the personal touch was very nice. The main purpose of our (me and two daughters, 19 and 10) stay in Humlebæk was the visit to the Louisiana Museum of Art, which is a must-see if you like modern art. The apartment was in a good location to both food market, beaches and the museum. The apartment is small for three people but comfortable, it would be ideal for a (young) couple. It is very bright and with a beautiful view of the sea and the island of Ven. The neighbourhood is quiet and save and there were enough parking possibilities and the green areas were nice. Michael's apartment is a great place if you want a relaxing time for reading, listening to music or just surfing on the internet. Even though we never met Michael, he was very helpful via telephone and text messages. The apartment fully complied with our expectations.
Heleen
2016-10-31T00:00:00Z
I enjoyed my stay in Michael's cozy apartment with my roommates. Even if there were three of us, we managed to get a very good rest, when we were in need for a place to stay in a hurry. Michael made us feel very welcomed by leaving a wine for us. The communication was good between us, so it was just what we needed.
Sander
2016-04-05T00:00:00Z
Stayed at Michael Apartment for a month, and it was a nice experience, The apartment is lovely and the scene is amazing. Michael was nice and friendly and offered to a ride from the train station.
Raed
2016-05-03T00:00:00Z
I had a great stay in the Michael's apartment. The house is small but clean and with everything is needed to pass a pleasant stay. Even if it is far away from the Copenaghen downtown, the appartment is very close to the Humlbaek rail station where it passes a train for CPH every 20 minutes. Michael was very kind and available with me answering quickly to my needs. The quality\cost for this apartment is high and definitely I'd suggest to everybody to stay there.
Alessandro
2016-06-05T00:00:00Z
We had a lovely time at Michael's apartment. Because the weather was not that great we decided to book an apartment for a few days. The place was cosy and had everything we needed! Although we did not get to meet Michael in person, the contact we had through Airbnb was very pleasant. Michael made us feel very welcome! The neighbourhood is quiet and clean, it really is a good place to calm down. We loved the Louisiana Art Museum and the fact that it was just around the corner. Copenhagen was easily accessible by train from the Humblebæk station. Do keep in mind that due to the distance to the city, the tickets aren't cheap! Michael's apartment is a great place if you want a relaxing time in a quiet neighbourhood. The place is well accessible by car and train and the town has plenty of stores for doing groceries etc. We would definitely recommend this to anyone who is a fan of modern art, a more quiet area with beautiful surroundings and the possibility to visit Copenhagen for a day or two.
Otto & Clariska
2016-08-14T00:00:00Z
Nice place, cosy and comfortable.
Raúl
2017-03-26T00:00:00Z
Me and my boyfriend Alberto stayed 4 days at the place of Michael and it was wonderful experience. We got exactly what we needed: calm atmosphere, close to the natural places. Apartment is cozy, clean, full of interesting furniture what gives some special mood to this place. Location is perfect: one hour way from Copenhagen (or from airport also) by direct train. City is beautiful and green, not far from apartment you can find the beach. Also around 15-20 mins walking from the station (center) or 5 mins by bus. Michael was very attentive and kind and gave us all the instructions what we need, also he helped with some special requests. Maybe only bed for someone could be too soft, but for us it was not a problem at all because we usually sleep on the floor ;) Thank you a lot, Michael. Hope to see you next time personally when we come back to Denmark :)
Elena
2016-08-19T00:00:00Z
Room Type
Entire home/apt
---
Property Type
Flat
---
Accommodates
3
---
Bedrooms
Humlebæk, Denmark
Bright apartment overlooking the Sound / Sweden. Located in green surroundings in the south of Humlebaek, 10 min walk to the beach, 5 min walk to the forest / fields, 10 min walk to shopping. Family friendly area. Bathroom with bath.
Quiet, bright and cozy apartment.
The residence is located in a child-friendly area with lots of nature around: beach, forest and fields. 3 km away is the Louisiana Art Museum and Krogerup (the seasons).
Room Type
Entire home/flat
---
Property Type
Apartment
---
Accommodates
4
---
Bedrooms
Humlebæk, Denmark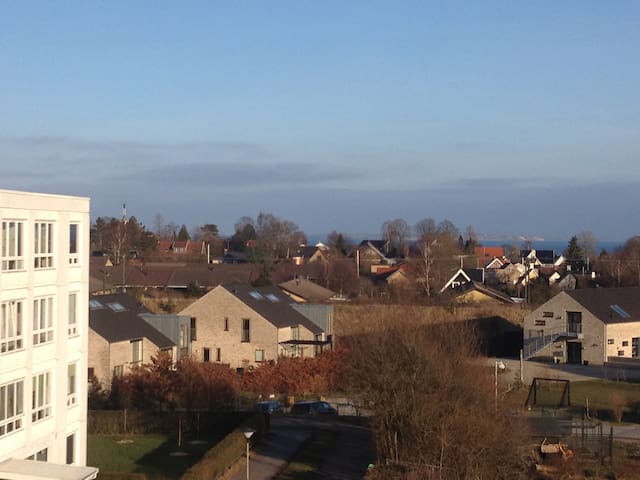 2½ room apartment, in the back building where HC.Andersen once lived. Close to the harbor, the cultural center, the train traveling to Copenhagen, ferry sailing to Sweden and throughout northern Zealand.
Room Type
Entire home/apt
---
Property Type
Apartment
---
Accommodates
4
---
Bedrooms
Helsingør, Denmark
Nice apartment with, kitchen, bathroom, bedroom with twinbed, livingroom where a couch can be used for one sleepingplace. Close to Copenhagen, Helsingnore, Sweden in a safe neightborhood. 5 min. to the artmuseum Louisiana and the golf course Simons. Free wifii and for extra payment car rent.
Safe area and close to beach, forest, Elsinore, Sweden and Copenhagen
Safe and close to everything
Susie made us feel very welcome with snacks and drinks displayed in the kitchen. The apartment is very clean, well looked after and there was everything we could possibly want. The area is very quiet, its relatively close to the sea, Louisiana art museum and public transport to Copenhagen. I highly recommend the apartment and Susie as a host. Thank you very much.
Katrine
2016-07-25T00:00:00Z
Susie's apartment is super cosy and very nice. We only stayed for one night, but my best recommendation if you are looking for a nice private spot. Only 10 min walk from railway station and the pretty Humlebaek Harbour
Martin
2017-01-15T00:00:00Z
Susie la alt til rette for oss. Følte oss velkommen med en hyggelig beskjed og vin/øl og nøtter. Leiligheten var veldig hyggelig og ligger i et meget hyggelig strøk i gangavstand fra offentlig kommunikasjon. Eneste ankepunkt vi har var sengen som var litt smal for to voksne personer (vil kalle den 1,5 seng).
Kari
2016-08-05T00:00:00Z
Vi var nöjda med vår vistelse. Det fungerade bra att ha med vår 1,5-åring också.
Helena
2016-08-15T00:00:00Z
Room Type
Entire home/apt
---
Property Type
Flat
---
Accommodates
3
---
Bedrooms
Humlebæk, Hovedstaden, Denmark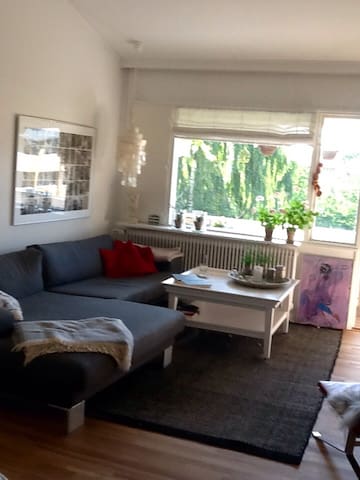 My home puts close to Tårbæk Harbour and Deer Park. You will love my home because of the surroundings, the light, the outdoor area and the neighborhood. The property is good for couples, adventurers, business travelers and families (with children).
The residence is about 100 meters of Melbourne port and about 250 meters from the entrance of the Royal. deer park, where there is also a great unique golf course.
The port, Deer Park, Tender harbor, the Baths and the grocery store.
The host canceled this reservation 6 days before arrival. This is an automated posting.
Fide
2017-02-28T00:00:00Z
Morten ist ein total Sympathischer Typ. Er ist sehr hilfsbereit gewesen und hat uns alles gut erklärt. Wir haben uns sehr wohl gefühlt in seiner Wohnung. Die Gegend ist schön zum Wandern oder zum Laufen. Wir würden auf jeden Fall wieder die Wohnung nehmen.
Fide
2017-03-12T00:00:00Z
Room Type
Entire home/apt
---
Property Type
Apartment
---
Accommodates
5
---
Bedrooms
Klampenborg, Denmark
1

–

18

of

165 Flat Rentals
Enter dates to see full pricing. Additional fees apply. Taxes may be added.