Our bright and sunny second floor self contained studio apartment overlooks beautiful Lake Clear. Perfect for a couple looking to relax in a beautiful, quiet, country setting. You may enjoy just sitting by the dock with a book, or for fun, use the canoe or paddle boat.Swim in a clear, spring fed lake and then lounge by the shoreline as you watch the boaters pass by. There is a small sandy beach area if you prefer to wade into the water or launch your own small boat. For shade, try our gazebo.
Beautiful, bright, clean, self contained studio apartment overlooking Lake Clear on second floor. Wooded areas on three sides, lake in front. If you like your bedroom really dark in the morning, this is not the place for you, as there are many windows on all sides and you may catch the sunrise as you look toward the lake. On summer nights, sit by the dock or campfire and watch the clear night sky as you listen to loons calling. Algonquin Park is only 1.5 hours away or Bon Echo Park 1 hour away, if you enjoy hiking. In winter, Calabogie Ski Hills are 40 minutes drive.
We are on a lake with over 17 islands and the swimming and fishing is exceptional. Lake Clear comes by its name because it is a beautiful clear, spring fed lake and we are surrounded by hills and woods if you enjoy hiking. There is a small beach area if you have your own kayak. If you are looking for a quiet country setting on a lake to decompress, this is the place. We have high speed internet and Wifi, however cell service is not available. We have Netflix and a DVD player. The town of Eganville is a twenty minute drive away. Renfrew and Pembroke are both 45 minutes away. Central Ottawa is two hours by car. Calabogie ski hills are about 40 minutes from here. Algonquin Park is 1.5 hours away and Bon Echo Park is about 1 hour from here.
Beautiful, open and secluded space away from a busy life. Before i get into the already amazing retreat, my girlfriend and I were welcomed right away (even though we got there late) and walked us through everything we needed to know. They even had cookies and new years things set up for us! They created s very warm atmosphere in which we recognized right away as humble people. After showing us around they were sure to give us our space and also be at reach when needed. The place was very clean, cozy yet very open with all of the windows along with a beautiful view of the snow covered lake. Overall we recommend coming here for a peaceful retreat with a loved one or family. PS. The owner cleaned the snow off of our car every day we stayed. We only found out when we needed to leave. Such nice people! + Everything necessity is given except groceries -breakfast -utensils -toiletries Thank you for an amazing experience - Yi and Monica from Toronto
Yiwu
2017-01-02T00:00:00Z
We stayed at Elizabeth & David's home for two nights and had an amazing time. The property is stunning. It is situated on a beautiful, clean lake, in a peaceful and quiet setting. Elizabeth & David are such kind people who will open their doors and welcome you like family. They let us bring our four-legged friend Pixie. Even she couldn't stop talking about how much fun she had! If you are looking for a quiet, relaxing getaway that immerses you into what the countryside is all about- this is it. We would definitely return. Happy renting! Your friends, Chloee Kevin and Pixie :)
Kevin
2016-08-20T00:00:00Z
We had a wonderful stay ! Elizabeth and David are fantastic, full of attentions ! They preparred slippers for our arrival. A guide is provided with apartment functionality and things to visit around. They provide tea, coffee, cereals, porridge and Elizabeth made delicious jar banana bread ! The apartment is great very clean, towels are provided. We can't wait to go back for summer season and try their canoe, kayak etc. We spent an amazing Christmas at Lake Clear, they even invited us for dinner for Christmas Eve ! Thank you again Elizabeth and David !
Louise
2016-12-27T00:00:00Z
Elizabeth and David were very kind, easy communication. We had a very warm welcome. They are amazing hosts, they take care about our directions and they print the itinerary for our next location. So nice. We really felt like home in their spacious room with living room. Everything we need was in the room. Amazing view on the lake. Peaceful and quiet place. We recommend this place without hesitation. We just regret that we didn't stay longer to enjoy much more of this beautiful place.
Delphine et Vincent
2016-10-23T00:00:00Z
While we were staying at Elizabeth's place, we had really great time. As soon as we got their place, they welcomed us very well and also gave us helpful info and direction about algonquin as well. The place was very organized and clean. And I could enjoy a beautiful scenery inside the house. It was just perfect experience for us!
Hyesoo
2016-10-27T00:00:00Z
Elizabeth and David were wonderful hosts, they were extremely friendly and helpful. They made sure my stay with my girlfriend was as comfortable as possible! Their place is beautiful, peaceful and lovely. If you want to be 10 metres away from a beautiful calm lake and under a sky full of bright stars, then you should definitely stay here! Thank you! Peter
Peter
2016-09-25T00:00:00Z
Elizabeth and David were the most welcoming people! We had an amazing time at their place. It was more breathtakingly beautiful than can ever be described! They had breakfast items as an added bonus. The room itself is just gorgeous, with ceiling to floor windows for the perfect view of the lake. I definitely cannot wait to go back!
Spandana
2016-08-22T00:00:00Z
We had a great time (EMAIL HIDDEN)munication was responsive and helpful. They greet us very warmly when we arrive even it was later in the night. Their place has an amazing view of the lake and things are kept very organized and clean. They even went the extra mile by providing some drinks, light breakfast and home baked goods (which are delicious). Overall, a great experience for us and I recommend this place for sure!
Leon
2016-11-13T00:00:00Z
Room Type
Entire home/apt
---
Property Type
Flat
---
Accommodates
2
---
Bedrooms
Eganville, ON, Canada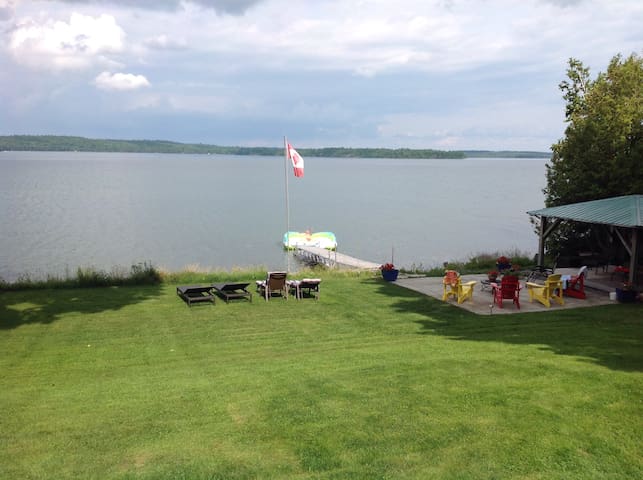 My place is good for couples, solo adventurers, families (with kids), big groups, and furry friends (pets). Lots of space and good walks here on the farm. We offer riding and interaction with our friendly farm animals. We have a great play structure and Lake Clear is nearby with its safe public beach. This is a home away from home experience with the benefit of our organic veggies and free range eggs. The colours in the fall are great. We also do Equine retreats in our quieter months.
This is a very peaceful location surrounded by natural beauty and forest. Our accommodation is clean and spacious and looks out across the fields.
This is the white water region and we are near to Algonquin.
Room Type
Entire home/apt
---
Property Type
Flat
---
Accommodates
6
---
Bedrooms
Cormac, ON, Canada
We are located 10 minutes from the East Gate entrance of Algonquin Provincial Park. The apartment is downstairs (white double doors) with your own entrance and parking. Completely private with a fully equipped kitchen and your own bathroom.
Private apartment with parking and private entrance. Fully equipped kitchen with coffee maker and hot water kettle, no microwave, and a bathroom with bathtub. There is one queen bed and a pull out sofa available. Sheets, blankets and towels are provided for the bed only. Please bring your own sheets for the pull out sofa. The apartment accommodates 2 to 4 people or families with children, all are negotiable. We live upstairs on the main floor.
We are located 10 minutes from the East Gate entrance to Algonquin Provincial Park. The park offers about 15 interpretive trails along highway 60 and a vast backcountry for canoeing and camping and a lot of other fun activities to participate in. The town of Whitney is about five minutes from the apartment. Whitney offers two gas stations, a post office, a grocery store, a beer/liquor store and a couple of restaurants which serve alcohol. Please keep in mind that the grocery store has a limited supply and prices are often a bit higher than elsewhere. We recommend that you do you your shopping in one of the bigger cities you might be passing through. Also keep in mind that store hours and restaurants and gas stations close earlier in the evening in the fall/winter/spring time.
Kirk and Mariska are wonderful hosts. The house is amazing and it had all the amenities you could need. They offered great advice for where to go and what trails to hike in Algonquin. Can't wait to return as one night was not enough! See you again soon!
Samantha
2016-05-25T00:00:00Z
Mariska and Kirk were very warm and accommodating. The property is beautiful and very close to Algonquin Park. We had an excellent time and would love to stay here again.
Rae
2016-06-20T00:00:00Z
we had a great time at this place. it is well maintained and we had everthing we needed. we enjoyed it a lot.
Nicole
2016-07-25T00:00:00Z
Our stay at the Algonquin Hideaway this past weekend was excellent. The place was extremely clean, beautifully furnished and much better than I had anticipated it would be. In the evening we arrived, Mariska checked in on us to ensure we had settled in nicely, which we really appreciated. Mariska and Kirk have included just about everything a person would need for a weekend away from home… all you need to do beforehand is bring clothes and groceries! The unit was nice and cool as well, which was great given the 30 degree weather we had this weekend. Although they have a cat in their own part of the house, I can confirm that my cat allergies were not affected at all. I whole heartedly recommend this place to anyone wishing to visit Algonquin. Mariska and Kirk were nice people and hosts and the place everything we could have hoped to have and more for our trip.
Samantha
2016-05-30T00:00:00Z
Mariska and Kirk were very friendly and we had a warm welcome. Appreciate the recommendation of them for the hikes. The home is an excellent place , clean, quiet and we would choose this place definitely again for next time. The way to the Park is short and also a daily trip to the main capital is possible.
Julia
2016-08-25T00:00:00Z
We really enjoyed our stay at Algonquin. Kirk and Mariska were great hosts, very welcoming and friendly and gave us great tips on where to visit. The hideaway is perfectly located for visiting the park, it was clean and cosy.
Lara
2016-09-06T00:00:00Z
We had a great stay at Mariska and Kirk lovely home. It's super cozy and the room was very comfortable and private. It was nice having shower and bath for our own to use. The home is on a rural property really conveniently located to Algonquin Park . It's really pretty and quaint. I loved the home and the property it was on. The room itself was super nice. The linens (towels and sheets) were super plush and comfy. The bed was really comfortable too. We slept really well there after skiing in the Park. Everything was really nice and very clean. It's actually a great location. We had a great stay here. I would highly recommend it to anyone. We would love to come back again sometime.
Margaret
2016-02-29T00:00:00Z
Our stay was absolutely amazing!!!! Mariska and Kirk were very accommodating, friendly and informative. We were pleasantly surprised how much better our stay was because they were such great host. We were greeted when we arrived and were given lots of information on the area. The apartment was very clean and comfortable. The bed was great as well as all the plush linen to sleep on. We enjoyed a beautiful relaxing fire on quiet , crisp winter night. The kitchen was well equipped with everything we needed. It was a great spot to spend our vacation with a 3 month old baby and dog and was conveniently close to Algonquin. I highly recommend staying here and we hope to visit again in the summer.
Robyn
2016-03-20T00:00:00Z
Room Type
Entire home/apt
---
Property Type
Flat
---
Accommodates
4
---
Bedrooms
Whitney, ON, Canada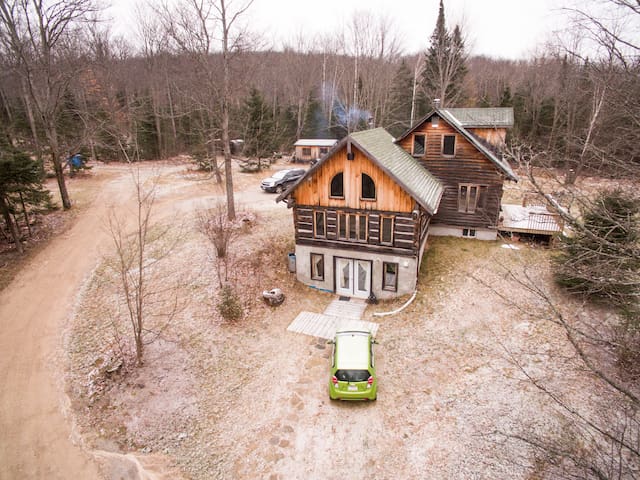 Private and quiet 2 bedroom apartment with ample parking, large wooden deck with furniture and BBQ, laundry, facing gardens, fire-pit, and trees, located on a main highway on edge of Bancroft, 1 hour from Algonquin Park, 20 min from Silent Lake Park.
This is an attached but private fully furnished 2 bedroom apartment with living room, fully equipped kitchen, and 3 piece bathroom. All linens are supplied and included in the price. One bedroom has a queen bed, the other a double bed, and the living room couch pulls out into a double bed. There is also a fold-up cot for use. We are 5 km from the town of Bancroft, Ontario on a main highway, Hwy 28S. Bancroft is one hour south of Algonquin Park and 20 minutes north of Silent Lake Provincial Park. A BBQ and fire-pit are also available for use. Wireless internet is available for use. Pricing is per double occupancy per night. Ask about bringing pets.
We have easy access to town, are within one hour of Algonquin Provincial Park, and 20 minutes of Silent Lake Provincial Park. There are several lakes, hiking spots and rivers in the area.
Great place and perfect stay. It is a very functional place, like having your own apartment. Everything you need to cook and live. Will stay there again next time I need a place near Bancroft.
Dan
2015-08-20T00:00:00Z
Located just outside Bancroft; host gave good directions & was very accommodating re: several changes in # of guests. Suite was as described & was clean & comfortable. Easy ample parking. Very helpful document with wifi password & other info about where to find things, etc.
Rachel
2016-02-29T00:00:00Z
Carolyn was very responsive, and although we didn't get to meet, everything went extremely smoothly. Waddle Inn is large, roomy, well equipped, cozy and comfortable. It's an ideal location if you're visiting Bancroft and want to use it as a base to explore the entire area. The beds are comfortable, the kitchen is very usable, the living room is a good place to hangout and read or talk. It's very clean with an excellent shower in the bathroom. Definitely a very good deal! We will stay there again next year.
David
2015-06-14T00:00:00Z
Nice and clean! lovely house. I recommand this house for staying.
호관
2016-09-18T00:00:00Z
We recently stayed at the Waddle Inn as a mini-vacation to get away from the city. We only spent a day and night here, but our overall experience was excellent. Carolyn made us feel welcome and at ease as soon as we arrived and gave us all the information we needed to have a wonderful stay. She was not here for the time that we stayed, but she did meet us briefly before leaving. We had everything that we needed. The house is a quiet, peaceful retreat in beautiful natural surroundings and perfect for de-stressing or just relaxing for a day or for a few weeks. Everything was spotless, and we were free to use the facilities (wi-fi, kitchen etc) as we pleased. I would definitely stay here again if I'm ever in the Bancroft or North Kawartha area.
Faiyaz
2015-05-31T00:00:00Z
Carolyn was a wonderful hostess. The space was as describe, warm, clean and with a great view of the snowy forest. I enjoyed her flexible breakfast approach. This gave us a chance to sleep-in and dictate our own schedule. The breakfast options were well-considered, fresh and diverse. Our stay was peaceful and relaxing; as we hoped. Great place to stay! My wife and I will surely return, when we are in the area.
Mihail
2016-02-15T00:00:00Z
A very cozy and clean place! Very nice people! I definitely recommend them to anyone visiting Bancroft.
Javier
2016-05-23T00:00:00Z
Carolyn was very accommodating and made sure that we had everything that we could hope to need. When we arrived, our room was prepared with linens on the bed, (portable) air conditioner set up and on, and codes to the front door and Carolyn's # in case of further questions. The only minus was that our room lacked a lock, which is vital for security and privacy, and it was something that was always on our mind, as the others that stayed at the same time as us could've walked in at anytime.
Steven
2015-08-01T00:00:00Z
Room Type
Entire home/apt
---
Property Type
Flat
---
Accommodates
6
---
Bedrooms
Bancroft, ON, Canada