Meine Unterkunft ist in der Nähe vom Stadtzentrum, öffentlichem Verkehr, Restaurants, Einkauf . Du wirst meine Unterkunft lieben wegen der ruhigen aber zentralen Lage zur Altstadt Baden (5 Min) und dem Stadtzentrum von Zürich (30 Min). Das kleine, originelle Studio ist komplett ausgestattet. Der Schlafbereich ist auf einer Galerie. Meine Unterkunft ist gut für Paare, Allein- und Geschäftsreisende sowie für Kurs- und Seminarbesucher.
The place is clean and very well-equipped. We can even cook our own meals with the electric stoves provided!
Ong
2017-02-14T00:00:00Z
Super unique with the loft style apartment. Cozy and quiet. Well furnished with a mini kitchen. Great location and value for money. Most importantly an awesome host. Always ready to assist.
Siti
2016-12-27T00:00:00Z
Good
Gab
2017-01-31T00:00:00Z
Very clean and spacious place. Good location. we would stay here again.
Aubree
2017-01-10T00:00:00Z
Eveline's studio is nice and cozy. It is located just where Baden turns into Wettingen and you can easily reach in on foot (20min) or via bus from Baden Central (take bus 1 or 7 get off at "wettingen Langenstein" ~ 7min travel). The studio itself was bigger than expected and perfectly equipped to host 2 people. It had basic toiletries, cooking gear and even some complementary sweets/water. The facilities were clean and the bed a bit soft but comfortable. Eveline provided a TV, microwave, hair dryer, adapter for German plugs and an iron. At times it was a bit cold but turning on the floor heating solved that problem. Our contact with Eveline was very friendly, she provided great info and was helpful and hospitable.
Frauke
2017-01-03T00:00:00Z
It was very nice and clean apartment and very very close to the central street. Not very easy for large persons and old. Excellent for someone who needs to do business and move with a car around except Zurich.
Dcanman
2016-11-27T00:00:00Z
Communication: 100% Cleanliness: 100% Quietness: 100% Nice place that can very much recommend. I didn't meet the owner, but the communication we had went very well. Only thing: The stairs are quite steep, nothing for drunk people (which I luckily was not) ;-)
Simon
2016-11-18T00:00:00Z
It was a nice place to stay. If it was possible I should have stayed for a longer period. It is a cosy appartment. All the necessary equipment is in the appartment. Pitty that there is no microwave and there is to less light. So difficult to read a book at night but overall very good. Thank you Eveline for your hospitality and taking care of everything. Overall: A nice place to stay
Franco
2016-10-01T00:00:00Z
Room Type
Entire home/apt
---
Property Type
Flat
---
Accommodates
2
---
Bedrooms
Wettingen, Aargau, Switzerland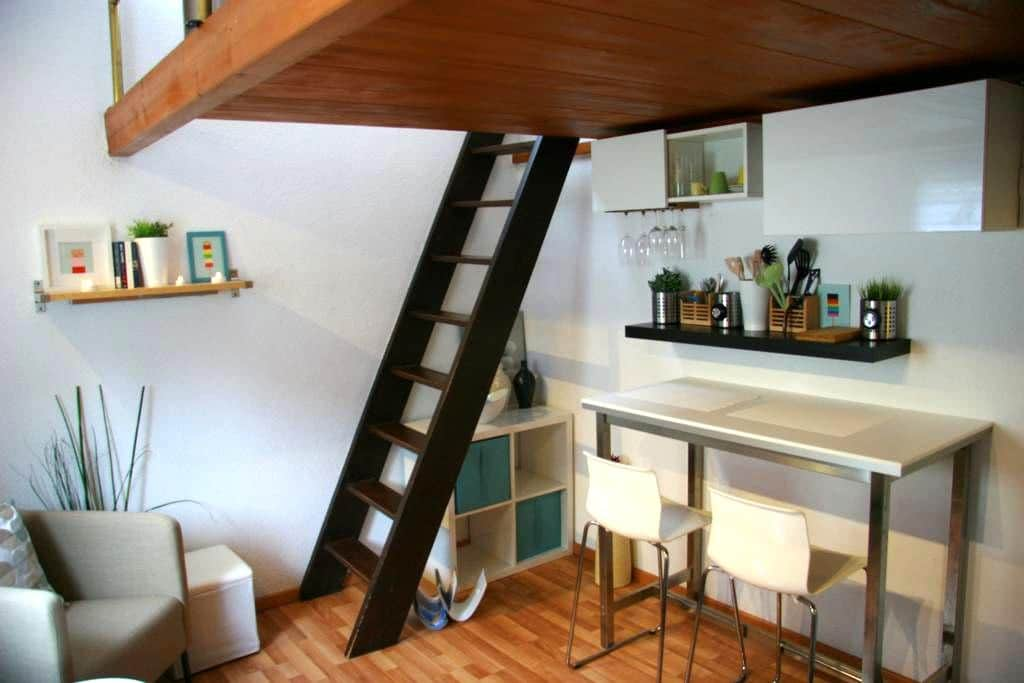 Nähe Bahnhof mit schönem Blick auf die Limmat gelegene Wohnung. Mit der Bahn in ca. 20min. am Zürich HB. Parkplatz vorhanden, Küche, Wohnzimmer, Bad, Balkon kann mitbenützt werden.
This accommodation is everything and more than what is described. Daniela is the perfect host and an amazing woman. Would recommend her place 100%.
Donna
2016-12-16T00:00:00Z
Daniela's home is close to the Wettingen train station. Several supermarkets are in a few minutes walking distance. The wifi is available and in good condition. There are many interesting places to visit including Wettingen's vineyard, monastery, Limmat's riversides, Baden's old city ... Daniela was very kind to explain me the local environment and lifestyle. She was also very helpful to make my stay easy. Thank you Daniela.
Yi-Kang
2016-06-05T00:00:00Z
I have had a very good time while beeing Daniela's guest. Atmosphere was very open and friendly. I recommend staying as Daniela's place a lot.
Maciej
2016-04-23T00:00:00Z
Everything perfect!
Alvise
2016-03-20T00:00:00Z
Very nice neighbourhood in the outer suburban area of Zurich. Daniela was very helpful and hospitable during my stay with her. Would definitely stay again and highly recommend :)
Lee
2016-09-04T00:00:00Z
Die Zeit bei Daniela war sehr angenehm, unkompliziert und verbunden mit vielen interessanten Gesprächen. Immer wieder sehr gerne. Ein Geheimtipp in Wettingen.
Götz
2017-01-25T00:00:00Z
persona disponibilissima e precisa. vivamente consigliata
giovanni
2017-02-06T00:00:00Z
Sempre super
Antonio
2016-07-09T00:00:00Z
Room Type
Private room
---
Property Type
Flat
---
Accommodates
1
---
Bedrooms
Wettingen, Aargau, Switzerland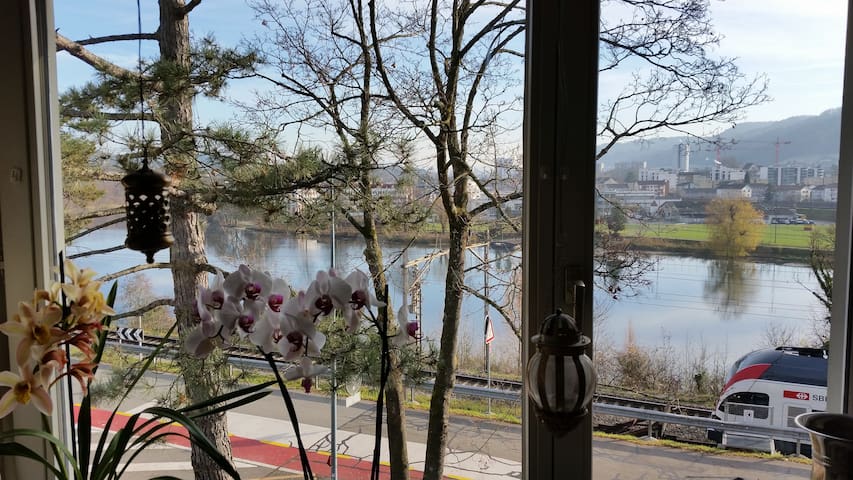 Cosy, comfortable small apartment with fully equiped kitchen. There is a small balcony too. Bus stops in front of the house (direction train station Wettingen, Baden or Tägi). A lot of shopping facilities around the corner. Perfect accommodation for singles or a couple. The apartment is on 1st floor in an old house (3 apartments in total). You sometimes can hear the people upstairs walking around. Shared Laundry is located in the basement.
I stayed at Franziska's place one month. It was a perfect place to stay in Wettingen!! Close to train station and bus stops as well as shops. Franziska is a great host - helpful, nice and reliable. Contact with her was extremely easy, she always responded within minutes. She really made me feel at home, everything was clean, prepared for my arrival really nice. She left me very helpful and clear instructions about how to use all the devices and things in the apartment; it made my stay even easier. I can sincerely recommend Franziska's apartment and her as a host to all airbnb users :)
Joanna
2017-03-01T00:00:00Z
Room Type
Entire home/apt
---
Property Type
Flat
---
Accommodates
2
---
Bedrooms
Wettingen, Aargau, Switzerland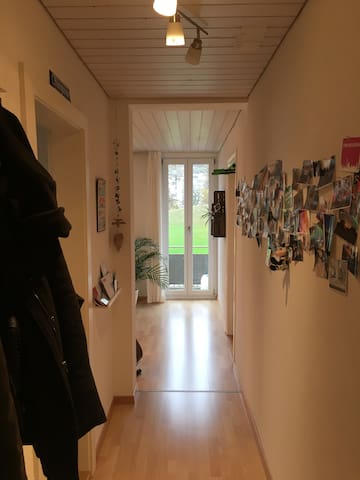 Bright cosy 3.5 room appartment (60m2) sleeping space up to 6p (3 beds / additional inflatable bed if needed) two bedrooms one living room with cosy sleeping couch. Ideal gateaway place close to Zurich / BBQ area / WiFi / parking / incl. linen&towel
It's a lovely cosy and bright 3.5 room apparment in a house with 3 flats surrounded by a large garden with BBQ area and a small "chalet" with space for 8-10persons ideal for a cosy swiss fondue evening or to invite some friends over. The appartment comes with free and fast WiFi at a speed of 10MB/s
It's a house with 3 appartments. I'm living in the middler appartment while Ivana lives on the upper floor. We're both very open and welcome you to Altenburg. We do our best that you enjoy your stay. It might happen that we invite you for a typical swiss cheese fondue to the chalet if you like.
The host canceled this reservation 23 days before arrival. This is an automated posting.
Andres
2016-08-13T00:00:00Z
Excellent location. Perfect apartment for a stay in Zurich. It will always be my accomodation in Switzerland. Thank you
Luca
2016-02-15T00:00:00Z
Pleasant stay in a very pleasant place. A very clean and warm apartment, kitchen equipped with everything you need, tastefully and usefully furnished rooms, it is possible to reach downtown in 10 minutes on foot and there is a supermarket also very close. We were very satisfied, thanks also to kindness and courtesy of Ivana and Chris.
Sergio
2016-03-27T00:00:00Z
Christian met me on arrival. Apartment was as per description. Well presented and very very clean. Good location and thanks for all the choclate. Great stay. Thanks Frank
Frank
2016-01-23T00:00:00Z
We only stayed here one night and it was pretty much a place to sleep in between stops, however our experience was very positive. Instructions were clear, the house was super clean and spacious, Chris was friendly and responsive, and the beds were comfortable.
Aaron
2016-02-03T00:00:00Z
Our most comfortable airbnb! It was spacious, the wifi was great, the beds were comfortable, and Christian was wonderfully flexible and helpful. It was close to the public transport and a great place to come home to every day but was definitely a bit outside Zurich.
Olivia
2016-04-01T00:00:00Z
The place was amazing! Just as seen in the pictures... very clean, elegant, and furnished with all you need. The host was very attentive and thoughtful.
Allison
2015-12-30T00:00:00Z
Thank you for everything Christian, we love staying at your home. Thanks for the welcome and the beers. Your house is very nice and beautiful and your neighbors are very dear.
Katiucia
2015-12-28T00:00:00Z
Room Type
Entire home/apt
---
Property Type
Flat
---
Accommodates
6
---
Bedrooms
Wettingen, Aargau, Switzerland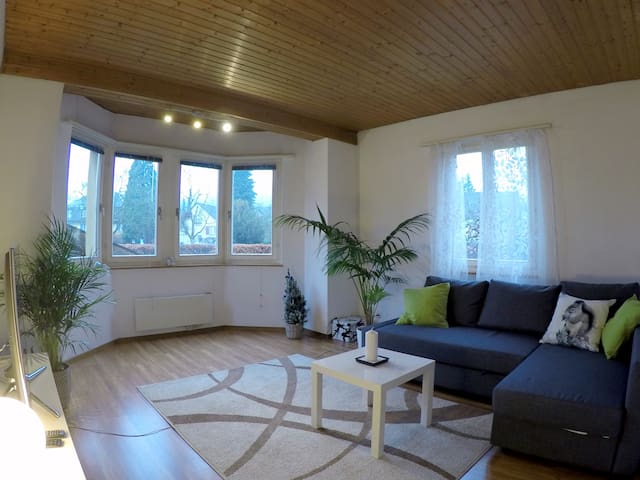 It's a one room apartment just below the roof. Simple, clean and with an ideal location. Eine ideal gelegene 1-Zimmer-Dachwohnung mit ruhigem Umfeld.
Nice apartment. All was as expected. Very clean flat, everything clearly explained. Alex is a perfect host.
Vitaliy
2015-12-30T00:00:00Z
Wohnung wie beschrieben, sauber und gemütlich.
Hubert
2016-01-08T00:00:00Z
Room Type
Entire home/apt
---
Property Type
Flat
---
Accommodates
2
---
Bedrooms
Wettingen, Aargau, Switzerland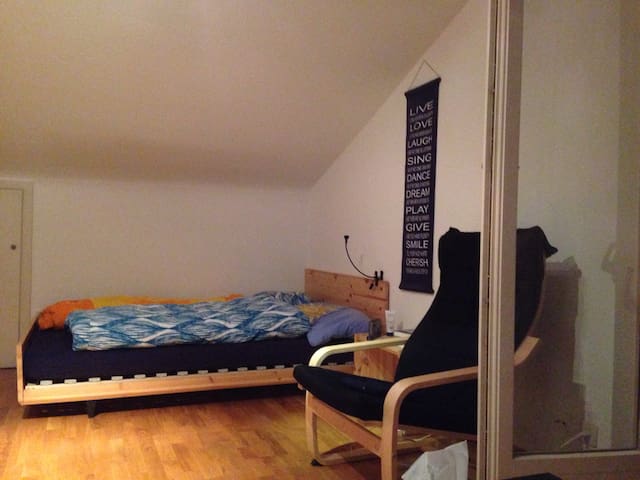 Neue 3.5 Zimmer Wohnung mit Gartenterasse. Die Einrichtung ist modern und gemütlich. Auf dem bedeckte Gartensitzplatz kann man sich auf der Sonnenliege oder der Hängematte erholen. Oder lieber ein BBQ?
Modern 3.5 room apartment on ground level with privat garden access. Master bedroom with a kingsize bed and connecting bathroom. The second bedroom has two single beds with an office desk. The modern kitchen has a bar, dish washer and oven. The apartment belongs to my parents, they live also in Dietikon and will use this apartment in the future as there retirement home. The guest bathroom has a shower, washing machine and a dryer. Privat parking is available in the garage.
Shopping center is within 3 minutes walking distance. Several restaurants and fastfood shops in the area.
Ben and York's place was very nice and clean in a very quiet neighborhood. Easy to get to Zurich City Center. I highly recommend this place when you visit Zurich!
Florentino
2016-07-14T00:00:00Z
Perfect quiet neighborhood. Close to everything you need. Comfortable home. Thanks a lot Ben and York
Julio A.
2016-10-10T00:00:00Z
As a first time Airbnb user, this was a very positive experience.
Barry
2016-09-07T00:00:00Z
We had a fantastic stay! Beautiful home, great facilities and very helpful hosts!! Would def recommend! Thank you for having us :-)
rae
2016-05-26T00:00:00Z
the house of ben and york is really big got enough space for my four family members, and the kitchen is one of my favourite part of the house it is big and there is a lot different kind of kitchen equipments. and if u r looking for a place that close to the train station and a supermarket, this house is your best choice!
Simon
2016-07-31T00:00:00Z
Everything went perfect. Even though we didn't even meet, Ben was available at all times and prompt to whatever we needed. The apartment is great. It is very comfortable, spacious and neat. Great location also. Everything you need is nearby. Highly recommended.
Davi
2016-04-28T00:00:00Z
excellent house with big room, kitchen and lobby. It has good design . The house owner is very kind to us and get everything well prepared.
Linyi
2016-11-24T00:00:00Z
The apartment was lovely and spacious. Situated close enough to the city it was only a 5min walk to the train station and a comfortable 10min ride into the city. Unfortunately we weren't able to meet the host when we arrived so we found it quite difficult to understand where to park and how to find the complex exactly. When we eventually made our way inside there were no instructions on where to park, the surrounding areas and what we could and couldn't use. A number of items, draws, cupboards, dryer and even washing detergents were marked as 'private'. This was a bit of a challenge as we had no real instructions as to what we could and could not use and how to use them so we tried to be as respectful as possible. Overall a comfortable stay but would be nice to have met the host in person and understand exactly what we could and couldn't use.
Michelle
2016-07-21T00:00:00Z
Room Type
Entire home/apt
---
Property Type
Flat
---
Accommodates
4
---
Bedrooms
Dietikon, Zürich, Switzerland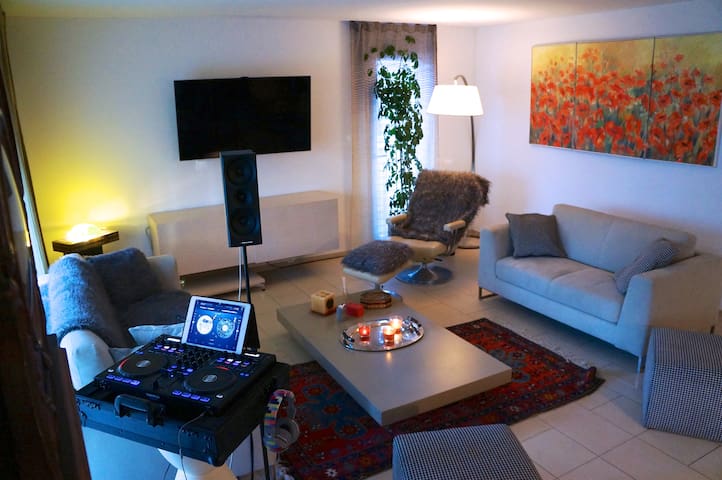 Komfortable Einliegerwohnung im 2. Stock in freistehendem Einfamilienhaus mit Garten; ruhige Wohnlage; gute Nachbarschaft; wir besitzen einen Hund; kein Parkplatz, Parkhaus in der Nähe; öffentliche Verkehrsmittel (Bahn, Bus) und Einkaufen in 5 Minuten erreichbar. Comfortable apartement on the 2and floor in detached house with garden; quiet residential area; good neighborhood. We have a lovely dog. No parking by the house, car park nearby. 5 min. to the trainstation.
In wenigen Minuten in einem Naherholungsgebiet (Fluss, Wald) ideal zum Wandern, Joggen, Biken
Edgar and Rita's place is amazing! The photos don't make justice to the actual place!! It is big, just 10-15 min train ride to the centre and 5min walk to an Aldi or a coop shop. The beds are very comfortable and you have everything you need in the kitchen. It is like staying in a 5 stars hotel but better! As hosts, Rita and Edgar are great! They treated us amazingly and they are very very lovely. If you have the chance, I recommend this place 100%! we had an amazing time. Thank you Rita and Edgar for everything :)
Fernando
2016-07-15T00:00:00Z
Staying at the Litschi's apartment was such a nice experience, really felt so warmly welcome. The accommodation is just what my son and I needed and I am sorry we wouldn't stay longer, maybe next time. The host couple is very friendly, always smiling. Their picture says it all. I highly recommend staying there.
Victor
2016-06-08T00:00:00Z
This is a wonderful house and my wonderful experience in airbnb. Rita & Edgar are very kind and lovely. The room is very clean and there is every thing you need. It's perfect for 2-3 person. Many space in the part we lived. The breakfast is super great and yummy. And it's very near to the train station. Hardly reccommend!!
Phureepat
2016-09-21T00:00:00Z
Rita and Edgar are two of the nicest people I have ever met. Thoroughly enjoyed spending time on the patio with wine and chips. Breakfast every morning was awesome. And the apartment was just as advertised, even better. Very close to the train stop and in a quiet neighborhood. Wish we could have stayed longer!
jim
2016-09-08T00:00:00Z
nice place. well maintained.
Sankar
2016-11-07T00:00:00Z
Rita and Edgar are such a great and lovely host. We stayed in the same house with them but had our own apartment with everything we needed in it. The rooms were extremely clean and comfortable. You have a microwave and a coffee maker besides a stove and oven. You also have a great variety of TV channels, with quite a lot of English channels included. Rita was nice enough to prepare us a wonderful Swiss lunch everyday in their lovely living room. We even had a fondue together in their garden the evening before we left - a most impressive experience. 4 nights felt like a short stay. We wish to have stayed with them and their dog Holly longer. The recipe of success is that they are offering a B&B Airbnb with their soul, to quote Rita. We strongly recommend this accommodation in Switzerland. You will simply love the house and the people here like us.
Yi
2016-07-08T00:00:00Z
I really love this couple,they are so kind and lovely. The house is big, clean and beautiful,we live in the third floor, my friend has the big baggage, the husband help us a lot.also we have the single kitchen and (URL HIDDEN) is perfect,we love the whole thing here and if we come back to Switzerland again, I ' m so sure that I will visit them again, the house is just 15minutes train from Zurich HB,very easy to find.Also the supermarket is just 1minute from their house,we really enjoy the wine,the normal Swiss breakfast and our talk. Really really recommend! I think this almost be the best host and house in my journey! Thank u!
楚丽爽
2016-06-12T00:00:00Z
One word to describe our stay~PERFECT! The place was incredibly clean and Rita and Edgar were some of the kindest people you could ever hope to meet! They had a place to sit and relax in their lovely garden and the breakfast was very much appreciated considering how expensive it is to eat out in Switzerland! Lovely dog. Lovely couple. Lovely home. Highly recommend. It's super close to the train station too.
Lori
2016-07-23T00:00:00Z
Room Type
Entire home/apt
---
Property Type
Flat
---
Accommodates
2
---
Bedrooms
Dietikon, Zürich, Switzerland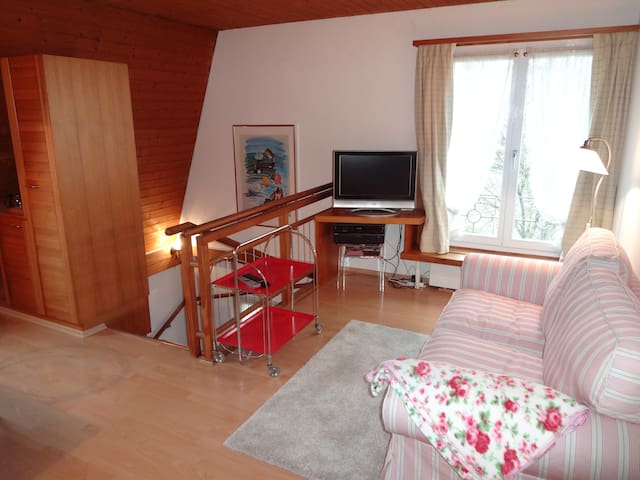 Whole 3 rooms apartment only for you, 22 min. To Zurich main station. From 30 min. Lake of Zurich Light-flooded, nice balcony, A wonderful garden with barbecue place. Bedroom 1 about 17m2. Double bed - 2p. In the living area Schlafcouch - 2P. Bedroom 2 about 17m2. 2x single bed + 1 bunk bed - 3p. The kitchen is ceramic, oven, dishwasher, refrigerator Bathroom with bathtub. The roof apartment is located on the 2nd floor of a 3-family house. - Parking, W-LAN, TV, laundry service is free of charge
Whole 3 rooms apartment with very good traffic connections - in 22 minutes at Zurich main station. - in 30 minutes at the Stadelhofen (Bellevue, Lake Zurich) The light-flooded rental is equipped with a beautiful balcony of 6 m². A beautiful garden with barbecue is also available. Bedroom1 about 17m2. With double bed (2 persons). In the living area there is a sofa bed (2 persons). Bedroom 2 about 17m2. With 2x single bed (2 persons) + a "drawer bed" (1 person). The apartment can accommodate up to 7 people. The apartment is suitable for 4 persons, as the kitchen is small. Just to sleep, you can sleep up to 7 people Own access with key. Only you use this apartment alone. In addition, the apartment has a fully equipped kitchen (new kitchen (2012): oven, ceramic glass, oven, dishwasher, refrigerator, etc.). A bathroom with bathtub, toilet, washbasin. The apartment is on the 2nd floor (flat) of a 3-family house (3 small apartments). The house is well insulated and equipped with floor heating. - Parking in front of the house free of charge. After each visit, the sheets, towels are changed and washed. Bathroom and kitchen all cleaned, vacuum cleaner, floor washed. Look at our reviews. -W-LAN Internet, TV, Iron available. (Washing machine + tumbler in the basement). * We live in the house next door and are at your disposal (tips, etc.)
Food, shopping, restaurants, bus - all very close
Good service and amazing house. We recommend for all famílies and group of friends. Kida is very friendly. Congratulations
Bruno
2017-02-26T00:00:00Z
This apartment is along a rather busy street, but very quiet considering. You have to navigate down a couple of smaller streets to get to the apartment. But do it once, and it's very easy. Although there is quite a bit of foot traffic, it still felt quiet and safe. Kida allowed us to use her gated driveway to park our car. It is a very nice and clean apartment. It fit our family of five very comfortably. Easy drive to Zurich and Interlaken. There is some shopping around, although the "good shopping" might require a short drive or bus ride. The host couple is very sweet and accommodating.
Leakhena
2017-02-20T00:00:00Z
Kida and Ismail are excellent host. Highly recommended for families and small groups.
Anwar
2017-01-01T00:00:00Z
Good and clean house. While it would be better to indicate the additional cleaning charge clearly.
Jian
2017-04-04T00:00:00Z
Very welcoming and put a lot of effort into making sure you have everything you need. We were there just for 1 night after a trip around Swiss to catch the next morning flight. It worked well for what we needed. Thanks for hosting us !
Wan
2017-04-08T00:00:00Z
The appartement is so nice, fully equipped and easy to find. It is not far from the center and the host helped us a lot. They are so friendly and helpful, they prepared everything they mentioned in the list. highly recommended!
Nu
2017-02-23T00:00:00Z
Perfect apartment and perfect host. The host very warm heart, strongly recommend.
Hao
2017-01-07T00:00:00Z
Great!
Gabriela
2017-03-21T00:00:00Z
Room Type
Entire home/apt
---
Property Type
Flat
---
Accommodates
7
---
Bedrooms
Dietikon, Zürich, Switzerland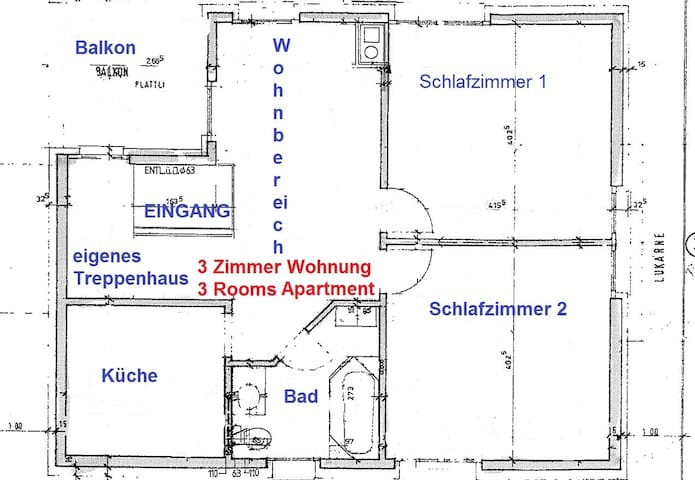 Unser kleines, gemütliches Gästezimmer ist ideal für 2Personen. Das grosse Schlafsofa bietet wunderbare Erholung. Bei 3Personen kann ein sehr bequemes Luftbett (191cm lang, 99cm breit) anstelle des Tisches dazugestellt werden. Dann wird's eng. Die Wohnung befindet sich 15min zu Fuss vom Bahnhof. Supermärkte, Bushaltestellen, Restaurants, Wald, Schwimmbad in unmittelbarer Nähe. Parkplätze sind rar und kosten 2CHF pro Tag (Mo-Sa 8-19Uhr). Bei uns ist jeder willkommen, ob für kurz oder lang.
Wir sind ein Pärchen 30&34 Jahre jung und stellen unser Gästezimmer gerne zur Verfügung. Das Gästezimmer mit ca.12qm ist Teil einer ca.57qm kleinen 3,5-Zimmer-Wohnung. Der kleine Balkon lädt Sonnenliebende trotz seiner "Grösse" zum Verweilen ein, auch Frühstücken ist dort möglich. Das Gästezimmer ist zur Hauptstrassenseite hin gelegen, die vor allem am Morgen und zum Feierabend stark befahren ist. Nachts ist es eher ruhig. Das Schlafsofa ist lang und breit genug.
ruhige Gegend; Flussufer und Wald ermöglichen Spaziergänge oder kleinere Wanderungen; in ca. 10min erreichst du mit dem Bus das grosse ShoppingCenter Spreitenbach; Schwimm- und Freibad, Reitsportzentrum, Tennisanlage sowie Fitness, Kultur in der Nähe
Sehr unkomplizierte Gastgeberin - merci! Das Zimmer liegt auf eine befahrene Strasse hin. Im Sommer wäre es wohl schwierig, mit offenem Fenster ruhig zu schlafen...
Marc
2017-02-03T00:00:00Z
Alles war super. Gerne wieder. Sehr empfehlenswert.
Johann
2017-01-21T00:00:00Z
Room Type
Private room
---
Property Type
Flat
---
Accommodates
3
---
Bedrooms
Dietikon, Zürich, Switzerland
Die Wohnung ist hell und freundlich mit ca 60m2 Platz für max 4 Personen. Zentral gelegen, nahe an Zürich mit ÖV und Auto sowie Flughafen / Garten mit BBQ area / WiFi / parking / inkl. Bettwäsche & Tücher
We stayed three nights at Christian's house with three children six and younger. Although we were only there in the evenings the apartment was very comfortable, with anything you would need, well located to get to Zurich by train. Christian was at all times of great help.
Elisabeth
2017-03-05T00:00:00Z
Very friendly host. Clean, all useful things in kitchen, bath, etc available. Excellent!
Michael Westerbjerg
2017-02-05T00:00:00Z
messages et visites pour l'accueil, propositions pour les commodités et transports. quartier très calme dommage que l'appartement ne soit pas insonorisé (RDC et appartement au dessus).j'ajouterai des stores ou rideaux dans le salon car en période de très fortes chaleurs il est impossible d'y rester!!!
VERONIQUE
2016-07-22T00:00:00Z
We were warmly welcomed to Christian's flat and enjoyed our stay very much. The flat was lovely and tranquil and we would certainly book it again for another stay. Thank you!
Erika
2016-08-27T00:00:00Z
Room Type
Entire home/apt
---
Property Type
Flat
---
Accommodates
4
---
Bedrooms
Wettingen, Aargau, Switzerland

Quiet neighborhood a few kilometers from Zürich with all the comforts , modernly furnished room, bright, private and comfortable. Public transport and train nearby, playground and very green. The apartment is furnished in a modern and simple. Available Italian breakfast.
Di fronte al edificio c'è un parco giochi, e anche lì potete prendere il bus che vi porterà a la stazione di Dietikon, dove potete prendere il treno per Zurigo Hb in soli 13 min.
Il quartiere e residenziale e molto tranquillo. Con parco di fronte al edificio e molto verde, a due passi avere il fiumi da farci una passeggiata, se il tempo lo permette.
Room Type
Private room
---
Property Type
Flat
---
Accommodates
2
---
Bedrooms
Dietikon, Zürich, Switzerland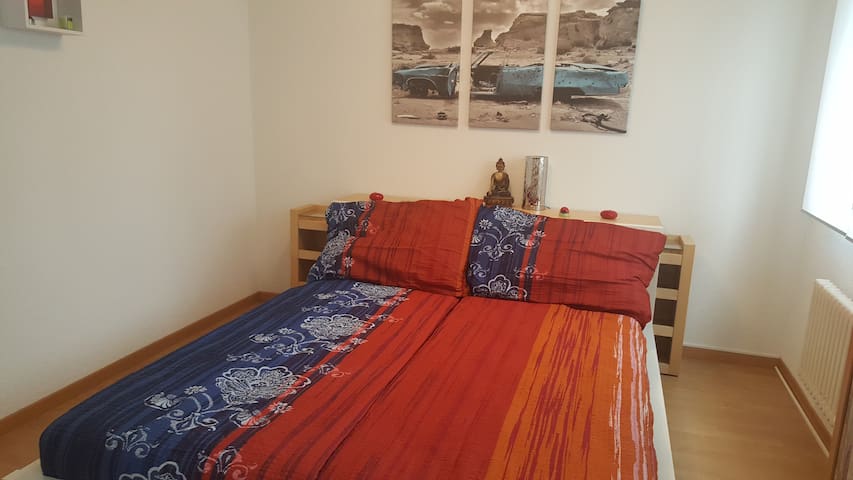 Modern 3.5 room apartment in Dietikon (Zurich). 65 inch TV, Playstation 4, fully equipped, own washing machine and dryer, dishwasher, balcony and a lot more! Every 15 minutes there are trains to the city centre of Zurich and that ride only takes 15 minutes too. There's a river (Limmat) only 3 minutes by foot away. Perfect for swimming, jogging and heaps of other outdoor activities.
Room Type
Entire home/apt
---
Property Type
Flat
---
Accommodates
2
---
Bedrooms
Dietikon, Zürich, Switzerland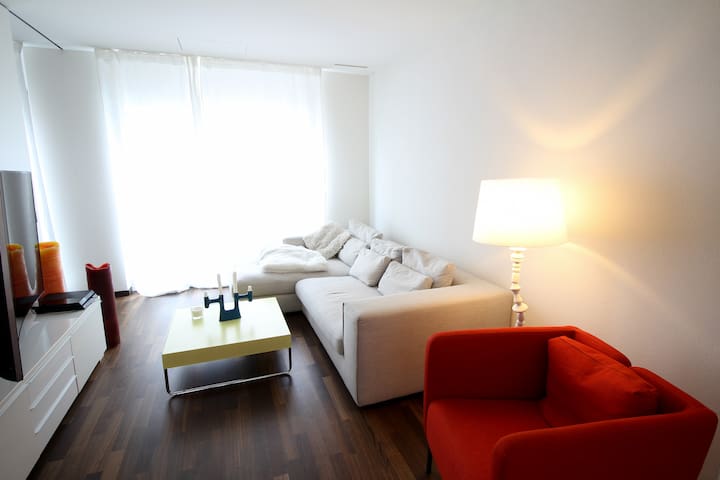 Ich freue mich auf achtsame und sorgfältige Gäste für ein paar Tage in meinem Zuhause. Du wirst meine Unterkunft mögen wegen des grossen Sonnenbalkons und der Nähe zum Bahnhof - in 10 Minuten bist Du in Zürich. Du findest hier Ruhe, Licht, Sonne, Wald und Fluss. Meine Unterkunft ist gut geeignet für Paare, Alleinreisende und Geschäftsleute. Lift vorhanden.
Die Wohnung liegt in einem Mehrfamilienhaus. Deshalb ist unbedingt Rücksicht auf die Nachbarn zu nehmen.
Du findest ein Restaurant und einen DENNER in 2 Min. Gehdistanz. Der COOP ist auf dem Weg zum Bahnhof, 5 Min. zu laufen. Guter Anschluss zur Autobahn, jedoch absolut ruhig und komfortabel.
Room Type
Entire home/apt
---
Property Type
Flat
---
Accommodates
3
---
Bedrooms
Dietikon, Zürich, Switzerland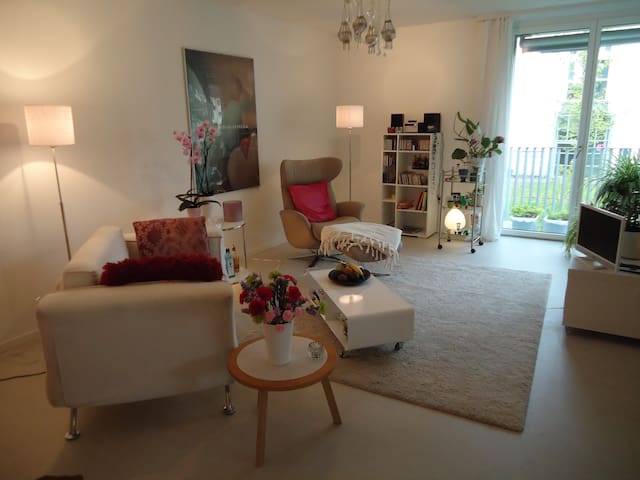 In unserer 5 1/2 Zimmer Wohnung finden sich 2 Airbnb Zimmer. Die Wohnung mit 30m2 Terrasse im ruhigen, grünen Viertel von Dietikon ist nur ca 20' vom Zürich Hauptbahnhof entfernt. Das Zimmer befindet sich im 2. Stock direkt neben unserem Zimmer & dem Kinderzimmer. Im Obersten Stockwerk erwarten dich eine offene Wohn- und Essfläche mit einem kleinen Ofen.
Vom Bahnhof Dietikon findest du in 5-7 Minuten zu Fuss ganz einfach zu unserer Unterkunft. Etwas am Hang mit traumhafter Aussicht.
Joggen im Wald? Kinderspielplatz? Etwas Shopping? Alles in unserer Nähe.
Ich bin immer wieder gerne hier :)
Nicole
2017-01-15T00:00:00Z
Mona und Luke sind wunderbare Hosts. Sie geben sich sehr viel Mühe, dass man sich bei Ihnen wohl fühlt. So haben wir zusammen Abend gegessen und eine tolle Zeit miteinander verbracht. Ich würde sofort wieder zu den beiden gehen, wenn ich eine Unterkunft in Zürich brauche.
Nicole
2016-09-30T00:00:00Z
Room Type
Private room
---
Property Type
Flat
---
Accommodates
1
---
Bedrooms
Dietikon, ZH, Switzerland
Wonderful location 15 minutes from Zurich Central! The train station is about 5 minutes away by walking! Private room and bathroom in an apartment complex for exchange students!
Dietikon is on the outskirts of Zurich, right by the river. It is a very quiet residential area with everything that you might need!
Steve was friendly and promptly responded to all my emails. The room was clean and well organized.
Sebastian
2016-02-01T00:00:00Z
Room Type
Private room
---
Property Type
Flat
---
Accommodates
1
---
Bedrooms
Dietikon, Zürich, Switzerland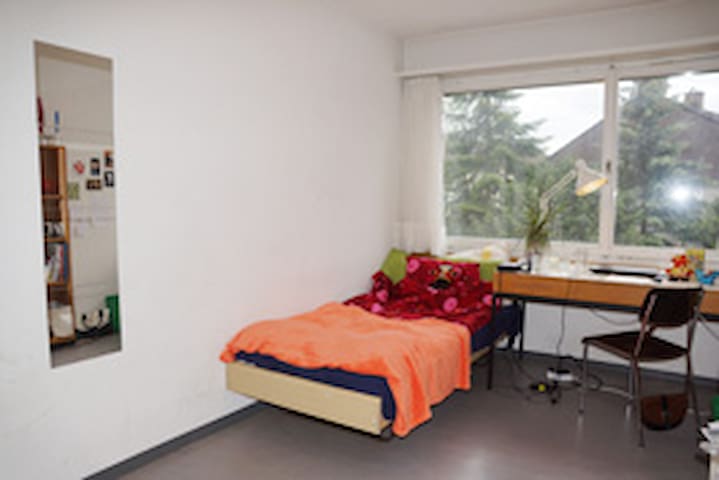 We're renting out our guest room as long we don't have family or friends staying over. It is equipped with a bed, a shelf, and table to work at. It's located very close to the station (2 min) from where you can get to Zurich in 11 min. Feel free to use our kitchen for a coffee in the morning or heating up your dinner. You are also welcome to use our huge balcony - direct access from your room! Please be aware that we have two cats living in our appartment, so nothing for people with allergy
Our flat is located on the 5th floor of an appartment complex close to Dietikon station. It is very spacious and has a huge balcony where it is nice to relax on. Toilet and Bathroom are seperate, so there should be no crowding in the morning. The bed size is 1.40m.
Dietikon is a small village close to Zurich. There are a lot of shops and take-aways around in walking distance.
Room Type
Private room
---
Property Type
Flat
---
Accommodates
2
---
Bedrooms
Dietikon, Zürich, Switzerland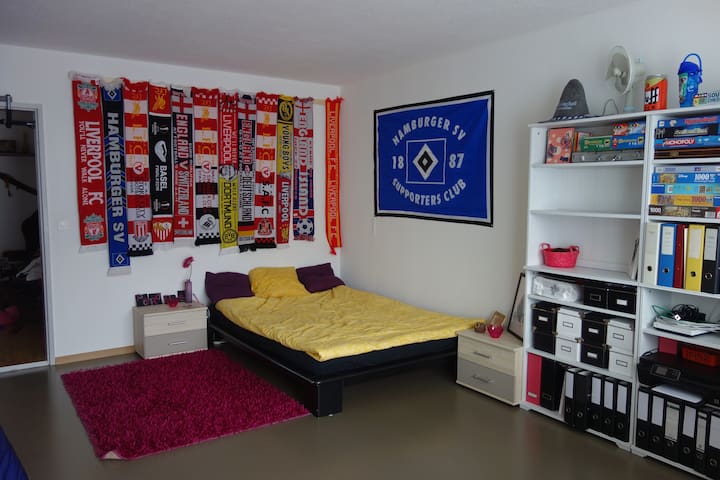 This comfortable and quiet apartment is tastefully decorated and gives a cozy home feeling. Only 22 minutes from Zürich city located it offers direct train connections to the airport and the city. We invite you in our relaxing oasis where you will feel instantly welcomed!
The apartment is situated on the fourth floor and is airy and bright. Your private room has a comfortable 160x200 bed and you have your own bathroom with a tub. Shampoo and shower gel are available. In your bathroom we might only need to use the washing machine and the dehydrator. Towels and linens etc. are of course prepared for you. For breakfast we offer Nespresso coffee with a variety of Nespresso capsules, different tea flavors, milk and best Swiss chocolate powder, homemade marmalade, muesli and fresh bread. In the summer it's great to take the breakfast outside at our balcony! Apart from the private room you will of course have access to the shared space: Dining and living room as well as the balcony. Please use the kitchen only for breakfast. Amenities include wireless internet, dryer, dishwasher, ironing board and flat iron. Street parking is available. We are Véronique and Martin, a sweet and loving couple which also likes to travel around the world with AirBnB. We are working fulltime and rent our guest room from time to times. We are a very easy-going couple, social and flexible, and enjoy getting to know new people from all over the world. We also love to give you city tips! We speak german and english.
Room Type
Private room
---
Property Type
Flat
---
Accommodates
2
---
Bedrooms
Dietikon, Zürich, Switzerland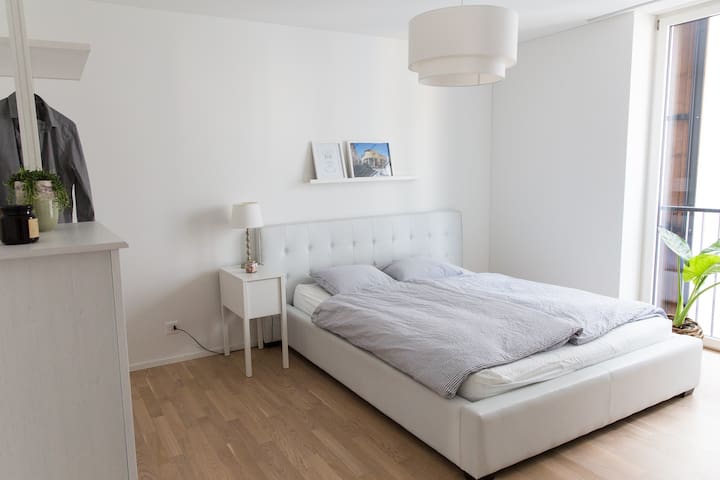 1

–

18

of

160 Flat Rentals
Enter dates to see full pricing. Additional fees apply. Taxes may be added.