Listen to the sounds of rushing water as you sleep in this beautifully finished cabin style tree house. I was recently featured in The Atlantic online magazine article on tree houses. You can find it in the video section of the online magazine.
This tree house is very comfortable with a "full size" bed. There is a micro wave oven and a mini fridge. The stairs wind around the tree to the porch. The guest bathroom is in the main house 30 feet from the tree house. I have pictures of it in the photo section.
I love that I live along the Washougal River, it's my little slice of heaven. Even though it's right in town, I feel like I live in a vacation home year round.
The most inviting and friendly host i've ever met! His place is beautiful, a real nice getaway. Thank you so much for everything. My expectation were exceeded! :)
annie
2015-05-29T00:00:00Z
Lovely experience. Can't wait to go back!
Nathan
2016-09-29T00:00:00Z
The treehouse was awesome! Brian was very accommodating. He made us feel very comfortable and also gave us our privacy. Dobby was super friendly and super cute. We were surprised when in the evening we saw a bunny hopping around the property! Too cute!! We had an amazing time and look forward to visiting again.
Derek
2014-10-20T00:00:00Z
Staying at the Riverside Treehouse was a wonderful and rejuvinating experience and I hope to do it again! Brian is an excellent host. I really appreciated all of the little details, from a flashlight next to the bed to water in the mini-fridge to a collection of DVDs to choose from. The treehouse is a wonderful treasure I'm so fortunate to have discovered!
Gina
2014-08-01T00:00:00Z
We just had THE best experiences of our lives living in that tree house. The place was just so charming because it was simple and grounded. I definitely want to go back. Very nice host :)
Lakshmi
2014-10-14T00:00:00Z
Brian is an exceptional host and one of the most genuine and nice guys you'll ever meet. That and an amazing tree house what else do you need in life?! The tree house is located right in between Portland and all the great hiking spots. The sound of the river at night puts you right to sleep and Brian provides you with movies,popcorn, a fridge, microwave and a cool pal named dobby. Needless to say, we will be back again! Hope to see you soon Brian.
Brad
2015-09-29T00:00:00Z
Brian's treehouse was cozy, and I left the windows open to listen to the river all night. It was the perfect quick overnight getaway. Thank you, Brian.
Audrey
2014-10-11T00:00:00Z
Great space! I cannot rave enough about what a beautiful experience this was. The location is superb... My dogs were welcome, which was awesome. There's a hot tub, a big deck, a hammock, and the river, of course. The tree house is stocked with lots of goodies, but best of all... There's a space to shower and a Keurig coffee machine! I enjoyed chatting with Brian. Very nice fellow. Also meet his pooch Dobby and a friend. Very inviting - warm and welcome feeling from this adventure. Hoping to visit again in the warmer months. :) I'd definitely recommend this place to anyone without hesitation! Thanks for your hospitality Brian and Dobby.
Jaime
2015-12-01T00:00:00Z
Room Type
Private room
---
Property Type
Treehouse
---
Accommodates
2
---
Bedrooms
Washougal, WA, United States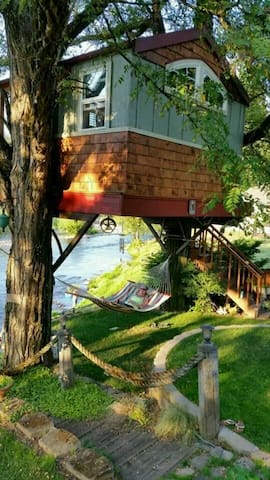 Located at the gateway to The Gorge, 15 minutes East of the Portland, Oregon airport, on a quiet city street, walking distance to the Columbia and Washougal rivers, and nearby Amnesia brewery. Rental in includes the use of the Tree House, Tiny House and main 4 bedroom, 2 bath main home.
Space includes the use of the 4 bedroom, 2 bath, main home use of the tree house and tiny house on the property.The property is within walking distance to the Washougal River, Columbia River, grocery stores, brew pubs, a few restaurants and convenient stores. It is a short drive to a lot more restaurants, movie theater and stores. It is 30 minutes outside of downtown Portland. Access to the tree house is up a vertical ladder about 12 feet, so you must not be afraid of heights! This structure is well built, and sturdy, and is often slept in, but you must understand the inherent dangers associated with tree houses prior to your stay. This tree house is not suited for young kids.
The house is walking distance to the Washougal and Columbia river. There are world class hiking and biking trails nearby. The property is located in the city of Washougal.
This place is awesome.
Lisa
2016-11-25T00:00:00Z
I had such an AMAZING time in Kenny's treehouse. It was living out a childhood dream. Absolutely perfect! The treehouse was comfortable, warm and lovely to stay in, with all of the charms that you would want: a swing, a basket, great natural light and fairy lights by night. And a gorgeous dog! We had access to all of the facilities we needed inside the house, and Kenny ensured we had everything we needed. Kenny and Aimee were the perfect hosts and friendly, laid-back people. Chatting to them was lovely, and they gave us privacy as well. I had initially booked just for myself, but they were happy to accommodate me bringing a friend at the last minute. The nearby rivers are beautiful and worth checking out at sunset. Such a charming place!
Ai
2012-10-02T00:00:00Z
We stayed with Kenny last month for our last night in Portland and we had a great time! We wish we had more time in the treehouse because it was pretty awesome. I highly recommend it to anyone looking for something a little out of the ordinary. It's built very well - just like a house actually - so we didn't have to worry about any unwanted 8 legged creatures coming in at night. Also, Kenny and Aimee were great hosts with lots of suggestions for restaurants and activities nearby.
Andrea
2013-08-29T00:00:00Z
We felt very comfortable in arranging the reservation and also upon our arrival and during our stay. Thanks Kenny
Eric
2016-10-03T00:00:00Z
Kenny was great, very helpful and warm. The place looked as pictured, really fun and original.
Chantal
2015-06-20T00:00:00Z
My wife and I rented Kenny's tree house for a valentine's picnic and smooch day. Kenny was great, and so was the tree house. We felt like we were in our own cozy little world. Perfect!!
Carl
2012-02-14T00:00:00Z
Kenny and Aimee are a super awesome couple and staying in their treehouse was magical! I had a really great time--the treehouse is incredibly cozy, a great homebase in the Gorge, and a fun place to hang out. Aimee was really helpful in giving me advice on places to go and things to do/eat, both in the Gorge and around Portland. I had a really great time hanging out with her and would love to come back!
Veronica
2012-07-28T00:00:00Z
Be not afraid of spiders and steep steps and you'll really love this treehouse. Had a great night sleep in a sleeping bag and with some Christmas lights up, too. More importantly, Kenny is exactly the reason I continue to use and host on airbnb; he's kind and thorough. His place is clean and the yard is wonderful. And, based on Kenny's reccs, I learned first-hand that Our Bar in town serves up an exceptional meal. 5-stars.
Emily
2013-09-15T00:00:00Z
Room Type
Entire home/apt
---
Property Type
Treehouse
---
Accommodates
12
---
Bedrooms
Washougal, WA, United States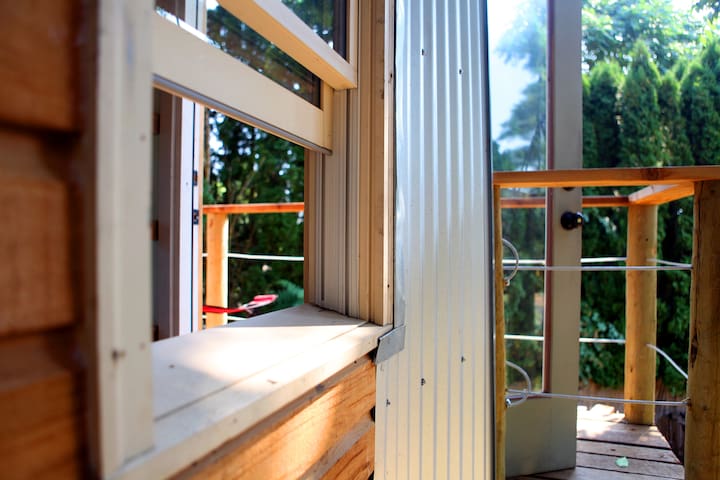 Our lodge style, 3300 sq. ft. home is available for rent. Listing includes; 2 wheel barrows full of firewood, a fully equipped kitchen, private entrances for 3 bedrooms, plus linens for 11 beds. The house sits on 40 acres in a beautiful area and some camping (additional fees) is possible. Great for gatherings and small weddings! Sleeps 16.
Perfect for family reunions, birthdays, small weddings (maximum 75) and corporate retreats. There are 6 bedrooms including 6 queen beds and 2 sets of bunk beds and one single day bed (+).
The Mountain Pleasant Community is a close knit group of residents who look out for one another's properties, thus creating a safe environment for peaceful living. We are a residential area and are respectful of our neighbors. Music past 10 pm and raucus partying is not permitted . We take pride in the beauty of the gorge and are active in making decisions related to it's development. We are located close (walking distance) to the trail head for The Cape Horn Loop Trail and to The Ozone climbing wall. We are located within the Columbia River Gorge National Scenic Area.
We held our wedding at this amazing place. Steve and Elsie were both gracious and accomodating. They offered to help us at any point to make the wedding as smooth as possible. The place was perfect for both our families to stay at for the week and for the wedding itself. The pond and horses were great highlights. The kids really enjoyed petting and feeding the horses and watching the ducks in the pond. I would definitely come back for another family function or bringing friends for a nice get away!
Peter
2015-06-17T00:00:00Z
I was expecting a great experience based on the pictures and we got much more than that! I came down for a weekend with 15 friends for a wedding in Portland. We all got comfortable sleeping quarters and loved spending Saturday and Sunday morning lounging in the house, exploring the 40 (!) acres of property and exploring the area. We would definitely come back!
Andrew
2016-03-30T00:00:00Z
Steve was a fantastic host who was very flexible. We arrived later than expected and also requested to leave a little late. Steve was accommodating to all of this. The property itself was exactly as described and just what we were looking for. My group of friends is already looking forward to a return trip! Thanks, Steve!
Jason
2015-11-16T00:00:00Z
A group of 7 of us stayed here for a week while at a trade show in Portland. The house was a bit further than expected, but other than that it's an incredible place — lots of space and perfectly decorated. We would definitely recommend this to anyone, and hope to stay there again when we come back in 2 years.
JP
2014-10-19T00:00:00Z
The Columbia River Gorge Guest House was the perfect venue for our wedding. The house was very comfortable for all of the guests and Steve was very responsive and helpful through the entire process. We had several people in from out of state, and it was the perfect location to show off the beautiful northwest. The location provided us with a lot of extras included with the rental that helped us with setting up everything for our wedding ceremony. Everyone particularly enjoyed the decor of the place, which made for a lot of conversational bonding. The house was very well stocked with towels and kitchen supplies and made it easy to cook for several people.
Christopher
2016-09-15T00:00:00Z
This was our second trip to the Columbia River Guesthouse. It is a great bargain for the ammenities that are included. I hope to return again.
Emily
2017-01-29T00:00:00Z
Myself and 16 friends stayed here over new years weekend and loved it. Steve was very accommodating and the place was clean and well equipped. While we were there, we had about 6" of snow and Steve plowed the driveway and shoveled the walkway for us. He also told us where he keeps the sleds! The house was clean and had everything we needed for our stay. We especially loved the wood stove and all the wood that was provided. Safe to say, we had a great time and are considering making this our go-to family and friends events destination.
Cameron
2017-01-02T00:00:00Z
Steve's listing was perfect. He greeted our group on check-in and gave us a tour of his amazing home. The space was perfect for working and then hanging out with my team. Steve was helpful from the moment I messaged to him to organize the trip to the moment we were checking out. I highly recommend staying here if you get the chance.
Erin
2015-07-09T00:00:00Z
Room Type
Entire home/apt
---
Property Type
House
---
Accommodates
16
---
Bedrooms
Washougal, WA, United States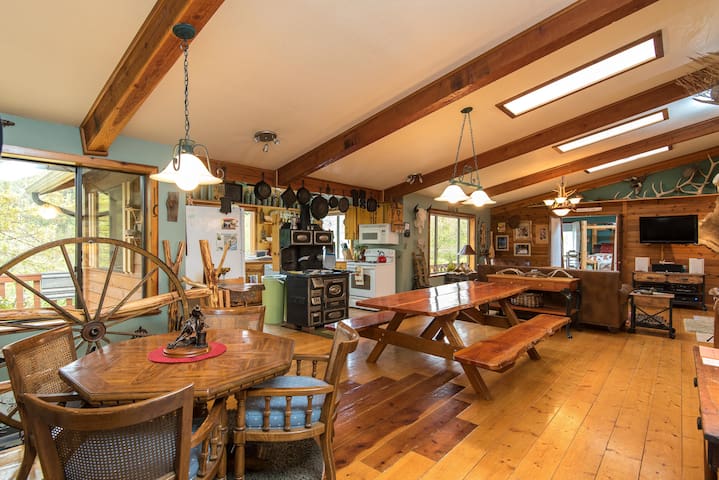 Come enjoy the rushing waters of the Washougal River and go Steelhead fishing. 45 min from PDX or Hood River. . River's Rest has river access and a great fishing hole. Only 5 minutes to the Columbia Gorge! Rivers Rest can accommodate up to 8 people with the second bedroom.
Enjoy the sight and sounds of Washougal's rushing waters. $115.00 a night for two guests and a two night minimum.) River access for fishing or floating. River's Rest is only 35-40 minutes from PDX airport and 25 minutes to the Pacific Crest Trail. The Columbia Gorge is only 5 minutes away with many destination hikes to explore. River's Rest can now sleep up to eight people. One queen size Beauty Rest Bed in first bedroom, a comfortable double hide-a-bed in living quarters, and two extra long Beauty Rest Twin Beds in Sleeping Nooks. River's Rest now has a second bedroom to accommodate 6 to 8 guests. It includes another twin bed and a full-size fold out bed!. However, this bedroom is attached to the main bedroom so it does lack privacy. The second bedroom is great for children or for a slumber party or bridesmaid retreat. Arrive anytime after 3PM and you can stay until 12PM on your last day. (Just in case one last hike is desired) Once you register, I will help you plan an itinerary as there are so many choices. Before your arrival, I will Email you additional information about other possible adventures close by. There is a notebook about 'one day' adventures you can choose to explore while you are here. There is wifi on the premises, a video and a DVD library. A full kitchen minus dishwasher awaits you as does a bathtub big enough for serious soaking! No need to bring coffee, creamer and sugar! Decks with rockers are yours to enjoy while watching the river and wildlife. A magical tree house is here for you to enjoy too. This apartment is a great place for a slumber party or retreat! This is an upstairs apartment with a deck overlooking the river. So, you will need to be able to climb stairs. The first floor is a shop and a garage that is not used while guests are staying at Rivers rest. So it is very private (with locks) and you are in a separate building from my home. Children do need to be supervised at all times because of the River Access. There is a Graco crib-bed if needed. Pets are allowed as long as your pet stays on your lap, if necessary, and remains off the furniture and beds. When you leave Rivers Rest for your daily adventures, it is appreciated if your pet goes with you. We ask that your dog stays outside until dry! This is a great space for a bride and her bridesmaids to have a slumber party and to get ready before the big wedding at Capehorn Estates! (20 minutes away) I received a thank-you card that said... "We now have a problem. We will expect ever place we stay to be as nice as your "Get-away Apartment." I would love to share this corner of the world with you. This part of the Pacific Northwest, including the Columbia Gorge, is quite beautiful! Cindy
A Mercantile Store is walking distance away. It has everything when you are in a pinch. They have wine and beer and great sandwiches and u-bake pizzas. You will also be able to buy a fishing license and a Discovery pass you will need to hike in Washington at this store. There is a Safeway in Camas or Washougal for serious grocery shopping! ( You may want to shop there before heading up Washougal River Road.) "The Lady Next Door" catering service is another option for you. Once here, you can place your order for different meal and snack choices. Your order will be delivered to your door! (You may request a menu before your trip to help with your "food plan") Cape Horn School and Malfait Park are walking distance away. It has a great Tennis Court, (we have racket and balls), a rubberized track, half mile walking trail and playground equipment for kids.
River's Rest was even more beautiful and amazing than the photos posted! It was on a private section of the Washougal River that was so relaxing and peaceful. CIndy was so friendly and helpful with tips for hikes and shared her outdoor decks. The apartment was beautiful inside. Cindy gave us directions to her favorite hiking places and lent us hiking sticks. Truly a relaxing vacation. We will be back for sure!
Carolyn
2016-06-07T00:00:00Z
Todd and Cindy were very welcoming, from the Guest Parking sign to the breakfast in the fridge to the comfortable living space they provided. We were not able to walk around much in the neighborhood except to stop by the local mercantile store on our way there. We grabbed some burgers which were pretty tasty. There is also a Safeway in Washougal, about 15-20 min away from the property. Most of our time was spent doing hikes the 2.5 days we (EMAIL HIDDEN)ing back to this place after a long day of hiking was very relaxing, especially popping in an old VHS tape from their video library (we watched the Sandlot). FYI- the wifi only works on the deck and next to the bedroom window. The photos listed in the description were exactly like what we expected when we arrived. My favorite parts about the place were the sound of the river right outside the deck, the spacious living area and the tree house. The dogs loved the property as well! Cindy and Todd were wonderful and gracious hosts. I also appreciated listening to the stories about their property. We want to come back again!
Sharla
2015-09-07T00:00:00Z
Great value and comfortable for five of us. We really enjoyed cooking s'mores on the deck and watching an old VHS favorite. We didn't realize that the major Columbia Gorge attractions are in Oregon and take about 40 minutes to drive to. However it is a lovely location on the Gorge and has closer activities like fishing and innertube that we didn't have time to try.
Ryan
2016-09-01T00:00:00Z
The listing stated that this is a private cabin that accommodates 8 people. There is only 1 small table with 4 chairs and the bedding is very uncomfortable. I would say it accomadates only 4 people. The kitchen has very few supplies so you should bring your own. There were only 2 bowls and a few plates and cups- which definitely does not accomadate 8 people. The bathroom had no lock and would clog after each use. The main concern is that it is not a "private" location. The host lives in a house that is 10 feet away from the cabin and would walk all over your property during the day. There is firewood, but you cannot make a fire for smores unless you walk over to the hosts deck and use her fire pit. This location would be great if you're a group of 4, not looking for any privacy and do not intend on sitting around a camp fire at night.
Valeriya
2016-07-06T00:00:00Z
Our family had a wonderful time. Very restful and scenic place to stay. Wish we had more time to enjoy the deck and fireplace.
Amos
2015-08-03T00:00:00Z
The setting and place are beautiful! Cindy is warm, welcoming, responsive and a wealth of information. A truly lovely experience!
Mary Lee
2016-02-28T00:00:00Z
Wonderful location, residence, amenities, absolutely fantastic. Cindy was away while we were there but her neighbour was there to help us out as necessary. We felt cared for. Thanks Cindy!
Nancy
2016-03-30T00:00:00Z
Cindy is wonderful Host and is very responsive! It was a beautiful piece of property and was very restful. We were a bit disappointed with the cleanliness of the place. It truly is restful and river's rest!
Katy
2016-03-13T00:00:00Z
Room Type
Entire home/apt
---
Property Type
Flat
---
Accommodates
8
---
Bedrooms
Washougal, WA, United States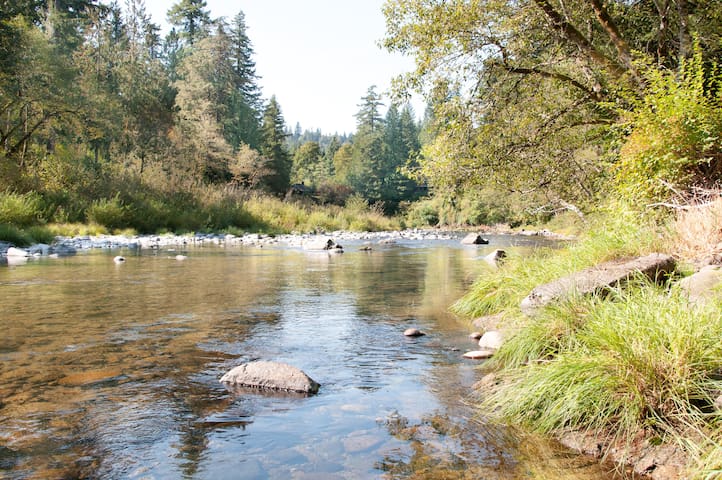 Nestled in a backyard that's home to two cute dwarf goats and two bantam hens, this little cabin overlooks the hot tub, gypsy trailer, and beehive. Serenity and relaxation await you. Complete with an outdoor shower (in the summer months), this is a great place to unwind. Close to the Columbia River Gorge and Mt Hood and only 20 - 30 mins to downtown Portland - you get the best of both worlds. The cabin is good for couples and solo adventurers.
This little cabin is tucked into my half acre backyard. Surrounded by a garden, goats, hens, old growth fir trees, gypsy trailer, and a hot tub - you will also have access to a half bath with a toilet, sink, and laundry in the main house - as well as an outdoor shower on the deck in the summer months. These spaces are shared. The cabin, however, is all yours. The cabin itself is equipped with a queen size bed with memory foam mattress, a table with two chairs, a dresser, as well as a very-mini fridge. This is a space to unwind and relax.
Halfway between Mt Hood and Portland, this spot is a good jumping off point for the gorge, mountain activities, or time in Portland. The neighborhood is partly suburban, partly urban, and partly farmy. It's a big mix out here. Close proximity to Edgefield.
Such a great airbnb! Carolyn's place is magical with an amazing cabin, beautiful yard, and the cutest goats!
Holly
2016-08-08T00:00:00Z
Carolyn was super hospitable in allowing me to stay at her cottage rather last-minute. She's easy to communicate with, and just generally kind-- thanks, thanks!
Steven
2017-03-18T00:00:00Z
Carolyn was very communicative and made us feel very welcome. Her little cabin was comfortable. If you like Wes Anderson films, this place is for you.
Todd
2016-07-22T00:00:00Z
Loved my stay! Very unique place, I recommend this place to everyone!
Hailey
2016-11-24T00:00:00Z
Carolyn's place was perfect for our one night stay in Portland. Everything was setup and ready for our arrival and thanks to her terrific communication we were able to get settled in without any hesitation. Also the hot tub was very key after a day of driving from Seattle. All in all a very pleasant experience. 5 stars!!!
Nick
2016-09-26T00:00:00Z
Carolyn did a great job communicating with us about food, entertainment, hiking options in the area and was always available through text! The bed was super comfortable, and everything in the cabin was well thought out (great decor and scones, water, beers left for guests!). The location was a bit remote, but that made for peaceful sleeping! Would recommend this place highly.
Jen
2016-07-25T00:00:00Z
Come to Carolyn's! You will have a beautiful, quaint, Portland experience. Take advantage of the hot tub and say hello to the goats. This spot is a real treat!
Christina
2017-03-06T00:00:00Z
It's a great place! It's not as close to the city but it's fairly easy to get access to downtown. The goats are soooo adorable! We just wanted to play with them and they are super friendly. The bed is very comfy and the whole little whimsical,cabin feel is relaxing. Especially after laying in the hot tub! Carolyn was super accommodating and very nice, definitely recommend the place.
Bianca
2016-07-28T00:00:00Z
Room Type
Entire home/apt
---
Property Type
Cottage
---
Accommodates
2
---
Bedrooms
Portland, OR, United States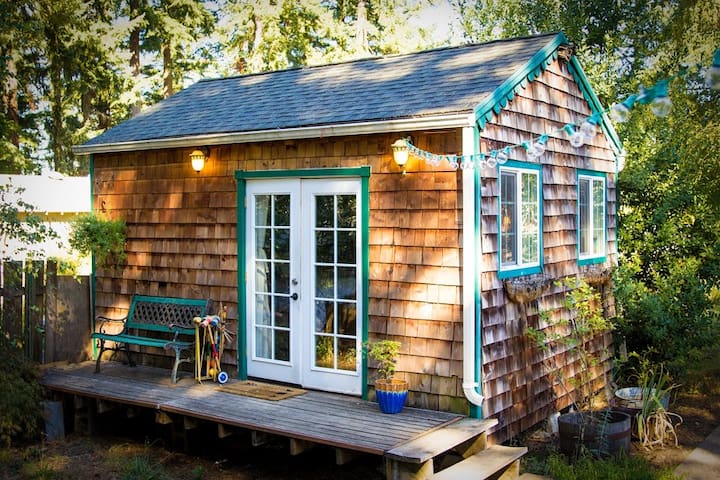 This charming one room cabin with loft is privately situated on the edge of our home's yard and woods. Hand scribed pine logs, woodsy & antique interior and a wood stove make it a perfect retreat after a day of hiking in the Columbia River Gorge.
This place was as advertised. Great location to many hiking areas. Jan recommended going up to Larch Mountain State Park to see the sunset. An amazing view I highly recommend going up there even if it isn't Sunset to see this Great View. Those with mold sensitivities might have a little hard time staying in this cabin. Other than the mold smell everything was great.
Michael
2016-06-27T00:00:00Z
Exactly how it looks in the pictures! We had a wonderful time, Jan was very sweet and welcoming. Cabin is private and cozy.
Tiffany
2015-10-22T00:00:00Z
Jan's Cozy Log Cabin was the perfect retreat for our three day stay in the Columbia River Gorge. The unique decorations made the cabin feel like a hobbit house in the middle of the forest, yet it was close to the main highway and a short drive to the waterfalls. We didn't use the fireplace, but the electric heaters in the cabin and bathroom kept us warm. The cabin was well stocked with everything we needed and was even better than pictured and described. Jan was easy to communicate with, provided simple directions to the cabin, greeted us on arrival and showed us around the cabin. She left us a delicious coffee cake and provided great restaurant suggestions. We would be happy to return to the Cozy Log Cabin any time.
Bill
2016-05-28T00:00:00Z
We had such a great time in Jan's cottage. I wish we had more time to spend there. She's a delightful host and provided the perfect little getaway for us. The cottage is woodsy, so expect to see a few critters and enjoy waking up to the sound of birds chirping and sun shining through the windows. Very close to the gorge and Portland!
Natalie
2016-06-20T00:00:00Z
Very friendly host, great location.
Kahla & Luke
2016-09-17T00:00:00Z
The cottage was perfect. Cozy, and designed to make us feel welcome and comfortable. Perfectly situated on the Columbia Gorge with ready access to breathtaking views, the cabin met our every need with comfort, privacy, and nature! Jan is the perfect hostess, and the cottage was a perfect retreat!
Tony
2015-04-12T00:00:00Z
We loved it! Jan is a great host who's very conscientious about all the details that make the log cabin a warm, comfortable and unforgettable getaway. The little cabin was spacious, comfy and charming, nestled in wooded gardens and very private. We lit a fire in the wood stove in the morning, brewed some coffee and cooked some hearty oatmeal for breakfast before we set out for a day of hiking in the Gorge. I liked the "outhouse" bathroom too, with its rustic appeal. (The toilet flushes and we had plenty of hot water and fresh towels for all of our showers!) If you want to explore the Colombia River Gorge (which is a must do), this is the ideal location to stay & relax! We would love to come back and stay longer the next time we're in Portland.
Rosalind
2016-04-24T00:00:00Z
The listing was exactly as described; Jan was a lovely host. We had a great stay.
michele
2016-10-03T00:00:00Z
Room Type
Entire home/apt
---
Property Type
Cottage
---
Accommodates
4
---
Bedrooms
Corbett, OR, United States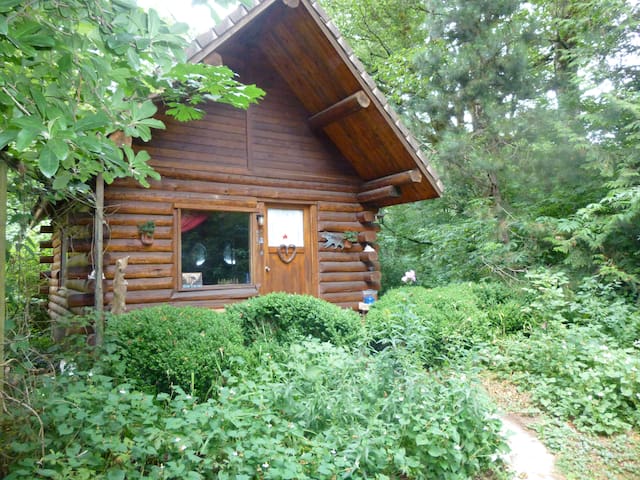 We offer a walk-out basement apartment including two bedrooms (One with double bed the other with single bed), a kitchenette, sitting area and half bath (the bath includes toilet and sink. Shower is a shared shower upstairs on the main floor) We are close to Portland Oregon, as well as the Columbia River Gorge. We have brochures and lots of information on where to go and what to do in the area or, sway in our hammocks and do nothing but enjoy the tranquility of the river and nature around you.
The place is tranquil and private. If you are looking to get away from it all, play for the weekend on the river, or have a romantic get-away. Our place on the river is perfect.
Kevin and Andi couldn't be more welcoming, accommodating and communicative if we had been long lost family. Very good people and wonderful hosts.
Lynn
2016-08-15T00:00:00Z
We had a LOVELY time! The home is *right* on the river, with a nice spot for splashing right outside. We spent the days lounging on the hammocks, playing in the river (with the tubes and kid lifejackets K&A provided!), and eating every meal outside on the deck. The apartment suited us fine for sleeping, holding a few groceries, and playing some evening board games. K&A were lovely to chat with and welcoming.
Lindsey
2014-08-11T00:00:00Z
From the moment we arrived after a long day of travel, Andi and Kevin made us feel welcome and their place was AWESOME! I fell asleep in the hammock to the sounds of the river, after seeing salmon swim upstream! The inside was comfortable, the bed was great and we had everything we needed for morning coffee. The shower is upstairs, but you don't feel like you are imposing on "their" space, because Andi & Kevin go out of their way to make you feel more than welcome. The outdoors bed is where we slept the second night and had fantastic nights sleep to the sounds of nature. This is a wonderful find for anyone looking for a peaceful place to stay while enjoying close proximity to all of the sights the area has offer! We also recommend Mill City Brewerks in Camas for a great beer and burger!
Dena
2016-09-14T00:00:00Z
Kevin and Andi are incredible! Their verbal directions were spot on, in what have could been a very confusing drive without cell reception. The apartment was even better than we had imagined. Its exactly what we were looking for- somewhere unique that feels almost like camping out in nature. Kevin and Andi made sure we had everything we needed and more! We felt right at home and like we had made two new friends.
christa
2014-09-21T00:00:00Z
Kevin and Andi were amazing hosts. I loved meeting them and staying in their amazing house. The river was beautiful and the energy around them is contagious. I wish we could have stayed longer!
Chandler
2016-08-12T00:00:00Z
Kevin and Andi truly have created a little slice of heaven by the river.. a space that reflects their world travels and offered us an amazing relaxing experience on our first night in the Portland area. We were just mesmerized by the view and the ambiance of the trees and the river...The downstairs apartment is self contained with a fridge, a cooker & coffee maker which was great, but the outside space is what made it so special for us. We did some yoga and meditated out by the river and we even slept outside on the amazing daybed, which had fleece blankets and a heater to ensure we stayed warm and cozy. The next morning we had a wonderful conversation with our hosts who were super fun, amazingly well travelled and worldly. They gave us advice on where to visit in the region and we truly look forward to our next visit. If you are looking for more than a bed for the night, stay here!
Annika
2016-09-17T00:00:00Z
We loved our overnight respite on the river....Kevin & Andi have a sweet and unusual setup for guests, especially if you love outdoor living. We spent almost all of our visit on the deck right on the river -- in hammocks, enjoying an outdoor firepit and sleeping in an awesome outdoor bed. Intensely relaxing. The river was a little too low to take Andi up on the generous offer of tubes to do a float...but we will do so next stay!
Lisa
2015-08-23T00:00:00Z
Andi and Kevin are very welcoming, interesting, helpful and fun hosts. The accommodations are beautiful! The river is steps outside the back door, just as the pictures show.
Laura
2016-11-21T00:00:00Z
Room Type
Private room
---
Property Type
Other
---
Accommodates
3
---
Bedrooms
Washougal, WA, United States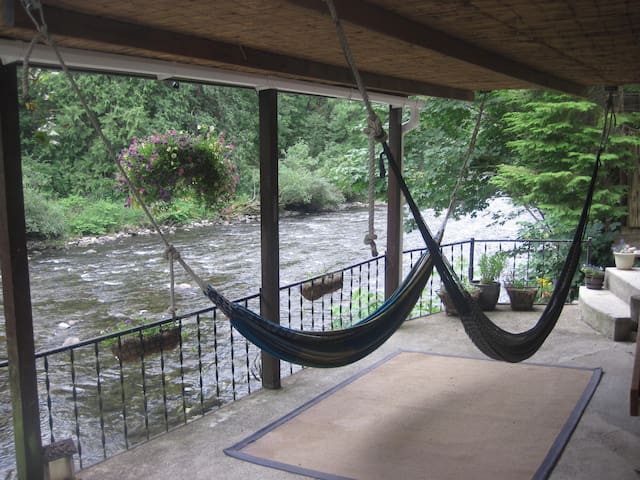 I have a lovely room for rent in a shared home. I refer to this room as the "zen room". One wall is all chalkboard for your creative expressions. There's a cozy full sized bed and the full bathroom is right next door. Please note: *I have my check-in time after 5:00 M-Th due to my work schedule, however, I can often be more flexible with advanced notice on those days. And definitely more flexible Fr-Su. Just contact me to let me know!
This is a shared house with a hot tub, large back yard, and silly free range chickens and a sweet little dog.
I live within a ten minute walk to the quaint downtown Washougal that hosts Amnesia Brewing, Hearth, Washougal Coffee Co and other bars and restaurants. You can also visit the Pendelton Woolen mill store while strolling around downtown. If you feel compelled to sing your heart out, then I'd recommend a five minute walk from my house to Los Dos II where you'll find an active cantina and karaoke with killer margaritas. There are many hikes within a short drive, such as Dougan Falls (18 miles up Washougal River Road); Lacamas Creek trail system (1.7 miles west from the house). Washougal is the gateway to the Washington side of the gorge, if you head east you'll find the stunning Cape Horn Trail Overlook (9 miles east on Hwy 14) and then the Cape Horn Trailhead (12 miles east) and the magnificent Beacon Rock (19 miles east) . While heading East on Hwy 14, you must stop and visit the obscure stone house (16 miles east). You can also take a leisurely float down Washougal River which is just about a mile away or go bask in the sun at Cottonwood Beach on the Columbia. The list goes on and on but this is a sampling of places you can explore. Then come home and take a soak in the hottub after your long day of adventuring while enjoying your favorite beverage. My home is ~15 minutes to Portland airport, ~25 minutes to downtown Portland. 1.5 hours to Hood River. If you decide to venture that far east, there are some wonderful wineries I'd recommend you stop and visit along the way.
Jill is great, that's why i came back.
Rick
2016-10-15T00:00:00Z
Jill and Ivan were such great hosts. They always had a nice hello and welcomed me to join them in their Tusoi card games. The Zen room was perfect to unwind in and get a good night's sleep. We had great conversation out back on the porch and the hot tub was fantastic. Thank you Jill and Ivan for everything.
David
2016-11-15T00:00:00Z
Quiet town historic feeling and welcoming hosts, I hope to return soon.
Ernie
2017-03-23T00:00:00Z
We were heading to the south and wanted to visit the best things in northern Oregon. We found that perfect place for that purpose 30 mns from Downtown Portland, at a good price. The bedroom was in a cozy house with space inside, a garden and a cute dog. Jill was very cool and the welcoming perfect.
Thibaut
2016-09-27T00:00:00Z
Very nice place with even nicer hosts! The location could not have been more perfect, and the room was awesome. Cannot reccomend enough!
Jose
2017-02-08T00:00:00Z
Very friendly hosts with a large and quiet house. Very good amenities. Access to the city via public transport or driving was very easy. Pet dog was very sweet.
Nick
2016-10-08T00:00:00Z
Jill's home is the perfect place to relax after a long day of exploring beautiful Portland. We absolutely adored her home and her pets. The stay was very enjoyable and Jill and Ivan are very sweet and welcoming. ☺️
Billy
2017-04-09T00:00:00Z
Great little room as described, with a comfy bed. Jill and Ivan were kind enough to share their dinner in exchange for some wine. :) Super chill house, housemates, and dinner company. Highly recommended! Pro tip >> Jill and company are early risers, and the room is next to the shower and down the hall from the kitchen. I wore earplugs and had no issues with noise. Great night's sleep!
Ruben
2016-08-07T00:00:00Z
Room Type
Private room
---
Property Type
House
---
Accommodates
2
---
Bedrooms
Washougal, WA, United States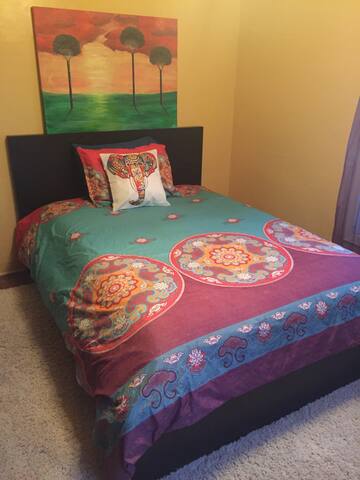 Barn style home sits on quiet sunny acreage with expansive Columbia River and countryside views at the Gateway to the Gorge and all its activities. Stay in this quiet warm sunny loft with private entrance and bath. Explore wildlife preserve, hike many gorge sites and eat and drink at nearby breweries!
Spacious private loft with separate entrance. Quiet rural area on acreage with views, large patio and easy access to gorge hikes, activities, restaurants, and breweries. Living space has private kitchenette: sink, microwave, refrigerator and electric hot water kettle, and French press.
Quiet, farm with llamas and sheep, views and a nearby small downtown area with good food, beer, and coffee.
Everything was clean and ready for us when we arrived. Little thoughtful touches made us feel welcome, like a welcoming message and a few treats on the counter. The layout of the apartment was comfortable and cozy, and we enjoyed our weekend stay. It was a great home base for our needs, as we went on various hikes along the Columbia River and also spent some time in Portland. It was also helpful that there were several travel brochures and day trip/hike books in the apartment. This was a great place for a weekend getaway, and Saundra made the place clean and welcoming.
Josh
2016-02-16T00:00:00Z
Saundra was so warm, welcoming and helpful! (She even gave us tips on how to appropriately greet llamas). Her home is beautiful (fields of daisies, vineyard) as is the surrounding area, and the accommodations were pristine and incredibly comfortable. Although we didn't have the opportunity, she is located really close to tons of trails along the Columbia River Gorge, and a super quaint town called Camas with great restaurants is nearby as well. If you are looking for a getaway, this would be the place, and I would recommend this place to anyone!
Jessica
2015-06-19T00:00:00Z
Saundra was an excellent host and her place is amazing! The attention to even the littlest details shows how much she cares. She helped me find easy hikes and was so welcoming. Her place offered me peace amongst a hectic time. You'd be lucky to experience her home and her warmth.
Tammy
2015-11-17T00:00:00Z
Saundra was very welcoming and her place is wonderful. Amazing views, comfy room... you have the upstairs to yourself. Charming kitchen and bathroom. She clearly wants her guests to enjoy their experience in Washougal. Great place to explore the Columbia River. Highly recommended!
Douglas
2016-04-07T00:00:00Z
This was our first experience with Airbnb. What a great introduction! The loft was spotless, with nice space. I had texted back and forth with Saundra about this and that and she was quick with a reply each time. She was kind enough to feed our coffee habit by grinding fresh beans for our use. She had a variety of pamphlets & info about local eateries and tourist attractions. Using those we chose to eat at Feast 316 in Camas which was awesome! The bed and quality linens made for a very restful night sleep. On a side note, the Pendleton Wool Mill factory is very close and they offer free tours. We did that and quite enjoyed it. The only con I can say is that it was a bit too wet, and we kept too busy playing tourist to sit out on the patio with such a lovely view of the valley and river.
Tammy
2016-06-26T00:00:00Z
There are several things to love about this property. First, within a short 20 minute drive from PDX, it takes you away from the increasingly stressful traffic jams of the Portland highways, and puts you on five acres with peaceful views of the Columbia River Gorge. Next, you're just a mile from Washington Highway 14, which runs east / west and offers a wonderful opportunity to see the Gorge up close, while taking a rural drive to wineries in the Hood River area. Or you can drive back into Portland to avail yourself of the many brewpubs and restaurants offered there. Saundra's property also has a lovely patio for watching the sunsets, or building a fire in the fire pit, while relaxing with a glass of wine. As far as inside the facilities, the bedroom is absolutely lovely, and has a bed and breakfast feel to it. There is a nice little sitting area in the kitchen, along with whatever you need to have your breakfasts in if you wish. We also enjoyed the small town feel of Washougal, which has a Safeway grocery store with a Starbucks within a mile of the property. There's no question that we will return to this property any time that we're in the vicinity. It's an enthusiastic five star rating from my perspective! Keith A. Brown Dallas, Texas
Keith
2016-09-13T00:00:00Z
My husband and I visited from the East coast and were flying in late, our flight was delayed 2 hours and we knew we were going to be very late getting in. Saundra assured us it would not be a problem and when we arrived lights were on and the place was very welcoming. The loft is BEAUTIFUL! Very clean, roomy and beautifully decorated. Saundra was kind and fun to talk to. If her place was an apartment for rent and not an AirB&B I'd move in in a heartbeat. Felt like coming home every night.
Bridget
2015-09-06T00:00:00Z
We really enjoyed our stay with Saundra. She is a very helpful and accommodating host, and her house is in a perfect location for exploring the Columbia River Gorge. We would definitely stay there again.
Robert
2015-08-28T00:00:00Z
Room Type
Entire home/apt
---
Property Type
House
---
Accommodates
2
---
Bedrooms
Washougal, WA, United States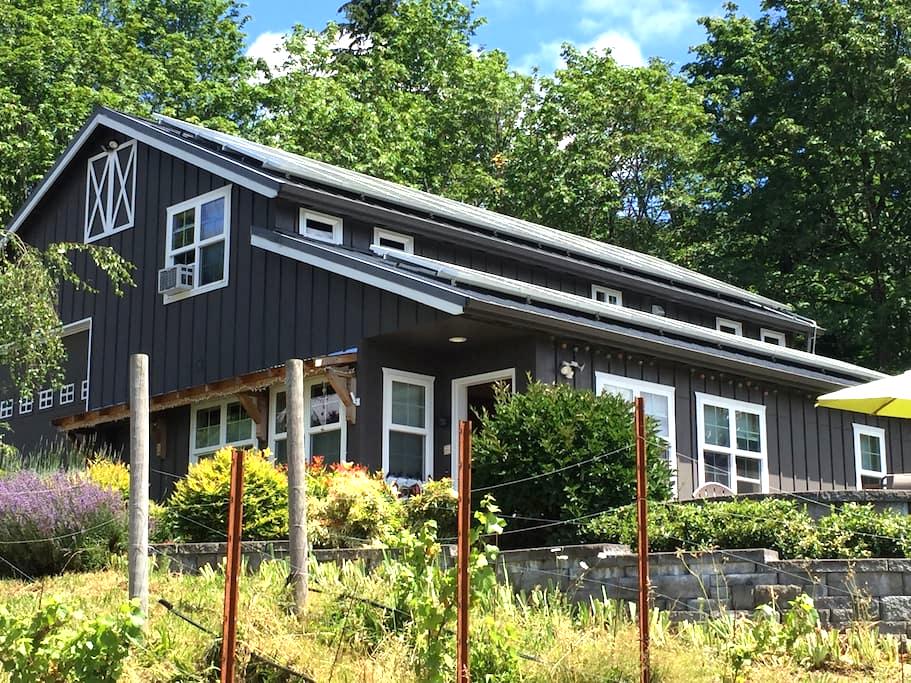 This cozy, detached 1br/1ba cottage is located in a quiet neighborhood in charming Washougal. We are a 20 min drive from PDX, 30 min from downtown Portland and at the gateway of the Columbia River Gorge. We are happy to host well behaved dogs. Guests will enjoy their own full kitchen, bath with shower, queen size bed, and laundry. Train whistles are outlawed within city limits but you will hear the frequent rumble of rolling stock as the BNSF Fallbridge sub runs directly behind the property.
The cottage is located behind our house at the end of a dead end street. This location, coupled with the many tall trees which border the yard, make for a very private setting. The yard is frequented by squirrels, raccoons and the occasional deer. You may also enjoy the rare and unique monkey puzzle tree (Araucaria araucana) growing in the front yard. For railway afficianados, BNSF and Amtrack run on the Fallbridge sub directly behind the property.
We like the small town atmosphere coupled with the close proximity to both Portlandia's weirdness and the beautiful serenity of the river and the Gorge. You can walk to downtown Washougal and find a brewpub (Amnesia), wood oven pizza,steak,etc. place (Hearth), sushi (The Sushi Joint), deli/ice cream shop (Smiley's), and a unique breakfast experience (Our Bar) or waterfront dining and drinks (Puffin Cafe). We've been pleased to try out all these places in the short time we've lived here.
We were on an elk hunting trip and were pretty much only there to eat and sleep. It was very quite and private. We enjoyed ourselves very much.
Nicole
2016-11-06T00:00:00Z
Ray and Janice made us feel very welcome into their cottage! They had beverages waiting for us and made sure we had everything that we needed. This guest house is on their property, but we never felt uncomfortable and very welcomed. We hope to stay there again this time next year!
Erica
2016-07-25T00:00:00Z
Ray met us at the door and helped bring in our luggage. Although tired from their busy day, Jae and Ray took a few minutes to chat and made us feel right at home. Being on the "other side of the fence" was a great experience. Very clean and very cute little cottage and the sheets were very soft!!
Ruth
2016-10-23T00:00:00Z
The Gateway Cottage is quite spacious. The gateway is a bit tricky if you're trying to load or unload from the car, since it is supposed to be kept closed and latched at all times which is inconvenient if your arms and/or hands are full. Once I inadvertently let one of their dogs out, but thankfully Ray was present. For some strange reason, I could only get the internet (wifi - no direct internet) to show up on one of my devices, but the connection speed on that device was quite good. The majority of the windows did not have screens on them, resulting in many bugs coming in at night.
Christopher
2016-08-12T00:00:00Z
The facilities provided were very good and the communication with the hosts was great. My gripes: the train noise. The train track is on the other side of the fence. However, when they weren't running by it was very peaceful. Coming out of the loo into the kitchen is super weird and there's no window covering on the window in the kitchen...there's no one to see you, but it just isn't right. It's a cottage...the ceilings are low. Access to highway is good. We visited downtown but didnt stop. There's a large Safeways at the other end of town.
JULIA
2016-08-16T00:00:00Z
Ray and Janice were nice and welcoming. Communication was great before we arrived. Their cottage was like having our own apartment which was perfect after/during a road trip; it gave us plenty of space to relax and unwind after a busy day. When we first arrived, they were on their porch; Ray was nice and showed us where the cottage was. It was extremely private. Having a washer and dryer was convenient for a long trip. We talked to Janice on our second night. She was so fun and pleasant to talk to. She introduced us to their friendly cat, and was very caring especially with two young travelers which we appreciated very much!
Jessica
2016-08-10T00:00:00Z
What a cute and cozy little cottage! We loved our visit. The place was very clean, warm, and nicely decorated. As some others have said, the railroad track is very close to the cottage, but my son and I agreed we both actually really liked the sound of the trains passing by several times each day. (Oddly enough, we found it soothing rather than jarring.) The town is very quaint, pleasant, and quiet, and we didn't get to meet Janice, but Ray was super friendly and accommodating. Bonus: if you're a cat lover (as we are) you'll get to see several kitties venturing through the yard at various times of day, all of them cute and friendly. Overall a wonderful stay!
Helen
2017-03-15T00:00:00Z
Amazing stay at the little cottage! It's a great location outside of Portland but easy to get into the city. They were super friendly and attentive if I ever had to call them. Very clean cottage, everything you need for a stay in Washington, and available parking. Highly recommend it!
Sarah
2016-09-18T00:00:00Z
Room Type
Entire home/apt
---
Property Type
Cottage
---
Accommodates
3
---
Bedrooms
Washougal, WA, United States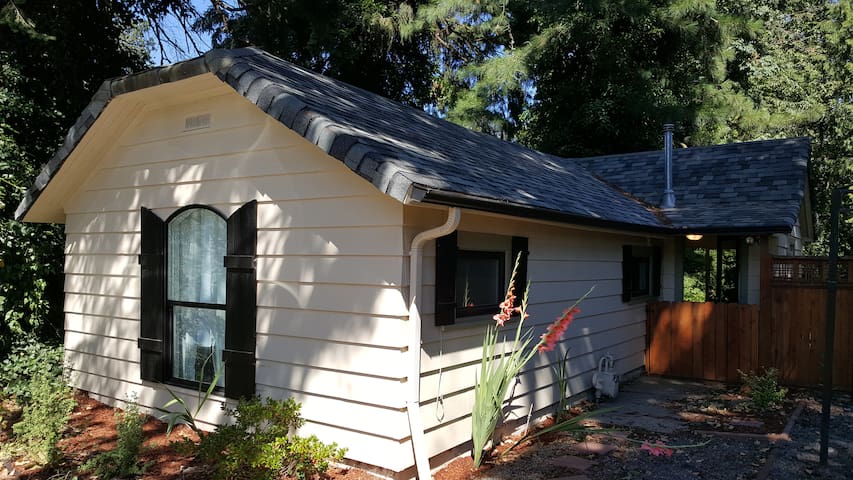 Rivers Rest is now offering a treehouse for you to enjoy! It sleeps two people. I provide the sleeping pads and you bring your own sleeping bags! Enjoy all the outside amenities, also including river access, portable toilet and water faucet. Columbia Gorge is just minutes away!
By providing the two sleeping pads, you will have a restful sleep. This Fairy Haven is a step up from pitching a tent. It Is very magical at night when the lanternsThat I provide make a wonderful ambience. There is even a small fireplace to create a romantic atmosphere.. The birds singing will be your morning alarm. It includes your own private deck, portable potty and water faucet close by.. All of the outside amenities that I offer to my other Rivers Rest guests are for you to enjoy too! They include river access, use of the various decks and sitting areas, badminton, hillbilly golf, tennis rackets (court is 5 walking minutes away) 2 sets of golf clubs ( Course is 15 driving minutes away) and a small outside fire pit to use when permitted.
Room Type
Private room
---
Property Type
Treehouse
---
Accommodates
2
---
Bedrooms
Washougal, WA, United States
Close to Portland and the Columbia River Gorge, two bedrooms and a spacious family room area can comfortably sleep eight+ total guests. Spread out in the 1,800 sqft, private downstairs apartment in our home. It has a kitchenette (Ask about access to the full kitchen), you can shoot pool, watch TV, play games, use wifi and soak in the view! This is perfect for a family or group who enjoy hanging out together between adventures. We live upstairs but give you full privacy downstairs.
Two private bedrooms and a family room area with more sleeping options. Each room has a stunning view. You have the full bath downstairs and a half bath upstairs. Private rooms include a vanity for convenience. Our home is quiet and comfortable and decorated with historic photos and Coca Cola memorabilia. There is a pool table and kitchenette (sink, small fridge, coffee pot, toaster and microwave - no oven or stove top). In summer many guests spill out on to the large front yard and enjoy the view. In the summer months we also have a gas BBQ for your use. Just ask!
We sit on 10 acres and our very private home is only visited regularly by deer and other wildlife. We are located about 5 minutes from Washougal and about 35 from downtown Portland. Minutes away from some great hikes in the Gorge and the Washougal Motocross Track.
Rene was great. Although we weren't able to meet in person, she made sure my family and I were accommodated for. The house was perfect for our family of 4. I loved that she had snacks, coffee, and water available. The location was perfect for the event we attended, Portland Spartan sprint.
Jamie
2016-08-08T00:00:00Z
The host made us felt at home. My family enjoyed our stay. We thank Rene for sharing her property with us. I said "property" because it's not just the house. She is very accommodating. Please treat it like your house and do not ruin it.
Minh
2016-06-19T00:00:00Z
We loved our time here! The view was amazing. There was plenty of space and our host was fantastic!
Paige
2016-08-19T00:00:00Z
Great place to stay.
Chad
2016-09-25T00:00:00Z
Four of us descended on this lovely property for our stay in Washougal. The setting is remote, but not too remote - an easy couple of minutes to the local Safeway and village. We felt like we were staying in a Country Estate. The view of the Columbia below is stunning both from the upstairs owner's space and also from each of the rooms on the lower level where we stayed. The sunset was colorful with sparkling lights of the homes below. We enjoyed the patio and the spacious rooms and friendly furnishings. The setting is peaceful and quiet and the beds very comfortable(URL HIDDEN) Although Rene had warned us that her cat might come down to visit, which we did not mind since we are "cat friendly people," we did not get any visits, but each morning a nice warm greeting at the top of the stairs as we left for our day. Rene was a very gracious hostess - even let us take a few cutting starts from her incredible rhododendrons that were in bloom. And the best part - she left cookies for us when we checked out. We would not hesitate to stay again if the space was available.
David
2016-05-10T00:00:00Z
Host Rene is very sweet and kind. She prepared everything that we need for the 8 of us and waited for us to arrive even though we arrived later than originally stated.
David
2016-07-11T00:00:00Z
Fantastic place. A large group of us were flying/driving in to Portland for a wedding, and Rene's house made the perfect place to stay during those few days. Close enough to portland that we could get in and explore, but far enough outside the city that we could enjoy an incredible view of the River, the hills, and the skyline of Portland itself. It's an ideal place for small- to medium-sized groups, but we were able to sleep a large group there comfortably. Rene was a wonderful host and did an amazing job of making our time there comfortable and enjoyable. Would definitely stay there again, and would definitely recommend it to others.
Daniel
2016-10-16T00:00:00Z
Rene's house is so luxurious that we can't believe it. She's welcome and nice and look after us very well! The house is strengthening recommended!
振海
2016-08-06T00:00:00Z
Room Type
Entire home/apt
---
Property Type
Flat
---
Accommodates
9
---
Bedrooms
Washougal, WA, United States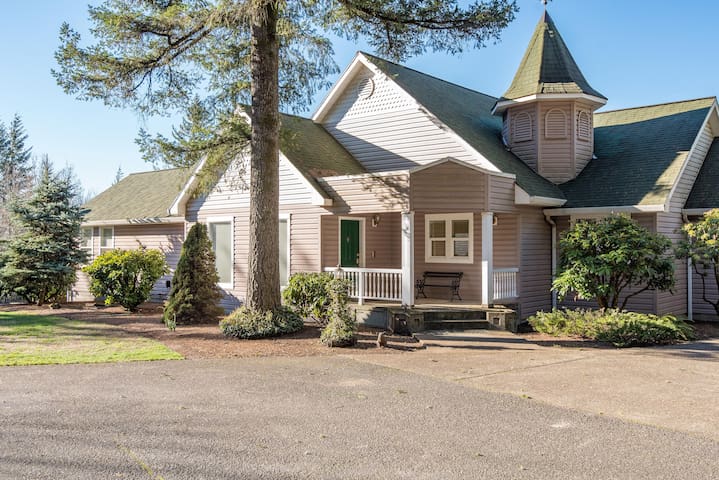 Quiet country studio apartment on 6 acres; 20 minutes from the airport, 30 minutes from downtown Portland at the west gateway to the magnificent Columbia River Gorge. Cheerful gardens surround the private entrance to this little slice of the Northwest. Suitable for people with limited mobility (in the summer).
Our daylight basement has been converted into an apartment for guests. It is a large studio with about 550 square feet of living space and with 9' ceilings you won't feel like you are in a basement. The efficiency kitchen has a refrigerator, microwave, coffee maker, toaster, and place settings for 2.
The area is close-in yet all houses are on 5 acre minimum lots. There is an "out in the country quiet feel" but close enough to Portland to drive in for dinner.
Good location.. beautiful place!
Shannon
2016-10-20T00:00:00Z
This home is well worth it. Everything from the view to the room itself is incredible. I would highly recommend it, and will be booking it again if I am ever back in the area.
Taylor
2016-08-05T00:00:00Z
Jill and Dave were great hosts. Dave gave us suggestions about things to do and we planned an entire day based on his suggestions. The studio apartment was beautifully decorated and very spacious and clean. We would definitely recommend this country retreat.
Janet
2016-08-24T00:00:00Z
What a fabulous place Jill and Dave have! The lodgings were even better than described. Beautiful room and bathroom, with great furnishings. Snacks were also appreciated after a long day hiking. My boots were wet and they let me use a boot dryer, and let me use some great guidebooks and maps. Excellent stay! Thanks again!
Max
2017-04-09T00:00:00Z
Jill and Dave welcomed us and showed us around. When they found out we were moving to Washougal they were extremely helpful with recommendations and advice. They even invited us to have dinner with them. We had so much fun and felt welcomed in their home and to the community. Buying a house can be stressful, but they helped us relax and enjoy the process. I wish I could give them more than a five star. The studio is even nicer than the pictures. The views are great and it is very peaceful. It would be a great get away for anyone. There are plenty of outdoor activities in the area, and this is a great location for enjoying them. In addition, it is close enough to town and there are serveral good restaurants close by. Every little detail is taken care of and Jill is readily available to answer questions. The homemade granola is addictive. Enjoy.
Betty
2017-01-06T00:00:00Z
It was evident that this was a labor of love. The workmanship was extraordinary. And their attention to detail heart warming. Hosts had anticipated our every need and we enjoyed both the privacy we had and Dave's friendly interaction. Breakfast on the patio, over looking the Columbia River was fantastic. If you appreciate perfection, this is the place for you.
Sydney
2016-08-21T00:00:00Z
Jill and Dave had not only a beautiful place for my friend and I to stay in but were also beautiful people. The space that was ours was exactly as advertised, if not better. We were greeted by Jill (and Baker, the goldendoodle!) on the first day we arrived and she showed us around the whole 6 acres they own. We picked grapes from the vine and apples from the trees around their property. We ended up happily feeding their two steers every day which, for us city folk, was a treat! My friend and I got exactly the country escape we needed. We would very happily stay again with Jill and Dave (and Baker).
Roslyn
2016-09-24T00:00:00Z
Jill and Dave are wonderful host and very warm and welcoming. I felt like I was at home. There property is beautiful with a gorgeous view and the suite is absolutely outstanding. Very clean inside without a speck of dust in sight. The decor is warm and comforting, they did an amazing job on the design. They even provided us with milk, fruits, and homemade granola. They were very helpful in helping to plan activities. I will definitely stay with them again when I am back in the Portland area. Thanks Jill and Dave!
Eric
2016-10-16T00:00:00Z
Room Type
Entire home/apt
---
Property Type
Flat
---
Accommodates
2
---
Bedrooms
Washougal, WA, United States
Close to Portland and the Columbia River Gorge, these two comfortable bedrooms are ready for groups of 2 to 4 with 1.5 baths. You have full access to the kitchen, dining and living space. We spend most of our time one floor above, but we may meet in the kitchen. Enjoy a beautiful views of the Columbia River Gorge from the house or enjoy an outdoor experience on the covered patios with outdoor seating and grill. This space is perfect for couples, business travelers, and families.
Loved everything. Best view ever, and a very hospitable host. A very beautiful place at a very beautiful location.
Graeme
2016-11-13T00:00:00Z
Loved staying here! The scenery is breathtaking and Suzy is a wonderful host. We felt like we were visiting family. I wish we could have stayed longer! Her instructions make it easy to find the house and once there we had everything we needed for our stay. Hope we can come back one day!
Tp
2016-07-24T00:00:00Z
Suzy was very friendly and responsive right from the beginning. She gave me the detailed instructions to reach the place. We didn't know that there was an unique experience awaiting us until we reached her place. The views from the house is green and good. We found the retro themed bedrooms and the hall very unique and interesting. Another interesting aspect is Suzy's art collections in the house. They are amazing. Suzy's place would be my first choice If I visit Portland again!
Manoj
2016-09-25T00:00:00Z
Suzy was awesome from the start. I emailed her with some questions before I booked anything and she was very prompt in responding. We communicated back and forth in the week or so before my friends and I arrived and she always responded right away. She hugged my friends and I when we arrived at her home and was so very friendly. She stayed in the kitchen and chatted with us for a while, also the next day before we left. Suzy's home is beautiful! The pictures really don't do it justice. My friends and I had dinner out on her front lawn and the view was just amazing. There was also a patio with a BBQ grill that we could have used but we wanted to enjoy the landscape. Her yard also has fruit trees that she was very generous in offering some to us. She has the friendliest cat, Sammy. He kept us company while we were having dinner but didn't try to take any food or anything like that. He also followed my friends and I when we went for a walk on the property. Suzy says he thinks he's a dog. I agree! Very cute! I'm writing so much about Suzy and her property because I can't say enough about how nice, friendly, and gracious she was. My friends and I bought food to make dinner and breakfast the next morning. Even though there was nothing in the Air BnB description about Suzy providing any meals, she had gotten us breakfast items. Overall, it was better than any of us expected. I've always had a good experience with Air BnB. This was my friends' first time. So I was a little anxious about everything going well. Suzy more than exceeded my expectations. Everything was clean and beautiful. Awesome lady and awesome house!
Annishia
2016-08-06T00:00:00Z
Due to us having phone problems, Suzy wasn't there to greet us, but like we've just said, that was our problem. From the moment we met her, Suzy was the perfect hostess! Explained things, showed us around, and during our sadly too short a stay of only one night... she was always ready for a chat, or helpful with advice. I'm sure had we have stopped one more night, we could have easily chatted away the hours! The house is to die for! People should visit this airbnb property just to see the house! We had 2 rooms, one and a half bathrooms and a balcony. If you like to stay in a hotel somewhere, then do so. This was a real treat, an escape to live in country living in the mountains north of Portland. Which was only a short hop away! Everything was so scrupulously clean, wonderfully presented and grand! The balcony was to die for. Spacious, comfy seats, well lit after dark and a good barbeque... and... the views were awesome. Including the sunset. We were even greeted by the cat... who is so friendly. Likes to 'talk' to you, and enjoys a good scratch. The shared kitchen...and complimentary breakfast was brilliant. Note to husband... new kitchen maybe? :) The shared living room, was unique. And if you play the piano... This property is truly rural, so don't go thinking you can stroll out for groceries or a restaurant, because you can't. This, far from distracting, adds to the charm of this awfully nice place. We'll be back from England, for an extended stay, the first chance we get.
Diane
2016-09-20T00:00:00Z
Suzy is a wonderful host. We felt like we were visiting family! She went out of her way to ensure that we were comfortable. The home is elegantly decorated, comfortable and well stocked. Beautiful views of the Columbia River Valley, the gorge and surrounding mountains. Easy access from Seattle, Vancouver and Portland. The deer and cat were welcome bonuses. We will be back!
S
2016-07-31T00:00:00Z
The house was beautiful and the hostess was very nice, attentive, and warm. It was a wonderful experience for us all!
Shawny
2016-08-08T00:00:00Z
Suzy's house is so beautiful, and Suzy is really awesome and kind. She and her husband built the house themselves, and it's very lovingly crafted. There are great views from the deck, and the rooms inside are beautifully decorated. I would love to stay again!
Chelsea
2017-03-15T00:00:00Z
Room Type
Private room
---
Property Type
House
---
Accommodates
4
---
Bedrooms
Washougal, WA, United States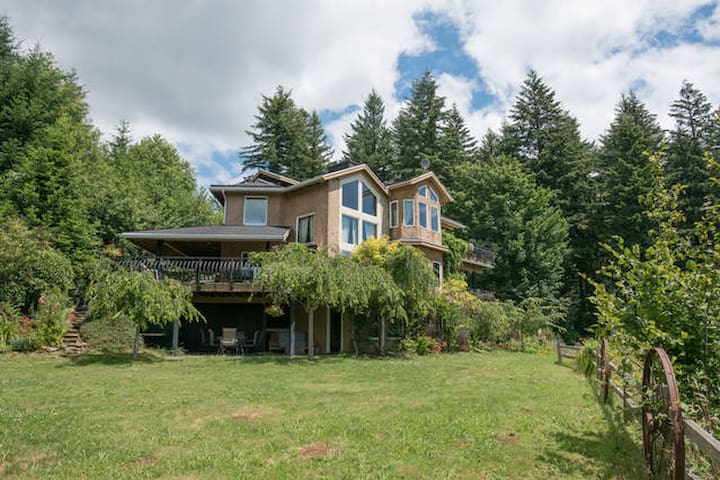 2006 32ft Travel Trailer located 30 minutes from the Portland International Airport, 15 minutes from downtown Camas and 30 minutes to Beacon Rock / Stevenson, Wa in the Columbia River Gorge. You will have access to the yard, deck and BBQ with a views of the Washougal River Valley. Our house is located within 10 minutes of the Washougal Motorcross and you can see the Motorcross from our deck.
Rural location with paved private driveway.
Room Type
Private room
---
Property Type
Camper/RV
---
Accommodates
4
---
Bedrooms
Washougal, WA, United States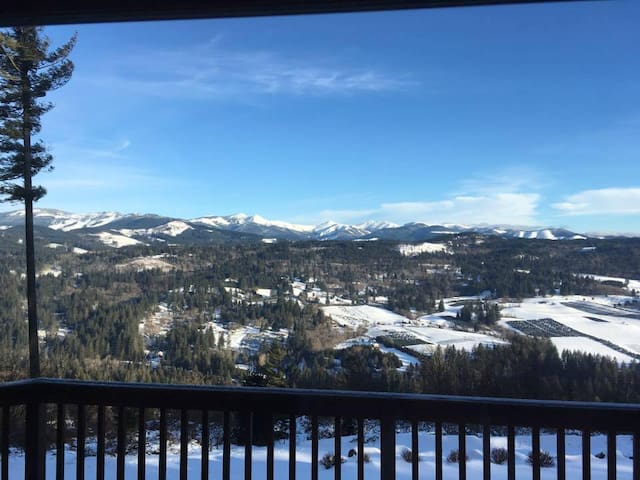 The large kitchen and the open layout lends itself to gatherings; the private location lends itself to romantic getaways. It has a great view of the Columbia River, Washougal, and views of the west hills in Portland and the Coast Range. SPECTACULAR sunsets and breathtaking hikes! Natural grass stage and amphitheater seating for 100+ Sleeps up to 14 people (200+ camping for special events) The house is an open layout with no room dividers, a welcoming gathering space.
•Wild peacock roaming the site •Lots of wildlife (deer, birds, coyotes, rabbits, Peter the Party Peacock) •Caretaker lives on site (in case of emergencies) •Hot tub that seats 8 (more if you get cozy) •Gazebo, multiple fire pits, lawn games •Less than 3 minutes from Cape Horn Trail (spectacular views of the gorge from a 1200 foot tall cliff) •No pets •Non-smoking only
When I bought this place, it was literally a junkyard, with dozens of rusted out cars spread around everywhere. I've spent the last 20 years cleaning it up in my spare time, and with my spare cash. This is my favorite place in the world. I want you to feel that way when you are here too. If you don't see something you might want, feel free to ask me any questions. Ivan PS: Check out our (SENSITIVE CONTENTS HIDDEN) page (search Hooper Hill), give us a review, and a like, and tag us in your pictures…
Hooper Hill is a such a unique, charming space. It's clear that Ivan has put so much work and love into every piece of its remodeling. It was an ideal, open space for us to have a group getaway. There is some very minimal remodeling still in progress on the bottom floor, however, it had absolutely no impact on our stay. Overall, we all left feeling inspired to build something as beautiful as Ivan has to call our own.
Melissa
2016-11-27T00:00:00Z
Although parking was a bit of a hassle, considering it is an all gravel driveway, the house was beautiful and Ivan was very easy to talk to.
Bentina
2016-12-03T00:00:00Z
Hooper Hill is the perfect getaway for a weekend away! It has beautiful scenery, a gorgeous view from the hot tub and nice open natural light inside the house itself. The place is filled with character and Ivan was a wonderful Host who made us feel so at ease. We will definitely be returning, enjoy the sound system while you're there!
Bethany
2017-02-12T00:00:00Z
Ivan's place could not have been more perfect for our gathering of six friends to celebrate the graduation for one of us. The kitchen is amazing and although we brought everything with us, it is very well equipped with staples, spices and cookware. The house is a wonderful open floor plan and very conducive for a small gathering. Ivan and Jill were incredible hosts, greeting us with a bottle of champagne and come chocolate to start our celebration off right. The story of the house told through pictures in a notebook is simply wonderful and every amenity was covered. The soaking pool was a perfect 104 for the snowy weather and the property was quiet and serene. I'll be back in the summer time for outdoor games and nearby hikes!
Anna
2017-02-05T00:00:00Z
I couldn't recommend Ivan and his home more—great communication, beautiful space, extremely accommodating.
Patrick
2017-04-09T00:00:00Z
Ivan was a gracious host and he and his girlfriend met us personally when we arrived. He gave us a thorough tour of the home, and offered his help and services during our stay. We actually needed them, because it had snowed considerably the night before and we couldn't get our cars down the driveway. He came over to help us and was very accommodating! We had a lot of fun at his place. The scenery was beautiful and it was very secluded and relaxing.
Kevin
2017-01-01T00:00:00Z
Ivan is fabulous host and his house fantastic, with fantastic views and amenities!
Orin
2017-04-03T00:00:00Z
This was our second stay and it only get better and better.
Danny
2017-03-19T00:00:00Z
Room Type
Entire home/apt
---
Property Type
Cottage
---
Accommodates
10
---
Bedrooms
Washougal, WA, United States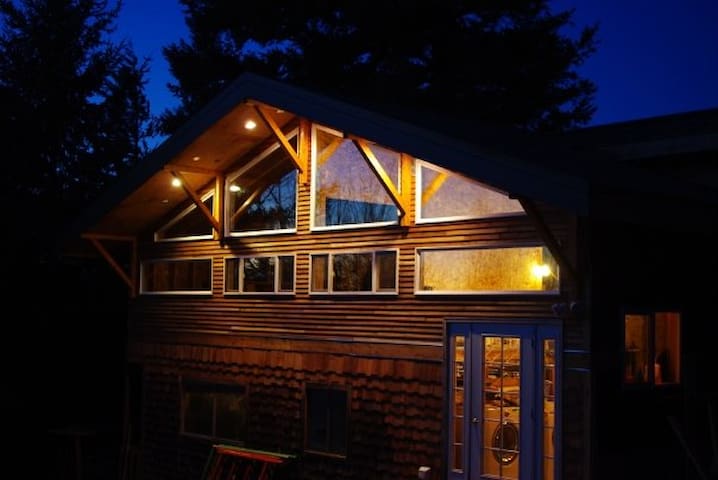 Private guest house located in rural country setting. Loaded studio with loft. Covered porch with panoramic view of the Columbia Gorge
The main level is a studio style space with full kitchen and the living area is separated by a partition fireplace wall. The living space has a wall bed (Murphy Bed). The Bathroom has a shower stall, sink, toilet and washer/dryer. The loft upstairs is spacious with a floor mattress, sofa bed, desk and TV. WiFi is slow based on Satelite service.
Rural setting and neighbors are a 1/2 mile away minimum. There is a little road noise on a busy street.
Room Type
Entire home/apt
---
Property Type
Guesthouse
---
Accommodates
4
---
Bedrooms
Washougal, WA, United States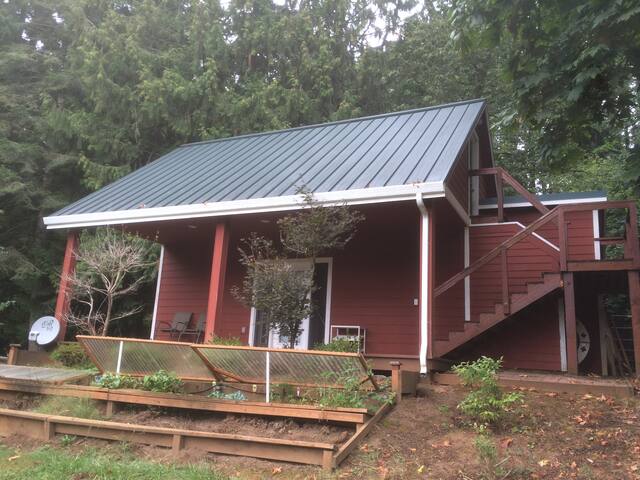 Spring is here & Skiing is good! Quiet, spacious and private. 816 sq. ft. suite below main house with good sized bdrm + full closet & large 3/4 bath. Large deck off garden area with scenic views and great sky watching. Fire pit when weather permits. Comfy sectional for relaxing + additional sleeping + Futon. Air mattress available. Coffee maker, mini fridge, microwave, toaster. Wi-fi. Flat screen, dvd w/remote. 1 mile to Columbia river, shops. restaurants & brews Close to Gorge & Portland areas.
Large and spacious. Large private deck off garden. Lots of windows and light. 1 nice sized bedroom with a pillow top queen bed and full sized closet. Large 3/4 bath. 1 set of bedding and towels provided per guests for the duration of stay. Tastefully decorated. Peaceful garden setting with views of the Columbia River, Mt. Hood green space. Great sky and star gazing. Lounge chairs and plenty of seating for fire pit. LED Motion Lights on path for safety. Many local reference books and directories. Table sits 4 to 6 people or serves as a good working space. Mini Fridge, Microwave, Coffee Maker, Toaster. Dishes, bowls, coffee mugs, stemware, flatware, wine opener, pizza cutter, sharp knife, can opener. Dish rack for washing and drying area in bathroom. Wi-fi available. No cable. Mini Fireplace/heater, Flat screen, dvd player with remote. Priority for most of our guests is to enjoy the quiet, local scenery and exploring close by outdoor experiences. Additional sleeping arrangements includes one large sectional that sleeps two very comfortably, 1 futon, and a queen air mattress is available upon requests. Plastic container under microwave for daily trash. Recycling bag for plastic bottles and aluminium. Metal garbage can by gate for depositing trash.
20 to 30 minutes to PDX Airport depending on time of day and Portland traffic. Amazing and endless amounts of outdoor activities and places to enjoy from the rivers to the mountains to metro areas; most only 10 to 30 minutes away. Fantastic wineries for day trips. City/Urban experiences in Vancouver WA or Portland Metro. Washougal & Camas has that quaint small town atmosphere with local activities and excellent restaurants, breweries and shopping. This time of year there are many outdoor concerts and local activities. If you have a boat the Camas/Washougal Port is just down the road for great river fishing and boating fun. Boat must be docked or stored on trailer by boat launch.
We had a really nice time, really cozy and cute place and Judy was a great host!
Abhinav
2016-09-05T00:00:00Z
Welcoming ,but left me be, I'm the loner type prefer privacy
Debra
2016-10-09T00:00:00Z
The home is a sanctuary as described. It provided the space we needed to relax and explore the area from Portland to Hood River. The Columbia River area is amazingly beautiful. This home is Washougal is situated right in the middle of this natural beauty. Our hosts were welcoming and helpful with great advise for checking out the area.
Lourdes
2016-07-26T00:00:00Z
We didn't have a planned arrival time as our trip was very leisurely. Judy was quick to respond when I communicated on our drive out. The space was better than I expected as this was our first Airbnb experience. The place was clean, quiet, and spacious. We traveled with our daughter so having a bedroom that she could sleep while we stayed up was perfect. We loved spending each evening out on the deck. Everything we needed was provided for and we would definitely return if we are in the area!
Jillian
2016-08-16T00:00:00Z
I had stayed with Judy once before and reached out even though the web site said the venue was not available, and Judy was able to accommodate. Checked in early with no issues. She even set up a fire pit to enjoy the last evening. Wonderful stay.
Thomas
2016-07-04T00:00:00Z
Judy and her husband were warm and inviting. They were kind and caring to my two inquisitive little girls. The neighborhood was absolutely beautiful. The bedroom and living area was roomy, clean, and comfortable. The porch views were relaxing and gorgeous. Their location is very close to the airport and near to stores.
Stephanie
2016-08-03T00:00:00Z
Judy is great. I was well informed about how to access the place and she is just as welcoming as the impression made in the profile. I didn't have any problems or special requests, but I know that if I had, she would have dealt with it. Very attentive. The place itself is really big. I enjoyed the amenities of a hotel suite, with a really lovely view. That whole area along the Columbia River is stunning. I was so happy to enjoy a lovely, clean, safe place while traveling there. Thanks for making your basement available!
Laura
2016-07-23T00:00:00Z
Judy's place was absolutely perfect for our visit to the Pacific Northwest! It was cozy, warm and inviting, but even better than that was Judy's hospitality. She was just as open and beautiful as her home, offering us plenty of advice, support and things to do during our stay. She even left us fresh strawberries from her garden, which was absolutely perfect to come 'home' to after a long day of hiking. Her place speaks for itself, really. It's a gorgeous home in a gorgeous location that's a good distance from anything you can imagine. From hiking to the beach to Portland. But Judy is really what made the stay worth it! Thank you so much for everything!
Danielle
2016-06-15T00:00:00Z
Room Type
Entire home/apt
---
Property Type
House
---
Accommodates
4
---
Bedrooms
Washougal, WA, United States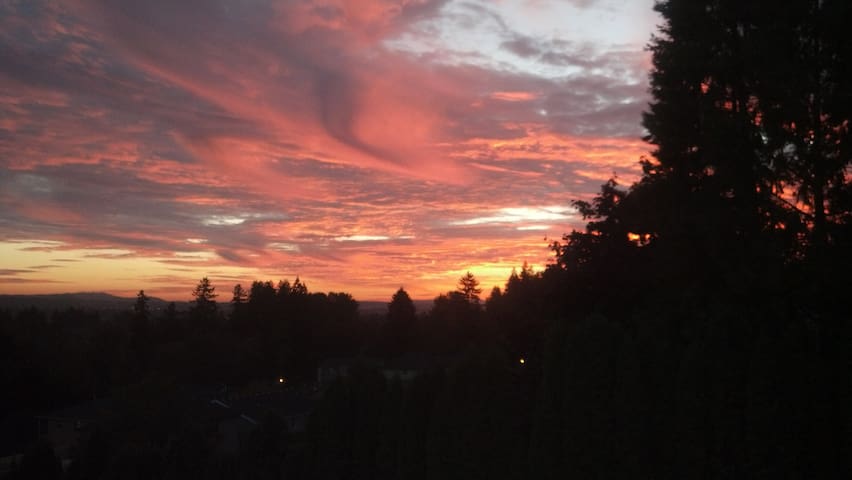 Enter dates to see full pricing. Additional fees apply. Taxes may be added.