Stedet mitt er nærme flyplassen. Du vil elske stedet mitt på grunn av stemningen. Stedet mitt er bra på reiser alene.
A big nice house, a lot of guests. Sofa is not very comfortable to sleep.
Alexander
2016-10-20T00:00:00Z
Room Type
Private room
---
Property Type
House
---
Accommodates
1
---
Bedrooms
Vigra, Møre og Romsdal, Norway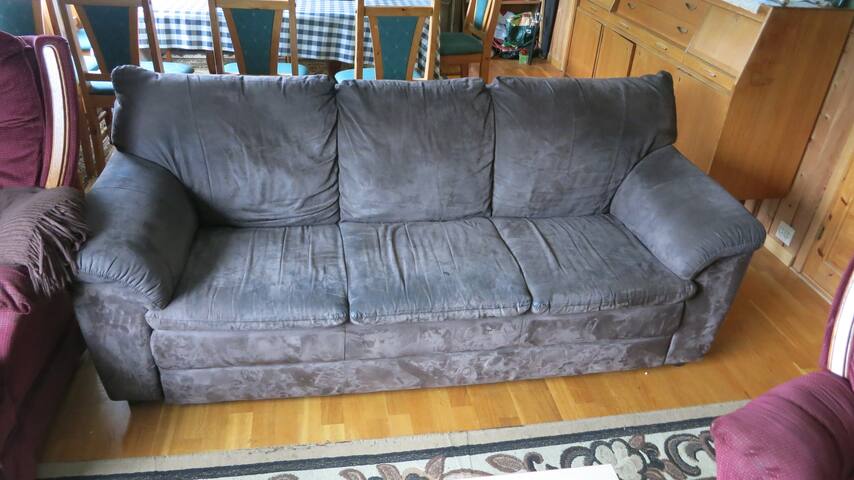 Renovated old timber farmhouse, with a spectacular view of the mountains. 2 bedrooms upstairs, living room, Main bathroom with shower/wc and kitchen is shared with owner. The beds are 1,2x2,0 m. It is close ( 6 min. by car) to Aalesund airport and served by bus to/from Aalesund. Pick-up at airport is possible.
The house is timber, built in 1870 and completely modernised in 2014. The old timber is restored. During the rebuilding process a lot of effort has been to reduce the CO2 footprint and all lights ar LED. Floor heating and hot water is generated from a modern wood burning furnace to use renewable energy for all large energy consumers.
6 km to the airport and 1,5 km to the nearest grocery
Baard's place is wonderful combination of modern feeling and traditional Norwegian architecture. Me and my girlfriend became inspired by solutions in his house. We have not met Baard personally, but we had very good communication with him all the time. His daughter was waiting for us to show the place and the area. We can give very positive recommendation, especially because we could leave the place at any time the second day:) That gave us much more chilled out experience of the time spent there.
Filip
2016-06-04T00:00:00Z
Baard was terrific from the first communication. He provided more than what was expected. In this regard, the value was exceptional. On our visit, he was able to pick us up at the airport (in heavy rain) and help us move several large bags. The renovated house is very close to the Aleslund, Norway airport with a nice view. It is convenient if you are renting or dropping off a car for a flight. He also gave us dinner and provided breakfast. (Note: If Baard is away on business he will not be able to do this) Baard is an exceptional conversationalist. It was a pleasure talking with him about many subjects.
Jack
2016-09-01T00:00:00Z
We had a wonderful stay in Baard's home, which is beautiful and cozy with a fantastic view over the water and neighboring Island. Baard is an excellent host, one of the best I've been acquainted with on airbnb. We were touched by his kindness and generosity, and we had a fun time in his company (he has a great sense of humor). I highly recommend him, his home, and this beautiful part of Norway where he lives.
Eliva
2015-08-30T00:00:00Z
Four of us stayed at Baard's house after a road trip from Molde to Alesund. The charming timber house is very cozy and has a gorgeous view. Baard is very friendly and we chatted in the living room, listened to music while watching deer running outside until sunset. We had to catch an early morning flight and Baard is so nice to get up before 6 to make breakfast for us. We all had a great time and this is definitely the best airbnb place we have ever stayed at!
Stella
2016-07-20T00:00:00Z
Short, but very pleasant stay at Baard's place. He even cooked for us! What a kind and gentlemen host.
Dr Nicholas
2016-03-08T00:00:00Z
The beautiful house is located in a quiet, pretty landscape which has nevertheless a good bus connection. Baard gave us nice recommendations on what to do in the area. There are beautiful white sand beaches in walking distance which are definitely a must see. On top, Baard is a great host and made us feel very welcome and comfortable. We can greatly recommend to stay with Baard!
Tobias
2015-09-01T00:00:00Z
It was our very first airbnb experience and it turned out to be a very nice première! Baard and Elisabeth are sympathetic and friendly hosts who made us feel welcome from the start. We very much appreciated the nice and varied breakfast (freshly home made bread!) with a great view! Baard even invited us for a home made whale steak dinner which was very nice. But the summum was the opportunity we got to share the traditional family breakfast for Norvegian National Day where the ladies wear traditional Norvegian dress and men are in jacket and tie. Baard & Elisabeth also gave lots of ideas and tips to visit the area. The house is located near the airport and is only 20' away from Alesund. Thank you for your welcome, the dinner and the home made bread you gave us upon departure! We will send you the family picture as soon as we get home! Marianne & Jean-Paul
Marianne
2016-05-18T00:00:00Z
Baard wasn't available to check us in because he was on business, but was easily able to arrange for a family member to help us. The space is beautiful and clean with fantastic views. It's the perfect place to wander around the island of Vigra in tranquility. Baard did finish with his business and we were able to meet him and have a delicious breakfast before we checked out.
Jason
2016-09-20T00:00:00Z
Room Type
Private room
---
Property Type
House
---
Accommodates
4
---
Bedrooms
Giske, Møre og Romsdal, Norway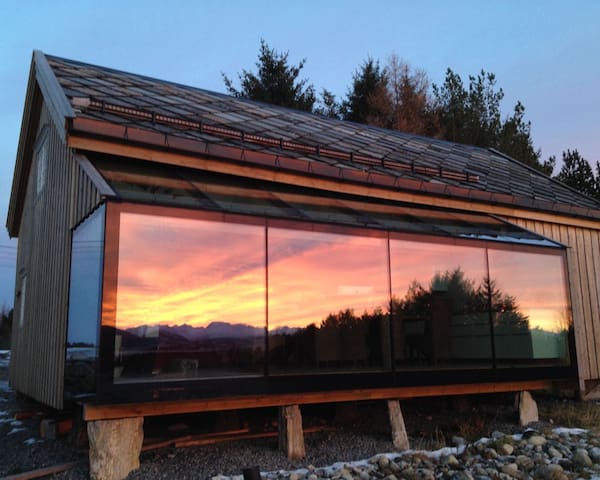 Three rooms in the third floor with nice view to the mountains. 4 km from Ålesund airport Ample space for parking
Relax at the quiet countryside while not beeing far from the town and the international airport Visit the surrounding mountains Take walks at the seaside Go to the key side for fishing
Lots of countryside , sea and mountains.
Upon entering I could smell fesh baked bread. All the guests ate a provided meal in the evening and morning together. Which was a nice touch. Everything was laid back, flexible and I felt like family. When arriving by car follow the written directions. Arrive in the daylight so you can read the address. The GPS location listed is not exact.
Jim
2016-09-07T00:00:00Z
We slept in this house for one night , the owner was not there there was now a Oekraïner named Victor he pickt us up at the AirPort for 100 nrk he cant bring us back he must work but thank god there was a very Nice Guy from Rusia named Alexander Thx for the ride we hope that you have a Nice road trip and wish you all the luck The house is good for one night its not very clean but the WiFi is great Peter
Peter
2016-10-20T00:00:00Z
Although Terje was abroad, he gave us some good advice and have been great host. Victor the houskeeper was very friendly as well. The house itself was really cosy and we felt like home from the first minute. We didn't need anything else to enjoy our stay and have a great time.
Janek
2017-01-21T00:00:00Z
Terje is a very merry man. His place is at the island where the Aalesund airport is which is very convenient, especailly if you come in the afternoon or evening. Terje had no problem with taking us from the airport to his place (as it may be difficult without own car). He has shown us the whole island and told about the region. We had a good talk about various things while eating own Terje's products which he has treated us with. The house is a 2 floor wooden building, the bedrooms are upstairs (2 rooms with double beds), but there's space for more people. There's one bathroom with the toilet in the middle floor. The house is very spacious and cozy which reflects how Terje is. This is a definately good choice to stay there.
Lukasz
2016-07-28T00:00:00Z
Terje was an excellent host. His place is cozy and the surroundings are amazing. He showed us Ålesund and all the Islands around and told us a lot off interesting stories. He also cooked a great tipical dinner and breakfast for us. He is a very talkative, warm and nice person. We recommend anyone to stay at his place.
Maria Inês
2016-05-27T00:00:00Z
Terje was very service minded and helpful. He took us in on very short notice, and made supper for us when we arrived late. He has extensive knowledge of the area, and could answer all kinds of questions the area and help us with tips.
Natasha
2016-08-14T00:00:00Z
This apartment is located really near the airport. Less than 10min by car, 45 min to 1 hour by foot. The house is big and has all the accomodations we needed. Terje is also a great host who wanted to share moments with us. He's such a generous person. He'll try his best to make you feel comfortable. We went for a beautiful walk together as well. Merci beaucoup pour ce séjour!
Jennifer
2016-08-02T00:00:00Z
Terje was a really nice host. He picked us up at the airport, showed us the surrounding or went for a swim in the cold sea with us. He was really helpful when we were planning the trip and when we had trouble with the bike transport of SAS, he slept on the sofa so we could stay for another night waiting for our bikes. He knows a lot of stories to tell and a lot of places to show. He said he wants to make our stay as comfortable as possible, what he really did!
Noah
2016-07-30T00:00:00Z
Room Type
Private room
---
Property Type
Bed & Breakfast
---
Accommodates
2
---
Bedrooms
Vigra, Møre og Romsdal, Norway
Stedet mitt er nær flyplassen. Du vil elske stedet mitt på grunn av utsikten, beliggenheten, folket og stemningen. Stedet mitt er bra bådefor par og de som reiser alene, bedriftsreisende, familier (med barn), store grupper og pelskledde venner (kjæledyr).
My house is only 4 km from Ålesund airport. It is situated in the countryside on the middle of the island Vigra in a very quiet area. It is surrounded by birch and pine trees.
People on the island are friendly and peaceful. During 24 years on the island I have never experienced any quarrels or conflict between neighbours. People take care of their own business and dont interfere with others. They take great pride in taking care of their gardens and houses and will greet your and smile at you if you meet them on the road.
Terje was really nice host. We just crashed for one night as the location is very close to the airport. Recommending his place to backpackers and people who want to see the surroundings.
Pavla
2016-06-10T00:00:00Z
It was a great pleasure to be Terje's guest. He's an extraordinary person with great amount of kindness and care. He welcomed us with lot more than we ever expected, making our time in Vigra even more fantastic. Thank you!
Hania
2016-09-07T00:00:00Z
Terje is a very nice and serviceminded man. We give him all our best recommendation☺..... In the house we feel safe, like we are home. He is very social person
Thomas
2016-08-12T00:00:00Z
Terje was a great host! He picked me up at the airport which was really great. Later he showed me and some other guests the surroundings, it was beautiful! In the evening he made us dinner. Terje was the binding factor for a great evening and time there. The house and rooms are nice and clean. I would stay there again which I did before I went back to Amsterdam. I had a wonderfull stay, Terje is an amazing and heartwarming guy who wants you to have a great time. He will provide interesting stories and will put a smile on your face. Thank you for everything!
Jamahl
2016-08-21T00:00:00Z
Big house. Good house. Lively kind host. But several problems. Both rooms smell nasty. Piller has also some bad smell. Kitchen was badly organized and not clean to cook. My wife almost got mad.
상수
2016-07-11T00:00:00Z
Terje was very friendly and welcoming. We had a nice stay at his home in Viera.
Ines
2016-08-22T00:00:00Z
Terje is great host ! He was very hospitality and helpful. The house and rooms are very clean and spacious. We felt like in home! Vigra is the best place for people who want visit most popular Norway fjords! See You again!
Marcin
2016-09-05T00:00:00Z
Even though we booked our stay at the very last minute, Terje was very accommodating and helpful. He welcomed us with a nice big dinner, which was a great surprise. It was great place for larger groups. Thanks!
Mark
2016-08-01T00:00:00Z
Room Type
Private room
---
Property Type
Bed & Breakfast
---
Accommodates
4
---
Bedrooms
Vigra, Møre og Romsdal, Norway
My place is close to the airport. You'll love my place because of the views, the location, and the people. My place is good for couples, solo adventurers, business travelers, families (with kids), big groups, and furry friends (pets).
A perfect place to stay, Terje was extremely helpful and showed us the beautiful area he lives in, we enjoyed every moment, thank you very much, it was great to meet such a person!
Isabelle
2016-08-06T00:00:00Z
We stayed at Terje's home for 4 days. The place is very close to the airport, Terje gave us very detailed description of the way to the house, so we walked and enjoyed Vigra. The island is quiet, silent, there are many wonderful places to walk. It is easy to get to Aalesund from there. The home is comfortable, everything necessary is there. We didn't meet Terje personally, but we met Viktor, who was very friendly to us. I would definitely come again!
Ася
2017-01-28T00:00:00Z
Very cozy house and clean nice room. The house is close to ocean and it was simple to get to Alesund center by bus) Special thanks to Viktor, he met me at airport and gave me a lot of advice about Vigra and hiking here. So, it was my awesome and fantastic vacation! Highly recommended!
Daria
2017-01-14T00:00:00Z
Terje's house situated in calm location nearby the airport was really good choice to stay. The host is really nice and easygoing. He picked us up at the airport, although we arrived quite late in the night. He also showed us the neighbourhood and he took us to the bus stop in the morning. Highly recommended!
Karel
2016-09-15T00:00:00Z
We was there for just one day,but we wanted to stay more. It's really nice house with everything you need, which is good for family and for a young girl as well. Nice view outside, and really fresh air. We are recommended this place.
Aigul
2016-07-24T00:00:00Z
Host is awesome. Very detail oriented. Knows what tourists need. A lot of help to situate. Place is remote. Best bet-having car. But he knows around with bus schedule. It's a livable home. Clean and cosy.
Alex
2016-08-10T00:00:00Z
Terje was so kind the moment we booked his Airbnb. He told us all about what to do in the town, very good bus directions on how to get to his place, and even offered to drive us around! When we got to his home, there were already a few other people staying there which was awesome to be able to talk to and hang out with others traveling around the same places as you. Terje made us supper that night consisting of so much delicious food (including amazing apple pie and homemade jams!) and tea. He also provided breakfast! We had a flight at 6 in the morning and the airport was only about a five minute drive from Terje's home and he still woke up at 4:45 to drive us. He really knows the area and is a great host! It is about 15-20 minutes to city center but it's very close to the airport and not hard to get to with buses (public transportation in Norway = amazing and precisely on time).
Chelsea
2016-08-22T00:00:00Z
2016.10.10 No current host is on vacation. There are Ukrainian people a couple that dont speak English Small children will have two. wifi is very slow. Breakfast does not have. There is no dryer. It does not have a key to the door of the room. Contents There is a lie. I am sure is clean after using the kitchen and bathroom. But, there were and are soiled from the absent host claims of the message. I and you leave soiled host was condemned. It is the lowest of the host. I dont recommend Absolutely you. You always unpleasant feelings. かなり最低なホストです。 書いてある内容にも嘘があります。 乾燥機無い 部屋に鍵無し Wifi遅くて使い物にならない。 中心街から1時間以上かかり本数も少ない。 朝食もない。 そもそも休暇でホストがいない。 代わりに英語も満足に話せないウクライナ人の家族がいる。 記述が嘘だらけ。 しかも、私が使用したキッチンやバスルームは必ず綺麗にしているのに片付けてないと、ウクライナ人に報告を受け、決めつけのメッセージが休暇先から届いた。 土日に管理を任されているウクライナ人家族は日曜日の夜まで戻ってこなかった。 今までで一番最低なホストです。 絶対にお勧めしません。不愉快な思いをします。 このホストは辞めるべきだ。
Masanori
2016-10-10T00:00:00Z
Room Type
Private room
---
Property Type
Bed & Breakfast
---
Accommodates
2
---
Bedrooms
Vigra, Møre og Romsdal, Norway
Vigra - Airbnb
:
Average

4.55

out of

5

stars from

83

guest reviews
Enter dates to see full pricing. Additional fees apply. Taxes may be added.