A one-bedroom apartment on the ground floor of the recently-built Chalet 'Etoiles du Sud', in the tranquil alpine village of Le Levron, just 15 minutes drive from the start of the Verbier ski-lift system. At 1300m altitude, the sun-drenched chalet enjoys breath-taking views over valleys and mountains, with Italy's Gran Paradiso in the distance. The apartment has a light and airy living area, with a modern kitchen/dining corner, opening onto the panoramic terrace and garden. There is one double bedroom, with plenty of cupboard space, and with ensuite shower, basin and wc. There is cable TV and radio, DVD and CD, and Internet with wifi. There is one parking space; winter tyres or chains are necessary during the ski season. The village café and corner store are found in the village square, a 5-minute stroll, and major supermarkets and petrol stations are a 15 minute drive away at the foot of the mountain. Neither smoking nor pets are permitted. Apart from the vast Verbier/4 Valleys ski area, there are numerous smaller resorts within a 30-minute drive. Snowshoeing and ski touring can be enjoyed from the chalet's door, up the slopes of Mont Chemin to the Col du Lein and Col du Tronc, with their 500-year-old larches and vehicle-free winter mantle. Chamois, chevreuil, deer and hare are the shy inhabitants of this snowy wonderland. Spring, summer and autumn are equally extraordinary in this little corner of the Alpes, a paradise for hiking and biking, climbing and paragliding, flower-spotting and bird-watching, picnic-ing and reading in the sun. The rental price ranges from CHF 130 - CHF 200 per night, depending on the season. Please check the daily calendar before booking.
Amazing place, clean, modern, comfortable and a fantastic view.
danu
2017-02-26T00:00:00Z
Me and my husband spend 5 days at Kate's Chalet and we loved the place. Kate is a wonderful host and the apartment is perfectly equipped with all you need.
Victoria
2013-01-05T00:00:00Z
Kate is a very kind and considerate host. We arrived late on Christmas Eve to find every detail attended to. She is knowledgeable about the area and gave us useful advice which greatly improved our experience. The chalet is beautiful and an excellent place to relax while affording easy access to nearby Verbier or other sites. The chalet and view are exactly as advertised, except for being even more stunning in real life. Between our host, Kate, and the chalet, itself, this has been our best experience yet with AirBnb or any other accommodation anywhere. My wife and I loved Switzerland and our time there and would jump at the opportunity to return. Do yourself a big favor by checking out this destination.
Adam
2015-12-31T00:00:00Z
Kate is a wonderfull host. The apartment is cosy, modern and in excellent condition with anything and everything you may need.
Mikael
2016-01-06T00:00:00Z
The Verbier Alternative is an amazing "alternative" for a lovely stay in a beautiful and very charming apartment in the mountains. The apartment looks exactly like on the pictures, no, even better ;-) You'll find everything you'll need, from a very cosy bed, spacious living room, very well equipped kitchen, a modern bath with shower, and plenty of space outside to sit and relax in the sun with a spectacular view! So, for sure I can recommend this place to everyone looking for a quiet and lovely apartment for some days to relax and enjoy in the mountains ;-)
Manuel
2017-01-01T00:00:00Z
Kate, is a kind, thoughtful and most helpful host. The private, quiet, spacious apartment which is situated on the ground floor of her typically Swiss modern chalet is the one of the most comfortable, well equipped, modern and clean Air BnB properties in which I have stayed and I highly recommend it. The large double bed is very comfortable and the en suite bathroom has a very good shower, toilet and lovely vanity unit. The kitchen, living and dining room has everything we could possibly need- a fridge with freezer section which Kate had stocked with a few essential provisions, a very efficient oven, grill and hob and plenty of pans and crockery and glass ware. There was a good selection of international TV programmes and we enjoyed watching a couple of DVDs as well as listening to the radio. We appreciated the stunning views of the valley below the chalet from the bedroom, living area and the outside decking where one could relax in the deck chairs or enjoy outside dining. We loved the place so much we didn't bother going out in the evening for dinner but stayed at home to enjoy the views and ambiance. The local information given to us by Kate on arrival was so clear and helpful-we followed her suggested itinerary on both days. We went on 4 cable cars/gondolas to get to the top of Mont Fort where there are speculative views of the Alps including Mont Blanc and the Matterhorn. The next day we visited the art gallery in Martigny which had a unique Renoir exhibition as well as interesting Roman artefacts and beautiful sculptures and gardens. I could have happily stayed 2-3 weeks to appreciate the local walks and tranquility. Thanks very much Kate.
Cyndy
2014-08-15T00:00:00Z
Room Type
Entire home/apt
---
Property Type
Flat
---
Accommodates
2
---
Bedrooms
Vollèges, Valais, Switzerland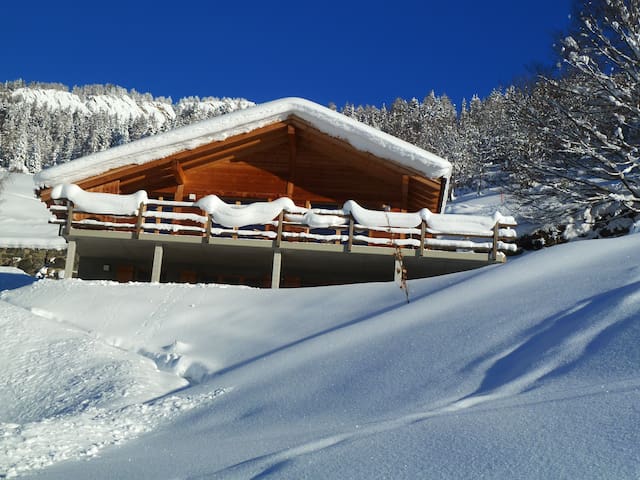 Bright and spacious apartment located in the heart of a quaint Swiss village only 5 min from the Verbier lift network, and only 30 min from the Swiss/Italian border. Ideally situated for summer and winter alpine holidays. Perfect for a family or a small group looking for a quiet getaway
Room Type
Entire home/apt
---
Property Type
Flat
---
Accommodates
7
---
Bedrooms
Vollèges, Valais, Switzerland
The spacious 2 bedroom apartment was completed in early 2014, is situated in a strategic location and offers a peaceful and tranquil mountain retreat with a contemporary and modern design.
In the picturesque village of Cries, close to Le Chable ski-lift and Verbier ski-areas. The apartment built in quiet and sunny spot blend contemporary architectural finishes and high quality local materials. It features a fully equipped kitchen opening onto a contemporary dining / living area with an open fireplace and a balcony overlooking the mountains. Outdoor parking available for one car.
Cries - There are numerous ski resorts within a short drive of the property. Snowshoeing and ski touring can be enjoyed from the front step of property. Whilst in the spring, summer and autum months provide a paradise for enthusiasts of hiking, biking, rock-climbing and paragliding.
A really great apartment with very modern forniture and an amazing view! The house is close to Verbier and 5 min stop from Les Chable. We have spent beautiful days there! Enjoy!
Leonardo
2017-01-02T00:00:00Z
L'appartement est vraiment cosy, décoré avec goût dans un style scandinave et épuré. Les grandes baies vitrées donnent sur une vue magnifique sur les montagnes aux alentours. La cheminée renforce le côté très cocooning du salon. Nous avons été très bien accueilli et les équipements de l'appartement étaient complets. Cet appartement marie à merveille charme de la montagne et modernité de la décoration. Nous avons adoré.
Line
2016-01-03T00:00:00Z
Room Type
Entire home/apt
---
Property Type
Flat
---
Accommodates
5
---
Bedrooms
Vollèges, Valais, Switzerland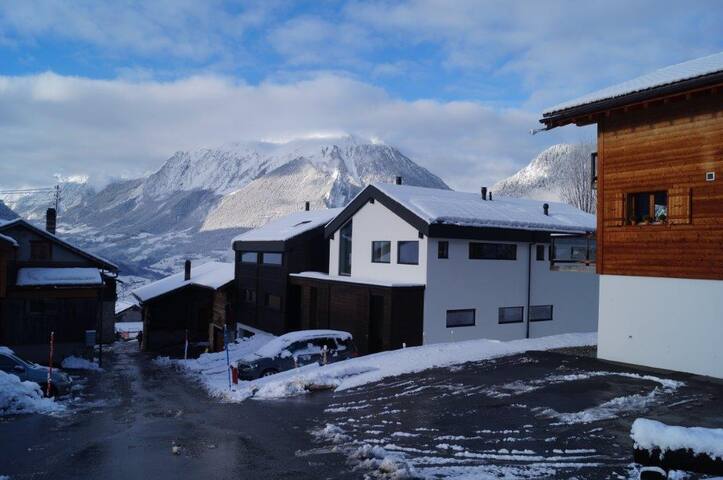 Ski in Verbier and stay in a large, comfortable, double bed bedroom with ensuite bathroom in a lovely, spacious, modern apartment. Wifi, parking, fireplace, tv, laundry facility, kitchen, etc. Price for two people sharing. Single's price available!
Large, lots of light, peaceful, airy, contemporary design with a super comfortable double-bed, plenty of cupboard space, a desk, chair and a large window. Bed is made with Egyptian cotton sheets and real down duvets and down pillows. Towels, bathrobes and slippers are provided. Ensuite bathroom with a power shower, toilet, sink, window and underfloor heating. Wifi throughout. The room and en suite bathroom are located at the end of the hallway affording guests a maximum of privacy.
The village of Volleges, merely five minutes from the Le Chable cable car, train station and bus terminal, is a lovely, rural, family-oriented, friendly, typically Swiss village. People are helpful and always say hello. It is safe and people are honest and polite. There is a charming brewery, a delicious local dairy, great biking and hiking trails directly outside the front door, a playground, a football pitch, and virtually every house in the village has their own vegetable patch. Public parking is free and less than 50m from the apartment.
We were warmly welcomed by Ann-Christina to a very beautiful house, not far from the Le Chable cable car, and were made to feel comfortable right from the start. The room is nice and cosy as described, with a private bathroom, in a very quiet and peaceful area. Our stay was great and we would definitely recommend this place!
Marios
2016-03-13T00:00:00Z
Our stay at this place was great! The room was spacious and comfortable with a very comfortable double bed. There is a private bathroom also, which was big with a great shower. Our host, Ann-Christina was very generous and provided everything we needed. My partner even did some cello practise in the flat! We only stayed one night so didn't get to have a look around but the property is very close to verbier and to the cable car. The location is very quiet and convenient.
Cathy-Di
2014-07-26T00:00:00Z
The reservation was canceled 15 days before arrival. This is an automated posting.
Sachito
2014-12-14T00:00:00Z
Unfortunately we did not get the chance to meet Ann-Christina but she made us feel comfortable and gave us all the information we needed upon arrival. Our stay was great, the flat is ideally located and very cosy, just like on the pictures. We would definitely recommend it to anyone!
Florine
2015-02-22T00:00:00Z
Chambre sympathique dans un bel appartement bien situé à proximité du télécabine. Accueil sympa et agréable.
Philippe
2014-03-24T00:00:00Z
Room Type
Private room
---
Property Type
Flat
---
Accommodates
2
---
Bedrooms
Vollèges, Valais, Switzerland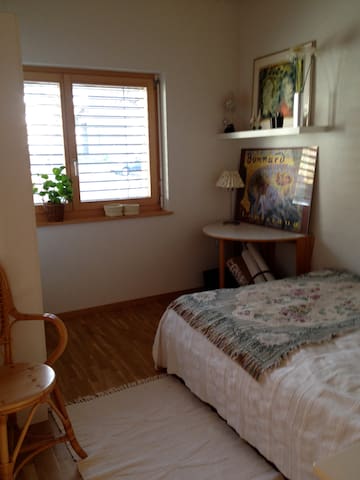 appartement 1 chambre, meublé avec Balcon, au 6ème étage d'un immeuble bien entretenu, piscine commune dans la propriété, ascenseur. Profitez de la vue dégagée depuis le balcon pour boire l'apero ou dîner aux chandelles. Quartier très calme.
Logement unique dans sa localisation, calme, vue dégagée et piscine a disposition
Le quartier est calme et résidentiel. Proche de l'établissement VATEL. Proche de la gare centrale et de toutes commodités.
Great apartment, price and location. Very clean
Kevin
2016-08-20T00:00:00Z
It is a nice apartment. Nice service. had a nice stay in the apartment. It was fully equipped with all the basics of kitchen and clean. Thanks pedro.
Nakshay
2016-09-03T00:00:00Z
Pedro was helpful and friendly. He made sure that we got settled in on Sunday afternoon. Everything was exactly as we expected. Clean apartment. Clean linens. Comfy bed. Good location on the 6th floor of the building. Felt very secure. Good elevator. Nice people in the building. Pleasant little balcony. Easy 8 min walk to Martigny train station or to restaurants and shopping. Big surprise--the view of the Valley was spectacular! Every morning we were greeted with mountains. We look forward to visiting again.
Elain
2016-10-15T00:00:00Z
Très bon séjour, Pedro est vraiment un très bon hôte. Il vous répond toujours dans l'heure et toujours agréablement. L'appartement est très propre et bien situé. Je vous le recommande.
Finn
2017-01-31T00:00:00Z
Le vue du balcon et parfait. Les lits son très confortable et c'était très facile pour nous de communiqué avec le patron. En peux marché partout c'était très calme et près du gare. Je suis bien contents que nous avons trouvé cette bonne apartment. C'était parfait por deux!
Frances
2017-03-30T00:00:00Z
Bon séjour merci Pedro
Finn
2017-02-05T00:00:00Z
Jai passé un merveilleux séjour dans ce logement. Je suis rester plus d'un mois et je douterais pas a y retourner une deuxieme fois. L'endroit est top tres bien situé comme la ville elle meme qui est au centre de tous les autres villes et spots de montagne. Ce que j'ai adoré c'est le fait qu'il y est toujours de la place pour se garer, un autre point aussi est le lit. Je n'ai jamais si bien dormi de ma vie Le lit est tout juste fantastique, une comodité incroyable, une fois allongé vous ne voudrez plus vous relevez :) Et sans oublier la chaleureuse atention de pedro. Super contact. Super personne!! Bisous pedro!! A la prochaine :)
Selena
2016-11-30T00:00:00Z
Room Type
Entire home/apt
---
Property Type
Flat
---
Accommodates
2
---
Bedrooms
Martigny, Valais, Switzerland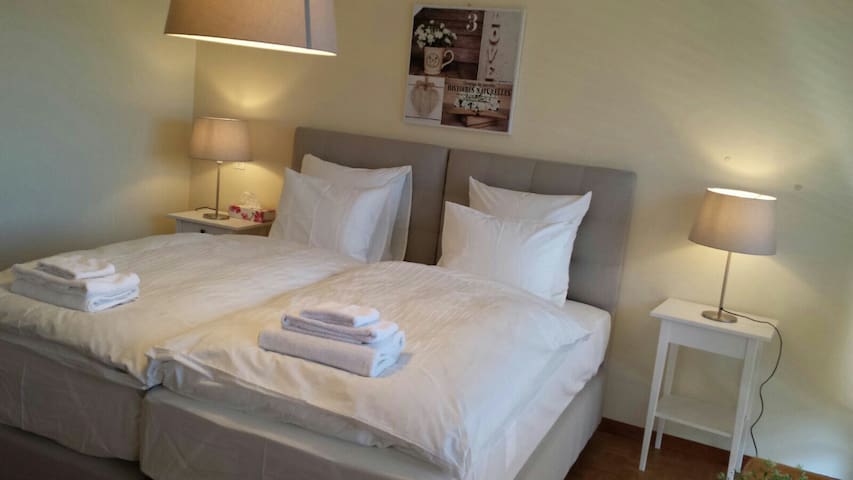 Appartement de 130m2 situé au 2ème étage sous les toits. La poutraison apparente et son grand espace à vivre lumineux vous séduira. Un BBQ est disponible sur la terrasse Sud et le balcon couvert à l'Est vous accueillera lors des chaudes journées d'été.
Situé à l'entrée de Fully, cet appartement vous offre un grand confort. Idéalement situé dans le coude du Rhône, il est le point de départ idéal pour des randonnées cyclistes ou pédestres.
Quartier tranquille et vue dégagée .
The apartment of Fabio was amazing! Super well located, fully is a nice quiet village, we had a great view of the vineyards on the mountain side. The apartment is spacious, very well organize and with an extraordinary style. 100% recommendable and Fabio was very nice to us. I can't wait to go back to Valais and stay again there ;) Thanks Fabio!
Iñaki
2016-07-18T00:00:00Z
Fabio is awesome man. His flat is big, beautiful, modern a really good equipped. He was helpful in any way we needed. The room is comfortable and the bed was great. Clean, cosy modern flat with friendly communicative owner I fully recommend.
Pavel
2016-07-15T00:00:00Z
Très bel appartement et vue splendide sur les montagnes du Valais. A découvrir absolument.
Alain
2016-08-09T00:00:00Z
Très bel appartement, lumineux et très bien équipé. Fabio est une personne très disponible qui a tout fait pour rendre mon séjour parfait. Situation idéale pour se rendre aux bains de Saillon et pour partir se promener dans les vignes. Je ne peux que recommander!
Sarah
2016-12-18T00:00:00Z
Super appartement, très propre et très agréable. Réveil entre montagnes et vignes en escaliers, la vue est superbe! Fabio à tout fait pour nous faciliter le séjour, je conseille et j'y retournerai avec plaisir!
Marie
2016-09-25T00:00:00Z
Bel appartement très propre et calme. Fabio saura vous conseiller sur la région! Je recommande.
Mickaël
2017-03-10T00:00:00Z
Fabio nous a accueillis très chaleureusement. Son appartement est spacieux, très propre et bien équipé. Nous y avons passé une excellente nuit.
odile
2016-11-16T00:00:00Z
Room Type
Private room
---
Property Type
Flat
---
Accommodates
2
---
Bedrooms
Fully, Valais, Switzerland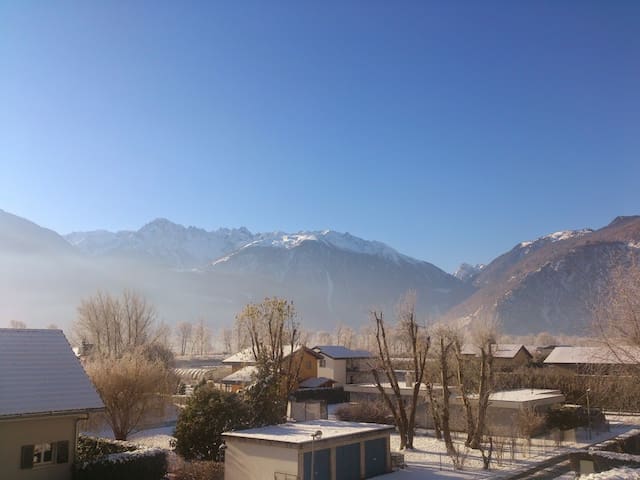 Remotely located in a secular larch forest, with stunning views on surrounding mountains, this 2 bedroom appartment with a south oriented garden is quiet and well equipped. Perfect hideaway for lovers and families. 4wd is recommended in winter.
Fully renovated in 2015, this appartment mixes urban and chalet influences for a unique combination. You will find all the comfort you need after a day of hiking or skiiing, with a cosy fireplace, comfy beds, internet and a garden to enjoy stunning views on the Alps.
The appartment is located in a remote location, surrounded by a larch forest. The nearest village is 5 minutes away, restaurants and shops 10 minutes away.
Very nice accomodation in quite zone with great view
Peter
2017-01-23T00:00:00Z
La nature, le calme, la vue... c'est ce qu'on vient y chercher!! L'accès demeure un point critique, en particulier si la neige est présente. 4x4 et pneus neige conseillés, chaine dans le coffre au cas où...
Jonathan
2017-02-17T00:00:00Z
Nicolas etait entirement disponible durant notre sejour, avenant et agreable. Le logement etait charmant et bien equipe, l'environnement etait exceptionnel. Je reviendrai certainement si l'occasion se presenterait a nouveau Merci pour tout Nicolas
Patrick
2016-10-10T00:00:00Z
Room Type
Entire home/apt
---
Property Type
Flat
---
Accommodates
5
---
Bedrooms
Chemin, Valais, Switzerland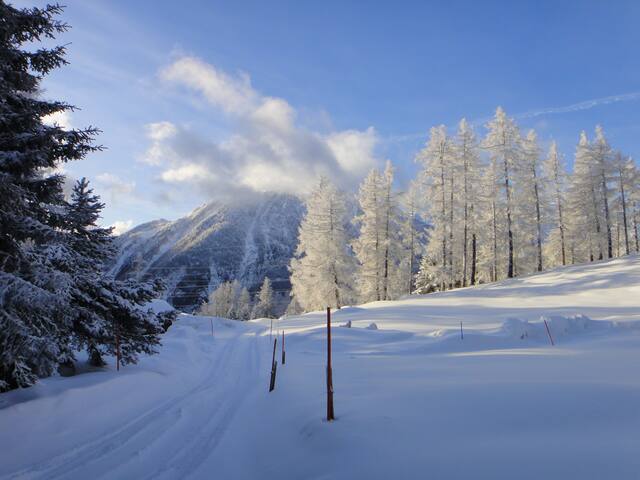 Enter dates to see full pricing. Additional fees apply. Taxes may be added.