Cozy 2-story cottage, within walking distance to the center of of the picturesque village. The 2 bedrooms share a balcony that commands sweeping views of the lake and the surrounding mountains. This is a magical place.
The cottage has 2 bedrooms, 1 bath, kitchen, dining/living area. The kitchen is fully equipped with ample food storage and meal preparation counters and a breakfast bar. A large window overlooks the picturesque lake. A staircase leads to the second floor with its 2 bedrooms and a modern bathroom that boasts a wall-to-wall enclosed shower. The 2 bedrooms share a balcony that commands sweeping views of the lake and the surrounding mountains. Night time brings views of the town lights along the lake's shore, as well as the house and street lights of Tzintzuntzan. Relax in the large terrace. Use the cottage as a base for exploring the area, the renowned island of Janitzio, a short drive to the state capitol of Morelia, a colonial-era gem., the monarch butterfly winter sanctuary the lush gardens with natural water falls and so much more.
The cottage is ideally located withing short driving distances to nearby villages, towns and attractions. The resort towns of Ixtapa/Zihuatanejo is a 3 to 3.5 hour drive.
The house looks way better in real life. It's spacious and comfortable, and fully equiped. You have plenty of buses that pass nearby, so you can get to wherever you need. Joe provided great support before the stay, and during the stay Deb was also a great help.
Andrés
2016-05-28T00:00:00Z
Room Type
Entire home/apt
---
Property Type
House
---
Accommodates
6
---
Bedrooms
Tzintzuntzan, Michoacán, Mexico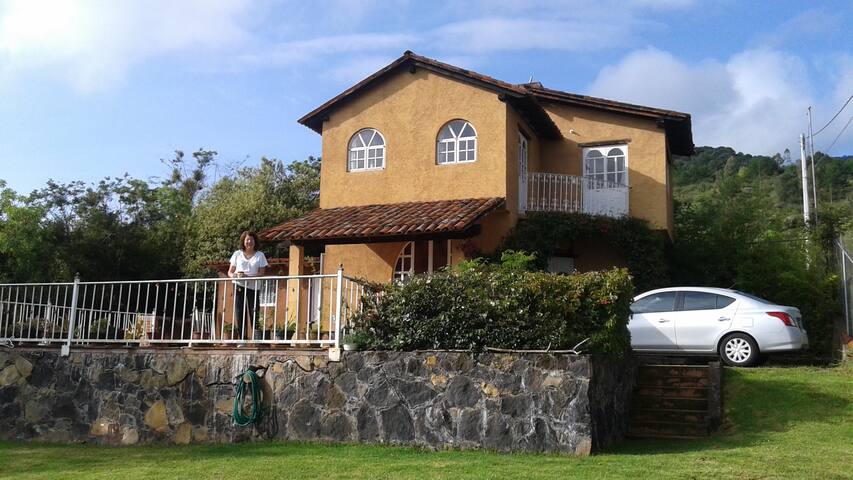 Your cottage on Lake Patzcuaro, a Magic Town. spacious rooms with fireplace and green areas for fire or awnings Pets welcome, boy 24 hrs.,.
Noiseless and all amenities with an incredible view of Lake Patzcuaro
It is a magical town of Michoacan and the first state capital. The origin of the Tarascan state
El atractivo mas grande de esta casa es el jardín, enorme y precioso, con vista al lago...una tranquilidad que se aprecia mucho. Edu nos atendió muy bien y sobre todo Hilda nos cocino cena y desayuno delicioso durante toda la estancia. Recomiendo mucho esta casa
thibault
2017-03-20T00:00:00Z
Es una casa con vista y jardín muy bonitos! Realmente disfrutas el paisaje, solamente caben 8 personas cómodamente (2 por cama)
Paulina
2016-11-13T00:00:00Z
Room Type
Entire home/apt
---
Property Type
House
---
Accommodates
12
---
Bedrooms
Tzintzuntzan, Michoacán, Mexico
The House of Flowers is ideal for a relaxing holiday, surrounded by nature. The house has all services and is equipped with the necessary cooking utensils and appliances, to make you feel at home. You can always count on the assistance of two people who are awaiting their stay and that will give them a lot of respect and privacy. La Casa de las is located 15 minutes from downtown, and supermarkets nearby. The setting is peaceful and relaxing.
The house is located in a very quiet neighborhood which lends itself to morning for those who like the sport because it has outstanding and forest that makes it attractive, quiet and safe walks.
La Casa de las is located 15 minutes from downtown, and has a supermarket nearby.
The house is very comfortable, simply and elegantly decorated and has all you need for a short stay. The neighborhood is quiet and is only a short taxi ride away to the center and even closer to lake Patzcuaro. The host is attentive and welcoming. We felt at home and would definitely recommend La Casa de Las Flores.
Inji
2016-10-30T00:00:00Z
La Casa de las Flores was a wonderful stay for us. We felt at home and safe. It is all the way up the hill but quite area that you can walk down to main street and catch a cab easily to go to centro. Maria left us a nice welcome letter with things to do along with fruit, water, coffee and flowers. Horacio the caretaker of the homes was very attentive. We really look forward to going back!
Elia
2016-11-04T00:00:00Z
The home is modern with local design. The location was really easy to access and it is steps away from the woods and minutes away from the center plaza. The place was cozy quiet and clean. The host is very friendly and nice. I will definitely come back again with her.
Araceli
2016-11-21T00:00:00Z
María del Rosario's exquisite home in Pátzcuaro was a surprise in many aspects. We didn't expect to find a modern and spacious home with brand new appliances and fixtures. The bed rooms were nice, with views of the quaint town. The caretaker was especially helpful - we always spoke to him in Spanish so we don't know if he had a command of English or not. We would gladly and enthustiasticly recommend this Airb&B home to everyone wishing to visit this world heritage town.
Edward
2017-03-04T00:00:00Z
El lugar es hermoso, súper cómodas instalaciones en un complejo cerrado que permite estar en un ambiente tranquilo y 100% familiar. Los muebles están en excelentes condiciones, la casa está completamente equipada (toallas en los baños, utencilios en la cocina) y el portero (Horacio) es muy amable y servicial. El único detalle que tuve con la anfitriona es que tuve un imprevisto un día antes de llegar por lo que le comuniqué a la Rosario que necesitaba agregar a una persona a mi reservación y que pagaría cualquier excedente; sin embargo, el día de nuestra llegada sentí poca empatía por parte de Rosario, mi bienvenida fue un reclamo por mensaje del cambio que hubo como si hubiera ocultado algo o no hubiera estado dispuesto a pagar lo que correspondía. Finalmente se le pagó el excedente y se acondicionó un sofá como cama.
Paco
2017-03-20T00:00:00Z
Excelente casa, una experiencia increíble la casa esta nueva bien ubicada la atención muy buena en general volvería pronto
Ricardo
2017-02-06T00:00:00Z
La casa de María del Rosario es muy amplia, mi familia y yo estuvimos muy cómodos, incluso mi niño de 2 años. La casa es muy bella y tiene todo para una gran estancia, incluso cuenta con terraza y cuarto de lavado, los baños son amplios y siempre tienen agua caliente, la cocina también está muy bien suministrada y el refrigerador es muy grande. Lo que más nos gustó es que cuenta con chimenea ya que nos hospedamos en diciembre y nos ayudó a sobre llevar el frío. La zona dónde está úbicada es muy tranquila y residencial, en coche haciamos 5 minutos al supermercado y al rededor de 10 minutos al centro de patzcuaro, sin duda nos volveriamos a hospedar allí.
Karen
2016-12-25T00:00:00Z
Excelente el servicio y las instalaciones. Limpieza, Privacidad y buena hubicación. Super recomendable
Jonathan
2017-03-13T00:00:00Z
Room Type
Entire home/apt
---
Property Type
House
---
Accommodates
4
---
Bedrooms
Pátzcuaro, Michoacán, Mexico
Casita con dos bloques: 1º Recamara: Cama matrimonial. Ropero y chimenea. 1 baño completo. 2º Cocina-comedor (Estufa, Refrigerador, mesa 4 personas). Sala con estufa de leña. Vista del lago y sus atardeceres. A 15 minutos del centro histórico.
The house is located in the grounds where my family lives . We respect your privacy but are attentive to any call you make us .
The "neighborhood" is all the town. Though the historic center is the colonial area, it concentrates trade . Food in question there are a variety of restaurants both in and around Patzcuaro .
The casita is exactly as advertised and shown in the photos. It is equipped with the essentials, and comfortably decorated. Héctor and his family are genuinely nice people and eager to share their love of the arts and music. Be sure to visit La Jacaranda, a pulquería and galleria operated by Diego, Hector's son. Héctor has several little dogs, who are friendly to visitors and quite welcoming. If you sit out on the front patio or up on the rooftop terraza, one of the dogs will likely join you. It's a hilly 20 minute walk to town, but it is very doable. If you prefer a taxi, it costs only 35 pesos (about USD$1.60 at the time of our visit.)
William
2017-03-08T00:00:00Z
This is a very nice spot to stay. Héctor and his family are beautiful folks. The house and grounds are covered in beautiful art and sculptures. The whole family is involved in art and music and they can introduce you to similar events in town. The house is extremely rustic, being built from traditional adobe and includes two buildings, one kitchen, living and the other sleeping and bathroom. A real taste of Mexico. Parking was excellent. Location to centro was very good. Patzcuaro is a beatiful town and the view of the lake from the terrace is exceptional. We really enjoyed our stay and hope to get back again. Thanks to Héctor and Carmen.
Gary
2017-02-06T00:00:00Z
Hectors rustic house was beautiful,homely and set around nature overlooking the lago Patzcuaro ---Most importantly Hector and his lovely family are very hospitable and kind---we enjoyed long chats over breakfast ,went for a flamenco show that his son organized and overall had a fantastic time in Patzcuaro ---Thanks a million Hector & fly for your generous hospitality.
Derryl
2016-05-29T00:00:00Z
Todo perfecto. Héctor y su familia son muy amables personas.
Matthias
2017-03-13T00:00:00Z
Todo fue genial con Héctor y Carmen. Teníamos una fogata para calentar nuestra cabaña y una vista lindo del lago. El ambiente y lugar nos encantan. Gracias por todo.
Erin
2016-03-18T00:00:00Z
La Casita de Adobe es encantadora! ubicada en Patzcuaro a unos minutos en auto del centro y a un poquito más caminando, la vista desde la terraza fantástica en cualquier momento del día, se puede ver la Isla de Janitzio . La recamará y el baño y la cocina en perfecto estado . Héctor es un estupendo anfitrión, estuvo muy atento incluso antes de que llegáramos al alojamiento, nos dio recomendaciones culturales muy oportunas. Es justo como en la descripción. Por supuesto que les recomiendo se alojen aquí.
Iris
2016-03-27T00:00:00Z
Gran estadía con Ate e Higo, algunos de sus 8 perritos que nos hicieron compañía, Héctor y Carmen sumamente amables y la casa es muy linda, cuenta con todos los servicios y fue realmente grato.
Jesús
2016-04-25T00:00:00Z
La casita tiene lo necesario para una estancia cómoda, toallas, sábanas limpias y hasta un jabón de baño. La cocina está muy linda, hay lo mínimo necesario para cocinar, un sarten, algunas ollas, platos, cubiertos etc. La limpieza fue buena, todo lo encontramos en buenas condiciones. Sobre el trato de Héctor, fue muy bueno, nos dio las indicaciones y nos quedamos de ver en un punto para que él nos guiará. Nos dio el tour de la casa y nos presentó a los perritos que viven con ellos, los cuales son tranquilos y bien portados. Prácticamente solo utilizamos la casa para dormir pero vale mucho la pena. La ubicación no es en el mero centro pero todo esta cerca en Patzcuaro, en 15 min llegamos caminando y es muy fácil.
Mabel
2016-03-31T00:00:00Z
Room Type
Entire home/apt
---
Property Type
House
---
Accommodates
2
---
Bedrooms
Pátzcuaro, Michoacán, Mexico
One bedroom with exposed bricks, in a house at the foot of a hill in a quiet neighborhood, one block from the main road and public transport, located in Pátzcuaro, famous for the celebration of "Fiesta de las Ánimas"
Staying in Martha's home in Patzcuaro was a great experience. Me and my friend felt very lucky to have stayed with and to have met Martha- In addition to being an extremely warm host, Martha is a person who I was instantly thankful to have met- a rare occasion when your host is as memorable as the trip itself. She strikes me above all as someone who lives her passions, and is integral part of the culture she lives in. She has a lovely place just outside of Patzcuaro. For us it was perfect because we we driving and didn't want to deal with trouble of finding parking in middle of Patzcuaro. When we arrived our room was clean, with everything we needed- Wi-fi, clean towels, soap, heater (it gets cold in Michoacan). She also makes a delicious cinnamon coffee. I would recommend staying with Martha to anyone who looks to break through the safe boundaries of the normal tourist, picture-taking, memory-making experience to something that is, well, more real.
MICHAEL
2013-11-04T00:00:00Z
Martha is a very nice lady who helped us and gave y'a really good advice. We had a perfect stay. Love ver dog!! She even gave us a present as à souvenir!
Mélanie
2017-03-19T00:00:00Z
Martha is a good host and takes care to help you feel at home. Her place is close to most of the important places in Patzcuaro and close to transportation around! I would recommend staying with her, she has a lot of useful information having lived in the town all her life.
Adam
2016-12-22T00:00:00Z
We arrived at the home by taxi. We were greeted by our host's son, age 30, who showed us the room and bathroom which was not private. The ad said "warm room" but when we got there, it was very cold and smelled like mold. The home was very messy and dark I then requested a heater and Martha's son put one in our room. We needed help to get it working. We left to go into town and returned to find that the room smelled even worse after being heated so much that it made us feel ill. Then I went out to ask Bruno, the son, about the internet. The hall and house was left dark and I actually stumbled and fell in the hallway. Then, found out the internet wifi only worked if I sat outside the master bedroom on a chair in the hallway. At that point, my husband and I had enough and told Bruno we didn't want to stay there and called a taxi and left. Bruno was nice and I know he felt bad. They should not be in Air Bnb. Their situation needs too much work and they are not ready. I would never go back there. Sorry.
Teri
2015-02-01T00:00:00Z
Por cuestiones personales ya no pude llegar a Pátzcuaro, pero la atención siempre fue excelente
Omar
2016-12-30T00:00:00Z
Alojamiento ubicado en una casa agradable, en un sitio tranquilo y de fácil acceso. Martha Elena es una excelente anfitriona, siempre pendiente y con ganas de ayudar y orientarte. La habitación comoda, amplia, con lo necesario para estar a gusto y con una bonita decoración. Súper recomedado, en especial para gente sencilla que disfruta el plus de Airbnb al permitirte conocer gente interesante y sentirte como en casa.
Carlos Andrés
2017-02-11T00:00:00Z
Martha es muy amable y atenta
Diana
2017-03-12T00:00:00Z
Muy bonito lugar; muy amable Martha. Recomendado 100 %
Ana
2016-12-28T00:00:00Z
Room Type
Private room
---
Property Type
House
---
Accommodates
2
---
Bedrooms
Patzcuaro, Michoacán, Mexico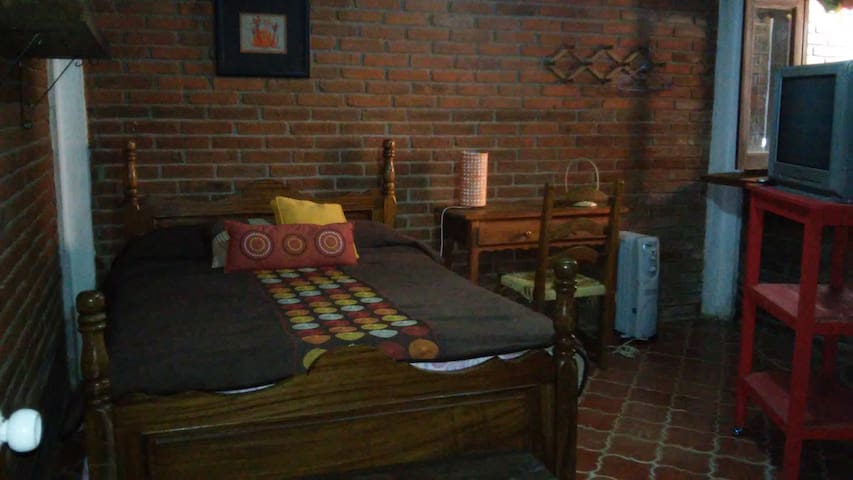 Attractions: public transport, the city center, art and culture. In addition, Patzcuaro is a colony city. We purhépechas indigenous communities and diversity of handicrafts. In the region we have two large lakes, Lake Patzcuaro with several islands, and Lake Zirahuén. You'll love my place because of the neighborhood, the kitchen, the cozy space, comfort of bed and light. My accommodation is good for couples, adventurers, families (with children) and pets.
We loved our time in Nuria's homely place. Sadly, we did not meet Nuria, but her assistants were on hand if ever we needed anything and gave us a warm welcome on arrival. There were even fresh flowers. The house is spacious, with locally made furniture, crockery and decorations. The huge garden is lovely and very peaceful- we enjoyed several meals out there, watching the hummingbirds in the honeysuckle! The house is in a quiet, leafy, and safe rural setting, yet in no way isolated. It is just an easy 5 minutes' walk away from 2 supermarkets, where you can buy all the groceries you need. You can take one of the frequent collectivos (combis) into town for just 7 pesos, a 10 minute ride. Cooking in the well equipped kitchen was a delight, especially using the amazing fresh produce from the central market. We used the chimea in the T.V. room if the evenings were chilly. Great wi-fi too. Can't recommend it highly enough. We felt really at home there and were genuinely sad to leave.
Anna And Alan
2016-09-26T00:00:00Z
We never met Nuria but we did meet her assistant, Vincente and her son, Pablo, who were both kind and helpful. We loved the neighborhood as it was far enough from town to feel calm but close enough to walk to everything.
Jacques
2016-10-31T00:00:00Z
Loved the large garden and the really well equipped kitchen. Enjoyed the big windows, the brightness of the house, the quietness, sitting outdoors watching the hummingbirds, the mocking birds and listening to the baaing of the sheep. It is close to a large supermarket and lots of combis ready to whisk you to the historical center, 10 minutes away.
LOUISE
2017-03-08T00:00:00Z
Another wonderful stay in Patzcuaro at Nuria's.
Jacques
2017-03-17T00:00:00Z
A lovely, secluded place, but still very accessible to everyting. The house is set in beautiful, peaceful grounds, and close enough to town, the lake and shops that you don't need a car. It is 5 minutes walk to the shops and transport. You can walk to the lake and town in about 30 minutes, or catch the collectivo for a few pesos to both, very easy. We were only a couple, but the house would comfortably fit a family or 2-3 couples. There is a lot of space, including a really well equiped kitchen and even a washing machine. The shower doesn't have a lot of pressure, but it is hot, so no real complaints. In summary, a really relaxing house that made our stay in Patzcuaro very easy.
Ivan
2016-12-15T00:00:00Z
Our stay at Nuria's was wonderful. Vincente was welcoming and helped us into the house. Parking was great, the house and the yard were spacious and very well kept. There is ample room in the house and the kitchen was well equipped. It is a short walk to supplies and restaurants and easy bus or taxi to downtown. Patzcuaro is a beautiful and interesting town. A great stay!
Gary
2017-02-22T00:00:00Z
The casita is very quiet and private, and close enough to walk or catch a bus. It is also shady and cool in hot weather. Nice big kitchen and tons of room. I will definitely come back
Natalie
2017-02-13T00:00:00Z
A quiet place to stay with a lovely garden. Main bedroom has a comfortable bed. The house is roomy with artistic touches.
Marty
2016-12-26T00:00:00Z
Room Type
Private room
---
Property Type
House
---
Accommodates
6
---
Bedrooms
Pátzcuaro, Michoacán, Mexico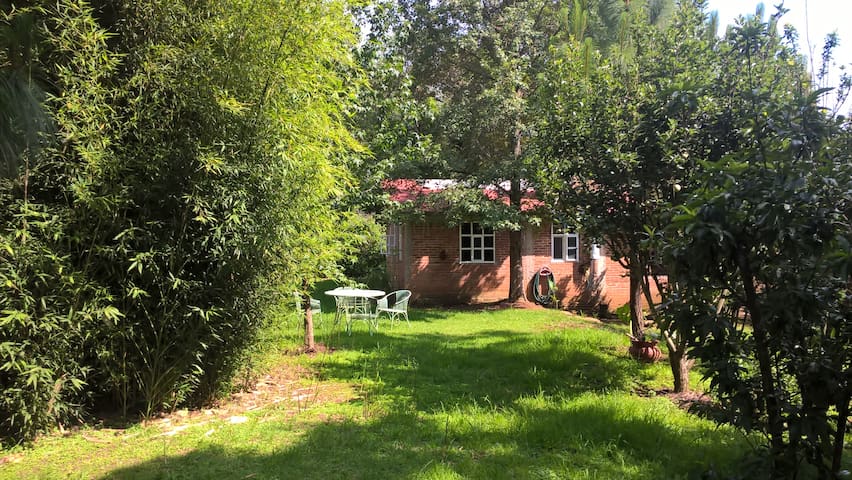 The cost advertised is for the whole house to enjoy your privacy, make yourself at home. This close to the center, it is not necessary to use the car. Almost like hotel service but much more personalized contact for details
You will NOT be disappointed. Exceeded expectations!!!
Dan
2017-03-17T00:00:00Z
Thank you for your hospitality, your father and Alma are very nice
Christine
2017-03-02T00:00:00Z
Ten minute walk to downtown. Many things to do and see. Make sure you check out the Jacaranda Cultural Center. If you want a guided Cultural tour of the area (which we highly recommend) ask Diego at the center about Marcia. She was was fantastic. Our minds were reeling about all the things she showed and told us about the area. The tour was worth every minute.
Vicki R
2017-01-30T00:00:00Z
Excelente ubicación y atención. La casa en excelentes condiciones. Recomendada ampliamente
Karina
2017-02-27T00:00:00Z
Esta casa nos encanto a mi y a mi familia! Nos recivieron con mucha hospitalidad y disponibilidad. Los cuartos y el patio son ampleos, la decoracion es linda, y todo muy adecuado para una estancia comoda y traquila. La distancia (dos cuadras) de el centro de la plaza central de Patzcuaro hace que uno pueda conocer mas a la gente y comercios de la localidad. Gracias!
Argelia
2017-03-30T00:00:00Z
Todo estuvo increíble, nos atendieron muy bien y nos prepararon un desayuno muy rico. Muchas gracias!
Julian
2016-12-01T00:00:00Z
Excelente opción todo muy limpio y muy bonito y don Fernando es muy amable nos explicó todo acerca de la casa e incluso recomendaciones para tomar un trago y cenar, recomendada al 100%
Israel
2017-02-06T00:00:00Z
Era una experiencia fantastica, fuimos muy bien recibidos y nos sentimos como en casa. El lugar es perfecto y propio. Es muy cerca del centro y el desayuno es incluido. Muchas gracias ! Se recomienda !
Claire
2016-09-17T00:00:00Z
Room Type
Entire home/apt
---
Property Type
House
---
Accommodates
8
---
Bedrooms
Pátzcuaro, Michoacán, Mexico
2 minutes away from downtown Tzin Tzun Tzan and their cultural graveyards and archaelogical places. You will love this clean, cozy cabin with mild temperature, located in a very safe place..
The host canceled this reservation 8 days before arrival. This is an automated posting.
Karla
2017-03-10T00:00:00Z
Great view of the lake
Valeria
2016-11-02T00:00:00Z
La casa me encanto super bonita y comoda, muy bien ubicada en un lugar tranquilo y el dueño muy buen anfitrion siempre al pendiente con una comunicación rapida !! Esta fue mi primer experiencia en airbnb y me quedo con muy buen sabor de boca!! Super recomendable 100%
Maria isabel
2017-02-06T00:00:00Z
Luis siempre estuvo pendiente de nuestra llegada, y de nuestra estadía. Fue un viaje inolvidable en familia, disfrutamos mucho la casa.
Jessica
2017-01-01T00:00:00Z
Room Type
Entire home/apt
---
Property Type
House
---
Accommodates
8
---
Bedrooms
Pátzcuaro, Michoacán, Mexico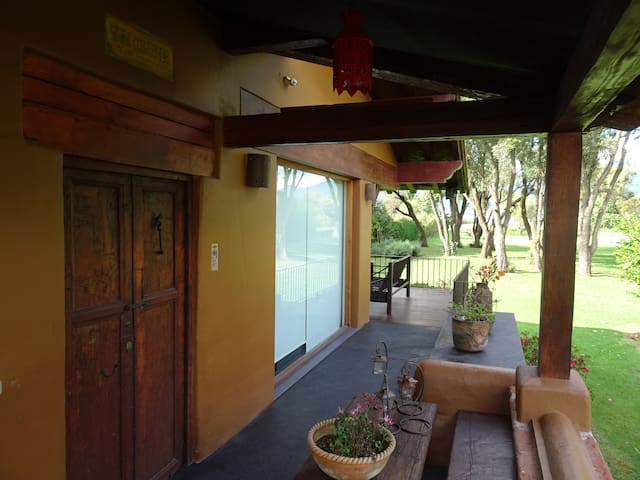 Decorated in typical local style. Charming bedroom in the second floor of a beautiful private property
This bedroom is located in a beautiful private wooded property with a fruit orchard, stables, private garden areas and friendly people.
The property is secluded and gated, although we live in a friendly community.
Great Host. Will come back with more days to spend in the surroundings.
Marco
2016-12-04T00:00:00Z
This was a great stay for us. The room and balcony are spacious and with amenities. We ended up with the whole place to ourselves and appreciated the friendly hospitality of the caretakers. What great view of the mountains too. Thank you!
Kopali
2016-11-08T00:00:00Z
No me quedé, me llegó la confirmación muy tarde y ya había ido a un hotel. Miguel muy amable me regresó la parte proporcional del dinero descontando la Comisión de airbnb. Ni modo problema de airbnb, pero la próxima vez contactarme a Miguel. Gracias!!!
Ined
2016-03-27T00:00:00Z
Muy bonita la casa, las habitaciones super amplias y muy cómodas. La casa no es nada fría y siempre recibimos buena atención y recomendaciones. Los desayunos valen mucho la pena, están muy ricos! El baño siempre muy limpio. Cuando vuelva a Patzcuaro buscaré de nuevo quedarme en Casa de la abuela!
San
2016-09-18T00:00:00Z
Nos encanto! Fue una experiencia perfecta, la casa es muy comoda y tranquila! Felicitaciones por tener una casa tan bonita!
Sara
2016-02-22T00:00:00Z
Nuestra estancia fue corta pero muy cómoda y placentera. La casa es hermosa, súper amplia. La habitación que nos rentaron tenía una terraza amplia, por lo cual Ramona (nuestra perra) fue muy feliz . Todo muy limpio, los anfitriones fueron muy amables y nos ayudaron en todo momento. Volveremos pronto!!!
Ireri
2016-02-08T00:00:00Z
Room Type
Private room
---
Property Type
House
---
Accommodates
3
---
Bedrooms
Pátzcuaro, Michoacán, Mexico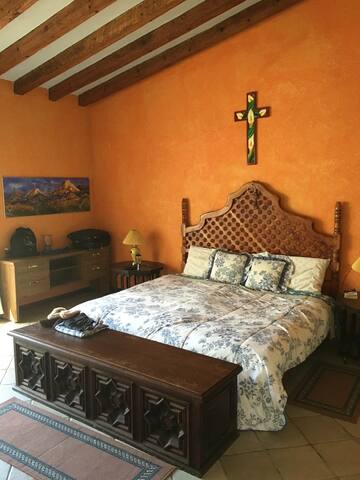 Room with closet and cable TV. bathroom and views of Lake Patzcuaro place to fall in love.
The gardens and views make this property a magical place, with positive energy, a place where you can get away from the bustle of the city. And in 5 minutes you can be at the center of Patzcuaro snow eating a rich pasta.
3 blocks Aurrera is a OXXO, bakery, restaurant, pharmacy Guadalajara.
Room Type
Private room
---
Property Type
House
---
Accommodates
2
---
Bedrooms
Pátzcuaro, Michoacan, Mexico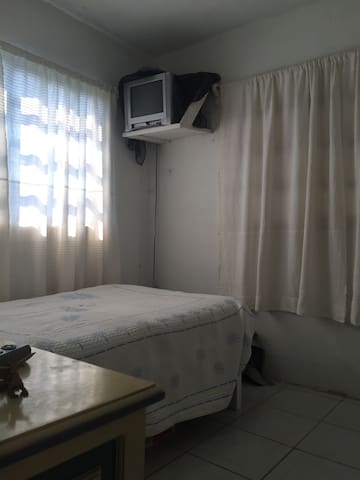 Attractions: the center of the city and its surroundings. You'll love my place because of the quiet outskirts of Patzcuaro with a good location. My accommodation is good for couples, adventurers (since you can hike to different surrounding hills) and business travelers (the exit to the federal highway and share Uruapan, Morelia and Tzintzuntzan is two minutes).
Anna was lovely host! She was very kind and attentive. She and her partner are botanic biologist and I had some interesting conversations with then. Anna told me some cool places to visit around Patzcuaro. The place is clean and at a calm neighbourhood midway between Tzintzuntzan and Patzcuaro
Daniel
2016-09-25T00:00:00Z
Room Type
Private room
---
Property Type
House
---
Accommodates
2
---
Bedrooms
Pátzcuaro, Michoacán, Mexico
Casita 1 bedroom, living room and kitchen breakfast area. If more guests arrive they can be accommodated on a mattress or sleeping bags in the living room. It is 6 blocks from the Plaza Vasco de Quiroga, can be reached on foot or ask taxi arrives in 5 minutes.
The house is inside a large house shared space, each has a parking space. The roof allows a view of the rooftops, to the center and to the lake.
La Loma is located at the top of Patzcuaro, from the roof of the house will get to see the roofs and towers of historic monuments and groves of the Grande and Chica squares, and you can admire the landscape around us .
Room Type
Entire home/apt
---
Property Type
House
---
Accommodates
2
---
Bedrooms
Pátzcuaro, Michoacán, Mexico
The bedroom is large and gets all the afternoon sun.
Martha's home is in a secluded and quiet neighborhood close to public transportation and a short walk to the town center. The room is clean and quiet with a comfortable bed. She is a lovely host and I would highly recommend staying with her.
Scott
2017-03-16T00:00:00Z
Martha was a great hostess, very easy to talk to and went out if her way to help me with a number of things like getting around and connecing with people. Kitties are a presence, so if you're allergic this could be a problem.
Caroline
2017-02-06T00:00:00Z
I had a lovely time with Martha. True, authentic Mexican place. It might be a bit less of a comfort for "westernies", but it will immerse you in living culture of Mexican family. Highlights: hospitality of Martha, close to junction on a way to lakes and ruins, in very calm and safe neighborhood, hot shower, sharing experience with Martha on human right issues. Small downside is that in winter time room is cold.
Vlatka
2016-11-19T00:00:00Z
I had a lovely time staying with Martha, she was very helpful and made us some delicious breakfast :)
Timmy
2015-11-05T00:00:00Z
que linda la casa! y tan amable Martha! disfrutamos mucho el hospedaje! Martha was such a gracious and welcoming host, her place was in a great location and she had the cutest pets. The room was a great size and my friends and I had no problems with communication or arrival/departure. We would recommend this place to anyone visiting Patzcuaro.
Erica
2016-11-02T00:00:00Z
Excelente anfitriona, muy amable y culta. La ubicación es perfecta, la paz y tranquilidad se respira en cada rincon debido a la armonía que ella genera
Ed
2017-02-19T00:00:00Z
Me sentí muy a gusto con Martha, su casa es muy tranquila para descansar, es muy abierta y te da la confianza para que tu estancia sea lo más cómoda posible, es una persona que ha viajado mucho, es una persona muy preparada. Platique muy poco tiempo con ella pero pude darme cuenta que es una mujer de gran trayectoria académica y fui privilegiado al invitarme una taza de café africano :)
Victor Hugo
2017-02-25T00:00:00Z
Martha es una mujer encantadora y conversadora, no pudimos interactuar mucho ni hacer uso de su casa porque tuvimos que regresar a casa por motivos de trabajo. Su espacio es agradable y limpio. Sin duda la recomendaría para futuras visitas.
Elizabeth
2016-12-27T00:00:00Z
Room Type
Private room
---
Property Type
House
---
Accommodates
2
---
Bedrooms
Pátzcuaro, Michoacán, Mexico
Beautiful log cabin located in a forest for walking or cycling, gardens, golf foosball, pool, zip line rappel. Kitchen, dining room, whirlpool tub, fireplace, master bedroom with 2 beds and living room with 2 sofas.
A cottage in private area, surrounded by green areas and roadside Patzcuaro / Uruapan
The host canceled this reservation the day before arrival. This is an automated posting.
Itzel
2017-03-18T00:00:00Z
Bonito lugar. Todo muy tranquilo
Arturo
2017-02-06T00:00:00Z
La zona está hermosa, ya que puedes andar en bici, la cabaña es amplia y por la boches puedes disfrutar la chimenea! Muy recordable.
Betel
2016-11-21T00:00:00Z
Encantadora cabaña Volvería a estar ahi
Felipe
2017-03-14T00:00:00Z
Bellísimo lugar para estar con los niños la limpieza es mala y la cocina muy descuidada.
Roque
2016-12-20T00:00:00Z
Increíble cabaña en un bosque
Pol
2016-08-14T00:00:00Z
Un lugar mágico, rodeado de naturaleza, la estancia cómoda, limpia y altamente recomendable, espero pronto volver.
Abril Daniela
2016-12-31T00:00:00Z
Room Type
Entire home/apt
---
Property Type
House
---
Accommodates
6
---
Bedrooms
Pátzcuaro, Michoacán, Mexico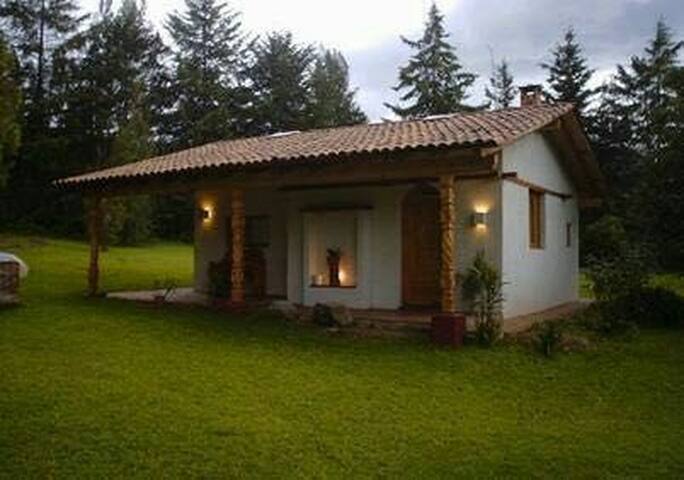 My accommodation is good for adventurous families (with children), and large groups. 5 blocks from the Center, Plaza Vasco de Quiroga. A 10-minute walk.
central, comfortable, with panoramic views of Lake Patzcuaro, view cozy place. Capable of receiving large groups. Ideal for traditional Mexican Day of the Dead Its location favors the recognition of the city pedestrian way
Traditional place, very close to the city center. A 10 minutes from downtown Patzcuaro walking, restaurants.
La casa cumplió con las expectativas. Está muy cerca del centro. La anfitriona estuvo siempre en comunicación para cualquier duda y las personas que nos apoyaron en la casa estuvieron atentos. Uno de los cuartos de literas están muy apretados, son más deseables para niños que para adultos.
Gabriela
2016-12-29T00:00:00Z
Esta genial, solo que si viajas con personas de la tercera edad, es un poco complicado pues los baños están en la segunda planta, aunque hay una recámara que tiene puerta al baño, lo demás esta muy bien. La persona que nos asistió se porto muy bien y atenta en todo momento. Gracias Martha y Bella.
Priscila Isabel
2017-01-19T00:00:00Z
La casa es enorme y hay personas que están al pendiente de todo
Carlos
2017-03-20T00:00:00Z
Buen lugar, cerca de la zona centro y bonita vista, solo contemplen que es una casa rústica
César
2016-12-30T00:00:00Z
Room Type
Entire home/apt
---
Property Type
House
---
Accommodates
15
---
Bedrooms
Pátzcuaro, Michoacán, Mexico
Ésta y otras habitaciones también en renta se encuentran en una casa familiar, con muebles y decoración del estilo típico de Pátzcuaro, con patio en medio. Teja, madera, cantera, loza de barro, y cerámica predominan y proporcionan un ambiente único y acogedor.
Nuestra ubicación es privilegiada, ya que estamos a sólo dos cuadras y media del Centro. Puedes ir andando a la Plaza Vasco de Quiroga, considerada la más bonita de Latinoamérica en su tipo. Museos, centros culturales, iglesias, mercados, tiendas de artesanías, los mejores restaurantes de comida típica, están a sólo unos pasos de nuestro lugar; además de vivir rodeados de la hermosa arquitectura colonial y áreas verdes.
¡Estamos en el Centro de Pátzcuaro! Cada casa en nuestro barrio tiene su historia. Además, vivimos todavía con tradiciones de antaño; así que no te extrañe escuchar música típica en las calles, desfiles religiosos con sus hermosas danzas y atuendos indígenas, ni los acostumbrados antojitos que venden en nuestros vecinos en sus cocheras ó banquetas. Tienditas de abarrotes, farmacias, agencias de viaje, peluquerías y salones de belleza están a la mano.
Room Type
Private room
---
Property Type
House
---
Accommodates
2
---
Bedrooms
Pátzcuaro, Michoacán, Mexico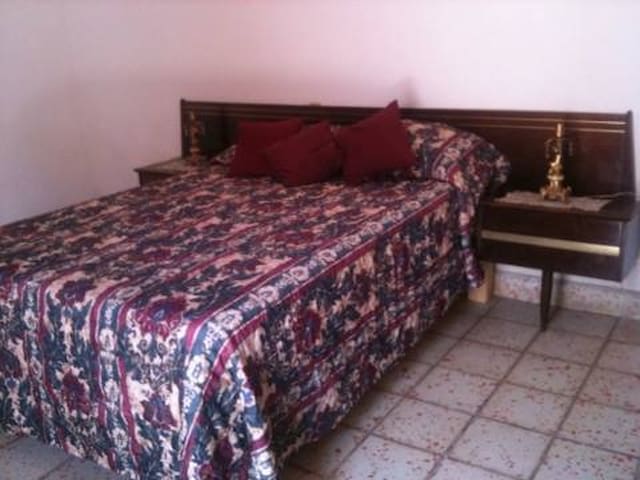 Attractions: family activities. You'll love my place because of the location.
The house is an old house in 1910 the time of the Mexican Revolution is quaint but comfortable ... I hope.
Room Type
Private room
---
Property Type
House
---
Accommodates
3
---
Bedrooms
Pátzcuaro, Michoacán, Mexico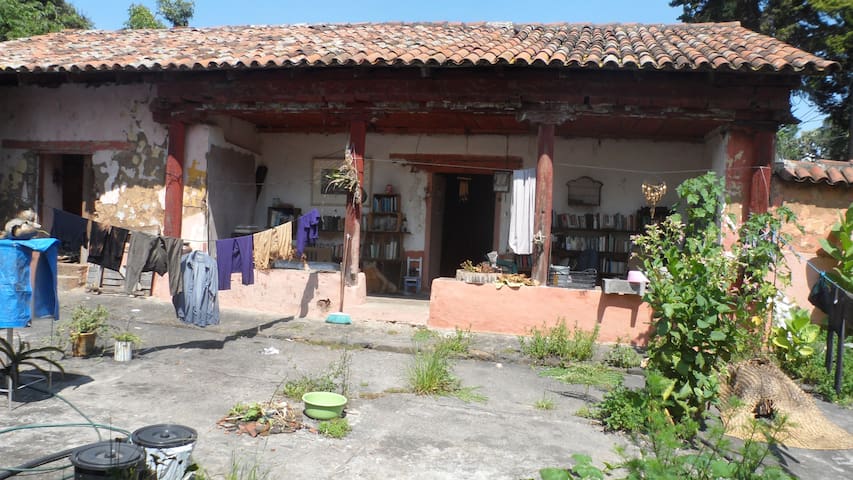 The perfect room after an exhausting day of sightseeing tour in Patzcuaro. It has two single beds. So you can rest here without sharing your bed. Decorated with fabrics and wood from the region, will make your stay in Patzcuaro unforgettable.
Room Type
Private room
---
Property Type
House
---
Accommodates
2
---
Bedrooms
Pátzcuaro, Michoacán, Mexico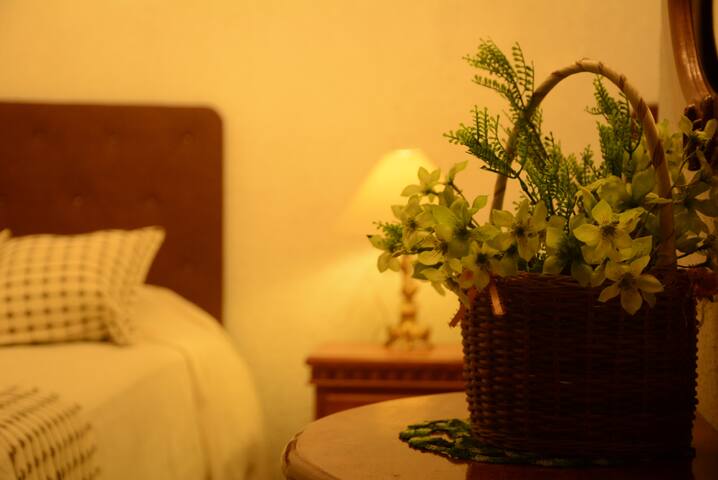 1

–

18

of

33 Home Rentals
Enter dates to see full pricing. Additional fees apply. Taxes may be added.