A farmhouse s. XII retaining its authenticity, located in a wonderful place in the middle of the mountain overlooking the entire Plana de Vic. Ideal for groups and families who want to disconnect and live a wild experience in nature. In the area you can do many activities: hiking, horse riding, mountain biking, paragliding, workshops medicinal plants ...
The farmhouse is located in a privileged and unique place with extraordinary views. Not being "super" reformed preserved the authenticity of its age (not at all a rustic little hotel!) And turn the experience into something a little wild, especially in winter when there is a fire in the stove to heat the rooms. It is a place for groups of adventurous people and nature lovers who value being in full harmony with it.
Room Type
Private room
---
Property Type
House
---
Accommodates
16
---
Bedrooms
Sant Pere de Torelló, Catalunya, Spain
Large house with garden and ideal for couples and families porch. It includes parking. 15 minutes from Vic and 30 Olot and Ripoll.
El pueblo de Sant Pere de Torelló es pequeño, pero hay cantidades de excursiones que puedes hacer por alrededor. En la casa nos hemos sentido perfectamente.
Sandra
2016-10-31T00:00:00Z
Room Type
Private room
---
Property Type
House
---
Accommodates
2
---
Bedrooms
Sant Pere de Torelló, Cataluña, Spain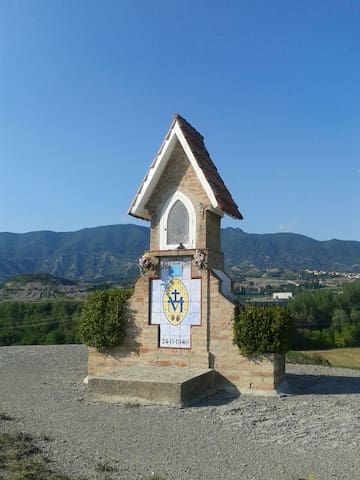 Casa amb capacitat persones, amb vistes. Ideal per visitar Osona i La Garrotxa.
Room Type
Private room
---
Property Type
House
---
Accommodates
6
---
Bedrooms
San Pedro de Torelló, Cataluña, Spain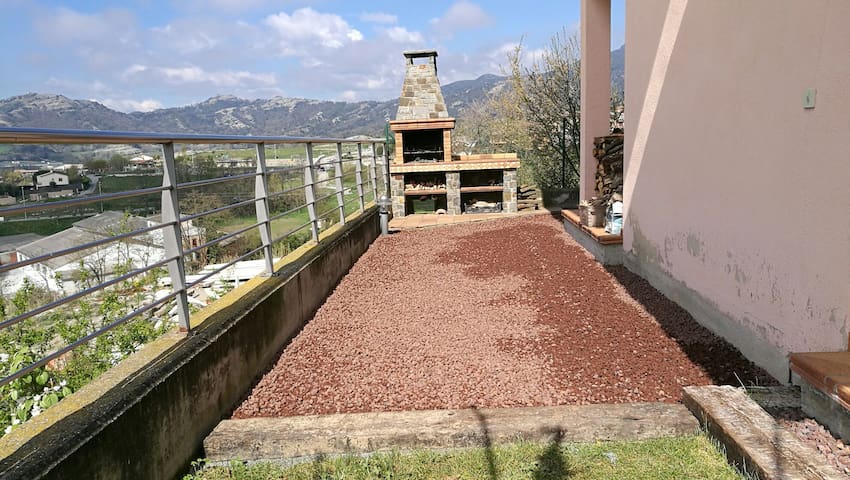 Casa unifamiliar situada als afores del poble. A 15 minuts de Vic i a 20 min de Ripoll i Olot. Té un fantàstic porxo amb vistes, amb espais ideals per al relax a fora (sofàs i tumbones). Les habitacions disponibles són amplies amb llit de matrimoni.
I really like Airbnb such a great app easy to book and I am very happy with Airbnb thank you
Ehsan
2016-08-24T00:00:00Z
Elvira est une personne vraiment sympathique, nous avons eu la chance d'être arrivé le jour de son anniversaire et avons passons une soirée pleine de joie et de bonne humeur. Sa maison est superbe et la vue magnifique. Un excellent souvenir dans le plus pur esprit catalan!
herve
2016-07-25T00:00:00Z
L'Elvira ha estat molt amable i ens ha acollit molt bé a casa seva. Ens ha habilitat una habitació per tres i hem estat molt bé. Recomanable!
Gemma
2017-02-26T00:00:00Z
Todo genial
Borja
2016-09-23T00:00:00Z
La casa tiene unas vistas fantásticas del pueblo y es muy fácil llegar. La ubicación es estupenda para explorar la zona. Elvira es una de aquellas personas que se deshace en detalles para ayudarte en todo lo que puede para hacer tu visita más agradable. Fue muy flexible con las horas de llegada y de salida. No hay que perderse sus explicaciones de los puntos interesantes de la zona!
Jose
2016-12-06T00:00:00Z
Me quedé solo una noche. Pude elegir entre las dos habitaciones que hay en la planta de arriba, que comparten el baño. La casa es muy grande, situada en una zona muy tranquila. Esta muy cerca del pueblo, en menos de 15 minutos andando se puede llegar a la otra punta.
Andrés
2016-09-22T00:00:00Z
Elvira va ser molt maca, amable i la seva casa es un encant! Molt recomanable! Hem dormit molt be. Elvira is a lovely host and her house is gorgeous! Perfect for a group to sleep well and then explore the Osona area. We had a great time despite our short stay. Wish we could have stayed longer!
Mara
2016-12-03T00:00:00Z
La Elvira es una persona molt acollidora, i es nota des del minut 1! ens va explicar llocs de la zona bonics per poder visitar així com tb per on poder anar a menjar.
Delta
2016-08-14T00:00:00Z
Room Type
Private room
---
Property Type
House
---
Accommodates
6
---
Bedrooms
Sant Pere de Torelló, Cataluña, Spain
Lugares de interés: bellmunt, vidrà, collsacabra, puigsacalm, tavertet i rupit, increíbles vistas. Te va a encantar mi lugar debido a el ambiente y las zonas exteriores.
Gemma y Albert fueron son unos anfitriones espléndidos. Consiguieron que nos sintiéramos realmente como en casa, compartiendo todo su espacio desde el primer momento. Viviendo en su casa durante tres días pudimos conocer su proyecto de huerta ecológica y producción de licores y remedios, y gozamos mucho de un paraje realmente encantador. Además, nos recomendaron sitios para visitar en la zona y nos dieron todo tipo de información práctica durante los agradables atardeceres que compartimos con ellos y con todos sus animales (incluyendo al perro más cariñoso del mundo). Una experiencia totalmente recomendable que esperamos repetir pronto!
Albert
2016-08-04T00:00:00Z
Room Type
Private room
---
Property Type
House
---
Accommodates
6
---
Bedrooms
Sant Pere de Torelló, Catalunya, Spain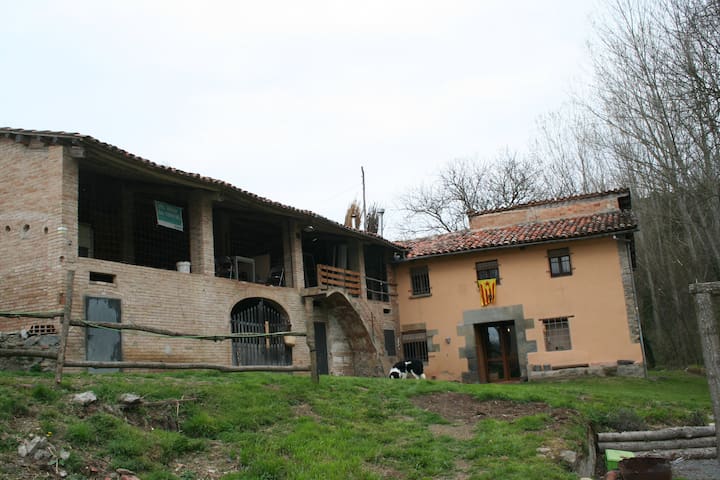 Big house (500m2) built at the top of a village declared Cultural Interest (Scottish Colony). For 24 people. Big polivalent wood floor space. With open-wild nature&village access. Food garden. Ideal for nature explore. Nice green trees views. wiffi. Patio with hammacs (chillout). River and hikes (mountains). Train 5 min walk. 1h40min to barcelona. Possibility privat full studio (three people), privat doble room, or bed in one of the three big rooms. Ask for more information please.
This unique space in a peacefull and calming athmosphere. It is located near the public transport (5minuts walk from train) and by car to Barcelona (1h30min), Pyrinees (1h)or France(1h30min). You will find a supermarquet (30min walk or 5min by train) next town. So in spite the good communication of this place it is a special place for retreads of couples, friends, families or self retreads. The building was made integrating the rocks of the mountain, so you see inside the house this natural element feeling totally integrated with the nature. The Studio has 70meters. And it is completely privat. Has a full equipment kitchen for cook. Also we provide coffee, herbal teas, oil-vinager and species. You can harbest some vegetables or greens from our food-garden. With a big bathroom with a normal toilet (no dry toilet) and shower. Has a privat doble bed, japanesse tatami bed style. And a big space with a big eating table and tatami couch which you can use as bed for an extra person-child. One of the walls is composed by windows so you will have nice bright space. You have acces to the big terrace with greens views (tree forest), this terrace is shared with the house upstairs, but normally empty. Crossing the terrace you have your private food-garden and hammacs and chill-out space for enjoy the calming moments listening birds.
Borgonyà Village is a quite village of 300 citizens. Most of them are retired with a medium of 70 years old. But also there are families. Is a very good place for children as there are not many cars and there are few playgrounds for them, also they can play at the streets. There are two restaurants, a social place and small store where you can find the basic things for eating/house.
Un pequeño paraíso. Todos perfectos Mar is a beautiful woman with a beautiful soul. I hope our paths may cross again.
tamaar
2016-09-23T00:00:00Z
The host canceled this reservation 18 days before arrival. This is an automated posting.
sonia
2017-03-21T00:00:00Z
Mar was the most beautiful lovely host ! She made us feel completely welcome and comfortable, gave us recommendations of things to do in Borgonya and was just the most friendly wonderful person. The air BnB was perfect for us to get out of the city, as it was so relaxing and calm with its beautiful lush surroundings. We would highly recommend for anyone to come to this little getaway. We had such a lovely time, wish we had booked it for longer !! Thanks so much Mar!! Love Antonia & Gabi xoxo
Antonia
2016-07-29T00:00:00Z
Mar's place is amazing. It has everything you need from nice tea and coffee to interesting books to browse through. It's the perfect place to just come and relax or use as a base to explore nearby if you have a car. They were really welcoming and helpful with advise about where to go and what to do. Even what to eat at the local restaurant!
Mairi
2016-09-30T00:00:00Z
I had a great stay! The studio is very zen. It was clean and theres more than enough space. It felt like a home immediately.
Paul
2016-09-21T00:00:00Z
I had a really nice time in the EcoLoft :-) It's a wonderful place to visit if you want a break from the city or from work. The environment is beautiful and Mar is very nice, she went out of her way to accommodate me. I also participated in two yoga classes, which was an added bonus. I fully recommend the place :-)
Elzemieke
2016-09-04T00:00:00Z
We visited this small village Borgonyá for three days. When we arrived, the village was decorated very beutifully, because there was a town festival. At Mar's place we were welcomed and showed around. It is a very lovly place, and there is everything you need to live there. Mar is a very kind host and helped ud find some very beautiful hiking routes. We also paticipated in one of Mar's yoga classes - very nice. We will definitely recommend you to stay at Mar's if you like silent and beautiful surroundings in the mountains.
Lotte
2016-07-18T00:00:00Z
Beautiful place for a quick stop over. Thanks!
Briony
2016-10-04T00:00:00Z
Room Type
Entire home/apt
---
Property Type
House
---
Accommodates
16
---
Bedrooms
Borgonyà, Catalunya, Spain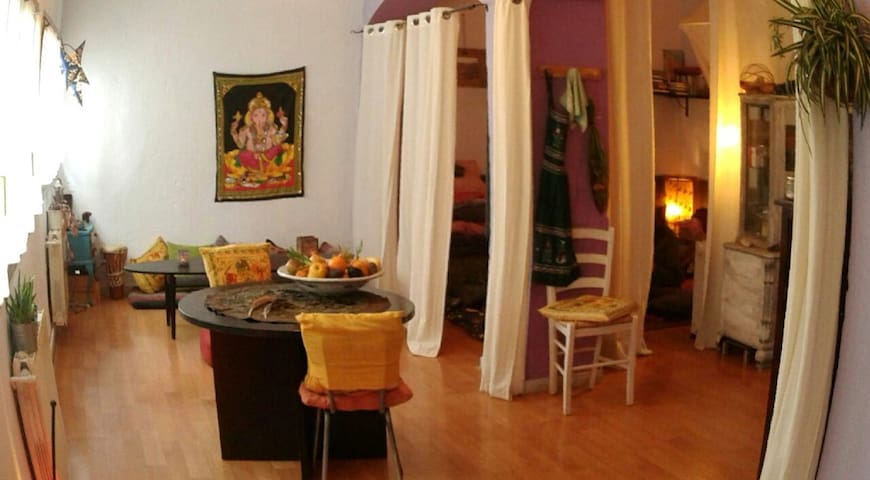 At the heart of Catalonia, surrounded by forests, meadows and lush nature, our house is an ideal place to enjoy the tranquility and nature with family, partner or friends. A new house, cozy comfortable, well located, with spacious and bright, pellet stove and garage.
Privileged with a great environment for walking, bicycle, motorbike ... With a large garage, good services, pellet stove, great views, comfortable and cozy, newly built and modern. New kitchen utensils, towels and bedding premium. They have a washing machine, dryer, Nespresso machine, TV and wifi.
Vidrà is a small town located in the Catalan Pyrenees to 1000 m high. With 170 inhabitants, surrounded by mountains, meadows, rivers and forests. It is a charming and authentic, enjoying close contact with nature and livestock, very quiet and beautiful especially in spring and autumn by changing colors of the mountains. Some call the Catalan Switzerland because everything is always green and lush environment. The village is reached by a road 13 km to Saint Quirze taken from the C17. The village has two restaurants, three bars, a hostel and a campsite with swimming pool. There is also a wood-fired bakery, a small shop with a little of everything which also do takeout and watertight. We also have a municipal hall and tennis courts. And of course the most important, kilometers of roads and trails to explore the beech woods, country houses, churches, roads, pools and all that offers this special place. Visit the Council website ((URL HIDDEN) Instagram: @vidracat
Una casa molt acollidora en un entorn preciós. Perfecte per uns dies tranquils en família. La Blanca ens va rebre molt amable i ens va ajudar en tot. La casa és molt nova, molt ben equipada i la calefacció perfecte.
Ruth
2017-01-02T00:00:00Z
Muy agradable y nuevo todo. Un sitio ideal como centro para hacer excursiones por la zona. Trato muy agradable por parte de Blanca , nos permitieron estar hasta tarde el dia de nuestra salida, lo que nos permitió hacer una excursión mas larga ese dia.
Juan Felix
2017-01-07T00:00:00Z
Vidrà és un entorn meravellós i la casa és molt agradable i molt còmoda! La família és acollidora i molt atenta. Nosaltres hi tornarem segur!
Elisabet
2016-10-31T00:00:00Z
Vam passar un cap de setmana fantàstic. La casa és molt acollidora i està molt neta. No vam tenir cap problema amb les hores d'entrada i sortida, de fet, la Blanca ens va donar totes les facilitats possibles. El poble és encantador i molt tranquil, perfecte per a una escapada de relax. Sens dubte, recomano l'estada i nosaltres hi tornarem!
Almudena
2016-12-04T00:00:00Z
Blanca ha sido muy amable y atenta con nosotros. Las fotos no le hacen justicia a la casa, muy cómoda y calentita en invierno! Recomendable 100%
Laura
2016-12-11T00:00:00Z
La experiencia ha sido genial, ha sido mi primera vez utilizando Airbnb y sin duda volveré a repetir. Blanca la propietaria, fue muy amable en todo momento y la casa parecía nueva estaba impecable y hecho que el viaje fuera incluso mejor. Recomendadísimo
Sandra
2016-12-10T00:00:00Z
Отличная локация для отдыха от города. Прекрасные тропы для прогулок вокруг. В городке один ресторан и булочная. Рекомендую не отказываться от него еда на твердую пятерку по смешной цене. В самом доме есть камин, что добавляет романтики. Вот только если хотите снеков / пива / вина лучше привезти с собой, заехав по пути в супермаркет (ближайший минут 30-40 на машине). В деревне есть мини магазин, но выбора, можно сказать нет.
Vladimir
2017-03-04T00:00:00Z
Perfecto para hacer excursiones, muy relajante y la casa totalmente acorde a su descripción, visita recomendada!
alejandro
2017-03-12T00:00:00Z
Room Type
Entire home/apt
---
Property Type
House
---
Accommodates
7
---
Bedrooms
Vidrà, Catalunya, Spain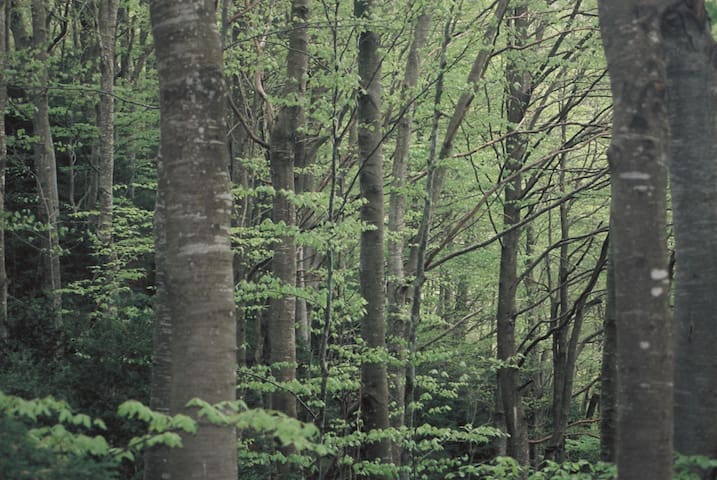 This near the town. In this secluded home there are other buildings. In one of them live the owners who will provide anything you need, if we can. Attractions: restaurants and food and family activities. You'll love my space by inviting space. My accommodation is good for adventurous families (with children) and pets.
The accommodation provides you that children have a great time playing at ease and without any danger.
Lluçanes area is very rural and very quiet.
Room Type
Entire home/apt
---
Property Type
House
---
Accommodates
7
---
Bedrooms
Sant Boi de Lluçanès, Catalunya, Spain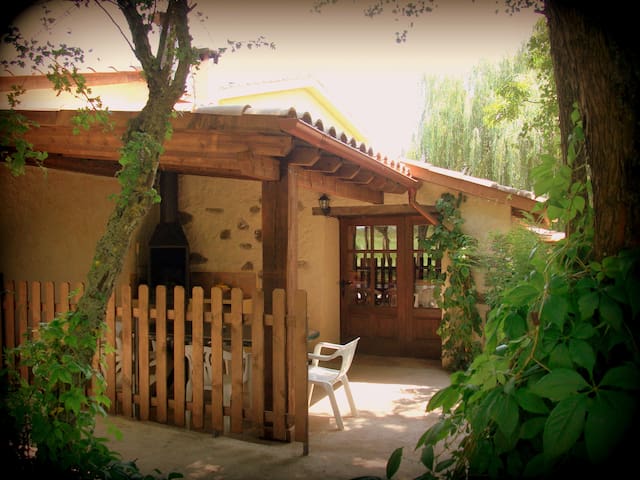 Casa de nueva construcción, entorno privilegiado del prepirineo catalán, casa cálida completamente equipada, calefacción y chimenea, dispone de 4 habitaciones
La casa esta muy cuidada y muy bien equipada. Es mas grande de lo que parece en las fotos. El pueblo es precioso y su entorno espectacular. Los anfitriones son muy atentos, esperamos volver pronto.
Toni
2017-01-01T00:00:00Z
Le séjour était très Chouette. Marta est adorable, chaleureuse, souriante, accueillante. La Maison a une belle énergie, tout est neuf, propre, sain. On s'y sent très bien. Merci encore à Marta !!
Yorick
2016-08-06T00:00:00Z
Hem estat molt bé! La casa és moooolt més bonica del que es veu a les fotos i l'entorn també és preciós. Estava tot perfecte, molt nou, molt cuidat. I la Marta i el seu marit ens han acollit molt bé i ens han ajudat en tot i més! Molt recomanable! Segur que hi tornarem!
Ada
2016-03-27T00:00:00Z
Room Type
Entire home/apt
---
Property Type
House
---
Accommodates
8
---
Bedrooms
Vidrà, Catalunya, Spain
Magnífica casa de montaña en la subcomarca del Lluçanés. - Sala de juegos de 100 m2 en casita independiente (tenis de mesa, billar, futbolín, mesas para juegos de cartas, sala de TV) - Gran salón comedor de 60 m2. - 10.000 m2 de jardín. - 7 dormitorios. - 3 baños completos. - Cocina totalmente equipada. - Pequeño comedor para niños. - Varias terrazas exteriores. - Mobiliario de jardín. - Ropa de cama y toallas.
HUT CC-000407 DC 00
Zona con enorme atractivo gastronómico en cocina Catalana. Especial para excursiones, BTT y senderismo. Tierra de setas, caza, bosques y fuentes. Servicios deportivos Municipales como piscina, pistas de padel, voley playa, etc. Visitas a: Iglesia de Sant Boi de Lluçanés El santuario de la Mare de Déu dels Munts con espléndidas vistas. Museo de fósiles
Room Type
Entire home/apt
---
Property Type
House
---
Accommodates
14
---
Bedrooms
Sant Boi de Lluçanès, Catalunya, Spain
La Masia Sora is a rural house with 2 floors and a private garden with swimming pool, barbecue and play area (ping-pong and table football). The upper floor has 4 double bedrooms and a living room with 4 sofa beds and a bathroom. The lower floor has a common kitchen area (fully equipped with fridge, dishwasher, microwave, hob, oven and cooking utensils) and dining room with a very large table and fireplace, and a bathroom.
Room Type
Entire home/apt
---
Property Type
House
---
Accommodates
12
---
Bedrooms
Sant Boi de Lluçanès, Catalunya, Spain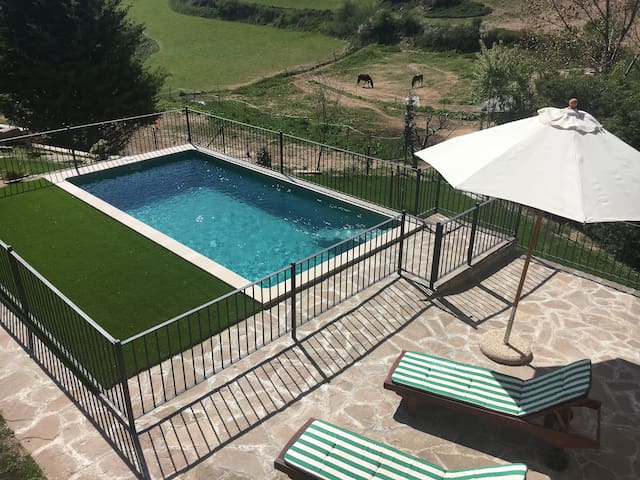 Lugares de interés: Zona de interés natural, rodeada de montañas , prados , ríos , cascadas, ideal para hacer senderismo, esta situada en el pre-pirineo catalán.. Te va a encantar mi espacio , toda la casa es de nueva construcción, esta totalmente equipada y se respira una tranquilidad "terapéutica", el espacio es acogedor , cálido y muy bien cuidado, tiene unas bonitas vistas.. Mi alojamiento es bueno para parejas, aventureros, y familias (con hijos).
Room Type
Entire home/apt
---
Property Type
House
---
Accommodates
8
---
Bedrooms
Vidrà, Catalunya, Spain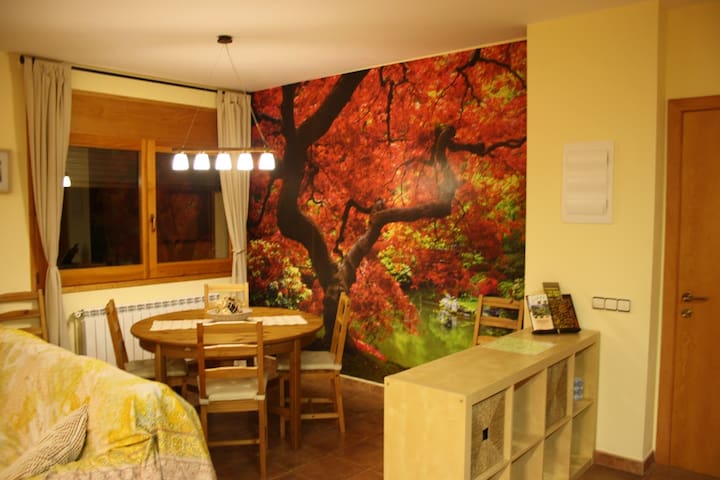 Habitaciones dobles (dos con 2 camas individuales, y una habitación suite, con cama de matrimonio y bañera hidromasaje) en una preciosa casa ubicada en zona tranquila y bonita. Suelos de parquet, lavabo propio y individual de cada habitación, amplias y luminosas. Equipadas con armarios, TV, aire acondicionado, cocina y comedor comunitarios en la primera planta, llave propia, WIFI, terraza equipada con porche y parking gratuito.
Masia situada a cinco minutos del centro de Vic y de la estación de trenes y autobuses.
No hay vecinos. Está situada en medio de prados.
El trato de los propietarios es excelente y se desviven para que los inquilinos se encuentren como en casa.
Albert
2016-12-19T00:00:00Z
Room Type
Private room
---
Property Type
House
---
Accommodates
2
---
Bedrooms
Barcelona, Catalunya, Spain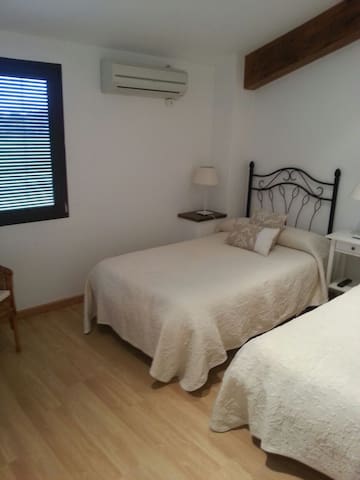 The house is an oasis of calm and nature close (5-minute drive) to the city centre. It is near the beautiful towns Folgueroles, Sant Julià, or Roda de Ter. Overlooking the pyrenees, collsacabra and a breathtaking medieval bridge, the house is a perfect starting point for biking or hiking. On your way back after a thrilling sports day, or an visit to the city and its surroundings, you will be able to relax in the swimming pool. The cozy and warm atmosphere will make you feel at home.
Room Type
Private room
---
Property Type
House
---
Accommodates
1
---
Bedrooms
Vic, Catalunya, Spain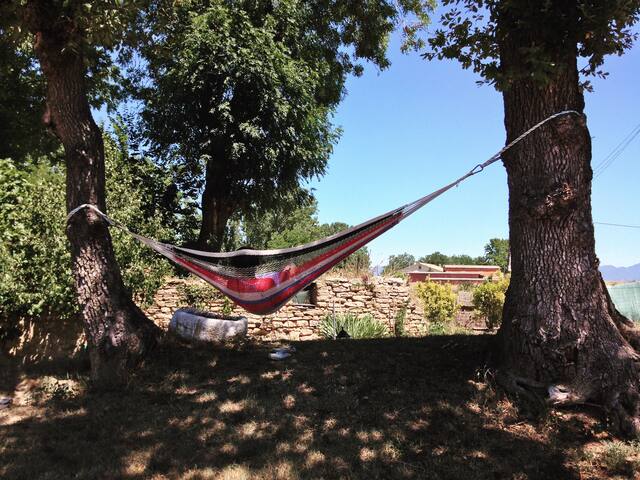 Places of interest: The Foradada, Rupit, the Sau, the Sanctuary of the Virgen de Cabrera, Far Crags and Tavertet, Les Guilleries and the volcanic area of La Garrotxa My accommodation is good for couples, adventurers, families (with children), and large groups.
Cantonigròs housing with splendid Plana de Vic, Montseny and the Pyrenees views. Located at the foot of the Cordillera de Cabrera, Cantonigròs is a paradise for lovers of peace, silence, nature and ethnological, historical and natural heritage of the rural world of Catalonia. Close to La Foradada, Rupit, the Sau, the Sanctuary of the Virgen de Cabrera, Crags Far and Tavertet, Les Guilleries and the volcanic area of La Garrotxa, Cantonigròs offers an ideal escape from the city shelter and a place idyllic to enjoy the spectacular scenery of Collsacabra.
The host canceled this reservation 11 days before arrival. This is an automated posting.
Francisc
2016-12-19T00:00:00Z
Room Type
Entire home/apt
---
Property Type
House
---
Accommodates
16
---
Bedrooms
Cantonigròs, Catalunya, Spain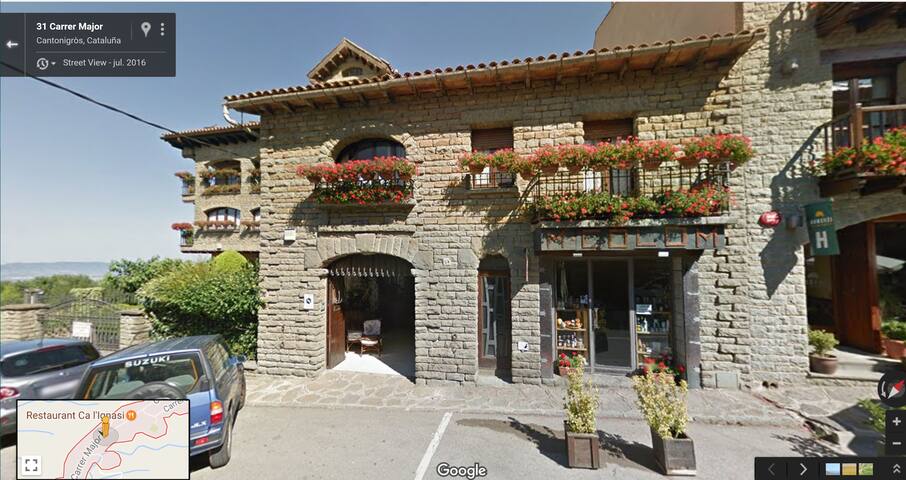 Mas el Francàs Vell data de 1750 aproximadamente, y actualmente se ha rehabilitado totalmente manteniendo su estructura original. Está ubicada en el centro de St.Agustí de Lluçanès. En la planta baja hay una magnifica entrada y una cocina comedor.
• Exterior: Barbacoa, Terraza, Piscina, Zona de aparcamiento. • Interior: DVD o vídeo, Equipo de música, Lavadora, Microondas, Calefacción, Lavavajillas, Comedor, Baño en habitación, Cocina, Chimenea, Televisión, Sala de estar. • Servicios: Lavado de ropa, Cuna disponible. • Situación: Montaña, Acceso asfaltado, Afueras del casco urbano, Señalización del acceso, Zona de baño interior (ríos, embalses
La casa se encuentra en el Lluçanès, donde su entorno rural permite realizar atractivas excurciones y relajarse.
La maison est belle, spacieuse et confortable, idéale pour des familles nombreuses, les enfants ont aimé la piscine et les jeux déposés à leur attention. Elle est proche de nombreux sites à visiter, et à moins d'une heure de la haute montagne. Nous avons apprécié l'accueil et les nombreuses attentions de notre hôte. Nous recommandons vivement ce lieu pour des vacances au coeur de la campagne catalogne authentique.
Mireille
2016-08-07T00:00:00Z
La casa de Albert es espectacular! Todo súper limpio, arreglado y muy acogedor. Hemos pasado 3 noches con mi familia, y éramos 11 personas de 7 a 70 años, y todos estuvimos encantados de pasar esos días en el Mas el Francàs Vell. Albert nos recibió muy bien, explicándonos la historia de la casa y todo lo que hay alrededor. Nos dejó recomendaciones de donde pasear y donde comer (pena que los dos restaurantes estaban de vacaciones, pero seguro que volveremos a probar). La piscina estaba montada y los niños han podido disfrutar de ella con gran placer. Seguro volveremos y ya la hemos recomendado a amigos de pasar algunos días por allí.
Diana
2016-07-18T00:00:00Z
Room Type
Entire home/apt
---
Property Type
House
---
Accommodates
11
---
Bedrooms
Sant Agustí de Lluçanès, Catalunya, Spain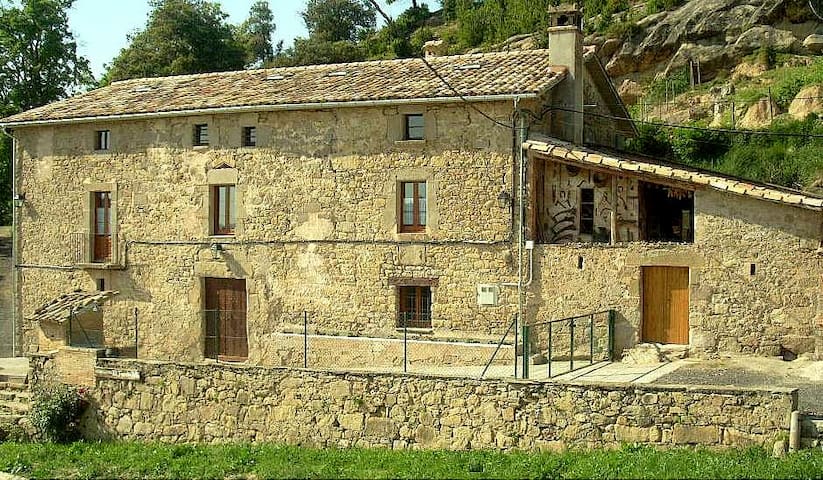 A un minut de distància a peu, podreu visitar la Casa Museu Verdaguer. També podreu passejar pels carrers del poble, on a cada racó es respira poesia. Una part del municipi forma part de l'Espai Natural Guilleries- Savassona, amb infinitat de camins i senders per a passejar a peu o en btt i descobrir bonics paratges. A 1 Qm. de la C-25, a 6 Qm. de Vic i a 1 hora de Bcn. T'encantarà el meu espai perquè la casa va ser construïda el 1772 i és on, sembla ser, va néixer el poeta Jacint Verdaguer.
Room Type
Private room
---
Property Type
House
---
Accommodates
2
---
Bedrooms
Folgueroles Folgueroles, Catalunya, Spain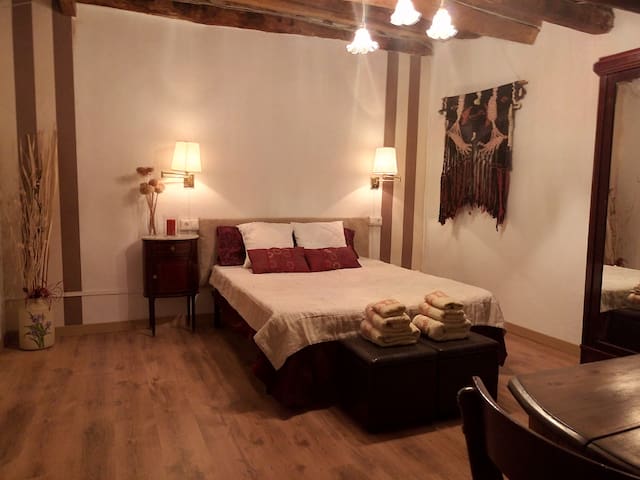 Romantic, rustic stone country farmhouse originally built in 1434. The house is set in 34 private hectares and has 4 bedrooms sleeping 8 persons, a well equipped kitchen and a living area with some of the most spectacular views in Spain!
The house is comfortable and cosy, distributed over two floors. The master bedroom has a small romantic balcony perfect for morning sun. The house is ideal for romantic getaways,a relaxing retreat for small groups or for family holidays. A spare bed and cot are available upon request. A small piece of paradise. Set in the nature reserve the house has a huge garden with small woods, rocks and beautiful trees, hammocks, large expanses of grass and truly breathtaking views. All this is set in over 30 hectares of private woods with trails and interesting natural features. The garden has a children's area with a full sized trampoline, swings and games.
The area is rich in activities, beautiful villages, natural sights and cultural interests. The monastery of Sant Pere is only 3 km away and the wonderful villages of Rupit and Tavertet are nearby. There is walking,hiking,horse riding, canoeing, water skiing, climbing, swimming, adventure parks, paint ball, quads, hot air ballon tours, museums and restaurants for all tastes from rustic to Michelin starred. It is only 15 min from the beautiful city of Vic with all the amenities of a small city, only 1 hour from the center of Barcelona, the ski resorts of the Pyrenees and the beaches of the Costa Brava and the French border
Our host received us very well, although we arrived late due to delay of our flight. He was very friendly, open and helpful. The house and amenities are precisely as described. At our arrival there was a small problem with the waterpump, and it was solved immediately the next morning. The house is really magic : a spacious and well maintained 600 year old farmhouse, with splendid views, on top of a hill, in the midst of very silent woods, at several kilometers from the nearest village. We deeply enjoyed the unique view from the living room. People who love peace, silence and nature will be delighted ! The garden is huge, and the terrain contains many hectares of woods. Nearby is a wonderfully beautiful canyon with a lake, where you can swim in non salty water. We recommend this place strongly ! Many thanks, Jonathan(URL HIDDEN)
Alexander
2016-07-17T00:00:00Z
A beautiful place! Great for family / friend groups to relax and enjoy the scenery
Craig
2016-06-11T00:00:00Z
We had a fantastic couple of weeks in the house. It's set in a beautiful location with wonderful views, especially at sunrise, and good walks starting from the house through the woods. It feels sufficiently remote, but there are plenty of supermarkets and shops twenty minutes drive away in Vic. There are also a wide range of historic sites to visit within an hour's drive; Barcelona was also within easy reach for a couple of day trips. The house is well equipped, comfortable and full of character, with a large garden. For kids there are swings, a slide, a climbing frame and a trampoline. Jonathan, the owner, made us feel instantly welcome and put us at our ease. He was instantly on hand to resolve any queries or snags. So, all in all, we can't recommend the place highly enough and would love to go there again.
Siddharth
2016-09-17T00:00:00Z
Un lieu magique, hors du temps. Le panorama est incroyable! La maison est très agréable, le jardin immense et le paradis des enfants. Nous recommandons cet endroit si vous recherchez du calme, de la sérénité, la nature à l état brut.
Estelle
2014-08-10T00:00:00Z
Très bon séjour. La maison et le parc sont fantastiques. Jonathan a été parfait et la région est magnifique. Que demander de plus!
Pablo
2016-05-31T00:00:00Z
Una casa maravillosa en un lugar extraordinario. La casa está es una masía antigua de piedra totalmente equipada, rodeada de un enorme terreno de hierba y árboles, con cama elástica y atracciones para niños. La vista es increíble: sentado en un sofá ves por un lado el Pirineo y por otro los Cingles de Tavertet y las montañas que rodean el pantano de Sau. Jonathan es una persona muy amable y colaboradora, que hizo lo posible para facilitar nuestra estancia. Fueron unos días magníficos y esperamos volver en otra ocasión!
Cristina
2016-01-03T00:00:00Z
La casa está en un enclave maravilloso, las vistas preciosas y el parque alrededor de la casa muy bien cuidado. Es una casa especialmente idónea para pasar unos días de relax en los meses más templados, supongo que en un invierno frío, se disfrutará menos del espacioso parque a disposición. Ideal ir con niños, se lo pasarán genial con la tirolina y el "salta salta". Las vistas desde la sala de estar son magníficas, tal como se ve en las fotos. Jonathan estuvo siempre disponible y cuando tuvimos un pequeño percance vino enseguida y lo resolvió. Siempre atento y discreto, nos dio todas las explicaciones necesaria para que nuestra estancia fuera perfecta. Sin duda recomendaría esta casa para pasarlo en familia con niños o incluso con amigos y disfrutar de la naturaleza y tranquilidad del entorno. A tener en cuenta que la casa está aislada de todo centro habitado, lo cual, de noche, puede dar cierto respeto, si bien la zona es muy tranquila.
Angel
2016-10-16T00:00:00Z
Hermosa casa en un entorno inmejorable. Ideal para ir con niños ya que la casa está rodeada de un gran jardín con parque infantil, tirolina,cama elástica y (URL HIDDEN) casa conserva el encanto de lo antiguo pero dispone de todo lo necesario para sentirse cómodos. La cocina está equipada con todo lo necesario para cocinar y además hay una barbacoa cubierta con una gran mesa para comer en el exterior. Cosas para mejorar: las habitaciones de la planta baja son muy frías y aunque hay una chimenea de pellets no consigues calentar las estancias aunque esté encendida interrumpidamente. No pudimos conocer personalmente a el propietario, Jonathan, ya que se encontraba fuera pero ésto no fue un problema ya que estuvo disponible en todo momento para resolvernos cualquier duda. Cuando llegamos nos recibió un amigo que nos explicó el funcionamiento de todo. En definitiva, una experiencia positiva en todos los aspectos. Esperamos poder repetir algún día!
Alexandra
2016-03-29T00:00:00Z
Room Type
Entire home/apt
---
Property Type
House
---
Accommodates
8
---
Bedrooms
Tavèrnoles, Catalonia, Spain