Ski, Shop, Work, Play, Sight See or Visit... You'll love my place because you get about 1100 s.f. Including 3 bedrooms; 2 have comfy queen beds, and another with a futon that makes into a double (a good mattress!). Fully functioning kitchenette, living and dining area and a large new bathroom. WIFI, Big screen TV w Netflix. Patio with shade trees. Quiet community, ample parking, close to everything! for skiers, couples, solo adventurers, business travelers, and families.
Privacy deluxe. This space is about 1100 square feet and it's all yours. Enter through your patio area. The touch-pad entry allows you easy check in and check out. I'd love to meet and greet you, but if that doesn't work you're still good to go. One bedroom is on the ground level, there is a stairway to the rest of the apartment in the basement. Please note: the basement has low clearance in several areas... I have bumpers up for safety and have had zero issues. Clean Comfy and Homey!
Quick access to ski resorts. Beautiful trees. Residential area, blocks to massive shopping, restaurants, nightlife and freeway access!
Sally's place was perfect for our snowboarding trip. Her house was well equipped. It was located 15-20 minutes from the airport, 15-20 from the Snowbird and Alta Ski Resorts, and 35-40 minutes from Park City. Sally was an awesome host! Communication was excellent. Sally responded so quickly to any questions I had. Thank you again for letting us stay at your place!
Maria
2017-02-20T00:00:00Z
Overall the place was okay. The ceilings we low but that was advertised so not a major issue. I spent a while looking for a place that was its own separate unit or entire apartment or entire home. This place, while listed as entire home/apartment was just a side entrance with a plywood "door" separating the rest of the home. I think because of that we could hear everything going on in the upstairs apartment, even light conversations. Other than that it was okay, decent location.
Sean
2017-03-29T00:00:00Z
Wonderful space to come back and relax in after a long day skiing. Also very close to the airport and several great places to eat after a day in mountains.
Kelly
2017-03-07T00:00:00Z
Sally is considering an "above and beyond host". From beginning to end Sally was available if we needed her. The house is warm, clean, spacious, and very quite to ensure a GREAT nights sleep. We loved the private entry, keyless entry and driveway to park. Highly recomemmed for couples or families, our son LOVED Sally!
Reanne
2017-01-26T00:00:00Z
Sally, the host was friendly and very informative. She was quick to respond to questions when we were booking, as well as while we were staying in her space. We loved that the space had such separate sleeping areas and enough beds for everyone to be comfortable. It also had a separate entrance with a code lock, so we could be very independent. It was clean, we felt safe and we would recommend her and her place highly to anyone. We even asked if we could book for next year's trip! This place had everything we could have wanted for a longer length stay.
Roberta
2016-09-17T00:00:00Z
Very easy to find and confortable. Just as listed and even a little better. Wish we could have stayed longer!
Austin
2017-02-23T00:00:00Z
Ideal location to hit multiple ski resorts with a short drive, quiet and comfortable. Sally is a great host, welcoming and very attentive to her guests needs, would highly recommend.
Kerri and Pier Paolo
2017-03-13T00:00:00Z
Very clean, quiet, comfortable place, perfect jumping-off spot for a ski weekend. Sally was phenomenal in communicating details and giving suggestions in advance, and everything worked out great!
Carl
2017-02-25T00:00:00Z
Room Type
Entire home/apt
---
Property Type
Flat
---
Accommodates
6
---
Bedrooms
Midvale, UT, United States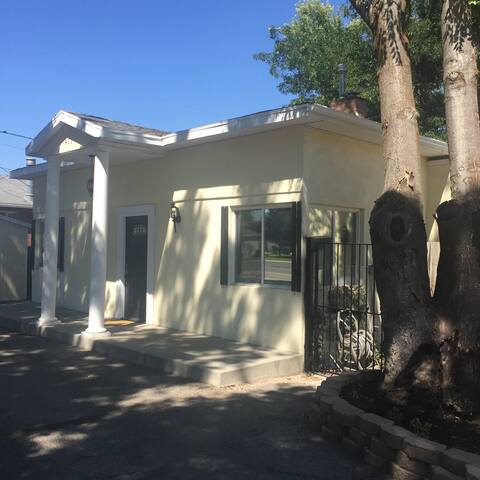 Fully furnished apartment with luxury furniture including the following amenities: Bose surround sound system 60 inch TV King sized bed with hand carved frame/headboard Patio Hot tub & pool It's nestled just 3 minutes away from the freeway.
Room Type
Entire home/apt
---
Property Type
Flat
---
Accommodates
2
---
Bedrooms
Midvale, UT, United States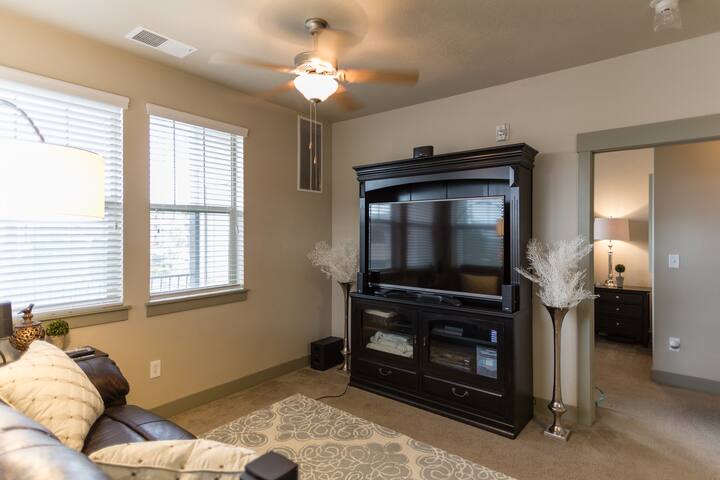 This spacious basement apartment with private entry is close to family-friendly activities, nightlife, a brewery, public transportation, the airport, ski resort areas and Salt Lake City. You'll love the apartment because of the quiet neighborhood. The apartment is good for small groups or couples, solo adventurers, business travelers, or families. Host lives right upstairs and will usually be there to answer any questions you might have.
This is a spacious apartment with room for skis and gear! The host lives upstairs, but may or may not be there when you are visiting and she is always as close as your phone if you have any questions. There is a kitchenette downstairs, but if you need a full kitchen, that can likely be arranged upstairs in the host's quarters.
This house is easy to find, right off the freeway and close to transit options, and yet is in a very quiet neighborhood.
Tina made us feel very welcome in her apartment. She had home made biscuits, fresh fruit and bread waiting for us and a lovely welcome note. The bed was very comfortable and it was a nice big space to relax in.
Jillian
2017-01-11T00:00:00Z
I was on a last minute trip for the sole purpose of skiing, and Tina's space provided a nice launch point. It's located in an emerging residential neighborhood, that's four to five blocks from a ski bus. I can't say enough however of how accommodating Tina is. She communicated early and kept in-touch throughout, offering rides and information to make life a bit easier. Her space is welcoming, with little touches to make it even more so. I travelled without a car, which meant that, after a day of skiing, I was in for the night. Her place is comfortable, not fancy, and Tina is a wonderful host, adding so much to the stay with her warmth, welcoming personality and effort.
Brittiny
2017-02-28T00:00:00Z
Such a cute place, in the middle of everything, yet it feels secluded. The private and quite backyard is almost magical. The girls and I talked into the night then negotiated about who would get to sleep outside. In the end, we took shifts. So neat looking up through the apple tree and seeing the starry sky. Thanks for stocking the fridge with yogurt and juice. And we really liked the spacious living area, and the inside bedroom was perfectly cozy too. Loved the funky art and furniture. We want to come back when all the remodeling is done.
Julie
2016-10-06T00:00:00Z
Great private basement and a very considerate host. We'd definitely stay again for another ski trip.
Matt and Elaine
2017-01-31T00:00:00Z
We had a really great stay at Tina's place. It's located a few blocks from the train station and the ski bus. The neighborhood is quiet and nearby a few shops and restaurants. The grocery store is a couple miles away, but Tina offered to give us a ride multiple times and was very attentive to our needs. On the weekend, she was able to give us a ride to and from Alta. She let us use her kitchen whenever we asked. There's a hot plate, microwave, coffee maker and mini fridge in the apartment for making simple meals. Tina provided us with some basic food for when we arrived which was nice. The backyard is beautiful and has a grill. The only downside about the apartment is that it's a basement and there is very little natural light. Overall, we had a positive stay at Tina's place and we would stay there again.
Alexandra
2017-03-27T00:00:00Z
Great hospitality
Nikolay
2016-12-26T00:00:00Z
Tina had strategically placed signs around the property and living space so that I had no problems finding anything. I was welcomed by a friendly message on the whiteboard in the bedroom (made me smile) and a kitchenette stocked with healthy snacks, coffee and tea. She sent me the code for the lock so I could check in at my leisure, which was much appreciated since I had been up and traveling since 2:30 a.m. Additionally, Tina had a great selection of area maps and magazines, and was available to answer questions about the area. She was very warm, welcoming and helpful throughout my stay. The area is quiet and has some gorgeous mountain views, and Tina's backyard is a relaxing space. The brewery right down the road is great for a bite and some good beer.
Rebekah
2016-10-01T00:00:00Z
Tina was a fantastic host. She even gave us rides to a from the airport. Super simple to hop on the ski bus to Brighton/Solitude.
James
2017-02-05T00:00:00Z
Room Type
Entire home/apt
---
Property Type
Flat
---
Accommodates
4
---
Bedrooms
Midvale, UT, United States
Our comfortable and furnished one room gives you a great place to unwind after an entire day of exploring! It is less than 30 min from the world class skiing! A 10 min walk to the UTA TRAX bus station, convenience stores and places to shop and eat. This is a great option if you do not have a car.
My condo was built in 2000 and we are located on the 3rd floor; It has 18 feet high ceilings and mountain views from all the windows in the house. The view on a clear day is amazing! And when the day isn't so visible, you just see snowed capped mountains…still not much to complain about
We are 30 min away from some of the best ski resorts in the world! Along with this, we have a UTA TRAX station right around the corner at a 10 min walk. From there, you can take the bus up into the mountains. I actually do this myself since this is much safer than driving through a snowstorm! You can also take the bus from here into all parts of Salt Lake City as well any major shopping center. When it snows, the roads are always well maintained and safe to travel on We are within a block of convenience stores, parks and great restaurants to eat at after a whole day of exploring.
Ahmad was a delight. His house was very clean. He has the impeccable style of a professional designer. He is also a family man and has a great number of pictures with his sister around the house. Like Squanto teaching the first pilgrims how to plant corn, Ahmad also enriched my life as such. He took time out of his busy schedule to teach me how to make the perfect bowl of rice. On multiple occasions Ahmad took me out to eat and showed me the local area. He was definitely, without question, the BEST AIRBNB HOST I've ever had. If you see the only negative review on here and are hesitant, don't be! What happened was complete bs and Ahmad will tell you the funny story himself. The man is friendly with just about everything except pork for religious reasons. So sacrifice that bacon for turkey or beef bacon or whatever they make these days. Overall, Ahmad is just a great young man and will cater to all of your needs. Book this listing or you will miss out. I would never wana stay anywhere else. P.S. Ahmad also might still have cocoa krispies on top of his fridge which he claims are too sweet for him. If they are still there they are all yours!
Will
2016-08-02T00:00:00Z
The stay with Ahmad was great. He was very friendly and accommodating, and the room and kitchen amenities were all I needed. It was a nice and easy stay, great quality for the price.
Nate
2015-09-18T00:00:00Z
Ahmad was a great host, hospitable, friendly, and made my stay comfortable, he even made me Biryani for dinner with all of his friends! His house is clean and well kept, no issues at all. The area is safe, near the freeway, and there is everything you need nearby within driving distance. Close to the mountains for skiing too.
Quinn
2016-01-31T00:00:00Z
Ahmad was really friendly and helpful and the place was exactly as described. The neighborhood is nice, I found good restaurants within walking distance and if you are planning to go skiing then it's perfect, because it is just a ten min walk from the ski bus.
Faith
2016-01-26T00:00:00Z
Ahmad was a great host. His place is walking distance from the bus stop with shuttles to Alta, Solitude, Brighton, and Snowbird. It is just as easy to hop on the metro and be in Salt Lake in minutes. I found good food nearby as well. Would stay here again for a future ski trip!
Erika
2016-02-17T00:00:00Z
Ahmad was a great host. If you're looking for a comfortable stay with access to Big and Little Cottonwood Canyon (numerous backcountry access points, hiking trails, as well as the Alta, Snowbird, Brighton, and Solitude resorts) look no further! Midvale is not the most centrally located suburb but local transit that services both the ski areas (ski bus) and downtown Salt Lake City (light rail) are about a 10-15 minute walk from the apartment. Having a car would be helpful but isn't necessary. The in-apartment washer and drier are great to have if you're staying for more than a few days.
Maxwell
2015-02-20T00:00:00Z
Ahmad was a fantastic host. When my friend and I first arrived, he picked us up from the nearest train station and spent a good deal of time talking to us to make us feel welcome. His house rules are extremely reasonable and flexible. Basically, just clean up after yourself and don't be disruptive at night, and you are good to go. Another great aspect of staying at Ahmad's place is its location. It is a 10 minute walk away from the bus stop for the bus that takes you to the Snowbird/Alta Ski Resorts. Moreover, it is also a 10 minute walk away from the nearest train station, which can take you all over Salt Lake City. Both of these forms of public transportation are extremely cheap compared to using Uber or renting a car. Overall, my experience at Ahmad's place was great. If I were to visit this area again, I would definitely return.
Robin
2015-12-20T00:00:00Z
Room Type
Private room
---
Property Type
Flat
---
Accommodates
2
---
Bedrooms
Midvale, UT, United States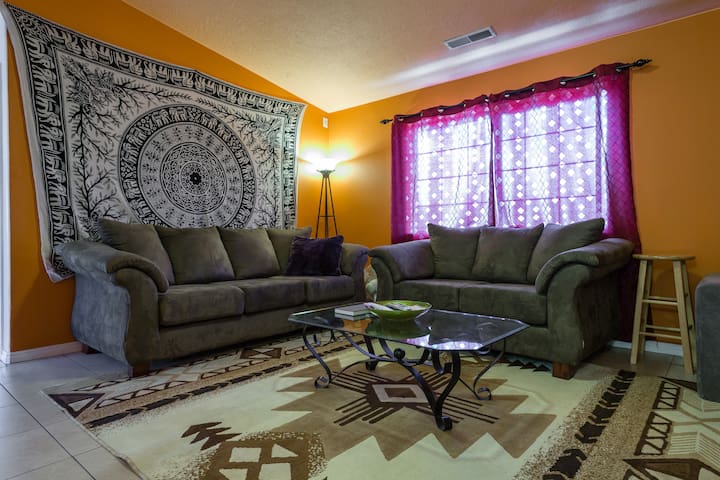 I designed this space to be a modern, inviting and an effortless experience. There is unlimited hot water for the big bath tub, 100 Mbps Internet, 47" TV playing all your favorite movies & shows. Fully stocked kitchen and very large closet to store clothes and all other equipment needed for your trip.
The tankless water heater makes sure you never run out of hot water. The large deep bath tub (with shower) is the best in our house. A 100+ Mbps cable internet connection with 802.1AC WIFI makes sure you can stay connected. This space has more than enough room for two, but we can add a Queen air mattress in the living room to accommodate four, upon request.
A quiet, safe and clean neighborhood. I have lived here for almost a decade and get along with neighbors well.
Great apartment and exactly what we were looking for. Furnished with everything we needed to cook our meals on our own. We snowboarded on this trip for five straight days. In a solid location only a short drive from Big and Little Cottonwood Canyons. You can easily get to the slopes in time to catch the first chair! Clean and cozy with very accommodating and welcoming hosts. We had a great stay, and will be back.
Paul
2015-01-24T00:00:00Z
Lacee did a wonderful job helping make us feel at home, and making sure everything was right. The lower level apartment was perfect for our needs, spacious, clean and well lit. The neighborhood was quite and in a very convenient location for what our interests were. We will definitely stay here again.
Joel
2016-03-26T00:00:00Z
The place was great! There was plenty of space... living room, fire place, kitchen, nice size bedroom and a bathroom. The online description was very accurate. I went there in March and skied Alta/Snowbird for 4 days. The location was a short (30 min) drive to the ski areas. I arrived early on a Wednesday and asked if I could stop by early to drop off my luggage before heading up to the mountain. Lacee was very accommodating and made sure the place was ready. She also gave very good instructions on how to get into the place. Lacee answered all my texts very promptly. Lacee also let me know there was a ski n see ski shop to rent skis and discounted lift passes just down the road. This was really helpful and convenient. Lacee also provided fruits and snacks upon arrival. Overall, great experience and I recommend this place and would stay here again!
Robert
2016-03-16T00:00:00Z
Lacee was very helpful and quick to answer any questions we had. My husband and I came to Salt Lake City to go snowboarding. Lacee's place was only 20 mins from snowbird and about 45 mins from Park City. It was perfect for us because we wanted to check out different slopes. The kitchen is stocked with everything you need if you want to eat in, and the house is located close to a lot of different types of restaurants if you want to eat out. The fireplace is an awesome heater and it's cool because it heats the bedroom as well. The living room is comfortable and watching movies on Netflix during the evenings was nice. Overall, great location, awesome host, and spacious accommodations.
Michelle
2017-01-12T00:00:00Z
We had a very special time at Lacee's Airbnb. The location was perfect for us since we spent most of the time skiing over the weekend. It took us less than 30 minutes to reach the slopes and we were speechless with her houses view of the surrounding mountains. Inside the space we felt right at home and we're very impressed with how clean and well decorated the downstairs was. This will be our first choice for any additional trips to the Salt Lake City area. Thanks again Lacee!
Greg
2016-04-06T00:00:00Z
Lacee and her family were wonderful hosts! They gave very thorough check-in information and even had snacks upon arrival. The apartment was the perfect size, very clean, and had everything I could need. It was also in a great location and very accessible to anywhere in the Salt Lake area.
PAUL
2015-08-02T00:00:00Z
Completely awesome place for a ski vacation with my wife!! Located within a fairly short drive to some of the best skiing in the world and about 15-20 minutes to downtown SLC. I'd suggest having a vehicle if you stay here, but I'm sure it would be doable with public transportation and taxis or Uber. You can tell Lacee takes pride in her apartment. Everything was very clean and comfortable, with plenty of space for two people. We cooked about half of our dinners there. Lacee's communication prior to our trip was great, and she had a bag of coffee beans and trailmix/fruit waiting for us when we arrived. She goes above and beyond to make your stay fantastic!! If you are looking for a great location for a vacation near SLC, look no further! Be aware that Lacee and her family lives above you, so don't be surprised to hear some running around and maybe the occasional bark of a dog. Her listing clearly states this, so we knew what to expect and it was very minor and didn't bother us at all. Actually kind of funny when you hear one of the dogs go running around upstairs. For our next vacation to SLC, Lacee's place will be the first one we check for availability!! Thanks for helping to give us a fantastic ski vacation!
Ryan
2016-03-10T00:00:00Z
I will definitely be staying here when I come back to Utah this winter. It is a nice neighborhood with a gorgeous view of the mountains. Just a short drive to many of the parks you want to see in the Salt Lake City area. Good food and restaurants nearby. Lacee made sure I had everything I needed during my stay including a fresh bag of coffee for the mornings. The apartment is very clean and well kept with a nice comfy bed. I would definitely recommend this apartment to anyone travelling to the area. Thanks so much Lacee.
Steve
2014-10-18T00:00:00Z
Room Type
Entire home/apt
---
Property Type
Flat
---
Accommodates
2
---
Bedrooms
Sandy, UT, United States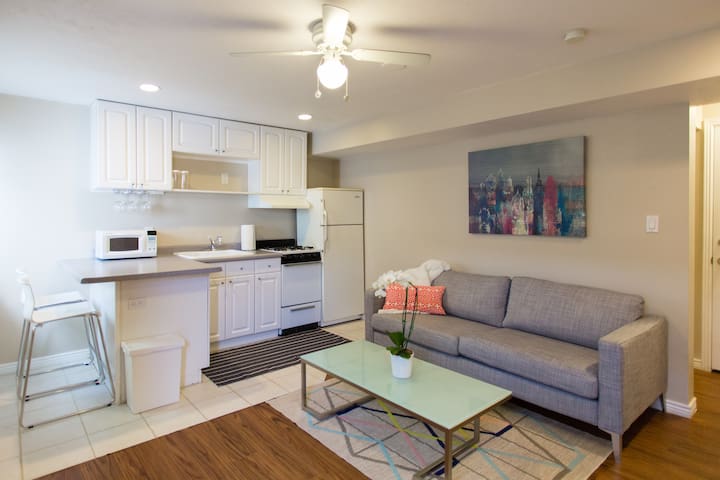 Modern full apartment sleeps 3. Full kitchen, shower, King size bed, double sofabed, Private entry, coffee maker, baby bed available. Close to ski resorts (Alta, Snowbird, Solitude, Brighton) close to Trail systems. upscale neighborhood.
Upscale neighborhood. Easy access. Excellent communication. Apartment listing was completely accurate and photos depicted the space well. Would definitely recommend.
Verena
2016-07-31T00:00:00Z
Great basement suite in a quiet neighbourhood with good access to the ski resorts. Netflix, cozy king bed and big bathroom with great shower. The kitchen is nice, but mini. Don't plan any big meals. The wifi leaves something to be desired... Would for sure stay again.
Ryland
2017-01-14T00:00:00Z
This was a wonderful stay for our skiing adventures at Alta and Solitude. Easy to get to both resorts. Beautiful accommodations, very up to date, perfectly clean, and included thoughtful touches as well. Communication was quick and clear which we appreciated. A wonderful stay. Would definitely recommend and would stay here again! Also the bed is super comfortable! :)
Ruth
2017-01-01T00:00:00Z
Great host! Everything I needed and more.
Michael
2017-01-25T00:00:00Z
Adam and Sarah's place was great! They were very easy to communicate with, the unit was impeccably clean and well-appointed, and it was a perfect launching off point for a couple days on the slopes at Alta. Our only issue was that the kitchen was quite small for any attempts at cooking however, we would definitely stay there again.
Max
2017-03-12T00:00:00Z
Adam & Sarah were great - super nice and responsive. The place is small, but super cozy with great modern upgrades. The pictures actually capture the feel of the house quite nicely, and there is nothing at all to complain about. The hosts were very flexible with my check-in and check-out times, so that was also very nice.
John
2016-07-11T00:00:00Z
We had a great and very convenient stay here, making use of the sofa bed in the living room as there were 3 of us. We used this as a base to explore Salt Lake City which was just a short drive away. The bedroom and bathroom were very large and it was useful to have a small kitchen too. The apartment was very clean and very well looked after. It was great to relax in the evening with Netflix also!
Keith
2016-08-08T00:00:00Z
Great place to stay.
JT
2016-08-21T00:00:00Z
Room Type
Entire home/apt
---
Property Type
Flat
---
Accommodates
3
---
Bedrooms
Sandy, UT, United States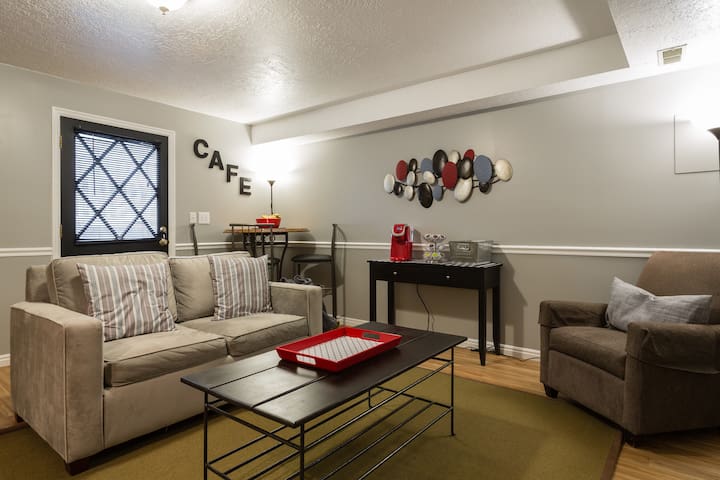 This simple basement apartment offers a nice space with 2 new queen beds and a queen size airbed if needed, private kitchen, common space and bathroom. Keyless entry offers check in at any time. We're only a 20 minute drive to 2 beautiful canyons. This space is in a quiet family neighborhood in a cul-de-sac so traffic is minimal. Public transport is down the road a bit but Uber/Lyft is a great option for getting around. Parking is on the driveway, off the street.
Located in a cul-de-sac, this home is in a quiet area. This is not a shared space. You have your own entrance, bathroom and bedrooms. And since it's got keyless entry you can check in at any hour. The entrance is around back and going around either side of the house works great.
This is a family neighborhood, so it's quiet. The streets are slow and there's a lot of kids around.
Perfect place to stay if skiing in Ski City!
Izabela
2017-01-28T00:00:00Z
The place is pretty and cozy. The owner was very nice and helpful. We had a pleasure stay. We're considering coming to stay here again next time we visit this city.
Ying
2016-12-20T00:00:00Z
My friends and I stay at Matthew's place for 3 nights. The place was nice, cozy and clean. Netflix kept us entertained as we laid on the couch exhausted from snowboarding. The location was great as well. We were 25 minutes from Snowbird, 25 minutes from the airport and 20 minutes from downtown Salt Lake City. I would gladly stay here again.
John
2017-02-04T00:00:00Z
Place was as described and great location. A few popcorn kernals escaped the vacuum and the host is aware of a water pressure issue in the shower, but other than that perfect!
Greg
2017-01-08T00:00:00Z
Matthew provided me all the information I needed to communicate with him and to find the house. He works hard to be a good host, and provides everything one needs: kitchen items, soap, towels, washer/dryer with laundry soap & bleach, even shampoo & conditioner in the bathroom. He provided a flat screen TV with access to Netflix, and WiFi throughout the house. He checked with me to ensure we had everything we needed. I can't ask for more from a host.
Mark
2016-09-14T00:00:00Z
Booked this place for my fiance's business trip. Apartment was very nice and clean. It was located near South Towne Mall and other stores. Matthew was a great host. He went out of his way to get the apartment ready so my fiance could check in earlier than expected. We left early due to family emergency and wasn't able to grab all our belongings. Matthew was kind enough to help us gather our things for safe keeping. This will be our top choice to stay at in Sandy. Thank you Matthew for all your efforts and we will see you again in a few days.
Trinh
2016-08-15T00:00:00Z
I loved staying here and Matthew was great. The apartment was very clean and spacious. I would definitely recommend it.
Angela
2016-08-05T00:00:00Z
Place is well stocked with everything you need to feel at home - it's about 15 minutes drive to Alta/snowbird with a washer drier! Can't be beat!
Ying
2017-03-29T00:00:00Z
Room Type
Entire home/apt
---
Property Type
Flat
---
Accommodates
6
---
Bedrooms
Sandy, UT, United States
Conveniently located in a friendly, quiet neighborhood, and close to restaurants, stores, ski resorts, hiking and biking trails and downtown Salt Lake City. Great neighborhood to stay in!
Free WiFi and a work space at the counter, make this space ideal for business travelers. The futon can sleep 1 adult or 2 small children. The bedroom has a queen bed, en suite bathroom, and a big walk-in closet with slide-out storage space. Sleeping bags are available. We will wash your dishes daily. Outside smoking areas and an ashtray is available.
There are several restaurants, take-outs and grocery stores in the area. There are plenty of things to do - we are full of suggestions, just ask!
Great place, great location, superb hostess!
Laura
2017-02-27T00:00:00Z
This was my first stay at an AirBnB, and Hettie and Hennie were spectacular hosts. In addition to being extremely accommodating, they are very nice people and they take care of the living area well. It is an excellent location if you're skiing Alta/Snowbird, and they even supplied a boot and glove dryer for my use. The bed was comfortable, the bathroom was well stocked, and the closet was very spacious. This was a perfect place to stay for my first time, and sets a high standard for other AirBnB's to live up to. As a side note, persons above 6 feet should know that the shower head sits at about 5'7". It was not an issue for me, but it could be for taller people. I did not consider it a downside, but I thought it is a good idea to put it here for tall folk! Overall, this is an excellent choice for the majority of travelers and I would highly recommend.
Mitchell
2017-01-11T00:00:00Z
The place was perfect for an affordable ski weekend in SLC. Hettie was a fantastic host and the room was great. I look forward to staying here again in the future!
Dan
2017-02-12T00:00:00Z
Our hosts were very friendly and accommodating. They were flexible and allowed for a late check in and late check out so we could shower after skiing. The room was very clean and spacious. Our hosts provided chocolates and even some toiletries- not to mention lots of suggestions for places to eat. Location was perfect for access to canyons. My best Air Bnb experience to date.
Michael
2017-01-16T00:00:00Z
Hettie was so welcoming! The apartment was everything I needed while I was in Salt Lake City. I would definitely stay again.
Ashley
2017-03-31T00:00:00Z
Great place to stay. Clean, comfortable and Hettie was very kind and helpful.
Leslie
2017-02-20T00:00:00Z
Absolutely awesome place to stay. Totally central for ski resorts. Hettie and Hennie were the consummate hosts. Would love to stay here again!
Mike
2017-01-28T00:00:00Z
Hettie's home was so welcoming and comfortable. Everything was very clean and the space was perfect. It's about a 20-30 min drive (depending on weather) to Snowbird and Alta, and a 40 min drive to Park City. When I come back I will most definitely stay here again!
Sarah
2017-01-21T00:00:00Z
Room Type
Private room
---
Property Type
Flat
---
Accommodates
3
---
Bedrooms
Sandy, UT, United States
Stay on adventure's doorstep! Enjoy a private, clean, comfortable basement suite with separate entrance at the feet of the incredible Wasatch Mountains. 15 minutes to Snowbird & Alta ski resorts; minutes more to gorgeous Albion Basin. Big Cottonwood Canyon 8 minutes away; home to Brighton & Solitude ski resorts. Amazing hiking as close as 2 minutes away. 20 minutes to Downtown Salt Lake, 40 to Park City. Kitchenette, large TV w/ Roku (Netflix, Hulu & more), king bed.
Our 1 bed, 1 bath basement apartment has a kitchenette and living area with flat screen TV (Roku). We are a fully functioning family that lives upstairs and have two small children. We go to bed early and are usually up fairly early as well (7:30am). The rental space is completely separate, and while you may hear us you will not see us unless you need our assistance with something (or we're out in the yard). Please take advantage of the soothing sound machine in the bedroom to help avoid early morning wake-ups from the pitter-patter of little feet above. Enjoy a king size bed with comfortable bedding and a private bathroom with soft towels, shampoo, toiletries, etc. The living area has a comfy sectional and flat screen TV with Roku streaming (Netflix, Hulu, etc.). We have a full size fridge, a hot plate with two burners and a microwave that also does convection. Cookware is provided, as well as plenty of plates, cups and utensils. If there is anything more you need in the kitchen we would be happy to lend it from upstairs, as long as we have it and are home: rice cooker, crock pot, wok pan, etc.
From our well kept neighborhood you can enjoy breathtaking views of the canyons. There are two grocery stores just down the road and plenty of other stores and restaurants to choose from in the area. The South Towne mall is not far, as well as several movie theaters, the Real Salt Lake stadium, the Living Planet Aquarium, and Cowabunga Bay Waterpark.
Such an awesome place! Beautiful area, safe and quiet neighborhood! Our hosts were kind and allowed us to come and go,as we pleased. Base camp was cozy and charming loved every minute. We would definitely stay here again in the future!
Nicky
2016-09-12T00:00:00Z
This was my first stay at an Airbnb, and it was an amazing first impression! Clean, spacious, and great value for the space. Highly recommend for anyone coming through this area!
Noah
2016-11-16T00:00:00Z
Great apartment! Very clean and well kept. Location is great, especially for visiting Alta and Snowbird. If I ever make my way back to Utah I will for sure stay there again.
Victoria
2016-12-16T00:00:00Z
We stayed and Jay & Haylee's for a long weekend trip to Snowbird. It's a very comfortable space that is convenient to the ski areas and dining in Sandy. We would absolutely consider staying here again on a future visit.
Charles
2017-01-16T00:00:00Z
Jay and Haylee's place was super convenient to skiing at Snowbird/Alta. They were incredibly responsive to questions.
Elizabeth
2017-02-11T00:00:00Z
I don't think you can stay closer to Snowbird/Alta unless you sleep in the parking lot. Awesome stay!
Brent
2017-01-13T00:00:00Z
Good location for skiing snowbird. Accurately described in the airbnb site. Very good value.
Israel
2017-01-10T00:00:00Z
Beautiful location, warm and inviting private living space, and most of all great people! Haylee and Jay have put a cozy, welcoming touch on everything from check-in directions, advice on nearby adventures, to candy (which I ate, happily). It was great to have a kitchen, TV area, bedroom and bathroom all separate, it truly has everything you could ask for. Seriously, If you're looking for a place to feel right at home, this is it!
Andy
2016-10-26T00:00:00Z
Room Type
Entire home/apt
---
Property Type
Flat
---
Accommodates
2
---
Bedrooms
Sandy, UT, United States
My place is close to great views, restaurants and dining, close to the mountains, skiing in winter, hiking in the summer, and close to shopping and amovie theater. RV parking is available, You'll love my place because of the location, the ambiance, and the views. My place is good for couples and solo adventurers. Room is located on lower level of split level home. Movie room is also available.
Room Type
Private room
---
Property Type
Flat
---
Accommodates
2
---
Bedrooms
Sandy, UT, United States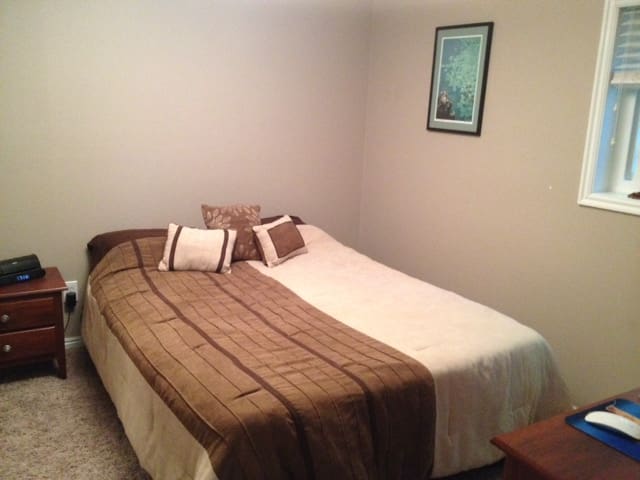 Room in our two bedroom apartment in a brand new apartment complex! On site laundry, pool/hot tub and fitness center. Guest WiFi available. Kitchen is shared but there is a ton of room. Private bathroom with shower/tub. Right by I-15 near ski resorts
Nice, clean and modern. Very friendly people with an awesome cat. Everything you could want and then some more on top of that... It doesn't get much better than this place!
Craig
2017-04-06T00:00:00Z
We were their first airbnb guests. Erik and Kate were really really friendly. The appartment (kitchen, our room, bathroom, living room) was so clean, everything was tidy. They also cooked for us some breakfast which was really nice. Erik showed us Park City before he went to work. We really appreciate that. They gave us some ideas what we can do in Salt Lake City. We could also use the laptop. We had some nice communication and great evenings. It was just perfect! We would definitely recommend them as airbnb host!
Adrian
2017-03-13T00:00:00Z
The host canceled this reservation the day before arrival. This is an automated posting.
Dennison
2017-03-22T00:00:00Z
Erik's place was immaculate. When I first got there I was surprised at how nice it was for how much I was paying. I just moved out here and have been surfing a bunch of Airbnb's at a little bit higher price point and when I found this one so close to the canyon's I thought it'd be a good way to save money. This place turned out turned out to be the nicest place I've stayed at. Erik and Kate were both super friendly and helpful with sharing local insight to what was around. I'd recommend this Airbnb to anyone especially are looking to access little and big cottonwood canyons for skiing/snowboarding. It was an easy 20min drive for me to Snowbird. To top it off they have a hot tub in their complex which came in handy for me a few times after a day of riding.
Erik
2017-03-23T00:00:00Z
very Nice experience ,I like that I felt as home!
Su
2017-03-31T00:00:00Z
Very nice and comfortable space with plenty of privacy. Very friendly cat and very good value.
Ronald
2017-04-05T00:00:00Z
Room Type
Private room
---
Property Type
Flat
---
Accommodates
2
---
Bedrooms
Sandy, UT, United States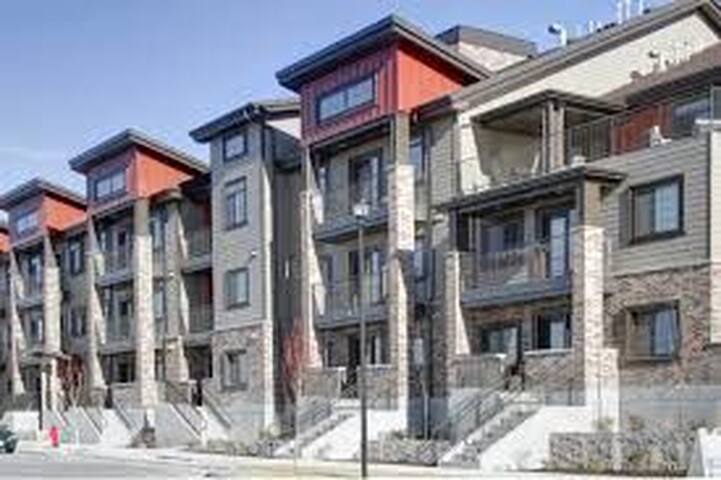 Everything you'll need for a family-friendly winter vacation, 3 spacious bedrooms, one with a fireplace, 3 comfortable queen beds and a foldout couch, theater with comfy seating, 11' screen, surround-sound, DVD's, cable with expanded sports channels, fully equipped kitchen, Keurig coffee maker, K-Pods, sugar, 13 minutes to Snowbird and 15 to Alta at the speed limit, 34 to Brighton, 40 to Park City, Deer Valley, hiking and rock climbing in the Canyon. Perfect for a wonderful family ski vacation!
We're located in a quiet residential neighborhood at the mouth of Little Cottonwood Canyon. The Apartment has 3 bedrooms, 1 bath, a fully equipped kitchen and a theater with an eleven foot screen, surround sound, hundreds of DVDs, and cable with extended sports channels. Snowbird and Alta (the local favorite) resorts are just a few minutes away. They are immediately adjacent to one another and you can get a SnowbirdAlta One Pass and ski both resorts. We're 34 minutes from Brighton/Solitude Ski Resorts in Big Cottonwood Canyon and 40 minutes from Deer Valley, The Canyons and Park City Resort in Park City. Cross-county skiing and snowshoeing are also available nearby. In the summer, there are trailheads within a mile of our location, and excellent rock climbing in the Canyon. We have 2 grocery stores within a block as well as multiple restaurants. More available about a mile away. Traverse Mountain Outlets about 20 minutes south of our location has world-class shopping as well as a Cabelas. Scheels and Sportsman Warehouse are about 15 minutes away. We're also close to South Town Expo Center.
Proximity to ski resorts, hiking, cross-country trails, rock climbing, biking and great shopping and restaurants makes our location great for a family vacation or just a great place to get away.
Really great place -- a lot of room to hang out, big bedrooms, very nice kitchen. Marney is a great host -- very welcoming and responsive, had some breakfast food waiting for us, which was a very nice touch. great value for a place 30 minutes from skiing.
Andrew
2016-12-30T00:00:00Z
Marney is a great hostess and greets you with goodies to make your stay a bit more personal than a hotel. The home is well updated with modern appliances and a projection screen TV. Parking is ample off the street and is very close to shops and restaurants. It is great value for the money.
Steve
2017-01-23T00:00:00Z
Marney's apartment is an unbeatable value! The apartment is clean, cozy, and very up-to-date. It provided my colleagues and I with the perfect getaway to unwind after a stressful couple weeks at the office. As a heads up, while the apartment can hold up to 8 people, there is only one shower. However the water pressure is strong enough to make this not an issue. Marney and response of communication. His responses were prompt, informative, and personalized to our group. We hope to visit again sometime soon! Thanks again for everything!
Brian
2017-01-30T00:00:00Z
If you're skiing Alta or Snow Bird, Marney's is a great spot. Can't get any closer without being up the mountain. It's clean, comfortable and has a great entertainment system.
Tom
2017-01-12T00:00:00Z
Great apartment! So close to both Canyons! A skier's dream come true. Thanks Marney and Steve.
Ted
2017-03-13T00:00:00Z
Beautiful place, wonderful hosts :D
Lim
2017-03-31T00:00:00Z
Close to the ski resorts and very comfortable place to stay. Exactly as advertised, and more. Thank you Marney!
Brian
2017-04-04T00:00:00Z
Great place and hosts! We arrived late at night and Marney had eggs, yogurts, other breakfast goodies and even a six pack stocked for us. Place is spacious and clean and the best (URL HIDDEN) only 20 min up the canyon to Alta!! Only two turns. Highly recommended!!
John
2017-02-09T00:00:00Z
Room Type
Entire home/apt
---
Property Type
Flat
---
Accommodates
8
---
Bedrooms
Sandy, UT, United States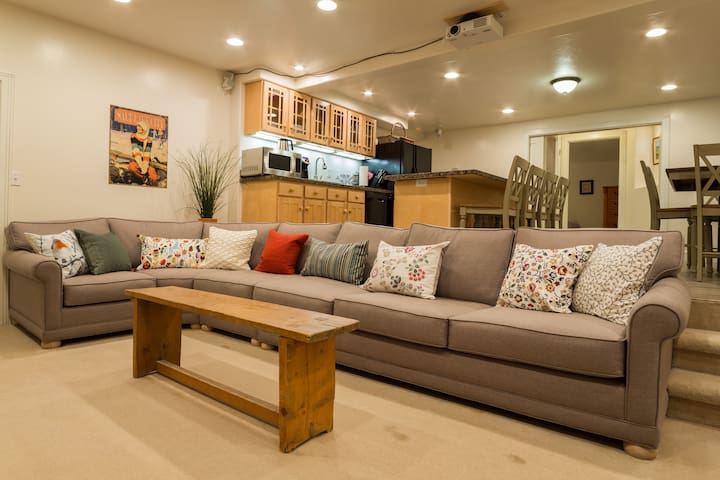 Have your own kitchen, bathroom, walk in closet, TV, gym in the basement apartment. Hot tube in the back yard all year long. Swimming pool is open during summer months. We live in the home above the apartment, so we can assist guests any time. Home is 25 min away form airport, 15-20 min to Snowbird, Alta. 30 min to Brighton and Solitude. 40 min to Park City. We provide additional room if needed at the same home. http://abnb.me/EVmg/4ASA71nkxA
The apartment is in the basement level of 4711 sq ft home. Apartment fits 5 people. Should you need more rooms or beds, we also have a room listed at the same property under a listing name: Blue Room by the Mountains. http://abnb.me/EVmg/4ASA71nkxA This one comes with access to recreation room and makes it convenient for larger groups and families who wish to spread out.
Beautiful quiet residential area. About 3 min drive to shops and restaurants.
Great hosts, they were welcoming and even provided us the makings for breakfast. Great location and value!
Jeff
2017-03-09T00:00:00Z
Fantastic accommodations in a quiet residential area near the entrance to the Wasatch canyons. Walking and biking trails nearby. Puppy friendly. Dave and Ali were wonderful hosts. Highly recommended.
Jonathan
2016-11-22T00:00:00Z
Ali and David, were extremely accommodating and nice. My husband and I stayed only one night because we wanted to enjoy another day of skiing in Salt Lake. We couldnt be happier with the location! Their house is very close to Snowbird ski field and it was perfect for us. We wish we could be there for our entire holiday. Their house is beautiful and open. It is warm, clean and cozy inside. Alena and DAvid are super nice people to talk to and we enjoyed their stories. We definitely can recommend this house and we will looking forward to stay there again. "Thank you so much for everything and I will see you next time. "Klara and DAvid PS. I loved the Xmas decoration around the house. It was beautifulllllllllllll and I really admire Alena and DAvids knowledge about Salt Lake City and activities you can do around. It was so helpful, so helpful...
Klara
2016-12-29T00:00:00Z
The host canceled this reservation 98 days before arrival. This is an automated posting.
Peter
2016-12-06T00:00:00Z
Ali & Dave are great hosts. Their house is in a nice and safe neighbour. It is quick 15 min drive to the slopes. Easy street parking in front of the house. The apartment is very spacious and spot less clean. For bigger families/groups you can easily use rec room as second bedroom. It was nice to have own kitchenette. You can interact with your hosts as much or as little as you wish. But I recommend having a drink or two with them, they have lots of cool stories and recommendations to share :-)
Jana
2016-12-31T00:00:00Z
Ali and Dave's downstairs unit was awesome. It was clean, organized and well presented. They stocked the kitchen with essentials for a good pre-mountain breakfast. There house is very conveniently located to Alta/Snowbird - makes for a great option for skiers and snowboarders. Would definitely stay here again.
brad
2017-02-06T00:00:00Z
Ali and Dave provide a very comfortable stay in a great location near multiple ski resorts and in a nice neighborhood for walking. They were excellent hosts for us and graciously accommodated our needs for our dog who traveled with us. My only regret is not having time or energy for a dip in the hot tub as we had colds during our trip. I would definitely stay here again and recommend it to anyone.
Lydia
2016-12-20T00:00:00Z
My stay at Ali and Dave's Airbnb exceeded my expectations in every way. Theirs is a beautiful home that perfectly matched their pictures which do not do this spacious and amazing home justice. Ali and Dave's pride in their work and attention to detail were obvious right down to the chocolate truffle waiting for me in my room. They instantly made me feel comfortable when I arrived and their warmth, hospitality and attention to my needs and preferences were extraordinary. I feel like I've known Ali and Dave for years and consider them both dear friends now and I would highly recommend and encourage anyone looking for an inspiring and stimulating airbnb experience to choose Ali n Dave's place! Thanks for everything! -Eric
Traeger
2016-11-05T00:00:00Z
Room Type
Private room
---
Property Type
Flat
---
Accommodates
5
---
Bedrooms
Sandy, UT, United States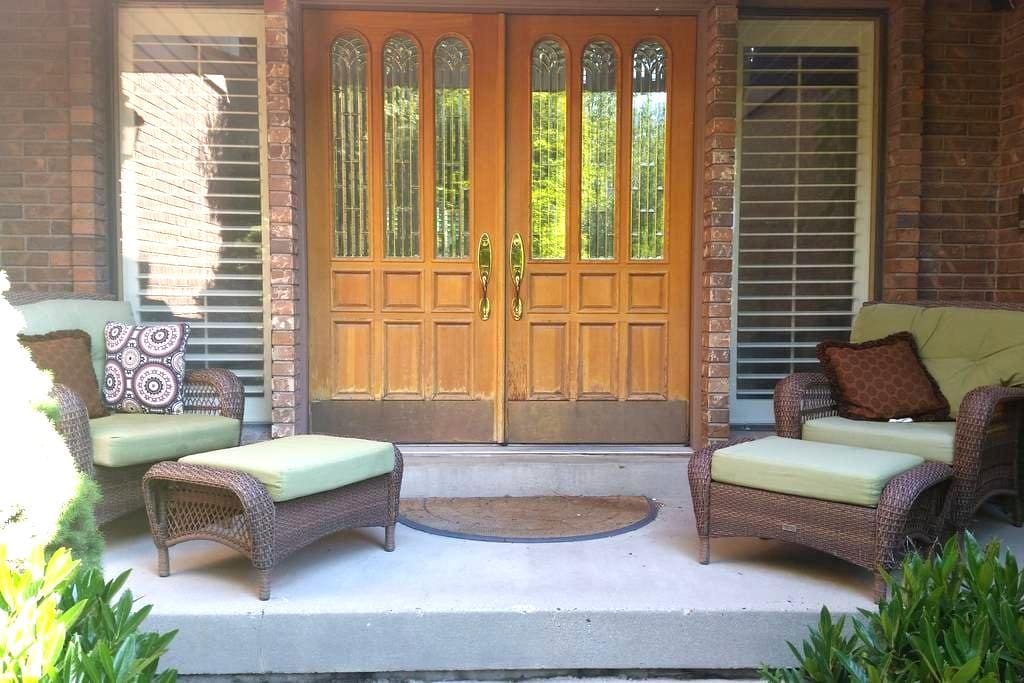 Beautiful retreat with valley and mountain views. A single-level entry, basement apartment, with separate entrance and driveway. Features 4 areas; front room, full kitchen, bedroom and separate guest laundry room. Close to parks, ski resorts (Alta, Brighton, Solitude and Snowbird, less than 30 minutes) and public transport. You'll love the natural light, the neighborhood and the peaceful atmosphere. Great for couples, solo adventurers, business travelers, and families.
Just 10 minutes from the major freeway, our place is amazingly serene and quiet, tucked away in a private neighborhood. It is common to look out the living room window and watch a deer pass by in the trees below. Experience Jon Johnson original Art work pieces, throughout the space.
5 minutes from local Trail head hiking (Rocky Mouth) access along Wasatch Boulevard. Within 10 minutes from Little Cottonwood and Big Cottonwood Canyons.
Julie's place was wonderful, and her communication was just as good! It's clear that they have put care into their space and want their guests to feel comfortable. I appreciated that they put effort and focus into maintaining it! The beds were also very comfortable! Overall, a great experience!
Melissa
2017-03-12T00:00:00Z
This property is as described, and the patio has a great view. Comfortable living room. Very convenient to skiing at Alta/Snowbird. Helpful, cheery, and available hosts.
John
2017-03-15T00:00:00Z
We had a really good stay. Julie and Jon were very helpful and accommodating but gave us a lot of privacy.
Marina
2017-01-18T00:00:00Z
Julie's place is lovely. The basement apartment is spotless, comfortable, and pleasant. It has a separate driveway for parking, and a separate entrance. Julie was kind enough to provided us with fruit, water, and juice upon our arrival, and was flexible about the late hour we arrived at the apartment. The location is lovely, with beautiful views of the mountains, and easy access to the main roads that give access to the ski resorts. Julie went out of her way to make our stay comfortable, providing an air mattress when we needed a little more sleeping space. The kitchen was well appointed, and clean enough to eat off the floor! Definitely was a five-star weekend.
Steven
2017-01-08T00:00:00Z
great place, super friendly, heaps of space, could not ask for more
Lee
2016-08-06T00:00:00Z
Julie was very helpful and communicative leading up to our trip, and gave us a warm welcome when we arrived. Her apartment is a cozy and convenient, with everything you need. This worked out splendidly for our ski days at the nearby resorts.
Anthony
2016-12-18T00:00:00Z
Julie and Jon's house is perfectly situated for a ski vacation at Alta or Snowbird. The house is located in a residential area and has beautiful views of the SLC valley. the basement apartment is clean and was perfect for 2 of us, but it would have worked with a family as well. Julie was very friendly, responsive and helpful.
Gretchen
2017-03-07T00:00:00Z
The apartment was great for what we needed - our family of 5 was comfortable there and it is about 20 min drive from skiing in one direction and downtown in the other. Julie was a great host and made sure we had everything we needed.
Aryeh
2016-12-31T00:00:00Z
Room Type
Entire home/apt
---
Property Type
Flat
---
Accommodates
6
---
Bedrooms
Sandy, UT, United States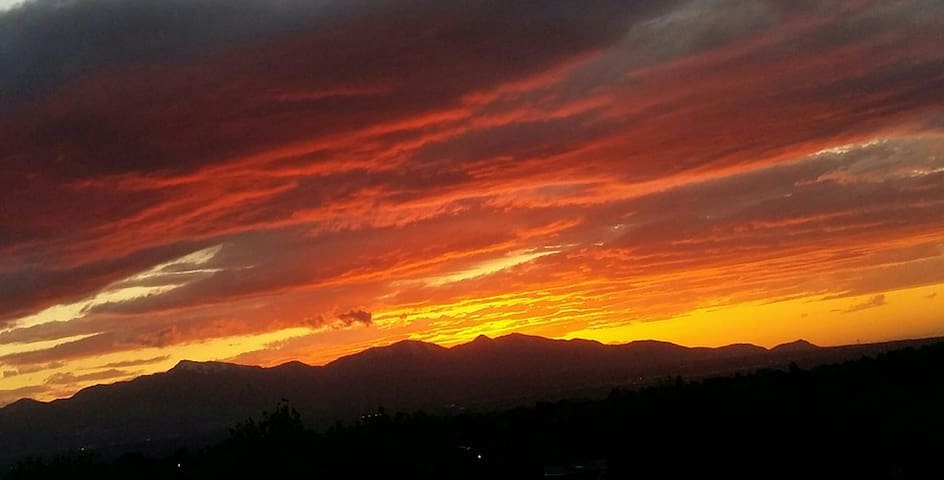 Nice, cozy walkout 2 bedroom basement apartment with separate entrance, plenty of natural light, updated kitchen. Minutes from the mouth of Little Cottonwood canyon (Alta and Snowbird!). Also conveniently located close to dining, shopping, etc.
Nice, cozy private 2 bedroom walkout apartment with separate entrance, furnished kitchen, 2 bedrooms and a bathroom. Bedrooms have new queen beds. Roku TV in living area. Extra storage available for skis or mountain bikes. Entrance is in the rear of property. WiFi and linen provided. We're located in an equestrian community with miles of riding trails located in the community. It's like country living with all the amenities at your finger tips.
One of a kind unique horse estates in the heart of Sandy. Dimple Dell park is across the street. It's like a slice of the country minutes from the freeway.
Awesome is the best description of this place and the hosts! The host and Hostess were very accommodating. We arrived a little early but that wasn't a problem. The Hostess was very charming and helpful. They were very knowledgeable and forthcoming and helpful about the surrounding area and establishments. They gave us some 30% off coupons for ski rentals! Yeah! The place was clean, tidy, perfectly located for skiing and had a well equipped kitchen. I am a cook and the knives were actually very sharp! Way to go on that detail! I am a big guy and the bed was very comfortable. They have friendly chickens that were full of quaint character and an awesome dog. The place felt very private. We invited the host to share a beverage with us one night and we had a very wonderful conversation! Very cool!!! This is the perfect place for a person who doesn't like fancy expensive hotels and wants a warm friendly cozy well located place to stay and cook some of their own meals on a budget. I would definitely recommend this place to anyone. I want to go back. I wish I were there neighbors.
Curt
2016-02-28T00:00:00Z
This is a great place to stay if you want easy access to the many fantastic ski areas near Salt Lake at a very economical cost. Mike and Danielle are wonderful hosts who are extremely helpful and friendly. Although the apartment is in the basement of their home, it's above ground in the back and gets plenty of light. While it's in a suburban location, they have a dog, cat, chickens, and horses, so it feels a little like country living. The bedrooms are comfortable with plenty of storage and the kitchen is well equipped. There is relatively little additional space for hanging out, and only one bathroom, so it would be a bit crowded for more than two people ( I was there with a friend to ski for a week). There is a fast internet connection but no cable TV service. If you want proximity to different ski resorts (20 min. to Alta/Snowbird, 30 min. to Solitude/Brighton, 40 min. to Deer Valley/Park City), and the ability to cook your own meals, all for a very reasonable price, this place is hard to beat.
David
2016-04-02T00:00:00Z
The apt was very nice. Comfortable beds. Kids loved the horses and chicken on the property. The owners even gave us some eggs. We would stay here again.
Robin
2017-01-16T00:00:00Z
I booked the space for my elderly grandparents and aunt who traveled in to meet my boyfriend's family for the holidays. Michael and Danielle were extremely welcoming and gracious! Danielle helped guide us in, greet us and assist my family is settling in for the week. We loved hearing about her stories as a teacher. My grandmother is a retired math teacher so she could definitely relate. The home was very clean, cozy and well stocked with some treats. Thank you and Happy New Year!
Malicia " Lee"
2016-12-28T00:00:00Z
Michael and family were very nice, they went out of their way to make sure we were comfortable and had a pleasant stay. The location was very convenient and the place was nice. We enjoyed having a full kitchen that was stocked with all of the essential kitchen gadgets.
Lyn
2015-12-28T00:00:00Z
Our hosts were so welcoming & helpful. The place is nicer than the pictures & was perfect for our needs as a young family. Our kids loved all the animals! The neighborhood is lovely & I went for a run in the early morning many days. I would happily stay here again or recommend to a friend.
Jessa
2016-02-16T00:00:00Z
Michael was most welcoming, and cheerfully accommodated our late arrival. He had the place stocked with some essentials, including coffee, which was so helpful because we were too tired upon our arrival to get groceries. The beds were comfortable and the place was spotless. The bathroom was also well-stocked. We were there to ski, and it was easy to get to slopes from the apartment. I look forward to staying there again on my next ski trip.
Gerry
2016-03-10T00:00:00Z
Staying with Michael was great! The apartment was very clean and had everything we needed including cookware and off the street parking. You can see the mountains right from the door and the location is great for anyone skiing Snowbird/Alta. Michael's son even brought down muffins for us in the morning! We would definitely stay here again.
John
2016-01-11T00:00:00Z
Room Type
Entire home/apt
---
Property Type
Flat
---
Accommodates
4
---
Bedrooms
Sandy, UT, United States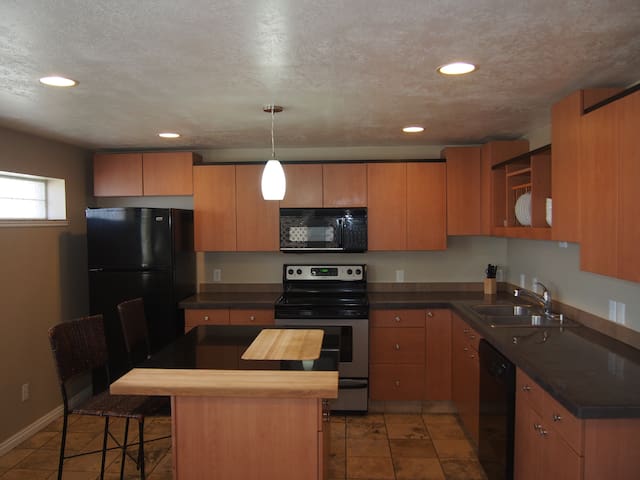 The apartment is 15 minutes away from 2 world class ski resorts, Snowbird and Alta which are both beautiful for hiking in the summer and also close to lots of mountain biking trails. Located just 5 minutes away are 2 shopping centers, an indoor and outdoor pool, tennis courts, restaurants, bars, gyms, and yoga and pilates studios. You'll love my place because of the location and the light! My place is good for couples, solo adventurers, and business travel.
Large living room, small sunny kitchen, newly remodeled with new beds, mattresses and kitchen!
Great location at the base of the canyon. Nice two bedroom converted basement with large living room. Kitchen was a bit small but totally worked for our needs. Thanks!
Chelsea
2017-03-25T00:00:00Z
Melissa was a fabulous host. Her house was very clean and well kept. It looks like she just remodeled the basement because everything looked brand new. Melissa was very accommodating to our group and I would recommend her house to anyone looking to stay in Sandy, Utah. Thanks again Melissa for the excellent place to stay!!!
Josh
2017-03-21T00:00:00Z
Room Type
Entire home/apt
---
Property Type
Flat
---
Accommodates
5
---
Bedrooms
Sandy, UT, United States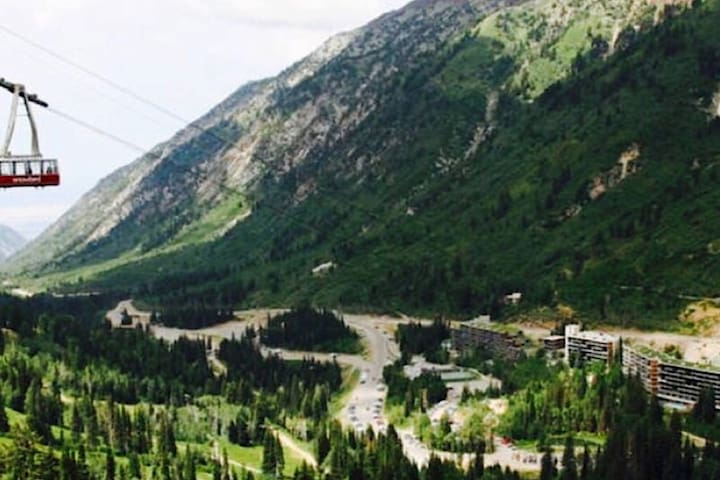 Just an 8 minute drive to Little Cottonwood Canyon (Snowbird and Alta resorts) and 8 minute drive to Big Cottonwood Canyon (Solitude and Brighton). Furnished with 2 comfy queen beds and 1 twin bed. Very clean, cozy and spacious.
Welcome to our beautiful home! We look forward to hosting you and know you'll enjoy your stay! We live in the upstairs with our two little boys. Our newly remodeled basement apartment is where our guests will stay. Guests will enter through a separate entrance and enjoy their own private space. Apartment features a fully equipped kitchen, full bath, three separate bedrooms, laundry room and spacious family room.
We live in a really nice neighborhood. Quiet, yet in a central location to restaurants, shopping and the ski resorts.
We had a great stay in this home. There was plenty of room for a family of four. We would highly recommend this home to others! The location is very convenient to Alta and Snowbird, and easy to get to and from the airport.
Jen
2016-02-28T00:00:00Z
We stayed at Sarah's place for 6 nights during our summer vacation. Our stay was very comfortable and relax. About two weeks before we arrived, Sarah contacted me to communicate the details and answered all my questions. On the date we checked in, Sarah was very nice to let us check in a couple of hours earlier. When we entered Sarah's place, the AC was on already and the room temperature was just right. The place was VERY clean. We immediately felt very comfortable and knew we selected the right place to stay. The place was well stocked with all necessary supplies in the kitchen, bathroom, laundry room, and bedrooms. These supplies are the good brands, not cheap ones. The central AC was controlled by Nest via an Android phone. We could easily control the temperature and fan to the most comfortable level. Sarah and her family are super nice and friendly. However, we used text messages to communicate most of the time because Sarah did not want to bother our privacy during our stay. And it worked out very well. Sarah really wanted to make sure everything was right and we didn't have any questions/issues. We could felt the extra effort and consideration from Sarah, and we really appreciate that!! The house locates at a very nice, friendly, and safe neighborhood. It is very close to many different stores (restaurants, supermarkets, grocery stores, Starbucks, gas stations, etc.). We took the short walk to the close by Falcon Park in the morning and afternoon. The park has a very beautiful view of the mountains. The house is also very close to the Bell Canyon and most ski resorts. We had a very good time while hiking at the Bell canyon. The house is also not far from the Salt Lake City, Great Salt Lake, and airport via freeways. At night, we made some food at the kitchen and watched Netflix while enjoying the dinner. Overall, we had a very conformable stay at Sarah's place. Thank you, Sarah and your family, to let us have a wonderful vacation!!! We highly recommend Sarah's place to everyone, especially for the family vacation.
Oliver
2016-06-19T00:00:00Z
We had a great time skiing Alta and relaxing in Sandy. The lodging was just as described and the hosts were very accommodating.
Bob
2016-03-26T00:00:00Z
Sarah was an amazing hostess. She far exceeded my expectations and was an absolute pleasure to work with.
Billie
2016-09-19T00:00:00Z
We loved everything about our stay at this home. It was very clean, and the hosts made sure we had everything we needed for a great stay in Utah. Sarah was quick to respond to any text messages we sent. It is in a great location, especially for those coming into town to ski. we definitely hope to stay here again when we are visiting Utah.
Michelle
2015-12-27T00:00:00Z
Sarah and her family were AWESOME hosts. Seriously, THE BEST experience I've ever had on AirBnB. They were accommodating to our requests for late check-in (~2am) and also let us take showers after skiing and check-out late (around dinner time). The entire family was extremely friendly but not invasive. The space has awesome amenities (separate entrance from the main house, washer and dryer, smartphone-controlled thermostat) and was both comfortable and clean. Being close to both convenience stores and the ski slopes, it could not have been more perfectly located. I will absolutely be back the next time I'm in Salt Lake. Thanks again!
Dave
2016-01-10T00:00:00Z
Clean, comfortable and quiet
Mike
2017-01-28T00:00:00Z
Sarah & Ryan were very attentive to our requests & inquiries. The apartment was spacious, immaculate, & comfortably furnished. We ate in most evenings. Several large supermarkets are located nearby. We were there to ski the Cotton Wood Canyons; the entrances to the canyons were only a short distance away. We highly recommend this accommodation.
Thomas
2017-02-14T00:00:00Z
Room Type
Entire home/apt
---
Property Type
Flat
---
Accommodates
5
---
Bedrooms
Sandy, UT, United States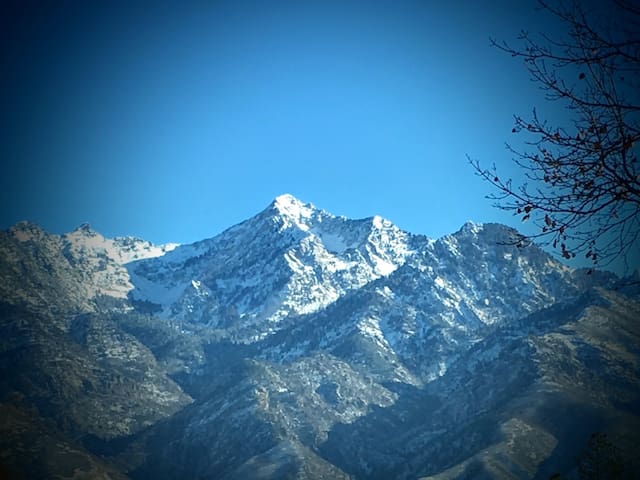 Brand new 2 bed 1 bath 1350 sq foot apartment. 30 min or less from several ski resorts. Walking distance to UTA bus stop which takes you to ski resorts. Also walking distance to stores and eating establishments. Washer/dryer. Jacuzzi. Full kitchen.
Extended my stay because everything about the apartment was perfect for my needs. Five stars.
Jeremy
2016-08-29T00:00:00Z
Great location in Sandy with easy access to restaurants, shopping, and attractions. Beautiful home and fantastic hosts—the apartment is truly exceptional in every way.
Jeremy
2016-08-21T00:00:00Z
Fantastic location very comfortable home. Only disappointment was the fireplace wasn't working which was one of the reasons we chose this place especially during Christmas holidays.
margaret
2017-01-02T00:00:00Z
Nice, clean, place close to ski areas. Looks just like the pictures. We would stay again on our next trip.
Damian
2017-03-18T00:00:00Z
We had a great experience. The hosts were courteous and responsive. The home was clean and well-equipped. The neighborhood was quiet and convenient. Perfect for easy access to canyons. Would stay there again.
Tracy
2016-06-27T00:00:00Z
Great place, nice people and great location.
Tyler
2016-08-14T00:00:00Z
Mike's basement apartment was awesome. Everything was clean and in great condition. The location was also great for getting to the Utah ski hills and a soak in the hot tub ended everyday off right. The check-in and check-out process went smooth. A suggestion that would make this place even better is having a well stocked kitchen (pots/pans, etc.) Overall we had a great ski trip to Utah and can't wait to come back.
Daniel
2016-01-30T00:00:00Z
The apartment was great - very clean and comfortable with high quality finishes. Makes me want to come back during ski season since it's so close to the Cottonwood Canyons!
Theodore
2016-08-07T00:00:00Z
Room Type
Entire home/apt
---
Property Type
Flat
---
Accommodates
4
---
Bedrooms
Sandy, UT, United States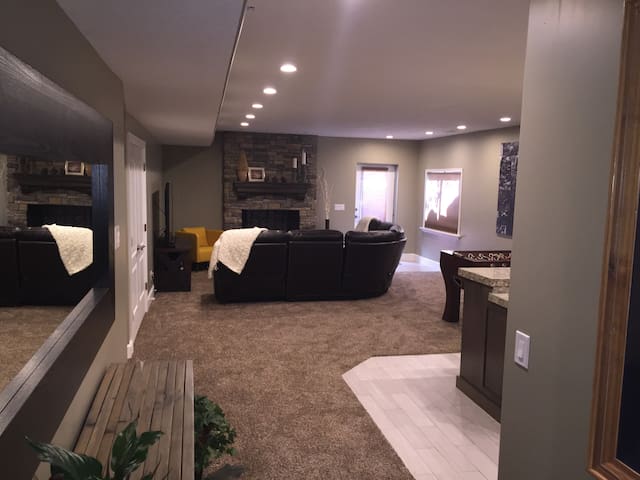 1

–

18

of

300+ Flat Rentals
Enter dates to see full pricing. Additional fees apply. Taxes may be added.