BBQ on your private patio, and watch the sun set over the White Tank mountains in the distance. Luxuriously furnished and equipped with linens, household goods and basic toiletries - just bring your golf clubs! Pet friendly. We are an age restricted golf course community with four community recreation centers that ensure plenty of additional family-friendly activities - swimming, pickle ball, bowling, tennis, mini golf, gym and spa. There are seven golf courses to choose from.
Airy open concept, this ground floor, end unit condo is tiled throughout with colorful rugs scattered in all areas; patio sliders have floor to ceiling vertical blinds. The California king bedroom suite with private half bathroom caters to couples looking for a restful visit. Comfy twin beds in the bonus room are perfect for your guests. The galley kitchen has an electric stove; new microwave; Keurig coffee maker; dishes; silverware; serving platters and linens - plenty for you and your guests.
During the winter season there are many special activities including the Car Show in February and the Craft Fair in March. Do stop by the Visitor Center on Camino del Sol for up to date brochures.
Very nice furnishings, clean, and quiet.
Kathleen
2016-12-28T00:00:00Z
We enjoyed our stay in Sun City. We were very pleased with the condo.
Lynne
2017-03-06T00:00:00Z
Lovely place and exactly as expected. Very clean and being on the golf course offered entertainment and easy access to the course. Great area to walk and exercise pets!
Karla
2017-02-28T00:00:00Z
What a great condo! Very nicely furnished. Comfortable beds. Nice small, well equipped kitchen. We spent very little time at the condo itself as we were visiting relatives that live in the retirement community, but it was perfect for our need. Very good price.
Bill
2016-12-21T00:00:00Z
Paulette went out of her way to contact us prior to our trip to tell us about the property and see if we needed anything stocked. Made us feel VERY welcome.
Barb
2016-11-28T00:00:00Z
This place is spotless. It has everything you might need and a nice placement on the golf course with the coyotes to serenade you at night. We enjoyed the patio in the afternoon on the warm days (December), and the beds and furniture were comfy. I would stay here again.
Patty
2016-12-14T00:00:00Z
Nice open line of communication from Madeleine. Plenty of gold neaqr by if you like to swing your sticks. Close enough to downtown Phoenix for those that like the city life.
Zoltan
2017-03-19T00:00:00Z
Room Type
Entire home/apt
---
Property Type
Flat
---
Accommodates
4
---
Bedrooms
Sun City West, AZ, United States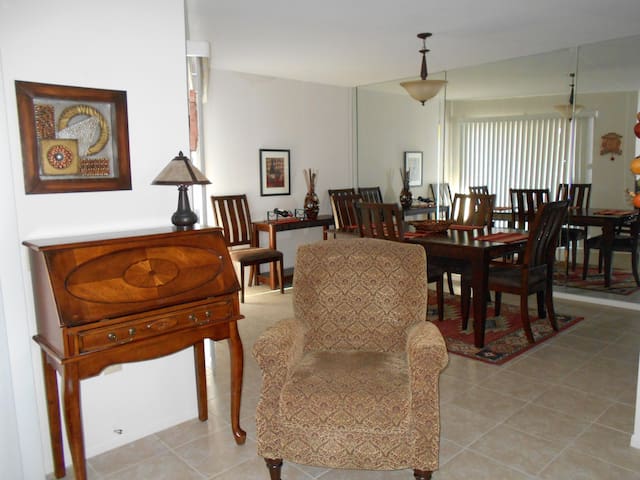 Private casita with a large, private outside patio. Perfect for visitors with dogs. Very close to Spring Training, Downtown Glendale, Westgate Mall, Glendale Community College, Thunderbird School of Business, Cardinal Stadium. 2 bedroom, 1 bath, Kitchen, Private outside patio, wifi, AC, very comfortable and quiet.
There's a spacious and private back yard with a round cement table (see pics) for you to sit and relax. If you have dogs, they can run freely in the back patio.
Very nicely remodeled. Felt like being at home.
Alvino
2017-03-26T00:00:00Z
We had a great stay at Luis's place. Very quiet and with all the amenities you would need for a trip in Glendale. Luis was very communicative and accommodating. Very clean, great parking and the AC was amazing after a long day in the heat!
Huy
2017-04-04T00:00:00Z
Loved the place! Great layout, pario, everything was better than expected.
bellzora
2017-03-08T00:00:00Z
Luis was great to work with. We arrived on a late night flight in and he stayed up in order to greet us and allow us to check in well past the check in time. The place was cozy and just what was needed there was two bedrooms and a pull out couch. The beds were queen sized and worked perfectly. There was both bottled water in the fridge and a culligan water jar in the kitchen and was great to see. He also provided toiletries too. He was a great host and the only suggestion that I made was that he should put a microwave and hair dryer in the location but that is definitely a small request for such a great place. Thanks again Luis for a great time.
Katie
2017-02-26T00:00:00Z
Quiet neighborhood, good parking right by the "casita." Luis is very helpful and always responded quickly to any inquiries we had.
Emily
2017-03-17T00:00:00Z
I don't tend to write reviews
Carolyn
2017-04-02T00:00:00Z
Great place and a great location for the price! Quiet neighborhood with all the essential stores and eats around.
Felix
2017-03-05T00:00:00Z
Luis was very prompt and helpful with all of our questions. The house was great for relaxing after traveling about Phoenix all day. There was a nice eating spot in the backyard as well!
Shelly
2017-03-21T00:00:00Z
Room Type
Entire home/apt
---
Property Type
Flat
---
Accommodates
4
---
Bedrooms
Glendale, AZ, United States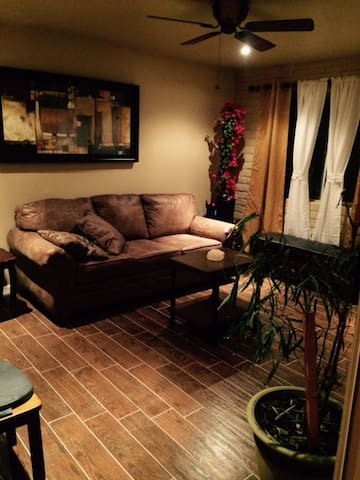 Only 1 mile from the AZ Cardinals Stadium & Westgate! Private Casita, separate from the main house. In a very quiet & safe neighborhood. lt's only a 2 min. drive to freeway. Queen bed, couch, full bath, TV, Wi-Fi, microwave, stove, cooking utensils, dishes, refrigerator, dinette, private drive parking, hair dryer, clothes iron, Keurig & coffee. Pool with beach entry. Large gazebo w/BBQ & backyard stereo w/bluetooth, laundry service, towels, soap, shampoo, conditioner, pool towels, sun block.
Southwest themed private Casita separated from the main home on property by an outdoor breezeway, with separate entries and keyed locks. 1 Queen size bed, 1 couch, 1 bathroom, kitchenette, TV, table with two chairs, clean linens and towels
Our quiet neighborhood is full of custom homes. Near the Arizona Cardinals Stadium, the Arizona Coyotes Arena, and Camelback Ranch baseball stadium (spring training home of the LA Dodgers and Chicago White Sox).
This is the first time that I ever used Airbnb so I was a little nervous. Debbie and her family really made the stay worth it. We went for a football game and they went so far as to invite us to their tailgate. Really felt like family. The place was perfect and the kitchen stocked with food and other things was a nice surprise. Thank you Debbie for helping to make our stay very welcoming.
Chews
2016-12-18T00:00:00Z
Every amenity listed above deserves an extra star for this property. The casita was clean, well stocked, spacious, and beautiful. And only a few steps from the casita was one of the neatest pool areas I have ever seen. I felt like we were on a resort vacation the entire time. We were definitely spoiled by this property and the fantastic host Debbie. My only complaint is that we couldn't stay forever :)
larinda
2016-08-16T00:00:00Z
Great place to stay close the University of Phoenix stadium and Westgate! Being within walking distance to the stadium was a huge bonus. The casita is very nice and fully equipped with everything you need. Debbie was a great host and kept in touch to see if there was anything we needed.
Carter
2017-01-29T00:00:00Z
Great place to stay. The location is great with quick access to the freeway and plenty to do locally. The amenities were very well thought out and much appreciated. Debbie and Robert were very friendly and helpful. We will definitely be back!
Justin
2017-03-10T00:00:00Z
Debbie's casita is just as described. It is adjacent to the primary residence (which looked very nice) but has a separate entrance and felt very private. The location near the stadium was convenient and parking and "check-in" was a breeze. Due the rainy weather, we did not have a chance to use the patio but it looked like a great place to have a nightcap. We also really appreciated the snacks and beverages she had waiting for us in the unit when we arrived - very welcome after a long drive.
Don
2017-02-21T00:00:00Z
The casita was the perfect home away from home! My daughter and I went dor Dodgers spring training. The location is perfect for that, as well as close to shopping, movies and downtown. Debbie and Robert are great hosts, friendly and they make you feel at home. The place is comfy and has everything you need. We had a wonderful weekend, and hope to stay again!
Dawn
2017-03-12T00:00:00Z
Such a great place! From the moment we walked in, we were wowed by how cool the whole set up was. The casita itself is great, very clean and cozy, but what really set it apart was the pool and courtyard area. They have really taken the time to really set up such a relaxing and fun space. Would definitely stay there again next time we are in the Phoenix area.
Morgan
2017-03-05T00:00:00Z
We really appreciated the items you had available to eat and drink, it saved us a lot of money being able to snack on them instead of leaving for a meal. Your place was very clean and beautiful, thanks again!!
Dorie
2017-02-23T00:00:00Z
Room Type
Private room
---
Property Type
Flat
---
Accommodates
2
---
Bedrooms
Glendale, AZ, United States
Enjoy this modern bed room , with private bath and large walk-in closet, in Glendale, across from the Cardinals Stadium, walking distance to shopping Malls, and resturants. You could spend the day out sightseeing, or relaxing at a local pub.
Private spacious bedroom, and attached private bath and large closet. Queen size luxury bed, for sleeping comfort. Gated quiet communty, with off street parking, walking distance to Cardinals Stadium, Outlet Malls for shopping, and plenty of resturants.
Gated community, in a quiet neighborhood,with on street parking. Within walking distance of University of Phoenix Stadium, Cabelas Outfitters, Outlet Malls, and Resturants.
Amazing location next to plenty of shopping, dining, and stadiums. Marilyn was an an amazing host who offered tips for nearby attractions. Highly recommend!
Allie
2017-02-12T00:00:00Z
Great location - close to Westgate and the stadium. Marilyn was very accommodating, would recommend!
Conor
2016-01-10T00:00:00Z
Marilyn was a great host. Her apartment is beautiful and the location is fantastic. You can walk to the stadium, watch the game, and walk back. No worries about driving, parking, or traffic.
Meggie
2016-01-12T00:00:00Z
The host was super sweet and nice and caring
Diony
2017-01-30T00:00:00Z
Great host!! Made us feel like old friends while giving us plenty of privacy.
Michael
2017-03-13T00:00:00Z
Marilyn was an excellent hostess. My girlfriend and I rented from her for two days so we could watch our Seahawks beat the cardinals. Marilyn made our stay as comfortable as possible. We took advantage of the beautiful pool and workout area. I would make the trip again!
Tom
2016-01-05T00:00:00Z
Marilyn's home was very cozy and the room and bathroom had plenty of space. Also it's within walking distance of the stadium so it's great for sports fans who want convenience. Thanks again!
Brian
2016-01-17T00:00:00Z
Marilyn was wonderful, she made us feel welcome right from the minute we arrived. The room was perfect, nice big comfortable bed, and a very clean and spacious bathroom. We had access to the kitchen and living room. She also provided fresh drinking water, which I thought was a nice touch. The location of the place was great, we were within walking distance to shops, restaurants, and a football stadium. We couldn't have picked a better place to stay for the purpose of our trip.
Corin
2015-10-27T00:00:00Z
Room Type
Private room
---
Property Type
Flat
---
Accommodates
2
---
Bedrooms
Glendale, AZ, United States
Beautiful, quite and safe gated apartment community. Tucked in the center of the largest entertainment district in Phoenix. Casino, Entertainment district (Westgate) and Cardinal Arena all within walking distance. (5min walk).
Near all Cardinal Stadium and Casino.
Great location. There was a noticable odor in the air from the animal that lives there. Multiple animal stains on floor. We had to keep the windows open whole time for it to be decent to hang out in. My boyfriend was gathering his things when he found dog feces in the bedroom.
jaclyn
2017-03-18T00:00:00Z
I would recommend this apt if your interested in location and convenience only. It was very convenient for my stay and close to lots of things to do... but as far a luxury stay within the unit itself; I couldn't agree. The cleanliness of the apartment was really good until I started noticing lots of pet hair in the bed, blankets, floor, couch, and then ending up getting on my clothes. There also was a bad odor when you walked in and could immediately tell that there was a pet living there. It wasn't specifically explained that there was currently a pet living there until the host mentioned it; and had mentioned it was clerified by the pet being in one of the photos. I think that should had been described and notified in the text about the apt. The day we arrived and checked in his sister had mentioned there was a pet living there and wanted to make sure I or my guest wasn't allergic. So that could have been a little more clerified before me even booking the apt.
Abbey
2017-01-30T00:00:00Z
good location and the place was pretty nice!
autumn
2017-02-28T00:00:00Z
Great apartment! Close to stores and restaurants. Was only 15 minutes away from Mariners spring training!
Courtney
2017-03-26T00:00:00Z
Great location near Camelback Ranch, which was my destination for Spring Training. Near a mall for dining options. TV has no broadcast or cable, only smart TV, i.e. Netflix and Hulu. Condo complex is quiet. Minimal traffic noise. Good freeway access.
Bert
2017-03-05T00:00:00Z
Gustavo was very helpful and accommodating. The apt was even nicer than the pictures. Very convenient location in Glendale. Would definitely recommend.
Adam
2017-04-04T00:00:00Z
Gustavo was a great host and the apartment is close to everything. Overall great experience at a great price.
Igor
2016-09-25T00:00:00Z
I was very happy with my stay. Gustavo was accommodating, generous and helpful. I really appreciate his flexibility about check in and check out times and the checkout procedure.
James
2016-10-26T00:00:00Z
Room Type
Entire home/apt
---
Property Type
Flat
---
Accommodates
4
---
Bedrooms
Glendale, AZ, United States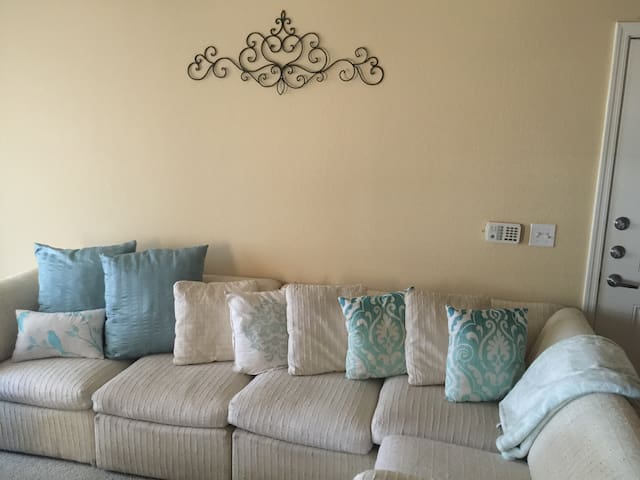 Centrally located 1 bedroom apartment in Glendale, Arizona. Walking distance to Westgate entertainment district (.6 miles), Tanger outlets, (URL HIDDEN) arena (.7 miles), and University of Phoenix Stadium (.9 miles). Short drive to Arrowhead shopping and easy highway access. Covered Parking, pool and fitness center also available. 1 king bed in the master bedroom, available queen inflatable if needed.
One King sized bed One couch Available queen inflatable mattress Full kitchen with gas appliances Air conditioning and heating 55 inch tv in living room 42 inch tv in bedroom Wifi and cox cable provided Main pool with jacuzzi Fitness center Gated Community Covered Parking Pet Friendly
Very close distance to Westgate and University of Phoenix Stadium. A mere 10 minute walk to Westgate and a 15 minute walk to the Stadium. Avoid the hassle of parking and dealing with traffic.
Michael was fantastic and the apartment was like new. Great location in walking distance to Cardinals stadium. Apartment has nice fitness center and pool.
Ryan
2017-04-04T00:00:00Z
Michael's place is perfect for anyone looking to be close to the Westgate Entertainment District, Arizona Cardinals stadium, etc. This one bedroom comfortably fit me during my stay for the Fiesta Bowl. It's about a 15m walk to the Cardinals stadium and there's a lot to do nearby in Westgate. The place is very clean and Michael is a very hospitable host; he even picked me up at the airport (which was very generous of him)! I'd definitely book Michael's place again for another sporting event or if I ever come back to Glendale. If this is available, you'll want to book it ASAP!
Melissa
2017-01-01T00:00:00Z
Room Type
Entire home/apt
---
Property Type
Flat
---
Accommodates
5
---
Bedrooms
Glendale, AZ, United States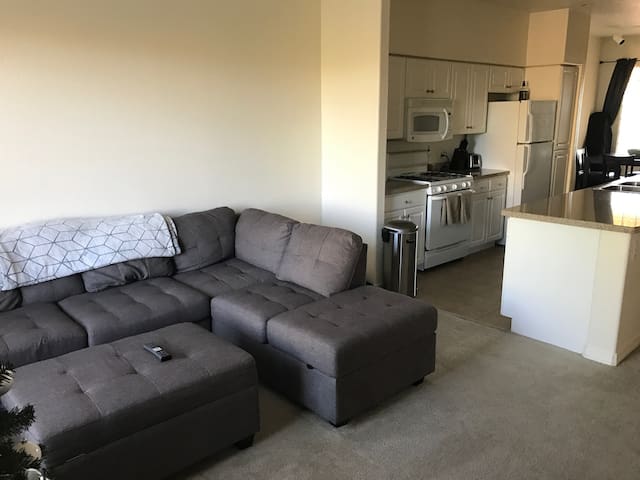 Two bedroom apartment with plenty of parking. Near the Westgate Entertainment District. The complex has a pool, gym, and washer and dyer in unit. Less than a mile from the 101 freeway.
5 star stay! Room was clean and the host was very accommodating and nice. Would highly recommend, great value as well.
Daniel
2017-04-03T00:00:00Z
Room Type
Private room
---
Property Type
Flat
---
Accommodates
2
---
Bedrooms
Glendale, AZ, United States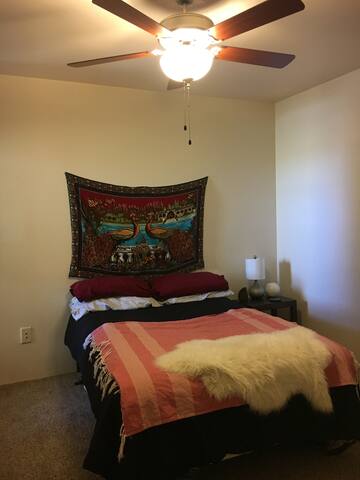 Walking distance to Desert Diamond Casino, Westgate and University of Phoenix Stadium! Great for NCAA® FINAL FOUR
1 King Bed 1 Bunk bed with 1 bed. (Ideal for children under 10) Courch Air Mattress available by request 2 Full Bathrooms Washer and Dryer Balcony 3 TVS Internet, Netflix, Hulu
Room Type
Entire home/apt
---
Property Type
Flat
---
Accommodates
3
---
Bedrooms
Glendale, AZ, United States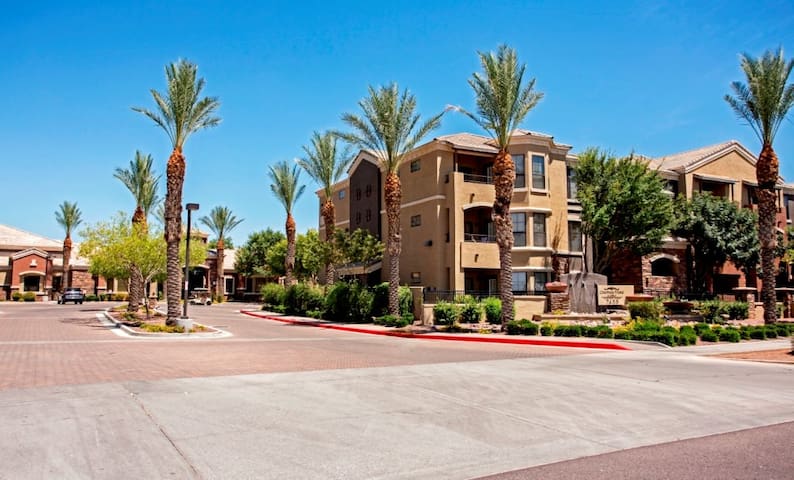 Clean, spacious, 1 bed/1 bath apartment (including covered parking). Includes pool & bbq. 5 minute walk to Cardinal Stadium. Apartment has 1 queen bed, can sleep up to 8. 3 night minimum stay, can stay 1-2 days longer than 2/2 if needed.
5 minute walk to stadium and bars
Walking distance to stadium and bars.
Room Type
Entire home/apt
---
Property Type
Flat
---
Accommodates
4
---
Bedrooms
Glendale, AZ, United States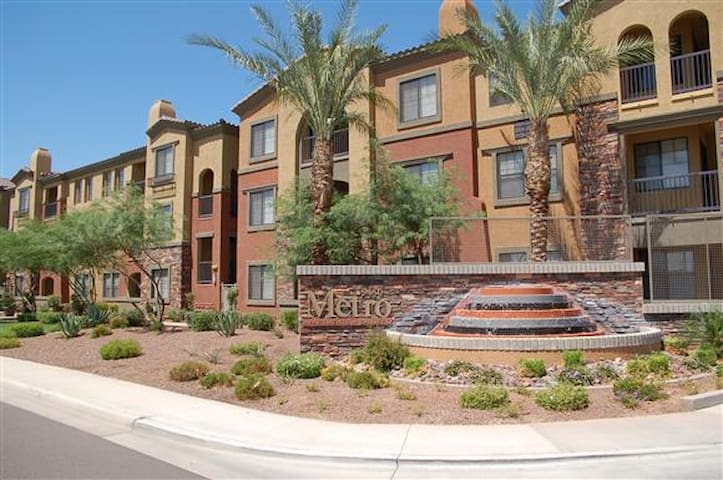 10 miles from Cardinal's stadium. I'm renting out a comfortable bedroom in my condo. The room includes the following - Queen size bed, Private full bathroom, TV, sitting area in the bedroom. In the condo - Shared access to living room, kitchen, computer. I'll be out most the time and when I'm in I'll be happy to cook for you. The complex has - Club house, swimming pool, pool table, tennis court Our Unit is next to a park with Basketball court, playground, bike path.
Room Type
Private room
---
Property Type
Flat
---
Accommodates
2
---
Bedrooms
Glendale, AZ, United States
Our 1 bed 1 bath apartment is newly built with an open concept for a spacious living & dining area as well as full kitchen. Sit on the patio and have a drink, workout in the gym, swim in the pool & hot tub or walk across the street to Westgate Entertainment District for restaurants, bars, and shopping. Also walking distance from Cardinal Stadium and the Coyote's Arena. Parking & air mattress available!
Newly built, open & spacious with great amenities! Beautiful apartment complex right near everything!
The apartment complex is nice with many amenities and quiet, but there is tons of activity right across the street! Westgate Entertainment District is so fun and easy to navigate, everything is within reach.
Very nice.
Ronald
2016-12-27T00:00:00Z
Great apartment in great area! Walking distance to a lot of stores, bars, restaurants. Hannah was super helpful and available for all my questions. I would definitely stay here again.
Kimberly
2017-01-01T00:00:00Z
Room Type
Entire home/apt
---
Property Type
Flat
---
Accommodates
4
---
Bedrooms
Glendale, AZ, United States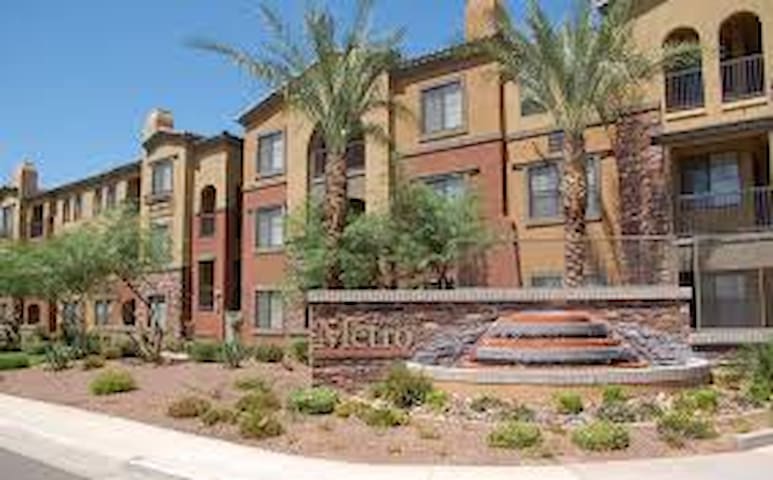 I have a 1 bedroom, 850 square ft. apartment available for rent. It is 1.1 miles from the stadium, approximately 20 min walk. There are about 15 bars and restaurants in the same area as well. Price negotiable. 1/2 required as deposit, 1/2 on leave.
It is a carpeted apartment in a quiet area right near the stadium. Westgate, the entertainment district near the stadium, is between the stadium and my apartment. There is a Queen size bed, a full size pull out couch, and an air mattress.
The neighborhood is quiet, family oriented. The apartment is on the 3rd floor. There have been 0 incidents in the 6 months I have lived here.
Room Type
Entire home/apt
---
Property Type
Flat
---
Accommodates
3
---
Bedrooms
Glendale, AZ, United States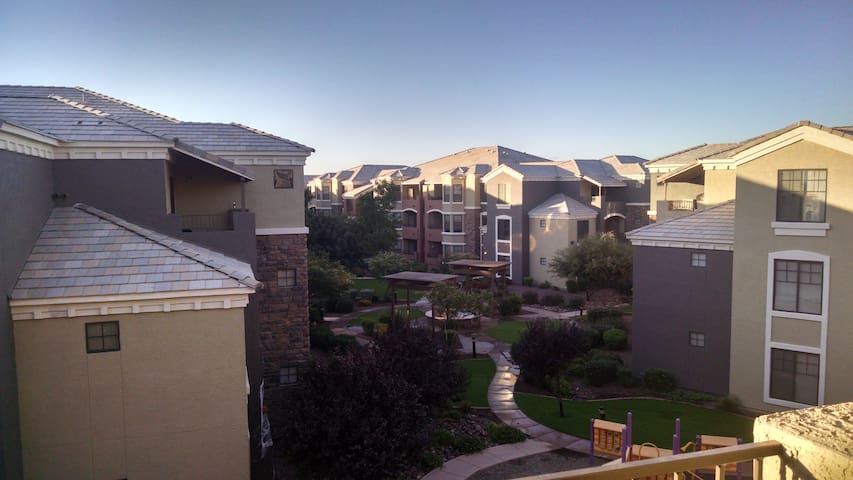 Very spacious and safe 1 BR apartment just across the street from Westgate and University of Phoenix Stadium. Sleeps 2+ with one large bedroom with a queen, couches, and plenty of floor space. Free parking/wifi/directTV. Full kitchen. Big screen TV.
So close to Westgate and University of Phoenix stadium! It's a very spacious and private stand alone apartment (no shared walls with other units)! Fully furnished with a big screen TV, full kitchen, comfy couches, dining set, queen bed, etc. Nice balcony.
It's right next to the best shopping, nightlife, and restaurants the West Valley has to offer. Absolutely the perfect location for a Superbowl stay with quick and hassle-free walk to all the action without having to worry about all of the traffic and parking issues!
Room Type
Entire home/apt
---
Property Type
Flat
---
Accommodates
2
---
Bedrooms
Glendale, AZ, United States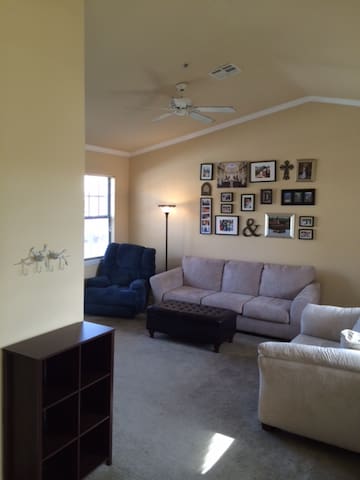 1 Bedroom apartment available for rent for National Championship game. Apartment available from 01/07/16 (afternoon)-01/12/2016 (out by noon). Walking distance to the stadium and Westgate entertainment district and Tanger Outlets.
Room Type
Entire home/apt
---
Property Type
Flat
---
Accommodates
2
---
Bedrooms
Glendale, AZ, United States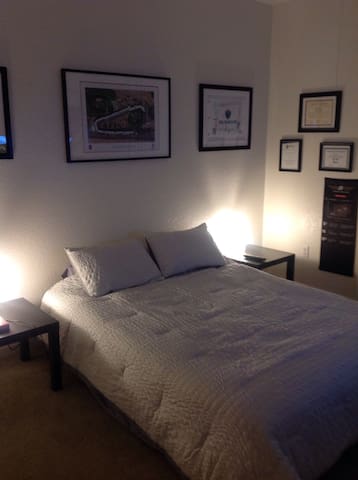 One bedroom available for rent right in the heart of Westgate.
Location, location, location for Fiesta Bowl or Super Bowl. Rental is a 30 second walk to the stadium, bars, restaurants, and just a few minutes to an outlet mall. Pool and gym in complex. The place is all yours during your visit.
Robert was great and made it easy for us to get settled in. The location was fantastic! We couldn't have been any closer to the stadium unless we were sleeping in the parking lot. The place was clean and roomy. Would stay again in a heartbeat if I were going to Glendale!
Noah
2015-02-03T00:00:00Z
Room Type
Entire home/apt
---
Property Type
Flat
---
Accommodates
2
---
Bedrooms
Glendale, AZ, United States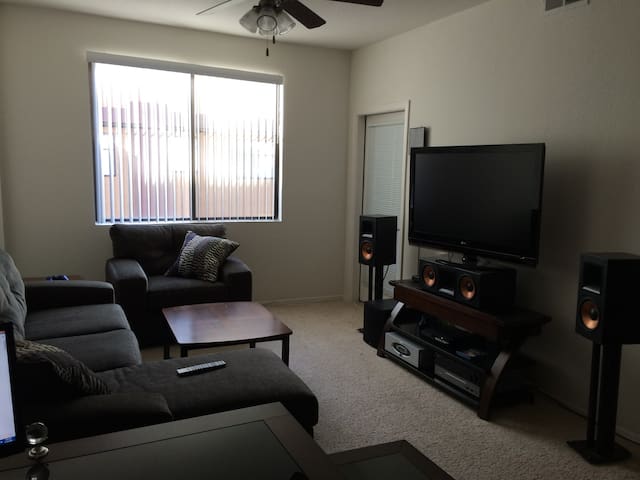 Private Casita! Private Entrance! Comfy Queen Bed with a full Bathroom, closet, flat screen tv with dvd, mini fridge, and microwave. Come and Go as you please. Enjoy total privacy in our Casita. Planned Community with Gorgeous Play Pool and Heated Lap Pool. Jogging, and Hiking trails in the White Tank Mountains just 6 miles west. Wildlife World Zoo and Aquarium is just 4 miles south.Here in Surprise we have a lot of restaurants to choose from as well as a lot of shopping close by. There are also multiple golf courses within 10 min of our home. In the spring time Surprise is home to the Texas Rangers and the Kansas City Royals located just one mile north! Cabelas is 20 min away. We hope you find our Casita to be an enjoyable stay. CONTACT US (PHONE NUMBER HIDDEN)
Super beautiful place, definitely recommend!
Athena
2017-02-15T00:00:00Z
The host canceled this reservation 16 days before arrival. This is an automated posting.
Britney
2016-12-13T00:00:00Z
Great place. Has everything you'd need and is in a great location. Dustin and April are great people and are willing to help with whatever you need
Tanner
2017-03-25T00:00:00Z
Great location in Surprise, AZ. Hosts were very accommodating!
Kristin
2016-11-25T00:00:00Z
The room was cozy and clean! We had a great stay. Thank you!
Amy
2016-10-15T00:00:00Z
Was great to meet the owner as I arrived very tired in the evening. Warm welcome and a very cozy room and accommodations.
Kalaine
2015-04-27T00:00:00Z
A perfect place to stay and very quiet neighborhood and very beautiful. Hosts are first class and are prompt if ever need anything. Room is very clean along with bathroom and shower very clean. Walking distance to nice grocery store. I would highly recommend to stay !
Jay
2017-03-08T00:00:00Z
Central location and private.
Laurie
2017-02-27T00:00:00Z
Room Type
Private room
---
Property Type
Flat
---
Accommodates
2
---
Bedrooms
Surprise, AZ, United States
Welcome to Glendale, Arizona! Our one bedroom apartment is fully furnished, and well equipped with all cooking and eating utensils, linens and towels, micro, toaster, coffee pot, and refrigerator. Apartment has its own separate entrance.
Welcome to Glendale, Arizona! Our charming beach themed guest apartment offers the perfect space for a traveling single or duo right in the heart of Glendale, and close to many popular venues, restaurants, and shops! This space offers everything you could want from a vacation spot, or short term rental. The apartment may be petite (around 200 square feet), but it is very well-equipped. In addition to a queen sized bed, it also includes a kitchenette with a small fridge and freezer, a microwave, single hot plate, toaster, coffee maker, and all cooking and eating utensils for your convenience. Don't sweat the little things, either, bed linen, towels, soap, toilet paper, and a hairdryer, are all provided for you. Flat screen TV with Cable and Netflix, along with Wifi are also available. There's also drawer space for your clothes. Smoking is not permitted inside, but you are welcome to smoke outside. The apartment is just 10 minutes away from the Westgate Entertainment District, with a shopping complex full of national retailers, restaurants, & live music on weekends. ((URL HIDDEN) the University of Phoenix Stadium, Tanger Outlet Mall, and the Valley's newest addition, The Desert Diamond West Valley Casino, opening December, 2015. Also located nearby is the Arrowhead Towne Center Mall,and Peoria Eighty Three, or P83. ((URL HIDDEN) The gateway to dozens of entertainment options ranging from great restaurants and bars, AZ Ice Skating, Harkins Movie Theatre, shopping, and the Peoria Sports Complex. If you would like to venture further out, 20 minutes away is our Cityscape Central Phoenix Downtown area, where there are several restaurants, fine dining, and entertainment venues, and 30 minutes away are any of the casinos in the valley. If my apartment might be a good fit for you while traveling to Glendale for business, or pleasure, I can certainly answer any questions you may have regarding the area, or the rental. I look forward to arranging your stay while visiting Glendale, Arizona. Thank you, Vonda
Our neighborhood is a very quiet one, with 2 parks within 2 blocks of the home. The house is not far from midtown Glendale neighborhood surrounded by mid-century houses and mature trees. Check my guidebook for suggested areas to visit while you are visiting, and local places around the home.
We were welcomed by Vonda and her pets. We felt like we were at home when we entered our Air B&B. The unit was spotless , quiet and we will be back at some time I am sure.
Sandy
2016-03-05T00:00:00Z
We had an easy arrival & there were no issues with our stay. We really liked the beach theme in the apartment. Very clean! We made friends with the cat too. Vonda was super responsive to all of our questions. Thank you. It would be nice to have a door on the bathroom, but if you're comfortable with who you're staying with it's not a problem.
Scott
2016-03-20T00:00:00Z
Vonda is very friendly and easy to talk to. I felt very comfortable meeting her for the first time. Her 1 bedroom studio was very clean, warm and cozy in a quiet neighborhood. It has everything you need. I loved the beach decor throughout the rooms. I enjoyed the quietness of the studio and the bright backyard. The private back entry way was very convenient. I highly recommend and would stay again.
Jennifer
2016-02-29T00:00:00Z
Vonda was great! My plane was delayed by 3 hours so I arrive close to midnight, and she was there to greet me and make sure I was comfortable. Throughout my stay with her, she was communicative and welcoming, and the home itself is beautiful, quiet, and in a safe part of town. This has been one of my best air B and B stays yet!
Anita
2016-09-19T00:00:00Z
The studio was well appointed, centrally located, and a good value.
Mike
2016-03-25T00:00:00Z
Vonda's apartment was truly charming and cozy--everything you need but not much more, which is great for a restful vacation. Very clean and Vonda was friendly and prompt in responding to any questions. The neighborhood is quiet and we felt very safe at night; a short drive from Sun City. We had a lovely stay and would love to stay here next time we are in town!
Anne
2016-03-12T00:00:00Z
Vonda : is a very profesional Host, sweet and helpful, efficient and concern, my husband and I , had a great time, the place was very clean, cozy, and private all the way, spacious and every single detail taken in consideration , we had everything we wanted and more, we, strongly recommend her place, the Neighborhood is also fantastic, very accommodating , even for your car, always a space ...congratulations and many thanks....... Gus and Giovi
Giovanna
2016-02-24T00:00:00Z
Excellent hosts and space. Loved it!
Beth
2016-03-15T00:00:00Z
Room Type
Entire home/apt
---
Property Type
Flat
---
Accommodates
2
---
Bedrooms
Glendale, AZ, United States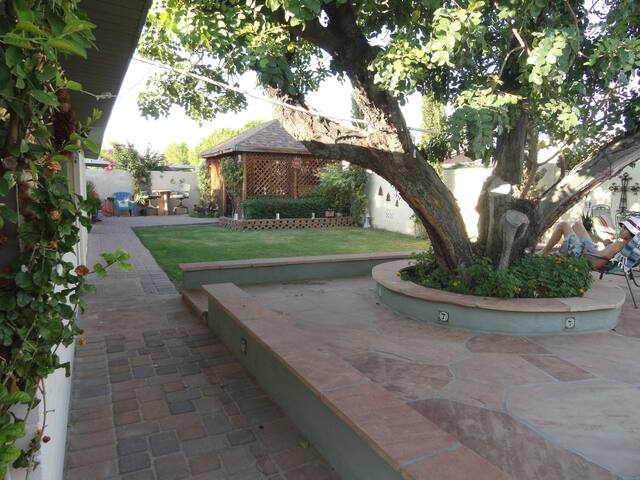 Comfortable 2BD/2BTH with lots of character! Full dining, gourmet kitchen, and bar counter with stools. Plenty of sunlight in a quiet area. Gym access and parking available. Right off the freeway. One block from the stadium, perfect for walking!
Room Type
Entire home/apt
---
Property Type
Flat
---
Accommodates
4
---
Bedrooms
Glendale, AZ, United States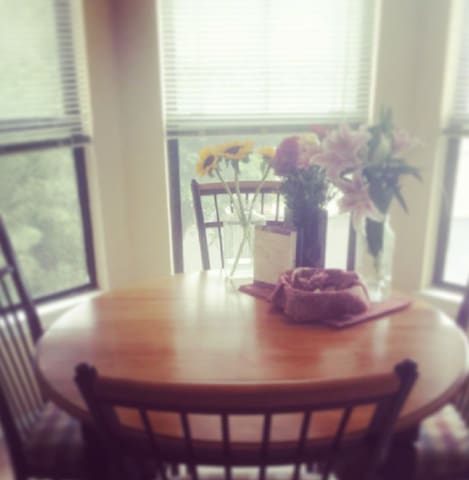 Sun City - Airbnb
:
Average

4.85

out of

5

stars from

195

guest reviews
1

–

18

of

300+ Flat Rentals
Enter dates to see full pricing. Additional fees apply. Taxes may be added.