Lake front home on Watchic Lake! Enjoy a fall or winter retreat in this cozy lakeside cottage. Keep warm inside by the new wood stove or get outside and enjoy the 3 decks, and a 3 season screen house. The lake is a great place to get away to in the fall and winter. Get outside and take a hike, or take a kayak ride around the lake in the fall. Go ice skating and snow shoeing around the lake and use this cottage as home base for all your winter activities.
Your family and friends will love this lakefront Standish home, a dog-friendly retreat on the shores of Watchic Lake! This 4 bedroom home is located directly on the lake. In the summer it is great for swimming, fishing, floating, boating (boat not provided) or just sitting by the fire pit and relaxing. In the fall and winter it makes for a great cozy get away to relax and enjoy all that Maine has to offer. The main level is an open concept living area combining the dining, kitchen, and living room. Heat is provided by an oil burning furnace, but there is a wood burning stove for added heat and ambience on the main level. There are two large bedrooms on the second floor. The master bedroom has a private balcony. The other room contains a full and twin size bed. There are two small bedrooms in the basement and a cozy family room. We have a selection of games and DVDs for rainy days or nights at home. Light a fire in the fire pit near the water and enjoy views of the lake Just twenty miles from Portland International Jetport. 35 minutes to Funtown/Splashtown and 40 minutes to Old Orchard Beach. North Conway NH and outlet shopping make for a nice midweek day trip. Fall leaf peeping, the Fryeburg Fair, hiking and biking are all within a close proximity. Winter rentals provide access to ITS trails and bountiful ice fishing.
The home is located on a dirt road. Our neighbors are friendly but they have been known to have parties and play music loud on the weekends.
My group had a great time here. The place was clean and comfortable. We had some grey, misty weather while were there but were able to sit outside by the campfire and have a good time. Rob was quick to get back to me when I had questions. Everything at the house was easy and well laid out. I would recommend this rental to any group looking for a Maine getaway.
Samuel
2016-10-02T00:00:00Z
Our group really loved our stay up in Standish. Rob was quick to answer any questions I had in preparation for our trip and the house was well equipped for what we needed. Loved the white string lights and set up outside by the back patio and fire pit. Easy place for a large group for a relaxing get away.
Andrew
2016-11-20T00:00:00Z
Rob's lakeside retreat is a fun, relaxing winter getaway. The home was perfect for showing friends from outside New England a true Maine camp experience over President's Day weekend. The cabin is directly situated on Watchic Lake, a lovely community with serene views. The house had every amenity we could ask for, including fun board games, comfortable beds and good heating. We loved ice fishing out on the lake and enjoyed an outdoor fire after digging out the pit. The lake seemed excellent for snowmobiling. Neighbors zipped back and forth daily across the ice on their sleds and we jealously wished we rented one. The house is deep enough in the woods to let you feel you are truly on vacation, but creature comforts like grocery stores, bars and restaurants are still within a 20 minute drive. Local general stores are even closer. You will find it tough to get up off the comfy couches but won't regret time spent outdoors enjoying the Sebago region of Maine. Rob was a fantastic host. Once we reserved the home, he provided all home details immediately and gave great recommendations. Rob was communicative when needed. He answered all questions when we had them but was never overbearing. Overall we loved our stay. We know this rental would be just as fantastic in the spring, summer or fall. If you are looking for a tasty bite of Vacationland, look no further.
Alexander
2017-02-20T00:00:00Z
Rob's cozy home was more than what we could've asked for. The communication was 100% and for this price we couldn't have asked for anything more! The cozy fireplace made it feel that much more homey. The fire pit down by the lake is perfect, stocked with plenty of wood too! Would definitely recommend this beautiful house to anyone whose looking for a nice relaxing time on the water.. no matter what time of year!
Renee
2017-03-26T00:00:00Z
Our host Rob was wonderful. The communication with him was easy and responses prompt, nearly immediate. This is a beautiful spot. The home is very comfortable and spacious, and was clean. The early morning quiet time at the lake (but it was never crazy busy with boats, etc), beautiful setting, clear swimming water, fire pit, grill, canoes, and convenient location to Freeport and Portland made for a great experience.
David
2016-08-13T00:00:00Z
Great house! Plenty of places to sleep. It's right next to the lake with a beautiful view from the fire place! Rob was great and very easy to deal with. Great house. Great weekend. Would stay there again in a second.
Bobby
2017-01-16T00:00:00Z
Rob was awesome with quick replies and informative answers. The property was really perfect for us, 3 couples on a fall retreat. The foliage was great as were the fire pit, dock, yard, plethora of board games, and back decks. Would love to stay again!
Pete
2016-10-10T00:00:00Z
Room Type
Entire home/apt
---
Property Type
House
---
Accommodates
10
---
Bedrooms
Standish, ME, United States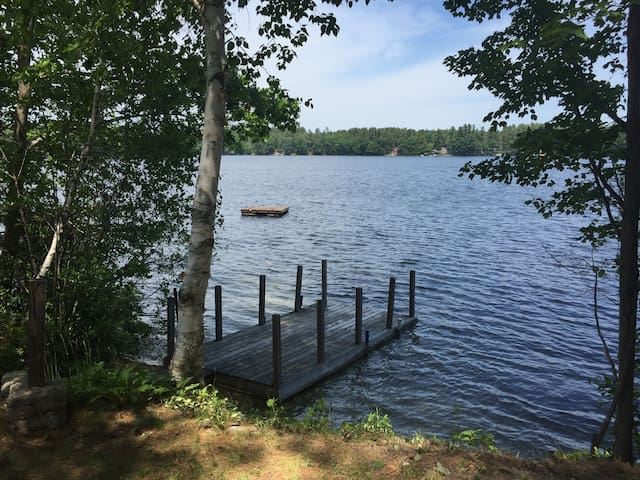 Come vacation in this lovely, fully furnished cottage. Swim in the warm shallow water, take a canoe ride, sun yourself on our private raft, drown a worm while fishing off shore, read a book on our private pier or enjoy vibrant colors at peak foliage.
In the summer enjoy the water. During fall, enjoy the colors of the foliage season reflecting in the calm waters of Bonny Eagle Lake. This is the perfect spot to relax all day or, to launch your day trips into Maine, New Hampshire or Vermont. Fireplace operates with Duraflame logs or equivalent (not wood). Lakeside twin beds and upper loft twin beds offer fun for children. We rent weekly during July and August with limited weekend rentals at other times. Cottage best accommodates one family or sleeps 4-5 people.
Quiet and peaceful secluded location. We are located on a non-commercialized lake with no restaurants or marinas on the perimeter.
I feel that Norman went above and beyond to make my family feel welcome. This property is very nice and comfortable. The neighborhood is very friendly and we'll kept. I would highly recommended this property for a great lake front vacation.
Charles
2016-06-30T00:00:00Z
Staying at this hidden gem was an amazing experience. First of all, Norm is a wonderful host. He made it easy to get to the cottage with all of the tools/information we would need for it to be a successful trip without actually getting super involved. He gave me a detailed map outlining what is nearby and answered all of my questions about the area. When we arrived, he had left us some snacks with a sweet note welcoming us to the cabin. Everything was so easy to find, labeled and set up for us to relax. The first day we stayed was stormy and rainy, but given the quiet, idyllic setting of the cabin it was still the perfect opportunity to just sit around, get some reading done, breathe the fresh Maine air, and enjoy the peace and quiet. Just myself and my girlfriend stayed, but the cottage is definitely equipped and large enough for a whole family. There is a canoe available for use as well as life jackets. We barely heard a peep from the neighbors- although the cottage is fairly close to the others next to it, it was incredibly private. You have access to your own dock, the water is shallow, and if you want to swim out to the pier a little ways into the deeper water, you can fish off of it. There are mackerel closer to the shore and plenty of white perch further out. I did not see any bass myself, but allegedly the lake is full of them as well. Everything about the cottage is quaint and adorable, so if you're a city dweller like myself you will absolutely enjoy the reprieve of this sweet little escape.
Hannah
2015-06-26T00:00:00Z
Norm was a great host. When I made the reservation, Norm was very quick to respond and accept it. He emailed me all the instructions, directions, and places to dine in the area. This was extremely helpful as I was able to print out things we wanted to see. The grocery store was close also, which made it easy to buy groceries. The cabin was exactly as it looked in his pictures. We were greeted with a snack from Norm and his wife, which we found very welcoming! It is decorated beautifully! It feels very warm and inviting. Very homey and comfortable. The lake was just beautiful! My husband enjoyed the tranquilness of canoeing around the lake. He found it very relaxing.
wendy
2016-06-10T00:00:00Z
The lakefront cottage was exactly what we were looking for to spend quality time and make lasting memories. My two sisters and our Mother enjoyed this cozy cottage and Norm and Cindy made us feel right at home. The instructions provided were easy and we had no problems accessing and using the property. They even left us snacks upon our arrival and Norm was easily contacted and prompt/attentive to any request we made. We thoroughly enjoyed our stay!
Rebecca
2015-07-02T00:00:00Z
Beautiful location, great place!
Nik
2015-09-05T00:00:00Z
The cabin and the lake are beautiful. We canoed every day, at least twice. All the amenities are there, except wi-fi (so plan ahead). The lake was totally quiet through Thursday, with some jet skis, motorboats and fireworks (a Maine staple) over the weekend. We found plenty to do nearby for adults and kids, all within 40 mins driving. The host was in touch with us ahead of time to make sure we were all set with plans and ideas, and I would have felt comfortable calling with any more questions. Combined with the low price and the flexible schedule, this is a real gem.
Jeffrey
2014-07-22T00:00:00Z
This cabin was the perfect vacation spot and Norm was a great host! He made sure everything was set for our arrival and even left snacks for us! The cabin itself was adorable and the lake was just beautiful. It's a great location not too far from Portland or other Sebago Lake attractions. Thank you Norm for sharing your cabin with us!
Shannon
2015-09-16T00:00:00Z
We rented Norm's cottage for the family over a long weekend in August - it was just as advertised and we all had a terrific time. It's directly on Bonny Eagle Pond with canoe access and a great view. It's an ideal spot for family/kids with the pond rather shallow and good for swimming. The cabin is cozy and quaint; a stone's throw from food/supplies/etc. We're all looking forward to it again next summer!
Russell
2015-08-23T00:00:00Z
Room Type
Entire home/apt
---
Property Type
House
---
Accommodates
4
---
Bedrooms
Standish, ME, United States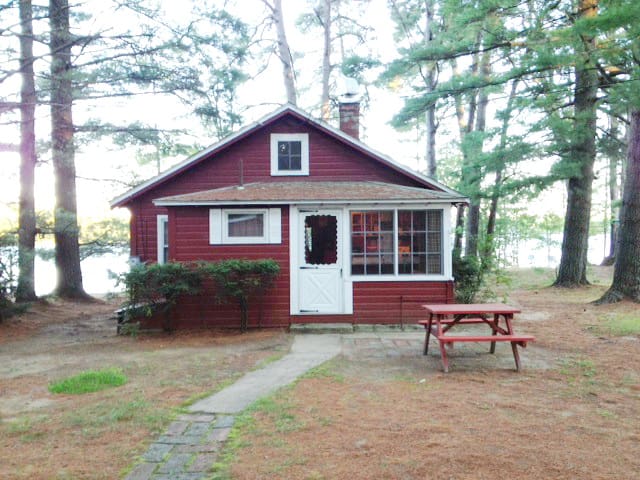 Enjoy the great outdoors and life on the lake at our vacation home with a view! You are welcome to stay in our 2 bedroom lakefront house with all the amenities you need to truly 'get away'! Classic Maine decor with all new furniture. Features two bedrooms and can comfortably accommodate 4 guests.
This is a family vacation home that has been enjoyed by four generations. It has been in our family for 38 years! With a full kitchen, two bedrooms, living room, and dining room, this newly renovated vacation home has everything you need to get away and still relax. You are also welcome to use the new grill, fire pit (perfect for s'mores) and backyard area. There is a porch with enclosed sun room great for bird watching and taking in the views of the lake.
The house itself is lakefront, but in addition a 3 minute stroll takes you to a neighborhood beach that's perfect for swimming and snorkeling, a sun dock for catching rays, relaxing, and doing cannonballs into the lake, and a boat launch. 5 minute drive to Seacoast Adventure Park with mini golf, go-karts, sky swing, and zip lines (great for kids!). 20 minutes from Naples and its shopping and paddle wheel ferry. 40 minutes from Portland with its famous arts district, seafood, and farmer's market. Great home base for expeditions to Arcadia National Park and the White Mountains. Abundant fishing opportunities suitable for anglers of any age, including landlocked Atlantic salmon.
My husband & I absolutely loved our stay. Jane was so sweet & extremely accommodating to our last minute request. Do not miss the sunset- absolutely gorgeous. There is so much to do (rentals for kayaking, canoeing, etc). Everything is in reasonable proximity to the house- beach; lobsters, steamers, etc; grocery stores; gas. The pictures posted are accurate- but in person is the only way to truly understand just how amazing the sunroom & view are. It's quite spacious too. We will definitely be returning. -Melanie & Joey
Melanie
2015-08-03T00:00:00Z
We rented for a week and enjoyed every minute. We fell in love with the house and the lake. We can't wait to go back!
Kristen
2015-08-16T00:00:00Z
Wonderful place to stay, at the end of a dead end street with lots of privacy. The hosts were wonderful, very friendly and prompt and thorough communicators! We got to meet the owner in person and she was simply delightful. Home was very neat, organized and very well maintained. It was accurately described on the site. Water was only steps away, gorgeous sunsets. A very cozy and quaint little house. The sunroom overlooks the water so you can enjoy the views even if its raining. Highly recommended.
Stephen
2015-07-26T00:00:00Z
Peter and his mother Jane were beyond great hosts! We were well informed about the house and surroundings. We rented the house for a bachelorrette weekend and had an amazing time. The house is cozy and a perfect size for 4 people. Being right on the water with access to a local beach/private dock was awesome. I definitely plan on renting this house again my next visit to Maine.
Brittany
2015-07-15T00:00:00Z
We truly enjoyed our stay. We felt spoiled by the hospitality and felt right at home immediately. The house was clean and comfortable and the neighborhood was very nice. Suggestions on where to go and what to do were very helpful and Jane was very quick to respond to any questions we had. Wonderful hosts, thank you!
Laura
2016-07-18T00:00:00Z
What a peaceful and relaxing weekend. The sunset on the lake was such a beautiful sight you wouldn't want to miss! The owner of the home was easy to get in contact with when needed and very kind to suggest events to go to that were happening that weekend. The house was very organized, neat and well maintained. We would definitely come back to stay here again and even recommend this house to friends and family.
Thomas
2015-10-13T00:00:00Z
Room Type
Entire home/apt
---
Property Type
House
---
Accommodates
4
---
Bedrooms
Standish, ME, United States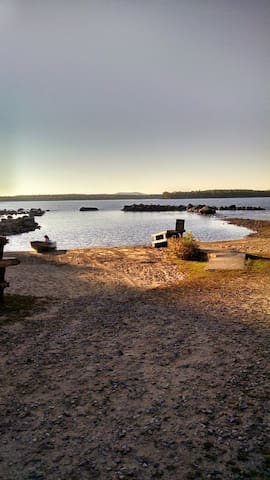 My place is on Sebago Lake a crystal clear lake that is enjoyed for swimming, boating, fishing and more! It is also close to parks, art and culture, and only 30 minutes to Portland's OldPort. You'll love our place because of the coziness and the lake access. You can sit on the deck and docks and watch the boater, jump in a kayak and explore the lake or fish or enjoy the swimming area. My place is good for couples, families (with kids), and furry friends (pets $100 pet fee).
Room Type
Entire home/apt
---
Property Type
House
---
Accommodates
6
---
Bedrooms
Standish, ME, United States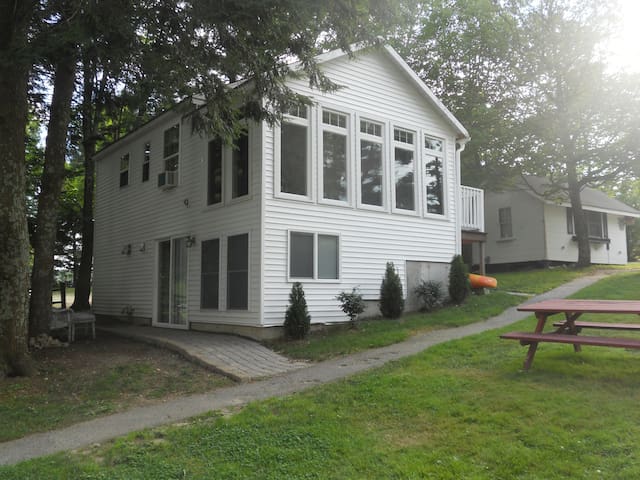 A truly amazing Maine Retreat. Beautifully restored 200 year old Farmhouse on 3 grassy acres. Minutes from Lake Sebago, close to Portland & Old Orchard Beach. 1hr from Skiing in New Hampshire's Mountains. Amazing Family Retreat.
A truly amazing Maine Retreat. Beautifully restored 200 year old Farmhouse on 3 grassy acres. The house is over 4500 sqft! With a laundry room that might just make you find something to wash! Originally built in the late 1700's this post and beam home was solidly built from hand hewn timbers upon a field stone granite foundation. Beginning 1800's a second cape style home was added on to the original colonial house, expanding it into a very unique and large country home. This combination allowed for large, cozy bedrooms with spacious closets. Ideally located minutes from renowned Sebago Lake and surrounded by hundreds of acres of woods, this home has the best of both worlds. It's about 20 minutes from Portland and the Portland Jetport as well as the Maine Mall, with convenience shopping and banking within 3 miles of the home. Attention to detail can be seen throughout this home with its beautiful custom tile work in all bathrooms and kitchen, beautifully restored wood floors, and soft inviting colors used to create a very warm and welcoming country home. This house is truly a rare find. A country home at it's best... The week prior to your check-in you will receive an email with check-in instruction and the front door key code. Having your own transportation is essential to fully enjoy the gorgeous country surroundings. The house has 6 bedrooms and 4 bathrooms with a large Country Kitchen, Laundry, 2 Family/Living Rooms, Screened Sun porch and Large Loft Area. Bedroom configuration: -Master King Bed -Downstairs bedroom 2 sets of Bunkbeds, 1 Twin Bed - Downstairs second master Queen Bed - Downstairs Bedroom Queen Bed -Upstairs Bedroom Queen -Upstairs Bedroom 2 Bunkbeds 1 twin -Loft 3 Sofa Beds -Loft Room, 1 fold down couch Amenities included a Foosball Table and a WII game console with great selection of popular games including Guitar Hero with all the accessories. Various Board Games also available. We also offer a variety of fun outdoor lawn games, balls and outdoor things. The entire house has been refurnished in gorgeous Vintage Maine Style furniture and all new beds and mattresses, along with wonderful linens. For winter we provide warm flannel sheets for extra sleeping comfort. Our latest upgrade of an on demand hot water system for the entire house is also a wonderful benefit for our guests, ensuring plenty of hot water for your entire group! We are constantly upgrading or adding (like a new comfy living room set) some nice new kitchen gadget or new balls for summer play. We take pride in our home, and want you to have a memorable experience in our beautiful Maine home. Maine, worth a visit, worth a lifetime...
Ideally located minutes from renowned Sebago Lake and surrounded by beautiful Maine countryside, this home has the best of both worlds. It's about 20 minutes from Portland and the Portland Jetport as well as the Maine Mall, with convenience shopping and banking within 3 miles of the home. Restaurants, banking, Hannafords Grocery, gas.
We hosted our wedding on the farmhouse property, and we couldn't imagine having a more perfect experience. From our initial contact with Yolindi, to the date of checkout, we had great (and clear) communication that has been friendly and informative. Planning a wedding is usually one of the most stressful experiences in life, but by choosing to host our wedding here, we managed to have a warm, wonderful time without a glimmer of headache or disruption. The house was also a wonder: perfect for hosting our immediate families, fully stocked for last minute food preparation, and a calming retreat for the stresses of our big day. Truly, our experience is one that we will never forget, and we would gladly recommend this space to anyone.
Emily
2016-09-05T00:00:00Z
This house was perfect for a big group of our friends who escaped Boston for the weekend to celebrate the up coming wedding of our friends! The home was in tip top shape and Yolindi was beyond helpful with information and checking in to make sure everything went smoothly. The space inside was large and very accommodating with two kitchens fully equipped. The outdoor space was beyond amazing. The fire pit was great, the abundance of outdoor games was impressive. All around this house was perfect would recommend to anyone! Definitely look forward to staying there again sometime!
Lindsi
2016-05-09T00:00:00Z
Several months ago I was tasked to arrange a bachelor party. We settled on a weekend getaway in the Portland area, but there weren't any homes in Portland that could accommodate my large group. But! My group and I were glad we didn't stay in Portland, because we found something much better in Standish, Maine! Once we entered Yolindi's home, we felt immediately welcomed. Yolindi's house is incredibly gorgeous and incredibly spacious. It is truly full of comforts and amenities; wonderful furniture, bedding, bathrooms, kitchenware, and recreation… this house has it all! The backyard is beautiful and the backdrop even more so. The living room fireplace may be "off limits," but I completely understand why it would be. Besides, the fireplace makes the living room look homey, and guests have access to the outdoor fire pit (which is awesome). We were fortunate that it didn't rain both nights during our stay, and we immensely enjoyed the fire pit. Yolindi, and the property managers Dan and Mieka, were gracious, accessible, responsive, accommodating and helpful. Before this trip, I can't remember the last time I relaxed the way I did this past weekend. This property provided everything my friends and I were looking for, and enabled the bonding experience we wanted. If you are looking for a place that will provide you space, comfort, privacy, and charm, I would highly recommend staying at Yolindi's property.
Ross
2016-06-06T00:00:00Z
Yolindi and Dan were both wonderful! They were incredibly responsive, warm, and welcoming. My husband and I were there to celebrate our wedding with friends and family, and the house easily slept 15+ people. We unfortunately had a very rainy weekend, so when the rest of our guests arrived on Saturday (45-50 people in all) we were happy to find that we all easily fit inside the house. Everyone's favorite rooms were the sun porch at the back of the house and the kitchen at the front. Thank you again Yolindi for allowing us to use your space!
Ashley
2016-10-24T00:00:00Z
We spent New Years there for my husband 50. We were 18 people and everyone was comfortable and we all had privacy! The kids had so much fun, the snow storm was just the best for everyone... We all played in the snow! Dan was great, he was just the perfect host! All the details in the house were amazing... Every space in the wall, cabinets, kitchen, bathroom, etc... Had a beautiful detail that would remind you about home! We will be back in the summer.
Marilo
2017-01-01T00:00:00Z
Awesome place to stay. Would definitely stay here again!
Cody
2017-02-12T00:00:00Z
The house is amazingly large and very comfortable. We were 16 of us (including children) and we had a blast!! The game room and the ping pong table were a major hit!
Youssef
2017-02-26T00:00:00Z
The house and property were great. Grill, large fire pit, and enclosed back deck made spending time outside enjoyable, and there was plenty of space for 14 people. Also I really appreciated Yolandi's quick and helpful responses.
Devon
2015-06-15T00:00:00Z
Room Type
Entire home/apt
---
Property Type
House
---
Accommodates
16
---
Bedrooms
Standish, ME, United States
Come stay in our historic home, built in 1810, in the heart of Yarmouth village. Enjoy a freshly-made breakfast daily. Your private quarters consist of TWO bedrooms & a connecting private bath. The 2nd bedroom includes a spacious sitting area. You'll have a separate entrance with plenty of room for your belongings. Our home is within walking distance to restaurants and is a convenient 5-minute drive from the highway. We welcome families of all ages, as our property sleeps 4 in two bedrooms.
We think you'll love staying in our historic home, built in 1810. Although your space is part of our home, it will feel very private to you. As you enter the front door (you'll be the only one using this entrance), you'll head up to your bedroom, bathroom, and sitting room/bedroom. This space is securely separated from the other part of the second floor. Each bedroom is 16' x 20', giving you plenty of room. There is also a flat screen TV in each room. Bedroom #1 has a queen sized Tempurpedic mattress. Bedroom #2 is furnished with a double bed (with traditional mattress), but also has a spacious sitting area. Here you'll find a work station to check your email, two comfortable wing chairs for watching TV/reading, and a small refrigerator. In the chilly months, we add a heated mattress pad on each bed. You are going to love it! Between the two bedrooms is the bathroom with tub/shower and plenty of linens, a hair dryer, and a bureau filled with most anything you may have forgotten. (Advil, Tums, razors, etc.). Each bedroom has its own doorway to the bathroom. In addition, we have a Pack 'n Play available for babies and toddlers. You are also welcome to use our beach chairs, beach towels, cooler, two bikes, and fishing equipment. For the kids, we have a stroller, booster seats, and plenty of toys. Parking is available in our driveway. You will find Yarmouth is a very safe place to spend your time. In fact, the whole stay of Maine is very safe! Do you still have some questions? Just let us know!
Right here on Main Street, all within one block to 1/2 mile, you can walk to the best pizza in Southern Maine, a great bakery, a great pub, wine bar, farm-to-table restaurant, coffee shops, and a spot to pick up soups and sandwiches. In addition, we have a handful of small shops to explore. Take a half hour to walk the sidewalk lined streets, taking in the character and charm of all the 100-200 year old homes in the neighborhood. Around the corner from us, you'll find the Royal River Park with its 1-mile paved walkway. It's great for a walk, a run, or a bike ride. (We have two bikes for your use.) Just outside the park entrance, there are canoes available for rent for just $10 a day. No transporting necessary. Just put it in the calm waters and enjoy a quiet paddle up the Royal River. Within a five minute drive, you can check out several excellent restaurants here in Yarmouth. And remember, here in Maine, it's all casual dress. Portland, the largest city in northern New England, is a fifteen minute drive south. And Freeport, home of LL Bean and a vast array of discount shops, is five miles up the road. Fabulous beaches line our coast, our favorite being Ogunquit Beach, 50 minutes south. But you can find several nice beaches within a 15-25 minute drive.
Thank you for sharing your wonderful home with our family for the night. Debbie made sure to text me and be available prior to our visit as well as during our visit. Debbie & her husband greeted us when we drove up. They showed us the home and where we would be staying. They let US choose breakfast for the next morning, which was a real treat. We had a very nice dinner out, with Debbie's recommendation, and a good nights sleep! They are just good wholesome people and great cooks! They were very accommodating and I would definitely stay there again if passing through. We had a Jack & Jill set-up with two separate bedrooms and adjoining bathroom. This was just perfect for our family of four. However I must add that the bedrooms were really large! This was our very first AirBNB experience and I hope the others are just as good.
Rachelle
2016-07-22T00:00:00Z
This is a beautiful home and Debbie and Barry treated us like royalty! Comfortable bed, warm and homey space, and a wonderful breakfast. It was lovely to get to know Debbie and Barry a little as well, and we wished we could have stayed longer!
Carina
2016-08-16T00:00:00Z
Wonderful hosts! We had an amazing time at their place. You get a whole floor all to yourself and the rooms are very comfortable. They did everything to make us feel at home and prepared the most wonderful breakfast in the morning. It is also nicely located in between Portland and a number of beautiful outdoor locations. We were sad to have to move on so quickly and would definitely visit again!! Thanks!
Willem
2016-07-01T00:00:00Z
Deb's place is the best of the best. Communication, customization, arrival, departure, everything was perfect. It was almost like a dream and a week later, I have to wonder if it was all real! I can't wait to come back. I'm so inspired in so many ways after having visited with Deb and her husband. Thanks for everything!
Kelly
2016-10-09T00:00:00Z
This is the best Airbnb either my friend or I have ever stayed at. We cannot recommend Debbie and Barry's place enough. They were excellent hosts, providing a superb breakfast and a welcoming rooms. There were amenities in the bathroom and rooms, plus a full list of local attraction. Everything we could have wanted was there. The house is beautiful, and my friend and I wished we could have stayed longer. We loved Maine in general and would happily stay with them again if we ever come back.
Rebecca
2016-10-16T00:00:00Z
Debbie and Barry were terrific! They greeted us at the door and gave us a thorough tour of the private suite. The rooms were immaculate and comfortable. Every amenity was considered from water in small fridge to a hair dryer. I couldn't have asked for a better experience.
Audrey
2016-04-19T00:00:00Z
Debbie and her husband Barry were the most gracious hosts for our trip up to New England. Their home is incredible and they made our stay better then we could have ever imagined. Thank you.
Kelley
2016-07-06T00:00:00Z
We really admire Debbie and Barry, they are fairly new to this Airbnb business but seem to have got it all worked out. The rooms are comfortable, fresh and spotlessly clean; the bathroom has fluffy towels and everything you could possibly need. There is air con for hot days and blankets for cold. Ironing board, fridge, beach bags, bikes... You need it - they have it. This is more like more like an apartment than a room and has a private entrance and very spacious accommodation. The breakfast each morning was delicious, imaginative and wholesome, best of all was the interesting conversations, we found it hard to tear ourselves away. Debbie is an excellent cook and she obviously runs a very successful business, making cookies. As a couple they clearly care about their customers and have hit upon the perfect formula for running a B&B. This is the sort of place you would like to keep all to yourself but reading all the other reviews - the cat is out of the bag already. We cannot recommend this place highly enough and we look forward to our next visit.
Ulrika
2016-07-09T00:00:00Z
Room Type
Private room
---
Property Type
House
---
Accommodates
4
---
Bedrooms
Yarmouth, ME, United States
If spending time on an island, biking to spectacular island lookouts and beaches, and ending the day with drinks on the porch sounds like your idea of a perfect holiday, this might be the perfect rental for you.
We hope your love our house as much as we do. While our jobs are hi-tech, our lifestyle is simple. We do not have cable TV, however we offer a screen for movies. This leaves you with plenty of time for books, projects, art, good food, puzzles and stimulating conversation. We imagine you selected our home for more of the same. The house was built in the 1840's, but was entirely renovated in 2011-2012, and is a year-round home. You should expect all the same comforts of your own home on this island. The home is currently listed on VRBO if you want to read guest feedback.
Room Type
Entire home/apt
---
Property Type
House
---
Accommodates
5
---
Bedrooms
Chebeague Island, ME, United States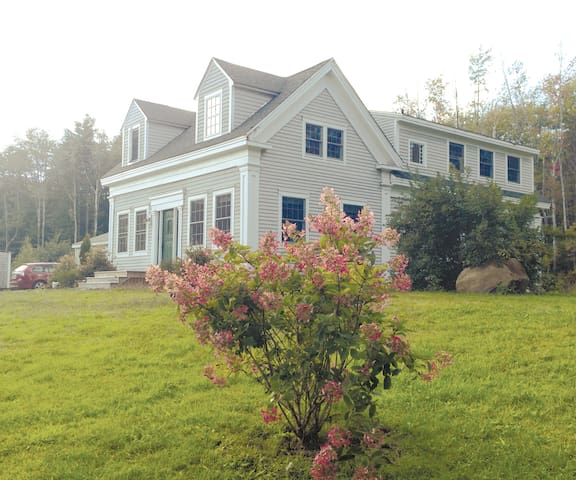 Newly decorated bedroom in pleasant, well cared for single family house. Bedroom is on second floor next to shared full bathroom. House is conveniently located within walking distance of excellent restaurants, shopping and walking paths.
10 minutes from Portland or Freeport. Excellent access to the coast on 295. Yarmouth is a cute New England village, with much to offer.
Yarmouth has many small parks and lots of well maintained walking trails. A river runs through the middle of town and out to sea not far from my house. Very picturesque, and historical too. Most churches, the library and local marina are within walking distance.
I thoroughly enjoyed my brief visit to Sandie's place in Yarmouth. Sandie greeted me with a quick tour of her lovely home – which feels like it's brand new and is, in fact, spotlessly clean . She also gave me a quick orientation to Yarmouth, the local visitor center, and the nearby LL Bean Flagship Store. She even drew me a map of an easy walk through the quaint community of Yarmouth and helped me plan my next day's trip to Bar Harbor and Acadia. I highly recommend staying at Sandie's home.
Bill
2016-04-22T00:00:00Z
We enjoyed our time in Maine staying at Sandie's. It was a very nice place and we enjoyed talking with her.
Wesley
2016-07-04T00:00:00Z
The room was perfect and Sandie was very helpful in pointing out local attractions...even an easy way to see a moose!
Joe
2016-08-08T00:00:00Z
Sandie was a wonderful host - very welcoming and great to chat with! She also had excellent recommendations of things to do in the area. We would definitely recommend staying with Sandie!
Rowena
2016-10-07T00:00:00Z
Very pleasant stay! Comfortable bed, clean space. Sandie was very accommodating. Nice light breakfast. Would recommend to others.
Shannon
2016-08-12T00:00:00Z
Sandie is a very warm and friendly host. She made us feel welcomed into her home. Sandie has a beautiful house and the room we stayed in was very comfortable. She is a gracious host and we enjoyed our conversations with her. The town she lives in is very sweet and there is a great bakery near her place. Her home is in a nice, quiet location and it is easy to travel to nearby attractions. We would definitely stay there again! We highly recommend staying with her.
Joseph
2016-07-09T00:00:00Z
Sandie was very welcoming and helpful. She recommended a wonderful restaurant for dinner when I arrived and also gave me directions to some local places. I felt very comfortable in the house. The room was cozy. I would love to stay again when I have more time to explore the Yarmouth/Portland area.
Stefanie
2016-10-19T00:00:00Z
Yarmouth is a beautiful little town on the Maine coast just up from Portland and this is the perfect place to stay and experience all of it. Sandie is a great host!
Raffi
2016-11-17T00:00:00Z
Room Type
Private room
---
Property Type
House
---
Accommodates
2
---
Bedrooms
Yarmouth, ME, United States
Cozy studio space, private entrance, queen bed, eating nook, living area, kitchenette, and bath. The Flower Farm in Yarmouth Maine is 10 miles north of Portland, 5 miles south of LL Bean. Nearby park, trails, shops. Flower picking in season!
Sunlit, cozy, and peaceful, this welcoming private space offers a perfect base for exploring southern coastal Maine and beyond.
The huge number of walking paths! You can leave the house, head off in almost any direction and circle back to our house. There's a great path that runs along the river, another that takes you along historic Main Street, and many shorter paths in the immediate neighborhood.
Mary and Bert were very welcoming and friendly! They live on a beautiful philanthropy flower farm (anyone is welcome to come pick!) and they invite you to take a look, pick flowers, or visit their chickens. The accommodations are very clean and comfortable. Having your own private living space and entrance is wonderful. Their place is very convenient to Freeport or Portland and we used it as a stop over on our way to Bar Harbor, but we definitely could've spent more time and hope to next summer.
KShoecraft
2014-07-12T00:00:00Z
We had a wonderful experience with Mary and Bert - they are kind, generous, and knowledgeable hosts! The accommodations were spacious, clean, and fully made up upon our arrival - just like staying in a hotel. The house is on a beautiful property from which the hosts kindly offered fruits, flowers, and some vegetables grown in the backyard. The neighborhood is quiet but close to Portland, Allagash Brewing, all you'd need. Would definitely stay again!
Alexander
2014-08-04T00:00:00Z
Mary was very welcoming and made sure we had easy access to the place as soon as we drove up from NY. We loved the fresh cut flowers and even took some home. There was also fresh eggs from the 'Gals', the chickens on the farm and they were some of the best eggs we've ever had. Overall, the place was clean and quiet. Perfect for a weekend getaway. My only regret was not being able to book the place for an additional day or two since she was already booked up!
Annie
2016-09-03T00:00:00Z
Mary and Bert made us feel really at home with a warm welcome and a warm goodbye. The flowers were lovely and we also loved the friendly cats and dogs. The let is a really clever use of space and had everything we needed; perfect. Great location to visit Portland and the surrounding country side or coast.
Michelle
2015-10-11T00:00:00Z
Lovely place. Clean and quiet. Mary and Bert were very friendly and helpful. Beautiful garden. Will return.
Maggie
2014-08-01T00:00:00Z
The hosts were very nice and steered us to a wonderful restaurant after days of travel. It was a perfect location to continue on our tour of Coastal Maine.
carol
2015-09-01T00:00:00Z
Mary and Bert have a very clean, comfortable, space that is accurately described. They are very friendly hosts who are there to chat when you're in the mood, and private when you need privacy. Quiet location and about 15 minutes from Portland. Would stay for more nights in a heartbeat!
Sa
2016-05-31T00:00:00Z
Our plane was delayed by a few hours and Mary took the worry out of arriving late evening by leaving a light on and telling us she'd see us in the morning. A lovely bouquet of flowers were there to greet us. The studio is clean,light filled and private, bed is comfortable, and it is a comfortable layout. Met Mary and her dogs ,one cat and chickens the next morning in her beautiful yard. They all were happy to meet us and they were the highlight of the stay! It was a great start to our road trip to Acadia and would recommend her property highly to any traveler.
Karen
2015-06-05T00:00:00Z
Room Type
Entire home/apt
---
Property Type
House
---
Accommodates
2
---
Bedrooms
Yarmouth, ME, United States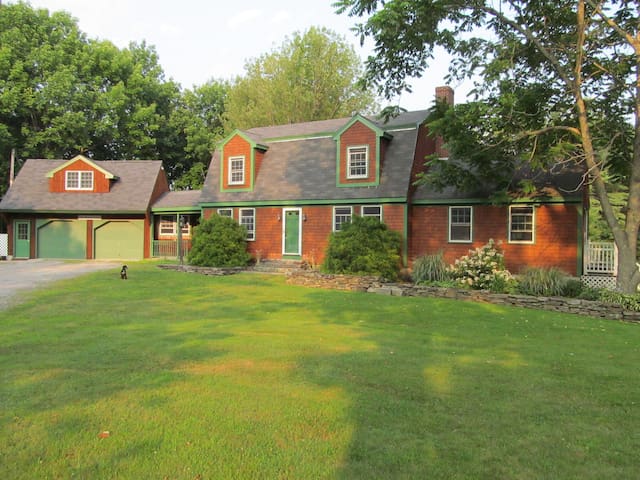 Set back among backdrop of tall pines on Maine's coast, is our 4 bedroom, 2 bath home in Yarmouth. Quiet and secluded, and perfectly located between Portland and Freeport, it's an amazing place to decompress with family and friends. Our home comes complete with everything you need to enjoy your stay!
Located on 2 acres of tidal front property in the town of Yarmouth, our 3 bedroom home is a great place to explore the best areas of Maine. The location is private and very quiet, but just a 10 minute walk into a great New England town where you can get fresh baked goods, coffee and dine at local restaurants. The house was completely remodeled two years ago and features an amazing kitchen (see pictures) and open living space. Outdoors we have a great deck with grill for summer cooking. We have provided vintage bicycles to explore the town and our neighborhood. Our location also has easy access to the town dock (.5 miles away) where you can put your boat in, or take a walk around a coastal nature preserve which is also about .5 miles away. Our home is professionally managed by Proprly (com) - Expert Cleaning & Key Delivery Services for Airbnb rentals. All sheets and towels are washed free of heavy perfumes, dyes, or fabric softeners during washing/drying. We use premium cleaning products, and eco-friendly paper products (Seventh Generation) wherever/whenever possible. If you need additional items, or cleanings for your visit, please let us know and we will do our best to accommodate. For those looking to get out and about, our home is just a short 15 minute drive to Freeport where you can find a ton of great outlets as well as the famous L.L. Bean store, and a short 20 drive to Bowdoin College in Brunswick if intending to visit your attending son or daughter. Additionally, the amazing city of Portland with so many world class restaurants, is just 18 mins. drive south. Chebeague Island is a great day trip and just a quick ferry ride close by. If you are looking for a great spot to use as your base for an amazing trip to Maine, you will be very happy with our place.
Quiet, wooded, private, airy, beautiful North Eastern Coastal Town...
Randy has a beautiful house. It is surrounded by nature but is within easy access of shops and restaurants. It is warm and cosy and we particularly enjoyed the open fire. The kitchen is large and has everything you need if you are wanting to stay at home for meals. The house is spacious and we found we had everything we needed. The kids particularly enjoyed the board games and DVD's. I would definitely recommend a stay at Randy's. I imagine a stay in summer would be even more enjoyable
Kate
2016-11-28T00:00:00Z
Our stay was lovely. The snacks they left were a nice touch! The house looked very much like all the pictures and was quite comfortable. My communications with Randy was great--I had a few questions here and there and he was super quick getting back to me. I can picture that it would be a lovely place to hang out in the summer with that nice deck out back. Good location, between everything available in Yarmouth, Freeport, and Portland. We were very happy with our choice and Randy was a pleasure to 'work' with!
Tracey
2015-11-08T00:00:00Z
This was our second visit to Randy's beautiful house and it was just as wonderful as we remembered. The house is just as immaculate as it looks in the pictures and the area is really nice. Randy was in touch before, during and just after our visit and was very helpful. I would definitely recommend this property to groups looking for a quiet place that's not too far away from things to do. It's also great that there is a crib.
Michelle
2015-04-12T00:00:00Z
I had a wonderful stay. The house is beautiful, just like the photos. Randy was a great host, replying to messages very quickly and providing clear instructions and directions. He left us snacks, which we really enjoyed! The house was warm and cozy, clean, and there was a fully stocked kitchen which had everything we could possibly need to cook meals. I highly recommend this beautiful Maine getaway!
Christine
2016-01-08T00:00:00Z
My friends and I enjoyed a lovely Labor Day weekend at Randy's home in Yarmouth. The home is beautiful and serene, very well kept and fully equipped. I would strongly recommend it to anyone looking for a getaway weekend in the Yarmouth area. Randy was also incredibly helpful with questions and tips.
Julie
2013-09-04T00:00:00Z
We had a very nice, enjoyable stay at this Yarmouth residence. The place was spacious, clean and everything was ready when we arrived. The weather, unfortunately, was not very cooperative -- i.e., very rainy and windy, but we kept active and busy shopping in Freeport, visiting Bowdoin College and its art museum, and exploring downtown Portland including the art museum. We dined at wonderful restaurants and enjoyed specialty coffee shops. So all was well. The home was a good location to getting around to all these places. It was just the two of us, but the place could accommodate a bigger group and the kitchen was very nice for those who may want to dine in. "Beautiful Coastal Maine Getaway" describes it well and would recommend giving it a try if you're looking to get away from Boston and explore the Portland area.
Mark
2015-04-22T00:00:00Z
Our group of 6 adults enjoyed our stay in Randy's home. The home is tucked back on a lot in a quiet residential neighborhood and was very clean. It was a good location for our planned day trips. Our favorite nearby restaurant was the Royal River Grill. Thanks for the recomendation Randy. Our friends in the upstairs bedroom would have liked a place to set their luggage and a blender would have been helpful. Minor things for sure. Would definitely recommend as a place to stay in Yarmouth.
Marie
2016-10-10T00:00:00Z
A bottle of wine awaited us. Randy seemed easy going and was prompt in communicating. He checked in with us the first day to make sure we were all set.
JoAnne
2016-10-18T00:00:00Z
Room Type
Entire home/apt
---
Property Type
House
---
Accommodates
6
---
Bedrooms
Yarmouth, ME, United States
Suite with all the comforts of an upscale hotel room located down the street from the ocean with a beach and dock. Portland & Freeport are nearby. You have a private entrance, deck and patio. You are welcome to use the kitchen & laundry. 2 additional bedrooms are available (+$30each)
You will be on Cousins Island. This island is part of Yarmouth. My favorite part of my daily commute is driving over our bridge and seeing the beautiful ocean.
This is a family friendly area. We are members of the Seashore Land Association with privileges to use a private beach and dock. There are walking trails. Yarmouth is bicycle friendly.
Lovely, large and comfortable room. Gracious host, and nice location.
Karl
2016-10-06T00:00:00Z
Paula is an excellent host for AIrbnb. Her home isn't a typical bed and breakfast- you have your own suite!! It is extremely large with beautiful furnishings. No shared living room, bathroom, dining room OR private patio... I DID share my patio with Paula for a nice glass of wine because she is wonderful!! She's extremely helpful and had lots of suggestions. Cousins Island is a wonderful, relaxing, beautiful place. Day trips are so easy and plentiful. I can't wait to go back. I wouldn't consider staying ANY place but at Paula's home.
Ann
2016-08-22T00:00:00Z
Paula is a wonderful host. Her house is so ideal for a weekend family/friends getaway, from the hustle and bustle of the city. Located in Cousin's island, just outside the continental USA ;), this place is so peaceful and green with access to private beach. Cities like Freeport, Portland are few minutes drive from this place. Paula is a friendly host, with quick response time. The room is very spacious, with all the necessary amenities a - refrigerator with water and milk, a cereal collection for breakfast, Coffee maker, AC, TV, Microwave, closet, lot of board games, a binder with information about nearby restaurants, tourist spots, bathroom with backup toiletries, linen closet with extra bath/face/hand towels. Highly recommend Paula's place to anyone visiting Yarmouth area for a peaceful vacation.
Amulya
2016-08-01T00:00:00Z
We had a wonderful stay at Paula's home! Everything was as described and just as nice as the picture showed. Great location with the ocean just down the street. We enjoyed a lovely evening on the dock watching the sunset. And in the morning, we sat on our private deck and enjoyed coffee with the Keurig and coffee fixings left for us. It's a short drive to L. L. Bean in Freeport and outlet shopping was fun. Portland is also close and we visited the Old Port on the way home. Paula was very accommodating. Appreciated the refrigerator filled with Poland Springs waters, the extra towels/blankets, and thoughtful backup toiletries. We would definitely stay here again!
Trisha
2016-07-12T00:00:00Z
Paula is a fantastic host! She is so kind-hearted, and will go out of her way to accommodate you. Even her dog, Ozzie, is the friendliest pet you will ever meet! She has a very cozy home in a beautiful location on Cousin's Island that's just a short car ride away from popular cities like Portland and Freeport. The room offered a queen-sized bed, TV, an outdoor deck, private access and a stocked mini-bar...everything any guest would want and need. I felt very comfortable during my stay with Paula. Thank you so much for having me!
Grant
2016-07-16T00:00:00Z
Paula was simply an amazing host. This was our first time in Maine, and we didn't quite know what to expect. But we loved our stay at Paula's place (it is spacious, clean, and incredibly quiet), and especially appreciated the fact that her house was just minutes away from the docks/ocean. The added plus was meeting and playing with Oz (sp?) who is quite the charmer! Thanks, Paula, for making this trip one of our most memorable ones!
Julia
2016-09-06T00:00:00Z
This was a great place to stay, and Paula was a terrific hostess she really went above and beyond to make us feel comfortable. The island is really nice and quiet, it is not so accessible with public forms of transportation, and Uber doesn't get out there much so having a car is really helpful. We felt very comfortable here, and it was such a nice place to stay and we were still able to make our way to Portland, and Old Orchard Beach. We felt like we were getting the best of both worlds. I definitely recommend staying here!
yehudis
2016-08-26T00:00:00Z
Paula's house is absolutely beautiful. It is in a perfect location with a private beach at the end of the street. The views are stunning from the dock, we took many pictures. Paula was an amazing host during our stay. she was very respectful of our privacy, but also very attentive as well. The room was gorgeous and more then enough space for the three of us. Paula even set up an air mattress so we all had our own sleeping space. We didnt have to leave the room at all. Paula had coffee and cereal for us as well as snacks. The ride to downtown Portland was only about 20 minutes which was a perfect distance and so much fun. Portland is a great city to walk around and enjoy the resturants and cobblestone walkways. Overall our stay at Paula's exceeded our expectations and we couldn't have asked for more. thank you Paula we cant wait to visit again.
Haley
2016-08-15T00:00:00Z
Room Type
Private room
---
Property Type
House
---
Accommodates
4
---
Bedrooms
Yarmouth, ME, United States
Our home is located in Yarmouth, a quaint seaside village. Short walk to coffee shop, restaurants, and a local fresh foods market. A wooded path behind our house takes you to a picturesque river walk. Close by you'll find city life in Portland.
Cynthia was a wonderful host. Her home is beautiful and very clean. It was a joy to stay in such a beautifully restored house. She went out of her way to provide a high chair and a little tykes car for our 15 month old granddaughter, who loved both items. Their home is centrally located and getting into Portland Maine was a breeze.
Mary Kay
2016-07-09T00:00:00Z
Room Type
Entire home/apt
---
Property Type
House
---
Accommodates
5
---
Bedrooms
Yarmouth, ME, United States
Exquisite 1835 house with modern additional wing with 3BRs, 3 baths, and gourmet kitchen located in heart of a classic, walkable New England village. Portland and Freeport nearby, and short drive to beaches, river, hikes. The home is beautifully furnished with stunning original Maine artwork, wi-fi, cable, fire pit, lovely gardens and private backyard, off-street parking.
Large Queen bedroom with 2 full baths downstairs, 2 double-bed BRs and full bath upstairs. Gorgeous kitchen, living room, dining room, fully equipped and furnished. Private gardens and yard, parking. Canoe and bikes available.
Yarmouth village is one of the most charming places in Maine, one of the few with a village center. Homes are from the early 19th century and earlier. Easy walk to stores , restaurants and park with river. Walking and bike trails. Walk to museums, art galleries, parks, beach. Canoe and bikes available.
All was excellent, friendly and helpful host.
Philip
2016-07-07T00:00:00Z
Staying at Janice's house was my first experience renting an Airbnb, and although I wasn't exactly nervous, my expectations were exceeded by far. Yarmouth is a very short drive from Portland, where my friends and I were in town to explore, but the Yarmouth itself was a beautiful, cozy place to maintain a home base and relax. Janice's house was beautiful and the neighborhood was quiet and friendly. Janice was very welcoming, and was close by for questions or advice if we needed anything. I would definitely come back!
Joshua
2016-07-10T00:00:00Z
Our family spent a wonderful weekend together at Janice's lovely home in beautiful Yarmouth and loved every moment. The space is beautifully decorated with hand-painted art, vintage furniture, handmade crafts and has so much charm and character - we could have spent days examining every nook and cranny of the place! Everything you could ever need or want was found in the house (hello, lobster pot!) and she put together a super comprehensive and detailed booklet that had instructions on how to operate all the appliances, recommendations of things to do in the area, and her favorite places to eat, which was super helpful. Janice was a terrific host and a great person overall - we had the pleasure of meeting her twice during our stay! Communication with her before and during our stay was prompt and she made checking in and out a breeze. We only stayed for two nights but could have easily enjoyed our time there for a week or more. As we were backing out of the driveway and on our way home, we were already talking about planning our next trip back to Maine. Thank you, Janice, for a fantastic weekend!
Kim
2015-09-21T00:00:00Z
Great location and Janet was a fantastic communicator. Long two week stay for business having an entire home was perfect.
Jay
2016-11-10T00:00:00Z
Janice's home was beautiful and warm/welcome. Plenty of space and comfortable rooms. She provided a helpful binder of local things to do. Highly recommended!
Miranda
2015-09-28T00:00:00Z
Our family had a great week in Yarmouth. The house was very spacious and full of everything we needed. The A/C was helpful on some very hot days. Janice was available for any questions we might have. The location was central to all the things we wanted to do, while we attended a family reunion in the area.
Nancy
2016-08-15T00:00:00Z
My family's stay at Janice's home made for a perfect start to their Maine vacation. The house was incredibly charming and well decorated. Old New England charm. We especially liked the wood floors and beautiful stairway. The neighborhood is very quiet and also walking distance from town shops, river, park. My family very much enjoyed their stay and visiting with Janice. Highly recommended. Thanks again!
Scott
2015-08-29T00:00:00Z
We had a great time at Janice's house and felt very at home. The house is decorated with a quirky artist's eye (which we appreciated) and the space worked great for my family, including one three year old boy and his visiting one year old cousin! Loved the location - we took total advantage of the great pizza, donuts and smoothies all within walking distance - and being in the middle of a historical New England neighborhood really added to our Maine experience. Thank you!
Marisol
2016-08-03T00:00:00Z
Room Type
Entire home/apt
---
Property Type
House
---
Accommodates
6
---
Bedrooms
Yarmouth, ME, United States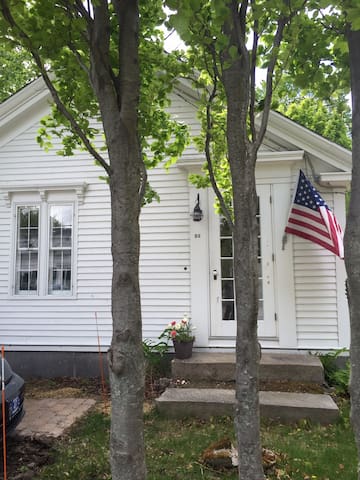 My place is close to family-friendly activities. You'll love my place because of the neighborhood, the kitchen, the light, and the coziness. My place is good for couples, business travelers, and families (with kids).
Room Type
Entire home/apt
---
Property Type
House
---
Accommodates
3
---
Bedrooms
Yarmouth, ME, United States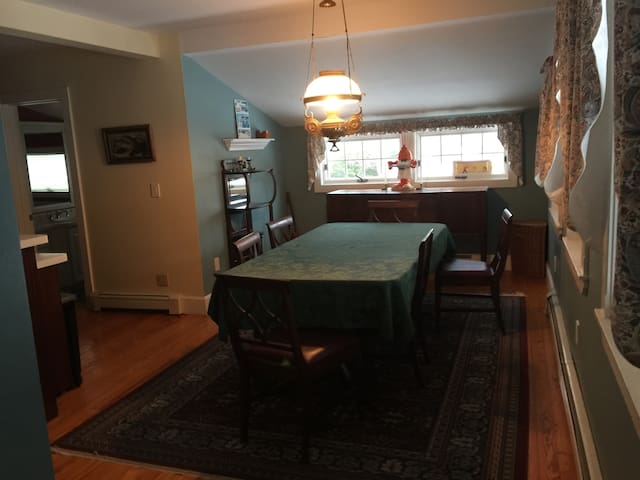 Comfortable 3 BR 3 BA waterfront house (upper 2 stories) with access to small beach. Views to the water from nearly every room. House comfortably accommodates up to six people. (Separate lower level apartment is occupied by owner.)
Cousins Island is accessible by car. Walking trails are found on Cousins and adjacent Littlejohn Island. A ferry runs from Cousins to Chebeague Island which has a waterfront restaurant and Inn. Cousins has two small public beach areas. House abuts Seashore Land Association and 16 acre Town conservation property.
Linda's home is beautifully located in a quiet neighborhood on Cousin's Island. It was a hot August weekend but the ceiling fans and window units kept the rooms surprisingly cool. We spent a lot of time on the patios, walking down to the water, and relaxing in the living room at night. The driveway is plenty big for multiple cars which is nice. Linda's place felt like home away from home!
Jesalyn
2016-08-22T00:00:00Z
Linda's home was clean, neat, and well appointed. The layout worked extremely well for travelers with children especially having the an additional sitting/tv room on the second floor. The kitchen worked perfectly for cooking all your meals in and the location was a quick drive to just about any kind of eatery imaginable if you didn't want to cook. The view from Linda's home was beautiful and is situated perfectly for watching the sunsets over the water. We truly enjoyed our week at Linda's and would highly recommend this rental to any travelers looking to stay on the Maine Coast.
Greg
2017-02-25T00:00:00Z
We had a wonderful stay at Linda's home! Everything was as described and the views were beautiful. Though it was very secluded, it was easy to get in and out of Portland. Linda was very accommodating. We would definitely stay here again!
Julie
2016-02-28T00:00:00Z
The host canceled this reservation 110 days before arrival. This is an automated posting.
Stephanie
2016-04-07T00:00:00Z
Linda's place was absolutely gorgeous. Stunning waterfront view, with wide and spacious living space. The place was very clean, beautiful, with sunroom, and outdoor deck both upstairs and downstairs. Only 20 min drive to downtown Portland, ME. Linda was extremely accommodating and allowed us to stay two hours past checkout since we were having a lazy morning. What a wonderful host, and what a lovely house!!
Adam
2016-09-05T00:00:00Z
Room Type
Entire home/apt
---
Property Type
House
---
Accommodates
6
---
Bedrooms
Yarmouth, ME, United States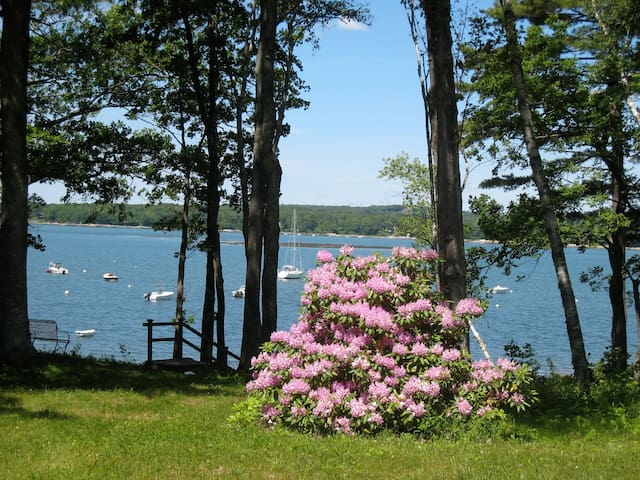 Secluded deck house in wooded property is minutes from highway access to shopping, beaches, restaurants, etc. This is a shared house: Guests have access to the entire downstairs: three bedrooms, family room, bathroom, and mini-kitchenette, as well as a new deck and beautiful woodland gardens. Owners live upstairs. Guests may share front entrance, and have additional side or rear entrance.
Two of the bedrooms have queen beds with superb mattresses, handmade quilts, and down comforters. The third bedroom has twin beds. Space is ideal for a family group with need for the family room and TV. Free Wifi is available. Guest space can be accessed through private entrance. I have added a mini-fridge, microwave, coffee maker and toaster oven for guest convenience, although there isn't a kitchen sink, so extensive cooking isn't really feasible.
Yarmouth is a charming New England town with a lovely river park, island trails and beaches, a harbor, and several very good restaurants. All necessities are within two miles of my house.
Very nice and warm hosts. Beautiful and super clean house niched in the woods. We highly recommend it.
Hervé
2015-10-05T00:00:00Z
Anne was very responsive and thoughtful throughout our stay. She welcomed us with a great introduction to the house and the adorable Higgins! The house was beautiful and amenities were all easily accessible.
Nix
2016-05-30T00:00:00Z
Anne and Rod were wonderful. Very accommodating yet kept to themselves. It was our first Airbnb experience so we had to get used to the non separation of the house( open concept) but it all worked out fine. Comfy beds, clean rooms, parking for our 3 cars, friendly dog to greet us and kitchen and bath supplies provided -in case we forgot ours! All in all a great experience. We will definitely do Airbnb again. It is so cool to have the guest hosts be able to share their local flavor with us visitors!
Michele
2016-08-30T00:00:00Z
Anne was a wonderful hostess and helped me with directions to our next location as well as meeting needs in our room. Her home is in such a beautiful area, and we came at a fabulous time.
Diana
2015-10-13T00:00:00Z
It was a pleasant experience. The host was very inviting. I enjoyed my stay with Anne and her family. I would recommend her home to others.
Sheila
2016-09-11T00:00:00Z
Listing description was accurate. Check-in/check-out was extremely easy, as was getting in and out of the house. There was ample parking without having to jockey cars. Bed was comfortable with plenty of blankets and pillows. (Nice touch: Each side of the bed had a fuller/firmer pillow good for side-sleepers and a slimmer/softer pillow good for front-or-back sleepers.) The bathroom had ample counter space. There was a fantastic family room with a wood stove, couch, chairs, and coffee table. The family room was a great place to read and relax. There was an enormous television, although we didn't use it. They have a large, quiet, well-mannered dog. WiFi was reliable and easy to access. One of our phones uses AT&T towers; the other uses Sprint. Both had good reception. The neighborhood was easy to navigate and quiet. There was quick and easy freeway access to I-295 and a large grocery store less than five minutes away. Anne was a great host. There were no surprises. Everything was as expected based on the listing.
Ben
2016-01-04T00:00:00Z
Anne was very welcoming! We really enjoyed our stay-- it was our first AirBnB and it lived up to all expectations! It is a really lovely house and a great distance from Portland!
Elizabeth
2016-05-23T00:00:00Z
Anne and her husband and dog were there to welcome us. We weren't sure what to expect as a recent review mentioned the lack of privacy between the suite/apt and the host's upper level home. It's true. While the lower level was spacious (3 bedrooms & a living room), the mini kitchen area did not feel quite as inviting. It was situated in a "mudroom" and water heater storage. The windows high above on one side of the room helped somewhat. The lack of a "kitchen sink" was an inconvenience, and the deck was off limit. In summary, Anne and her husband were hospitable. We greatly appreciated their nice personal touches of providing a semblance of a mini kitchen with the necessary appliances (microwave, coffee maker, toaster). When Anne learned that 2 of our 3 children were in a day camp nearby, she provided us with a drying rack for their swimsuits, which was very nice. We stayed 3 nights - left early in the morning each day, and returned at night.
Chan
2016-06-26T00:00:00Z
Room Type
Entire home/apt
---
Property Type
House
---
Accommodates
6
---
Bedrooms
Yarmouth, ME, United States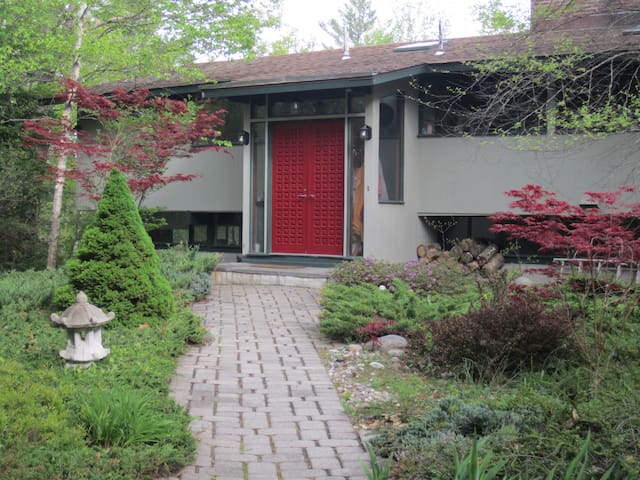 A comfy 4 bedroom, 2.5 bath home in Yarmouth, a mile from the center of town. Well behaved pets allowed with additional deposit. 2 night minimum stay required.
Sidewalks from our house to downtown..good for walking or biking. Just 11 miles from portland!
We enjoyed our stay at Lee's house. It's a pretty house in a nice town, only 20 minutes to Portland and 30 minutes to Cape Elizabeth lighthouse. Lee graciously let us use their kitchen and grill, and their patio table. The place is spacious with 4 bedrooms. Nice dining room and patio tables, great for big groups of people. Overall, would recommend anyone looking for a place to stay in Maine!
Wendy
2016-07-05T00:00:00Z
Beautiful Home!!!! Lee's Home is very spacious and comfortable. She is a wonderful human being for letting my group and I enjoy what Maine has to offer. It is in close proximity to Portland and its' main attractions. Best experience I have had so far.
Hector
2016-08-15T00:00:00Z
Great house for our needs! Comfortable, welcoming home and neighborhood. Lee was very accommodating and responsive to our needs as well as our questions. Would definitely recommend this house! Thank you Lee.
Jenn
2016-11-13T00:00:00Z
This is a great space - we loved kicking back at the end of the day in a huge living room with a nice fireplace! Lee was very communicative and made us feel welcome.
Andrew
2016-10-30T00:00:00Z
The home was exactly as expected, and even better and we hoped for. Lee had everything ready for us and we thoroughly enjoyed our stay. We are looking forward to staying here again in the future. The master bedroom has its own bathroom, which was very nice. With two (2) couples, the living room was a great place for us to hang out. The location was great for us since it was just 10 mins from Freeport. I would highly recommend this home for folks traveling to this area. You will not be disappointed!
George
2016-10-10T00:00:00Z
The host canceled this reservation 143 days before arrival. This is an automated posting.
Meghan
2017-02-28T00:00:00Z
Lee's house was great. We had a group of 8 people and we didn't feel cramped once.
Patrick
2017-03-19T00:00:00Z
Room Type
Entire home/apt
---
Property Type
House
---
Accommodates
8
---
Bedrooms
Yarmouth, ME, United States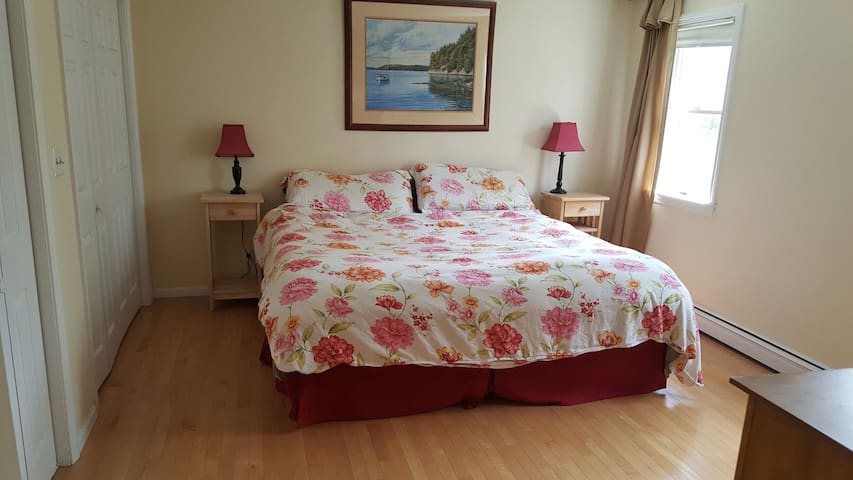 Welcome to The Maine Farmhouse Country Getaway! A four season destination for your trip to the lovely state of Maine.
We are offering a lovely 1 bedroom with separate entrance and fireplace. Outside private sitting area is also offered with comfy chairs, table, fire pit and umbrella. This a a beautiful room with TV/DVD, Wi-fi, and lots of books to read. Comfy full size bed with super plush LL Bean down filled mattress topper and plenty of pillows. Beach towels are also available for guest use. In the guest room itself there are Coffee and Tea making supplies plus Britta water server. A hairdryer is also available for guest use as well as shampoo, conditioner and lotion. We also have a huge selection of movies to enjoy that are available for borrowing. Black out shades on the all the windows make sure you can sleep in late if you wish. An alarm clock is available if you want to get up early! We are now offering soap making classes at The Farmhouse! Learn the art of hot process or cold process soap making and design your own all natural product. Cost of each class is $30 per person and you get to take a sample of your final soap home with you. ********* Breakfast is served in the dining room with a wide selection of goodies to choose from. It is self-serve full Continental style. There is a fridge if you need to store perishables plus toaster, microwave, coffee maker and hot water carafe. This turn of the century home has been completely re-furbished and has all the current amenities with the charm of a traditional cape. Shared 1/2 bath downstairs and full bath upstairs but maximum privacy available if you wish. You can interact as much or as little with your hosts and we value your space. Guests are welcome to use the kitchen to prepare meals (with prior permission) and enjoy the sunny deck to relax and watch the birds. Breakfast is self serve and offered daily with the added enjoyment of a variety of song birds enjoying their bird food snacks out the dining room windows. Maximum occupancy is 2 people. This is a small working farm with 12 chickens, 3 dogs, 1 cat and veggie gardens. In the summer it offers some tasty treats that we are happy to share with you. Easy access to beaches, mountains, lakes and Saco River. 25 mins. to downtown Portland, 20 mins. to Old Orchard Beach and Pine Point Beach. The Saco River is 2 miles away and has great swimming and boating! There are many hiking trails and private preserves to explore nearby as well. Saco Heath, Ossippee Mountain, Fuller Farm are just a few of them. Winter time activities abound as well. Hundreds of acres of snow shoeing and x-country trails are within 15-20 minutes of The Farmhouse and there are several downhill mountains which are 1-2 hours away Your hosts are more than happy to recommend great places to visit and eat and a "Things to Do" folder is also provided as well as a Maine Atlas.for directions to any location in ME. Hollis Center also has a lovely local grocery/deli/pizza place (Your Country Store) and a fantastic home-made ice cream parlor,(Big Daddy's North). There is also a salon with incredible massage therapists. ( A New Leaf Salon) We have hosted many people from all over the world and would welcome a visit from you as well! High thread count sheets (100% cotton in warm weather/flannel in cool) and towels/washcloth are provided. 100 % cotton bathrobes available for guests use and comfort. Please note, check in is no later than 9 pm as we both have to work REALLY early in the am on most days. We appreciate you planning ahead so we can provide you with a great experience. :) *****$10 cleaning fee included in reservation price******** Allergy note, we do have (4) dogs so please keep that in mind when booking if you have any pet allergies.
Rustic but not too remote. 1/2 hour from Portland, 20 minutes from PWM airport, bus and train station.
We stayed with Meg and her family on our first trip to see Portland and couldn't have been more satisfied. Comfortable home, delicious breakfast and very friendly. Would definitely recommend to anyone.
Evan
2012-02-20T00:00:00Z
My boyfriend and I were absolutely blown away by Meg, Mark and Sarah's hospitality. The room (and entire house) was beautiful, clean, and felt just like home. We loved all the warm touches such as fresh sunflowers in our room, the friendly doggies greeting us, the immense DVD and book collection for borrowing, and much, much more. Meg and/or Sarah made us breakfast every morning—absolutely delicious—and were gracious enough to let us use their kitchen to make a fresh lobster dinner on our last night there. We loved being able to be so close to Portland but also far out enough where it felt like a true getaway. The whole area is breathtaking and the drive to and from the city was extremely pleasant. Both Meg and Mark took the time to give us tips and ideas to make our vacation memorable—most of everything we ended up doing came as recommendations from them, and we were not at all disappointed. Bottom line, we would recommend Meg's place to anyone looking to vacation in Portland. We had so much fun getting to know these wonderful people!
Danielle
2012-08-22T00:00:00Z
Boyfriend and I had a great time at the farmhouse! We were in the area for a wedding and this was a great alternative to a hotel room - even closer to the venue than the hotel was! The room is tucked off to the side of the main house (adjoining) so it felt like you had privacy and your own space. Breakfast was available both mornings we were there which was completely unnecessary, but definitely appreciated. Meg's husband made waffle and eggs the second morning and we had nice conversation sitting at the kitchen island. Oh, and all of the dogs are adorable and had superb manners. Overall, the stay was relaxing, convenient, and enjoyable! Thank you, Meg and Mark!
Joanne
2016-07-11T00:00:00Z
Nice stay at a very cosy and clean place. We really enjoyed the hospitality of Meg. Especially the terrace in front of the separate entrance for the guests was very nice in the summer!
Judith
2016-08-18T00:00:00Z
My girlfriend and I stayed with Meg and her family during our weekend visit to Portland and we could not have been any happier with our stay. Meg has cultivated such a beautiful atmosphere in her home and you can't help but feel warm and cozy. Her husband, Mark, and their daughter were also present during our weekend and they were perfect hosts: attentive, informative, and only in our way if we wanted them to be. If you're a dog person, you'll have a wonderful time here. Meg's 4 pups are shining examples of good behavior and they are just adorable! Like the people in the house, the pups have paramount respect for personal privacy. If you're still reading this and haven't booked yet, do yourself a favor and just do it. You won't regret it.
Imran
2011-11-21T00:00:00Z
Awesome guys! Rachel and I had such a good visit to Portland. I really appreciated the breakfast options, all day tea and coffee and the private front entrance. The salon has a wonderful couple massage package. Highly recommended.
Jonathan
2015-10-27T00:00:00Z
My husband and I loved our stay at Meg's farm house! Meg was very hospitable and her dogs were the highlight of our trip. The bed was very comfortable and the room had everything we needed. Thanks again Meg!
Grace
2016-08-04T00:00:00Z
For me, it felt like home. I was very lucky, I had the upstair room with a rooftop windows. It was a full moon that night, an amazing view from my room. Meg was a life saver and money from wallet! I booked a wrong ticket back to NYC, not knowing anything about Maine transportations. Lovely Meg was up at 4 am, helped me out. Thank you, Meg for being MORE than just "house owner". 3
Hanh
2016-08-20T00:00:00Z
Room Type
Private room
---
Property Type
House
---
Accommodates
2
---
Bedrooms
Hollis Center, ME, United States
1

–

18

of

300+ Home Rentals
Enter dates to see full pricing. Additional fees apply. Taxes may be added.