Mon logement est proche de Madrid, les activités adaptées aux familles sont les centres d'intérêts culturel, comme les musés, cathédrales, À 10 kms se trouve un centre d'activité commercial (Xanadu) avec possibilité de skié durant toute l'année., les transports en commun, le bus de la ligne 1 El Pinar-La Dehesa passe chaque demi heure aux arrêt proche de la résidence qui amène au centre de Navalcarnero, où se situe l'autres arrêts avec la ligne 528 qui décerne Madrid capital par Principe Pío. .
Room Type
Entire home/apt
---
Property Type
Flat
---
Accommodates
4
---
Bedrooms
Navalcarnero, Comunidad de Madrid, Spain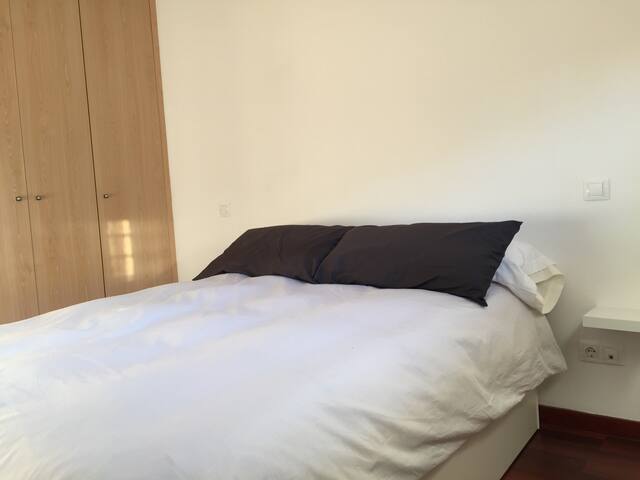 Beautiful penthouse in the center of the historic town of Navalcarnero. The Villa Real founded in 1499 has a great cultural and monumental attraction. From the property you will enjoy a spectacular view of the historic skyline.
The completely refurbished property has 2 bedrooms, 1 bathroom and 1 toilet, fully equipped kitchen, a living room and a formidable terrace where you can leave trapped by the charm of this village.
We are in the center of the historic town of Navalcarnero, just two minutes walk from the espetacualr century church, the wine museum, the main tourist routes and the Plaza de Segovia (typical Castilian square) surrounded by typical restaurants, supermarkets and shops.
Martins place has a great view from the rooftop deck area. A well appointed apartment with everything you need for a comfortable stay. Recommend car or other transport as the town itself is fairly small.
Finn
2016-11-03T00:00:00Z
Martin was lovely. My friend and I got late in reaching Navalcarnero and he offered to pick us up from the isolated bus stop. We reached his house and the penthouse was soooo good! The apartment was very clean and tidy and just perfect. The terrace has been one of the prettiest we have seen with an amazing panoramic view of the town. We got locked out of the apartment and Martin is so nice he came in the middle of the night to help us out. Thank you so much and apologies for everything Martin!
Megha
2015-12-28T00:00:00Z
It was really Nice. The appartement is a good price-quality range and the terrace is perfect for siësta. The city itself is a really Nice base for a relaxing holidays!
Laura
2016-10-11T00:00:00Z
Awesome place and awesome location. Very peaceful and friendly environment.
kalyan
2016-09-01T00:00:00Z
Martin's apartment is really amazing, big and bright, beautifully decorated with an amazing terrace. The neighbourhood is amazing for discovering surroundings of Madrid and also city center is reachable fast by car. It's an amazing place for quiet relaxing getaway from city noise and crowds. Highly recommended!
Veronika
2016-06-04T00:00:00Z
Everything went very smoothly. Parking was a little difficult, as it was a holiday weekend, but we were still able to find parking on the street. Place is a great price for the space you get, and it was a surprisingly nice town to stay in. I would recommend staying here.
Josiah
2016-09-05T00:00:00Z
Navalcarnero is a small and entirely lovely town. I thought it would be a great base, but I found myself happy and settled there. There are good shops and restaurants and the town is full of lovely churches, green spaces and very pleasant and welcoming people. The apartment itself is wonderful - the terrace especially, which is as good as the photographs lead you to believe. Homely and attractive, it was spotless and well-kept and very comfortable. I recommend it without reservation.
James
2016-08-30T00:00:00Z
It was very comfortable to live there. Good bathroom and grand terrace were very homely for us. We had all amenities for living there. Martin is a nice host, who left his flat for us without any questions!
Nadiya
2016-01-01T00:00:00Z
Room Type
Entire home/apt
---
Property Type
Flat
---
Accommodates
4
---
Bedrooms
Navalcarnero, Comunidad de Madrid, Spain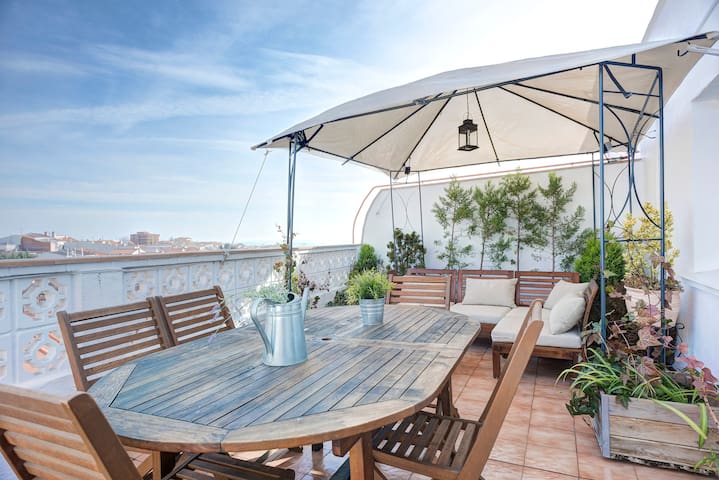 Double bed for 1 or 2 people in spacious apartment with lots of light, near pine forest. Parking space, swimming pool, full kitchen, terrace and near historical centre with local winery and great places to eat. Regular buses to Madrid centre nearby.
Fully furnished bedroom with balcony and independent bathroom in a lovely, quiet apartment on second floor with lift. Practically new and very clean. Lots of natural light in this 3 bedroom, 2wc apartment.
Navalcarnero dates back to 1480 and offers lots of historical sightseeing. With a beautiful pine forest nearby, Navalcarnero is a great place to get away from the hustle and bustle of the big city, while offering regular transport to and from Madrid. Segovia Square is a great place to go out and unwind.
Room Type
Private room
---
Property Type
Flat
---
Accommodates
2
---
Bedrooms
Navalcarnero, Community of Madrid, Spain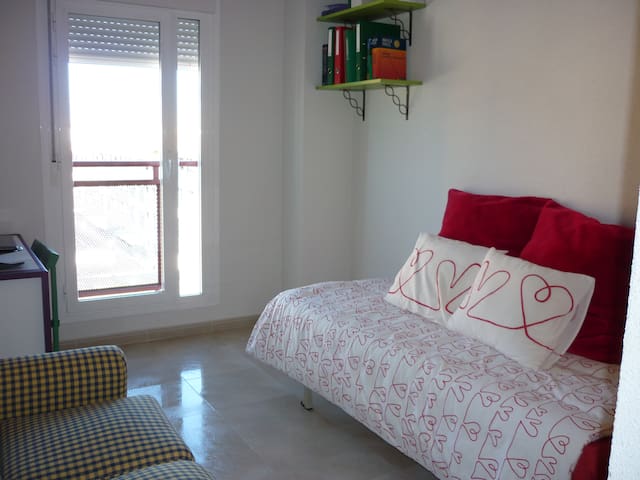 El piso es bonito con mucha luz y una terraza muy grande situado en el casco histórico, con parada de bus al lado que te llevará en 20min. a Madrid. El cc Xanadu está a 10min. Navalcarnero te va a gustar y se come genial
En el apartamento se pueden alojar hasta 6 personas porque en los dormitorios individuales pueden ponerse camas supletorias
Navalcarnero es muy bonito, se ha respetado la arquitectura por el casco antiguo con una típica plaza castellana, y tiene buen vino y buena comida en restaurantes aptos también para celíacos. En la parte de abajo del edificio hay un pequeño supemercado que habre todos los dias. A 4km esta el CC Xanadu que cuenta con una pista de esqui, tiendas,cines y restaurantes
Room Type
Entire home/apt
---
Property Type
Flat
---
Accommodates
6
---
Bedrooms
Navalcarnero, Comunidad de Madrid, Spain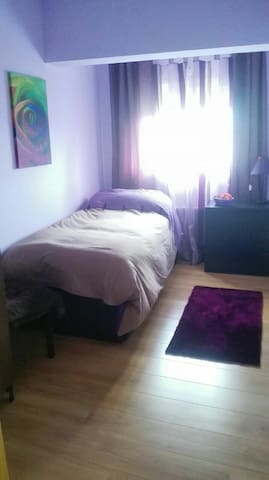 A beautiful loft in downtown Navalcarnero 20 minutes from Madrid. Typical tourist town in the province of Madrid. This has a double bed and two singles. Bath (URL HIDDEN) has a little swimming pool with a sitting area.It has 2 parking spaces
More nights a personalized study will be done. Special family discounts. The accommodation is in a townhouse. It is a very special, very spacious and bright where an energy of peace and tranquility attic. It is totally independent of the house. We have two double beds and a single bed. Also an extra bed, 4 mattresses and an inflatable double mattress. A total capacity of 10 people. We also have another place in the house that can accommodate five people. It is also totally independent. We will be present at the reception and we like to talk with the guests to indicate any questions you have. We have dogs and cats at home, but in this room and in the bathrooms never come, in fact live in the courtyards. It is an ideal space for courses and lectures. Ideal for yoga, tai chi, massage, pilates ... You'll love it !!!!
El alojamiento está en una zona muy tranquila en pleno centro del pueblo (justo detrás de la plaza principal). Navalcarnero está muy cerca de madrid y es muy turístico, es un pueblo muy bonito lleno de trampantojos (una de las fotos es del trampantojo que hay delante de nuestra casa), cuevas e iglesias. Famosa su Plaza de Segovia y sus restaurantes, donde la gastronomía es muy apreciada, así como sus bodegas donde hay vinos con denominación de origen. Xanadú, el Parque de la Nieve, se encuentra sólo a 5 minutos. Entorno natural para montar en bici, caballos o caminar simplemente. Nos encontramos en la cuenca baja del Guadarrama.
Pablo was so welcoming! I loved staying in his home, and getting to know about his life in Navalcarnero. It is a really beautiful town, and lovely at sunset. His attic room was really comfortable, and cool in the night. Put Navalcarnero on your list!
Mark
2015-06-20T00:00:00Z
The place was as described,great location in town and hosts always ready to help and meet all our needs.
Tamara
2015-06-11T00:00:00Z
Sonia et Pablo sont des hôtes très agréables. Chaleureux, ils font en sorte que l'on se sente chez soi. Le logement est spacieux, doté d'équipements complets. Pablo craignait que la forte chaleur soit incommodante, mais l'ouverture des velux a permis de passer une nuit très agréable. (Je n'ai meme pas utilisé la clim). Je recommande ce logement qui permet d'accueillir une famille nombreuse.
Gillian and Eric
2016-07-14T00:00:00Z
Una experiencia genial. Pablo y Sonia muy atentos a cualquier necesidad, unos anfitriones estupendos, sin duda repetiré con ellos.
Josep Lluis
2016-09-15T00:00:00Z
Pablo y Sonia son encantadores, nos acogieron muy bien y nos ayudaron con todo lo que podían. Nos sentimos muy a gusto en su casa. La buhardilla era tal como sale en las fotos; amplia, luminosa y acogedora. El pueblo también era muy bonito y comimos muy bien gracias a una recomendación de Pablo y Sonia. Esperemos volver algún dia.
Sanne
2015-06-28T00:00:00Z
Pablo y Sonia se han preocupado mucho por mí, siempre me han preguntado si todo estaba bien o que si necesitaba algo más, estando siempre pendientes. La zona, Navalcarnero, es una zona muy tranquila y segura. En resumen ha sido una experiencia muy agradable vivir aquí con ellos.
Loo
2016-10-29T00:00:00Z
les hôtes sont très accueillants et très sympathiques. L'endroit est sympa, spacieux et le lit confortable. C'était propre, rien a redire.
Maxence
2015-05-22T00:00:00Z
El atico no estaba disponible, nos metieron en "la casa de pueblo" que es el garaje/sótano acondicionado comp vivienda
Yoan
2016-06-26T00:00:00Z
Room Type
Entire home/apt
---
Property Type
Flat
---
Accommodates
8
---
Bedrooms
Navalcarnero, Comunidad de Madrid, Spain
New! Parking outdoor is free in this safe area, Private apartment with swimmingpool and BBQ speed Wifi conection available. View to the Shop center and snow track. Traditional gastronomy and wines just 5 mins. away. Royal Palace just 25 mins.
This beautiful apartment is located in the south-west of Madrid, in the town of Mostoles residential area called Coimbra Park. Children between 4-12 years pay only 5€, if they are less than 4 years old, they are welcome for free to stay at home. Cradle available for kids !!! We are only 20 minutes drive from the Plaza of Spain from the center of the capital, also from there, buses leave every half hour at this development and brings you in exactly in 30 minutes, and the bus stop is just two steps from the door of the house. In the opposite route takes you to the Principe Pio's Mall, a few steps from the Royal Palace and Plaza de España. The private apartment is very bright, floors all in marble, underfloor heating, open garden view, the pool and the shopping center. Divided in: A spacious room with big window to the garden. Modern bathroom with shower and bathtub, sink and bathroom floor are all in glass with a particular effect cast a whim. From the bathroom you have direct access to the dressing room And followed the master bedroom. It also has fitted kitchen. Bathroom for visitors Spacious living room also overlooking the pool and garden. The villa has 3 floors, guests have independent access to the ground floor, where is located the separate apartment.
Safe and very quiet residential area. With tailored services, Mercadona's supermarket 3-5 minutes, pharmacy, hospital 6 mins., Spa and fitness center with saunas 8 minutes, traditional Madridian village called NAVARCANERO just 5- minutes by car where to taste local wines and local gastronomy Xanadu mall, where you will find all kinds of leisure ... shops, El Corte Inglés, Hipercor, Zara, Formula One track, cinemas, large indoor snow slope, bars and cafes. international restaurants (Chinese, Japanese, Istanbul, Brazilian, American, German, Italian and of course the SPANISH), etc.
We have spent the summer traveling Europe. This ,place was by far the biggest. It took me a day just to remember where all the rooms where . And very nice inside. The pool was amazing. Not large. But very private and nice. It has your own barbecue . Covered picnic table. Soft and beautiful grass. It was a piece of paradise . I did not use the bus. I had a car and parking on the street was very very easy. An amazing mall was only a few minutes drive. You can even snow ski in the mall. Our host was very nice. Carmen was on vacation . But her family took care of us. They even took my 14 year old daughter to the zoo. We loved our time in Parque Coimbra.
warner
2016-08-04T00:00:00Z
We liked the house very much! Carmen and her husband live upstairs but we still had our own peace as they had their own private entrance. Garden was well taken care of and barbecue place was good to have for making food. Our holiday was crowned by Carmen's heavenly Paella, which we had in our last evening in Parque Coimbra. Evening dinner was a great experience for all of us, especially for our kids. It would have been nice to get to know Carmen's family better if there had not been language problems.
Titta
2016-06-14T00:00:00Z
Very friendly people. lovely apartment and yard. We didn't use swimming pool. Easy acces to Madrid city by bus. Big shopping centre near. We travelled with baby, there is stairs down to apartment so must curry If use trolleys. Sometimes we felt that we would need more privacy.
Niina
2016-10-13T00:00:00Z
Carmen was delightful and welcoming. The location was perfect for us as we were visiting the university at Villaviciosia de Oden which is just a short drive away. The apartment is delightful and very clean, Carmen is very house proud. It was lovely sitting in the garden in the mornings and evenings. There is a restaurant and a supermarket within walking distance and a large shopping mall with both shops and restaurants within 5 minutes drive, busses do come past very nearby on a regular basis but we hired a car so can not give any further information. On a map it looks very close to the motorway and it is but do not be put off as you can hear no traffic at all inside. Our son will be at the university for the next 5 years and I will have no hesitation in returning or recommending Carmen to our friends.
John
2015-05-10T00:00:00Z
It was a great pleasure to visit Carmens beautiful house. She and her daughter gave us a very warm welcome and were very helpfull. The house is very comfortable and the pool is great. The city center of Madrid only 20 min. drive. Recommanded!
Manuela
2015-07-09T00:00:00Z
Carmen was very friendly when we arrived, and showed us how to get to the closest shopping places (the mall). Unfortunately because our group was off early each morning to different cities, we only saw Carmen on our last full day when we were relaxing by the pool.
Kevin
2016-04-04T00:00:00Z
Carmen was very welcoming and living just above the apartment, she was very flexible when we arrived later than anticipated. The apartment had a very unique style as shown in the photos, but would need a bit more maintainance as quite a few things were not in proper working order. But overall it was a nice stay. Thank you, Carmen.
Andreas
2015-10-10T00:00:00Z
Carmen's apartment was a lovely place to stay and I would definitely recommend it to anyone wanting to stay in Madrid but outside the hustle and bustle of the main city. We had some language barrier problems but Carmen was very helpful and accommodating, and this situation was quite funny and broke the ice a bit. The showers were tricky to use and the temperatures were either boiling or freezing but that wasn't too bad. There are lots of left over toiletries you can use, and things like tea and coffee, we didn't know about these and bought some bits with us. The BBQ area is awesome and we had an amazing meal cooked by my best man on the Saturday. I wish we had taken advantage of the bus service, which I completely forgot about, and we spent a good few hundred GBP on taxis. The group sends their thanks Carmen, your home is lovely and you are a great host, I hope I get to stay again some day. X
Matt
2016-05-23T00:00:00Z
Room Type
Entire home/apt
---
Property Type
Flat
---
Accommodates
8
---
Bedrooms
Parque Coimbra, Community of Madrid, Spain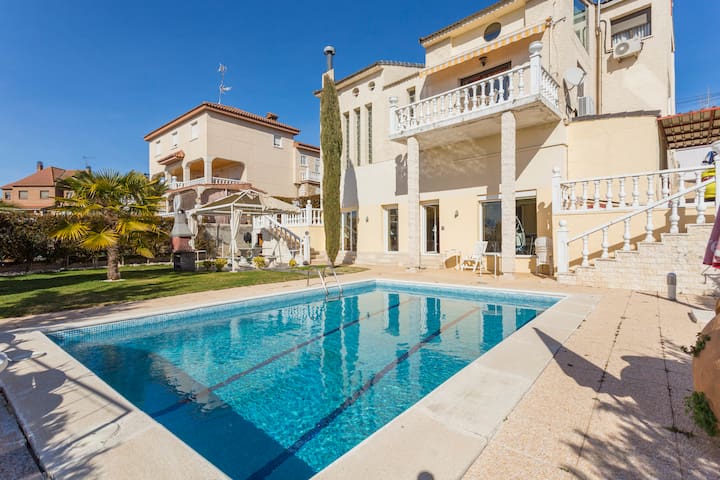 Bright apartment in quiet area of Villanueva de la Cañada, 10 minutes from the Alfonso X University and a bus stop at the door (627). Fully furnished with all the necessary items to move. Two bedrooms, two bathrooms, living room with kitchen, drying area, large closets. Garage in basement, pool, garden.
quiet area near the main road and 10 minutes from the University Alfonso X.
L appartement est impeccable et Cristina fait tout pour que l on soit comme chez nous. Je recommande vivement cet appartement.
Murielle
2017-03-07T00:00:00Z
Cristina est arrangeante et laisse une grande liberté à ses locataires ! Il est facile de se sentir comme chez soi dans cet appartement équipé et propre Je garde l adresse et a très bientôt !
François
2017-02-24T00:00:00Z
No pudimos alojarnos por causa mayor y Cristina nos devolvio el dinero. Recomendada
Angel
2017-02-12T00:00:00Z
La casa es muy acogedora, Cristina una gran anfitriona siempre atenta y muy detallista. Sus vecinos muy amables y la zona bien comunicada y tranquila. Repetiremos seguro
Lourdes
2017-03-22T00:00:00Z
Room Type
Entire home/apt
---
Property Type
Flat
---
Accommodates
3
---
Bedrooms
Villanueva de la Cañada, Comunidad de Madrid, Spain
Zimmer zu vermieten in Zweifamilienhaus. Innenstadt-Wohnung innerhalb von 1 Minute zu Fuß von Supermärkten und ambulante Patienten. Ein 10 Meter. Bushaltestelle, 3 Stationen von der Hochschule. Es hat WIFI! Etage ruhig und komfortabel. Doppelbett auch nur für einen einzigen Gast. Inklusive Frühstück! Bed & Breakfast!
komfortabel, zentral und komfortables Haus
Das ist im Herzen der Stadt (obwohl es ist ein ruhiges Haus) und haben alles in der Hand
David is super friendly and the house is beautiful and centric in villaviciosa close to everything. Recommend :(URL HIDDEN) David es muy simpatico y la Casa es muy bonita y centrico en villaviciosa y cerca de todo. Recomiendo :)
Heli
2016-10-30T00:00:00Z
David has been a ready nice host ! Taking time to give me good advices on the neighbourhood . Moreover the house is really cosy ,nice and clean. The bedroom is like on the pictures . Well everything is good, I would recommend it!
cesar
2016-09-14T00:00:00Z
Bien ubicado,una casa acogedora y bien decorada . Y David un buen anfitrión.
Jorge
2016-12-22T00:00:00Z
Una estancia genial, es un piso acogedor, limpio y moderno. David ha sido muy cercano y atento desde el primer momento. Muy buena experiencia.
Pablo
2017-02-11T00:00:00Z
Super estancia ! Muy amable y acogedor !
Josselin
2017-01-14T00:00:00Z
Casa, al igual que el dueño, muy acogedora. El anfitrión siempre estuvo atento y resolvió todas mis inquietudes. Las fotos reflejan la estancia a la perfección. Muy recomendable.
Miguel A.
2016-10-15T00:00:00Z
Como en mi última estancia, todo perfecto
Jorge
2017-01-10T00:00:00Z
Una estancia genial! El piso es limpio y acogedor, y David es un anfitrión encantador!!
Laura
2017-03-06T00:00:00Z
Room Type
Private room
---
Property Type
Flat
---
Accommodates
2
---
Bedrooms
Villaviciosa de Odón, Comunidad de Madrid, Spain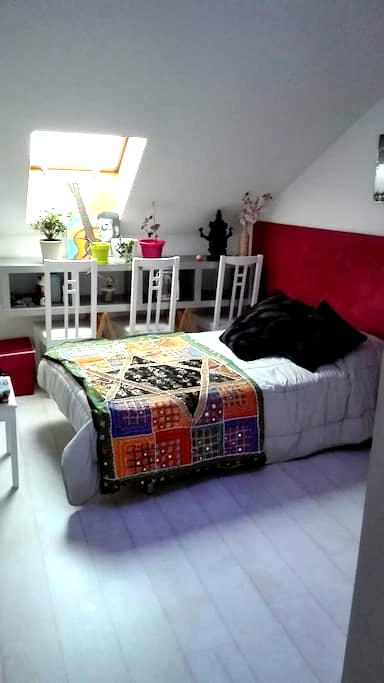 Bel appartement entièrement meublé et équipé. Super cadre avec grand jardin et piscine. Il dispose d'une terrasse privée. Cuisine: Réfrigérateur, plaque vitrocéramique, four, micro-ondes, hotte aspirante. Salle de bains: Radiateur sèche-serviettes ferroviaire, cabine de douche. Salon: Climatisation / chauffage, TV haut de gamme, Home cinéma haut de gamme, haut de gamme DVD Blue Ray. Il dispose d'une connexion Wi Fi et fibre optique TV Movistar Fusion (avec tous ses canaux). Tous les appareils et ustensiles disponibles
Il a de bonnes connexions avec les principaux axes routiers Madrid
Room Type
Entire home/apt
---
Property Type
Flat
---
Accommodates
2
---
Bedrooms
Villanueva de la Cañada, Comunidad de Madrid, Spain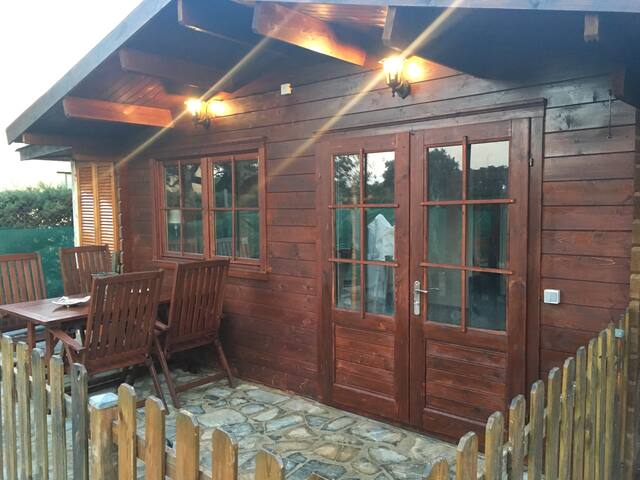 1 habitación con una cama de 90 cm. con escritorio y armario, baño privado , todo en apartamento tranquilo situado en la urb. Parque Coimbra (Móstoles), ajardinada y lltranquila con todos los servicios, muy cerca del C. Comercial Madrid-Xanadu. A sólo 20 km de Madrid , y la 25 minutos en el bus que sale cada hora de la urbanización hacia Madrid
2 rooms with bath deprived in apartment placed in the urb. Park Coimbra (Móstoles), landscaped and calm closely together of the C.Comercial Madrid-Xanadú. Here you will be able to enjoy a track of snow to practise Ski and Snowboard all the year round. Also I will be able to give you recommendations on activities and excursions that to realize for the surroundings. The apartment is to only 22 km from Madrid, Ctra. Estremadura N.V, with bus (n º 534) going out every hour towards Madrid. In 25 minutes the center of Madrid comes near to the station of Pious Prince with Meter L-10 and L-6 and buses, near Plaza of Spain and Sun. Also there is a bus 524 up to Móstoles where the suburban train can think towards Madrid or the Meter Bus. One of the rooms has 2 beds and individual other one of 1 bed. Also
Parque Coimbra es una urbanización muy tranquila, espaciosa y muy verde pues estamos rodeados de jardines. Además cuenta con un pequeño zoco y un supermercado, biblioteca y Centro de salud. A unos 20 km de Madrid y al lado del Centro Comercial Madrid Xanadu. Esta muy bien comunicada con Madrid mediante el autobús 534 que sale cada hora hacia la estación de Príncipe Pío en Madrid .
Gloria is a very sympathic and nice person, she picked us up at the train station. The house was very clean and comfortable; we had our own bathroom. We had s really nice and pleasent time in Móstoles.
Sarah
2012-08-30T00:00:00Z
We had a good experience with Gloria. She was very kind to us as we arrived and throughout the duration of our stay. She allowed us the perfect amount of privacy, with our own room and bathroom. All the amenities that we needed were there in case we forgot something (Towels, toothpaste, shampoo etc.) The house, however, was not the most comfortable. It was very dark all of the time, and extremely hot. Out of the four nights we spent there, I would say I only slept good one of the nights. I do tend to get hot at night though, but I had to get a sheet wet and put it in the freezer one night in order to cool down. Other nights I used these ice blocks from her freezer and spread them all over the bed because I felt so overheated. The room is small, has no fan, and only a small window. Sorry Gloria, but the beds were pretty bad as well. One squeaks with the slightest movement. The house is also really far from anything. You're looking at a 15 minute walk to the bus stop, a 20 minute bus ride, and 2 train rides to get into the center of Madrid or anywhere fun. I loved Gloria and she was very nice, but due to the heat and location of the house I wouldn't recommend this room to anyone who plans to go to madrid a lot, or anyone that hates sleeping in a hot room (like me!). It's a good quiet get away for an older couple maybe.
Zach
2014-09-04T00:00:00Z
Gloria was a great host, she made everything available for us, we were allowed to even use the kitchen and she made space in the fridge and in the bathroom for our stuff. The neighbourhood is very quiet, but it's lovely and very green, full of parks and open spaces. The overall experience was wonderful and we'd definitely recommend staying here.
Yvonne
2014-08-27T00:00:00Z
Gloria is a nice and polite lady.Her son is coo guy as well.Clean house/bedroom, and large private bathroom as listed Good stay overall in a pleasant neighborhood.
Matt
2014-02-24T00:00:00Z
Gloria was very helpful and she provided lots of information including maps and timetables for us. We enjoyed our stay.
Victor
2012-07-11T00:00:00Z
We were 3 people and stayed for 2 nights at Glorias apartment. Since we were traveling by car, we didn't want to stay directly in Madrid. Glorias apartment was the right choice. The description is absolutely correct. Gloria is a very pleasant host and gave us a lot of information, how to get to Madrid by public transportation. We visited the city almost all day long, but when we came back to her apartment, there was still a little bit time to talk with her. I give fully recomendation.
Sven
2012-08-04T00:00:00Z
gloria was wonderful. she met us late at night at the bus stop. she also drove us to the post office and the bus stop. she has a beautiful apt. very nice neighborhood.
jim
2012-07-31T00:00:00Z
Glória is an amazing host, gave us all information about where to go nearby and good tips about parking and transport in Madrid. The flat is in a residential area and easy to find a parking slot on the street. Perfect location for travellers with car, it is 15 min away from Madrid and 1 hour from Segóvia.
Patricia and Sergio
2012-10-22T00:00:00Z
Room Type
Private room
---
Property Type
Flat
---
Accommodates
1
---
Bedrooms
Parque Coimbra, Community of Madrid, Spain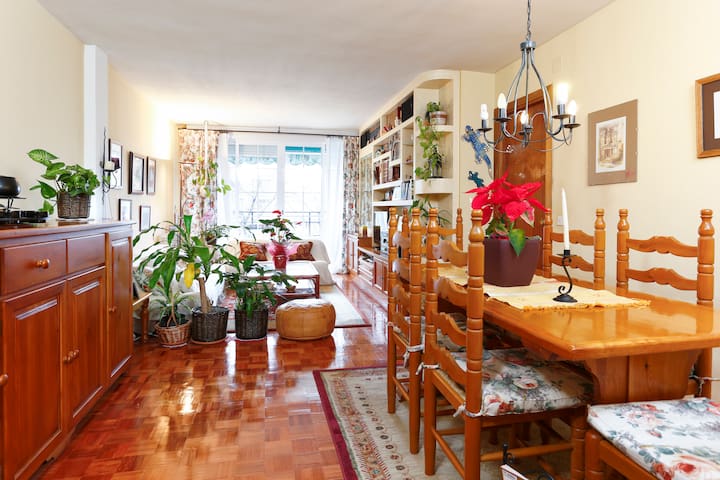 Cozy Apartameto 15 minutes du centre-ville de Madrid à Villaviciosa de Odon situés à proximité de toutes les commodités dans un environnement calme et natural.Son quatre autres appartements composé d'un séjour avec coin cuisine et salle de bains 1 chambre
A
Benjamin
2017-03-01T00:00:00Z
The host canceled this reservation 26 days before arrival. This is an automated posting.
Francisco
2015-08-10T00:00:00Z
The host canceled this reservation 2 days before arrival. This is an automated posting.
Yusria
2015-07-07T00:00:00Z
Room Type
Entire home/apt
---
Property Type
Flat
---
Accommodates
2
---
Bedrooms
Villaviciosa de Odón, Comunidad de Madrid, Spain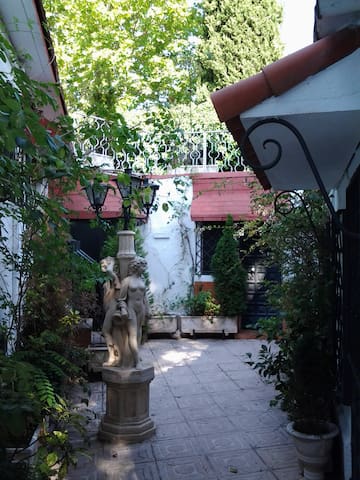 Schöne Maisonette in der Mitte der Stadt, drei Zimmer auf der obersten Etage, Bad, im Erdgeschoss: ein großes Wohnzimmer, eine voll ausgestattete Küche, Speisekammer, Balkon auf die Straße und WC. Sehr hell, Pflege, mit allen Dienstleistungen.
Estupendo apartamento , céntrico y en una bonita zona de la provincia de Madrid. Bien comunicado con la capital (15'). No tiene tv ni internet. Amplia oferta hostelera en sus inmediaciones que no impiden la tranquilidad.
Poli
2016-05-23T00:00:00Z
Nuestra estadia en el apartmento fue uy comoda, nos sentimos como en casa. Lilia estuvo muy atenta todo el tiempo. Cuando le dijimos sobre nuestra necesidad de internet, ella nos dejo un un dispositivo Wifi para nuestro uso a libre coste. El apartamento esta muy bien equipado. Ubicacion centrica y tranquila. Recomendaria a este sitio a cualquier persona que quiera visistar Madrid con la familia y quiera quedarse en una zona tranquila y comoda. Mariana
Carlos
2016-07-06T00:00:00Z
Bon accueil. Photos sur le site correspondent bien à l'appartement. Quartier du centre sympa mais problème de parking
isabelle
2016-05-09T00:00:00Z
Room Type
Entire home/apt
---
Property Type
Flat
---
Accommodates
6
---
Bedrooms
Villaviciosa de Odón, Comunidad de Madrid, Spain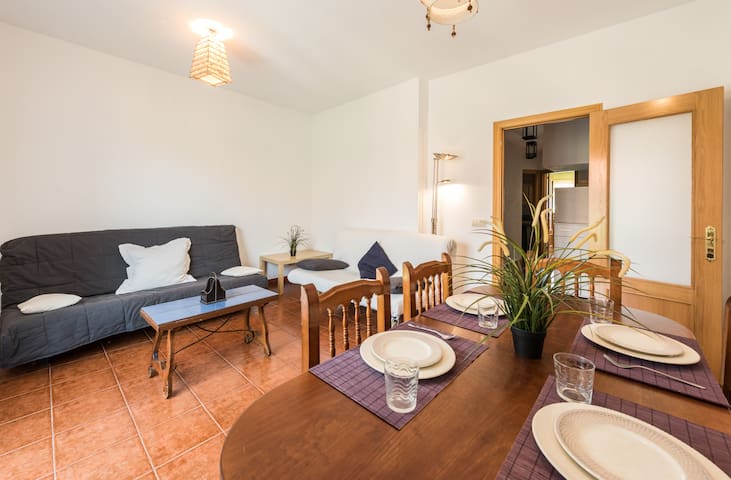 Precioso apartamento totalmente amueblado y equipado. Zona residencial, ideal para el descanso. Atendemos personalmente. Dispone de piscina y amplio jardín. 1 Habitación de matrimonio, 1 sofá cama para 2 personas, salón con TV, cocina y baño completo
The apartment is fully furnished and equipped ... Forget bring sheets, towels, etc ... We receive you personally
The area is a residential area, where the silence of the city and the sound of nature live.
Great host family that made us feel very welcome. Fantastic pool area and garden. The apartment has all the amnesties that you need. Can really recommend to book this place if you want a mix of sun/bath and city on your vacation.
Madeleine
2016-06-11T00:00:00Z
The home was very comfortable. Quiet and peaceful!! Great host and family!
Arly
2016-06-29T00:00:00Z
Simply the best host ever! Amazing place and better people. Can I make it any clearer? Simplemente el mejor anfitrion que he tenido! Un sitio genial e incluso mejor personas. Puede estar ma claro?
Christian
2016-08-04T00:00:00Z
Room Type
Entire home/apt
---
Property Type
Flat
---
Accommodates
4
---
Bedrooms
Villanueva de la Cañada, Comunidad de Madrid, Spain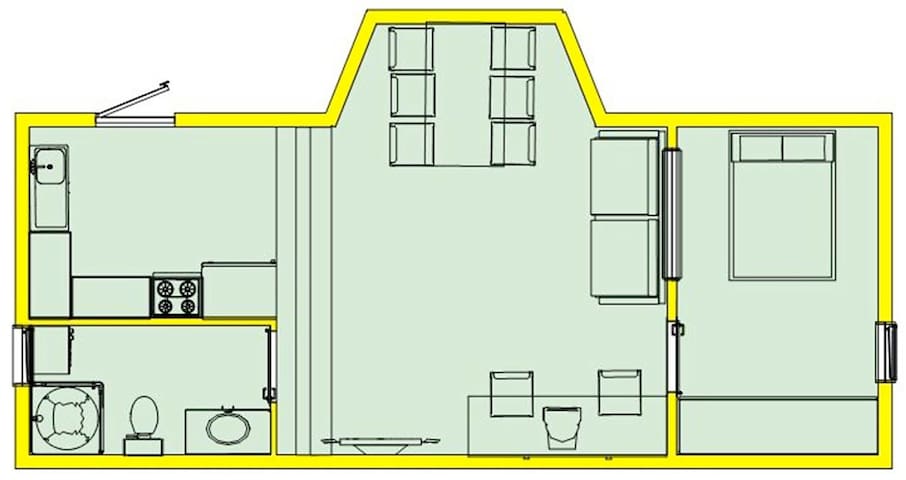 Beaufiful Studio , 40 m² fully furnished ,kitchen fully equipped, Furnished, equipped with all appliances included, wood floor , private bathroom with a hydro-massage shower.Possibility of adding a supplementary bed or a cot . WI-FI internet access Located in The northwest área of Madrid ; 30 km. from the city centre, 5 minutes from Campo de Las Naciones Trade Fair Grounds, 20 minutes from Barajas Airport, 10minutes from The nearest Shopping mall. Summer: We have The best water park of Madrid ( Acuopolis).
Zona muy tranquila pero muy bien comunicada. Autobuses a Madrid y periferia a sólo 100m.
La verdad que Francisco fue muy amable y atento desde el primer momento. El apartamento muy coqueto y acogedor con todo lo necesario para disfrutar de unos días por la zona. Muy recomendable!!!!
Joaquín
2014-09-28T00:00:00Z
Room Type
Entire home/apt
---
Property Type
Flat
---
Accommodates
2
---
Bedrooms
Villanueva de la Cañada, Madrid, Spain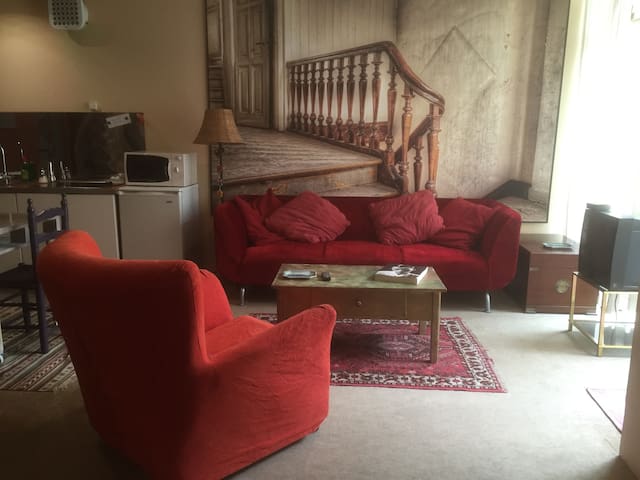 Ask for prices (discounts for weeks, months) A complete refurnishes bedroom w a large bed (ikea sofa x 2) a desk, a guardrobe, shelves. Complete Private Bathroom w bathtub. Perfect for UEM/UAX students/employers. Ideal parents/visitors/tourists. We can help you with infos/language/translate/trasfers Use Patio & Outdoor Pool (june-september) 2nd Bedroom w priv bathroom or entire apt available under request.
UEM university pueblo Ask for week/short stay 15 min by car (20 min by bus) from the centre! It looks far away but some metro station are more distant! Trust us! Enjoy the silence and have movida just nearby!
Good quiet neighbors, almost families and students of the university nearby. 24 hours safe area!
L'accoglienza è stata ottima, Eli e Ric sono due persone molto disponibili e attente, la descrizione dell'annuncio era precisa, il quartiere tranquillo.
Nicola
2016-10-09T00:00:00Z
Eli&Ric sono persone super. Estremamente disponibili e simpatici. Davvero delle belle persone. La casa è molto carina. L'abbiamo trovata pulita e accogliente. Ci sentivamo a casa!!! La consiglio a tutti!!!
Alessandro
2016-04-26T00:00:00Z
Todo fue perfecto, no hubo ninguna incidencia, tampoco estuvimos mucho tiempo en casa, pero la casera es muy simpática y amable.
Alberto
2014-12-01T00:00:00Z
Soggiorno di 7 notti a due passi dall'Università Europea di Madrid e nel pieno cuore di Villaviciosa de Odon. Elizabeth e Riccardo sono due persone simpatiche, disponibili, accoglienti e piene di vita. Ci hanno seguito ed aiutato molto cortesemente nella ricerca e nella scelta dell'alloggio definitivo; ci hanno guidato giorno dopo giorno a muoverci agilmente nella capitale spagnola, per non parlare dei consigli utilissimi relativi a ristoranti, musei, parchi, panorami e zone da visitare. Comoda stanza con divano-letto matrimoniale con tutto il necessario (armadio, scrivania e finestra sul giardinetto) e bagno privato pulito e luminoso. Elizabeth e Riccardo lasciano libertà nell'uso della cucina e delle zone comuni! Ottima esperienza nel complesso, torneremo sicuramente dai nostri nuovi amici italo-spagnoli!!! Marco e Lucia
Marco
2016-09-23T00:00:00Z
Accoglienza perfetta! Persone fantastiche e disponibilissime! Ci hanno consigliato dove andare, come muoverci ecc...
Maria Rita
2014-11-24T00:00:00Z
Es un luego muy agradable para dormir en el Rbnb porque la casa esta a proximo del autobus y mercadona. La pareja que tiene esta casa es muy gentil, mis prima y yo nos sentemos muy bien porque son personas de confianza
Francoise
2016-10-30T00:00:00Z
Room Type
Private room
---
Property Type
Flat
---
Accommodates
2
---
Bedrooms
Villaviciosa de Odón, Community of Madrid, Spain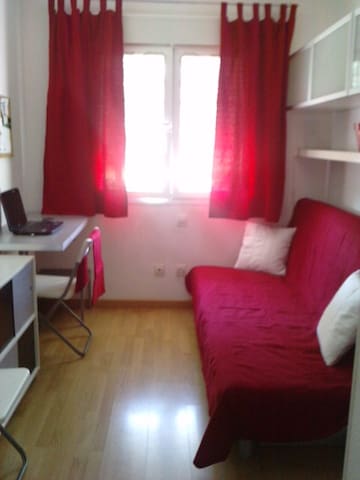 Activités: transports en commun et les parcs. Mon logement est bon pour les aventuriers et les voyageurs d'affaires. Les gens qui voyagent seuls et ont besoin d'un endroit pour dormir.
Room Type
Private room
---
Property Type
Flat
---
Accommodates
1
---
Bedrooms
Villaviciosa de Odón, Comunidad de Madrid, Spain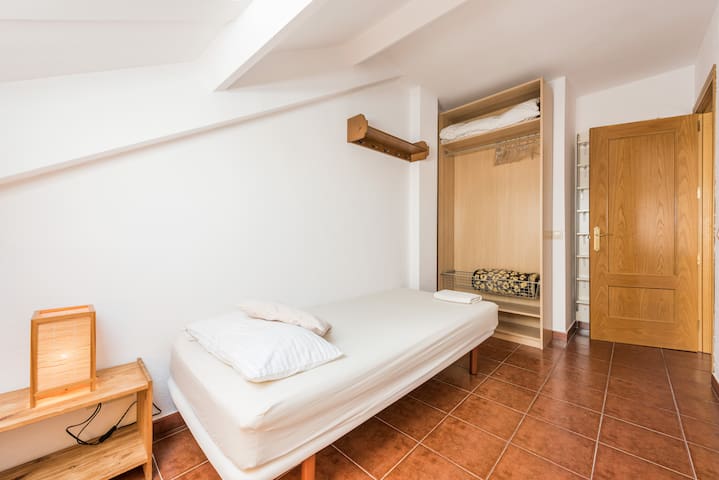 Perfecta habitacion individual y un toque minimalista con baño compartido.(con el anfitrión) en zona residencial. Muy bien comunicada (renfe,bus,metro) 15 minutos al centro de Madrid. Cerca universidad Rey Juan Carlos(campus Alcorcon) y justo al lado del Hospital. Zona de fácil aparcamiento. Ideal para turismo o estudios.
Casa con un ambiente familiar, donde te haremos sentir como sí fuese tu propia casa. Una habitación individual.muy luminosa que consta con un amplio escritorio para estudio/trabajo, disponibilidad de toallas y productos del baño (gel/champú etc). Conexión a internet a través de fibra óptica disponible. Desayuno incluido ( leche,café,galletas o magdalenas).
Barrio residencial en Alcorcon (Madrid) de fácil acceso tanto en vehículo particular como en transporte público (renfe, bus, metro) directos desde el centro de Madrid. Para los huéspedes que llegasen al alojamiento en su vehículo particular no habrá problema de aparcamiento, siempre habrá donde aparcarlo justo al lado de casa. Barrio tranquilo de reciente construcción con todo tipo de bares restaurantes y comercios donde poder comer y tomar las típicas tapas madrileñas. Buen vecindario y en definitiva un barrio tranquilo, ideal para pasar el día en los agobios del centro y retirarse a descansar tranquilamente en nuestra casa.
Juan and Miguel were the perfect hosts! Their apartment is beautifully furnished in a modern style, very clean and comfortable and in a nice neighborhood. They made sure that I had everything I needed, and not once was I lacking in anything! Both Juan and Miguel are very friendly and hospitable, and they were very patient with my poor Spanish skills! :) This was the perfect Airbnb experience, and I would recommend them without hesitation!
Elaine
2015-09-23T00:00:00Z
Miguel and Juan are very nice and friendly hosts. The appartment is in the new and safe neibourhood. The room is very clean, cosy and full of light. 10 minutes walk from the metro, and it takes about 35 minutes to reach the heart of Madrid. Close to the appartment you can find supermarkets, like Mercadona and Aushan, and restaurants. Especially I liked Museo de Jamon!). Highly recommended!
Tanya
2015-09-14T00:00:00Z
Everything was perfect, the flat itself was nice and cozy, Juan is very helpful and I can say it was nice to meet him!
Suren
2015-10-09T00:00:00Z
My 2 hosts are really great!! They made feel like home and had a lot of details! Thanks a lot for a great experience! The room is better than in the pics and the metro is 10 Min at the most walking
Eva
2015-04-05T00:00:00Z
Migual is a very friendly person and makes to feel like visiting a friend. The apartment was very clean and comfortable. The room is a bit small but sufficient for one person. The place is very near to the metro line and thus quite easy and inexpensive to explore the city. I had a good experience staying with Migual and his friend and will definitely be back if I need to be in Madrid again.
Mohammad
2016-03-10T00:00:00Z
The hosts are very friendly. They even pick me up from airport and lead me to the place I wanna to go in a very very hot summer day. Thank them so much!! And the place is really tidy and comfortable!!The only imperfect thing maybe the room is a little bit hot.
Luxia
2015-07-08T00:00:00Z
Close to metro/train station, nice host, valuable and cozy room!!! Highly recommend!!
zhiqi
2016-09-02T00:00:00Z
Alojamiento 100% recomendable. Un 10 en limpieza, servicios, amabilidad, desayuno, servicios, comodidad para aparcar el coche debajo de casa, etc...
IÑIGO
2017-01-04T00:00:00Z
Room Type
Private room
---
Property Type
Flat
---
Accommodates
1
---
Bedrooms
Alcorcón, Comunidad de Madrid, Spain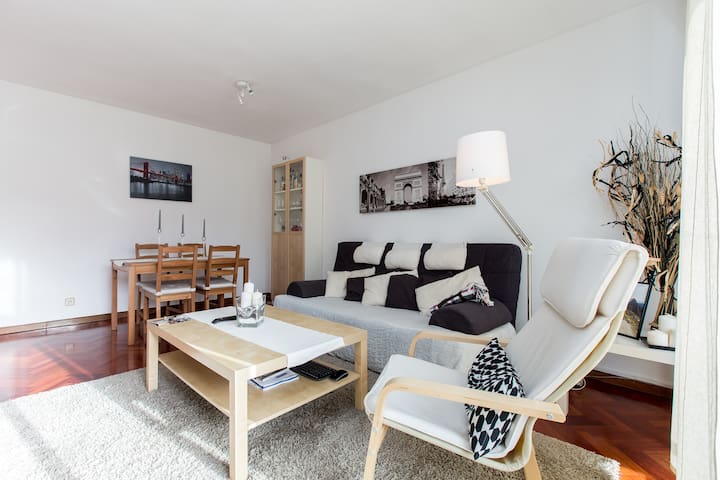 La chambre est équipée d'une salle de bains indépendante, ainsi que les chauffe-eau, 24 heures alimentation en eau chaude, veulent laver un bain chaud confortable, doit être correctement;
Room Type
Private room
---
Property Type
Flat
---
Accommodates
3
---
Bedrooms
维拉维奇奥萨(奥当), 马德里自治区, Spain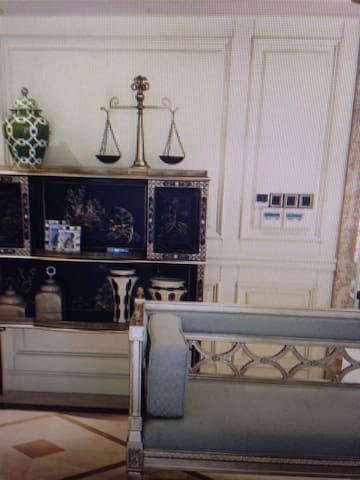 1

–

18

of

45 Flat Rentals
Enter dates to see full pricing. Additional fees apply. Taxes may be added.