Spacious and cozy apartment at 140 square meters. Includes: WiFi, satellite TV, washing machine. Living / dining room, large bathroom, 3 bedrooms, terrace, garden portion, parking in front of the house. Kitchen complete with dishwasher and microwave. Railway station and the town center in 5 minutes. Supermarkets, restaurants and local physicians. Many excursions: North Sea, Baltic Sea, Heide Park, Hamburg and Bremen, etc.
Spacious and cozy apartment at 140 square meters. Includes: WiFi, satellite TV, washing machine. Living / dining room, large bathroom, 3 bedrooms, terrace, garden portion, parking in front of the house. Kitchen complete with dishwasher and microwave. Railway station and the town center in 5 minutes. Supermarkets, restaurants and local physicians. Many excursions: North Sea, Baltic Sea, Heide Park, Hamburg and Bremen, etc.
Ales TOP. Tolle Unterkunft und sehr nette Gastgeber. Vielen Dank Mfg. Bobrowski
Bartosz
2016-09-13T00:00:00Z
Sehr tolle Wohnung mit sehr tollen Gastgebern!
Luciano
2017-02-02T00:00:00Z
Kommunikation mit Uwe war ganz gut, schnell. Er reagierte sehr schnell. Check in problemlos, die Wohnung auch ganz gut. Unsere Jungs hatten allles, was man zum Wohlfühlen braucht. Auf jeden Fall können wir diese Wohnung weiterempfehlen.
Anja
2017-01-21T00:00:00Z
Room Type
Entire home/apt
---
Property Type
Flat
---
Accommodates
4
---
Bedrooms
Scheeßel, Niedersachsen, Germany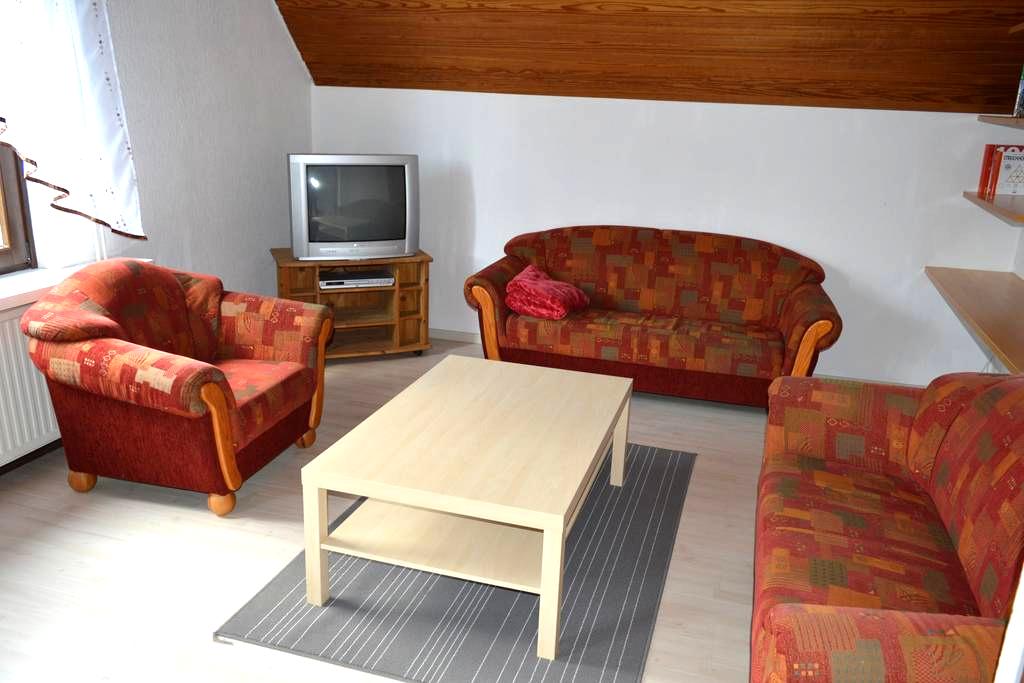 Nebenan in einem typisch norddeutschen Landhaus befinden sich unsere drei gemütlichen Ferienwohnungen. Mit viel Liebe zum Detail wurde der offene Wohnraum (teils mit Balkon) und Essplatz geschmackvoll eingerichtet.
Nebenan in einem typisch norddeutschen Landhaus befinden sich unsere drei gemütlichen Ferienwohnungen. Mit viel Liebe zum Detail wurde der offene Wohnraum (teils mit Balkon) und Essplatz geschmackvoll eingerichtet. Eine komplett ausgestattete Küchenzeile und ein modernes Bad sorgen dafür, dass sich unsere Gäste wie zu Hause fühlen. Alle Wohnungen verfügen selbstverständlich über TV und Stereoanlage. Im ganzen Objekt steht kostenlos W-Lan zur Verfügung. Lage- Umgebungsbeschreibung: ========================== Unser Ort Scheeßel Scheeßel liegt im sogenannten "Nassen Dreieck" zwischen Elbe und Weser, beziehungsweise zwischen Hamburg und Bremen. Direkt an der B75 und an der Europabahnlinie Nord-West, mit stündlichen Regionalexpressverbindungen nach Hamburg (ca. 45 Minuten) und Bremen (ca. 30 Minuten). Die A-1 ist ca. 10 Autominuten entfernt, (BAB-Abfahrt Sittensen oder Elsdorf). Scheeßel blickt mittlerweile auf eine über 1200 jährige Geschichte zurück.Hier gibt es immer etwas zu entdecken. Ausgezeichnete Wanderwege laden zur Erkundung der näheren Umgebung ein. Der Fluss Wümme präsentiert sich in einer lieblichen Auenlandschaft, ausgedehnte Forste machen einen Waldspaziergang zum Erlebnis. Auch der überregional bekannte Wümme-Radweg führt durch unsere schöne Beeke-Gemeinde. Scheeßels markanten Mittelpunkt bildet die St. Lucas-Kirche in reinem Bauernbarock. Der "Meyerhof" lädt zu Kultur- und Folkloreveranstaltungen ein. In der Nähe liegt das Heimathausgelände, Treffpunkt großer internationaler Tanzfestivals - weltweit bekannt. Scheeßel hat noch mehr "Historisches" zu bieten: Hier finden Sie eine der letzten großen Wassermühlen Deutschlands, die seit dem 15. Jahrhundert in Betrieb ist und auch als ältester frühindustrieller Betrieb im Landkreis gilt. Schon seit Jahren wird sie liebevoll restauriert. Scheeßel ist die Heimat von zwei international bekannten Trachtengruppen: "Die Beekscheepers" und die "Original Scheeßeler Trachtengruppe". Sie bewahren das überlieferte Kulturgut unserer Region. Seien es die Tänze und Trachten, die plattdeutsche Sprache und alten Geschichten, die noch immer am Spinnrad erzählt werden oder der weltberühmte, einmalige Scheeßeler Blaudruck auf Leinen und Textil. Aus unserem Ort stammen auch berühmte Maler und Graphiker. Scheeßel bietet noch einiges mehr. So zum Beispiel den 18-Loch Golfplatz in Westerholz, unser beheiztes Freibad, den Wildpark Lauenbrück, Kanufahrten auf der Wümme, Folklorefestivals und dem Hurricane Festival auf dem Eichenring - Austragungsort der Sandlangbahn Motorradweltmeisterschaften. Und wenn es ein bißchen weiter weg sein soll, dann geht es nach Verden in den Märchenpark, nach Walsrode in den weltgrößten Vogelpark, in den Safaripark Hodenhagen oder in den Heidepark Soltau.
Room Type
Entire home/apt
---
Property Type
Flat
---
Accommodates
2
---
Bedrooms
Scheeßel, Lower Saxony, Germany
My house is near the city center, hospital, railway station, 7 am - 10 minute walk. You'll love my accommodation because of its central location, practicality. My accommodation is good for all Single travelers, for example, a fast connection to Hamburg want (up to the main train station is only 23 minutes by train) have or in the nearby hospital to do or for travelers who want to enjoy the heath. A bicycle is available.
Ich habe mich bei Torsten wohl gefühlt. Er war darauf bedacht, dass es seinem Gast gut nach dem Motto: "feel free what you like to do" Die Umgebung ist angesichts der zentralen Lage sehr ruhig und bietet Gelegenheit für schöne Spaziergänge.
Antje
2016-10-14T00:00:00Z
Room Type
Private room
---
Property Type
Flat
---
Accommodates
1
---
Bedrooms
Buchholz in der Nordheide, Niedersachsen, Germany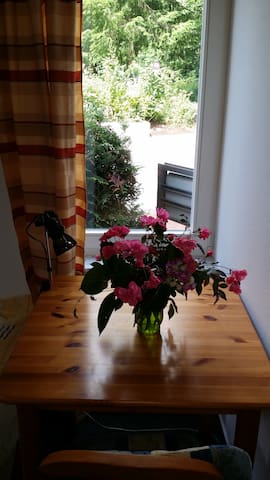 Es erwartet Dich eine wunderschöne Wohnung auf einem Bauernhof in Dibbersen vor den Toren Hamburgs. Hamburg ist mit den öffentlichen Verkehrsmitteln erreichbar. Vor der Tür fährt ein Bus nach Buchholz. Dort fährt der Metronom z.B. regelmäßig nach Hamburg. Die Autobahn erreicht Ihr mit dem Auto in 3 Minute. Direkt in Dibbersen gibt es einen McDonalds, eine Tankstelle und ein paar Restaurants. Rauchen ist auf dem Balkon erlaubt, in der Wohnung selbst nicht.
Der Spitzboden wird in der Woche als Arbeitsraum genutzt. Deswegen habe ich das Angebot auf die Wochenenden beschränkt. Wer nur zum Schlafen kommen möchte, kann gern auch eine Buchung in der Woche anfragen. Auf dem Spitzboden gibt es zwei Ausklappmatratzen. Es können auch gern mehr als 2 Personen buchen. Dann müsste nur eine/mehrere zusätzliche Matratze(n) mitgebracht werden.
We had a great stay at Ursula's. The place was very clean and welcoming. Absolutely recommended.
Barbara
2016-07-16T00:00:00Z
Ursulas place is calm and clean and everything was perfectly prepared for us when we arrived. I can warmly recommend Ursulas place and her as a host. She was able to organize everything impeccably even though she herself was in Bali.
Tomas
2016-03-28T00:00:00Z
Quiet neighbourhood, very beautiful garden next to the appartment
Wim
2016-05-30T00:00:00Z
Amazing experience! Lovely place, all clean and nice
Michael
2016-05-22T00:00:00Z
The host canceled this reservation 9 days before arrival. This is an automated posting.
Franziska
2016-11-30T00:00:00Z
Delightful house with nice balcony and all facilities available. Very conveniently close to the highway exit nr. 42 and very easy to find. Very clean and private sleeping quarters upstairs with no disturbance from downstairs activity. Exceptionally nice hostess with great stories to share.
Paula
2016-02-18T00:00:00Z
Ursula a pris soin de tout mettre à disposition en prévision de notre arrivée. Même a distance (en déplacement ce jour là), elle nous a semblé très présente. Nous recherchions un lieu pas trop loin de Hambourg mais suffisamment pour profiter du calme de la campagne allemande ... et bien, c'était le cas. En 20', nous sommes au coeur de Hambourg. Nous étions également rassurés de savoir notre moto en sécurité que nous avons pu la mettre à l'abris(URL HIDDEN)
Alain
2016-05-10T00:00:00Z
Wohnung und Lage sind ganz wundervoll und Ursulas Mitbewohner haben sich super um mich gekümmert. Der Kontakt zu Ursula war trotz der Entfernung sehr freundlich, unkompliziert und latenzfrei.
Steffen
2016-05-04T00:00:00Z
Room Type
Private room
---
Property Type
Flat
---
Accommodates
2
---
Bedrooms
Buchholz in der Nordheide, Niedersachsen, Germany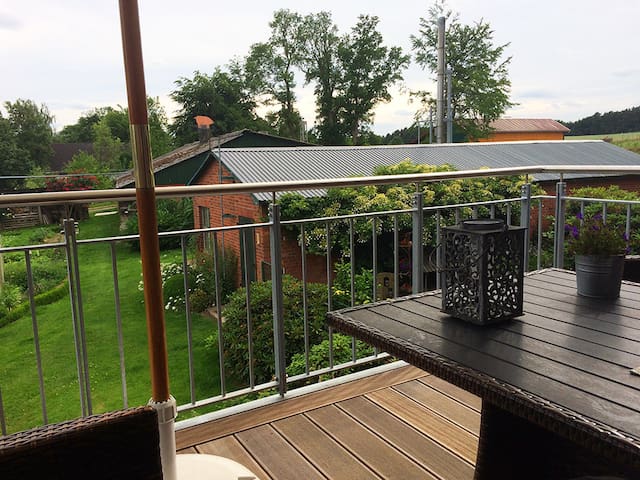 Description 2 bedrooms, 1 bath, Internet, private courtyard/garden The house is located in a quiet residential area with single-family homes in the south of hamburg. Buses and trains are reachable in a few minutes. Location Description This beautiful home is located in Buchholz in der Nordheide. Buchholz has about 38,400 inhabitants and is the largest town in the district of Harburg. Enjoy magnificent infrastructure with theaters, restaurants, railway (HVV), doctors, shops, 2 large shopping center ... The Buchholz Downtown is in walking distance. The Pefect mixture of "green holidays" , city trips and relax holidays is possible. You can make your own decision on every vacataion day again, whatever you like. On One-Day trips you could explore cities like Hamburg, historic cities like Lüneburg, Celle, Stade and a lot of more. Trips to the Beach (Baltic Sea or North Sea) are also possible.You reach nice small towns like Timmendorfer Strand, Scharbeutz or St. Peter Ording within 1:15 hour by car. Hiking, or horse riding in great northern national parks like Lüneburger Heide (prefered in august and september) are also possible. In the end of April and May it's great to visit the "old country" close to the river Elbe and explore the taditional area while all apple and cherry trees on the farms are blooming. Sport: Golf, tennis, bowling, hiking, swimming, spa / hot spring and a lot of more Adventures: Heide Park Soltau with roller coasters, delphin shows, Pirate Festival and so on perfect connection to downtown Hamburg. You can go by train in 22 minutes to the central station in Hamburg while using a "HVV-Ticket" which allows you to travel through whole hamburg. By car you need 30 minutes (don't drive while the rush hour) Web tips: Heide Park Soltau (URL HIDDEN) Outlet Center Soltau - Shopping Center in Soltau outlet (URL HIDDEN) Lüneburg Heath - official holiday portal of the Lüneburg Heath Lüneburg (URL HIDDEN) Undeloh - Right at the heart of the Lüneburg Heath! (URL HIDDEN) Fruit blossom in the Old Country Blossoms barometer - Tourist Association Old ... (URL HIDDEN) SNOW DOME Bispingen | The climate-neutral indoor ski and ... (URL HIDDEN) Ralf Schumacher Kart & Bowl | Home rs (URL HIDDEN) Outdoor museum at Kiekeberg: The family-friendly museum in the ... K(URL HIDDEN) Overview for visitors to Hamburg - (URL HIDDEN) (URL HIDDEN) visitors Bremen - Tourism - (URL HIDDEN) (URL HIDDEN) tourism Baltic - Timmendorfer beach / Niendorf timm(URL HIDDEN) City Buchholz (URL HIDDEN)
Was a well equipped kitchen and laid out apartment. We had four people plus a toddler there. Was made to feel welcome and as a great size for us. Would recommend to anyone who wanted to be within 30min of Hamburg.
Nathan
2014-09-11T00:00:00Z
We had a great stay (2 nights) in this beautiful apartment. It looks even better in real-life. The apartment is very spacious, modern, cosy and well equipped.
Pernilla
2015-07-19T00:00:00Z
We had a great time, and felt home. Thank you again. Candelaria.
candelaria
2016-08-29T00:00:00Z
Wir hatten einen wunderbar entspannten Aufenthalt mit Hund und dreijähriger Tochter, die vor allem den direkten Zugang zum Garten genossen hat. Die Wohnung war wirklich toll ausgestattet, so dass man keinen Komfort vermissen musste. Die Familie hat sich sehr viel Mühe gegeben und stand uns bei allen Fragen mit Rat und Tat zur Seite. Besonders gut haben uns die Ausflüge zum "Schafstall" in Wörme gefallen (Tipp vom Gastgeber;)). Vielen Dank für die schöne Zeit =)
Hannah
2016-07-25T00:00:00Z
Wij hebben een fantastische tijd gehad in het huis van Volker. Het huis is zeer compleet en schoon. Wij waren met twee volwassenen en een kind en dan heb je genoeg ruimte. Wij hebben nog logees gehad en die hebben prima geslapen in de logeerkamer met slaapbank. Het is een prima locatie om Hamburg te bezoeken (30 min.) en het prachtige plaatsje Luneburg, maar ook in de directe omgeving van het huis kan je ook mooi wandelen op de hei. Wij waren er in de winter, maar in de zomer is het waarschijnlijk nog fijner omdat er ook nog een tuin bij het appartement is. Volker heeft ons een warme ontvangst gegeven en veel goede tips over wat er te doen/eten/drinken is in de buurt! We've had a wonderful time in the apartment of Volker. It's very complete and clean. We stayed there for a week with two adults and a small child, and there's enough space. We've had friends coming over who slept very well in the extra room on the sofa bed. It's a great location to visit hamburg (30 min.) and the wonderful Luneburg. In de environment of the house you can also make nice walks and in summer you can enjoy the garden. Volker is very friendly and helpful, and he has good idea's about what to do and where to go!
Annemarie
2014-01-05T00:00:00Z
Room Type
Entire home/apt
---
Property Type
Flat
---
Accommodates
4
---
Bedrooms
Buchholz in der Nordheide, Lower Saxony, Germany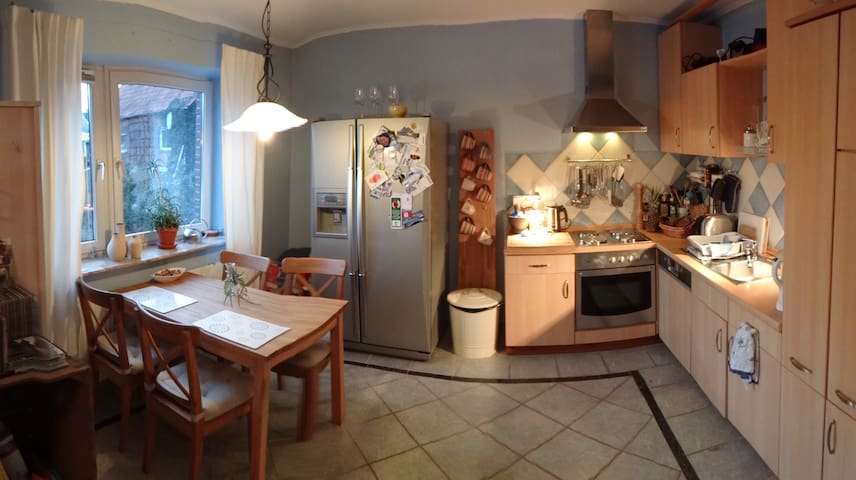 Our little apartment is placed near the famous nature reserve "Lüneburger Heath", which offers a lot of activities like hiking, biking or horse riding. Starting from here is just a stone's throw to the "Heidepark Soltau" (amusement park), Snow dome Bispingen (ski park), Wildpark Lüneburger Heide and Serengeti Park (wildlife parks), etc… Take your bike or grab your horse and conquer the area! You are welcome to bring your domestic animals with you!
Die Wohnung hat direkten Zugang zum großen Garten, wo ihr die Möglichkeit habt einen mobilen Zaun aufzustellen um eure Pferde unterzubringen. Wir selber haben ca. 20 Isländer auf dem Hof stehen und freuen uns auf jeglichen tierischen Besuch! Quer durch den Garten gelangt ihr durch ein Tor direkt in den Wald, von wo ihr eure Spaziergänge starten könnt. Im Garten direkt vor der Wohnung befindet sich eine kleine Sitzgelegenheit, wo ihr es euch gemütlich machen könnt, mit Feuerschale und/oder Grill. Da die Heide zu jeder Jahreszeit eine Reise wert ist, kann man sich es hier auch im Herbst oder Winter gemütlich machen. Ein kleiner Kachelofen sorgt für die entsprechende wohlige Wärme, wenn man durchgefroren nach hause kommt.
"Wo sich Fuchs und Hase 'Gute Nacht' sagen, da sind auch Wölfe und Bären nicht weit!"
One of my favorite Airbnb experiences ever. Stephanie and her wonderful family went out of their way to get us to their amazing farm (we have no car) and made us feel instantly welcomed. The space is private and super cozy with the wood burning stove and a great space for cooking. Even the town of Bispingen is quite darling! An amazing value and a great stay.
Louisa
2016-12-18T00:00:00Z
Stefanie is a great host. We stayed at her house for three nights and we can recommant her place. We enjoyed our stay very much. Everything was perfect.
Linda
2017-01-17T00:00:00Z
Stefanie is really a good host. We felt very welcome. The house was really awesome. Everything was clean, well equipped and full of the ingenuity of the host. We love the back yard especially the lovely horses of the host. The surrounding of the house also beautiful. It is so peaceful to take a walk in the field nearby. Just walking for several we can arrive at the town center where shopping is very convenient. This house is highly recommended. thank you Stefanie!
文英
2016-12-08T00:00:00Z
Stefanie is a great host. She makes you feel like at home. The house and the surroundings are in beautiful environment in the countryside. I would really recommend this place, you should go and check it out.
Xabier
2017-02-25T00:00:00Z
Most wonderful, welcoming host! We felt more than at home in this cosy little cottage and have stayed twice and would happily stay again!
Kirsten
2016-12-10T00:00:00Z
What a beautiful place in the woods of Germany! Stephanie was great. She welcomed me (I was late) with a big smile and showed me everything i needed to know. The place was big and she provided a beautiful breakfast for me the following day. I truly enjoyed my time at her beautiful property.
Jessie
2016-09-07T00:00:00Z
everything was perfect. really nice experience. I recommend!
IOANA
2016-10-27T00:00:00Z
Alles wie versprochen und beschrieben. Sehr netter Kontakt. Für uns gab es keinerlei beanstandungen. Gerne wieder.
W.
2016-08-29T00:00:00Z
Room Type
Entire home/apt
---
Property Type
Flat
---
Accommodates
3
---
Bedrooms
Bispingen, Niedersachsen, Germany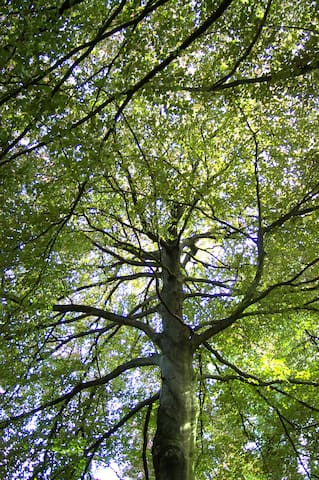 Wir vermieten eine Ferienwohnung in unserem Haus.Die Wohnung hat einen seperaten Eingang und liegt im ersten OG.Sie ist mit allem nötigen ausgestattet .Die Wohnung ist super geeignet für 2 Personen oder einer Familie mit 1 bis 2 Kindern. Wir wohnen am Rande der Lüneburger Heide zwischen Hamburg und Bremen.
Unser Haus steht in einem Dorf mit ca.1200 Einwohnern. Unser Grundstück umfasst ca.8000qm Wir vermieten eine großzügige Ferienwohnung.Die Küche ist voll ausgestattet mit Ceranfeld und Backofen,Mikrowelle,Toaster,Kaffeemaschine, Geschirrspüler und ein Kühlschrank ohne Gefrierfach es steht Kaffee zur Verfügung und eine kleine Auswahl an Teesorten. Ein großer Balkon inkl.Gartenmöbeln ,Sonnenschirm und Grill. Badezimmer mit Dusche,Badewanne und WC und Handtuchheizkörper. Bettwäsche und Handtücher und ein Föhn inklusive. kostenloses WLAN Im Wohnzimmer befindet sich ein 40 Zoll Fernseher und ein Beamer mit Satellitenanschluss sowie ein großes Sofa und 2 Sesseln.Ein Kaminofen - Holz wird kostenlos zur Verfügung gestellt. Ein Radio und ein Schreibtisch. Im Schlafzimmer befindet sich ein Kleiderschrank,Kommode und ein Doppelbett 180x200 cm und ein Bett 90x200 cm.Es besteht noch die Möglichkeit ein Klappbett 80x190cm zusätzlich aufzustellen im Wohnzimmer für eine 4 Person. 2 Fahrräder stehen kostenlos zur Verfügung
Freizeitmöglichkeiten:Heide Park 20 km entfernt, Weltvogelpark Walsrode 29 Km entfernt,Seriengeti Park 52 km entfernt,Magic Park Verden 37 km entfernt,Weserpark 54 km entfernt,Hamburg Mitte 90 km entfernt,Lüneburger Heide 15 km entfernt, Soltau 21 km entfernt,Rotenburg Wümme 16 km entfernt
Our stay at Anett & Frank's was absolutely amazing! We had the best experience and felt so welcome and at home in the beautiful and very spacious apartment. The only think we will do differently next time is to stay there longer. We will definitely come back!
Sandra
2016-10-19T00:00:00Z
A great place to experience the German countryside. The hosts have thought of everything from a surrond sound system with a projector to a bottle of sparkling wine with a box of chocolates waiting for you when you arrive. Highly recommended!
Max
2017-03-03T00:00:00Z
Very nice and clean flat...you have there everything what you need
Catalin Daniel
2017-02-19T00:00:00Z
This apartment, above the host's house, is absolutely wonderful! LOTS of space with beautiful interiors and everything you could possibly need. The private balcony looks over their beautiful garden and to the fields and forests beyond. It is a quiet, calm and relaxing place to stay. Our hosts made us feel very welcome, and even though our German was very limited, we were able to communicate well. It is a good location to visit Hameln, Lüneburg and Bergen Belsen with shops not far away. We will definitely be coming back. Thank you.
Nick
2015-08-07T00:00:00Z
Great hosts. Cute, comfortable and very tidy house. It has all the tools needed and more... We are fascinated. Environment is beautiful and peaceful. Heide park is only 20 km from house. It is about 12 min by car. Thank you very much for good time!!! :) Best regards from Lithuania.
Diana
2016-06-05T00:00:00Z
Wir haben uns bei Anett super wohl gefühlt! Die Wohnung ist wirklich süß eingerichtet - mit viel Liebe zum Detail. Anett und ihr Mann haben uns zudem herzlich empfangen. Wir würden jederzeit wieder kommen!! Vielen Dank nochmal!
Claudia
2016-05-16T00:00:00Z
Ich freue mich jedes Mal auf meinen Aufenthalt in der gemütlich und schön eingerichteten Wohnung. Die Ausstattung ist super! Ich werde stets herzlich empfangen. Wie ein zweites Zuhause....!
Kerstin
2016-10-16T00:00:00Z
Die Wohnung war in der Anzeige sehr genau und schön beschrieben.. aber als wir eintrafen waren wir total überwältigt weil alles mit soviel Liebe zum Detail eingerichtet ist.. dieses Gefühl blieb uns dadurch die ganze Zeit erhalten. Die Kommunikation mit den beiden im Vorfeld und vor Ort war sehr unkompliziert und schnell.. somit gern wieder, da es unsere Erwartungen übertroffen hat und wir uns sehr wohlgefühlt haben .. :)
Sandra
2016-07-18T00:00:00Z
Room Type
Entire home/apt
---
Property Type
Flat
---
Accommodates
4
---
Bedrooms
Hemslingen, Niedersachsen, Germany
Ruhiges Wohnen in dörflicher Umgebung - mitten im Grünen. Geschmackvolle gemütliche Einrichtung.
Es handelt sich um eine Einliegerwohnung mit circa 50 m2. Auf Anfrage stellen wir Euch gerne Fahrräder zur Verfügung! Für euer Auto stellen wir einen Carport-Platz. Die nächstgelegenen Einkaufsmöglichkeiten befinden sich in den größeren Nachbarorten (Sprötze, Hollenstedt, Buchholz und Tostedt) ca. 5-10 Minuten mit dem Auto entfernt. Ergänzendes zur Küche: Die Wohnung verfügt über eine Pantry mit Kühlschrank und Eisfach, zwei Herdplatten und einer Spüle. Des Weiteren steht eine Mikrowelle mit Back-Funktion, ein Toaster, ein Wasserkocher sowie eine Kaffeemaschine zur Verfügung.
Es handelt sich um eine Einliegerwohnung innerhalb eines Schwedenhauses. Als direkte Nachbarn begrüßt Euch ein nettes junges Pärchen. Ebenso befindet sich auf dem großen Grundstück ein altes Bauernhaus mit Wohneinheiten.
Inger made us very welcome at Villa Kunterbunt, and we loved how modern the facilities are and how clean the flat was. The design was so cute and comfortable, with plenty of light. Inger had lots of tips for us of places to eat or things to do. It was a lovely place just to relax for a weekend away during our busy school semester. We would certainly stay again!
Kate
2016-04-25T00:00:00Z
Wir wurden wurden sehr freundlich von Inger empfangen und haben einen sehr angenehmen Aufenthalt gehabt. Die Ferienwohnung war liebevoll hergerichtet, sauber und uns hat es nichts gefehlt. :) gerne wieder zu Besuch beim nächsten Aufenthalt im Norden :)
Jeremie
2016-05-30T00:00:00Z
Inger hat mich freundlich und aufmerksam empfangen. Die Abstimmung war entgegenkommend, unkompliziert und verlässlich. Das Apartment ist sauber, neuwertig und geräumig. Wer die Ruhe sucht ist hier genau richtig. Jetzt im Winter war der Carport vor der Tür eine Wohltat und auch der große Balkon gibt Raum und frische Luft.
Bernhard
2016-02-18T00:00:00Z
Die Villa Kunterbunt ist eine sehr schöne, neue und gepflegte Unterkunft. Ein eigener überdachter Parkplatz direkt vor der Tür. Durch den eigenen Eingang kommt man in die wunderschöne Wohnung. Es fehlt an nichts. Tolles Bad, bequemes Bett, schnuckeliges Wohn-Esszimmer mit Küche. Auf der Terrasse kann man herrlich ruhig in der Sonne sitzen. Es war ein schöner Aufenthalt. Sehr zu empfehlen.
Thorsten
2016-04-04T00:00:00Z
Inger hat uns sehr nett mit einem kleinen Present empfangen, hat uns Prospekte der Umgebung, rund um Spaß, Erholung und Abenteuer dagelassen. Es war sauber und stilvoll eingerichtet. Daumen hoch!
Leandra
2016-07-31T00:00:00Z
Absolut empfehlenswert! Die Ferienwohnung in der Villa Kunterbunt ist sehr liebevoll und schön eingerichtet- tiptop ausgestattet und sehr sauber. Wir haben uns pudelwohl gefühlt. Unser Aufenthalt war zwar nur kurz, hat sich aber trotzdem gelohnt! Inger hat uns superfreundlich in Empfang genommen, hatte viele Tipps und Ideen für uns parat und war jederzeit ansprechbar. Auch die Kommunikation vorher hat bestens geklappt. Wir kommen gerne wieder! Liebe Inger- besten Dank!
Ute
2016-08-21T00:00:00Z
Wir hatten eine super tolle Zeit in der Villa Kunterbunt! Der Empfang War sehr freundlich und die Wohnung genauso wie wir sie uns vorgestellt haben. Bei Fragen war Inger immer sofort zur Stelle. Absolut empfehlenswert!!!
Silvia
2016-08-13T00:00:00Z
Bei unserer verfrühten Ankunft wurden wir von Ingers Tochter sehr freundlich begrüßt. Inger lernten wir am Nachmittag kennen und haben uns über die herzliche Aufnahme gefreut. Beim Betreten der Wohnung haben wir uns sofort wohlgefühlt. Die lichtdurchfluteten Räume, die geschmackvolle Einrichtung, der Blick ins Grüne waren eine Wohltat für die Seele. Alles was wir in einer FeWo benötigen war vorhanden. Besonder Luxus der Carport für Auto und Fahrräder.
Hans
2016-06-21T00:00:00Z
Room Type
Entire home/apt
---
Property Type
Flat
---
Accommodates
2
---
Bedrooms
Drestedt, Niedersachsen, Germany
Die ca. 60 m² große Wohnung wurde komplett renoviert . Wir hoffen mit der Einrichtung den Geschmack von unseren zukünftigen Gästen getroffen zu haben. Ihr werdet gegenüber vom Mühlteich der Oste wohnen .
Wurde neu renoviert
Unser Haus liegt direkt gegenüber dem Mühlteich an der Oste .
Uwe is very friendly and understanding. He was very flexible with our late arrival due to traffic problems.
Basil
2016-04-13T00:00:00Z
We really liked staying at Uwe's house! He's a very friendly host and speaks fluent English. The apartment looks even better in reality than on photo's. Everything is brand new and there's everything one may need. It is one of the best places we have ever stayed in via airbnb. The bed is very comfortable. And the best bit is that the heating doesn't get turned off for the night, so there's no fear of getting cold. Sittensen is a very lovely and picturesque town. If you have a couple of hours to spare, do visit Tister Bauernmoor which is a few minutes' drive from Uwe's house (the map can be found in the apartment or ask Uwe).
Vladislav
2016-05-29T00:00:00Z
We stayed at Uwe's place for 3 nights and it was absolutely perfect. Easy to find with a car, delightful area and surroundings, perfectly clean and everything you could need available. Uwe greeted us as we arrived and gave us the keys, answered any questions and told us he was just a knock of a door away, if we were to need him. Everything is nearby to walk or drive to, and it's so relaxing to sleep there, with the sounds of bells and the fountain outside opposite, beautiful! Would stay here again if I were doing a similar trip. Thanks Uwe!
Scarlet
2016-09-22T00:00:00Z
Fantastic apartment in a nice area: there is absolutely everything for a wonderful holiday, a brand new high quality technique, nice renovation. Excellent communication. I will be in Sittensen area, be sure to stop at Uwe. Too bad that I can't apply 6. More write no time, my wife say me to make renovation in the our home after what she saw in Uwe apartment. Thanks, Uwe! And please make quality photos, the reality is much more beautiful!
Juris
2016-09-25T00:00:00Z
Uwe is one of the best host! And his house really perfect! He prepare everything you need and you even just need to pay what you like. The room is very clean,and comfortable! I can't wait to stay there for another one week!
lin
2016-11-07T00:00:00Z
Send
Phil
2016-11-14T00:00:00Z
Uwe's place is simply idyllic. Set in a quiet street overlooking a lake just a few metres from a medieval mill and a small market square. The apartment itself can only be described as luxurious, with a beautiful bathroom (with the softest of towels!), a living room, kitchen and bedroom and very comfortable and unique furniture and lighting. It is a large, 2-storey apartment, and Uwe has taken care to place fresh flowers in every room; a beautiful touch. Uwe is generous and friendly, and I highly recommend this truly super apartment.
Paul
2016-03-04T00:00:00Z
Welcomed us at the door.
Phil
2016-12-22T00:00:00Z
Room Type
Entire home/apt
---
Property Type
Flat
---
Accommodates
2
---
Bedrooms
Sittensen, Niedersachsen, Germany
My house is near the Heide Park, Safari Park, Bird Park, Snow Dome, Soltau Therme. The apartment has a private terrace in south-east exposure. The apartment is located in the basement of a 2014 built residential house and has a brand new and upscale amenities. The cities of Hamburg / Hanover / Bremen sindin each reached under an hour. Bad Fallingbostel be reached by bicycle in no time and offers everything for daily needs.
Very nice very clean very quietly and huge space. It is worth to stay!
Pei
2017-03-19T00:00:00Z
The apartment was exactly as described, it looked like a hotel room! When we arrived we texted Steffen and he had the keys provided to us within 5 minuts. The apartment was quite private, just as we had hoped for for this trip. Steffen even suggested a small trail for an evening walk - that was nice :) Thank you Steffen!
Anders
2016-08-04T00:00:00Z
Es war perfekt organisiert ! Sollte ich wieder in die Gegend kommen, dann werde ich hier anfragen, das ist sicher. Toll !!!
Holger
2016-09-04T00:00:00Z
Alles war sogar besser als wir erwartet haben. Ein netter Platz, der uns für Ruhe zwischen den Ausflügen nach Serengeti Park und Vogelpark Walsrode diente. Wir haben uns neue Ziele für Ausflüge in der Gegend vermerkt und, wenn wir sie im Sommerferien besuchen werden, werden Steffen und seine Familie als Gastgeber für uns klare Wahl 1 sein.
Alex
2016-10-19T00:00:00Z
Tolle Wohnung, neues Haus, ruhige Lage. Einfach, schön, unkompliziert, alles vorhanden was man braucht und gute Ausstattung. Gerne wieder, zu empfehlen.
Maxi
2016-10-07T00:00:00Z
Wir waren auf Anhieb angetan von Steffens Unterkunft. Alles war so neu und sauber wie es auf den Bildern dargestellt wird. Wer eine ruhige Unterkunft zur Erholung sucht und dennoch nicht auf eine zentrale Lage verzichten möchte, wird hier definitiv fündig. Vielen Dank für diese tollen Tage!
Björn
2016-08-20T00:00:00Z
Die Wohnung ist wie auf den Bildern zu sehen in einem Super Zustand und Ausstattungstechnisch auch einem sehr hohen Niveau.Die Kommunikation mit dem "Vermieter" war reibungslos und wirklich sehr schnell. Ein kleines Problemchen wurde schnell und unkompliziert in Minuten gelöst. Alles in allem kann ich diese Wohnung sehr weiterempfehlen. Ich würde jederzeit wieder (URL HIDDEN) ist wirklich ein Domizil zum Ausspannen.
Dietmar
2016-09-01T00:00:00Z
Wunderschöne, ruhige Umgebung. Sehr geräumige Wohnung, ausgestattet mit allem was das Herz begehrt. An- und Abreise lief reibungslos. Absolut empfehlenswert!
Ulrike
2016-07-16T00:00:00Z
Room Type
Entire home/apt
---
Property Type
Flat
---
Accommodates
2
---
Bedrooms
Bad Fallingbostel, Niedersachsen, Germany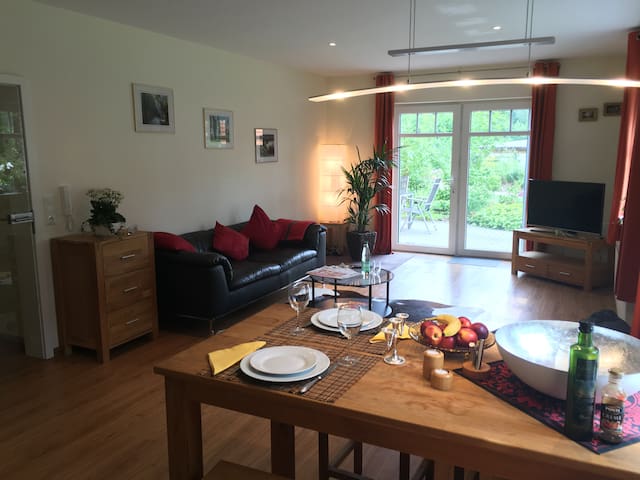 The apartment is on the first floor, and has a separate entrance. She is in a typical local timber-framed building. It has an area of 70 m². Max. Occupancy 4 people. Through a separate entrance is the apartment
The apartment is on the first floor, and has a separate entrance. She is in a typical local timber-framed building. It has an area of 70 m². Max. Occupancy 4 people. Room facilities bath with shower, toilet, washing machine and dryer and towels included bedroom 1 with double bed, wardrobe, bedside table, including linen Baby cot (crib 160 cm if necessary) bedroom 1 2 separate beds, wardrobe, bedside table, including linen living room has a couch, table, sideboard and television (cable). The kitchen is fully equipped with a fridge (freezer), electric stove, oven, Dishwasher, coffee maker, toaster, kettle, egg cooker and microwave. Enough crockery and cutlery are provided. You want to browse the Internet, no problem with the wireless internet access. (WIRELESS INTERNET ACCESS ) While your car on our property is under a carport, You can complete the varied day relaxing on a terrace. Our house is situated in a quiet location on the outskirts of Bad Fallingbostel. They look forward to a relaxed holiday in a fantastic atmosphere? and family connection then we would be pleased to welcome you as our guests.
Well organized and welcome. Listing description by host was accurate. Nice garden. Neighbourhood is clean and guiet. Only 20-30min to Soltau Heide-Park or to Munster (impressive Tank museum). Definately recommend.
Martin
2016-06-25T00:00:00Z
I booked this for my colleagues for a a few weeks. Ulrich was very helpful and they enjoyed their stay.
nicole
2017-03-26T00:00:00Z
Ullrich und seine Frau waren sehr freundlich und hilfsbereit. Die Ferienwohnung war perfekt. Wir hatten eine tolle Zeit. Ich kann die Unterkunft nur weiterempfehlen, sie hat alles, was man braucht. Danke :-) PS: Im Ort gibt es einen kleinen Bootsverleih mit Ruder- und Tretbooten. Bei schönem Wetter einen Ausflug wert.
Sandra
2016-05-11T00:00:00Z
Freundlicher Umgang bei der Ankunft und Verabschiedung - während des Aufenthaltes alles in bester Ordnung und Wohnsituation wie beschrieben vorgefunden. Alle relevanten Einkaufs- und Restaurantmöglichkeiten vor Ort. Gute Erreichbarkeit des Heidepark Soltau. Herzlichen Dank und Grüße aus Mittelfranken!
Dennis
2016-05-26T00:00:00Z
Super nette und hilfsbereite Gastgeber. Kleiner dürfte die schön eingerichtete Wohnung nicht ausfallen , es war aber ausreichend Platz. Alles nötige war vorhanden oder wurde bereitgestellt. Vielen Dank für die schönen Tage .
Martin
2017-01-01T00:00:00Z
Room Type
Entire home/apt
---
Property Type
Flat
---
Accommodates
4
---
Bedrooms
Bad Fallingbostel, Niedersachsen, Germany
Fully equipped 3.5 room apartment in an apartment building close to the forest .Einkaufsmöglichkeiten 400 meters. Located in the Lüneburg Heath, Heath Park Soltau only 10 km away Other attractions: Magic Park Verden; Walsrode Bird Park; Snowdome, karting and crazy home in Bispingen, and Tank Museum in Munster.
Cable TV and WiFi incl., Parking for bicycles (bike hire in the village. Suitable for 4 adults + 1 child
Sehr schöne Wohnung, die keine Wünsche lässt. Alles vorhanden, was benötigt wird. Zudem sehr unkomplizierter Kontakt mit einem sehr freundlichen Gastgeber. Check-In geht nicht besser! Wir (Familie mit zwei Kindern, 4 + 9 Jahre) kommen sehr gerne wieder!!!
Marcus
2016-12-28T00:00:00Z
Room Type
Entire home/apt
---
Property Type
Flat
---
Accommodates
4
---
Bedrooms
Neuenkirchen, Niedersachsen, Germany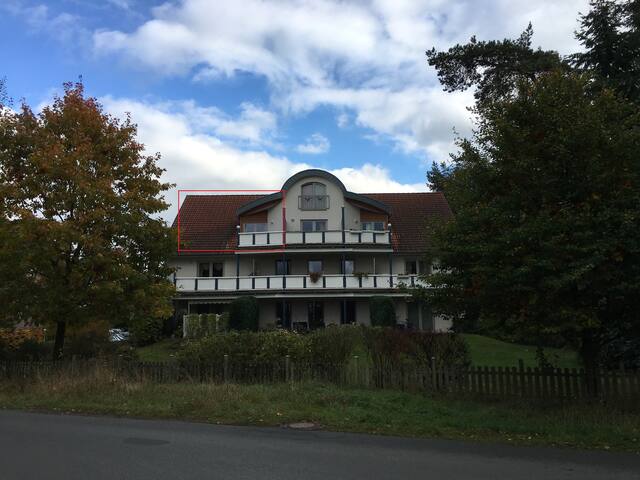 Gepflegtes Gästezimmer in ruhiger Lage, nur wenige Minuten vom Stadtzentrum u. dem Bahnhof entfernt. Zimmer 1: 1 Einzelbett (1 x 2m) Ausstattung: Miniküche (Herd, Dunstabzugshaube + Kühlschrank), Kaffeemaschine, Toaster, Wasserkocher, Geschirr, TV, Wlan, Mikrowelle Gemeinschaftsduschbad für 2 Gästezimmer. Wlan, Bettwäsche, Handtücher, 1x wöchentl. Badreinigung inkl. Die beiden Zimmer befinden sich in einem Mehrfamilienhaus, in zentraler, ruhiger Lage! Gäste sind herzlich willkommen!
"Gästezimmer Carola" Bitte beachten Sie, dass wir ein weiteres (etwas grösseres Zimmer, mit Küchenzeile für 1-2 Personen hier inseriert haben!!) Die zentrale, aber ruhige Lage! Die Unterkunft, befindet sich in einem Mehrfamilienhaus. Die gemütliche Terrasse, steht zum Entspannen für Sie, mit zur Verfügung. Sie werden von freundlichen und hilfsbereiten Vermietern empfangen und wir geben Ihnen gerne Tipps und Auskünfte über die zahlreichen Freizeitmöglichkeiten in der Umgebung! Parkmöglichkeiten sind ausreichend in Parkbuchten vorm Haus vorhanden. - Stadtzentrum Soltau 1 km - Heidepark 7km ( gut mit dem Auto, Fahrrad, Bus oder Bahn zu erreichen, Bahnhof in ein paar Minuten zu Fuss zu erreichen.) - Naturschutzgebiet Lüneburger Heide 20 km - Soltau Therme, Entfernung 1,6 km - Designer Outlet Soltau 7km - Snow Dome und Ralf Schuhmacher Kart & Bowl Bispingen 21 km - Panzermuseum Munster 21 km - Weltvogelpark Walsrode 22km - Greifvogel Gehege Bispingen 23km - Serengetipark Hodenhagen 38 km
Die ruhige, aber zentrale Lage! Wald in unmittelbarer Nähe!
Die Unterkunft hält was sie verspricht und Katja ist eine super Gastgeberin, sehr herzlich und engagiert. Ich kann die Unterkunft nur weiter empfehlen!
Lukas Llewellyn
2017-01-13T00:00:00Z
Alles super, habe mich hier sehr wohl gefühlt. Katja war immer da, falls ich fragen hatte. Das Zimmer ist sehr modern und ideal für eine Person. Die Lage ist auch wunderbar. Die Stadt ist fußläufig in 10 Minuten erreichbar, ebenso der Bahnhof. Ich bin insgesamt sehr zufrieden, nur der gelegentliche Baulärm am Nachmittag durch Renovierungsarbeiten im Haus waren der einzige negative Punkt (überall neue Heizungen). Ich würde in Zukunft aufjedenfall wieder kommen :)
Can
2016-11-01T00:00:00Z
Room Type
Private room
---
Property Type
Flat
---
Accommodates
1
---
Bedrooms
Soltau, NDS, Germany
Moderne neue Apartments am Rand der Lüneburger Heide, komplett eingerichtet. Wenn sie mit Kind(ern) anreisen ist das kein Problem. Wir stellen ihnen ein Kinder oder Baby-Bett zur Verfügung. Küche mit Mikrowelle , Backofen mit Ceranfeld, Kaffeemaschine, Toaster, Wasserkocher, Doppelbett, Gardrobe , Safe, Sat TV, Radio mit Dockingstation für I Phon,IPad,I Pod. Bei schönem Wetter lädt unser Garten mit Liegestühlen zum verweilen ein. Gerne stellen wir einen Grill zur Verfügung.
Lounge im Eingangsbereich, Großes Duschbad mit Ebenerdiger Dusche, Rainshower, Fön, Badeschuhe, Duschbad und Shampoo. Handtücher. Komplette Küche mit allem was man braucht. Doppelbett, Sat. TV, Radio etc. Alles Neu und Modern eingerichtet. Überdachte Parkplätze, für Motorräder gibt es einen abschließbaren Raum. Terrasse mit Sitzmöglichkeit und Grill. Wer gerne Fahrrad fährt, kann sich bei uns kostenlos eins ausleihen. (Drei Stück sind vorhanden) Gute Anbindung mit dem Zug nach HH und Bremen. Mit dem Auto bequem über A1 Und A7 erreichbar.
Durch die nähe zu HH ca.35km, 40min mit dem Auto. Und Lüneburger Heide ca.20km . 30 min. mit dem Auto. Sehr Ruhig und doch zentral im Ort gelegen. Bäcker, Supermärkte, Discounter, Kneipen und Restaurants in der nähe.
The host canceled this reservation 4 days before arrival. This is an automated posting.
arnaud
2015-06-15T00:00:00Z
Great place. Everything is brand new. The room is spacious and super nice. Jurgen is a great host
Max
2016-08-21T00:00:00Z
it was a great place to stay. I was on my way to Denmark, I chose to have a stop at Jüren 's place. I arrived unexpected late in the night but they have waited and welcomed me warmly. the accommodation is absolutely beautiful and cozy. it is also located in a nice and quiet area. I don't know about public transport. if u have a car, then it is quite easy to reach.
Joyce/Xinxin
2016-10-26T00:00:00Z
Great modern and beautiful appartment. Jurgen is a great host. We stayed there two nights with two adults and one kid and went to the Heide park which is nearby (half an houre drive) as is Hamburg. Great place for an in between stop.
Luc
2016-08-14T00:00:00Z
We spend one night at Jurgens place. Big apartment, cosy and clean and a very quiet place. All brand new. Parking right outside the apartment. Jurgen was helpful to tell us about restaurants nearby.
Henrik
2016-07-24T00:00:00Z
Great spacious apartment. Very clean. Highly recommended!
Christine
2015-07-30T00:00:00Z
Jurgen and his wife where wonderful hosts, and went out of there way to make us comfortable including setting up a baby bed. The appartement-like accommodation was very new and spotless, on a lovely farm. Recommended!
Willem
2016-05-18T00:00:00Z
The listing description was accurate. The place was clean and my brother and I felt very welcomed as guests. I would recommend for anyone who wants to get away.
Andrew
2015-06-07T00:00:00Z
Room Type
Entire home/apt
---
Property Type
Flat
---
Accommodates
4
---
Bedrooms
Tostedt, Niedersachsen, Germany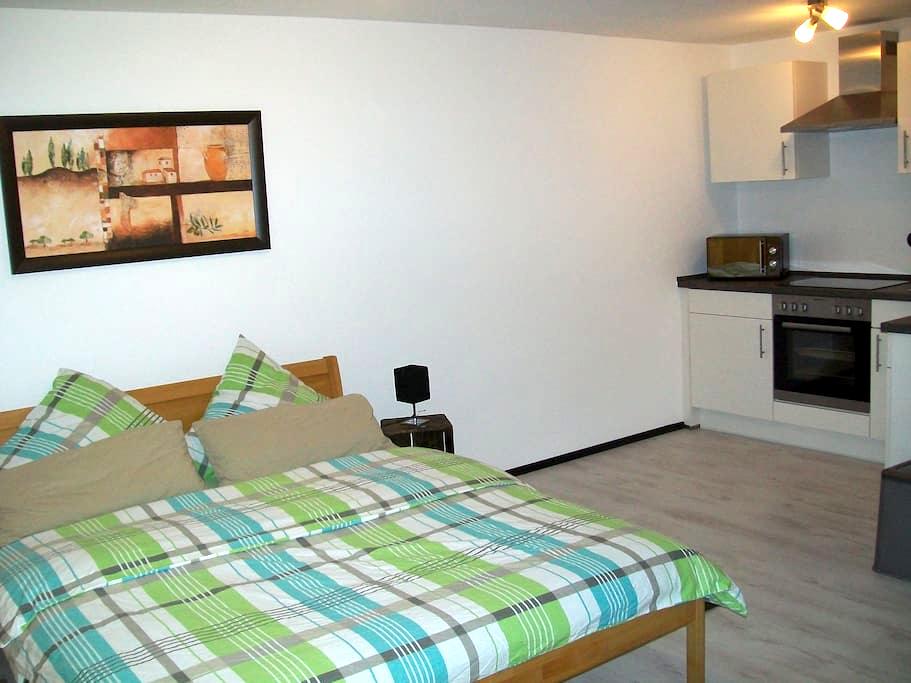 The spacious apartement is fully equipped and guarantees a relaxing stay. The city centre is only a five-minute walk away.
Die Wohnung ist offen und modern gestaltet und hochwertig ausgestattet (Fußbodenheizung, Echtholzparkett, Küche mit ausreichend Geschirr, Gasherd, Backofen, Mikrowelle, Hausgeräten). Das Bad hat Badewanne und Dusche. Bügelbrett, Waschmaschine, Wäscheständer etc. sind vorhanden. Der große Balkon (15qm) bietet eine schönen Ausblick in den Garten.
Die Wohnung liegt verkehrsgünstig aber mit tollem Ausblick ins Grüne -Deichblick und Stadtpanorama inklusive!
Room Type
Entire home/apt
---
Property Type
Flat
---
Accommodates
2
---
Bedrooms
Verden (Aller), Niedersachsen, Germany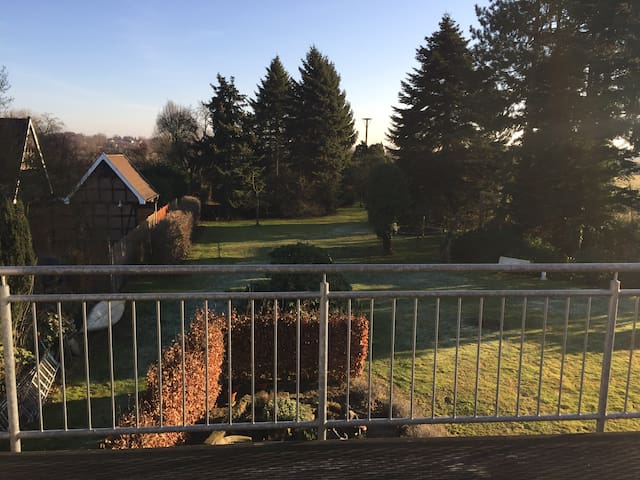 in meiner kleinen ferienwohnung am rand von fischerhude ist jeder willkommem, ganz gleich woher und mit wem im gepäck. da es sich bei dieser unterkunft um einen großen raum handelt ist ein pärchen wohl am einfachsten unterzubringen, oder eine familie mit kind(ern).der wintergarten kann mit einem vorhang abgetrennt werden, so dass ein zweiter (separater)schlafraum (URL HIDDEN) gibt eine kleine küche, in der die grundnahrungsmittel vorhanden sind. für weitere wünsche hab ich immer ein offenes ohr.
Die Ferienwohnung hat einen geräumigen Wintergarten mit einem Kamin(ofen).
Room Type
Entire home/apt
---
Property Type
Flat
---
Accommodates
4
---
Bedrooms
Ottersberg, Niedersachsen, Germany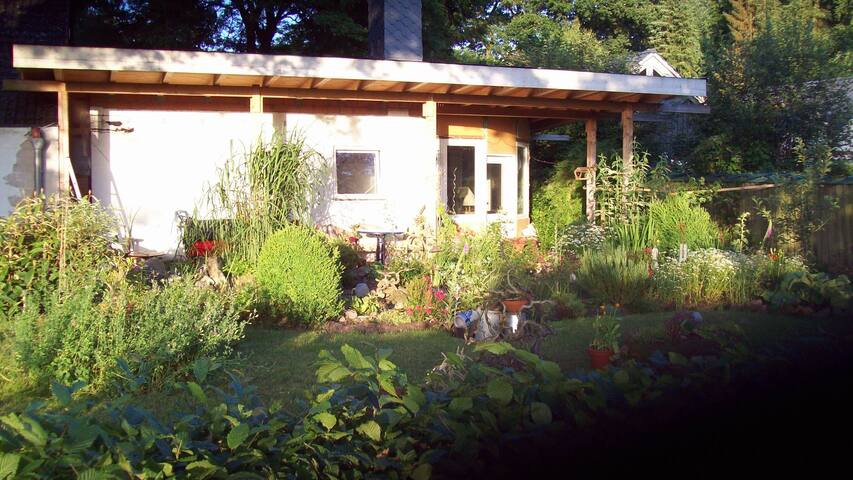 Rooms für Sleeping, Living, Bathroom und Kitchen.
Nice, clean place. Lots of greenery. Very friendly host.
Niels
2016-05-15T00:00:00Z
Very spacious and clean. Lovely garden.
Hak
2016-09-12T00:00:00Z
Nice and big house, very comfortable, with beautiful garden, and even a swimming pool which was a pleasure for the children. Marita is so nice, and gave us apples from the tree and apple juice. It was a too short stay but a very good place. I recommend!
Michael
2016-08-02T00:00:00Z
Our stay was really pleasant. Herbert and wife are really friendly and look forward to please their guest. The house is great and the garden is perfect. Their place deserves a long stay to enjoy the garden and Bremen. Totally recommended! We'll come back.
Reyes
2016-07-13T00:00:00Z
This apartment is just wonderful. Nice and cosy, very clean and has access to the garden with garden furniture. The kitchen has everything you need. The hosts are very friendly and makes you more than welcome. We travelled with our small kids, a perfect place, but be aware of the traficroad.
Dina
2013-09-09T00:00:00Z
All ok.
Małgorzata
2017-02-26T00:00:00Z
Herbert place was nice, clean and spacious. The hosts were very friendly and helpful. Even though we arrived late, they were very cooperative and friendly,esp Herbert wife. She was kind, friendly and generous. I would love to stay in their place again and see them again.
Rupa
2015-12-31T00:00:00Z
The hosts were very friendly and welcoming. Beautiful place, big and comfortable. Kitchen was well equipped. We had a wonderful time, thank you! :)
Vivian
2015-05-12T00:00:00Z
Room Type
Entire home/apt
---
Property Type
Flat
---
Accommodates
4
---
Bedrooms
Thedinghausen, Lower Saxony, Germany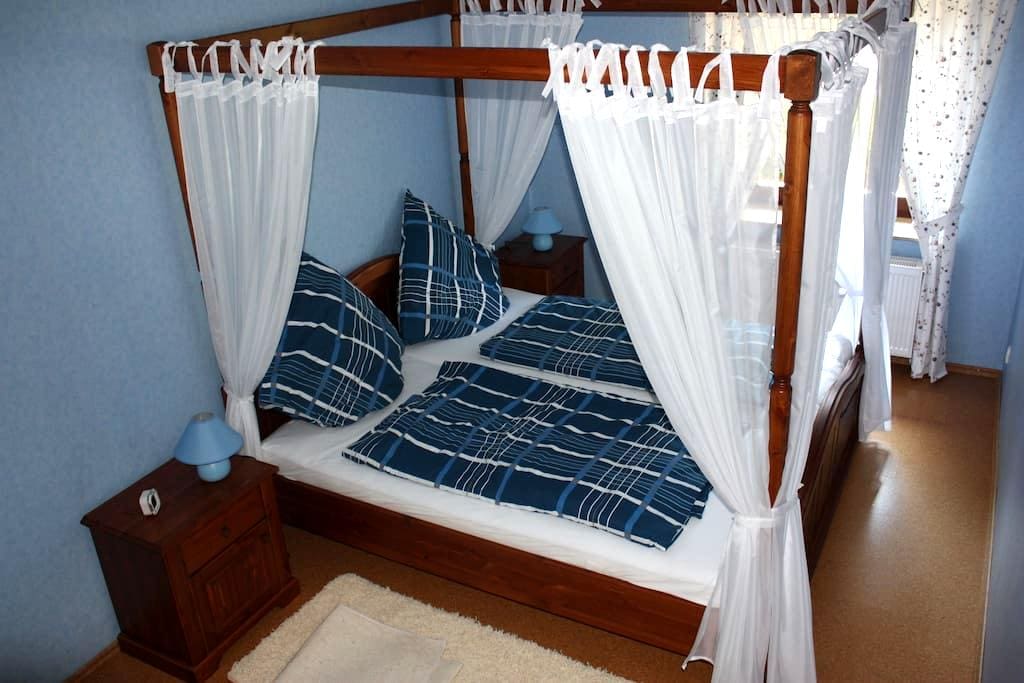 Sie mieten eine voll ausgestattete Dachgeschoßwohnung mit Schlafzimmern, Wohnzimmer, einer voll ausgestatteten Küche, einem Duschbad und Gartenmitnutzung (Grillplatz, Erholungsecken, Spielplatz…). Auf dem Hof gibt es Parkmöglichkeiten und überdachte Abstellmöglichkeiten für Fahrräder. Frühstück und weitere Mahlzeiten können im Haus der Vielfalt bestellt und gern auch eingenommen werden. Auch stehen diverse -gekühlte- Getränke (O-Saft, Wasser, Bier, Wein) zu günstigen Preisen für Sie bereit.
Unsere Gemeinschaft möchten wir mit anderen teilen. Gäste sind willkommen, egal ob für einen Tag oder für längere Zeit. Sie haben die Gelegenheit mit und bei uns zu leben, Station auf einer Radtour zu machen, aus zu spannen in dörflicher Umgebung, im Garten zu zelten oder unsere privaten Gästezimmer zu nutzen, wenn sie beruflich oder privat unterwegs sind. Auch, wer auftanken möchte oder kurzfristig Abstand von seinem Lebensumfeld braucht, kann bei uns ein Zuhause finden. Hierfür richten wir verschiedene Übernachtungs- und Rückzugsmöglichkeiten ein. Unser Haus steht in Oiste, einem kleinen Dorf zwischen Verden, Hoya und Thedinghausen, geprägt von ländlicher Idylle, "grünen Flecken", der Weser und landwirtschaftlicher Fülle. Oiste ist ein Ortsteil der Gemeinde Blender in der niedersächsischen Samtgemeinde Thedinghausen im Landkreis Verden. Unser dörfliches Leben bringt auch ländliches und "tierisches" Leben mit sich. Hahn, Landmaschinen und Kirchenglocken sind mal unterhaltsam mal "nervig". Zum Einkaufen fahren wir in die nächsten Ortschaften (Bäcker 4 km, Supermarkt, Discounter usw. 8 - 10 km). Wir bieten aber auch einen Mahlzeitenservice, sowie die Möglichkeit bei uns direkt einiges im "Faire Trade-Kiosk" oder Haus der Vielfalt zu erwerben.
Reiseziel: Oiste Von A bis Z ist alles vorhanden A ller - Sie fließt zwar nicht direkt durch Oiste, aber ca 3 km entfernt trifft sie sich mit der Weser. Diese Mündung kann bei einem Ausflug in die Feldmark und nähere Umgebung besichtigt werden. B remen - ca 40 km entfernt. Eine Stadt mit eigener Geschichte, vielen Sehenswürdigkeiten (Roland, Stadtmusikanten, Universum...) - ein Ausflugsziel, das sich immer wieder lohnt. C afe am Deich - (URL HIDDEN) bietet ein gemütliches Cafe, einen Treffpunkt für Radwanderer und einen ländlichen Ruhepol. D orfgemeinschaft Oiste e.V. ((URL HIDDEN) - will zur Verschönerung der ehemals selbständigen Gemeinde Oiste beitragen, pflegt und fördert die heimatgeschichtliche Forschung, bewahrt volkskundliche Traditionen und unterstützt das kulturelle Leben im Ort. E inzigartig - so was gibt es nur in Oiste. F ahrradtouren sind von Oiste in alle Himmelsrichtungen möglich. Ausgebaute Radwege und ausgewählte Radwandertouren laden zu vielfältigen Zielen und Sehenswürdigkeiten ein. G anz viele liebe, nette Leute - das zeichnet Oiste aus. H istorie: Oiste wurde 860 erstmals urkundlich als "Otishusun" erwähnt und ist damit der älteste Ort der Gemeinde Blender. I nsel in der Weser - das soll Oiste mal vor vielen, vielen, vielen und noch mehr Jahren gewesen sein. J ede und Jeder ist herzlich willkommen. K ühe gibt es noch - aber wenige. Kirche - ist der Mittelpunkt und mit dem alten Friedhof drum rum sicherlich ein Besuch wert. L ändlich, lebensfroh, lustig, laut und leise. M ilchkannen und rotkarierte Tischdecken - waren mal, sind sicher auch noch da und es wird immer geben. N atur pur. Nette Menschen. Niedersächsisches Kleinod. O iste spricht man: Öhste und nicht O I ste oder Euste. P ferde und Ponys gibt es viele. Q uakende Frösche leben am Teich und in den Weserwiesen hinter dem Deich. R adwanderwege führen durch Oiste. Sie bringen viele Gäste. S amtgemeinde Thedinghausen ist zuständig für alle kommunalen Angelegenheiten und der NABU kümmert sich um die anässigen Störche. T raut euch - ein Besuch in Oiste lohnt sicherlich. U rlaub in ländlicher Idylle - hier ist es möglich. V erden - die Kreisstadt, auch ein lohnenswertes Reiseziel (Sachsenhain, historische Altstadt, Dom). W ehrkamps Haus der Vieltfalt steht euch immer offen. X für ein U vormachen.... habe ich nicht gemacht - alles stimmt hier, sogar die Xylophone im Garten. Y sop wächst in manchen Gärten. Z um Schluss: Herzlich willkommen. Wir freuen uns auf euch als Gäste.
We felt very good and private. Our arrival was at late night, but Katharina was very welcome. Unfortunately weather was not good for enjoying the beautiful garden, but next time! Thank you!
Zanda
2016-06-27T00:00:00Z
Spacious and quiet place, but dated interrior. Still okay and value for money.
Sander
2016-12-28T00:00:00Z
We had a lovely time in Blender. This is a very spacious, charming home. Katharina is an excellent host and provides a beautiful space that makes you really feel at home. Lots of extras.
Raquel
2016-08-07T00:00:00Z
Short stay - warm greeting on arrival, the accommodation had everything we needed. loved the generous space
Andrew
2016-08-05T00:00:00Z
Spent 2 nights here on our plan to the kids to Heide Park Resort. Hue-huge place which can easily place 15-20 pax. Located in a nice country side nor far from town of Verden. My kids enjoyed playing at the small garden behind the house and we enjoyed plucking and eating the apples from the trees. This place is very good to place large number of people and avoid hectic cities.
Ishmayel
2016-10-23T00:00:00Z
Everything was good: a lot of space, equipped kitchen and cozy rooms. Rainy weather and our early departure didn't give us a chance to enjoy the garden and surroundings. Nevertheless, we enjoyed our stay by Katharina!
Victor
2016-10-12T00:00:00Z
Katharina is a very friendly host. Spacious appartment. Even some toys and games for our kids in the living room. Big asset of this accomodation is the garden! And Katharina made a delicious breakfast for us. Thank you!
Marianne
2016-07-28T00:00:00Z
Ma prvni zkusenost s airbnb a absolutni spokojenoat. Dekuji.
Jan
2016-07-29T00:00:00Z
Room Type
Entire home/apt
---
Property Type
Flat
---
Accommodates
8
---
Bedrooms
Blender, Niedersachsen, Germany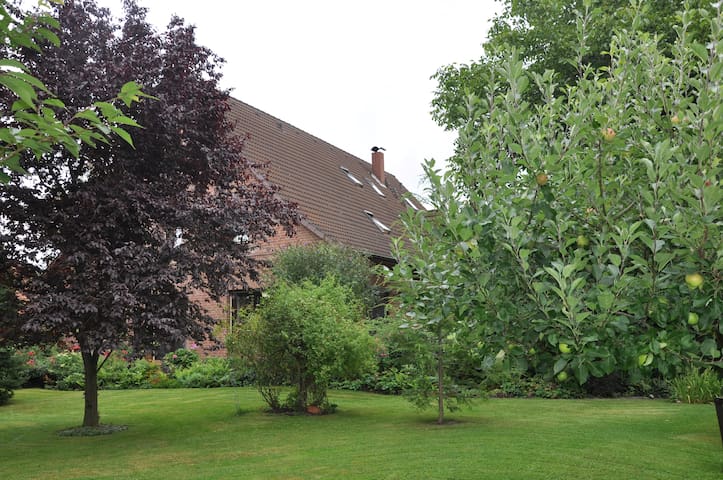 Scheeßel - Airbnb
:
Average

4.82

out of

5

stars from

320

guest reviews
1

–

18

of

135 Flat Rentals
Enter dates to see full pricing. Additional fees apply. Taxes may be added.