Our fully furnished studio apartment is located next to our main home and attached to the farm shop. There are walking trails, an outdoor grill and fire pit with large lawns perfect for relaxation.
This is a fully self-contained, private studio apartment located on a gated 32-acre cherry and horse farm, approximately 45 minutes from the entrance to the Kings Canyon National Park and Sequoia National Park in Central California. The apartment is fully furnished and attached to the farm's shop - next to the main home. There is a queen bed in the apartment along with a twin rollaway bed. It also has DirecTV, a full kitchen, and laundry facilities. The main visitor center in Yosemite National Park is less than two hours away (unless traffic is backed up getting into the park). The central portion of Sequoia National Park and Kings Canyon National Park are approximately 55 minutes from our home. The Paso Robles wine region is approximately 2.5 hours away and a lovely way to enjoy a day. Dogs are welcome if you let us know in advance and clean up after them - a cleaning surcharge applies. There is also a large, outdoor dog run attached to the shop. And, we have space for your horses if you happen to be traveling with them. This is a non-smoking studio.
This is a rural agriculture area with citrus, cherry, almond and other fruit and nut orchards as well as grape vineyards and a number of specialty vegetable farms.
Dana, our hostess, greeted us right away upon our arrival and gave us a tour of the apartment. The place was very clean and comfortable. We utilized the kitchen for our meals and snacks, which saved time and money. Although Dana's schedule didn't allow for her to say goodbye in person, Dana left us a nice note. This place met our expectations and needs.
Diana
2015-02-12T00:00:00Z
Large room with plenty of space, comfortable bed, and all the modern conveniences that you would expect. We had a great stay. Only thing is that the wifi does not work; the signal is too weak, so if wifi is important to you, make alternative arrangements. But that meant that we watched some shows on their TV using their DVD player. Good location if you are visiting Sequoia / Kings Canyon.
Raymond
2014-09-03T00:00:00Z
We enjoyed our stay on this very peaceful farm. It was well situated for our day trips to Sequoia and Kings Canyon National Parks. Dana greeted us when we arrived and made us feel welcome. The bed was very comfy, and the shower was especially nice! During our stay, the internet service was unreliable. We understood from Dana that this issue is being looked into. If ice is important to you, you'll need to bring it in as the ice maker on the side by side did not work and there were no ice trays available. This was a nice studio in which to relax after our day hikes. We would definitely stay here again and we would recommend it for others.
Jacqueline
2015-06-06T00:00:00Z
Our stay at Blair's cottage was great! Dana was so hospitable and while we only had a chance to meet her before we left, she made every effort to ensure our stay was the very best. The description of the place was on point and we have everything we needed and more! We'll definitely try to stay here again the next time we decide to visit Kings Canyon/Sequioa National Park again.
Joyce
2015-04-19T00:00:00Z
Such an amazing place to stay! The ranch is beautiful! It is a small town, so if you're looking for a relaxing and peaceful place to stay, you've found it. While we came here to visit Yosemite, we mostly spent our time on the ranch. Blair made sure we were all set to arrive, and Elliott and Dani were great hosts! We thoroughly enjoyed our visit.
Marissa
2016-09-06T00:00:00Z
This was our second stay at Blair's studio and we found it just as enjoyable as our stay last summer. Hosts Elliot and Dani welcomed us graciously and accommodated us well. They offered to prepare food for the 4th of July meal which we shared with them and our family. They were kind and thoughtful during our stay. It was a pleasure to get acquainted with them. The studio is furnished well and is a comfortable environment in which to relax. We would certainly recommend it to others.
Steven
2016-07-07T00:00:00Z
This place was beautiful. It was comfortable enough for 3 people and everything was ready upon our arrival. Nice décor and welcoming. Since we unexpectedly arrived at night and this is a rural location, I was worried about checking in and finding the place. There were absolutely no problems and easy to access the farm and home. Everyone was pleased with the grounds and especially the pool, since it was over 100 degrees during our stay!
Rose
2016-08-25T00:00:00Z
Excellent accommodations. We didn't stay long enough to use all that was available, but it was perfectly sized and had everything we needed.
Carl
2016-09-18T00:00:00Z
Room Type
Entire home/apt
---
Property Type
---
Accommodates
3
---
Bedrooms
Sanger, CA 93657, United States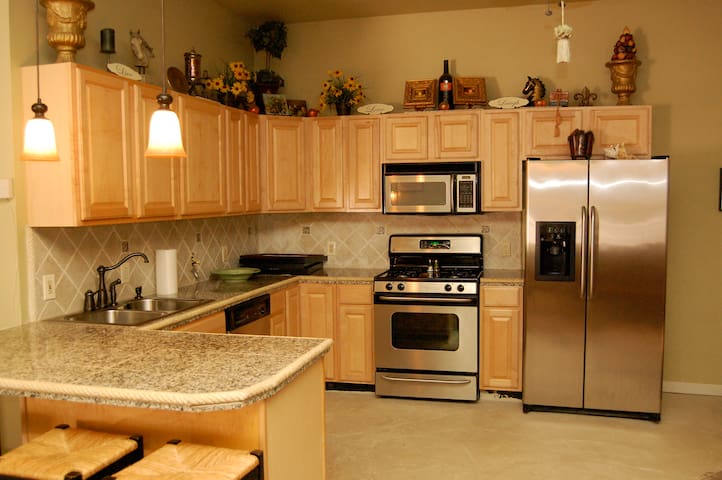 Large private guest apartment (850 sq. ft.) on premier equestrian facility in rural Sanger with pool. Mountain views from upper balcony. Has full kitchen, living room, bedroom with queen bed, connected loft with single daybed, and full bathroom. We do have a cot available for a 4th guest if needed. For safety reasons we do not allow toddlers (infants ok if not walking yet) or young children who cannot swim or who would be in danger of falling from the loft.
There is a downstairs living room, kitchen, and laundry room. Upstairs is the bedroom, bathroom and a loft on the other side of the bedroom stairs, as well as a balcony deck. There is a queen size bed in the bedroom and a twin daybed in the connected loft. We have a cot (s) available. There are 2 full-size leather couches (one upstairs, one downstairs) that could possible sleep kids or your ex-brother in-law if needed. There is parking under a carport for 2 cars. If you are bringing horses we have truck/trailer parking on the ranch and stall or front pasture or mare motel space for your horses.
Very quiet rural neighborhood with small family farms and ranches. Many guests come for the cycling and hiking, for the downtown Clovis antique shops, for the nearby lakes (Avocado, Shaver, Huntington, Millerton, or the Kings or San Joaquin rivers), or to explore the National Parks (Yosemite, Kings Canyon, or Sequoia). There are two quaint local country restaurants within 5 minutes drive where all the cowboys and farmers and travelers passing through eat. The Red Caboose Cafe and the Blossom Trail Cafe are located on Academy Avenue which is one mile east of the ranch. Neighbors Cafe is the only restaurant that is open late (til midnight) at Nees and Fowler in Clovis. We can also provide directions to a wonderful (but very inexpensive) Mexican restaurant about ten minutes away. Of course, Sanger, Clovis, and Fresno have a wide variety of fast food to high end places to eat.
Wow where do I even begin?! Ananda is a great host! We had fresh farm chicken eggs p, freshly squizzed orange juice and crossoaints waiting for us when we got to the place. The fridge is full of goodies and you immediately feel at home. The ranch location is great, you have beautiful horses in your backyard and a very friendly dog named Zelda (who kept our dog occupied for he whole time). I highly recommend this place if you're visiting the area - we'll definitely be back! BTW we initially booked one night and after getti there immediate booked another night :)
Michael
2016-04-07T00:00:00Z
The host wasn't present at arrival but her communication prior made me feel welcome and provided all necessary information. The space was lovely and it was nice to have our own space. The dogs were a bit of a surprise. Very lovely but very energetic.
Mary
2016-06-29T00:00:00Z
Everything was great! Very nice place...we loved having the dogs around and getting to see all the horses. Ananda and Jim were amazing hosts and I would definitely stay again! :)
Angie
2016-06-27T00:00:00Z
My boyfriend and I had a very special time at the guest apartment. We planned an overnight stay here to kick off a long weekend for his birthday, and it was everything we had hoped for and more. The space was clean, cozy, safe, welcoming, and tastefully decorated. Ananda maintained open communication with me prior to the trip and throughout our stay. The detailed directions/instructions were super helpful, and whenever I had any questions, Ananda responded promptly. We enjoyed every amenity and moment spent here. Eden Ranch was a relaxing mini retreat. Highly recommended!
Sherri
2016-03-21T00:00:00Z
We had so much fun staying at Eden Ranch! The environment is very welcoming and very good for small families/friends bonding time. I went with a group of friends driving from LA to Fresno to visit a friend that had recently moved into the area. Ananda was very friendly to show us around the ranches to see all the animals, and they are all friendly and approachable. She lets us know what's around the area to pick up specific things and what to do for entertainment, that was really helpful since it's our first time in the Fresno area. The ranch apartment is well organized and decorated. The fridge is stock with food, and most essential things you will need to feel like home. i.e. Laundry equipment, kitchen, cookware, TV...etc. We used the the hot tub during the evening, and it was relaxing and a nice way to relieve stress. My friends and I would definitely come back to visit! We love to see the horses and maybe ride on them next time we go.
Tina
2016-05-16T00:00:00Z
Ananda's place was a wonderful option for our trip. It was close to Sequoia National Park and the horse ranch was a nice change of pace from a typical hotel stay. My dad is a dog lover and immediately bonded with Zelda, he looked forward to seeing her at the patio door in the mornings. He also enjoyed the 'equine therapy' and visited with the horses in their stalls. The guest house was clean and comfortable. Ananda had a fully stocked fridge that made preparing meals a breeze. We also took the recommendation to visit the School House restaurant a few miles away, great historic renovation. We would definitely stay with Ananda again!
Terri
2016-08-12T00:00:00Z
If your travels take you to the Fresno area, do yourself a favor and stay at Eden Ranch! I've had many Airbnb experiences, and this place is without a doubt in competition for a top stay. With very clear instructions, generous provisions, and friendly animals (dog, cats, horses), I certainly hope to return. Overall Eden Ranch perfects that difficult balance between granting privacy and a caring personal touch. The photos don't do justice to the decor or the comfort. Thank you!
James
2016-03-25T00:00:00Z
Easily the best Airbnb experience I have had. Everything was perfect, down to the fresh squeezed grapefruit juice and the delicious cookies put out for us. The house was beyond immaculate, felt very comfortable and had all the amenities anyone could ask for. Our host was gracious and made us feel welcomed. I truly hope I get another opportunity to stay here, and would recommend it to anyone!
shane
2016-09-15T00:00:00Z
Room Type
Entire home/apt
---
Property Type
---
Accommodates
4
---
Bedrooms
Sanger, CA 93657, United States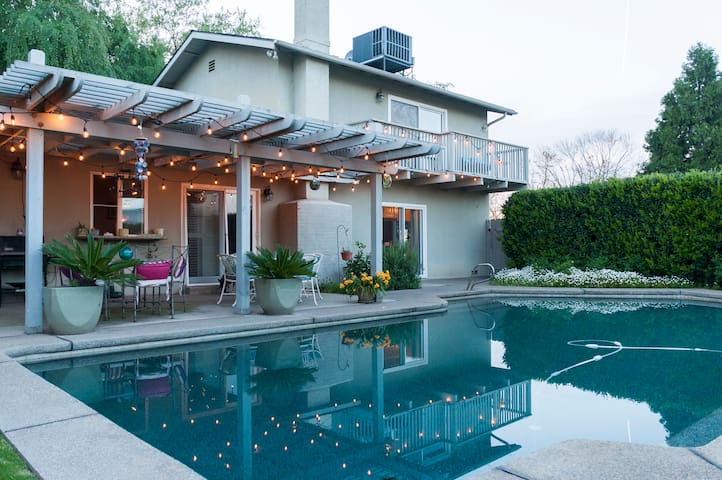 Sanger has easy access to the ski slopes and to 3 National Parks. We are also in the heart of the famous Blossom Trail to enjoy in late February and March.
Guests have a separate wing of the house. The lower level includes a very large bedroom/sitting room/office. The bed is a very comfortable new queen bed. The upper level has a private full bath with shower, laundry room, private access to patio and pool, and another exit to the front of the house. This is a very unique, quiet and peaceful house that we have loved for 27 years. You will love it,too.
It is a corner house in a safe, quiet neighborhood. There are lots of trees on a large lot. It has a grocery store within walking distance that has a wonderful Mexican Deli. There are 4 other restaurants in the same shopping center. Guests enjoys easy access to the ski slopes and the National Parks.
We had a great time at Carole ´s place. everything was exactly as on the pictures, very confortable and clean. Carole was really welcoming and helpful on what to see around her place. She also cooked for us a delighful breakfast. wish we had more time there!
Laura
2016-08-16T00:00:00Z
Great host and great house! Very good experience!!
Alvaro
2016-07-05T00:00:00Z
Carol and Roger were great! Very friendly and very helpful even loaning Tire chains for our trip to the Sierras! We feel like we have new friends in California. The room was clean and well stocked with snacks and goodies. The private bath was very nice. Carol's breakfast burritos were delicious, too. Thank you Carol for good advice and warm hospitality. It is your God given gift! I would recommend this room to anyone.
Karen
2015-11-16T00:00:00Z
Carole and her husband were awesome hosts. Though our visit was very short, they gave us a nice hearty breakfast and good advice before our hike into the Sequoia National Park. I definitely recommend this place to anyone who wants to relax comfortable and enjoys company! Stay for awhile!
Catherine
2015-09-14T00:00:00Z
The hosts are very personable and helped us feel right at home. The room was very quiet, clean and the bed was the best! They provided off street parking and a wonderful breakfast. Their location was close to our destination, Sequoia National Park.
Gary
2016-06-19T00:00:00Z
This was hands down my best experience with Airbnb. Carole and Roger are fantastic, hospitable hosts. After a long day of driving and visiting the nearby parks, we were able to quickly relax and take a dip in the pool. The room was dark, cozy, and well-accommodated with amenities. It was perfect to enjoy a cup of tea before a refreshing night of sleep. Carole made us a nice breakfast in the morning (including delicious, local fruits), and we enjoyed a cup of coffee over conversation. I definitely recommend staying and would love to come back to Sanger.
Keilian
2016-07-28T00:00:00Z
Carole is a great host. She took my reservation at very short notice and was very flexible on when I arrived to collect the key. Her guest room is large, clean, and well furnished. It's basically a converted basement, so there are no windows ... but that means it's very dark and quiet at night. It has a private entrance, a refrigerator stocked with unopened milk, yogurt, cereal, and snack bars, a separate freezer, access to washer/drier, and a pool. I'd gladly stay there again the next time I'm in the area.
Brian
2015-10-26T00:00:00Z
We had a wonderful stay in Sanger, just a short drive to Kings Canyon entrance. Carol has been an amazing host and provided us with all that we needed, including extensive information about the parks. I highly recommend her delicious smoothies for breakfast!
Sean
2015-08-13T00:00:00Z
Room Type
Private room
---
Property Type
---
Accommodates
2
---
Bedrooms
Sanger, CA 93657, United States
Welcome to our small, family-owned fish farm just 54 miles west of Sequoia/Kings Canyon National Park. Guests will delight in the diverse wildlife and serene views. The house comfortably sleeps six (one queen bed and four twin beds). If there are seven or eight guests, rollaway cots will be provided. Guided fishing excursion available at an additional cost. Please inquire if interested.
Little House on the Fish Farm was built in 2013. The three-bedroom, two-bath guest house is located on property that has been in our family for generations. Danish teak furnishings, bamboo flooring, and recessed lighting give the house a simple yet modern feel. The space is decorated with water lily prints, artifacts picked up on our travels, and local art. The family room is a comfortable place to relax after a long day of sightseeing. The library is filled with books to encourage you on your next adventure. There is also a Smart TV, DVDs, and board games. Galley kitchen is equipped with: • custom granite countertops • stainless steel fridge • gas stove/oven • dishwasher • microwave oven • toaster • coffee maker • electric kettle • pots, pans, plates, cups, and utensils The master bedroom has a walk-in closet and is furnished with a queen bed. A favorite feature in the master bathroom is the soaking tub. The other two bedrooms share a bathroom and are furnished with twin beds. Each bathroom has a blow dryer. The house has a washer, dryer, iron, ironing board, steamer and two full-length mirrors. THE OUTSIDE SPACE Little House on the Fish Farm is located in the Sanger river bottom, known for its peacefulness and beautiful scenery. Our ponds play host to a variety of wildlife including fish, insects, frogs, beavers, waterfowl, and birds of prey. In the late spring, splashes of vibrant color dot our ponds as water lilies begin to bloom. A stone's throw from Little House, sheep, goats, and cows graze in the pasture. Feel free to visit the hen house and collect eggs for your morning breakfast. The "floating" goat house greets you as you drive down the dirt road. Sunrise is a magical time. Grab a cup of coffee, head outside, and experience the farm as she wakens from her slumber. Sunsets are equally spectacular. Go ahead, fire up the BBQ and enjoy a leisurely dinner on the spacious wrap-around deck. There is a kind of hush as darkness slowly envelops the farm. The stars shine brightly in the stillness. It is a perfect ending to an unforgettable day.
Even though your nearest human neighbors are half a mile away, you are within three miles of shopping and restaurants. A quaint town of 25,000, Sanger is literally that place where you can't walk down Main Street without bumping into somebody you know. Within this close-knit community, you can find modern stores next to family restaurants and shops that have been in business for the greater part of the past century. SEQUOIA, KINGS CANYON AND YOSEMITE NATIONAL PARKS Just a 54 mile drive away up Highway 180, Sequoia and Kings Canyon National Parks affords guests convenient access to hiking, fishing, birding, and backpacking opportunities within the parks. Yosemite Valley in Yosemite National Park, one of the greatest natural wonders of the world, is up Highway 41. Hike up to Bridalveil Falls, climb El Capitan, or backpack out of Tuolumne Meadows.
Thanks John and Janet for putting your property on Airbnb. Your home fit our family of seven perfectly. Everything was clean. Beds were comfortable. And the setting was peaceful and relaxing. Thanks for the tour of the farm too. It was one of the highlights of our road trip. Loved being able to get fresh eggs from the hen house. Best of all, your home is perfectly placed right in the middle of both Yosemite and Sequoia national parks. If we ever come back here again, we hope your place will still be available.
Robert
2015-06-30T00:00:00Z
Thanks John and Janet for making us comfortable. We really enjoyed our stay at your Li'l House on FishFarm. The children keep reminiscing about playing with all the animals especially your goat kid, Gigi and the baby chickens. The place was a great weekend getaway and a perfect place to rest after our visit to Sequoia National Park. The kitchen was well-stocked with groceries and your farm-fresh eggs from the hen house were really yummy :). Thanks for sharing your experiences and showing us your fish ponds and water flowers. And a unique chance to savor water lily honey :) for the first time in our lives.
Guru
2016-06-21T00:00:00Z
John and Janet's place was such a joy to be in. It's a shame we didn't get there earlier to fully appreciate the stay. Janet was so communicable and very willing to come meet us if we had come earlier. John did come out to meet us in the morning and show us the farm and animals, which was so nice of him. I also love that they had a personal package on the bed when we came, which really just made the place a whole lot cozier for me and my family. Would definitely come stay here again if I had the chance!
Ganesh
2015-06-28T00:00:00Z
John made us feel welcome. He met us at the road and we followed him back. He and his wife took great care to make sure we felt comfortable; there were snacks on the table, note cards with pictures of aquatic plants, and goat milk soap, and John even greeted us with a large bag full or delicious oranges! Li'l House on FishFarm was so perfect for us! My favorite childhood books (Little House series by Laura Ingalls Wilder) were in the extensive library and I soon then realized the tie-in. I loved the Little House Cookbook! Our family played Apples to Apples (one of the many games they have available), and laughed the evening away. John was so kind to give us a tour of Sanger HS Agriculture Dept, as we were so interested in the Aquaponics and Hydroponics. My son had to write some poems for his college class and the gazebo overlooking the pasture provided the perfect backdrop. If we come back to the Fresno area or wish to visit the nearby National Parks, we will definitely stay again at Li'l House on FishFarm!
Maureen
2016-04-27T00:00:00Z
This airbnb was our best experience ever. We were welcomed in a complete equipped house, superclean, tastefull and full of extra's like information about the region, fresh eggs and coffee, tea and cookies. John took us in the morning to his fishfarm where we fished our meal for dinner. He also brought us tomato's and cabbage from his land. And when we needed a doctor they gave us good advice and support. A five star accomodation for a very reasonable prize.
Femke
2015-08-02T00:00:00Z
This location was exactly what I expected and more. Beautiful setting, clean and fully equipped beautiful home. Succulent gardens and lovely landscaped pathways surround the home. The farm animals were an added delight. Each morning and evening we relaxed a little, while feeding the chickens and goats. John left a helpful list of local establishments including details on nearby national parks which was our main point of interest for this trip. He also brought us fresh eggs and bottle of wine to welcome us on the first morning. My only regret was not having the time to take John up on his offer to tour the complete farm. Wish we had a few more days just to spend there relaxing on the deck and exploring the farm.
Denise
2016-10-01T00:00:00Z
Our stay in the midst of this perfectly maintained farm was for us a joyful and unique experience. The house is newly built, with every requirement carefully considered including soft new bedding and towels. It is well-placed for the northern entrance of the beautiful Sequoia National Park and in the main fruit tree farmland of the US. Apart from the beautiful springtime blossom, the farm itself specialises in growing lilies and farming fish. My daughter caught her first catfish there, with John's helpful instruction! On our arrival our hosts welcome of fresh eggs and honey complimented fresh grown local fruit we had purchased at the roadside. Apart from the tour of Sequoia another highlight was being shown by John the actual contribution that the farm is making to sustainable farming, which we all found most interesting. Having breakfast or indeed dinner on the sun-deck surrounded by nature and farm animals was charming . We highly recommend a stay at this comfortable and original property, which is an excellent base if you want to be just outside the National Park.
philip
2014-09-27T00:00:00Z
another awesome stay (our 3rd) at the little house! there's always something new to discover, and john and janet are great hosts.
areni
2016-09-19T00:00:00Z
Room Type
Entire home/apt
---
Property Type
---
Accommodates
8
---
Bedrooms
Sanger, CA 93657, United States
A relaxing and peaceful private 1 bedroom with a cal king bed & bath located in the country. Access to a kitchen and den with TV. There is a large pool, basketball court, fire pit and courtyard for guests to enjoy. It is a very quiet, rural neighborhood with farms and ranches and views of the mountains. It is close to avocado, shaver, Huntington, & Millerton lakes, & kings & San Joaquin rivers. We are also Close to kings canyon & Seqouia national parks & the historical school house restaurant. We are only a couple miles away from highway 180.
There are beautiful mountain views and a tranquil country setting. Quick access to the main highway, lakes and parks. There is a large pool, basketball court, fire pit and courtyard for your use. The TV has cable.
I love the quietness and views.
Room Type
Private room
---
Property Type
---
Accommodates
2
---
Bedrooms
Sanger, CA 93657, United States
A spacious, private bedroom with a new comfortable mattress that is the perfect place to rest and relax while you enjoy Fresno/Clovis area or make your way to beautiful Yosemite, Sequoia National Park and/or Devil Postpile. We are very close to the Fresno airport with only 6.5 miles in distance. Our place is good for couples, solo adventurers, and business travelers. The house locates in very Safe & New housing Gallery Community. We will make you feel at home when staying in our lovely house.
It was a good location at a more than reasonable price. Hoan+tu were accommodating and reliable.
Jayol
2017-02-02T00:00:00Z
Clean, quiet and safe.
Tim & Brenda
2016-12-04T00:00:00Z
Great and welcoming hosts, clean place. We went for a weekend and visited Yosemite twice, took us about an hour to get to the South Entrance of Yosemite.
Rikka
2017-02-13T00:00:00Z
I had a wonderful experience staying with Minh and his family. They were very kind, providing good tips for my hiking trip to Sequoia National Park. The room was comfortable and clean. I would highly recommend.
Thomas
2016-07-11T00:00:00Z
Minh was very welcoming, him and his family were so nice and made you feel very at home
Erika
2016-07-24T00:00:00Z
Perfect host, made every effort to accommodate me.
Marlene
2016-06-25T00:00:00Z
Loved it! Slept great, and enjoyed the hosts kindness.
nathan
2017-02-19T00:00:00Z
Joan and Tu provided a quiet, safe, clean place for me to stay at while in Fresno. I'd recommend them to anyone.
Clare
2017-01-24T00:00:00Z
Room Type
Private room
---
Property Type
---
Accommodates
2
---
Bedrooms
Clovis, CA 93619, United States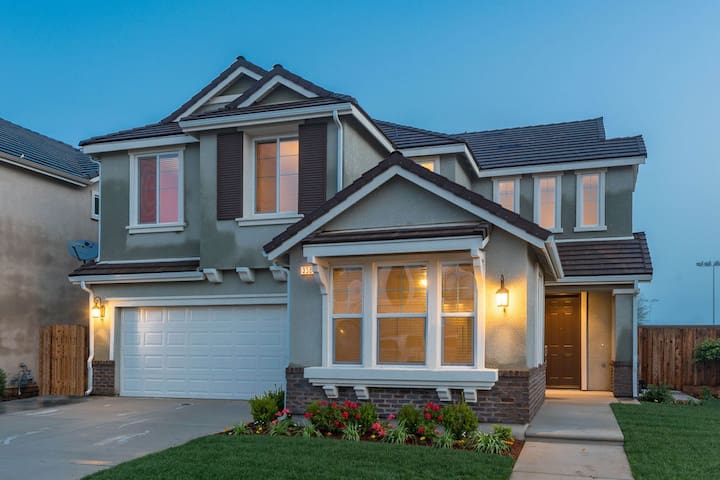 After enjoying kings Canyon & Sequoia National park you will only be 45 minutes away from relaxing in a sparking refreshing pool. Guest will have a private bedroom.A second bedroom is available for additional $25 per person.
We are only 45 minutes from Kings Canyon National park entrance.
We are in the country surrounded by peach and plum trees yummy!
We had s perfect stay at Sylvia's and Frank's home. We didn't meet Sylvia, but Frank was a fantastic host to us. We had many great hosts during our 3 weeks trip in eastern USA, but he's the #1 for sure. We arrived late but he welcomed us with a beer and we chatted about technic stuff, football and the world. This continued on the next morning when he prepared a tasty breakfast for us. Not to forget Sylvia's fruit yoghurts, we loved them! The house itself was perfect, too (especially when we arrived in the dark the light decoration looked awesome). Next time we're around Sequoia there is no doubt were to stay!
Fridtjof
2015-09-09T00:00:00Z
Sylvia and Frank are very kind and warm people. They made everything they could to make our life easier: breakfast, dinner, snacks for the hikings in the parks. We shared some great moments talking and knowing about each other.The place is not too far from the national parks. We highly recommend this place and would come back with great pleasure.
Alain
2015-05-24T00:00:00Z
Sylvia is one of the best host we ever met on Airbnb. She is so friendly, jovial and kind. She prepared delicious breakfast for us and that was way too generous of her. We had lovely stay at her beautiful home. Would love to visit again.
ajit
2016-08-16T00:00:00Z
This is a review for Silvia & Frank. Their Sanger House is managed by Silvia's sister Olga. It was awesome. Everything was beyond expectation. The house and my guest room + own bathroom were very tidy, clean, nice and big. I loved the big pool to cool down. But the best were Silvia and Frank themselves. I got a very warm and friendly welcome, Silvia almost adopted and bemothered me and I immedeately felt like home. I also enjoyed the meals and the introduction to mexican cusine. Silvia is an awesome cook. Their hospitality is really extraordinary. I left with a sad eye but with new friends. Thanks for everything.
Wolfgang
2013-08-08T00:00:00Z
Place: The house by itself is just amazing. It is located in a perfect spot within driving distance to the national park. Amazing place to just relax as well. The house is clean and spacious. Host: Sylvia & Frank are very warm & welcoming. They are very thoughtful of all the guests needs and privacy. We hit it off very well with them. We were also hosted by Sylvia's colleague - Lorana on our first day and she was extremely pleasant. Our overall experience was really good and I would highly recommend this place to everybody. I will be back again for sure. Sylvia, Frank & Lorana. Thank you very much for making our vacation memorable - Milana & Himanshu
Milana
2014-02-19T00:00:00Z
If you are going to the Kings Canyon National Park, this house is a must stay! The beds are super comfortable and the hosts are more fabulous than you thought. Everything is great.
Jingxiao
2015-05-17T00:00:00Z
Sylvia and Frank were both incredibly welcoming - more so than any other Airbnb place we have stayed (and there have been many). The experience was like staying with generous, warm and fun friends. They certainly know how to be great hosts!
Donna
2015-03-30T00:00:00Z
Sylvia was an amazing host. Her and her husband were so welcoming and extremely accommodating. We were on our way to yosemite and stopped here for the night. This was the best airbnb experience I have ever had. We were greeted with coronas and the bed was so comfortable. I would highly recommend this place to anyone who is traveling through the area. They made us such a lovely breakfast in the morning (they even woke up at 6:30am to do it) and we were perfectly ready for a full day of hiking after leaving.
Alex
2016-06-13T00:00:00Z
Room Type
Private room
---
Property Type
---
Accommodates
4
---
Bedrooms
Sanger, CA 93657, United States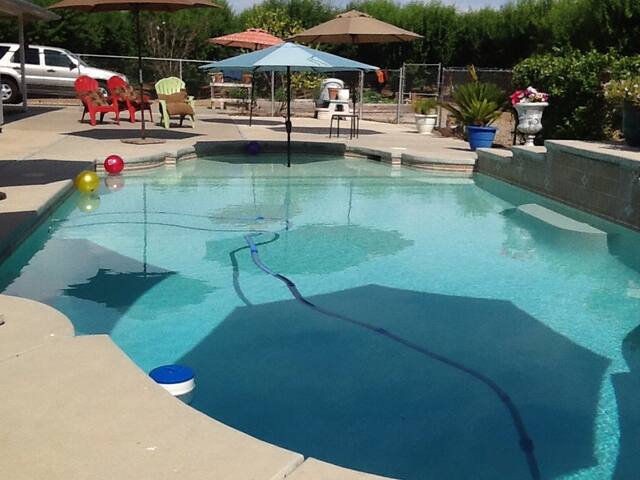 This beautiful home on 7.5 acres incites the central valley feel. Surrounded by almond orchards in the front, and a huge backyard with a great view of orange trees in the distance. Only a short drive into Clovis, Fresno, Shaver lake, and Yosemite!!
Be very careful using the pull-out sofa bed, it IS broken. With that said, if you can pull it out right and lie still, it is possible to sleep on there succesfully.
The host canceled this reservation 38 days before arrival. This is an automated posting.
Mainag
The host was always prompt to reply and the space was great for a large family. The home was clean and in good condition. The location sits on a dirt road which can be difficult when the ground is wet. We would definitely recommend this home.
Coron
2017-02-15T00:00:00Z
The host was always prompt to reply and the space was great for a large family. The home was clean and in good condition. The location sits on a dirt road which can be difficult when the ground is wet. We would definitely recommend this home.
Coron
2017-02-15T00:00:00Z
The host canceled this reservation 26 days before arrival. This is an automated posting.
Scott
Michael was a fantastic host and responded to questions immediately. The house is at the end of a different road than the address. We arrived at night and had difficulty but Michael responded immediately to help us find our way. The description actually gives accurate directions, I just didn't read them closely enough before arriving. This is an older house. There was a large kitchen and dining area. The family room had limited seating with just one couch. There was no TV/cable but a computer could be hooked up to the screen. We often lost the wifi because the power went out in the bedroom with the router in it just by turning on the light if anything else was plugged in. The bathroom was good sized and there were plenty of clean towels. The heater worked well and we were comfortable temperature wise. It worked well for us for 2 nights but I probably wouldn't stay much longer. The neighbor's dog barked in the very early morning hours one night but not the next.
Kristy
2017-03-05T00:00:00Z
Michael's places was nice and private, full kitchen to do all the cooking, great view. Thanks Michael
Ricky
2016-12-22T00:00:00Z
Awesome place to stay. The place was nicely furnished and had all the essentials. Definitely a place I'll keep in my for future travels.
Adrian
2017-02-28T00:00:00Z
Overall a nice property. Quiet and away from things which we wanted. It was hard to find because it was so far out though and it was a bit cold since it was a big space with only space heaters. But definitely accurate on the listing and overall a nice place.
Amber
2017-02-26T00:00:00Z
Room Type
Entire home/flat
---
Property Type
---
Accommodates
7
---
Bedrooms
Clovis, CA 93619, United States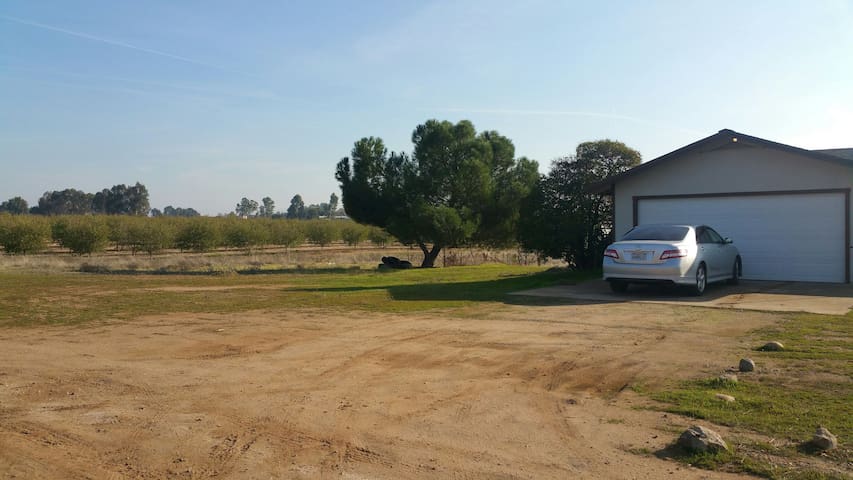 Great place to relax at and rest your head while visiting the Central Valley. Whether for a wedding, trip to the National Parks, visiting family or just checking out Fresno, let Home McG be your base.
Lovely house..very clean and spacious. Would definitely stay again.
Erica
2017-01-05T00:00:00Z
Great house, even better than I expected. And Farah was incredibly friendly and helpful. Definitely recommend!
Ryan
2016-11-09T00:00:00Z
Great house and great location.
Sheila
2017-01-09T00:00:00Z
Awesome home! Big, spacious and so organized. Would recommend this place to anyone wanting a nice place to stay.
Ronald
2017-01-26T00:00:00Z
We had a great stay! Super comfortable and very clean (updated) home. Great communication, and understanding to our schedule! Thank you!
Stephanie
2017-03-08T00:00:00Z
Beautiful home for a relaxing stay. My first Airbnb stay and Farah made it relaxing and enjoyable. I would highly recommend this home for your stay around Fresno.
Stan
2016-11-23T00:00:00Z
Clean, well-kept house in a nice, quiet neighborhood. The house had everything we needed and more! It was a wonderful, comfortable place to stay and we look forward to staying there again.
Liz
2016-11-28T00:00:00Z
The house was very clean and modern. Lots of room and the kitchen was big and has everything you need to cook dinner. 10 out of 10!
Adalino
2017-02-16T00:00:00Z
Room Type
Entire home/apt
---
Property Type
---
Accommodates
6
---
Bedrooms
Fresno, CA 93737, United States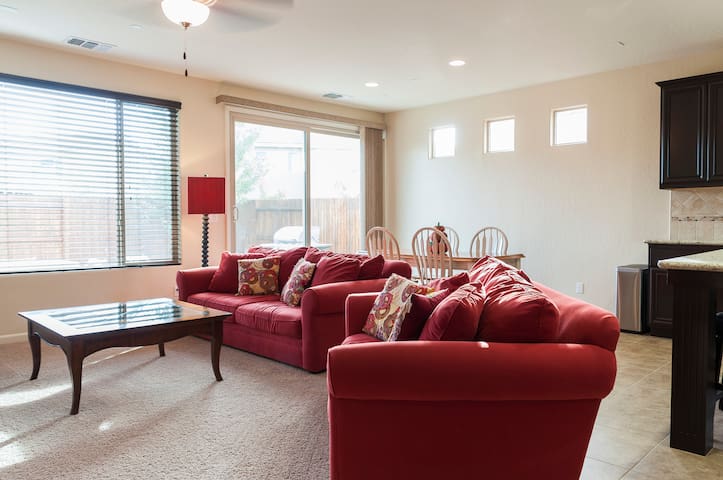 Enter dates to see full pricing. Additional fees apply. Taxes may be added.