My place is a surprising poolside room with walk in closet and en suite bathroom. Visitors will love the unique outdoor living space; a fully equipped kitchen opens onto a huge deck for al fresco outdoor dining and sunbathing! This private apartment is located in a safe exclusive, residential area with friendly ex pat neighbours upstairs who share the pool . Our place is suitable for couples, solo adventurers, business travelers and guests of residents of St Aroment..
Enjoy an amazing view over the city of Roseau and the Cruise ship berth one way and the mountains and forests the other. You'll love our place because of the location a twenty minute walk downhill to Roseau city centre and the sports stadium ( site of the World Creole Music Festival) . In town there are restaurants, historic sites, the Botanical Gardens, night life and a bustling fresh produce market. The pizza delivery places know the address . You can park your rental vehicle on the street safely or order a tour bus or taxi to pick you up.
St Aroment is a quiet established residential area with beautiful views of the Bay and Mountains. Walking distance to town, we do however recommend you get a Goodwill bus back up the hill and pay extra for door to door. It is best to park on the Goodwill side of the river on the link road near the stadium and walk the rest.
Lovely house with spectacular views over Roseau and the start of the Roseau valley and close enough to use as a base to explore local natural wonders (we highly recommend hike to boiling lake if you feel fit!). Outdoor dinning area is really nice and can dine under the stars. Loads of trees round about gives quite a natural feel to the place when on the decking. Great swimming pool to use at your leisure after a days walk in the valley. Tina can sort all sorts out for you and is a very friendly host. Would definitely recommend and return
Calum
2017-03-02T00:00:00Z
Room Type
Entire home/apt
---
Property Type
Flat
---
Accommodates
2
---
Bedrooms
Roseau, Saint George Parish, Dominica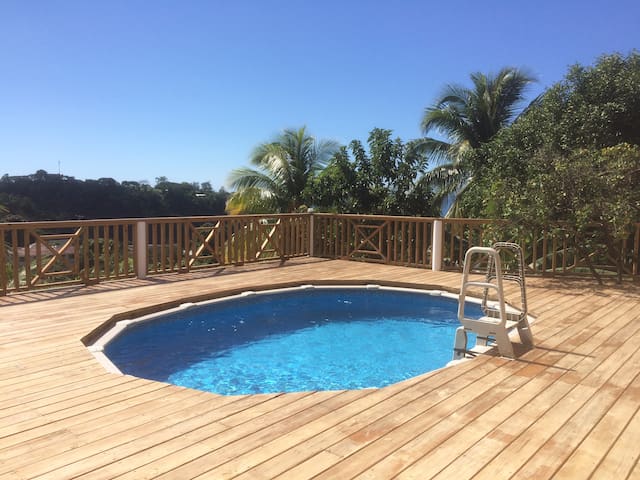 Our home is the place where you can come and be at home also....you are welcome to come at any time of the year....we celebrate summer year round with some rain offcourse. Whichever country you hail from you will always feel just as welcome as if you've always been here. ...Our Nature Island is one of the best places to visit if you are a hiker, love nature, sunbathing and just love everything green....come relax, explore and enjoy our beautifully quiet home and island.
Our place is quite easy to get to ...quiet and relaxing atmosphere and a number of places of interest to visit while you are on island ....stay out all day come home to peace and tranquility....Welcome to our House
Out of town but close to town (10 minute drive), tranquil neighbourhood. Access to local shops (less than 5minutes away)
The ocean view balcony is just breathtaking. What an amazing spot. The room is spacious and the bed really comfortable. Hot shower and good internet connection. Breakfast was great, a lovely bonus. Ezra and her daughter are lovely and she explained us a lot about the island. We stayed only for one night with a car, not really walking distance to anything (unless you really like hiking) but public transportation is around. We loved a local grill dinner / open air cinema at Icho's, about 10 minutes drive.
Marlies
2017-03-24T00:00:00Z
Ezra is an excellent host, enjoy local produce, her father has a farm nearby, easy to get to by bus, 3ec from Roseau, she can arrange transport or a meal, slept well, very good value, I will come back
John
2017-03-25T00:00:00Z
The room I had at Ezra's place is great. It has a lot of space. An balcony with an amazing view on the sea. And for those that like a warm shower, she has that too. The WiFi connection is very good. Ezra and her daughter are a lovely family and made me feel at home during my stay with them. Looking forward to stay there again.
chris
2017-03-23T00:00:00Z
Really nice family and very helpful woman! The place is quite easily reachable by bus from Roseau. The room was quite spacious and comfortable with private bathroom. This place is new to Airbnb and may be missing a piece of furniture there and there but in a few weeks I'm sure it will become the number one place to stay in Dominica.
Sophie Linh
2017-03-27T00:00:00Z
Room Type
Private room
---
Property Type
House
---
Accommodates
2
---
Bedrooms
Canefield, Saint Paul Parish, Dominica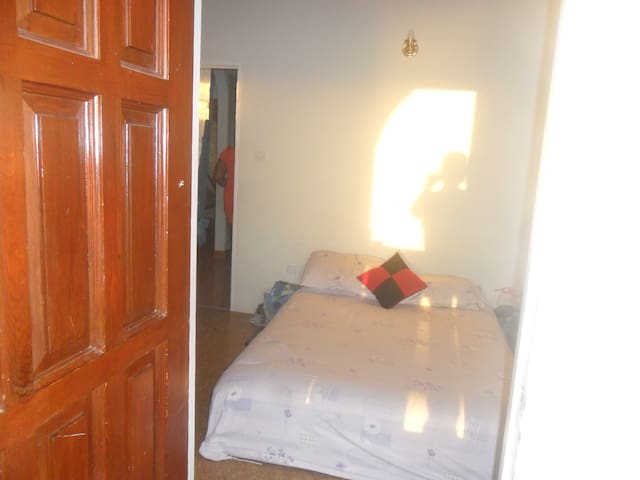 Cabin is nestled in quiet, private forest. Simple one room cabin, queen bed with a new mattress, clothes cupboard and bedside tables. One side of the room is the kitchen. Porch, with a table and chairs, faces the garden. Outside bathroom has cold water shower, sink and nice outhouse. There is Wifi. Free Parking. Host can arrange transport to trails. Vegetables for sale when available. Host provides salt, pepper, sugar, white vinegar and soya oil. Groceries should be bought in Roseau.
This little cabin has privacy and a sense of peace when sitting on the porch looking into the trees, yet it is a short walk to buses that drive to and from the capital Roseau. It is nestled in the Roseau valley where most of the hikes begin, a short drive away. Hikes like Boiling Lake, Middleham Falls, sections of the Waitikubuli Trail, Trafalgar Falls and Boeri / Freshwater Lakes. Host can arrange a guide if guests requests this. **NEW** The cabin now has a new mattress for extra comfort.
The cabin is in the Roseau Valley about 3 miles / 4.8 km from the town, Roseau. We are 760 ft. / 232 m. above sea level. The neighborhood is mostly trees. However friendly Trafalgar Village is a 15 minutes away on foot and a further 30 minutes walk through the village will bring you to Trafalgar Falls. At Trafalgar Falls Visitor Center guests can purchase a Site Pass. This Pass allows you to visit a number of Sites around the island. A Day Pass costs US$5.00 per person. A Week Pass is US$12 per person. I advise to buy the Week Pass. The area is cool in temperature, though sometimes it rains a lot. But that is why we have such greenery around us. I have dogs and my neighbours also have dogs so there is barking sometimes.
The stay at the cottage was very nice! We really enjoyed this place in the greens. The cabin is cosy and made for nature lovers. Sara was one of the friendliest host we met. She was always available for any questions and gave us tips where to go. She also arranged a hike and brought us to one of the hiking trails. We would go there for another time.
Mike & Ilona
2016-01-25T00:00:00Z
The cottage is surrounded by the jungle but near public transportation. You have lot of the famous trails just few kms away. The accommodation is exactly as on pictures. Only negative is that in times of rains, the roof can be really noisy. You will find there all the basic you need for a relax after adventures in Dominica.
Daniela
2016-12-28T00:00:00Z
Fantastic little place of you want peace and quiet. Fair walk to the waterfall but doable. Host is very knowledgeable about the island. Would definitely recommend
Chee-Lok
2017-01-04T00:00:00Z
Our stay at Firefly cabin was lovely. I would highly recommend this to anyone looking for a comfortable little get away. The cabin itself is very secluded, but the main house is nearby if anything is needed. Sara was very helpful and had a plethora of knowledge for the island. She offered us vegetables from her garden, rides to various trail heads, and general insight for our travels. The location of the cabins is terrific for various hikes and sightseeing. If you are planning on staying at the cabin I would highly recommend stocking up with groceries in Roseau before heading up. We found that it was a bit tricky to get the groceries we wanted in Trafalgar. Overall, a great stay :) Thank you Sara!
Erika
2016-03-17T00:00:00Z
The cottage was a conveniently located, yet peaceful budget option. It is basic; however, everything is clearly stated in the description. Having a kitchen available was important to us. Sara was very nice and also very helpful with her suggestions.
Regina
2016-12-22T00:00:00Z
I love my stay at cottage by trafalgar close by your many Trails and points to see like boiling Lake, trafalgar falls . and Marika was so helpful and advise me good direction to plan my day . thank you so much for hosting me next time I will come for long duration. all the best .
Rakesh
2016-06-23T00:00:00Z
Sara's cottage is like her owner: great and beautiful
Paul
2016-11-25T00:00:00Z
Great place to stay in the trafalgar area. It's simple And rustic, perfect as a base to explore the area. Sara is great. She is a lovely person and very knowledgable about the island.
Emerald
2016-09-03T00:00:00Z
Room Type
Entire home/apt
---
Property Type
Cottage
---
Accommodates
2
---
Bedrooms
Trafalgar, Saint George Parish, Dominica
This cozy wooden house is a true feeling of living in the forest with a mix of modern style living.the wood are stained for protection but still it has the natural nature feeling.SMALL BUT COMFORTABLE WITH ENOUGH TURNING SPACE..
The little house is very nice, it's perfect to be a break from your usual routine ! We spent a really great stay ! And Kimani is very friendly. We recommend it !
Elodie
2017-04-14T00:00:00Z
Kimani's place is really nice. From the time I reached there, i felt so comfortable. Watton waven is a mystical place with a lot of sulphur pools. Kimani is a great host. Very welcoming, helpful and friendly. Will definitely go there again.
chris
2017-03-25T00:00:00Z
Really nice man, he pick up me in the bus stop and join me in the hikes explaining many things about the island and plants. Really good and funny time with him
Xa-Tix
2017-03-20T00:00:00Z
Room Type
Shared room
---
Property Type
Bungalow
---
Accommodates
2
---
Bedrooms
Wotten Waven, Saint George Parish, Dominica
My place is good for couples, solo adventurers, business travelers, families (with kids), and big groups.
Joan and Al are wonderful people running a wonderful place! They are always available to help and the food was purely delicious.
Thierry
2017-02-11T00:00:00Z
Le Petite I traveled to Dominica for funeral services of a family member and decided at the last minute to stay at the Le Petite Paradis Guesthouse for four days. Joan and Al were very hospitable, made me feel at home, and as if they were part of my family as well. On a few occasions, I came in late and was so grateful that they were still willing to provide a meal. Speaking of meals, the food was great! I found comfort in the fact the meals prepared reminded me of my favorite local dishes prepared by my uncle. Loved the fact that there was an array of filling vegetarian meal options to include breadfruit, lentils, plantains, and more. The food was very well seasoned and set the standard for the rest of my meals, so much that we visited another place to eat downtown and all I could think of was coming back to Mrs. Joan's restaurant at Le Petite for some tasty comfort food. Also, I ordered tea on several occasions and loved the fact I didn't see a tea bag bc I had fresh ginger steeping in my cup which also had boiled cinnamon in there as well. I stayed in the Grapefruit room and felt it was perfect, you can see the grapefruit tree right outside the porch door (not sure if that's a coincidence but enjoyed it still). Loved waking up and falling asleep to all of natures acoustics. From the birds and other things chirping/singing away to even the soothing rain at night, the sounds of nature eased me to sleep on several occasions. Upon waking up I always went to the porch to bask in the greenery of the country side. Every now and then you can even see the steam from the neighboring sulfur springs. Le Petite is also perfectly located and within walking distance of several sulfur springs - Ti Kwen Glo Sho, Tia's, Screws... and I believe it's called D'scape (I didn't have enough time to explore the last one). I walked to a different sulfur spring every day of my stay which made for a perfect and relaxing morning start. Lastly, there was taxi service provided which helped a lot with linking up with my family locally, and getting to and from the airport. Although I didn't have time for excursions and activities I still met several other visitors who talked about trails in the area and other means of exploring the island by just walking from this location. I would definitely stay here again and recommend Le Petite to other nature lovers and foodies alike.
Arnalda
2017-02-05T00:00:00Z
A very welcoming place with very welcoming hosts.
valerie
2017-03-19T00:00:00Z
Very pleasant place. Great welcoming and very Good food. Thanks you Joan !
isabelle
2016-10-28T00:00:00Z
We are coming to Dominica for 20 years, we find this year Petit Paradis through Airbnb, the owners are very friendly, pay attention to give us the best. Diner and breakfast were very good and suffisants , this place is one of the best for price/quality! We'll back again
Philippe
2017-03-25T00:00:00Z
Wir haben uns vom ersten Moment an im "Le Petit Paradis" willkommen gefühlt. Joan und Al waren sehr gastfreundlich und zuvorkommend. Sie haben uns Tipps für Tagesausflüge gegeben und ein leckeres Frühstück sowie Abendessen serviert. Das Frühstück ist im Preis inklusive. Zudem gefiel uns das gesamte Ambiente des Gasthauses: ein schöner Garten mit Palmen, Grapefruit- und Avocadobäumen sowie die Möglichkeit sich in einer der vielen bunten Hängematten zu entspannen. Nur 3 Minuten von der Unterkunft entfernt kann man in einem natürlichen Spa das naturwarme Wasser genießen. Das Gasthaus ist auf jeden Fall weiter zu empfehlen. Wir danken Joan und Al für die schöne Zeit und hoffen eines Tages an diesen tollen Ort zurückkehren zu können.
Isabelle
2016-10-10T00:00:00Z
Room Type
Private room
---
Property Type
Guesthouse
---
Accommodates
2
---
Bedrooms
Wotten Waven, Saint George Parish, Dominica
Home with private yard, conveniently located in Trafalgar Village, 10 minute walking distance from Trafalgar Falls. Just 15 - 20 minutes drive from Roseau.
A pleasant space with all you need to relax and enjoy the area. Waterfalls, hiking trails, hot pools, rainforest botanic garden, are all within easy reach of this great location. Private kitchen and bathroom, gated garden.
Trafalgar is a safe, laid back, peaceful and vibrant village, with several small eating establishments and bars. Irmas Cool Breeze cafe offers special local meals delivered to this apartment. (Order in advance) Irma's also sells chicken, fish, bakes, drinks, and snacks daily. M&Gs Diner around the corner sells chicken, fish, fries, salad, cakes, and drinks. Along the road to the falls... Be sure to check out Heskeiths Water Bar, with fresh fruits, coconut water and cane juice as well as other food and drinks. Here you can also fill up you water bottles with fresh spring water. River Rock Cafe has a great view over the river, nice meals ( call to reserve in advance) drinks anytime, and a walk/stairway leading down to a swimming spot on the Trafalgar river. Papillote rainforest retreat has beautiful gardens, forest, waterfall, and a very nice restaurant . Here you can also take a guided visit of the gardens or soak in hot pools in the daytime for a small fee.
Annalisa is a very welcoming host and was fantastic in helping us to find some authentic local food and organising a tour to Morne Diablotin. The house is fit for purpose and well located for exploring the many attractions in the area including the boiling lake, ti tou gorge, hot spas etc. Make sure to check out Irma's for some bakes or an evening meal upon request!
George
2017-01-06T00:00:00Z
This place was a very peaceful one in trafalgar with a great river, the trafalgar falls and papilotte in walking distance. Unfortunately the water and the cooking plates weren't working the days we spend there. But as Annalisa and the neighbors were very friendly and lovely people it wasn't such a big problem, we could cook and shower in their places and anyway had a very good time. Also Annalisa gave us a discount of the price afterwards. Beautiful nature around there and short walk to the next bus station.
Madeleine
2016-03-12T00:00:00Z
Really nice house to stay in trafalgar! Everything was perfect.
Audrey
2016-12-20T00:00:00Z
Absolutely wonderful! Annalisa was the perfect host an provided us with everything we could have hoped for! She joined us for some hikes and activities in the area, invited us to her own place for food several times, had helpful tips for the area, took us into town twice for some shopping / getting to our next place and supplied us with extra items we were in need of for the tropical storm that hit us while in trafalgar. Absolutely awesome!
Liam
2016-09-29T00:00:00Z
Wonderful little spot in a fun, beautiful town. The apartment is spare and clean. Annalisa is a few feet away and happy to provide advice on enjoying the vicinity, or gear like cookware or hammocks. She ended up joining us on a wonderful walk to the Boiling Lake. Basically, the ideal Airbnb experience.
Ari
2017-02-19T00:00:00Z
Annalisa is truly a great host: she was very helpful with tips on what to see on the island and was always easy to reach when we had questions. She took great care of us, thank you Annalisa! The place is clean and spacious, there were even fresh flowers which was very appreciated. It is located close to the main road and to public transport.
Mads
2017-01-24T00:00:00Z
Annalisa was great with communication and did everything for me to feel comfortable when I arrived.
Lisa
2016-12-27T00:00:00Z
The apartment was very appropriate. It was clean, and you can find all the necessary in it. Annalisa was also very kind, helpful and gave us the best advices to spend a pleasant stip in the wonderful island of Dominica.
Meryem
2016-03-31T00:00:00Z
Room Type
Entire home/apt
---
Property Type
Flat
---
Accommodates
4
---
Bedrooms
Trafalgar, Saint George Parish, Dominica
Vacation. perfect place to be Tropical Valley,come experience peace of mind and to be in connect with nature in one of Nattys warm and comfortable rustic cottage 5min from trafalgar falls, sluphur springs and the town.The boiling lake and more.
Breakfast,lunch and dinner available anytime.Also drinks at the bar.One cottage can comfortably fit a family of three.The other cottage just for couple,you are surrounded by the most important sites in( Dominica the nature island of the world). Sites like the boiling lake,boeri lake,freshwater lake,middleham falls and titou gorge.I also taxi guest to my place and if they want a tour.
well placed, not so extensive, atypic. All alone with animals. Close to à lot of things to do.
Marion
2017-01-28T00:00:00Z
Natty has two cottages. One next to a new busy road which is not shown on airbnb. The other cottage is en little further from the road, but unfortunately you still hear the cars. We had an issue, because he wanted us to be in the cottage next to the road. I was so disapointed, because it wasnt like the advertisement on airbnb. He didnt want to change us to the other cottage away from the road. But in the end he did, after we contacted airbnb and they helped us out here. So the we could move to the other cottage. We felt sorry for him, that this road was there suddenly being built, due to a roadblock further up the road. He needs to change the Pictures and writings here on airbnb. The location for hiking is good. Natty can cook well and made us a nice diner. After all we had an oke stay at Natty's place.
Yvette
2017-01-12T00:00:00Z
A very disappointing stay. Having booked on the basis of the reviews I wish I had paid more attention to Michael's, which is easily the most accurate. On the positive side, Natty had done an impressive job making the huts. You could see he is a talented DIYer. Sadly, he is not a talented host. Our whole stay was riddled with dishonesty and ill-will. From the inhospitable 'welcome' to the charging us for boiling a kettle (which he was boiling anyway) our experience with our host made it hard to enjoy the otherwise beautiful setting. I appreciate that business must not be thriving in the middle of the forest and I always strive to support small businesses, but there is a limit. And that limit is crossed when your host lies about the official taxi rates (presumably out of spite for not using him) and sends you off in the wrong direction for a well known hike (presumably out of spite for not hiring his mate as a guide). He was rude, arrogant and genuinely out for every last penny he could squeeze out of his guests. Which is such a shame, as he has created what could be bliss. I would advise saving time, money and hassle and staying in Roseau instead. For the record, you really do not need a guide for the boiling lake trek, and it is quicker to get there from Roseau (unless you have your own transport).
Ali
2015-03-13T00:00:00Z
We had a really nice stay in Natty's rustic wooden cabin. The private cabin is located in a perfectly quiet area, very close to the Trafalgar falls, in the area of Laudat (boiling lake) and Wotten Waven (Screw's spa!!!). Natty is a very kind and welcoming person. He always had good advice. You will definitely spend good time there if you don't mind small lezards and grasshoppers. You immediately feel relaxed and in a close contact with nature and the beautiful tropical forest.
Maxime
2016-04-14T00:00:00Z
Nathy was wonderful. We arrived very late and last minute and he was helpful and kind and t ready to chat. The wooden bungalow (eco) is very cute and Nathy's breakfast marvelous. Very nice spot for a visit to the Rosseau valley!
Mo & Nick
2016-02-05T00:00:00Z
Natty's location is for people who: can live with decent-priced, simple locations, prefer quiet, natural places rather than luxury hotels or big parties, are relaxed and not in a hurry. A rental car can help but is not essential (we didn't have one). We really, really enjoyed our 5-day stay in one of his cottages, which is simple but charming. Natty (the owner) provided us with home-cooked food and drinks (breakfast, dinner, fruits, juices, beer and his must-try rum ponches) and lots of information about the history, culture and current political challenges of Dominica. He is a straight but sincere person. And he knows a lot about the nature, local vegetables, herbs, fruits, etc.. You can ask him everything. Natty's tropical valley is really a quiet and natural place. During the day, few cars pass by; in the night time. There are no cars and you can fully enjoy the sound of nature. From there, Trafalgar falls and Wotten Waven sulphur springs are in walking distance, you can make both in half a day. Natty organized our pick-up from the port (we arrived by ferry), drove us to and picked us up from the boiling lake trail, was our driver and guide on a one-day trip to Portsmouth (Indian river, Fort Shirley, Syndicate), and drove us to the port for our departure. By bus, we went to see Roseau. Again: you can go there without own rental car. We are happy that we have met Natty and stayed in his place. If we ever come back to Dominica, we will definitely stay there again. Comment: If you want to do your own meals, make sure to ask Natty if the kitchen in his cottage is ready (it wasn't yet when we were there) and understand that for larger shoppings, you need to go to Roseau. No problem for us as we liked his food. Side comment: Because of one of the older comments on the profile picture, we took him a new one that better shows his nature: a friendly self-made man who follows DIY (do it yourself!) principles and makes his business.
Kai
2014-03-25T00:00:00Z
Awesome relaxing location in Trafalgar very near the river and close to mountains and waterfalls. Natty is a very welcoming and easy going guy. I felt very comfortable. He made a great meal for me, and I had some drinks at his bar and chatted into the night. There was a netting around bed, but probably didn't need it as I never saw any mosquitos. The cabin is very cozy and had a nice breeze at all times. This was definitely one of my favorite stays. Thank you!
Marc
2016-04-24T00:00:00Z
Natty was an enthusiastic, friendly and engaged host. When I arrived, he shoved me the cabin and the facilities. The other reviews are accurate comments of the cabins. They're rustic and has a natural feel to them. Very lovely and nicely done. It's very well located in the Trafalgar valley. All of the attractions are in hiking or driving distance. Natty can hook you up with guides if you want to go on longer hikes. At night it's quiet and peaceful, except from sounds from the forest. I enjoyed the stay very much, particularly sleeping to the sound of the forest. I didn't use the shower as the water is ice cold, but the hot spring bath makes this a nice place to stay for a few nights. I drove up from Roseau in a rental car. It's a short ride (10-15 minutes) and the place is really easy to find. But you'll need detailed directions as there are a couple of intersections to consider and (SENSITIVE CONTENTS HIDDEN) Maps is not accurate in this area. The host didn't send me directions before arrival, so I had to call him up and get them verbally.
Tore
2015-01-25T00:00:00Z
Room Type
Private room
---
Property Type
Cottage
---
Accommodates
2
---
Bedrooms
Trafalgar, Saint George Parish, Dominica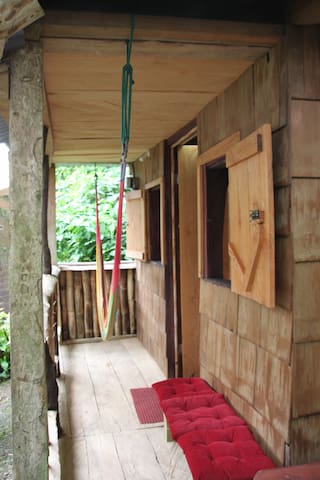 Welcome to Bluemoon Studio - our cozy studio apartment located on expansive and scenic tropical gardens, 300 metres (1000 ft) above the Roseau Valley, in the mountains of Morne Prosper. The property is only 10 minutes (9 km) drive from the Capital City, Roseau and the Roseau Ferry Terminal, 15 minutes drive to the hot springs in Wotton Waven and other attractions in the area, and 1 hour 15 minute (52km) from the airport.
Bluemoon Studio apartment is a self-catering apartment suitable for 2 persons. There is a galley kitchen which is well equipped with a fridge, stove/oven, microwave and coffee maker. There is a queen size bed, air conditioning, a fan, cable television as well as Wi-Fi, and 110v and 220v electrical outlets. There is a comfortable hammock in the patio for enjoying the scenic and tranquil surroundings and laundry facility on the property (outside) shared with the Bluemoon Cottage, which is in close proximity. A world away and just ten minutes from the capital city of Roseau, with easy access to hiking trails and hot springs.Bluemoon is a simple, cozy place in a private setting and has an atmosphere of tranquility. Enjoy relaxing on our verandah, reading in the hammock, savouring the cool breezes. Wi-Fi is availiable, and there are fans and air conditioning for your comfort. You're only a ten-minute drive away from hot water springs and pools—a rejuvenating experience. You're within walking distance of public transportation and a major hiking trail, a fifteen-minute drive from central Roseau and five minutes from a well-stocked grocery store - quietly away from it all.
Bluemoon Cottage and Studio is located towards the south-western end of the island at an altitude of 1,000 ft. (300 m.) near the village of Morne Prosper, in an area well known for its production of vegetables and kitchen herbs, lush green vegetation and cool breezes. Average daytime temperatures generally vary from 24 °C (75.2 °F) in January to 30 °C (86 °F) in June. A five-minute walk to the east will bring you to Segment 3 of the Waitikubuli National Hiking Trail, while within a ten-minute drive you'll be able to bask in the hot Sulphur Springs. View the twin Trafalgar Falls… Trafalgar Falls dominica Swim the Ti Trou Gorge… If you enjoy kayaking, you're a fifteen-minute drive away from the Freshwater Lake. The Boiling Lake, the second largest boiling lake in the world, awaits at the distance of a fifteen-minute drive and a three-hour hike. Dominica is home to a small group of sperm whales which live in the area year-round and can be sighted regularly. Wherever you are on the island, you'll see exotic birds. Dominica is also home to 172 species of birds, including four species of hummingbird, broad-winged hawks, yellow-crowned night herons, brown tremblers and the Sisserou Parrot which is the National Bird and indigenous to Dominica. Welcome to the magic of Dominica.
Kathy is a model for other Air Bnb Listings. As I was here for just a festival (3days), her accommodations were more than enough for a weary traveler to rest his head. Bluemoon studio was also quite adequate with sleeping. Having Air Conditioning is indeed a privilege in this country and translates to not having to sleep with any netting. The hot shower was HOT and laundry services were available on site. For adventurers, Bluemoon studios backyard edges to a trail in the rainforest, many morning I would take a 10 -15 -30min daytime stroll to enjoy natures sights and sounds. Kathy herself was very attentive calling to checkup on me from time to time. This, to me, shows the courteousness of the host.
Ad
2016-10-31T00:00:00Z
A few days before our arrival Kathy had us wanted to ask the time of our arrival. We had asked her if she could arrange a guide to Boiling Lake and a number of car rental company. Because it was dark when we arrive Kathy picked us up at the car rental company to drive for us to show us the way to our stay. Arriving special stay, it looked just like the pictures. There was different information books / leaflets available from Dominica. And they themselves had made a map where different information was in, where to eat, what to do, important information from Dominica. Also the kitchen was very complete. Also a lovely garden to relax and get avocados. We can also Kathy night and day contacts if there was anything. A very very good, nice, clean and pleasant stay.
Brenda
2016-10-14T00:00:00Z
Blue Studio was a wonderful place to stay! For a young couple travelling alone it was a perfect size and had everything we needed. Tucked away in a the quiet area of Morne Propser, the place felt private and safe, but was still central enough to be near all the activities we wanted to check out in the area - Wotton Waven (the hot springs), hikes in the rainforest, canyoning, and was only a short drive to Roseau. The place is exactly as pictured, and there is a very nice patio where we ate breakfast every morning. Kathy was a great host, our plane arrived late in the evening and she helped to ensure we were able to have someone guide us to Roseau, where she met us ourselves for the drive to Morne Proposer. She even took us to a grocery store so we could stock up on some basic items for the next morning. She was full of helpful suggestions and even helped to arrange our guide for a hike to the Boiling Lake, which was awesome. This place is a great base for exploring the south part of the island!
Megan
2017-01-31T00:00:00Z
Kathy has been super helpful, we can't thank her enough. We were amazed how well organized and equipped her place was. Would love to stay again and highly recommend!
Vanda
2017-01-18T00:00:00Z
We loved our stay at Bluemoon! Kathy is a very nice Person and make you feel very welcome. She organised a Guide to Boiling Lake and a diving trip for us when we arrived. Which was really great because we couldn't make the most of our short stay without her. The apartment is very clean, cosy and located in a beautiful surrounding of a garden up on the Hill. We would recommend everyone to stay at bluemoon!
Isabell
2017-01-09T00:00:00Z
I chose Kathy's place for a private weekend getaway. What I needed was peace and tranquility, and I am pleased to say that my stay at this property gave me all that and then some. I arrived on island early and left late, and Kathy kindly accommodated me with an early check-in and late check-out. The studio was as pictured, but the surrounding grounds were the added bonus not described in the photos. I was lucky enough to be there while all her avocado trees were laden, and I enjoyed the delicious fruit (practically with every meal). I would DEFINITELY recommend Kathy's place, and I will visit again when I can plan for a longer trip. Thanks Kathy.
Camaria A O
2016-09-06T00:00:00Z
If you have a car and want to get outside of Roseau up in the mountain's this is a great place. Very nice and quiet.
Tam & Eric
2016-11-12T00:00:00Z
We never met Kathy as she let us know a few days ahead of time that she would be gone while we were there. She left her brother in charge and he met us in town to follow him up to the house. He and Ray were good hosts, we just were gone most of the day doing our own touring.
Liz
2016-12-27T00:00:00Z
Room Type
Entire home/apt
---
Property Type
Flat
---
Accommodates
2
---
Bedrooms
Morne Prosper, Saint George Parish, Dominica
My place is close to great views, restaurants and dining, art and culture, and family-friendly activities. You'll love my place because of the views, the location, the people, the ambiance, and the outdoors space. My place is good for couples, solo adventurers, business travelers, and families (with kids). It is strategically located within Roseau, so easy access to the heart of the capital city.
Recently built fully equipped studio unit. One queen size sofa bed with a very good quality mattress plus an additional single bed, full bathroom with water heater. Desk/working station. 60" TV. IPod docking station.
Our host was very kind and gave us precious advices. The view of Roseau bay is magnificent !
Julia
2017-03-11T00:00:00Z
The Pool house is literally perfect! Sporting all mod cons with undoubtedly the best view over Roseau - it's central location makes accessing the whole island a breeze. Our hosts were both attentive and respectful of our privacy. The pool and hammock make this a most refreshing home to return to. I will definitely be back. Bryn
Bryn
2016-12-29T00:00:00Z
The pool house of Nadezkda was one of the greatest Airbnb accommodations we ever had! The pool was very cool! We had it for our own and used it a lot. The location had the perfect view over the city and to see the sun go down over the sea. The apartment was very well equipped with some luxury specials like an ice cube machine, which we loved ;-). Everything was very new, super clean and with a high standard. Nadezkda and her family were very kind!
Andrea
2017-04-10T00:00:00Z
Nice house, Nice view, attentive host... Great Week-end!!!
Thomas
2016-11-13T00:00:00Z
It was all great.
Gehan
2016-10-31T00:00:00Z
Great spot. Nice view. Hosts extremely friendly and always helpful. Really enjoyed the stay and would love to come back in the future!
Jenna
2017-03-03T00:00:00Z
We have an amazing time here at the Nadezkda's Pool House, and are very thankful for Richard and Nadezkda for their hospitality and companionship. The views are amazing, the pool is very nice, and accommodations and location are very convenient. A+++
Sam
2017-03-06T00:00:00Z
Room Type
Entire home/apt
---
Property Type
Flat
---
Accommodates
3
---
Bedrooms
Roseau, Saint George Parish, Dominica
My Roseau South apartment located in the suburbs of Dominica's main city, Roseau - just south of the city center - 3 minute drive. Short walk down to the main bus route. Beautiful sea, coastal and sunset views! Equipped with all the essentials including kitchen with stove, oven, refrigerator, kettle, and utensils/dishes, washing machine, and a fan in each room. 2 rooms each with a queen sized bed and large closet. Centrally located to access sites in the South, Roseau Valley, and North.
This location is home to the island's main dive shops.
Part of an apartment building.
This place is absolutely gorgeous! The photo doesn't lie at all. You get spectacular sunset views from a comfy porch overlooking the bay, comfy beds, and a shower! It has what you need--comfy sleeping arrangements and amenities-- but not much extra, so make sure you bring your own food. The shower is lovely but doesn't get too warm--just know to expect that on the island and you'll be just fine. She equipped each room with a fan to cool you off at night and most of the windows are open to let the fresh breeze in. Lovely stay--I recommend highly! Jamie speaks English and is a great communicator.
Kristen
2017-03-23T00:00:00Z
Spectacular balcony view!! The location is central for discovering to many must see places. Jamie helped us with everything, great communication. The apartment has everything you need for a comfortable stay. Thank you!
elena
2017-03-30T00:00:00Z
Myself and my partner stayed here for a week, our stay was ok, a few small issues were that on the weekend there is a club nearby which played music very loudly until 4am and there was a blockage in the bath tub drain which made it difficult to shower.
candy
2017-04-11T00:00:00Z
The appartment is even bigger and nicer than on the pictures. Spectacular balcony view!! There are some annoying little flies but they don't bite:) the location is good for discovering Dominica-close to many must see places. And last but not least Jamie is the best ever!!! She helped us with everyting and were super nice!! Thanks a lot! If we ever return to Dominica we will definitely come back to this place!
Vendula
2017-01-04T00:00:00Z
Amazing view & very clean & spacious. A little tricky to find! Jamie was great at communication & provided lots of great recommendations, particularly for my guide, Elvis, who was so worthwhile.
Celia
2017-03-13T00:00:00Z
The place had more space than we expected and the view was breathtaking! The apartment had everything we needed plus more and was very clean! Our only problem was it was a lot harder to find! There is a leaf sign by the church of christ that helps and on the railing outside the apartment, but we didn't see it! Anyway after the hour we looked, we finally found it and had no problems following! Just some advice, when you leave dominica there is a $60 ECD tax charge to leave, and no one told us so we were scrambling to find cash at the airport. There is no ATM and they don't accept credit or debit, only cash! But overall our trip was amazing, great location for the apartment after you know where it is and the most amazing view!!!
Ashley
2017-04-03T00:00:00Z
Jamie ga gode beskrivelser og fin informasjon i forkant av vårt besøk til Roseau. I tillegg har han utstyrt både parkeringsplass og balkong med et bladsymbol som var lett å finne. Smart ide, Jamie! Leiligheten var finere og større enn vi hadde trodd, vi fikk dermed hvert vårt soverom. Dette stedet var en perfekt start på Dominicaoppholdet, siden vi kom med båt til Roseau på kvelden og det var kun en relativt kort taxitur til leiligheten. Fantastisk utsikt fra balkongen da vi våknet. Beklageligvis noen haner i nabogården som likte å synge også midt på natten. Kan uansett anbefale både leiligheten og Dominica på det varmeste. Et nydelig land!
Torill
2017-03-20T00:00:00Z
Die Wohnung hat eine grandiose Aussicht, das hat fast alles wett gemacht. Sie liegt sehr günstig, aber auch am Wald mit vielen Mücken.
Susann
2017-02-24T00:00:00Z
Room Type
Entire home/apt
---
Property Type
Flat
---
Accommodates
4
---
Bedrooms
Roseau, Saint George Parish, Dominica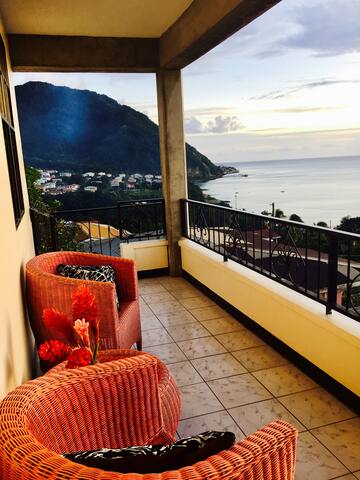 1Bedroom house situated 7 min drive away from city (Roseau). Special hideaway surrounded by lush green forest. Great for nature lovers, couples, or persons who want to be close to the city but still in a natural environment!
Special hideaway yet so close to the city. River nearby for refreshing bath. Become one with nature! Extremely quiet. There is 1 bedroom with 1 bed. A pull out couch is available in the living room. The front yard is large enough for excercise, and parking. Since the location is about 7-min drive away from Roseau, this makes it accessible to all the main tourist sites... Trafalgar Falls is 20 minutes drive away. There is a main supermarket two minutes drive away.
The neighbourhood is safe and no reports of crime.
We highly recommend this house situated in tropical nature, fresh (that's cool !), closed by car or guaguas from lot of sites (Champagne reef, Roseau and its beautiful market, hot sulphur spas and walks in the mountains. Melissa was so kind with us and, if you want to rent a car, Georges is the right man at the right place. Technical detail but highly usefull : wifi is the best in Dominica !
Kaser
2017-03-30T00:00:00Z
Melissa si very Nice and was very helpful. The house 5 min by car from Roseau. It's not easy to find but Melissa come to pick us up at Roseau.
Eleni
2016-12-09T00:00:00Z
I loved staying here! Melissa was very prompt to respond to messages and offered lifts to town The apartment had everything I needed and the location was perfect I stayed there alone (female) and felt safe and content. In fact I felt safe on the entire island Dominica is a must!
Jennie
2017-03-23T00:00:00Z
nice place , lovely guest ,slightly hard to get to but get use to it after a couple days .friendly people and dogs value for money
Amina
2017-03-02T00:00:00Z
We stayed 3 nights on Mélissa and she was really nice person. She helped us for go to roseau and with some advice. The place ils good and quiet.
Marion
2017-03-14T00:00:00Z
Spacious spacious house very open on the outside, quiet in the greenery. In an authentic neighborhood off tourist paths. It is not essential to have a vehicle but be ready to walk 20 minutes to reach the transport, the village or the supermarket The host who lives in the neighboring house has been available and discreet. Very good plan to approach life in Dominica.
annie
2017-01-31T00:00:00Z
Wonderful stay. The house is gorgeous, placed in the middle of nature and has all the amenities. Melissa has been very prompt with all the replies and we could not have asked for anything more. The stay here was absolutely fantastic. Very private and very picturesque! We've been traveling in Central America/Caribbean for 6 weeks and this was by far our favorite place. We will definitely come back within a few years. :)
Radu Florin
2017-02-08T00:00:00Z
L'intérieur du logement n'est pas reflété par la photo extérieur du logement proposé. Si vous êtes en voiture, prévoyez une voiture capable de monter une très forte pente !
Francis
2017-03-10T00:00:00Z
Room Type
Entire home/apt
---
Property Type
House
---
Accommodates
2
---
Bedrooms
Loubiere, Roseau, Dominica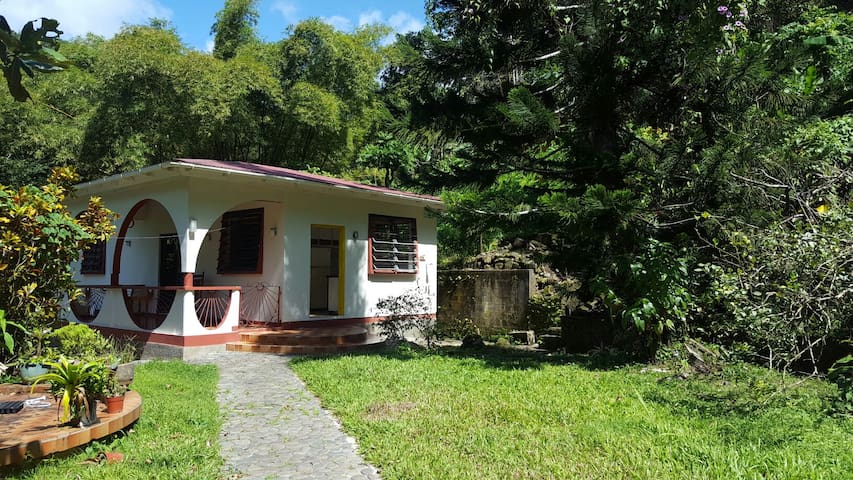 The "Caapi Cottage" is a cool, quiet mountain retreat beside the National Park, hiking trails, waterfalls and rivers. Enjoy the large private pool, trampoline, streams, fruit trees and ethnobotanical gardens. There's a kitchen and full bathroom, one bedroom and sleeping loft, a Queen bed and one double. Large stone verandah and BBQ. Sleeps 4 adults comfortably or a family with 2 - 3 kids. Off-grid powered by renewable energy, with internet. To Roseau in 20 minutes. Owners live on property.
The Caapi Cottage is nestled on a lush green plateau above a waterfall, which provides the renewable energy for the property. It has a private kitchenette and bathroom, and a bedroom with a sleeping loft. It can sleep 4 adults comfortably or a family (baby crib is available). The cottage has a stone floor, local hardwood ceiling and shutters with a view of the Caribbean Sea and an extensive botanical garden in the back. There are no neighbours for one kilometer, just trees, streams, a waterfall, duck pond and fish pond. An avocado tree and mature caapi vine shade the cottage from the elements, keeping it cool both day and night. No fan or air conditioning is ever needed.
The property is a 5 minute drive, or 25 min. walk to the start of the popular "Middleham Falls" hiking trail. We are less than a 10 minute walk to the village of Cochrane, where there are little shops for purchasing dry goods and snacks and a couple local rum shops. We are a 20 minute drive to the Capital town of Roseau and the ferry terminal. We are a one hour drive to the Melville Hall airport.
Our stay at the Cottage was just fantastic and emotionnal, and became a wonderful experience. The cottage is the perfect place to discover the absolute beauty of Dominica, and each day was full of unexpected joys. Jess & Tim are adorable, present and discreet, always ready to help. Thanks to them we felt gratified and lucky to be there. I just can recommand this place & wish everyone to live a moment up here in Caapi !
Florent
2017-04-05T00:00:00Z
It is hard to describe the state of perfection; incredible!
Jonas
2017-03-09T00:00:00Z
Location: fantastic views of the ocean and situated in lush tropical forest. Near to a small village but requires a car to travel further afield. Close to Middleham Falls. Lodging: stylish, clean and comfortable house. Good basic kitchen and shower. Perfect for a couple or those with a child (upstairs bunk). Lovely pool, natural wood fired hot tub, lots of fruit trees and a lovely garden to have a tour around. Ask about the magic tree! Hosts very welcoming and friendly, happy to take us to trail heads and show us around. Overall a very relaxed and enjoyable stay! The views are as good if not better than the pictures!
George
2017-01-01T00:00:00Z
Such a unique place with lots of character! Jessica and Tim were so welcoming and helpful. The property is exactly what you see in the pictures (and a even more beautiful view in person). When my husband and I first arrived Tim gave us a tour of the property. There's so many different types of plants that grow in their back yard. Some I've never heard of before. Jessica was very helpful with directions and was so friendly. We loved their dog, Luna too. The cottage is far enough away from the city to feel secluded but close enough to lots of adventures (hikes,snorkeling,canyoning, Roseau etc). This felt like a secret cottage. We would definitely stay here again when we visit Dominica again. Thanks Jessica and Tim!!
Jules
2017-02-07T00:00:00Z
I keep a very good memory of my trip to Dominica! Picking Jessica cottage was the best choice ever! The view, the property everything was so relaxing!
Deborah
2017-01-15T00:00:00Z
This place is truly a rare find...beyond amazing view, peaceful, surrounded by natural beauty, & wonderful hosts! Jessica was a wonderful communicator & she & her husband Tim went above & beyond to make sure our stay was wonderful. From the moment we arrived, I felt an instant peace come over me. We were greeted with such kindness & a welcoming presence. The cottage has so much character & we loved the feel of this place. It has windows/shutters all the way around it that can be opened for fresh, clean air anytime of day. We loved walking the property & picking fresh fruits to juice & taking in all the beauty. This is truly a one of a kind type of place. We were bummed when it was time to leave & only wish we could have stayed longer. I hope we can return one day...this would definitely be my first choice to stay in Dominica & I would recommend it to anyone who is looking for a peaceful escape.
Stacey
2017-02-13T00:00:00Z
Jessica and Tim have an incredible piece of land overlooking the island and the cottage is a great place to stay. The cottage looks exactly like the pictures, communication is easy, and the hosts have a setup a mini-store to make the stay even easier. Overall a great experience and I'd definitely stay again.
Adam
2017-01-05T00:00:00Z
We stayed in 4 locations on Dominica and Caapi Cottage was our favorite. It is a little farther from Roseau (20 minutes in good traffic, 40 minutes in rush hour); it more than makes up for the drive with a gorgeous vista overlooking the water through mountains that you can take in from the covered porch. It is close to Emerald Pool (amazing and accessible) and Jaco waterfall/steps. This is a simple cottage with all the basic necessities you need. There is an openness to the cottage and we generally left the windows open-the space flowed seamlessly with the outside environment. Even though the cottage was next to the main house it felt very much like our own space. Jessica and her husband were great hosts; laundry was easy; the fireflies were spectacular at night; there was a well maintained pool (which we dipped our feet into); they have a little cash mini/snack-bar that we utilized one night when we were exhausted after a long day. The kitchen is well stocked with utensils/essentials. All in all, five stars. Thanks again guys!
Kevin
2017-03-30T00:00:00Z
Room Type
Entire home/apt
---
Property Type
Guesthouse
---
Accommodates
4
---
Bedrooms
Cochrane, Saint Paul Parish, Dominica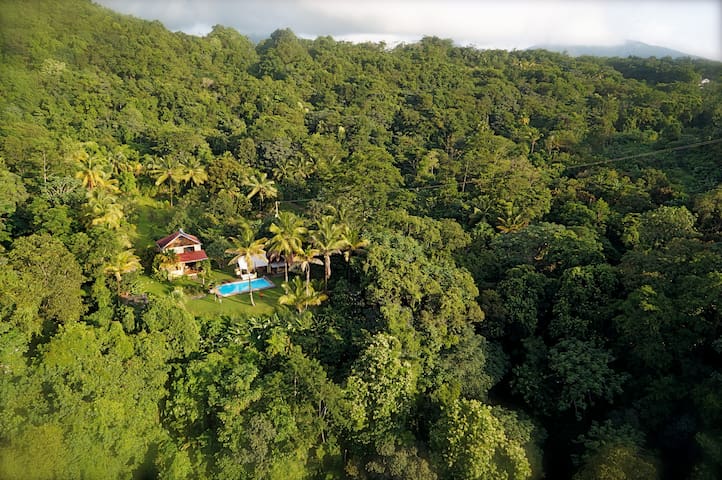 house is in good condition large porch to relax close to all the tourist attractions in the Roseau valley, quite nieghborhood
Room Type
Private room
---
Property Type
House
---
Accommodates
1
---
Bedrooms
Trafalgar, Saint George Parish, Dominica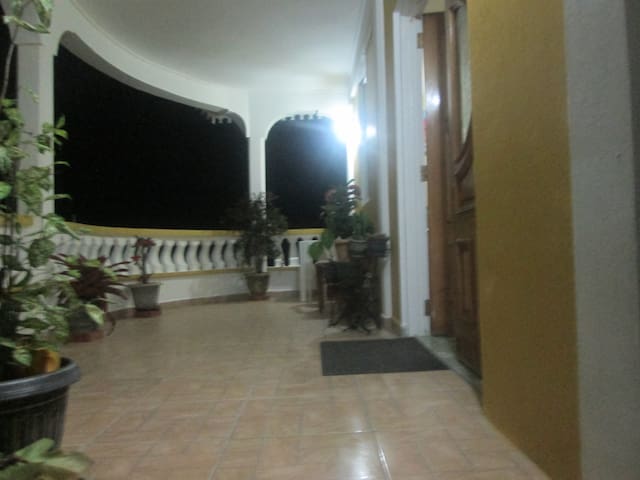 Top View Appartment is good for everybody : couples, adventurers, friends, business travelers, etc. My place is located approximately 10 mn walk from Roseau and 20 mn drive from several points of interest. An affordable and convenient appartment easily accessible from Roseau located in a quiet area. Le logement est situé à environ 10 mn de Roseau à pied et 20 mn de route de divers points d'intérets .
It was perfect!!!! Corinne he's someone really friendly, helpful and she knows a lot about dominica! Her place it's perfect, clean, nice view! Her familly adorable! I really recommand this place! Thanks a lot! Leslie and Laura
Leslie
2017-02-26T00:00:00Z
The house and view are breathtaking and was equipped with everything we needed. There is a bus that will drop you off right in front of the house and take you into the main town. Corinne is amazing! She knows the island extremely well and has amazing suggestions. Thank you for the wonderful stay!!
Keilyn
2017-01-01T00:00:00Z
Corinne is very kind and friendly, helped us out with everything
Alexandra
2017-03-27T00:00:00Z
Very very helpful host. Appartment with a breath-taking view!
Marc
2016-12-22T00:00:00Z
Very nice and spacious apartment with an incredible view! Corinne is very friendly and open-hearted! I would definitely recommend this airbnb!
Barbara
2017-02-21T00:00:00Z
Great views of the surrounding neighbourhood. Very clean with a fantastic kitchen. Would definitely recommend
Chee-Lok
2017-01-07T00:00:00Z
We stayed for 12 days at Corinne's and were very happy with both the value and the friendly atmosphere. The apartment is practical and has a lovely view of the coastline of Dominica. Corinne is a helpful and friendly host who showed us around the first day and gave us tips on what to do and where to go! We would definately come back again:) Jørgen & Elisabeth
Jørgen
2017-02-11T00:00:00Z
Corinne is awesome! Picked us up from the Ferry and always accommodating. Great views from the apartment. My wife was ill and Corinne's mother in law made a special tea that helped my wife. Will come back
Tom
2017-01-30T00:00:00Z
Room Type
Private room
---
Property Type
House
---
Accommodates
4
---
Bedrooms
Roseau, Saint George Parish, Dominica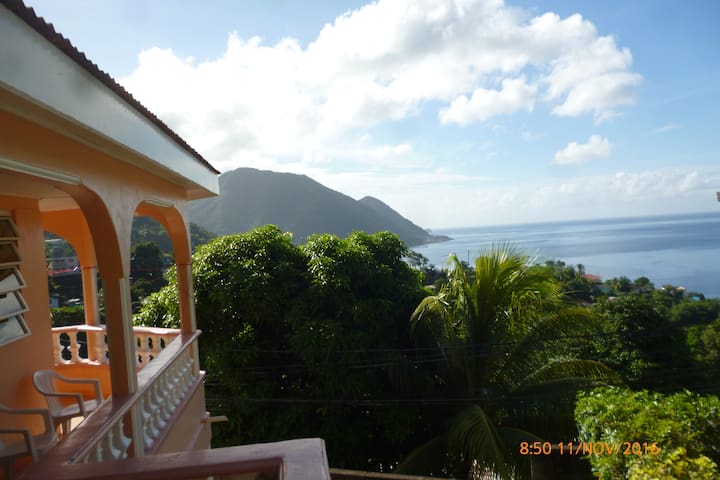 Discover Your Own Hide Away Where You Can Relax From The Hassle Of Life Today! Mango Dream guest house is a 15/20 minute drive away from the capital city Roseau. It is your home away from home, above the village of Loubiere with a beautiful view of Roseau, and even if it is not so far from the town, yet the place is tranquil, clean and comfortable. A perfect get away for couples, solo adventurers, business travelers, and families with children.
You will have access to the entire place, depending on the time of the year you will have the privilege to eat of the fresh fruits the land provide.
Mango Dream is situated on about an acre of land which gives you the privacy you deserve. There are two neighboring houses which are few hundred yards away, and you have the privacy of the trees around.
Gregson and Valarie were great hosts. Valarie, especially, was super responsive and helpful. My arrival was a little bumpy (the place was a little difficult for me to find) but after that things went pretty smoothly. My two children especially loved the pool, playing on the grounds outside and talking to the birds (that frequently flew through the windows to find a spot to perch on in the kitchen looking for any bit of leftover food crumbs). The view from the home to the sea and the nearby town of Roseau was amazing. Although the home is only 10-15 minutes from town, if not for the view of the town, you might think you are deep in the rain forest. It is a tranquil escape from the hectic city below.
amira
2016-12-27T00:00:00Z
Very spacious, airy place with spectacular views of Roseau Harbour through tropical trees. Wonderful to have pool on site. Dominica really is the Nature Island and Mango House puts you in it with lots of birds, butterflies, lizards, flowers. The birds and lizards share your space, but they eat any mosquitos! Gregson and Valerie were very responsive to any requests, answering immediately. We hope to come back.
Celeste
2017-03-30T00:00:00Z
The house is in many ways a dream! It has lovely views, the pool and garden were really nice. You could really open the whole house up to the outside. We spent a lot of our time here on the top floor deck lounging, having meals and being with our new friends. Valaire and Gregson, as well as the other 'hill neighbors' as I began to affectionately call them made our trip to Dominica extra special. They were extremely kind and fun people to be around. They showed us a lot of the island and we even got invited to a party! :) I think the house is best for families who really want to relax and enjoy indoor-outdoor living. My only issue was that the road to the house is tricky to navigate. Though many roads in Dominica are. One other important thing- if you are looking for locals place close by, take left at the bottom and visit Mama's Bar for the People. She and her family were super kind to us. She cooks some pretty yummy goat water and you can drink cheap beer and see an awesome sunset from her place.
Tracy
2017-01-25T00:00:00Z
Valerie and Gregson were extremely helpful over our long term rental. They responded immediately to any questions or issues. They are super hosts!
Celeste
2017-04-02T00:00:00Z
The Mango Dream House was the perfect place for our stay near Roseau. Valarie waited for us and helped us find the house. They mean it when they say you need 4 wheel drive to access the house as it is at the top of a steep hill! Gregson and Valarie were both very welcoming and ensured we had everything we needed. The house is as pictured with privacy and beautiful views. The house had everything we needed and a well equipped kitchen. The deck was the perfect place to relax at the end of our busy days spent exploring the island. Thanks for a great stay!
Sara
2016-12-22T00:00:00Z
Villa de rêve, avec vue imprenable sur la baie de Roseau. Gregson & Valarie ont été à l'écoute et serviable.
Camille
2017-01-02T00:00:00Z
Nous avons rencontrés deux personnes de grande qualité. Disponibles, serviables, de bon conseil (ils nous ont en particulier conseillé un chauffeur de taxi super gentil auquel nous avons fait appel pendant 4 jours et qui nous a fait visiter l'ile de façon très personnelle). Nos hôtes nous ont accueillis à la gare maritime et nous ont conduits jusqu'au domicile. Ils se sont inquiétés la première nuit lors de notre retour (à 1h du matin!...) si nous n'avions pas de problème!... La maison est superbe, de style colonial avec 2 terrasses dominant la baie de Roseau. Un endroit frais en soirée, équipé d'une piscine pour se rafraichir en journée. Deux chambres avec des grands lits Queen super confortables. Une maison complètement équipée et un sanitaires de qualité. Au total un séjour de rêve avec des hôtes dont nous garderons un souvenir durable. A conseiller à ceux qui aime le calme. Un excellent choix comme départ de randonnée.
patrick
2016-10-31T00:00:00Z
Superbe maison! Un havre de paix! Nous étions avec un bébé et un garçon de 3 ans. Chaque matin, nous faisions une expédition dans le sud de l'île en bus local et remontions à pied la montagne (difficile, mais avec la baignade froide en arrivant et la sieste qui suivait...c'était parfait). Les hôtes Greg et Val sont extraordinaires. Bref, du top parmi tous les logements que nous avons loues sur Airbnb.
Mirko
2016-12-04T00:00:00Z
Room Type
Entire home/apt
---
Property Type
Holiday home
---
Accommodates
6
---
Bedrooms
Loubiere, Saint George Parish, Dominica
The setting is the essence of Dominica – the small friendly village of Wotten Waven, set in the midst of towering rain-forest covered terrain. Perfect setting for those seeking to explore – walk across the valley to Trafalgar's famous twin falls, or wander the trails that run deep into the Roseau Valley. The village is famous for it's 'bubbling pots' but few visitors know of the world famous hot water pools, springs or cascades; at Tia's is the ideal place to discover them from!
Room Type
Entire home/apt
---
Property Type
Nature lodge
---
Accommodates
2
---
Bedrooms
Wotten Waven, Saint George Parish, Dominica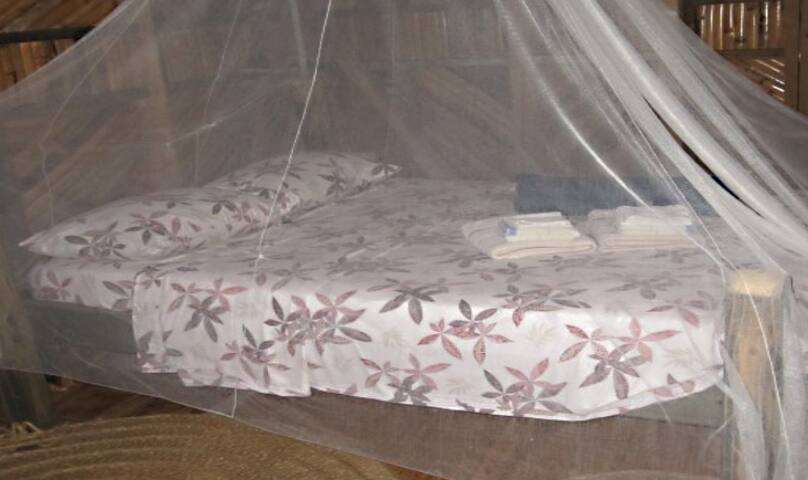 It's an open concept apartment with 3 spacious bedrooms. Large sitting and dining area with a well equipped kitchen. Within close distance are the lush green mountains which creates a unique scenery. The feel of fresh, cool air in this nature paradise. It is your destination home. It is very good for couples, singles, families and business travelers. Guests have access to fruit trees on the land. We are a short 10 minutes drive from Roseau
Spacious and comfortable. Outdoor sitting with beautiful view of the mountain. BBQ grill available if guests are interested in the outdoor cooking. Appropriate for anyone including singles, couples and families.
Very quiet neighborhood and friendly neighbors
There are very nice and respectful people, the lodging is just perfect, nothing else to say. Just one advice : rent a car, because it is unreachable without it.
Clementine & adrien
2017-01-20T00:00:00Z
15 minutes on a rough road uphill from Roseau, it got everything we needed. It was clean with lots of towels and without any mosquitoes thanks to the nets in all windows. I would prefer a detachable showerhead and it took some time to udjust the right temperature. For the other things though, I liked it a lot. Kitchen is well equiped, but there can be a lot of ants when you leave the dishes unwashed.
Jana
2017-02-09T00:00:00Z
The apartment is laying with a very very beautiful whew up in the hills. The apartment is so big and nice. We didn't rent a car, because we only stayed here for 3 days....but Ian and Farika knew a kind Taxa driver, who picked us up from the apartment, because you just can't walk down to town. And it was so nice with the wifi in the house.
Lise
2017-03-31T00:00:00Z
Ian & Farika were exceptionally helpful during our stay! They were generously open to picking us up from the Ferry Terminal (upon arrival)--even after the ferry itself was delayed significantly and my cell battery died. With their own help (and that of others as well), we arrived late, but transitioned quite smoothly into their helping hands--getting ourselves considerably more oriented, fed, and set for a few days of nice living provision than would have otherwise been readily feasible. THANKS!! We were able to catch rides to town for grocery shopping on multiple occasions during the times when we did NOT have a rental car. This flexibility and willingness to help us with town access--coming and going alike--went a long way through the course of our 10-day stay. Again: Thanks!! It also made the environment (on the ridge, overlooking a valley, south of Roseau) relatively serene and restful. (Note: if you're looking for EASY town access--W/O COORDINATION--then consider renting a car. That is, having a rental car at your disposal will help you get the most out of this listing / overcome any accessibility hurdles--that could arise, especially if you're highly interested in getting out and about regularly. In this respect, the hosts each made themselves very much available, and I really couldn't have asked for anything more in terms of offering of ride COORDINATION opportunities. They were also kind enough to help with scouting availability inquiries from both tour operators & rental car options--during the busy (relatively highly-booked, Christmas/New Year's) The place itself is the entire lower half of their house--which, of course, includes 3 bedrooms / 2 half-baths--and has its own pair of totally separate entryways. For anyone particularly 'security conscious': Both external doors were lockable, including all (3) bedrooms independently--although this was distinctly not something either one of us staying there felt any sort of need for. Still, the options was made available--so there you have it. Fridge, coffeemaker, and large 6-burner stovetop/oven were highly appreciated amidst our stay--as we tended to alternate activities certain days with 'working retreat' / relaxation other days. The property location is beautiful and quiet--from traffic (either on the road or neighbors). Dogs around the neighborhood are the biggest source of noise--when they get excited--with the occasional big gusts of wind coming in a distant second. Closing windows is one simple way to address the matter of excited dogs. Staying here, you'll be about 10 minutes from the center of Roseau (by car). Finally, arriving to the lower level of the house for the first time, fresh bananas and a kind gift of a bottle of red wine were left for us. We were also (quite graciously) invited to join them for a midday Christmas lunch. Thanks for your help in enhancing our extended stay at your calm & spacious place! :)
Dustin
2016-12-30T00:00:00Z
If you are traveling to Dominica and want to stay away from all the hustle and bustle, On Top Of The Ridge is a great place to park yourselves. Only minutes from town but far away enough that you can sit and enjoy the natural beauty of the island. Located on a hill top, as anything is in Dominica, Ian and Farika's home is well appointed with all the amenities. Spotless. Plenty of towels. Comfortable bedding. Very roomy. They are the most gracious hosts. Always there if you need their help. Ian would bring fresh coconuts to us. Giving us ideas on the area for beaching, hiking, or dining. Farika even called to check on restaurants for us when we arrived late. I cannot say enough about these people and their home . When we go back to Dominica, we will be contacting them again. Thanks to our hosts and their daughter for making our trip special.
judie
2017-02-19T00:00:00Z
Very clean, nice and spacious.
Philip
2017-01-19T00:00:00Z
I had a wonderful stay with Ian and Farika! They have been my favorite airbnb host so far and I definitely recommend them. There places is very nice and spacious, with wonderful views. I wish I could have stayed longer :(
Daphne
2017-02-13T00:00:00Z
Ian And Farika are really nice, our stay was really pleasant. The apartement is in a very nice location and perfect to discover the south of Dominica. Raccomended.
Giulia
2017-03-24T00:00:00Z
Room Type
Entire home/apt
---
Property Type
Flat
---
Accommodates
6
---
Bedrooms
Roseau, Saint George Parish, Dominica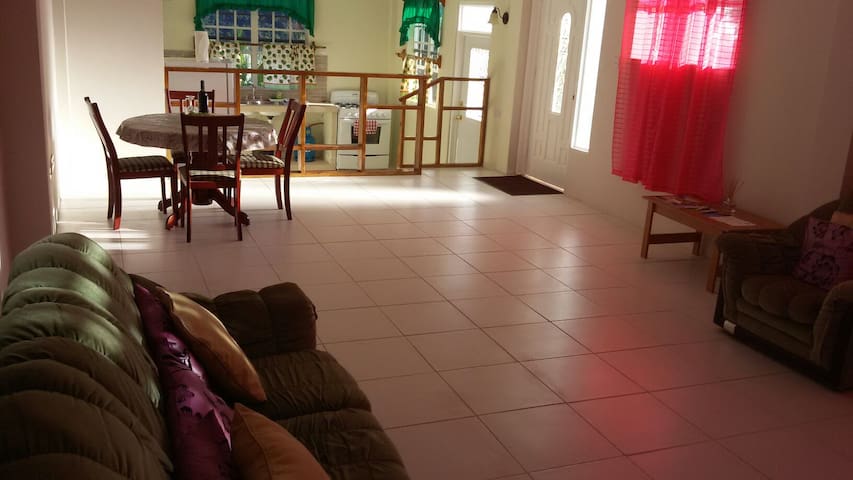 Charming nature lover/artist/hiker's retreat in the friendly village of Trafalgar within easy walking distance of Trafalgar Falls, hot mineral baths and the Roseau River. Ideal for single person or couple.
Experience nature's peace and bounty, and/or local community culture in whatever measure suits you. Village shops and local cafes are close by. The cottage commands stunning views of the Roseau Valley and is situated on more than an acre of tropical gardens and natural food forest where coconuts, seasonal fruits and ground provisions thrive.
An ideal base for hiking enthusiasts to access Middlenham Falls, and the Morne Trois Pitons National Park along the Waitikubuli National Trail. Also an ideal retreat for writers and artists, who want to enjoy a sense of peaceful solitude .
Truly a gem. We enjoyed the rustic feel and fresh fruit provided by the caretaker Jimmy. He was also our tour guide to the boiling lake and he's the best.
Chassi
2016-02-05T00:00:00Z
lovely cottage in the middle of a beautiful garden. Thank you to Jimmy who welcomed us with a smile. unforgettable stay.
virginie
2015-04-05T00:00:00Z
What a beautiful garden! We loved eating breakfast outside and watching the birds. The home is walkable to some nearby restaurants, which we appreciated, and you can even walk to Trafalgar Falls. It was a little tricky to find at night, so I recommend arriving in the daytime.
Christiane
2016-11-22T00:00:00Z
We did not get a chance to meet Von except over the phone but it was very easy to find Jimmy who was a great host for the place. The cottage is on a beautiful property with plenty of fruit trees and a friendly dog named Mystery. There were two of us but the bed is a single in the cottage so it was a little tight for sleeping. Von offered to bring in another mattress if we had wanted it. There are several waterfalls and spas near by including Trafalgar, Middleham and Screw spa. This is also a perfect location if you are interested in hiking boiling lake and need somewhere simple and affordable to stay.
Santiago
2014-12-19T00:00:00Z
5/5 place! Beautiful cottage in the rainforest with the best view. Jimmy was really helpful and made us feel welcome. Would come again anytime!
Hanna
2015-03-26T00:00:00Z
very nice stay. the perfect place to start walks to the falls, hot springs and possibly french water and boery lakes.the house was very peacefull. and thanks jimmy for your kindness
céline
2015-07-01T00:00:00Z
Vons was great! Trafalgar is an amazing little community with fantastic hikes and even better people. Jimmy the property manager, made sure we were never without a fresh coconut, and he even guided us on a grueling Sunday hike to boiling lake. I'd highly recommend this jungle hideaway.
Calen
2016-06-28T00:00:00Z
Very good place to relax !
Nicolas
2015-07-16T00:00:00Z
Room Type
Entire home/apt
---
Property Type
Cottage
---
Accommodates
2
---
Bedrooms
Trafalgar, Saint George Parish, Dominica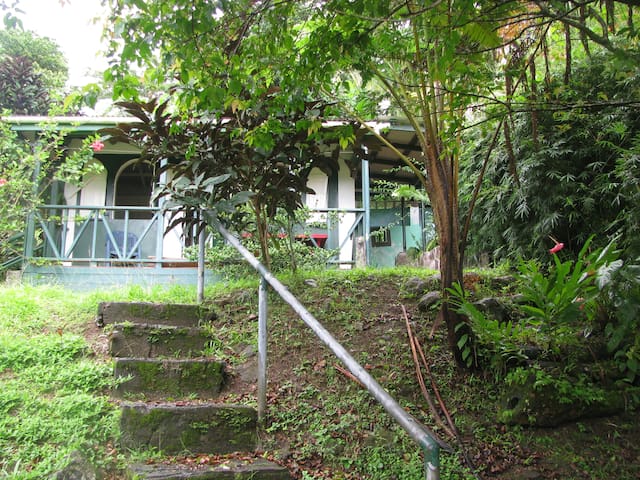 Enter dates to see full pricing. Additional fees apply. Taxes may be added.