hal Woonkamer l vorm. een voor en een achtertuin.. badkamer 4 slaapkamers.. spel/sport-toestellen aanwezig. (bring your own sheets thank you )
Great location, close to a beautiful beach and town. Lovely house with everything a family needs. We really enjoyed our time as a family. Thanks :)
Lucy
2017-04-10T00:00:00Z
Very cute, modern and large house, but not very close to the see.
Gérald
2017-02-16T00:00:00Z
Tank you Hans
Lubomír
2017-02-14T00:00:00Z
Hans house is cosy and quiet but very dusty and not very clean. Except for the double bed, the beds are camp beds, they're not very comfortable. However it's close to the beach and the town is very peaceful
Florian
2017-04-02T00:00:00Z
It is perfect house, clean, quiet, near shop. From this position we visited Rotterdam, Amsterdam and other cities. Thanks Hans!
Oleg
2017-03-20T00:00:00Z
Prima net en modern huis. Van alle gemakken voorzien. Zelfs netflix kunnen kijken op de tv (via eigen account). Rustige buurt en dicht bij zee. Vriendelijke en attente verhuurder. 1 nachtje geweest en vooral naar zee geweest.
Monique
2017-03-27T00:00:00Z
Die Unterkunft war größer und besser als gedacht. Es stand alles zur Verfügung was man benötigt. Der Kontakt zu Hans war per Handy und (SENSITIVE CONTENTS HIDDEN) sehr gut. Sehr unkompliziert und einfach. Was die Entfernung zum Strand betrifft, wir sind immer erst zum Bad Hotel und dann zum Strand, kann ich keine Angaben machen. Sehr exklusive Wohngegend.
Johannes
2017-02-26T00:00:00Z
Eén nacht verbleven in Rockanje. Het is een leuk en compleet huis, lekker dichtbij het strand. Het contact met Hans verliep goed, het is een aardige man.
Jacolien
2017-02-11T00:00:00Z
Room Type
Entire home/apt
---
Property Type
House
---
Accommodates
5
---
Bedrooms
Rockanje, Zuid-Holland, Netherlands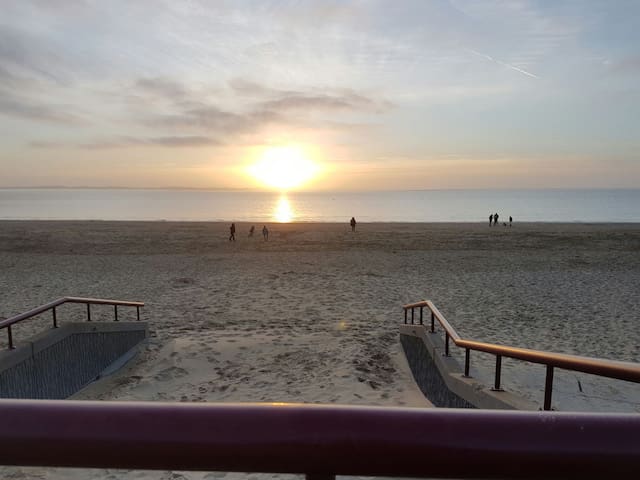 Our estate is 13.000m2 large. We offer a delicious house Ample parking Our property adjoins protected area "the Waaltje" from-where at dusk and dawn are playing the deer on the property, searching for food and drink from the pond !! The beach is within walking distance. Rockanje is located 30 minutes from Rotterdam
Living room of 50m2 with covered porch. Large master bedroom of 20m2 with own bathroom and toilet. On 1st floor 2 bedroom mer 2/3 bedden.en a 2nd bathroom / toilet Large kitchen with washing machine, dryer and American fridge
Veel natuur en rust
The house was so beautiful for a reasonable price. And to see the country side of Netherlands is best to rent this house in Rockanje. Home is spacious, safe, comfortable and very nice. Thanks Mr Nicolas.
Khairi
2016-11-27T00:00:00Z
Our stay at Nicolas's place in Rockanje was wonderful. Nicolas is a very nice host. He showed us the house when we arrived and was very accessible and easy to make contact with. The house is very cosy and has everything you really need. The TV also works great, there are some movies to watch and some board games to play. The jacuzzi was definitely an added bonus. We were here with 6 people and we had all the space we needed. Also the refrigerator and freezer were great, there even was an ice cube crusher. Nicolas also had some small refreshments waiting, which we very much appreciated after our drive. We visited Rockanje and the nearby beach and forest. I do recommend going here by car, because it is quite remote (about 40min away from Rotterdam). With a car you also have some more options - such as visiting Brielle, a small town only a short drive away.
Petra
2016-11-20T00:00:00Z
Heerlijke locatie en vanuit de woonkamer zie je de herten lopen. Het is zeker een aanrader het is netjes en schoon en Nicolas en zijn vrouw zijn de ideale gastheer en gastvrouw.
Jeroen
2016-11-12T00:00:00Z
Wat een heerlijk ruim huis. Het is van alle gemakken voorzien. De ruimte om het huis gaf een heel vrij gevoel. Niet bij de vijver, maar net wat verder weg konden we vanuit het huis de reeën zien. Dat we verse eitjes kregen van de kippen van de eigenaars maakten het helemaal af.
Audrey
2017-04-09T00:00:00Z
We hebben genoten van 4 dagen in Rockanje. Voor de kinderen was de ruimte zowel binnen als buiten fantastisch. De gastheer heeft er alles aan gedaan om ons een onvergetelijke vakantie te bezorgen. Prima accommodatie waar we ons bijzonder thuis voelden.
viviane
2016-10-21T00:00:00Z
Groot huis met grote tuin erom heen. Heel goed om met een groep vrienden te verblijven. Er is een lange tafel waar je heerlijk met z'n allen aan kan dineren. Nicolas en zijn vrouw hadden een heerlijke zelfgemaakte appeltaart voor ons gemaakt, wat de fietsers echt even nodig hadden na de tocht vanuit Amsterdam. De kippen komen je in de ochtend begroeten, erg leuk vond ook de baby van 9 maanden! Rockanje zelf is een klein dorp waar niet veel is, maar waarschijnlijk in de zomer is er meer te doen. Je kan vanuit het huis een leuke wandeling naar het strand maken en daar een drankje doen. Al met al hebben we een heel fijn weekend gehad!
Lore
2016-12-11T00:00:00Z
Het huis van Nicolas is een fijn huis om een weekend in te verblijven. Van alle gemakken voorzien en veel extra's. De gastheer en gastvrouw zijn zeer vriendelijk en behulpzaam. Vlakbij duinen en zee daardoor qua natuur ook een aanrader. Op je wandeling van die mooie Schotse Hooglanders tegenkomen, blijft een belevenis. Een prachtige vakantieplek.
Janneke
2017-02-26T00:00:00Z
Mooi ruim huis op een mooie locatie!
Henny
2017-02-13T00:00:00Z
Room Type
Entire home/apt
---
Property Type
Villa
---
Accommodates
7
---
Bedrooms
Rockanje, Zuid-Holland, Netherlands
Onze chalet staat tussen andere huisjes op het Molecaten park van Iterson. Het ligt op tien minuten lopen van het strand. Je zult genieten van deze plek omdat het prachtig gelegen ligt in een van de mooiste duingebieden van Nederland. Je kunt er heerlijk fietsen en wandelen. Onze chalet is geschikt voor stellen en gezinnen met kinderen. Bij een nabij gelegen badhotel kan gebruik gemaakt worden van een zwembad. In het hoogseizoen is er een animatieprogramma voor de kinderen op het park aanwezig.
Room Type
Entire home/apt
---
Property Type
Chalet
---
Accommodates
4
---
Bedrooms
Rockanje, Zuid-Holland, Netherlands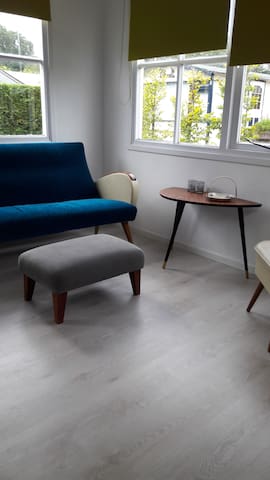 Geheel nieuwe sfeervolle B&B in afgescheiden deel van de hoofdwoning met eigen ingang en terras (onder de kiwi ranken). Totaal 35 m2. Gelegen aan de rand van het dorp Rockanje, op loopafstand naar winkels, duinen en strand is het een uitstekende locatie om de omgeving te verkennen. U kunt heerlijk genieten van de grote (bloemen)tuin met uitzicht over de aangrenzende weilanden. In de loop van de lente kunt u gebruik maken van het buitenzwembad in de tuin.
Gezellige sfeervolle woonkamer (met o.a. T.V en koelkast) en aangrenzend ruime slaapkamer en geheel nieuwe badkamer.
Huis ligt op loopafstand van winkels in Rockanje, bakker op 150 meter. Strand en duinen liggen op kwartier loopafstand en 5 min. met de auto (ruime parkeermogelijkheid).
I had a wonderful stay at Rob & Marjan's Place. The pictures simply do not do it justice, I would highly recommend it. The thing I enjoyed most is their hospitality, a friendly place almost like a second home. With beautiful hiking trips on the coast and dunes.
Jamie
2017-03-20T00:00:00Z
Gezellige comfortabele kamer op prima locatie. Ligging erg leuk. Zomers is een zwembad beschikbaar. Strand op loopafstand.
Marian
2017-03-05T00:00:00Z
Room Type
Private room
---
Property Type
Bed & Breakfast
---
Accommodates
2
---
Bedrooms
Rockanje, Zuid-Holland, Netherlands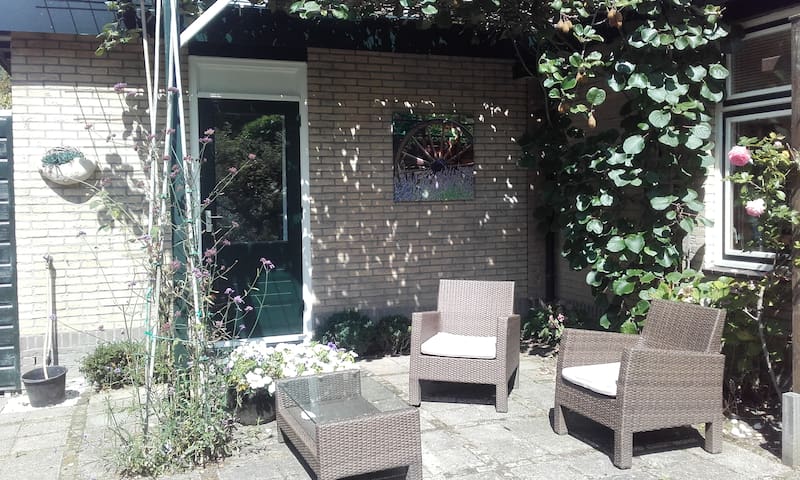 Comfortabele kamer met bed (140 x 200), met privé gebruik van badkamer op de eerste verdieping van ons huis. Rockanje is een kleine badplaats aan de Noordzeekust. De bushalte op 150 m. Vrij parkeren in onze straat, maar mag ook op onze oprit staan. Gratis koffie en thee in de kamer. Er zijn eventueel 2 fietsen beschikbaar.
De kamer is onderdeel van een vrijstaand huis, niet ver van het centrum van Rockanje en dicht bij de duinen en het Noordzeestrand.
Het door de reddingsbrigade bewaakte strand bevindt zich op 2 minuten rijden met de auto of 10 minuten met de fiets. Ook kunt u via een pad in de duinen een gedeelte van het strand bereiken wat erg rustig is. Vanuit uw kamer een wandeling van ca. 20 minuten. Het strand is schoon en veilig, het voert al jarenlang de Europees erkende blauwe vlag. In het centrum treft u een supermarkt en bakker aan. Voor een kopje koffie of thee (met gratis bonbon) kunt u er ook terecht, bij een heerlijk chocolade winkeltje..Sinds kort ook een leuke lunchroom bij het plein in het centrum
Xandra was an extremely nice host and did everything to make me feel welcome. Nice breakfast, separate full equipped bathroom. Perfect for a short stay.
Kay
2016-05-29T00:00:00Z
Xandra and her husband were incredebly nice and made sure we had the most pleasant stay! They provided us with more than we expected and made us feel more than welcome. The village is small and cute, the beach is merely a 5 min bike-ride away! Het was echt heel moui:)
Anna Maria
2016-09-08T00:00:00Z
Xandra and her husband were and are absolutely hospitable. They are great people and highly recommended! We had a seperate floor upstairs, our own room and bath. The room was great, very nice decorated (beach atmosphere) and very good equipped. More than you needed. The bathroom was great too. You could have a shower or have a bath. My baby boy (5,5 months old) really loved that bathtop and had a lot of fun. The breakfast was glorious, a variety of food, freshly made and very kind prepared. The communication was fantastic. We had several good conversations about everything. All in all, we had a perfect stay and they did everthing to feel us homelike. My baby boy loved them and liked to spend time with them. They handle very well with babies. Therefore we give them 5 stars plus. TOP *****+ Best wishes, Vivien and Darwin
Vivien
2016-09-03T00:00:00Z
fantastic host and hostess. we loved the room. we got a private floor in the house. the location is ideal, very close to the beach. and the breakfast was better than in my sweetest dreams. thank you, Xandra
Pieter
2016-06-20T00:00:00Z
Me an my wife had a great stay at Xandras house. She and her husband are great hosts!! The house and the room is very nice and clean. The bathroom is for private use. We could use the bikes to drive to the beach. The beach was very pretty and close. Xandra gave good recommendation for a restraurant wich we enjoyed a lot. The breakfast was also very good!! Thanks for a nice stay and best regards!!
Daniel
2016-10-03T00:00:00Z
Zeer gastvrije en vriendelijke host, mooi ruime kamer en badkamer en prima verzorgd ontbijt. Kom er graag terug!
Bart
2016-11-10T00:00:00Z
1 nachtje hier verbleven, erg gastvrij ontvangen. Vooraf goede tips ontvangen van Xandra over restaurantjes en bezienswaardigheden in de buurt. Prima kamer en badkamer, die zijn echt privé. Ook een super ontbijt met heerlijke broodjes, verse muntthee naar wens, fruit salade, heel uitgebreid en erg lekker. Ligt wel beetje ver van het strand, dat is helaas niet te wandelen. Huis ligt tussen 3 straten in waardoor het best gehorig is met raam open, maar kan ook komen doordat er een motor event was in Rockanje, waardoor we steeds motoren langs hoorden rijden. Hebben we overigens niet wakker van gelegen. Kortom: prima verblijf gehad bij goede gastvrouw, wij zijn tevreden.
P
2016-05-30T00:00:00Z
Heel gastvrij, veel ruimte en privacy. Een prima verblijf.
Koen
2017-02-07T00:00:00Z
Room Type
Private room
---
Property Type
House
---
Accommodates
2
---
Bedrooms
Rockanje, Zuid-Holland, Netherlands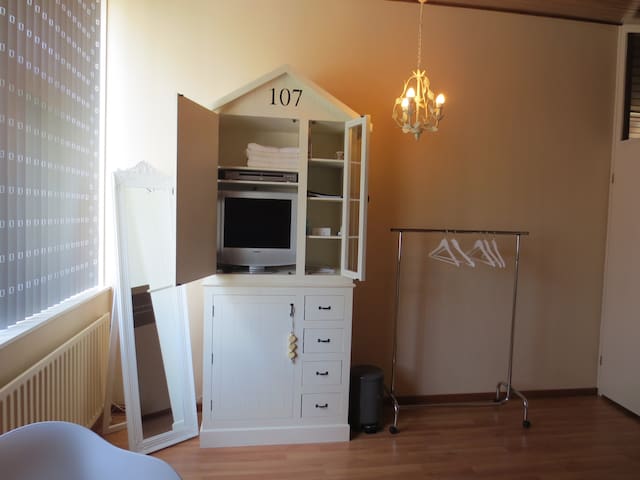 Attractive cottage, fully equipped with livingroom, kitchen, bathroom and bedroom ( incl bed and bath linen) meant for 2 persons and ideal for a few nights in a beach resort. On walking distance of beach, dunes and forest. Centre of the village is a 10 minute walk.
Uniquely located near beach, dunes and forest. Ideal for cycling and walking as well. Historic old cities nearby.
Unique nature with seabeaches, dunes, forest and on 8/10 KMS historica's old cities
The Cottage was cozy and clean. Very close to the beautiful beach. Unfortnatly wifi didn't work and tv programs only in dutch or english. But there were some games so the evenings were nice at all. There are also lots of books if you stay longer. Thank you for the play stuff for our little son. He had great fun with it. If we visit Rockanje again we surely like to come back.
Verena
2016-11-01T00:00:00Z
It was a great time and a nice cozy house with rest and the beach in the near. We are looking forward to join in summer again. Thanks Cobi and Nico
Kati
2015-01-02T00:00:00Z
Our stay at Coby and Nico's cottage was perfect. The cottage is very comfortable and cozy. There is a large beautiful beach in walking distance, very quite and with white sand. Coby and Nico are great hosts, very friendly and helpful. We will defenitely stay at their place if we visit this area again!
Ekaterina
2014-10-03T00:00:00Z
We enjoyed our stay in the little cottage very much. The Cottage sits behind the host's home, and has a very well styled landscaping. The house has pretty much everything you need in it. Our hosts were very friendly. For breakfast, they provided fresh bread, cheese and other breakfast goodies along with freh orange Juice, which we very much enjoyed. The house is only about 10 minutes from the beach and there are bike paths everywhere. We did get lost a couple of times, so invest in a bike map :)
tia
2015-05-26T00:00:00Z
We had a very nice stay at this lovely cottage. The hosts gave us a warm welcoming (they are multi-lingual), including welcome beers and a good breakfast selection in the fridge. Both, town center and beach are just a few minutes away. Excellent area also for cycling (bike rental near by). We also saw 4 seals on the beach. All in all it was a great short vacation and we can really recommend the place.
Sven Eric
2014-10-05T00:00:00Z
Cobi and Nico are very helpful and friendly. The appartment is in 5mins walking distance to town as well as to the beach. It is clean and comfortable. We had a terrific time and would come back anytime!
Jochen
2015-06-07T00:00:00Z
We had a really great time - Cobi & Nico are lovely and open-minded hosts. This cottage has everything you need and is close to the beach. Looking forward to come back soon :-)
Franziska
2015-07-08T00:00:00Z
Cobi & Nico greeted us warmly on our arrival, all the little touches were lovely. The house was nice and warm, the terrace got plenty of sun during the day as we were so lucky with the weather. Everything was clean, the breakfast items were delicious, a real taste of home for me. Thank you both so very much, we hope to see you again in the future and have recommended you to family already!
Milca
2015-04-20T00:00:00Z
Room Type
Entire home/apt
---
Property Type
Cottage
---
Accommodates
2
---
Bedrooms
Rockanje, South Holland, Netherlands
In the 17 hectar forested natural surroundings of 't Klein Waterbosch stands this newly build house. Built to replace the previous house and completed in june 2013. It is finished to a high standard with a large open kitchen living and fireplace.
High ceilings, 6 double doors and a forest garden makes the large open kitchen living feel like living outside. Comfortable couches and chairs encompass the open fireplace. The study has a second fireplace. the large window looks out over the terrace. The ground floor bedroom sleeps 2 and has an en-suite bathroom, doors open out into the garden. The second floor has 3 bedrooms. 2 with a double bed and en-suite shower and sink. The third room sleeps 7. The House opens out onto the brick built bbq area which overlooks the lawn. In the morning wild deer come out the woods to feast in the apple orchard. Adjacent to the property lie the Voornse Duinen, a perfect place to empty the mind. The beach is only a 5 minute car ride but can also be reached by a 45 minute walk through the forest and dunes. are crossed by well maintained paths.
Adjacent to the property lie the Voornse Duinen. It is one of the few in the Netherlands where no drinking water is collected from the dunes, leaving the fresh water to create natural pools. all sorts of wildlife can be found. Wild deer come to the house and rare flowers can be found along the paths. When Dunes are left alone long enough it turns into a forest. The beach is only a 5 minute car ride but can also be reached by a 45 minuge walk through the forest and dunes. Open forest, thick bushes and meadows with hawthorn. with are crossed by well maintained paths.
We had a great stay over the New Year's Eve and a lot of fun. The house is very large and offers a high level of comfort with many bathrooms wich are directly connected to the bedrooms. The Fireplaces are comfortable and there is enough place for seating. The equipment of the kitchen is designed for a large group of people, as well as the large dining table. The house is in a wooded area and the distance to the sea is about 20 minutes walking distance. Thank you for the great stay, we will definitely come back!
Volker
2015-01-03T00:00:00Z
Extraordinary location with a lot of service in comfort! We stayed at the house with a group of International friends and unanimous there were only good and positive things to say about our experience. The house itself and the location is great for larger groups who like to explore the nice forest on this large property as well as the sea which is only a short trip from this location. Even though the location is relatively remote the City Center of Rockanje and the beach are only about 10 min. (by car) away. Looking at the service and the contact with the owner there´s nothing to complain either since the house was clean and all the beds and bathrooms were prepared for our arrival. Contact with the owner went easy, short response time, and friendly. Definitely a place I´d recommend if your looking for a nice house on an unique location!
GJ
2015-04-26T00:00:00Z
Where shall I start? Everything was perfect, from the initial communication with Merlijn to handing over the keys to the house itself, the surroundings, etc. We had the most magnificent time at Merlijn's wonderful place. The house is absolutely spacious and you can choose to spend time with the others in the central kitchen/dining/sitting area, or relax in one of the many bedrooms (comfy beds!) if that is what you prefer. I'd say we were actually lucky to have had one mostly rainy day, because it gave us the opportunity to thoroughly appreciate the cosiness of the house and the nice fireplace. That said, the weather was great for the most part and we walked to the beach several times in those three days. It was a lovely 25-minute walk and easy to accomplish. Thank you, Merlijn, we absolutely intend to come back soon!
Dirke
2016-10-04T00:00:00Z
The country house is a real country house with a perfect mixture of relaxing, outdoor activities, nature or in other words simply being in and around the house. The surroundings are great for dune, beach and forest walks as well as for bicycle trips. Although not far from biggest container harbors and Europort industries, we had one of the greater nature experiences we ever had in Holland. The beaches of Rockanje are fantastic and clean. We appreciated a lot that there was no television inside the house, but therefor plenty of family games. We enjoyed our holiday time at this special place a lot. Thanks Merlijn for sharing this Country House Experience with other guest !
BE
2016-08-20T00:00:00Z
What a great place! The house is quite spacious and perfect for larger groups. We came for a family reunion and really enjoyed our time there. The garden is huge and you can also have a nice stroll throuh the woods that stretch out behind the house. If you get lucky, you'll also might encounter deer in the woods or even passing through the garden. Beach is indeed just a 5 min drive. Overall: great place, very cosy. We'd love to come back.
Georg
2016-10-16T00:00:00Z
What a beautiful house and in such a lovely setting! The house is lovely, spacious and even better than in the photos. It's really well equipped and there are lots of thoughtful touches like children's games which kept us entertained on the one rainy day. The house is on a cycle route which leads directly to the beach so bring your bikes! We had a lovely family holiday here and would recommend this house and South Holland for a holiday!
El
2016-08-08T00:00:00Z
Merlijn was a great host - very receptive to questions with a fast response always - including helping us get bikes, kitesurfing and more - each time with phone numbers, web sites etc. The house was absolutely beautiful - very large with an enormous garden - including a football pitch with small goals, dense woodland which seemed to go on forever and complete utter peace and tranquility. We woke up one morning with deer in the garden looking through the windows. Wow! If you have kids and are sick and tired of saying sshhhh to them for fear of disturbing neighbours, then this is your place. Heaven on earth. Bring your car, but leave it parked. Rent bikes and cycle everywhere. Oh and no TV !!!! Parents delight.
Yehuda
2015-08-04T00:00:00Z
Unique and beautiful place to stay. Pictures don't even do it justice. Perfect spot for a secluded, quiet weekend in nature. Dunes and beach nearby for those relaxing walks in nature. Would definitely stay again.
Gaston
2017-02-12T00:00:00Z
Room Type
Entire home/apt
---
Property Type
House
---
Accommodates
13
---
Bedrooms
Rockanje, South Holland, Netherlands
2 aparte ruimtes beschikbaar naast onze woning. Het "Voorhuus" is een ruimte met een tweepersoons bed. Het "Achterhuus" is een studio met een tweepersoons bed. Beide ruimtes hebben tevens een schitterende veranda en badkamer. 62 euro per kamer
We hebben twee ruimtes beschikbaar. Het "Voorhuus" is één ruimte met een eigen entree. Een prima 2 persoons bed. Voor een meerprijs (15 euro) is er een extra bed beschikbaar, voor als met z'n drieen bent. Lekkere zitgelegenheid en een mooie nieuwe badkamer met inloopdouche. Het achterhuus is een soort studio met beneden een zitgedeelte en boven een groot tweepersoonsbed en een slaapbank.
Het strand op 5 minuten rijden.
The reservation was canceled 4 days before arrival. This is an automated posting.
Maria
2014-07-29T00:00:00Z
Very cozy apartment in the countryside, on the rear of the horse stable and in front of Christa and Adriaan's house. The room is gigantic, with big bathroom and fantastic veranda and garden. Friendly guests who will provide you with tips, rich continental breakfast and answer your questions. Thanks Christa and Adriaan!
Annalisa
2014-07-28T00:00:00Z
Beautiful little apartment on a farm, surrounded by horses and nature. Adriaan is a wonderful host and a lovely man, who will always ensure you have a pleasant stay. Breakfast is delicious and the fire pit makes for some lovely toasty evenings with a beer. Highly recommended, I just wish we could have stays more that one night!
Drew
2016-08-07T00:00:00Z
We had a lovely stay at Christa and Adriaan's house, lovely place, very cosy, everything worked out perfectly well, the response to our request was quick....thanks for the stay!
Luisa
2014-04-07T00:00:00Z
The host canceled this reservation 2 days before arrival. This is an automated posting.
Rosemarie
2016-09-06T00:00:00Z
De verhuurder heeft alles gedaan om ons op ons gemak te voelen. Een praatje bij het ontbijt of 's avonds even aankomen als we lekker op de veranda zitten voor een gezellig onderonsje. Helemaal super!
Marie-José
2016-08-21T00:00:00Z
Echt een aanrader. Mooie, grote, heel netjes ingerichte kamer met aparte douche en apart toilet. Ligt in een landelijke heel rustige omgeving. Gezellige mensen, lekker samen ontbeten, en avondeten met een goed glas wijn erbij.
Louis
2015-06-18T00:00:00Z
Het verblijf bij Christa en Adriaan was heel fijn! Alles schoon en netjes en een hele fijne veranda met lekker ontbijt. Aanrader! De kamers zijn nog mooier dan op de foto's!
heleen
2016-08-17T00:00:00Z
Room Type
Entire home/apt
---
Property Type
Bed & Breakfast
---
Accommodates
2
---
Bedrooms
Rockanje, South Holland, Netherlands
Near the beach, area of nature, nearby the centre and the village square with shops: nice villagehome with backyard, 2 bedrooms (4 persons: one small bedroom and a master bedroom, including folding bed). TV, radio and wifi are present.
In the middle of a cozy little village, nearby the sea and the beach and a area of great nature. Ideal for cyclists. There are two bedrooms with three beds and one folding bed. There is also a babybed available. The toilet is on the ground floor. There is no toilet on the second floor.
Lively area with several little shops and a supermarket on a distance of 150 meters. Nearby beach, sea (3 minutes by bike), beachclubs and nature area.
We were met by Anita's husband on time with the keys. He was cheerful and welcomed us and provided a full explanation of the items in the house (TV CD, etc.). The house was lovely. Extremely clean and tidy with a nice garden area to the rear. The surrounding area was pleasant and the small town of Rockanje was lovely. All the people we met were very friendly and welcoming. We would certainly use Anita's home if we return to Rockanje
JOHN
2016-05-30T00:00:00Z
What a wonderful house to stay in. Plenty of amenities, very cozy and clean. The village is just down the lane. We had an excellent trip. Wat en geweldig huis om te logeren.
Mikon
2015-06-18T00:00:00Z
This cozy villagehouse was every bit as cozy as promised. We (a Couple) have been there over New Year's and the town was quiet, the surrondings were beautiful, and the house was well equipped for cooking Sessions or just chillaxing on the couch. Anita & Rene were helpful and uncomplicated - we would come again if you'd have us. :)
Michael
2017-01-01T00:00:00Z
The apartment is very nice and also well equipped for holidays in winter.
Till
2017-02-12T00:00:00Z
Cute little house well located in the village. Plenty of space for our small family. Well stocked kitchen.
Jennifer
2015-09-14T00:00:00Z
Host was waiting for us at the house which was well equipped. He took us through and explained all we needed to know. We very much enjoyed the location and walked into the village and to the beach. We made good use of the garden for outdoor meals.
Rebecca
2016-09-04T00:00:00Z
We had a great stay at Anitas house at Rockanje! The communication with Anita and her husband was very nice and easy and we had a warm welcome and goodbye! The house is beautiful, very nice and cozy with a fine garden for breakfast and dinner and very well-equipped, even for childs – our kids loved the wooden train they found under their bed :-) The house is very close to everything you need at Rockanje and we enjoyed the 20 minutes walk to the beaches with ice-cream bought at the shop nearby :-) Thanks a lot Anita!
Ulrike
2015-08-22T00:00:00Z
Anita's husband welcomed us, showed us around this cosy house, explained about everything. Very clean and well equipped. A nice peaceful garden. The supermarket and shops are all close by. Rockanje is a lovely village with a nice beach 15 mins walk away. Would recommend and we'd definitely stay here again.
Valerie
2016-06-08T00:00:00Z
Room Type
Entire home/apt
---
Property Type
House
---
Accommodates
3
---
Bedrooms
Rockanje, Zuid-Holland, Netherlands
This authentic guest house is ideal for unwinding. The guest house is a separate house located on our large property and is close to the beach of Rockanje and the Westvoorne dunes.
There is room for two people and a room for two extra can be booked additionally if (URL HIDDEN) is also possible to use the outdoor pool (shared) during summer. Our traditional guest house offers a unique place for a vacation or a few days of rest. The guest house has a living / dining area, a large bedroom, kitchen, toilet, bathroom and sauna.
The beach is 5 minutes away by car and 10 minutes by bike. The peace and many attractions and activities Westvoorne make a special recreation community. From hiking in unique natural dunes to sunbathe on a broad North Sea beach, endlessly cycling through fascinating polders and enjoy one of the many sun terraces. The beach of Rockanje is a particularly beautiful beach on the North Sea coast. Due to its unique location, almost entirely oriented to the south, the beach of Rockanje is a true paradise for the real sun worshipers. As for the sea coast in a number of sandbanks while swimming will suffer little from waves. Therefore children and less experienced swimmers have here relatively easy. Rockanje beach is a clean beach. Consecutive years in a row the beach is awarded the European Blue Flag. The Blue Flag symbolizes a clean and safe beach. On the beach of Rockanje are five beach clubs, each with its own style and audience. In recent years, many kite surfers who have discovered that the beach of Rockanje an ideal place to go kiting because many onshore winds and shallow water.
This beautiful old barn has been turned in proper style into a light and fondly furnished little house, loacted 5 min. to the beaches of Rockanje by car. It is even bigger than we thought, the beds are good and comfortable. Nice bathroom with an luxury shower and – of course – a nice little sauna. On balance, quiet perfect! Tanks to Marinka and Ton for being our kindly hosts! We are ging to return here (if we may be allowed to) ;-)
Andi
2017-02-26T00:00:00Z
As always, an absolute pleasure to stay there.
Florian
2016-09-25T00:00:00Z
Ton and Marinka are an adorable couple: they were super helpful, kind and smart. And their place is perfect to calm down and enjoy a relaxed stay. They prepared croissants, fruit and wine. After all, one of the best hosts we ever had.
Sabine
2016-09-12T00:00:00Z
Really amazing place to stay. Huge house, big pool and a beautiful property. But what makes it the one of the best places we have been is how friendly and welcoming Ton and Marinka are. Thanks for such a lovely holiday and we will for sure come again@
Jochen
2016-07-22T00:00:00Z
Perfect weekend gehad! Flexibele in- en uitchecktijden, mooie locatie en zeer behulpzame eigenaren. Een echte aanrader!
Robert
2016-06-06T00:00:00Z
Mijn nichtje Nina en ik hebben het echt fijn gehad in dit paradijsje in Rockanje. Het koetshuis is prachtig ingericht en van alle gemakken voorzien. De ligging is prachtig. Het zwembad is heerlijk. In de hangmat boven zou je de hele dag kunnen liggen. Ton en Marinka zijn erg gastvrije hosts. Als we weer in de buurt zijn om te surfen, komen we zeker weer langs!
enny
2016-08-03T00:00:00Z
Heel fijne plek, dit koetshuis van Marinka en Ton. Sfeervol, comfortabel, met lekkere bedden en veel ruimte. Aanrader!
Nancy
2017-03-05T00:00:00Z
Erg leuke tijd gehad in rockanje. Ik vind het leuk om vanalles zelf te ondernemen en uit te zoeken maar desalniettemin waardeerde ik de aangeboden hulp ten zeerste. Erg gastvriendelijke en hartelijke mensen. Het koetshuis staat weliswaar achter het woonhuis maar bied toch genoeg privacy. Mooi groot huis met een mooie grote tuin, zwembad en ook hebben wij zeer dankbaar gebruik gemaakt van de fietsen. Bedankt!
Marouska
2016-09-08T00:00:00Z
Room Type
Entire home/apt
---
Property Type
Cottage
---
Accommodates
3
---
Bedrooms
Rockanje, Zuid-Holland, Netherlands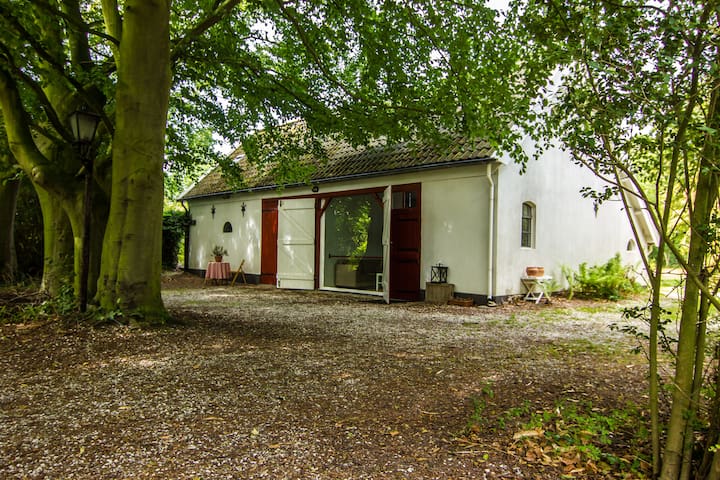 House located in a wonderfully green environment close to the North Sea, several beaches, dunes and forests. FREE: Little Bottle of Organic Red Wine, Wi-Fi, 2 Bicycles and Coffee & Tea.
Own entrance and parking lot. Digital (widescreen) television with international channels and stereo. Kitchen equipped with microwave, refridgerator, electric kettle, Senseo coffee machine and a four-burner stove.
Forest, dunes, sea and beach!
The reservation was canceled 14 days before arrival. This is an automated posting.
Fanny
2014-10-10T00:00:00Z
The host canceled this reservation 27 days before arrival. This is an automated posting.
Ido
2016-03-12T00:00:00Z
Everything was like in the describtion. A cosy little garden house just outside Rockanje. Nothing fancy, but with everything you need for a relaxing couple of days. Can't say anything about the bikes because we didn't need them. We found some delicious grapes and tomatos from the garden at the doorstep when we came 'home' after our first day on the beach. Contact with Renke was fast and easy. Don't expect any luxuries. But if you need a place to stay near the dutch coast and like nature, this cottage is for you.
Stephan
2016-08-25T00:00:00Z
The place is nice, quite ground floor apartment in the rural area of Holland. its nice, well maintained and has lot's of nature around it (small lake, etc). It is lacking, however, usable internet (its too flaky until they do something about it). Lots of windows and light, cable T.V (non flat) and a CD player is a nice touch. The owner's rep. was very helpful and friendly.
Eliran
2015-12-28T00:00:00Z
The host canceled this reservation 27 days before arrival. This is an automated posting.
Michel
2016-07-21T00:00:00Z
Top!
Christopher
2015-07-07T00:00:00Z
We had a perfect time at Renkes apartment. It is simple, clean, quiet and surrounded by a beatiful garden. We would come back anytime. Renke and his dad Joop we're really perfect hosts, very friendly natural and helpful. Thank you.
Katrin
2016-05-25T00:00:00Z
Renke was absent during all our stay but we were nicely welcomed by his father. Really spacious house located in a quiet village. Renke's father allowed us to use 2 bikes as often as wanted. Nice places to bike near the sea, and to the surrounding villages.
Sébastien
2014-08-20T00:00:00Z
Room Type
Entire home/apt
---
Property Type
House
---
Accommodates
2
---
Bedrooms
Rockanje, South Holland, Netherlands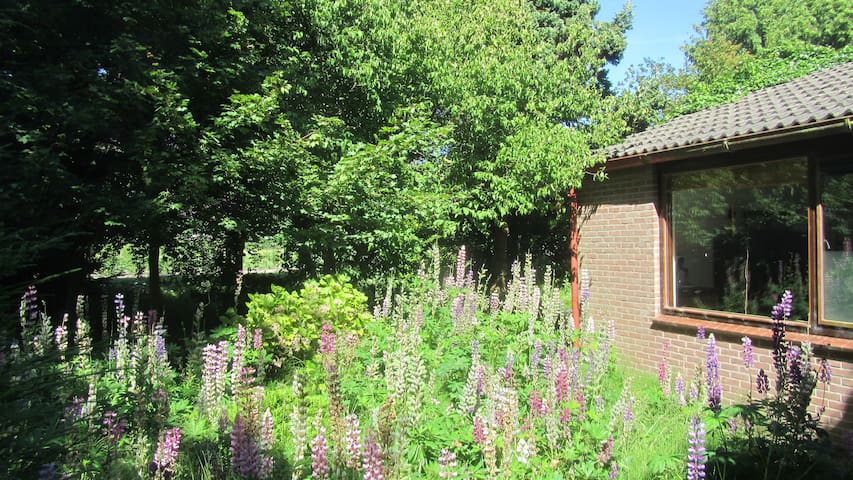 Direct aan de haven gelegen, voor jachten, op 1 minuut lopen het strand, familie huis compleet met sauna, royale woonkamer met fraaie zithoek met een serre die uitkijkt op de haven. De eettafel kan opgedekt worden voor 16 pers, uw hele familie.
Het huis bevindt zich op loop afstand van de vesting stad hellevoetsluis waar u velle restaurants en cafe's vindt
The place was really perfect for our 5 persons family. Very comfortable, fully furnished with anything you need. The sauna was also working very well. Rudolf has been very flexible with arrival and departure time.
Manuel
2016-04-08T00:00:00Z
What a nice and quiet place with a breathtaking view! Though the weather was a little rough, we enjoyed our stay very much. The house is spacious, very clean and tasteful - and Rudolf is a wonderful host, who equipped the house with everything we could think of - even fresh fruit and champagne! Just great!
Matthias
2016-03-31T00:00:00Z
We travel a lot, but our stay with Rudolf was one of the best we had in our lives, both my husband's and mine. The house is super-clean, very comfortable, well decorated and the view to the marine is breathtaking! The four rooms were spacious, with several pillows and super-soft blankets and duvets, many towels, the bathtub was delicious, and the sauna relieved us from all our final stress. The house is also very well located, a few minutes away from restaurants, the beach, and many stores. For the kids, there are two really good options for playgrounds. Rudolf was unbelievably kind to us, with every single request. This is a paradise, we not only recommend, but we are already planning our next stay! Memorable days! Thank you, Rudolf!
Carolina
2016-04-25T00:00:00Z
La maison est superbe, très spacieuse et très claire. L'environnement est très calme au bord du port de plaisance et à deux pas de la plage. Rudolf avait tout préparé, les draps, les serviettes, le bouquet de fleur, les boissons fraîches dans le frigo. Un petit paradis. Les enfants ont également adoré !
Marie-Pierre
2016-05-09T00:00:00Z
Wir hatten eine tolle Zeit in diesem Haus und danken Rudolf herzlich dafür, dass er alles so super vorbereitet hat. Das Haus ist sehr gut und hochwertig ausgestattet (gute Küche, toller großer Tisch, super Sofas, top Sonnenliege für jeden und und und...) und die Lage war für uns perfekt. Man kan sowohl spannende Städte besichtigen (Rotterdam, den Haag und vor allem Delft!) als auch Strände besuchen - entweder den kleinen Flussstrand am Park oder in einigen Kilometern Entfernung schöne Nordsee-Strände. Der Park mit dem Blick auf den Yachthafen, Brötchen-Service und Fahrrad-Verleih könnte auch nicht besser sein. Hellevloetsluis ist ein niedlicher kleiner Ort, der neben dem sehenswerten alten Hafen mit verschiedenen Museen alles bietet was man braucht (Marken-Supermärkte sowie LIDL und Aldi). Insgesamt können wir Rudolfs Haus absolut empfehlen und wir kommen gerne wieder! :-)
Jan
2016-07-21T00:00:00Z
Maison parfaite et conforme au descriptif , absolument aucun reproche à formuler et de très agréable détails ( bouteille de cava au frigo , fleurs et de l'eau à disposition ) qui rendent le séjour encore plus cosy , décoration à notre goût et excellente localisation . En un mot "à refaire" merci
Francis
2016-05-17T00:00:00Z
Die unterkunft bei rudolf war fantanstisch. sehr helles, modernes und großes haus. jedes zimmer hat einen balkon. die sauna haben wir oft benutzt und genossen. wir waren zum fischen da und hatten unser boot direkt in sichtweite vom haus angelegt. wir möchten wieder einmal in dieses wunderbare haus fahren. alles was man braucht war zu fuss erreichbar. danke an rudolf für den netten und sehr zuverlässigen kontakt. 10 punkte!!!!
Martin
2016-09-05T00:00:00Z
Van te voren al prima mail contact gehad met Rudolf. En bij aankomst lag er een fles Cava koud en stond er een schaal fruit. Heerlijk ruim huis met alle faciliteiten en mogelijkheden in de buurt. Lekker uitgerust en relaxt uit Hellevoetsluis thuis gekomen.
Roelof
2017-01-04T00:00:00Z
Room Type
Entire home/apt
---
Property Type
House
---
Accommodates
8
---
Bedrooms
Hellevoetsluis, Zuid-Holland, Netherlands
In Hellevoetsluis a small city located on "The Haringvliet" with the sea, beach and dunes close by you find my B&B with an surface of 30 square meters, including 3 beds, bathroom and seperate living and bedroom. Breakfast is included.
The guest has it own entrance with living room and separate bedroom and shower. The living room can also offer sleeping places for 2 persons in just a split second.
The street in which the B&B is located there are two restaurants and a supermarket. The street next to it which is a 5 minute walk offers a lot of shops. Clothing,interior, hairdressers and supermarkets all on walking distance. The harbour is located in a 15 min walk with lots of bars and restaurants.
Yael is a very friendly host who made us feel at home and treated our son as her own grandchild. Even though she had guests she found time to come and make sure we are happy. The accommodation is brilliant, as described. The breakfast was very good with tasty home-made bread. Unfortunately we didn't have time to explore the neighbourhood, but the harbour of the town is very beautiful.
Daria
2015-05-29T00:00:00Z
What should I say! It was exactly as I thought it would be! Warm and friendly welcome in combination with a great breakfast! ( the bread was homemade and all the other things on the table were top!) Yael made us feel at home from the beginning on!
Filipe
2015-06-07T00:00:00Z
Yael was a wonderful host and made us feel right at home straight away & told us lots about the local area. Delicious fresh breakfast! We really enjoyed our stay
Hannah
2015-06-13T00:00:00Z
Highly recommendable! Seldom have I felt so welcome as I did here; the host is a very warm person with a sense for providing a high service level. The appartment, which include 2 rooms for each 2 persons, new toilet, own entrance and parking, is very nice and clean. The first evening we booked her dining room restaurant, where we enjoyed a 3-dish meal companied with her a her husbond at a very affordable price. Breakfast were served in the appartment and included coffee/the, juice, milke cereals, omelette, and fresh baked bread. For sure we will stay there again, if we come back to the area.
Birgit
2015-03-22T00:00:00Z
Fantastic host, very welcoming a pleasure to stay in her comfortable home
Christine
2016-06-15T00:00:00Z
Really perfect! Great rooms, great people and gret dinner :) I recommend to everyone!
Mark Philipp
2016-09-22T00:00:00Z
What a lovely night spent in Yael's cozy place ! Every detail for the comfort of the traveler is well thought of and the warm welcome from Yael makes it an exceptional Bnb experience. The home-made breakfast (from the bread loaf to the yogurt parfait with fresh fruits) was delicious. We will be back soon !
Eva
2016-10-30T00:00:00Z
Yael is a very special lady. First of all she is a great host who take care of the guests preparing a delicious breakfast with fine products and homemade bread-"la piece de resistance". She is carefully and in the same time a very discreet person. The space is perfect and very clean: a good size bedroom(with a very comfortable double bed), nice bathroom and a light living room. Also there is an outdoor space with couch and a table- perfect place for a chat in the evening. We received good tips about the surroundings. Highly recommended! We had a great time!
elena
2015-08-16T00:00:00Z
Room Type
Entire home/apt
---
Property Type
Bed & Breakfast
---
Accommodates
4
---
Bedrooms
Hellevoetsluis, ZH, Netherlands
Dit ruime chalet is geschikt voor mindervaliden, het chalet is via twee rolstoelvriendelijke ingangen te betreden en is drempelloos. De badkamer heeft een verruimde toegang en is voorzien van armsteunen. De bank heeft een hoge zit. De tuin om het chalet is ruim en heeft een eigen parkeerplaats, tuinmeubilair en een veranda met loungeset. Het chalet staat op Camping 't Weergors, een gemoedelijke familiecamping gerund door de familie Riedijk.
Een fietstocht naar de Noordzee via een prachtig natuurgebied: 5 km. Ontspannen wandeling langs de historische vestingwallen naar leuke restaurants: 1,5 km. Kinderstrand met speeltoestellen: 1 km. Overdekt winkelcentrum: 3 km. Rotterdam en Rotterdamse Haven: 35 km.
Room Type
Entire home/apt
---
Property Type
Chalet
---
Accommodates
5
---
Bedrooms
Hellevoetsluis, Zuid-Holland, Netherlands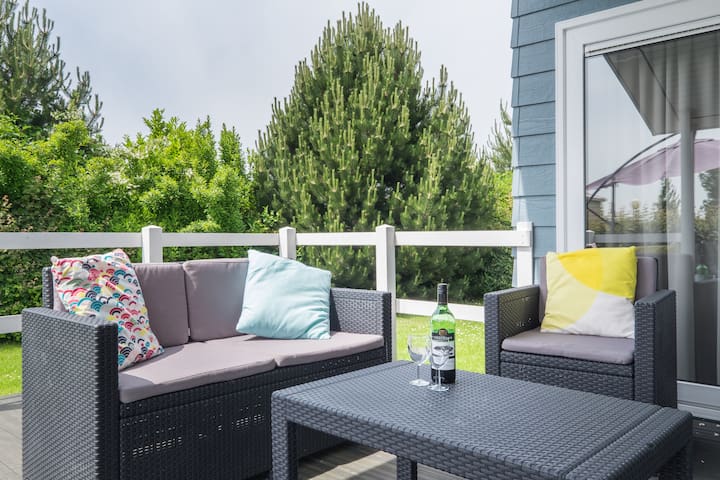 Wij verhuren een mooie kamer met privé badkamer in Hellevoetsluis, rustig gelegen. De kamer heeft twee comfortabele bedden, er is gratis WiFi en TV. Hellevoetsluis is een gezellige stad en dicht bij strand, mooie natuur en de wereldstad Rotterdam.
We have a nice room for rent in the center of Hellevoetsluis. Ideal if you want to visit the island of Voorne-Putten Near the North Sea and beaches. There are also beautiful bike and walking trails. The room has two comfortable single beds, a kitchenette with tea and coffee facilities and a private bathroom with shower and toilet. There is also a TV in the room and free access to Wi-Fi. You park your car behind the house or safely stall your bike. Less than 1 minute walk from a bus stop in front of our house. Within 30 minutes the bus takes you to the Metro station where in Spijkenisse where you can take a Metro to Rotterdam. Breakfast is not included but we can also arrange breakfast on request (not included in the price).
Bellona and her husband were very nice and helpful host. We had a very warm welcome and enjoyed the stay. The room is well equipped with everything you will need. The place is clean and tidy. Thanks for their friendly hospitality!
Lydia
2016-08-25T00:00:00Z
I had a very nice stay in Hellevoetsluis! The room is tidy and well furnitured, and I enjoyed having a small kitchen with a fridge, as well as a TV and a own bathroom. Bellona is friendly and hospitable!
Philipp
2016-07-31T00:00:00Z
Bellona and her husband were the perfect hosts. They lent us some bikes and the breakfast was delicious. The room is nice and clean! Thank you again for this wonderful weekend with you!
Pauline
2015-07-06T00:00:00Z
If I could give Bellona 6 stars our of 5 I would! Such a delightful stay in her lovely home. Her and her husband made this stay in their little village such a delight! We took them up on their offer to provide breakfast and got more than our €7 worth! They were so lovely and keen to help out with information and had maps available on local things to see and do. You will not be disappointed with your stay in this lovely self-contained unit at the bottom of their house. Dutch hospitality at it's finest!
Kaye
2016-07-10T00:00:00Z
Bellona's home is a great place to stay. The house fronts on to a dyke with a shopping centre a few mnutes away. The accomodation is independent and has everything you need for your stay, including a microwave oven; however, Bellona and her husband are always available should you need help or information. There is residential car parking and the use of a garage if you have bicycles. Visitors will receive a very friendly Dutch welcome and a cup of tea or coffee. The best of AirBnB!
Peter
2016-12-09T00:00:00Z
Topper!
Laura
2016-07-21T00:00:00Z
Bellona and Anton were accomodating and easy to communicate with. I had a pleasant and relaxing one-night stay at their house. My room was perfectly clean and the bed very confortable. Perfect if you need to rest like I did. Very quiet area by the water. The place was easing to find thanks to Bellona and Antons advices.
sophie
2015-11-03T00:00:00Z
The host family are such great people of rarity with pure heart. It was a great moment to be a guest there. Anton arranged for me a sailing opportunity with his son Tom. I did not expect that lottery win, do I got really surprised. I will be there again whenever I come back near to the Netherlands. God bless such wonderful people as Anton and Bellona.
moon sung
2016-07-13T00:00:00Z
Room Type
Private room
---
Property Type
House
---
Accommodates
2
---
Bedrooms
Hellevoetsluis, South Holland, Netherlands
This private wing is part of a beautiful country house with a large plot of land not far from the beautiful Rockanje beach and Westvoornse dunes. The ideal base for numerous outdoor activities.
Our authentic rural house with large plot is a unique place to spend a few days to rest and is the ideal base to explore the beautiful area around Rockanje. Guests have exclusive access to the bedroom (which is part of the house), dining room and bathroom. Furthermore, the room is accessed via a private entrance. Furthermore, the room has a fridge, watercooker, coffee machine, toaster and flatscreen TV.
In the vicinity are the open the Duinhuisjes, classic car museum and visitor center Tenellaplas Rich established, which are definitely worth visiting. Also nearby are located the Oostvoornsemeer with a diving center and the wide beach Maasvlakte. The Maasvlakte II FutureLand information are also fun to visit. Every year there are various festivities such as the cycling race, music night, treasure hunts and lantern parade. The beach is 5 minutes away by car and 10 minutes by bike. The peace and many attractions and activities Westvoorne make a special recreation community. From hiking in unique natural dunes to sunbathe on a broad North Sea beach, endlessly cycling through fascinating polders and enjoy one of the many sun terraces. The beach of Rockanje is a particularly beautiful beach on the North Sea coast. Due to its unique location, almost entirely oriented to the south, the beach of Rockanje is a true paradise for the real sun worshipers. As for the sea coast in a number of sandbanks while swimming will suffer little from waves. Therefore children and less experienced swimmers have here relatively easy. Rockanje beach is a clean beach. Consecutive years in a row the beach is awarded the European Blue Flag. The Blue Flag symbolizes a clean and safe beach. On the beach of Rockanje are five beach clubs, each with its own style and audience. In recent years, many kite surfers who have discovered that the beach of Rockanje an ideal place to go kiting because many onshore winds and shallow water.
This lovely house with amazing garden is the perfect getaway for couples or families. Ton and Marinka are lovely hosts and we had a great time at this beautiful place. The bedroom and private diningroom are styled in a beautiful classical style. The place is only a one hour drive from our house but it felt like we were in the south of France :). There are a couple of nice beaches only 5 minutes away, but you can also spend your time just relaxing in the garden (with private pool!). Kids will definitely enjoy the pool and the kid-friendly garden!
Nicolette
2016-07-25T00:00:00Z
Sometimes you go to a place just to sleep and rest and other times for the experience. We planned to go just for a sleep and a rest but ended up with an experience as well, a great one at that. Ton and Marinka are fantastic hosts and everything was perfect. The only downside was that we couldn't stay longer!
Jake
2016-07-18T00:00:00Z
We had a really good time in Marinkas and Tons house. Everything was perfectly taken care of and we felt really at home. They are both lovely people. We can really say: we came as guests and left as friends. Thank you, Marinka and Ton.
Sue
2016-08-24T00:00:00Z
Marinka and Ton were great hosts, helpful, friendly and very welcoming. The house was spacious and comfortable - we felt completely relaxed and at home even though we only stayed one night.
Thomas
2016-07-10T00:00:00Z
Erg mooie locatie en hele aardige behulpzame mensen. Ga er vast nog eens heen.
Derek
2016-07-12T00:00:00Z
Ton en Marinka zijn heel gastvrij en geïnteresseerd. Ze wonen op een prachtige locatie. En die tuin!! Die is echt geweldig! Je hebt hier veel ruimte doordat er naast de slaapkamer ook nog een een aparte eetkamer en grote badkamer zijn. We hebben een heerlijk verblijf gehad. We mochten fietsen meenemen naar het strand, hebben toffe eetadresjes gekregen en na een een super leuk gesprek tijdens het ontbijt in de tuin zijn we vol inspiratie weer naar huis gegaan!
Ellen-Jane
2016-08-26T00:00:00Z
Ton und Marinka sind sehr herzliche und gastfreundliche Zeitgenossen. Wir haben uns vom ersten Moment an sehr wohl im Gästezimmer ihrer Villa gefühlt, wo es wirklich an nichts fehlt. Sie haben uns darüber hinaus sehr gut beraten, wo man gut essen gehen kann. Ganz lieben Dank!!
Chris
2016-09-25T00:00:00Z
Marinka und Ton waren wunderbare Gastgeber! Es war alles vorhanden, was man für einen angenehmen Aufenthalt braucht. Sogar Obst, Cerealien für ein kleines Frühstück und Tee lagen als Willkommensgruß bereit. Nicht zu vergessen die schönen Blumen auf dem Tisch... Die Zimmer waren gemütlich und die Betten bequem und wir drei (Großvater, Tochter und Enkelin 2 Jahre) haben uns wirklich sehr sehr wohl gefühlt!
Josef
2016-08-07T00:00:00Z
Room Type
Private room
---
Property Type
House
---
Accommodates
2
---
Bedrooms
Rockanje, Zuid-Holland, Netherlands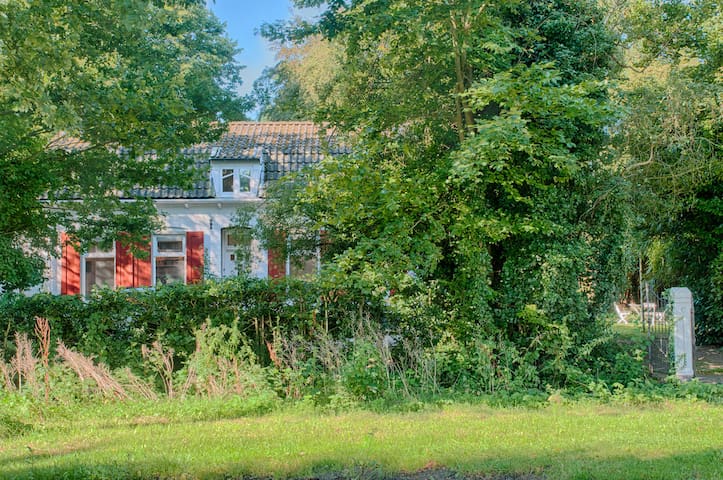 The holiday home Canna Palustre is a detached house with thatched roof (90m2). Entrance hall with separate toilet. It has 3 bedrooms and 1 bathroom upstairs. Downstairs is a L formed living room with flat screen TV and telephone; fully equipped kitchen with dishwasher, microwave, refrigerator, toaster, oven; utility room with washmachine and dryer also an additional fridge-freezer; 3 bedrooms on first floor; bathroom with bath and separate shower. Garden with a picnic set and 2 sunbeds.
It is a calm Resort near the Northsea and Haringvliet. It is perfect if you just want to get away from it all. This house is for maximum 6 persons.
Our Resort Città Romana is close to the Haringvliet and the North Sea, is located on the beautiful island of Voorne. The fortified city Hellevoetsluis is definitely worth a visit with attractions such as the museum ship the Buffalo or the defensive works. Of course, there is also a bustling shopping center with 130 stores. Also just 30 minutes by car from Rotterdam and Zeeland.
everything perfect, loved to stay
Rita
2015-05-04T00:00:00Z
Great room, fully equiped, not isolated as the pics may suggest but a big neighborhood of identical house. Regards
laurent
2015-07-13T00:00:00Z
We enjoyed our stay very much, the house was pleasantly furnished and the grounds are charming and surprisingly peaceful, considering how large Citta Romana is. There are lovely beaches very close by and also a swimming pool at reception which was excellent for the children.
Sarah
2015-08-12T00:00:00Z
Buyer beware... aviod completely or certainly avoid house 116! Pictures on the listing look nice but i assume only relate to some properties that have been redecorated. We had a bad experience from Citta Romana in many ways, the property we booked was one of the pretty thatched ones called Canna Palustre but then only three weeks before the stay we were informed that no Canna Plustre properties were available, instead we were offered/given the ugly Castello. Given the lack of time we had no choice but to accept the swap. Sadly when we arrived we were given house 116 which had really terrible decoration, broken lights, dated and missmatched furniture, an ancient onsuite with blocked drains, had not been painted downstairs for many years and the house interior smelt horrible, as if the last few occupants had chain smoked with the doors closed. It tooks over two days and after buying airfreshener to get rid of the smell. The garden which was a good size and private was nice but littered with many cigarette butts which was not great with small children. The staff at reception were almost all very surlely and rude, had to go back to collect a pre-booked baby cot from very reluctant receptionist. Only one person helpful regards eventually getting access cards to the good swimming pool and free access to the exceleent adventure dome. In summary only stayed as our two boys didnt mind the terrible decor and liked the pool and play area, the TV and internet were good. The general area is nice, great beach but approx 2kms from house and pretty old town 4.5kms. Also be aware this is a big development with i guess over 100 houses quite packed together.
Karen
2016-08-07T00:00:00Z
perfect place for holiday, quiet, clean and economic, we found everything we need there, except for the BBQ grill that we reserved before arrival, some of their internal misunderstanding occurred apparently, but the stuff at reception and the restaurant were so friendly and helpful, the alternative solution worked very well for us, thanks a lot!
Wang
2015-07-20T00:00:00Z
This place is great and huge. It's nice to be by the water.
Ben
2017-03-03T00:00:00Z
We had a pleasant stay and found everything we needed. The interior is a bit outdated but everything works well and was clean.
Arne
2015-06-21T00:00:00Z
Very nice. Workers stayed late to help us check in.
Sean
2016-03-30T00:00:00Z
Room Type
Entire home/apt
---
Property Type
House
---
Accommodates
6
---
Bedrooms
Hellevoetsluis, Zuid-Holland, Netherlands
Your own room in modern house, ideally located near to South Holland beaches and Rotterdam Botlek/Europoort area. Shared bathroom, kitchen & living room. Located in desirable suburb with local shops. Pls read detailed description for travel times.
Comfortable, bright, clean, quiet room. Bathroom adjacent with walk - in shower and bath. Double bed.
Quiet residential neighbourhood. Shops, including snackbar, Chinese takeaway, supermarket and bakers within 2 minutes walk. Main town center 15 mins walk.
Mark is an excellent host. He was very friendly and made sure we had everything we needed. He knows the area very well and has plenty of tips for outings. Highly recommended!
Esther
2017-04-01T00:00:00Z
I stayed for another 4 weeks with Mark and it was good. I would stay here again when Inneed a place.
Johan
2016-11-29T00:00:00Z
Mark was a great host. Communication was very easy. The facilities and room were good and comfortable. Stayed for 4 weeks.
sharbel
2017-02-09T00:00:00Z
Staying with Mark was pleasant. His home and his hospitality was a good choice of our stay in the Netherlands. The bed was comfortable, the room is big enough for two people. The bathroom is modern and clean. We could also use the kitchen to prepare food and a terrace. I recommend everyone stay in Mark's home. We are sure we will come back. Violeta in Bogdan
Violeta
2016-09-27T00:00:00Z
Mark is a good host. Everything is clean and tidy, he has knowledge about traveling and he just leave you to do your own things. I just booked a extra days to stay longer :)
Johan
2016-10-31T00:00:00Z
Mark was a great host. The communication went smoothly. Everything was exactly as described. We felt like with friends for visit. Supermarket and baker are near and even open on Sundays. Hellevoetsluis is a nice little town. We will come again with pleasure.
Matthias
2016-09-18T00:00:00Z
Mark was a fantastic host. Everything was great, nice clean house and cozy room. Mark is very friendly and nice. He created a home atmosphere. Greatly helped us with everything we needed. He advised us to find the best beaches and places to watch. Simply a great stay.
Lukáš
2016-07-16T00:00:00Z
We stay 3 days in Mark´s house and enjoy the time. Mark is a very friendly man who helped us with everything we needed. Mark is an excellent host. Thank you.
Dieter
2016-07-23T00:00:00Z
Room Type
Private room
---
Property Type
House
---
Accommodates
2
---
Bedrooms
Hellevoetsluis, Zuid Holland, Netherlands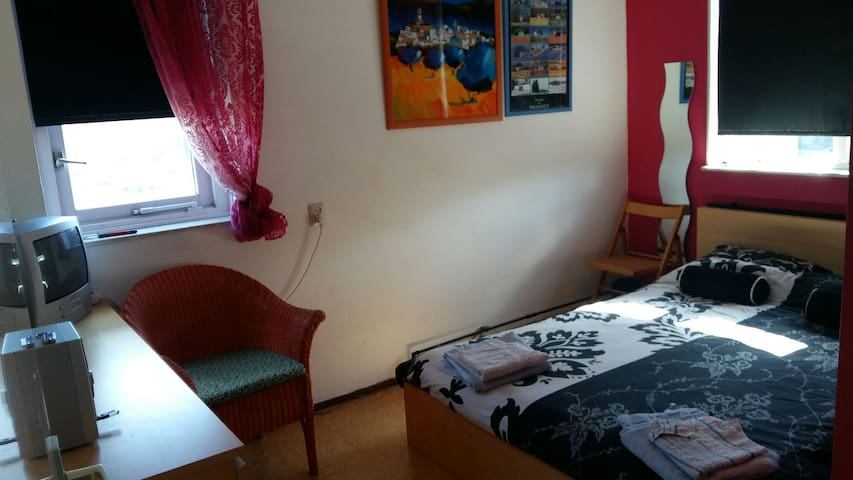 Enter dates to see full pricing. Additional fees apply. Taxes may be added.