Enter your check in date in the format dd-mm-yyyy
Enter your check out date in the format dd-mm-yyyy
Listings you can book without waiting for host approval.
Enter dates to see full pricing. Additional fees apply. Taxes may be added.
This July and August, you can try one of these 100 highly-rated homes, at all price points, and experience a local's view of Sonoma. 24-hour check-in, Instant Book, and local wine and snacks let you just sit back and enjoy your trip.
My place is close to downtown New Albany and is located along the Tanglefoot Trail.
We have just spent a two week Christmas break at One Night Stand. We have family in the area and this was the perfect place to enjoy visiting with family and friends. We enjoyed New Albany restaurants and shopping which were very convenient! We had every convenience of home. Plus, Madison had decorated for Christmas a bit, which was really appreciated. Also beds are super comfy! We would definitely stay here again!! Thumbs Up!!
Cindy
December 2016
Room type
Entire home/apt
---
Property type
---
Accommodates
6
---
Bedrooms
3
New Albany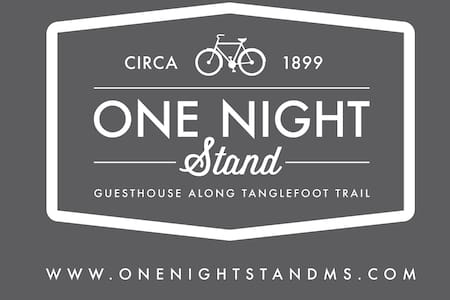 Located above the famous Sugerees bakery. This one bedroom apartment is perfect for a weekend in this small town of New Albany. Located only 30 miles from Ole Miss campus. Would be perfect if looking for cheap place to stay for Ole Miss football games.
Walking distance to many local restaurants and attractions.
Room type
Entire home/apt
---
Property type
---
Accommodates
3
---
Bedrooms
1
New Albany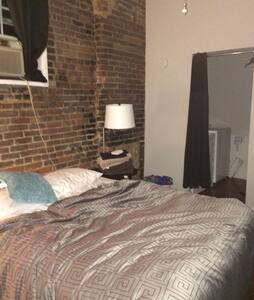 This carriage house apartment is located in the beautiful small town of New Albany. The carriage house is part of a 25 acre estate we call Possumhaw, located just off of I22.
The carriage apartment is completely private. It has it's own separate entrance up the stairs adjacent to the garage. The apartment is made up of a studio/bedroom that has a sink, small fridge, and microwave. In that same room their is a table, small sofa, desk and bookcase with a TV (Direct TV). There is a bathroom off the bedroom that has a toilet, sink and shower (NO tub). There is also a small closet were we store some of our junk. However, in that closet there is the control for the on demand water heater. Feel free to adjust the temperature of your hot water. In the hallway is located the HVAC control. We ask that during the day if you are NOT going to be at the carriage house for an extended period you would set the HVAC control (Summer temp when absent 79F and Winter temp when absent 59F. The expanse of the Possumhaw property is free to explore. For the past 15 years, Sam and Warner have cultivated the best of the property's features by using their expertise in landscape architecture, while their children have grown up roaming through the variety of native trees and splashing in the shallow creeks. The family invites you to check out their personal favorites. - The pool is open for sunbathing or swimming from 7am - 9pm. There is a shallow and deep end, so please use your sharp swimming skills. - Feel free to use the basketball goal. The basketball should be around somewhere! - The family invites you to venture off the paths too. Just carry a flashlight at night and maybe some bug spray. All we ask is for our guests to respect the landscape as we have! Oh, and be careful. Work often takes us away during the day, but if we're around don't hesitate to ask us anything. Lewis, our 13 year old, can help too!
This was the perfect place for us to rest up from a long week of traveling and to break up our final drive back to Arkansas. The carriage house is well equipped with anything you might need from paper plates and utensils, to toiletries and towels. The bed was very comfortable. The room was beautifully decorated and made us feel at home. We picked up some takeout in Tupelo on our way in and were able to find everything we needed in the kitchen. It was our first airbnb experience and it went swimmingly!
Becca
December 2016
Warner and her dogs greeted us on arrival. She was welcoming and even offered to carry our luggage. She gave us great recommendations for dinner in town. Her property is just beautiful and peaceful in a secluded setting.
Barbara
August 2016
We had a wonderful stay with Sam and Warner. They are the perfect host and the apartment was perfect for a quick weekend getaway. Located close to downtown. Perfect place to stay if you are in New Albany!
Earl
September 2016
Breaking up a long drive, we were looking for a place to spend the night in Mississippi. This lovely little carriage house apartment is a great choice, just a mile off the highway and not at all expensive. We didn't get to meet the hosts (only the canine ones, who are incredibly friendly and loving), but received detailed and timely communications and instructions. The estate is tucked away, secluded, and peaceful. It was very easy to find. The apartment itself is cozy, with a very comfortable bed. We slept like the dead. In the morning, we enjoyed a stroll around the property and made friends with three dogs who wanted nothing but belly rubs. Next time I'm passing through Mississippi, I will definitely stay here! And the Neon Pig Cafe in Tupelo is not to be missed, for those who might be looking for dinner nearby.
Nika
November 2016
Sam and Warner are great hosts. My wife and I felt at ease the entire stay. Room was great. Cold A/C and a ceiling fan. Clean bathroom with plenty of towels for a trip down to the pool. Super close to downtown New Albany yet we felt like we were in a State Park surrounded by trees. TV was pretty small but there was also a DVD player in room. Found ICE at the pool house.
Joshua
June 2016
Loved the house and property! Perfect for dog lovers and really enjoyed the company from her sweet dogs! Would book again! 3
Grace
July 2016
Warner's home is lovely, spacious, and truly awesome. There is so much to love (not to mention the high ceilings) and Warner herself is a gem. Would highly recommend to anyone traveling through Mississippi.
Payton
September 2016
Very nice clean unit, very nice place
John
January 2017
Room type
Entire home/apt
---
Property type
---
Accommodates
2
---
Bedrooms
1
New Albany
My place is close to great views. You'll love my place because of the outdoors space. My place is good for couples and furry friends (pets).
Room type
Entire home/apt
---
Property type
---
Accommodates
10
---
Bedrooms
3
Myrtle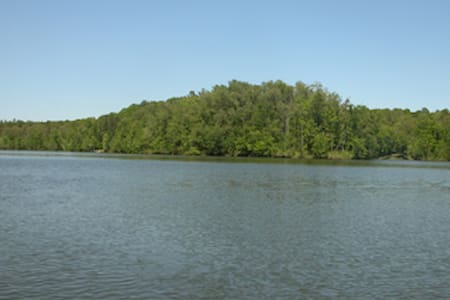 Our 3 bedroom 2 bath, 3000 sq foot brick home on 2 acres, 20 min from elvis Presley birth home. 1 hour from Graceland. Enjoy country living with dogs, cats and chickens.
Audra and her kiddos were great and welcoming to us. She was super communicative before our trip. Easy access to Tupelo. Will stay again on our next trip!
Cathrine
September 2016
Audra and her family were lovely. The house was very clean and coffee, fruit, and breakfast bars were provided in the morning. The bed was comfortable and area was quiet, a perfect place for us and our 2 dogs.
Karen
January 2017
We needed a place to stay for the Ole Miss game and Audra's place was a nice find. The rooms were clean and she was very accommodating and hospitable. She got up early to brew coffee and made us feel at home.
Mark
September 2016
I had a late arrival and left early in the morning so I actually did not see the host. All I was looking for was a quiet place to sleep passing through Mississippi on a road trip where my dog was welcome, and that's exactly what I got! The host was very accommodating and the home was very clean.
Carlyn
July 2016
We contacted each other by text the whole time we traveled to the home and while we were there. We did not see each other except the night we checked in. I would have liked to socialized more but with our schedule time did not permit it. It was very clean. We came and went as we needed to with no problem.
LISA
September 2016
We came in late and left early so we never saw our host, but she was super easy to communicate with! Both the room and the bathroom were very clean and comfortable
Rachael
September 2016
Had a nice stay! I only got to stay long enough to sleep a few hours, but I got some much needed rest. Very nice place.
Shelby
November 2016
Room was as described, and clean. Perfect place for my overnight stay. Audra is a great host. And 3 childeren made my stay even more enjoyable. The cupcacke they gave me when i left was delicious!
Bob
November 2016
Room type
Private room
---
Property type
---
Accommodates
4
---
Bedrooms
1
Guntown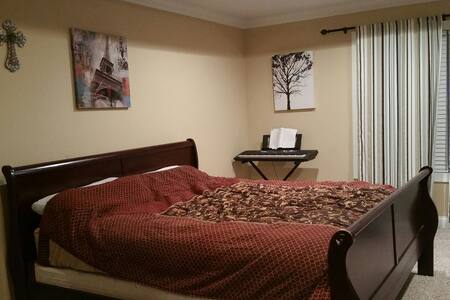 My place is good for couples and furry friends (pets).
Welcome to a home in the woods of stillness, a place to eliminate inner restlessness, a site to rest,renew,redefine,restore or revitalize your mind,body and spirit,be it circumstantially, physical,psychological or spiritual. The PF(perfect fit) for writing,painting or doing nothing.Concerts,unrehearsed,unplanned and unrecorded by THE WRC,s(Wind,Rain and Chimes)----No two concerts are alike and they are FREE Lake area and walking trails
Total isolation
Room type
Entire home/apt
---
Property type
---
Accommodates
10
---
Bedrooms
3
Myrtle
Our home Is in quite country, we have dogs. Cats and chickens. We are 20 minutes from tupelo, to elvis Presley birthplace and 1 hour and 30 minutes from memphis.
Very nice neighborhood, and quite Bedroom and bathroom Very often
Quite, peaceful
This was my first time using Airbnb and i didn't totally know what to expect. Audra graciously answered all my questions and made us feel very welcome. It was a great place to stay, very clean and very quiet.
Charles
October 2016
Room type
Private room
---
Property type
---
Accommodates
2
---
Bedrooms
1
Guntown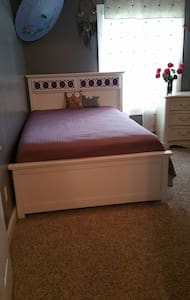 Nestled in the foothills of North MS, 150 acre property is 30 min east of Oxford and 1 hr SE of Memphis. This upscale house offers all amenities along with travertine floors, granite counter tops. Beautiful views overlooking a pond and walking trails
There is a pullout sofa in the sitting area that would sleep 2 extra people. It's a queen size.
We enjoyed our getaway to Tanya's guesthouse. It was nice to have some land and beautiful scenery to explore, and Tanya was a great hostess.
Leanna
October 2016
Tanya & Chris were impeccable hosts, brimming with southern charm. They were friendly, responsive and generous with sharing all the charms on their estate. So peaceful and interesting to see rolling hills, the lake, pastures, gardens, and livestock. The "guest house" was tastefully decorated with thoughtful details everywhere. We had some nice little surprises, like an ice-making machine and surround sound stereo! We lived like royalty for a few days. Highly recommend.
Carol
November 2016
The Concord Inn is absolutely fabulous!!! We were only there for a short time but am anxious to book another stay. The pictures and description listed on Air B and B were by far outweighed by the actual place itself!! It was a 20 on a scale of 1-10! I can not wait to come back!!!! Thank you Tonya!!
Christina
October 2016
My coworker and myself stayed in the luxury guest house for a work trip, it was so nice to be able to cook instead of going out to eat every night. It was clean and cozy and we loved the welcoming committee (Labrador retrievers :) ) Tanya made sure we were comfortable and it was interesting learning about the history of the property. We are hoping to return for any more work trips that bring us into town. We would defiantly recommend this cozy spot. On a side note I wish I could have my wedding in the big house it was absolutely a gorgeous property!
Tasha
May 2016
Be sure to follow directions given.
Eddie
November 2016
What a great place and location! Tanya was so nice to us and accommodating with our requests. The Guest House was superb and perfect for me and my girlfriend. Property is gorgeous with a lake and walking trails. Also getting to town took about 10 minutes to New Albany. Would definitely recommend and stay there again.
Sean
July 2016
Tanya and Chris are the kindest, most gracious hosts anyone could ask for. My entire family stayed at their house and it felt like we were at home. The only thing that surpasses the immaculate grounds are the personalities of the hosts. Pictures do not do this estate justice. It was a wonderful experience and we will happily be back very soon.
Kelby
May 2016
Wonderful slice of paradise.
joe
September 2016
Room type
Entire home/apt
---
Property type
---
Accommodates
2
---
Bedrooms
1
New Albany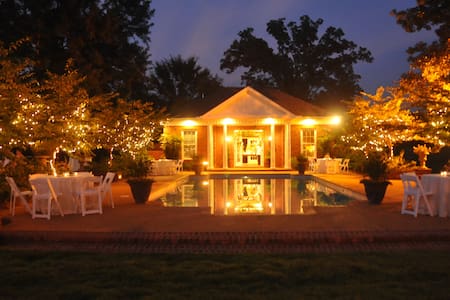 Nestled in the foothills of North MS the 150 acre property is 30 min east of Oxford and 1 hr SE of Memphis. This historical home is located in a private setting with all modern amenities. Enjoy a private setting, walking trails, lake, cattle, greenhouse, chickens and much more!
Loved staying here! The home was perfect (not too big or small). Tanya was quick to respond and was super nice. The house is surrounded by trees so we did not hear any highway noise. The master bathroom was super cute and large! We also loved sitting on the porch, sipping our cold drinks, and watching the fire flies. We wish we could have stayed longer!
Marianna
June 2016
Tanya was very accessible and welcoming. She let us know that we could contact her anytime. The historical family home and grounds are beautiful and well-maintained.
Donna
August 2016
What a great place to stay. The home and setting are beautiful. The relaxing atmosphere of the accommodations was a great break from the hustle and bustle. Our only regret is that we couldn't stay longer.
Melissa
September 2016
Room type
Entire home/apt
---
Property type
---
Accommodates
4
---
Bedrooms
2
New Albany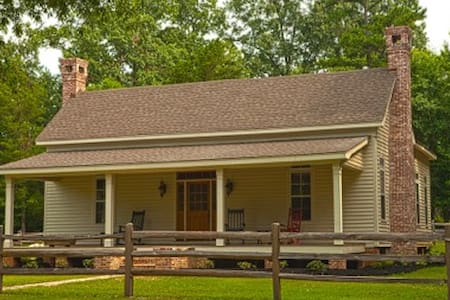 My place is close to The University of Mississippi, Blue Mountain College, Tupelo Bancorp South Convention Center, Itawamba Community College. My place is good for couples and families (with kids).
Room type
Entire home/apt
---
Property type
---
Accommodates
7
---
Bedrooms
4
New Albany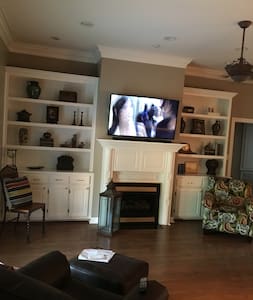 My place is close to family-friendly activities. You'll love my place because of the coziness.
Room type
Entire home/apt
---
Property type
---
Accommodates
4
---
Bedrooms
2
New Albany