Cabane en bordure de semoy Détente, Nature, Emérveillement assurés en couple ou en famille Terrasse suspendue Draps et couette à disposition Petit Déjeuner 99% Ardennais Lit 160/200 et 140/190 en Mezzanine Reserve d'eau Toilette sèche Table extérieure et coin BBQ Barque à disposition On propose des plateaux charcuterie et des paniers BBQ sur demande, de la bière artisanale locale Ardwen du vin blanc Chablis rouge Epineuil et plus encore...
Cabane perchée
The hosts were very welcoming and friendly, and everything was perfectly organised. They took us to the house which is situated next to a forest and lake. We were incredibly impressed with the place and the whole experience. The house is just magical – a great idea and even better execution. We spent most of the time barbecuing, climbing in the forest, we took the boat out for a little while, made a bonfire… A wonderful time and a great getaway for the weekend. Hopefully this won't be the last time!
Laura
2016-10-08T00:00:00Z
We had a wonderful time in Cabane et Vallée! Damien was a very good host, everything was taken care of. It was a cold night, but the cozy fireplace and outside bonfire kept us warm. We loved the quitness, the view at the Semois, the cozyness, the boardgame, the French breakfast,... we loved it all! We would recommend this stay to everyone who wants to get away from a busy life and get back to basics. Thanks, we had a special and romantic stay. We will come back one day!
Liesbet
2016-11-13T00:00:00Z
Absolutely perfect. Hosts were amazing, couldn't fault them, suprise picnic basket hamper breakfast was amazing. Everything was taken care of. Treehouse was amazing. The addition of a row boat included was a nice touch. Treehouse was next to a river. We could not of asked for anymore
leigh
2016-08-06T00:00:00Z
This was a truly magical time. It was January and very cold outside and rained the majority of the time. Didn't matter. Inside was extremely water-proof and very warm once the wood stove got working. Our host checked with us often to see if we needed more wood for the stove, or if we wanted him to get it started while we were spending the day at a nearby town so it would be warm when we came back. The tree house is filled with small cozy touches and overlooks a beautiful river. In the summer, there is a boat you can take to go to a showering facility (included), but seeing as it was January the river was frozen! We could still shower, just had to drive to get there. I didn't expect to be able to shower at all, so that was a nice touch. There is a bathroom inside the tree house, it isn't a separate outhouse, and it gave no problems at all. The nearby roads aren't the best quality though, so this isn't a trip I would try in a tiny city-car in winter. Despite this, if it is spring, summer, or fall I think the ride would be just fine, or with a car with 4-wheel drive in winter. The breakfast each morning was extremely romantic and felt a little bit like Christmas, waking up early and bringing in the basket and opening it up for a surprise. It was always delicious and the fresh, hot coffee or tea was a great way to start the day. Fully energized, we explored a few nearby historic cities and even had a wonderful time driving through the authentic small towns on our way. This is really an experience I would suggest to anyone. I believe it would be great in any weather, but especially nice if it is a bit chilly so you can use the wood stove! Highly recommended!
Krista
2017-01-29T00:00:00Z
A blend of camping, treehouse, and cabin this was a wonderful weekend.
Tobin
2017-03-11T00:00:00Z
Superbe weekend dans une cabane magique! I would recommend everyone to go here and relax in this enchanting tree house in a really nice natural environment. Superb hospitality by the owner and wonderful experience.
Kevin
2017-03-19T00:00:00Z
Cabane Lalégende was super cozy! Very nice treehouse. We had never slept in a treehouse like this before and it was definitely cool. We lit up the wood burner all the time; the end of november is not the warmest nor the driest time of the year... But we loved the warm stove and the natural environment. The location: it is pretty close to Charleville-Mézières, which is a pretty nice city, and the Maas river meanders through the area (so nice cycling and walking trails, possibly also good mtb/vtt tracks but it was too rainy to try them out). We did wake up from a sweet little field mouse and creeped out a bit, but after throwing it out it didn't come back and honestly, it is to be expected in a treehouse. So overall a good experience! Kind of pricy but still... who doesn't want to stay there? Perhaps something to note; the other treehouse is a bit bigger so may be more suitable for parties of more than 2 persons.
Amber
2016-11-20T00:00:00Z
It was minus 11, but the charm of the location made us feel on the hottest place on earth. Nice, honest, ecolagical ( even the toilet ;-) ), romantic, mysterious... One word: MAGICAL!
frederic
2017-01-22T00:00:00Z
Room Type
Entire home/apt
---
Property Type
Cottage
---
Accommodates
4
---
Bedrooms
Haulmé, Alsace-Champagne-Ardenne-Lorraine, France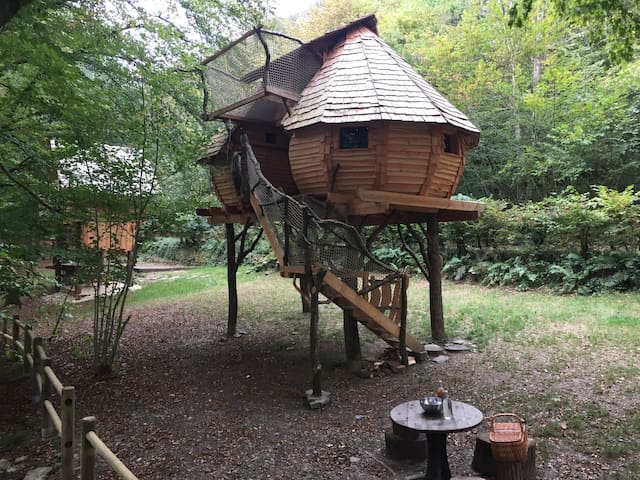 Very nice cottage located in a one hectare property of prairies, woods, a pound and a river running through. Peaceful, quiet and romantic setting - in a preserved nature. Ideal to recharge one's batteries and run away from pollution and noise.
The wooden cottage is located in one hectare property of prairies, woods with its own pond and a river running through. It is a unique place, with wild and preserved nature, away from all sources of pollution (noise, pesticides, light or electro-magnetic pollution). The cottage offers basic but all necessary comfort with hot water, electricity and gaz cooking. It has a wood stove in the sitting room which gives a beautiful warmth in the cold days. Indoors: three bedrooms : 1 double, 1 single bedroom and 1 twin. There are two extra mattresses which can be placed in one of the bedrooms. There is an equipped kitchen, bathroom, living room with wood stove, sitting room/study, porch/covered terrace Outdoor: one hectare garden with basic furniture (benches + table + BBQ spot)
The cottage is located in the Natural Park of Viroinval-Hermeton, in the South of Wallonia. With a 20-kilometre stretch that connects the north and south end of the territory, nature walkers can marvel at the pristine meadows and farmlands, thick-green forests and rolling hillsides. In the north, the Calestienne region is home to the park's rarest natural habitats. Venturing further along, one can walk through quaint historic villages, where the locals proudly show off their artisan skills in cheese-making and brewing beers. The Viroinval lies close to the town of Chimay, known for its world-famous Trappist beer. In the south, there is the never-ending Ardennes forest, which boasts the area's largest and most diverse eco-systems. For those wishing to see the region by mountain bike, the local authorities have provided a maze of hundreds of kilometres of trails linking Belgium and France together. What makes the Viroinval Nature Park special? The park is a walker's paradise, offering some of the most technical and spectacular jaunts through valleys and hillsides. The vista points are well-placed and the area is extremely family-oriented with picnic and barbeque areas. For a romantic getaway, the nature park is home to Les Jardins d'O de Nismes, a fully restored campsite surrounded by brooks and streams. Unique events and festivals throughout the year give visitors a taste of the special heritage this unmatched region has to offer. A dedicated structural plan has been implemented to maintain the rural appearance of the villages. Several initiatives have also been adopted to keep out any intrusion of non-native plant life and measures have been taken to preserve the natural limestone grasslands. The land and waters, along with the species that inhabit them, are of prime concern to the Viroinval Municipality. Policies have been put in place to keep visitors on marked walking paths to protect the natural habitats. Fishing is also a major tourist attraction, thus spawning a fish-breeding management plan to protect the aquatic habitat from over-fishing.
Our stay at Céciles house in the midst of the forest was very relaxed and inspiring. The house is well equiped. Creating the warmth in the house with a fire that you have to start by yourself is a very rewarding activity. The moment you leave the property you're already starting a walk in the forest. We also visited the very nice villages in the neighbourhood such as Nismes (with it's beautiful park), Dourbes, Vierves (with it's castle) and for instance in France that is very close to Oigies (pronounce "wannee") Fumay and the fortress of Rocroi. The river Viroin that links several of these places has a quiet, romantic, maybe even French atmosphere. Cécile's place is a place to return to.
Tom
2015-10-31T00:00:00Z
Cecile was a very friendly, responsive host and arranged our arrival perfectly. The place is amazing, even better than it looks on the photos. It is a cozy house at a pond in the forrest on a huge property, surrounded by beautiful environment. We loved to stay at Cecile's house. Thanks a lot, Cecile! We would love to come back!
Simon
2015-09-21T00:00:00Z
Driving up to the cottage, we thought, "this can't be it, there's just woods, there's nothing here. Are we even allowed to drive here?" But then, there it was. A pretty wooden cottage overlooking a small pond. It was amazing to stay in your very own private piece of forest. We spent most of our time outdoors, lounging in the comfy chairs or having a drink at the picknick table. There are some very nice hiking trails right at your doorstep as well. We were sad to leave and will definitely return some day!
Marije
2016-08-15T00:00:00Z
Its an amazing place in the woods to kick-back and relax!
Dennis
2017-02-05T00:00:00Z
Super amazing place. Really remote and far from any other people. We really enjoyed the outdoor fireplace and swimming in the lake. The cottage itself is really cool with lots of quirky design features. Great furniture and facilities.
Devin
2016-07-04T00:00:00Z
The house was just amazing. Exactly what we were looking for: nature, quietness and a lovely cottage. Staying at the cottage feels like coming home. In the lake lives a beaver, so It was a game to spot beaver. Unfortunately we did not spot him. But the butterflies flying and birds singing was enough. The nature is just perfect! We had a lot of raining, but it wasn't cold. So we had some nice and dry dinners at the porch. I hope we can come back some day!
Sanne
2015-05-06T00:00:00Z
Cecile was very helpful and explained us everything on beforehand. We had no trouble finding the place and we easily found our way inside although the cabin is in the middle of nature.
sarah
2015-04-05T00:00:00Z
Roomy cottage in the forest with big pond, exceeded expectations.
Daan
2016-08-01T00:00:00Z
Room Type
Entire home/apt
---
Property Type
Chalet
---
Accommodates
6
---
Bedrooms
Viroinval, Région wallonne, Belgium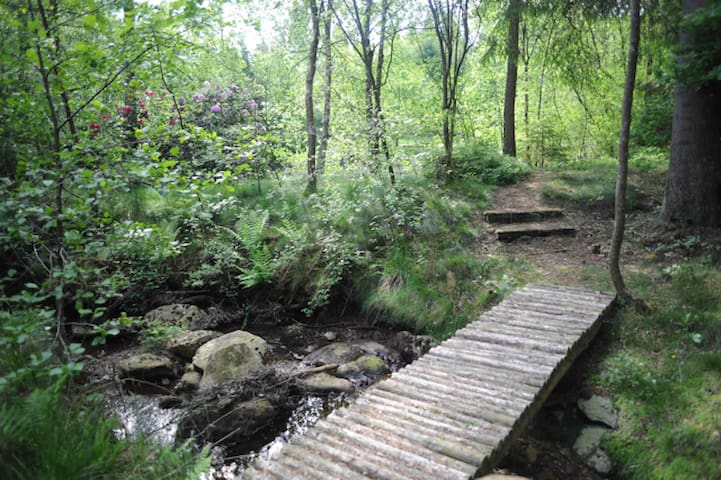 . Fully-equipped, separate and open KITCHEN, with window and shutter: refrigerator, freezer, washing machine, dishwasher, oven, microwaves, toaster, kettle, coffee maker, cooktop, kitchen sink, dishes, kitchen utensils, pans . Individual BATHROOM: shower, TOILETS, washbasin, mirror, stool, electric towel dryer, windows, bathroom uses an electric fan ventilator . ROOM TO BE LIVED with French window and window: island, folding table, 2 stools, sofa BZ, 2 beds, closet, cupboard, mirrors
Individual, immediate and electric hot water Individual and electric heating Internet WiFi, DTT television On request: iron, vacuum cleaner, hairdryer, additional braid, box of care, fire extinguisher (garage)
Studio situated on the ground floor, the stage right, very quiet, in a small village on FUMAY, Quoted from some Slate, 37,57 km2, in the department of the Ardennes, 08170, region Alsace-Champagne-Ardenne-Lorraine
Wonderful garden paradise in a quaint town in a scenic part of the Meuse. M-F was a wonderful host who paraded me around her garden and fed me a healthy breakfast. Although she speaks very little English we had no trouble communicating with my limited French and hand signals. Place is spotless and we'll set up for a stay with a complete kitchen. Was a little expensive for my tastes, on a cycling trip where I really only needed a roof over my head but I really enjoyed my stay. Highly recommended!
Cam
2016-09-11T00:00:00Z
Studio adorable d'une propreté irréprochable et d'une fonctionnalité exemplaire ! Tout y est et même plus. Marie France sait parfaitement ce que signifie le mot accueil. De nombreuses attentions pour ses hôtes, un jardin effectivement extraordinaire dans un environnement de rêve : la Meuse toute proche et la vue sur les forêts d'ardennes. Studio au calme avec terrasse sur le jardin. Pas un bruit. Bref que du bonheur !!!
Karine
2016-08-28T00:00:00Z
Séjour très agréable, Marie France nous a très bien accueilli. Elle nous a fait visiter son logis ainsi que son jardin qui est très bien fait, mais vu la saison, il faudra attendre au moins le printemps pour de nouveau l'admirer sous un autre angle. Mais ça donne déjà un vrai petit paradis. Le studio était confortable avec sa petite cuisine, son coin salon, chambre et SDB, le tout dans un décor très zen. Lors de notre départ, nous avons eu une petite surprise : Marie France nous a fait goûter les fruits de son jardin, c'était enrichissant et ses conseils ont été précieux. En 3 mots, on y reviendrait !!!
Remi
2017-02-12T00:00:00Z
Accueil chaleureux. Marie -France est une femme d une gentillesse et d une générosité rares . Le logement très bien agencé ( avec un beau jardin entretenu avec amour) , propre, avec une literie de bonne qualité. Emplacement très calme en bord de (URL HIDDEN) vous voulez passer un agréable séjour dans cette belle région et que vous recherchez un logement de qualité à un prix plus que raisonnable alors n hésitez plus vous l avez trouvé !!!
Bruno
2016-10-30T00:00:00Z
Marie-France est une hôte charmante, très accueillante et pleine d'énergie. Nous avons bien apprécié notre séjour à Fumay, et sommes repartis avec quelques fruits de saison.
Guillaume
2017-01-08T00:00:00Z
Notre séjour chez Marie-France s'est très bien déroulé : un bel endroit, merveilleux jardin, un accueil chaleureux, le studio est à 100m de la Voie verte. Pour les cyclistes, possibilité de laisser le vélo dans le garage, pas négligeable! Le studio correspond à la description de Marie -france, avec fours, des ustensiles de cuisines neuf, un lave linge... A bientôt Marie-France et merci encore pour les légumes fraîchement cueillis!!
Olivier
2016-08-22T00:00:00Z
Excellent accueil du propriétaire. Logement très confortable et hyper équipé. Plusieurs petites attentions a l arrivée: chocolats, abricots, cafés, tomates cerises,.... Possibilité de profiter d une terrasse et de visiter un jardin surprenant avec d innombrables variétés de fruits et légumes. quartier calme, juste à côté de la voie verte. super séjour.
florence
2016-07-25T00:00:00Z
Nous avons passé un excellent séjour chez Marie-France. Accueil et logement très agréables, le jardin regorge de curiosités. Idéal pour visiter les Ardennes.
Nicolas
2016-08-16T00:00:00Z
Room Type
Entire home/apt
---
Property Type
Flat
---
Accommodates
2
---
Bedrooms
Fumay, Alsace-Champagne-Ardenne-Lorraine, France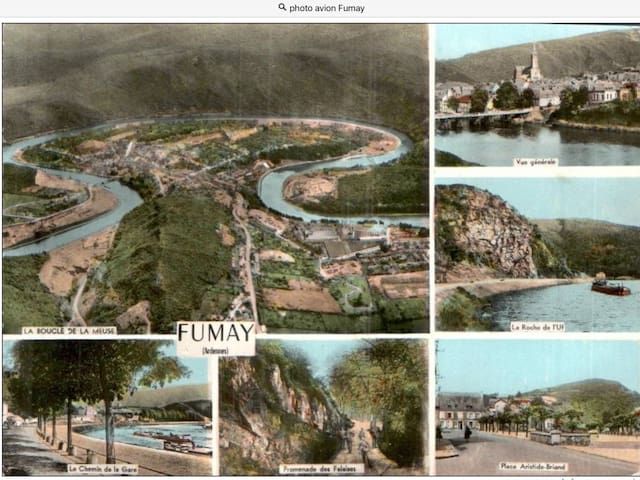 Loue gite pour un couple en vallée de la Semoy,grand studio avec mezzanine. idéal pour fan de sport nature avec voie verte à 50m et canoë kayak a 200m cadre idyllique avec magnifique vue sur la rivière dans le petit village de Tournavaux en Ardennes.
Grand studio dans une maison en bois avec Mezzanine 46m2 grand terrain disponible et balcon avec vue sur la rivière de la semoy.
Notre logement est située dans un quartier calme du petit village de tournavaux, aucune nuissance sonor avec un grand terrain et une magnifique vue sur la rivière.
Herve met us and showed us around the house. He was very welcoming and accommodating. The house was ideal and just as we expected it to be.
guy
2016-10-28T00:00:00Z
This is a lovely, quiet location. A well appointed, clean and airy studio with lovely terrace and great views over the river and forest. Tournavaux village is beautiful and nearby Montherme a delight. Good for walks and cycling (next time we would bring bikes). A beautiful, unspoilt part of France and an area which we would like to return to.
Pauline
2016-07-12T00:00:00Z
A great place to stay ! We are travelling around Europe for 6 months & this was a perfect first stop. There is a beautiful view of the river and surrounding forest. You can walk to Montherme easily along the river path, where there is a good restaurant and bar. The surrounding area is tranquil and the studio itself is exactly as described. Herve and his wife could not be more welcoming. Thank you !
Bev & Mark
2016-06-25T00:00:00Z
Great value, lovely views, wonderfully quiet and a very clean and functional space to crash. Communication via Airbnb's messaging service seemed a bit difficult (I think perhaps this was a technical issue) but when we turned up to the property, Herve was there waiting to show us around. He was friendly and super chilled and made himself readily available if we needed anything and just let us get on with it. A pretty straightforward and pleasant experience. Thanks Herve!
Ami
2016-09-05T00:00:00Z
Herve was a friendly and welcoming host. His place was clean and comfortable with a great view. We felt very relaxed there. Herve made sure we had what we needed but otherwise left us in peace which was just what we wanted.
Caitlin
2016-07-14T00:00:00Z
Quality time, great host!
Hamish
2016-09-28T00:00:00Z
The address was a little difficult to find as it didn't register on our GPS, but once we found it everything was above expectations. Herve made us welcome (though not speaking English) and the apartment was spotlessly clean and very well equipped. The position is set high in the town overlooking the river. This b&b is exceptional value.
Susan
2016-09-14T00:00:00Z
We only stayed here over night as we travelled back from Germany. Herve was very welcoming and had prepared everything brilliantly for us. The location is very nice and the accomodation was lovely.
Luke
2016-08-10T00:00:00Z
Room Type
Entire home/apt
---
Property Type
Flat
---
Accommodates
2
---
Bedrooms
Tournavaux, Alsace-Champagne-Ardenne-Lorraine, France
L appartement est un duplex au centre du village , proche des restaurants, une pizzeria,keba(URL HIDDEN)Joli village entouré de remparts pour faire des balades. Je vous propose une chambre avec douche dans celle ci. Rocroi est situé à 1 h de Reims ,30 mn de Charleville Mézieres et 45 mn de Charleroi.
Nice and cosy village house with authentic atmosphere ! Merci bien Maryline!
Shin-Yuh (Vikki)
2017-04-09T00:00:00Z
Logement très agréable. Maryline est aussi très arrangeante donc je recommande sans problème !
Sébastien
2016-12-29T00:00:00Z
Maryline m'a mis à l'aise dès le début, je recommande à toutes personnes d'y aller. J'ai passé des bons moments avec elle.
louise
2016-12-03T00:00:00Z
Maryline est très accueillante et toujours disponible. Je vous recommande son logement.
Marine
2016-12-13T00:00:00Z
Ne plus hésité ! Très belle maison dans un très beau village ! Personne très agréable ! Je recommande très fortement !
Gauthier
2017-03-24T00:00:00Z
Accueil très sympathique et souriant de Maryline, avec simplicité. Nous sommes très heureux d'avoir découvert les Ardennes autour de Rocroi, la forêt est dense et belle.
Dalila
2017-02-12T00:00:00Z
logement tres fonctionnel et tres propre Maryline a été tres accomodante Je recommande
sandro
2017-02-19T00:00:00Z
Maryline nous a très chaleureusement accueillis, elle pris le temps de discuter avec nous autour d'un thé et s'est montrée disponible et arrangeante. L'appartement en duplex, situé en plein cœur de Rocroi, est plein de charme avec son escalier et ses placards en bois et ses sols en parquet. La chambre est sous les toits, spacieuse, avec la douche privée dans la chambre (les toilettes sont à l'étage du dessous). Rocroi est une ville charmante avec une belle balade à faire sur les remparts et des commerces rendant ce petit village très accueillant. A tester les yeux fermés.
Marie
2017-01-01T00:00:00Z
Room Type
Private room
---
Property Type
Flat
---
Accommodates
2
---
Bedrooms
Rocroi, Alsace-Champagne-Ardenne-Lorraine, France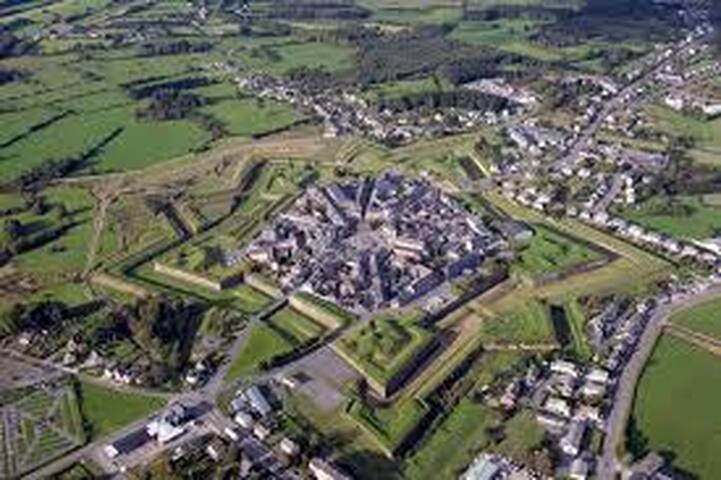 Envie de nature, de calme et de découvertes en famille ou entre amis? Le village de vacances de Oignies-en-Thiérache est l'endroit idéal! Venez découvrir les richesses de cette région étonnante! Sur place: plaine de jeux, tennis de table, randonnées balisées, âne et chèvres. A proximité: marche nordique, mountainboard, kayak, musées divers, karting, ... A bientôt!
CHALET 27 Idéal pour 4 personnes mais peut accueillir jusqu'à 6 personnes. Equipement bébé disponible gratuitement sur demande. Animaux bienvenus (supplément 5€/jour ou forfait semaine 15€)
Vous serez dans un village de vacances très calme et à bonne distance des autres chalets.
Perfect place to unwind and relax.
Martijn
2017-04-02T00:00:00Z
It's ideal for people tunned in to the great outdoors. Fantastic trails and to whom not scared to drive a bit there are loads of attractions such as museums, caves, restaurants and parks ranging from 10-40min drive. The cabin is cosy and well equipped. We went on Two couples and two kids. As we didn't spend much time indoors it was just ideal. Caroline is lovely. Very attentive and helpful. We had a brilliant time over Christmas and would most definitely come back.
Daniella
2016-12-30T00:00:00Z
Super petit chalet complètement remis à neuf dans un état impeccable et très calme. Des hôtes charmants et très accueillants.
Matthieu
2016-09-18T00:00:00Z
Tres bon accueil dans un logement en pleine nature. Idéal pour un week-end ou plus en famille.
Aurélien
2016-09-04T00:00:00Z
Prachtige ligging, lekker warme en gezellige chalet (door de palletkachel) en echt alles aanwezig in de keuken. Perfect om te wandelen in de omgeving (zeer mooie, goed aangeduide wandelingen). Voor ons (twee koppels een kind) was het een ideaal oudejaarsweekend!
jolien
2017-01-02T00:00:00Z
Petit coin de nature très calme, hôte très accueillante. Nous avons passé un très agréable moment et reviendrons très certainement.
Jacky
2016-09-25T00:00:00Z
Hôte très sympathique et accueillante. Description conforme au site. Très beau coin. Agréable séjour. Nous reviendrons!
Sophie
2016-11-04T00:00:00Z
Een heel gezellig huisje! Afgezonderd, maar erg gezellig. Mooie omgeving.
Isabelle
2016-12-11T00:00:00Z
Room Type
Entire home/apt
---
Property Type
Chalet
---
Accommodates
6
---
Bedrooms
Viroinval, Région wallonne, Belgium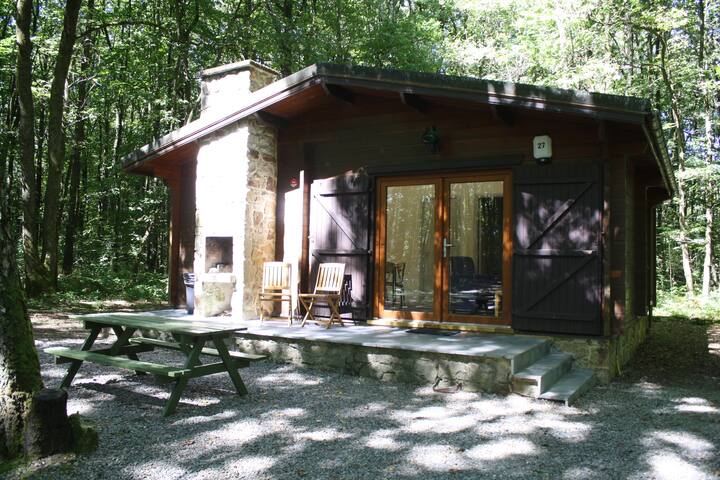 Even op adem komen in de uitgestrekte bossen van Viroinval, de streek van het levende water , in het hartje van de echte ardennen ! Dit kan in onze gezellige massief houten chalet "La Folie" die voorzien is voor maximum 8 personen.
wij stellen onze chalet "La Folie" te Oignies-en-Thiérache (Viroinval) te huur. De Chalet is uitgerust uitgerust voor 8 personen, en is voorzien van al het nodige zonder overbodige luxe. De chalet is gelegen in een prachtig bosrijk gebied dat is uitgeroepen tot natuurgebied, vlakbij de Franse grens . Chalet "La Folie" staat op 2000 m² en chalet " Het is er enorm rustig, elke dag ontwaken met het gezang van de vogeltjes. Ideaal voor mensen die houden van natuur, wandelen, mountainbike, mountainboard, kayak, paardrijden, paintball,avonturenparcours en in de winter mogelijkheid tot ski en langlauf. De Maasvallei is vlakbij (ong.4km), er zijn ook diverse forellenvijvers in de buurt. Zoals eerder vermeld is de chalets voorzien van al het nodige zonder overbodige luxe. Een tv , sauna , whirlpool en luxe zetels vindt u er niet ! U vindt er wel al het nodige standaardcomfort en voorzieningen om een aangenaam verblijf te hebben. De chalet heeft drie slaapkamers in de vorm van een slaapzolder die toegankelijk is via een steil trapje, één slaapkamer met 2 éénpersoonsbedden, één slaapkamer met 1 tweepersoonsbed en 2 éénpersoonsbedden. Via deze kamer hebt u toegang tot de derde slaapkamer met 1 tweepersoonsbed. Er zijn dekbedden en hoofdkussens voorzien voor 8 personen. De badkamer beschikt over een douche en toilet, er is een ruime living met houtkachel die dient als hoofdverwarming. De keuken is gezellig maar wel met een laagzittend plafond ,er is een vrije hoogte van 1m90. Opgelet dus voor enkele laag zittende balken. De keuken is voorzien van een gasfornuis met gasoven en grill, microgolfoven, koffiezet, vaatwas, buiten een bbq, pic-nictafel en een speeltuig voor de kinderen. Enkel voor natuurliefhebbers en mensen die niet op zoek zijn naar luxe maar houden van de simpele waardevolle dingen in het leven !!! Fuifnummers gelieve zich te onthouden! Let wel de chalets zijn rookvrij! Honden zijn toegelaten zonder extra kost!!
De chalets zijn gelegen in een prachtig, als natuurgebied geklasseerd bos! Je kan er naar hartelust wandelen en kinderen kunnen er zich uitleven aan het riviertje beneden in de vallei op een paar honderd meter van de chalets. Buiten wandelen is er natuurlijk ook nog heel wat anders te doen. Je kan er grotten bezoeken (grottes de neptune), de Maasvallei is nabij met zijn versterkte steden en oude forten en van Mariembourg rijdt er een stoomtrein naar Treignes waar er ook een treinmuseum is. En er is nog veel meer! Voor de durvers heb je in Fumay het avonturenpark "terraltitude" (deathride, benjijumping, paintball,...) In Givet, op een 30-tal km vindt u een subtropisch zwembad (Rivea) en in Mariembourg is er een karting. Ook zijn er diverse musea in de buurt en vele mooie dorpjes die geklasseerd zijn bij de mooiste dorpen van Wallonië !
A really nice and relaxing time.
Andy
2015-07-06T00:00:00Z
We arrived a bit late in the dark winter night in the Ardennes and was happy to walk into a heated cabin with still a bit of life in the fireplace. The cabin is small and cosy with all basic amenities and the woodstove keeps it nice and warm. We enjoyed some walks around the area with a hot wine break at the bar in the nearby village included in one of them. We definitely will consider coming back for spring. Its worth noting that as its so close to France the phones will go on the french network so be aware of roaming charges - but then again why would you need your phone when you're out in the beautiful Ardennes nature :)
Liselotte
2015-12-14T00:00:00Z
If you are looking for tranquility, the chalet La Folie is definitely the place to be. Located in the middle of the forest, the only thing you will hear is the song of birds . The interior of the chalet is authentic with all the necessary accommodations you need for this place. Steven was a perfect host , I highly recommend this place
Arthur & Delphine
2015-04-27T00:00:00Z
We had a lovely couple of nights at Steven's cottage, the forest surrounding the cottage is beautiful and away from all traffic noises. There is everything you could need in the cottage, it is well equipped for holiday makers. After the lovely wood fire heater starts to burn, the cottage becomes very warm and cozy. We had great communication with the owner, all questions were answered. We enjoyed our stay very much, thank you Steven
Erin
2015-03-03T00:00:00Z
Fijn huis midden in het bos. Een auto is eigenlijk noodzakelijk om de omgeving te verkennen. Servies, bestek en keukenuitrusting is in ruime mate voorhanden. Geen tv of wifi was voor ons een pre. Tweede slaapkamer (2p bed) enkel bereikbaar door grote slaapkamer (2p + 2 x 1p bed). Houtkachel werkt uitstekend en verhuurder was heel behulpzaam bij stroomuitval. Lange mensen zullen wel hun hoofdstoten aan draagbalken plafond. De ligging is gunstig ten opzichte van gezellige Belgische stadjes en de wandel- en fietspaden langs de maas. In de Franse stadjes Fumay (Aldi) en Revin (Lidl met Frans assortiment) is het goed boodschappen doen.
Ronald
2015-06-27T00:00:00Z
Charmant week-end passé au coin du feu de ce petit chalet, entouré de forêts enneigées. Tout était comme annoncé. A refaire!
Chloë
2017-01-15T00:00:00Z
Steven en Veerle waren heel vriendelijk en erg duidelijk in hun communicatie. Ondanks de uitgebreide wegbeschrijving heeft 1 van de 2 auto's het huisje niet gemakkelijk gevonden, maar ze hielpen ons telefonisch perfect verder. De moeilijke zoektocht heeft ook wel zijn reden: je zit midden in het bos en de omgeving is prachtig! De haard stond aan en alles wat we nodig hadden was aanwezig in het huisje! Er lagen verschillende wandelroutes klaar. Een super ervaring!
Eva
2016-01-18T00:00:00Z
Het was voor de verhuurder geen enkel probleem dat onze groep later aankwam op de bestemming. Dit werd mooi opgelost door een overeenkomst in verband met de sleutels. Dit maakte het voor ons zeer gemakkelijk. Het huisje lag er zeer netjes bij en er lagen nog eens duidelijke instructies op het salontafeltje. Het huisje ligt echt midden in de bossen, wat het gevoel heeft dat je volledig weg bent van de bewoonde wereld. Het huisje is volledig uit hout gemaakt, ook de vloeren. Dit zorgt wel voor dat eens 1 iemand wakker is, iedereen wakker is. Wij hebben een fantastisch weekend gehad met mooi weer en gezellige momenten.
Lies
2015-07-13T00:00:00Z
Room Type
Entire home/apt
---
Property Type
Chalet
---
Accommodates
8
---
Bedrooms
Viroinval, Waals Gewest, Belgium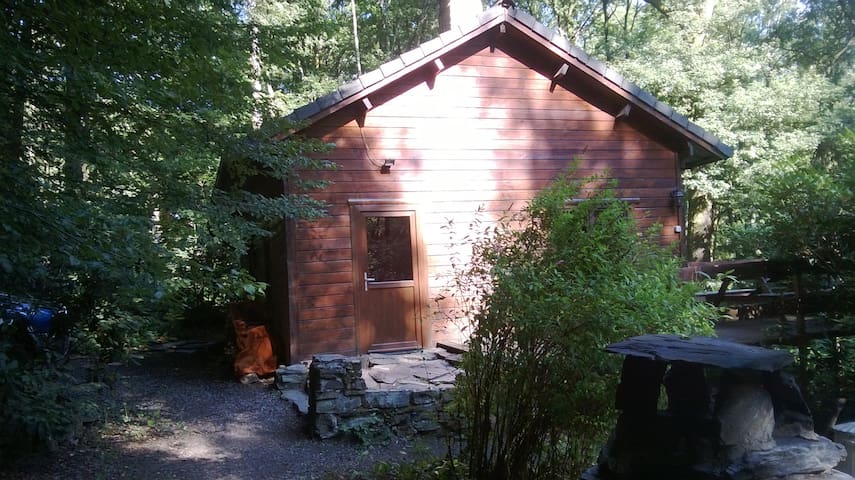 Small haven of peace this small chalet nested at the heart of the forest will bring you a total disorientation .calme and rest assuré.voiture indispensable.retour to sources(springs) with the walks in forest. Possibility of making of the fire(light) in the cheminée.le wood is at arrangement(measure) .3 ponds in the property for the lovers of the pêche.possibilité to discover the vestiges of a Roman camp. With a little luck you can aperçevoir squirrels or game.
Place is exactly as described. Highly recommended for couples looking for a quite get away. Florence is extremely responsive and works hard to ensure guests are comfortable and well looked after. The cabin is quite and secluded, perfect for those looking for a get away and back into nature. The inside of the cabin is very clean and well furnished and perfect mix of classic and new. The fireplace provides the perfect ambiance and ties the place together. It works very well to heat the dining/sitting room. I certainly hope to come back in warmer weather to give the fishing pond a try.
Marco
2017-01-15T00:00:00Z
The house is clean and need. Up on arival there was chocolate and cookies. Very nice. Florance is a good host she takes care off everything. The things we did not like was the fireplace put smoke in the house. So we used that anymore. The house is pretty cold and iT takes long time to heat iT up. Overall we loved staying here.
Noura
2017-03-04T00:00:00Z
Nice and quiet place. Perfect for getting some rest in your busy life.
Tijmen
2017-01-22T00:00:00Z
Beautiful location, very tranquil.
Ajay
2016-11-23T00:00:00Z
We enjoyed our stay. It's a quiet and beautiful place, the woods are fantastic and Florence was very kind. The oven and couch are a bit small. Be sure to bring your own towels.
Ralph
2016-11-21T00:00:00Z
Little but well equipped Private chalet with large garden and ponds, perfect location to reach the nature and enjoy the intimacy with our souls ;) definitely recommend this place to the nature lovers!
Shin-Yuh (Vikki)
2017-04-09T00:00:00Z
We had a wonderfull time in the cabin with the three of us (couple and a 8 month old baby). It's in the middle of the woods, but the road is good all the way. We followed Florence's car to get there. It's still close to the town of Vireux-Molhain where there are several bakeries and a large supermarket. We were there in autumn and it was quite cold outside, but inside it was nice and warm with the electrical heaters. We also used the fireplace, there was enough wood in the garage. Although the kitchen is small, there's a hot plate (2), a microwave, an oven and a fridge. The shower is very good. It was just possible to put our baby bed next to the dubble bed. The bed squeaked a bit, but it didn't bother the baby. I wouldn't recommend going with bigger children, there's just not enough space. There's a lot to visit closeby. We walked to a roman camp nearby and did daytrips to the musea of Treignes and the medieval town of Hierges. We've already recommended this place to our friends and family.
Jolin
2016-12-04T00:00:00Z
The place is perfect for people who want to have a time off. It's in the nature and you can have great walks in the forest. It's not far from the centre and you can buy food there and enjoy cooking it in the chalet. The most beautiful thing is that when you wake up and open the curtains, you can only see nature and hear the water near by
Luay
2017-02-03T00:00:00Z
Room Type
Entire home/apt
---
Property Type
Chalet
---
Accommodates
3
---
Bedrooms
Vireux-Molhain, Champagne-Ardenne, France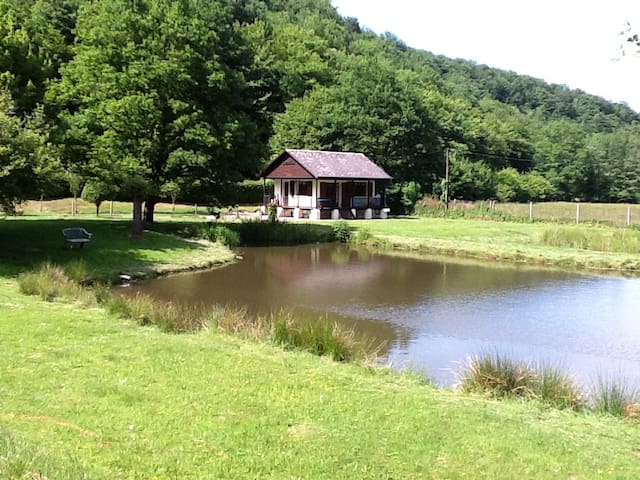 Light appartment on 3d floor
Room Type
Private room
---
Property Type
Guest suite
---
Accommodates
4
---
Bedrooms
Fumay, Grand Est, France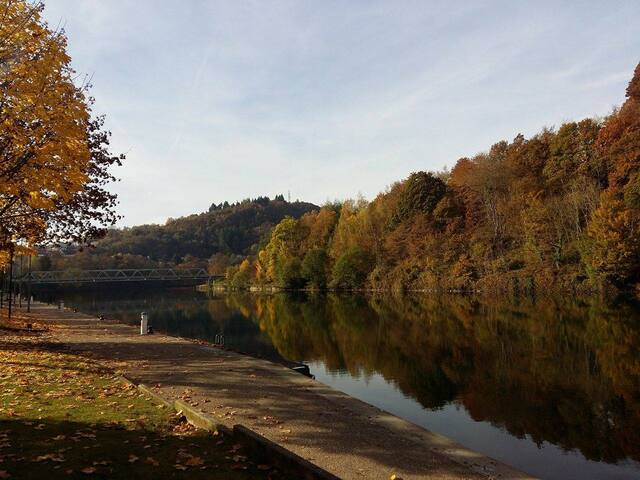 Nous vous accueillons dans une maison calme et chaleureuse composée de 4 chambres. Chambre "C" ; max : 2 pers Chambre "B" ; max : 2 pers Chambre "T" ; max : 3 pers Chambre "F" ; max : 2 pers Vous aurez un accès libre à la terrasse et au jardin orienté plein sud. Avec une vue magnifique pleine de verdure. Toutes nos chambres ont été rénovées et les salles de bains sont neuves. Chambres privatives avec télé, salle de bain et coin bureau.
Possibilité de petit-déjeuner à 7€: - Croissants/pain au chocolat - Pain frais - Confiture maison - Jus d'orange - Oeufs à la demande à régler dès votre arrivée Seuls la pièce de vie et le jardin sont à partager (avec les autres locataires): - Cuisine tout équipée avec four, lave vaisselle, micro onde, cafetière senseo, ect..) - Salon / salle à manger avec Télé - Poêle à granule Accès libre à la terrasse et au Jardin (avec terrain de pétanque) Attention: Le ligne de toilette n'est pas fournis
Quartier calme et plaisant avec tout les commerces à proximité (pharmacie, restaurants, supermarchés, bars .. )
Room Type
Private room
---
Property Type
House
---
Accommodates
2
---
Bedrooms
Fumay, Grand Est, France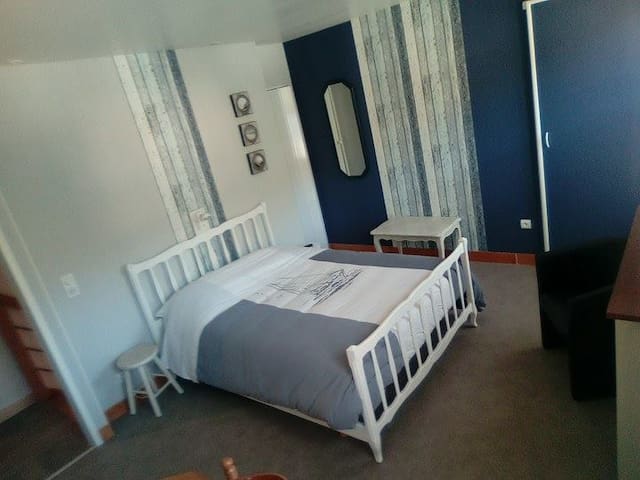 Situé au coeur du Parc Naturel Viroin-Hermeton, le gîte a été aménagé en 2006 dans une maison villageoise de 2 étages à Oignies . (Viroinval). Ce gîte se situe à proximité immédiate de la forêtet est donc idéal pour les amoureux de nature.
Charming cosy house in a beautiful region. Giovanni was on holiday himself, but always reachable. There was a general electricity power in the region and he was immediately available by phone to give us some directions. We had a great weekend with the family here.
Dimitri
2016-04-05T00:00:00Z
C'etait genial! La maison était très agreable, on a trouvé tout, on s'est senti très bien acueilli.
Teresa
2015-08-03T00:00:00Z
Agréable maison dans un beau village perdu au milieu des bois. La maison est spacieuse et agréable
Arnaud
2016-12-29T00:00:00Z
Nous avons passé un très chouette weekend. Le propriétaire est très sympa et très réactif. Bref nickel.
laure
2016-04-18T00:00:00Z
Tres chouette gite super bien situé dans un beau petit village. Gîte adapté pour de grands groupes. Hote disponible par telephonne si perdus:-). Avons passé un tres bon week-end. Bcp de promenades accessibles au pied du village. Calme. A recommander pour des groupes ou grandes familles qui aiment se ballader.
caroline
2016-08-22T00:00:00Z
Giovanni est très accueillant, le gîte très agréable -et fonctionnel pour une petite troupe!, le village et ses petits commerçants sont charmants! et les paysages... magnifiques! même par mauvais temps, tout ça vaut le détour!
Sarah
2016-02-15T00:00:00Z
Très bon rapport qualité prix. Accueil chaleureux. Le gite est très bien équipé et propre. Le bémol est l emplacement, jardin petit donnant sur une rue passante.
Anne Marie
2016-08-29T00:00:00Z
Séjour très agréable dans la maison de Giovanni, hôte disponible et sympathique
Emilie
2015-08-31T00:00:00Z
Room Type
Entire home/apt
---
Property Type
House
---
Accommodates
10
---
Bedrooms
Viroinval, Région wallonne, Belgium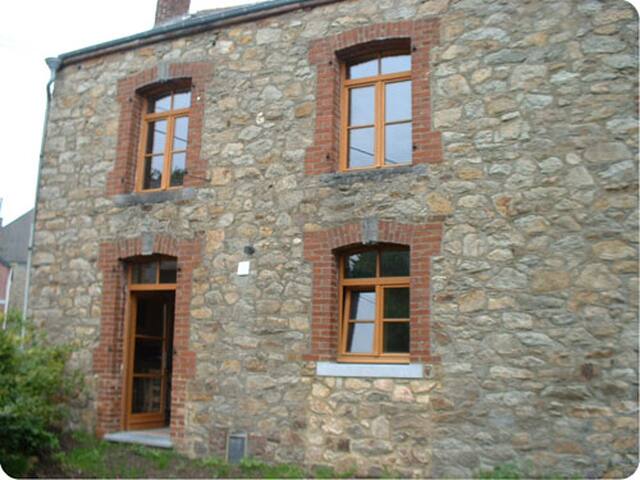 A small refreshing house in the middel of nowhere with a cosy flower, berry and veggy garden. Surrounded by nature in a child friendly environnement. A small town on a 5 minute walk with a 7/7 store for all the necessary things.
EXTRA SMALL house - EXTRA LARGE holiday A contemporary holiday house in a natural setting! An idyllic place in a modern setting, equipped with all possible conveniences that allow you to stay with your kids for a longer period. There is a large private garden with terrace where you can enjoy the view, the weather or a BBQ. The area around the house is equipped with a playground and a secret camp area to be conquered and rearranged by the children. In September you can use the fully equipped kitchen to prepare applesauce from our apples hanging on the big, old apple tree. In case of bad weather, binoculars, books, a large DVD collection, games, hobby equipment, model railway and marble alley or even the Play station are ideal to pass some lovely hours together. There is a local super market in the village, open 7/7, where warm baked bread and sandwiches are available every morning. You can reach this supermarket on foot passing along the farm and the horses in the orchard, and then enjoy your fresh sandwiches sitting near the murmuring water on the bench near the bridge. Lots of enjoyable things to do in the neighbourhood! Starting at the "de spotvogel" cottage, some beautiful footpaths lead to the villages nearby. The local restaurants offer delicious dishes, and after a heavenly meal you could take the steam train to return to Treignes, where you can taste a local Super de Fagnes (a beer from a local brewery, open for visitors) in combination with a visit to the internationally renowned steam train museum. You can even have a quick glance at the workshop where steam trains are renovated. Close to the church there is a local pub with a cosy terrace, the innkeeper will pamper you with locally brewed beers and his wife will prepare the most delicious dishes for you. Local trout flambé with Pastis combined with a blond Super de Fagnes on the terrace is a real must! In Givet you can find the best Italian restaurant of the region called Casa Mia! The Viroinval region has a lot to offer, those who want to get inspired by this region should follow our (SENSITIVE CONTENTS HIDDEN) page, offering all tips nicely gathered for an enjoyable exploration. Ground floor: ATTENTION: sheets, covers, towels are not included! THERE IS A POSSIBILITY to rent a complete set of nice sheets, covers, soft towels, and tea towels for 12€/person. Please let us know for how many persons you need a package so we can prepare everything. If you forgot to ask, we always have some extra sets in the house The living area: Large living room (with sofa bed and tempur top mattress) with a view of the valley. Satellite TV ("TV Vlaanderen"), DVD player, Play station 2 + games such as singstar driver lego star wars... Music installation, DVDs, books, games, toys and hobby equipment for children (indoor use) Fully equipped kitchen: mixer, oven, dishwasher, Senseo, ceramic cooking plate, fridge, freezer and all possible kitchen equipment. Sleeping room Large bunk bed 2.00 x 0.90, Children's bed Entrance hall Washing machine Technical room Bath room Large shower 0.90 x 1.40 Washbasin and toilet, Hair drier Garden house 1 bike with child bike seat buggy child carrier backpack outdoor play equipment Garden large garden + terrace with view of the wonderful Viroin valley. large outdoor table 2 long chairs Common part in the park: playground for children, sandpit, small football pitch, area to build a camp
If you love hiking - mountenbiking - nature - cooking - making a campfire - a good movie - the simple outdoor life... THIS is the place for you
We had the perfect relaxing holiday we had hoped for! Everything was just as described and both the home and the surrounding area were just lovely! We were able to drive to France, Luxembourg and Germany from here which was a bonus :)
Sarah
2013-09-21T00:00:00Z
Very nice house and spotless handling of the transaction
Benjamin
2013-07-21T00:00:00Z
A small house, for an extra large holiday... that is indeed the way to put it. However small the house may be, it never feels tiny. Every room is cleverly organised, each corner used to the maximum. And yet, it feels like you have all the space you need and more. You won't miss a single thing, from kitchen tools (she has more stuff than I have at home!), everything to keep your kids busy, books and dvd's, to spare linnen in case you forget your own. It's all there. Well chosen, handy and most of all : beautiful! Even the simplest kitchen tool has been chosen not only because you need it, but because it looks good. Valerie has great taste, and the house reflects all her love for architecture and decoration. We immediately felt welcome and at home. Furthermore, de Spotvogel has a small, private garden overlooking the fields, which provide you with great views. Early morning mist, all sorts of birds, and if you're lucky you can see the old steam train that passes through the valley below or the local farmer moving his cows from one meadow to the other. This is the perfect place to relax, calm down and get in touch with nature. We hope to be back real soon!!
Kaat
2014-08-28T00:00:00Z
House was very original and perfectly located!
Dieter
2016-08-16T00:00:00Z
Everything was perfect. A beautiful spot in the middle of nowhere with so many nice decorations.
Chris
2015-09-18T00:00:00Z
"When you leave a beautiful place, you carry it with you wherever you go". These are exactly our feelings after our time at spotvogel cottage! Unforgettable moments, breathless view and much more. Fully recommend.
Dani
2015-02-20T00:00:00Z
If you are looking for a stylish accomodation in the middle of NATURE – GO THERE. Valeries appartment is absolutely gorgeous. She has decorated it with so much love that you directly feel 'at home' when you arrive. In this place, you can really calm down and relax. The appartment is placed in a nice little village which has a lot of charm. Old, historical buildings that surround you with a very special ambience – grounding. Friendly residents, who where very open for visitors made us feel welcome. And being in the french speaking part of belgium has given us (from Germany) even more the feeling of having holidays. Looking out of the window, you can see COWS and FOREST. Really stunning! We arrived with two girls (aged 3 and 5 years) who also loved it there. On the one hand they fell in love with our neighbours (cows and horses) and on the other hand they loved to play for hours at the playground besides the appartment and the toys which Valerie (or her son :-) ) has stored in her appartment. Furthermore, the contact with Valerie was really pleasant. She has helped me out with having some booking problems via AirBnB and we had a really nice talk after she heard that our daughter fell ill within our holidays. Very hearty and personal. Valerie - thank you for all your efforts! We would have loved to meet up with you and your family. We will for sure visit "de spotvogel" again! Au revoir.
Nina
2013-10-25T00:00:00Z
Loverly little chalet, unexpected when you open the door and find wooden floors, designer furniture and a fully appointed kitchen! Beautiful peaceful area- we had a very relaxing few days. Highly recommended.
Daisy
2014-06-29T00:00:00Z
Room Type
Entire home/apt
---
Property Type
House
---
Accommodates
4
---
Bedrooms
Viroinval, Walloon Region, Belgium
Jolie maison au coeur du village de Cul-des-sarts, grand jardin, à proximité des commerces.
Maison recente avec grand jardin, entière à l'exception du bureau (pièce à part occupée uniquement la journée en semaine)
Nice and quiet village near the border of France. Lots of beautiful nature around. Friendly hosts, a comfortable house and a nice backyard in the sun.
Wisse
2017-03-12T00:00:00Z
Très bel endroit pour une personne seule et un cours séjour.
Gregory
2017-01-31T00:00:00Z
Bel endroit. Il manque quelques finitions et ça sera vraiment super. Maison bien propre, belles cuisine et salle de bain, lit confortable, beau jardin. Virginie est très sympathique!
LN
2017-04-02T00:00:00Z
Très bon accueil, hôte très agréable et serviable.
adélaïde
2017-02-26T00:00:00Z
Room Type
Entire home/apt
---
Property Type
House
---
Accommodates
2
---
Bedrooms
Couvin, Wallonie, Belgium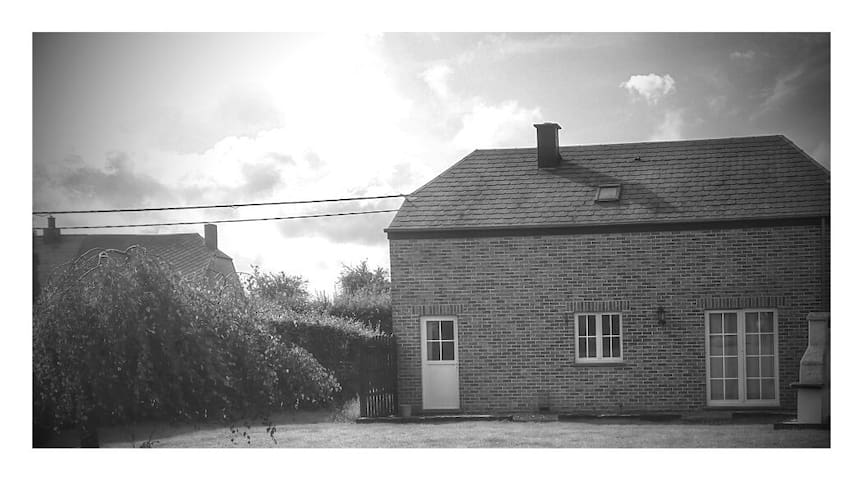 Magnifique endroit au pied du château dans un des " Plus beaux villages de Wallonie" Jardin emmuré avec vue imprenable sur la vallée du Viroin Piscine chauffée 30°
Endroit magnifique Jardin superbe Entièrement rénové
La vue!
Loved our stay! It was our first family holiday with our 3 month old and it was just perfect.
Natalie
2016-07-29T00:00:00Z
Very welcoming host, told us everything we needed to know and had our fire started for when we arrived. Great place to stay!
Rish
2015-12-29T00:00:00Z
Great settings for this little house, very welcoming family, all of them. Comfortable little cottage. Ideal in the winter for cold evenings around the woodstove. Garden and swimming pool are shared with the family. Privacy can be an issue. Hosts are providing lots of great suggestions.
Karel
2015-09-27T00:00:00Z
Cosy guesthouse, crackling fireplace upon arrival, exquisite view down the valley. Well-equipped kitchen, big bathroom. Very nice contact with the owners that were very helpfull!
Cédric
2015-10-18T00:00:00Z
We had a wonderful time at Le Repos des Sorcieres. Set in a beautiful location between a castle and its adjoining hamlet and opposite wonderful forest hills we felt immediately at ease and in a home from home. Our hosts warmly welcomed us and talked us through everything before leaving us to unpack after having offered us a lovely welcome snack. The house was lovely and freshly renovated offering all the comforts of a modern home in a beautiful old house. We were lucky enough to have a few rays of sunshine and got to enjoy the swimming pool and it's beautiful private vista. We had a great time and would happily recommend it for long and short stays. We hope to be able to visit again. Thank you!
Chloe
2015-09-04T00:00:00Z
Sophie gave us a very warm welcome and helped us with lots of information about the village and the region. The view from the pool over the whole village of Vierves is wonderful. Vierves belongs to the most beautiful villages of the Wallonie. We did some hiking in the region and visited other interesting villages.
Benedikt
2016-09-03T00:00:00Z
After a long ride we arrived in a very quiet and peaceful little village which immediately won our heart. In the center of this medieval village and in the shadow of the castle lied our housing for the week. We had a wonderful stay and appreciated the swimming pool, the impressive views and the beautiful hikes in the neighbourhood.
Kristof
2016-07-02T00:00:00Z
Our goal was to escape the city life for a few days and just enjoying nature, a good beer and the sound of doing absolutely nothing. Be as free as you want to be. When we arrived that feeling was there straight away. After our first day of work when we were back home, the 3 of us couldn't resist the feeling that we wanted to go back to this lovely place. Don't wander if this place is nice, don't wander if Stephane and Sophie are nice, Just go and experience it on your own, or with your loved ones, friends or family. A really big thumbs up!
Mathieu
2016-05-12T00:00:00Z
Room Type
Entire home/apt
---
Property Type
House
---
Accommodates
4
---
Bedrooms
Vierves sur Viroin, Province de Namur, Belgium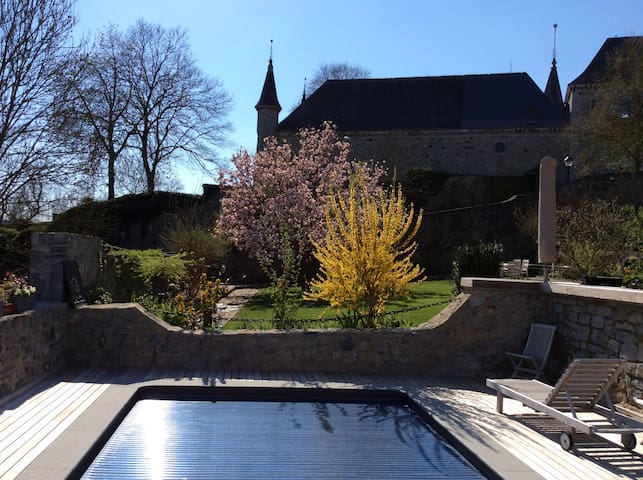 Private cottage at the bottom of our garden next to a lovely stream. Beautiful large garden with pond and seating areas.
Room Type
Private room
---
Property Type
Flat
---
Accommodates
1
---
Bedrooms
Revin, Alsace-Champagne-Ardenne-Lorraine, France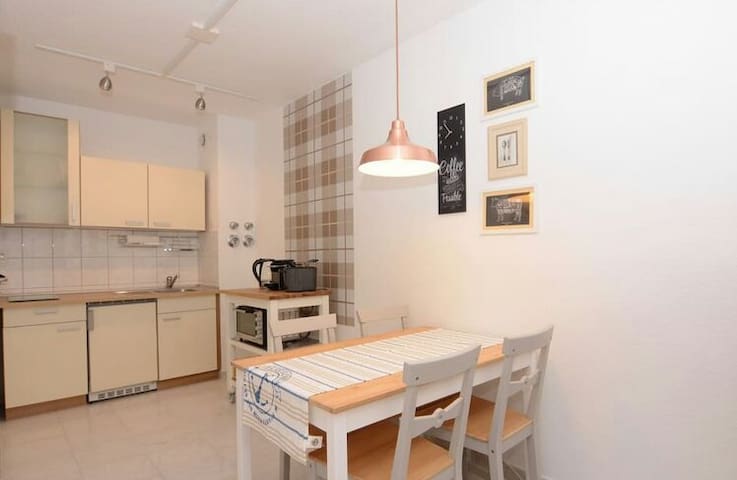 Pied à terre au calme, point de départ de nombreux circuits pédestres de 2-3 km à 20-25km entièrement dans les bois. Ces derniers offrent des paysages très divers. Nombreuses curiosités touristiques dans un rayon de 25 km. Grand jardin arboré-potager
C'est un lieu où l'on vit et où l'on travaille! Nous le trouvons merveilleux car il est au calme, près des bois, au départ de belles promenades. Nous voulons le partager avec ceux qui savent apprécier sa richesse. Vous serez déçus si vous cherchez un gîte traditionnel avec toutes les commodités à proximité. C'est une maison dont nous occupons le rez-de-chaussée uniquement en journée, parfois avec nos petits enfants. Hall d'entrée commun avec 2ème WC et lave-main communs. Vous occupez l'étage. Comme nous, vous avez accès au jardin pour y manger, vous y reposer, vous y promener. Voir conditions dans le règlement intérieur.
La maison se situe dans une route sans issue qui conduit au bois, dans un très petit village bien connu pour son "bunker". En 40, Hitler a dirigé la campagne de France de cet endroit. Notre maison est le lieu idéal pour les amoureux de la nature et du calme. De nombreux circuits pédestres de difficultés et de longueurs différentes peuvent être conçus à partir de la maison. Dans le village, un seul petit restaurant typique sur la place qui a le label "Bistrot de terroir"! Cuisine du terroir, faite maison, spécialités de gibier en saison de chasse. Il faut faire 5 km pour trouver une pharmacie ou un magasin, soyez prévoyants.
Charming, clean space, decorated with a personal touch of love and care. Even if we arrived late and on a short notice, our host welcomed us kindly with a homemade pie. The garden was charming in the winter too. This spot is great for visiting northern Belgium and southern France and alternate visits with hiking trips or maybe bike rides. We did due to time and weather more visiting but left with a feeling of wanting to explore the greenery around the house more. Our hosts went above and beyond to accommodate our visiting plans, they gave us great tips and directions of what to visit and detailed maps.
raluca
2015-12-29T00:00:00Z
The host canceled this reservation 5 days before arrival. This is an automated posting.
Massimiliano
2016-07-31T00:00:00Z
Lovely spacious loft in a serene setting . Great hosts , communication and amenities. We recommend this place.
Larry
2016-05-19T00:00:00Z
The apartment was lovely, really quiet location in the middle of the countryside. Comfortable apartment with everything you need. Frank and marie-Berthe were very welcoming and helpful.
Kerry
2016-07-18T00:00:00Z
Marie-Berthe and Frank were wonderful hosts, and the place was comfortable and fun to stay at. We had the entire upper floor of the house for us - 3 bedrooms, a small kitchen, an a beautifully decorated lounge. The house has a stunning garden - a combination of beauty and practicality, and it shows a lot of dedication, and many green thumbs :-) Our hosts gave us good tips for local dining, and they prepared a folder with maps to interesting places in the area - and there is a lot! We can recommend this place wholeheartedly, especially for families that are looking for a peaceful and quiet vacation residence in an area full of natural beauty and fun activities.
Stefan
2016-07-06T00:00:00Z
Frank and Marie-Berthe were wonderful hosts, and very friendly. The accommodation is very nice and spacious, all was very good. We had a lovely stay. The location is quite and peaceful, with a small World War 2 museum about 1km away, which is worth a visit. We stayed for 3 nights and would definitely recommend this accommodation. Thank you Frank and Marie-Berthe for a lovely stay.
Glen
2016-08-28T00:00:00Z
Wij hebben genoten van het appartement en de gastvrijheid. Ook was de omgeving erg mooi. Genoeg informatie gekregen over de buurt en lieve mensen!
Manon
2016-05-17T00:00:00Z
Nous avons été très bien accueillis, nos hôtes nous avaient même préparé une tarte au riz "maison"! Nous avons passé un bon séjour dans la région. Juste un regret: que le temps n'ait pas été de la partie. Les grandes promenades dans les bois, ce sera pour la prochaine fois!
Els
2016-02-11T00:00:00Z
Room Type
Entire home/apt
---
Property Type
Flat
---
Accommodates
5
---
Bedrooms
Couvin, Région wallonne, Belgium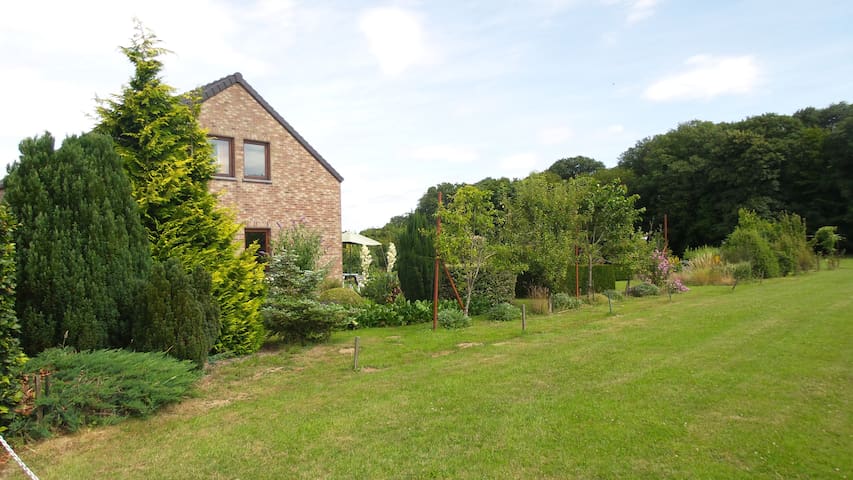 Cottage en pierres apparentes avec tout le confort moderne pour pouvoir se ressourcer et visiter une régions pleines de découvertes , lacs de l'eau d'heure , chimay, virelles , mariembourg, ... Petit déjeuner 12 eur par pers et par nuit réservée
Logement en pierres de pays dans une propriété de plus d'un ha , disposant d'un verger , d'espace de détente et activités pour tous ... Endroit idéal pour les amoureux de nature, architecture et (URL HIDDEN) plus une source naturelle d'eau potable sera à votre disposition à quelques pas de la propriété . Votre véhicule sera en sécurité à l'intérieur de celle ci
Typique de la région et très calme et convivial. Le village fait partie de la région des vallées ...
As we were traveling internationally, I had no ability to send Marie a text message was we arrived in Couvin. Instead we just rang their doorbell upon arrival and we were friendly welcomed by her husband and he showed us where to park, provided us with the keys, wifi code and showed us the entire cottage. We really enjoyed our stay there. As I had read in previous reviews, fruits and beers were also there upon our arrival. I really enjoyed seeing that and we enjoyed it. We also made use of the fireplace, which was one of the things I looked forward to using. Our main purpose of staying in Couvin, was because of the beer brewery in Chimay. We did get to visit Brasserie des Fagnes and we definitely enjoyed it! Different local beers to try and good food. We were looking for a very local, low key, relaxing experience and we certainly got that! Thank you for a great experience.
Gabe And Mona
2016-12-28T00:00:00Z
We had a great stay with Marie and her family. The breakfast was amazing! The cottage was so cozy and warm thanks to the wood burning stove. We had a great time!
Hester
2017-01-01T00:00:00Z
The stay was impeccable, the place is very cosy and warm, ideal to decouple from everyday stress and yet stay connected with the world via wifi/tv. Marie is a great host! She has warmly welcomed us and we received a charming gift of fresh produce and local beers! The gite is very nice! Located not for from Chimay and Lacs de L'Eau d'heure it's a good destination in Wallonian Ardennes! Fully recommended!
Agata
2016-06-30T00:00:00Z
Had a great stay with Marie in a lovely cottage!
Leo
2016-11-27T00:00:00Z
We had an enjoyable stay at Marie's place. This cosy little cottage was a great place to rest after our weekend of hiking in the area. Marie was very welcoming and gave us great advises for hiking routes and restaurants nearby.
Manon
2016-11-20T00:00:00Z
We did have a very pleasant week renting this cottage! Welcome was great with a bowl of fruits and delicious home made marmelade. The house equipment was adequate, and it has a good WIFI connection and lots of TV channels (french, dutch, english, german, etc). Peaceful location, the Ardennes are such a beautiful county with lots of forests, walking trails and nice villages and towns to visit. Highly recommended!
Peter
2015-08-30T00:00:00Z
Marie's welcome was warm and friendly ... she showed us around the cottage and gave us a lovely welcome gift of fruit, local beer, home made juice and jam which was delicious ... A lovely way to start our stay at the cottage. There is also tea/coffee/sugar provided. The cottage is at the rear of the owners house but it is very quiet and private. It was nice to spend some time with Olivier & Marie when they invited us for a drink where we sampled a local aperitif. It is in the quiet village of Pesche just outside Couvin ... A small cosy cottage with a mezzanine bedroom, a slightly steepish staircase to the bedroom, all other facilties are downstairs. Good free WiFi connection and TV with some English channels. They work hard to make it an enjoyable stay - thank you.
Eileen
2016-06-08T00:00:00Z
The house is very idyllic and cozy. Everything we needed was there and the wooden heating option made it extra nice. Marie and her husband were very nice and helpful.
Judy
2016-12-29T00:00:00Z
Room Type
Entire home/apt
---
Property Type
House
---
Accommodates
4
---
Bedrooms
Couvin, Région wallonne, Belgium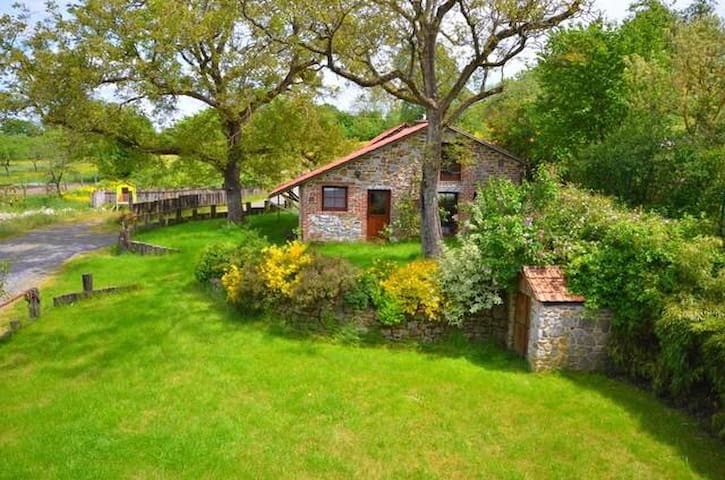 Venez profiter de la tranquillité et de la nature vierge! Notre maison spacieuse offre tout le confort à ceux qui cherchent une pause de quelques jours ou semaines. Profitez du jardin de 1,25 hectares, de l'etang et la piscine. La maison est à proximité de nombreuses attractions, y compris la ville fortifié de Rocroi, les vallées de l'Eau Noire et du Viroin, le château de Chimay, Nismes avec le Fondry des Chiens, et la vallée spectaculaire de la Meuse française, entourée de forêts interminables.
La nature, le silence, et pendant la nuit une réelle obscurité avec un vrai ciel étoilé. Tout cela combiné avec le confort moderne dans une architecture moderniste des années 70 . Le grand salon avec piano à queue s'ouvre sur la nature, avec ses baies vitrées du plafond au plancher. Le jardin de 1.25 hectares contient un étang et une piscine, et est presque entièrement protégé dans le programme Natura 2000. A l'exception de la plus petite chambre, la salle de séjour et la cuisine sont complètement isolés des chambres, de sorte que les enfants ne sont pas tenus éveillés par les adultes qui s'attardent après le diner. Presque tout dont vous pourriez avoir besoin est présent: machine à laver + séchoir, ustensiles de cuisine, BBQ,... et naturellement (en été) la piscine!
Cul-des-Sarts est caché dans les bois sur le plateau de Rocroi, entouré par la vallée de l'Eau Noire. Le village est situé à une altitude comprise entre 300 et 400 mètres et la principale activité économique consiste en industrie forestière et la cultiviation .... d'arbres de Noël. Bien qu'il fasse géologiquement partie des Ardennes, c'est la seule région dans la zone environnante qui a un sol argileux, de sorte que l'architecture traditionnelle est basée sur l'argile et le bois. Cul-des-Sarts dispose de plusieurs bars et restaurants, une pharmacie, une boulangerie et une petite épicerie qui est ouverte le dimanche matin (mais fermée le lundi matin). Pour les plus grands supermarchés que vous vous rendez à Rocroi (5 km) ou Couvin (14 km). ATTRACTIONS: La liste des attractions est presque infini, de sorte que ce qui suit donne seulement une première idée: - Juste à côté de la maison se trouve une petite réserve naturelle - il était une fois une tourbière où la tourbe a été extrait. Il ressemble un peu à les Hautes Fagnes, mais en miniature. - Chimay, le Château des Princes de Chimay et l'abbaye de Chimay - Couvin, les Grottes de Neptune (où vous naviguez sur la rivière souterraine), et la caverne de l'Abîme où les Néandertaliens vivaient autrefois (maisl'endroit n'pas accessible à ce moment) - Le musée "de la Vie rurale 'Cul-des-Sarts même - La ville de Rocroi avec ses doubles fortifications - La vieille ville de Marienbourg, aussi une fois entouré par des murs, et le train à vapeur de Marienbourg à Treignes - Les vallées de l'Eau Noire, le Viroin et la spectaculaire vallée de la Meuse qui est en grande partie intacte en France - Les forêts interminables entre Cul-des-Sarts et de la vallée de la Meuse (une partie des forêts de Cul-des-Sarts même est inaccessible au public) - La piste de ski de fond de Eteigneires - Les barrages du Ry de Rome, le bassin Whitaker, et certainement à ne pas manquer en été: la belle Lac des Vieilles Forges avec sa plage agréable LA NATURE A 2 PAS Le jardin touche le parc naturel de la «tourbière» Cul-Des-Sarts, qui est un site classé comme 'site de grand intérêt biologique'. Dans le jardin, vous vous trouvez toute une panoplie de plantes et d'animaux pour régaler les amoureux de la nature. Le sol est humide (autrefois c'était un marais). On y trouve la prêle géante, différentes sortes d'orchidées, de fougères, de roseaux, et un bois d'aulnes, bouleaux et quelques conifères. En termes de la faune, vous verrez régulièrement de nombreux rapaces (qui, en été, font des cercles en l'air avec leur cris typiques), des hérons blancs et gris, des cigognes, plusieurs variétés de grenouilles, des salamandres et des lézards (qui se chauffent sur la terrasse en été) et exceptionnellement même une couleuvre à collier (qui est pour l'homme totalement inoffensive). De temps en temps il y a des cerfs, des renards, des fouines ou des écureuils qui se promènent dans le jardin. ASTUCE: Apportez en été, si possible, vos bicyclettes. Les promenades en vélo sur le plateau de Rocroi sont très agréables et faciles. En plus il y a de nombreuses pistes cyclables "Ravel" et faire du vélo le long des chemins de halage de la Meuse française est une expérience inoubliable. VOUS CHERCHEZ UN PEU PLUS LOIN? Cul-des-Sarts est une base idéale pour visiter Charleville-Mézières, l'agréable ville natale de Rimbaud avec son authentique Place Ducale et le festival de théâtre de marionnettes de renommé mondiale, ou Sedan, avec le plus grand château en Europe. Certains font d'excursions jusqu'à Reims ou Laon (les deux ont une belle cathédrale, environ 1 1/2 heure de route) ou même Paris.
Great spacious place for rest in the silence of nature. House that's been lived in, with very well equiped kitchen. Cozy fireplace.
Bart
2017-01-05T00:00:00Z
super verblijf gehad, ruim en gezellig huis waar echt alles aanwezig is.
Jorg
2017-04-09T00:00:00Z
William
2017-02-19T00:00:00Z
Merci, super séjour, maison originale, parfait pour de la tranquillité entre famille et amis. à une prochaine ;-) Raffi
Raffi
2017-02-12T00:00:00Z
Nous avons passé un très bon séjour. La maison est très belle. Gerda et Guido ont été très accueillants et la communication très facile. avec beaucoup de propositions sur les activités et restaurants alentours. Nous recommandons cette maison !
Hélène
2017-02-05T00:00:00Z
Room Type
Entire home/apt
---
Property Type
Villa
---
Accommodates
8
---
Bedrooms
Couvin, Wallonie, Belgium