King size bed including drop off pudong airport or Disneyland or subwaystation or bus station service. service 8USD per car to pick up pudong airport(PVG),after 11:30pm add take 10USD per car 1.8米床,包含送机或送迪士尼服务. 近浦东机场,接机50元,11点半以后收68元
Self-built villa, in a beautiful environment
Convenient parking
Very kind hosts and the room is very well equipped. Walkable distance to restaurants.
Kevin
2017-01-13T00:00:00Z
This place may not be the cleanest or nicest place to stay, but if you have a long lay over in shanghai it's perfect. She speaks English, will pick you up and drop you off at the airport and I was very grateful for that! She also took me to dinner! Very sweet girl. The pictures aren't a great depiction of the room but the host made up for it.
Victoria
2017-03-15T00:00:00Z
we stayed just one night at this place to transfer the airplane..and it was good for that purpose. A large bed and hot shower, filtered water, slippers, pick up for reasonable price and so on. this place is one hour distance to the city center but close to the pudong airport.
Eun Hye
2017-01-19T00:00:00Z
妍孜 is a nice girl who meets you at the airport for pick up to her place for RMB50. Pick up is essential as the location is in the middle of an industrial area. House seems like an old workers dormitory building. Really large room with a big comfy bed. Unfortunately lacking a proper cleaning, garbage bin still filled with trash, bed sheets not changed as per the long black hair on the sheets, no towel provided,dusty and windows not cleaned for years?! Wifi didnt really work. Bathroom condition not reflected in the Photo. For someone with modest expectations.
Kai
2016-12-06T00:00:00Z
Very friendly and helpful host. She even offered to pick me up and drop me off at the airport. The room is okay for the price and it's very good if you have a long layover.
Caroline
2016-12-29T00:00:00Z
If u need to find somewhere near airport this is a perfect stay for a one night stay before u continue your journey the next day. The host is willing to drive you to your next destination with a fair charge. Also, she is willing to pick u up from the airport in the middle of the night with a fair charge. A very friendly little girl. Good job to her!
Lina
2016-11-27T00:00:00Z
Kind host, quick response, and perfect location from the airport which was perfect for our layover. The bed was very comfortable as well!
Belinda
2017-03-30T00:00:00Z
Same good.
F9cY
2017-04-01T00:00:00Z
Room Type
Private room
---
Property Type
House
---
Accommodates
2
---
Bedrooms
上海市, 上海市, China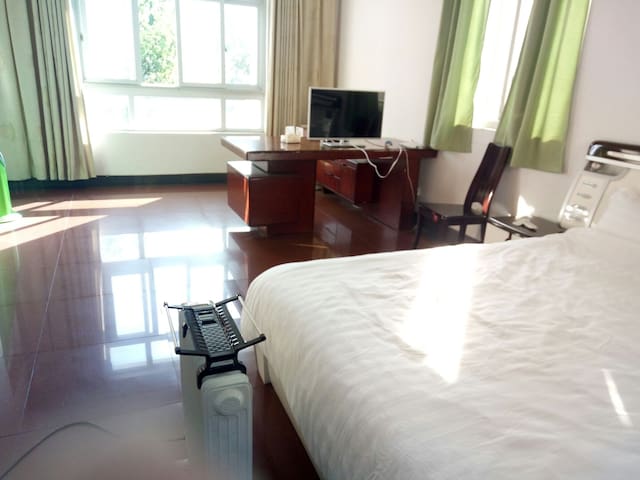 A master bedroom with own en suite bathroom! Nice, clean, safe bedroom with double bed. We can arrange airport pick up/drop off service from RMB50. 好评如潮的独立卫生间双人大房,干净,安全;近浦东机场,接送50元起。 Sorry we do NOT accept foreigner stay more than 1 night, because police do not allowed foreigners stay in people's home. 我们不接受入住超过1晚的外宾。 My place near: 浦东机场(Shanghai Pudong Airport) 地铁16号线(Subway Line 16) 迪士尼乐园(Shanghai Disneyland) 奥特莱斯(Outlet Shopping Mall)、公共交通(Public Transport)
Alieen's place was a great experience! The place is very close to the pudong airport, Disneyland and the zoo. His mom, alin was super nice and accommodating. The place was spacious and comfortable. I would definitely recommend this stay to others. 5 stars experience!
Tiffany
2016-06-14T00:00:00Z
Alieen's neighborhood is a very typical traditional Chinese neighborhood. If you love to explore the real Chinese Culture and language, this is your choice. She also is a good cook which provide meals services on top of the accommodation service.
emily
2016-07-15T00:00:00Z
Except how we worked hard to find the driver to pick us up, we felt welcome after I got the home and the owner's son explained to us patiently.
Milly
2016-09-13T00:00:00Z
Even though my stay was short, I enjoyed staying at Aileen's apartment. She's a nice women who take good care of her guests. We manage neo have a nice chat despite the language barrier and also thanks to her very nice neighbor Linn who was a great help. I'd definetly come back if I get the chance, that time I'll stay longer to visit Shanghai.
Mouhamed
2016-08-20T00:00:00Z
Very nice and clean apartament , near airport , Alice is very friendly and kind ...pick up us from airport and drop us back to the airport at the night time ... And cooking yammy food for us ...we enjoy to stay in her place !
Anastasia
2016-08-01T00:00:00Z
The host has been very kind, helpful and polite. The appartment was very clean and comfortable. I recommend this location.
Guillaume
2016-07-09T00:00:00Z
The apartment was really clean and nice. The room comes with a private bathroom which was also clean and fully equiped. Alieen is a very nice and attentive host.
Yann
2016-08-07T00:00:00Z
Alieen is very lovely and the appartment is really nice. The room is big, comfortable and with private bathroom. The place is a bit far from downtown but is really close to the airport, so it is very convenient to stay there for your first night or last night in Shanghai. She offers pick up/drop off at the airport. She also prepared me some food and washed my clothes. She does not speak much English but she uses an very good translator app so the communication is not a problem.
Gerard
2016-08-22T00:00:00Z
Room Type
Private room
---
Property Type
Flat
---
Accommodates
2
---
Bedrooms
Shanghai, Shanghai, China
The large villa built by my family. free drop off to airport or subway station or Disneyland. The room equipped air condition and eletric blanket. pick up fee: 8USD before 11:30 pm,10USD after 11:30 pm Free delivery Pudong airport or subway station three Haitian Walt Disney theme park, self-built large villas, large room, equipped with air conditioning and electric blankets, can walk to restaurants.
房源还不错 房东小姐姐提供送到机场的服务 很棒~
彤飞
2017-04-01T00:00:00Z
房东姐姐人超级好,很有耐心,晚上很晚去接我,早上四点就送我去机场。
彭瑜婷
2017-03-12T00:00:00Z
房东姑娘的服务很到位,开车接送。房间枕头舒适,热水充足。
桁
2017-03-21T00:00:00Z
房间很大,房东也很好一大早跑回来送我们去机场。值
R_不靠谱胖
2017-03-30T00:00:00Z
Room Type
Private room
---
Property Type
House
---
Accommodates
2
---
Bedrooms
Shanghai, Shanghai, China
自建小别墅,(URL HIDDEN) is safe house built by my father in our own land. The room is big with big window. You can pick fruits in our yard. This room have private bathroom. Free frop off. Take 50Rmb or 8 usd for pick up.送机免费,接机另收50元.
Room Type
Private room
---
Property Type
House
---
Accommodates
2
---
Bedrooms
Shanghai, Shanghai Shi, China
Enter dates to see full pricing. Additional fees apply. Taxes may be added.