Situato a Castellammare del Golfo, a 60 km da Palermo, il monolocale climatizzato Casa Levante collocato al 3° piano di una struttura indipendente, vanta la connessione WiFi gratuita e un'ampia veranda con vista panoramica sul porto. Provvista di biancheria da letto e asciugamani, Casa Levante include una zona pranzo con TV a schermo piatto, una cucina accessoriata, un letto matrimoniale e un bagno privato completo di lavatrice e ampia doccia.
La struttura si trova nel centro storico di Castellammare del Golfo, dista pochi minuti dal mare e 150 metri dai quattro canti, incrocio di strade da secoli identificato quale centro del paese caratterizzato inoltre dalla presenza di una vasta zona pedonale arricchita da bar, ristoranti, pizzerie e negozi per lo shopping. La posizione della struttura consente di parcheggiare facilmente la propria auto e poter raggiungere a piedi i siti di maggiore interesse dove si svolgono le pricipali manifestazioni.
Wonderful hosts, cute and cozy apartment, great views , very clean. Easy access to highways and nice walk to Casadelamare de Gofo city center with many shops and restaurants.
Debra
2016-12-17T00:00:00Z
Christian kindly greeted us and was very flexible as for arrival / departure times. The flat was very clean and quiet and the terrasse has an amazing view on the city / sea side!
Raphaël
2017-03-11T00:00:00Z
The host canceled this reservation 60 days before arrival. This is an automated posting.
Daniele
2016-06-13T00:00:00Z
We had a very pleasant stay in this apartment. The place is close to the city center, to the dock and also to the beach. The view from the balcony is amazig. Christian is very friendly and helpfull host. He also helped us in case we didnt have any posibility to reach places by bus! I can realy recommend you Christian's place and i am sure you will enjoy your stay there!
Aleksandra
2017-03-18T00:00:00Z
During our stay everything was perfect. Apartment is all new, nice and clean. Apartment is fully equipped (iron, ac unit, cutlery, clean towels, wifi, tv, sunbeds). The view on the bay is spectacular, everyday breakfast on the balcony was a pleasure. Casa Levante is located in the city centre, everything is close (shop-about 100m, restaurants in a couple minutes walk). Only the beach is in about 20-30 minutes walk (because its located further from the city) but you can always rent a scooter form Christian (which is also new). To sum it up Casa Levante is a real deal and I highly recommend staying there!
Maciej
2016-07-12T00:00:00Z
Cristian is an amazing host! We stayed there with a friend of mine, and the apartment is perfect for short but also longer stays: it is well equipped and extremely clean, everything is very new and nice. The highlight of the apartment is clearly a terrace - it is amazing for relaxed mornings or evenings, you can truly enjoy your coffee or your aperitivo with a sea and rooftops view. There is a free parking just next to the apartment, and castellammare is a nice town. If you plan to visit the west part of Sicily, this is really the best place to stay!
Audinga
2016-07-16T00:00:00Z
The place was really great, with a great balcony and view on the Golfo area. So beautiful! Perfectly located, just few minutes walk to the city centre in a quiet and traditional area. Christian was a great host, helping us with everything we needed during our stay. I absolutely reccomend him to anyone!
Federico
2016-06-22T00:00:00Z
This place in Castellammare was sufficient for our 5 night stay. The house was very clean, very modern and if I had to guess I would say it was practically brand new or very recently refurbished. Unfortunately the kitchen lacked basic items and so we felt we were unable to cook and have dinner at home e.g. no cooking utensils, not one sharp knife or chopping board, no kettle or wine glasses (that were pictured). The lack of these items also made breakfast somewhat tiresome, e.g. trying to cut tomatoes with a butter knife. You definitely feel like you're in a local area though, not touristy, a local supermarket was 50m away, the parking was 50m away, the location made for leaving the area with a car very easy (2min to the main road) and also walking into the centre of town for dinner was only 10 minutes away. Some information about the area, local recommended restaurants etc would have been great but there was none. We would have asked the host, Christian, but unfortunately did not have a chance to meet him to ask. Christian was, via text messages, helpful and communicated very well. I would think that, from my feeling about what sort of person he is, that the somewhat negative items above would likely to be resolved for future guests. Overall, we would recommend this place to a friend, but would give a few words of advice too!
Keegan
2016-09-30T00:00:00Z
Room Type
Entire home/apt
---
Property Type
Flat
---
Accommodates
2
---
Bedrooms
Castellammare del Golfo, Sicilia, Italy
This is a wonderful 4 rooms apartment just 2 minutes walk from the sea. We offer for rent a large bedroom with access to a shared living room with dining space, a shared kitchen and 2 bathrooms.
The house is 100 meters from the sea.To 50 meters find a market,bar, pizzeria.The bus station with links to the city and province it is at 3 minutes walking.Around the building the parking it's free.
The apartment is near the long beach and walking distance from Trapani centre. Everything was clean and looked exactly like in the pictures, but the only problem was low water pressure in the shower. Despite that we really enjoyed our one day stay there.
Luka
2016-07-11T00:00:00Z
Daniela was a wonderfull host, very friendly and helpfull. Every morning there was a typical italian breakfast waiting for us, thank you for that! The place was very clean and comfortable, close to the city center (around 20 min walk). Highly recomended!
Darek
2015-10-16T00:00:00Z
Really nice experience. Everything was ok, the location, the hospitality of Daniela, the accomodation. for this price, I recommend it to anyone.
Mieke
2015-11-06T00:00:00Z
The apartment is really close to the sea and 10 min from the center of Trapani. Really clean and well furnished, rooms are very spacious. The owners and their son are fully helpfull. Perfect contact before check-in! Its really nice place to stay in Trapani. I recomend!
Rafał
2016-05-30T00:00:00Z
Nice, clean appartment room and lovely host. Not far from the main streets of town. For short term stay definitely recommended.
Renata
2016-10-17T00:00:00Z
The apartment was very clean and well furnished. Daniela is a very kind and friendly host. Stay was nice and well organized
Eva
2016-06-02T00:00:00Z
We Just stayed one night in the appartment and left early for a flight so we saw Daniela only shortly. The room was really clean, as was the shared bathroom. The appartment lies in a a living area at about 10 or 15 minutes walking distance from the city center and really close to the sea. We were offered coffee or tea. WiFi workshop well. Nice stay.
Marthe
2016-06-06T00:00:00Z
Very friendly, clean, spacious room with ventilator. Free coffee and croissant. 5 - 10 minutes walk from city center. Recommended!
Jens
2016-09-06T00:00:00Z
Room Type
Private room
---
Property Type
Flat
---
Accommodates
2
---
Bedrooms
Trapani, Sicilia, Italy
A small, charming rustico over the hill with an exceptional panorama , located at an altitude of 200 meters inside the reserve of Mount Cofano, a few kilometers from San Vito Lo Capo (13 km ) .
The house is located inside the Natural Reserve of Mount Cofano, about 200 meters above the sea level and in a central position to the Gulf of Hood, that's why enjoys an exceptional panorama, allowing its inhabitants to live moments the incredible silence (even in August) in an unspoiled natural landscape, where you can enjoy a range of outdoor activities or simply enjoy the view of the mountains, the birds that live and, above all, the sea! The sea, which is about 300 meters from home, you can easily reach on foot in 10 minutes or by car - along the dirt road - you discover the beautiful beaches of stones and / or sand. And 'it recommended a car suitable for dirt roads. The house is about 30 square meters and is an agricultural warehouse dating back more than a century ago, is a modern restructured as a single room equipped with every comfort. In particular, inside, the kitchen is equipped to the teeth (including oven and washing machine), the bedroom is on the mezzanine and is equipped with a double bed and a pouf that can become a single bed; two beds are derived from the large sofa that converts into a double bed. In addition there is a very spacious bathroom, another outdoor shower and portable barbecue. The house is equipped with kitchen, bath linen, hair dryer, linens, dishes, coffee maker, kettle, toaster, wine glasses. Free Wi-Fi.
The Natural Reserve of Mount Cofano and the entire Gulf is an ideal place for swimming and sunbathing (in the numerous beaches) or to carry out a range of outdoor activities including hiking (there are several routes), climbing, snorkeling, biking, kayak etc ... The nearest village (10 min) is Castelluzzo, where you can find all the basic necessities and some restaurant, also the house is only 12 Km from San Vito Lo Capo, which is a popular tourist town in summer season but also it is well organized; 23 km from the Zingaro Nature Reserve 38 Km from Scopello, 33 km from the medieval village of Erice, also accessible by cable car from Trapani, 33 km from Trapani where you can visit the salt marshes and the island of Mothia or go to the port of Trapani from which you can embark in boats that carry you to the Egadi islands for a wonderful day trip .. 57 km from Trapani Birgi (Vincenzo Florio) served by Ryanair
Simona was incredibly helpful!! The cosy little house has amazing views and has great privacy. It was very clean and comfortable. It is in a nature reserve so people should take that into consideration. Outdoor people like ourselves absolutely loved that fact and we enjoyed every moment there. Thanks so much Simona for sharing with us such a magical home :)
Margot
2016-10-11T00:00:00Z
Simona was a great host, she made us feel very welcome during our stay. The home and location are even more beautiful than the photos and we were surprised how nice, quiet and sandy some of the very local beaches were. Possibly the most beautiful place we've ever stayed. Scopello on the last day was amazing, must see and swim in the bay there. The only thing I would add is Simona recommends a 4x4 car, I would say it is essential for an enjoyable stay as the road is pretty rough and longer than we were expecting in our car. Would definitely rent a 4x4 if we stayed again (and we hope to).
Patrick
2016-06-15T00:00:00Z
Beautiful location, completely remote in the Monte Cofano Natural Park. The view is truly amazing! The road leading to the house is a bit narrow, but doable with a normal car. The house is very nicely decorated, everything was perfect. If you are looking for a place far away from the crowds, this is just the right place for you!
Julia
2016-11-03T00:00:00Z
Great and really quiet place! Wonderful to relax and enjoy. The house is perfectly equiped- you will find everything you need there. The house is clean and functional. You have a great view on the sea. You can also walk to the sea (10 min). The villages nearby have everything you need (fruits, vegetables, fish, meat). Simona is very nice and helpful. We had a great introduction and she was available for any question we had. I would definitly recommend the house and place- especially for people who like to have a quiet and relaxing holiday. Thank you Simona!
Lisa-Marie
2016-06-07T00:00:00Z
Simona is a great host! She is kind snd beautiful person. The house os located in a beautiful wild place and fully equipped. We had great time walking around in nature. Thank you Simona!
Kutya
2016-05-17T00:00:00Z
Words cannot describe this beautiful place. If you like quiteness, amazin views, nature en pure livin, this is te place. The house is small and compact but soooo lovely inside and outside. We LOVED the outside shower with view. We drove with a VW golf to the house. It's ok, but I think -like Simona recommend- that its better with a 4x4. We found the most of our suplies in the local shops near by. The people in the village are very friendly en you must certainly have to try the icecream (combination chocolat-pistache) in a brioche. If you like to hike, there is a beautiful hike walk near by. If you like to swim, the sea is 10 minutes by walking. Also beautiful. Intens blue water en a nice white stone beach. Simona is a great host. She was always available by sms to answer our questions. This hous caries a big warm heart with a peaceful vibe ... I loved it!
Klaartje
2016-08-09T00:00:00Z
We found Simona to be friendly and full of suggestions of local things to see and do and she made it clear she was easily contactable for any additional questions. The house itself is lovely, just the right size for a couple and the views very beautiful. We made use of the lovely terrace for the sunny evenings and enjoyed many bottles of wine out there! We were fine in our small rental Corsa - just drive carefully and slowly up the dirt track to the house and you'll be fine- if you don't have the patience a 4x4 would be better. Wi-fi worked great, kitchen well equipped and a lovely powerful shower in the bathroom. No flushing loo paper here but we did not find that to be a problem and quickly got used to it. Thoroughly recommend visiting the Zingaro nature reserve beaches - simply stunning and only 30 minutes drive from this lovely Airbnb. We would happily recommend this charming house to anyone looking for a private escape in nature without losing any modern conveniences!
Sarah
2016-10-20T00:00:00Z
We had a fantastic stay at Simona's rústico! If you are looking for a quite place to relax, this is the perfect location. In the middle of nature, with amazing views, you will wake up to the sounds of the birds. The house is very well equipped, with everything you may need. The other guests and Simona's comment about getting a 4wd car are right, we managed with our peugeot 208 in the small non paved roads, but for more comfort you may want to get a 4wd. We went a few times to the small natural stone beaches of the nature reserve (10 min walk down the hill) and also went to San Vito lo Capo which is a bigger and very beautiful sand beach. The nature reserve is stunning and we recommend to go for walks there. We will definitely go back to the rústico. The place is so well-taken care of and a little gemstone
claire
2016-06-29T00:00:00Z
Room Type
Entire home/apt
---
Property Type
House
---
Accommodates
4
---
Bedrooms
Custonaci, Sicilia, Italy
Recently refurbished contemporary apartment located on Trapani northern promenade. On the first floor of a beach residencial overlooking the beach and the Egadi Islands. The Sunny House will be your gateway to the Sicilian summer.
Located "ten steps" away from the beach, the house is spacious and sunny. The apartment features one comfortable double bedroom, one bathroom with shower, a fully equipped kitchen, and a bright living room. Every room of the house faces west (beach, sunset). A big balcony connects the living room and the kitchen allowing guests to enjoy a spectacular beach/islands view. The bedroom and bathroom provide all day sunlight through wide windows. In the living room a double sofabed is available. The apartment is located inside a private residencial. The residencial provides its occupants with two swimming pools for adults and kids (only from 15/06 to 15/09), common garden, and private parking accessible through an automatic gate.
The house is located on the city promenade. Just two and a half kms from the entrance of the city center. During the day people can leave the apartment and walk literally ten steps to reach the beach. Once on the beach our guests will find small kiosks to rent chairs, beach umbrellas, and have a coffee, a sandwich, or an ice cream. A restaurant is also available within the residential itself, "Ristorante Vistamare". The city center with its great restaurants, shops, and bars is reachable by car (2'), bicycle (6'), or just by walking (25').
This is why we love Airbnb, you find great little places like this. Sunny House was exactly as pictured, fresh, bright, newly renovated and functional. The views of the Sicilian sunset from the balcony were amazing. Erice Beach is literally 2 minutes from the apartment and was a great location to base ourselves for our unfortunately too short stay in Trapani. The description for the apartment and surrounding areas are spot on. We used the local buses for the first few days as easy & cheap way to journey into town and then had a a hire car for the second part of our stay. A car does give you a lot more flexibility to get around and there is secure parking on site. Our children loved the pool area, although it is probably the only place in Sicily where rules are enforced I.e. having a cap when in the pool (fortunately supplied by the host:-)) and no ball games around the pool, small sacrifice but the pool area is well kept and a safety guard is always on site. The restaurant "Vistemare" had exceptional good seafood pasta and came in handy when we got in late after a big day touring. Trapani was lovely and the cable car up to Erice is a must. And finally the best bit about Airbnb is when you get to met hosts like Fabio, who was just an amazing. We enjoyed a great chat (he has fantastic English and 2 decades of world travel) on things to do over our 4 days in Trapani, great restaurant and bar tips, foods and drinks to try, life of the Sicilian and Eco tourism which is his passion. Thanks Fabio for making us feel very welcomed and we can definitely recommend Sunny House for people traveling through this beautiful part of Sicily.
Mel
2016-07-20T00:00:00Z
Great experience. The condo was exactly as pictures showed. Fabio greeted us and provided numerous aide as to how to find the location and surroundings. All in all very positive experience .
Santi
2016-09-13T00:00:00Z
The appartement is modern, lovely, in front of the beach and near Trapani old city. It's a good place to enjoy beach and sun. Giovanni was available to answer any question. I recommand this place.
francesca
2016-09-20T00:00:00Z
The appartment was in refurbished condition and situated really comfortable at Trapanis beach. We had 2 perfect weeks down there and can really recommend the location. We loved the parking facility on the premises for security and no hassle seeking a parking place for the car.
Dietmar
2016-06-12T00:00:00Z
Our stay at Casa Santa was perfect! Directly across from the beach and with lovely clean and relatively new facilities. The apartment was secure and met all our needs. The apartment was a little further out than I anticipated however with bikes the commute back and forth was actually an excellent addition to our trip and the beach at Erice is far better anyway! Fabio the apartment manager was FABULOUS! Upon arrival he helped us with food and local recommendations which we really appreciated! Nothing like good food and wine recommended by a person who loves the city! He also pointed us in the direction of lovely local people and we very quickly became regulars at Kiosk Del Sol! It really was a perfect stay and the recommendations from the host really made our stay that much more special!
Carmelina
2016-07-08T00:00:00Z
One of my best Airbnb experiences yet. Fabio who's manages the apartment for Giovanni met us on arrival. Definitely the most thorough and helpful Airbnb host I've had - he was amazing! He spent about 20mins with us explaining the area, and recommending local food and drink spots. Also helped with tips to travel to the Egadi islands. So so useful. The next day he helped us book a restaurant even. The house was beautiful, a fabulous view, and a bonus that we could still use the pool even though we thought it had closed. Everything was clean and the apartment was well equipped. Thoroughly recommend.
Alexandra
2016-09-24T00:00:00Z
Our stay in Trapani was great. Giovanni's flat right next to the beach and Trapani beeing the perfect spot for discovering Sicily only helped this experience. We also appreciated Fabio's tips.
Eva
2016-07-18T00:00:00Z
It has been a wonderful stay in this nice appartment with a beautiful sea view, just in front of one of the best beaches in Trapani. Our host Fabio was very kind and organised a transfer from the airport ️to the appartment, after the check out he drove us even ️to the bus station, from where we took the bus ️to the next step of our Sicily trip. He was always available for us and helped us with whatever we asked. So the appartment (it has really everything what we needed, clean and cozy, there was even the washing Pulver for the washing mashine) is to be recommended If you want ️to enjoy the beach and not ️to be directly in Trapani ( it's in walking distance about 30-40 min, always along the coast- the so called Lungomare, also perfect if you want ️to go for a run). We had a wonderful summer/ beach feeling, although it was sometimes a very windy at the beach.
Magdalena
2016-06-21T00:00:00Z
Room Type
Entire home/apt
---
Property Type
Condominium
---
Accommodates
4
---
Bedrooms
Casa Santa, Sicilia, Italy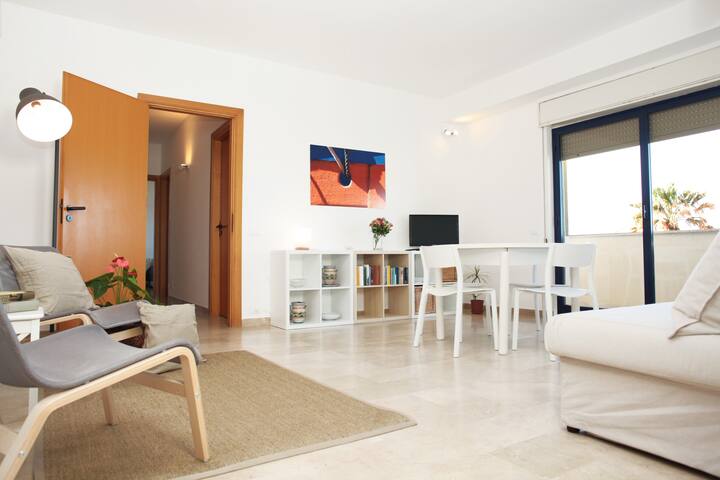 The most beautiful sea of Marsala, this house is located 30 metres from the water. In the evening you can enjoy lovely sunsets.
La casa è praticamente sulla spiaggia (libera), puoi stare tutto il giorno a piedi nudi. Nel giardino troverai due sdraio ed una doccia esterna. Il mare di fronte è leggermente degradante ed è adatto anche ai bambini. La casetta è dotata di posto auto. Accanto c'è un lido (bar, ristorante, spiaggia attrezzata e musica). Entro i 200metri, piccolo supermercato (aperto nei mesi estivi), fornaio, pizzeria, ristoranti, tabacchi e parrucchiera. Piccola casa sulla spiaggia, confortevole per due. Il terzo posto è nel divano letto nel living. Condividiamo il giardino e la doccia all'aperto. Io abito ad una ventina di metri. E' una zona residenziale estiva. La fermata dell'autobus è a 10metri. L'aliscafo per le isole Egadi a 6km. Il bagno è piccolo ed è senza bidet. Accanto c'è un lido (bar, ristorante, spiaggia attrezzata e musica).
E' una zona residenziale estiva.
We've always been in touch with Rossella so it's been really easy and nice to communicate before, during and after our stay. Our flight was delayed and the airline company lost our luggages so we were late for our arrival but we informed Rossella and found a way to make it work for everyone. When we arrived, we happily found a basket of fruits and a letter with information about the city to visit. And we thank her for that. It was really thoughtful. We got our luggages the next day and the rest of our time in Marsala was more peaceful. The beach house is small but cosy and the proximity of the beach was such a delight to drink our coffee in the morning with such a view. We liked our stay and loved the city. It was a great location as we were only visiting the west coast of Sicily. The only down i'd mention is the couch. It's ok to sit but not to use it as a bed. Thanks to Rossella and her family.
EDWIGE
2016-09-15T00:00:00Z
We had a wonderful stay at this adorable place! A warm welcome by mr and mrs Pizzo when Rosella was at work. They showed us around and provided fresh towels, linnen and local tips where to eat, go for lunch (de Gaetano is a must!) and shop. They even took us and our kids to Mazara del Valle one night to get a 'real' ice cream! The house is tiny but all you need is there and in good shape. The house was spotless clean when we arrived. The garden was perfect with an outside eating area, deckchairs at our disposal and the bbq with coal was ready to get lit! The location of the house is amazing when you just want to live outside and on the beach. We rented a car to see some Sicilian towns and its wonderful history. All easily to be reached in a one or two hour drive. Rosella and her family realy made us feel at home and were very helpfull during our stay at their beach house. We hope to go there sometime soon again!
Ruud
2016-09-08T00:00:00Z
Perfect place for vacation with 2-years old child. Sandy beach just behind the fence, nice small beach house equiped with everything you need. Beautiful garden around with garden furniture and very hospitable hosts. Definitely we can recommend this place for vacation in Sicily. Rossella - thank you for your hospitability, evening spent together and help we received from you to get to know about sicilian food, places worth to see and many other things! :) Greetings for you and your fantastic family !
Aneta
2016-06-10T00:00:00Z
It's a great place! Small but comfortable house just on the beach. Miejsce godne polecenia.
tomek
2016-10-09T00:00:00Z
The place is a gem! Rossella, Laetitia, Giovanni, Ivana and Valentina - are best hosts ever! You feel like you're a member of italian family))) The house itself is literally ON the beach, like somewhere in Thailand, rare thing to see in Mediterranean. You can sleep with a sound of waves. The house is very clean and charming, with a great barbecue/sitting area outside. Rossella is an artist and works on restoration of antique buildings/mosaics - she knows everything about local history and places of interest, apart from giving great recommendations on food, wine and restaurants. Will definitely come back!
Lesya
2015-10-11T00:00:00Z
We had a great stay at the Beach House. To be that close to the sea, to hear it at night... The new double bed is great and the house is sweet. The garden is well taken care of with it's bushes, palm trees and oleander. Rossella made us feel part of her Sicilian family in showing us around and helping us find our way around Marsala. They took us to taste wonderful food in special places. It was a unique and wonderful experience. One that I treasure and love!
Kina
2016-04-29T00:00:00Z
So happy we stayed here! Very cute little house equipped with everything we needed. Beautiful garden and the beach is literally outside the gate. We've used the instant booking and got a reply promptly, arriving a few hours later (and before the agreed time) to a clean house and the most amazing welcome one can wish for. We got the best tips for places to eat and visit. Rossella and her family really add to the experience of staying in this little paradise. Can't recommend it enough. Thank you Rossella and family for making us feel at home!
simone
2016-08-18T00:00:00Z
nice beach house, warm welcome by rosella and her sister, by her parents, all people from marsala. we had a wunderful week.
Henriette
2016-05-14T00:00:00Z
Room Type
Entire home/apt
---
Property Type
House
---
Accommodates
2
---
Bedrooms
Marsala, Sicilia, Italy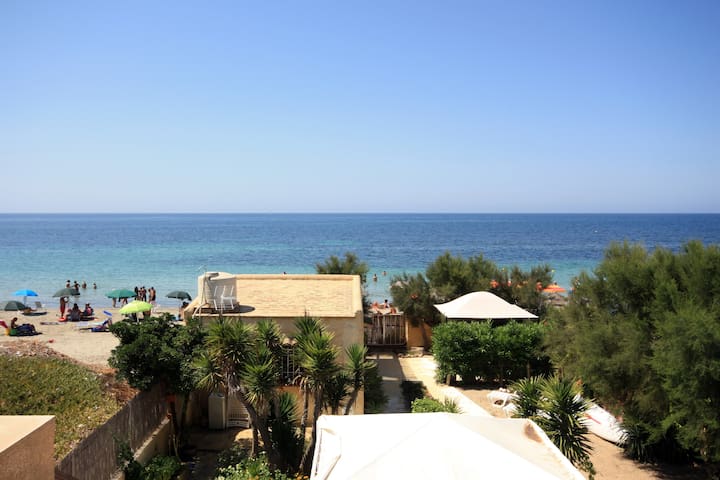 Great room in sunny mediterranean villa where you can have breakfast in the garden and a tennis match with your travel mate. The sea is only 3 minutes away. Very close to Palermo airport! There are 9 cats in the garden and we hope you do not mind them....if you do, please look for another wonderful accommodation in the surrounding!
Old villa surrounded by wonderful garden. Perfect to be lived outdoor!
5 minutes walking from the sea, 5 minutes walking from town centre!
Fantastic place, great people, highly recommandable!!!
Darek
2016-08-18T00:00:00Z
Vincenzo was great! He was waiting up for me even though I arrived later than expected. The welcome was warm and he showed me my room and bath which had everything I needed. The house is beautiful! Lush grounds, kitties roaming outside in the garden and it felt very secure with the big gate around the property.
Gina
2016-05-23T00:00:00Z
Vincenzo was very kind and helpful from the very first contact on. The Place where he lives is wonderful and stylish and we felt home immediately. We had our own room and bathroom and could also use the common living room or the great garden including Tennis court if we would have wanted. Within 5 Minutes by walking we were at the local beach and with the car it is just a couple of minutes to Palermo Airport. I can highly recommend Vincenzo as a Host and the place in general to have some relaxing hours / days in Sicily
Christian
2016-07-25T00:00:00Z
We are a couple that stayed just one night in this Villa and it was great. The Villa Is big and we had a room and bathroom just for us. Also they and friend who helped us and was very kind and adapted to our timetible. We recommend this Villa and if you need to be near the airport Is perfect.
Iria
2016-08-23T00:00:00Z
Vicenzo was very nice and accurate, bedroom was clean and comfy, thank you!
Jānis
2016-10-31T00:00:00Z
This is a lovely villa and the location is good provided you drive. Very short walk to a sandy beach and the amenities are close too - local cafes and restaurant in Terrasina; fairly close to the airport. We did not meet Vincenzo but were welcomed by his friend. The bedroom is spacious, the bathroom is clean. You may have ton call the host as there is no number on the entrance. Otherwise, we had a lovely experience.
Marina
2016-09-29T00:00:00Z
Vincenzo's room is part of a big villa. He is living there with a lot of cats so you better don't have a problem with that. Unless of that the apartment is really nice and was perfect for our one night stay. Check in was easy and Vincenzo welcomed us to use everything we need!
Lucas
2016-10-26T00:00:00Z
What great guys! I can highly recommend staying here. Very helpful. A great place to start your trip or to drop by. Communication was easy, comfy bed, and a short walk to the beach. Again soon, Thanks :)
Jake
2016-06-22T00:00:00Z
Room Type
Private room
---
Property Type
House
---
Accommodates
2
---
Bedrooms
Cinisi, Sicilia, Italy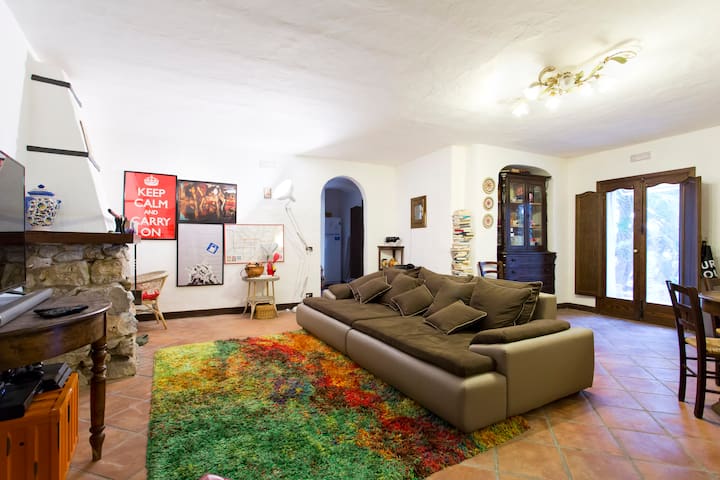 Ostellino is a paradise surrounded by olive trees at the foot of Mount Erice, offers mini apartments and beds. You can stay near the wonderful space of the Mediterranean nature and spend your holiday in complete tranquility, fascinated by the colors. The price includes the tourist tax in the town of Erice.
Ostellino is a paradise surrounded by olive trees at the foot of Mount Erice, offers mini apartments and beds. You can stay near the wonderful space of the Mediterranean nature ( excellent olive oil, fruits, vegetables and so on ) and spend your holiday in complete tranquility, fascinated by the colors, flavors and scents of Sicily.
A little paradise very well located. The owners are very Kind. Welcoming, nice breakfasts with the sunrising.. perfect stay !
Damien
2016-10-11T00:00:00Z
A small paradise is the right way to describe this place!! We really loved and enjoyed Chikita and Andrea's place! Chikita is an amazing cook and Andrea a perfect guide!! Breakfast was delicious, the silent of the place unpayable! I really suggest this place as next stay for your holiday in Trapani! Location is perfect to move around the area, close to the highway, Erice, Trapani and San vito Locapo! I'l definitely come back!
Claudia
2016-08-30T00:00:00Z
If you're looking for a quiet place, yet close to nearby attractions (riserva naturale dello Zingaro, saline di Marsala, Scopello, grotta Mangiapane...), this is the place to be! The setting is pleasantly bucolic and Chikako & Andrea have small attentions that make you feel at home and help you navigate through the unique Sicilian culture. Bravi e grazie!! A presto.
Rebecca
2016-07-17T00:00:00Z
We came to the east of Sicily to see the remains of ancient civilisations, just wishing for a sufficiently comfortable place to stay for a few nights. What we found at Chika and Andrea's small-holding was a small slice of Sicilian life that was quite as fascinating and compelling as any of the sights that we visited. The apartment itself, one of two, although a little chilly in February is simple but absolutely charming and the facilities are fine: lots of hot water, good wifi connection, spacious with a tiny but well supplied kitchen and a comfortable bed. I imagine in the summer it would be wonderfully cool and welcoming. The outside space is gorgeous. I spent one afternoon reading in the hammock in the shade of the patio. Andrea and Chika tend this special place with respect, love and care and we love their simple but elemental philosophy: a rich life lived simply.
elizabeth
2017-02-24T00:00:00Z
Such a nice place, close to erice and trapani, the room had everything we needed and more. The breakfast in the morning was the best breakfast you could wish for. We would recommend it for anybody who wants to see the nature. Would definitely stay again
Jack
2017-04-05T00:00:00Z
We loved staying here! We were made to feel so welcome. It's a really inspiring place to be. Thank you Chikako, Andrea and Toto!
Sarah
2016-08-07T00:00:00Z
Chika and Andrea's place was wonderful and relaxing. We felt very welcome and we appreciated Chika's breakfast and Adrea's advice on what to do in the area. The appartment itself had everything you need and was very nicely furnished. We were able to use the garden and the BBQ which was just fantastic. It was a very nice and quiet setting and conveniently located near Erice and Trapani. We can highly recommend this airbnb. Chika und Andrea's airbnb war sehr schön und erholsam. Wir haben uns sehr wohl gefühlt und Chika's Frühstück und Andrea's Ausflugtipps waren immer perfekt. Das Appartment selbst war sehr gut ausgestattet und wir konnten auch den schönen Garten mit Grill benutzen. Die Lage ist ruhig und dennoch gut gelegen um die Gegend um Erice und Trapani zu erkunden. Wir können das Appartment sehr empfehlen.
Johannes
2016-08-12T00:00:00Z
Padroni di casa eccezionali, molto disponibili e gentili. "Piccolo paradiso" è la descrizione perfetta per questo alloggio. Oasi di tranquillità in cui immergersi dopo un'intera giornata nel traffico siciliano, immerso nel verde e nella campagna coltivata con amore da Chikako. Colazione ottima e giatosa preparata da lei stessa. Consigliato!!
Davide
2016-08-09T00:00:00Z
Room Type
Private room
---
Property Type
Flat
---
Accommodates
2
---
Bedrooms
Erice, Sicilia, Italy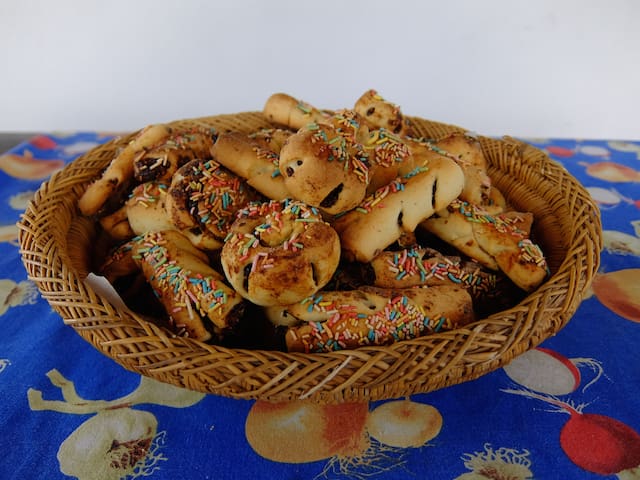 la casa è composta da una cucina soggiorno con divano letto, 2 camere, bagno, veranda, posto auto, zona barbecue e doccia esterna. La casa è arredata e climatizzata.affitti brevi o lunghi. La casa è a 200metri dal mare.
The house can host up to 8 people, and is made up as follows: it has a fully equipped kitchen, a living room with sofa bed accommodating 2 people, 1 bedroom with a double bed, another bedroom with two single beds and, upon request, a bunk bed accommodating two more people. It also has – of course! – a bathroom, and a very nice veranda with table and chairs for you to eat outside. What you can also find outside is a laundry room, an outdoor shower, a barbecue area and a parking slot for one car. The house is furnished with air conditioning system and is located just 500 meters away from the beach, in the southern area of Marsala. You can find public beaches, but also private beaches where many events are usually organized for the guests. Linen and towels are not included in the price, but we can offer them at the price of 5€ per day, regardless of the number of guests.
Il litorale sud di Marsala presenta la maggior parte dei lidi attrezzati e spiagge sabbiose. Nei dintorni sono presenti diversi ristoranti e bar, anche se la zona è tranquilla.
Room Type
Entire home/apt
---
Property Type
House
---
Accommodates
8
---
Bedrooms
Marsala, Sicily, Italy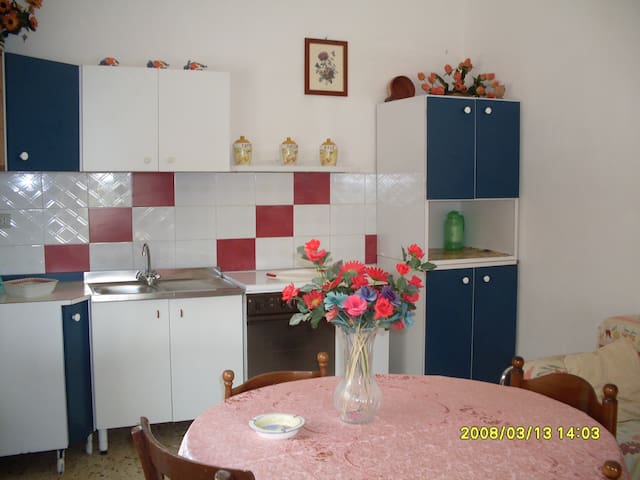 READ THE REVIEWS! INDEPENDENT APT. Heart of the town (give a look to the MAP!), all the EXPENSES are INCLUDED! FREE INTERNET WIFI and FREE BIKES. Train station 100 mt far (to visit Marsala, Egadi islands etc..) You can reach the beaches by bike! Give a look to my other listings: https://www.airbnb.it/rooms/566134 https://www.airbnb.it/rooms/6383829
The apartment is composed by a kitchen, a bedroom and a bathroom. It's situated in Mazara del Vallo, in the middle of historical centre. COMFORTS: washer, air conditioner, dishwasher, tv, FREE wireless internet access, fridge, hairdryer, heating, microwave oven, oven. Recently restored. Our guests can also get a free transfer from/to Mazara Del Vallo's Bus Station, and can book an airport transfer from/to Trapani and Palermo airports. The price includes clean sheets and towels, apartment cleaning, FREE USE OF BIKES and ALL THE EXPENSES. THINGS TO DO IN MAZARA DEL VALLO: PLACES OF INTEREST: Cathedral, Saint Ignatius' Church, Casbah Narrows (arabic historic centre), Dancing Satyr (famous bronze sculpture from the hellenistic era), Garibaldi Theatre (one of the oldest theaters in Sicily). These are just a few examples of the places of interest, and are all 5 minutes (or less) walking far from our building FUN: Mazara Del Vallo coast is crowded in the summertime and it's both sandy and rocky. The nearest sandy beach to our building is attainable in just 10 minutes by bike (bikes are given FREE to our guests). WINE TASTINGS of typical Sicilian wines are arranged all year long, just ask me and I'll give you the best advices for the best wine tastings! NIGHTLIFE In the summertime, historical centre's narrows, where are located all the nightlife pubs, are very crowded in the week-end but also during the week. The nightlife centre is 5 minutes walking far from our building EVENTS Some of the most known summer events are: Casbah Fest (2 days of music in the arabic historic centre) and "lu fistinu di Santu Vitu" ("Saint Vitus fest", it's the fest held in honor of the patron saint of the city); this fest lasts all night long with traveling shows around the narrows of the historic centre, and finishes with a fireworks show at 5 am. GASTRONOMY There are many restaurants around our building, especially on the promenade and in the arabic city centre, where is possible to taste both typical Sicilian and Arabic food.
3 minutes walking from the promenade. 5 minutes walking from the Cathedral, The Casbah (arabian Historic Centre) and Via Garibaldi (Nightlife centre) 7 minutes walking from the Dancing Satyr museum Our guests can also get a free transfer from/to Mazara Del Vallo's Bus Station, and can book an airport transfer from/to Trapani and Palermo airports.
The host was friendly and helpful. He met us at the train station and walked with us the short distance to the apartment. The accommodations were mostly as represented in the listing. Vincenzo pointed at the clothes washer and said he did not know how to use it, since he does not do laundry. The listing also says there is a clothes dryer, but we could not find any dryer function on the machine. The washer did work well and the final spin did a good job; our clothes dried overnight. To add some heat to the apartment, we tried the AC unit, as instructed by Vincenzo, but it did not appear to have a heating function, only cooling, so as far as we could tell. We were warm enough without any additional heat, since the weather was relatively warm. The shower was very roomy and had good water pressure and plenty of hot water. The kitchen has a microwave, greatly appreciated, but a few more items in the kitchen would be good, such as a cutting board, sharp knife and the large frying pan needs a better handle. We had what we needed. We enjoyed our stay here and we were comfortable.
Shannon
2016-12-30T00:00:00Z
Vincenzo was a great host, he picked us up from the bus station with his car. He also gave us a map and some tips where to eat and where to go. The best thing in the apartment were the bikes! We used them every day. Apartment is very spacious and in very good location (next to the old town, beach, shops, restaurants, pubs, train station, etc.) The washing machine was also to our use, so if you plan to stay in this apartment for more days it would be useful. We recomend this place.
Magdalena
2015-06-11T00:00:00Z
Great experience! The apartment is really central, very clean and fully equipped. But the most important is that Vincenzo is very available for us, he invited us to have dinner with his friends/family who welcomed us well. He can give good advices for your trip too. It's totally in the spirit of AirBNB, that you don't find everywhere, finally.
Emir
2016-04-11T00:00:00Z
Great host. Brilliant location right in the center. Loved it!
Mark
2013-09-02T00:00:00Z
Though we arrived two hours early, Vincenzo gave us a warm welcome. The apartment is well equipped, every electric machine is working, you got free WLAN and two bikes, even a tumbler and dryer is available. Personnally I'm fan of the different wallcolours of the rooms, it makes a special feeling. Though the apartment is in the historic centre of Mazara del Vallo, it is only noisy when people searching in the evening a parking spot. But it is easy to find when you are willing to walk 5 minutes. At the weekend the town is very busy. Mazara del Vallo is perfect to see the saline near Mozia ( incl. ruins from the cartagenians) or the temples of Selinunte or Palermo. Vincenzo gave us the good advice to use the bus and he showed us the bus station. He also offered us helping to buy the tickets but we managed it by ourselves. Vincenzos apartment is really a great place for vacation!
Birgit
2014-04-18T00:00:00Z
We had a lovely stay at Vicenzo's place. He's a very helpful and social host. He made sure we had everything we needed and went into the centre with us and his friends for a lovely aperitivo. We had a great time! The location is perfect and we Dutchies loved the bicycles, we cycled to the beach in ten minutes :D.
Eline
2015-06-30T00:00:00Z
Good appartment, well equiped. Vincenzo was very nice with us!
Matthieu
2015-07-25T00:00:00Z
Vincenzo replied very quickly to our late reservation, and his sister was available to welcome us as soon as we arrived. She gave us the basic information we needed. The flat is nice and big, and we enjoyed the night we spent there. The location is also nice, near the sea and historic center.
Fabrice
2015-05-10T00:00:00Z
Room Type
Entire home/apt
---
Property Type
Flat
---
Accommodates
3
---
Bedrooms
Mazara del Vallo, Sicily, Italy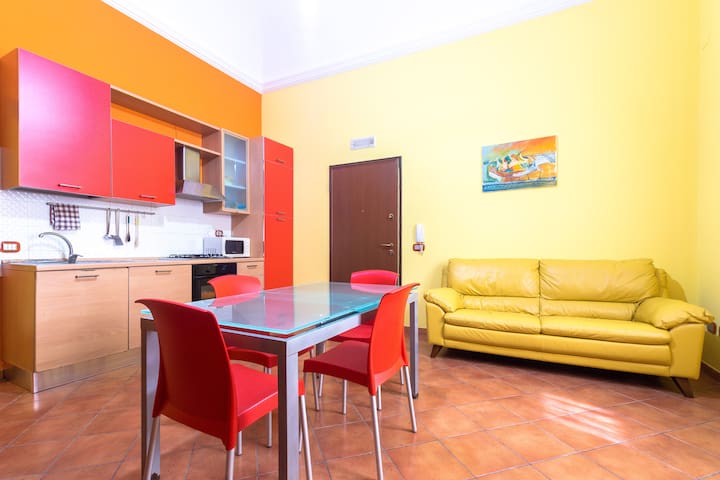 3minuti a piedi dal mare !! Questo mini-appartamenti con vista mare é l'Ideale per una vacanza rilassante e tranquilla! Si trova ad Alcamo marina, una tranquilla località turistica vicino Trapani. Ottimo punto di partenza per effettuare escursioni nelle vicinanze: Palermo e Trapani 40 Km, Castellammare del Golfo 3km, Scopello e la riserva naturale dello Zingaro 15km, il parco archeologico di Segesta 17km. San Vito Lo Capo 35km
Room Type
Entire home/apt
---
Property Type
Holiday home
---
Accommodates
4
---
Bedrooms
Alcamo, Sicilia, Italy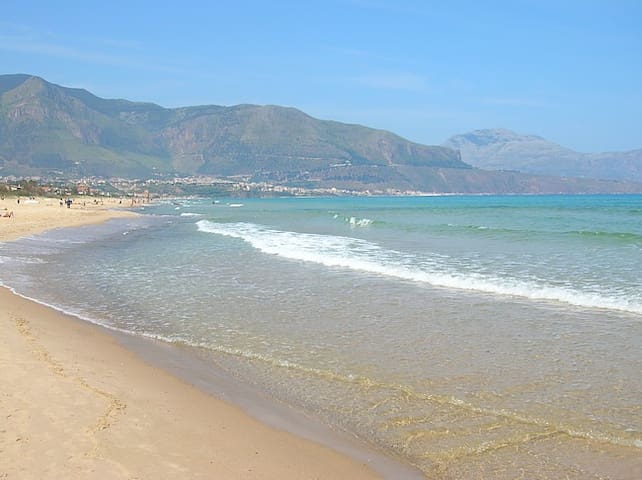 Il mio alloggio è una casa storica con un appartamento nuovissimo e una piscina in cui puoi rilassarti e rinfrescarti. E' vicino alla magnifica spiaggia di sabbia di Balestrate, inoltre si trova in un punto strategico e puoi raggiungere con facilità l'autostrada. L'appartamento è adatto a coppie e avventurieri perché è immerso nell'autentica campagna siciliana. Nell'alloggio inoltre troverai una cucina ben attrezzata e tutto il necessario per un'ottima colazione sia dolce che salata.
L' abitazione si sviluppa su due piani ed è completamente indipendente. Al piano superiore vi sono le due camere da letto matrimoniali, tutte dotate di finestre. Al piano inferiore la cucina ben attrezzata e una zona living molto ampia, il bagno con doccia e una camera singola. L'appartamento ha l'affaccio diretto sul cortile dove si trova la piscina.
La zona è fantastica in quanto si trova immersa nella tranquilla campagna e allo stesso tempo vicino al mare, ai divertimenti e alle maggiori attrazioni turistiche della Sicilia occidentale.
Pictures don't do Baglio Cappello justice. This was the nicest Airbnb experience we've ever had. The villa is incredible full of period features with so much character. The apartment in which we'd stayed was beautifully renovated so modern and clean with an amazing pool! Daniela and her family literally made our experience really special. So hospitable and generous, making us really feel at home. If you've seen this ad then look no further! Highly highly recommend staying at this magical hidden spot. We know we're definitely coming back again!
Noran
2016-09-14T00:00:00Z
Our stay at Baglio Cappelo was perfect. Danielle's mum showed us around the farm and gave us freshly picked tomatoes and home grown organic olive oil on arrival what more could you ask for! We loved learning about the history of the building and hearing the family stories. On arrival the apartment was fully stocked with everything we could need. We had exclusive use of the pool area, and enjoyed every minute of it. It's a beautifully renovated modern part of the Villa, with the best facilities and tastefully let decorated in style. Such pleasant hosts, who gave restaurant recommendations that were excellent and helped us with every need. WE WILL BE BACK! Feels like we have stumbled upon a hidden gem and one we will be certain to return to!
Kate
2016-09-02T00:00:00Z
If you want to discover a gem in Sicily, look no further. You've found it! We had a lovely post summer week holydays in daniela's olive farm. The studio has it's own contemporary charm in the midst of this amazing historic farmhouse. And Daniela herself is a lovely bubbly person with amazing love and knowledge of local food. A wonderful host who treats you more as a friend than a guest. So don't hesitate. Book!
Zoe
2016-10-17T00:00:00Z
We had a wonderful 4 nights at this gorgeous old farmhouse. The apartment is newly renovated & very nicely done with a modern feel. Plenty of space & well kitted out. Various food bits are provided for breakfast or a snack, as well as the farms own delicious organic olive oil - so yummy we bought some to bring home with us! The pool is great & makes a lovely space to hang out. Daniela, as a host is a delight! She can't help enough, immediately responses to any questions & great with tips & recommendations. There is a lovely friendly cat who likes a fuss & 2 dogs as your welcome committee! Wonderful stay!
Rebecca
2016-09-30T00:00:00Z
This villa was the highlight of our journey through Sicily. Daniela was so welcoming, caring and helpful. The villa is beautifully restored with traditional features such as the vintage retro bathroom and the traditional tiled floor in the living area and the original curved ceilings but the villa is decorated with modern comfort in mind and an elegant simplicity. Outside the villa is a secluded sun trap with a plunge pool for those hot days and comfortable lounge chairs to soak up the sun. The property was very clean and stocked with essentials. The charming farm house is steeped in history, which Daniela brings to life with her unique enthusiasm. The location is not far from shops, tourist attractions or the motorway but it is still of the beaten track. The atmosphere is one of a peaceful retreat a million miles aways from everything. I would highly recommend a stay in this wonderful villa.
Julia
2016-10-03T00:00:00Z
Alojamiento 100% recomendable. Hemos pasado tres días en un apartamento precioso, limpísimo, tranquilo y con todo tipo de comodidades. Muchas gracias a Daniela y a su familia por su hospitalidad, alegría y por hacernos una estancia tan agradable.
Cristina
2016-08-13T00:00:00Z
Nous avons passé un très bon séjour dans l'appartement du Baglio Cappello. Ce lieu est juste magique! C'est aussi beau que sur les photos ... Merci à Daniela et à sa famille pour leur hospitalité. Un lieu authentique et calme, entouré d'oliviers. Nous avons pu goûter la très bonne huile d'olive produite sur place ... Un régal ... Comme la cuisine sicilienne de Daniela. On recommande !
Corinne
2016-10-09T00:00:00Z
darte cuenta a los cinco minutos de llegar de que has acertado con lo que buscabas. El alojamiento aporta descanso y tranquilidad, y está muy bien situado para visitar toda esa zona de Sicilia. Además de tener un trato muy cercano y personal. Experiencia perfecta
Alberto
2016-08-25T00:00:00Z
Room Type
Entire home/apt
---
Property Type
Flat
---
Accommodates
5
---
Bedrooms
Balestrate, Sicilia, Italy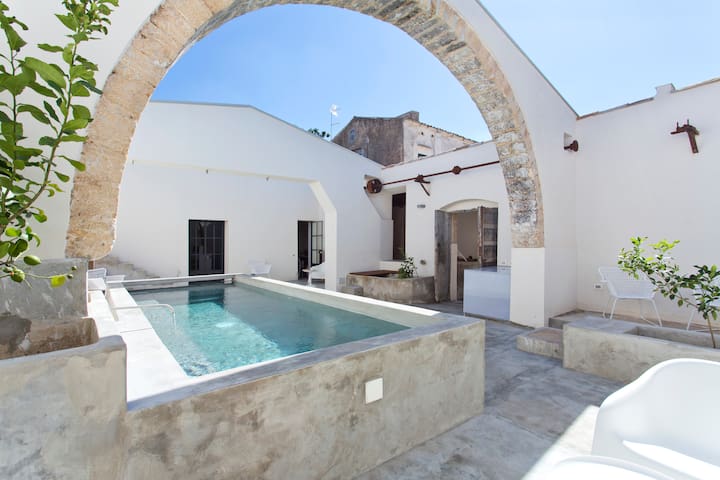 Two rooms ideal for quiet stay for two / three people surrounded by typical Mediterranean vegetation and far from the sea 500 mt . The site stands out for its wonderful view over the Gulf of Makari . comprising kitchen bedroom bathroom and veranda . N.B. For the stay in the town of San Vito lo Capo it is expected that the fee amounts to EUR 1.5 per person per day to be paid on site ( as well as related regulations , available on the corporate website of the town )
Comfortable accommodation, equipped with towels and bed linen, hairdryer, air conditioning, tv.
Characterized by the main road that crosses the village of Macari, the sides of which there are beautiful and manicured villas and accommodation. There are three main exits from the village down the road to San Vito lo Capo, which is about 3.5 km.
Lovely house and location. Very friendly and helpful. We really enjoyed our stay!
Sophie
2016-10-01T00:00:00Z
We had a really nice stay at Giovanna's house. Her parents welcomed us, although we arrived quite late in the evening. The house is really nice within beautiful surrounding and view on the sea. There was no internet, but we actually enjoyed being off for a couple of days. :)
Janine
2017-03-23T00:00:00Z
Everything perfekt for our climbing week in sizilia. Giovanna and her Parents were very polite and the appartment was clean. We had a perfekt Time in the appartment near San Vito.
Christian
2016-11-18T00:00:00Z
We were welcomed by Giovanna's friendly mother and sister. The appartment is spacious, very clean and nice. Giovanna helped us to our way around and took very good care of us. Our breakfasts/dinners we enjoyed on the terrace with a nice view on the ocean. We can only recommend this place and would come back again.
Christin
2016-06-07T00:00:00Z
We were made to feel very welcome, the house was easy to find and just as described. This is a lovely apartment in a tranquil location surrounded by gardens. The location is quiet and San Vito lo Capo is a few minutes away (by car). One can get to Zingaro, Trapani, Scopello, Castellammare in less than an hour.
Simon
2016-10-08T00:00:00Z
Everything was perfect, super clean apartment, very good contact with Giovanna and her parents, very friendly, no complicated things. Very good stay in this quite and clean flat at very uncomplicated and nice people.
Gudrun
2016-10-18T00:00:00Z
We spend some fantastic days in the little village of Macari. The house of Giovanna is quite spacious for tow persons, very clean and comfortable. There were absolutly nothing to criticize. From here it is possible to make trips in the beautiful surroundings (for example to the reserve of Zingaro). If it is nessesary to use the internet, there is an Cafe nearby with free Wifi.
Holger
2016-10-12T00:00:00Z
Accueil charmant de la maman de Giovanna. Endroit calme et bien situé pour les grimpeurs.
claude
2016-10-26T00:00:00Z
Room Type
Entire home/apt
---
Property Type
House
---
Accommodates
3
---
Bedrooms
San Vito lo capo, Sicilia, Italy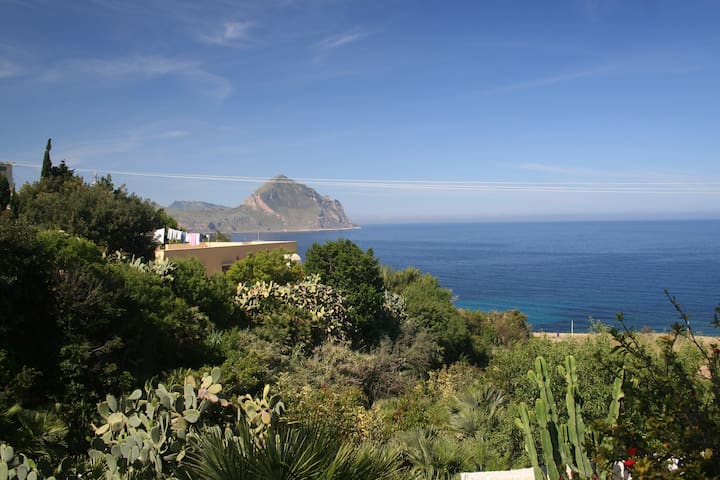 cozy ground floor apartment situated in the village a few steps from the square and the harbor. Just renovated, with kitchen and bathroom, can comfortably accommodate up to 4 people (2 sofa beds). It equipped with television, air conditioning and heating. The price includes towels and bed linen. Depending on the time you can take advantage of the availability of a large terrace with built-in kitchen and outdoor shower.
Room Type
Entire home/apt
---
Property Type
Flat
---
Accommodates
4
---
Bedrooms
Favignana, Sicilia, Italy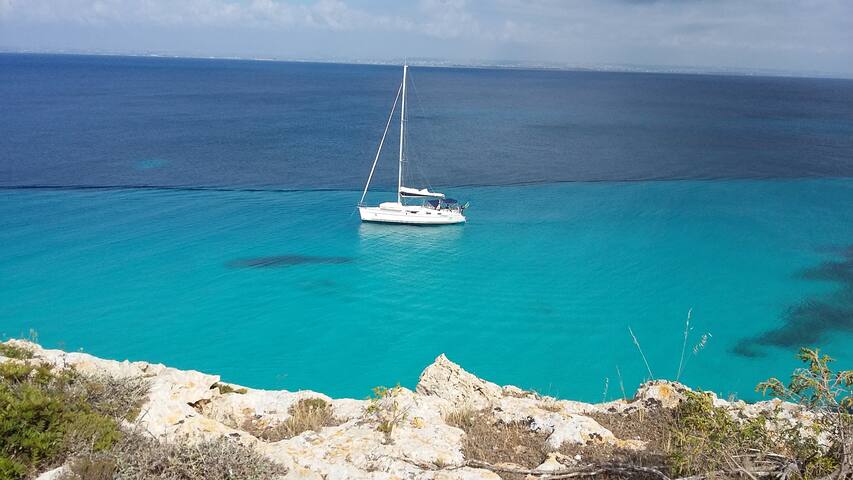 Villa Corallo è una villetta ideale per trascorrere delle piacevoli vacanze al mare. La posizione centrale tra Trapani, Valderice, Erice e San Vito Lo Capo la rende perfetta come alloggio per i turisti che vogliono visitare la provincia Trapani. A 500m si trovano splendide calette sul golfo di Bonagia e nelle vicinanze è possibile raggiungere le rinomate località balneari di Lido Valderice, Cornino, Makari, San Vito Lo Capo e la riserva naturale dello Zingaro. Tassa di Soggiorno non inclusa.
L'ampia terrazza vi regalerà la possibilità di godere piacevolmente delle fresche serate cenando all'aperto, magari improvvisando una grigliata di pesce sul barbecue a vostra disposizione.
La posizione della casa è assolutamente strategica per visitare la provincia di Trapani ed apprezzare le bellezze naturalistiche.
Very friendly host ! The villa looks the same as in the pictures and it is located in a strategical point. Lovely place where to spend your holidays
Fabrizio
2016-07-14T00:00:00Z
We loved Villa Corallo! It is even more beautiful than it is in the photos and Franca was incredibly welcoming. The house is lovely and was loads of room as just two of us. The villa has a large courtyard filled with flowers and plants where we spent a lot of time looking at the beautiful Frangipani tree and lots more and also enjoying amazing views of iconic Erice. The outdoor shower was particularly nice when back from the beach. It's a very well stocked house and easy to cook in - with an outdoor grill as well. Bonagia is only a 15 minutes drive from Trapani and about 30 mins from San Vito Lo Capo so perfect to explore all the area has to offer. And the village also has some restaurants if you don't want to go out, including a delicious and busy pizzeria down the road for take out. Franca gave us an incredibly detailed booklet with info on restaurants, pasticheries etc locally and in Trapani/San Vito, lots of great tips. We'd a great meal in Trapani in I Grilli and bumped into Franca there on the night, so these were definitely personal tips. Also her friend very kindly helped us source some paddle boarding lessons in San Vito Lo Capo which we really enjoyed (SUP centre San Vito Lo Capo) Franca was available if we needed anything and checked in to make sure were ok, and she could not have been a kinder or more charming host. I would highly recommend Villa Corallo
Michael
2016-09-10T00:00:00Z
Nous avons été très bien accueillis par Franca. Maison très jolie, très bien décorée, très propre. Nous avons trouvé le bien encore plus joli et fonctionnel que les photos. Il faut juste savoir que la route avoisinante est passagère. Nous recommandons ce logement, nous avons passé un agréable séjour.
Stephane
2016-07-24T00:00:00Z
Franca e Beppe sono stati ospitali, hanno illustrato la casa ( ben arredata ed accessoriata ) e ci hanno consigliato come muoverci in zona. L'alloggio si trova in una posizione strategica per gli spostamenti per Trapani, Erice, SanVitoLoCapo ed è vicino al mare. Si posiziona sulla strada principale del paese, un po' trafficata, e non abbiamo avuto difficoltà a trovare il posto auto ogni sera vicino a casa. L'abitazione ha un magnifico spazio esterno arredato con cura: zona bbq, doccia esterna, comode poltrone). I due condizionatori (in zonaGiorno e zonaNotte) hanno fatto il loro dovere. PS per quelli alti più di 185 cm: Occhio alle due porte.
fabio
2016-07-18T00:00:00Z
Room Type
Entire home/apt
---
Property Type
Villa
---
Accommodates
4
---
Bedrooms
Tonnara di Bonagia, Sicilia, Italy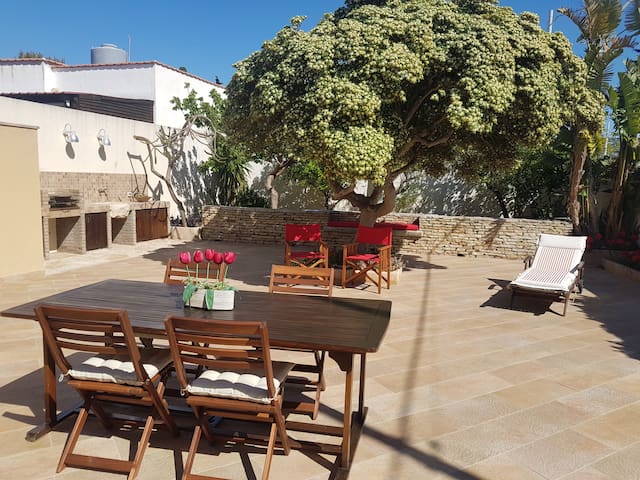 Il mio alloggio è vicino a trasporto pubblico, l'aeroporto, parchi e arte e cultura. Ti piacerà il mio alloggio per questi motivi: la luce, la comodità del letto, la cucina, l'intimità e i soffitti alti. Il mio alloggio è adatto a coppie, avventurieri solitari, chi viaggia per lavoro, famiglie (con bambini) e grandi gruppi.L'appartamento "Mare e Sale " è inserito nel meraviglioso gioiello naturale che è Nubia, immersa nella riserva naturale orientata delle saline di Trapani e Paceco.
La casa vacanze Mare e Sale si trova in una riserva naturale,dalla quale si può raggiungere in pochi minuti il Museo delle Saline e poter godere dello spettacolo della natura,con la bellezza della flora e della fauna. Fare una passeggiata in tranquillità e ammirare i fenicotteri rosa o le montagne di sale che ne fanno uno scenario unico il tutto racchiuso in un bellissimo tramonto.
We very much enjoyed staying in Nicoletta and Salvatore's place. Nicoletta went out of her way to make sure that we felt very welcome. She left us cut up melon, plums and also breakfast things. There is a great view in all directions from the apartment and the patio. The apartment is very spacious and clean, with an air conditioner in the bedroom. Also we appreciated the parking space with a locking gate. Nicoletta is very personable and helpful!
Heather
2016-10-03T00:00:00Z
Il s'agit de notre plus belle expérience de logement en Sicile! Si vous cherchez un logement cosy, romantique et avec des propriétaires chaleureux et accueillant vous y êtes ! La mama de salvatore est chaleureuse, accueillante et prévenante. On se sent comme à la maison !Très arrangeante également pour l'heure d'arrivée. En outre ce logement est situé en plein cœur des salines de Trapani et nous avons pu apprécier un magnifique coucher de soleil sur laquelle terrasse. Au top ! Je recommande vivement et nous reviendrons si nous en avons l'occasion !
florence
2016-08-08T00:00:00Z
Ci ha accolti la mamma di Salvatore, che è stata accogliente e fantastica, la casa è deliziosa in una posizione invidiabile(la vista del tramonto dal terrazzo imperdibile), a soli 5 minuti dal centro di Trapani, siamo stati immersi nel relax delle saline, un'oasi di tranquillità a pochi passi da tutto! Saremmo rimasti con piacere una notte in più, peccato fosse tutto prenotato! Lo consiglio vivamente sia a coppie che a gruppi di amici. Very raccomandated, cleany and confortable. Lovely position! perfect for couple or friends.. very near the city, but surrounded by greenery!
Stefania
2016-08-20T00:00:00Z
BEST HOST EVER: Appartamento semplice comodo e pulito.Con aria condizionata e cucina accessoriata, balcone enorme con ottima vista di tutta la zona e perfetto per colazione/cene al tramonto. Nicoletta è stata 100% disponibile. Ci ha consigliato tour in barca,ristoranti e curiosità da visitare.E' stata sempre reperibile per qualsiasi dubbio. Ci siamo sentiti come in famiglia e senza di lei la vacanza non sarebbe stata la stessa. LOCALITÀ BEN UBICATA: Vicinissimo alle saline, Trapani, Erice e Marsala. A 40 minuti dalla spiaggia di San Vito lo capo. Noi abbiamo noleggiato una macchina per visitare le zone limitrofe. Ci siamo trovati benissimo perché avevamo un parcheggio sicuro e tutte le località erano vicine in macchina. Ed in più abbiamo fatto un giro in bicicletta nella zona. Ci ritorno assolutamente!
Pedro
2016-08-13T00:00:00Z
La madre di Salvatore ci ha fatto sentire come se fossimo a casa. Solitamente non lascio recensioni lunghe e dettagliate ma questa volta devo farlo. L'accorata gentilezza, la grande disponibilità, e i suoi mirati consigli ci hanno fatto vivere un ultimo giorno di vacanza speciale. La posizione dell'appartamento è ottima per chi ha un auto. Una volta arrivati si può usufruire di biciclette per girare la zona (meravigliosa, le saline al tramonto sono magiche). La vista dal terrazzo di giorno regala pace e il cielo smisurato di notte fa trasparire innumerevoli stelle nel buio. Più che consigliato, grazie di tutto!
Marco
2016-08-21T00:00:00Z
Fantastica! Accoglienza unica! Ci siamo sentiti subito a casa. Consigliatissima! La terrazza e la camera fantastici, vista sulle isole da una parte e su Erice dall'altra. Grazie mille!!
Sofia
2016-08-06T00:00:00Z
Ci siamo trovate benissimo nella casetta di Salvatore e Vito. L'acqua della doccia esterna è calda e la posizione è comoda per raggiungere San Vito.
Francesca
2016-08-23T00:00:00Z
Room Type
Entire home/apt
---
Property Type
Flat
---
Accommodates
4
---
Bedrooms
Paceco, Sicilia, Italy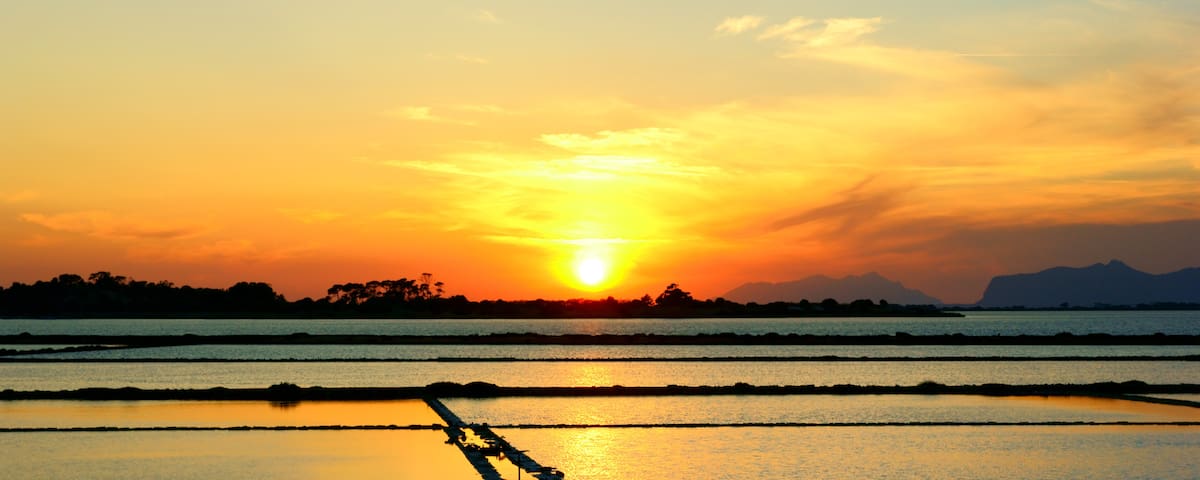 The sea at 360 ° , the house is reached via a staircase(104 steps) and the railway is far you only hear the sea and do not hear the trains going by! ;)
The " House of the sea " is really just a short walk from the sea ( far from the rail) and consists of two bedrooms , one bedroom a kitchen and a bathroom with large outdoor areas with sheds , barbecue and sun umbrella on the beach watching . ideal for couples with children and lovers of the sea at 360 ° The photos give an idea of the local color , perfect for your relaxation and rest from hiking .
I'd love you to be you to let you know what makes the place special.
Dear Rocco, Thank you so much for the wonderful opportunity to stay at your lovely home on the sea! We really loved your home so much and it is literally right on the sea. We could not have asked for a better experience for our first time in Sicily! Your home had everything we needed with all of the rooms facing the sea:) We look forward to staying again in the future:) Thank you for everything!
Sarah
2016-10-19T00:00:00Z
A little piece of paradise in Sicily. Sure it's 104 steps down to the apartment, but every step comes with a beautiful view. Rocco is the best host, friendly, charming and funny. He speaks better English than he thinks and is a good communicator. The beach is fantastic, both when the sea is calm and when there us a storm. The house is just what you need. Thanks Rocco!!!
Robert
2016-10-30T00:00:00Z
Roccoco is a generous friendly person and he attended to any questions above and beyond. I loved Roccoco's beach house in every way. The reality exceeds the description. Peacefull, relaxing, sunny. Close to the best sights in west Sicily. The basics are provided together with a true Sicilan welcome - wine and fruit. You get to feel you're a privileged guest in a family holiday home rather than a commercial object. Excellent value in every way.
Patrick
2016-09-30T00:00:00Z
Geweldige plek! De ligging van dit huis is echt schitterend. Inrichting huis is simpel, maar met alles wat je nodig hebt. Leven doe je buiten. Op terras en strand. Zonsondergang vanaf terras is zo mooi. Gastheer is ook top: direct reactie op al je vragen, zeer behulpzaam, hartelijk.
Margaretha
2016-07-24T00:00:00Z
Unser Urlaub war großartig. Das Haus liegt direkt am Strand mit fantastischem Blick aufs Meer und die Berge. Es hat eine rießige Terasse, die sehr gut ausgestattet ist (mehrere Tische und Stühle; Liegen; rießiger Sonnenschirm; Grill; Außendusche; Waschmaschine). Wir konnten quasi eine Woche draußen leben. Es gibt einen privaten Zugang zum Strand, so dass man nach Lust und Laune jederzeit spontan im Meer baden gehen kann. Tagsüber ist der Strand sehr belebt und wird ab ca 20 Uhr ruhiger, dann verlagert sich das Leben in den Ort oberhalb des Strandes. Im Ort befindet sich ein Supermarkt, in welchem alles Nötige erhältlich ist. Außerdem gibt es einige Restaurants, die sehr zu empfehlen sind und eine super Bäckerei. Von Tourismus war nur wenig wahrnehmbar. Einige der Bewohner sprechen sehr gut Deutsch, weil sie für einige Zeit als Gastarbeiter in Deutschland waren. Vom Flughafen in Palermo braucht man mit dem Auto ca 30 Minuten zur Unterkunft. Das Auto kann im abgesperrten Innenhof abgestellt werden. Rocco lebt oberhalb der Unterkunft und stellt sich sehr gastfreundlich für jegliche Anliegen zur Verfügung. Wir wurden sehr nett von ihm empfangen und haben ihn als sehr sympathischen, humorvollen und unkomplizierten Menschen wahrgenommen. Vielen Dank für die schöne Zeit!
Rebecca
2016-08-21T00:00:00Z
La maison au bord de l'eau reste un endroit magique et reposant...quelque soit la saison!
Esmee
2016-10-17T00:00:00Z
Wir hatten hier eine sehr schöne Woche! Rocco ist ein wunderbarer Gastgeber, die Verabredung bei der Ankunft war einfach, er erwartete uns bereits. Dieses kleine, gemütliche Haus liegt wirklich direkt am Strand und hat alles was man braucht. Das meiste spielt sich draußen ab, Frühstück auf der großen Terasse, ab und zu ein Bad im Meer, abends Grillen, immer Blick auf's Meer. So könnte man mehrere Tage oder Wochen verbringen. Kein Luxusapartment, aber für Individualisten genial und genau das, was wir gesucht haben. Für uns hat alles gestimmt, wir kommen wieder.
Henry
2016-10-08T00:00:00Z
La maison au bord de mer est posée sur la plage....juste idyllique!! Nous avons adoré y passer une semaine et nous tenterons d'y retourner au plus tôt !!! Rocco et Savinia sont des hôtes adorables et disponibles . Abbiamo passato una settimana fantastica nella casa sul mare....Grazie Rocco!
Esmee
2016-07-17T00:00:00Z
Room Type
Entire home/apt
---
Property Type
Villa
---
Accommodates
4
---
Bedrooms
Trappeto, Sicilia, Italy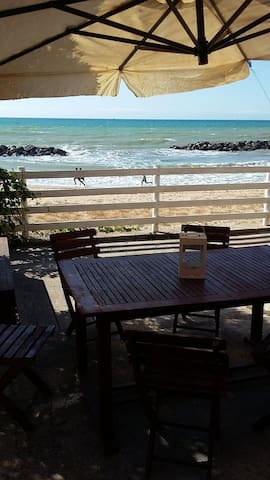 House 50 meters from the sea Biscione area, and 500 meters from the beach Torrazza.
detached house comprising living room kitchen, bathroom with shower, double bedroom and another bedroom with castello.Piccola Pineta with a hammock for relaxing, barbecue and large veranda.
Quiet residential summer sea.
Our stay at Petrosino was great. Ilenia's house is wonderful and at less than 100m from cristalline sea. House is very quiet and is located in a typical small street. Description of the house is exact and you will get there all what you need to spend a very nice time. House was very clean and Ilenia gave us a very warm welcome : fruits, typical cookies, fresh wine and watter were waiting for us and also snacks and coffee for our first breakfast. Ilenia was available for any question. We recommend this place and hope we will come back one day.
Stefania
2016-07-09T00:00:00Z
Grazie per la calorosa ospitalità ricevuta da Ilenia! La casa ed il luogo sono ideali per chi cerca il relax a pochi passi dal mare. Paesaggi da sogno si avvicendano, al susseguirsi dello scandire della giornata accompagnati dal profumo del mare e dallo sciabordio delle onde. La casa è attrezzatissima ed i proprietari gentilissimi e disponibilissimi. In pochi minuti si raggiunge Marsala da dove è possibile prendere l'aliscafo per le Isole Egadi. La Sicilia è veramente da scoprire!
Angela
2015-08-28T00:00:00Z
Casa stupenda a due passi dal mare, in posizione comodissima per visitare la zona. La casa era esattamente come appare nel l'annuncio (anche meglio). I proprietari Ilenia e Franco, sono due ragazzi giovani e gentilissimi, ospitali e allo stesso tempo discreti. Davvero eccezionali...consigliatissimo
francesco
2015-08-23T00:00:00Z
La casa è bella, spaziosa e confortevole, completa di tutto il necessario e adattissima per quattro persone. Le foto non sono sufficienti a rendere giustizia sia alla casa, sia al giardino: lo spazio fuori è meraviglioso, con aree ombreggiate e fresche a tutte le ore del giorno e la possibilità di rilassarsi sull'amaca, sul dondolo o sullo sdraio!! Noi siamo stati benissimo: Biscione è un borgo tranquillo (puoi lasciare aperta la porta di casa), frequentato principalmente da famiglie e punto strategico per visitare la zona. Grazie a Ilenia e Franco per la calorosa accoglienza, i simpatici pensieri, i consigli e la disponibilità per qualsiasi informazione durante il soggiorno. Speriamo davvero di ritornare!
Giorgia
2015-08-15T00:00:00Z
Ilenia è stata gentilissima e molto disponibile sia nell'adattarsi ai nostri orari di arrivo e partenza che nel fornirci indicazioni appena arrivati. Anche tutte le volte che le abbiamo scritto o telefonato per avere suggerimenti o precisazioni pratiche, ha sempre risposto immediatamente e con grande gentilezza. La casa è anche meglio di come appare sulle foto ed era davvero completa di tutto. Si trova in una via chiusa, in cui i bambini hanno potuto giocare in tutta tranquillità con altri bimbi delle case accanto. I vicini delle altre case sono molto gentili, ci siamo sentiti proprio accolti. La spiaggia davanti a casa è piccola, ma l'acqua sempre pulitissima e tranquilla; poco più lontano ci sono spiagge più grandi, che abbiamo trovato poco frequentate nonostante il periodo (primi 15 giorni di agosto). L'unico appunto è che il mare, bellissimo, è sempre un po' freddo, e noi che non siamo tanto abituati abbiamo fatto un po' fatica a stare in acqua. La zona, però, è perfetta per escursioni dia verso sud che verso nord: oltre alle vicine Marsala e Mazara del Vallo, abbiamo visto Mozia, Erice, Segesta, Selinunte, le saline di Trapani, le spiagge di San Vito Lo Capo, tutto a un'ora al massimo da Petrosino. Il paese in sé non è molto turistico e le iniziative serali in piazza sono piuttosto semplici e non sempre organizzatissime, ma per una famiglia con bambini non è un grosso problema. Per chi volesse qualcosa di più turistico, ci sono località vicine. Insomma: assolutamente consigliato!
Chiara
2016-08-16T00:00:00Z
Room Type
Entire home/apt
---
Property Type
House
---
Accommodates
4
---
Bedrooms
petrosino, Trapani, Italy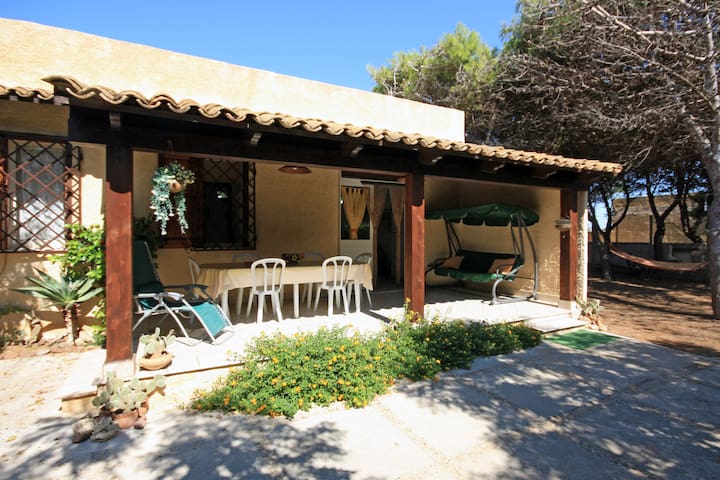 nel cuore di selinunte affittiamo luminoso bilocale composto da ampia cucina con meravigliosa vista sul mare, bagno, camera da letto, soggiorno con divano letto, zona lavanderia. l'appartamento è interamente arredato ideale per una famiglia
The apartment has a great view on the sea, it is so near that you can hear its sound while sleeping with open windows! Good position to visit both the beach and the temples. Everything is functional and well arranged, the space was a bit bigger than imagined. Even though the place was perfect for our needs, please notice that if you have bad knees or a physical disability, this is probably not the right place for you: access to the apartment is through a narrow spiral staircase. The host was responsive, and we were welcomed nicely by her mom.
Stefania
2016-07-09T00:00:00Z
The host canceled this reservation 24 days before arrival. This is an automated posting.
Luca
2016-07-10T00:00:00Z
Perfect for a couple of days. Close to everything you need. Sabrina is a friendly host. Beautiful scenery, good food! Who needs more?!
Hans
2016-09-16T00:00:00Z
Alloggio spazioso e centrale ma non molto adatto a soggiorni invernali. Accesso alla casa tramite scaletta a chiocciola. Sabrina è stata sempre disponibile e molto cortese.
Francesca
2017-01-05T00:00:00Z
Abbiamo soggiornato 5 notti presso l'appartamento di Sabrina, siamo una famiglia di 4 persone, l'appartamento rispecchiava in pieno le immagini fornite, grazioso e confortevole nell'arredo. In pieno centro, vicino a bar e a ristorantini sul lungomare. La spiaggia bellissima, con le rovine di Selinunte che fanno da scenografia spettacolare. Lo consiglio vivamente!
federica
2016-07-25T00:00:00Z
sabrina e' persona molto disponibile e accogliente
Marina
2016-09-11T00:00:00Z
Logement conforme aux photos, bien situé, superbe vue sur la mer. Logement bien équipé (il nous a juste manqué un tire-bouchon!!!) Logement propre. Remise des clés très bien passée.
Marie
2016-06-09T00:00:00Z
Room Type
Entire home/apt
---
Property Type
House
---
Accommodates
4
---
Bedrooms
Marinella, Sicilia, Italy