The suite is a fully equipped kitchen, bath, two bedrooms, and a living room. In the bedrooms, a King bed in one, and a Queen bed in the other - the living room has a gas fireplace and two sofa beds. Just outside a gas fire pit and seating.
Jim's suite was really spacious, clean and inviting. The gas fireplace kept the whole place nice and warm, and Jim was a very attentive host, periodically checking in to make sure we had everything we needed. There was coffee, cream, sugar and popcorn; there were DVDs, board games and even crayons and colouring books -- perfect for our toddler. Location-wise, this can't be beat for access to Manning Park's attractions (5 minutes to Monument 83; 15 minutes to Cambie Creek; 2 minutes to the trails behind Jim's). Another nice thing about the location: just in cell range for Telus users. Enter Manning and it disappears. I whole heartedly recommend booking here; I hope to be back soon!
Mark
2017-02-26T00:00:00Z
Jim is thoughtful and accommodating! We hope to stay again.
Luc
2016-12-27T00:00:00Z
Jims suite was clean and very comfortable. It was larger and nicer than i expected. I had a great time. Jim eas very kind and helpful and checked in with us everyday to make sure everything was good. Thanks Jim
Natalie
2016-12-18T00:00:00Z
The accommodation was clean, warm, cozy and peaceful. It is a beautiful setting and Jim was very attentive to our needs. Would recommend his place if you are holidaying in Manning Park.
Gary
2017-02-19T00:00:00Z
We had a beautiful visit and Jim made us feel so welcome and comfortable. The skiing, skating, sledding & snow shoeing were all superb and the conditions were out of this world. Jim's cabin was perfect for me & my family.
Richard
2017-01-22T00:00:00Z
Had a very enjoyable stay at the apartment, which started by being greeted by Jim and his wife as we arrived. He gave us a quick tour and made sure we were all set for our weekend stay. The apartment is very spacious and well equipped with all you would need for your time there. We were all very comfortable and had lots of room for our family of four. The location is excellent if your planning on going to Manning park. It took only 10 minutes from the front door to get to the parks resort and then another 10 to the ski hill. Perfect after a long day playing on the slopes. I would stay again and have no problem recommending it to others. Thanks again Jim.
Charles
2016-02-29T00:00:00Z
Awesome stay with a super friendly host! Nice to have an affordable quiet place to base out of for the skiing at Manning Park.
Devin
2017-03-05T00:00:00Z
This is a tricky review to write. The location was lovely, the place was very spacious and clean but the host was not around and we were unable to reach him by phone so when we ran into a few issues, it was problematic. I think it would be a great place to stay providing the host was more accessible as, based on our interactions prior to our stay, he seemed helpful and I presume would have been able to deal with the issues that arose - i.e. the door would not lock and it was freezing in the house despite the heaters.
Mindy
2016-07-08T00:00:00Z
Room Type
Entire home/apt
---
Property Type
Flat
---
Accommodates
6
---
Bedrooms
Eastgate, Manning Park, BC, Canada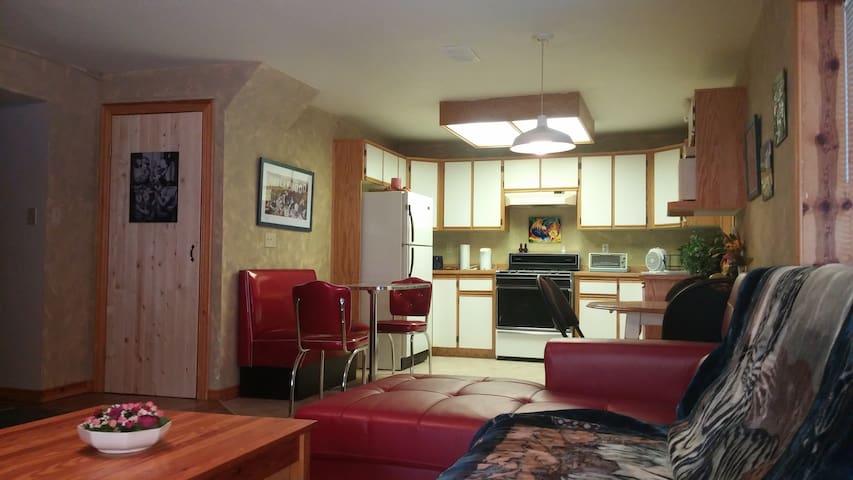 My place is good for couples, solo adventurers - includes Hot Tub! 2016-2017 Season- December 3rd 2016 to April 2nd 2017
Welcome to Apex Mountain Resort Located a short 30 minute drive from Penticton, BC, Apex is a full service destination resort known for the lightest champagne powder snow, incredible terrain, and friendly people. Apex being located in the heart of the Okanagan Valley, features the perfect mix between large amounts of precipitation and low humidity that makes for the lightest champagne powder snow imaginable. Apex Mountain Resort is known as a family friendly mountain that has a wide variety of terrain for everyone. From steep chutes to wide open bowls and glade skiing to some of the smoothest groomers around the terrain is one of the reasons people love Apex. With 2,000 feet of vertical and one of the chairs being a high speed detachable quad that gets you to the top in 6 minutes the amount of vertical you can ski in a day will out last your legs. Over 75 runs that are marked and another 40 runs that are unmarked allows you to seek out the hidden gems that make Apex famous. Apex Mountain Resort is the only mountain in the Okanagan that faces North and East which means those beautiful powder snow crystals are not affected by the sun and our famous light dry powder snow can be found days after a snowfall. In addition to the amazing natural terrain Apex has 4 Terrain Parks, a World Cup mogul course, an Aerial Site and world class training venue for Slalom and GS racing. There's more to do than ski or snowboard. The World famous Gunbarrel Saloon and restaurant is the most happening apres scene around. The Edge Bistro has the best coffee around, grab one to go and have it on the chair! You will also want to check out their home made wraps, soups and sandwiches and pizzas to keep you fueled throughout the day. The Trading Post is a full service Liquor Store and has all of the necessities you need so you don't have to get back in your car until you leave. Apex has a Tube Park with two lanes accessed by a 500 foot long Magic Carpet to get you back into the fun. Night skiing is available from 4 pm to 9 pm on Friday and Saturday nights and during the holidays. New snowshoe trails and rentals are now available to explore the beautiful scenery surrounding the resort. Ski-in Ski-out Accommodation: There is a wide variety of Ski In Ski Out accommodation available to meet every budget. Go tot he Accommodations link at the top of the page for more information on how to stay right on the mountain. The Forecast for this season is a La Nina winter. A La Nina winter means a colder and wetter winter than average and that equates to an awesome snow year! Don't miss out on an incredible season. Last season was epic and the forecast is even better for this season! We welcome you to come and experience Apex Mountain Resort, you will be glad you did. 2016-2017 Season- December 3rd 2016 to April 2nd 2017
Raymond and his wife were great hosts. They are usually quick to respond and extremely helpful and easy to work with. Their place is pretty great too. The Pros: It has a cozy cottage feel with an amazing view of the mountains. The place was fully stocked with all the little necessities and a full kitchen. It is very clean and well kept. The heating works great and all the appliances work well. The full kitchen is very handy for foodies who cook. The view is amazing!! The private hot tub really hits the spot after a physical day up in the mountains. The hot tub works perfectly and the jets are a good strength. Overall fairly spacious area. The Cons: Had to deal with a last minute price increase after booking months in advance. But they were kind and gracious about the whole thing. Walls are pretty plain. Bed and couches are not very comfortable. We preferred laying out their comforter and pillows on the ground in the living area for our backs and sore muscles. Lid to the hot tub works well but is a little awkward to lift off and doesn't have a spot to set aside where it's not in the way. No tv and no wifi. Arrived to find out it's Not actually a ski in/ski out. Place is about 8 - 10 min walking distance. Depending on weather and conditions. Area seems to have mix of locals and visitors. Noise level is usually low unless there are families with children staying close by or out and about. But the sound is mostly shut out with the window and glass door closed. Overall if your like my partner and I who know how to appreciate and make the best of things this place is great. For the price we got and moments we shared in it the experience is one to remember. I think we'd stay again if the price worked for us in the future.
Vincent
2017-03-30T00:00:00Z
Thank you so much for letting our family to stay at your condo .We had a great mini vacation .Your place has everything what needed for our stay .Its small and cozy , nicely located right in the skiing village .Has a nice view of the mountain.Hot tub was really a bonus after all day of skiing . Also thank you for quick respond on our texts and phone calls .You are very good host :)
Victoria
2017-02-13T00:00:00Z
Raymond's place was quaint, walking distance to village amenities and a home away from home. We enjoyed the hot tub after our days spent skiing, snowshoeing and skating. Thanks Raymond! Lynn
Lynn
2017-03-02T00:00:00Z
My fiancé and I went away for the weekend and it was perfect! We loved the hot tub and the view from the place. It is a small walk to the village and there is also snow shoes to use and lots of amazing trails. Was a great relaxing weekend and Raymond was quick to respond to any questions we had. Thank you!
Harjot
2017-01-15T00:00:00Z
The Apex suite was clean, organized, and had a great view of the mountain. Check-in/out was smooth, and Raymond was really accommodating with regards to questions/requests.
Daniel
2017-02-06T00:00:00Z
Nice and quaint place to stay. Has everything you need and is a close walk to the ski hill and shops. Has all the furnishings needed and the kitchen is well equipped. The place can sleep four but was quite nice for two people although four would also be comfortable. I would stay again and would recommend to others.
Sue
2017-01-29T00:00:00Z
The host canceled this reservation 5 days before arrival. This is an automated posting.
Allison
2017-01-26T00:00:00Z
very awesome place, perfect for a weekend getaway. Hot tub is amazing!
Minxing
2017-04-02T00:00:00Z
Room Type
Entire home/apt
---
Property Type
Flat
---
Accommodates
4
---
Bedrooms
Hedley, BC, Canada
Apex Mountain
Great place to stay at Apex. Easy walk to the main lodge and lifts. Very clean unit and easy to communicate with Jodie.
James
2016-12-17T00:00:00Z
Jodie was very friendly, helpful, and easy to reach. Place is spacious, well furnished, and extremely close (5 min ski/walk) to Apex Mtn lifts. Would definitely stay again.
Braeden
2017-03-26T00:00:00Z
Room Type
Entire home/apt
---
Property Type
Flat
---
Accommodates
4
---
Bedrooms
Hedley, BC, Canada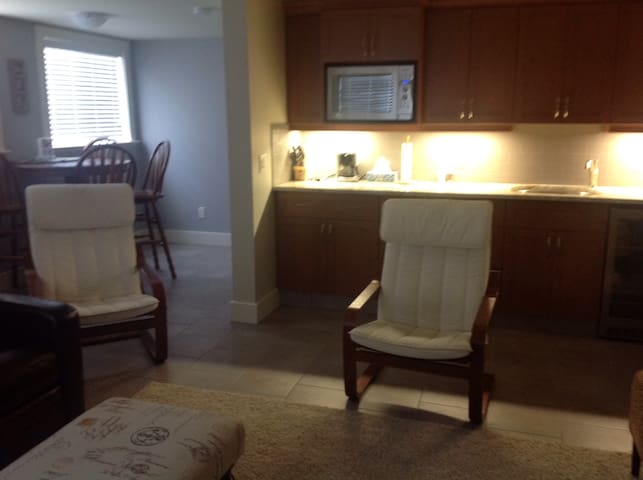 Right near the village 2 minute walk to the hill 3 bedroom 3 bathroom hot tub and fireplace
Great place to rent. Quiet location, short walk to the town centre, everything we needed for a great family ski vacay! Would rent again for sure.
Lori
2017-02-13T00:00:00Z
Great place, lots of room, nice view of the ski hill. Clean and comfortable. Enjoyed our stay.
Dean
2017-03-24T00:00:00Z
Brandon's place is very comfortable and feels like a home. It was a great place to kick back and relax after a day of skiing with the kids. Loved the hot tub!
kat
2017-03-13T00:00:00Z
Good place for a ski stay, only 5 min walk to the lift. Nice Hot Tub and Fireplace, but no internet/wi-fi
Heiko
2017-02-22T00:00:00Z
Brandon was super responsive to any question that we had- the location was great, super close to village and lifts! The condo was well stocked- we had a great time
Debbie
2017-03-06T00:00:00Z
Brandon's condo was cozy and homely which made us feel instantly comfortable for our weekend up the mountain! Brandon responded to all our questions quickly and friendly. I would recommend Brandon's place to anyone!!
Michelle
2017-01-22T00:00:00Z
The location is great, it's within walking distance of the village. The apartment is really nice, it has a beautiful view and it's so spacious! Only four of us stayed there and we had tons of room. The host answered all of my questions in a timely manner! We would all definitely stay there again.
Brittany
2017-02-17T00:00:00Z
Nice place to stay, well-equipped, roomy enough for our 3 kids. Good location, although not exactly easy to walk to ski slopes, and no wifi.
Jennifer
2017-03-29T00:00:00Z
Room Type
Entire home/apt
---
Property Type
Flat
---
Accommodates
6
---
Bedrooms
Penticton , Bc, Canada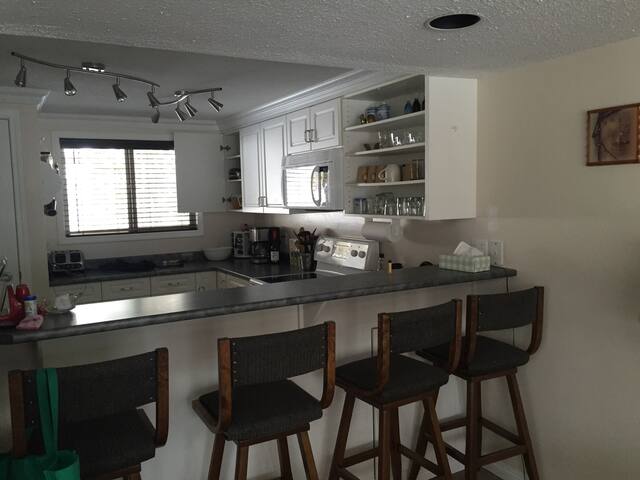 Washer & dryer provided in the unit as well. Electric fireplace, DVD player, satellite TV and wireless internet. There are 4 beds (1 double futon in the living room, 1 double lower bunk with single upper bunk and 1 queen bed). The base rate= 6 adults
This 2 bedroom, 1 bath unit at Apex Ski Resort, just outside of Penticton, has everything you need for a relaxing holiday - in snow or sun. Ski in/ski out or a quick drive to hidden lakes up above for some fishing. Deck with hot tub and outdoor speakers; listen and watch the hockey game from the hot tub after a day of skiing in powder, nothing beats it! Try snowshoeing, skating on the outdoor loop, playing hockey on the outdoor rink, tubing at the Tube Park, cross country skiing or hiking, mountain biking, dirt biking and quading in the summer. Washer & dryer provided in the unit as well. Electric fireplace, DVD player, satellite TV and wireless internet. Perfect for families......Board games, booster seat, stool and kid's table. Very clean!
Friendly, central location without the noise of night life in when in the Village.
We really enjoyed our stay at this home in Apex. It was clean, cozy, well-supplied and very conveniently situated. We would definitely stay there again if we go to Apex again!
Cheeying
2015-01-18T00:00:00Z
Room Type
Entire home/apt
---
Property Type
Flat
---
Accommodates
6
---
Bedrooms
Keremeos, BC, Canada
Enter dates to see full pricing. Additional fees apply. Taxes may be added.