Para el verano y el mínimo período de construcción independiente 2 notti.Piccola en la ciudad de Pontepetri, zona montañosa de la provincia de Pistoia. Antigua estación de ferrocarril de alta Pontepetri Pistoiese, tren de la montaña (ver Wikipedia Estación-Pontepetri).
La casa está completamente entrada independiente y exclusivo de la ruta provincial de Módena, no está equipado con calefacción, que cuenta con una chimenea. La casa consta de una habitación y altillo de usos múltiples con una cocina, un servicio de aseo con ducha. max 4 personas de capacidad. Tiene el patio exclusivo en tres lados del edificio, en la parte posterior está instalado Bozzino para enjuagar.
La estructura es característica y es parte de la antigua estación de tren de las montañas de Pistoia. -FAP - Línea de Alta Pistoiese Está equipado con Wi-Fi Se puede cocinar comidas rápidas.
Room Type
Entire home/apt
---
Property Type
House
---
Accommodates
4
---
Bedrooms
Pontepetri -San Marcello Pistoiese, Pistoia, Italy
"Le Panche" is an Inn since the Middle Ages. It is located in a land rich in nature, art and traditions. The history of this "Inn" is lost in ancient times, when pilgrims from Northern Europe stopped here, along the banks of the river Reno, on their way towards Rome. We restored it in 2010 in order to make it a cosy and comfortable place, though maintaining its original character and charm.
Spacious and bright, facing South with views towards the river, the studio Glamour is decorated with seductive colours, a touch chic and modern design. Suitable for couples or small families, each studio apartment is provided of a double bed, a small-double sofa bed, satellite TV and free Wi-Fi. The private bathroom has shower, bidet, hair-dryer and toiletries. The kitchenette is equipped with two induction elements, refrigerator with freezer, espresso machine and mocha coffee maker, mini electric oven, kettle, dining table with 4 chairs, pots, plates and cutlery. Rental prices include all taxes and fees, heating, weekly changes of sheets and towels, as well as the final cleaning.
The Old Inn is located in a green valley in Northern Tuscany, near the town of Pistoia. This is a perfect location to enjoy the Apennine's environment and to reach Tuscany's main destinations (Florence, Lucca, Pisa and the Versilia riviera are within an hour drive distance). It is also conveniently positioned with respect to the Abetone area's ski slopes and to the international airports of Pisa, Florence and Bologna. How to reach us from Pistoia's "A11" highway exit: follow directions to Modena or Abetone. Drive along the SR66 road for about 15 km. You will find the property's parking on your right, just after a Tamoil petrol station. Services in the surroundings: other restaurants, supermarkets, shops, bakery, butcher, banks, pharmacy and more services are located in the immediate surroundings of the inn (within 5 km). We will be glad to provide you all the useful information at your arrival.
Room Type
Entire home/apt
---
Property Type
Flat
---
Accommodates
3
---
Bedrooms
Pistoia, Toscana, Italy
Pistoia will be Italy's Capital of Culture for 2017. LONELY PLANET - Best in Tavel 2017 top cities, Pistoia in sixth place. Posto ideale per visitare la Toscana e tornare a godersi il relax della montagna.
My flat is located in a small village, Pontepetri, in the Apennine mountains of Pistoia, in the municipality of San Marcello Pistoiese, not far from the city of Pistoia. Other cities like Lucca, Florence, Modena and Bologna are also easy to reach, thanks to a recently renewed road network that connects the Toscana to Emilia Romagna. Public services are available, like a bus from Pistoia to Abetone that stops in San Marcello Pistoiese or a train that stops in the nearby Pracchia. Pontepetri is at an altitude of 700 meters, surrounded by the green of the trees and the lawns and the ideal place for a relaxing vacation or where to return after visiting the beautiful cities of the region. A shop, a bakery and a bar-restaurant will provide you with anything you may need. I regard my little flat as a "nest" where, in winter, you can pass a cozy evening in front of fire of the oven and, in summer, relax in the cool mountain air. It is tastefully and refinedly furnished and has every comfort: washing-machine, dishwasher, TV with DVD and a parking place in front of the house. The highlight of this apartment though is the small roof terrace looking onto the square with the church and the stream Maresca. A great celebration is hold on July 24th, the Sant'Anna day, and you can watch the firewoks from the terrace, where you may also eat, hidden from indiscreet looks, while enjoying the surrounding panorama with the background sound of the murmur of the stream. The kitchen is well equipped with crockery and pots so that you can cook your companion's favourite dish but, if you prefer, I can arrange an agreement with the restaurant, in order to have tasty meals brought up without need to bustle about in the kitchen. The flat is ideal for a couple or a family with children since there are 4 comfortable bed places: a "very romantic" double bed on the intermediate floor and the sofa in the lounge may become a second double bed.
We had a great stay in The lovely apartment of ferdinando! A nice uphill town nearby various wonderful places in tuscane. A warm welcome by his mother and sister with a fridge filled with a cold wine and pasta pesto ingredients made it The best start of our holidays. Would love to come back!
lisa
2015-07-31T00:00:00Z
Put simply: we had a SPECTACULAR time in this apartment/community and Ferdinando was a PERFECT host! We found the apartment itself really well-suited for a couple. It's very well-equipped and thoughtfully organized. The loft-bed was very comfortable/cozy, the light was wonderful, the balcony was stunning (offers a view of the bell-tower of the small church, the forest, the terra-cotta rooftops... there are potted plants, it's sheltered from the rain, the morning and evening sun is lovely...). The bathroom was beautiful/shower was great. It really was perfect. The surrounding amenities were also wonderful. The butcher at the corner was amazing, there is a great bakery, and the pizzeria/resto/cafe/bar/social-hub (can't remember the name) was our favourite (tartufuta pizza was... wow). Note: The community happened to be celebrating its patron saint (Anne) the weekend we stayed (July 26), and, because we both love participating in these kinds of festivities, it was a treat to be there when it was happening; we were shown great insight into how tightly knit the community is. With a very small population, it was otherwise a VERY quiet place to be, and our assumption is this would be what it's like outside of this particular weekend... if quiet, peaceful solitude in a proud little community is what you're looking for just an hour or so outside of Florence, this is a great spot. If you're looking for a bit more of a party, book the weekend of July 26 ;) We sincerely hope to return! Fully recommend!
Melanie & Paul
2014-07-28T00:00:00Z
Ferdinando and his mother welcomed us around 20.00 in the evening. This was by far the best appartment we've stayed. It was comfy and we felt at home immediately. All the essentials we're available in the house. We had milk, coffee, tea, pasta, wine, and many other things. The appartment is located in a very small town in the hills in Tuscany. We've had lunch and dinner in the local restaurant and the pizza's we're amazing. The locals even treated us as 'family'. We felt at home here. As you can see from the pictures: it is very rustic and views of the mountains are nice. Lucca, Firenze/Florence, Pistoia, Pisa, and Siena are all close (within 1-1.5 hours driving) and Ferdinando told us where to park (free) or easiest way to reach (car/metro/train). I will definitely come back to this appartment: either for a week of complete rest or as a perfect retreat to visit the major Tuscan cities. Ferdinando, thanks for having us! Tom
Tom
2014-10-11T00:00:00Z
We had a wonderful time in this apartment. It had everything we needed. The fridge was stocked with food and drink. The apartment was clean and comfortable. Beautiful location. Many walking paths near by. Highly recommend
Sarah
2015-07-16T00:00:00Z
Very nice appartement in the nearly mountains of pistoia. Wine and food at our arrival, ferdinando is a great host !! The appartment has absolutely everything to spend a perfect holiday.
Sébastien
2016-10-29T00:00:00Z
Ferdinando, It was a big chance to know you by airbnb. It was our first time in Toscan but not the last, it's sure :) Thanks to you, we had a possibility to spend a great holiday. Your studio in this little village is a paradise! Wonderful place, silence, mountains and forest, it was exactly what we were looking for. Your studio is super clear and very well furnished. We found everything what we needed, like in our own home. We would always meet people so kindness like you :) See you next time :(URL HIDDEN)Kinga&Tomasz
Kinga
2016-06-26T00:00:00Z
We arrived to a fire in the stove, a bottle of wine and a smiling host; what more could you ask for?! Lovely little village and a wonderful cosy space, just watch your head in the bed and make sure you are prepared for narrow Italian roads. Great place for a quiet, relaxing getaway.
Catherine
2015-03-20T00:00:00Z
Nice cozy place in an old village. The village has a very strong community feel where everyone know everyone...we had a great time. My wife and I just needed a get away for a couple of days from work and his was perfect!
Ryan
2013-11-05T00:00:00Z
Room Type
Entire home/apt
---
Property Type
Flat
---
Accommodates
2
---
Bedrooms
San Marcello Pistoiese, Tuscany, Italy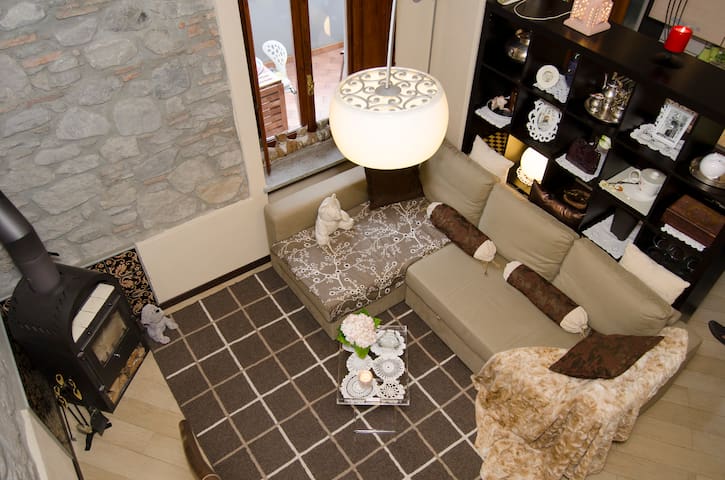 La sistemazione è situata a 730 mt sulle montagne dell'Appennino, nel comune di San Marcello Pistoiese. E' dotata di un ampio giardino privato (ideale per animali domestici) e zona barbecue. Un alloggio adatto a chi cerca tranquillità e relax cullati dallo scorrere del fiume e un ottimo punto di partenza per escursioni nell'Appennino Tosco Emiliano o per muoversi alla scoperta delle meraviglie di Pistoia (Capitale della Cultura 2017) e di alcune tra le più suggestive località della Toscana.
The host canceled this reservation 24 days before arrival. This is an automated posting.
lucy
2017-01-03T00:00:00Z
Abbiamo utilizzato l'appartamento di Alessio come appoggio in quanto molto vicino alla zona dell'assistenza del rally degli abeti. La casa è molto accogliente, grande e pulita. Tutte le stanze affacciano sulla valle e il panorama è rilassante. La zona tranquilla ma ben servita dai mezzi pubblici e attività commerciali rendono questo alloggio un buon luogo per passare qualche giorno immersi nella natura o come punto.di partenza per visitare l'appennino pistoiese.
Adriano
2016-06-06T00:00:00Z
Ho sentito Alessio solo telefonicamente ed è stato molto disponibile. Ci hanno accolti i genitori, anche loro davvero molto disponibil ie cordiali. L'appartamento è spazioso e ben tenuto e ha soddisfatto tutte le nostre esigenze; è in una zona tranquilla lontano dalla confusione. Esperienza molto positiva
Roberto
2016-10-05T00:00:00Z
La casa é in un punto molto silenzioso, é spaziosa e offre tutto quello che é necessario x soggiorni di breve media e lunga durata...l'ospitalità del proprietario ottima!!!
Valeria
2016-11-05T00:00:00Z
Posto caratteristico, pulito e persone molto accoglienti Ottimo rapporto qualità prezzo
Emiliano
2016-10-02T00:00:00Z
Nonostante l'impossibilità di visitare gli immediati dintorni, in quanto il motivo per il soggiorno di un'unica notte era per partecipare alla fiera di Lucca Comics & Games, la zona ci è sembrata tranquilla e dotata di ogni necessità anche per un soggiorno più lungo. L'appartamento si è dimostrato conforme alla descrizione riportata nell'annuncio ed accogliente, con un ottimo rapporto qualità/prezzo. Ottima anche la disponibilità dell'host e dei suoi genitori: il primo è stato celere e chiaro nell'accordarsi per varie questioni, i secondi sono coloro che ci hanno accolti all'appartamento, dimostrando gentilezza e cortesia.
Gabriele
2016-10-30T00:00:00Z
La comunicazione con Alessio è stata puntuale ed i suoi genitori sono stati simpatici e disponibili. L'alloggio si trova sulle colline pistoiesi ed è una classica casa di campagna. La stanza è spaziosa e pulita, come il bagno. L'arredamento è quello "della nonna", che dà un tocco intimo alla casa. Il contesto è molto silenzioso e naturale, consigliato per chi vuole avere un po' di relax o una base strategica per escursioni nella zona.
Luca
2016-10-31T00:00:00Z
Host molto disponibile, appartamento pulito ed ordinato, non è all'ultima moda ma adatto per pernottamento di una notte post lavoro. Check in e check out molto flessibili (nota positiva) ottimo rapporto qualità prezzo
Laura
2016-11-01T00:00:00Z
Room Type
Private room
---
Property Type
Flat
---
Accommodates
2
---
Bedrooms
Campo Tizzoro, Toscana, Italy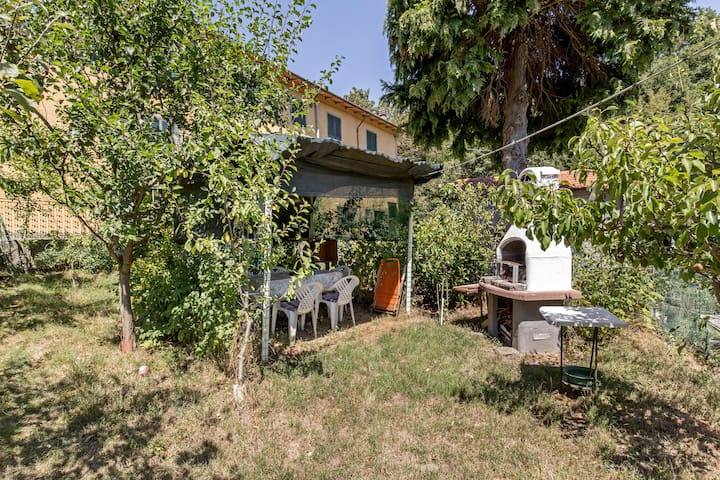 A house to relax. A garden open on the valley and the pleasure to hear the silence, without any noise of traffic. Feeling safe sleeping with windos open on the starry night. Relaxing and cool sleep even in a torrid summer. The house of the dinner under the pergola with a lot of friends and relatives.The house of the birthday parties, the house of the big Christmas trees in the garden, of the fruit trees planted after the birth of a newborn baby, of the chestnut tree "saved" by our granpa ...
Since 1972 this house has been our holiday and weekend home. We restored it step by step with our hands and the co-work of old friends and relatives and later furnished with care. Its awesome position on foot of a small group of houses laid on the hills around Pistoia allows to enjoy a terrific view and above all to enjoy a complete privacy and peace having no houses or gardens around. The acces to the property leads through a small gate into the terrace shadowed by a pergola just in front of the house. On the right side of the house there is a spacious garden with a big fir tree in the middle. Here you will find a corner with a barbecue and big pizza oven for unforgettable pizzas and meat roasts! The houses stretches on 2 levels. On the first floor: a sitting room, a dining room with fireplace and a complete furnished kitchen with dishwasher, fridge (medium size with freezer), electric oven and ceramic hob, toaster and electric kettle. On the upper floor there are 2 double bedrooms: a bigger one with double bed, chester of drawers, wardrobe and 2 easy-chairs. A second smaller bedroom with a double bed (or 2 single beds) with a mini toilet (washbasin and wc), a wardrobe and a chest of drawers. A third single bedroom will be closed and won't be at guests# disposal. The awesome position of the house requires a minimal effort: you must leave your house on the road together with the other ones and walk about 60 (sixty) meters on a paved path to reach our gate.
Our house lays on the hills near Pistoia together with a handful of houses. This group of houses is called "Casaccia" and it is all year long inhabitated by 5 families. 3 more families live their homes only as weekend houses. The nearest village is Piteccio (3 Km). Here you will find a grocery store with backery, a pharmacy, post office, 2 bars, a doctor, catholic church and the bus stop (bus nr 25) to reach Pistoia.
Room Type
Entire home/apt
---
Property Type
House
---
Accommodates
4
---
Bedrooms
Piteccio, Toscana, Italy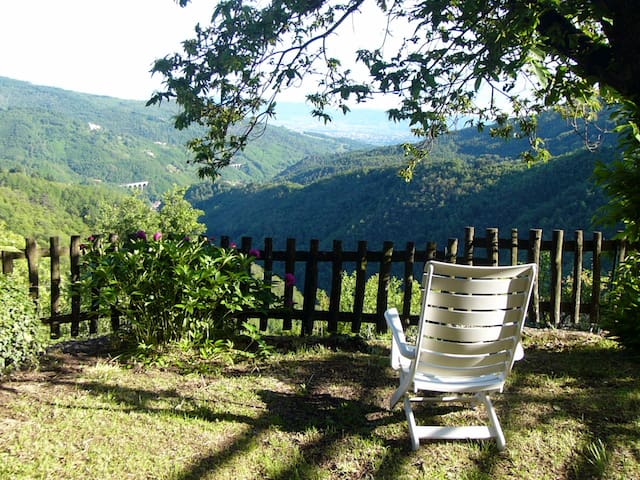 This small rustic typical 16th C Tuscan house is set up an accessible mountain road, south-facing and providing stunning mountain views overlooking the nearby town of Pistoia. In a small hamlet, the house has a a large double and a single bedroom, and in the 1st floor sitting room a double sofa bed and a spacious shower room with bidet, and a study with outstanding views. On the ground floor a newly fitted kitchen/diner and a large terrace with a table, chairs and parasol for al fresco dining.
The house is set over 3 floors, with a kitchen diner and terrace on the ground floor, single bedroom, shower room and sitting room on the next level, and on the top floor the master bedroom with home office and half bath.
The house is set in a group of 4 houses, 500m up overlooking the city of Pistoia, just 8 km away. Pistoia is a special town, a hidden Tuscan gem but known for its music festivals, restaurants and 3rd century historical centre. And you are just 25 minutes from Florence. In the nearest village you have a pharmacy, post office, bar and village store, but for bigger shops, Pistoia is just 5 km away.
Room Type
Entire home/apt
---
Property Type
House
---
Accommodates
5
---
Bedrooms
Pistoia, Toscana, Italy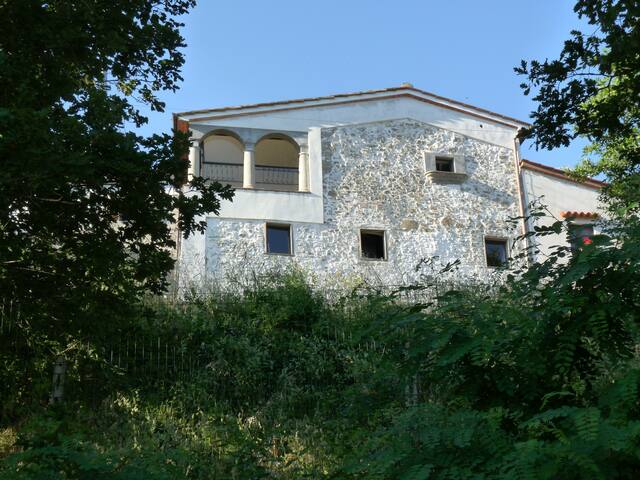 Lovely home for 2. Enjoy olive trees and forest view, out of romantic arch windows. Taste a shower with sun panel hot water. Play with full kitchen. Have your dinner on the terrace in front of your door. Sleep deep in the peace of our valley.
On Tuscany hills, among the old olive trees and the forest of a green silent valley overlooking the town of Pistoia, you can enjoy a very good lodging in an old farmer house dated 1700'. The house has been refurbished taking care to preserve ancient outside walls made with stones and bricks, and to renew inside for the contemporary comfort you need to enjoy a relaxing holiday. You'll sleep in the quite atmosphere of a little old farmer village and from your windows you'll have the view of the olive fields, of the "one thousand years old" church and bells tower, of forests climbing to the top of surrounding hills; and of Pistoia city more far away at the bottom of the valley. Your apartment has a detached entrance and proposes also inside the seduction of traditional Tuscany materials: walnut wood, furnace bricks, white ceramics, natural stones, antique furnitures. This apartment is a little Penthouse, with big windows, a lot of light, nice view, romantic atmosphere, perfect for a couple. At garden level you'll enter a living room with a kitchen side, well equipped to cook your favourite foods. A short stair reaches the bath room, very comfortable with a wide shower. Hot water is produced with solar panel, helped with modern condensation gas heater, when necessary. Few more steps access to the bedroom: comfortable double bed in the center of wood and stones room, with two windows watching out to olive trees fields and the forest on the opposite side of our valley. Sheets and towel and table dressing will be provided for you. Ordinary final clean is included in prices. Discounts applied for weekly stay. At Podere Uliveto you can relax on terrace or walk in the olive fields and in the forests, or reach the local country reastaurant on top of the valley. Ladies can decide to learn the basic of Tuscan embroidery by our neighbour who is a proper teacher... Or you can visit the lovely historic city center of Pistoia town, 15min away from your door by car. Florence city is one hour away, if you use the near train station and forget about car traffic. In less than one hour you can reach the 2000m high mountains of Abetone, or the seaside of Viareggio, or other interesting towns like Pescia, Lucca, Pisa... Our location allows you to choose many other famous historic towns like Siena, San Gimignano, Volterra, Arezzo that you'll be able to visit in daily excursions with your car. If you don't like to drive a car, you can arrive to Uliveto with public bus from Pistoia. Write your need in PRIVATE MESSAGES before booking and we'll reply shortely!
We are in the center of Tuscany intersting area. Pistoia is not a "full of tourist" town, but it has a great history, and beautiful ancient square, churches and buildings. Florence city center is 1 hour from our door if using the train. Pisa and Lucca and other historic towns can be visited in one day. Many seaside beaches are 1 hour drive away. Mounts and forests of Abetone are also 1 hour drive away...
Very nice place up in the montains with stunning views
Barnabas
2017-03-16T00:00:00Z
What a memorable spot! The view, the cozy apartment and a wonderful welcome from Giorgio and his mom made this our favourite place! The apartment was newly renovated. We liked the cozy decor and spacious shower. Each morning we woke up to amazing views and birds chirping outside. Since we were up in the mountains, at night we enjoyed the view of Pistoia city lights which was just 15 minutes away, and the surrounding mountains. We also loved the fireflies!!! Each night felt magical! Thank you Giorgio for a very warm welcome and all the tips and suggestions for nearby attractions and restaurants! The focaccia from a bakery in Pistoia was simply delicious! We went there each morning before embarking on our sightseeing adventures.
Monika & Marcin
2014-06-03T00:00:00Z
Giorgio and Cristinas 'Uliveto' was unbelievably better than the photos (which are pretty good). The 1300's home is completely renovated and the quality of the work is impeccable. The space is a little tight but very efficiently designed and very tastefully decorated. The view is breathtaking. The home is situated high above Pistoia overlooking Giorgio's olive and fruit tree orchard. The bed super comfy, great shower, well tooled kitchen. Giorgio is a gracious host, offering a wealth of knowledge about the area and his families history in Uliveto, along with maps, books and brochures on just about anything your passion drives you to do in Tuscany. We greatly enjoyed his company. Next time we hope to meet Cristina too! The space we were in has a staircase, however they also have a handicap access rental available
Larry
2015-10-31T00:00:00Z
Our stay at Uliveto is what we will remember most about our first trip to Italy. More than the cities and historic sights, we will fondly remember the peaceful tranquility, the views of the hillsides and Pistoia below, and our little chats with Giorgio. Giorgio was a perfect host - generous and hospitable. He was welcoming and friendly from the moment we booked, to the moment we said farewell. Several times during our stay we were greeted with a basket of plums and pears; and a basket of lettuce, tomatoes, cucumbers, onions and zucchine - that he had just picked. There is nothing like a salad made entirely from freshly picked vegetables, topped with Giorgio's own olive oil. Unbelievable! We enjoyed and appreciated it all, and we would love to return on our next trip to Italy. The apartment and the surroundings are more beautiful in person than the pictures could even try to depict. We were very lucky to have had the opportunity to stay there. Thank you again, Giorgio and Cristina! A presto!
Jeff
2016-08-02T00:00:00Z
Giorgio & Christina and their place Uliveto is a remarkable experience for us. We stayed here a month, and during our stay Giorgio and Christina have treated us more than as hosts to guests, but like friends and family. Their hospitality was really more than a person could expect. Many goods were given to us with such a great smile, and we shared some very interesting conversations. They always offered a ride with them to town (we came with no car and it's super easy), and also kindly came to take us from train station! The bus is comfortable, and if you'd like to stay here without a car, but still travel to Pistoia and other places- you have no problem at all! We can't tell enough about Giorgio and Christina's generousity and kindness. They just want to give and give! Everything you need is here, you are taken care of and of course have two very good friends to talk to. The apartment itself is just perfect. Tidy, clean, beautiful, newly renovated and still remains it's unique old charm, and has everything you need. The view from the porch is unbelievable, and also the surroundings, which Giorgio would love to tell you about, are so lovely. Uliveto is a little piece of heaven... We enjoyed so much picking olives together and tasting the amazing olive oil! We can't thank you enough for a perfect stay! Your place is a dream coming true and we would never forget it!
Sivan
2015-11-06T00:00:00Z
We have had a great time at Giorgio & Cristina's. The place is beautiful and Giorgio provided us with good advice and material for hikes, restaurants and other activities. Additionally they surprised us with fantastic home-made jam, cookies and wine (and some stronger stuff for the last evening ;)). And when we ran out of coffee or forgot to buy cinnamon they were always willing to help out. The place is very quiet and beautiful. Also the city of Pistoia is well worth the visit. We did get a bit frustrated with the mosquito's though.. All and all a wonderful first AirBnB experience! Much thanks to Giorgio and Cristina.
Niek
2016-08-29T00:00:00Z
Wow! What a beautiful find! This lovely home is surrounded by stunning Tuscan views. We enjoyed walking through the olive groves and the gorgeous surrounding landscape. The cozy apartment was just perfect for a couple. The kitchen is well equipped for those that want to take a break from eating out. It was truly a most memorable experience. This would be a great place for large families to gather, as well. Georgio has two larger apartments that are absolutely perfect, too. Georgio, our host was wonderful! He was helpful in giving many recommendations for sights to visit in the area. He provided area maps and information, too. Kudos to Georgio and Christina! We would love to visit again. All the best to you both!
Julie
2016-10-18T00:00:00Z
Staying at Giorgio's and Christina's place was a very nice experience. The directions to the house were clear and after a steep upwards road Christina was there to greet us when we arrived. She showed us our apartment and Giorgio later gave us many great tips about where to visit and eat. They both were so helpful during our three night stay! The pictures are very accurate, even though I would say that the place and the surroundings are even more breathtaking than in pictures. The apartment itself had everything that we needed, it was very cozy and romantic and you could see it had been decorated with love and care, just like the house itself had been built with love and care. Me and my husband enjoyed this place so much that we definitely want to go there again: There is so much to see in the area! It is also very nice just to sit on the outside patio and enjoy the view with a glass of wine. We recommend Uliveto to everyone who want to stay in a relaxing place outside the city and enjoy the warmth and hospitality of this lovely couple!
Riikka
2015-09-04T00:00:00Z
Room Type
Entire home/apt
---
Property Type
Flat
---
Accommodates
2
---
Bedrooms
Pistoia, Tuscany, Italy
Casa di recente ristrutturazione in borgata panoramica sulla valle del Torrente Orsigna Offro l'appartamento in affitto a turisti per week end ( min 2 pernottamenti ) . Prezzi : 30 € / notte / persona Inclusi : . colazione completa , dolce e salato con prodotti tipici , ( non servita ) . acqua calda e fredda . set di asciugamani . lenzuoli . coperte . piumoni . pulizie disponibilità . 4 posti in appartamento
Room Type
Entire home/apt
---
Property Type
House
---
Accommodates
4
---
Bedrooms
Orsigna, Tuscany, Italy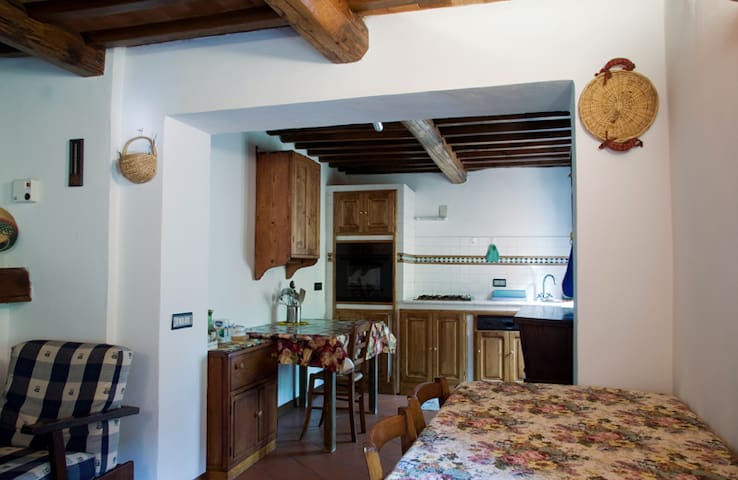 Typical Tuscany Villa located 15 mnt from Pistoia and 30 mnt from Florence in a panoramic position in the Hills. Just 3 mnt from a Rail train station 3 bedrooms 1 bathroom 1 fully equipped kitchen 1 living room with fireplace Large dining area 1 study area . Facilities : Laundry room with washing machine Wood oven BBQ Private parking Large garden Surrounding private land. Ideal place for a family that wants to visit Tuscany's art cities live the experience of a Italian dolce far niente
Das Haus ist wunderschön, noch schöner als die Photos vermuten lassen, gemütlich und stilvoll. Jedes Detail ist mit Bedacht und Liebe ausgesucht. Es gab sogar mit Initialen bestickte Bettwäsche! Man merkt, dass Marzia, die Besitzerin, ihr Haus liebt und selber hier Zeit verbringt. Bad und Küche sind sensibel renoviert bzw. neu und technisch top. Die Ausstattung ist sehr gut, wir haben nichts vermisst, selbst Stecker-Adapter und Wärmflasche gab es. Und last not least war alles sehr sauber und gepflegt. Im sehr großen, schönen Garten mit altem Baumbestand konnten wir zwischen verschiedenen schattigen und sonnigen Sitzplätzen wählen, auch hier eine gute Ausstattung mit verschiedenen Gartenmöbeln. Und wir haben den Pizza-Steinofen benutzt - lecker! Man sollte wissen, dass das Haus recht abgelegen ist. Marzia hatte uns netterweise angeboten, sie an der Autobahn zu treffen - und das hätten wir annehmen sollen und empfehlen es jedem, der sich in der Gegend nicht auskennt. Wir haben stattdessen unserem Navi vertraut und brauchten etwas länger, das Haus zu finden. Der Empfang durch Marzia und der vorherige Kontakt mit Elena waren sehr freundlich und zuvorkommend.
Corinna
2014-07-29T00:00:00Z
Ein wunderschönes Haus in herrlicher ruhiger Lage oberhalb von Pistoia. Außergewöhnlich geschmackvoll eingerichtet, die moderne Küche hat alle Utensilien die man für gutes kochen braucht. Man sieht dass da eine gute Köchin an alles gedacht hat: Marzia, die Hausbesitzerin ist eine herzliche Gastgeberin, die sich wunderbar um alles gekümmert hat. Es liegt auf 700 m Höhe und hervorzuheben ist, daß es eine gut funktionierende Heizung gibt neben dem schönen Kamin im Wohnzimmer und dem Beistellherd in der Küche. Der Garten ist wunderschön und wenn die Rosen blühen muß es ein Traum sein. Ideal, wenn man sich erholen will und vielleicht nicht jeden Tag auf Tour sein, den die Anfahrt von Pistoia ist etwas langwierig und man muß sich gut organisieren, da es in der Nähe keine Einkaufmöglichkeiten gibt. Andererseits sind es nur ca. 30 Minuten bis zur Autobahn bei Pistoia von man sehr schnell ans Meer bzw. nach Lucca, Pisa kommt oder in Richtung Florenz und Siena. Una casa bellissima nelle colline di Pistoia. Arredata con tanto gusto e in cucina si trova tutto quello che ci vuole cucinare bene, anche delle Cose più particolari! Marzia è una host molto simpatica e accogliente. Il giardino è bellissimo con degli centenari di castagni e intorno la casa con tante rose che quando fioriscono deve essere un sogno. Il silenzio, la natura, il canto degli uccelli… Per noi era una vacanza di riposo, di cui avevamo tanto bisogno. In 30 Minuti si arriva all'autostrada di Pistoia, da dove si raggiunge velocemente Lucca e Pisa Firenze, il Chianti e Siena. We had a wonderful relaxing vacation in a beautiful Tuscany Villa situated up in the hills of Pistoia. We enjoyed our meals outside and the silence of the place with just the chant of the birds. The kitchen is very well equipped, more than you expect! The heating works well and the thick walls keep the temperature. The furnishing is chosen with very much taste and we enjoyed the fireplace in the living room. You need to be well organized because in the proximity there are no shopping facilities. But the fridge is big enough;-) Marzia is an excellent host, very nice and accommodating.
Mailena
2014-04-25T00:00:00Z
Room Type
Entire home/apt
---
Property Type
House
---
Accommodates
6
---
Bedrooms
Sammommé, Tuscany, Italy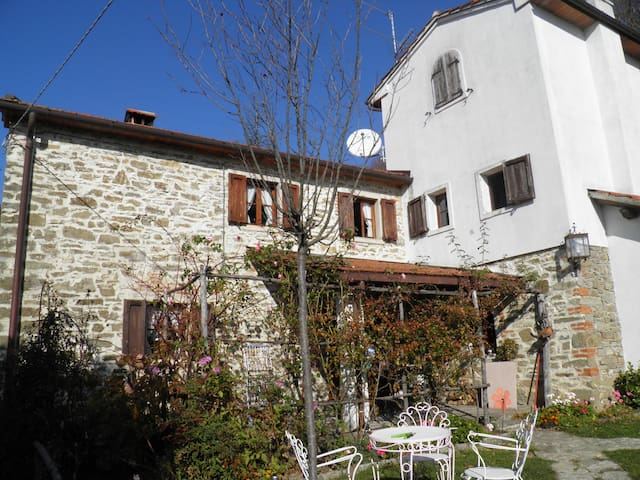 Graziosa casetta finemente ristrutturata, sita nel verde di Maresca, ridente paesino della Montagna pistoiese. La casa è provvista di ogni confort, ha 2 camere da letto, una matrimoniale e una doppia. Parcheggio esterno adiacente all'abitazione.
L'appartamento è caldo e accogliente, è munit di ogni confort, vi troverete come a casa vostra.
Bella casettina tra i colli pistoiesi!
ENRICO
2016-05-30T00:00:00Z
Soggiorno splendido, Casa ben arredata e dotata di ogni comfort, proprietaria disponibile e gentile. Torneremo presto!
Laura
2017-01-02T00:00:00Z
Room Type
Entire home/apt
---
Property Type
House
---
Accommodates
6
---
Bedrooms
Case Bizzarri, Toscana, Italy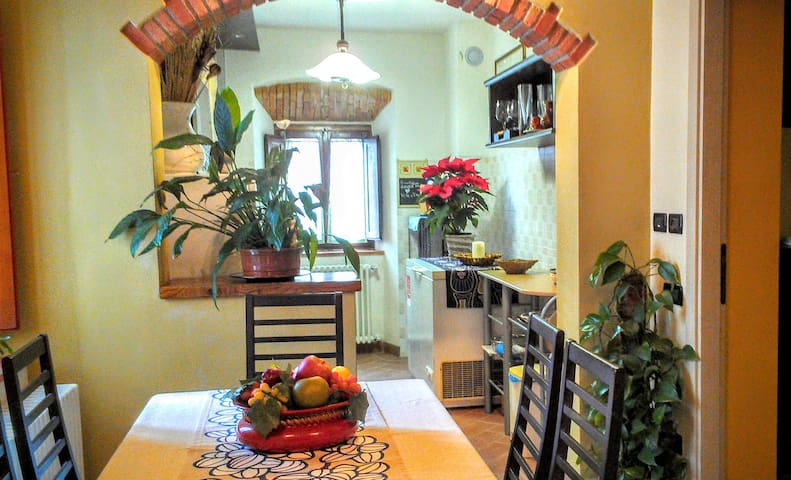 camera privata con letto matrimoniale e letto a castello, bagno e cucina condivisi
In un borgo di una ventina di casa in mezzo ai boschi tra scoiattoli, cervi, cerbiatti e funghi
Room Type
Private room
---
Property Type
House
---
Accommodates
4
---
Bedrooms
Pracchia , Pistoia, Italy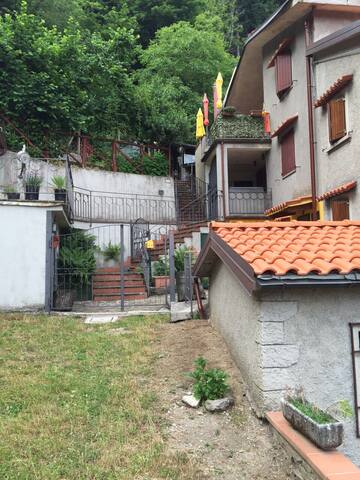 comfortable apartment in the center of town, easily accessible, close to the woods for walks. Old house tastefully decorated for a pleasant stay. We cook for you on request. We offer massages, photo safaris and guided tours
Guests will feel like in his house. We are always available for any need and information. On request we can prepare a dinner, or take him by car to know the most emblematic places. Also reception and pick-up service at the airport of Florence. Maresca is 50 km from Florence, 40 from Lucca, about 25 km from Montecatini Terme, Bagni di Lucca, Porretta Terme, 23 from Pistoia, 20 dall'Abetone, 70 from the sea (Viareggio), 60 from Pisa. Perfect base for exploring this part of Tuscany still a virgin. Lots of activities for lovers of nature and sports: hiking, horseback riding, bushwalking, paragliding, rafting, caves, winter sports. For those looking for evidence of the past, there are medieval villages such as Cutigliano, Gavinana, Lucchio etcetera. Interesting is the visit to the iron museum, the suspension bridge, the air-raid shelter, the mountain eco-museum, the old mills, the Astronomical Observatory with its activities. And our natural wonder: the park of the Teso forest with its unforgettable walks among birch, beech, chestnut, pine and streams, where there is the chance to see deer, foxes, badgers ... Of course, we speak Spanish, English and French (and of course Italian)
The village has all services (post office, bank, supermarket, medical clinic, pharmacy, bars, restaurants, pizzeria, various shops). Everything within walking distance.
Room Type
Entire home/apt
---
Property Type
Condominium
---
Accommodates
4
---
Bedrooms
Maresca, Pistoia, Italy
W ciszy gór Pistoia. 15 minut od Pistoi, a nie daleko od innych miast w Toskanii (Florencja, Lucca, Pisa ..). Dom z 2 sypialni dwuosobowych, salore, duża kuchnia i łazienka, duży piwnicy z kominkiem i kuchnią i łazienką
Very comfortable lodging up in the hills in a friendly atmosphere. Tempature was about 15°C lower then in Florence. It takes about 45 minutes (before 8 A.M.) to get to the center of Florence, the same comes with journey to Pisa. House is equipped above standarts - kitchen with everthing you need, lot of space for your belongings and toiletries for free use. Manola is a great host who helps happily. She didn't have any problems with letting us stay one day longer. I'd like to recommend this place to anyone who wants to know hot Tuscany and sleep in a beautiful house. Thank you!!!
Jaroslav
2016-07-31T00:00:00Z
Room Type
Entire home/apt
---
Property Type
House
---
Accommodates
6
---
Bedrooms
Sammommé, Toscana, Italy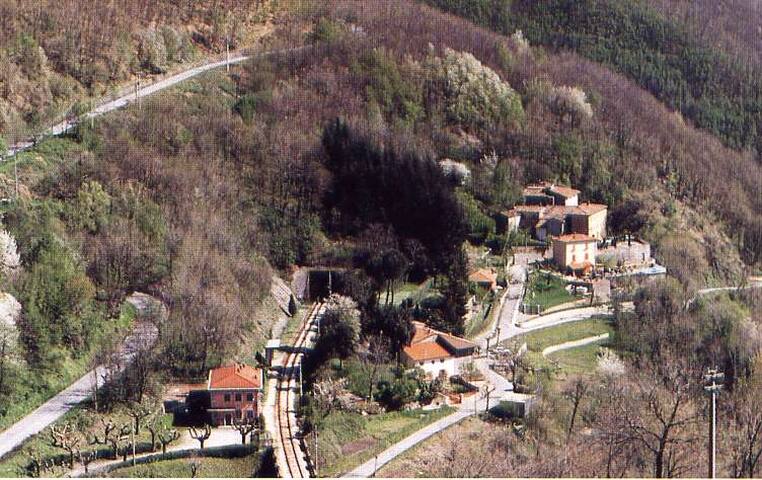 My accommodation is close to the beautiful cities of Toscana.Pistoia capital of culture 2017, Florence, Lucca, Pisa, Siena. The country and 'small and very quiet surrounded by greenery ideal to rest in the evening. It is less than an hour's drive from the Versilia. My accommodation is suitable for couples, lone adventurers and business travelers being 10 km from the center of Pistoia, from the highway and the railway station. The machine is necessary for the movements.
Studio on the first floor of a house, with a full kitchen, table, TV, accommodation for two people in a double sofa bed with possibility of additional single bed in the loft. Bathroom with shower and washing machine. Garden with barbecue joint. In winter you can use the pellet stove (cost of a vs.carico consumption)
The quiet and family environment
Grazie a Barbara per l'accoglienza ricevuta, per la gentilezza e la simpatia e per i diversi dettagli nella casina che hanno reso il soggiorno comodo e molto confortevole. Consiglio questo alloggio a tutti.
monica
2016-09-26T00:00:00Z
L'abitazione è semplicemente fantastica. Immerse nel verde della collina Pistoiese ma allo stesso tempo facilmente raggiungibile. Non manca nulla tutto e perfetto. Gli abitanti del borgo sono simpaticissimo e accoglienti e rendono il soggiorno ancora più piacevole. Barbara e la sua famiglia sono di una simpatia unica e ti mettono al tuo agio garantendoti allo stesso tempo privacy e tranquillità. Non potevo trovare di meglio per passare un bel fine settimana e sono sicuro di ritornarci quanto prima.
Antonio
2016-08-16T00:00:00Z
Barbara e i suoi familiari, che vivono nei pressi dell'alloggio offerto, sono stati di una gentilezza e disponibilità più uniche che rare, sempre a disposizione e pronti a regalare un sorriso. L'appartamento, pulito e ben attrezzato, si trova a poca distanza dal centro di Pistoia ed è un'ottima base per visitare molte città d'arte della Toscana e una bella e poco nota area degli Appennini.
Fabio
2016-08-09T00:00:00Z
Room Type
Entire home/apt
---
Property Type
House
---
Accommodates
3
---
Bedrooms
Pistoia, Toscana, Italy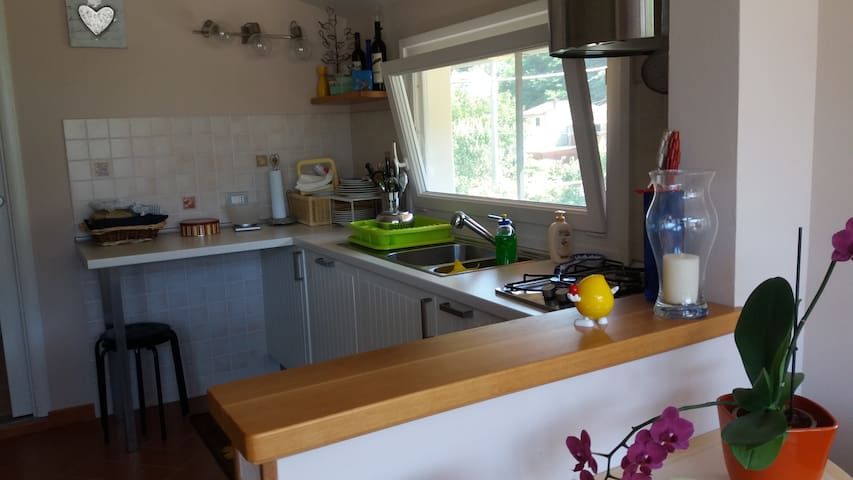 An 18th century Bishop's house in the Tuscan country has now become a fully-equipped holiday villa with private pool, fenced garden, wellness area with sauna, gym equipment and maxi-Jacuzzi. It has 5 double bedrooms en suite for up to 14 guests.
Villa Le Panche is a charming country house in Tuscan style. As testified by an original stone engrave in the living-room, the villa was built in 1718 as a summer retreat for the Bishop of Pistoia. It is located in a lush valley in Northern Tuscany, well connected to Florence and to the tourist resorts of the Pistoia's Apennines. The villa has been recently restored and fully equipped. With its 6 double bedrooms and wide common areas, this is an ideal destination for holidays with family and friends. In fact, Villa Le Panche is a charming place where our guests can relax in a wide fenced garden, swim in a private heated pool, take advantage of a spa with a 7-place hydro-massage, an infrared sauna and gym equipment.
Villa Le Panche is located in a green valley in Northern Tuscany, near the town of Pistoia. This is a perfect location to enjoy the Apennine's environment and to reach Tuscany's main destinations (Florence, Lucca, Pisa and the Versilia riviera are within an hour drive distance). It is also conveniently positioned with respect to the Abetone area's ski resorts and to the international airports of Pisa, Florence and Bologna. How to reach us: from Pistoia's highway (A11) exit follow directions to Modena or Abetone. Drive along the SR66 for about 15 km. You will find the villa's gate on your right, just after a Tamoil petrol station. Services: supermarkets, shops, bakery, butcher, restaurants, banks and more services are located in the immediate surroundigs of the villa (within 5 kms). We will be glad to provide you all the useful information at your arrival.
Una bellissima villa, circondata su un lato da un verde e piccolo bosco, confinante con un fiumiciattolo. Tutto molto curato e pulito. Quattro delle stanze da letto matrimoniali sono belle e comode, con i loro bagni privati, la quinta, anch'essa con bagno, è più sacrificata come spazi e arredamento. Comoda la stanza con il letto a castello, senza bagno, così come il divano letto in mansarda senza però alcuna privacy in quanto inserito nella spaziosa sala della mansarda che ospita il biliardo, luogo di ritrovo molto apprezzato. Il soggiorno è grande e ospita tranquillamente tutte le persone (noi eravamo 13). La cucina non troppo grande ma molto ben attrezzata. L'ampio camino è aperto su tre fronti, cucina, sala da pranzo e salone. Due di questi sono chiusi da vetrate che però ne permettono la visuale. Nella zona pranzo è inserito un grande tavolo, probabilmente allungato al massimo in considerazione del fatto che noi eravamo in 13. Questo purtroppo ne limitava i movimenti nella sala. Una nota particolare va a quella da noi definita "sala relax": un ampio spazio con una bellissima vasca idromassaggio per 7 persone, una comoda sauna e diverse attrezzature fitness, decisamente un luogo aggregante. All'esterno ci sono grandi spazi, (sono possibili passeggiate lungo il torrente, l'area piscina con sdraio per rilassarsi, barbecue e gazebo), dei quali noi non abbiamo usufruito essendo stati a gennaio. Sicuramente sono il valore aggiunto del periodo estivo. La villa è vicinissima ad una strada di comunicazione, con diversi paesini nel raggio di pochi chilometri. Infine, ma non per ultimo, la cortesia, la gentilezza e la disponibilità di Davide e suo padre che ci hanno assistiti e consigliati per tutta la durata del soggiorno. Non è escluso un nostro ritorno nel periodo estivo.
Massimo
2016-01-07T00:00:00Z
Room Type
Entire home/apt
---
Property Type
Villa
---
Accommodates
14
---
Bedrooms
Pistoia, Toscana, Italy
The apartment is located at the first flor; all the necessary for cooking is avalaible.
It is possible to park bicicles or mountain bikes in a locked garage with personal key.
Very quiet place, located at the entrance of the town.
Room Type
Entire home/apt
---
Property Type
Flat
---
Accommodates
6
---
Bedrooms
Maresca, Toscana, Italy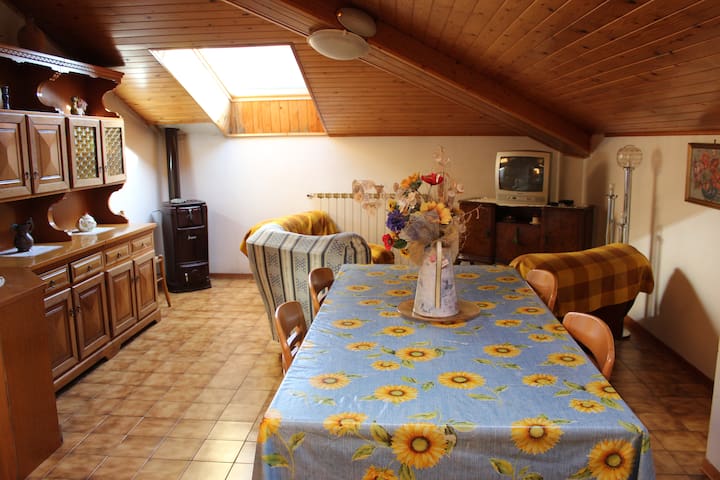 L'appartamento è incantevole assolutamente silenzioso con giardino, posto macchina, arredato bellissimo stile contadino. In meno di mezz'ora le piste da sci di Abetone in meno di un'ora raggiungi Viareggio quindi il mare, Firenze, Pistoia, Bologna.
L'appartamento è costituito da ingresso, camera, bagno stupendo con doccia ed idromassaggio, un salone molto grande, una cucina attigua piccola ma completa, una sala su esterno, un bel giardino su due livelli. Poi c'è il piano superiore costituito da monolocale su due livelli sfalzati di 30cm, con bellissimo camino e bagno. Esiste poi una ulteriore doccia al piano soggiorno, possibilità di mangiare fuori in giardino o nella veranda prospiciente il soggiorno. C'è lavatrice, lavanderia.
Il luogo è veramente piacevole sia d' inverno con le piste da sci che sono ad Abetone sia d'estate. I mezzi sono comodissimi con autubus che passa sotto casa e porta a Firenze o che porta a Lucca. A circa 5 Km c'è la stazione ferroviaria di Pracchia da dove si parte e si può andare verso Bologna o Pistoia. Ci sono ottimi ristoranti con cucina locale e con gli o ottimi prodotti cnghiale, formaggi locali, funghi eccezionali, prodotti locali a KM 0
Room Type
Entire home/apt
---
Property Type
Flat
---
Accommodates
4
---
Bedrooms
San Marcello Pistoiese, Toscana, Italy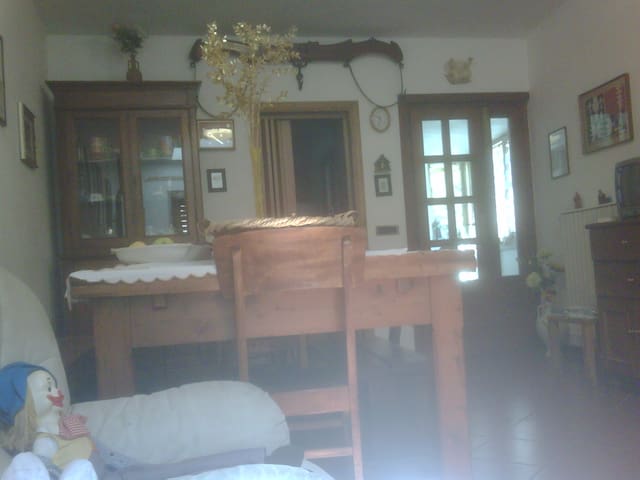 Pontepetri - Airbnb
:
Average

4.63

out of

5

stars from

107

guest reviews
Enter dates to see full pricing. Additional fees apply. Taxes may be added.