Our clean, comfortable cabin in Pioneer has everything you need to enjoy your time in the Sierra Nevada Foothills. Our cabin is a great place to relax and enjoy many activities including hiking, skiing, golfing, gambling, wine tasting and much more. Yosemite is approximately three hour drive from my cabin.
Our cabin in Pioneer is at a perfect location to enjoy both the Foothills and the High Sierra. The elevation of the cabin is 3,100 feet. The elevation is high enough to escape the valley heat but low enough so travel to the cabin in the winter is usually easy. During the winter the cabin occasionally receives significant snowfall. The cabin is close to snow parks and world class skiing at Kirkwood. Gambling at Jackson Rancheria Casino is a short twenty minute drive. The cute towns of Sutter Creek and Plymouth are close by and both have excellent wine tasting. Volcano is a fifteen minute drive, the town has restaurants and live performances in the evenings. Volcano is also close to Black Chasm Cave and Indian Grinding Rock State Park. Finally, Bear River Reservoir and Silver Lake are close by. Both offer excellent boating and fishing opportunities. Yosemite national Park is approximately a 3 Hour Drive from my cabin. We have satellite TV in the living room and the bedroom. The kitchen is stocked with everything you need to cook and barbecue. The washer and dryer works great for your laundry. The upstairs loft/bedroom has an air conditioner and heater that works great for creating ideal sleeping conditions. Downstairs the cabin can be heated using the wood burning stove or cooled using fans. Sleds are in the shed for recreational use. There are videos and games to play as well located near the TV sets. We will not be present during the stay. Our property manager will greet you and show you around the cabin. Please be sure to read the house rules as there's information about bedding and laundry expectations that you will need to know before checking in. Thank you. The neighborhood is peaceful and quiet. Deer and wild turkey have been seen frequently from the deck in the afternoon and evenings while relaxing on the deck. You'll need your car to get around because there's no public transportation close by. There is a taxi service available.There are many things to visit within half an hour drive or closer. Bring your cell phones, there is no connected land line. Cell phone reception is marginal at times but Pinegrove just down the road at the Post Office gets cell reception. I get reception a lot of times on the deck or by the kitchen window inside the cabin. There is no Wi-Fi.
The neighborhood is peaceful and quiet. Deer and wild turkey have been seen frequently from the deck in the afternoon and evenings while relaxing on the deck.
The peaceful pioneer cabin met our expectations well. It was a cozy cabin in a very quiet area. We brought our own sheets and slept quite well. It was very pleasant to wake up to the sound of a rooster nearby. Our host gave us a tour and made us feel welcome at this lovely spot.
Jeffrey
2014-09-12T00:00:00Z
We stayed in the Pioneer Cabin for just 1 night. It was a great experience. The cabin was just as advertised and a lovely place to stay. All equipment worked well including the stove which warmed the whole cabin quickly. Great bed in the master bedroom upstairs. Our greeter Amy was very friendly and answered all our questions. And the host chery; was very prompt in her responses. Thanks for making a wonderfull stay possible!
Stan
2014-03-27T00:00:00Z
The Mountains Are Calling And I Must Go.....Muir. Loved this cabin!!! My nieces and I had so much fun. They loved the rope swing and running around playing tag and hiding go seek. The cabin was clean, neat and tidy. Beds were very comfy. Cheryl was flexible and easy to communicate with. Amy her greeter is so sweet and helped me out when I realized I left a set of keys behind at the cabin. I definitely would like to return sometime.
Sue
2014-04-14T00:00:00Z
My second visit to Cheryl's cabin and I will return. It is nicely kept, quiet, lovely deck. Perfect for a mountain getaway.
Laurie
2016-04-04T00:00:00Z
Very smooth experience. Was hosted warmly and had a peaceful night.
Jian
2016-12-10T00:00:00Z
We had a great weekend at Cheryl's cabin. The cabin was a perfect size for five adults, and the wood stove was great for our rainy weekend. The neighborhood was quiet and peaceful, and we enjoyed relaxing on the deck and admiring the foliage. Amy and Cheryl were both very communicative and accommodating, and made checking in and out a breeze. Thanks so much for a great stay!
Heather
2014-11-30T00:00:00Z
Although we did not meet Cheryl, we were warmly greeted by her manager Amy. She was welcoming and very helpful in describing the expectations for our stay. The Cabin is great. Quaint, Quiet, and easy accessible from the main road. We enjoyed our stay, both relaxing in peace, and visiting some local sites - including historic Gold Mining Towns. From Florida we were pleasantly surprised with the 30's weather in the October Mornings.
steve lori
2015-10-30T00:00:00Z
Nice getaway for a few days. Quiet location, close to a fun little golf course, and also close enough to some really nice hiking trails in the Eldorado National forest (Lake Margaret, Thunder Mountain, etc). Accommodations were as described, we really had a great time. Thanks!
Tamas
2015-08-16T00:00:00Z
Room Type
Entire home/apt
---
Property Type
House
---
Accommodates
6
---
Bedrooms
Pioneer, CA, United States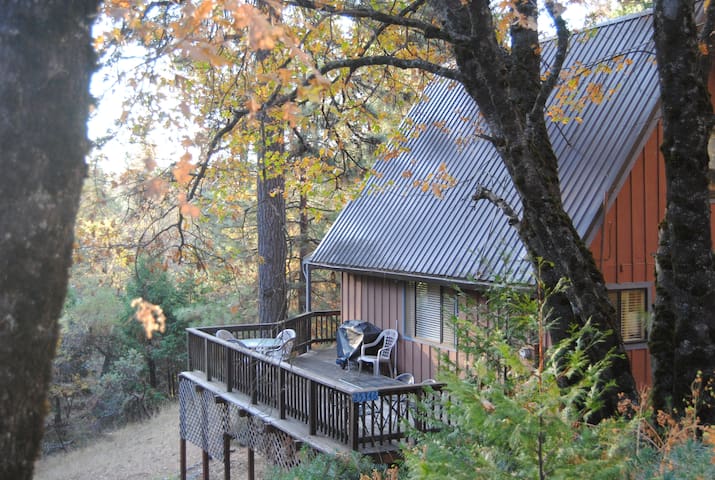 Our house is set-up as a family friendly & relaxing atmosphere. Kirkwood Ski Resort & Silver Lake are just minutes away, offering some of the best outdoor recreation available. Jackson Racheria, several Amador County Wineries, and the historic towns of Volcano and Sutter Creek are within a short distance. At 3000 feet we get a light dusting of snow in the winter and an escape from the heat during the summer. Easily accessible year-round, we are right off of the all-weather highway.
Our home is fully-equipped and ready for your stay. The kitchen has all new appliances (refrigator/freezer, stove & microwave) and a gas barbecue is available on the back deck (available in the spring, summer and fall). We have Wi-Fi, two TVs and DVD/VHS combo a with several favorite movies. In the bonus room, we have left some board games in the dresser and a Wii to entertain younger guests. Our two boys call it their "retro gaming station." We have a queen size air-bed for the bonus room if you need it.
The IGA grocery store is less than a mile away. They have everything you may need to cook meals, and they also make excellent hamburgers and deli sandwiches. Pick up some maple/blueberry sausage if you get a chance. It is a unique offering and one of our family's favorites.
Perfect place for a skiing weekend in Kirkwood!
Sergei
2017-03-19T00:00:00Z
We stayed at David and Anita's place to go skiing at Kirkwood. Wow, what a treat. The house is large, beautiful, and has a distinctly homey feel; you can immediately tell that a lot of love and care have been put into the place. All the amenities were provided: kitchen utensils, pots, pans, coffee maker. The beds were warm and comfy. There's a gas station just around the corner. Most of all, David and Anita were wonderful hosts. Would highly recommend!
Richard
2017-03-12T00:00:00Z
David is a nice guy! He's so thoughtful and responds quickly! Thank you David! We had a nice stay in your lovely house! Everything is good except for a little colder at the first heating hours : ) We love this house!
liu
2017-01-29T00:00:00Z
Had a great stay at David's, it's a great location and very family friendly.
Colin
2017-04-07T00:00:00Z
David was a great host. Communication was good and the place is a great spot to head to Kirkwood from.
Alex
2017-01-07T00:00:00Z
Highly recommended - warm and cozy.
sudip
2017-02-20T00:00:00Z
Nice place close to Kirkwood, can come back and relax after a day of skiing
Amit
2016-12-25T00:00:00Z
Wow! What a place!! Very clean and roomie. There were so many things to explore. We went to Amador City, Daffodil Hill and fell in love with the town Volcano Thank you David and Anita
Toka
2017-04-02T00:00:00Z
Room Type
Entire home/apt
---
Property Type
House
---
Accommodates
8
---
Bedrooms
Pioneer, CA, United States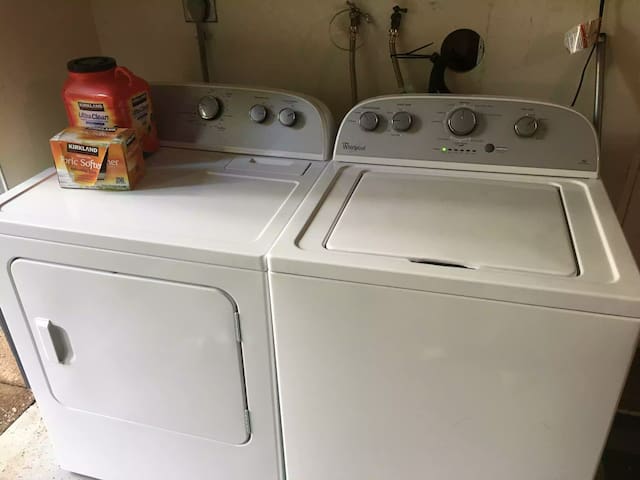 35 miles to Kirkwood Ski Resort 11 miles Jackson Rancheria casino, 2 min. Mace Meadow golf, explore the mountains, high Sierra lakes, streams and many wineries all within minutes away. Tour the caves, gold mines and historic Gold rush towns
Check out cleaning instruction All floors should be vacuumed and at least spot clean any spills. Kitchen should be left as you found it. Please clean the sink and wipe the counters. Take out all garbage from kitchen and bathrooms. Clean the barbeque if you used it.
The magical Dome was wonderful! My girlfriends and I enjoyed it for a weekend, it was perfect for my bachelorette get together. Super cozy and clean. The deck was awesome, really enjoyed hanging out on it. Rodica is a great, attentive host. Thanks again! Can't wait to come back :)
Jamie
2016-09-12T00:00:00Z
The dome was as magical as the photos suggest! The space is well used with plenty of seating and beds. The wood stove creates a wonderful atmosphere and the firewood was very well stocked. the kitchen had enough to cook thanksgiving dinner for 7. We loved this space!
Caroljne
2016-11-26T00:00:00Z
Perfect retreat. Beautiful location. The dome is magical, just what we needed for 3 teenagers and 3 dogs.
Stephanie
2017-02-13T00:00:00Z
The dome was wonderful!! My kids thought it was so cool staying in a dome! The weather was really hot outside, which made the dome a sauna! I wish they had some more fans to help us stay cool. But the deck is amazing! We loved seeing the wild turkeys and deer off of the deck!! The kitchen was well stocked which was very appreciated!
Theresa
2016-07-31T00:00:00Z
Great!
gabriela
2016-12-04T00:00:00Z
Had a very relaxing and enjoyable stay at the Magical Dome. Loved reading and having coffee outside on the wrap around deck and watching the hummingbirds and turkeys. Rodica was accommodating and communicative about check in/check out times. Our dog really loved the outdoor area as well and was a big fan of the plush carpet in the master bedroom. Just a really cool house that feels very spacious and the location is a great halfway point between Lake Tahoe and Lodi/Sutter Creek. Felt like I was on a yoga retreat without having to do any yoga, would totally come here again with a couple friends. In short: the Magical Dome is magical.
Margaux
2016-07-07T00:00:00Z
Rodica offered a wonderful house for our visit to Gold Country. It slept 4 adults and two children very comfortably. The ambience was so relaxing tucked away in the woods, with visiting deer and chirping birds. The fireplace was very effective and heated the whole house quickly. The kids were happy to find some toys and games available. All of us were very impressed.
Chris
2016-05-23T00:00:00Z
We had a fantastic stay at the "Magical Dome". The location was just as described. The host was very communicative and helpful.
Philip
2016-07-01T00:00:00Z
Room Type
Entire home/apt
---
Property Type
House
---
Accommodates
10
---
Bedrooms
Pioneer, CA, United States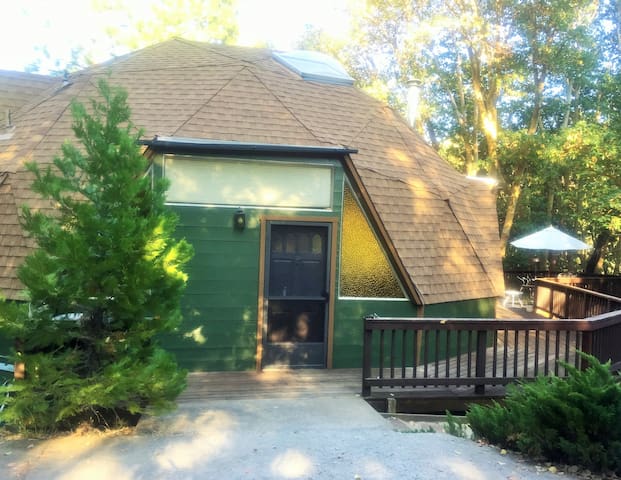 Come visit a truly comfortable home in the Sierra foothill. Family and friends can gather all seasons, exploring nature. Clean, spacious, 3 bedroom, 2 bath home that sleeps up to 10 people.
Our cabin is a clean, spacious, and comfortable. Three bedroom, 2 bath that sleeps up to 10 people. The house is at a cul de sac with complete privacy. The property is surrounded by magnificent pines. Two wood burning stoves provide a warm and cozy winter living lifestyle. Our kitchen is fully equipped. Comfortable seatings are available in the front and back patios. We provide clean linen, towels and all the comfort that you find living at home.
Minh was very responsive and accommodating from the beginning. The cabin had everything we needed and was spacious. The firewood provided was great too!
Yi-An
2016-12-30T00:00:00Z
Minh was very responsive and the place is very well located (about 25-30 minutes drive) from Kirkwood. There were six of us in the group and found the place quite comfortable. The place was well stocked with necessities, and Minh had the neighbor check on us the first night to make sure we had enough firewood for the fireplace, and to turn on the water heater for showers. I would definitely recommend this place for a weekend stay for the family/group. We found GPS directions ((SENSITIVE CONTENTS HIDDEN) maps) a bit off (and cell coverage was patchy), but stopped by at the gas station off the main road (about a mile away) and found directions there.
Pankaj
2016-03-06T00:00:00Z
We rented the cabin for a relaxing weekend with friends and this place was perfect in meeting our needs. Minh was very in tune with details regarding our stay and the place was equipped with all we needed to make our stay comfortable. We used the fireplace which provided a cozy warmth and we had some great conversations in the living room with a nice fire providing a beautiful ambiance. The views from the windows and the little town of Pioneer were very picturesque and the townspeople were very helpful and kind. We had some meals in town and some at the rental. Overall we would definitely rent again if given a chance and would recommend this place to anyone.
Ruth
2016-11-13T00:00:00Z
Minh was a great host, the house had every thing we needed for 5 guys. Nice secluded area. The surrounding town had a lot of cool stuff to do and good stuff to eat. Thanks again Minh -Anthony
Anthony
2015-08-30T00:00:00Z
Our family had a great stay. Minh was very good with communicating and everything in the house was stocked well. We went to the snow for one day to play at the snow park. The movies were up to date as were the electronics in the house. Nice for a teenager. Also wifi was good. There were plastic sleds in the garage she let us use and they were great. We only brought metal ones and they were very slow... Overall, our stay was like home away from home and we'd love to come back and stay again.
John
2016-02-16T00:00:00Z
The house was large and beautiful. The host was very welcoming. She thought of all the things that we may need in the house. It was a great location - deer roaming about. A great vacation home.
Abu
2016-09-06T00:00:00Z
Minh was responsive and helpful getting us set up at her house. Her place was well-appointed and comfortable for our two families. We had a great stay in Pioneer, and her neighbor JD was helpful as well.
Mitch
2016-02-07T00:00:00Z
We had a great time staying at Minh's vacation home! It was very spacious and charming. We especially enjoyed the wood burning stoves, which were very efficient to heat the house. Minh was very prompt in answering any questions we had over email, and we also appreciated having the neighbors next door to help.
Laura
2016-01-18T00:00:00Z
Room Type
Entire home/apt
---
Property Type
House
---
Accommodates
10
---
Bedrooms
Pioneer, CA, United States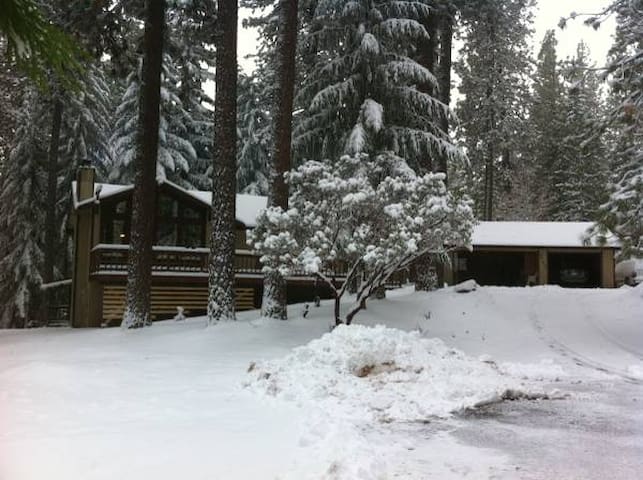 Clean two bedroom, two bath home with lots of light, and windows looking out on the forest. Sleeps 7. Perfect for a couple or family, with both ready access to outdoor activities and relaxing spaces inside and out. My house is in the Sierras at 4000 elevation. It is 2 1/2 hours east of Oakland, Ca, 2 1/2 hours from Yosemite, and 1 1/2 hours from South Lake Tahoe. The Seirras go from Death Valley through Oregon, so check a map to make sure you are renting a house where you want to be.
This is a modern two bedroom, two bath home on 3 acres at 4000 feet elevation, nestled in the pine and cedar forest, perfect for a quiet getaway or as home base for local adventures. The house is flooded with light and views of the outdoors. The main floor has the master bedroom with both a queen and twin bed. The bathroom has both tub and shower. Downstairs you'll find a large bedroom with two queen sized beds and a full bath. The kitchen is a pleasure to cook in, fully stocked with everything you'll need (including gas stove, electric oven, microwave, toaster oven and coffee maker) Some condiments, spice and teas are available for your use, and the corner store is in walking distance if there's something more you need. There's a full service IGA grocery store only a 5 minute drive down the road. The open floor plan on the main floor makes the living are comfortable and spacious, with a recliner couch and lovely gas fireplace - perfect for those cold nights! If you prefer electronic entertainment, there is wifi and a small TV with a Roku player with Netflix. Adjacent to the kitchen, the dining area has a nice wood expandable table that can seat as many as 10. This is also handy for playing games or doing puzzles! The french doors lead out onto the large front deck, and the wall of windows makes this a lovely seating area. Outdoors, there is huge front deck with table and chairs and two popup hammocks. The back deck has a compact gas grill for BBQ. Central heating keeps the house warm, with a wall heater to add supplemental warmth to the downstairs. Since summers can be warm up here, there is a portable air conditioner and ceiling fans for your comfort.
This is a lovely wooded neighborhood with quiet walkable streets. Within walking distance there is a corner store with gas station and Pearl's cafe/bakery for breakfast and lunch. There is also a pond and waterfall within walking/driving distance. There are many outdoor activities in this area including hiking, skiing, snowshoeing, fishing, boating, golfing, birding, caving and panning for gold. Kirkwood Ski area is 40 minutes away. There are also wineries, old gold rush towns to explore, and local theaters, galleries and museums. Jackson Rancheria casino is 20 minutes away for restaurants, gambling and live entertainment.
Laura was absolutely lovely and amazing! She quickly responded to all my questions, and provided excellent information about her home and the surrounding area. Her vacation home was just as wonderful as described, and was clean, charming, peaceful, and perfect! Thank you for everything, Laura!
Charlene
2015-08-10T00:00:00Z
The neighborhood is exactly what I expected, quiet and friendly. Laura made the arrival an easy one. She provided us with a binder that describes where certain things are located in the home; including surrounding area activities. The cleaniness and small signs all around the house made the stays very comfortable. Thank you Laura.
Maribel
2016-08-08T00:00:00Z
What a nice house in a very lovely location! All the amenities we needed, very peaceful, and one of the closest places we could find to Kirwood resorts. It was very good value, and everything was set up very well for our stay. Really enjoyed having the fireplace, and there was plenty of space.
Maya
2017-01-08T00:00:00Z
Laura's house is comfortable and cozy, with bedrooms on two levels and a great living room with fireplace! There's a huge deck and a back yard for warmer weather. It's easy to get to from the Bay Area, and at a low enough elevation that it doesn't get a ton of snow - but close enough to Kirkwood for ski days. The house comes equipped with basic kitchen amenities plus board games & puzzles. The neighborhood is secluded, quiet, and lovely. We would definitely come back here!
Emma
2016-12-27T00:00:00Z
Beautiful home with a wooded yard. Fireplace was the perfect spot to warm our hands after playing in the snow. Brought our neices for their first experience in the snow and it was perfect. They spent hours outside in the snow. We even made a small sledding path in the front yard. Easy to find and exactly as described.
Michelle and Toby
2017-01-03T00:00:00Z
we had fun!
Alex
2017-01-01T00:00:00Z
Cozy cabin! Great value.
Nicole
2017-02-06T00:00:00Z
Place was very nice and great location between Jackson and Kirkwood. Rooms were very spacious and open living room and kitchen was convenient. Wi-Fi was good, but no AT&T cell reception. Owner was very quick to reply with any questions we had.
Igor
2017-03-26T00:00:00Z
Room Type
Entire home/apt
---
Property Type
House
---
Accommodates
7
---
Bedrooms
Pioneer, CA, United States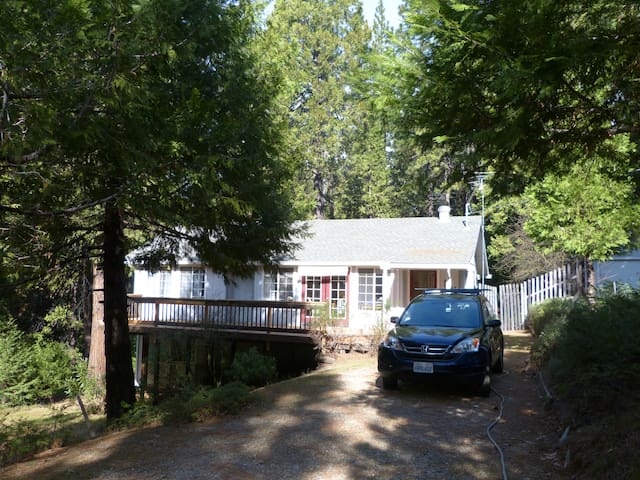 Gorgeous Gold Country Retreat The Wineries of Shenandoah Valley and the fun town of Sutter Creek are close by. This property was created for those who expect the best in quality when they travel . Imagine getting away from it all, surrounded by nature .
4 very comfortable bedrooms with all pillow top mattresses. All bedrooms are beautifully furnished and good size. 1 ex large master suite 2 king beds 2 queen beds 3 full bathrooms. *single daybed sofa in master suite /media room ( for child ) Fully Equiped Gourmet Kitchen with Wolf Range. Round Dining Table with 8 chairs Why stay at a resort when you can rent your own! weekend getaway far from the hustle bustle of the city. Come sleep among cedars, maples and pines and take a deep fresh breath of mountatin air. A romantic getaway for couples or family retreat . Once you get here...you won't want to leave. The Charming Towns of Sutter Creek and Volcano are only 25min away . These towns are ideally situated in the heart of the Sierra Foothill Wine Country. Sutter Creek is Amador County's most walkable town with wonderful outdoor restaurants and shops along the main street. Sutter Creek is the perfect hub to begin exploring the Sierra Foothill Wine regions, including Amador's own Shenandoah Valley. The Wineries of Shendandoah Valley are 40 min away. The Stunning Caples Lake is only 30 min away. In 2006, Amador County was voted by Frommer's as one of the top 10 places to visit. The area is rich in history, small friendly towns, bucolic settings, outdoor adventures, underground tours, award winning wines and so much more. Come see for yourself why Amador is the best place to call your own private escape. Only 2-1/2 hour drive from the San Francisco Bay Area and just over an 1 hour- 1/2 from Sacramento. A host of activities await you in Amador County. The rolling foothills are dotted with quaint communities offering shopping, outdoor cafes, antiquing, and cultural events… answering the call of those looking for a slower-paced experience. The rolling hills can answer the call of those looking for more action with the likes of mine tours, hiking, golfing and biking. These hills are inner-twined with streams and lakes for fishing, swimming and water sports. The rolling hills aggressively convert to the towering cliffs and summits of the Sierras, answering yet the final call to those hooked on more extreme experiences, such as climbing, spelunking, skiing and off-road adventures.sorry - 25 min to Caples Lake ,Silver Lake or Bear River , take a swim or hike amongst California's most beautiful Sierra Mountains. Solar Heated~ Resort Size Pool. May thru September pool temp is 82-92 degrees Solar turned off in winter Standing Heaters down by the pool so you can still enjoy We can get a light snow December - January. Cleaning fee is for deep cleaning , laundry etc , we still expect the house to be left as it was found. Thank you We require you to complete Verified ID before you book with us Thank You PLEASE RESPECT OUR PROPERTY AND HOME If you're interested in having a small gathering, you must inquire within/ host . Limited parking at property This would also have to be approved and there is an event fee
country setting..surrounded by trees and other country properties. we have a private road shared by 2 properties. Now there's a new surge of interest in the area. The overcrowding of Napa has tasting groups in Plymouth — spread languidly across the bar at the Plymouth Hotel, which serves Vino Noceto on tap — lamenting. "You can't even get in on a Monday in winter," says one patron. There is a flurry of new wineries with different attitudes (and altitudes) focusing on different wines — from California heritage zinfandels to Iberian, Rhone and Italian varietals — being championed by roguish and talented winemakers and growers teeming with personality.
Our family spent 4 days by Tricia's place, and for the first time in our lives, we got a glimpse of what it must have felt to live like nobility. The pictures do not do justice to this incredible place. It is stunning, organized, clean, new, and tasteful. We explored every inch, every plant, and every wildlife (deer, cats, bats, hawks). You will never want to leave the pool, or leave the fireplace, or stop enjoying the scenery. Tricia thought of every amenity, from the coffee, to the soap, towels, and the firewood. And of the house was spectacular, clean and very well upkept. Thank you Tricia for giving us this opportunity.
Tzippy
2015-08-18T00:00:00Z
Tricia's home is absolutely beautiful. Our group of 8 thoroughly enjoyed our weekend here over the 4 of July. Tricia was flexible on check in and check out times which meant we got to enjoy the amazing pool longer! Our group brought a bunch of food, and enjoyed the property for 2 days. We didn't do much exploring in the area but did stop in at Sutter Creek and some local wineries both of which were great. I would definitely recommend this home and would book again in the future.
Julia
2015-07-06T00:00:00Z
Tricia's home is amazing! We had a relaxing girl's weekend and her home was perfect. Kitchen is fully stocked with everything you can ask for, so if you like to cook and entertain this is the perfect place for you. Plenty of outdoor seating for lounging and a to die for pool with a great zen vibe. Landscaping is gorgeous and the grounds are properly maintained. The house is very clean with great furnishings and decor. My friends and I were already planning on our next visit to Tricia's house. We were very sad to leave but look forward to staying again in the future. THANK YOU TRICIA!
Monin
2016-08-08T00:00:00Z
Hands down the best house we've every rented. My husband and I are professional weekend get-away-ers and have rented many houses - our entire honeymoon was even booked via AirBnB. That gorgeous pool you see there is just as pretty if not more so in person. The were so many amazing touches - from the fully stocked kitchen, to the abundance of cozy towels, to the fresh flowers throughout the house and the amazing outdoor ampitheater. 10 of us stayed here over Labor Day weekend very comfortably. Two people were in the outdoor cottage which was absolutely darling but did get hot quite hot by mid-morning. Tricia went out of her way to make sure we had everything we needed, and I'm very grateful that we got to experience such a lovely weekend in her beautiful home. I hope to go back very soon.
Sarah
2014-09-02T00:00:00Z
Beautiful home. Beautiful landscape. The pool was amazing, we spent all four days swimming. Kitchen was stocked with everything you needed . Will definitely use again. Also, as sweet touch with fresh roses in every room.
Christina
2016-06-27T00:00:00Z
We had such a wonderful time staying in Tricia's home. The house is immaculate with the huge resort size pool that was warm throughout the day, the views of the pool and the forest surrounding the property are incredible. The house itself is gorgeous, with all of the amenities, stocked kitchen, wolf range, etc. The property is simply spectacular and the pictures do not do it justice. Tricia was a great host. Once we booked our reservation, she emailed what to do in the area, water sports, restaurant recommendations, wineries to check out. Basically, Tricia did all the planning for us. If you are looking for a great stay in a secluded place, this is it.
Oleg
2015-08-24T00:00:00Z
Tricia was a helpful host who made us feel welcome in her spacious house, located in a beautiful setting and with all the amenities of a luxury hotel. We enjoyed a wonderful Thanksgiving week with our family and friends cooking in the well-equipped kitchen, relaxing by the fire, hiking in the nearby woods, and exploring the quaint and friendly nearby towns. We would love to come back in summer when the beautiful pool can also be enjoyed. Highly recommended.
Daryl
2015-12-01T00:00:00Z
Fantastic place, impeccably designed for a feeling of solitude with luxury. This is a beautiful house - even better than the pics. Tricia was helpful while we were planning my husband's birthday, recommended a private chef who we ended up hiring to cook the birthday meal in the house. Her kitchen is designed for cooking and there are plenty of places to just hang out on the property.
Parita
2016-08-20T00:00:00Z
Room Type
Entire home/apt
---
Property Type
House
---
Accommodates
9
---
Bedrooms
Pioneer, CA, United States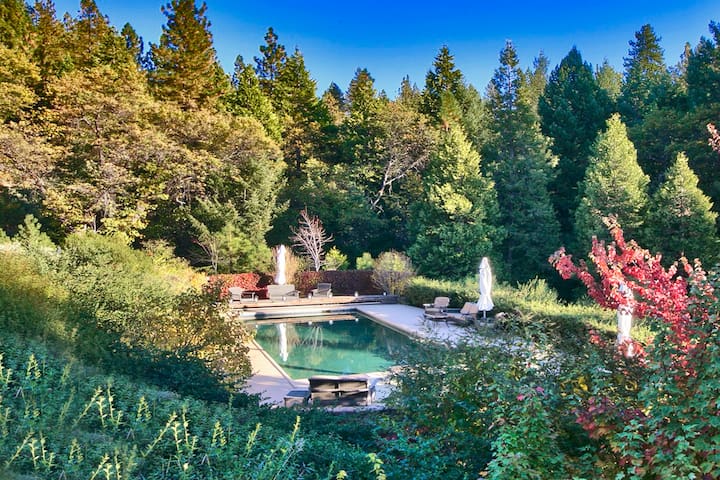 My place sits on Mace Meadows golf course and is close to Kirkwood Ski Resort, South Lake Tahoe, Carson City, Reno, Historic Amador County, Fishing, Camping, Jackson Rancheria Casino, Community Theater, gold mining and more. You'll love my place because the views are beautiful, the home is custom and beautiful yet comfortable and cozy. There is enough room to not be on top of each other. It's an amazing home. My place is good for business travelers, families (with kids), and big groups..
High speed internet is on site. Beautiful custom designed home with all the amenities you need for your stay. Large dining room table in the custom kitchen for large groups to eat together. Relax in the upstairs living room. Spend time on the 2 level decks Play some board/card games on the poker table or simply enjoy some tv on the large and comfy couch, all located in the spacious downstairs family room.
Beautiful and quiet golf course neighborhood. Great place for taking walks down to the beautiful pond on the golf course or just enjoying the tall trees and nature that surrounds this neighborhood. Golf course restaurant is open just down the street or enjoy other small town restaurants in Pioneer. Local grocery store about 3 minutes away. Great place to relax and enjoy the quiet surroundings.
Room Type
Entire home/apt
---
Property Type
House
---
Accommodates
9
---
Bedrooms
Pioneer, CA, United States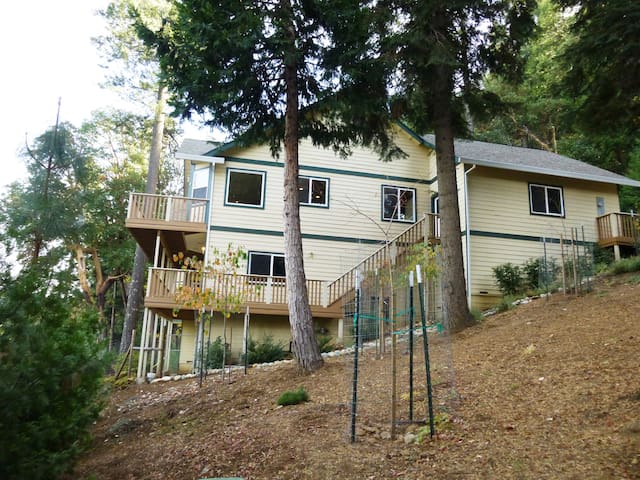 Want to get away to the mountains and still have all the convinces of home? BINGO ! .. You just found your new weekend or week getaway. 1 bedroom with full house privileges. Enjoy watching the deer and wild turkeys from the deck. Cozy and Charming.
Queen bed (Sleeps two) Dresser, Night Stand and Closet TV
The neighborhood is very beautiful. If you like going on walks you will love this area. Big beautiful trees and in the winter we do get snow.
Cozy Retreat in Pioneer was exactly as I expected. The owner was very helpful, friendly and easy to work with. I enjoyed my visit and would stay there again.
Laurie
2015-08-09T00:00:00Z
Room Type
Private room
---
Property Type
House
---
Accommodates
2
---
Bedrooms
Pioneer, CA, United States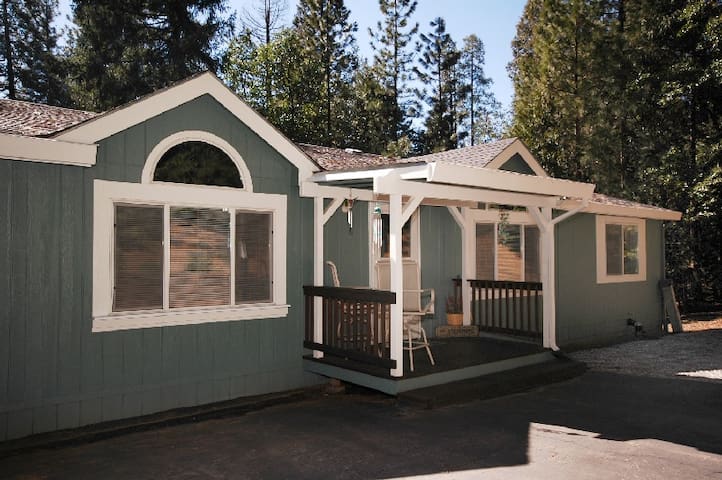 This is a wonderful 4 bedroom 2 bath upstairs vacation rental located at the corner of Inspiration Dr. East and Highway 88 in Pioneer, CA. The location is the home of Amador Station Gas and Grocery. The home sleeps 8 people with a king bed, 2 queen beds and 2 twin beds. Complete kitchen with all amenities, washing machine and dryer, local phone, cable TV, restaurants within 5 miles. Plenty of parking for all.
Clean and comfortable. We have a few antiques that keep in the theme of the mountain lifestyle. New leather couch and swivel rocking chair. New washing machine and dryer. New beds, sheets and comforters. Wifi for your use. Cable TV. A convenience store onsite stocked with everything you might need including: Camping items, fishing tackle, tire chains, food, snacks, sodas, beer, wine, ice, seasonal items, gloves, coffee and more. Onsite information for our guests with questions about the local area. We have just started using AirBnB. Here are some reviews from another vacation rental site we use: It is a great location... store has plenty of supplies... gas/fuel is very reasonably priced 27846 Inspiration Dr E, Pioneer, CA, 95666, United States Date of Stay Sep 22, 2016 The owners were very accommodating... the location was perfect as we went to a wedding down Inspiration Drive. The place is larger then the pictures showed... plenty of room for all 8 of us! Comfy and cozy Date of Stay Dec 30, 2015 Our family stayed at Amador Station over the long New Years holiday. The cabin lived up to our expectations. We loved having the market and gas station on site. Extemely convenient. Perfect location and close to Kirkwood Ski Resort. The cabin/home was very roomy, comfortable and clean. The home was appointed with everything we needed to prepare our meals, which was wonderful for the six of us. There were extra bedding and a washer and dryer. Loved that - went home with a suitcase of clean clothes. There were games and some toys, which our kids enjoyed. The owner of the property, Tammy, is wonderful! We will definitely stay here again. Amazing stay Date of Stay Oct 1, 2015 My husband and I stayed at Amador Station recently. Wayne and Tammy were very helpful and nice to deal with. It is a great central location to everything in area. The home is very comfortable and clean as advertised. It was nice to get up and have a cup of coffee from the store below, get our fuel and snacks and be on the road in no time to our destination. This would be a great spot for skiers to stay during the winter as well, as it is close the snow country and Wayne said that they keep the parking lot clear of snow for their guests and customers. No need to clear all the snow yourself like other places. Recommended for: Families with Young Children, Girls Getaway, Adventure Seekers, Age 55+, Romantic Getaway, Families with Teenagers
We are nestled in the gold Country located directly on Historic Highway 88 in Pioneer, California. Highway 88 is a year round Highway that will take you through some of the most beautiful country on earth! The High Sierras are filled with amazing vistas, lush forests, crystal clear lakes, streams and rivers and so much more. In the summer it is a very popular area of camping, hiking, fishing and many other outdoor activities. In the winter, you can go snowshoeing, snowmobiling & ice fishing. Kirkwood Ski Resort offers world class skiing and snowboarding. Kirkwood is 35 miles from this wonderful rental unit. We keep our parking lot clear of snow for you, so when you want to run to the slopes simply clean your windshield and go. Your early morning coffee is on us, just come into the store and pour your cup.
This place is great! It's clean and spacious! Our stay was for three nights in late December. We only had four people but it can definite fit 6 comfortably. Since the location is secluded, none of us had reception but luckily there was decent wifi. There was a kitchen with basic equipment that we could cook a meal with. My friends and I stopped at the vista point on 88 north towards south tahoe and it had a beautiful view of the el dorado national forest. It was so nice that we spent the whole day there to play in the snow and have a picnic. I recommend this place if you want a nice winter getaway without the busy-ness of the typical ski resorts. We did have to drive at least 30 minutes to get to any snow though.
Gloria
2016-12-30T00:00:00Z
Amador station was exactly what we needed for our trip to Kirkwood. The apartment has enough rooms, beds, and bathrooms for a large group of friends. Plumbing, heating, etc. works great, beds are comfortable, and the whole place is very clean. The location is convenient, right on 88 a reasonable drive from the resort. A nice breakfast place only 500ft away made mornings very efficient.
Boris
2017-02-26T00:00:00Z
Tammy was a great host for our 2-night ski weekend stay. The lodge was extremely clean and had everything we needed for cooking some hearty post-skiing dinners for our group. The beds were comfortable and had all the amenities we needed. It was nice to be able to put some wet ski clothes in the dryer so they were ready for the next day. The lodge had lots of hot water so everyone in our group of 8 could enjoy warm showers after a cold day on the slope. I would definitely stay here again when skiing at Kirkwood.
Liz
2017-01-16T00:00:00Z
We had an amazing time at Tammy's place. We had plenty of room to play and relax and cook and comfortable beds and everything we needed. Tammy was an excellent host and took care of everything we needed and gave us tips for cool snow places to take the kids. We will stay here again for sure. The kids were already planning our next trip before we had even left!
Jessica
2017-02-19T00:00:00Z
Room Type
Entire home/apt
---
Property Type
House
---
Accommodates
8
---
Bedrooms
Pioneer, CA, United States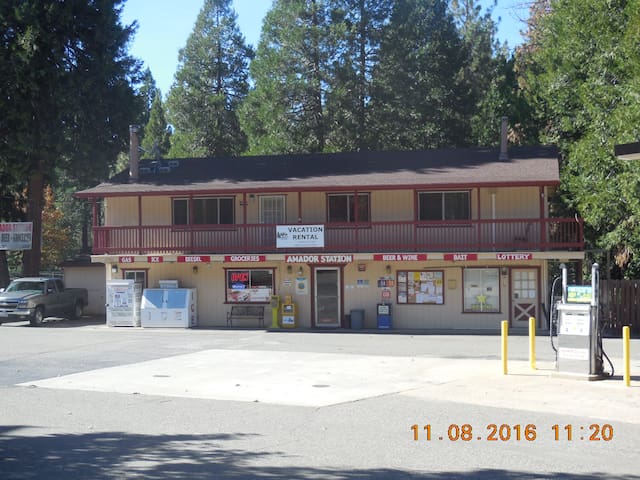 The Creekside Cottage is a great place to stay while visiting the Gold Country, on your way to KIRKWOOD, or just looking to relax. The cottage is easy to access just off highway 88, 3 miles from Jackson, CA and 1 mile east of the Jackson Rancheria General Store
The cottage is quite large for being just one bedroom. It has an ample living room with a huge wood stove, large kitchen/dining room fitted with a delightful propane heating stove and one bathroom. The space is easy to heat with the wood and propane stoves. The kitchen is equipped with all the essentials to cook your favorite meals. There is a gas range and oven, full size refrigerator/freezer and plenty of space and light to enjoy cooking up your meals. There is no internet available here. Cell coverage is poor to fair, but a land line phone is provided. There is no TV in the house. We clean the place ourselves for the $15 cleaning fee. If you are expecting a professionally cleaned space, this is not for you. If you want something economical and plenty clean for your average person, this for you.
This is an awesome part of the Sierra Nevada mountain range. The Jackson Creek is beautiful, the towns of Jackson and Pine Grove are both very close by.
Easy drive into Jackson and it's quaint shops and restaurants. Had a lovely time at Sean's place. Easily stayed warm, all the basic necessities, and well equipped kitchen. Would enjoy returning.
Joe
2017-03-11T00:00:00Z
Nice cozy place, recommend it to anyone staying in Jackson.
Brant
2017-03-19T00:00:00Z
Spacious cottage (we had 2 people) with a great wooden stove for warmth! It was the perfect touch to our trip. We stayed one short night on our to Kirkwood. Great location close to the highway.
Jacklyn
2017-03-12T00:00:00Z
Great place to stay , right down the street from the casino, cottage is well equipped with kitchen supplies, bedding , pamphlets for tourist ideas, awesome location easy to find. Had a great stay here , would highly recommend this cottage!
Kevin
2017-01-22T00:00:00Z
We had a lovely stay in this cozy cabin. Easy access to Highway 88, but not overly noisy, as traffic was light.
Samantha
2017-03-05T00:00:00Z
This cute, rustic cabin provided a nice Christmas getaway at an affordable price. The cabin is more spacious than it appears in the photos. The wood burning stove kept the house toasty warm. A great way to unplug as there is no TV or internet.
Ashley Powers
2016-12-27T00:00:00Z
Quick, hassle free getaway. Sean made sure we had everything we needed to get in quickly and enjoy our stay without too much fuss.
alexsarah
2016-11-26T00:00:00Z
Peace and quiet. Rustic feel.
sassy15queen
2017-02-20T00:00:00Z
Room Type
Entire home/apt
---
Property Type
House
---
Accommodates
4
---
Bedrooms
Jackson, CA, United States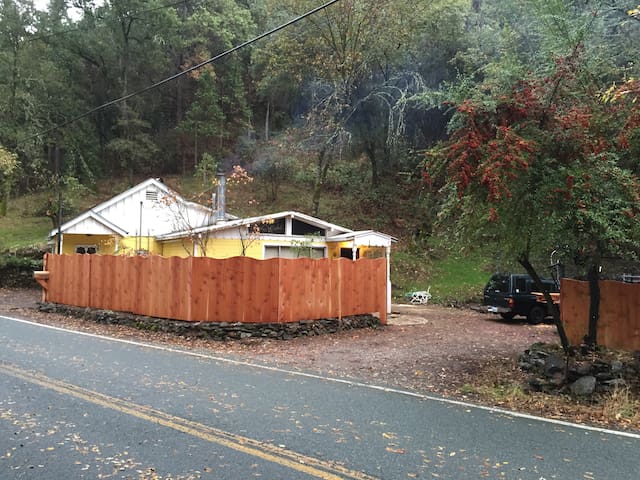 Welcome to our home! Overlooking the Mokelumne River Canyon you can relax on the peaceful deck, take in the beautiful views all while observing the many birds, deer and wild turkeys roaming through. If your passion is skiing, hiking, fishing, gold panning, wine tasting or all of the above, our Amador County home is for you. Plenty of antiquing, specialty shopping, local restaurants, casino and seasonal Main Street happenings throughout the year!
*Located upstairs, both bedrooms and adjacent bath are clean, private and roomy. *Kitchen is available for coffee and lite breakfast. *We take pride in our clean, well cared for home and trust you will be gracious ;)
3 miles away from Lake Tabeaud, 1/2 mile away from Roaring Camp, 2 Miles from Mt. Zion, 45 min to Kirkwood Ski Resort, 30 min away from Shenandoah Wine Country, 15 min to Historic Downtown Jackson & Sutter Creek, 10 min away from Indian Casino
What a fantastic experience! Heather and Scott are warm, welcoming hosts with a charming, comfortable home in a beautiful (oh the view!) quiet setting. From our first reassuring texts about snow conditions and then helpful dinner recommendations, to ideas for unusual things to do in the area, to perfect coffee and croissants and fruit in the morning, this was an ideal Airbnb stay.
Jenny
2017-04-02T00:00:00Z
Gorgeous stay with lovely hosts! Heather and her husband are the warmest people. They really made us feel welcome and comfortable. The rooms are gorgeous and comfortable, like a rustic Americana-at-it's-best hotel. The shower is like a spa. The views are to breathtaking! Breakfast was lovely :)
Sophia
2017-03-07T00:00:00Z
Great hosts. All's good. Very quiet and peaceful. 5 stars for all points.
Sittichai
2017-02-20T00:00:00Z
Room Type
Private room
---
Property Type
House
---
Accommodates
4
---
Bedrooms
Pine Grove, CA, United States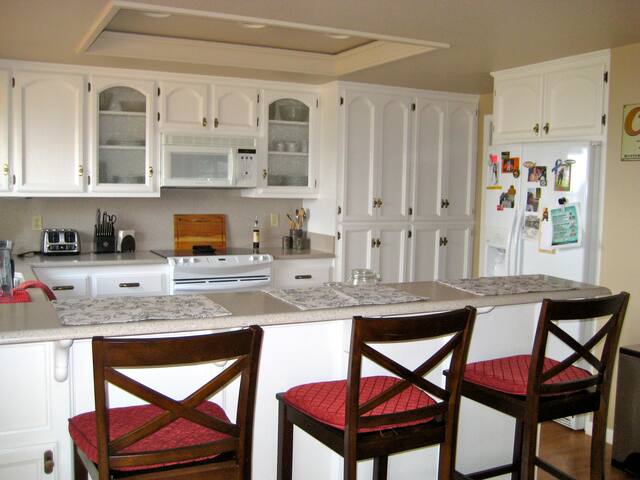 Our charming cottage is a unique get-away experience! We are located in the Sierra foothills wine country on a 42-acre ranch. Go wine tasting, explore the gold country, or just relax among the birds and trees.
Our cottage has everything to make your stay comfortable and enjoyable: 2 bedrooms, each with a queen size bed, a fully equipped kitchen, AC, laundry facilities, ceiling fans, dvd player, outdoor gas grill, and outdoor dining space. The house is located on our 42-acre working ranch where you are welcome to experience ranch life as much or as little as you please. We have 40+ sheep, 2 horses, many chickens, 2 dogs, 2 cats, and 2 ducks that live full time on the pond. We also have a small vineyard and groomed walking paths throughout the whole ranch. The setting is gorgeous, with lots of heritage oaks and rolling hills.
Our cottage is located in a perfect location to experience everything Amador county has to offer. Wine tasting at the fine wineries of Shenandoah Valley or El Dorado country is just a short drive away. In addition to the wineries, this area has lots of historical sites and charming little towns to explore. Just to mention a few options, you can visit Indian Grinding Rock State Historical Park, explore the caves at Black Chasm Cavern, or browse the art galleries and antique shops in Sutter Creek and Amador City. Amador also has really excellent places to eat: try breakfast at nearby Element in Sutter Creek, lunch at Andrae's Bakery in Amador City (best bakery in Northern CA!), and dinner at the highly acclaimed restaurant Taste in Plymouth.
Sherry and Dan were wonderful hosts! The cottage is perfect for a weekend away and a nice kitchen to cook meals in; complete with fresh eggs from the farm! We were there for the Amador Wine Crush weekend and felt like we were in our own little piece of heaven. We even locked ourselves out and they came to the rescue!! We enjoyed walking around the ranch, looking at the sheep and baby lambs, and the tranquil sounds of squirrels and the occasional flock of turkeys. My husband and I cannot wait to come back here next year for the crush again.
Emily
2014-10-06T00:00:00Z
Sherry and Dan were welcoming, genuine and very helpful in terms of information and recommendations. The house is so delightful, clean, and well appointed. Modern fixtures give the cottage an updated feel. The warm butter yellow walls evoke cheeriness particularly when the morning sun streams in the window of the dining area. The art inside is interesting and adds to the interior of the home. The outdoor patio is elegantly landscaped amidst the wild beauty of the California foothills. The cozy fireplace, interesting books and comfy bed make this an exceptional getaway refuge. Freshly ground coffee and eggs directly from the chickens are wonderful bonuses. The house lies a stones throw from Il Gioniello Winery but this home is the true little jewel!
Karen
2016-11-13T00:00:00Z
The hosts were very friendly and we had a great overnight stay. Great place if you are looking for peace and quiet. The hosts offered my wife and I fresh veggies from there garden and eggs, even a homemade bottle of wine.
Rocket
2014-08-13T00:00:00Z
Sherry's charming cottage is that and a lot more. We were delighted with the setting as it is wide open, full of green pastures, gorgeous trees, and ponds, which we were allowed to walk, and watching the sheep and chickens is priceless entertainment! The cottage is modern and clean yet with a country feel. Amador County is a fun place to explore and we enjoyed both the Black Chasm Cavern in Volcano and the Taste restaurant in Plymouth. Sherry and Dr. Dan couldn't have been more hospitable hosts.
Cheryl
2017-03-12T00:00:00Z
This was my first time using airbnb and what a great experience, all thanks to Sherry. Her and her husband are great hosts. They made us feel welcomed and allowed us to explore their property. Pictures do not do this beautiful place any justice, you have to see it to believe it. The ranch is so peaceful and full of life. We plan to revisit the ranch soon our dog misses his fur friends.
Christina
2017-02-26T00:00:00Z
Dan and Sherry were great hosts. The place was very clean and had everything we needed. We had a bottle of wine and fresh eggs waiting for us. Overall a very nice place to spend some off the grid time. Thanks Dan and Sherry
Sanjoy
2016-12-26T00:00:00Z
Gorgeous property, in quiet country setting, very accommodating owners. Would definitely go back.
Chong
2017-04-09T00:00:00Z
Fantastic stay! Dan and Sherry were welcoming and made us feel right at home! We were welcomed with a bottle of wine and farm fresh eggs! The cottage is beautiful and the area private and secluded. The sunsets and stars were spectacular! We will definitely come again! Wish we could have stayed one more day! Thanks Sherry and Dan!
Dawn
2014-11-12T00:00:00Z
Room Type
Entire home/apt
---
Property Type
House
---
Accommodates
4
---
Bedrooms
Fiddletown, CA, United States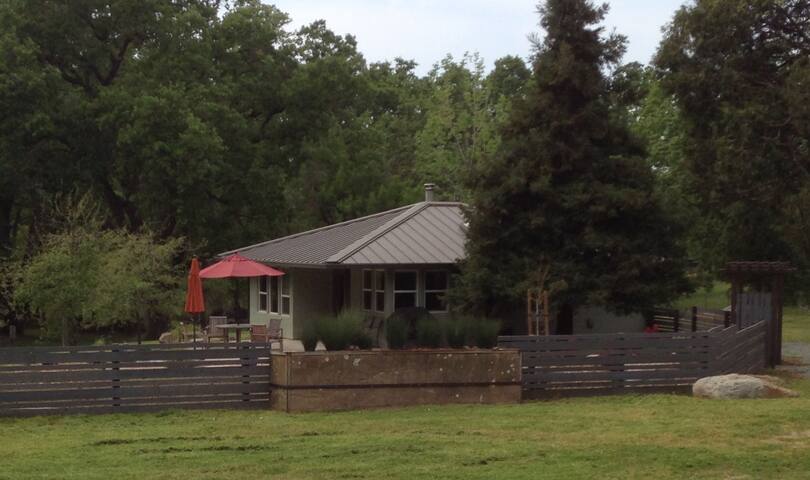 Escape to this wooded Sierra foothills retreat on 2 private acres in the in the Amador County wine country, where your noisiest neighbors are the hummingbirds, woodpeckers, and an occasional hawk.
This very special home offers abundant serenity and panoramic views in a nature-rich environment. Its open floor plan and high ceilings provide accommodations that are comfy, but never cramped. Spend hours watching several varieties of birds eat from the feeders on the deck, both from the deck itself and from inside the house. Plentiful windows and a centrally-located skylight provide lots of light and bring the outdoors in. The kitchen is fully equipped with modern Kenmore appliances, including a portable dishwasher. A toaster, a coffee maker, and a blender are also provided. The house is at once remote and private, but also affords easy access to CA Highways 88 and 49. It's the perfect "base camp" for those seeking peace and relaxation, but with plenty of access to fun once you've recharged.
Conveniently located less than a 5 minute drive from CA Hwy 88, 10 minutes from CA Hwy 49. There's a lot to do in the area: - During the summer, you can visit the weekly Farmer's Markets in Jackson, Pine Grove, Plymouth, Sutter Creek - Historic Volcano and Sutter Creek: 10 minutes each - Jackson Rancheria Casino: 10 minutes - Antique shopping in Jackson: 12 minutes - Mokelumne River: 20 minutes - Amador County wineries: 25 minutes - Amador County Brewing Company: 25 minutes - El Dorado National Forest: 30 minutes - Bear River Reservoir and numerous trailheads: 40-45 minutes - Placerville and Silver Lake: 50 minutes each - Kirkwood, Murphys, and the Stanislaus National Forest: 60 minutes each - Sacramento: 1.25 hours - Lake Tahoe: 2 hours - Yosemite National Park: 3 hours
This was a great cabin to stay in for a relaxing retreat. The views are incredible, the space is inviting, and there are a lot of amenities that you don't typically find in a cabin (e.g., toiletries, full size kitchen, washer/dryer, tub w/ shower combo, media player, etc.). The bed was surprisingly comfy & the library was great (lots of books on detoxing, self-renewal, meditation, etc.). Jennifer was a great host and communicative throughout and provided detailed directions/instructions. I did get lost solely because my GPS took me the long way through Pine Grove! This place is lovely and I highly recommend it to those looking for a quiet getaway. P.S. Jennifer was very gracious about me accidentally breaking one of her decorative treasures (a totem)! She has a generous and welcoming spirit, which was also reflected throughout her home.
Rosalind
2016-09-05T00:00:00Z
We had a great time at Jennifer's place. It was the perfect place to get away from the city and be in the mountains. It was such an amazing experience. She made our experience very nice and comforting. Her home is located in perfect spot, less than 5 minutes away from a grocery store. The views from her home are amazing, and her home was very welcoming. I will definitely be back in the future!
Sim
2016-07-29T00:00:00Z
It was pleasure to spend time in beautiful clean house. Thank you
ikram
2016-08-24T00:00:00Z
Jennifer's home is fantastic. The home is incredibly comforter and warm feeling. You feel like you are at home the moment you walk in. The porch and the brides are incredible. We loved sitting out on the porch watching the sunset each night. We would absolutely stay here again and are already planing our next trip.
Chris
2016-08-08T00:00:00Z
I absolutely loved this place; it is exactly as pictured and described. The deck was so comfortable, numerous chairs and a chaise lounge. Trees, distant hills, three bird feeders (she even supplied the bird seed) ... a very serene and relaxing place. Jennifer also has an extensive library which both my husband and I enjoyed. There was also plenty of room for both of us to stretch out for yoga and deep relaxation. She provided extensive information on nearby places to visit and hikes to take. Oh, and if you haven't seen a plethora of stars for a long time, you're in for a treat! Looking forward to coming again for a longer stay. Note: I do have a very bad back and was concerned a bit about the mattress topper ... I think I may have taken it off if we could have stayed longer. My only REAL COMPLAINT is not with Jennifer, but with Airbnb! I do know how to text and answer texts but kept getting the following message: "Unfortunately, we could not process your response because your number is registered to many accounts." I don't even know what that means! I got a message that Jennifer wanted to hear from me, but I couldn't answer it! I don't do any social media so none of those options helped. The "Help" menu does not answer a question that hasn't been asked. I asked for a live body, no help! This is the only place that I can write anything!
Patsy
2016-08-04T00:00:00Z
Jennifer's cabin is a gem in the mountains around Jackson. A perfect launch point for the sites around Gold Country, it provides a beautiful, homey space to relax after sight seeing. The deck is to die for-- we did yoga every morning out there, had tea in the afternoons, & star-gazed in the evenings. Not only that-- Jennifer's neighbors are really sweet, and helped us with directions, good swimming.food suggestions, & even brought us tomatoes from their garden. Jennifer is an exemplary hostess. She's very present, warm, and welcoming-- I couldn't have asked for a better experience for this surprise trip for my partner to Gold Country!
July
2016-08-13T00:00:00Z
Jennifer was very attentive and quick to respond when I had a question; her place is warm and cozy and encapsulates the thing I love most about AirBnB: feeling at home when you're not at home ... except my home doesn't have such a beautiful view =)
Tab
2016-07-17T00:00:00Z
This is a beautiful home, location and an absolutely highly recommended Airbnb experience. Jennifer was a delightful host. Felt like home! Very highly recommended! :)
Adam
2016-07-10T00:00:00Z
Room Type
Entire home/apt
---
Property Type
House
---
Accommodates
2
---
Bedrooms
Jackson, CA, United States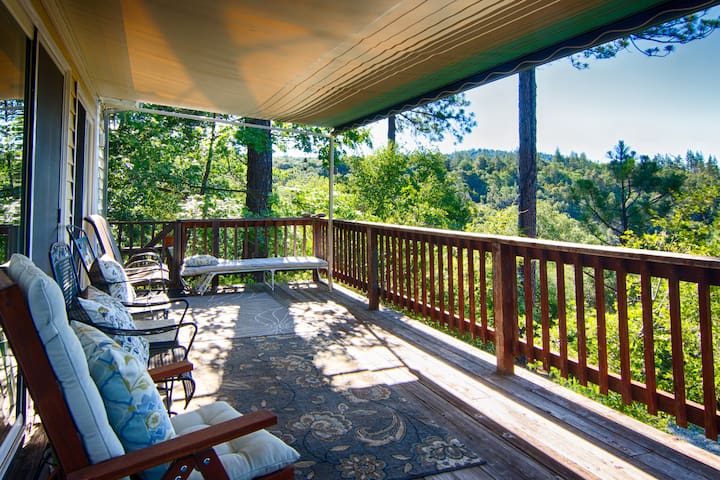 A stay at our one-of-a-kind barn house is an exceptional get-away experience. Located in the Sierra foothills wine country on our 42-acre ranch, it is close to wineries, restaurants, shops, and historical sites of the Gold Rush.
We call this the "barn house" because it occupies a corner of our barn/workshop. It is a wonderful space, smack dab in the middle of a beautiful rural setting, but with a very urban feel. There is everything here to make your stay comfortable and enjoyable: 1 bedroom with a cal king bed; a FULLY equipped kitchen; dvd player + various dvds; wireless internet; indoor wood burning stove for cosy evening fires (firewood provided); outdoor charcoal gill (charcoal provided); and outdoor dining space on your own private patio with a GORGEOUS view (trust me, that's not an exaggeration!). This space is located on our 42-acre ranch where you are welcome to experience ranch life as much or as little as you want. We have 40+ ewes and lambs, 3 horses, lots of chickens (we supply you with their eggs!), one dog, 2 cats, and 3 ducks that live full time on the pond. The barn house is surrounded by our small vineyard of primitivo grapes, plus there are groomed walking trails throughout the ranch. The setting is really stunning, with lots of heritage oaks and rolling hills. Guests can take in as much or as little ranch life as they like. They are welcome to explore the property at will. We are happy to make your stay an enjoyable and hassle-free one. We love meeting new people but are very good at giving guests all the privacy they need. We live on the other side of the property so we're always around to answer questions and show you the lay of the land. The barn house is perfectly located to experience everything Amador county has to offer. Wine tasting at the fine wineries of Shenandoah Valley or El Dorado county is just a short drive away. In addition to the wineries, this area has lots of historical sites and charming little towns to explore. Just to mention a few options, you can visit Indian Grinding Rock Historical Park, explore caves at Black Chasm Cavern, or browse the art galleries and antique shops in Sutter Creek and Amador City. Amador also has really excellent places to eat: try breakfast at nearby Element in Sutter Creek, lunch at Andrae's Bakery in Amador City (best bakery in northern CA!) and dinner at the highly acclaimed restaurant Taste in Plymouth. Guests will need a car. If you happen to be looking for a place to accommodate a larger family/friends group, we have a 2 bedroom cottage on the property that is available on Airbnb as well.
This was a fantastic airbnb, one of the best we've stayed at. Well appointed and very comfortable. We'd never been to the area and our hosts were very accommodating and provided great recs. Would absolutely return. Also, not related to the property, the region was awesome and the wine tasting vibe very fun and low key.
Eldon
2016-06-27T00:00:00Z
Sherry and Dan were friendly and welcoming. The setting is gorgeous and the house is comfortable, it had everything we needed.
Ellen
2015-12-15T00:00:00Z
Sherry replied promptly to my request. She also answered my questions/messages within the hour on the days leading up to and during my stay. The Barn House is a gem. It looks so inconspicuous on the outside but the interior is gorgeous. I immediately fell in love with all the natural light that fills the place. Probably the most immaculate AirBnB I've stayed. Restaurants/grocery stores with fresh produce are a bit of ways away, so planning accordingly/ahead is necessary. But the BH is fully equipped with anything so that guests can easily stay months on end. Met the husband, Dan, on the second day, which my boyfriend and I spent our time roaming the grounds. Dan showed us some of the animals and gave us hay to feed their horses. We wanted a quaint getaway for Labor Day Weekend and we couldn't have stayed at a better location.
Belinda
2015-09-08T00:00:00Z
Fabulous house in a beautiful location. Very well designed and extremely comfortable. The house has everything you need - fireplace, books, dvd's, tv and spacious couch. Sherry and Dan showed us around their farm, let us walk our dog all around and gave us a bottle of wine. All around great hosts. Thanks.
Richard
2016-01-05T00:00:00Z
Our trip to the barn house was a wonderful retreat. The space is beautifully designed and decorated, as well as fully functional. We made all of our meals and did not want for any kitchen appliance. Sherry & Dan were such gracious hosts. I was invited to pick fresh fruits and vegetables from their garden (which I did, and which we enjoyed the whole stay), and we had a bowl of fresh farm eggs in our fridge which we used to make breakfast each morning. The trees and land surrounding the barn house are magical! I was delighted to meet their farm cats, dogs, sheep, chickens, and especially their two majestic horses. I even got a quick lesson on equestrian grooming :). On our last day, we traveled to Andrae's Bakery in Amador City - recommended by Sherry & Dan - and feasted on amazing pastries and iced chai lattes. We would definitely recommend the barn house to anyone looking for a sweet & local getaway.
Louise
2015-08-31T00:00:00Z
For my parents anniversary I treated them to a weekend at the barn house, THEY LOVED IT! The accommodations were stunning, Sherry and her husband were fabulous hosts, my folks have told me that they had such a good time that they will definitely visit again. Thank you Sherry for everything!!
Joseph
2016-01-25T00:00:00Z
Loved our quick weekend getaway to the Barn House. The setting is beautiful and relaxing. The house is top notch. Dan and Sherry have made this a special little place and the pride of ownership is evident. The home is clean and modern yet feels very homey. I appreciated the bottle of wine they left for us to go along with our yummy pizza from Pokerville Market that we ate fireside as it was a rainy night. The fresh eggs for breakfast were delicious. And the views - the pictures don't do it any justice. So beautiful. Sherry and Dan are very affable hosts and gave us suggestions of places to visit, which we appreciated. I can't wait to come back again when it isn't storming so I can explore the property.
Terri
2016-10-16T00:00:00Z
Our stay was absolutely wonderful. The property is soooo peaceful, and the accommodations were comfortable, clean and made us feel at home. The Barnhouse had a well appointed beautiful country kitchen, and beautiful patio for enjoying morning coffee. The location is close to everything you might want to enjoy, although we found it hard to even leave the serene property! We'll definitely return, except next time for a longer stay!
Amy
2016-08-22T00:00:00Z
Room Type
Entire home/apt
---
Property Type
House
---
Accommodates
2
---
Bedrooms
Fiddletown, CA, United States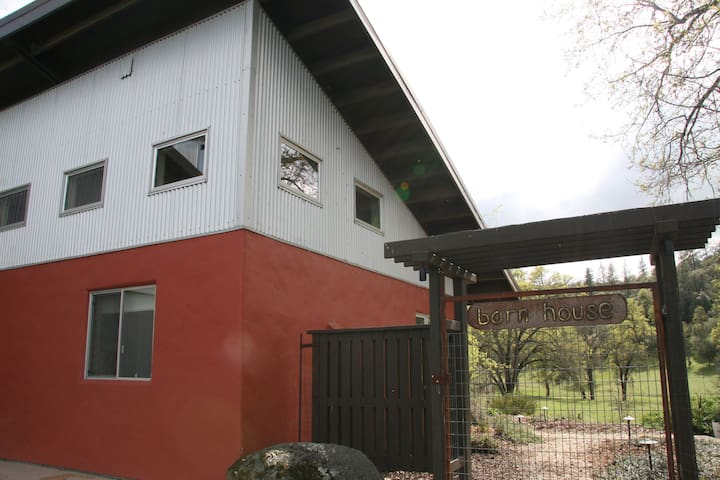 Your private getaway with sweeping views of pine and valley from the comfort of your living room and bedrooms. Happy Vista Ranch has 3000 square feet of living space on 39 acres private in the heart of California's historic Gold Country. It's only a 2 hour drive from the Bay Area but feels a world away. And oh, the stars at night! You must see it to believe it.
Happy Vista Ranch can accommodate 2-3 families comfortably: * 4 bedrooms, 3 baths * Three rooms with queen beds and views, one room with two twin beds, sleeps 8 total * 70" flat screen with Chrome-cast, Microsoft X-box with Kinect, and lots of movie DVDs * Foosball table and board games * Free high speed internet * Gourmet kitchen with granite counters * Large wrap-around deck * Yoga room adjoining the Master bedroom, with deck access
The ranch is located off the Hwy 88 corridor. In the summer, live in the center of outdoor activity. Stay on the ranch for short hikes, lazing around and stargazing; or drive 30 min uphill to alpine lakes for fishing, boating, hiking and kayaking. Caving is only 10 minutes away, while within 30 minutes you can find whitewater rafting on the Mokulumne (self-guided), historical tours of gold country, wine tasting and shows at the Jackson Rancheria Casino Resort. In the winter, easily reach the ranch on a Friday night without having to drive through heavy snow. The next morning when the traffic subsides, roads clear, and the sun is shining, make the drive up to Kirkwood for awesome boarding and skiing. The non-boarders and non-skiers in your party can enjoy the sweeping views and all that Gold Country has to offer.
Connie and Eric are great hosts, and they were really helpful in answering any questions we had. Their house was fantastic and the ranch was very scenic and quiet. We even got a few inches of snow while we were there which we enjoyed a lot. I would definitely stay there again!
Ian
2017-01-22T00:00:00Z
A beautiful place in heart of mountains, away from home but yet like home. A perfect weekend getaway where you can enjoy stay, view , hike , indoor and simple outdoor games. Spectacular view of sunrise and sunset from the home. Once sunsets and it's dark, you can see sky full of stars which is really mesmerizing. I will definitely recommend to stay here and experience the beauty of nature. Connie and Eric are really great hosts. Very responsive and very helpful. Always stay in touch to make sure you have great time and enjoy full stay.
Upendra
2017-02-26T00:00:00Z
Room Type
Entire home/apt
---
Property Type
House
---
Accommodates
8
---
Bedrooms
Volcano, CA, United States

Placed on over 5 acres of land nestled in the foothills of the sierras at approx 4000 ft elevation this forested lot will calm your body, mind and soul. This 4 bedroom 2200 sq ft house can sleep up to 8 people or more with many facilities. This house has lots of modern facilities including a game room. 2 night minimum. No pets allowed inside or large gatherings allowed.
Beautiful home with a lovely and extremely well-appointed kitchen. Huge, fenced in yard. Lovely mountain setting with a cute little horse ranch around the corner we walked by. Comfortable beds with nice duvets. My son loved the gaming area and I loved the deck with sliding door off the master. Used BBQ and ate by the pond. Roasted s'mores on the firepit. Went to Black Chasm, interesting, good pricing. One of the nicest rentals we've stayed in, especially in this price range. Kitchen was a highlight. Most of the house was updated and modern. TV a little complicated, but we figured it out. I suggest a manual for users. Awesome Wifi. Can't tell you how many times rentals claim they have WiFi and it doesn't work. Worked great. It is a way up the mountain, and roads are curvy. Make sure you (SENSITIVE CONTENTS HIDDEN) it because mountain roads can be confusing. Definitely recommend this property!
Brenda
2016-07-20T00:00:00Z
Best host ever! We enjoyed staying there. Oisin, thank you so much!
Irina
2016-07-18T00:00:00Z
The house is in an amazing location outside of volcano. It's definitely a nice retreat among peace and quiet. Oisin was very helpful in providing directions to get to the house, providing tips on what to do in the general area, and very responsive with any questions we had.
Jenny
2016-05-30T00:00:00Z
h
Hailee
2017-02-19T00:00:00Z
Beautiful home, super comfy beds, lots of space and secluded enough so no one bothers you and you don't bother any neighbors
David
2017-02-26T00:00:00Z
Beautiful home in the woods, with a very nice sauna and wood-fired hot tub. Well stocked kitchen. The owner was proactive in his communication and helpful in answering any questions that we had. Highly recommended!
Corinna
2017-02-05T00:00:00Z
This is a fantastic Airbnb and Oisin was a wonderful host. I would definitely recommend it. Perfect for kids too.
Jennifer
2017-01-29T00:00:00Z
This place was much better than I expected, and the drive downtown volcano it was much easier and shorter than I expected. It really couldn't have been any better, I enjoyed it so much I ended up staying longer.
Billy
2017-03-23T00:00:00Z
Room Type
Entire home/apt
---
Property Type
House
---
Accommodates
8
---
Bedrooms
Volcano, CA, United States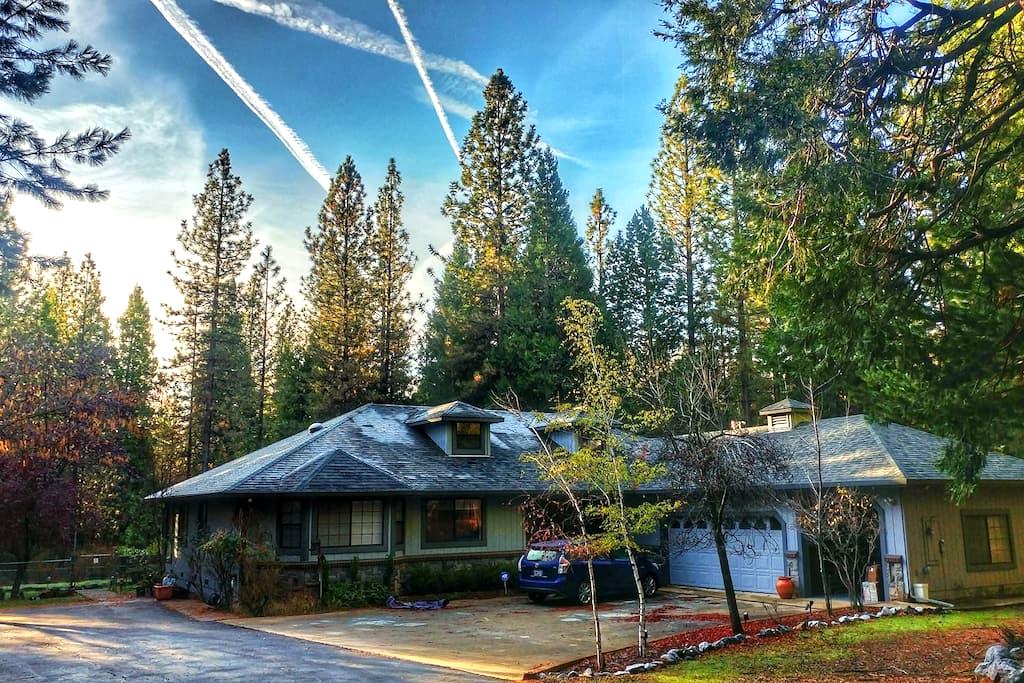 My serene home in the hills above the picturesque town of Volcano is a haven for those who seek peace and quiet. Views of rolling pastures and grazing horses. It has a great room with brick fireplace, 2 BR's, 2 bths and kitchen. 4 nights min. stay.
My home is available for a minimum of 4 night stays only. It comfortably sleeps 4 and has magnificent views of rolling pastures, grazing horses and has 2 ponds! It is not luxurious, but super comfortable and serene. Truly a place where you can come to relax and rest.
This home is located about 20 minutes outside of Sutter Creek and 10 minutes from quaint Volcano. Lots of shops, vineyards and restaurants nearby, while Volcano has the wonderful gastro pub named the Volcano Union Inn and the historic St. George Hotel. Kirkwood is 40 minutes away. Lake Tahoe is 1.5 hours way through the beautiful National Forest along Highway 88.
Julie is a wonderful host. We had a great time at Serenity in the Foothills. The place was clean, the nature there is very beautiful, and the house is warm and relaxing. The host was in touch the whole time, very responsible and reliable. Can't wait to come back there!
Olga
2016-01-05T00:00:00Z
Truly a wonderful, new find for us! Julie is a delightful host (I'm certain she's even better in person!) - helpful, communicative and most welcoming. Her home/property is true to description - fully stocked (yes, ample firewood too!!); warm, simple decor; spacious, open interior and a balcony that beckons you and your morning cup of coffee…all in a beautiful, peaceful, thriving, nature and wildlife filled setting! Add to all that the quaint, little town of Volcano and its lovely residents and you've got a magical, country retreat! My kids were in heaven for their spring break, thanks Julie! Please, do stop by and see Nana at the Kneading Dough Bakery on Main Street - not only does she know the ins and outs of the area but her baked goods are incredibly scrumptious! Places of interest: Black Chasm Caverns Indian Grinding Rock Daffodil Hill
Lorena
2016-04-02T00:00:00Z
Room Type
Entire home/apt
---
Property Type
House
---
Accommodates
4
---
Bedrooms
Volcano, CA, United States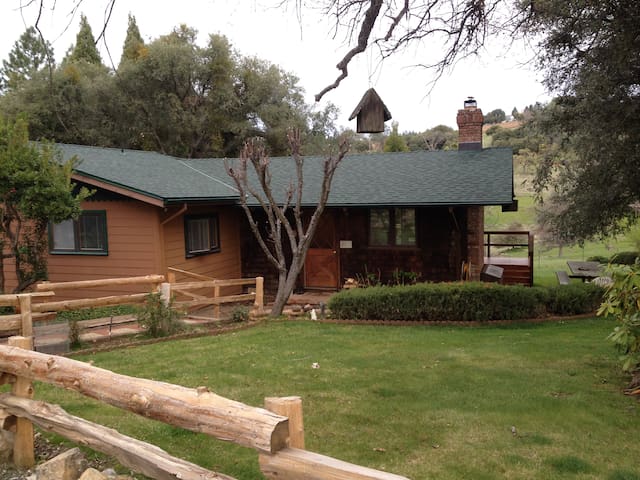 Newly remodeled beautiful 4700+ sqft., 5 Bedroom, 5.5 Bath situated on 20 acres with pool. Kitchen features 2 ovens, 2 dishwashers, 6 burner cooktop and warming drawer. Game room features a pool table, foosball, poker table, air hockey, TV and 3/4 bathroom. Pool area is gated, features a gas fire pit, BBQ, above ground jacuzzi and amazing pool with water slide. Playhouse for the young at heart, swing set, volleyball, ping pong and 2 horseshoe pits are among some of the amenities offered.
We do not have proper permits to host weddings as of yet. Please contact me for alternative wedding locations close to the house. Extremely well priced venue with tons of rentals included.
Room Type
Entire home/apt
---
Property Type
House
---
Accommodates
14
---
Bedrooms
Sutter Creek, CA, United States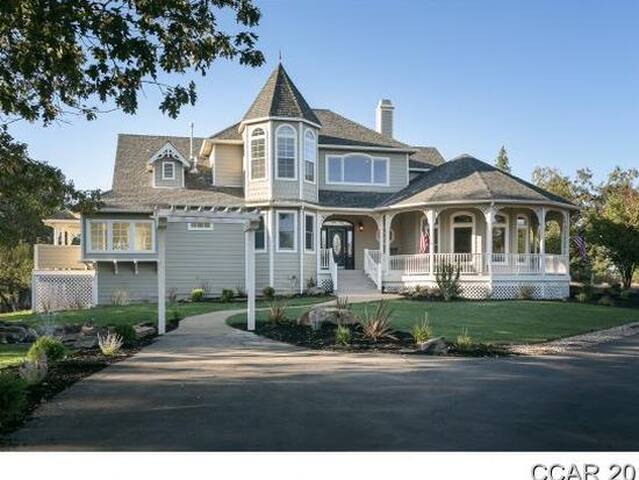 Pioneer - Airbnb
:
Average

4.94

out of

5

stars from

606

guest reviews
1

–

18

of

24 Home Rentals
Enter dates to see full pricing. Additional fees apply. Taxes may be added.