Attractions: incredible views, the beach, restaurants and food and family activities. You'll love my place because of the atmosphere, outer areas, light and comfort of the bed. My accommodation is good for couples, adventurers and families (with children).
Extraordinary place to rest there is nothing like enjoying everything that we offer Condo Playa Blanca view of whales and dolphins often can also fish and prepare everything that serves the sea with the help of read our cook take a kayaking or just relax sunbathing by the pool.
Just 15 minutes from Zihuatanejo and 20 Ixtapa where you can find everything you're looking to make your holiday the best experience restaurants, bars, places of interest, such as swimming with dolphins, fishing, kayaking, nightlife and unmatched quality of people is what awaits us
Room Type
Entire home/apt
---
Property Type
Flat
---
Accommodates
8
---
Bedrooms
Zihuatanejo, Guerrero, Mexico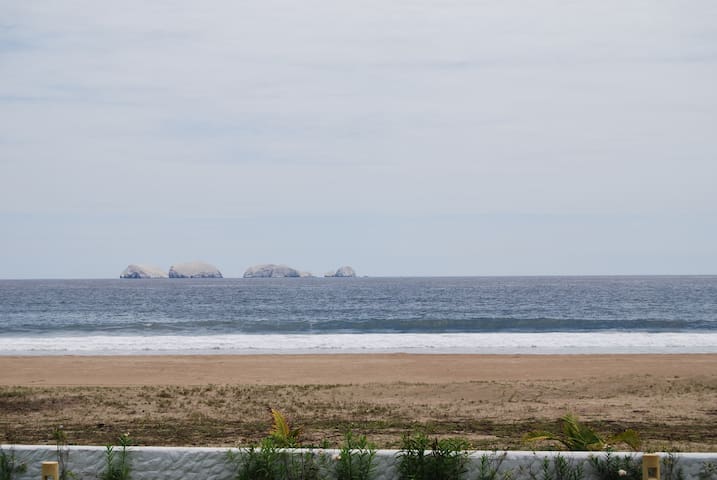 Brand new luxury apartment with private pool, right next to the sand and beach. Fully equipped. Very nice furniture with high quality wood. Infinite pool. Spend the best time of your life in a real paradise.
The perfect place to enjoy nature, 10 steps from the sand in a really luxury and fully equipped apartment.
The sea, plain and simple, 10 minutes drive to Potosi and 25 minutes to the airport
Room Type
Entire home/apt
---
Property Type
Flat
---
Accommodates
8
---
Bedrooms
Playa Blanca, Guerrero, Mexico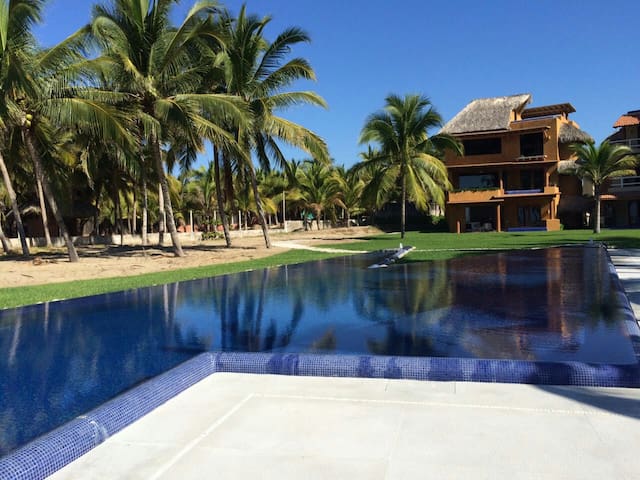 Very affordable apartment at Zihuatanejo. Closer beaches Playa Blanca and Playa Larga. Very quiet zone.
The host canceled this reservation the day before arrival. This is an automated posting.
Andrea
2016-12-27T00:00:00Z
Room Type
Entire home/apt
---
Property Type
Flat
---
Accommodates
4
---
Bedrooms
Zihuatanejo, Guerrero, Mexico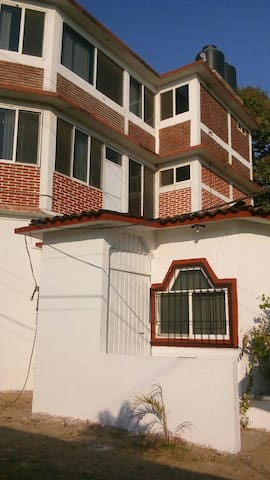 Beatiful condo, 4 minutes walking to La Ropa Beach at Zihuatanejo. New remodel with great design, ideal for couples and people looking for long term stay. Also ideal for handicaped, wheel chair acces from parking, and bathroom totally accesible.
Very private, and quiet place, ideal for 4 people or a romantic get away.
Beautiful hill 5 minutes ride away from downtown.
Oscar was very fast at responding before and after making the reservation; always emailing back quickly and picking up my phone calls to him anytime. He was very helpful with directions, advice etc. Condo was immaculate, clean, very modern, with all amenities one would need. It was as described
Ali
2016-08-30T00:00:00Z
Oscar's place was amazing. The view was spectacular, the beach was much closer then I expected (5 minute walk), and the place is huge! Sylvia the cleaning lady is wonderful and an excellent cook if you're feeling hungry. The only small issue was that the power was out during for half of a day of our 3 day stay and when it was turned back on, the master bedroom AC wasn't working. I didn't mind because the area is so beautiful and there is so much to do we just went to the beach and waited for the power to return. I would recommend this place to anyone who wants to spend an amazing time in Zihuatanejo!
Zach
2016-01-09T00:00:00Z
The condo was as good as I expected; super clean and spacious. Oscar was available within minutes of contacting him. The walk to the beach was good exercise and not far. The pool was perfect. We had a great experience and I will stay there next time I'm I Zihau.
Dianne
2016-11-05T00:00:00Z
Great hospitality! Great stay! We will come back for sure. A huge thanks go to Silvia.
Ceyda
2017-01-04T00:00:00Z
The place was everything we expected and more. Oscar was very helpful as was Sylvia. Hope we will be able to return and extend our visit longer in Zihua! A favorite place for sure!
Ann
2017-01-08T00:00:00Z
Very clean and comfortable apartment for two couples. Very close to playa Ropa. Perfect if you are looking for a place to spend the night and mornings while enjoying the beach and restaurants during the day and evening.
Michael
2016-12-04T00:00:00Z
Condo was clean and modern, even better than the photos. Great location! We will be back for sure!
Rebecca
2016-11-29T00:00:00Z
Everything was perfect! Silvia was close by the entire time for anything we needed, and the condo is perfectly located on a nice relaxed beach, just a 50 peso cab ride or 7 peso micro from the Centro. Condo is equipped with everything you need to cook and make drinks, and although the upstairs bathroom has some problems with hot water, it is rarely needed, and works perfectly downstairs if there is a chilly night. Oscar was attentive and checked in every day to make sure the trip was going well. Would definitely recommend for a nice laid back getaway!
Matthew
2016-07-16T00:00:00Z
Room Type
Entire home/apt
---
Property Type
Flat
---
Accommodates
4
---
Bedrooms
Zihuatanejo, Guerrero, Mexico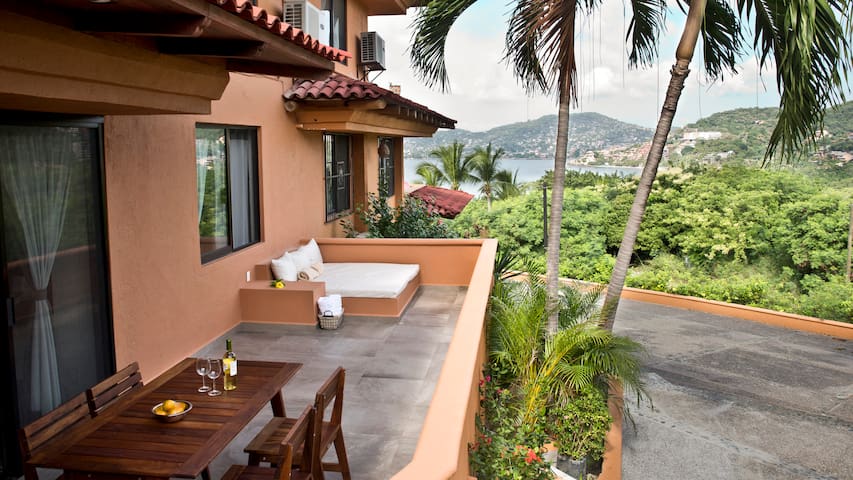 Acogedor departamento en el desarrollo de Residencias Villa del Sol, rodeado de jardines, y albercas. Con acceso privado a la Playa de la Ropa en la playa privada del Hotel Viceroy. Único desarrollo en la mejor playa de Zihuatanejo.
Un lugar exclusivo, cómodo, único desarrollo de departamentos en la Playa de la Ropa en el pueblo de Zihuatanejo.
Ubicado en el pueblo de Zihuatanejo dentro de un desarrollo residencial único con todos los servicios, seguridad restaurantes y deportes acuáticos.
We had a blast and would definitely go back again. The condo is exactly as described. It is attached to a very nice hotel and everything is accessable to you. The beach is beautiful and overall pretty clean. Unfortunately we had to make our trip short, but could have easily stayed a week! The condo is a comfortable with everything you need. Thank you Nuria!
henry
2015-08-09T00:00:00Z
The host canceled this reservation 32 days before arrival. This is an automated posting.
Karla
2015-11-24T00:00:00Z
This place was fabulous! The space is clean (with daily maid service) well equipped, and very central. The Residences have beautifully maintained grounds, with very helpful staff. Nuria ia a very helpful host. Zihua is a gorgeous place to relax, have some amazing fun on La Ropa beach - we loved our time. Thank-you!
Lavina
2016-02-27T00:00:00Z
We stayed in the Nuria's place in la maravillosa playa la Ropa for the weekend.... a complete relax! The apartment is really nice and comfortable with all facilities one could need. The beach is awesome and it is only 1 minute walking from the apartment :). Lots of restaurants are placed on the beach. The surroundings are very characteristic, plenty of nice and friendly people. La comida... very good! I recommend to stay in la maravillosa playa la Ropa.. I will come back for sure! :)
Alice
2015-07-12T00:00:00Z
Love the location of Nurias place, just a walk away from Playa La Ropa. You will see and hear beautiful tropical birds fly around and sings everyday. Lovely place to stay and will definitely go back!
Ingrid
2016-07-18T00:00:00Z
We had a great time. La Ropa is an amazing place to spend 10 days. The condo and the viceroy far exceded our expectations. We are planning return next Februay. Thanks for a wonderful vacation. Btw Rick and Carmen are awesome neighbors.
William
2016-02-14T00:00:00Z
Nuria was a great host- pleasant and very responsive to questions. The villa was fantastic/ clean with a perfect location. We hope to visit soon.
Grace
2016-10-28T00:00:00Z
My family and I had a wonderful time staying in the condo. It was large, clean and had everything you need for a great getaway. The walk to the beach is short and beautiful. The convenience of the Viceroy is there if you so desire. Nuria, was helpful and attentive to all our needs and emails. We will definitely be returning soon.
Michael
2015-09-15T00:00:00Z
Room Type
Entire home/apt
---
Property Type
Flat
---
Accommodates
4
---
Bedrooms
Zihuatanejo, Guerrero, Mexico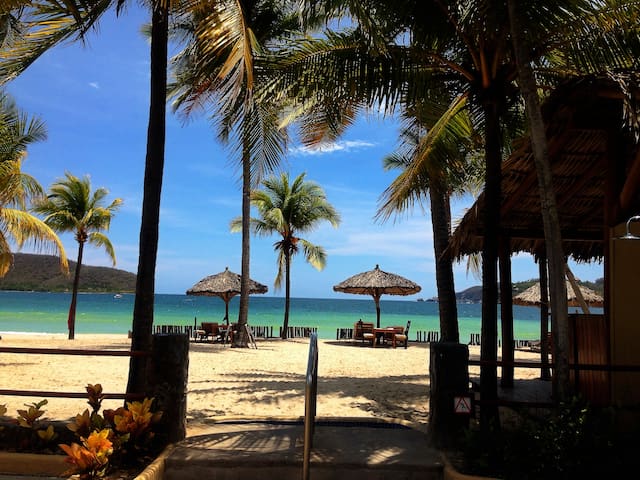 It is a bungalow to relax and have an unparalleled tranquility, an incredible view from your bed, sleep and wake to the soothing sound of the waves and sun vibrant Zihuatanejo, and at night enjoy the stars and the sea! Bungalow with sea view and beach access wood about 2 minutes walk
The view from your table or relax in the hammock watching the bay make it unique are 4 bungalows each with separate entrance, there are no common areas rather than parking. room cleaning 1 time per day is done. And we are very close to the sea.
It is a very quiet area, where most people go to relax
Room Type
Entire home/apt
---
Property Type
Flat
---
Accommodates
4
---
Bedrooms
Zihuatanejo, Gro., Mexico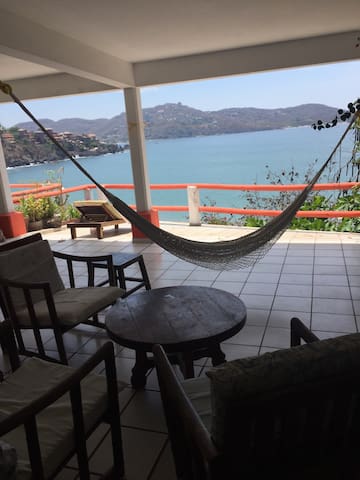 Dept. with high ceilings, large spaces, minimalist modern concept that make you a comfortable stay. It has King size bed, fully equipped kitchen, large bathroom, terrace, internet, cable TV, garage and maid service
Ana's apartment was modern, very clean and well equipped. Only a few hundred yards from the beach and several good restaurants. The main town market was about a 10 minute walk and fun to shop in. Ana and her staff were very friendly and helpful and we had a wonderful stay. Would definitely recommend Ana's apartment and hope to return in the future.
Deirdre
2017-03-11T00:00:00Z
Ana's place was amazing! The interior it self was absolutely gorgeous. Granite counter tops, water fall shower head, extremely comfortable bed. I would highly recommend this place to anyone that wants to stay in Zihuatanejo!
Joshua
2016-12-16T00:00:00Z
This home has a great location near the beach, restaurants and central town plaza. We loved it! Very clean with all the amenities you need for a wonderful stay. We hope to be back next year!
LeeAnn
2017-01-23T00:00:00Z
Ana's place was very clean, modern and the bed was very comfortable. It was in a great location; within walking distance of restaurants, Centro and the beach. Buses were easily accessible and Playa La Roma was a short bus ride away. Overall, it was a wonderful place to visit.
David
2017-02-24T00:00:00Z
Great and relaxing place to stay. Quiet, yet in easy walking distance of town and just 2 blocks from Playa Madera. Exceptionally clean and very comfortable.
Kevin
2017-03-28T00:00:00Z
This is a wonderful, secure, and clean second floor apartment near the beach. The kitchen comes with quality cookware, dishes, glasses, and small appliances (microwave, coffee maker, toaster, and blender). Wi-fi works great, as does the cable. Very nice bathroom as well with nice towels and closet area. The king bed is very comfortable, and the sofa can be used as an additional twin bed. The host was very accommodating, and delivered extra sheets and pillow for the person sleeping on the sofa. There is a small safe as well. The building itself is very secure: a heavy steel gate to which you have the key keeps you safely inside, the apartment itself can be locked, as well as the bedroom and bathroom doors. The covered patio was a relaxing place to sip coffee in the morning or beer in the evening. The air conditioning in the living room and in the bedroom works very well and it was wonderful to return to this lovely, cool oasis after a long hard day at the beach! The host Ana was very gracious and attentive, offered recommendations for restaurants and beaches, advised us how to safely explore the area, communicated her expectations clearly regarding check in/check out time, and was in contact in an appropriate manner. As far as the town itself, it was very interesting to walk around and smaller markets are nearby, with a larger grocery store "super mercado" about 10-15 min walk away. Taxis are whizzing around constantly, they beep as they pass you and if you want one, just raise your arm or signal that they should stop for you. While we explored the nearby beaches (there are two within walking distance - the southern Playa La Ropa was a bit less crowded), we preferred Playa Linda in Ixtapa. The northern end of the beach was open and empty, and was the paradise we were looking for - a taxi there cost us $180 pesos and the return taxi cost $150 pesos. Make sure to look at the crocodiles in the sanctuary near the entrance of Playa Linda. This listing is a true gem. Very affordable and quite frankly it is worth more than it is listed at. 10/10; would stay here again without a second thought.
Rubi
2016-11-15T00:00:00Z
The apartment is wonderful!! Beautifully appointed, beautiful walkway/yard area, clean and centrally located to everything including the beach, town, grocery store, etc. The best part of the accommodations was the beautiful patio just outside the kitchen for sitting outside in the evening with a margarita.
Darcy
2017-03-15T00:00:00Z
Ana's place is really cute and super clean. The kitchen has beautiful dishes and everything you need to cook. The air conditioning works fabulously, and you're just 3 short blocks to the beach, one block to a great restaurant. Ana is a really warm host. She went out of her way to make me feel at home and even picked me up at the bus station! There is plenty of privacy and it's a very secure location.
Karen
2016-07-20T00:00:00Z
Room Type
Entire home/apt
---
Property Type
Flat
---
Accommodates
2
---
Bedrooms
Zihuatanejo, Guerrero, Mexico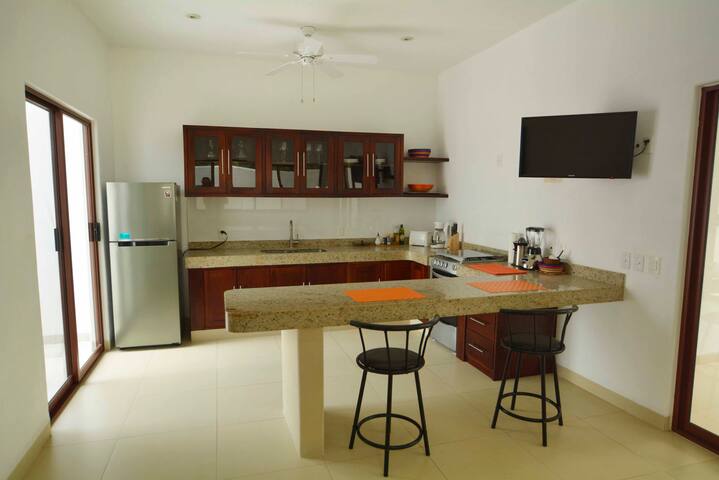 great views from balconies at La Madera beach, this is a small (4 floors) beachfront hill place just 3 blocks away from downtown, main square & kiosk, where church, markets, galleries, banks and everything is, all found within walking 5 minutes tops, or by a simple taxi cab ride if you prefer (3 us dlls) no phone tv or pool, a simple ocean front room with a view, a great one by the way.
simple yet comfortable traditional style one bedroom with a magnicent view from balconie, where sitting table and kitchen is, cofee maker microwave small fridge and stove with utensils are provided, drinking and cooking water from the large jugs are provided on demand. a corner store is conveniently located 100 steps away, all bigger market supplies 3 blocks away.
lively streets by the evening, cocktails and dinner just one block away many options from home cooking to high end gourmet international, reasonable prices.
The apartment was very nice. Everything was clean and in good order. Beds were comfortable and the rooms were large. The large patio was fabulous and offered the most extraordinary view of Zihuatenejo Bay. It walking distance to Beaches, shops and food (also fab). We are planning to return again and again.Eduardo met us at the airport and helped us obtain our rental car and then lead us to the residence. He was prompt to reply to any concerns via text or phone and was so very pleasant in all regards. We went fishing with Max Santos and he also guided us to some unique places because he was so proud to show off his beloved Mexico! What an outstanding vacation. I cannot compliment Eduardo and the people of Zihua enough.
tom
2016-11-25T00:00:00Z
Eduardo's place is wonderful! The location is amazing as you are seconds from the beach as well as the town. The views are so beautiful with the pacific coast right in front of you. You open the sliding door of the bedroom and the ocean breeze comes right in. It is a seriously romantic spot! As well, you can walk to loads of little restaurants down the hill or be downtown in minutes. Eduardo will ensure that you have everything you need for your stay and even had flowers sent to my room for my birthday as he knew I was travelling solo! There is security on site. If you have a question or problem Eduardo will respond quickly via text or by calling you. He is there in a flash and he even took and brought my laundry back and forth. My apartment was the penthouse which I recommend as the balcony is huge with an outdoor kitchen. Because you are at the end of the street I think it is a little quieter and more secluded. You will not be disappointed.
Laura
2017-01-28T00:00:00Z
Thanks for making are stay so convertible the place was great we had the upstairs apartment on the top floor the view was unbelievable Eduardo picked us up at the airport and brought us back to the apartment made sure we had every thing and then thru out are stay he continued to check on us to see if we needed any thing he really is a great host the place is just like it is described but only better I think it has the best view and location in all of Zihua ! I highly recommend this place to anyone looking for a great place in Zihua. Daniel Donich HOMER ALASKA
Daniel
2015-12-24T00:00:00Z
This is a charming small hotel overlooking playa del Madera. Everyone is very kind and helpful.
Nancy
2017-03-20T00:00:00Z
We had a delightful stay at Casa Adriana (room #7). We enjoyed the great view of the bay from our balcony! Having two bedrooms was an unexpected plus and having a kitchen was great for eating in. The cross breezes in our rooms were very welcome, as well as the ceiling fans and air conditioners on hot nights. The casa was in a great location for beach access, walking to town, and walking to the shops. It is located on a hill overlooking the bay. The many steps down to the beach was worth the view on top! Eduardo is a great host, very attentive and has a delightful sense of humor. We appreciated the transportation he provided us to and from the airport. We have already recommended this Airbnb to a friend and will continue to do so. Thanks Eduardo!!
Trina
2017-02-23T00:00:00Z
Todo fue segun la descripcion. La piscina particular era marivillosa! Toda la familia extendida de Eduardo y Tania era tan amable y considerada de todo. Siempre sentimos seguros, relajados y Eduardo mantuvo contacto con nosotros para cualquier cosa. Gracias por TODO!!! no podemos esperar regresar!
Kati
2016-07-07T00:00:00Z
Room Type
Entire home/apt
---
Property Type
Flat
---
Accommodates
3
---
Bedrooms
Zihuatanejo, Guerrero, Mexico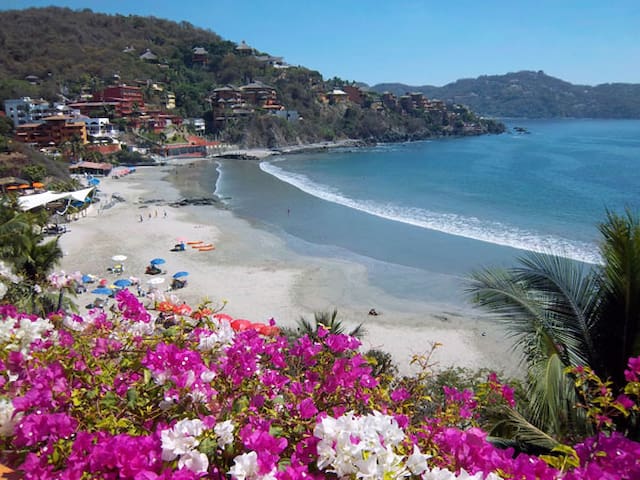 Habitación sencilla equipada con una cama king size, televisión con cable, ventilador de techo, wifi, alberca y lo mejor es que estamos a 10 metros del mar de playa la ropa
Es una habitación sencilla con una cama king size televisión con cable y ventilador de techo a escasos metros de la playa la ropa
Estamos en la Colonia la ropa a 10 metros de la orilla del mar es una de las playas más tranquilas en el oleaje también hay varios restaurantes de comida internacional
You will be feel like your home! Great host.
Jorge
2017-03-16T00:00:00Z
Carlos and his wife were really accommodating. The place is perfectly located in front of the beach. Recommend this place for a really relaxing stay.
Tom
2017-03-30T00:00:00Z
Room Type
Private room
---
Property Type
Flat
---
Accommodates
2
---
Bedrooms
Zihuatanejo, Guerrero, MX, Guerrero, Mexico
Accommodation It is a modern and comfortable place for the whole family, easy access as it is located on the first floor right in front of the pool.
It is a modern and comfortable place for the whole family, easy access as it is located on the first floor right in front of the pool.
Playa la Ropa is one of the most exclusive areas of Zihuatanejo, has very good restaurants in the surrounding area, almost opposite the Condominium Los Mangos is the Restaurant La Perla, where you can access the beach. The center of Zihuatanejo is only 10 min. drive.
Great 2 bedroom, 2 bath condo very close to the beach. Very modern with A/C, plenty of electrical outlets and other amenities that travelers from the US will like. Very friendly guards at the gate, helped us find food etc. house keepers did a great job and we were quite comfortable. Only complaint was the Wifi doesn't work well in the back bedrooms.
Taj
2016-12-31T00:00:00Z
Asi es el departamento presentaba las condiciones que se mostraban en las fotografías.
Eduardo
2016-05-23T00:00:00Z
La experiencia para mi y mi familia fue estupenda, el departamento está muy bien ubicado y cerca de todo, es sumamente tranquilo y todos los vecinos fueron muy amables. Por otra parte, el departamento siempre estuvo limpio y Ale es una súper anfitriona, todo el tiempo estuvo pendiente de nuestras necesidades y en hacer nuestra estadía placentera, es una persona cálida y comprometida igual que todo el personal del condominio.... solo sé que no nos queríamos regresar!!! Seguro regresaremos Ale!!! Gracias x todo!!!
Alba
2016-03-27T00:00:00Z
Room Type
Entire home/apt
---
Property Type
Flat
---
Accommodates
4
---
Bedrooms
Zihuatanejo, Guerrero, Mexico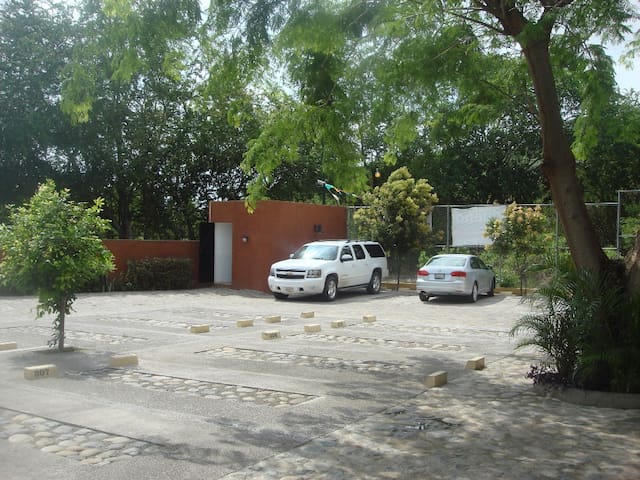 • this is a romantic and charming little apartment located at la ropa beach in the beautiful zihuatanejo bay, an ideal option to enjoy a wonderful and relaxing time. • it is located in the condominium complex villa del sol in agreement with the exclusive five stars premises viceroy hotel. • This is one of the few condominiums situated on the beach side, you just have to walk down the romantic palm tree path to the beach with no need to get out the property or cross the highway.
My husband and I spent nine wonderful days here!
Jan Hart
2017-01-26T00:00:00Z
This is a lovely condo in a great location in Zihuatenejo. It is perfect for two people and feels very private. It has a private patio surrounded with a nice garden. You are just two minutes walking to the beach, through the condo complex. The condo is connected to the Viceroy hotel but you won't have access to the Viceroy amenities like the pool or beach service. The condo has its own pools which are very nice. We would definitely stay here again!
Isabel
2017-02-22T00:00:00Z
Room Type
Entire home/apt
---
Property Type
Flat
---
Accommodates
2
---
Bedrooms
Zihuatanejo, Guerrero, Mexico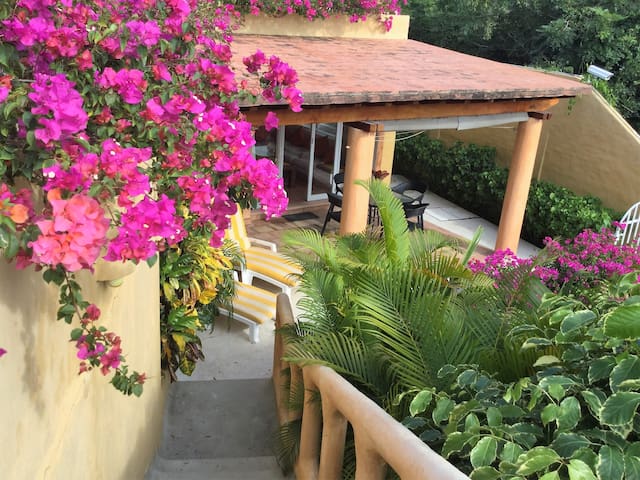 Attractions: incredible views. You'll love my place because of the cozy space. My accommodation is good for couples and families (with children).
The host canceled this reservation 68 days before arrival. This is an automated posting.
Vincent
2016-10-24T00:00:00Z
Room Type
Entire home/apt
---
Property Type
Flat
---
Accommodates
4
---
Bedrooms
Zihuatanejo, Guerrero, Mexico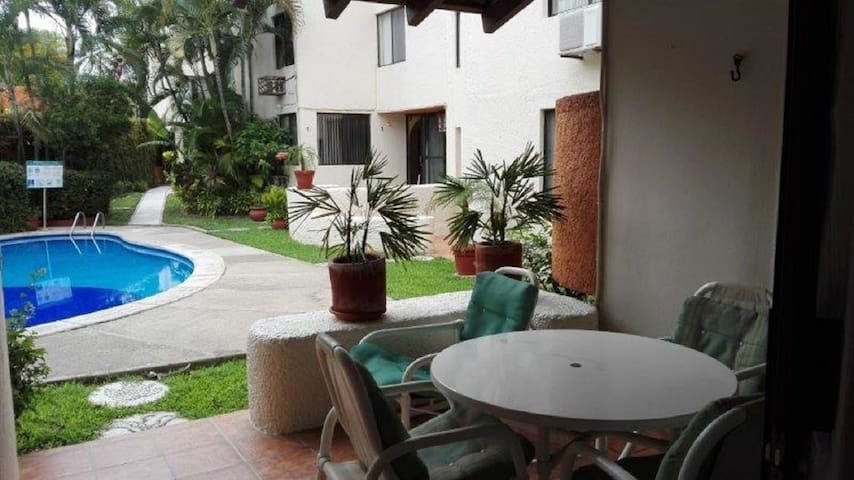 Huizache Zihuatanejo apartment rental in El Tamarindo at Casa Calamondin family complex is a one-bedroom self-contained apartment with small kitchenette and private bathroom, ideal for one to two guests. There is A/C in bedroom and fans in both rooms. The apartment is part of a family complex built on a hillside. The unit overlooks the tropical vegetation of La Ropa area of Zihuatanejo and is only two blocks from La Ropa beach.
The Huizache one-bedroom apartment has independent access from the garden areas of the home and is equipped with queen bed, fans, a/c in bedroom, table and chairs, bookshelves, coffeepot, two-burner gas stove-top, and fridge. The bathroom has a shower, no tub. The space is suitable for 1-2 person occupancy and equipped for light food prep. There is a foldaway cot for a third person if necessary. Weekly change of bed linens and towels is included. The apartment has plenty of natural light and views over the palms and tropical vegetation of the La Ropa neighborhood. The apartment is above the main house, so there are a number of stairs to negotiate as you move through the garden from street level to apartment level. Just outside the apartment is a palapa-thatched rooftop terrace with hammocks, table and chairs, free wifi, and splendid views of sunrise and sunset skies. It is an easy two block walk from La Ropa Beach on Zihuatanejo Bay, and a pleasant 30 minute walk (or easy taxi or microbus ride) into town.
La Ropa Beach is the best and most beautiful beach on Zihuatanejo Bay, which is in itself one of the astounding jewels of the Mexican Pacific coastline. It is a short, approximately two-block walk to the beach with only a gentle slope rising from the water level to the elevation of the house—no heavy hills to climb when coming and going. Just steps from the door are several restaurants that open during the winter season, with a variety of offerings from home-style Italian to savory fish tacos and chic boutique sandwiches, and along the beach are countless seafood restaurants and plenty of opportunities to imbibe a cold beer or an icy margarita.
Room Type
Entire home/apt
---
Property Type
Flat
---
Accommodates
3
---
Bedrooms
Zihuatanejo, Guerrero, Mexico
The suite features: -Air conditioner -TV Cable -Hot water -Parking lot Daily cleaning -Service -Security 24 hours -Kitchen -Dinning room -Living room Excellent location, 10 minutes from the main beaches and Ixtapa Perfect for a family weekend or longer stays
Es un buen lugar, en carro la playa más sercana está a 10 minutos, hay muy buen transporte, es fácil desplazarse a cualquier playa, a dos cuadras del hotel hay aurrera, a tres cuadras esta la comercial mexicana. El tal lugar esta tal como aparece en las fotos, es bonito, tranquilo, cómodo. El precio está muy bien
Claudia
2017-03-20T00:00:00Z
Room Type
Private room
---
Property Type
Flat
---
Accommodates
7
---
Bedrooms
Zihuatanejo, Guerrero, Mexico
A lovely 2 floor condominium, just a few steps from one of the most wonderful and warm beaches in Mexico. This cozy place has 2 bedrooms with two double and two individual size beds, 2 full bathrooms, full kitchen and dining area, and sitting room fully equipped with LED TV and cable entertainment. Inside an exclusive building that includes a large pool, lovely common green areas and a private parking lot. Perfect for couples, families and groups. Close to restaurants, bars and watersports.
Nice place
james
2017-01-11T00:00:00Z
Thoroughly enjoyed staying here for 2 weeks over spring break. Great location excellent pool and pleasant neighborhood . Safe for kids and easy access to the beach. Extremely handy having the taxi stand right across the street and for 50 pesos including tip you can head into town. Owner was quick to reply when we had any questions as well as the neighbors were all very helpful. Zihua is so beautiful!
Mark & Maureen
2017-03-28T00:00:00Z
Great location and price. Lovely pool, and other guests were friendly and helpful. It was good to have a washing machine and dishwasher. The air conditioning was efficient and quiet.We liked the smart TV.
Eric
2017-02-15T00:00:00Z
This condo is finely situated. It is close to La Ropa beach (one block) and right next to the small pool. There is a beach umbrella and 2 chairs to take down to the beach. The condo is starting to show its age in many respects and hopefully will have some interior details upgraded soon. Our hosts were most gracious and helpful.
Marty
2017-01-03T00:00:00Z
Muy confortable la estancia, sus instalaciones buenas y la atención muy buena
Marcelo
2016-12-23T00:00:00Z
Room Type
Entire home/apt
---
Property Type
Flat
---
Accommodates
6
---
Bedrooms
Zihuatanejo, Guerrero, Mexico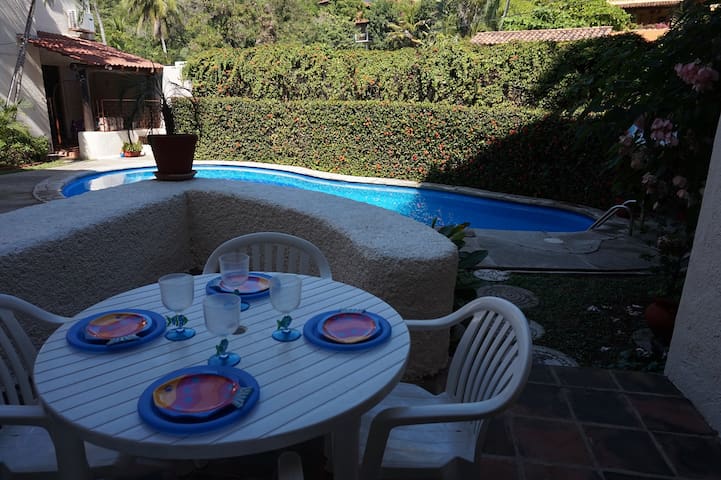 Comfy private room with private bath, A/C + WiFi. Overhead fan, dresser, queen size bed and hanging closet. Make the most of your stay with my comprehensive local guide to activities, restaurants and bars, fun day trips, Spanish immersion and more!
Welcome to Zihuatanejo and my pad just steps from La Madera beach and a quick walk from downtown! This is a great base to explore this lovely quaint and friendly little beach town. I´ve lived here over 10 years and have put together a comprehensive guide to local activities, restaurants, fun day trips, Spanish immersion and more! Make the most of your stay here with someone who has lots of local knowledge and who loves giving guests a true local experience! Zihuatanejo offers all kinds of fun activities and I put my guests in touch with reputable local service providers as well as often guiding trips myself! ** Snorkeling & Scuba Diving ** Surfing Trips & Surf Lessons ** Yoga Classes ** Stand Up Paddle Board Tours & Lessons ** Mexican market tours & Cooking Classes ** Spanish Immersion Lessons ** Sailing, hobie cat, jet skiing and parasailing ** Fishing (big and small catch) ** Day trips to the waterfalls, hot springs, caves, archeological site, Mexican temazcal (sweat lodge), natural reserve and more! My Place I have a large second story apartment in a quiet residential complex made up of mostly Mexican families and a few expats. My apartment is home to a couple of lovely kitties (and a foster kitty and foster rescue pup) who are very chill and split their time between running around outside and lounging around the house. The room is quite large with a queen size bed, dresser and hanging open closet. Overhead ceiling fan and A/C will keep you nice and cool for sleeping. The room has it´s own private bath and shower. I provide guests with clean sheets, bath towel and bath essentials. I have beach towels for rent at a minimal cost. Guests can use the kitchen and common areas and have WiFi access. There is off street parking within the complex if you are arriving by car. The area is a few blocks from La Madera beach and a quick walk into downtown Zihuatanejo. It´s a great base to explore the town and within walking distance to all beaches within the bay (La Ropa, La Madera and Las Gatas). Nearby is downtown "el centro" with many restaurants, farmers market (as well as a weekly organic market), shops, cafes, bars and banks. If you prefer to get a ride to the beach, you'll find plenty of taxis and frequent mini-buses that shuttle back and forth between beaches and downtown, just a block from the apartment. Renting a car is not really necessary. If you are interested in language exchange programs, cooking classes, surfing, scuba, snorkeling, yoga, cultural excursions, etc, I've lived in the area for over 9 years and am happy to provide insider info and recommendations on what to do and where to go! Ask me about the local hot springs and waterfalls ... these are places even some long time Zihua residents have yet to find ;) Our international airport is only a fifteen minute ride from my place and you can either opt for a private taxi, local collectivo van or I can arrange to pick you up for a minimal charge. If you want to have an authentic Zihua experience, meet the locals and get a real taste for the area, you should definitely come stay with me !! Bienvenidos a Zihuatanejo !
I love my neighborhood, its close to the beach and also a quick walk into downtown. The neighborhood is Mexican and local with just a couple of gringos living in the complex. I like the familiar feel and all the neighbors here are really friendly.
Landing at Maura's was the perfect way to begin my adventures in Zihua. She is just the right balance of hostess and tour guide (she has lots of info available on great dining choices, where to find this or that, etc.) and provides a clean, comfortable, homey, and mellow atmosphere with which to get adjusted to the charms of town. The apartment is in a Mexican complex so it throws you right into passive interaction with the uber friendly locals. And it's in a quiet area very close to Calle Adelita with all its sweet and yummy restaurants. It's an easy walk to both beaches and town. She is the local cat whisperer and you'll be pleasantly greeted by her own pair of cats or whichever furry guest she's taken in temporarily. It couldn't have been a better stay.
Ken & Becky
2016-11-03T00:00:00Z
Maura was a great hos, niec and helpfull and her place was really great. The house is situated in a calm and quiet local neighbourhood and it only takes 5-10 minutes to go to either La Madera or La Ropa. The room is nice and clean and well equipped with aircondition and fan. Marua gave me directions for finding everything, and made me feel very welcome in both her house and in the city of Zihuatanejo. I can recommend staying with Maura anytime!
Cathrine
2012-12-18T00:00:00Z
It was fun staying at her place. She told us about a lot of places to go, eat and do which was pretty useful. La madera, which is less than a 5 min walk, is not a very nice beach kind of crowded, small and not that nice but there is la ropa which is more like a 10-15 min walk which is a beautiful beach. I recommend the place maybe more during winter because summer is so hot in zihua.
Aurelie
2015-07-31T00:00:00Z
It was great! Close to everything, the guide was extremely helpful, she had a plethora of information, all of her recommendations were fantastic, her boyfriend took me snorkeling. It was a wonderful experience. Thank you!! :)
Chant86k
2016-03-25T00:00:00Z
Maura was a very kind and helpful host. The location of her apartment is great- close to the beaches and restaurants. The room was a little warm but the air conditioner was very helpful at night.
VERONICA
2013-02-06T00:00:00Z
Maura's place is exactly what I look for when I travel. It was comfortable, clean , and she made you feel right at home instantly. The location is within short walking distance of the center of town, the beaches, and multiple wonderful restaurants. Maura is the nicest hostess you could ever find , she has been down here many years and knows the area extensively , and has a multitude of suggestions and guidance. I really enjoyed her company and she was a pleasure to spend time with. With any luck, I'll be back someday, and I hope to pay a visit to Maura's. It's nice to have a friend in such a beautiful location.
Dave
2016-11-06T00:00:00Z
Maura's place was perfect - clean, spacious and a safe area. She was very friendly and gave us some great recommendations of where to have a drink and grab something to eat - she has also put together a very handy guide of places to eat and things to do in a booklet which was very handy! Overall our experience and stay was amazing and would highly recommend!
Bonnie
2016-03-29T00:00:00Z
Maura was the perfect host. Her lovely place was well located and she gave us piles of great info on all the best places eat, see, and do. Maura and her cool cats the two Cookies welcomed us and we are glad to say that my girlfriend and I both recomend staying with Maura
Danny
2012-02-10T00:00:00Z
Room Type
Private room
---
Property Type
Flat
---
Accommodates
2
---
Bedrooms
Zihuatanejo, Guerrero, Mexico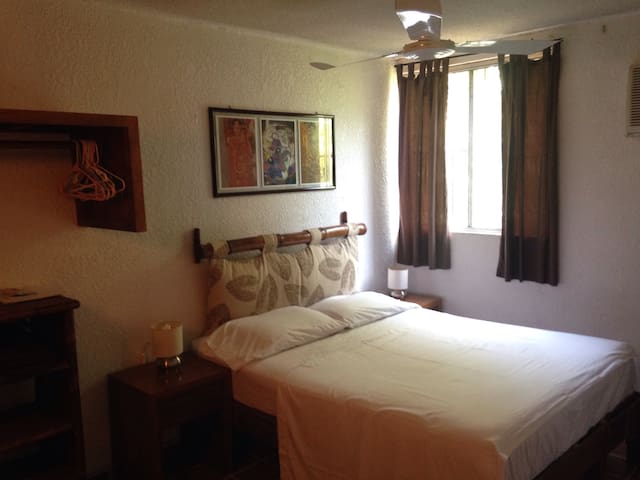 My place is good for couples and adventurers looking for an escape. Located in La Casa Que Ve al Mar, we are the lower penthouse overlooking the Pacific Ocean.
Room Type
Entire home/apt
---
Property Type
Flat
---
Accommodates
4
---
Bedrooms
Zihuatanejo, Guerrero, Mexico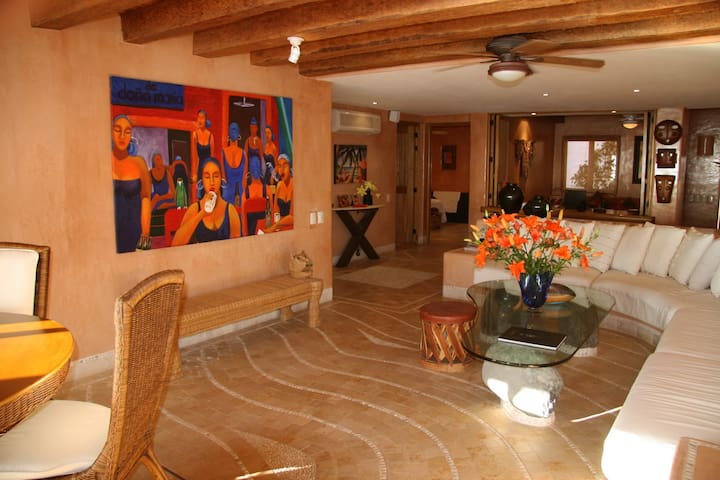 Cozy apartment with 2 bedrooms. Two full bathrooms. Open kitchen equipped. Living room and dining room. Terrace.
Residencias Villa del Sol is one of the very best places to stay in Zihautanejo. Playa La Ropa is a world class beach. Great food, sunsets, romantic beach walks and much more. The town center is only a 20 minute walk. Suite 1C surpassed our expectations. This is our second stay at Villa del Sol but this was the most beautiful, peaceful and restful. Everything was there to make this a first class vacation. Our room was made up every day, lounge chairs setup each day at the beach. Outstanding accommodations. Thanks Mercedes Bill and Marla Seattle, WA
William
2017-02-20T00:00:00Z
Mercedes was very friendly and responsive to questions. The condo staff were all quite helpful. The condo was very nice and comfortable and the grounds were beautiful. There is a separate pool for the condos, and the staff will set up personal beach chairs and umbrellas for $50 pesos per day. Well worth it, in my opinion!
Kelly
2016-03-03T00:00:00Z
Mercedes's apartment is beautiful, spacious and comfortable. The location is very close to the pools and just a short walk to the beach. (The apartment may be a bit challenging for those with mobility issues.) It is on the best part of La Ropa beach and convenient to good restaurants. The staff were helpful when we needed a taxi and it is a short ride into Zihuatanejo. Our time there could not have been more relaxing or enjoyable. Thank you, Mercedes! We will look forward to the day we can stay there again.
Diane
2017-03-29T00:00:00Z
Room Type
Entire home/apt
---
Property Type
Flat
---
Accommodates
6
---
Bedrooms
Zihuatanejo, Guerrero, Mexico