Our bright and sunny second floor self contained studio apartment overlooks beautiful Lake Clear. Perfect for a couple looking to relax in a beautiful, quiet, country setting. You may enjoy just sitting by the dock with a book, or for fun, use the canoe or paddle boat.Swim in a clear, spring fed lake and then lounge by the shoreline as you watch the boaters pass by. There is a small sandy beach area if you prefer to wade into the water or launch your own small boat. For shade, try our gazebo.
Beautiful, bright, clean, self contained studio apartment overlooking Lake Clear on second floor. Wooded areas on three sides, lake in front. If you like your bedroom really dark in the morning, this is not the place for you, as there are many windows on all sides and you may catch the sunrise as you look toward the lake. On summer nights, sit by the dock or campfire and watch the clear night sky as you listen to loons calling. Algonquin Park is only 1.5 hours away or Bon Echo Park 1 hour away, if you enjoy hiking. In winter, Calabogie Ski Hills are 40 minutes drive.
We are on a lake with over 17 islands and the swimming and fishing is exceptional. Lake Clear comes by its name because it is a beautiful clear, spring fed lake and we are surrounded by hills and woods if you enjoy hiking. There is a small beach area if you have your own kayak. If you are looking for a quiet country setting on a lake to decompress, this is the place. We have high speed internet and Wifi, however cell service is not available. We have Netflix and a DVD player. The town of Eganville is a twenty minute drive away. Renfrew and Pembroke are both 45 minutes away. Central Ottawa is two hours by car. Calabogie ski hills are about 40 minutes from here. Algonquin Park is 1.5 hours away and Bon Echo Park is about 1 hour from here.
Elizabeth and David were wonderful hosts, they were extremely friendly and helpful. They made sure my stay with my girlfriend was as comfortable as possible! Their place is beautiful, peaceful and lovely. If you want to be 10 metres away from a beautiful calm lake and under a sky full of bright stars, then you should definitely stay here! Thank you! Peter
Peter
2016-09-25T00:00:00Z
Just a great great airbnb experience. We looked for a calm place to stay after our stop in Toronto and we definetly found it at Elizabeth and Davids place. Such a beautiful apartment directly at the lake. Everything was like announced. The hospitality was great too! We definetly recommend a stay at their place.
Theres
2016-09-18T00:00:00Z
Elizabeth and David welcomed us warmly and gave us a quick review of how everything worked. They were very eager to please and quite accommodating. We felt at home almost immediately.
Claude
2016-10-15T00:00:00Z
We stayed with Elizabeth and David 4 days and it was just amazing. We couldn't have been in luckier with the the location and the hosts. They are kind, helpful and like to share. We had a nice barbecue with very interesting conversations with Elizabeth, David and Blair. They introduced us to the Canadian way of life and showed us how to make "S'mores" and let us borrow their canoe. It's a very special place they have and we hope to come back as soon as possible! Thank you very much for making our stay so comfortable and relaxing. Mareike and Patrick
Mareike
2016-09-22T00:00:00Z
We stayed at Elizabeth & David's home for two nights and had an amazing time. The property is stunning. It is situated on a beautiful, clean lake, in a peaceful and quiet setting. Elizabeth & David are such kind people who will open their doors and welcome you like family. They let us bring our four-legged friend Pixie. Even she couldn't stop talking about how much fun she had! If you are looking for a quiet, relaxing getaway that immerses you into what the countryside is all about- this is it. We would definitely return. Happy renting! Your friends, Chloee Kevin and Pixie :)
Kevin
2016-08-20T00:00:00Z
We were very pleased with the clear and timely communication from host Elizabeth. The reception was warm and gracious as well as being thoughtful and informative as to the logistics of the apartment. This is a beautiful property that provides guests with a unique opportunity to fully enjoy some of the
Joanne
2016-11-09T00:00:00Z
We had a great time (EMAIL HIDDEN)munication was responsive and helpful. They greet us very warmly when we arrive even it was later in the night. Their place has an amazing view of the lake and things are kept very organized and clean. They even went the extra mile by providing some drinks, light breakfast and home baked goods (which are delicious). Overall, a great experience for us and I recommend this place for sure!
Leon
2016-11-13T00:00:00Z
Elizabeth and David were the most welcoming people! We had an amazing time at their place. It was more breathtakingly beautiful than can ever be described! They had breakfast items as an added bonus. The room itself is just gorgeous, with ceiling to floor windows for the perfect view of the lake. I definitely cannot wait to go back!
Spandana
2016-08-22T00:00:00Z
Room Type
Entire home/apt
---
Property Type
Flat
---
Accommodates
2
---
Bedrooms
Eganville, ON, Canada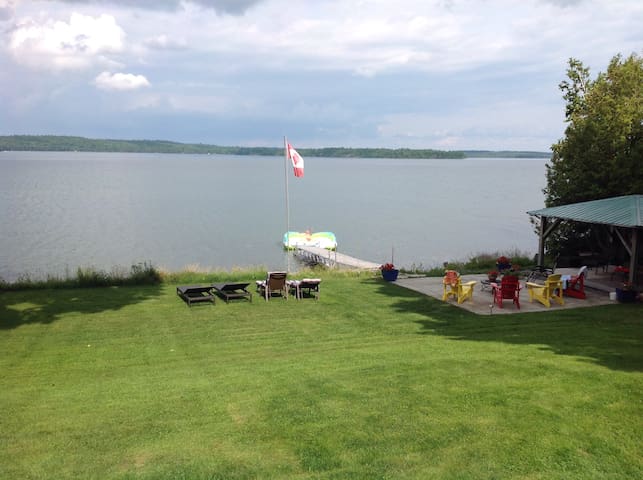 Upstairs apartment, 2 bedroom (queen & double) futon in common area. Full kitchen, full bathroom. Open concept living room, Dining room and kitchen. full deck with bbq and patio set overlooking the Ottawa River. 1.5 hours West of Ottawa. We are about 15 min from the white water rafting companies. Short drive to the original white water brewery. Short walk to the public dock, for swimming, fishing, kayaking, canoeing.PLEASE NOTE: the extra person fee is for additional beds, not people, per se.
It is a large,open, nicely decorated space. It is very comfortable with all the comforts of home.
My neighbourhood is a very rural area, right next to the river. The scenery is beautiful and the area is quiet.
We had a great time at Lacroix Bay Lodging. The apartment is spacious and very clean. Joan and Kerry have thought through all the little details and truly make it feel like home. The location is great for accessing the Ottawa river for a paddle and we had a great time doing a white water rafting adventure for a full day, about 10-15 minutes drive away. Joan was very easy to reach and made sure we had all the information we needed for an easy check-in. I would absolutely recommend staying here!
Jackie
2016-09-06T00:00:00Z
This is a beautiful, spacious, clean and well decorated place. It beat all expectations as we walked in! Joan has thought of every detail. She had eggs, fruit, milk, cheese, English muffins and more waiting for us! The place and the neighborhood are quiet and very peaceful. The view is wonderful as well, and the water is within walking distance. We stayed for a whole week, and will be returning next week for another day, we loved it so much! Having the general store downstairs was a nice plus. It was also great coming "home" from paddling all day to a delicious ice cream cone. On the evenings that we were too tired to go out, it was nice to enjoy the Netflix account that Joan makes available for her guests. We will be coming back next year for sure!
Maria and Jim
2016-08-14T00:00:00Z
Joan is very detailed and thoughtful about making her guests feel comfortable and at ease. It's very well furnished and decorated so you feel right at home. We arrived very late at night and Joan made sure we had adequate instructions to find their home. We had enough eggs, milk, english muffins, and cheese for breakfast for the two mornings we were staying, and the kitchen has a water cooler so you don't have to bring drinking water. If we needed anything else, she runs a convenience store right downstairs. For down time, she has a large television in the living room with Netflix, and a furnished patio with a barbecue that looks out to the lake, and cozy comfortable sleeping quarters with high and low pillows, a fan, and thin and thick blankets and comforters. Her home is located in a quiet area with minimal streetlights, so you can see the stars very well at night. If you're planning on whitewater rafting, there are a couple rafting companies located a 20-minute drive away. This was a wonderful experience, and I look forward to staying here again on our night visit :)
Vivian
2016-08-29T00:00:00Z
There is nothing negative to say about our experience at Lacroix Bay Lodging. We were welcomed in a very friendly way by Joan and her husband. The appartment is very spacious, clean and comfy and gave us a real "home-away-from-home" feeling. The added bonus of some kitchen supplies such a fresh eggs, milk, english muffins was great. The location is ideal if you like a qiuet, peaceful place in nature away from the noise of traffic and the city. There is only thing that could have ben better, and that was the weather... but even with the not so great weather, we enjoyed our stay at Joan's place a lot!
Davy
2016-11-03T00:00:00Z
We had an excellent stay with Joan and Cary in their "country" apartment. It is located in a quiet small town on the Ottawa River with the apartment located above their small general store. It is much larger than the pictures might indicate and also very clean and comfortable. Our party of four had much more space than expected. The hosts were friendly and helpful without interfering with our stay. The only negative would be the lack of any restaurants or stores nearby but it is very convenient to the nearby river rafting companies. We will definitely recommend it to friends and hope to visit again sometime soon.
Roger
2016-08-24T00:00:00Z
Great place! Large rooms, very clean and in quiet neighborhood. One can't go wrong with this. Will definitely visit again.
Harman
2017-02-20T00:00:00Z
My family had a wonderful stay at Joan's place! Highly recommend staying here!
Yiqi
2016-11-20T00:00:00Z
静かな田舎のvillage にあり、のんびりできました。川もテラスから見えて紅葉はとてもきれいでした。 部屋も清潔、2ベッドルームあり、リビング、キッチンも広く、料理がしやすかったです。 スーパーは車で40分ぐらいかかります。
Hitoshi
2016-10-15T00:00:00Z
Room Type
Entire home/apt
---
Property Type
Flat
---
Accommodates
6
---
Bedrooms
La Passe, ON, Canada
One hour west of Ottawa, Burnstown is nestled in the heart of the Ottawa Valley. At Le Bijou, you will find everything you need for an enjoyable and memorable stay year-round. A variety of activities await you and your family. Welcome to Le Bijou!
Welcome to "Le Bijou" (French for "the jewel") nestled among Maple trees in our quaint and artsy village. This newly renovated 900 sq. ft. one-bedroom suite is bright, has its own private entrance with parking for two vehicles right at your door. The suite includes a kitchenette, a large living space with dining area, and a bathroom with shower, no bathtub. The bedroom has a Queen bed and the living room has a pullout couch with upgraded mattress. The kitchenette is fully stocked with a toaster oven, small fridge, microwave oven, Keurig and coffee, plates, utensils, glasses, bowls, plus much more. Please note that there is no stove however an induction heat hot plate is provided. Other hot plates are not permitted. All necessary linens and towels, including adult size bathrobes are provided plus a hairdryer, an iron, ironing board and drying rack. Outside, you will find your own seating area with a propane (provided) barbecue and patio table.
Burnstown is an hour drive from Ottawa, in the middle of the Ottawa Valley. It is 10 minutes from Calabogie Ski Resort and Golf Course, Arnprior, Renfrew and White Lake village. Cradled between the Ottawa River and Algonquin Park, the Ottawa Valley is home to over 900 lakes and 4 major river systems. Beaches offer plenty of affordable recreation opportunities, from swimming to friendly sand castle competitions and beach volleyball. Additionally, almost all of the beaches in the Ottawa Valley are great paddling start off places. You're never more than a half hour drive to a beach when in the Valley. Fortunately, the Burnstown Beach, which includes a boat launch, is only one kilometer from your suite. It is newly upgraded and offers visitors a large sandy beach, boat launch and rowing area. On shore, there is a play structure, picnic tables, a canteen, change rooms, washrooms and a shaded grass area. (small fee to park and boat launching). In the summertime, you can experience excellent fishing and boating on many close lakes, as well as golfing, hiking and biking trails and race track all nearby. In the wintertime, you will find cross-country & downhill skiing, snowshoeing, snowmobiling and ice fishing all nearby. Our local summer farmers' market is held on Friday afternoon and early evening and is a 5 minute walk from your suite.
The apartment is clean, beautiful, luxurious and comfortable for short and long durations. You will find everything needed to feel at home. The website description is accurate - everything was as advertised. The quiet location is within walking distance of two excellent restaurants. Burnstown is a perfect base from which to take short trips into the surrounding historical towns and villages. A car is necessary. Denyse is a helpful, friendly and welcoming host. She takes pride in ensuring that her guests have an enjoyable visit. We highly recommend "Le Bijou."
Bruce and Sandie
2015-07-05T00:00:00Z
We absolutely loved our stay here. Denyse is an exceptional host (so personable) with impeccable taste. The entire property is beautiful and the unit?? 5 stars for cleanliness! We loved all the extra touches too ( the note upon arrival with wrapped biscotti & delicious almonds? So thoughtful! Thank you Denyse for sharing your gorgeous home! We will be back!!!
Siobhan
2016-10-08T00:00:00Z
We had a great stay at le bijou! As we drove up we observed the home was very attractive outside - well manicured and nicely landscaped with flowers along the walkway. Our hostess Denyse greeted us and showed us around our accommodations. We were pleasantly surprised to see she had provided us with fresh fruit, snacks and refreshments to welcome us to her lovely home. The place was spotless, tastefully furnished and decorated with an assortment of interesting artwork. It was fully equipped with anything one might need when away from home, even bathrobes! It had games, books, videos, a full size washer and dryer, a Keurig coffee maker, a convection oven, and a microwave. What made our stay even better was Denyse's hospitality. Le bijou truly is a jewel and we highly recommend staying there. Thank you, Denyse!
Stephanie
2015-08-31T00:00:00Z
Stayed when attending a wedding nearby. Beautiful apartment exactly as described and as it appears in the pictures. Denyse is a great host!
Cailin
2016-08-22T00:00:00Z
We were thrilled with this our first Airbnb experience. Denyse made us feel very welcomed and comfortable. The apartment was everything we expected and more; warm, inviting, spotlessly clean and wonderfully decorated! Denyse kindly welcomed us with a basket of fruit, cookies and a chilled bottle of wine which was much appreciated after travelling. As this was our first time in the area she thoughtfully provided brochures and maps highlighting points of interest and things to do and see in the area. Our visit was carefree and relaxing. Denyse is definitely the hostess with the mostest and we look forward to another visit in the future. Thank you Denyse.
Debra
2015-09-07T00:00:00Z
Denyse was a wonderful host. She is friendly and outgoing and provided information on the area. We travelled to the area for 2 days, to attend the Calabogie Blues fest, which is only a 10 minute drive from Le bijou. We arrived to fresh flowers and a hand written welcome and a birthday card and wine for me. The apartment is large, clean, cozy and beautifully decorated and equipped. There is a keurig and she provided a variety of pods and tea bags. It is exactly as it appears on the website and exceeded our expectations. I certainly would stay at this peaceful hideaway again.
Ian
2015-08-17T00:00:00Z
Denyse is a gracious host. We had s great stay at her cozy apartment in Burnstown.
Mark
2016-09-18T00:00:00Z
Denyse was very warm and welcoming! She accommodated my last minute booking with no hassle at all. Not only was it a beautiful home that looks like a professional decorator just whisked by, but the little things she did made the stay unique. Little notes to show she cared and listened when I spoke, including asking me about my new job, were above and beyond. I would definitely recommended this accommodation to anyone!
Caitlyn
2015-11-13T00:00:00Z
Room Type
Entire home/apt
---
Property Type
Flat
---
Accommodates
4
---
Bedrooms
Burnstown, ON, Canada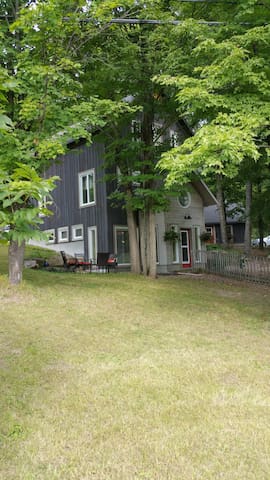 Fun-filled destination with many exciting and relaxing winter activities to enjoy, and incredibly comfortable accommodations. Located just an hour outside Ottawa. Fun for the whole family!
Calabogie Lodge Resort caters to nature lovers with a wide range of activities throughout the year: guests can have fun ice skating, ice fishing and cross-country skiing in various nearby and easily accessible hills and rinks. Natural wood walls and decor, comfortable sofas and furnishings, keep the whole family warm and cozy in these spacious accommodations. Lodge has private patio, living and dining rooms. Enjoy the beautiful view of the Calabogie Lake shore while sitting by the warm fireplace. Make yourself at home as you cook a savoury meal for the family in the fully equipped kitchen, and warm up with hot cocoa by the fireplace.
An hour away from Ottawa-- great city for sightseeing, shopping and dining Tranquil environment, great for spending relaxing time outdoors snowmobiling, skiing, snowboarding, or snowshoeing, or ice fishing
Room Type
Entire home/apt
---
Property Type
Flat
---
Accommodates
6
---
Bedrooms
Calabogie, ON, Canada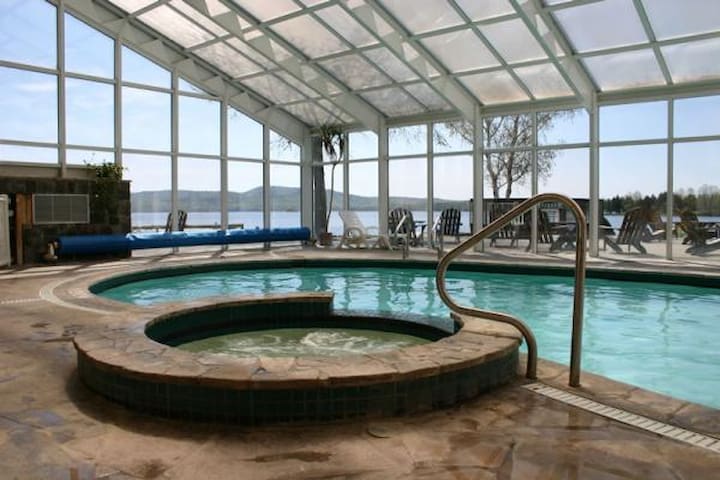 My place is close to 20 mins west of Wakefield, Quebec. You'll love my place because of the quietness and spectacular view. My place is good for couples, solo adventurers, families (with kids), and furry friends (pets).
Room Type
Entire home/apt
---
Property Type
Flat
---
Accommodates
8
---
Bedrooms
Lac-des-Loups, Québec, Canada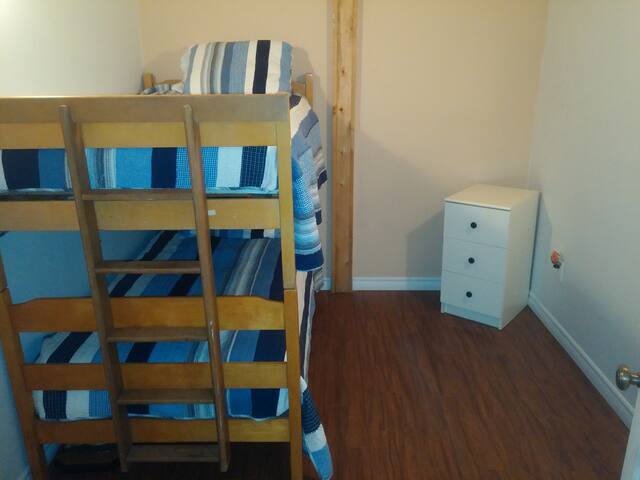 My place is good for couples, solo adventurers, families (with kids), big groups, and furry friends (pets). Lots of space and good walks here on the farm. We offer riding and interaction with our friendly farm animals. We have a great play structure and Lake Clear is nearby with its safe public beach. This is a home away from home experience with the benefit of our organic veggies and free range eggs. The colours in the fall are great. We also do Equine retreats in our quieter months.
This is a very peaceful location surrounded by natural beauty and forest. Our accommodation is clean and spacious and looks out across the fields.
This is the white water region and we are near to Algonquin.
Room Type
Entire home/apt
---
Property Type
Flat
---
Accommodates
6
---
Bedrooms
Cormac, ON, Canada