The Sedgwick Antique Inn has 14 bedrooms available in the historic bank building. Our guests tell us this is a wonderful place to stay. Please stay with us as long as you wish.
Lots of space and lots of room to let your imaginations flow.
We walk the streets at night. You will be safe in our friendly little town. We have the Jumbo Reservoir 5 miles west of us. Fishing and hunting is abundant in our area. Keep in mind we are a small town with a bar and a dispensary across the street.
This place is really cool, it's almost a hundred year old building that's full of antiques. The town is really small and full of friendly people. There is a restaurant called Lucy's Place a couple miles away that makes great Buffalo burgers. Oh, and there is a dispensary across the street and a smoke shack next door, for those interested. Lupe was a wonderful host, very kind and welcoming, full of information about the history of the town and the buildings.
Orion
2016-07-22T00:00:00Z
My recent stay @ Sedgwick Antique Inn , everything was as advertised. Lupe is a very friendly host and the accomodations hit the spot after a long days drive.
luis
2016-09-02T00:00:00Z
Sedgwick is a tiny town with just a few businesses and a railroad track through it. Lupe is welcoming and talkative, and knows a lot about the area. It was fun to hear a bit about its history from her. Plenty of parking, but no gas station in town. There's a cafe attached to the inn where you can get an affordable meal. I recommend checking out the museum in Sterling, about 40 miles away.
Rae
2016-07-16T00:00:00Z
Lupe was very welcoming. She gave us a quick tour of the place and allowed us to choose our room. There are quite a few to choose from. There was also ample parking. Lupe gave us a brief overview of the town, which is quite tiny and set off from the highway. The town itself seemed peaceful, if a little isolated. It is also directly across from a dispensary if you're looking for that kind of thing. There are 2 bathrooms to share for all the rooms. The mattresses are a bit older and quite noisy, as is the center hallway that runs in front of all of the rooms. I also found it to be quite dusty (I'm allergic to almost everything) so I had to take a benadryl to get me through the night. Everything is a bit dated and worn, but some may find it to be kitsch. All in all, great host, but for the sake of my allergies and wanting a private bathroom, I would pass.
Princess
2016-05-31T00:00:00Z
We received wonderful hospitality on this our first Airbnb experience. She stayed up to meet us for our late arrival and even had some popcorn waiting for us. This property is such a unique venue, we really enjoyed our stay.
Jeffrey
2015-11-19T00:00:00Z
Great stay at the Sedgwick Antique Inn. Cute tiny town and Lupe was so friendly with me and my mom. She had an extra room and let us split up for the night which was very kind. Nice stocked breakfast nook as well. Overall just a quaint and cozy place with an interesting history. If we come through the area again, we would definitely stay here!
Layne
2016-07-28T00:00:00Z
I felt very welcomed and the communication with Tracy was great. I arrived at night, when there was an impending storm. I was the only one staying at the Inn, and it was a bit spooky. But otherwise, my stay was good and I'm sure in the daytime, the Inn is lovely and inviting. I had to leave early the next morning and so I didn't get to see the town.
Hannabah
2016-03-25T00:00:00Z
Lupe was still up when we arrived late in the evening. Just like the perfect host! She showed us the house and all the amenities including the cafe. Oh my goodness, the charm of this place. If you don't mind traveling back in time to the days before TV's, vending machines and time crunches, this is the place for you! Because the Inn was not full, we were treated to even more perks and privileges. She shared history of the area and you'll find her life's journey very inspiring. Her kindness spills over into the community and the residents of Sedgwick. If you are hooked on Hilton, this is not the place for you. If you value conversation, community, life essentials, meals from scratch and small town gems, it is so worth the exit off I-80.
Celeste
2016-08-19T00:00:00Z
Room Type
Private room
---
Property Type
Other
---
Accommodates
16
---
Bedrooms
Sedgwick, CO 80749, United States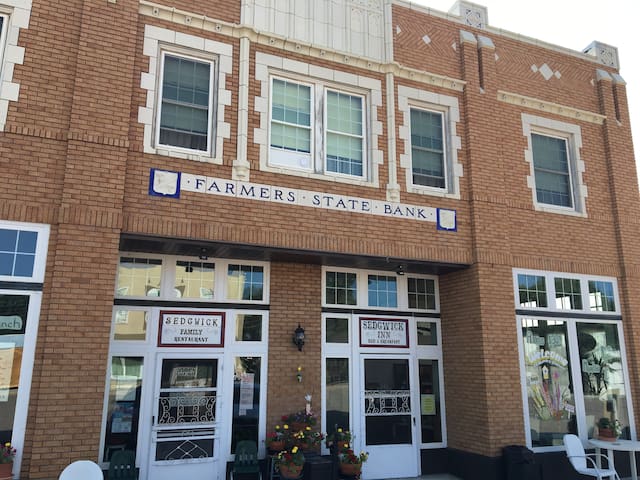 Enter dates to see full pricing. Additional fees apply. Taxes may be added.