Notre logement offre une vue exceptionnelle, à 7km du village de Riols, sur une colline en pleine nature. Vous apprécierez ce logement pour le calme, les magnifiques randonnées et proximité de sites exceptionnels (Olargues, Gorges d'Heric et de Colombières,...). Notre logement est parfait pour les couples, les voyageurs en solo et les voyageurs d'affaires. Nous maison dispose de 2 chambres d'hôtes.
Nichée sur une colline à 500m d'altitude, dans un petit hameau pittoresque au coeur du Parc Naturel Régional du Haut Languedoc, entre Saint-Pons-de-Thomières et Olargues, sur la commune de Riols, la maison d'hôtes "L'Oustalou d'Aouzedos" est une ancienne ferme datant de 4 siècles, entièrement rénovée dans un soucis d'authenticité. Vous aprécierez les matériaux naturels (pierre, enduits de chaux et chanvre, marbre et plafonds avec poutres apparentes en châtaignier) et l'ambiance chaleureuse de cette maison de charme. Un jardin méditerranéen en terrasses ou poussent des lauriers, lavandes, figuiers de barbarie et plantes de rocailles est à votre disposition. Une bibliothèque ainsi qu'un petit salon avec cheminée ancienne vous sont aussi accessibles. Nous mettons à votre disposition de la documentation pour organiser votre séjour, ainsi que des guides de randonnées.
Le petit hameau d'Euzèdes est situé à 6,7km du village de Riols, sur le versant sud d'une colline boisée, proche des gorges d'Héric, d'Olargues (un des plus beaux villages médiévaux de France), à une trentaine de km du canal du midi et à une cinquantaine de km de la mer méditerranée.
Room Type
Private room
---
Property Type
Bed & Breakfast
---
Accommodates
2
---
Bedrooms
Riols, Languedoc-Roussillon Midi-Pyrénées, France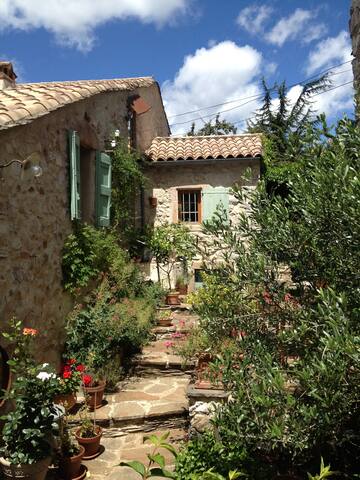 My accommodation is close to nature, rivers, lakes, sea !. Enjoy my accommodation for the nature around, the garden and the neighborhood. !!!!
Sabina est une hôte très agréable et arrangeante. Maison de hameau sympathique, avec des animaux
Sarah
2016-08-14T00:00:00Z
Hôte très gentille, Petit coin merveilleux, Dépaysement complet c'est ça les vrai vacances au calme!
Aline
2016-08-18T00:00:00Z
Sabina est super gentille et sa maison très conviviale. Adresse à recommander
Patrick
2016-08-16T00:00:00Z
Room Type
Private room
---
Property Type
House
---
Accommodates
2
---
Bedrooms
Pardailhan, Languedoc-Roussillon Midi-Pyrénées, France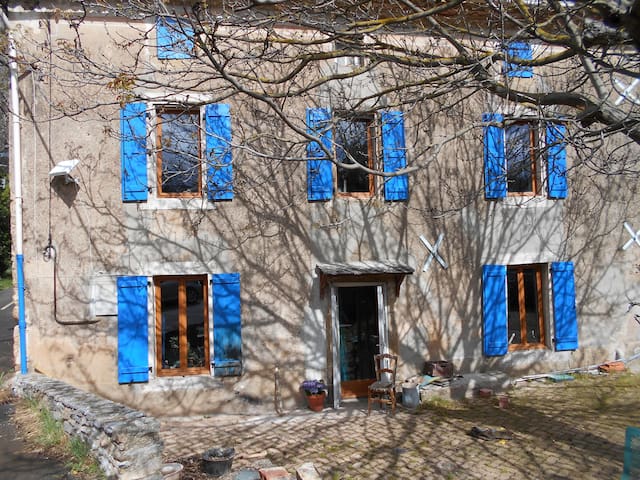 This sunny villa is perfect for a family (with children) or a couple. It is located Assignan a small wine village belonging to the town of St Chinian. It is surrounded by a large private garden with a plancha, complete calm. In addition to the three bedrooms, the living room has a sofa bed. Sheets and towels provided on request.
Room Type
Entire home/apt
---
Property Type
Villa
---
Accommodates
6
---
Bedrooms
Assignan, Languedoc-Roussillon Midi-Pyrénées, France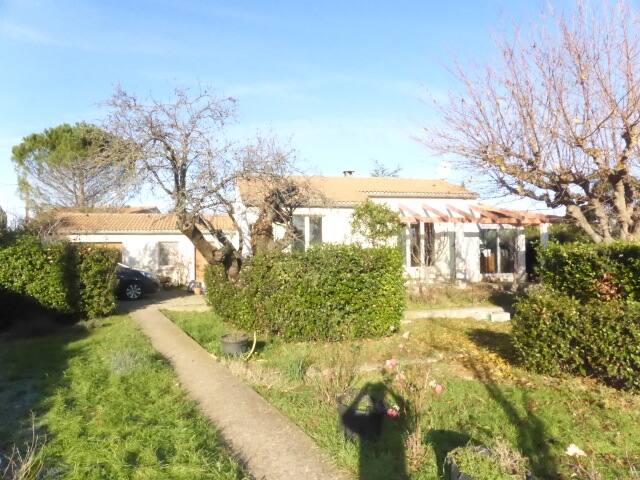 Renovated gite in old farm, great view over the valley, pets are welcome! Gite entièrement rénové dans ancien corps de ferme, chiens bienvenue! Le gite est loué sans draps et serviettes; vous pouvez désormais louez un set pour 2 pers. (€12.50) et/ou un set pour 1 pers (€7.50) sur place. Chauffage au bois (fourni). -il n'y a pas de réseau portable dans le gite; sur le terrain il y a 2-3 point d'accès.
Le Noyer - cosy apartment in the 300 years old farm-building with wood burner. View over the valley and silence...
Het park van de Haut Languedoc staat garant voor een schitterende flora en fauna. In de directe omgeving zijn er talloze oude dorpjes, wijndomeinen en gezellige streek markten.
Lovely place in a beautiful valley. Full of animals and charm. Internet wasnt working and for some urgent matters my friends used Remkes internet and she was very friendly. This was a bit disappointing because we were relying on this to find places to eat and some work matters but added calm and improved our sense of being away from it all. I found the small bedroom too small and dark for adults, its a kids room. The double room was perfect with a view and enough space. The bathroom was perfect, reliable stream of hot water. The common area was great and cosy and Remke provided plenty of wood. We would have lovely dogs waiting for us for a cuddle outside. This was great. Also horses, a donkey... The feeling of the place is great. Overall I highly recommend Remkes gîte, amazing value and it a allowed us to have a great time.
Alejandro
2016-03-30T00:00:00Z
This was a great - and quite unique - airbnb experience. The gite is a lovely old stone building attached to the old farm house and there's an outdoor eating area ('your Paris', Remke said). What was unique is that Remke offers coffee and croissants to order in the morning for a very small fee, to be enjoyed under a cool verandah where you can meet others who are renting or camping on the farm. Also a swimming pool! All very lovely on some hot days.
Barbara
2016-09-12T00:00:00Z
It was beautiful location to have quite holiday. We spent 2 nights their. We had great time with our daughter to see all animals and walking in the forest next to the farm. And our Dog was really happy in that free space. Thank you your hospitality.
celine
2016-03-18T00:00:00Z
The place is very remote - it was difficult to find as there is only a sign for a camp site and I didn't know it is a camp site as well we a gite. The reception was pretty low key - I was lucky to find somewhere in high season at short notice, so grateful and Remke was kind enough to let me sleep in another cabin as the room I was in with my son had very cramped bunk beds. Remke was also kind enough to let me use her internet cable in her kitchen as the wifi reception there is terrible - good place to get away from it all, but not if you need to work and wifi! It is a dutch owned place and full of dutch so does feel like a dutch colony. Gites are pretty basic - but ok I guess for 2 stars. My son had a good time with other kids there. It is very laid back. Remke's husband was rude, unhelpful, for some reason took an instant dislike to me because of my holistic interests (apparently), and it was not pleasant to be around him.
Swan
2015-07-18T00:00:00Z
Remke welcom us so nice The Place are so bautyful and the aparment have a nice charm There was Everything you need The only thing was that is was Cold inside .We rely like this Place
Barbro
2015-09-27T00:00:00Z
The gite was cozy, well accessorized and located quite comfortably for those who seek to visit the various sites in the park. The location of the gite is quite pastoral and offers great morning views. Our hosts were fluent in English, helpful and at the same time we also felt that we had our own space and privacy during our stay. Roger and Duke the canine hosts are also lovely and usually offer a welcoming committee after a long day of adventures.
Gaelle & Dan
2015-10-03T00:00:00Z
Had a great time staying at Remke Gite, Remke very welcoming and let us stay in the bigger gite at no extra cost. The gite had all the facilties we needed, and made a perfect base for us to explore the surronding areas from. Great hosts, and the farm is in a lovely setting surrounded by trees and nature, we had a super cosy log fire in our gite, not far to St Pons for shops and beautiful walks all around. We made friends with the dogs and a sheep! Thanks again both! Charlotte and Paul :)
Charlotteeola
2015-01-09T00:00:00Z
very nice place,quiet and cool.The hosts are charming,friendly,and love to discuss and share their way of life .3 days was like a big trip; and so relaxing.
MAX
2015-04-14T00:00:00Z
Room Type
Entire home/apt
---
Property Type
Flat
---
Accommodates
4
---
Bedrooms
Saint Pons de Thomieres, Languedoc-Roussillon, France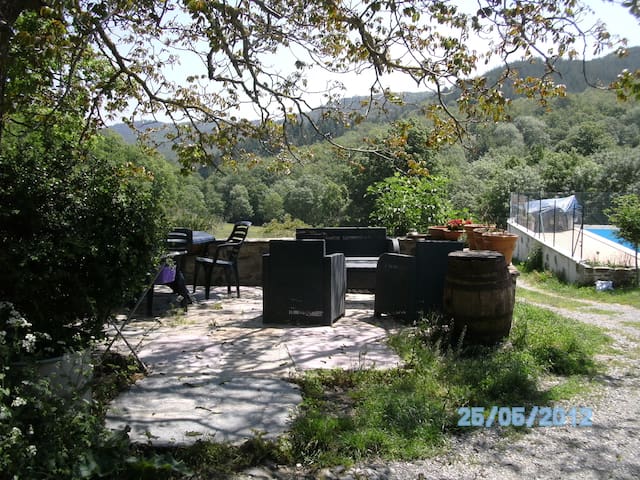 The south facing gite overlooks a terrace with far reaching views of the mountains. The gite has it's own terrace with sofa and dining furniture for 4. There is a lovely big heated pool with washing and toilet facilities. There is also an adventure playground, tree platform and play pond. The gite is newly renovated with fitted kitchen including washing machine, gas hob, microwave, fridge/freezer, satellite TV, wifi (paid extra) and log burner. Seating for 4 in the dining and living room.
This south facing gite overlooks our lovely stone terrace with stunning, far reaching views of the mountains. On some days you can see the snow capped Pyrenees. The cosy gite has a log burner and electric heating to suit your needs and keep you warm if you stay in the cooler months. We have retained the original roof beams (circa 300 years old) giving this gite a really traditional feel yet there all the modern comforts of a new home. Downstairs there is an open plan living area with seating and dining space for four. A newly fitted kitchen includes washing machine, gas hob, fridge freezer and plenty of cupboard space. Upstairs there are two separate bedrooms, one with double bed (and small walk in wardrobe) and the other with bunk bed (two full size single beds). Please note the pool is seasonal and usually opens in May. Please make sure you ask before making a reservation if the pool is the deciding factor in making a booking. The opening date depends on weather.
Very beautiful gite situated super calm and with a great view. Graham was a very nice host and I would definitely recommend to stay at his place!!
Anna
2017-04-03T00:00:00Z
The place is incredible , with a fantastic view. Graham is very nice and a good host. We stayed 2 weeks with a 2 years old girl and a 2 months old baby. There're all equipments inside La Châtaigne although the place is small. We spent some great time.
Vincent et Lara
2016-10-15T00:00:00Z
Wonderful stay in La Chataigne : small but very comfortable and super well equipped apartment, absolutely stunning surroundings, Graham was such a great host and we met wonderful people there. We Stayed 2 weeks and left wanting to stay longer/come back soon! And so much to do and see in this region between the sea, the wineyards, the rivers and the lakes. Long life to Les Coumayres!
Edith
2016-07-31T00:00:00Z
We loved our 2 day stop over at Graham's and what he has created here is quite wonderful.
Simon
2016-09-29T00:00:00Z
We absolutely loved our 4 days here! The gite itself was lovely, equipped with everything we needed. The view from the terrace and the pool is gorgeous, and we made use of the BBQ every night. The supermarket was a 15 min drive away, and Graham and his family were very helpful recommending places to visit it the local area; in particular a stunning waterfall in a gorge nearby. If you're looking for somewhere rural to relax and enjoy beautiful scenery, this is the place. It is cosy having other neighbours around, but there is so much space in the different areas around the property, you can easily find your own private corner to enjoy in tranquility. Thank you for a brilliant stay, we will be back!
Rosie
2016-09-08T00:00:00Z
Host nicer than anyone could expect, and more beautiful than on pictures ! Peace, and Tranquility, on Earth....
David
2017-04-02T00:00:00Z
A really amazing gites in the middle of the nature. If you want to relax and enjoy the silence, I really recommend this place!
Laure
2016-09-24T00:00:00Z
Endroit magnifique, ainsi que la qualité des lieux et l'accueil. Je conseille.
Alex
2017-02-02T00:00:00Z
Room Type
Entire home/apt
---
Property Type
Flat
---
Accommodates
4
---
Bedrooms
Riols, Languedoc-Roussillon, France
7 km from St Chinian , a new detached villa , furnished and equipped " Windmill " welcomes you in the heart of Assignan , small village of the back country of Béziers , quiet and sunny place .
Modern tastefully decorated home to a peaceful and relaxing stay. Terrace, private parking . Close to all amenities and public swimming pool (10 minutes) . Store on site
Peace and quiet
Great villa has everything you need. The area has lots to do. Walking, wine, food and history. Joel was helpful and made us welcome. We enjoyed our stay and will return
Sallee
2017-04-11T00:00:00Z
Super séjour ! Logement fidèle aux photos, excellent accueil des hôtes et quartier très sympathique ! Je le recommande à tous
Manuel
2016-08-18T00:00:00Z
Maison très très confortable et très propre Joel et Monique sont des gens charmant et acceuillants
geraldine
2016-12-30T00:00:00Z
Joël et Monique sont très gentils et disponibles : Ils possèdent un terrain attenant qui est leur potager, donc on peut les voir souvent. Ils nous ont aidés à trouver des coins intéressants à visiter et pour trouver un peu de fraîcheur! Le village est mignon et calme. La maison est neuve et fonctionnelle. Nous avons passé un très bon séjour!
Pierre-Nicolas
2016-08-03T00:00:00Z
Merci à Joel et Monique pour leur accueil chaleureux. La maison est très confortable et agréable. Nous avons passé un très bon séjour et découvert cette région pleine de paysages magnifiques (surtout en voyageant en moto !).
annie
2016-08-23T00:00:00Z
Description conforme à l'annonce, bon accueil de la part des propriétaires, rien à dire, à recommander. Nous avons peu occupé le logement car il était loué pour des raisons professionnelles, mais tout y est.
Fabien
2016-04-09T00:00:00Z
Joel et Monique nous ont réservé un accueil particulièrement chaleureux et se sont montrés très soucieux de notre confort, complétant la maison d'un lit parapluie et d'un matelas à langer pour bébé ! La maison est spacieuse et fidèle à la description du site. Nous avons également été sous le charme du petit village d'Assignant, perdu dans les vignes.
Olivia
2015-08-16T00:00:00Z
La villa était parfaite, fidèle aux photos, très propre, rien ne manque (dispo équipement bébé). Joel et Monique ont été très accueillants malgré notre arrivée tardive. Ils sont de très bons conseils pour visiter la région, très agréables et attentifs à notre bien-être. Pendant notre séjour nous avons pu visiter Carcassonne, la réserve de Sigean et les jardins d'Adrien. Les enfants se sont régalés d'être campagne. On vous conseille ce logement les yeux fermés, tout était parfait. Merci à Joel et Monique pour leur gentillesse.
BETTINA
2016-10-31T00:00:00Z
Room Type
Entire home/apt
---
Property Type
Villa
---
Accommodates
4
---
Bedrooms
Assignan, Languedoc-Roussillon, France
At the heart of the Haut-Languedoc Regional Nature Park, in the Jaur valley, near the greenway PassaPaïs and massive Caroux, the "Paillet" Artists is a charming cottage renovated with taste and comfort. Here you will find the quiet away from the noise of the city ... We welcome you throughout the year. Nancy, professional masseuse (shiatsu), also offers its services on site for a doubly relaxing! (Subject to availability)
Former sheep and mulch completely restored with a stone arch interior. You will find comfort in the quiet of the mountain, WiFi access and small garden for lunch outside. You can go directly to the feet rides from the cottage. For a more relaxing stay, Nancy, professional masseuse, offers services: Shiatsu, Reflexology, Massage, Facial ... next rate period, from € 20 To stay "sports" and enjoy the greenway, we offer bicycles for hire (10 € day)
The cottage is nestled in a quiet hamlet of about twenty people, a quiet place and resourceful where you can go directly to feet for a ride or a swim in the nearby river, or bike for an excursion on the greenway 1km.
We have enjoyed very much staying with Emily and Georges, our hosts, who as well as respecting our privacy have provided us with a wonderful space in their converted hayloft, interesting conversations, information about local places and events, very friendly dogs, even some amazing cakes from the patisserie where Emily works. The tiny village is like an extended family which had invited us to stay. We have even come to love and understand the Rolls Royce of a fridge, whar Georges calls their heirloom bijou. Ans slowly we have also learned to manage the very narrow lanes which wind in and out of the many hamlets that make up the township of St Vincent d'Olargues. We will have spent a happy month with our friendly, cheerful and benerous hosts.
Robert
2016-06-23T00:00:00Z
Inspiring and stylish property in a lovely quiet and peaceful region. The road to the house is very narrow (there is also a dirt track which we found more accessible) and this became a daily adventure. We were welcomed by Jules the neighbour who gave a great background to the house and recommended some fantastic places to visit. We stayed as a couple and it worked very well for us. The lounge space is great (and cool) kitchen was well stocked with everything we needed. I thoroughly recommend staying here
Nicola
2016-07-27T00:00:00Z
Nancy and Franck have just recently taken over this charming gite from the original owners. Located in a gorgeous Natural Park, the location is perfect for hiking, canoeing, horseback riding etc. However being located in a remote area comes with some disadvantages notably spotty mobile coverage which can make it quite difficult to find and communicate with the hosts if you get lost so be sure to ask for specific directions or even a map on how to get there. Otherwise the gite is lovely, and just as described in the photos. Note that the bed upstairs at 140cm is quite small and a bit stiffer than we are used to. Be sure to bring any amenities that you might need for your stay (coffee, milk, breakfast food, shampoo etc) as shops in the area close early and the others are quite far away. If coming in the Autumn or Winter be sure to ask the hosts to turn on the heat before your arrival as it can be quite chilly upon arrival. As other guests have mentioned mobile and WiFi coverage is quite spotty and access to the property is easier for small cars. The property is lovely and I wish Nancy and Franck the same success that the previous owner had.
Valerie
2016-10-10T00:00:00Z
The Paillet des Artistes is a beautiful gite locked away in a tiny hamlet of St Vincent d'Orlagues. The photos haven't prepared you – you'll say 'wow' as soon as you step in the door. The property is beautifully decorated with rustic charm in every view. I stayed here with my boyfriend to hike in the local mountains and this was a brilliant base for that (the Tupperware in the cupboards came in handy for this!) Emilie and Jo were both wonderful hosts, able to cope with both my limited French and Emilie is able to speak brilliant English also. We were even welcomed with a baguette on arrival! Two local restaurants – Les Fleurs d'Orlagues and Au Jardin de Marie – both provided astonishing value for money for truly high end food. I'd recommend the iPhone app 'Trails' for hiking in the area as we found it really useful for navigation. Otherwise the only thing to watch out for is a tight entrance to the parking area for the gite, so make sure you don't take a car that's too wide. Thank you Emilie and Jo for a perfect stay :-)
James
2016-05-08T00:00:00Z
Nancy and Frank were such wonderful hosts. We were looking for a nice quite place to stay durning our Moto adventure through south france. They welcomed us on on our last minute request and were very friendly and hospitable! It was such a lovely place that we ended up staying an extra night. They live in a very small and quant town. A great place to get away from city life. If we ever are traveling in this area again we will definitely stay again. -Jennifer & Daniel
Jennifer
2016-10-11T00:00:00Z
We were very much impressed by the beautiful restored house. It was very stylish furnished and decorated and we enjoyed the spacious room. And we liked especially the steel accents. We will come back for sure if we come to this area again!
Wim
2016-05-02T00:00:00Z
Absolute delightful place to spend a week. Charming and beautiful. Our favourite Airbnb we have visited thus far. Many thanks to Nancy and Franck who were friendly and welcoming. The place has a wood burner which makes it really cosy and homy. Also the place has everything you need in an absolutely beautiful area. Medieval towns nearby, and some beautiful scenic walks to be had. Really a gem if you have the chance to stay I highly recommend it. Also you may bump into the cutest cat of all time named Gaïa at some point.
Simon
2016-11-22T00:00:00Z
Emilie and her husband were fabulous hosts! We look forward to seeing them and the apartment again. Emilie made sure we had directions and was very accommodating with check-in and check-out timing. The space is really fun, with handbuilt details and in a lovely hamlet just a short distance from a 'larger' village with dinner and cafe options. Do note there is a 'green' pathway rail-to-trail that runs the length of the valley and is a great way to walk or cycle. Again, we really look forward to returning and would highly recommend a visit.
Peter
2015-09-22T00:00:00Z
Room Type
Entire home/apt
---
Property Type
House
---
Accommodates
4
---
Bedrooms
Saint-Vincent-d'Olargues, Languedoc-Roussillon, France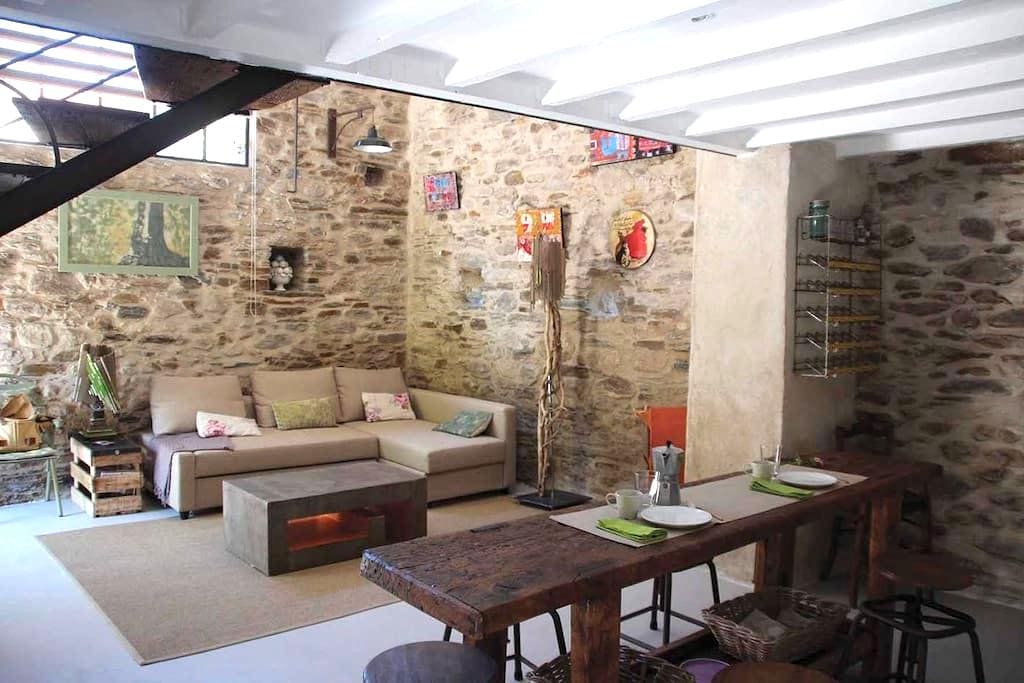 Convivial welcome in owners home with large pool and terrace for guest use. Spacious double bedroom sleeping 2 and space for a cot. Ample off street secure parking. Additional twin room also available (book separately) for larger numbers or children NEW FOR 2017 - NEW FOR 2017 Games room with darts and snooker table!
Large double bedroom over looking the garden and on in to the hills of the "Parc Naturel Regional de Haut-Languedoc" Additional twin bedded room available (booked and charged separately) for larger groups or family stays. Bathroom with shower and separate WC both shared by the two rooms. Only one family will be guests at any one time. Beautiful countryside views. Lots of outside space.
Countryside walks on your doorstep. Vineyards abound. Gorges d'Heric, Grottes de Deveze, Mediterranean sea, Narbonne , Minerve, Roquebrun all within 40 minutes.
Margaret and her husband are the nicest people you can meet. Also the room we had was very clean and was very cowsy . The location is perfect and our view was beautiful. We also had breakfast in the morning wich was delicious.
David
2015-08-12T00:00:00Z
Room Type
Private room
---
Property Type
Bed & Breakfast
---
Accommodates
2
---
Bedrooms
Pardailhan, Languedoc-Roussillon, France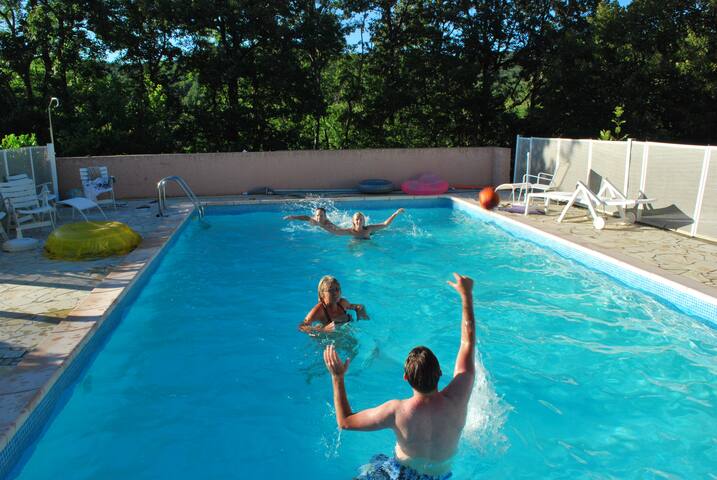 The house is part of the Workshop Neitzert-Héraud, a complex of buildings overlooking a large terrace with Mediterranean plants and open to the landscape. The authentic and warm interior is equipped with care.
This place was exactly how you'd expect a little house in a village to be: pretty, lots of cool furniture and in a quaint setting. Kevin made sure we had everything we needed and was easily approachable during our stay. I'd happily recommend this place!
Kurt
2016-09-06T00:00:00Z
Kevin and Kadia were very welcoming host, great communication and were very helpful with transportation and arriving. Check in was very easy and If arriving by train I recommend stopping at Beziers and then take the bus to St Chinian. The home is located only a few minutes drive or about 15 min walking distance through a lovely country side from St Chinian center where you will find incredible fresh farmer markets every week. This region is famous for it's wine and historical sights and I found this location (Castle Booze) very central to everything we wanted to do and cheaper then some of the neighboring towns. The home is really charming and beautiful, simple decor but quite cozy and had plenty of room. This place is perfect for a couple or a even a group of friends traveling. Comfortably sleeps 5. The charming little villa is quite classic style but the owner has done a great job on keeping it up. It include a hidden little nook on the roof to soak up some sun there is also a bbq and lots of outdoor hang out space. Kevin and Kadia live next door and that's one of the best parts, they were very kind and hospitable, sharing insight on things to do or places to go. Staying here was worth it for the host alone, two thumbs up...highly recommend it. Cheers.
Clayton
2016-05-20T00:00:00Z
La maison, agréable et joliment décorée, est située dans un hameau au calme au milieu des vignes et du maquis tout en étant à 5 minutes de saint chinian et de ses commodités. Parfait pour un week-end en famille au calme. On conseil le marché de Saint Chinian le dimanche matin.
lionel
2016-08-15T00:00:00Z
Une parenthese enchantee dans un hameau paisible. Accueil très agréable et discret. Une tres belle maison authentique .
Gabrielle
2016-08-20T00:00:00Z
Merci Kevin pour ton accueil, ta gentillesse et ta disponibilité ! Le séjour nous fut très agréable dans cette jolie petite maison de vacances et dans ce lieu paisible ! Ce séjour nous a permis de déconnecter et ça fait du bien ! Dès l'arrivée on se sent bien dans les lieux, le charme de la maison opère et on se laisse embarquer dans son histoire. Nous vous recommandons également la visite de l'exposition "Free bébé Diago" proposé également par Kevin et sa compagne à l'Atelier Neitzert situé à proximité. Un excellent moment d'ouverture d'esprit, de partage et de réflexion sur nos us et coutumes. Un beau travail engagé à découvrir...
Jérôme
2016-07-18T00:00:00Z
Petite maison très agréable, en pleine campagne, joliment décorée. Ideal pour se ressourcer et prendre l'air
Henry
2016-12-11T00:00:00Z
Merci à Kevin et à sa compagne pour l'accueil, la ponctualité et la disponibilité. Le logement, simple et très propre, est conforme à la description et suffisamment grand pour 2 couples. Il est remarquablement aménagé avec de très beaux meubles, sièges et bibelots anciens, de magnifiques tapis en grand nombre, une cuisine spacieuse avec entre autres lave-linge, lave vaisselle et un frigo hélas vide... Bel escalier authentique et terre-cuite ancienne au sol à l'étage. Le hameau de Castelbouze est très calme, le stationnement y est aisé. Idéalement situé, il nous a permis des déplacements faciles à travers les vignobles vers les curiosités de la région et le parc naturel régional du Haut-Languedoc : les villages de Minerve, Olargues, Vieussan, Berlou… Une mention toute particulière pour le marché de Saint-Chinian le dimanche matin, les légumes y sont magnifiques et les meilleurs producteurs locaux (de Saint-Chinian à Babeau-Bouldoux…) sont certifiés en agriculture biologique. Vaut assurément le détour ! Un excellent week-end, nous reviendrons.
Francoise
2016-12-05T00:00:00Z
Tout s'est passé à merveille ! De la communication à l'arrivé avec une bouteille de rosé au frais. Kevin et Kadia sont des hôtes merveilleux. Ils font une exposition juste à coté (à voir !). La maison est très jolie, agréable décorée avec gout et super calme. C'est un plaisir de regarder les étoiles sur la terrasse ou de cuisiner des bons plats dans la cuisine. Il y a de supers producteurs de fruits et de légumes dans la région. De bons vins. Peyras le boucher de Saint Chinian est une merveille. Je vous recommande ce logement sans hésiter. C'est une merveille.
Marko
2016-08-13T00:00:00Z
Room Type
Entire home/apt
---
Property Type
House
---
Accommodates
4
---
Bedrooms
Saint-Chinian, Languedoc-Roussillon Midi-Pyrénées, France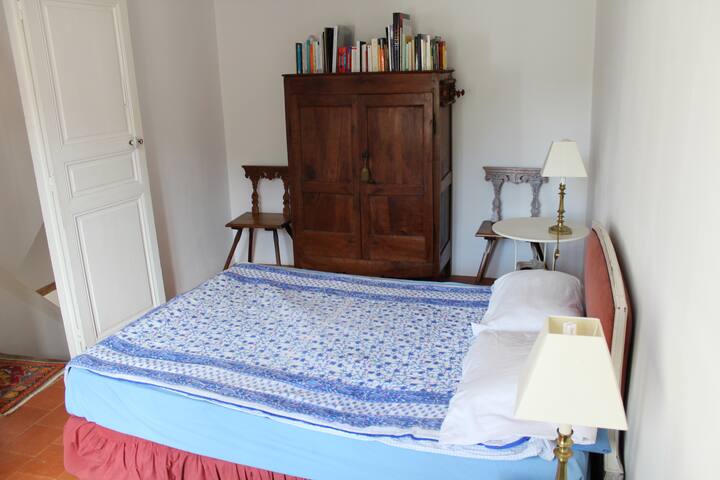 Country house in small village. car needed Grocery store on site 7km supermarket Near Minerva and Canal du Midi At 30 kms from the sea A 44 Kms SALVETAT ON AGOUT with its lake and its water. Ideally located for family holidays. No smoking inside No major events allowed A set of linen and towel provided Bring your own pool towels A provision 2 mountain bikes, table tennis We wish you a pleasant stay See you soon
House fully fenced campaign 6200m2 of land, electric gate. Electric garage also.
Charming village in the heart of the slopes of CHINIAN ST. Ideal for hiking, mountain biking, bikes .. Restaurants nearby.
Room Type
Entire home/apt
---
Property Type
Holiday home
---
Accommodates
10
---
Bedrooms
Assignan, Occitanie, France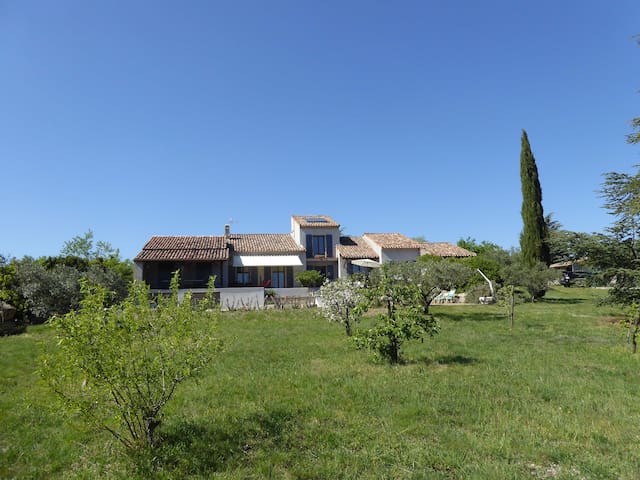 At 600m above sea level, surrounded by nature and breathtaking views of the Mediterranean, our beautifully decorated yurt is a cocoon full of charme.Notre farm also offers a good host table, kitchen and bathroom available;
The yurt is part of a small nomadic farm camping with a tent provided games for children; Vegetables and organic eggs, table d'hote and Guinguette where we can drink and have breakfast; Horses, donkeys and ponies with the possibility of hiking; During qi gong and meditation;
Part of the Haut Languedoc Regional Park, the farm offers a close range of wonderful walks and various activities: climbing, canoeing, mountain biking, swimming in the river; Discovery of the Languedoc vineyards and its famous wines;
Room Type
Private room
---
Property Type
Yurt
---
Accommodates
6
---
Bedrooms
Pardailhan, Languedoc-Roussillon, France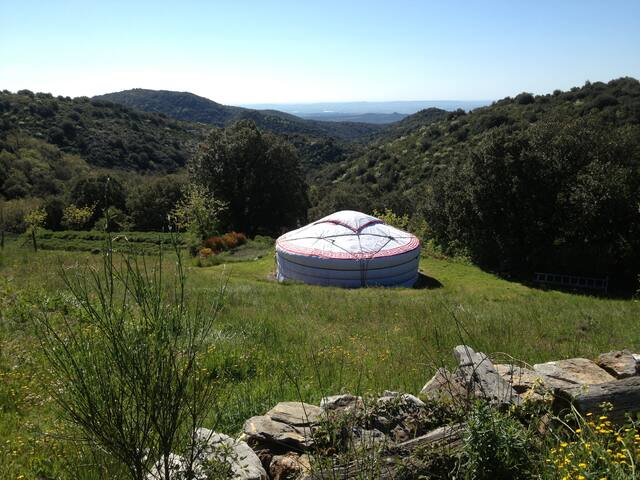 located between sea and mountains, quiet between St Chinian and Saint-Pons at the owner and completely independent. Cottage has full pool South facing sun terrace on a ground clôturé.Vous can enjoy the wilderness and sightseeing activities (vineyards of Saint-Chinian, farm zoo, canoeing, cycling, hiking, lake, sea and water sports, rides horse and donkey, oil mill, canal du Midi and its barges, the Oppidum Ensérune ..
Room Type
Entire home/apt
---
Property Type
Nature lodge
---
Accommodates
4
---
Bedrooms
Pardailhan, Occitanie, France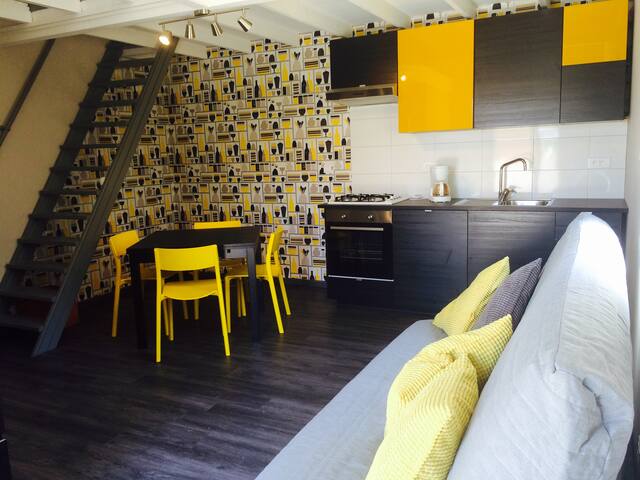 In a small hamlet called Ardouane,Riols,close to the Voie Verte(green road). Ideal for nature lovers,walking and cycling,this area has stunning scenery in peaceful surroundings. Independent room,sleeps3/en suite/kitchenette. Access to small garden.
Own private entrance,double and single bed/en suite in a traditional village house with original features. Bedding and towels provided, also fridge.
Accommodation in traditional French hamlet.
We had a wonderfull journey by Carol. She and her husband have been very kind, wellcoming and accomodating. They really did there best to make our journey confortable. Located in an old renovated house, the room and the small terrace are charming.
Guilhem
2016-05-08T00:00:00Z
Carol and her husband Ron did everything they could to welcome us at their special home in a tiny hamlet in real France. Whilst quiet and private, it is easy to travel within the beautiful local area by road, bus or voire vert. Some stunning mountain scenery and beau villages close by. The accommodation is clean and very comfortable, with excellent breakfast and optional evening meal. Carol's cooking and attention to detail is second to none, and providing a fantastic vegetarian meal for us, as we don't eat meat. Both she and Ron went out of their way to welcome us into their home and pretty garden, and offer friendship to make our stay a great experience. The house is close to a mountain stream, with a natural pool for wild swimming, which was magical. We can highly recommend them, and we will be back!
Karen
2016-08-05T00:00:00Z
Carol et Ron sont absolument charmants, ils nous ont accueillis comme des amis. Le hameau est très agréable et la maison de nos hôtes adorable. Le petit déjeuner est excellent et présenté avec une rare délicatesse. Les confitures et le muesli sont faits maison, excellents ! Non loin d'Ardouane, le "kesako" restaurant végétarien (et musical) est un lieu assez unique à connaître.
Laurence
2016-08-11T00:00:00Z
accueil très chaleureux, effort de communication car nos hotes sont anglais et pour l'instant ne maitrisent pas parfaitement notre langue. echange avec eux très enrichissant, avons révisé notre anglais!!! chambre indépendante simple mais joliment décorée, nature et calme, petit déjeuner super. ce fut un plaisir !
nicole
2016-07-03T00:00:00Z
Nous ne sommes restés qu'une nuit chez Carol et son mari mais ce fut très agréable. L'endroit est extrêmement calme, la chambre confortable et les hôtes charmants ! ...Sans parler du petit déjeuner qui était délicieux et plus que copieux. Nous ne sommes malheureusement pas restés assez longtemps pour profiter du jardin. Une prochaine fois sans doute...
éric
2016-03-31T00:00:00Z
Un séjour parfait rendu possible par Carol et Ron disponibles à chaque instant. Une chambre très cosy, qui fera plaisir à quiconque, très fonctionnelle avec tous les éléments de confort nécessaire. Un séjour dépaysant grâce à une immersion dans la langue anglaise. Un repas en bonne compagnie de nos hôtes dont la vie passionnante a su nous divertir. Carol est une cuisinière hors pair , le repas copieux est cuisiné avec maîtrise à l'aide de légumes du jardin. Ardouane est un hameau chaleureux et conviviale idéalement situé ceux qui voudrons découvrir le haut Languedoc et ses randonnées. (Sentier des Légendes à 2km, etc...)
Aurélien
2016-08-22T00:00:00Z
Nous avons passé 2 charmantes journées à Ardouane, et alentours (très belle vallée à découvrir), accueillis avec grand soin par Carol et Ron Petit déjeuner continental breakfast avec nos hôtes excellent
Benjamin
2016-08-16T00:00:00Z
Room Type
Private room
---
Property Type
Bed & Breakfast
---
Accommodates
3
---
Bedrooms
Riols, Languedoc-Roussillon, France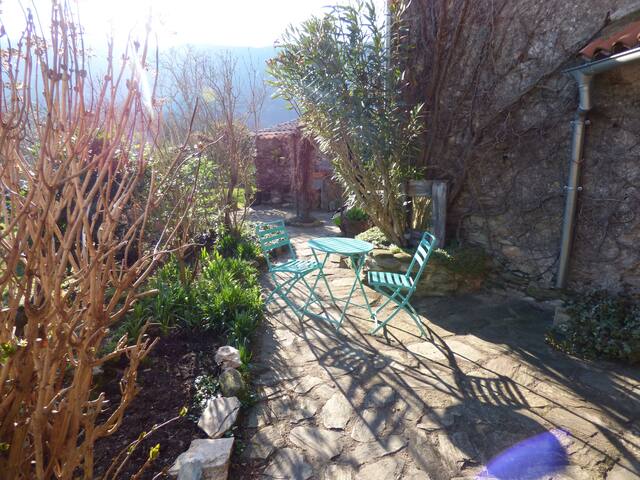 Simplicity and cosiness cover the description of our guest room, sitting in a village house in St. Chinian in the South of France with kitchenette (microwave, fridge, heating plates etc) and bathroom. Directly on to a small luxuriant garden with shady trees and view to the river Vernazobre. Perfect place for seeking calm and relaxation. The village of St. Chinian (app. 2000 inhabitants) - between the sea and the mountains - situated in a beautiful valley surrounded by reefs and medium mountains, with it's proper AOC (appellation controlée), 6 restaurants/cafés, 2 weekly markets booming with fresh local products, many shops. Romantic French atmosphere. 30 min. drive to the Mediterranean. Bathing in the river in the backgarden. Lots of possibilities for walking trips, canooing on the Orb river, cycling, VTT, golf. Perfect for motorbiking. Visits to the local wine-farmers with wine tasting and sometimes a meal with the wine farmer and his family. Historic remains from the time of the Romans. Dramatic Cathar castles. 2,5 hour from Barcelona and Marseille. The entrance to the guest room goes through our garage, explaining the low price. We have a small dog very lively and curious.
This was a lovely place to stay. It is a good base to explore Haut Languedoc having always stayed previously in Narbonne. Our hosts Hanne and Jean-Francois were very hospitable, and gave us good advice on places to visit, they invited us for drinks and nibbles which we gratefully accepted. Thank you both.
Leigh
2013-09-17T00:00:00Z
The hosts - Hanne & Jean-Francoise are lovely people & were extremely welcoming, friendly & helpful. They could not have been more accommodating in making my stay comfortable & interesting. Their knowledge of the area is good and provided me with a good amount of detail of local villages, events and local walks. Mimi (the 4 legged host) is an absolute cuty & was great company (but then I am a dog lover!). The cosy room - exactly as it says on the packaging! Really, really comfortable self contained apartment with the added bonus of own door & steps to the garden that overlooks the river.......great for eating outside, even in the warm November sunshine. The bed I used is super comfortable, the kitchen area is well equipped with fridge, microwave, small hob & sink. The private bathroom with shower etc. has plenty of hot water. The village - a traditional large village that has retained it's French authenticity. A small selection of places to eat & drink on the main road. I visited the Sunday market and could have eaten my way around the whole market - glorious fresh produce....a great atmosphere! Good walking from the village, but ensure that you take a good map with you as the 'green arrows' indicating paths are a bit hit & miss! Lots of places/villages are within easy reach by car with scenic drives through the hills. The vines & trees were very pretty in their Autumn colours. I had a great relaxing time here and would highly recommend the location, room & the hosts.
Julie
2012-11-07T00:00:00Z
We can only echo what other guests have already said - an absolutely charming room with delightful location and lovely garden. A truly warm welcome from hosts and dog alike made up for rather unseasonal weather during our stay. Small touches like a vase of fragrant fresh flowers and a bottle of local wine would rarely be equalled by an expensive hotel. I would dare to suggest that Hanne and Jean-Francois may have joined Airbnb more because they enjoy meeting people than from financial need? Thank you for a really special and memorable stay . Tony and Ruth, Aberdeenshire, Scotland
Ruth & Tony
2013-04-28T00:00:00Z
My third stay was a three week stay. Almost every day it was around 30 degrees, but the temperature in the studio was rather pleasant. Thanks to the beautiful weather I enjoyed the beautiful garden every evening. I have nothing to complain about and will sure come back.
Wim
2013-08-22T00:00:00Z
It was my second stay (need I say more?) and everything was perfect. It was clean. There also is a coffee-machine and there were even tea-bags and a coffee-bag. The wifi-connection is very good. The garden in Spring is very pretty. I look forward to my third stay in summer. May 2013.
Wim
2013-05-05T00:00:00Z
Our stay here really was perfect - Hanne and Jean-Francois could not have been more welcoming and helpful, and the apartment was lovely. We had everything we needed, even some delicious rose wine to enjoy in the beautiful garden on arrival! The little kitchenette is fantastic. The garden was probably our favourite bit about this properly, but the local area is also great. There are many fun activities and also relaxing places to visit. We would definitely like to come back in the future!
Jenny & Barney
2015-09-09T00:00:00Z
Staying in Saint Chinian in Hanne & Jean-Francois house was perfect, everything corresponded exactly with their pictures and description. My husband and I were staying in the nice apartment with the kitchenette and bathroom, we had opportunity to use the beautiful garden too. Hanne & Jean-Francois gave us every information, they were offering us advice about trips around. They respected our privacy. The entrance to the apartment over the garage was an advantage for us, we were separated from their apartment. We enjoyed the stay very much. I highly recommend this accommodation. Marie
Marie
2015-07-19T00:00:00Z
This stay was a great deal. Our room was big enough for the two of us, and included a little kitchenette. There's a lot of little towns and a couple of cities in a 30 minute radius, and we travelled to the beach everyday. The area is very safe and very rural, which we liked. Our hosts were friendly and approachable, and were very respectful of our space.
Andreas
2014-09-14T00:00:00Z
Room Type
Private room
---
Property Type
House
---
Accommodates
2
---
Bedrooms
Saint-Chinian, Languedoc-Roussillon, France
In pre-mountainous countryside close to Beziers, Carcassonne, Narbonne and the Mediterranean, in the midst of oak, chestnut and pine trees is this charming, rustic, fully-restored stone country house situated in one of five hamlets which together form Ferrieres Poussarou, and which themselves are in the famous wine-producing area of St Chinian. There that you will find this beautifully renovated stone country house. If peace and tranquility are what you want/require, this is the house for you.
There is a game room on the ground floor next to the living room, where you can play table football and find all the other games equipment in the small wardrobe/chest of drawers. - A multi games table (table football, pool, table hockey, mini table tennis etc); - A board games set with dozens of separate games; - Racket/ball games equipment; - A dart board (in the living room) We provide our guests with some books and DVD films in the TV/DVD player area, as well as a Hifi/radio and CD player and a selection of classical CDs are also available for use in the living room.
In pre-mountainous countryside, in the midst of oak, chestnut and pine trees you will find this charming, rustic, but fully-restored stone country house situated in one of the five hamlets which together are known under the name of Ferrieres Poussarou, and which themselves are in the famous wine-producing area of St Chinian. It is there that you will find this beautifully renovated stone country house. If peace and tranquillity are what you want/require, this is the house for you. The only noises you are likely to hear are the sounds of nature, with the occasional harvesting or mowing of a field by a local farmer or your children making the most of the magnificent, completely private 10m x 5m secluded swimming pool, perched on an elevated position above and behind the house, un-overlooked by anyone else but with a stunning view down the valley and across the fields surrounding the house. Once there you are unlikely to want to move but if you do there are plenty of attractions locally.
Vert nice house in a very quiet place. Plaisant swimming pool and pool house, with all privacy needed. no direct neighbors. Awesome area with beach at 1h drive and direct access to mountain with some lacs and charming little towns.
Hedi
2016-08-13T00:00:00Z
Room Type
Entire home/apt
---
Property Type
House
---
Accommodates
4
---
Bedrooms
Saint-Chinian, Languedoc-Roussillon-Midi-Pyrénées, France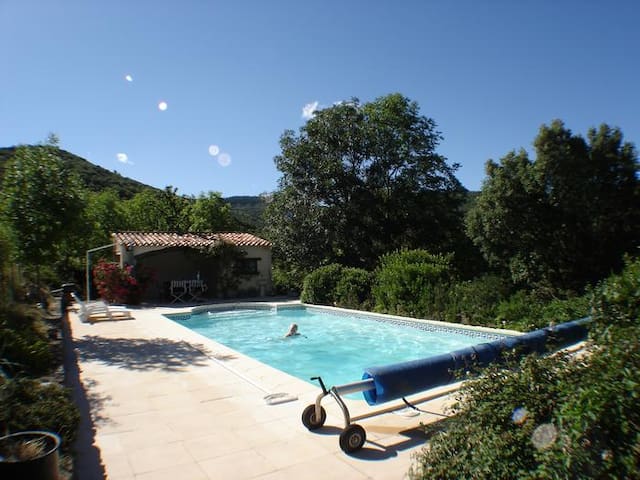 A well-appointed, newly refurbished apartment central to St. Chinian with ample free car parking in the shaded square nearby. Located close to mountains, beaches, Canal du Midi, & the historic cities of Narbonne, Beziers, Carcassonne & Montpellier.
This fully refurbished and modern equipped apartment sleeps 4 in 2 bedrooms (1 double and 2 singles), yet is part of a traditional village wine growers house. The property is located on a wide and quiet street in the centre of Saint-Chinian. There are ample free car parking spaces available in the shaded square close by the house. Electric heating makes for extra comfort during the colder winter months. The spacious accommodation is arranged over a single floor includes a large sitting/dining room with kitchen; 2 bedrooms and a large bathroom with separate WC. A small balcony is off the master bedroom.
Saint Chinian is a great location to explore this rich and diverse area - a national park on our doorstep with mountains and trekking. Pretty villages clinging to mountain sides, or miles of tranquil canal side walks along the Midi. History around every corner and food and wine in abundance. Inspiration for writers, painters, photographers jumps up at you or miles of beach without the crowds for those who want to soak up the sun - and all over if you fancy!
Excellent little apartment in beautiful Saint Chinian. James was welcoming and quick to respond to any queries. Would fully recommend this to anyone who wants to stay in the area.
James
2016-09-29T00:00:00Z
We had a great time at St Chinian in James apartment. The apartment is set up for everything you need to enjoy your stay. The location is great to explore the St Chinian wine region. I would not hesitate to stay there again when visiting the area.
Daniel
2014-10-21T00:00:00Z
James and Maggie are friendly, lovely people. They provided us with full information and a big-big smile. I love them!!. The house is easy to find, even the first time.The location is absolutely perfect: you are in the heart of a charming quiet village, not far from lots of interesting places to visit: caves, abbeys, castles, cellars, canal du midi, interesting open-air markets.... The apartment is clean, nice, spacious, full equiped, everything is brand new. I would definetely recommend it. Thank you!!
Maite
2014-04-21T00:00:00Z
The reservation was canceled the day before arrival. This is an automated posting.
Jordi
2014-08-03T00:00:00Z
We booked James' apartment for a long weekend at St Chinian as a group of four and we had a very comfortable stay. James was an excellent host- he is easily contactable and responds promptly. He was also available for questions whenever we needed him. James' flat was clean, tidy, spacious and had good amenities. The beds were comfortable. We took a double bed, two single beds and there was a spare bed on the mezzanine too. The flat's location is close to shops and numerous wine merchants which was particularly ideal for our party. We would definitely stay here again when we come back to St Chinian!
Sella
2015-08-10T00:00:00Z
Great hosts, great apartment and location. Apartment excellently stocked with everything you would need. Parking good. In all a most enjoyable stay with added bonuses of enjoying reading one of James published books and the terrific Paella shared by Maggie and James one night.
Cecilia
2014-05-12T00:00:00Z
Stay to state very well, are very friendly and we have not missed anything.
Monica
2014-12-14T00:00:00Z
James and Maggie are delightful people. Maggie speaks fluent French and both are extremely kind and helpful. They give plenty of advise on places to visit and things to do in the region, and the apartment is just as beautiful and tidy as the pictures suggest. The view from the bedrooms is also wonderful. We would pay another visit to this place without any hesitation at all and will definitely recommend this to our friends and family. The location and region are also splendid. Thanks James and Maggie for these unforgettable holidays.
Laima
2014-04-27T00:00:00Z
Room Type
Entire home/apt
---
Property Type
Flat
---
Accommodates
4
---
Bedrooms
Saint-Chinian, Languedoc-Roussillon, France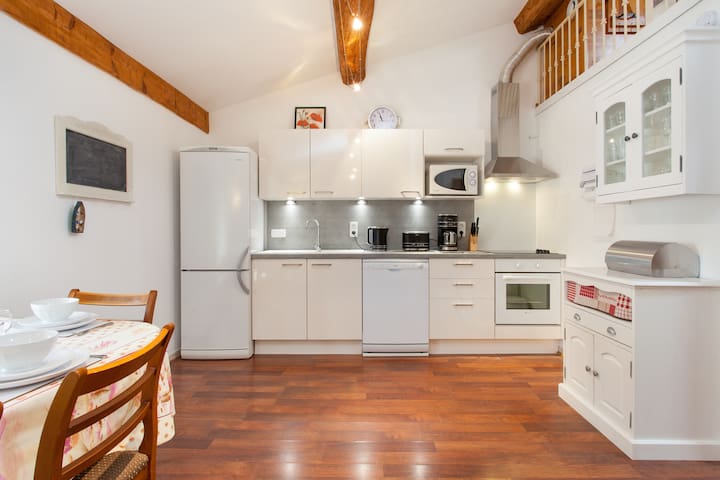 On an absolute top location we rent our detached villa Chassera a deluxe room on the ground floor. Bathroom, dressing room, separate toilet, and private terrace. Chassera villa is located in the wine field Tudery commune St.CHINIAN.
Jeanine was an attentive host who responded very quickly prior to our trip and provided a delicious continental breakfast every morning (8.50 euro pp). The gite is lovely and clean, equipped with a fridge and kettle so that you can enjoy a cold glass of wine/beer in the evening and make your own coffee in the morning without disturbing Jeanine and Arjan. The shower is a hand held job in a roll top bath, which is a bit fiddly but manageable. The rooms are quite hot in July so the cool swimming pool was a treat! The gite is located surrounded by a beautiful vineyard called Bordes and there are plenty of vineyards to visit in the area. St Chinian is a 10 minute drive or a 40 minute (hilly) walk, they have fantastic markets on Sunday and Thursday. Assignan is about a 30 minute walk and they have some lovely restaurants run by Castigno. It's fairly isolated but we enjoyed that aspect. We struggled getting our car (with low suspension) up the rocky steep drive but we just left it at the bottom of the drive and walked up. The dogs are two very friendly labradors and Bondie came to visit our room every morning to say hello. All in all we had a fabulous time and would definitely recommend Jeanine's gite.
Sophie
2016-08-04T00:00:00Z
Heerlijk logeren tussen de wijngaarden bij lieve, joviale mensen die er alles aan doen om je een thuisgevoel te bezorgen. Het huis heeft een fantastisch uitzicht met mooi zwembad. De kamer is erg ruim en heeft alle voorzieningen. Perfecte uitvalsbasis om de streek rond Saint-Chinian te verkennen!
lienneke
2016-07-25T00:00:00Z
Topverblijf! Een goed weggestoken pareltje(gelukkig!komt Jeanine je met plezier de weg tonen vanaf het postkantoor), muisstille omgeving, leuk zwembad. Erg lekker ontbijt, koele kamer, niks te kort gehad!
Sven
2016-08-14T00:00:00Z
Room Type
Private room
---
Property Type
Bed & Breakfast
---
Accommodates
2
---
Bedrooms
Saint-Chinian, France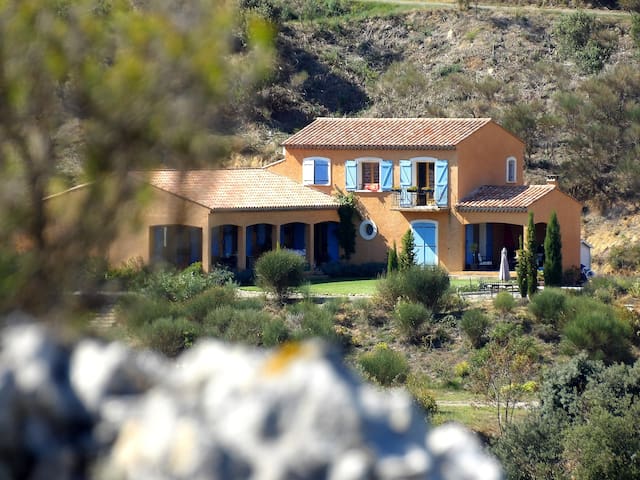 Enter dates to see full pricing. Additional fees apply. Taxes may be added.