In the heart of Ormea`s historical center, we offer a cozy apartment ideal for 2 to 5 people. Ormea it is a strategic point for visiting the region, enjoy walks in the nature, practice mountain sports or make day trips to the Ligurian sea side!
Our apartment was recently redesigned, we conserved the antique original furniture but given the house a modern and fresh touch. It has 3 bedrooms with balconies over the Main Street, an intimate dining room, a living room, a sunny kitchen, a bathroom and access to a panoramic roof terrace. We provide bedsheets and towels, shower gel and shampoo. Also a hair dryer is available for you. The kitchen is comfortable and fully equipped, so that you can prepare your meals at home when feeling in the mood. You will find in the kitchen some cooking essentials: coffee, sugar, tea, olive oil, salt, spices, some rice, pasta and cans. Please feel free to use whatever you need for cooking! We will provide you the "treasure map" of the best shops in Ormea that are within the range of a 5 minute walk. There is a free parking lot in the central square at 100m from the house.
Ormea is a charming small town in the heart of the Ligurian Alpes, in the high Tanaro valley. It is a strategic point for visiting the region, enjoy walks in the nature, practice mountain sports or make day trips to the Ligurian sea side. There are many shops, a supermarket, post office, tourist office, a few banks with cash withdrawal, 24h medical service, drugstores, playgrounds for children, bars and restaurants all at walking distance. The city was the favorite destination in summer during the Belle Époque for the Ligurian and Cote d`Azur inhabitants that found refuge here in the hot summer days. Many nineteenth century eclectic villas remain from that period, that along with the medieval nucleus of rough stone houses and narrow streets tell Ormea's story over the history. The region has a strong gastronomical tradition, featuring plates that are impossible to find in other regions of Italy such as "tultei di cin", "polenta bianca di Ormea con sugo di porri e funghi" or "lasagne di Ormea". The use of spontaneous plans that grow in the high mountain fields, mushrooms and chestnuts that are harvested in the woods, along with the buckwheat that is grown nowadays in very few regions of Italy, are the secret ingredients of the Ormean cuisine.
Great hosts! Nice old apartment. Great location, we loved standing on the balcony and see the street.
Sophie
2015-06-29T00:00:00Z
Great apartment, even more beautiful than it looked on the pictures. Unfortunately we didn't meet Lorenzo and Miru, but a really nice of theirs gave us the key and Miru was available on the phone all the time. Ormea is a nice and cozy village with everything you need. Supermarket, Restaurants and a Pub. Unfortunately we had bad weather, otherwise we would have definitely stayed longer! Thanks for the two amazong days!
Laura
2014-09-18T00:00:00Z
We were the first guests in the apartment of Lorenzo and Miru. Our contact with them was very nice from the beginning to the end. The apartment was comfortable, clean and spacey and has a very nice view over the main street of Orméa where you can buy all you need during your stay in this beautiful village surrounded by forest hills. There are plenty possibilities for walking in the mountains near by the apartment. We would surely recommend this apartment, especially if you want to relax for a while in an authentic Italian environment. Miru speaks fluently english and can give you nice tips where to go or to eat.
Lea
2014-08-02T00:00:00Z
My friends and I we really enjoyed Lorenzo's place in Ormea. Ormea is a wonderful small city in the Ligurian alps with a lot of possibilities for outdoor activities. Lorenzo was a great host and we all warmly recommend his apartment to people who appreciate calm but charm and cheerful places.
daniela
2014-08-17T00:00:00Z
Lorenzo & Minura's home was fantastic! We were made to feel at home from the start. The house is in a great location right on the beautiful Via Roma. Minura is a warm & charming host and told us about all the best locations in Ormea, including the restaurant with the best pizza we've ever eaten . Looking forward to returning soon!
Gerry
2015-10-18T00:00:00Z
Great stay there, charming flat with a pleasant atmosphere, could not be more typically italian. The city of Ormea is cute and full of good small shops, good place to relax. Contact with the owners were great. Everything is top
Julien
2016-04-11T00:00:00Z
We had a pleasant stay in Ormea. The flat is spotless and spacious. Meeting Miruna and Lorenzo was very nice. Thank you both.
Judith
2016-07-31T00:00:00Z
Misurina did everything to let us feel at home and provided lots of information and assistance at her town. we felt well kept and welcome all the time. The flat is right in the center of Ormea in the mainstreet. As background I may add, that he south of the cuneo district is very devasted in terms of unemployment and missing businesses, but the natur and surrounding is great. There are trails for hiking and biking all around, great valleys, waterfalls, even canyons. You will find old castles, mansions and refuge huts up in the hills. The real unique feature of the flat is its design- mostly mixing a kind of sixties grandmas memorial combined with nice pieces, distinct choosen colours, and collectors items with great taste and flavoured instinct. It also represents an insight view in former glory, atleast better days of Ormea and maybe rural Italy in general, you rarely get this kind of insight as a foreigner travelling around. Therefor some smaller restrictions like a small bath or some noise from outside we did take with ease and liked the atmossphere of timestill and silence very much. We think that the architect leaving a lot, like it might have been and given, was a very good idea, resulting in a charming museum of style. Despite that, the beds are comfortable, the down beds new, a heating installed and the kitchen has everything to feel at home. Mirunas decriptions are very accurate and precise, as well as the pictures. If you know, what to do in the area, hiking, mountaineering, maybe skiing in winter, this place is perfect as base to stay.
Stefan M.
2016-09-07T00:00:00Z
Room Type
Entire home/apt
---
Property Type
Flat
---
Accommodates
5
---
Bedrooms
Ormea, Piedmont, Italy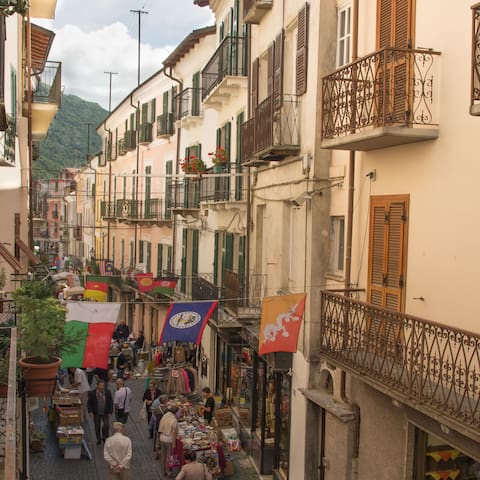 L'"involucro " dell'appartamento è un edificio particolare che ha mantenuto murature in pietra e successivamente ampliato con costruzioni più recenti, virando così verso il presente.
La costruzione si trova Trastanello (frazione di Armo) ( 5 km da Pieve di Teco) a 600 metri sul livello del mare tra i vigneti che producono ormeasco, un'isola di pace in una posizione strategica che consente di raggiungere in circa trenta minuti il mare e le piste da sci, la Costa Azzurra dista un'ora di macchina e Milano è raggiungibile in due ore. L'"involucro " dell'appartamento è un edificio particolare che ha mantenuto murature in pietra e successivamente ampliato con costruzioni più recenti, virando così verso il presente. Lo stile contemporaneo e giovane convive armoniosamente con arredi d'epoca appartenuti al passato. Protagoniste le sfumature dei colori che rendono gli ambienti ben assortiti. Gli estesi spazi esterni, unitamente alla comodità di una grande terrazza parzialmente coperta, trasmettono a chi vi soggiorna una sensazione di piena libertà. Comodissimo l'accesso (due ingressi) a piano terra che introduce all'abitazione con grande facilità. Ampi gli spazi interni: cucina dotata di zona relax con divano (letto); quattro camere da letto (una ancora in allestimento) una singola, una doppia e una tripla per una totale capienza di 7/8 posti letto (attualmente); bagno con doccia e vasca; dispensa; sala su due livelli, dall'architettura caratteristica, con divano angolare e tavolo capace di ospitare dieci persone.
Trastanello, immerso nel verde dei vigneti ed degli uliveti, è un piccolissimo paese della Riviera di Ponente, fa parte dell'Alta Valle Arroscia e dista circa 4 km da Pieve di Teco, centro principale della Valle. Pieve di Teco è una città fondata nel 1233. Con quasi ottocento anni di storia è culla di numerose opere d'arte e di edifici di grande importanza culturale, dove gli scorci e i suggestivi particolari, sono pressoché infiniti. Degno di segnalazione è il Teatro Salvini , una sorta di "bomboniera", che detiene un primato decisamente particolare: è il più piccolo del mondo. Città percorsa da portici del XV sotto i quali si sviluppano molteplici attività commerciali, bar, ristoranti, negozi di prodotti tipici, di abbigliamento e di ogni altro genere.
We stayed at Giuliana for 3 nights. Giuliana was very kind, she had prepared food to welcome us. She took time after work to come and talk to us and advise activities. The house is in Trastanello, 10min from Pieve di Teco, in the mountains. It is large with a huge terrace and garden. It is well furnished with everything you need. It is perfect for a large group in summer. The surroundings are beautiful. One thing was a shame : the house was really cold since there is no central heating. A stove in the kitchen keeps the kitchen warm. A fioul stove can be put in the leaving room or bedroom but it smells and it doesn't heat that much.
marion
2016-05-09T00:00:00Z
Room Type
Entire home/apt
---
Property Type
Apartment
---
Accommodates
8
---
Bedrooms
Pieve di Teco, Liguria, Italy
If you love well kept secrets. This is the valley for you. Close enough to the coast to get a taste of the Italian Riviera yet a place to relax and enjoy nature without any hustle and bustle. The home is large, simple, clean and spacious. Driveway parking with secured gate. Immediate access to trails and fishing reserve. Wifi, washing machine and dishwasher. Full kitchen and modern baths. We love Valley Tanaro and hope you'll come visit us for hiking, climbing, biking, fishing wining & dining.
Two bedroom, two bathroom garden apartment in the Tanaro Valley. Big living room, lots of windows, hardwood floors, kitchen with dishwasher, private wooden deck and washing machine Just 40 minutes from the Italian Riviera and 40 minutes from the Langhe wine region this cozy two bedroom apartment with outdoor garden is a great place to experience a quieter side of Italy. Nestled in the forest along the bike trail near the town of Ormea this apartment is modern, clean and spacious. Two private bedrooms with individual baths. Large living room/kitchen combination has a big sofa. It has a fully equipped modern kitchen and 2 large bathrooms. Two terraces, one covered. There is an outdoor garden with BBQ, tables and lawn chairs. Plenty of parking, completely gated and free WIFI. Sheets and towels can be rented for an additional 35 euros if needed. Guide books and maps of the area on loan. There is one other apartment that shares the garden. The house is situated 3km outside of town but is easily accessed by car on a flat road (SS28). Very quiet with no neighbors and not on a busy road. Walk to the fishing reserve, hikes and rock climbing. The Tanaro valley is a great place to hike, gather mushrooms, fish, road bike, mountain bike, rock climb and . . . eat amazing local food. Wine and cheese tastings can be arranged with a professional sommelier. Autumn sunsets in the garden are fantastic. Feel free to contact me with any questions. The Tanaro valley is not well-known but it has a lot to offer for people who want to experience Italian life outside of the big cities. It's approximately 40 minute drive to the coast in Imperia, Cervo and Alassio.
This is a super peaceful place. Not many residents but a lot of fishing along the rivers, road bikers, mountain bikers and potato farmers. Easy place to vacation with kids who love the outdoors. Open the garden gate and you are strolling on the bike path or hiking up to the Cave of the Saracens.
Room Type
Entire home/apt
---
Property Type
Apartment
---
Accommodates
6
---
Bedrooms
Ormea, Piemonte, Italy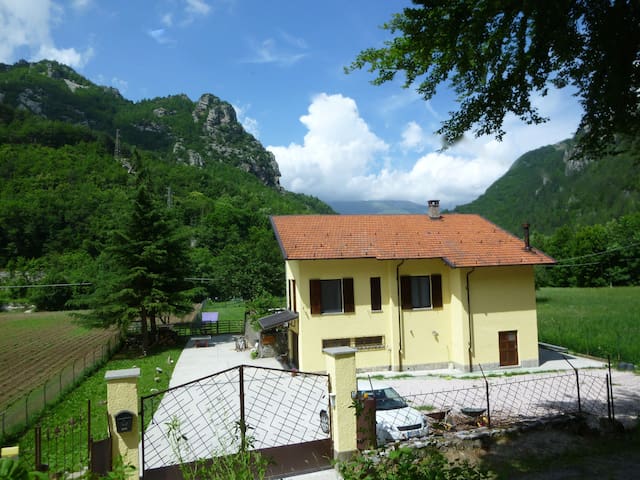 Newly refurbished apartment for 2/4 guests, with great views on the mountains and on the river. Access to garden and outdoor dinning area, 3 minutes from Ormea's historical center. We're experienced Airbnb hosts: check out our profile to see reviews!
At a 3 minute walk from Ormea's main Piazza, our apartment is newly refurbished, ideal for 2/4 people. It has a main bedroom with double bed, a living room with a double sofa-bed that can eventually be used as second bedroom or children-room, kitchen with dinning area, bathroom and balcony. You will have access to a sunny back yard with outdoor dinning area and beautiful views. The garden is enclosed by a fence, making it easy to watch over children or pets. The kitchen is fully equipped and some essentials provided (coffee, sugar, tea, olive oil, salt, spices, some rice, pasta and cans), so that you can prepare your meals at home whenever you like. There's a washing machine available, we provide clean bedsheets, towels and bathroom essentials. Internet access, TV and barbecue may be available on request: please ask us if you're interested!
Ormea it is a strategic point for visiting the region, enjoy walks in the nature, practice mountain sports or make day trips to the Ligurian sea side. There are many shops, a supermarket, post office, tourist office, a few banks with cash withdrawal, 24h medical service, drugstores, playgrounds for children, bars and restaurants all at walking distance. Sports and other activities If you`re steel in the mood for sports after tasting the delicious Ormea cuisine, know that you`re in the right place for practicing all sort of mountains sports surrounded by spectacular landscapes: tracking, mountain bike, skiing and skialp in winter, cannoning and climbing. We will provide you with a set of informational material from the local tourist office and from excursion organizers. Besides, if you climb any of the peaks surrounding Ormea, you will be surprised to find the sea at your feet. (Ooops, that was supposed to be a surprise!) Every Sunday on the Main Street is organized a "Mercatino", whose theme varies from week to week: you can find gastronomical products from the region, artisanal objects or antiques. We can provide any extra information needed, just write to us and ask!
We had a warm welcome by Miruna. She made us feel like at home. Before our arrival, Lorenzo & Miruna replied to all our questions and helped us find a safe & free place to park. The flat is as discribed. Everything was spot on! Apart from the busy road which if you have difficulties sleeping, will find uncomfortable. Ormea is a very nice place to be. The weather was perfect; sunny afternoons and cold nights. Plus it's well located as it's not far from the Ligurian coast! Thank you Lorenzo & Miruna.
Sabine
2015-08-22T00:00:00Z
We really enjoyed our stay in Ormea. Lorenzo and Miruna greeted us at the apartment and were very helpful and welcoming. The place is close to town and has a great view across to the mountains. This is a great place to explore... Hike the Balcony, take a trip to Cuneo or even to Turin... But at the same time, you feel completely surrounded by nature. The appartment is minimalist, but has everything you need...and Miruna kindly stocked the cupboards with some essentials ... And some treats too! The description is accurate and the place is on a pretty busy road, so light sleepers should be aware, but we were fine. With very little Italian, we got by fine and made friends with the locals, who were very patient especially whilst teaching us bocce - what a treat we found in this little valley!
polly
2016-08-02T00:00:00Z
I enjoyed staying at Mirunas and Lorenzos apartment so much and can truly recommend it to you. They are very nice hosts and are always reachable in case of emergency or any questions! You got everything there you need and the region as such is awesome. You basically can do everything in and around Ormea: mountain biking, hiking, road biking, skiing, running and even swimming as the seaside is really close. Also the people in town are very kind and friendly. You should just be aware of the fact that hardly anybody speaks english. It is very useful if you learn some basic italian words before you go there. But you´ll even find some italian-english dictionary in the apartment :).
Janine
2016-06-19T00:00:00Z
The people in Ormea are nice, open-minded and helpful.
Christine
2016-07-23T00:00:00Z
Great location, very central and would recommend it to travelers wanting to stop in Ormea!
Summer + Patrick
2015-09-10T00:00:00Z
Nous avons passé deux nuits dans cet appartement très simple. L'accueil de Lorenzo a été très sympathique. Attention aux personnes avec enfants (ou même aux plus grands), l'entrée de l'immeuble donne directement sur une route sans trottoir.
Stéphanie
2016-08-16T00:00:00Z
Ringrazio per la precisione, l'accoglienza, la disponibilità prestata. La casa è davvero una piccola bomboniera ed è dotata di tutti i comfort.
teresa
2016-08-22T00:00:00Z
Room Type
Entire home/apt
---
Property Type
Apartment
---
Accommodates
4
---
Bedrooms
Ormea, Piemonte, Italy
Il mio alloggio è vicino a Palestre di roccia. Ti piacerà il mio alloggio per questi motivi: l'intimità, i panorami, la posizione e la gente. Il mio alloggio è adatto a coppie, avventurieri solitari, famiglie (con bambini) e amici pelosi (animali domestici).
Room Type
Entire home/apt
---
Property Type
Apartment
---
Accommodates
5
---
Bedrooms
Borgo, Liguria, Italy
La casa si trova ad Acquetico, frazione del comune di Pieve di Teco, sulla strada statale del Colle di Nava, in provincia di Imperia; un tipico borgo ligure immerso nel verde degli uliveti, dei vigneti e dei boschi, alle pendici delle Alpi Marittime.
In 20 minuti si possono raggiungere la stazione sciistica di Monesi o le spiagge di Imperia e/o di Albenga/Alassio; in cinque minuti si raggiunge Pieve di Teco dove si trovano tutti i servizi, qui non si può rinunciare ad una passeggiata sotto i caratteristici portici medioevali su cui si affacciano negozi di ogni tipo.
Il borgo in cui sorge la casa è immerso nella tranquillità della campagna: uliveti, vigneti, orti e frutteti, a pochi passi dai boschi delle Alpi Marittime.
Room Type
Entire home/apt
---
Property Type
Apartment
---
Accommodates
6
---
Bedrooms
Pieve di Teco frazione Acquetico, Imperia, Italy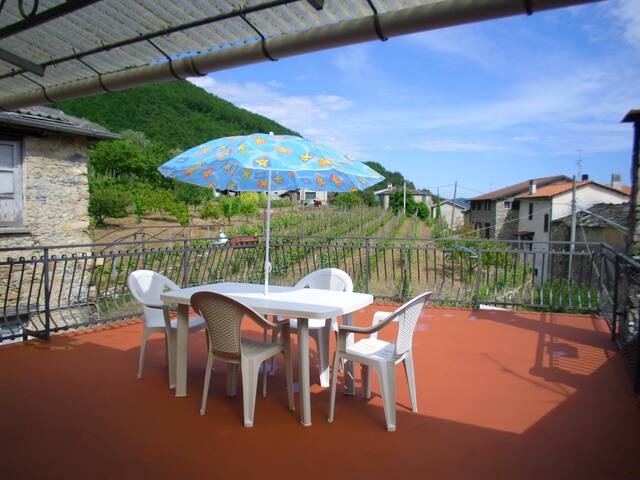 Our apartment is on the fourth and fifth level in a wery old building in the mittle of the historic town Pieve di Teco.
Our apartment is in a building from 1200 century. From the patio is there a wonderful wiev.
Room Type
Private room
---
Property Type
Apartment
---
Accommodates
2
---
Bedrooms
Pieve di Teco, Liguria, Italy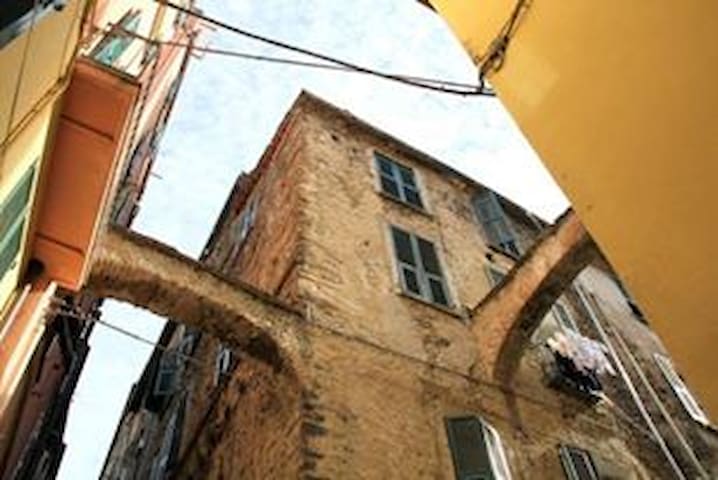 Appartamento situato nella più bella zona di Pieve di Teco, usato al secondo piano di un'abitazione abitata dai proprietari. Verrano forniti dal proprietario indicazioni per le più belle escursioni di tutta la valle compresi molti sentieri inesplorati. Possibilità di usufruire del terrazzo al piano di sotto fornito di Barbecue e Area relax. Pieve di Teco è uno dei più bei Borghi dell'entroterra ligure in cui potrete trovare due pizzerie, 7 bar, 3 macellerie , 2 verdurieri e molte altre attività
Room Type
Entire home/apt
---
Property Type
Apartment
---
Accommodates
4
---
Bedrooms
Pieve di Teco, Liguria, Italy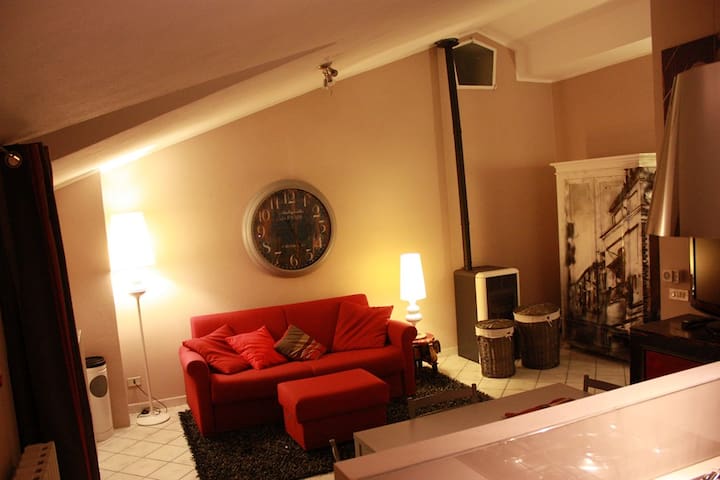 Рядом с моим жильем центр города, отличные виды, рестораны и кафе и парки. Вам понравится, ведь в моем жилье есть район, уют, кухня, удобная кровать и свет. Мое жилье подходит для этого: пары и соло-путешественники.
Room Type
Entire home/apt
---
Property Type
Apartment
---
Accommodates
4
---
Bedrooms
Pieve di Teco, Liguria, Italy
Zona Piumini, affittasi appartamento in casa bi-famigliare. Piano terra. giardino. splendida vista sul paese
Room Type
Entire home/apt
---
Property Type
Flat
---
Accommodates
4
---
Bedrooms
Viozene, Piemonte, Italy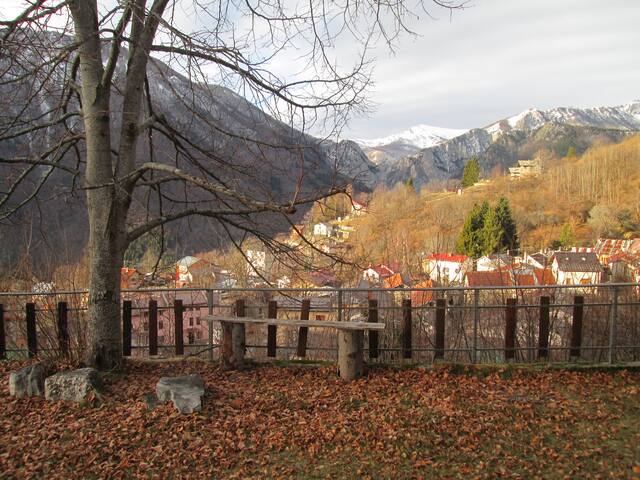 Our 2 bed apartment (one double, one twin) with roof terrace & balcony is in the medieval town of Pieve di Teco. On the doorstep are shops, cafes, historic buildings and countryside walks. A short drive to beaches and main roads for further exploration. Informazioni sono in inglese e qualche italiano.
This is an apartment set out over two floors that has a lot of outside space to enjoy. On the first floor, the light sitting room with sofa, tv and fitted kitchen has two sets of French doors leading onto a balcony. Down the inner hallway are two bedrooms, one double with en-suite bathroom and one with 2 single beds. There is also a separate shower room/toilet. More space is available upstairs - the loft living area has sofa seating, dining table, kitchen and spacious roof terrace, where you can relax in the sun. In the evening admire the sunset and as night falls gaze at the stars. Fitted kitchens and washing machines are on each level. There is TV and free WiFi. No central heating - a pellet stove is in each living area. Pellets are at extra cost - you will need to arrange to buy/collect or it may be possible to make prior arrangements. Car parking is nearby in the town and is free of charge. Questo appartamento ha due camere da letto - una matrimoniale e una con due letti singoli. La camera matrimoniale ha un bagno privato e c'è una doccia/wc separata con lavatrice. Il salotto ha un balcone e una cucina con forno elettrico, piano cottura a gas, frigo e lavastoviglie. C'è una stufa a pellet. Al piano superiore c'è un ampio soggiorno con cucina (frigo/congelatore, forno, lavastoviglie, lavatrice) e anche una cabina doccia/WC. Questa camera ha anche una stufa a pellet. Pellets sono disponibili con supplemento e possono essere acquistati localmente. Potrebbe essere possibile previo accordo. Accanto da questa stanza è una grande terrazza. TV and Wifi gratuita Nessun riscaldamento centralizzato. C'è un parcheggio in città nelle vicinanze e questo è gratuito.
Pieve di Teco is a small town where the past and present meet in the beautiful countryside of Liguria. The mostly medieval architecture and church buildings from circa 1232 AD take you back in time and the shops set under gothic arches are an example of an early shopping mall! Opposite the apartment is the fifteenth-century church of Santa Maria della Ripa, with a Gothic tower and portal, while in the town the grand collegiate church of San Giovanni Battista, built in the early nineteenth century, contains works including sculptures and paintings. The area around Pieve di Teco has hiking and cycling tracks, rivers and lakes to explore. This region is particularly well known for its green olive groves and mountainous landscape, as well as its coastline with beautiful gravel and sandy beaches and seaside towns. There are local shops just around the corner from the apartment - butcher, baker and maybe a candlestick maker ..... well, a shop where you can buy candles at least! It seems to us that you could get almost everything here. Do explore the town to stock up on food - there are all the typical specialties, ranging from wine via cheese to olive oil. The area is famous for its particularly good cheese varieties and the staples - fresh veg, meat and bread (not to mention cakes and biscuits) are all on hand. (Note most shops are shut on Monday and over the lunch/afternoon until about 1600 hours.) You can fill up spare bottles with natural mineral water for 5 cents a litre opposite the nearby fountain. There is lovely countryside to admire in all seasons and many walks. Cafes, shops and restaurants in walking distance and a short drive away. There are good road links and access to the motorway networks for exploring the coast, towns and cities in Italy and France. We have furnished our apartment as a home. We are happy to receive constructive comments.
L'appartement est très bien situé dans un magnifique petit village où il y a toutes les comodités. Il y a deux cuisines équipées, deux salons et les chambres sont spacieuses dont une avec une salle de bains. L'endroit est très calme et lumineux. Malheureusement, nous n'avons pas pu profiter de l'étage supérieur car lors de notre arrivée le poêle à pellets est tombé est panne. Veuillez noter que si vous vous rendez en hiver, il faudra acheter des pellets pour les poêles et qu'il n'y a pas de chauffage dans les salles de bains. Mis à part ça je vous recommande ce logement qui est très spacieux et bien situé!
Camille
2017-01-02T00:00:00Z
Room Type
Entire home/apt
---
Property Type
Apartment
---
Accommodates
4
---
Bedrooms
Pieve di Teco, Liguria, Italy
Alloggio accogliente e recentemente rinnovato in ambiente famigliare e tranquillo, composto da cucina abitabile e attrezzata, ampio soggiorno con divano letto, camera da letto e bagno con doccia. Posto auto e giardino a disposizione degli ospiti.
L'appartamento è situato in zona centrale e silenziosa. I negozi, la chiesa parrocchiale, il parco giochi, il borgo medioevale e una verde area ricreativa con campi da tennis sono comodamente raggiungibili a piedi.
Nous avons été très bien accueillis par la maman de Valentina. Nous avons pu apprécier de nouveau Garessio et Mindino d'où le paysage est magnifique. L'appartement est très bien, très propre et fonctionnel, et bien équipé (micro onde, frigo, lave linge, cafetière, gazinière etc.) , Maison bien située dans un quartier au le calme. Je vous conseille cet appartement et je remercie beaucoup Luisette pour son accueil et Valentina par la pensée, que nous avons pas pu rencontrer. Parler italien était très agréable aussi. Grazi per tutto, noi ritorneremo. Bene Cordialmente. DANY ET SERGIO de TOULON FRANCE
Dany
2016-05-15T00:00:00Z
Nous avons été très bien accueillis par Valentina et sa mère. Garessio est vraiment un joli petit village de montagne, très calme. L'appartement est conforme à la description donnée, très propre et fonctionnel, avec tout ce dont on pouvait avoir besoin (micro onde, frigo, lave linge, cafetière etc. le tout en parfait état de marche). Il y a un petit jardin très agréable. Je conseille vivement cet appartement et je remercie beaucoup Valentina pour son accueil.
marion
2015-06-27T00:00:00Z
Séjour très agréable dans l'appartement de Valentina. Le logement est en très bon état et d'une propreté irréprochable. Il y a tout ce qu'il faut pour prendre un petit déjeuner (thé, café, lait, confiture, miel, nutella, biscuits) C'est parfait ! Nous avons pu quitter le logement vers 16h, ce qui était très appréciable. Merci ! Grazie Mille !
Jean-Baptiste
2015-09-06T00:00:00Z
Room Type
Entire home/apt
---
Property Type
Apartment
---
Accommodates
5
---
Bedrooms
Garessio, Piemonte, Italy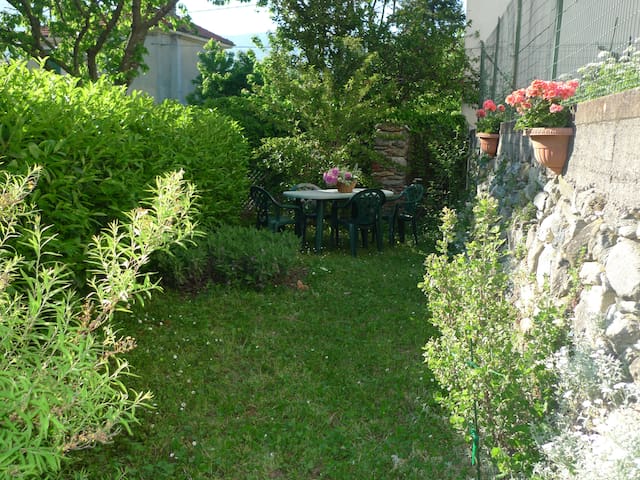 L'appartamento è situato al primo piano con doppia esposizione: lato aperto verso la valle e il fiume con ampio terrazzo attrezzato per pranzare all'aperto e lato affacciato sulla via centrale che porta direttamente ai portici medievali nel centro.
The appartment is vers good and ampel for 4 persons we We were only two.
Helle
2016-07-19T00:00:00Z
Siamo state molto bene, Italo e Simona sono stati molto simpatici e cortesi, l'appartamento è spazioso, pulito, fresco e molto confortevole, con tutto ciò che serve. Il paese è più carino di quanto ci aspettassimo con tutto ciò che può servire a livello di negozi e servizi.
Federica
2016-08-13T00:00:00Z
Room Type
Entire home/apt
---
Property Type
Apartment
---
Accommodates
4
---
Bedrooms
Pieve di Teco, Liguria, Italy
It 'a nice apartment, bright and very refined in detail, provided with every comfort and suitable for couples or small families. Housed in the attic it consists of: a sleeping area with double bed and living room with sofa bed, kitchen, bathroom
Nose is a small village of Val Pennavaire, surrounded by nature, but not far from the beaches of the Riviera. You can choose a relaxing holiday in the quiet of the countryside, a few km from the sea. Highly recommended for those who love climbing, the house is not far from the rock walls for climbing
The appartment is fully equipped, very nice, situated on beautiful place in Nasino-everything was perfect. Mariangela is very nice and reliable.
Lenka
2016-01-02T00:00:00Z
Room Type
Entire home/flat
---
Property Type
Apartment
---
Accommodates
4
---
Bedrooms
Nasino-Borgo, Liguria, Italy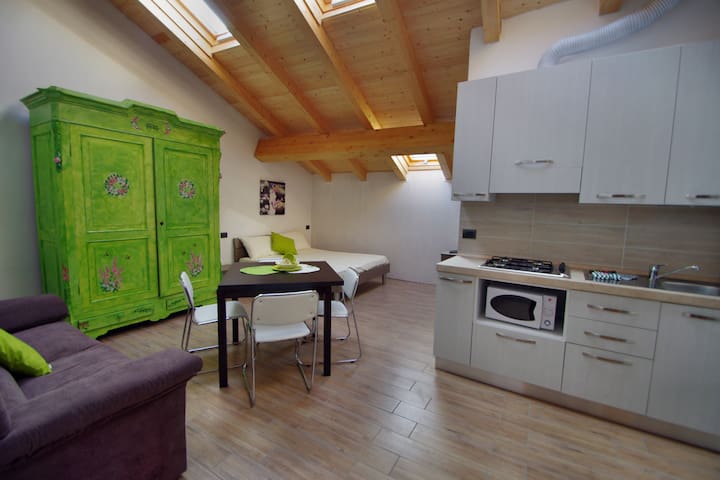 The Accommodation The apartment is located in MENDATICA. New and bright of a building above the road , just renovated, and you can get the car under the house. In the lounge there is a foldaway bed for two seats. In the lounge there is a foldaway bed for two seats. The furniture is new and in keeping with the style of the mountain. The kitchen / living room is equipped with washing machine, small electric oven and microwave, fridge freezer, kettle, blender, TV, coffee maker, toaste.
The Accommodation The apartment is located in MENDATICA. New and bright of a building above the road , just renovated, and you can get the car under the house. In the lounge there is a foldaway bed for two seats. In the lounge there is a foldaway bed for two seats. The furniture is new and in keeping with the style of the mountain. The kitchen / living room is equipped with washing machine, small electric oven and microwave, fridge freezer, kettle, blender, TV, coffee maker, toaste.
THE PLACE Mendatica , is a small village in the hinterland of Imperia, situated in the upper valley at the foot of Mount Frontè. It 's a mountain resort where peace and tranquility reign, the site offers the opportunity for tourists to make fantastic excursions surrounded by nature, trekking and mountainbike. The Prealps are the crown protecting it from cold winds from the north while the majesty of the hills, the fresh air and the slight sound of the fountains give a feeling of indescribable peace. For children, the small town offers "Al parco delle Canalette", games, freedom', path nature, tennis, volleyball, ice skating rink and park adventure (6 routes with different difficulty levels for adults and children), area for picnics, barbecues, tables and benches. Paragliding school at San Bernardo and canoying at Ponti di Pornassio . The village has a grocery store, a pizzeria, a butcher, a farm and a (URL HIDDEN) the square, in front of the Tourist Office, there is a free wifi access. At the farmhouse Il Castagno you can buy cheese, yogurt and fresh milk. From mid-July and all of August: concerts, courses and entertainment. In the winter months you can ski (Monesi) and make beautiful ciaspolate organized by the Pro Loco. In December the Christmas Holy Mass is celebrated at midnight with the 'Adoration of the Shepherds. At the exit from the Mass cake, mulled wine and awaiting the arrival of Santa Claus. At December 31, best wishes in the square with fireworks and dancing.
Room Type
Entire home/apt
---
Property Type
Apartment
---
Accommodates
4
---
Bedrooms
Mendatica, Liguria, Italy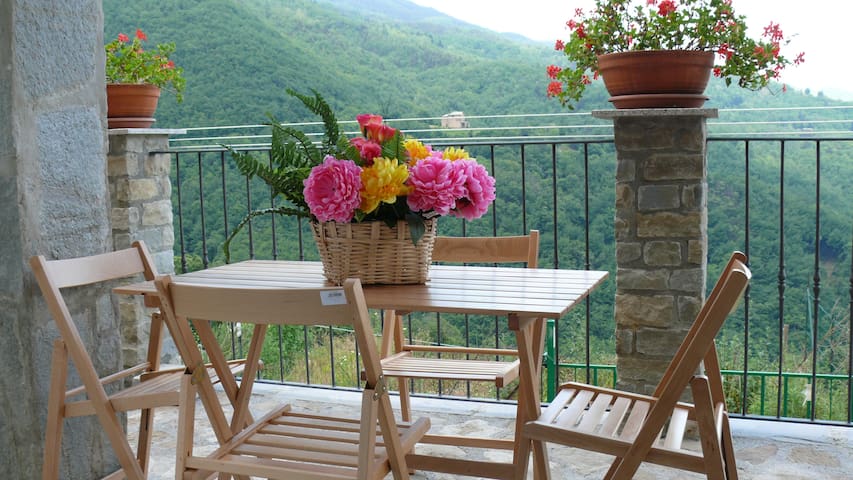 Appartamento adatto a chi vuole pace e tranquillità, con ampia terrazza, due camere di cui una con letto matrimoniale più due letti singoli e un' altra con un letto singolo, un grande bagno con vasca, un grande soggiorno tinello con cucina.
Room Type
Entire home/apt
---
Property Type
Apartment
---
Accommodates
5
---
Bedrooms
Garessio, Piemonte, Italy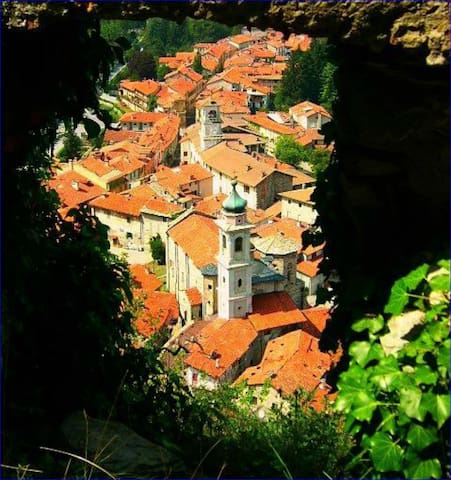 Perfect place for those who look for peace and rest in mountain, but want also to have some trip to the seaside. Discount after the fifth night. We accept a minimum stay of three nights.
The apartment is on the first floor of a building - dating back to 1865 - and used as a hotel until the '60s. It is located in the center of Mendatica, a small village in the Ligurian Alps, part of the Maritime Alps Park, 30 minutes' drive from Imperia, 45 min from San Remo and less than half an hour from the ski slopes of Monesi. The house consists of a fully equipped kitchen and lit by large windows, a double room (where you can add a cot for babies), a cheerful living room with a sofa bed and two sofa beds (more suitable for children) and a bathroom with shower and washing machine. Bed linen and towels are available. It 'can get right up to the house by car to unloade luggage and parking is located approximately 150 meters away. The house is located along a very silent road, as it has little traffic and it's inside the village. During the afternoon siesta and at night, the only audible sound is the relaxing sound of one of the five stone fountains that characterize Mendatica. In the village there are a grocery store, a butcher shop, a pizzeria and two restaurants. In the main square, just in front oh the tourism office, there is a free WIFI zone. In addition to a very popular adventure park for adults and kids, there are a large playground in the woods, a volleyball court and tennis courts, a soccer field and a skating rink. In the Canalette wood there are tables and barbecue freely available for anyone. Mendatica is situated in a beautiful amphitheater of mountains: there are many hiking trails of various levels. In 40 minutes walk you can reach the Falls Arroscia. During the year the village is enlivened by some very characteristic manifestations: the Festa della Transumanza in September with the very typical "Feast of Goats", the gastronomic tour of Cucina Bianca in August, the torchlight procession to the Church of Madonna dei Colombi, as well as the mass on Christmas Eve animated from the entrance of the shepherds in traditional costumes. Finally, in front of the apartment, there is a small ethnographic museum of the Old Prisons. And it's possible to visit the Museum of the Shepherd and the old corn mill Arroscia. We only accept reservations for AT LEAST THREE NIGHTS. Upon arrival we require a cash DEPOSIT of 50 Euros (up to 4 guests) and 80 Euros (over 4 guests). The deposit will be returned upon departure. In winter the heating is provided by a wood burning stove and electric heaters.
Mendatica is the perfect place for families looking for relaxing and quiet rhythms; for children the village becomes a great and safe playground where they can move freely. It 'also perfect for those looking for the concentration to study or work. In a meadow near the apartment there are two wooden tables perfect to read or work at the computer watching an amazing view. Mendatica, surrounded by the Ligurian Alps and next to the Tanaro Valley, is also an excellent base for walkers. The short distance from the Riviera dei Fiori also allows daily visits to the beaches of Imperia and Albenga.
Our stay in the apartment of Anna at Mendatica was a great experience. Her daughter showed us the way to the house in a labyrinth of small streets and stairs, as a small earth-slide had ruined the road to reach the house by car. We were one of their first guests from abroad and the hospitality of Anna and her family is fantastic. Anna speaks French and her daughter Ilaria speaks very well English. We could use their terrace in their absence and they baked a welcome cake for us. The house is very nicely decorated and still has a very authentic atmosphere. That goes for the village too. There were days that we were the only foreigners at Mendatica and the local 'alimentari' shop and restaurants were very pleased to see us! The surrounding of Mendatica is beautiful. You can walk in the mountains, visit some other villages nearby, or drive to the sea, which is a one hour drive by car. We spend 11 lovely days in Mendatica and would love to come back sometimes!
Mathijs
2013-08-04T00:00:00Z
We had the loveliest time in Anna's apartment in Mendatica! She and her daughter welcomed us with warm bread, homemade pesto, goat cheese, wine, and even a freshly baked cake. The kitchen had everything we needed, the bedroom was comfortable, and the apartment was spacious. Anna went out of her way to make sure we had everything we needed during our stay and was always available to help with any questions or problems we had. The village is just lovely. Easy access to hiking trails, a nice little cafe and a shop, peaceful and relaxing. Exploring the neighboring towns was lots of fun. The store and restaurant are both closed on Wednesdays, but you can find everything you need in Pieve de Teco nearby.
Lauren
2014-09-18T00:00:00Z
Anna non mette a disposizione un appartamento qualsiasi, ma la casa che custodisce i suoi preziosi ricordi d'infanzia. Anna e Livio sono tra le rare persone che non si sono prese quest'impegno per il profitto, ma per il puro piacere di ospitare, di condividere le cose che amano con gli altri: lo si capisce dai particolari, dalla cura con cui sono gestite le stanze, dalle attenzioni che hanno saputo riservarci. Una meravigliosa accoglienza, un sentirsi subito a casa, scoprirsi amici senza essersi mai visti prima. L'appartamento è meraviglioso, romantico, luminoso, situato nel centro storico di un raccolto paesino, un luogo incantevole che ha tutta la struggente grazia delle cose antiche che decadono. Tutto il paese è accogliente, tutti sono ben disposti a dare i propri consigli (anche quello, per esempio, di avventurarsi nei meravigliosi boschi che circondano il borgo per raggiungere le suggestive cascate dell'Arroscia). Mendatica è uno di quei luoghi in cui si può fare ancora l'esperienza di sentirsi uomini tra uomini, e non alienati dalle macchine o dalla follia della velocità a tutti i costi. I bambini, anche piccoli, possono vagabondare fra le viuzze senza la preoccupazione che li paralizza altrove e gli adulti possono regalarsi un momento prezioso per decidere di non fare niente e ascoltare semplicemente quello che li circonda. Mauro e Simona.
Simona
2015-06-02T00:00:00Z
Nous n'avons pas rencontré Anna mais le logement était très accueillant , tout à fait conforme aux photos qui nous avaient charmés. Bien situé au centre du village , très calme ( un peu trop mème nous aurions aimé plus de vie... ) La montagne est belle et la mer pas très loin , ce qui est appréciable .
Christophe
2015-09-19T00:00:00Z
Anna's flat is located in Mendatica, in a old inn, with the original façade. It's very original, spacious, perfect for 4, comfortable, tastefully arranged. The terrace is very pleasant. The area is interesting to walk, swim in the river, go to the adventure park with children. The free WIFI in front of the tourist office, facing a magnificent view, can stay connected in a small mountain village. It is possible to go at the beach during your stay. In short: Eden found! Anna and her husband are very nice host. They prepared a great cake for us and offered a bottle of local wine. A big thank you for this great experience !! Isabelle and Denis L'appartamento di Anna nel paese di Mendatica , si trova in una ex locanda che ha mantenuto la bellissima facciata originale. E un luogo molto diverso, spaziosa, confortevole, disposti con gusto. La terrazza è anche molto piacevole. La zona è molto tranquille, interessante per camminare, fare bagno nel fiume, andare al parco avventura con i bambini. C'è il WIFI gratuito di fronte all'ufficio turistico, di fronte a una magnifica vista. Si può cosi rimanere collegato in un piccolo villaggio di montagna. E anché possibile fare uno o due giorni alla spiaggia, per cambiare un po della montagna, durante il soggiorno. In breve: Eden ritrovato! Anna e suo marito sono molto ospitali. Hanno preparato una buona torta e hanno offerto una bottiglia di vino. Un grande grazie per questa bella esperienza !! Isabelle e Denis L'appartement d'Anna se trouve dans le village de Mendicata, dans une ancienne auberge qui a gardé sa magnifique façade d'origine. Cet endroit est très original, spacieux, confortable, décoré avec goût. La terrasse est également très agréable pour déjeuner dehors. La région est tranquille, intéressante pour marcher, se baigner dans la rivière, contempler des cascades, se divertir avec des enfants aux parc d'aventures. La température est idéale en été. La connexion free WIFI, en face du syndicat d'initiative, face à un splendide panorama, permet de rester connecté dans un petit village de montagne. Les plages d'Imperia ne sont qu'à 45mn du village!!Il est donc possible de passer une journée ou deux près de la mer pour changer un peu de la montagne, durant le séjour. En un mot : un Eden retrouvé ! Anna et son mari sont charmants, très hospitaliers. Ils nous ont même pensé à préparer un délicieux gâteau pour notre arrivée et nous ont offert une bouteille de vin local. Un grand merci à Anna et à son mari pour cette belle expérience, très dépaysante pour des citadins niçois !! Isabelle et Denis
isabelle
2013-07-18T00:00:00Z
Io e mia Moglie Patrizia e la piccola Margot( la nostra breton) siamo stati ospiti della Sig.ra Giordano nell'appartamento di Mendatica dal 5 al 12 di Aprile 2014. Abbiamo avuto un'accoglienza magnifica, con una torta ed una bottiglia di vino ad attenderci, con una miriade di informazioni utili a scegliere le mete migliori ! Altamente raccomandato anche perché a poca distanza dalle spiagge della Liguria di Ponente e dalle Valli cuneesi, ma anche perché permette di ricaricare le "pile" in un paese fuori dal tempo! 14/04/1(URL HIDDEN)Guido Mignini
Guido Achille
2014-04-13T00:00:00Z
Ana une personne sensible et attentionnée, son logement l'est tout autant. Nous nous sommes régalés à Mendatica, village calme où les enfants (3 garçons 15-12-10) pensaient s'ennuyer mais ils ont beaucoup aimé : la cascade, les piscines naturelles immenses où on a pu plonger, la mer avec ses galets, la cuisine blanche avec ses ravioles farcies... La maison est très facile à vivre et tellement agréable, nous avons mangé tous les repas sur la terrasse... Vacances extra, comme on les aime.
Marie
2016-07-16T00:00:00Z
Nostro soggiorno a casa di Anna fu STUPENDO! Suo appartamento è molto piacevole. pulito e si trova tutto lo che habiamo bisogno! Al nostro arrivo, ci errano una botiglia de vino bianco in fresco e una torta de mele! Che accoglienza! Mendatica è un paese molto tranquillo! Ma ci sono una macelleria, un negozio di alimentari, un caffè e ristoranti. Voi consigliamo di andare a la casa di Anna, con mi famiglia, noi ritorneremo questo autunno. Grazie Anna et A presto!
EMILIE & MOHAMED
2013-07-24T00:00:00Z
Room Type
Entire home/apt
---
Property Type
Apartment
---
Accommodates
6
---
Bedrooms
Mendatica, Liguria, Italy
Nella nostra bella casa non manca niente, e' confortevole e comoda pur conservando quel sapore antico che contraddistingue le case liguri. Può ospitare fino a 5 persone e si trova sulla strada principale degli antichi portici quattrocenteschi.
una casa dalle camere ampie e dai soffitti a volta, ammobiliata col gusto dell'antico. alla quale si accede tramite una bella scala in cotto e ardesia e si trova nel pieno centro del borgo. luminosa e comoda, ospita fino a 5 persone.
se si prenota verso fine mese c'e' il mercato antiquario l'ultima domenica, nella strada principale che pullula di turisti stranieri e italiani accolti dal profumo dei forni e locali tipici. in estate ci sono varie serate danzanti e sagre di paese nei borghi e paeselli circostanti dove e' possibile mangiare le pietanze della cucina tradizionale ligure.
Gabriella ist eine angenehme Gastgeberin. Das Appartment ist voller Antiquitäten und stilvoll eingerichtet - alles ist ordentlich, gepflegt und funktioniert wie es sollte. Es passt perfekt zum kleinen Örtchen Pieve di Teco, dass wie aus einem anderen Jahrhundert daherkommt. Wir haben uns sehr wohl gefühlt.
Tim
2016-07-29T00:00:00Z
Room Type
Entire home/apt
---
Property Type
Apartment
---
Accommodates
5
---
Bedrooms
Pieve di Teco, Liguria, Italy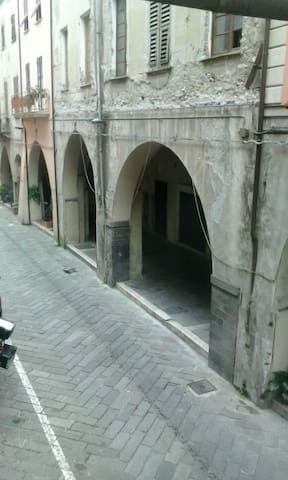 Ormea - Airbnb
:
Average

4.05

out of

5

stars from

42

guest reviews