A country haven on 11 acres with private lake. Large bedroom with access to partial kitchen, sitting room, deck with fireplace, and beautiful sun porch.
Thank you for providing us with such a serene and beautiful oasis this weekend in your lovely home. We enjoyed the peace and quiet that your home provided for us after a long, stressful work week.
Andrea
2017-03-04T00:00:00Z
Everything was great. The room was clean and comfortable and I will look to stay here if I am in the area again.
Kyle
2017-03-26T00:00:00Z
Very nice place to stay with great people.
Tracy
2017-03-07T00:00:00Z
This was my first experience with Air BNB. The beautiful home is 20 min from downtown KC. I loved the location & privacy. You have your own kitchen area as well. Gay the owner, is very friendly & Mark who lives upstairs was very nice & also a real help. The bedroom is gorgeous and for the price you can't beat this place. Recommend for anyone staying in K.C. area.
Tyler
2017-03-30T00:00:00Z
Very comfortable home, large inviting room, easy to locate, large parking area, all in a quiet scenic area and gracious honest hosts. I plan on returning many times
James
2017-03-22T00:00:00Z
Gay's place was incredibly refreshing and highly exceeded our expectations. Her space is the best of both worlds. You are surrounded by beautiful open fields in the country and have a serene pond right out the window. You are also only a hop, skip, and a jump away from the highway to check out great restaurants and attractions in downtown Kansas City. Gay was very efficient in communicating with us. And her place was beautiful, clean, and we'd love to come back. We would highly recommend this space!
Jessica
2017-03-03T00:00:00Z
We had a wonderful stay. Gay and Eric were friendly and fun. The rooms were clean, spacious, quiet and comfortable with many new items such as flooring. We would highly recommend staying with Gay and would do so again if traveling that way.
Rick
2017-03-24T00:00:00Z
Very comfortable home, large inviting room, easy to locate, large parking area, all in a quiet scenic area and gracious honest hosts. I plan on returning many times.
James
2017-03-31T00:00:00Z
Room Type
Private room
---
Property Type
House
---
Accommodates
2
---
Bedrooms
Olathe, KS, United States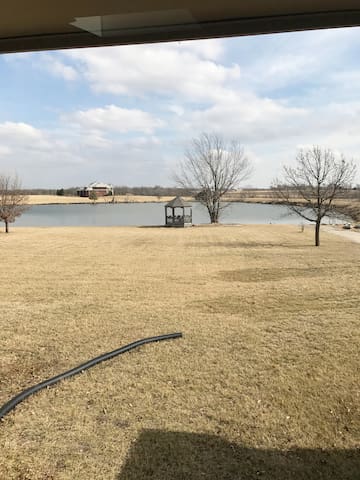 My place is close to family-friendly activities, nightlife, and the city center. You'll love my place because of the light, the neighborhood, the kitchen, and the outdoors space. My place is good for couples, solo adventurers, business travelers, and families (with kids). Walking distance to Blackbob Park with bike trails, kids play area, batting cages, Baseball field, fishing pond and full Aquatics Center.
This room a great space for business or vacation traveler. Single comfortable bed with lots of pillows! Computer table for your laptop has portable speakers and two-way lamp. Home Wifi will give you access to your NetFlix, Amazon, and/or Hulu Plus account. Binge watch whatever you like!
There is a community pool you have access to. Pool has a separate wading pool for kids. Pool has shallow and deep end with a diving board. Tables for eating and bathrooms with a drinking fountain are available inside the locked gated area. No lifeguard on duty.
Sharon is a wonderful host. This was my first experience booking with an Airbnb and I was really nervous at first not knowing what to expect. Sharon relieved all these fears by welcoming me into her home. She had coffee and fruit for breakfast every morning & her house is clean and quiet. Her home is set up just like a hotel, which was really charming. This was SO much better than a hotel and it was right near where I needed to be for my granddaughter's first birthday party. I would not hesitate to book with Sharon again!
Melissa
2017-02-26T00:00:00Z
Sharon place was a great place to crash while passing through town for the night. Sharon was very accommodative and quick to respond to any needs. Will most definitely stay at Sharon's next time passing through town.
Oliver
2017-02-09T00:00:00Z
Could not believe how clean and comfortable this place was! I didn't feel like I had to creep around and whisper like in a hotel :) Sharon went out of her way to be a warm, helpful, and communicative hostess. It made all the difference in my trip far from home.
Amanda
2017-03-27T00:00:00Z
Hi! It was the first time of using airbnb, so I have no experiences of it, but I'm satisfied about EVERYTHING! She is a nice person, and very helpful. Also she has a lovely home in a nice and quiet area. Well the neighborhood kids make some noise in the afternoon, but come on! I'd missing it if they don't :) If nxt time I travel to KS area I'm pretty sure I'll try to take her service. 5 star rating! Thank you Sharon!!
Imre
2017-04-05T00:00:00Z
Sharon's place and her hospitality were wonderful! She accommodated to my last minute request and supplied everything needed for a comfortable stay. The room I stayed in was a good size, comfortable bed, working fan, and there are even panels like car visors to help the room from overheating from the sun. She puts in a lot of effort to add in more convenience for guests. Come the morning, she provided fresh fruit, orange juice, and pastries. Sharon did make my stay very enjoyable.
Kenneth
2016-09-04T00:00:00Z
I loved my stay at Sharon's! I stayed for one month while I was in the process of closing on my home. She lives in a beautiful family-friendly neighborhood that was only 20 minutes from my job in Overland Park. I loved that she provided breakfast items, definitely a perk that most places don't provide. I highly recommend staying with her!
Shelby
2016-10-27T00:00:00Z
Checking into Sharon's place was the easiest experience I've ever had traveling. And I have traveled the world over. Sharon was a pleasant & accommodating hostess. The room & bathroom were very clean and had everything I needed in there for me. The kitchen was great and able to suit all my cooking needs! The whole living space available to me was clean, tidy, and relaxing. I was up crazy early to hastily leave in the morning, so I didn't get to have time for the wonderful breakfast other people have wrote reviews on, though I saw it in the fridge ready! I doubt I will ever be in the area again, but if I am, I will definitely be staying with Sharon again!!!
Rachel
2017-02-17T00:00:00Z
I needed a place convenient to the Scheels Overland Park Soccer Complex for a tournament I coached. This home is located in quiet neighborhood minutes from food, nightlife and numerous local attractions. Sharon was most accommodating. Her communications were very detailed and made everything about the stay very easy.
Dave
2016-07-25T00:00:00Z
Room Type
Private room
---
Property Type
House
---
Accommodates
1
---
Bedrooms
Olathe, KS, United States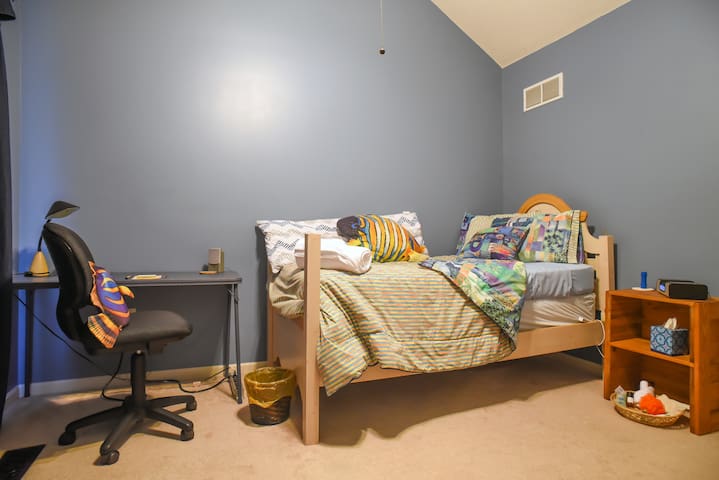 This charming room has a comfortable queen sized bed. It is in a warm cozy home with fireplace and screened in porch and inviting outdoor space. The room has a flat screen TV and and high speed internet ( Fiber 1000 ). It is located in a quiet neighborhood close to shopping and parks.
Keurig coffee maker and Nutri Bullet in kitchen.
I stayed at Larry's house for about 3 months. Overall, I enjoyed my stay. Sometimes the house can become loud, either from the kitchen or yard work, but it didn't last long, so it didn't bothered me much. Larry kept the restroom and kitchen fairly clean. I believed he cleaned them on a daily bases. He was nice, caring and energetic. I didn't request much help from him during my stay but I'm certain he'll do his best to help if needed. I do recommend his location for any future visits. His place was about half an hour from the city and was near many nice parks and lakes.
Amy
2016-11-11T00:00:00Z
Great quick (EMAIL HIDDEN)fortable bed and cozy home. Larry was quite personable and a thoughtful host. Thanks!
Nate
2016-02-25T00:00:00Z
Larry was great, I showed up unannounced a month early having mixed up my dates somehow and Larry made me feel welcome and got me set up in another room as the one I was looking at was taken. Larry made me feel welcome and is a gracious host. Everything you need, this is a great stay, especially for working professionals.
Nathan
2016-04-08T00:00:00Z
Great location close to everything!
Stanley
2016-12-31T00:00:00Z
He is awesome man and the house is very clean
Mustafa
2016-08-22T00:00:00Z
Larry was a very welcoming and accommodating host. He is very understanding and sensitive to your privacy as well. He also just had (SENSITIVE CONTENTS HIDDEN) fiber and new flat screen TV's installed in every room!!! Great Host!
Scott
2016-06-05T00:00:00Z
Larry was a very welcoming person and I loved staying in his house. The place was clean and well maintained. Larry was a great host.
Chandan
2016-08-01T00:00:00Z
Nice quiet place to stay.
Jon
2016-07-08T00:00:00Z
Room Type
Private room
---
Property Type
House
---
Accommodates
2
---
Bedrooms
Olathe, KS, United States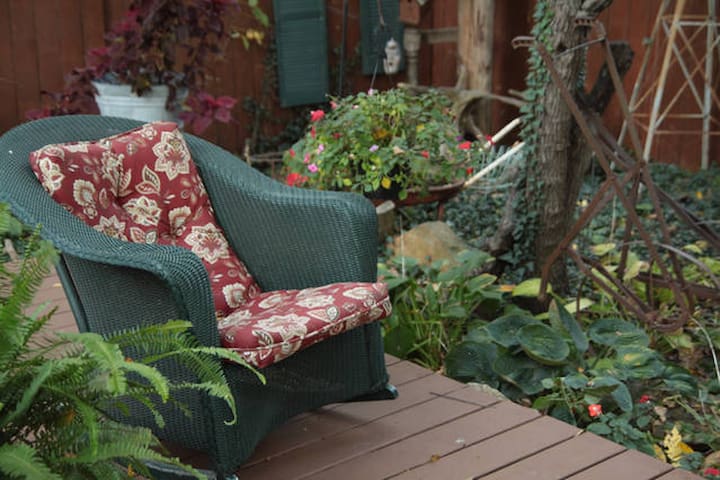 Entire floor to yourself in our lower level luxury suite". Living area with comfortable furnishings, resting area with queen size bed with comfy bedding, electric fireplace, private bath with shower, mini kitchen and office. Enjoy the patio, gazebo, walking trails or the treadmill. Perfect spot for couples or business travelers.
You have the entire floor to yourself in quiet neighborhood. Great Living area, private bathroom, sitting area, electric fireplace, cozy bedroom space, workout area with treadmill and a kitchenette area complete with the basic essentials for storing or warming up meals. Private entrance. Access to patio, gazebo and walking trails.
Quiet, upscale neighborhood. Walking trails and close to everything including highway access, restaurants, shopping, parks and lakes.
Had a great night at Janice and Bobby's Suite. They were extremely welcoming and clearly put some time into making their downstairs a great setting for guests. They were even thoughtful enough to allow me to stay past check out time to shower and nap after a tough race in Kansas City. Thank you so much!
Travis
2016-05-23T00:00:00Z
I was greeted by my name, a warm smile and a firm hand shake. I felt right at home. Bobby was quick to show me to the master suite located in a very nicely finished basement. The home is beautiful and very clean. I just needed a place to hang my hat one day while my hardwoods were being finished. I was suprised to see breakfast bars/snacks and refreshments. A touch above the rest for sure!
Dallas
2016-10-14T00:00:00Z
We loved staying in Janice and Bobby's Airbnb. They made us very welcome, ensured that we had everything we needed and checked in with us daily to ensure we were comfortable. The 'suite' really is a self contained apartment with plenty of space, a separate room with large desk, dining table, fridge, microwave and the offer of their home laundry facilities too. They have a beautiful home in a great neighborhood that was close to the areas we were visiting and to all major routes when we went further afield. If you are looking for a great place with wonderful hosts in a convenient location, look no further!
Ann
2016-05-31T00:00:00Z
Janice and Bobby wanted to be there when we arrived to welcome us to their beautiful home and show us our quarters. we had the entire lower level to ourselves. there is a walking/ bicycling path that starts right behind their house. it was super convenient and felt safe and was scenic. our suite was very clean and cozy ( but spacious). everything we could have needed was provided to us. we couldn't have asked for better hosts. we felt we were in the presence of two lovely and gracious people.
Patsy
2016-10-23T00:00:00Z
Had a great time staying with Janice and Bobby. They were very courteous and welcoming. The downstairs suite was beautiful and contained everything my family needed for our weekend stay. I would highly recommend staying with them should you be looking for a place in the Olathe/KC area
Justin
2016-05-02T00:00:00Z
What an amazing stay. Their home was beautiful and the atmosphere was wonderful. Perfectly located for our stay. Janice and Bobbie warmly welcomed us into their home. Had a chance to visit with them and we were very blessed to get to know them. Cant wait to come back and stay again.
Jeff
2016-03-25T00:00:00Z
Great space and Bobby (Janice was out of state) made us feel right at home. Bed was comfortable, the space was large and we had everything we needed. Would stay again in an heartbeat. Great host!
Dan
2015-11-24T00:00:00Z
A great stay as always. Easy in, easy out, quiet, clean, relaxing. . . I keep coming back! Thank you.
Blair
2016-07-17T00:00:00Z
Room Type
Private room
---
Property Type
House
---
Accommodates
3
---
Bedrooms
Olathe, KS, United States
A historic home in downtown Olathe with tons of character! Plenty of outdoor space to relax if you find yourself with some down time. There is a gas grill available for use along with a garage gym. The house has plenty of goodies to keep children busy including books, toys, games and a trampoline outside. The location is near parks, trails, about 25 minutes from downtown KC and close to a couple of charming wineries.
Given the neighborhood our home is located in, our guests have the added benefit of being within walking distance to restaurants, unique boutiques, a community theater, coffee shops or somewhere for a night cap. Additionally, if you prefer to find something to do outdoors there is a walking trail nearby, a serene lake or you may enjoy walking through our historic neighborhood to admire the homes.
Room Type
Entire home/apt
---
Property Type
House
---
Accommodates
6
---
Bedrooms
Olathe, KS, United States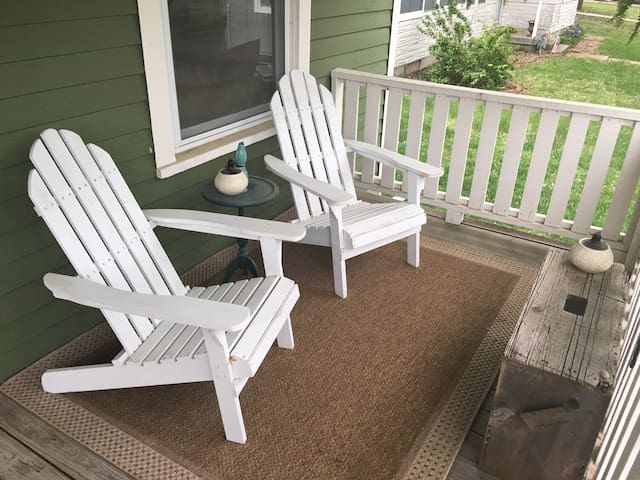 New to the market 11/11/2016 with owner record of 5 star rating on previously listed properties. Just finished the RENOVATION! NEW LARGE CAPACITY HVAC on Second Floor! Bring the ENTIRE Family! Up to 22 people Rental Includes: 6 Bedroom / 3 Full Bath Home Guest Quarters with Porch (7th bedroom - 12 feet x 16 feet) Fully Stocked Kitchen Fully Stocked Bathrooms High Speed Internet High Definition X1 Xfinity Cable ON DEMAND & Media Server Laundry: large capacity washer and dryer Large Patio
LOTS of Space for EVERYONE!
The house accommodated all my family members (around 20 members) without any problems. The house is very well equipped and comfortable, and plenty of room for a group of people. Danya was easy to communicate with and we had no issues. I would recommend for others.
Aravind
2017-01-01T00:00:00Z
Our stay was perfect. So much attention to detail and everything we could imagine needing was provided. You won't regret booking this AirBNB.
linda
2017-03-20T00:00:00Z
Fantastic space with all you'll need to be comfortable and enjoy the Olathe area. Close to everything. The guest house in the back was fantastic for four of our girls to give them their own space when needed. When booking this place, know that you are booking a place where the host ensures you and your family are taken care of. Communication, comfort and amenities were perfect. We will definitely seek this home out in the future.
Michael
2017-02-20T00:00:00Z
Room Type
Entire home/apt
---
Property Type
House
---
Accommodates
16
---
Bedrooms
Olathe, KS, United States
My place is 30 minutes from Kansas City, a mile from I-35, walking distance to Garmin, and close to numerous family-friendly activities, restaurants and parks. You'll love my place because of the size, the location, and owner flexibility . My place is good for couples, solo adventurers, business travelers, and families w/ kids). You would be renting out the upper level of our home while we would stay in the basement. You would have access to up to 2 bedrooms and 2 full bathrooms if need be.
Our house is located in Olathe, KS, which is a short drive to Kansas City, Lawrence, and Topeka. We are walking distance to Garmin and under a mile away from 1-35 so you can jump on the highway and go where you'd like. Our house has 4 bedrooms, 2 of which have beds. We have multiple air mattresses if need be. Our house used to be a daycare so one bedroom is full of toys and is currently being used as a playroom. We have a big backyard. We do have a dog so if you are allergic, that could be an issue. (Don't worry, he won't be present during visits, he will stay somewhere else.)
We live in a family friendly neighborhood a few blocks both an elementary school and high school. Pretty quiet.
We thoroughly enjoyed our stay with Demetrius and his family...they were wonderful hosts always available for help w/ suggestions about the town that we needed, and yet gave us the space we had hoped for in order to just crash after a busy couple of weeks traveling. I'd be glad to stay with them in the future. It's different staying in someone else's home, rather than a room only set aside for Airbnb, and yet they did well to make it comfortable. The space is great for families w kids too!! We absolutely loved having a place where our 4 year old was completely entertained by all the toys!
Edgar-Amber
2016-09-13T00:00:00Z
D and Sabrina were great hosts and really great people. Last week was my 2nd week with them. Moving on for now but will definitely stay again if they'll have me. They went above and beyond as hosts. I would recommend them to anyone staying in or near Olathe/KC. Thanks again!
Jimmy
2016-09-09T00:00:00Z
Demetrius' family was very kind! We had our privacy, but they were here if we need them for any question. The home was cosy and comfortable, and the neighborhood very peaceful. We spend two quiet nights there ! Thank a lot for your welcoming ! K, A & V.
Kévin
2016-10-15T00:00:00Z
Great hosts! Highly recommended
shaval
2017-03-31T00:00:00Z
Great place!
Kelechi
2017-03-10T00:00:00Z
The space was nice and clean and as listed. Great location for Olathe Medical visits!
Nancy
2017-01-09T00:00:00Z
Thank you so much! We had the best first time experience staying with Sabrina and Demetrius! They were very friendly, quiet and let us enjoy the space! If you are in the area this is the best place to stay!
Liscia
2017-03-21T00:00:00Z
I really enjoyed my stay with Demetrius and Sabrina. They made sure I had everything I needed and made me feel welcome in their home. They even cleared out a spot for me in the fridge. I needed to be up early every morning and it was just fine. I will definitely be back!
Tim
2017-02-23T00:00:00Z
Room Type
Private room
---
Property Type
House
---
Accommodates
4
---
Bedrooms
Olathe, KS, United States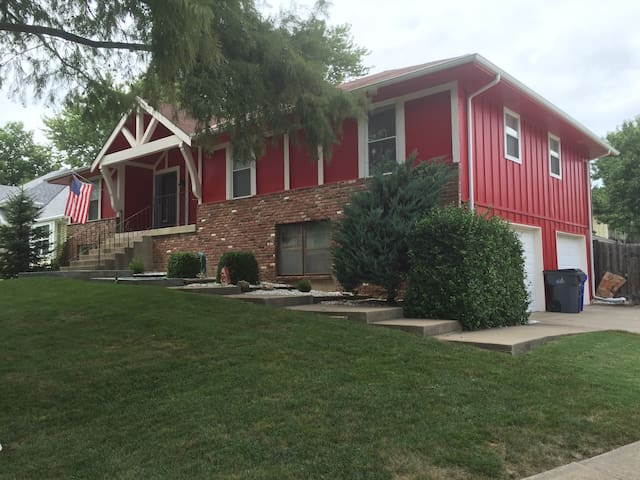 Private room on the west side of Olathe. Remodeled and decorated in Nov. 2015. (SENSITIVE CONTENTS HIDDEN) Fiber internet and TV in the room. Has an indoor fireplace perfect for winter evenings. For warmer months there is a screened in back porch and a beautiful back deck surrounded by hosta gardens.
My home is warm and inviting. It is ideal for business travel or a family get away. Keurig coffee maker and Nutri Bullet. The rooms are clean and the beds are comfortable. I can sleep up to eight with other bedrooms that are offered in separate listings.
Located in a quiet and safe neighborhood, in walking distance of restaurants, a grocery store, Wal Mart, a bus stop, and a nature park with walking trails.
He shared his dessert with me and even cooked dinner for me one night
Joy
2016-01-13T00:00:00Z
Larry is a great host! I'd recommend his place and definitely will stay at his house again.
Hector Andres
2016-06-26T00:00:00Z
Very welcoming host. Accommodating and friendly.
Harry
2016-02-29T00:00:00Z
Larry was a great host. Greeted me and helped me bring in my stuff then offered my chocolate. What more does one need? Everything was as described. Cool bathtub but it did have a high step. I had lots of space in the fridge for food. I appreciated the heater for the room. I enjoyed the screened-in porch. I felt like Larry had just about everything you might want.
Wendy
2016-03-20T00:00:00Z
I had a restful stay with Larry. Very accommodating. House was as described.
Kelvin
2016-06-27T00:00:00Z
Great place to regroup.
Jon
2016-08-08T00:00:00Z
Larry was friendly and respectful. My stay was very pleasant, his home and my room were as advertised. If you're looking for a quiet and comfortable stay in the Olathe, KS area, I whole-heartedly recommend Larry's listing.
Steve
2016-01-22T00:00:00Z
Very clean room, Larry was a great host. Quick and easy access to the house.
Shaun
2017-03-04T00:00:00Z
Room Type
Private room
---
Property Type
House
---
Accommodates
2
---
Bedrooms
Olathe, KS, United States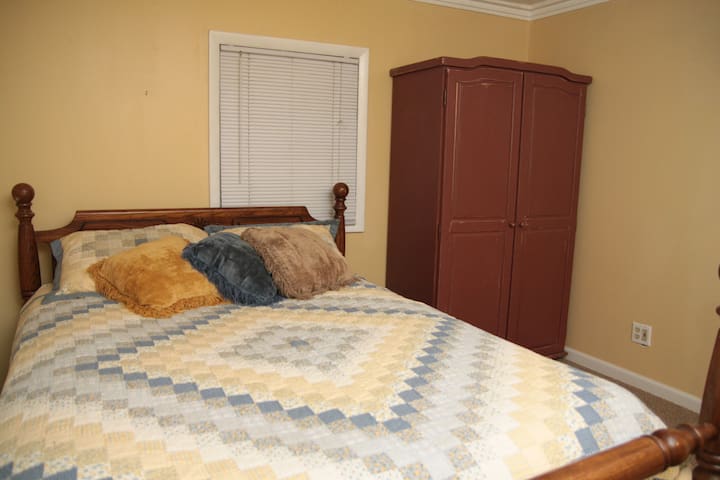 Driving into the cul-de-sac will tell you this is a family lined street. When you get to the door you will be greeted by George the resident cat. He and I will take you to the kitchen for a talk about your stay or if you are weary we will take you up the short flight of stairs to your room for your stay. It is zen like atmosphere to greet you. The kitchen has a microwave you can use or there are Jimmy Johns, Pappa Johns, Chinese delivery in the immediate area for you.
Availability to Providence Amphitheater, Power and Light district, Plaza, Olathe Medical Center, Kansas University in Lawrence, Legends, NASCAR, Johnson County Community College, Nazarene College, Garmin,the airport, parks, Lenexa, Overland Park, 435 highway, public transport, Nerman Art Museum, Ernie Miller park walking trails.
Room Type
Private room
---
Property Type
House
---
Accommodates
2
---
Bedrooms
Olathe, KS, United States
This is my second small bedroom. I have the first one also listed on AirBB also. The guests have their own bathroom. Normally there is only one person here at a time. But if there are two, then you would share the bathroom with the other guest.
I have a front door with a keycode lock. So you can come and go without my always being there.
Quiet safe suburban neighborhood where the loudest sound you will ever hear is the sound of grass being cut.
John was fantastic, responding within minutes of my inquiry. The house was in a great community in Olathe. The place was clean and exactly as described. The bed I expected to be rock hard was actually extremely pleasant to sleep on, it seemed as if it was Tempur-pedic foam. The bathroom has everything a weary traveler could expected. From a spare toothbrush to soap, toothpaste, and towels, mouthwash, deodorant, etc. it was everything I could've expected and more. John was kind enough to leave out cereal and other breakfast items for me in the morning as well as putting some water bottles in the fridge for my travels. I would definitely stay again if I was in the area.
Maxwell
2017-03-25T00:00:00Z
He did a great job making me feel welcome. It was a nice stay.
William
2015-07-25T00:00:00Z
Even though it was a short stay it was a pleasant one.
Zaki
2015-12-23T00:00:00Z
Host was very welcome and served great coffee and towels for bath. It was a very comfortable stay. His lovely cat was also welcoming. We communicated well, too.
Kathleen
2015-08-19T00:00:00Z
John was an awesome host. He was very gracious and helpful. We didn't get to talk a whole lot as I had arrived later than I expected, but it was also good to have a small conversation before he had to go to bed for the night. Great place, great neighborhood. Highly recommend
Shahriar
2015-08-22T00:00:00Z
Simple room in a nice home in a nice neighborhood. Host John was very welcoming and accommodating, suggested several local events activities that I could attend. His cat his a great host, too! I feel like I have made a new friend. This was my first experience with Airbnb; I will use the service again!
Stuart
2016-07-23T00:00:00Z
John is a very nice host. He went out of his way to make sure I had a comfortable stay. I arrived a little later than I thought and he kindly directed me to a nearby grocery store that had everything a person could want to eat. The house was very clean, as was my room. Although the bed was a little small, a twin bed, it was comfortable and quiet. The bathroom was clean and the basic essentials were there if needed. John even left a little bit of breakfast food out for me in the morning. He was kind and considerate. I am kind of new to Airbnb, but so far this was the best place I have stayed in.
K
2015-09-16T00:00:00Z
I enjoyed my first stay with Airbnb at Johns house. He was very nice, respectable and kind. I would recommend staying at Johns to anyone and if I'm ever back in area I will stay with him again!
Andrew
2015-07-20T00:00:00Z
Room Type
Private room
---
Property Type
House
---
Accommodates
1
---
Bedrooms
Olathe, KS, United States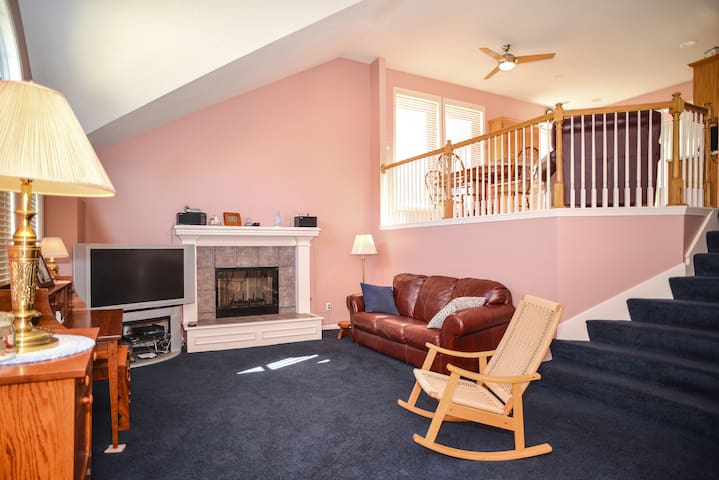 My place is close to the highway and we are an easy drive to downtown and all it's adjoining points of interest!
Great place. Very clean and comfy. Great location. I thoroughly enjoyed my stay.
Mohammad
2016-07-02T00:00:00Z
Room Type
Private room
---
Property Type
House
---
Accommodates
1
---
Bedrooms
Olathe, KS, United States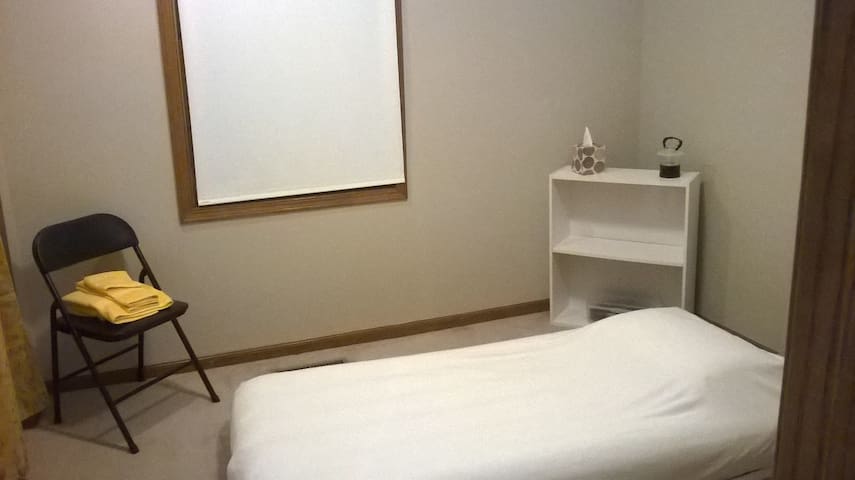 Come stay at our house in the middle of Olathe. We are at the end of a cul-de-sac, but the back opens up in to beautiful city park. Easy access to the interstate and local biking and walking trails. Also we are doggie friendly!
Our space is vibrant and colorful. Located in the heart of Olathe, Kansas, we are a short jaunt (15-20 minutes) to the Kansas Speedway, KC Sporting Stadium, the T-Bones, downtown, Power and Light, the Plaza or most other places in the city.
Our house sits on a wide lot at the back of a cul-de-sac. We are right next to a city park that has hiking trails that run all the way to the Kansas River. On the other side of the park is Mahaffie Farmstead historical site. This creates a strong illusion of being in the middle of nowhere, but with the convenience of living in town.
Stayed an entire 7 nights. Felt comfortable coming and going as I pleased and was able to get work done when I needed, very quiet.
Randy
2016-07-01T00:00:00Z
Aaron is a fabulous host and his place is an excellent value for someone who needs to be in the Olathe/Overland Park area. Aaron went out of his way to provide me with all the information I needed for a late arrival. My dog and I felt right at home! The room was clean and comfortable and the access to the bathroom was easy. I was quite busy with work , but fortunate enough to have a couple of nice chats with Aaron and his partner. I would recommend Aaron's place to anyone needing a good night sleep in Olathe!
ROBERT
2016-10-11T00:00:00Z
Aaron is a great host. His place is really clean and comfortable to stay. The blue room is really pretty.
rose
2016-05-29T00:00:00Z
The Olathe Oasis was just the ticket for us. Admittedly, we did not spend much time hanging out, but our late arrivals and early departures were not a problem, and the room was comfortable and clean. Owners' dog is also very sweet.
Meaghan
2014-09-21T00:00:00Z
Aaron and Debbie were very accommodating hosts for our one night stay in Olathe, KS. We arrived while they were out for the evening and they enabled us to entertain local friends in their home after we arrived. Their "our house is your house" demeanor helped us and our two retired racing greyhounds to feel right at home. Their backyard is perfect for entertaining and is a safe place for frolicking pets. In the morning, Aaron graciously made us a wonderful breakfast and we both indulged in multiple cups of coffee from his Keurig. Aaron is a special host in that he trusts his guests to do the right thing and that enables guests to bestow a comparable level of trust on him. We highly recommend the Vibrant Oasis in Suburbia for the discriminating guest who wants to enjoy their visit and time with their hosts.
Stephanie
2014-08-11T00:00:00Z
Nice neighborhood, great room, and very nice hosts! Made my husband's stay wonderful!
Angela
2014-05-18T00:00:00Z
Don't think, just book. Aaron and his wife were amazing hosts. Before I even got there, I felt welcomed. The house was great and the room and bathroom were perfect for me. It was cold (February) so I didn't make use of the spacious yard, but I would agree that it is an oasis.
Chris
2015-02-13T00:00:00Z
My stay was great!! House was exactly like the pictures, including all the amenities provided. Aaron & his wife were very gracious hosts, checking to see if I had everything! If I needed anything at all, Aaron was just a text away! Overall, great experience!!!
Teresa
2016-09-18T00:00:00Z
Room Type
Private room
---
Property Type
House
---
Accommodates
2
---
Bedrooms
Olathe, KS, United States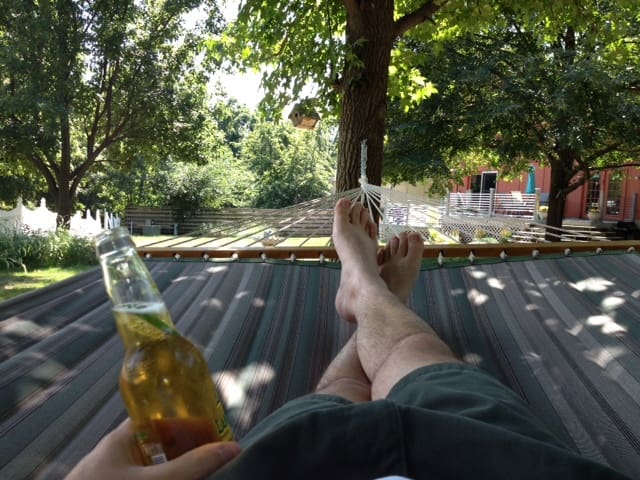 Sleep like the King and Queen in this elegant room! The 42" Plasma monitor hooks to the DVD player (OR your laptop computer) with surround sound. The adjacent private bath has marble floors, large counter with double sinks, large deep tub with separate glass wall shower. Walk-in closet has built-in dresser and full size washer/dryer. Grab a book and enjoy the luxury!
Spacious master has king bed. The adjacent private bath has marble floors, large counter with double sinks, large deep tub with separate glass door shower. 42" Plasma TV has surround sound connected to a apple laptop for access the home WiFi as well as an input for the DVD Player. Bring some DVD's or browse through my collection and soak up some relaxation while you a visiting!
We are a quiet, friendly neighborhood with families. You will see parents walking with their strollers and lots of people on bikes, walking a jogging. There is a (free) community pool you are welcome to use that is very kids friendly.
Sharon was the perfect hostess! Our visit was like a reunion with my sister (that I never had) in the midwest - after a long time. Our suite was decorated, stylish, immaculate - new towels and huge bathroom suite - she left food for us in the fridge - notes everywhere - safe neighborhood south of KC - and we had a wonderful two nights in her home!
Tracey
2016-10-09T00:00:00Z
Overall, a good experience. Sharon's home is very nice and extremely quiet. The room and bathroom were quite comfortable and she provided more than enough travel supplies, towels, wash cloths, etc... There were even little tea light candles and bath beads to use in the big garden tub which was very nice. There were just a few minor things that I would perhaps take into consideration before booking on Airbnb again. One would be the room temp. I didn't think about the fact that we would not have our own private control (though I should have), so if you or the one you're traveling with is especially sensitive to these things you might want to communicate with your host/hostess ahead of time. For us, the room was quite warm, but the enormous ceiling fan did help. Additionally, the TV did not seemed to be hooked up to either the antenna or the DVD player when we arrived. After my boyfriend fiddled with it a while he got it to where we probably could have watched a DVD, but then he couldn't find them. We did find them the next morning, though and honestly we improvised without the TV, but if that's a big factor for you, you may want to communicate that too. Finally, the parking was not ideal. Sharon was good about telling me before we arrived that we'd probably have to park on the street, but admittedly it was still difficult for my boyfriend to leave his "baby" so exposed. This was my first stay through Airbnb and overall I would say 4 out of 5 stars for our accommodations. Hopefully my experience will help other first-timers to choose the best place for their stay.
Heather
2016-10-16T00:00:00Z
Our host was very inviting and helped me communicate with her when I was having problems with my cell phone. Beautiful home and neighborhood. Because we were visiting family, we didn't get to enjoy all that was available (like the breakfasts) but coffee was ready for us in the morning. This was our first airbnb trip but will not be the last.
pat
2016-10-27T00:00:00Z
The host canceled this reservation 6 days before arrival. This is an automated posting.
Duy-an
2017-03-05T00:00:00Z
Wonderful accommodations for a very competitive price! This space is ideal for those who seek being part of a community while also enjoying some privacy.
Andrew
2017-04-02T00:00:00Z
We had a wonderful two night stay. The location was convenient for our planned activities, and the neighborhood was perfect for early morning walks. The house and suite were immaculate and comfortable, and the house and neighborhood quiet. The garage provided easy access in & out.
Sally
2016-09-19T00:00:00Z
Way beyond expectations. Ideal. Made my business trip feel like I was back home.
Steve
2017-02-08T00:00:00Z
Sharon was a wonderful hostess! She had a basket of goodies waiting for me and everything was as described. The location was perfect for the activities I attended! Thank you Sharon!!
Christi
2016-10-22T00:00:00Z
Room Type
Private room
---
Property Type
House
---
Accommodates
3
---
Bedrooms
Olathe, KS, United States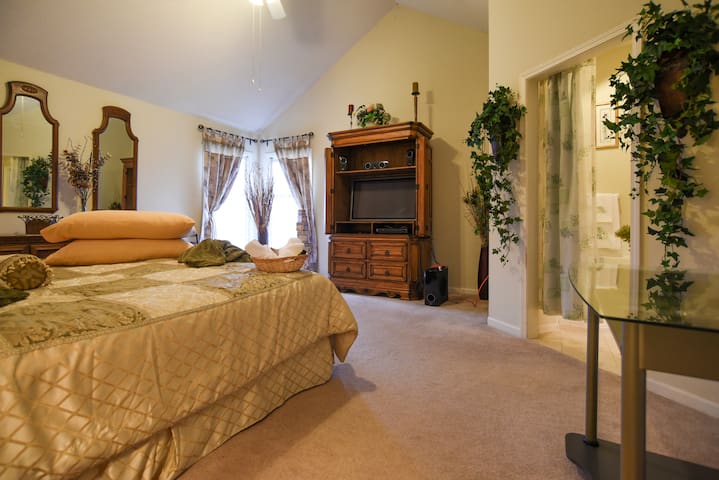 If you're looking for a quiet room with a clean environment guaranteed, this is the place. Just 20-30 minutes from all major attractions in the Kansas City area. Legends, Speedway, Chiefs and Royals Stadiums, Sprint Center, Kaufmann Center, etc.
Clean, quiet, and cozy environment. Private room with a private bathroom. Our preference is couples, families, or women. We only consider guests that have completed ID verification as well as additional verification. It's important to both you and us that trust is a priority.
We live in a quiet family oriented neighborhood. Perfect place to relax after a full day of work or activities.
I can't say enough good things about Brigette or her home!! Communication was always easy and fast whether it was via email on Airbnb or texting. The home was exactly as listed: clean, quiet, and cozy and close to everything my mom and I were in town for!! Brigette was very friendly and worked with our schedule! We will definitely be staying with Brigette again!
Terah
2015-11-16T00:00:00Z
A great experience! We were on a cross-country driving trip and so stayed only one night, but Brigette was very inviting and hospitable despite our brief stay and late arrival. I had a cold while traveling, and Brigette went out of her way to ensure my wife and I had a good night's sleep. All the little touches that might be taken for granted in one's own home were present here. Brigette describes it as clean, quiet, and cozy! It is definitely clean and quiet, and although cozy may suggest small, it really wasn't—it was a nice sized room, and the bed was very comfortable. We'd definitely stay again if we found ourselves traveling through Kansas City.
Curt
2015-09-04T00:00:00Z
I had an exceptional stay at Brigette's house. Her house is exactly as it is described: clean, quiet, and cozy! I have a pet allergy and she does have one cat but my allergies were never out of hand. She does a fantastic job of keeping the house clean and the cat out of your room. She maintains great privacy and allows you your own living space that she will not bother. Kitchen is stocked with great equipment for any type of chef that you may be. I enjoyed my stay at Brigette's place and would recommend to anyone.
Amanda
2016-11-27T00:00:00Z
Our host Brigettte was very welcoming and ready to greet us as we arrive late Friday night after a long drive, We had a short overnight stay. We found the room pleasant and comfortable. The neighborhood was quiet and close enough for me to get up early and go to a pharmacy to buy things I needed for our road trip. I would be happy to visit again.
Charles
2015-03-08T00:00:00Z
This was my first time using airbnb and it was wonderful! Brigette is a top notch host, very kind, considerate, and hospitable. She was also very accommodating with check-in/out and prompt in getting back to me right from the start. The room looks exactly as pictured, very clean and spacious for my needs. The house is beautiful, clean, and tidy - yet homey. I had the bathroom all to myself - also very clean and tidy. The neighborhood is clean, safe and quiet. All in all, it was a pleasant and lovely place to stay and there are only positive things I can say about my experience. I look forward to returning to the Olathe area and hope to stay here again!
Jaime
2015-08-24T00:00:00Z
This was my first experience with Airbnb and I could not be more pleased. I was traveling alone and only in town for one night. Staying with Brigette felt like staying with a friend, both she and her home were warm and welcoming. Thank you Brigette and I hope to see you again.
Sharon
2015-12-06T00:00:00Z
Brigette was very welcoming and gracious. Her home was just as advertised and very clean and in a wonderful neighborhood. We will very likely be back again if we travel to this area in the near future.
Phil
2015-03-30T00:00:00Z
Brigette was an amazing host. She was so very welcoming and friendly, and she went above and beyond to make sure that I was comfortable and had everything that I needed for the one night that I was with her. Just as her listing describes, the house was immaculately clean, the neighborhood quiet, and the bed/bedroom very cozy. I would HIGHLY recommend her to anyone traveling to or through Olathe.
Pam
2016-04-17T00:00:00Z
Room Type
Private room
---
Property Type
House
---
Accommodates
2
---
Bedrooms
Olathe, KS, United States
WE 2 Bedroom / 2 Bath Furnished Apartment Suite! Suite includes: Executive Furniture! All Housewares and Linens! Utilities Included! Cable/ Wireless Internet! 3 Day Minimal Stay Required!2 Bedroom / 2 Bath Furnished Apartment Suite!
This is the second time we've stayed with Rick & Jean in this unit and just as before we had a great experience. We were in town to say good bye to a family member and Rick & Jean were very welcoming and hospitable and we'll use them again.
William
2016-05-26T00:00:00Z
The host canceled this reservation 7 days before arrival. This is an automated posting.
Kristine
2016-09-01T00:00:00Z
The host canceled this reservation 28 days before arrival. This is an automated posting.
Richard
2016-09-05T00:00:00Z
The host canceled this reservation 9 days before arrival. This is an automated posting.
John
2017-02-07T00:00:00Z
This was perfect for our needs. The host answered quickly to our texts and quickly met our every need.
Linda
2017-02-13T00:00:00Z
Room Type
Entire home/apt
---
Property Type
Flat
---
Accommodates
4
---
Bedrooms
Lenexa, KS, United States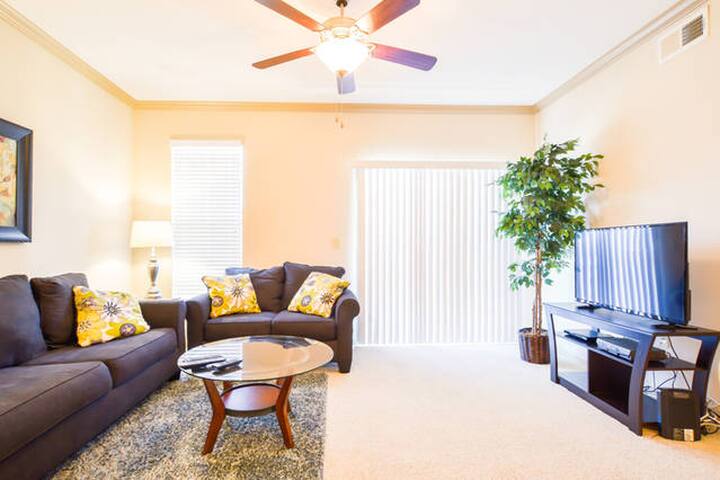 A nice 3 bedroom space with cozy written all over it. Extra bedroom and office on the main level with a master suite upstairs. The best part is the covered patio and amazing green space in the backyard. Backyard includes sitting space and a smart TV!
We are within walking distance of Mid American Nazarene University in a quiet neighborhood with a great outdoor space.
We have a simple quiet neighborhood with friendly people on both sides of our house.
Six of us recently booked this house for a weekend getaway visiting family & it certainly was a little piece of charm! It's cozy, has a convenient location, & it comes fully stocked with everything you need & more! Chaz was also excellent to work with. You wont't regret booking it so don't think twice if you are!
Kou
2016-10-16T00:00:00Z
This was honestly one of the best experiences I have had booking through this site. The hosts are extremely nice and personable. The location of the home is in an extremely nice and quiet neighborhood and really close to anything and everything that you could possible need. Truly an awesome experience.
Michael
2016-08-26T00:00:00Z
Chaz's home was perfect for us this weekend, very clean, nice neighborhood and the perfect back yard to sit down, relax and have a feet beers after a long day. We would definitely come back.
Luke
2016-09-04T00:00:00Z
What a great weekend spent at this home away from home! It was priced slightly higher than other similar homes in the area but it was worth it. The California king bed was out of this world and the two different beers on tap were a nice touch. If inside wasn't nice enough, the outdoor space was to die for. When it comes to relaxing and sitting on the patio watching sports I couldn't have asked for a better setup. Both Chaz and Cara were very nice and very prompt whenever I needed anything! I will definitely be staying here next time I am in town.
Megan
2016-09-18T00:00:00Z
Thanks for a nice comfortable stay on my recent trip. It was nice to relax and kick back after a long day of travelling!
Hattie
2016-09-25T00:00:00Z
Great backyard patio to relax in when we were not busy. We came in for a wedding so we were busy... Lovely decor everywhere. Excellent communication with Chaz even when we locked ourselves out one night at 10 pm. We got in within a few minutes. We loved the TVs & relaxing in their kitchen & living area. With four getting ready for a wedding it was nice to have 2 bathrooms. We loved Chaz's place & would recommend to anyone! Thanks Chaz!
Sheri
2016-11-06T00:00:00Z
Room Type
Entire home/apt
---
Property Type
House
---
Accommodates
6
---
Bedrooms
Olathe, KS, United States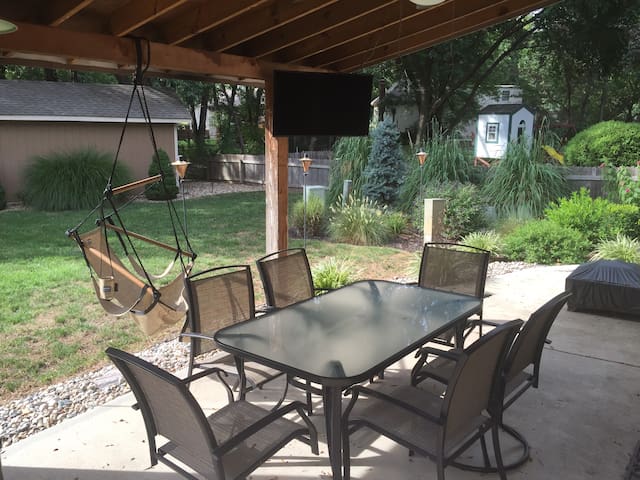 I have an extra bedroom and bathroom in my over-sized home that is perfect for either single or multi-night stays. You'd also have access to the garage to park your vehicle and we can share the kitchen.
Great stopover in a nice suburban area. good shopping nearby (1.6 mi. to ALDI) nicely equipped kitchen, pool table and large TV with great seating. Unfortunately our host was not home, but made arrangements for our entry and we found it very comfortable. Easy off/on access to I35.
Larry
2015-04-27T00:00:00Z
Randy's place was clean, comfortable and a fantastic place to stay while visiting Olathe over Thanksgiving. Randy was very generous, inviting us to join him for Thanksgiving dinner if we didn't have plans and was great in responding when I couldn't get the front door keypad to work. I will definitely be back!
Meghan
2016-11-28T00:00:00Z
I stayed with Randy for 5days, he is extremely friendly and helpful. I did feel like home. Strongly recommended!
Thomas
2015-07-25T00:00:00Z
My stay was great! Randy was a great host and was respectful of my privacy and helped me to find a nearby upscale restaurant! The private room and bathroom in his place was clean.
Chris
2016-05-31T00:00:00Z
Excellent stay. Very clean. Just as described. Would recommend.
Devin
2016-10-16T00:00:00Z
We arrived late and Randy was there to greet us right away. He gave us suggestions for a fabulous Mexican restaurant and we enjoyed it thoroughly! We had privacy and everything we needed. Thank you Randy!
Fran
2017-02-17T00:00:00Z
I stayed with Randy for six nights. Randy was very easy to get along with. His accommodations are just as described in his listing and his home is very eco-friendly. Randy respected my privacy 100%. He even gave me the house to myself for one night. I recommend Randy as a host 100%. You will not be disapointed.
Jason
2015-07-06T00:00:00Z
Another great stay. Very comfortable and easy to get along with.
David
2015-09-03T00:00:00Z
Room Type
Private room
---
Property Type
House
---
Accommodates
2
---
Bedrooms
Olathe, KS, United States
I have a loft open bedroom with a balcony looking down to the first floor. The living room has a 2 story high ceiling. My other bedroom has 1/2 a bedroom behind it with a futon sofa bed. Far enough out in the 'country' but close to major highways.
13 yr old townhouse I bought new, when I was a realtor, 3.5 bedrooms, 2.5 baths, rooms $40/nt Very nice close to highways I-35, I-435, K10, K7 lots of shopping and restaurants within a 5 minute car drive. out here in GOD's Country, it is a unique location, peace and quiet, 'Cleanliness is Godliness' I live in a clean house, clean bed rooms, bath rooms, no games I have a lot of house plants to clean my environment, air quality, free wireless internet and cable tv. Peace and quiet, no pets or smoking. Quiet town home community in the country yet life styles of a country club. I am a swm, straight, 54 and live here as the owner no smoking, no pets, peace quiet, Breakfast or food can be made available if requested for an agreed price. My basic rate is for a bed in a bedroom with cable tv, wireless internet, access to kitchen and laundry, if you want food prepared and laundry done we can negotiate these for a price. All potential guests should have a picture on here, face included, verify IDs and phone numbers, experience has proven those lacking complete verification are problems not worth messing with. Hi George, It was nice meeting you and staying at your condo. We will definitely keep you in mind if we need a place ourselves again or if we know anyone else that needs a place. Glad you had lunch on us at Olive Garden, that is one of our favorite places for soup and salad. Yes you can use me as a reference. Regards, Dawn Tom Scott left me a negative review, he was a problem his entire stay.- look at his profile and my review of him- I should never of let him stay here. He was correct, I have had legal issues with my hedge fund license and real estate license, that included probation and bankruptcy, dealing with bad people in those 'industries'. I do not like dealing with 'bad people' so I require all verification, and have learned to not be too easy and accommodating with strangers. Trust is everything, this part time job/cash is ok for me, meeting good people is GOOD, but it all takes time to establish, single incidents can wipe out trust instantly, 'trust/images that might have been casually around for decades' such as with 'pro jobs' I have had.
Sunnybrook is a secluded community, quiet country setting in johnson county. Close driving to most anything, retail, and highways to get around the metro.
George was a great host to my friend who was passing through KS!
Maria
2011-03-20T00:00:00Z
Rather easy to find and well listed, host was rather helpful with everything, very hospitable. Everything was clean and prepared for guests. Thanks for everything, even on short notice.
Luke
2016-07-24T00:00:00Z
George's guest room was entirely as advertised and he was extremely understanding about the late night arrivals and early morning departures my work required. I'd stay with him again if I were in town again and working close to his place.
Jeff
2011-10-08T00:00:00Z
George was very accommodating! I was just passing through on my way moving west and he gave me a room even on short notice! The room was very nice and the house was nice as well. It was a great place to stay for the night and I'll definitely do it again if I'm every in the area!
Eric
2011-05-12T00:00:00Z
My stay and experience with George was fine. This was my first Airbnb experience and he was very helpful. He called me immediately to answer questions I had and texted me occasionally about the place and area. The home was beautiful and well maintained. My overall experience was positive and I would recommend Airbnb to others based on this experience.
Erik
2015-10-19T00:00:00Z
The area was fine, the host seemed very unhappy most of the time.
Carrie
2015-09-16T00:00:00Z
K
Azat
2016-05-09T00:00:00Z
Room Type
Private room
---
Property Type
Townhouse
---
Accommodates
4
---
Bedrooms
Olathe, KS, United States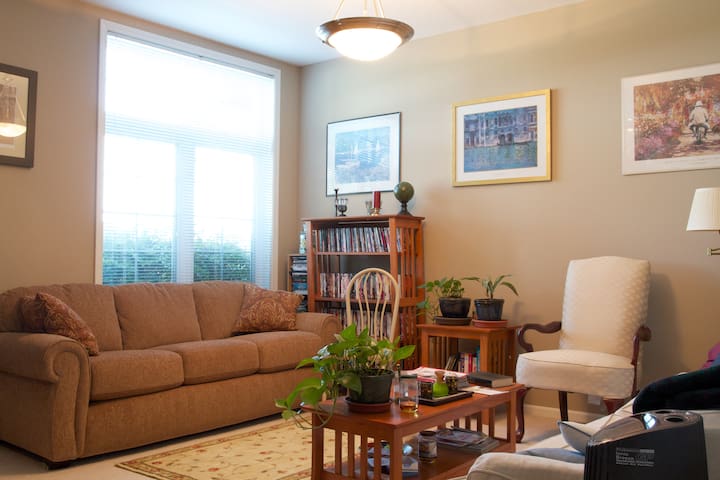 Enter dates to see full pricing. Additional fees apply. Taxes may be added.