Just 80 m from a long and sandy beach, in the quiet rural Paralia Ofrynio. The apartment has an open view to the sea and the mountains. Ideal for families or couples for a relaxing vacation at any time during the year. The area is favourite to those who love free beaches, bicycling, fishing or kayaking.
Private wi-fi, parking space under the apartment. Baby cot available upon request, at no additional charge. A bicycle is available at an additional charge. The kitchen is fully equipped with a stove, a fridge with a deepfreeze, a microwave, toaster, kettle, utensils etc. The two beds in the bedroom can be converted to a king size bed. Bath towels and linen as well as some kitchen basics (sugar, olive oil, salt, pepper) are provided. A small charcoal bbq for the balcony is available.
The neighbourhood is quiet, with lots of olive and almond trees. The Lion of Amfipoli, the Alistrati Cave and Aggitis Canyon are within less than an hour drive.
Room Type
Entire home/apt
---
Property Type
Flat
---
Accommodates
4
---
Bedrooms
Paralia Ofriniou, Makedonia Thraki, Greece
Διαμέρισμα πρώτης γραμμής με απεριόριστη θέα θάλασσα, σε ήσυχη τοποθεσία στην Παραλία Οφρυνίου σε απόσταση μόλις 800μ απο το κέντρο και 10μ απο την ακτη. Πλήρως εξοπλισμένο δυο υπνοδωματίων,μεγαλη σαλονοκουζίνα, γωνιακό μπαλκόνι με barbeque ιδανικό για παρέες φίλων και οικογένειες.
Room Type
Entire home/apt
---
Property Type
Flat
---
Accommodates
5
---
Bedrooms
Οφρύνιο, Μακεδονία Θράκη, Greece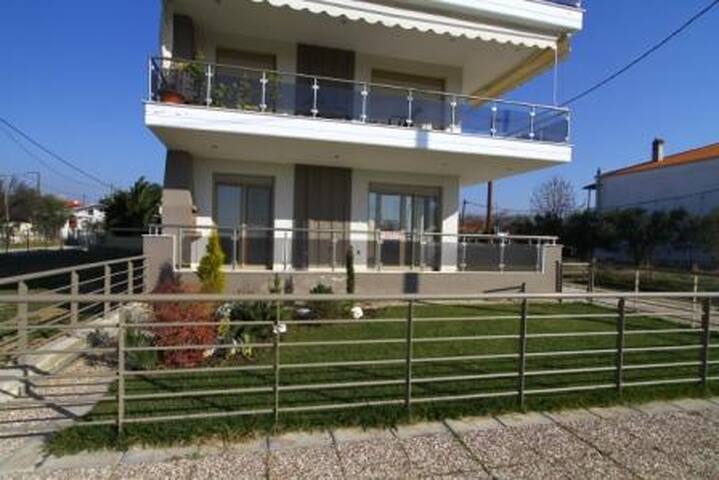 "Athens Family Apartments" offers a friendly atmosphere and comfortable accommodation in a central location in OFRINIO-TOUZLA, just steps away from the lovely sandy beach. An ideal choice for those wishing to enjoy a relaxing holiday by the beach.
This apartment includes a living room with sofa bed, fully equipped kitchen, dinning table for 6 or more persons, a bedroom with a double bed and another bedroom with a double bed and two single beds, a bathroom and a large balcony with barbecue and many comfy seats to enjoy the view of Orfanou Bay.
This apartment is in close proximity to many taverns, bars, beach bars, markets, bakeries, patisseries, café and "Greek Ouzere" .
Our host was great, the apartment was perfect, because it is very spacious and it is close to the beach. The best thing was the shop for fresh fish on the vay to the beach so I enjoyed the built in barbecue on the large terrace.
Oliver
2016-07-28T00:00:00Z
The location of the apartment is nice though a lot more than 5 steps to beach :) To our luck, the hosts were out of the city or country. We notified that we were going to check in early. And we'd arrived earlier than that, but could not locate the house using (SENSITIVE CONTENTS HIDDEN) maps, apple maps and tomtom gprs. The address was not clear and was in Greek so you cannot type it properly. After waiting for couple of hours and 30 min. longer than we were supposed to, somebody answered our phone and helped us check-in. Ladies were disappointed because the house was not clean, they worked furiously for couple of hours until they were satisfied it was better. We did not have adequate kitchenware and hair-dryer as per the ad but that was taken care of after we communicated. The hostess, lady was nearly impossible to talk to because she spoke no English. Other than that, I can say mostly it was fun. The town is not so big, has decent restaurants, well we only ate @ one particular, twice, totally inexpensive. I'd say that the house is not very good for 2 couples but for a couple with 3 kids. It's at the far end to the city center so is very quite @ nights, needs a walk to upto 1km to get to the center, we always took the car as it was hot & humid. The AC was ok because we had to keep it on at all times. Sea and the facilities on the coast are not bad, though you need to be careful with the mussels not to hurt your feet as there's a narrow route with sandbags which you can take accordingly.
Gencer
2016-07-10T00:00:00Z
Met us where we requested and took us to the place.
Irina
2015-09-05T00:00:00Z
Nice apartment and quiet surrounding. Good for families with small children. Apartment is on second floor in building with two apartments per floor. High stairs lead to apartment - so maybe not for older/disabled persons. Sea is app 80m from the building. Parking is not a problem. Place (food&drinks) is generally cheaper then typical tourist cities on the coast. Yes, I would recommend it to my friends.
Sasa
2014-07-11T00:00:00Z
Carinissimi i propietari...appartamento bello ed arioso..dotato di biancheria ... con bella terrazza....zanzariere e sopratutto pulito..comodo e vicinissimo a tutto...bagno piccolino per 5 persone.. manca del bidet. Gente del posto molto disponibile ...mare bello veramente. Per mangiare non mancano le taverne dove si gusta di tutto a prezzi veramente onesti...torneremo con piacere.
Claudia
2015-06-14T00:00:00Z
Σας ευχαριστούμε πολύ για την φιλοξενία.Το διαμέρισμα είχε ότι χρειάζεται γιαναμείνει μια οικογένεια, καθαρό και κοντά στην θάλασσα όπως το είπατε. Με πολλες επιλογές σε κοντινές παραλίες.Ήσυχα και ότι χρειαζόσουν ήταν πολύ κοντά. Μείναμε απόλυτα ευχαριστημένοι.
Anastasia
2015-08-31T00:00:00Z
Квартира очень хорошая, место тихое, море рядом. На кухне не хватало некоторой посуды (ножей, чайника и т.д.). Если бы в квартире был интернет, она была бы идеальной. Если еще раз поедем в Грецию - опять здесь остановимся.
Ксения
2015-07-18T00:00:00Z
Апартамента е с много добро разпределение, сравнително добре обзаведен , но липсват някои необходими неща и на хубаво място, близо до плажа. Имаме над 15 почивки в Гърция , но за съжаление това беше наш-мръсният апартамент, в който сме били . Не беше почистен преди пристигането ни. Вместо да отида на плажа, трябваше да започна да чистя, за да се чувстваме комфортно. Апартамента се предлага за до 8 човека, но това е абсурдно, защото там намерихме 3 чаши и не повече от 4-5 чинии.... Определено собствениците има какво да направят още....
Juliana
2015-09-23T00:00:00Z
Room Type
Entire home/apt
---
Property Type
Flat
---
Accommodates
6
---
Bedrooms
Παραλία Οφρυνίου Καβάλας, Μακεδονία Θράκη, Greece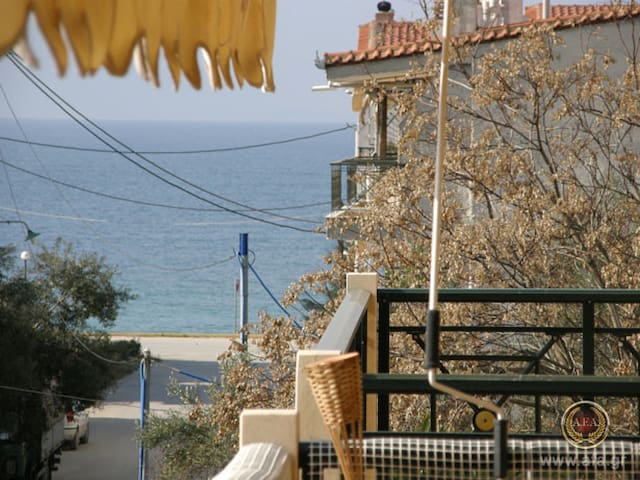 Fantastic holiday apartments at 250m walking from the beach! Located in a separate building, there are 2 identical apartments that can be rented together or separately. Each has 2 double-bed bedrooms, modern kitchen and bathroom and 2 terraces on each side, including a BBQ!
Room Type
Entire home/apt
---
Property Type
Flat
---
Accommodates
8
---
Bedrooms
Ofrinio, Makedonia Thraki, Greece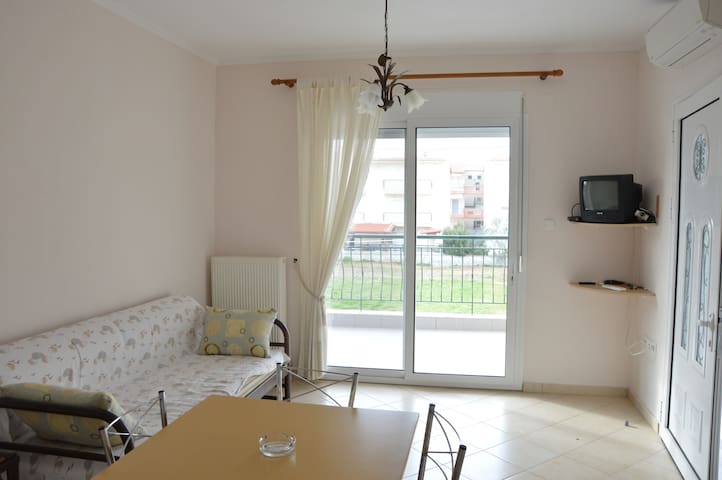 Appartement neuf de 70 m2 au 1er étage entièrement équipé avec goût, avec 2 chambres + canapé lit dans salon. Beau salon et salle a manger, climatisation, cheminée, grande terrasse de 20 m2 avec barbecue; situé à 200 M de la plage et du centre ville
Appartement neuf dans belle résidence , décoration moderne, cuisine équipée , nombreux rangements.
Situé dans le Centre ville, dans un quartier résidentiel à 200 mètres de la plage, des bars et (website hidden) calme et proche de toutes commodités
Great place to stay! Everything you need is there. Coffee machine mmmmmm!
Thymo
2014-07-24T00:00:00Z
Denitsa was a nice host, we did not meet her personally but her friend that led us to the apartment. The apartment is 5 min to Ofrinio beach line, very nice equipped and a beautiful large terrace. Thank you Denitsa!
Mihaela
2016-08-08T00:00:00Z
To start with, we had difficulties to find the location. The host wasn't able to give us the gps coordinates of the location, (I asked for the coordinates in my mail! )and not even the right name of the highway exit ! Second major inconvenient was the lack of Wi-fi at the location. Third inconvenient: all tv channels were in bulgarian . Otherwise the appartment was very nice, clean and well provided. Beach and sea were fabulous!
mihaela
2016-07-06T00:00:00Z
Denitsa is really very nice host. The apartment was exactly the same as in the pictures shown in airbnb.com. The location of the apartment is great, just 5 minutes to the beach and to the tavernas. The apartment has a really nice terrace we really love staying outside during the evenings. For Bulgarian guests, there are a lot of Bulgarian TV channels. We really love our stay in the apartment and definetely we will come back! :) Thank you very much again for the nice apartment, we really enjoy our holiday !!!
Silviya
2016-09-03T00:00:00Z
The flat was lovely and modern! Beautiful decor and an absolutely perfect location.
Lesley
2014-06-13T00:00:00Z
The apartment is great! We felt like at home with all the comfort and utilities like a washing machine, fully operational kitchen and great terrace. The apartment is cool even in the hottest days and we never turned on the air condition! Nearby we had everything we need - good restaurants and bars, the beach is really cool, and there is big supermarket 5 min walking plus great fish shop with fresh fish every day. If you look for a place to relax at the sea with great comfort - that's you place. Denitsa itself is really cool and helpful making our stay a pleasure. С две думи - апартамента е супер удобен, просторен и уреден. Има много удобства в близост, а плажа е наистина готин и пясъчен. Има и хубави кафенета и ресторанчета. Много тихо и приятно, подходящо за хора с малки деца. Има българска телевизия, което е плюс при по-дълъг престой. Деница е насреща по всяко време - в нашия случай през мейл;) Искрено я поздравявам за страхотното отношение.
Boris
2014-07-06T00:00:00Z
It was better than we expected. The flat is directly located on the beach, it is beautiful and in new condition, it has climate and a lot of space. We strongly recommend this offer.
Markus
2016-08-05T00:00:00Z
Nice and big app.
Alexander
2016-09-12T00:00:00Z
Room Type
Entire home/apt
---
Property Type
Flat
---
Accommodates
6
---
Bedrooms
Ofrinio Beach, Kavala , Makedonia, Greece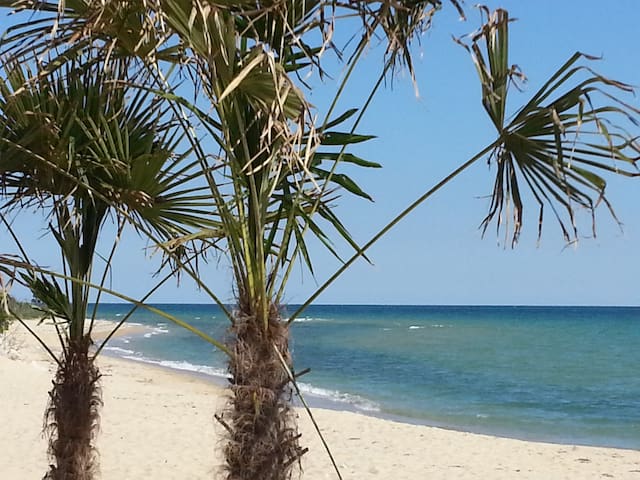 ΣΕ ΚΕΝΤΡΙΚΟ ΣΗΜΕΙΟ ΤΗΣ ΠΑΡΑΛΙΑΚΗΣ ΖΩΝΗΣ ΜΕΜΙΚΡΗ ΑΠΟΣΤΑΣΗ ΑΠΟΣΤΑΣΗ ΑΠΟ ΤΗΝ ΘΑΛΑΣΣΑ
Room Type
Entire home/apt
---
Property Type
Flat
---
Accommodates
3
---
Bedrooms
Παραλία Οφρυνίου, Greece
My space is suitable for couples, activities for an individual and families (with children).
Wonderful place and very kind people. The house is awesome, very clean and really close to the beach. There are all you need inside and beautiful balcony.
Marina
2016-08-17T00:00:00Z
The apartment was quite great and spacious. Even the host were nice and friendly people. They were in contact to ask us if we need anything. There's a wonderful balcony and sea is also close by. You can easily walk and enjoy the beautiful sea. Apart from that, rooms were cozy and wonderful. In conclusion, you can spend your vacation at this apartment.
Ankit
2016-09-14T00:00:00Z
Wonderful vacation! Nice home, helpful hosts, sorry that I have no more time, and I could not stay longer there.
Доротея
2016-09-25T00:00:00Z
The listing description is accurate, Aleksandros is very kind and hospitable. The location is perfect - quite and near by the sea.
Антония
2016-09-06T00:00:00Z
Apartamentul, situat la etajul superior, are o terasă uriasă. În bucătărie există strictul necesar pentru gătit și un frigider mare cu congelator ce este foarte util. Apartamentul este curat. În interior este un spatiu comun utilat cu facilități de bucătărie, o baie și două dormitoare. Separat, cu acces de pe terasă mai există o cameră cu pat pentru o persoană. Rudele proprietarului, ce locuiesc la parter sunt foarte prietenoase și liniștite. Apartamentul este total independent de cel de jos, impărțind doar o mică curte de acces. La sosire am fost intâmpinați de mama lui Aleksandros, ce este o persoană agreabilă, făcându-ne să ne simțim ca acasă. Noi am fost primii lor oaspeți. Si pentru noi a fost prima dată când am calatorit rezervând cazarea pe Airbnb. Ne-am bucurat că ne-am petrecut 10 nopți acolo, la un pret foarte mic. Apartamentul dar și plaja sunt ideale pentru familii sau familii cu copii. Noi am fost cu părinții soției ce au fost mulțumiți de vacanța de lângă Asprovalta. Plaja este la 5 minute de mers pe jos, dar se poate folosi și autoturismul, existând suficiente locuri de parcare gratuite, oricând, atât lângă plajă dar și la apartament. La plaja cea mai apropiată se pot folosi umbrelele și șezlongurile gratuit, consumând. Dacă doriți să stați mai retras, în liniște, plaja este foarte lungă, putând să folosiți umbrelele voastre. La 2 minute distanță găsiți un magazin alimentar, dar dacă aveți autoturism, vă puteți aproviziona și de la magazine mare ca Lidl și Super Discount. Ele sunt situate intre Asprovalta și Paralia Vresna. Dacă doriți internet puteți cumpăra o cartelă sim de la Vodafone (în centrul Asoprovaltei). Asprovalta este la 3,5 km distanță. Acolo găsiți multe taverne și magazine. Coordonatele gps ale apartamentului sunt: (PHONE NUMBER HIDDEN) Mulțumim Aleksandros!
Cristi
2016-07-27T00:00:00Z
Room Type
Entire home/apt
---
Property Type
Flat
---
Accommodates
5
---
Bedrooms
Asprovalta, Greece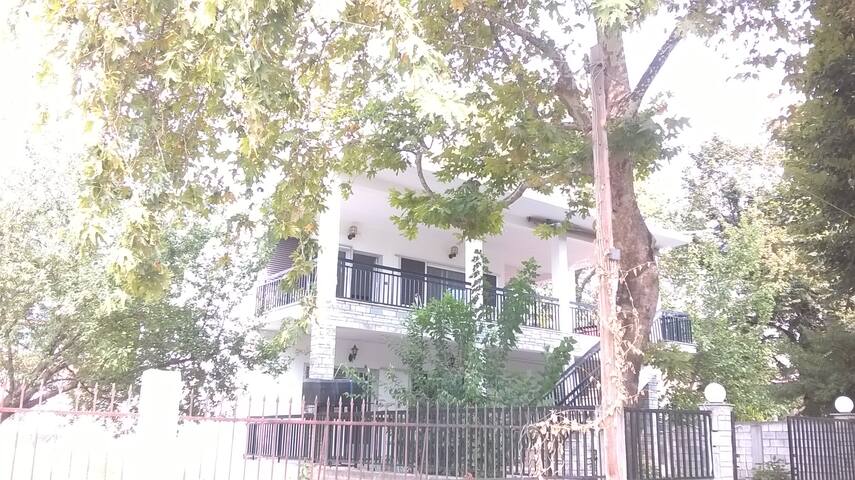 Modern first floor apartment in a two floor house with independent entrance, 3 minutes from sea. Beautiful garden full of trees, flowers and herbs, spacious bedroom and living-room, fully equipped kitchen, bathroom, sea-view, big balcony and terrace, free parking, additional outdoor shower, sleep up to 6.
Spacious terrace with a view of the sea and the village.
5 minute walk from the center of Asprovalta, easy access to super-markets, banks, shops, beach bars, tavernas.
At Dimitra`s flat we spent a lovely and wonderful holiday and we confirm the hospitality of our hosts. The description of the apartment is exactly how it looked like and Dimitra was beyong our expectation! The flat is very clean, modern, very well equipped and located near the centre of Asprovalta and with a beautiful view to the sea. Thank you for your attention and for your help! Irina and Dragos Stefan
stefan
2016-08-29T00:00:00Z
Hosts were wonderful- there to welcome us upon arrival, showed us the place, made recommendations for local eateries, and even had some local food in the apartment! They live in the downstairs area of the place and were available whenever we needed them! The listing is better than advertised- nearly beach-front, and right on the edge of a nice little beachside shopping/eating area. The area felt very safe and welcoming! Excellent place- wished we could have stayed longer. Recommended without reservations!
Josh
2015-07-26T00:00:00Z
We had an amazing stay in this amazing place. Very welcoming hosts. They really made sure we have everything we need for our vacation. If given the chance, we would definitely stay in this lovely apartment again.
Ivelin
2015-09-23T00:00:00Z
Dimitra made us feel like we were visiting relatives. When we arrived we were welcomed with drinks and food that you'd not expect to find in a rented apartment. Dimitra was very responsive all the time and helped us to get everything we needed. The apartment itself was arranged very cosy. The space was more than enough for 3 adults and 2 children. And of course the hit was the big terrace with a great sea view. The location was more than perfect for us. The house is located on the sea road, no more than 100 meters from the beach. The town center is within 5 minutes walk.
Stanimir
2016-09-14T00:00:00Z
We were charmed by the warm welcome and hospitality of Dimitra and her husband. We had a very pleasant stay in a cozy house. We would come back again. Thanks a lot!
Mariela
2015-09-11T00:00:00Z
exceptional ... a house with charm and with great functional space ... a large terrace facing the sea just 150m ... a very well decorated and well equipped house ... The house is located near the center quiet, many restaurant nearby. a lovely couple, very welcoming and helpful in a family spirit ... We loved, we return next year ... I recommend. We also saw dolphins near the beaches ...
Darko
2015-08-17T00:00:00Z
Wanderfull contact, perfect vacation! We loved it! Thank you Dimitra and Damianos! We hope we can come again :)
Ana
2016-07-30T00:00:00Z
Great location, cosy and elegant environment, welcoming host! We abandoned all planes for dining out as soon as we saw the great terrasse facing the sea! Could not wish for something better, we would definitely visit again. Thank you, Dimitra!
Maria
2016-06-25T00:00:00Z
Room Type
Entire home/apt
---
Property Type
Flat
---
Accommodates
6
---
Bedrooms
Aspróvalta, Asprovalta, Greece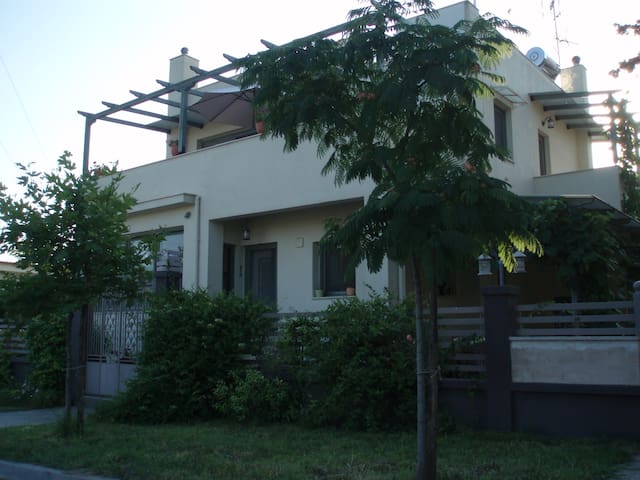 Ο χώρος μου είναι κατάλληλος για ζευγάρια, δραστηριότητες για ένα άτομο και οικογένειες (με παιδιά).
Room Type
Entire home/apt
---
Property Type
Flat
---
Accommodates
5
---
Bedrooms
Kavala, Makedonia Thraki, Greece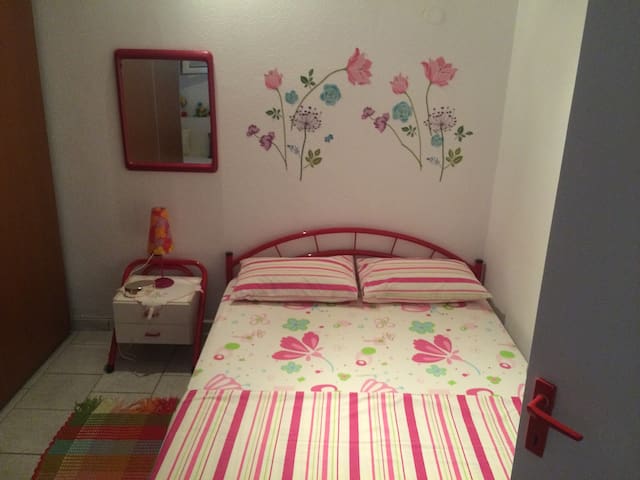 My place is near 250m from blue-flag awarded sandy beaches with a length of 15km !. My space is suitable for couples, families (with children), large groups and pets.
Big garden and balcony, comfortable rooms, fully equipped, nice decor and 250m to Blue-flag awarded sandy beaches totalling 15km in length, so never too crowded.
Short walk to 15km of sandy beaches, better than the overpriced Halkidiki resorts...
Room Type
Entire home/apt
---
Property Type
Flat
---
Accommodates
6
---
Bedrooms
Asprovalta, Makedonia Thraki, Greece
Apartment for rent in Asprovalta 50 meters from the sea, located in the heart of the city.
The apartment has four beds (also there is an extra bed).The apartment is equipped kitchen where you can cook. It offers air conditioning, television, refrigerator, electric stove.
Nearby are plenty of shops, cafes and restaurants.
The apartment is close to the beach (2 min. walk), but also close to a loud restaurant and a meeting point for young people, on a very busy street. The kitchen is well equipped, there were lots of clean towels, we even found a parasol and a beach mat, but the apartment is not for 4 adult people since the bedroom is not separated from the living room/kitchen (where the other bed is) with a door- it`s practically one big area. The biggest problem is the toilet/bathroom- there is no ventilation, it`s always wet and airless inside, you have to leave the door open (directly towards the kitchen) to ventilate. All in all, it`s OK for a young couple, for a few days, and the price is fair (not too cheap, but fair).
Elvira
2015-08-10T00:00:00Z
He apartment was nice but simple. It was really near to the beach. From the balkon you can see the see. We had a bit of struggle to get in to the flat and in stead of 4 pm we first got the key at 8 pm. But this was because of Kostas had a car accident. In the end it all worked and everything was fine. We did not see Kostas. His friend helped us and they were very nice and polite. The street was very loud At the nighttime . So we had to close the windows but there was aircon so it was okay.
Teresa
2015-08-05T00:00:00Z
The host canceled this reservation 70 days before arrival. This is an automated posting.
Vaidas
2016-05-27T00:00:00Z
Good studio /two rooms/ in the center of village. The studio was clean. Highly recommended
Ivan
2015-08-03T00:00:00Z
Хорошая квартира, полностью соответствующая описанию и фотографиям. Пешком до пляжа около 1-2 минут. Единственный небольшой минус - может быть немного шумно вечером, так как вокруг много кафе. В остальном моей семье все понравилось.
Alexey
2016-07-29T00:00:00Z
Room Type
Entire home/apt
---
Property Type
Flat
---
Accommodates
4
---
Bedrooms
Ασπροβάλτα , Θεσσαλονίκης, Greece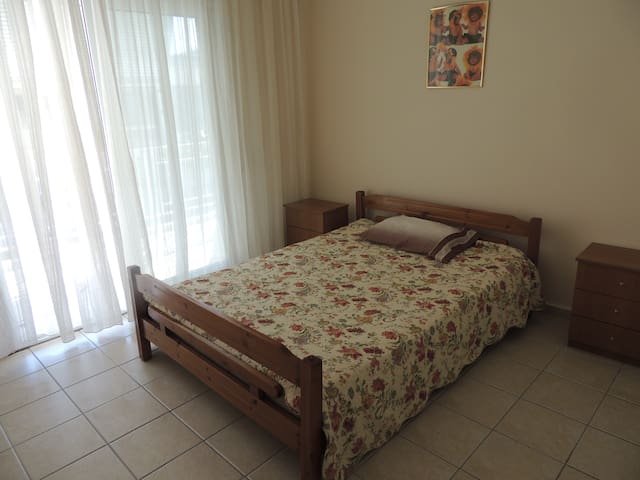 House of Artemis has 5 studios with bedroom, living room, kitchen and individual bathroom for 2-3 people each. 10 minutes walk from center and blue flagged beach with mountain view. Also has a BBQ, garden, parking. Ideal for families and couples.
House of Artemis is a complex of 5 individual apartments located nearby the center of Asprovalta in Greece. Asprovalta is a beautiful place with numerous opportunities for both sea and mountain activities. The apartments have a bedroom, living room, kitchen and individual bathroom.
Nice mountain view Free parking Peaceful neighborhoud
Kiriaki's house is a good place to have your holiday by the seaside. As a host, she was very friendly and kind. She has prepared us the big appartment on the ground floor, which turned to be very spacy, equipped with everything you need. The garden outside is a nice place to have a drink with your friends after a long day on the beach, even if it rains there is a cosy shelter, so- no worries :) A quite beach, appropriate for families, is located 900 m away from the house /10 min by walk/. In the village there is everything you need like good restaurants, bars, coffee shops, gelateria places, and lots of shops. I would definitely recommend the place, if you're looking for a nice family house close to the seaside, and looking for good money-value rating!
Dimitar
2016-07-04T00:00:00Z
Host must be describe location well. Coz we couldnt find it easily. But host and house was soo sweety especially garden. This sweety house is a little bit far from beach and center. More recommandation is to host from me, they should give more towels and freshing air in house. There is a little bit smell of humidity.
Talha
2016-07-11T00:00:00Z
Room Type
Entire home/apt
---
Property Type
Flat
---
Accommodates
6
---
Bedrooms
Asprovalta, Greece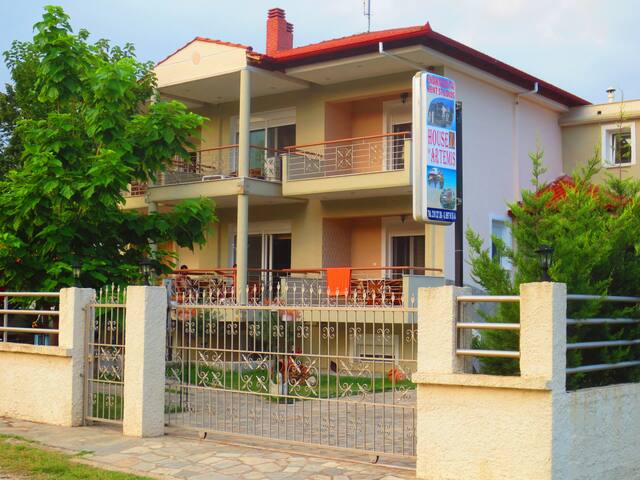 Apartment has a terrace and is situated in the third floor of a building in front of the sea \50m. from the beach\, top center of the town. Many restaurants, bars and stores nearby. Can be rented separately or together with the small one "The Fountains of Asptorvalta small". Ten persons in the two of them. The apartments are situated next to each other and has joinable terrace.
Two separate apartments with kitchen and bathroom/toilet each. The bigger one has tree bedrooms - two with a double bed and one with a two single beds. Apartments has a jointable terrace and are situated in the third floor of a building in front of the sea \50m. from the beach\, top center of the town. Many restaurants, bars and stores nearby. Rented separately or together.
The host canceled this reservation 14 days before arrival. This is an automated posting.
AS Tkd
2016-05-06T00:00:00Z
It was everithing like on description, Peter and his vife are very friendli people. I recomand this apartmants.
Istvan
2016-08-26T00:00:00Z
Asprovalta is a nice place with a very beautiful coast. The apartment is located right in the center which is very convenient. The building is on the first line of the sea, windows overlook the courtyard with a view to the beautiful church and the mountains, the balcony is a bit tight. During our stay wi-fi was connected only with laptop, can't used it with mobile device. There were no problems with parking. Peter was really friendly, even helped with a special request ( iron). Better to ask about things you might need in advance, when we arrived there were no bathroom towels, but the problem was quickly solved. Thank you Peter!
Elena
2017-03-18T00:00:00Z
Room Type
Entire home/apt
---
Property Type
Flat
---
Accommodates
6
---
Bedrooms
Asprovalta, Makedonia Thraki, Greece
ASPROVALTA: Holiday apartment for 4 persons located in the center of Asprovalta, +/- 150 meters from the beaches. Asprovalta is located 97 km (59 min. Drive) from Thessaloniki International Airport and 30 km from the Royal Tomb of Amphipolis ...
The apartment is on the 1st floor of a quiet building (1970's) and including a bedroom, living room, a kitchen, a shower room, a corridor and two terraces. With air conditioning. The apartment is clean and well maintained but the facilities date from the 1970s! Ideally located in a quiet side street, you are 5 minutes walk from the center. Beach, shops, pubs and restaurants all nearby. Everything can be done by foot! Sleeps: - Bedroom : 1 double bed for 2 people - Lounge : 2 sofa beds for 2 people Bed linen and towels are provided with housing.
The Host was friendly , apartment matches the photos, it is not high above ground so its easy to pack yourself in a car , close to the beach (apx. 3, 4 mins by foot) and comfy beds.
Sladjana
2016-07-31T00:00:00Z
My experience with the vacation was amazing. Apartment was clean and nice, better then we expected. We have met with the host at the beach and got useful advises from her, which helped us to our stay become smooth and pleasant. Definitely we are planning to visit the same place next year and we'll give the recommendation to our friends.
Dragana
2015-08-23T00:00:00Z
In her house There are all higienic things that we need‼️
Mirjana
2016-09-14T00:00:00Z
Room Type
Entire home/apt
---
Property Type
Flat
---
Accommodates
4
---
Bedrooms
Aspróvalta, Greece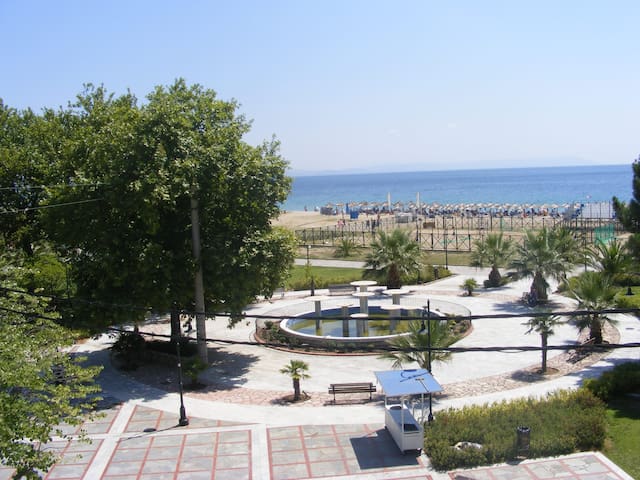 My room is close to parks, great views, city center and art and culture. Reasons that my room will like: the environment, exterior, neighborhood, comfortable bed and light. My space is suitable for couples, activities for an individual, business travelers and families (with children).
amazing place...with even more welcoming owner and host...felt like at home...peacfull and quiet area around the house provides proper rest...definetelly my suggestion to ones thinking about visiting Asprovalta...
Milos
2016-08-27T00:00:00Z
Wonderful appartment owned by lovely hosts! Kalliopi and her mother are great guests! They answered very quickly to our booking request and the communication channel was always open. The appartment is cozy, clean and has a nice garden outside. It is located in a very quiet district of the village about 500 m from the beach and the main attractions. I highly recommand it ! Kalliopi speaks Greek, English and German and she is just too kind and too lovely! Many thanks for having welcome us in your house in Asprovalta! Na eiste kala!
Perron
2016-09-04T00:00:00Z
Kalliopi is amazing person. She made us feel like we were at home...she even help us find another place to stay for few more nights because she didnt have more free nights. It hard to find person like Kalliopi this days. I recommend her apartments to everyone. They are really nice and big. I hope i will come here again next year.
Dejan
2016-08-02T00:00:00Z
Kalliopi is an amazing host! She is very friendly, easy to communicate with, and a great example of Greek hospitality. We got lost trying to find the place, but she came to pick us up and show us the way. The apartment is very spacious and clean, and equipped with everything you might need. It's a pity we only stayed 3 nights so we didn't have time to make better use of the garden that looks like a great chill out zone. Location of the house is very good, it is just 5 minutes away form the beach. It's in a very calm and quiet neighborhood which makes it perfect place to rest, but it's also very close to bars and restaurants area, 10-15 minutes of walk. If you are planning to visit Asprovalta, Kalliopi's place is the one you should rent!
Ana
2016-08-21T00:00:00Z
Room Type
Entire home/apt
---
Property Type
Flat
---
Accommodates
4
---
Bedrooms
Asprovalta, Makedonia Thraki, Greece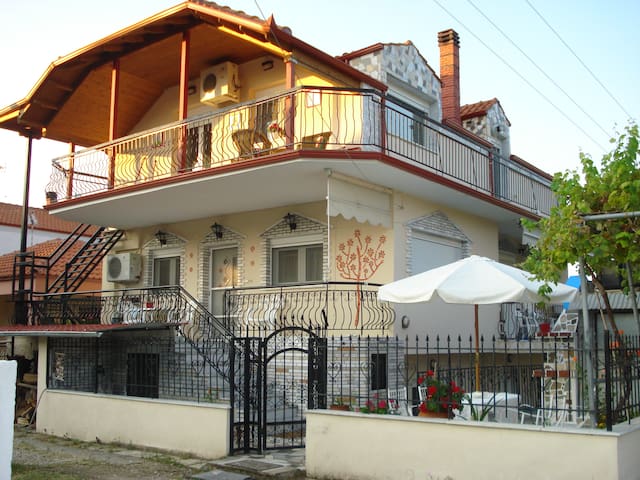 Vrasna Cove is a complex of 5 apartments located in the quaint Greek village of Nea Vrasna, where you will find gorgeous mountain views and crystalline beaches. Our apartments accommodate 4 people each and are within walking distance of grocery and shops. Great for families and couples alike!
We are very close to the most beautiful crystal blue sea. We have an airy and open space for your stay and can accommodate 4 people in each apartment. There is free parking. A convenient kitchen with a table and 4 chairs, a full refrigerator and a range to make coffees. The living room offers a flat screen TV. The bathroom has a full shower, a sink and a toilet. In addition, our apartments have a veranda with gorgeous mountain and garden views, so you can drink morning coffee or play backgammon with beverages. We also offer free WI-FI.
Everything is conveniently located close by! We have 3 grocery stores within 2 minutes walking distance. The sea and seaside shops are just 4 blocks away. There are bakeries, butchers, pharmacies, and restaurants all within walking distance.
Visited Maria's apartment this week on a trip around Greece. Great value for money, exactly what we wanted when by the sea. Clean, simple and balcony that gets sunshine from morning til night. A fantastic option if you are staying in the area. Thanks Maria!
Delilah
2016-09-23T00:00:00Z
Maria is a great host. The house was extremly clean. There is a huge well maintained garden. The house was close to the beach and to the restaurants- 5 min walking. Everything was great during our stay.
Stela
2016-07-31T00:00:00Z
Very friendly people, big beautiful garden, clean roomy apartment with a neat balcony close to the beach and shopping possibilities. The pebbles on the beach are like treasures and the see is clear& turquoise coloured. No wonder, there were lots of tourists around. We enjoyed our stay!
Pika
2016-08-10T00:00:00Z
Very nice place, very hospitable host. I recommend it.
Ivan
2016-07-30T00:00:00Z
We were very warmly welcomed and our stay at Maria's apartment was very enjoyable :) Maria is a very friendly host and can help you with everything you might need. The place is amazing, the garden is even more beautiful when you see it with your own eyes ;) Our vacation was perfect and I recommend this place with both hands!
Konstantin
2016-08-18T00:00:00Z
Maria was a really great host! She did everything to make us saticefied! We arrived and she showed us everything. The garden and balcony was great to chill. The sea was just 5 minutes to walk. Very nice and relaxing area!
David
2016-10-09T00:00:00Z
Vrasna Cove was more than the usual nice, clean and friendly accommodation. It is located just across the street of a big supermarket so realizing you are out of beer just before the lunch :) is not a hustle. The extra touch was the garden. Being able to have a quiet outdoor mealtime on a small roofed platform under the olive trees was just incredible. Thank You Maria! :)
Aleksandar
2016-09-05T00:00:00Z
Maria and her family were very welcoming and nice. The apartment was clean, there are two supermarkets only 1min away, the beach is in 5min walking distance. I recommend it!
Alexandra
2016-08-13T00:00:00Z
Room Type
Entire home/apt
---
Property Type
Flat
---
Accommodates
4
---
Bedrooms
Nea Vrasna, Thessaloniki, Greece
Very convenient apartment in the center of the village and just 200 meters from the sea. Ideal location for bathrooms and evening walks. It has 3 bedrooms, a large living room and surrounding balconies around. It is very bright and spacious
Everythings was very well
esat
2016-08-25T00:00:00Z
My family (6) needed a place to stay for only one night, so it was great to have Eleni accept guests for such a short period. Eleni's mother Sophia was there to greet us and was very helpful during our short stay. The apartment is located in a rather central region of the city, with a great bakery and shops all-around. It was easy to park our car. The only challenge we had was the very warm night. The apartment has an airco in the living room but not in the bedrooms.
Marko
2016-08-04T00:00:00Z
The host canceled this reservation the day before arrival. This is an automated posting.
Kaloyan
2016-09-15T00:00:00Z
Large comfortable apartment in centar with a lot of noise, crowds and bikers. Very friendly hosts. The well-equipped kitchen. Beach nearby.
Ljubica
2016-08-17T00:00:00Z
I am glad I found this apartment. Wonderful and spacious apartment near the beach and main street with many shops. Me and my family had all the amenities needed for a relaxing holiday. Eleni is an incredible polite and accurate, immediately answer. A mother and Sofia is a truly wonderful host. We even went home with a gift and will definitely be back. Thanks Eleni and Sofia!
Румяна
2016-09-07T00:00:00Z
Eleni and Sofia were great hosts, very friendly, helpful. Apartment was exactly as described, clean, spacious, near beach and perfect location.
Lusi
2016-07-28T00:00:00Z
Great place. Eleni and Sofia was very kind.
Tsvetko
2016-07-17T00:00:00Z
Η επικοινωνία μου με την Ελένη ήταν εξαιρετική από την πρώτη στιγμή!! Εξαιρετικα βοηθητική και έτοιμη να μας βοηθήςει η μητέρα της η κ. Σοφία που ήταν διαθεςιμη και εξαιρετικα ευγενική. Το σπίτι πεντακάθαρο και άνετο σε κεντρικό σημείο. Το συνιςτώ ανεπιφύλακτα!!
Stavros
2016-08-02T00:00:00Z
Room Type
Entire home/apt
---
Property Type
Flat
---
Accommodates
6
---
Bedrooms
Thessaloniki, Greece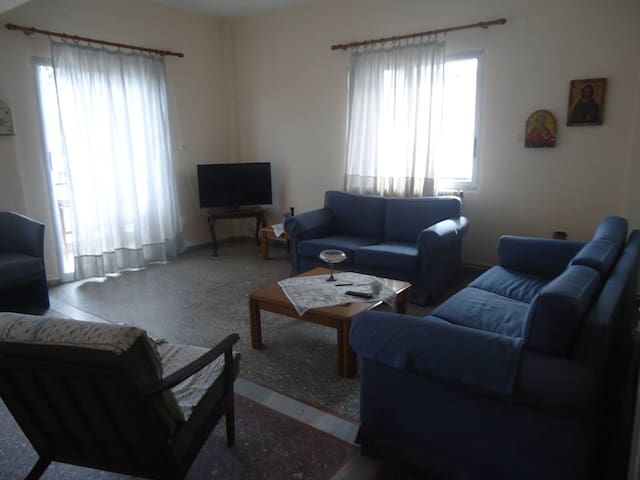 This property is 1 minute walk from the beach. Just 30 m from the sea and 500 m from the centre of Asprovalta, Amaryllis Studios offers self-catering accommodation with free WiFi access and views over Strymonikos Bay. The air-conditioned studios and apartments at Amaryllis are decorated in light colours and open out to private balconies. They come with a kitchenette, TV, and they all have an en suite bathroom with shower.
Room Type
Entire home/apt
---
Property Type
Flat
---
Accommodates
2
---
Bedrooms
Asprovalta, Makedonia Thraki, Greece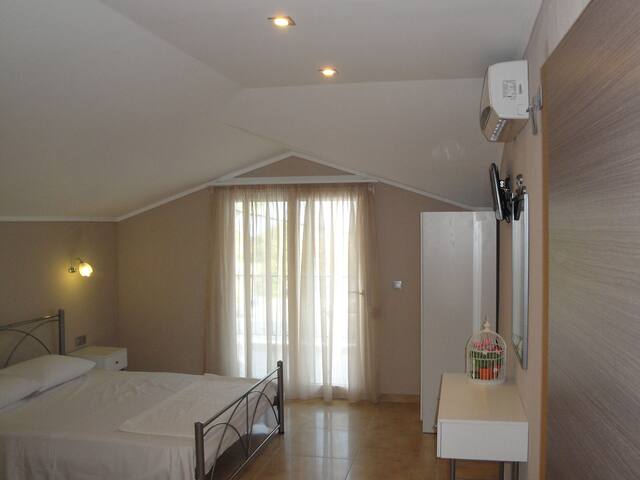 Ofrinio - Airbnb
:
Average

4.51

out of

5

stars from

85

guest reviews
1

–

18

of

48 Flat Rentals
Enter dates to see full pricing. Additional fees apply. Taxes may be added.