Room in a quiet area of Barcelona, 6 minutes walking from the house to the metro and about 12 minutes from the metro to the house, because I am on a beautiful hill. Cozy atmosphere, ideal for rest and to disconnect after a great day sightseeing in the city. This accommodation is perfect for people who like trekking because it has many places to walk and exercise.
140 m2 distributed on 2 floors with 3 bedrooms, 3 bathrooms, a living room, a Mediterranean style kitchen and a terrace to share and enjoy fantastic views with the sun characteristic of the Mediterranean area. This room consists of windows on both sides all exterior, cozy and equipped with heating, air conditioning, refrigerator, large wardrobe, parket, double bed and study table. The room is on the top floor of the house and has a lock; Consists of a bathroom of 11 m2 with shower and jacuzzi (to use in moderation, look for the rules section for more information). You will have bed linen, towels and WiFi.
The neighborhood is a very quiet and reliable area with very good communications to the city center. Also the house is 10 minutes from the Mirador de Torre de Baró where the whole city of Barcelona is exposed. In the Mirador there is a very nice restaurant with terraces and dining room overlooking the city. Also close to my house are other restaurants of good price and quality. The room is in an enviable environment housed within the Collserola park ideal for trekking, mountain walks admiring the landscape or for those seeking tranquility in Barcelona. Located 15 minutes from the center of Barcelona, and just a few minutes walk from the metro, train and bus. Since the house is in a mountainous environment, it makes it an ideal home to disconnect from the stress that our daily life produces
I recommend Juan' s house to all people, as this was our best experience to stay at the bnb! The house is perfect!!!! Very tidy, clean, cosy, quite!!!! I was very much impressed by the attitude of Juan to customers! He is so thoughtful,he very much cares about his guests! Everything was high-end. I will give 5 star recommendation to all, you will not regret at all i guarantee!
Assel
2015-12-17T00:00:00Z
Our stay at Juan's casa was very comfortable, with everything clean and neat, and the opportunity to use the jaccuzy whenever we felt like it in the massive bathroom. Having the top floor of his house was very private and the terrace was perfect for chilling out and enjoying the mountain view. Juan was an exceptional host in ensuring our comfort and that we had what was needed. He was happy to support us with public transport queries and things relevant to our stay. Thank you Juan
Shannon
2014-05-16T00:00:00Z
No hesitation in recommending Juan's hospitality provided you don't mind being a bit out of the city and having a 10-15 minute uphill walk at the end of the metro line. About 40 minutes from leaving your room will get you to the centre of the city which for us was well worth it for a peaceful location with a fantastic view from the terrace right outside the room. Juan was an excellent and helpful host, notwithstanding the language barrier between us.
Giles
2017-03-03T00:00:00Z
Juan is an extremely smiling and helpfull host and did his very best to make our stay as pleasant as possible. We absolutely recommend this place to people who, like ourselves, enjoy peaceful and beautiful surrondings - which is just what you will find at Juans place. And still it only takes short time to get to the centre of Barcelona, making it possible to mix our own cocktail of both peaceful relaxation and city atmosphere.
Kamilla
2015-07-25T00:00:00Z
Definitely one of my best stays at any AirBnB, and great that it was my first time being in Spain! Juan was an amazing host, attentive, and informative! And despite the language barrier, we still found ways to communicate ((SENSITIVE CONTENTS HIDDEN) translate came handy at times). The place is just as shown but much better! The view is amazing and the pictures don't do enough justice at all! Do be aware though that there is a bit of a walk uphill from the metro station to Juan's home but for where you are staying, away from the hustle and bustle of things, it's a great getaway! You will not be disappointed!
Sylvester
2016-09-23T00:00:00Z
Juan was an absolutely fantastic host during our 3 days. When we first arrived he greeted us with a very welcoming smile, helped us with all of our bags, offered us some cold drinks, and showed us places in the area to visit. His hospitality was friendly, genuine and always went out of his way to make sure that we were as comfortable as possible, offering us some coffee & breakfast in the morning. The room was on the upper level with our own private large bathroom, and the view from the patio was absolutely stunning. The place is a little out of the city, so you definitely need a car, but the of street parking was fantastic. Communication was a little difficult as my girlfriend and I don't speak much Spanish, however we (SENSITIVE CONTENTS HIDDEN) translated a lot and with Juan's homely charm we always felt welcome and is the main reason we really enjoyed our stay. Thank you Juan, we had a fantastic stay!!!
Steven
2015-07-29T00:00:00Z
If you want to combine leisure, walks in the wonderful city of Barcelona and the most beautiful places and wake up to the birds singing, it is highly recommend that you stay with Juan, a beautiful, huge bathroom with whirlpool will help you relax after a busy day! Breakfast on the big terrace with great views of the surrounding hills! Joan was very accommodating and punctual when he met us! + cute bonus - drop us back to the subway, when we were leaving. Language barrier is easily traversed, more complex things helps solve (SENSITIVE CONTENTS HIDDEN) transliteration ..) ..orange fresh )
Denis
2014-05-24T00:00:00Z
Juan was a fabulous host! He picked us up at the bus station and helped us with lots of things to do around town. Plus showed us where to go hiking from the house. We used a translator and it worked just fine. He was wonderful also because he made us fresh orange juice as soon as we arrived and cooked us a great supper! The house is as it looks in the photos - just beautiful.
Elizabeth
2014-10-26T00:00:00Z
Room Type
Private room
---
Property Type
House
---
Accommodates
2
---
Bedrooms
Barcelona, Catalonia, Spain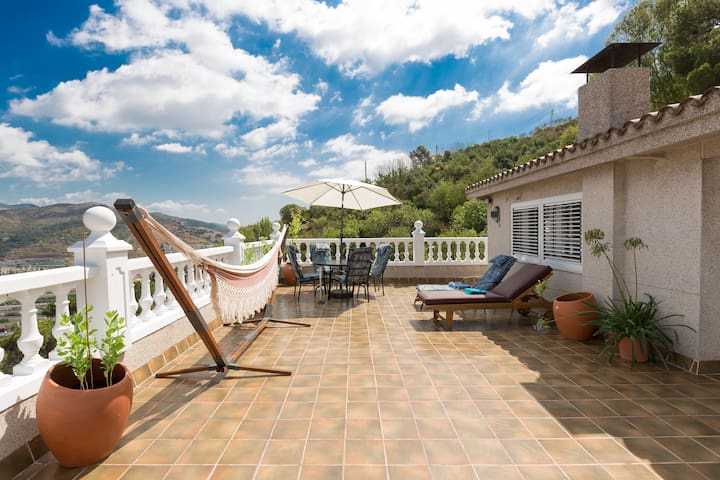 Habitación Privada en Ático con Vistas, Ubicada en Nou Barris, Barcelona, Localización cómoda Parada de metro Virrei Amat L5 a menos de 3 minutos caminando, Misma Línea de metro para ir a la Sagrada Familia, Camp Nou, La Pedrera y Casa Batlló.
Habitacion Privada en piso compartido. Ático Luminoso con gran terraza a nivel, muy tranquilo. A 3 minutos del metro y autobús, al lado de zona comercial. Wifi fibra óptica 300 megas, aire acondicionado centralizado frío/calor, cocina, máquina de café, microondas. Habitación exterior con cama doble (135x200), armario de 2 puertas con cajones, zapatero y perchas para colocar la ropa, mesa escritorio. Piso totalmente reformado. A tan solo 15 minutos del centro de Barcelona. Te esperamos !!!
Muy tranquilo, ideal para descansar por las noches. Durante el día cobra vida con una amplia oferta comercial y gastronómica situada a unos 65 metros. A 15 minutos encontramos el Centro comercial Herón City y el Corte Inglés. Numerosas plazas con fuentes y avenidas de amplias aceras, parque urbano a 10 minutos con fantásticas vistas de Barcelona.
Super clean, perfect host, super recommended
Hyorim
2016-08-12T00:00:00Z
Jonathan and Jordi were excellent and welcoming hosts, embodying the mantra of AirBnB hosting. They made us feel right at home from the very beginning, and ensured that our stay in Barcelona was a special one. Their apartment, and the guest bedroom we stayed in, was impeccably clean and well organized. All the major - and minor! - amenities were included in our stay. Jonathan and Jordi combine the best parts of Airbnb and a hotel. They went out of their way to help us with recommendations, including walking us to their neighborhood's late-night tapas spot, and permitted us to leave our luggage on the day we checked out. The apartment is just next to Line #5 on the metro, which connects you to major sightseeing destinations as well as the downtown area. We would highly recommend Jonathan and Jordi's apartment! We will be returning when we come back to Barcelona!
Martha
2015-11-22T00:00:00Z
Excellent hosts!! Nice and friendly people, always willing to help their guests. Place is cozy and clean. I have only recommendations for this place and people.
Zdenka
2016-08-28T00:00:00Z
My boyfriend and I stayed for 3 days and upon arrival we were amazed with how clean the apartment is! Everything is exactly as pictured and we were given chocolate with water as well as towels on first day. Every morning Jordi would set up the balcony and we would have tea or coffee over morning conversations. Jordi and Jonathan were very still very nice and accommodating to our needs. Though they only spoke Spanish, they would still try to talk to me and I felt that was a kind gesture. My boyfriend spoke Spanish and he would translate for me as well. Jordi went beyond and even toured us around Barcelona to all the must-see architectural buildings and neighborhoods. It was such an amazing experience. Jordi was also very knowledgable about all the history and architects for many buildings. The location is also very close to the metro so getting around the city was very convenient and easy. There are many restaurants and stores in walkable distances from the apartment too. Overall, we enjoyed our stay tremendously and our experience in Barcelona would not have been so lovely without Jordi and Jonathan. Thank you for allowing us to stay at your beautiful and cozy home.
Julia
2016-07-28T00:00:00Z
Jonathan & Jordi is an amazing couple. Their room is cozy, beautiful, and especially clean. They also have a wonderful terrace where we had breakfast every morning with the coffee which Jordi made. Jordi gave us lots of advice how to explore Barcelona as well as recommendations of great restaurant in the neighborhood and downtown. Definitely recommend!
Ninh
2016-05-14T00:00:00Z
Jonathan and Jordi were fantastic hosts. They were very kind and helpful. I would recommend their apartment to anybody.
Adam
2016-06-06T00:00:00Z
Jonathan&Jordi are great hosts. Would recommend they to anyone! They are very flexible with their times. Our flight got delayed and arrive at the house almost 12pm but they still wait for us and prepare everything. They are very nice and easy going as well. They make us delicious coffee everyday. They also gave us lots of useful advice for visit the city. Their apartment is very spacious and super clean. Their shower was the best. Everything is kept clean and tidy. The apartment is nicely decorated with morgen design. The guest room is very warm and super clean and Tory as well. The Terrence was the best and the biggest. Location wise, it is located at the heart of the city. Not too far to all the places of visit but in a relatively quiet place with nice restaurant near by. It has been a nice and wonderful. Really enjoy the stay. Thanks and hope the best for Jonathan&Jordi.
Kris
2016-07-07T00:00:00Z
Jonathan and Jordi have been great hosts, right from even before I landed in bcn. Jordi sent me location along with a photo of his apartment gate, to avoid any miss. The apartment itself is just as described, maybe even better in reality with easy access to most parts of the city. I had an early morning departure, n Jordi was awake to help me with coffee n to wish goodbye. Whether travelling single or as a couple, I would not hesitate to recommend Jonathan and Jordi's apartment to stay in bcn.
Mahesh
2016-03-08T00:00:00Z
Room Type
Private room
---
Property Type
Bed & Breakfast
---
Accommodates
2
---
Bedrooms
Barcelona, Catalunya, Spain
ROOM WITHOUT PRIVATE VERY QUIET NEIGHBORHOOD TOURISM, BUT GOOD NEWS, WITH METRO TO BE HOLY FAMILY CENTER AND BEACH. BUS, ALL KINDS OF SERVICES. BATHROOM FLOOR JUST REFORMED. ROOMS sleeps up 3.People LES personally attends JOSEP
THE ROOM IS PROVIDED WITH CLEAN SHEETS AND TOWELS FOR CUSTOMERS FOR STAYS OF MORE THAN ONE WEEK, cleaned, changed, sheets and towels DELIVER EVERY WEEK.
EL BARRIO ESTA ALEJADO DEL CENTRO, POR LO QUE POR LA NOCHE ES MUY TRANQUILO Y ACOGEDOR. AUNQUE DE DIA TAMBIEN ES TRANQUILO. TIENEN TODOS LOS SERVICIOS Y ESTA MUY BIEN COMUNICADO CON EL CENTRO DE BARCELONA Y LA PLAYA EL BARRIO A DONDE VIENEN A HOSPEDARSE, ES UN BARRIO OBRERO, MUY TRANQUILO, CON TODOS LOS SERVICIOS, SUPERMERCADO, FARMACIA, FERRETERIA, BARES, RESTAURANTES Y DIFERENTES COMERCIOS.
The room is totally clean and tidy , and actually jose is very kind too but he speaks little english. It's actually quiet difficult to find the apartment and quiet far from the city center but the apartment is very inexpensive
Herbi
2016-02-05T00:00:00Z
Host welcomed us early morning upon request and is patient in helping us with some queries on a foreign place, being my first time in barcelona. He provided us with map of barcelona and explained places of attractions.
Rayna
2016-02-03T00:00:00Z
I needed a place to stay for the evening and Jose was very welcoming. I had to delay my arrival time in order to accompany my friend to the airport, and he was very cool with pushing our time back. The place is about 4 miles away from the center of Barcelona, but it's still easily accessible via taxi, train or bus. The neighborhood was lively with locals. People don't really stay up until the wee hours of the night, like they do in the city center of Barcelona. I was a little lost when I arrived and the local folk pointed me in the right direction. There are a few cafes around the corner from his house w/ friendly locals. The apartment was very clean, as was the room. It is decorated with some interesting artifacts that Jose has collected through out the years. I asked Jose questions about his opinion on the best way of getting to my next destination on my trip and he provided very simple directions, which always helps! I slept very comfy, and the following morning when I was checking out -- Jose and I had a good conversation. He's been doing this for a few years and has a good and friendly system down pat.
Frank
2016-09-30T00:00:00Z
Recommended! Fast internet (50 mb)! Very clean! Great host!
CARLOS
2016-08-02T00:00:00Z
José has a new and comfortable place. We were happy to stay with him. Thank you!
Fabien
2016-08-21T00:00:00Z
jose was a very nice and distinctive host. The neighborhood was quiet. the metro station via julia was 5 minutes far from the apartment. The apartment was clean and comfortable and the balcony had a great view. we were leaving the apartment when we woke up and we returned at night because it was about 20 minutes by metro to go to the center.. it was very nice to meet jose and we recommend his apartment if you want a quiet one not in the city centre.
Tom
2016-05-24T00:00:00Z
Me and my girlfriend had an amazing stay at Joses apartment. It has a beatuiful view over the city and there is a metro line just under the place. However if you drive a car, you will have troubles with parking around the house, but other than that it was a really nice stay.
Jan
2016-06-09T00:00:00Z
Jose's place was convenient and served me for the short stay that I needed. Very seemingly safe and quiet neighborhood. And also easy and close to the metro. About 2 mins walk. That was great. Room however much smaller than it looked. but generally a good place with a lovely view over the balcony! Communication was a problem as Jose speaks little to no English.
Roselyn
2016-10-28T00:00:00Z
Room Type
Private room
---
Property Type
Apartment
---
Accommodates
2
---
Bedrooms
Barcelona, Catalunya, Spain
Nice apartment, where the hosts are Neo and Zeus. Located in a quiet neighborhood and very good connection with public transport. Around us we have shopping area, metro and bus line. Just 15 minutes from downtown Barcelona and 35 minutes from the beach. Large comfortable room.
The apartment is composed of a young couple, and her two cubs, cheerful and good presence. Elegant and beautiful apartment overlooking Barcelona. The guest is large and inviting, has locked cabinet.
We are located in the district Nou Barris. Around us is the L4 and L3 metro and buses that take you to the tourist areas of Barcelona, including the Sagrada Familia, Park Guell. Just 20 minutes from downtown, 35 minutes from the beach. The neighborhood is quiet, where you will find supermarkets, fruit shops, gym and shops for any personal need.
We spend three nights in Mayra and Geovanny's flat. We fully recommend this outstanding place! Very close to Metro station in a very nice district with all you need. Mayra and Geovanny are very friendly and the puppies are adorables.
Eduardo
2016-11-08T00:00:00Z
Thank you for receiving us in your appartment. The flat is located in front of the subway (easy !) and the two dogs are very nice. Thank you
Emmanuel
2016-11-13T00:00:00Z
very cosy and clean place, nice kitchen and bathroom. great view from balcony, close to metro, perfect internet connection. our hosts were very nice for us, they had good additude and it was a pleasure to meet them.
Bolesław
2016-07-31T00:00:00Z
Great stay! Friendly hosts! Quiet; away from the hustle and bustle of the city centre but close enough to get there quickly. Easily accessible from bus/train. Very convenient. Amenities are basic but more than satisfactory, besides you're so busy exploring Barcelona to need more. Would definitely stay there again. Safe and homely.
Shanna
2016-12-22T00:00:00Z
Their place its really confortable, in a really calm pace and next to the metro. Mayra y Geovanny are great people, really nice and they do their best to help you out. We had a great time!
olesya
2016-07-09T00:00:00Z
Mayra& Geovanny are very welcome and friendly host. We stayed for a couple of days in their cosy flat. As mentioned in description they have 2 lovely dogs, but we didn't had any problems as they were friendly also. Most of the day we were out to discover Barcelona city and Playa, but when we returned to rest was very quiet and we could also stay on the terrace for a beer or a glass of wine. The view of the flat was behind the busy street so we had a quiet time. Bedroom was very cosy enough space to put our things. We could use the fridge and washing machine as well. Bathroom very clean and spacious, perfect to enjoy a good shower. Overall we had a great time at this airbnb and we kindly recommend to young couple that want to discover Barcelona and stay in a cosy and affordable home. Metro is near by the flat and there are easy connections with Las Ramblas and city center, for those who want to spend more time there. Gracias !
Cosmin & Ana
2016-05-30T00:00:00Z
Mayra and Geovanny were amazing host. They offered to us the picking up service in the airport even at late hours which was so convenient for us because we arrived at 1.00 am. The facilities are good. Both, room and bathroom were really nice and clean during our stay. Moreover, they provided us everything we needed. In addition, they explained to us how to save money and time with the transport means. In general is a cozy flat. We highly recommend them. They are a friendly couple that will make you feel at home. P.S: Their dogs are lovely!! Paula and Camilo
Paula Melissa
2016-06-15T00:00:00Z
We had an amazing experience there! The apartment is located just a few meters from the metro, even though it is a little bit far away from the center. The room was very clean and nice and we had a warm welcoming! I recommend this place!
Larissa
2016-11-11T00:00:00Z
Room Type
Private room
---
Property Type
Apartment
---
Accommodates
2
---
Bedrooms
Barcelona, Barcelona, Spain
Lugares de interés: El Corte Inglés Can Dragó, a 10 minutos de Paseo de Gracia y del centro de la ciudad, bien comunicado con metro y bus, hay supermercados muy cerca, cómodo, a 3 minutos del metro que lleva directo a la playa y con una parada de buses al frente.. Mi alojamiento es bueno para aventureros.
Radi's place is easily accessible by public transport, it's clean, basic accommodation and I'd happily recommend it to anybody looking for budget yet good quality accommodation in Barcelona.
Jim
2017-02-19T00:00:00Z
Recommend to everyone ! great place very close to any amenities , such as tube ( where you can easily get to centre within 10 min). He was very helpful , place was nice and clean .
Beata
2017-02-28T00:00:00Z
very good
Mikhail
2017-02-16T00:00:00Z
I had a great stay at Radi's place. The flat is well located at the main road with excellent transport connections to rest of Barcelona. The are cafes and a superstore nearby. The room itself is small and basic but enough for a single person. The flat is big and each room is well apart for your privacy. The best thing is that you have direct access to bathroom and kitchen. Danial (Radi's friend) living in another room is really a hospitable and nice person. Considering the price and other factors mentioned above, I would highly recommend this place.
Umar
2017-01-14T00:00:00Z
good man
Mikhail
2017-02-13T00:00:00Z
Radi was a very friendly host. The room was clean and quite comfortable. It was a very pleasant stay overall. All the best!
Janos
2017-01-25T00:00:00Z
Great location, super close to train and bus station, very clean. Highly recommend.
Solomon
2016-09-14T00:00:00Z
Good location, very close to the subway. Great place. Great host. I would definitely go back if ever in Barcelona again!
Bianca
2017-03-05T00:00:00Z
Room Type
Private room
---
Property Type
Apartment
---
Accommodates
1
---
Bedrooms
Barcelona, Catalunya, Spain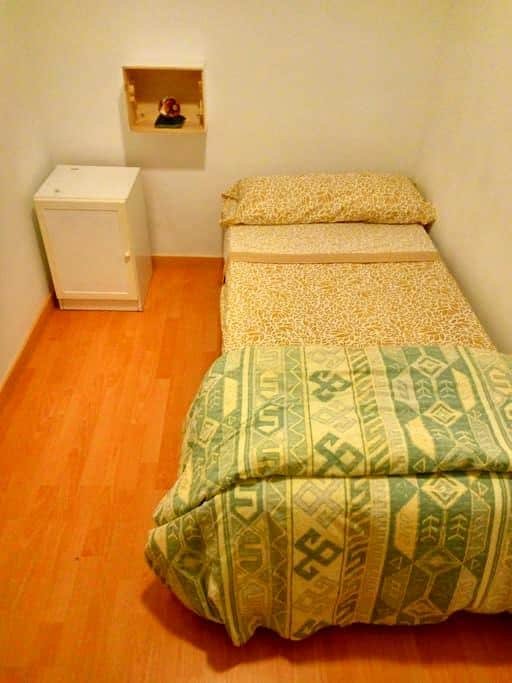 Apartment , complety, without share. IS a loft in 3 floor with elevator. Have One Double bed, bathroom And open kitchen. Have a total 23m2 more terrace. Ideal for couples
A bathroom with shower and fully equipped kitchen, TV , Wi-Fi, washing machine, drying area open to terrace, hair dryer, iron, You will find the apartment clean towels and clean linen. The new apartment enjoys a perfect location to rest and close to the city center in 20 minutes, about 3 direferentes metro stops to go to the area you want from Barcelona, according to your preference of the day, we recommend to go downtown City Red Line subway from the nearby bus stop Torras i Bages has 10 stops stop station to the downtown Plaza Catalunya, the mean 2 minutes each way between stops. The Plaça Catalunya, the heart of the city, from here you can visit the city center, down the Ramblas to the sea, or climb down the Paseo de Gracia, home to some of Gaudi's most emblematic buildings, such as The Pedrera and Casa Batllo. Only a 10 minute walk away is the famous Sagrada Familia., Is only a 15 minute walk. You get good public transport links by metro, bus and taxi is perfect too. A stylish one bedroom apartment in the city of Barcelona. Environment The environment of the new apartment enjoys a quiet location in the city, and has shops and supermarkets of all kinds, and all public transport links within easy reach. It is adjacent to two major shopping centers emblematic of the city, one is The Machinist, where are located all kind of shops and restaurants, cinemas, and the other called Heron City, with trendy shops and cinemas just 5-10 minutes walk from the apartment. Price is total includes the cost of cleaning before arrival and after departure. Check-in is from 15:00 to 22:00 hours, The check-out must be up at 12:00 noon. in for another hour after 22:00 must advise and ask availability. the day of arrival must tell us the approximate time of arrival, to meet at the apartment. we are not all day like a hotel;) Read the positive comments. Thanks for visiting the ad.
The surroundings of the apartment enjoys a quiet location in the city, and offers shops and supermarkets of all kinds, as well as all public transport to reach. It is next to two emblematic shopping centers of the city, one is The Machinist, where all kinds of shops and restaurants are located, as well as cinemas, and the other called Heron City, with trendy shops and cinemas just 5 minutes walk from apartment.
Nice place! The terrace is wonderful, on the other hand the restroom is extremely small. I did not meet the host, the neighbor did everything. He didn't speak English at all, but we managed to understand each other in Italian. The neighborhood is 1.5 hours of metro from the airport and at the last stop of 2 different metro lines. However there are some very nice spots to enjoy the local life and eat tasty tapas.
Gabriel
2016-08-08T00:00:00Z
Very Nice part of town. Metro station not Too far away. The Terrace is a great add-on to the cosy appartment.
H
2016-11-23T00:00:00Z
Great communiction from Noemi, easy to find apartment and good explaination on arrival. Terrace is lovely and great to sit out on, inside has everything you need for a short stay. Toilet broke while we stayed and was fixed quickly by neighbour. Only issue is there were ants coming inside from wall and going across the flat into the kitchen which was worse by the end of the stay. hope this gets fixed as the flat is brill otherwise.
Louise
2016-07-07T00:00:00Z
Nice smal apartment, good location, everything you need inside.. Just the reception was bad! Nobody knew about us. Noemi never came to sat " Hello"
Maria
2016-09-16T00:00:00Z
Great Apartment ❤️
Lukas
2017-01-04T00:00:00Z
Noemi's place is super cozy! A bit far from the center but easily reachable by metro or by taxi with reasonable prices. Tiny and nice, the place was tidy and felt like home. We had anything useful to live. The terrace is spacious and beautiful. Lovely stay. Totally recommended.
Kaya Irene
2017-01-01T00:00:00Z
Great for the price :)
Miguel
2017-01-10T00:00:00Z
This is a lovely little apartment with supermarkets, bars and shops all within a few minutes walk, and only a 10min taxi ride from some of the major attractions which are all walkable if you are in no rush. The flat was clean and tidy when we arrived and Noemi was very helpful with directions from the airport. I would recommend it to anyone and i will definitely look to book again next time i visit Barcelona. Thank you again Noemi!
Bruce
2016-10-24T00:00:00Z
Room Type
Entire home/apt
---
Property Type
Flat
---
Accommodates
2
---
Bedrooms
Barcelona, CT, Spain
The apartment is renovated and is located in a very good and quiet zone, only 20 minutes far from the city center (Catalunya Sq.) by metro. It's also close to the public transport such as: Metro (Blue line L5 & Yellow line L4), buses ((PHONE NUMBER HIDDEN)...) & train station (Sant Andreu). The room has a single bed, a wardrobe, a desk, a chair, fan, bed linen, towels & a small bath kit. A small BREAKFAST is included.
The apartment is renovated and is located in a very good and quiet zone, only 20 minutes far from the city center (Catalunya Sq.) by metro. The room is very bright and has all comforts in order to have a pleasant stay in Barcelona. It has a single bed, a wardrobe, a desk, a chair, fan, bed linen, towels & a small bath kit. A small breakfast is included in the price.
La zona es muy tranquila y, a la vez, cerca de los transportes públicos (metro, autobuses y trenes), centros comerciales, supermercados, bares y restaurantes, etc.
A perfect stay in Barcelona! Sooooo nice, friendly and caring Hosts - let me feel like home and as a friend, thanks for that! The room is super clean, cozy and the bed is veryyyy comfortable - after a long distance walk - perfect to relax :-) The flat is located between 2 metro stops, the bus stop is close too, so you are fast in the city or the beach. A lot of shops, bakery, shopping center, whatever you are looking for, you will find around this place ...... I would definitely stay here again and i would highly recommend this home and the Hosts to everyone !!!
Jürgen
2017-03-30T00:00:00Z
Jose and Benaz welcomed me into their home as if I had known them for many years. I felt welcomed immediately upon enter the apartment. They were easy to talk to, offered great advice on the area and my future travel plans. The breakfast in the morning was perfect. I couldn't have asked for a better location, host, and comfort. I highly recommend this location to anyone looking for a local feel of Barcelona. P.S. I made it to Amsterdam!
Brian
2016-12-11T00:00:00Z
Jose was a really nice host: considerate, respectful, and very helpful. Communication before and after arrival was very prompt. The apartment is immaculately clean, well organized, and equipped with everything you need. The room and the bathroom are on the small side but everything is of excellent quality. It was very helpful to have a small desk in the room for my laptop and shelf space and hangers as well. The bed was very comfortable too. The area is lively but still fairly quiet, with no excessive noise at any time. There are tons of shops and supermarkets around, and a lively neighborhood market that has an organic stand and gluten free bread sold right across the aisle from it. And there is even a Corte Ingles within walking distance. The apartment is literally a 5 minute walk from the metro (blue line) from where you can easily go anywhere in Barcelona. You can get there from both the Sants train station and the airport with only one change of trains. If you like walking and the weather is nice, you can actually walk all the way to Sagrada Familia and beyond (I did, and it was a nice way to explore different parts of the city). I highly recommend Jose's place to anyone interested in exploring Barcelona while living in a nice neighborhood with a great host.
Diana
2017-01-01T00:00:00Z
Well it was my first experience via Airbnb. I am so gratefull to Jose and so charming Benaz. Both of them take care about me since my planning to stay with them. Jose and Benaz sent 4 varients to getting from airport to their home. You should see it ... Everything was described step by step. Really!!!! If I couldn't understand something all time I got information full of instructions)) This apartment is situated not far from the main centre. Everything was clean in flat. The room is good: comfortable bed, small wardrobe and table witch chair. Special attention - BREAKFASTS!! I think it is a wonderful option if you don't have time in the morning. Believe me you pay not so "big money" but you have an amazing meal. And Benaz's breakfasts are soоооо delicious. It's a good choice of stayment. They are very helpful and will take care of you at any time) muchas gracias!!!
Viktoriia
2016-08-20T00:00:00Z
Very clean apartment, close to the metro station. Breakfasts by Jose - very nice bonus :)
Andrey
2016-10-06T00:00:00Z
Jose keeps a tiny beautiful apartment in Nou Barris. It is very inviting and the room comforting. It has been furnished and painted to almost eye candy levels. Their attitude and attention was off the charts. Thank you for a wonderful stay!!!
Marcel
2016-08-10T00:00:00Z
Lovely couple, very clean flat, good room, good location and punctual breakfast!!! Good area, near the metro, shops etc. I recommend.
Marcelo
2016-10-04T00:00:00Z
If you like a tranquil place not far from center, with local feel, with lovely and helpful Jose and Behnaz, this might be your choice. Clean apartment, clean room, wifi connection, with all furnishings needed, just few minutes from metro station, 15 minutes from center. And as a nice bonus - breakfast (and I it was not only croissant and cafe). I would definitely recomend this place. Thanks for this experience.
Ondrej
2017-02-27T00:00:00Z
Room Type
Private room
---
Property Type
Apartment
---
Accommodates
1
---
Bedrooms
Barcelona, Catalunya, Spain
Habitación diáfana d 30 m ubicada muy cerca del metro L5, parada Virrey Amat , cerca de zona comercial, con supermercados,tiendas y restaurantes para todos los gustos, muy bien comunicado con la playa y el centro de Barcelona, perfecto para parejas.
Está decorado de tonos claros y modernos, las puertas y ventanas de madera aportan calidez al lugar. La ropa de cama,la cama y toallas son a estrenar.
La amplitud de sus calles , los negocios siempre abiertos y tener siempre hay donde elegir.
Apartment situated near to the metro station, it feel bigger than it is on the photo, it was nice location but there was a noise mornings due to the traffic of moto, cars and people at all closely to the apartment.
Nastia
2017-02-27T00:00:00Z
The host canceled this reservation 11 days before arrival. This is an automated posting.
PhiL
2017-02-20T00:00:00Z
The room is much bigger than the pictures. It is located by the metro station, which makes it very easy to get to anywhere you are going in Barcelona. The bed is super comfortable and gave me the best nights rest I've had in awhile. Rosa is very sweet and friendly and helped make our stay absolutely perfect.
Matthew
2017-03-18T00:00:00Z
Rosa es un encanto, en un barrio familiale y cerca de todos los transportes el metro o bus
Ingrid
2017-03-03T00:00:00Z
Le logement de rosa est très bien situé pour visitée Barcelone le métro est à cote pleins de petits restaurants pas cher autour . Vraiment parfait ! La carcasa Rosa está muy bien situado en el Barcelona visitó el metro es la calificación lleno de pequeños restaurantes baratos alrededor. Realmente perfecto!
Juliette
2017-03-12T00:00:00Z
Genial anfitriona, comunicación perfecta, buena ubicación. Recomiendo este alojamiento. Prometo repetir!
Jesús
2017-04-03T00:00:00Z
Room Type
Entire home/apt
---
Property Type
Loft
---
Accommodates
2
---
Bedrooms
Barcelona, Catalunya, Spain
room in a non smoking flat. bathroom is shared. big terrace wiht chairs and table. Flat on the groundfloor, no stairs.
Little room with window to the terrace. Sunny and fresh in summer.
nice and quiet neighborhood
The host canceled this reservation 7 days before arrival. This is an automated posting.
Peter
2016-03-24T00:00:00Z
Very good place! Very clean and she was a good host! I felt like home! Thank you Lilian!
Alex
2015-07-20T00:00:00Z
Lilian is the worst host ever. She's rude and disrespectful and acts like she's doing me a favor when I am the one paying her. She got mad anytime I turned a light on. She went in my room everyday. I'm sorry but if I'm renting a room you should not enter it. She has insane rules.
Natalie
2015-10-21T00:00:00Z
the Room was small but enough for my Stay. unfortunaly i didn't felt very welcome there but I really enjoy the Company of the pets. some things in the flat there kinda dirty and the pictures are really glamourise...I can't imagine any daytime and sunlight that would make the rooms so sunny and bright (and I was there around noon on a really sunny day) wouldn't spend another time there because of the Bad feeling i got there.
Sarah
2016-09-23T00:00:00Z
Lilian's apartment is in a nice part of Barcelona, on a tree lined street near a Metro stop. The room is clean and comfortable and the bathroom is nice. Unfortunately I didn't get much of a chance to talk with Lilian, as I arrived late and left early both days, due my attendance at the Catalunya MotoGP.
Donald
2015-06-14T00:00:00Z
Lilian is very friendly and seems very busy. But she always makes an effort to keep the place really clean. I like the neighborhood very much, very Catalan and I have been able to practice my Spanish. There is a public library and many grocery stores nearby. The bed is very comfortable.
Siu Chun
2014-10-31T00:00:00Z
The room was clean and bright, with access to a kitchen with fridge and cooker. Enjoyed meeting the resident cat! I didn't see much of my host as I was out most of the day, but she made sure I had everything I needed, including towels, shower gel etc. The area is quiet and not at all touristy, but with a good metro link, a park nearby and a few bars to have breakfast in.
Matt
2014-10-06T00:00:00Z
Lilian's house is very nice, she has her own yard and you can hang clothes outside. But be sure to ring her or leave her a message to ask her about her rules in the house if you don't meet her in person.
Ming
2014-12-27T00:00:00Z
Room Type
Private room
---
Property Type
Bed & Breakfast
---
Accommodates
1
---
Bedrooms
Barcelona, Catalonia, Spain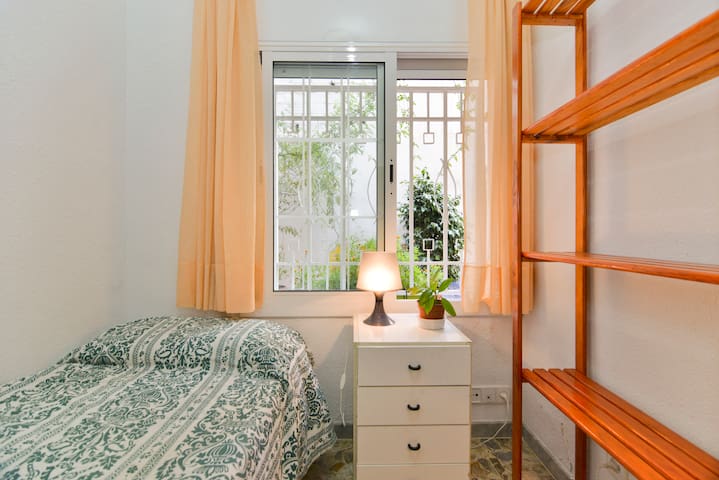 The apartment located in a quiet neighborhood and with many special people peaceful and pleasant new reform transport (bus).
La tranquilidad, la amabilidad, la atención y la educación
Tranquilidad, el parque y lugares para pasear o tomarse un café mientras los niños juegan
Carolina and Francesc are very kind people. They were very friendly and the check-in worked out perfect. The room is a 10/10. Clean and cozy. Absolutely recommended!
Philipp
2017-03-12T00:00:00Z
Da Carolina me encontré muy bien,la casa es limpia y ella muy disponible. Muy recomendado
Joel Sacha
2016-05-27T00:00:00Z
Room Type
Private room
---
Property Type
Apartment
---
Accommodates
1
---
Bedrooms
Barcelona, CT, Spain
Apartamento familiar, situado en un barrio tranquilo y con buena conexión con transporte público. A nuestro alrededor tenemos zona comercial, línea de metro y buses. A tan solo 15 minutos del centro y a 35 minutos de la playa.
We are located in the district Nou Barris. Around us is the L4 and L3 metro and buses that take you to the tourist areas of Barcelona, including the Sagrada Familia, Park Guell. Just 20 minutes from downtown, 35 minutes from the beach. The neighborhood is quiet, where you will find supermarkets, fruit shops, gym and shops for any personal need.
My girlfriend and me we stayed there for 3 nights. Monica was nice with us she doesn't speak English but there was no problem with respect to this.The room is cozy,clean and has a balcony.
Wiam
2017-03-31T00:00:00Z
Monica was a very good host! Provided information about where to find her house when we arrived. She's lovely and would recommend her as a host :)
Arlisa
2016-11-08T00:00:00Z
Everything was superb except the fact that it is not 20mins to city center. Getting to a metro stop would take 10mins at least. But we felt like surrounded by family at Monica's house, so I'd suggested definitely picking this option if you don't mind a long ride to city center. Walking from there to Gaudi's park was about 1.5h to a very steep hill, do prepare yourselves.
Goda
2017-02-16T00:00:00Z
Good value and Monica is friendly and welcoming. We had issues when we arrived because the instructions on which buzzer to ring was not clear. This was also to do with the language barrier as Monica doesn't speak English - which wasn't her fault. All in all it was a really good stay.
Brad
2016-12-07T00:00:00Z
Everything was great! Clean and comfortable room with balcony. Good location - around 7-10 minutes from metro line. Shy and nice location. Also very nice, helpful and friendly owner Monica.
Artem
2017-03-18T00:00:00Z
Monica is a friendly and helpful person. Her house was very clean and we had a nice little balcony. The neighbourhood is very authentic, busy but not stressful. I recommend staying with Monica!
Teah
2017-03-08T00:00:00Z
From the moment we walked in to her apartment she introduced herself, showed us our room, than the bathroom and kitchen, told us what is at our disposal, really everything a good host should do when their guests arrive. She also showed us the locations of several attractions in Barcelona and how can we get to them. All in all it was a lovely stay, she was very helpful, welcoming and most important of all, she's nice, we didn't have any sort of problems. I would definitely recommend this listing to everyone I know.
Darko
2016-08-17T00:00:00Z
Thanks to Monica to welcome me so well late in the evening. The room and Bedding was perfect. The location is good near the Subway, 25 minutes to Passeig Garcia. I recommand Monica
Mihal
2016-09-12T00:00:00Z
Room Type
Private room
---
Property Type
Apartment
---
Accommodates
2
---
Bedrooms
Barcelona, CT, Spain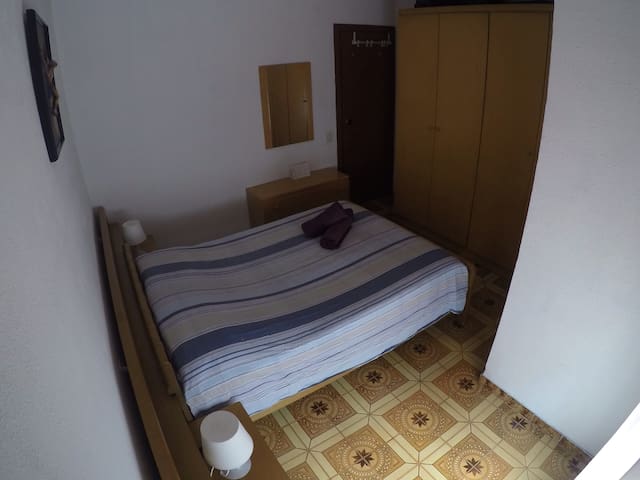 Sunny room with computer desk and wifi. Ideal for short stays. quiet with very good communication. Habitación soleada con escritorio ordenador y wifi. Ideal para cortas estancias. Barrio tranquilo con buenísima comunicación Metro, Bus, y Tren.
The house is very practice has a cozy dining room and the bathroom is complete. La casa es muy práctica tiene un comedor muy acogedor y el baño está completo.
The neighborhood is quiet and nothing dangerous neighborhood. El barrio es un barrio tranquilo y nada peligroso.
Ana was really good host, she came for me to the metro station. The room was good, small, but cosy. Thank you Ana for a nice accommodation. :)
Eliška
2017-02-05T00:00:00Z
I had a really nice stay at Ana's flat, the room is comfortable, clean and cozy and the apartment is very nice. Ana is really friendly and hospitable. Easy access to public transit and public parks. I totally recommend staying there.
Kianoush
2016-09-22T00:00:00Z
Ana is an amazing host, she was really nice, friendly and helpful both before and during my whole stay. I can only recommend her. The room was like presented, the location wasn't close to the center, however, it is well connected and you can get to the very center of Barcelona within 15 minutes. I would definitely come back :)
Jana
2016-10-18T00:00:00Z
Amazing place very nice host
Avrom
2017-03-27T00:00:00Z
Fantastic place and host thank you
Avrom
2017-03-28T00:00:00Z
The room was great, tidy and clean - just as she described. Besides that, Ana was an amazing host! She is easy-going, funny and opened minded. Everything I needed, she managed to do. I do recommend to stay in her place.
Virgínia
2016-09-21T00:00:00Z
I love this airbnb location. It's out of the center of Barcelona so it's more quiet and no tourists around. Easy to get to by train. The neighborhood Ciutat Meridiana is fun to explore by foot it's built on a steep hill side and the views are great. It's like going on a mountain hike right in the city. Ana is very friendly and helpful. It's a perfect place to stay for a few nights. Highly recommended.
Lane
2016-10-11T00:00:00Z
Room Type
Private room
---
Property Type
Apartment
---
Accommodates
1
---
Bedrooms
Barcelona, Catalunya, Spain
My apartment is special because you can not only have the "real" Barcelona experience but you can also have the best of both worlds. (Stay in peace and be in the centre in minutes) My 4 bedroom apartment is in Nou Barris which has everything...
This room is perfect for the lone traveler looking for a peaceful stay in an international environment. There is a single bed, a desk, and built-in armoire. My apartment is special because you can not only have the "real" Barcelona experience but you can also have the best of both worlds. (Stay in peace and be in the centre in minutes). My 4 bedroom apartment is in Nou Barris which has everything you could possibly need. There are green parks and cool evening air to come down after a long day of travel.
Nou Barris is where you want to be! Its only 5 stops on metro to the heart of Barcelona and every other tourist attraction. You can stay in the most beautiful and peaceful part of the city...and be central in minutes. Nou Barris is the hip upcoming neighborhood with shopping, bars, cafes, supermarkets, and everything else you need. **All my guests have commented how nice it is after a long day to come back to Nou Barris to relax. **This neighborhood is also perfect for families.
I stayed at Emilio's place for 4 days, and it was as advertised. nice neighbourhood, quiet, and easy to get to. Emilio was really great as well, letting me in even tough I arrived quite late. Would definitely recommend staying here.
Rob
2015-05-31T00:00:00Z
Emilio was such an amazing host!! He was so helpful with finding his house, and he was enthusiastic to show me and the other roommates the culture of Barcelona. He was also flexible with my dates changing, which was a huge help!! Everyday he was in a good mood, and keeps his home very very clean!! I loved every bit of my stay and would recommend him to anyone.
Courtney
2015-10-30T00:00:00Z
Emilio was a fantastic host! Felt right at home the entire time, even learned to cook Paella! Hope to make it back to Barcelona one day soon.
Matt
2017-01-03T00:00:00Z
First of all, I want to say many thanks for Emilio! I stayed in Emilio's apartment for 4 months. I was doing my exchange semestr in Barcelona. I really loved everything, apartment, neighborhood. So, apartment: clean, organized, kitchen equipped with everything you need to cook, big fridge, air-conditioner & etc. Nice balkon exactly like on the picture. My room was a bit small, but big enough to put your stuff, study. Neighborhood: Really beautiful, peaceful place after a lot of tourists in the center. There are bars, small shops and big supermarkets around the apartment. There is a sport complex where you can play tennis, padel, football, do gym, swim and other sports. Easy to get to center, for example to Passeig Gracia via yellow line (metro) in 13 minutes you get there. To get to the beach you need 17-18 minutes. and the metro is very close, 4 min.walking to yellow line, and 5 min.to blue line. The neighborhood is a very nice cool place to stay and very beautiful. Host: Emilio is always kind, helpful, sociable and cooks amazing! When I arrived, he met me in the metro, gave everything that I needed tables, chairs, extra pillows and sheets. We cooked together with him, had lunch, dinners, drinks in bars. He has almost 3 years old son who sometimes stayed with us, his son is very cute. If you need something, he is always ready to help. He organized membership for the sport complex for me, so I could use all sport facilities for the whole of my stay. On weekends we played padel tennis with him, bzw he is a good player. Also, when I was leaving (my flight was early in the morning) he took me to the airport, assisted with my luggage registration (i had a overweight). During my stay I had 3 neighbors including the host. one of them has a night shift, so he sleeps during daytime. Another was a student like me and the host. But last month student from Austria left. Since most of the apartments in Barcelona they do not have central heating system (similar to this apartment), you can use electric heating. In winter period, when it gets cold (min. +6, +8 degrees Celcius), we used air-conditioning and electric heating. But when the weather gets warmer & during summer time, it is a really nice place to stay. Again, many thanks to the host & highly recommend the accommodation ! if you need a quite area with beautiful nature (easy reach from the center), and an apartment with all necessary facilities with helpful/kind host>> this is that place. Enjoy your stay in Barcelona!
Komol
2015-01-30T00:00:00Z
Emilio is a great guy! Very kind and helpful! His apartment is in a wonderful neighborhood next to parks & hiking trails but very close to the train station so it's easy to get around the city! I'd definitely recommend his apartment to anyone who wants to experience life in Barcelona as a local!
Eric
2015-05-07T00:00:00Z
It's a very nice, non-touristy neighbourhood still with plenty of life and atmosphere. Emilio's apartment is great! It's very light and airy and modern but comfortable you'll have a great stay. Emilio himself is a great host, very accommodating and always has time for you no matter what. I definitely recommend a stop at Emilio's if you want somewhere a little off the main drag..
Doug
2015-04-12T00:00:00Z
You couldn't ask for a better host!!! Emilio is a great person. Kind and helpful. I had a wonderful time in his house. Everything went perfect. The place has an excellent connection of metro, just a few minutes of walking. The flat was very!! clean and tidy. I enjoyed to have my privacy, too. THANK YOU EMILIO FOR YOUR HOSPITALITY :). Szczerze polecam ten apartament!
Sylwia
2016-07-01T00:00:00Z
I stayed with Emilo for a month. Upon my arrival, Emilo was very accommodating, assisting with getting acclimated to the city and providing some activity ideas. During the second half of the month, the apartment was very full (5 guests). Despite the full residence, Emilo maintained a clean and comfortable environment ensuring that the apartment was cleaned daily. The only drawback was the Internet as it was very unstable. However, during the last few days of my visit, he had an improved system installed, resulting in much better service.
Bryce
2014-10-01T00:00:00Z
Room Type
Private room
---
Property Type
Apartment
---
Accommodates
1
---
Bedrooms
Barcelona, Catalonia, Spain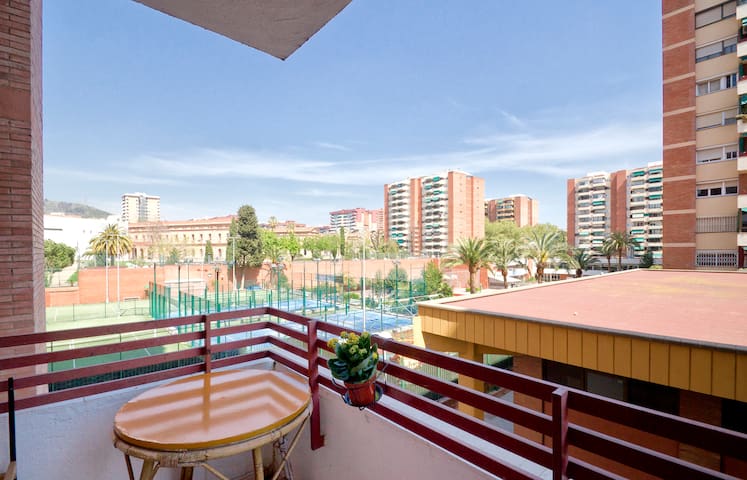 Te va a encantar mi espacio por Es una casa tranquila, ordenada y limpia. El piso esta en un barrio a 10m en metro del centro. Varias lineas de metro: linea 1 roja Fabra y Puig, linea 5 azul Virrey Amat, línea 4 amarilla Maragall, Renfe rodalies Sant Andreu Arenal, diversos autobuses, Bicing, gimnasios, cines, piscinas, centro comercial, restaurantes... Es una habitación tanto para quien quiera pasar unos dias conociendo Barcelona o para estudiantes que buscan tranquilidad.
The host canceled this reservation 11 days before arrival. This is an automated posting.
Pawel
2017-03-20T00:00:00Z
Room Type
Private room
---
Property Type
Flat
---
Accommodates
1
---
Bedrooms
Barcelona, Catalunya, Spain
Comfortable double room in shared flat. You are also welcome to use the kitchen and to spend time in the living room. Bed linen and towels are included in the price.
Comfortable double room in shared flat. You are also welcome to use the kitchen and to spend time in the living room. Bed linen and towels are included in the price.
In the same street there are a few traditional bars, where you will get the chance to enjoy genuine local tapas and specialities. There are also supermarkets, stores and generally a very good atmosphere, safe and lively, away from the tourist crowds.
Staying at his place was the best choice we made during the journey! He did everything he could to make our stay comfortable and the location was also perfect.
Namshick
2016-05-13T00:00:00Z
The apartment is far from the touristic points but near the metro, so you can go anywhere from there. The room is a good size and the bed is confortable. Mr Osvaldo only speek spanish, so you have to know some basic words. Althought for those who speaks portuguese, like me, is very easy to talk to him, he is very helpfull, nice and warm person. I really liked him. I recomend stay there.
Taís
2016-10-09T00:00:00Z
Osvaldo offers a great room for the price, with a little balcony and three outlets (if that's important to you). He's very nice and even helped me make a frozen pizza that I bought at a market. He doesn't speak very much English, but it should be enough to communicate basic things, and if you know some Spanish even better. Be careful: the place isn't exactly where (SENSITIVE CONTENTS HIDDEN) maps says it is: it's across the street by the BBVA.
Sam
2015-10-13T00:00:00Z
Osvaldo is really nice! We enjoyed staying at his apartment. The apartment is really well located, near bus and metro station; you can go everywhere from his apartment. He doesn't speak english well but always helps us enthusiastically whenever we need him. Recommend to stay here!
An
2016-07-25T00:00:00Z
Mr Osvaldo was really nice!! All the review about him was indeed true. He was so nice to wait for me at his balcony. He speaks Spanish and used a translator to help in our conversation but he was such a lovely man !!! I am so touched by his hospitality. It was a great experience to live with him. The house was lovely and warm. Literally minutes to the Metro station that can bring you to most places easily(URL HIDDEN)strongly recommend everyone to stay with him. No point spending so much in hotels where i heard so much nightmares about hotels in Barcelona. Staying with Osvaldo is indeed a much better experience!
Tom
2016-05-08T00:00:00Z
We thoroughly enjoyed Mr Osvaldo's hospitality - he made us feel very comfortable and welcome in his home!
Annabelle
2016-07-02T00:00:00Z
This house is amazing, warm and spacious. There is a electric fan in our room and it helped a lot in this hot weather. The location is not near city center but close to the metro. There are a bank (and ATM), a bakery, a supermarket and some some shops next to the house so it was really convenient for us to withdraw money or to buy some foods and drinks. Osvaldo is so friendly and he tried to show us the tourist information spot because we were looking for Hop on hop off bus. He does not speak English fluently but he did his best to explain and help us. We really appreciated it. Above all, we had a perfect and relaxed holiday in Barcelona. Thanks! Gracia! :)
Nhu
2016-08-23T00:00:00Z
I had a wonderful time in Osvaldo's home. He is a very kind man and recommend places for me to visit! Thank you again Osvaldo and I cannot wait till I return to Barcelona!
caroline
2015-11-10T00:00:00Z
Room Type
Private room
---
Property Type
Apartment
---
Accommodates
2
---
Bedrooms
Barcelona, Spain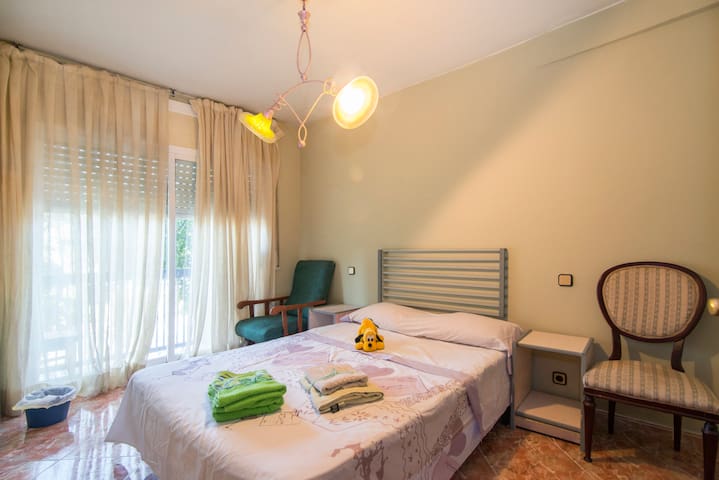 20m2 private penthouse with 2 beautiful terraces , one of 25m2 where you can relax and sunbathe and another of 10m2 where you can eat and dine alfresco. Do you need something else to spend a incredible days in Barcelona? Tell us and we'll help you!
El ático lo que realmente le hace increible es la privacidad y las terrazas que contiene ya que le dan una gran luminosidad y paz.
We loved this apartment!! Very clean and comfortable for two people. Beautiful terraces to relax on! Located in a great neighborhood. Short walk away from the metro station which we used to get to the beach and the city center.
Sarah
2016-08-24T00:00:00Z
Lovely, well-stocked flat with superb views of the beautiful Place Soller and with good transport connections for the rest of Barcelona. Victor was an excellent host always on hand for any issues. Would definitely stay here again on a return visit!
Tyron
2016-09-26T00:00:00Z
Communication was great with Victor. The apartment was very clean and the views from the balconies are spectacular. The only slight disadvantage is that you are a little bit far from the heart of Barcelona. But this was great for sleeping as it was quieter. Also, the public transit system is very close (5 min walk) and takes you everywhere you need to go! Thank you for a great stay Victor!
Samantha
2016-10-10T00:00:00Z
It was very clean and comfortable. the location was good and you can wolk to metro station in 10 min by walking.Owner was trusty.
BAHADIR
2016-10-03T00:00:00Z
Victor was extremely responsive and helpful. The 2 patios and access to 2 Metro stops makes this a great place to enjoy Barcelona, but to enjoy authentic Spain from the outskirts. Victor was there to greet us and was quick to respond with any questions. I would highly recommend his space to any guest. Thanks, Chris
Chris
2016-10-17T00:00:00Z
The apartment is perfect for two people, with two terraces and a nice view of Tibidabo at night. It has all that you need for your stay and Victor was very helpful and welcoming. I recommend it!
Adrián
2016-12-30T00:00:00Z
Very small apartment about a 25 minute metro ride from downtown. The area was nice, and there are two balconies that are wonderful to enjoy an evening on. Victor was very communicative and let us keep our stuff there a little later than check out (he also had no one there the next day which worked out for us very well). Overall a very kind person and a wonderful trip.
Eric
2016-12-11T00:00:00Z
Good small apartment with 2 big terraces. Wifi was Ok but sometimes you could just connect one thing (whether the laptop/pc or the phone). Check-in with victors mum was great. She was really friendly! Check-out also great. Only bad thing: the hot water storage tank was losing water. You needed to find the right angle to stop it but even then the bathroom floor was full of water.. Except of that, everything good. Best thing are of course the 2 big terraces.
Melanie
2017-03-09T00:00:00Z
Room Type
Entire home/apt
---
Property Type
Flat
---
Accommodates
3
---
Bedrooms
Barcelona, Catalunya, Spain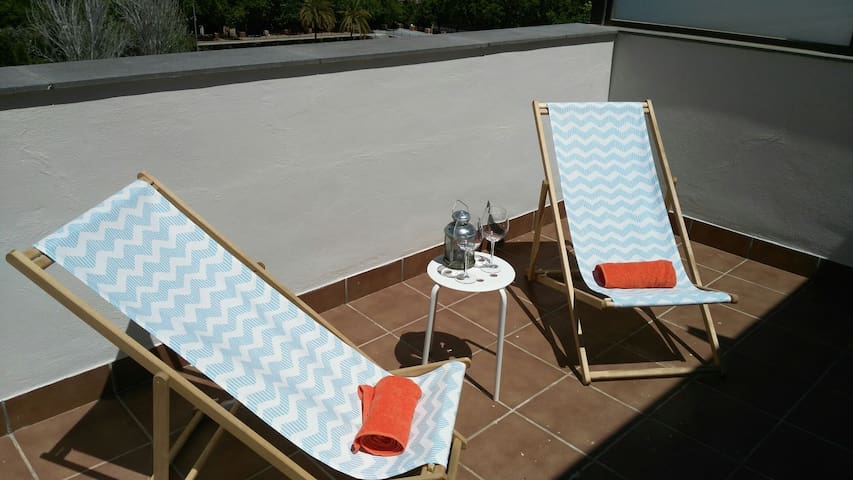 We offer an armonious environment in a nice apartment. The room is decorated in a peaceful style, with high quality bedding set (memory foam, down pillow). You have private bathroom with toilet and sink, and shared bathroom for shower. There is connection by metro from the airport. Because the metro station (L5) is located just 1 minute walking from the apartment, it is possible to go in 15 minutes to Sagrada Famillia and to the city center, and in 20 minutes to Park Guell.
The closest Subway, is the Vilapicina Stop (L5, Blue Line). Coming from the airport, it takes about 30 minutes by car, and about 60 minutes by subway. The guest room has a window that gave onto an internal courtyard. It is excellent for enjoying the day outside, and resting at night (because there is not car or street noise inside). The guest has a private bathroom with toilet and sink, that is outside the room, just the door next to the guest room. There is another shared bathroom for taking a shower.
Near the apartment you can find anything you may need walking 1 minute from the apartament, because there are all kinds of shops (groceries, pharmacy, banks, laundry, backery, etc.). Most of the stores around the apartment, are open even on Sunday. People coming here appreciate that they can feel the real Barcelona (because people living in this area are local, no tourist), but at the same time be really well connected to the main touristic places. You can also find relax in a park less than 5 minutes walking, and beautiful old houses.
Raul and Vanessa are very welcoming they were waiting for us to night, when the plane had delay. We found their flat easy and Raul send me information how travel in city. Flat was clean, quiet and we were feeling pleasant. The place is really well connected. Raul and Vanessa advised us where to look. They are very friendly and funny, we are really happy that we were staying with them a few days.
Petr
2017-02-27T00:00:00Z
The host canceled this reservation 69 days before arrival. This is an automated posting.
Tim
2017-01-07T00:00:00Z
It was a great stay. Vanessa and Raul are very welcoming and friendly, and really made us feel at home. The room is well equipment and matress perfect for a good nights sleep. The flat is beatifull and clean and we apprechiated that we could use the kitchen as well. Also it is very well connected to the public transport. Vanessa and Raul are positiv and interesting people and great hosts. We would love to come back one Day!
Lisa
2017-04-02T00:00:00Z
Raul is a wonderful host who is patient and accommodating. The room is well equipped and the bed is super comfortable. The neighborhood is quiet but that is not a bad thing since noise was never an issue at night. I would definitely like to stay here again if I have the opportunity!!!
Josh
2017-03-26T00:00:00Z
Raul and his wife are very welcoming! My partner and I booked with them for a week and really enjoyed our stay in their beautiful home! Amongst other several positive things about Raul's place, one thing that really surprised and excited me was just how close the apartment actually is to public transit. The home is literally on the corner of a metro stop and a main street, and they are also several other stops along that street to connect to other areas. By metro, the home is only a few stops to the Sagrada Familia, and because everything is so well connected, it is very possible to enjoy a nice long walk back from the Sagrada to Raul's Place. I would recommend the walk simply because you get to notice so much more along the way! Just plan your route ahead of time, but with a map or gps, you'll be set! The neighborhood is so lively and full of a lot of services (bakeries, restaurants, laundry, shopping, ect.), which is perfect for last minute needs. Before our arrival, I honestly thought we were just staying at a more secluded place away from the city ambiance, but the liveliness of the neighborhood really surprised me , as it exceeding my expectations. There is a gorgeous public park at the top of the hill close to Raul's place, which gives you beautiful views of the city as you walk along the trails (Parc Turo de la Peira). Everything in the neighborhood is so connected and easily walkable, and so is the rest of the city. The home itself is very beautiful and clean. The room we stayed in and the shared bathroom were also very clean. We even had access to the kitchen, with some refrigerator and cabin space, which was a great help. So for those of you looking to book for a bit longer, this might be helpful. We felt very welcomed during our stay, with no problem at all. I'd recommend anyone to book with Raul! Great price for a very great location!
Ravine
2017-01-11T00:00:00Z
La habitación es tal como describe en la publicación y me ha resultado un sitio bastante tranquilo y acogedor. A metros de un parada de metro de la L5 que comunica fácilmente con los principales sitios de interés de la ciudad. Lo recomiendo.
Hugo
2017-02-20T00:00:00Z
Room Type
Private room
---
Property Type
Apartment
---
Accommodates
2
---
Bedrooms
Barcelona, Catalunya, Spain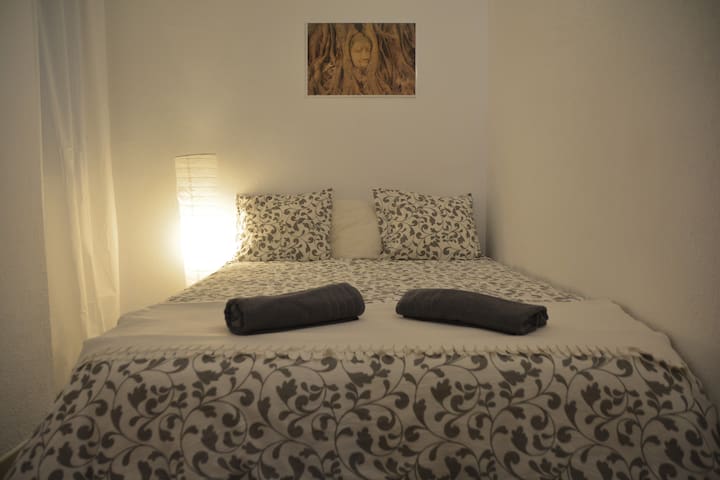 Discover this cozy Loft Studio in Barcelona, 15 minutes from downtown. You can relax with friends or family in a large space for 4 people. You will enjoy views of the interior garden and the entrance of the sun in the morning. I enjoy it.
A large open space of 55m2, very bright and sometimes with direct input from the sun. You can relax with the chirping of birds in the garden, listening to music or prepare a delicious snack in your kitchen
Guineueta neighborhood is a very quiet neighborhood, typical Spanish wineries abound, serving tapas and wine at a much more affordable price than in the center of Barcelona. The atmosphere is much cleaner pollution in the city center. The air is much purer.
Our journey in Barelona was great. We appreciate the flat, which is calm, clean and beautiful. The hist was very pleasant.
Guillaume
2015-06-29T00:00:00Z
Very nice little clean flat! Great for two persons and it only takes around 25 minutes to get to the city centre. Charly was very friendly and helpful!
Anna
2016-10-03T00:00:00Z
Host was very welcoming. Neighbourhood was quiet which was great but it is out of the centre as per the information on the listing so ensure that this is what you would like to have while in Barcelona. Overall stay was good.
Junior
2015-06-08T00:00:00Z
Charly was very welcoming and met us with the keys and information on the area. The apartment is nice, but is outside of the main Barcelona area - as stated in the description.
Cara
2015-12-23T00:00:00Z
The host canceled this reservation 20 days before arrival. This is an automated posting.
Caroline
2016-10-23T00:00:00Z
Charly was an excellent host and responded to all our enquiries in a fast and efficient manner. He offered to pick us up and drive us back to the airport which was cheaper than a taxi. Public transport was also an option but does take longer. He is even posting our head torch that we left behind. So he is honest as well. Thanks Charly.
Nicole
2016-05-14T00:00:00Z
Charly is a great host, he helped us explaining the neighbourhood and even brought us back to the airport. His apartment is very clean, ground floor and in a nice and quit area. From the place it takes around 20 minutes by Metro to reach Barcelona's main area. Definitely worth it staying in a more quiet place sniffing some local culture. Besides that the apartment got all the equipment you need to make you feel at home which makes it a far better alternative than any hotel. We would come back here next time!
Martin
2016-04-04T00:00:00Z
Charly is a wonderful and helpful host, communication was super easy and straight forward. Location of the apartment is very convenient with the two metro stations near by, local coffee shops and bakeries around, and there are grocery stores for all your needs. Apartment is clean and comfy. I am glad that I stayed here.
Marina
2016-10-17T00:00:00Z
Room Type
Entire home/apt
---
Property Type
Loft
---
Accommodates
4
---
Bedrooms
Barcelona, Catalunya, Spain
Nou Barris - Airbnb
:
Average

4.67

out of

5

stars from

723

guest reviews