Close to highway,malls ,12 mins from downtown cleveland
Close to all major highways ,pond on site for fishing ,quiet peaceful neighborhood
Peaceful ,safe neighborhood
The host canceled this reservation the day before arrival. This is an automated posting.
Heidi
2017-02-19T00:00:00Z
The host canceled this reservation the day before arrival. This is an automated posting.
Diana
2017-04-08T00:00:00Z
Room Type
Entire home/apt
---
Property Type
Flat
---
Accommodates
4
---
Bedrooms
North Ridgeville, OH, United States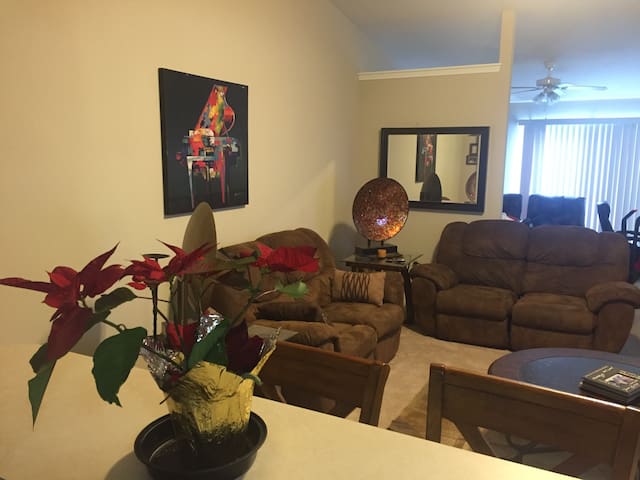 Amazing 4 bedroom, 2.5 bath home on private cul-de-sac. 20min from airport, 30min from downtown (RNC). Private backyard space with 20x40 in-ground heated olympic pool, and 8 person hot tub. Great deck space for lounging and grilling out. Full kitchen with island, and stainless steel appliances. Gorgeous hardwood floors throughout first floor. 75" 4k TV in main family room. Fully finished basement with wet bar, theater with 103" HD projector and surround. Decor updated since pictures were taken.
Room Type
Entire home/apt
---
Property Type
Flat
---
Accommodates
8
---
Bedrooms
North Ridgeville, OH, United States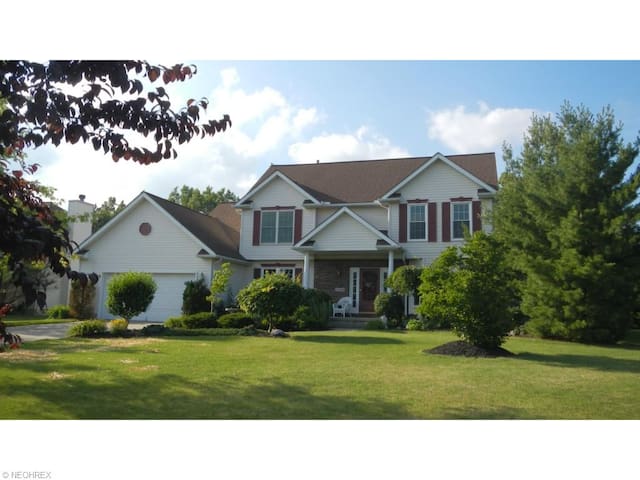 Cute apartment in a great community right off of Kamm's corner. Down the street from four great Irish bars and food and only 6 miles from downtown! Also close to the freeway, Lakewood and Rocky River. Whether you are looking for a great night out on the town, an awesome bike ride through the metro parks, or even a nice dinner and walk by the lake. This is a great location for you.
Room Type
Private room
---
Property Type
Flat
---
Accommodates
2
---
Bedrooms
Cleveland, OH, United States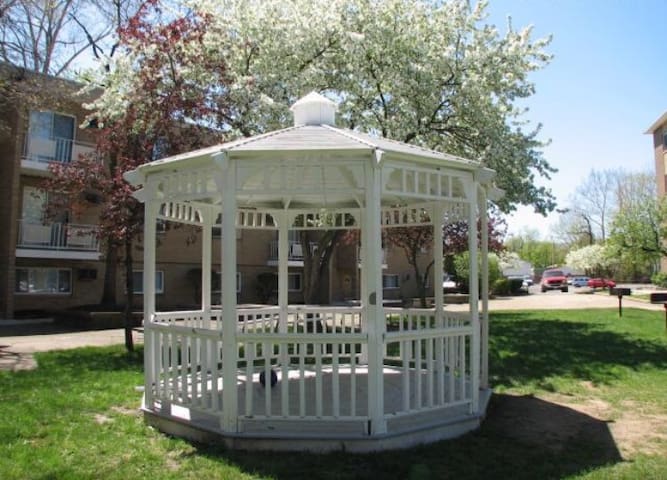 Luxurious 2 bdrm, 1 ba condo located only 1 min away from outdoor mall Crocker Park, 20 mins from downtown Cleveland, 20 mins from airport, 8 mins from Lake Erie . Fully-equipped kitchen, spacious living room w/ projector screen (connected to XBOX ONE, Netflix, Hulu Plus, and leather reclining set, dining area w/ buffet table, balcony, outdoor pool, coin-free laundry room, & easy-access parking lot. More pics coming soon!
Westlake right near Crocker Park. The condo has 2 bedrooms and 1 bathroom. BEDROOMS The master bedroom has a queen-sized bed, full body mirror, nightstand, lamp, TV with local channels, desk, and dresser so far. The second bed has 2 twin size beds. TV (with XBOX 360 and games), and corner chair. LIVING ROOM The living room has a leather reclining sofa set with a coffee table, large 120" projector screen connected to XBOX ONE (with some games, Netflix, and HULU BALCONY The balcony is 6' x 9' and is furnished with a small table, 2 chairs, plants, and some lanterns. DINING AREA There is a dining table that seats 4 people. A buffet table is nearby for wine bottle and glass storage KITCHEN Microwave, sink, dishwasher, coffee maker, electric kettle, toaster, pots & pans, cooking utensils, cutting board, eating utensils, electric stove top, small refrigerator, kitchen towels, coffee, tea, water, sugar, Pam cooking spray, salt, and pepper BATHROOM Bathtub with shower, shampoo/conditioner/body wash dispenser, hand soap, toilet, towels, blow dryer, toilet paper, tissue paper, lotion (it's mentholated! recommended for use on hands, arms, and legs only)
This condo is located at the heart of Westlake where the booming outdoor mall Crocker Park is only a short walk away. If the mall is too mainstream for you, the kinda hipster-ish city of Lakewood is a 10-15 minute drive away. Lakewood is full of unique shops and hangouts. The condo is also conveniently located about 12 minutes away from Huntington beach. Cedar Point Amusement Park and Kalahari Resorts are about 50 minutes away. Experience some of the nightlife in downtown Cleveland where there is the casino, various bars/clubs, and shows happening or enjoy the Science Center, many museums, historical sites, botanical gardens, parks, and West Side Market during the day.
Patryk' place was terrific. The condo was clean and worked well for my family, including 2 teenagers and 2 labradoodles. Crocker Park offers many restaurants, shopping and movies. The freeway makes access to Downtown or other area attractions easy. The large projector screen was fun for movies or watching sports when we stayed in. Communication with Patryk and with Martin was very prompt and helpful. We had a great stay and we highly recommend!
Sue
2017-01-01T00:00:00Z
Was a nice host . Good place to stay ,. Over all good experience . However the blankets were awful light in the cold
Taylor
2016-07-30T00:00:00Z
As advertised. Great spot near shops n restaurants. Very clean.
Carmen
2016-11-15T00:00:00Z
The host communicated very quickly, which we appreciated. The place is in a great location and is a nice haven to have while travelling. The big screen is really neat. There's no oven in this one, so keep that in mind, but otherwise the amenities were great.
John
2016-11-13T00:00:00Z
We had an excellent time at Patryk's place. The condo was nice and spacious plus the bathroom was awesome! He even had a built in hairdryer, which was an excellent addition. The bedrooms were both spacious and the living room is a great place to lounge. Especially with the giant projection screen! Al He has an excellent welcome board with emergency numbers, wi-fi password and other good to know items. Also it is next to Crocker Park which is a really cool shopping complex! I highly recommend this place if you're visiting Cleveland.
Ryan
2016-06-20T00:00:00Z
If you're looking for a nice cozy location close to downtown Cleveland this is a great location right off the highway.
Jessie
2016-12-11T00:00:00Z
This is a perfect location to enjoy the entire Crocker Park experience. The accommodations where superb and the location easy access to shopping and restaurants. Extremely close to highway to Downtown Cleveland
Rich
2017-01-26T00:00:00Z
I was traveling from NYC to Michigan for the holiday with my adult kids and we wanted to do a little road trip instead of driving straight through. We really loved Patryk's condo so much. We do a lot of travel and often stay in Air BNB and while all of them have been wonderful, this one was especially great for us. It was spacious, clean, comfortable and we loved the huge projector TV screen with every possible network for watching shows. We stayed up almost all night enjoying that aspect of the condo. It was great to have 2 comfortable bedrooms. It was within walking distance of a very nice mall where we had a good time shopping and enjoying a meal at the Yard House. We didn't get to meet Patryk or Martin because we arrived late but communication was excellent. All in all a very good experience and good value for the price. Thanks for sharing your space.
Susan
2016-11-22T00:00:00Z
Room Type
Entire home/apt
---
Property Type
Flat
---
Accommodates
4
---
Bedrooms
Westlake, OH, United States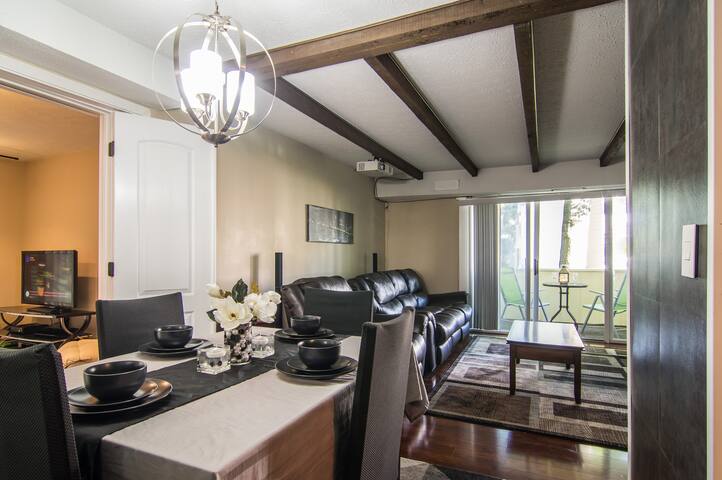 This brand new, modern apartment at Crocker Park will bring you to your feet for a standing ovation. The space is designed to be the pinnacle of luxury. Premium materials and amenities surround you throughout the apartment to make your stay the most enjoyable one possible.
The apartment is equipped with a 120 inch projector screen that fills the main room with crisp visuals. A massive movie collection as well as Netflix and Hulu are available through Apple TV. A fully equipped kitchen is available to fulfill all of your culinary desires. There is even a built in laundry room.
The apartment is located 2 minutes from a major highway. Taking this highway east will get you downtown in 18 minutes. Taking the highway west will take you to Cedar Point, one of Americas best amusement parks. The airport is located approximately 20 minutes southeast.
Very nice space. Martin was available to answer any questions.?
Saxx
2017-02-18T00:00:00Z
Great place to stay! It's a beautiful apartment. I would highly recommend it.
Ashley
2016-11-21T00:00:00Z
Very convenient location in Crocker Park. Trader Joe's 100 feet from door, parking plentiful & free, lots of walkable restaurants and shopping.
John
2017-01-02T00:00:00Z
My stay here was great, And he also was a great host. I would definitely go back... Can't wait!
Bryan
2016-11-12T00:00:00Z
I'm
Louis
2016-11-20T00:00:00Z
Beautiful place in a very nice area just outside the city! Zero complaints...
Greg
2016-11-02T00:00:00Z
Martin's apartment is close to shopping and many restaurants. The apartment is very clean and well organized. We had a nice time staying here while celebrating our son's birthday in Cleveland.
Suzanne
2017-02-19T00:00:00Z
Martin is top notch. The Crocker Park location provides the guest the best of the area. Centrally located to many things. The apartment very clean and comfortable. Very good layout for added comfort and convenience
Rich
2017-02-23T00:00:00Z
Room Type
Entire home/apt
---
Property Type
Flat
---
Accommodates
4
---
Bedrooms
Westlake, OH, United States
Spacious 2 bed,1 bath apartment connected to a large private home just a short walk from picturesque downtown Amherst. The apartment has a separate entrance,full kitchen,private laundry and a large private patio. 30 min. to Cleveland and Cedar Point.
Our 2 bedroom, 1 bathroom apartment is attached to our main home over the garage, but has its own private entrance and is completely shut off from the main residence. There is a spacious living and dining room, a private laundry (washer/dryer) and a full kitchen with all appliances, (dishwasher, microwave, coffee maker, toaster, blender, etc). The master bedroom has a king size bed, and the second bedroom has two double beds. Both have large closets and there is one full bathroom. The apartment has its own large patio with a grill.
We are a 5 minute walk to historic and lovely downtown Amherst, where there are restaurants, bars, shops, a bowling alley and a movie theater. We are a 10 minute drive to Lake Erie (and the beautiful beach at Lakeview Park), 10 minutes to Oberlin College, 30 minutes to Cedar Point and 30 minutes to downtown Cleveland. Extremely easy and quick highway access to both I-90 and I-80.
This was the most fabulous place I have ever found on airbnb. A really spacious place with everything you could ask for. Christine and her husband were both wonderful. If anyone is ever visiting Oberlin College, which we were doing, this is the place to stay. I highly, highly recommend it.
Maya
2016-05-24T00:00:00Z
We really enjoyed our stay at this perfect place! The apartment was so nice and everything was clean. Christine was a very friendly host and helped us with everything we needed. We would recommend this place to anyone!
Leandro
2016-07-23T00:00:00Z
This was the cutest place ever! Plenty of space for our family of five - large comfy beds, cozy living room, and well equipped kitchen! The bathroom was also very spacious and there were ample towels and other essentials. Best of all, our hosts, Jim and Christine, were so friendly, helpful, and welcoming.
Jen-Li
2016-05-30T00:00:00Z
This was our first experience with Airbnb and our hosts Chris and Jim have set the bar VERY high. I texted Christine our ETA and they greeted us when we arrived. I recognized them and their beautiful home from their listing. Everything was just as pictured. The apartment is very well appointed, not lacking a thing. We immediately felt comfortable and like we had found a "home away from home". It was also our first time in Amherst and it is a fantastic little town. After retiring from Ohio to Florida we realized we really missed the Ohio summers and this location was perfect. There is a park, coffee shop, movie theater, bars, restaurants and shops all within walking distance. And just about any store or restaurant and the lake and beach are just a short drive away, not to mention the best bakery in America. We will definitely return. I can't imagine "living" anywhere else now while visiting Ohio.
Cheryl
2016-07-01T00:00:00Z
We had a fantastic stay!! Christine and Jim were extremely accommodating. The apartment was very spacious and a way better value than staying at a hotel. We will definitely stay with Christine and Jim again next time we visit Ohio.
Jenn
2016-08-06T00:00:00Z
Made me feel very welcome. Christine was very proactive about contacting me in advance and asking me if there was anything she could do, or any way she could improve my stay. I would recommend staying here to anyone. Even if you are working in Cleveland it is worth the drive to live in Amherst I have nothing but great things to say about the neighborhood and the hosts. The downtown area is easily accessible, 3 minute walk and there are great restaurants, in the area.
omicron8881
2015-09-28T00:00:00Z
Chris and Jim went above and beyond the norm of hosting. They were extremely kind, courteous and always willing to lend a helping hand. We are so greatful for the utmost hospitality they provided us. We are a family with two toddlers and they lent us multiple items from toys to a high chair so that was awesome too! The apartment was flawless- we couldn't have been happier anywhere else. It was clean, cozy, organized and spacious and had lots of natural light coming in. The deck is also a great feature- loved it for the warmer days. Anyone who gets the chance to stay here has undoubtedly found a gem!! My only complaint is that I wish we could have stayed longer :) Thanks again, Chris and Jim. It was an absolute pleasure and we hope to stay again! :)
Midori
2016-05-01T00:00:00Z
Christine was an amazing hostess. We were met at the door, showed around and welcomed almost like we were family visiting. We could not have asked for a better location.
Nicole
2016-08-01T00:00:00Z
Room Type
Entire home/apt
---
Property Type
Flat
---
Accommodates
6
---
Bedrooms
Amherst, OH, United States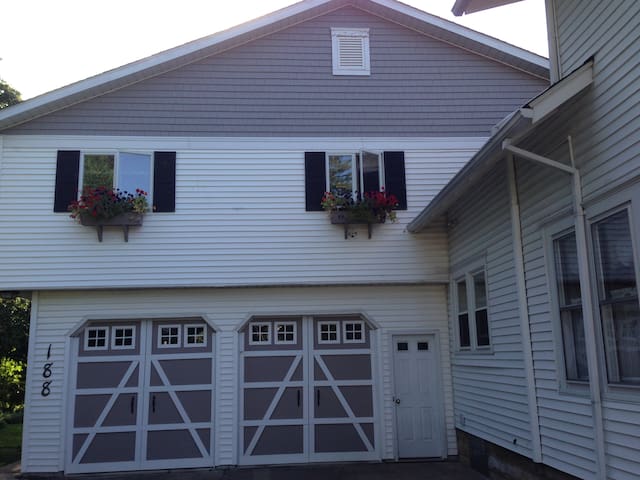 Den with twin size comfy memory foam bed and cubbies and hooks for clothes plus desk and chair. Share main bath with other guests. Within walking distance to Crocker Park for shopping, dining and entertainment.
Eclectic condo across from all the hustle and bustle of out door Crocker Park activities, from movies, fine dining, boutique shopping, groceries, book store, Apple store, and more.
Walking distance to LA Fitness, Trader Joe's and two other groceries, various restaurants and bus stops.
The host canceled this reservation 15 days before arrival. This is an automated posting.
Dirk
2016-07-20T00:00:00Z
Room Type
Private room
---
Property Type
Flat
---
Accommodates
1
---
Bedrooms
Westlake, OH, United States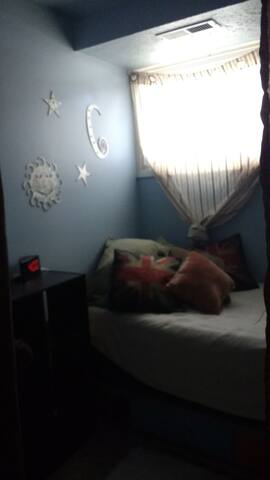 Close to down town and 30 minutes from Cleveland.
Room Type
Private room
---
Property Type
Flat
---
Accommodates
1
---
Bedrooms
Elyria, OH, United States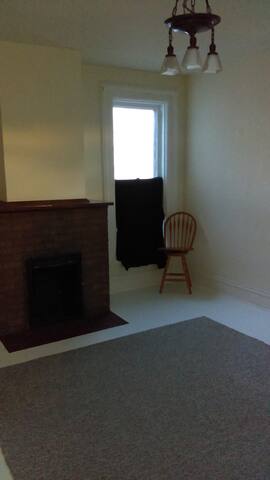 Enjoy this clean, comfortable, & convenient home close to everything Cleveland Hopkins Airport is 9 mins away. Major shopping & dining districts Great Northern Mall & Crocker Park are 2 mins & 15 mins away, respectively. Rocky River Reservation is 5 mins away. Downtown Cleveland, Huntington Beach & Metroparks Zoo are 20 mins away. I-X Center Indoor Amusement Park, Sky Zone, & Dave & Busters are all under 20 mins away. Port Clinton, Kalahari Resorts & Cedar points are about 50 mins away.
I think my place is unique because I go out of my way to make my guests feel comfortable and untroubled. All of the touches I added to my place was with the goal of achieving a relaxing, beautiful atmosphere and easy functionality. I want to continue making my place better to serve guests always! Please let me know if you have any issues as soon as one comes up. I will do my best to resolve them. :) - The Building - This unit is located in a well-maintained, older high-rise apartment that is easy to navigate and has ample parking all around the building. - LIVING ROOM- (SECOND FLOOR MATTRESS AVAILABLE UPON REQUEST) My living room is spacious and furnished with a large sectional that is vacuumed, steam-cleaned, and treated with a fabric protector between guests (still I ask my guests not to eat on it). There is a 110" screen with a projector hooked up to Roku 3 (Netflix, Hulu PLUS, & Amazon Video). Great for movie night or binge-watching Breaking Bad for the tenth time! - BEDROOM - Furnished with a queen-sized bed and always fresh, clean bed sets and sheets! The mattress is always enveloped with 2 mattress protectors and washed between guests. Pillows get the same treatment. There is a dresser, free standing closet with hangers for clothes, full size body mirror, vanity, lamps, and smart TV with local channels, Netflix, Hulu PLUS, & Amazon Video. - KITCHEN - Fully equipped kitchen with refrigerator, stove/oven, microwave, toaster, Keurig machine, cookware, cooking/eating utensils, glassware, mugs, dinnerware, dish washer, sink, rice cooker/steamer - BATHROOM - Stocked with towels and basic toiletries: shampoo, conditioner, body wash, & toilet paper. Mounted hair dryer and full size body mirror
Overall, the neighborhood is unique because of its location. From amusement parks galore in Sandusky to high-end boutiques in Beachwood, North Olmsted is a lovely middle ground. You can visit gorgeous, scenic Cuyahoga Valley National Park, have a lake view cliff-side dinner in Lakewood, or learn something fascinating at the Great Lake Science Center in Cleveland all in 30 minutes or less.
We had a nice stay at Elle's apartment. It was as described and impeccably clean. The only reason for the 4 stars was the building it's in is older and not the best kept and had smokey hallways. Once in her place there was not reminiscence of smoke and we were very comfortable.
Brittany
2016-11-18T00:00:00Z
The apartment was welcoming and very cleanly. It was exactly what we were expecting when reviewing it online, and Elle was a very good host leaving us with everything we needed for a peaceful and private stay. It was only about 20 minutes from everywhere in Cleveland we were hoping to travel.
James
2016-12-18T00:00:00Z
Everything was perfect!! It was our first Airbnb stay and Elle was the best host we could ask for! She gave very easy to follow instructions. Her place is right next to the interstate and there are so many places to eat! Everything was so clean and we felt right at home! We will definitely stay there again if we're ever up that way again!
Rachael
2017-04-08T00:00:00Z
Had a great time. Elle was a great host, very professional and attentive.
Sage
2016-12-06T00:00:00Z
The preparation given to the place and the constant attention given by the host made us feel very much cared for and pampered. The descriptions, photo images and notes are very accurate and shouldn't give anybody a feeling of being misled. The host provided everything for the guests as if we were family. The neighborhood is very good and just across from the mall and adjacent shopping centers. We hope to stay here again when opportunity allows for an extended visit or vacation. Highly recommended location/a place to stay when visiting the Cleveland area.
William
2016-12-30T00:00:00Z
Definitely one of the best places that I've stayed at through Airbnb. The super-cute apartment was cleaned to perfection! Elle has gone above and beyond with instructions and how-tos throughout, in case there's a question at some point, which came in handy big time for the use of the projector. Throughout the entire stay I felt as comfortable as I am in my own home. I highly recommend the place!
Alexis
2016-12-11T00:00:00Z
This fifth-floor apartment was super clean with very comfortable furniture and a fun large-screen projection "TV" system. It was cozy and quiet (we never heard any neighbors.) Located near a large shopping mall (visible out the windows) with many restaurants in the area and easy access to highways, it was a great value.
Dale
2017-01-01T00:00:00Z
Elle's place - super cozy, clean, comfortable, provides many amenities, and overall a really great stay.
Hanna
2017-04-04T00:00:00Z
Room Type
Entire home/apt
---
Property Type
Flat
---
Accommodates
4
---
Bedrooms
North Olmsted, OH, United States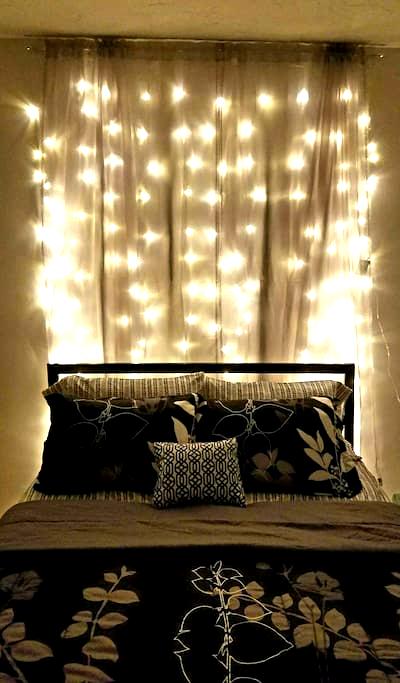 Extremely clean and spacious. Only 2 miles from the Cleveland Hopkins Airport and 15 minutes from Downtown Cleveland and all attractions. I am always out working so please enjoy the entire apartment. Fully stocked Kitchen. Everything you would ever need to cook with. Cable TV is Living Room and each of the 2 bedrooms. New Carpet. 2 Full Baths. Sitting Furniture in all bedrooms. I do personal driving so transportation is available. Coffee Maker, Iron, Laundry all available.
Gas Fireplace in the living room with Chocolate Brown Sectional which reclines (power) in many places. Quite Cozy and Comfortable. Extremely quiet living quarters.
Extremely quiet community. Great Walking areas. Shopping just down the street less than 1/2 mile away. Clean and classy neighborhood. Shopping mall within 4 miles. Many places to eat out.
Comfortable & easy place to stay the night near CLE airport with wifi & TV. Own room & bathroom in Mark's 2-bedroom apartment (in nice complex) with use of living and kitchen areas. Great communication & flexibility by Mark when I needed to delay my arrival. Zero problems. Coffee in the early morning before I departed. Would definitely stay there again.
Edward
2017-03-23T00:00:00Z
I would love to stay here again. I felt almost like my home. The fully stocked kitchen was just awesome. Stay was very quiet and pleasant. I would definitely recommend this to my friends and families.Mark was very accommodating to my specific needs. Enjoyed the stay.
tharun
2017-04-04T00:00:00Z
Room Type
Private room
---
Property Type
Flat
---
Accommodates
2
---
Bedrooms
Middleburg Heights, OH, United States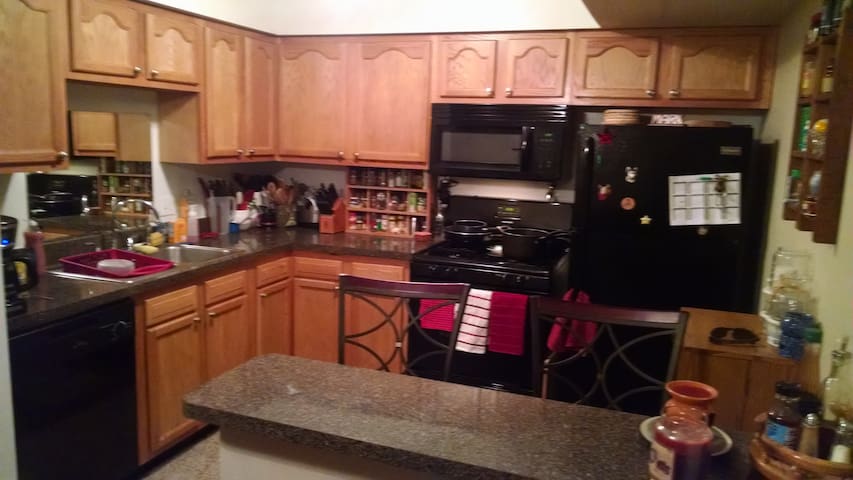 My place is close to family-friendly activities.
Room Type
Entire home/apt
---
Property Type
Flat
---
Accommodates
1
---
Bedrooms
Grafton, OH, United States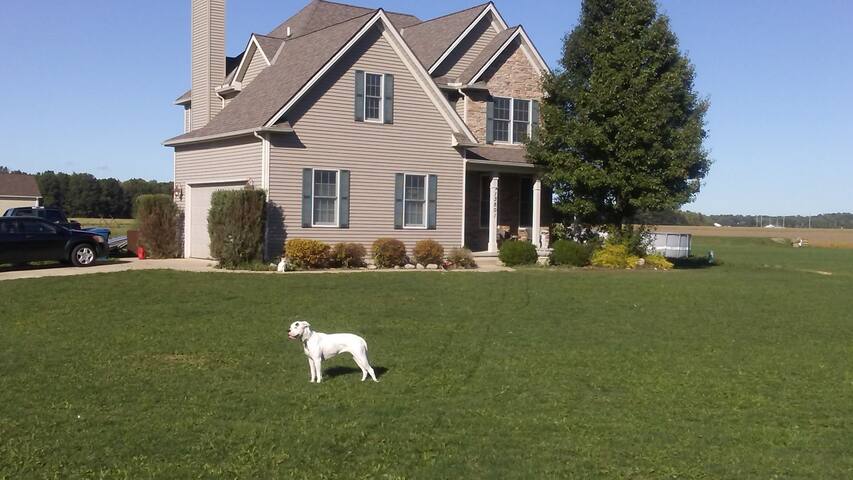 Truly unique, tranquil gem, 7 min. from Cleveland airport & 20 min. from Cleveland. Footsteps to the emerald necklace metro parks hike & bike trail. 5 min. walk to historic village, home of Baldwin Wallace Univ. close to shopping & restaurants. The Modern Zen Oasis is only accessible by a spiral staircase leading to the second story entrance (see photos) of this tree lined apartment, so if you feel the entrance might be a challenge then you should look into booking elsewhere, thank you.
The space is a beautiful unique studio apartment embellished with bamboo, stone, wood, glass, ceramic and skylights. It is located in a separate building near the main house. Your own private spiral staircase entrance. Enter the space into a new kitchenette all new appliances, which include microwave, mini fridge, portable electric burner, coffee maker, pots, pans, dishes, silverware and all essential kitchen utensils. Bathroom includes a shower, toilet, sink, vanity, hair dryer and towels. Coat closet with ironing board and full length mirror. Main room includes brand new super comfortable gel foam mattress, chaise lounge couch, dining table w/ 2 chairs.
Berea is a city in Cuyahoga County in the U.S. state of Ohio and is a western suburb of Cleveland. The population was 19,093 at the 2010 census. Berea is home to Baldwin Wallace University, as well as the training facility for the Cleveland Browns and the Cuyahoga County Fairgrounds.
This place was such a Zen Haven for my friend and I who spent the weekend in Cleveland. Place is exactly like in the picture- spotless, clean, inviting, and cozy. Truly a tranquil Gem! James and Sunya were quick to respond to my inquiry before I booked. The night before check in they left a message just in case they would not be home the next day, then James contacted me via cell the next day to make sure all messages/directions were received and clear. Much appreciated as there were some cell connection issues. My friend and I meet James just as he was pulling out the drive way and he was more than wiling to slow down and talk to my friend. Our stay in Cleveland was full of adventures and our stay at the Oasis was very private. Thanks James and Sunya we really enjoyed our time at your Zen Oasis. A healthy pregnancy to you both!
Sony
2016-05-03T00:00:00Z
Sunya made us feel very welcome by stocking the apartment with many water bottles and breakfast bars. We were happy to find that the small kitchen had pots and pans and a few dishes. We successfully cooked our meals in the kitchen. Overall, the entire place was cozy and well-kept. The aesthetic was beautiful! It definitely seems that the owners take pride in the place. The place matched the listing and still exceeded our expectations. The surrounding area was quiet and just minutes away from the grocery store, restaurants, and retail options. Thank you Sunya! We would stay here again.
Lauren
2015-12-21T00:00:00Z
Our stay in the Modern Zen Oasis was fantastic! We were in town for several tests and visits at Cleveland Clinic, so it felt great to come home to a cozy, homey space and be able to relax. The apartment is even more beautiful in real life than it is in the pictures. It's very spacious and the couch and bed were both comfortable. The kitchen was also stocked with a variety of snacks and breakfast foods. We interacted in person primarily with James, who very graciously offered to carry our very heavy suitcase up and down the spiral staircase. We met Sunya as we were leaving and she was very warm and friendly. They both did a good job of being helpful and accommodating, while still giving us our space. We would absolutely stay here again and recommend it wholeheartedly to others.
Suzie
2016-04-02T00:00:00Z
Our stay was very good. Very clean and comfortable. It had a well equipped kitchenette and beautiful decor and linens. We really enjoyed it. Loved the privacy and deck.
Kerrie
2016-11-07T00:00:00Z
Sunya and James made us feel very welcome. We were given clear instructions and directions to their place. Anytime we had questions, they had a quick response. Overall my girlfriend and I were very satisfied with our stay.
Lou
2016-07-06T00:00:00Z
We were very pleased with my experience at the the Modern Zen Oasis. It felt like our own private apartment in Berea OH. It was well appointed and very calming. It is a quick walk to town for dinner or just a bit of exercise. Sunya even left us some fruit, water and snacks for our visit. We will most definitely check in again if we are in the area again.
Katherine
2016-04-27T00:00:00Z
Sunya and her husband were very accommodating and did every thing g possible to make this an enjoyable experience. Thank you so much for that.
Sara
2016-03-25T00:00:00Z
Wonderful experience. The gracious host provided bottled water, fresh fruit and snacks. Zen is clean, very inviting and comfortable. Great place to stay for a short trip. Definitely recommend.
J
2016-01-31T00:00:00Z
Room Type
Entire home/apt
---
Property Type
Flat
---
Accommodates
2
---
Bedrooms
Berea, OH, United States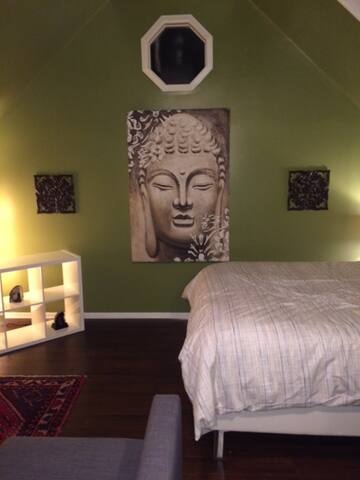 Furnished efficiency on Lake Erie with kitchenette, access to laundry room. Walk to Spitzer Sailing Marina, Jackalope's, ice cream, grocery, library. Includes utilities, cable TV, WIFI. Pet fee of $50. My place is close to parks, beaches, restaurants, and has great views of the lake. You'll love my place because of the views, the location, and the ambiance. My place is good for business travelers, couples, and solo adventurers. Drive to Cleveland is 35 minutes and 20 minutes to Oberlin College.
Room Type
Entire home/apt
---
Property Type
Flat
---
Accommodates
2
---
Bedrooms
Lorain, OH, United States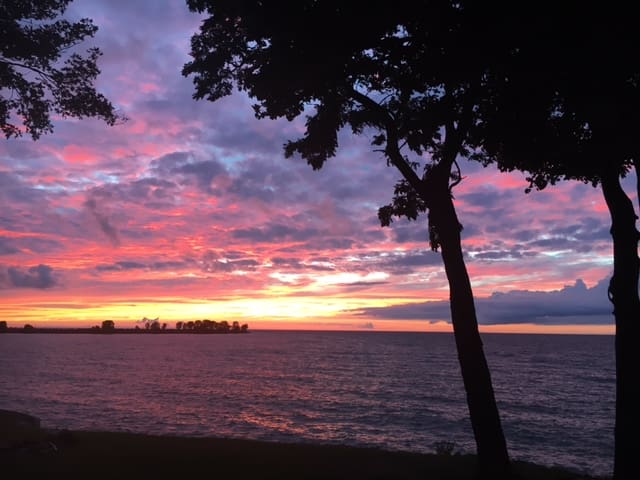 Enjoy this spacious 2 bedroom 2 bath apartment with all the amenities needed for a comfortable, hotel-esque stay and most importantly tranquility. This apartment is close to major attractions. fifteen minute to Airport and twenty five Downtown Cleveland.
Please let me know if you have any issues as soon as one comes up. I will do my best to resolve them.
Awesome deal. Alex is a great host. Couldn't have asked for better accommodations. Within minutes of shopping, dining, and airport. Definitely worth staying here. Thanks Alex.
Noel
2017-03-31T00:00:00Z
Room Type
Entire home/apt
---
Property Type
Flat
---
Accommodates
5
---
Bedrooms
Olmsted Falls, OH, United States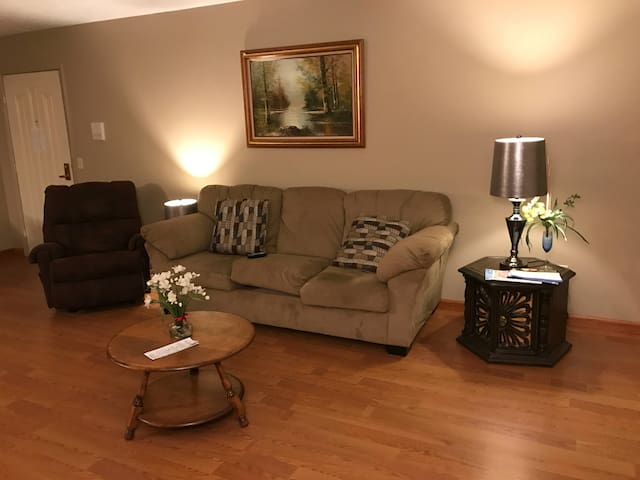 Perfect for families, couples and longer stays! Two-bedroom suite with kitchenette. Ideal for those wanting privacy and functionality. Located in a historic district within walking distance to dining, entertainment and shopping. 15 min to Oberlin & Lake Erie; 30 min to Cedar Point & downtown Cleveland.
Perfect for families and longer stays, the Sandstone Suite is located in historic downtown Amherst. This two-bedroom suite is ideal for those looking for complete privacy and functionality. The suite sleeps four; the first bedroom features a queen-size bed while the second bedroom offers two twin beds, antique dresser and secretaries desk. The master bedroom also features a sitting area with 42" flatscreen TV with DVD player and an over-sized chair. The suite also includes a private kitchenette with fridge, coffee maker and microwave.
Historic downtown Amherst is charming and quaint! Step back into history without loosing the convenience of today. Restaurants, shops, wine cellars, movie theater, bowling alley and taverns are all located within walking distance of the suite. The suite is conveniently located just two miles from the Ohio Turnpike and SR 2. Be just 15 minutes from Lake Eire, Oberlin College, wineries, bike paths, beach, museums, live theater and more! Hop in the car and be in downtown Cleveland or Cedar Point Amusement Park in 30 minutes.
We stayed at Melissa and Paul's place for 2 nights while visiting a sick aunt in Amherst. The apartment was very clean and even though not a real apartment (no living room or full kitchen), it didn't matter since the location was great. Restaurants right down the street and we just needed a place to rest. The rooms were spacious for the 4 of us and was nice to have a tv in each bedroom :). We would definitely stay here again if we had to come back to Amherst.
Jessica
2016-10-10T00:00:00Z
We stayed at the Sandstone Suites for two nights on our trip to Cedar Point - less than 30 minutes away. It was great to be right downtown in historic Amherst instead of on "tourist row". Although the building is also used for other businesses we had plenty of privacy- the perfect set-up since we were traveling with two teenagers. It was extremely clean and had very comfortable beds! Melissa and Paul thought of so many little things..luggage racks, a list of local restaurants, even earplugs under the sink! We had everything we needed for a pleasant stay.
Linda
2016-06-15T00:00:00Z
We had a great stay, the Suite was just as described and very clean. The kitchen had coffee, tea and a nice snack selection for the morning. Melissa contacted me right away wanting to make sure she had my email to send a welcome letter with very easy, specific instructions for the Suite and how to get in and where to park. We had breakfast at the coffee shop just down the road that was suggested in the welcome book and it was very good and reasonably priced. The Suite was very reasonably priced for the area and a short, easy drive to our cedar point destination. We would definitely stay again!
Christie
2016-08-14T00:00:00Z
Host was great in communication and gave us some very good places to eat. Place was as described, very nice and comfortable. Expect to hear some traffic sounds, place is on a main street corner, but stops by midnight.
Todd
2016-04-17T00:00:00Z
Room Type
Entire home/apt
---
Property Type
Flat
---
Accommodates
4
---
Bedrooms
Amherst, OH, United States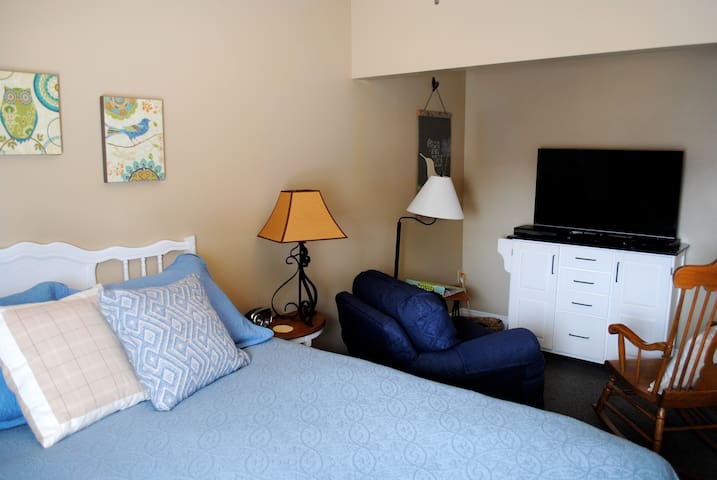 Cozy 1 bdrm, 1 ba apartment w/ spacious living room and fully equipped kitchen, dining area and balcony. Entertaining area w/ L-shaped leather sofa, surround sound system and 120" projector, connected to Netflix, Hulu Plus and XBox 360 w/ multiple games. Wi-Fi. Laundry in the building, elevator, quick staircase entry, parking lot. Located in Rocky River Reservation offering hiking, golf course, horseback riding, kayaking. Golf equipment free to use. Close to the airport, I-90, I-480 and -71.
We didn't end up staying at the Emerald Gem because a storm knocked out the WiFi a few days before. We were offered to stay at another location in North Olmsted and our stay was great! It was close to the mall, easy check in, and very clean with helpful notes on how to use the projector and WiFi, etc. I would definitely stay at one of Ewa's places again!
Dan
2017-04-09T00:00:00Z
Emerald Valley Gem is a wonderful place to stay. The apartment was very neat and clean. The projectors was nice a nice feature projector ., location is excellent, since it is close to the airport and all interstates, but also shopping and dining. I didn't have much time to enjoy all the nearby attractions, except short hiking in the beautiful park, but it is definitely a very friendly place for everyone.
Adam
2017-04-02T00:00:00Z
Room Type
Entire home/apt
---
Property Type
Flat
---
Accommodates
4
---
Bedrooms
Fairview Park, OH, United States
Luxury remodel condo just finished. 2 bd/2 bth, New: travertine flooring, carpet, marble counter tops, stainless appliances, kitchen cabinets, washer and dryer. No expense spared. 8 minutes from Hopkins airport, 15 minutes to downtown. Secured condo
Room Type
Entire home/apt
---
Property Type
Flat
---
Accommodates
6
---
Bedrooms
Olmsted Falls, OH, United States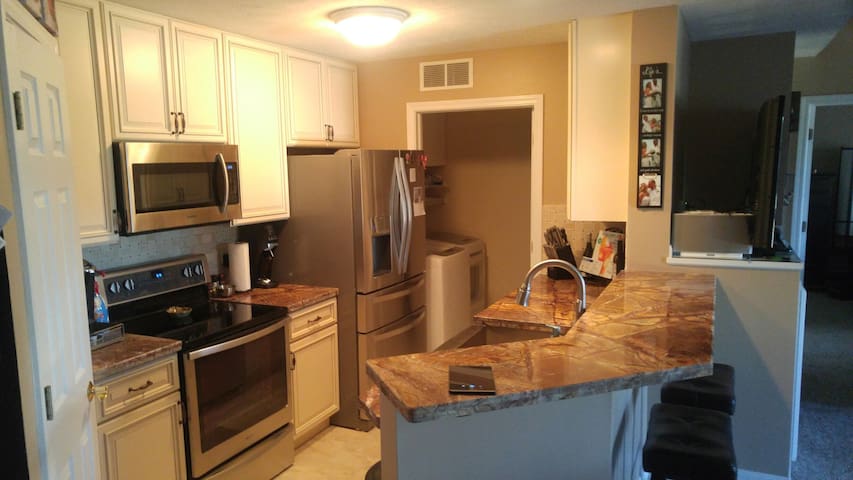 My home is a perfect spot to stay at during the RNC. It is minutes away from Cleveland Hopkins airport and a short 15 minute drive to downtown. Bedrooms are spacious, comfortable, entire home is central air, 3 flat screens, 2 full baths, AND parking!
Room Type
Entire home/apt
---
Property Type
Flat
---
Accommodates
5
---
Bedrooms
Olmsted Falls, OH, United States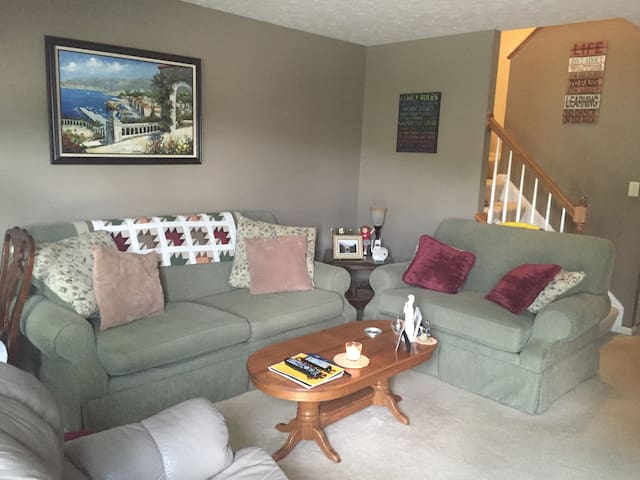 North Ridgeville - Airbnb
:
Average

4.84

out of

5

stars from

172

guest reviews
1

–

18

of

34 Flat Rentals
Enter dates to see full pricing. Additional fees apply. Taxes may be added.