The house is over one hundred years old, located within the civil parish of São Caetano, on Pico Island, and is surrounded by a unique landscape between the mountain and the sea.
A typical Azorean house built at the end of the 19th century by a small farming family of little means. Júlia's Little House is located high on a slope within the civil parish of São Caetano on Pico Island, next to the regional road. It is surrounded by other houses, which means it is integrated in neighbourhood life. The house has a historic atmosphere about it as a result of the several generations that have lived there and enjoys a unique location, marked by the powerful presence of the mountain and the limitless blue sea. The house has been modified several times over the years, slowly catching up with the comforts of modern living. The last of such refurbishments was carried out earlier this year, where the bedroom and living areas were totally renovated, making them more functional and comfortable. The house can accommodate 6 people and is split into two levels. On the upper level, you can find the kitchen and bathroom, and an open-plan space with a sofa-bed and a bedroom with a double bed. The lower level has a bedroom with a double bed, a small office space and a storage area. The two levels are connected by an internal staircase at the centre of the living area. The lower level enjoys direct access to the outdoor patio area, towards the front of the house. In summary, the house can accommodate 6 people and has two rooms (each with a double bed) and a living area with a sofa-bed that sleeps 2. Please remember that the room on the upper level is open-plan with the living area. The patio has a large dining table, chairs and a parasol. There is also a barbecue area with wooden stools, where you can cook a meal or simply enjoy a warm fire on a summer's evening. We have plenty of firewood that you can use. The kitchen is equipped with all the essentials (including an oven) and includes a small dining area. The bathroom is a good size; the shower is a little smaller than we would like but it is perfectly functional. Despite the fact that this part of the house is relatively modern, we hope to make it more functional in the near future. We have made a personal choice not to have a microwave, a TV or Internet access in the house. However, there are two cafés nearby with Internet access and TV.
São Caetano is a small civil parish located on the south side of the island, between Madalena and Lajes do Pico. It enjoys access to a bathing area on one of the island's loveliest bays, known as Prainha do Galeão. You will often see fishermen arriving and leaving in their boats and children playing and jumping into the water during the long summer afternoons. Here, you can enjoy a pleasant swim with a splendid view of the mountain. The sea in this area is almost always calm due to the local geography, and the site is known among divers because of the coral reef located just a few metres from the coast. Júlia's Little House is located on a higher point in the parish, but the coast is roughly 10 minutes away on foot. The house is surrounded by other houses, but enjoys an unobstructed view towards the sea. There is a café that serves meals by Prainha do Galeão. There is another, simpler café behind the house and, a little further up, a bakery/patisserie where they bake their own bread and pastries.
Authentic experience in a small village. We liked the fact that the house had a history and was full of nice touches.
Teresa + Andy
2016-08-31T00:00:00Z
Ana is a great host and was always there to answer any questions we might have, even long before our journey started. The house itself is a little gem and though Ana doesn´t live nearby, lovely Lúcia looks after the house and guests warm-heartedly. The house is a little humid inside, so you should be prepared for that (it is on the south side of the island, which is more humid) and keep airing it out. One can see that Ana and her boyfriend worked very hard and with all their heart to renovate the building, and they added a very personal touch, which we loved!
Hanna
2015-09-14T00:00:00Z
Cute little house at the base of mountain Pico, friendly people in the neighbouring café. Make sure to rent a car, taxis are a bit expensive from here.
Abraham
2015-05-05T00:00:00Z
We stayed in Ana's place for 3 nights during our trip to Pico and it was amazing. The description was very accurate, the house was functional, clean, well located and the person who takes care of the guests upon arrival is very friendly and helpful. We had a small problem with the hot water and a (clean) water leak around the toilet, but it was nothing major or unpleasant. Ana was very helpful and replied very quickly whenever we had a question or anything. The whole booking process was very simple with her and she was kind enough to get everything prepared quickly because we had booked the place literally 12h prior to getting there! Thanks Ana for that! Although you are not in Madalena when you stay in Ana's place, you are definitely in a great location. There is a café/bar right across the street filled with locals (very friendly people). I have to admit that we spent many hours over there! Humberto, the owner, is great, very helpful and he lived in Canada before. People of Sao Cateano were friendly and all invited us to their place to visit their wine making facilities, have some local food, etc. We also met our guide to climb Mount Pico at Humberto's, ask for him if you go there (Manuel or as they all know him there "frango") Overall, our experience in this house was over our expectations not only because of the house, but its location. Sao Caetano is beautiful, and the little port by the water is gorgeous, with beautiful natural pools as well. Again, can't stress enough how much everyone was so nice to us; we are honestly sad we left Pico and this place.
Anthony
2014-11-26T00:00:00Z
Living at the food of a volcano is about as epic as it gets. This place is just as amazing as it looks in photographs. The neighbourhood is very rural with many different farm animals as your neighbours. It is a 5 minute walk down the hill to the water, where you can find a great little bar/restaurant (3.50 euro for a litre of wine. Fantastic lunch). Our stay was amazing. Would recommend this place to anyone who enjoys being away from the city and loves incredible views! Be careful driving around on Pico. People on this island drive like race car drivers.
Daniel
2015-04-11T00:00:00Z
Our stay at Julia's Little House was perfect. It's a cozy place on beautiful location. We felt at home from the moment we opened the door. Filipe answered all our questions very quickly and the neighbour (Lucia) checked if we were ok. We would recomend it to everyone to stay at Julia's Little House! Thanks Ana & Filipe!
Jesper
2016-05-13T00:00:00Z
We stayed in Julia's Little House on our first visit to Pico. Ana was very helpful with directions, recommendations and always responded very quickly. The house was conveniently located and easy to find. It was the perfect size, very clean and had all of the necessities for our stay. Thank you, Ana for sharing your family's home with us and thank you again for the excellent recommendations on things to see and do and especially, the restaurants.
Melanie
2014-05-26T00:00:00Z
The house is really nice and cute . The village quiet. The island beautiful. To take a shower in casa Ana is an adventure.
Ilse
2015-05-14T00:00:00Z
Room Type
Entire home/apt
---
Property Type
House
---
Accommodates
6
---
Bedrooms
São Caetano, Ilha do Pico, Açores, Portugal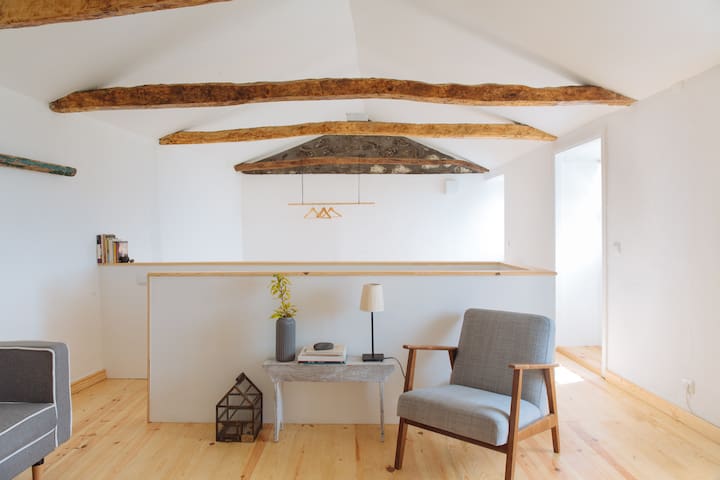 Mount Pico - Airbnb
:
Average

4.5

out of

5

stars from

45

guest reviews