Hosteria La Gondola, beachfront resort with large green areas and private access to the beach. The rooms and bungalows are very well decorated and comfortable. The sound of the waves, singing birds, and amazing sunsets make this place very special.
We are located only 350 meters from the center of Montañita, only a 5 minute walking distance. This keeps La Gondola away from the noise of town and its nightlife. A place where you can relax and enjoy the sound of the waves and the ocean views and private acess. We have 5 private bungalows and 4 private rooms available, each with different size and guest capacity.
We absolutely loved our stay there! Great rooms, beautiful views and amazing people. Couldn't have had a better experience!
Carly
2016-07-06T00:00:00Z
We stayed 2 nights at La Góndola. Our stay was very nice. The rooms where clean, we had warm water and guillermo his wife and staff where very helpful in every matter. Montañitas small "downtown" is reachable in 5 min footwalk and has the perfect distance to still sleep in a quiet surrounding. I would come back to La Góndola any time.
Mario
2017-01-28T00:00:00Z
Quaint place with many different room styles to choose from. Far enough from the craziness of Montanita but also close enough to walk if you want. Hosts were renovating and expanding when we visited. Can't wait to see it when they are done
Wynton
2016-07-14T00:00:00Z
If you are staying in Montañita for one day or twenty, I would suggest La Gondola. The property was incredible. The bungalows were clean and the AC was fantastic. The wifi was awesome and never failed. The staff was incredible and friendly. They helped up to check in late after we missed our morning flight and even let us stay and check out late so that we could do some extra exploring. The lady that was there showed us multiple room options and let us choose which was best for us. She even made us fresh juice as we lounged in the hammocks on the property. There is a bar and plenty of space. There are super friendly dogs roaming the property that were adorable and made us feel even more safe. The beach access is at the back of the already beautiful property. It was great. La Gondola was a perfect walking distance from the bustle of town. Just close enough for a five minute walk but far enough for peace and quiet. It was the best place we've stayed in Ecuador and I will most definitely be returning.
Rhiana
2016-09-07T00:00:00Z
My boyfriend and myself stayed at La Gondola for six nights and absolutely loved it. Having the beach on our doorstep and then a quick 5min walk down the beach to the busier side was great as we got a wonderful balance of having peace with lots of busy restaurants near by. Our host was incredible, really friendly and knowledgeable about the area which made us feel at home,plus he also lent us his surfboard and let us take his parasol on the beach. We have already recommended this place to our friends and would love to come back - in fact we didn't want to leave!
Moira
2016-05-23T00:00:00Z
This was one of the coolest most relaxed vacations I ever had. We stayed here for only 3 days and honestly wanted to move there and stay forever! Book your stay here now you won't regret it! Going to sleep and waking up to the sounds of the waves is priceless.
Joey
2016-06-23T00:00:00Z
Love the direct access to the beach, the multiple relaxation spots, the view, the quiet, and the proximity to the entertainment.
César
2017-03-17T00:00:00Z
We loved this place over Christmas. When they tell you about being right on the beach they are not kidding, about 50 meters and you are in the pacific ocean. There were two things that really made this place stand out: 1. Mari who serves you breakfast every morning - she is absolutely wonderful. 2. the location - it is a 5 minute walk to all the activity yet far enough away that you don't have to live in all the commotion.
Andrew
2015-12-27T00:00:00Z
Room Type
Private room
---
Property Type
Bed & Breakfast
---
Accommodates
2
---
Bedrooms
Montañita, Santa Elena, Ecuador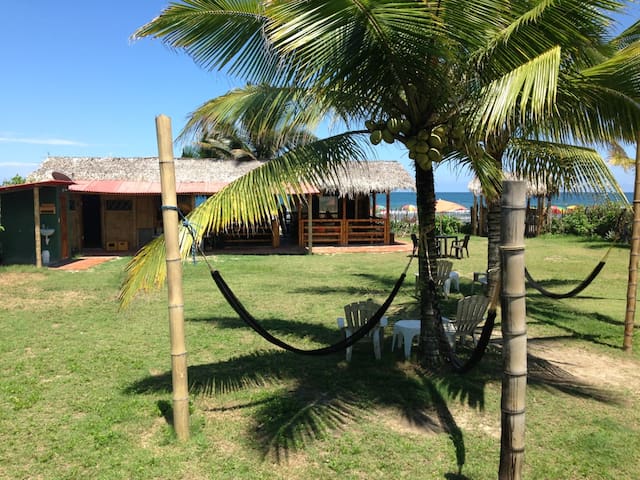 The Laguna Rooms sit right in front of Montanita Estates' second pool and jacuzzi and have have beautiful ocean views and private balconies. Guests can walk to town and the beach in just 2 minutes.
Nice place to stay near the crazy Montanita 's party style life.
Danil
2017-02-09T00:00:00Z
Great room. Great location. Close to the center of the town, but not that close to have some peace and quite.
Marco
2017-03-13T00:00:00Z
Robert was an excellent host and the hotel was great. Robert gave us many important recommendations and was always available if we had questions. We wanted to change rooms and he quickly accommodated our request. I would highly recommended staying with him if your in Montanita.
Adrian
2016-12-26T00:00:00Z
Todo excelente. Lo recomiendo
Sergio
2016-12-07T00:00:00Z
Excelente lugar ... muy limpio y cómodo.
Stefany
2017-03-05T00:00:00Z
Room Type
Private room
---
Property Type
Bed & Breakfast
---
Accommodates
2
---
Bedrooms
Santa Elena, Santa Elena, Ecuador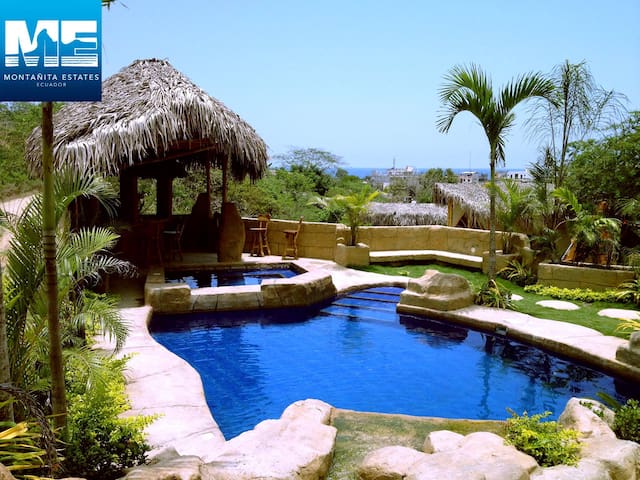 Attractions: beach, family activities, nightlife, restaurants and food. My accommodation is good for couples, adventurers, business travelers, families (with children), large groups.
Nice and calm accommodation 10-15 min walk from the beach. Thank you for the hospitality!
Igor
2016-11-24T00:00:00Z
Es un hostal de descanso, lejos del bullicio, limpio, agradable, cómodo y sobre todo muy bien atendidos.
Isa
2017-04-05T00:00:00Z
Tres bien Viviane est disponible et tres acceuillant
Benny
2017-03-01T00:00:00Z
Un muy buen lugar para descansar de las actividades del centro de Montañita. Seguro, cómodo y con una reserva anticipada a un muy buen precio.
Alejandra
2017-01-02T00:00:00Z
Room Type
Private room
---
Property Type
Hostel
---
Accommodates
2
---
Bedrooms
Montañita, Ecuador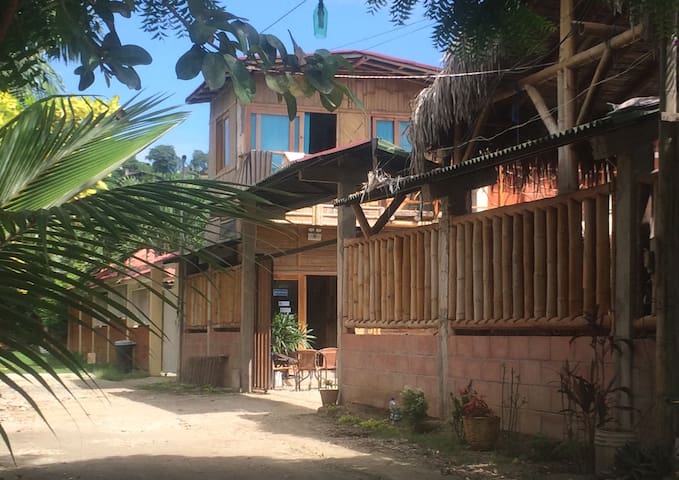 Cabaña - Suite frente al mar en Montañita. Hermosa suite para dos personas. Amoblada y a estrenar. Ubicada en barrio La Punta de Montañita, zona tranquila, segura y residencial, a 50 mts del mar y a dos minutos a pie del centro. La suite cuenta con un jardín techado, baño y cocina completa, microondas, heladera con congelador, vajilla completa, jarra eléctrica, bajo mesada y alacena. Agua caliente de calefón, ventilador, cama matrimonial, closet, wi fi, ropa blanca.
Room Type
Entire home/apt
---
Property Type
House
---
Accommodates
2
---
Bedrooms
Montanita, Santa Elena Province, Ecuador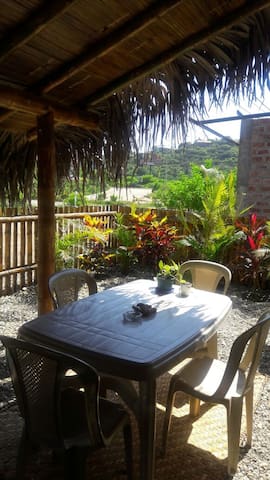 Linda y acogedora habitación independiente en La Punta de Montañita. A una cuadra de la playa y Surf Point.
La habitación tiene entrada independiente con balcón y amplios ventanales hacia el jardín. Tiene una cama de 2 plazas, ventilador, sofa, closet, caja de seguridad, TV con Direct tv y baño con agua caliente.
Estamos en La Punta de Montañita, a una cuadra de la playa, esta zona es muy tranquila y esta a 5 minutos caminando del centro de Montañita. Estamos a pocos pasos un estudio de Yoga y Nia, de un restaurante de Suhi y de un Bar de Cervezas Artesanales (Montanita Brewing Company)
Great room at the Point. Perfect spot to be near the action without being in it. Gracie was a great host. The room was very big with a great bathroom and everything was really clean. About a 10 minute walk on the main road or beach to get to town centre. Would definitely recommend this place.
sonia
2014-12-23T00:00:00Z
Everything worked out great! She has the most adorable kitty and dogs! 10 minute walk from the city center, $1.50 cab ride. I recommend this place.
Marcia
2014-11-23T00:00:00Z
The room is very nice, spacious and cute. Modern bathroom and conveniences, but still with a beachy charm. The house had a nice lawn and is private, but still just a block from the beach and around the corner from restaurants, bars, surf schools, Spanish classes, a yoga studio - and basically anything else you might need to keep you fed, entertained and comfortable. It was nice a tranquil at night - which is good because the main city area (about 10 minutes walk) can be noisy. Also, Grace was very knowledgeable about the town and super helpful. Was great - and I hope to be able to come back one day!
megan
2016-05-29T00:00:00Z
Stayed there 3 nights in february 2015. Clean room, 10 minutes walk from the center of town, 150 meters from beach. Very good location. If a woman traveling alone I suggest taking a cab at night, 1.50$. Nice sushi restaurant on the beach close to the room. Gracie responded quickly to my questions! Pros: good quiet location, yet close to town, clean. Cons: a bit pricy for the type of room.
Marco
2015-02-14T00:00:00Z
The place it's very nice. It is quiet, clean and has a very nice bathroom. The neighborhood is also very nice, away from the noise of downtown.
Juan David
2015-07-12T00:00:00Z
Gracie's guesthouse was exactly what I needed. It was comfortable, quiet, tranquil, and less than 100 yards from an amazing beach. The town of Montanita is a quick walk down the beach. Highly recommended.
Albert
2014-12-27T00:00:00Z
Great place, more spacious than the pictures suggest. Great location, very close to the beach, short walk to town. Minimarket nearby and located in the 'chill' part of montanita, away from the clubs and noise. We had a great new year's celebration!
Teun
2017-01-02T00:00:00Z
Gracie is the best host!! The private room is exactly how she advertises it and it is such a beautiful property, definitely makes you feel like a home away from home. Location is perfect! Right in front of a surf break and about a quick 5 minute walk on the beach to the main town, very safe, even when walking alone at night. Just book it, you won't regret it....
Chris
2016-01-06T00:00:00Z
Room Type
Private room
---
Property Type
House
---
Accommodates
2
---
Bedrooms
Montanita, Santa Elena, Ecuador
Double room in small guesthouse with shared bathroom and kitchen in a beautiful, peaceful and safe part of Montanita. Located just a few meters from the best part of the beach and a 3-4 minutes walk from the city center.
Our beautiful two floor house is located in the perfect spot in Montañita. Here you will be able to enjoy both the tranquillity of nature and relaxing beach life but at the same time you will be just a short walk (3-5 minutes) away from the city center and all of its shops, restaurants and bars. At night you will be just far enough away from the music of the city to enjoy a good nights sleep and wake up to the sound of birds and the waves crashing at the beach. (please note that during big holidays and weekends Montanita in general does get more crowded and therefor also a bit more noisy) (please note that during big holidays and weekends Montanita in general does get more crowded and therefore also a bit more noisy)
We are located in a quiet neighborhood surrounded by beautiful nature. Everything is within walking distance from the house. The beach is just a minutes walk away so you will be able to take a swim anytime you like or watch the sunset at the beach every night. The city as well is just a 3-5 minutes walk away and offers a variety of bars, restaurants and shops. There are also a few small shops just 1 minute from the house where you will be able to do the most basic shopping. The bus station is also just a short walk away on the main road, ruta spondolys. When you arrive with the bus just follow the main road across the bridge and turn left before the small shop at the corner. Pass hostal chi chi Babylon and turn right, pass hostal mamacucha and turn left and we are just down the road.
This place is just great. The hosts are very welcoming, chilled, and helpful. The house is located perfectly. Just a few minutes walk from the nightlife and the beach. Would definitely recommend you going there!
Iris
2017-03-17T00:00:00Z
It was our first stop in ecuador and there was no better way to start our journey! They were so helpful with organizing great trips or bus tickets! It was such a great time, it's really hard to leave this place, the made us feel like home there. Thanks for everything!!
Raffaela
2017-01-23T00:00:00Z
Love these 2 wonderful humans. Cleanliness = 5/5 - The bedroom ,bathroom and kitchen were all very clean. Hospitality = 5/5 - Stine and Danny were Amazing hosts. Such lovely, kind hearted and a pleasure to be around. They were able to help us with all of our needs, including surfing lesson from Danny which we highly recommend. We also had several meals together. You can tell they really love this place. LOCATION = 5/5 - Perfect Location, 2 minute walk to the beach and a 5 minute walk to the main strip. Anything you need is really close by. But far enough away that you can sleep at night. Also in a very safe neighborhood. Wifi =5/5 - worked very well in the entire house. Highly recommend staying here. Come again ? Yes come again
Veeren
2016-03-31T00:00:00Z
Stine and Danny are amazing.. make you feel like you've known each other for ages and hope to keep in touch. We had a great stay with them, got to surf, learn some ecuadorian cooking, hang out and met some great people. The place is fantastic about 2 min walk from the beach or anything you need.
Pat
2016-03-09T00:00:00Z
Danny and Stine are the nicest and most welcoming people of all time. You will love staying with them!
Michael
2016-04-15T00:00:00Z
Fine for backpackers or college kids on holiday, NOT suitable for couples (even those who like to travel inexpensively and don´t mind simple lodging). Noisy and crowded. There is almost no privacy as the bathroom is shared by so many guests (10?) and the rooms are all very close together. Location is close to everything and overall very clean, but again very sparse accommodations: shower barely functioned (frequently a slow and steady drip), bed was adequate but only included sheets, additional furniture was non-existant, leading to very sandy, damp, wrinkled clothes, and no towels were provided - an inconvenience and strange for a beach house.
Liza
2017-02-27T00:00:00Z
Stine und Danny's house ist great. We had really ralaxed time at that place. It's perfect (URL HIDDEN) just a few steps to the beach and another few steps of beachwalk to the town center. It's a good place to stay for anybody. Make yourself breakfast in the fully equipped kitchen and then start your day of surfing. That's the life in Montañita. Stine and Danny will make you feel like home. They are very friendly and helpful. Danny helped us to improve our surf skills by providing surfboards and helpfull tipps. We really would like to come back. Totally recommended!
Julia
2016-10-22T00:00:00Z
Room Type
Private room
---
Property Type
Guesthouse
---
Accommodates
2
---
Bedrooms
Montanita, Santa Elena, Ecuador
Intimate & Elegant - another Luxury offering from the "5"! A unique privately owned penthouse experience above the amazing boutique hotel "El Taino de Sky". Located directly on the Beach in Montanita, this is a street side suite with an Ocean View. Check the surf conditions from your bedroom window! Luxury is our goal. From a 32" flat screen to Egyptian cotton sheets. Feel pampered and spectacular. Seconds away from the party but quiet and peaceful when you want to rest.
After a day of surf and sand - treat yourself to elegance and luxury!! Welcome to a "Heavenly Stay at the 5" a privately owned Penthouse Suite above the amazing boutique hotel El Taino de Sky. Directly on the beach but facing the street side, this is corner suite with an Ocean View and a private balcony. Location – Location – Location !!! Before you even begin to look at the luxury and elegance of our suite, our location immediately sets us apart. There are lots and places up and down the beach from Montanita. We are directly on the Beach and located right in Town, this is a street side apartment with a fantastic views of town and the ocean. Even though it is located on the street side, you can open a window and hear the waves!! We chose this property first and foremost for the location. It has direct access to the beach, it is just steps away from all the action in town, but it is far enough away that you can open the windows and hear the ocean breeze not the dueling music of competing night clubs. After selecting the perfect location, our architect went to work to design our amazing elegant space. The listed price includes a fantastic full breakfast at the hotel restaurant.
If you have never been to Montanita - well you are in for an Experience!! If you have come during high season (December thru April) - the Surf is UP! The streets and the beach are packed...the clubs are hopping and it is exciting and busy!! The great news is you are staying right on the beach but you are on the quiet end .... a two minute walk on the boardwalk or the sand puts you right in the heart of the action between "Cocktail Alley and Restaurant Row" If you are visiting between May and November - it is a lot quieter especially during the week. Most often if you are a beginner you can still get out and "Surf the Mush" (waves of 2-3'). During the week a lot of clubs are closed down and the streets are quieter, but when Friday comes around...things pick back up again. From local street food to our favorite Peruvian restaurant, Montanita has something for everyone. Be sure and go by the TikiLimbo and have a Big Wave (take a friend or three to help you drink it). Hola Ola has daily specials and good food. Often the best breakfast in Montanita is found right there where you are staying at El Taino de Sky's own restaurant.
This apartment is in a great location and is brand new construction. It will be a great place to stay once the host fixes the problems that my husband and I encountered.
Laveda
2016-12-30T00:00:00Z
Buena Ubiacacion , comodo y muy bien atendido
Alejandro
2017-03-22T00:00:00Z
Chad responde rápidamente las peticiones, es bastante honesto y confiable, la ubicación del alojamiento es perfecta para descansar, y a la vez cerca de la diversión de montañita.
Juliana
2017-01-02T00:00:00Z
Room Type
Entire home/apt
---
Property Type
Flat
---
Accommodates
2
---
Bedrooms
Montanita, Santa Elena Province, Ecuador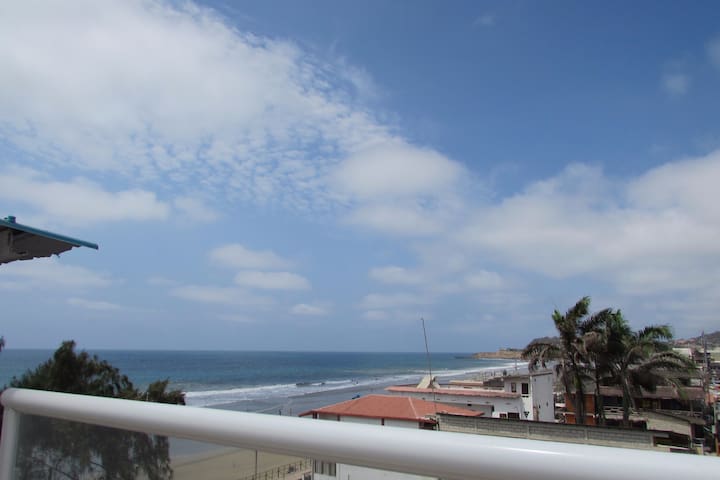 Habitación cómoda con baño privado, agua caliente,ventilador y closet,hermosa vista al mar ,rodeado de un amplio jardín y área con hamacas,Wifi gratis.
Un lugar tranquilo donde podrán descansar y disfrutar de la naturaleza, frente al mar. Vivimos rn las afueras del pueblo de Montañita rodeados de àreas verdes y naturaleza.
Vivimos aqui por muchos años con mi familia, Montañita no todo es buya y fiesta. Muchas familias tomamos la decision de vivir menos estresados sin los ruidos tipicos de la ciudad. Y apreciar mas la tranquilidad de la naturaleza que nos rodea. Creamos este lugar por que nos gusta mucho conocer personas de todas partes del mundo que nos cuentan sus experiencias en cada uno de sus viajes y que es los que los motiva a seguir conociendo el mundo. Y saber que fuimos parte de su largo recorrido, e irse contentos por que fueron bien atendidos, nos motiva a seguir adelante con nuestros proyectos. Y hacer nuevos amigos.
WE would always come back to Carlas Place as it was such a beautiful apartment with view to the ocean, waking up with the sound of the waves. We felt like home as the family is so warm-hearted and lovable. Apart from that we really enjoyed Carlas sweets like the maracuja cheesecake.
Lara
2016-05-14T00:00:00Z
Amazing family, we felt like we were home. Perfect vacation place with a touch of paradise and close to the heart of montañita we are definitely coming back hopefully soon.
anibal
2016-06-02T00:00:00Z
Carla's place is a gem. The house is perfect located, in front of the beach, perfect to surf, 2min walk from Montañita center but away from the noise. It's really clean, no mosquito troubles and the rooms are much nicer than on the picture, with a real mattress. I went with my girlfriend and it was the best price I could find for a privat room. And we didn't know that the room even has a privat bathroom with hot water. It's the perfect deal. I had to work a few ours every day and I was happy to have stable Internet. Carla is a really peaceful person with always a smile on her face. She always makes sure that you feel well. She has an awesome security dog, which makes you feel not to worry about your stuff. We felt so happy there, we decided to extand for 2 weeks and safe some money instead of traveling north. Carla's place is highly recommented.
Florian
2016-05-08T00:00:00Z
Carla has a really nice, and very conveniently located space right by the beach. She is an amazing hostess, very thoughtful, helpful and kind. By far, she is the most welcoming host i have encountered and takes her responsibilities very seriously. I would never hesitate to book with her again.
Mohamed
2016-09-09T00:00:00Z
Carla and her family were wonderful hosts. They immediately made us feel welcome and were helpful throughout our stay. Their home and garden is a lovely place that they maintain with heart. It's the perfect place to kick back in a hammock and relax, or step through the fence and paddle into the surf. There's even an outdoor shower to rinse off the salt under the sun. I highly recommend it!
Ravi
2016-05-27T00:00:00Z
Carla is a wonderful host. Was there for us with whatever we needed. Her place is right on the beach and only a 5 minute walk from the Centre of town so is away from the noise when you don't need it. Her place is very relaxing and I highly recommend it to all. Thanks Carla :)
Rohan
2016-09-30T00:00:00Z
Carla did everything to make us feel home! And we did! We enjoy every minute in the hammocks and at the beach. Carla is the perfect host! Definitely try her cakes at her shop nearby! They are super delicious!
Julia
2016-10-14T00:00:00Z
Great location; back gate opens right onto the beach and there are several hammocks on the property including the patio right in front of the rooms. The house is on the edge of town, so away from most of the noise, but an easy walk minutes away from all the food and drinks and shops downtown. Oh, and you must like dogs to stay there, they have a few, who provide a morning wake-up bark by 8:30 most days.
Larry
2016-11-17T00:00:00Z
Room Type
Private room
---
Property Type
House
---
Accommodates
2
---
Bedrooms
Montanita, Santa Elena, Ecuador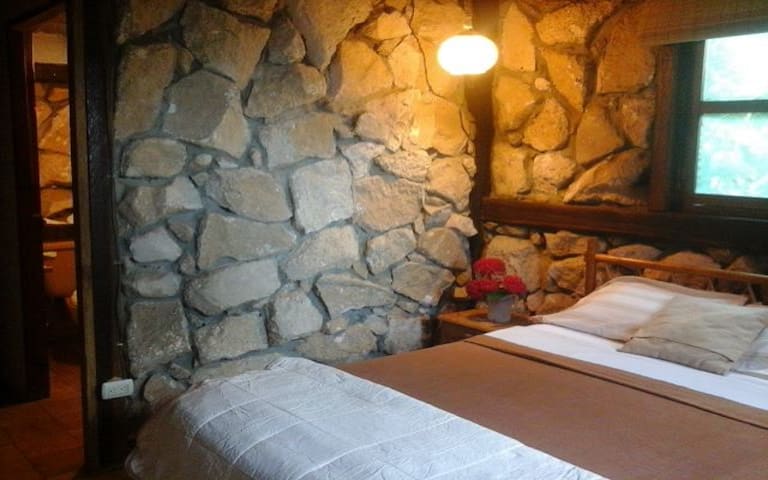 Save money while living in front of miles of uncrowded beach, surrounded by hibiscus listening to the ocean from a hammock. Your own well equipped suite is a much more cost effective choice than staying elsewhere in a similarly priced Private Room, having to share facilities and eat out. Perfect for longer stays. Manglaralto village is quiet with few tourists,but close to many activities. Just along the beach is the famous surf town of Montañita with its fun times, bars&restaurants.
Ideal for couples (or solo traveller) who want to live close to the beach, value peace, a secure environment and space to live without falling over their bags. Two pleasant living spaces; a cozy bedroom with ensuite which is separated from the mini-kitchen /living by a hall where the wardrobe, dresser, and storage are located. The mini-kitchen/living is compact but with sufficient equipment to cook meals , has a table for working/dining and a sofa for relaxing. Fan cooled to keep our eco foot print small. Protected from the direct sun's rays by a sun roof to keep the suite cooler. There are plenty of power points for electronics throughout the Suite. Small but functional bathroom with hot water. Weekly housekeeping included . Separate entrance through a locked street door down a small pathway to your own front door. The Suite is located at the rear of the property, just 60 seconds away from the waves . The tranquil communal hammock terrace is at the front of property by the beach. Touchpad apartment front door entry, all windows have security fittings and mosquito netting. Usefully sized in-room safe, big enough to secure laptops, cameras etc. Private, comfy using Coastal style enhanced by native wood, lamps and local surf photography. Has a very welcoming ambiance.
Manglaralto is tranquil, populated by local families with few expats or tourists. There is a quiet buzz from locals going about their business, chickens running around , the Community PA telling you about fund raisers and fiestas and the occasional hum of salsa music. By 9pm the streets are empty and quiet, leading to lovely restful sleep time. Few restaurants or bars, but some small cabanita style restaurants on the beach about 2 minutes walk to the north which serve great local style breakfasts and lunches. Also places to buy basic groceries or a few beers. Walking is our usual way to get around! Montañita is really close so it is easy to swing by there to grab a cocktail, pizza , sushi or any other food and beverage you feel like. If you fancy dancing there are a few fun clubs to hang out in. There is a lot to keep you occupied if you want to spend some time away from the beach. Dos Mangas set in a dry tropical forest with birds, monkeys , waterfalls and natural swimming pools is 7km away. Here you can horseride and hike in the verdant natural environment. Also you can try out Agua Blancas, Los Frailles, Ayampe, Salinas, Paragliding, Biking, Inexpensive massages and Whale watching in Puerto Lopez
The room was placed very nice, with walking distance to the center and close to taxi if that was nesecary. The apartment has almost no natural light, but has lamps. Therefore, it also has to be noticed that the room is very hot, as no wind can enter. But a fans are given. All in all, the place is very recommendable as to the location (much better than livibg in the center with a lot og noice), and Victor who is a helper at the place provide you with so much help that you can't even imagine. He was very calm and was always around. Thanks to both Jacqueline and Victor!!
Gina T.
2017-02-19T00:00:00Z
Jacqueline and her party we're fantastic hosts. The location was serene and very close to Montanita. Jacqueline contains a wealth of knowledge pertaining to the area and was very happy to help out with suggestions for things to do. The place is very quiet and offered many facilities to suit your home needs. I'd recommend staying at her airbnb to anyone and would return again in the future. We even saw dolphins outside of the place a couple times while we're there. Getting to the beach takes only 1 minute. If that.
David
2017-03-14T00:00:00Z
I usually have problems sleeping when I am travelling but I slept easily 8 hours a night at the apartment. Other times I came to the area and stayed elsewhere, sleeping was much more difficult. It is amazing to wake up literally 20 meters from the ocean and I find the sound of the waves very relaxing. I was very happy, the apartment had everything I needed and the atmosphere was great. Jacqui and Victor were very helpful with everything and I had a great time
Barak
2017-01-31T00:00:00Z
Jacque's place is awesome, right by the beach in a friendly neighbourhood. Everything was as described, the place was clean and wifi was strong. We were also invited to have a drink on the rooftop terrace, what an amazing view it offers! The place was a short ride away from town where there was a breakfast alley and lively street lined with cocktail bars at night. Jacque is a superb host and looked after us really well, I would not hesitate to come back and stay longer!
Eva
2017-02-04T00:00:00Z
Great location! Literally steps away from the beach. There is a great porch to hang out on swing chairs to read or relax. The food in town is fresh and delicious. We had a great time.
Becca
2017-02-22T00:00:00Z
This was the best stay during my trip through SA! Stay here and just relax, listen to the waves of the ocean, see the sunset every night and hang out in the hammocks. This place is located right on the beach. Make sure to walk in to Montanita during sunset! Recommend it 100%, don't be surprised if you end up extending your stay here!
Petronella
2017-03-23T00:00:00Z
We had a great time at this place. Stone throw away from the beach we were sitting on the porch listening to the ocean most of the time. The apartment was very clean and had all of the necessary equipment needed. 20 minutes walk by the beach to Montañita. Jacqueline and Victor were very accommodating and welcoming. Couldn't have wished for better hosts.
Juliusz
2017-03-06T00:00:00Z
Just had a fantastic stay at Jacqui's place. The place is totally clean and fitted out to a high standard. Great shower and really neat decoration and furniture (large comfortable bed, adequate storage, comfortable eating and sitting area). The kitchen was a good size for two people to use, and had all equipment necessary (fridge, hob, microwave etc). We stayed in the appartment at the side of the building, so we didn't have a 'seaview' from the bed but there is outside area from which you can take in the view, the sea breeze and the sound of the ocean. The appartment was well proportioned and well aired with ceiling and extractor fans and a long window to let in fresh air and light. It is right next to the ocean so you can be on the huge beach in seconds. The beach by the property is pretty quiet with only a handful of people enjoying it when we were there during a peak holiday. It was a really relaxing place to stay and easy to get around the area to explore using buses, taxi just taking a walk. For us, it was good to stay out of the hustle and bustle of Montanita but have the fun within easy access. Both my fiance and I loved the place and would definitely stay with Jacqui again. Thanks Jacqui for sharing your lovely home with us and showing us the hidden gems in the area. See you again.
Gary
2017-02-27T00:00:00Z
Room Type
Entire home/apt
---
Property Type
Serviced flat
---
Accommodates
2
---
Bedrooms
Montanita, Santa Elena Province, Ecuador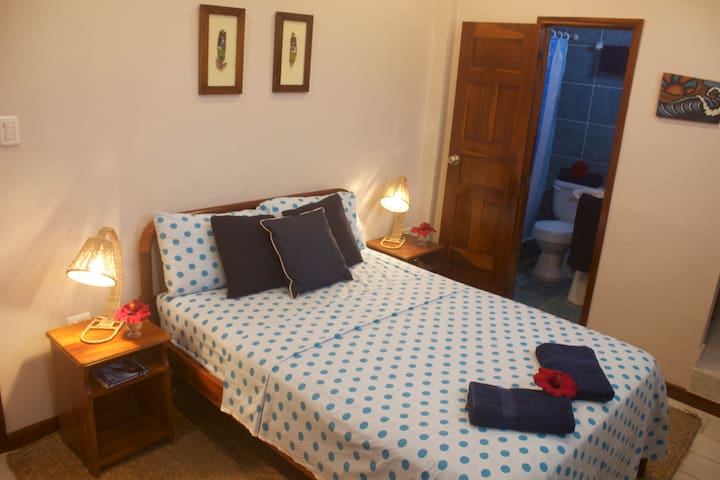 Spectacular villa in Montanita Estates. Breathtaking views of the ocean, modern, luxurious furnishings, well equiped kitchen. A quiet, peaceful retreat only a 2 minute walk to Montanita's worldfamous beach, surf, restaurants, bars, nightlife Villa espectacular en Montañita Estates. Las impresionantes vistas del océano, modernos, muebles de lujo, cocina bien equipada. Un refugio tranquilo a sólo 2 minutos a pie de la mundialmente famosa playa, el surf, restaurantes, bares de Montañita
The best of both worlds. Tranquil location only minutes from all the action. Newly built house in a quiet location with a stunning ocean view just 2 minutes from the beach, restaurants and the heart of the action.
Tours, sightseeing and adventure day trips are available at one of the activity agencies just minutes away: whale watching, Isla de la Plata and much more.
Perfecto 10/10
Johnny
2017-03-19T00:00:00Z
Room Type
Entire home/apt
---
Property Type
House
---
Accommodates
6
---
Bedrooms
Montanita, Santa Elena, Ecuador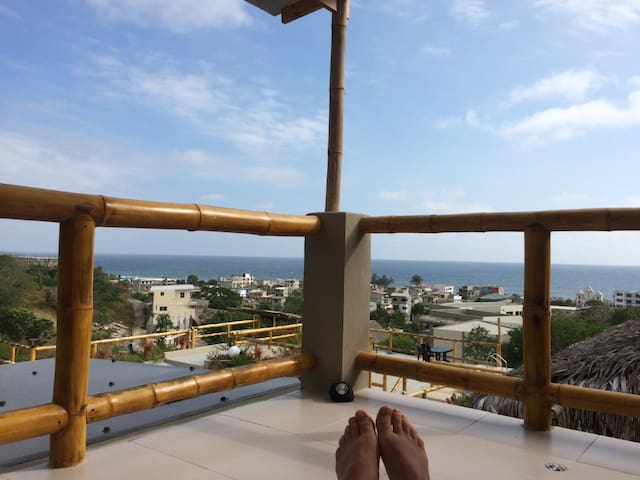 Family-friendly condo right by the beach. Close Montañita for a lively nightlife, Isla del Pelado or Bosque de Dos Mangas for great outdoors activities, and long and nice beaches like Olón. The neighbourhood offers family-friendly activities and there are restaurants and other amenities nearby. My place can offer you and your family a relaxing atmosphere with round-the-clock security. It is good for couples, solo adventurers, families (specially with kids) and even business travellers.
The space is comfortable for 5/6 people (2 in a double bed, 2/3 in the bunk bed and 1 in the pull-out bed). Feel free to use the couch as a sleeping space as well if your sixth guest finds it more comfortable. We also provide you with a beach umbrella and 6 chairs, which will be stored in the laundry room. Feel free to use them either in the balcony or at the beach. Let me know of any special needs you might have and I'll do my best to accommodate them.
The complex has a pretty nice social area with swimming pools facing the ocean for both kids and adults. It is quite an experience to watch the sunset from the pool or the wooden deck right next to it. This is a family-friendly place so you will be able to have a relaxing and secure holiday with your partner and children.
A nice distance from Montanita! Diego was very easy to communicate with and we made reservations just a few days before arriving. We're thankful that Diego was able to accommodate us. We noticed that some earlier visitor said that the beach is five minutes away. It's literally 90 meters from the backdoor, and is a beautiful stretch of beach, with strong pounding surf and sugar fine light grey sand. Absolutely beautiful. The pool was perfect for swimming and cooling off. We noticed a lot of the other guests, like us, were making good use of the facilities around the pool - like the covered areas for eating and pool chairs. This is a great area for moving out to the beach or just staying put and enjoying the sound of the surf from the complex pool area. We also noticed that some of the bigger groups (four people or more), had domestic helpers with them. Kind of a cool idea and something we will probably ask about in the future when we bring more people with us. A very nice location and place to stay.
Kenneth
2017-01-11T00:00:00Z
Diego's flat is spacious, clean and has 24 hour security in an enclosed compound. Two bedrooms and two bathrooms should sleep up to 6 people if you're very friendly although we were just two people and enjoyed having a double bedroom each. The air con works all over the flat. My only piece of advice is that you should bring your own hair dryer and toiletries. We left an iron as a present for the flat so I hope future guests can enjoy it. Do remember to ask for towels (more than 1) to be given by guest. The local administrator Marcelo was very quick to prividec us with toiletries and towels when we asked him. I strongly advise you get a local mobile chip so you can (SENSITIVE CONTENTS HIDDEN) with Diego and the administrator in case you need anything. If I come back to the area, I'll definitely try to stay there again!
Lizbeth
2017-01-08T00:00:00Z
Great place. Apartment is very nice and comfortable. Place is safe and the beach is very clean and safe to swim. Highly recommended and would come back. Apartment fully equipped.
Yuan
2016-07-25T00:00:00Z
Diego 's place was great, quiet and only 2 min from the beach and a 5 minute ride to Montana. Highly recommended.
Alexandra
2016-08-29T00:00:00Z
Los detalles del departamento enlistados en la página web concuerdan a la perfección con la realidad y experiencia vivida!
Andrea
2016-12-25T00:00:00Z
Mi estadia en el departamento de Diego fue muy agradable, el departamento es exacto a como se presenta en las fotos, la playa es super limpia y bonita, hay lugares cerca para comer. La piscina temperada es muy comoda sobre todo si tienen niños pequeños como yo. Lo recomiendo, volvería definitivamente
Andrea
2017-01-06T00:00:00Z
El departamento es hermoso y muy comodo, con habitaciones grandes y muy equipado, tal cual se ve en las fotos con todas las comodidades como para no tener que salir de ahi! Ideal para ir en familia o con amigos y estar en un lugar tranquilo y seguro
Agustin
2017-04-01T00:00:00Z
Je recommande ce condo il est propre et l'équipement est parfait, cafetière,grille pain etc... le ménage est bien fait et apprécier. La gentille dame de ménage nous fournit chaque semaine les serviettes et change les draps . Le site est bien situé près du village ou l'on trouve de la nourriture et de petit restaurant de poulet grillé et de pizza,une dame vend des ananas délicieux près du condo sur le bord de la rue et le soir il font cuire du porc qu'il vende dans des petits plats pour (URL HIDDEN) piscine est très grande il y a beaucoup de chaises et de parasols. La plage est propre et peu achalandé. Je recommande l'endroit il y a plusieurs lits supplémentaires aussi cela conviendrait bien à une famille. Deux village ce trouve près Montañita et Olón quelques minutes en autobus que vous pouvez le prendre devant la porte en levant la main dans la rue,pour quelques sous. Vous y trouverai de tous Resto ,bière et boulangerie divers.
carole
2017-02-20T00:00:00Z
Room Type
Entire home/apt
---
Property Type
Condominium
---
Accommodates
6
---
Bedrooms
Montañita, Santa Elena, Ecuador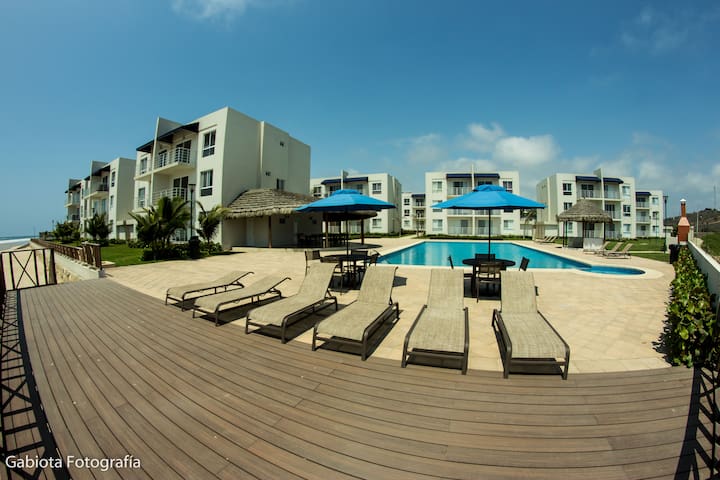 Our freshly renovated ensuite 4 bed shared dorm is a perfect option for people looking for comfort, friendly hosts & a homely feel. This listing is for ONE individual bed. If you want to book more dorm beds simply contact us to have it arranged.
Our comfy and super clean studio flat based dormitory constitutes a part of our big house and provides you with all the comfort needed. The dormitory is for max. 5 people and each bed is 12$. It is located in a separate apartment with its own entrance, outside dining area and a patio in front of it. There is a shower with great pressure and hot water and a kitchen inside of the dormitory apartment. Our guests are also welcome to use our big, clean, fully equipped kitchen, a wonderful bamboo made terrace- our common chill area with sofas, mattresses and a hammock and any of our two outside dining and chilling areas. There is also an extra restroom and an extra shower available. Our guest-house is not a crowded hostel or a huge, fancy hotel- it is a cute, homely place and our dream is for you to feel right at home in our place. We leave you complete freedom and privacy but at the same time we can be at your disposal and help you with anything you need any time since we live in the same building. We provide up-to-date information about Montanita and all its attractions, we offer discounts and we help organize great tours. We keep our guesthouse very clean and we provide daily house-keeping service free of charge. To make your stay and our communication flow, we can communicate with you in several different languages ranging from English, Polish, Czech, Slovak, Spanish, Portuguese to Hebrew. We also know basic French, German and Arabic :) There is hot water and exceptionally good wi fi in the whole property. We serve delicious breakfast with homemade freshly squeezed juice and fruit salads from our own 100% organic fruit for an extra fee of 3$. We also provide professional babysitting services and we organize music concerts both at home and in the bars of Montanita. We love animals (two cats and a puppy live here) and we invite our guests to visit us with their pets. What makes us unique is our serene, green, extra safe location that provides perfect conditions for a good night rest and our individual attitude towards our guests- we are truly committed to making your stay here in Montanita as pleasant and flawless as possible. Our dream is for our guests to feel right at home in El Cielo.
We are in a really quiet neighborhood called El Tigrillo. Please note that we're not in the centre and not on the beachfront! Our house is located 10mins walking distance from Montanita's centre and the beach. If you walk slowly it might take you up to 15mins. We love our location because it enables us and our guests to be very close to Montanita's action when we feel like it but at the same time have our 'countryside' lifestyle and enjoy exceptional peace and silence at night. We are surrounded by greenery and its inhabitants. You will be falling asleep to the sound of crickets and frogs mating and waking up to the sound of tons of birds and sometimes our hungry cats or playful puppies :)
I stayed at El Cielo for nearly two weeks and loved my time there and in Montañita. Monika and Dan are a wealth of information on the town and its surrounding locations. The hostel is very comfortable and clean, especially with its new renovations. It was cute to see the two dogs and two cats around as well. It's nice that the hostel isn't near the noise of the town center and I didn't really mind the walk. The more people are at the hostel, the more new friends you may have to walk back with after a night on the town :)
Alexandria
2016-01-03T00:00:00Z
Daniel y monika son excelentes anfitriones, tienen un hogar hermoso y trabajan todo el día para que se mantenga y puedas disfrutar de ese pedazo de cielo. Excelente ubicación y la mejor energía en cada rincón de la casa. Un abrazo gigante, lamento no poder acompañarlos mas tiempo como lo tenía pensado.
Carlos
2015-05-19T00:00:00Z
Realmente todo fue increíble, me sentí como en familia, Monika y Dani estuvieron pendientes de todas mis dudas, me ayudaron con todas mis preguntas y cualquier cosa que necesité. Todo el tiempo que estuve en "El Cielo" sentí que estaba en casa con hermanos, en familia y con un par de gatos geniales y una linda perrita llamada Nes, todos de lo mejor. Monika y Dani siempre se encargaron de presentar a los demás viajeros para hacer un gran ambiente en la casa. "el Cielo" queda a unos 10 minutos caminando del Centro de Montañita así que es perfecto para descansar, igualmente hay lugares donde comer a 5 minutos y lavandería también. ¡Ninguna queja! siempre existirá tema de conversación. música, idiomas, viajes, amigos, familia...
Juan
2015-04-19T00:00:00Z
Room Type
Shared room
---
Property Type
Hostel
---
Accommodates
1
---
Bedrooms
Montanita, Santa Elena, Ecuador
Furnished house, with 2 bedrooms, WIFI, hot water, hammocks, complete kitchen and accessories. Large balcony with patio that extends onto 2000m². Located about 500m away from the town of Montanita, its beach and surfpoints.
We had a great month at the PACHAMAR in Montañita. The house was in a great location outside of Montañita. It was very pleasent to stay in we enjoyed it alot. Dany was a great help too. He took care of everything that needed doing around the house.
Brendan
2016-05-01T00:00:00Z
Great place to stay. Loved the location for surf and beach access.
Kari
2017-03-14T00:00:00Z
Genevieve is an exceptional hostess and was very responsive to our questions. Prior to our arrival, she installed a screen door on the deck to allow better ventilation and also put in screens along the open gap between the walls and ceiling. Her house gets great air movement and is very comfortable. It's away from the party scene in town so it's muy tranquillo. The property itself is a huge space, including a separate outdoor wet bar and palapa and bathroom. We would have stayed longer than 3 1/2 months but it was already booked!
Cyndy
2015-10-29T00:00:00Z
Genevieve's place was fantastic! It was clean, beautiful, and in a great location. It is close enough to most markets and the beach, making for a short walk, yet far enough away where much of the noise from town cannot be heard. It was very nice to relax in the hammocks on the porch and cook some meals for ourselves with food from town when we did not feel like going out. Needless to say, the house had everything we needed for a wonderful week in Montañita!
Andres
2016-08-31T00:00:00Z
We loved Genevieve's place. Great location. It was quiet save for the pack of dogs next door. We would absolutely stay again!
Jeff
2017-03-23T00:00:00Z
Like being at home but at a 10 minute walk from Montañita. Good WiFi internet. Complete kitchen for cooks. Hot water. Everything you'll need. A very quiet place to stay. Dani is the contact at town will help at any time. Excelent place.
Javi
2015-07-09T00:00:00Z
Genevieve and pachamar house has been an awsome experience for me and my friends staying there. The tranquility of the neighbourhood and still so close to the beach makes this home a idyllic place for those who wish some privacy but still have the option to nestle in with the crowd in montanita. Genevieve has been more than welcoming and any issue that arose was dealt with compassion and reason. I highly recommend for future tenants. The house has everything you need except maybe a TV but in hindsight was better not to have on your vacation.
Henrik
2016-06-11T00:00:00Z
So I stayed here for a full month and was very happy. The pictures are completely accurate. I communicated with Genevieve through email and she was always prompt to respond. Danny, the property manager, was quite helpful, too. Whenever I had any issue, he responded quickly. The house is about a 10 minute walk to the beach and to central Montanita. I wanted privacy and a solid internet connection and I got both.
Cesar
2015-06-30T00:00:00Z
Room Type
Entire home/apt
---
Property Type
House
---
Accommodates
4
---
Bedrooms
Montanita, Santa Elena, Ecuador
Charming villa with jacuzzi and swimming pool and amazing view to the sea, locate 2 minutes away walking to the hearth of Montañita town
Can´t recommend this place more. It was clean, safe, and an ideal location. It also has the best view in town. The host, Shaun, was very outgoing and even brought us out to show us a great time in Montanita. If I ever go back, I will be staying at the heights.
Tim
2017-02-14T00:00:00Z
Very high-ly recommend The Heights for any larger group visiting Montanita. It's the perfect base, lots of privacy but a convenient staircase cuts a straight line into town (don't lean to hard on the rail though!), where you're sure to repeatedly bump into friendly locals. Shaun was an excellent host. He was responsive throughout our stay and went above and beyond with cleaning services and showing us around town. If you're looking for a dope spot for an Ecuadorian adventure or just a memorable trip with good buds, you can't do better than The Heights. **Bonus points for the amazing Zebra painting in the living room**
David
2017-02-21T00:00:00Z
The place was amazing!!! Very comfy and roommy. The view was perfect, a great option for a getaway with friends! Aydin, the manager, was very helpful and welcoming! We'll be back the next time we go to Montañita
Mafer
2017-03-19T00:00:00Z
Shaun's place was amazing! Spacious, clean, and AC in every room which is unheard of in Montañita. The beds were comfortable and showers were spacious and had hot water. I hope I get to stay here again!
Stephanie
2017-03-17T00:00:00Z
This apartment has potential and with some female guidance, could be better equipped, especially in the kitchen. Paying more than 300 per night was a bit of shock for a place so spartan in its accommodations - no TV, poor internet, water limitations, marginal cleaning service, and an un-stocked kitchen (utensils, dishes, pots and pans, etc.). The hosts are very helpful and friendly and did what they could (it's not their apartment), but it was quite disappointing. Had it not been high season without any options of other accommodation, we would have left. We received dirty towels, but without enough water to run the washer, we preferred to grin and bare it. When we arrived, there was dog business in our front yard which never got picked up (even after asking), little garbage pick up, sporadic and poor cleaning, etc. and the jacuzzi, heavily advertised, had problems with the water for the first several days of the visit.
Dan
2017-01-02T00:00:00Z
Amazing villa, perfect quiet location at only 5 minutes walking from the movida. Friendly staff and very kind owner.
Gerry
2016-08-13T00:00:00Z
Reservado y pagado un "Charming villa with jacuzzi" para 9 personas... Al final, tuvimos: - un departamento diferente - para 6 personas en vez de 9 - limpieza no realizada (fotos de la suciedad, del polvo, de los bichos, de los platos no lavados etc.) - "charming" si pero "without jacuzzi" A la llegada tratemos de comunicarnos con el anfitrión, pero imposible, sin respuestas a las llamadas, a los mensajes... Seguramente se manifestara una vez cobrado la estancia y que habrá leído los comentarios... Pero cambiara nada a la experiencia decepcionante que tuvimos... Esperamos que otros guests tomaran buenas decisiones y que en peor no les pasaran la misma experiencia que tuvimos que enfrentar... En wix pueden ver las fotos de la triste experiencia poniendo theheightsmontanita. Booked and paid a "Charming villa with jacuzzi" ofr 9 people... At the end we had: - an different apartment - for 6 people instead of 9 - not clean at all (pictures in the website of Wix looking for theheightsmontanita ) We tried to comunicate with the host, but no answer until now... We hope other guests will take the right decision and won't have to live our bad experience.
Laura
2016-12-11T00:00:00Z
Describo mi experiencia como la mejor, somos un grupo exigente y se cumplió con todas nuestras expectativas, el anfitrión fue muy atento, y sobre todo muy hospitalario, el departamento es espectacular y lo mejor fue el jacuzzi, altamente recomendable, y de seguro voy a volver.
David
2016-07-31T00:00:00Z
Room Type
Entire home/apt
---
Property Type
Villa
---
Accommodates
9
---
Bedrooms
Montañita, Santa Elena, Ecuador
Our place is a new beachfront construction close to nightlife and public transportation but located in a very quiet area on the most splendid beach in Ecuador. You'll love our comfy and spacious condo because of the views, sunsets, the high ceilings and luminosity. We welcome couples, solo adventurers, business travelers, and families (with kids). We will surpass your expectations. An additional 10% is payable upon receiving the keys. This covers services and maintenance (e.g.:guard & cleaning)
Upon your arrival at Sunset Shores' gate, you will have access to a parking and a locker. A guard is present 24 hours a day. It is a very secure property.
The natural beauty of Olón is breathtaking, locals are welcoming. You'll find perfect conditions in Olón for surfing and swimming in the Ocean. The water is warm, the area is safe (no jellyfish or shark) and incredibly clean. Furthermore, you can eat a fresh and tasteful meal right on the Beach.
This condo is beautiful. It is bright and airy and was super clean. It has marvelous views. Olon is a better town than Montanita for those who want a "relaxing" vacation. The condo complex, including the pool, was pretty much empty on weekdays. So was the beach, which is perfect for body boarding and surf beginners. The night life in Montanita is a 10-min $1.50 cab ride away.
GREGORY
2017-02-25T00:00:00Z
Amazing place! More beautiful than in the pictures, Olon is just the best beach! Very comfortable department, with everything you need for your stay! Recommended
Anabel
2017-02-19T00:00:00Z
I cannot find a single thing to complain about from my stay at Claude's beachfront condo! Here are some of the things I most enjoyed: 1. The communication with the host (both before and during the stay) was fantastic. This was my first time renting on Airbnb, so I had lots of questions - but all were answered patiently in well under 24 hours. 2. The location!! If you're looking for a bustling city this might not be for you, but for a week of relaxation this was pure bliss. The beach was lovely and not even the slightest bit crowded, the town was charming, and the actual location of the condo (not right in town, so nice and quiet but close enough to walk into town easily any time) was just perfect. 3. The condo itself is lovely. Everything looked exactly as pictured. It's spacious and clean, and there is every modern convenience. I was especially impressed with how well-stocked the kitchen was. Sometimes at a rental place you have to improvise in the kitchen, but almost everything we wanted was available. 4. The market in town was a pleasant surprise. We bought most of our groceries in Guayaquil and brought them with us, which was a good idea as the market in Olon is small. However, it had more than I thought it would. Definitely sufficient if you're going to be eating out some (tip: Il Pirata pizza on the north end of town is FABULOUS!) and a good place to get some basics if you've forgotten anything. 5. Friendly neighbors! More than one neighbor introduced themselves, and one set of neighbors let us borrow their beach umbrella and chairs on a day they weren't using them. Might not expect that every time, but definitely a sign that we were in a friendly place. In short: I would recommend this rental to anyone looking for a quiet getaway, and I hope to return myself someday!
Karmen
2016-12-24T00:00:00Z
This is jewel. Located towards the beginning of Olon, away from the crowed part of the beach yet within a short walk. Right in front to the beach. Although the apartment is in back of the building, it is located in the corner facing the sea. It is fully equipped and almost brand new. Olon is small village with good places to eat. If you like the nightlife and the crowds you can pop to Montañita which is right next to it (5 minutes by car) but thank God far enough not to spoil the peace and quiet of Olon. Claude, the owner, answered all our messages within minutes.
Luigi
2017-01-29T00:00:00Z
The place was exactly as described. Clean, modern and an open floor plan. Location was far enough away to not be crowded, but close enough to be an easy walk into town. If I were to come up with a criticism, then I would probably have benefitted from a warning about the C.O.U.S's (crickets of unusual size). They were friendly enough and our boys were happy to take them outside... but it was a bit of a surprise initially.
Benjamin
2017-01-23T00:00:00Z
We loved our stay in Olón! Claude's place is an excellent location in the complex as it sits far enough back from the beach so as to not have sand & salt blowing in, but with direct facing views of the ocean from the the living area. We loved the light, neutral palette of the condo as everything always looked clean & bright. The space was quiet & peaceful day & night. The A/C & wifi were in good working order our whole stay, which was great! The pool needed cleaning, but all it took was a quick request and the maintenance crew was on top of it, no worries. Property quirks should be expected in any rental but it's how the owners & staff handle it that makes all the difference. Claude was kind and quick to communicate, both with us and with the property manager. This is the quiet part of the beach but still close enough to town to walk to restaurants and the mini-supermarket. I don't think there's a better location in Olón! We absolutely recommend Claude and her gorgeous place on beautiful Olón beach!
Jessica
2017-02-13T00:00:00Z
The place is very beautiful, the apartment is very spacious and biger than it looks in pictures and full equipped. Beach in the zone is gorgeous!
Carolina
2017-03-18T00:00:00Z
This is a very quiet location, Olon and Oloncito are charming little towns. We could walk over to the grocery store and buy fresh fruit and fish from the road side kiosks. Beach access is fantastic but it was so nice to have the pool on site. This condo had really high end bed linens and super comfy furniture. Thoroughly enjoyed our stay as the condo was so well appointed. Patricia.
patricia
2016-10-13T00:00:00Z
Room Type
Entire home/apt
---
Property Type
Condominium
---
Accommodates
6
---
Bedrooms
Olon, Provincia de Santa Elena, Ecuador
Confortable Wood house, 3 bedrooms, living and dining room, balconies, small pool for children, garden. It's about 5 minutes walking from downtown, right by the main road so it's very accessible and safe. It's about 50m from the beach, there's a small road that leads there right by the house. The house is furnished and the kitchen is well equipped (fridge, kitchen, freezer). WIFI available.
We build the house with fine woods. It has a special charm because we love it and have spend wonderful time in this place. its a summer house, for vacation, I wish we could live there a whole year!! House is very private, surrounded by gardens and close to the beach. There are plenty of hammocks so you can relax and forget about the stressful city!
The house is away from noisy downtown in a nice neighborhood with similar houses. All neighbors are nice people!
This house was truley amazing. We are 4 guys from Sweden and we've stayed here now for 2 months. We absolutely love it. The house it self is so beautiful. It's almost entierly made of of wood and really feels like living in a jungle. There are two balconies pointed to the sunset through the trees. The garden is beautiful with birds and butterflies flying around. It is rustic, some things are not totally functional, like the kitchen fan that makes annoying sounds. But we don't mind to much. Its charm takes over. And there are 2 really nice caretakers that help out with cleaning and taking care of these kind of stuff. They run a hostel in Montanita and are so helpful. We got the house cleaned once every week. The house is located by the road but we never got bothered by that. It's still a big garden between the house and the road. On the other side there is a beutiful path down to the beach. We have our own surfboards and surf every day. It's is located just outside the most crowded part of town, wich is nice because montanita gets really crowded sometimes. During weekends and holidays there is a lot of people in town. We never met the host, she lives in Quito. But she seems really nice and helps us out with whatever we want. She speaks perfectally good english and is very helpful. The price monthly was $1000, wich is not super cheap, but worth it. So, if you're not too comfertable and used to luxury, air conditioned hotels, we highly recommend this house. It really is amazing. But please don't book the house this spring because we want to stay! ;)
Fredrik
2015-02-06T00:00:00Z
Our stay in Montañita was very pleasant, and this house made it all perfect. It is quite large, and has tons of hammocks under the house to lounge in during the day. It is close to town, only a short walk down the beach and you're right in town. It has the benefits of being close but not close enough where you hear the music from the clubs all night. It is very peaceful and private, and a great place to hangout with friends. I highly recommend it, I much preferred having our own place to cook and relax instead of a hostal, and its basically the same price if you have a big group. We had an absolute blast during our time here.
Brian
2016-07-13T00:00:00Z
The host and caretaker did a great job of communicating and letting us know how to find the house. They also made themselves available for questions that we had during the stay, which was great. The location is a perfect distance from both the ocean and town (less than a 5 minute walk). The house had everything promised, with great internet access and plenty of hammocks. The only downside was the early morning noise from the main road, which was nearby. We were able to overcome this with earplugs. Overall, we had an enjoyable stay.
Randy
2016-09-29T00:00:00Z
Great place with a great location! The space was large enough for our group of 5 twenty somethings going to Montanita to go out and celebrate a birthday. We had the privacy we needed but were close enough to town to be able to walk home from bars at night safely. It was an awesome house for a great price!
Hunter
2017-02-28T00:00:00Z
Our host Susana was very responsive to our numerous requests and concerns. She was able to speak and write fluent english which was very helpful for us as we did not speak fluent Spanish. The care taker Hilda was also very polite and respectful of our privacy. The best way I can describe this listing is comparable to "glamping." A term I would describe as upscale camping. If you are a fan of camping you would def love this property. We felt safe and secure during our two week stay. The only quam we had with this property is that it is right off the major road and the traffic noise can be heard from the bedrooms. If you are a light sleeper it's def going to prevent you from any sort of deep sleep. Lastly, if you intend to rent a vehicle I recommen(URL HIDDEN)or SUV because the drive way entrance is very steep.
Angjelin
2016-02-29T00:00:00Z
This is as Montañita as you can get. The house is a typical wooden house from the coast of Ecuador. It was very rustic and well taken care of. The fact that it is wooden makes it different. Susana was great she had a contract for 3 months with other people and did not cancel us, even though we were in the middle of the other peoples stay. Just because we had made the reservation first for the busiest week of the year which is New Years . The town get really busy and crowded in this particular holiday, so there was a lot of traffic which made the house a little noisy for us. We had a fun stay.
Maria
2015-01-04T00:00:00Z
The house was great, with a great location and warm welcome from Hilda. Couldn't have asked for a better finsih to our trip.
Forrest
2016-08-21T00:00:00Z
The host made us feel very welcome by meeting us there and explaining the house to us. They had fresh fruit and coffee and dinner rolls. They were always prompt in replying. The neighborhood however was right next to the highway, so it was noisiy, which should have been mentioned in the ad. Also, the house was much more rustic than we expected, with older amenities, fans that creaked as well as floors. The doors were hard to lock and the shower head has wires coming out of it that looked dangerous. We didn't think it was worth $100+ a night, would have been fine for maybe $60ish. But the host was great and the Location in regards to the town was a perfect spot.
Ashley
2014-10-22T00:00:00Z
Room Type
Entire home/apt
---
Property Type
House
---
Accommodates
6
---
Bedrooms
Montanita, Santa Elena, Ecuador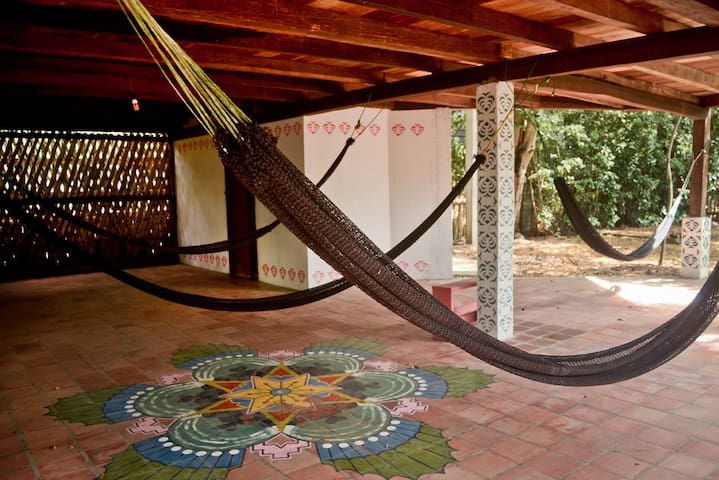 Lugares de interés: el centro de la ciudad, arte y cultura, parques, restaurantes y comida y increíbles vistas. Te va a encantar mi lugar debido a las zonas exteriores, la luz, el barrio, la comodidad de la cama y la cocina. Mi alojamiento es bueno para parejas, aventureros, viajeros de negocios, grupos grandes y mascotas.
Room Type
Private room
---
Property Type
Guesthouse
---
Accommodates
3
---
Bedrooms
Montanita, Santa Elena Province, Ecuador
Oloncito,Montanita, Ecuador, South America (Olon 5 minutes from Montanita - small community. Not even a block away from a gorgeous, wide Pacific beach that runs 10 miles (20 km) from Montañita in the south to San Jose in the north. Enjoy a fun-filled, relaxing Ecuadorian vacation right on a beautiful beach among friendly, peaceful people, with plenty of amenities--and all this at bargain rates! Olon is a peaceful little town, 3 km (1 mi.) north of Montanita
Room Type
Entire home/apt
---
Property Type
Holiday home
---
Accommodates
3
---
Bedrooms
Olon, Provincia de Santa Elena, Ecuador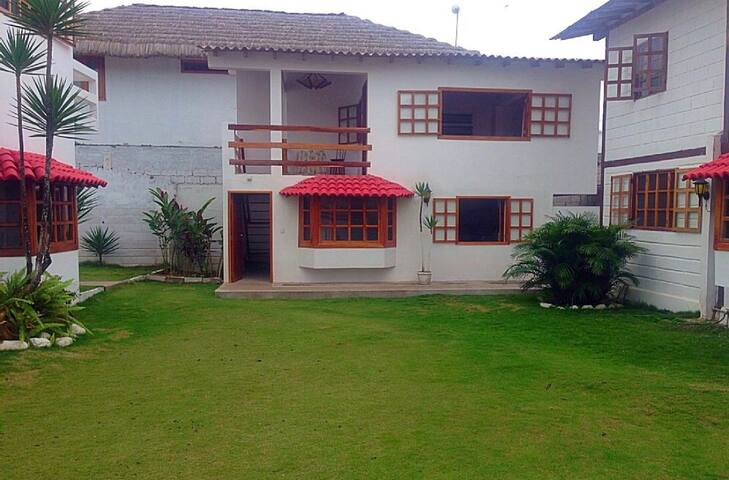 Enter dates to see full pricing. Additional fees apply. Taxes may be added.