The house is a few minutes walk from the beach and not far from Red Hill, the famous wine region where you can taste fantastic local wines. Balnaring shopping centre is a 5 minute drive, where you can find everything you need - IGA supermarket, restaurants & cafes. The serine location the house is situated in will make your stay memorable while the open fire place will keep you warm and cosy. Ideal for couples and families.
Enjoy the serine location and the sound of the breaking waves in the morning hours. Relax by the fire place and enjoy your time
Serine location situated in Merricks Beach ideal for weekend escapes.
A great little place with some nice extra touches.
Ingrid
2016-11-06T00:00:00Z
We stayed in Andreas' beach getaway for a long weekend with 3 adults and a baby. We enjoyed our stay as it was a beautiful sunny weekend and it is wonderfully located: quiet, close to the beach and we had 2 koala's in the trees around the house. There are some side notes to be made: most of the stuff in the house is very tired and overused, the interior can definitely do with a slight update. It gives the house a bit of a grotty feel with old calendars on the wall and pictures made out of A4's printed off. As we spent most of our time outside this didn't bother us too much. The main problem with the house is that none of the doors or windows have fly-screens. This means that on a hot day (the first day we got there was 35 degrees); you either cannot cool the house down at night or you have a house fulllllll of bugs. The first day we didn't clue on straight away and ended up with about >100 flies and mosquito's - we then closed the house off for the night and couldn't sleep because it stayed really hot till the morning. This was a real challenge with a baby. Also the place is extremely noisy, again a challenge with a baby ;) Andreas was very responsive to all our messages though and attempted to make the stay as good as possible. And the bed in the first bedroom is very comfortable!
Marjolein
2016-11-20T00:00:00Z
This house is Merricks is in a great location. Just a walk to the beach and very close to surrounding wineries and restaurants/ cafes. The house was reasonably well equipped. The linen and towels supplied had seen better days. There is a lovey fireplace in the central living area but unfortunately the wood was damp, which meant making a late night trip to Balnarring to get some dry firewood and firelighters. Overall an enjoyable experience but pretty pricey for what it was.
Isabelle
2016-10-01T00:00:00Z
Great location for a coastal break.
Ali
2017-01-01T00:00:00Z
Great little house perfect for a family holiday at the beach. If you are after a fancy bathroom this isn't for you but if you are happy with a clean and functional bathroom and a bit of retro beach house action this is the perfect place to spend a few days or a week or so over summer, or snuggle up round the open fire in winter. we loved it!
Lara
2016-12-19T00:00:00Z
Lovely location and homely stay - you hear the ocean and relax in a beautiful garden setting.
Fiona
2016-09-25T00:00:00Z
Remote for some peace and quiet with a short walk to the beach. Bring a spare heater if you're coming during some colder weather
Julia
2017-04-01T00:00:00Z
A comfy place to stay and great value for money given the location - a short walk to the beach and a nice quiet neighbourhood.
Douglas
2016-12-26T00:00:00Z
Room Type
Entire home/apt
---
Property Type
House
---
Accommodates
4
---
Bedrooms
Merricks Beach, VIC, Australia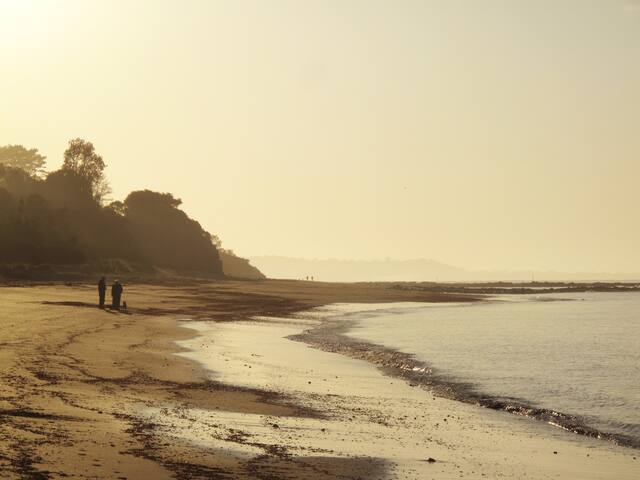 This is our family holiday house, just over one hour from Melbourne. Very quiet, peaceful location. One minute walk to safe swimming beach and community tennis court. Close to wineries, restaurants, markets, shopping centre. Relaxed, comfortable, big windows, undercover deck for out door dining. Fenced block - pets by negotiation.
The host canceled this reservation 297 days before arrival. This is an automated posting.
Katie
2017-03-08T00:00:00Z
The host canceled this reservation 15 days before arrival. This is an automated posting.
Megan
2017-02-23T00:00:00Z
Great place to stay
Tracey
2017-04-02T00:00:00Z
Room Type
Entire home/apt
---
Property Type
House
---
Accommodates
6
---
Bedrooms
Merricks Beach, VIC, Australia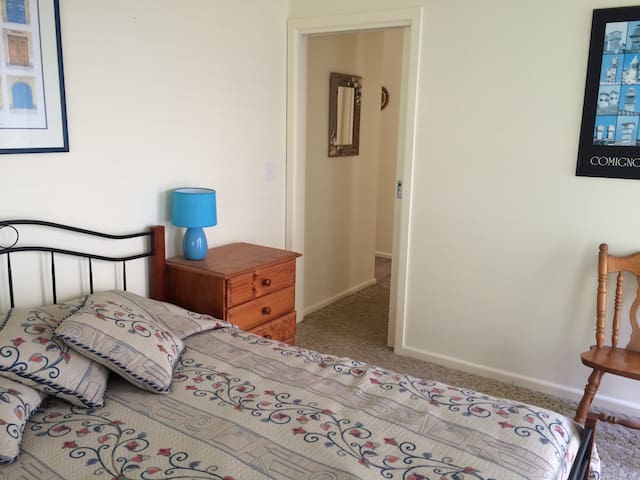 AJoy Beach House is exactly what a beach house should offer: A relaxed, home away from home, close to the beach and big enough to find your own space. Merricks offers plenty to do apart from the beach, but you're just as likely to laze around the house.
Note: Pricing varies with number of people and time of year. AirBnB will calculate correct pricing. Discover the Magic of Merricks Beach. Stay & Enjoy the Relaxed Beachside Lifestyle. It's only natural that you'll love this unique coastal location with the beautiful swimming beach, yacht club and coastal trails within a short walk, plus the fabulous northerly aspect and tranquil garden setting amongst the gum trees. In winter, go for a beach walk then curl up in front of either the two open fire places. Cook up a banquet and gather around the feasting table, while the kids have a ping-pong tournament. This spacious 3 bedroom home is ideal for families and couples. Two living areas allow kids can have their own space. It has an ideal casual dining / family room to the rear that enjoys the garden views and has a rustic decor that's finished in mud brick walls, recycled timber feature beams and red brick floors. Large window panels and French doors bring in an abundance of natural light and garden views. Come through the breezeway to a separate wing with an open plan kitchen / meals and lounge with polished floors or out through big French doors to the paved terrace that provide a perfect protected spot for meals and entertaining on the lawns. Splashes of colour from wild flowers and the native plantings are enhanced by the back drop of gum trees and semi-rural acres to the rear. Low maintenance and definitely unassuming from the street front, this wonderful beach house will be the home of many happy memories of time away from the hustle and bustle of city life.
We stayed with two children and my in-laws. Kids never got bored with a plenty of toys and play area inside and outside. We all really enjoyed our stay!' Thank you, Fleur!
Ai
2017-02-26T00:00:00Z
Fleur was great in providing all the advice needed to make this a comfortable weekend away. The house itself comfortably fitted our party and we had a great time playing basketball on the lawn and table tennis inside. The beds were really comfortable (I slept in one of the two singles), and the highlight of the weekend away was playing cricket on the beach with my friends from highschool. If you want a relaxed and roomy abode for a decent price only a short distance out of the urban grind, this is the place for you!
Robin
2016-11-12T00:00:00Z
+ Living area and fireplace is great and very relaxing + Good location for exploring Peninsula - Expensive for what you get - Bedrooms are small and cramped - 1 x bathroom for 3 bedrooms
Paul
2015-12-01T00:00:00Z
This place is just beautiful. We loved the 2 open fireplaces, comfy day beds, table tennis and trampoline, and the sleepy Mericks beach. Was great to explore that side of the Peninsula too (Somers, Balnarring, Point Leo). Fleur went over and above to look after our needs. We highly recommend 'A Joy'.
Annette
2016-05-23T00:00:00Z
A Joy is a lovely house with great facilities, particularly for a family or larger group of friends. There are some hidden gems to explore close by and the house itself is great for relaxing and some downtime.
Sam
2016-12-20T00:00:00Z
Lovely place to stay with generous spaces and modern decor. Great spot for families with kids - lots to keep them amused. Easy walk to Merricks Beach.
Matt
2016-09-20T00:00:00Z
Fleur was great to deal with and the house was great. It's perfect for kids with the table tennis, games, and backyard. We especially loved the wildlife and had visits from koalas right outside the kitchen window. We will definitely consider this house for future holidays with kids.
Monique
2015-09-23T00:00:00Z
We had a great girls weekend at Merricks. The house was a great place to relax in front of the fire. The room was a little cool - but cosier once the fire was roaring. The kitchen was well equipped to eat in - the bin in the bench was the only real trick. The beds weren't overly comfy. And some even slid around on the floor. But it was a great stay - with lots to do and see.
Caitlin
2016-09-26T00:00:00Z
Room Type
Entire home/apt
---
Property Type
House
---
Accommodates
8
---
Bedrooms
Merricks Beach, VIC, Australia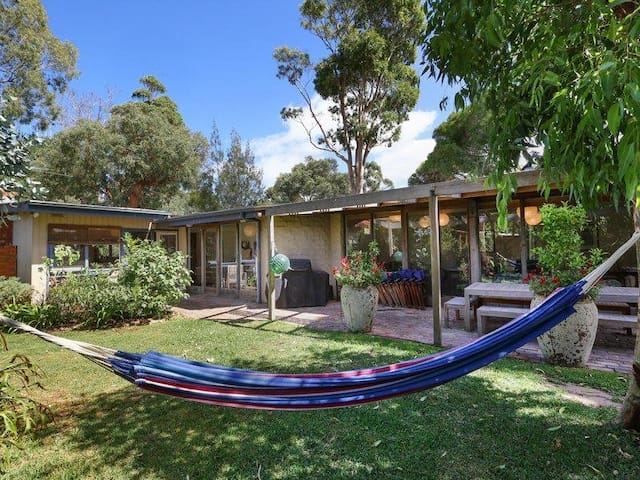 Our vintage renovated cottage is a 2 minute walk to the beach and yacht club. It has 4 bedrooms & sleeps 10 people. Bedroom 1 king sized bed, Bedroom 2 - Queen sized bed, Bedroom 3 - king single bunks x 2 (sleeps 4) , Bedroom 4 - king single bunks x 1 (sleeps 2). Overlooks acres of lush farmland. 5 minutes drive to Balnarring shops , cafes, restaurants, wineries & skate park.
Our cottage is the 7th house from the beach & overlooks rolling fields with cows happily wandering and grazing, The cottage has polished floorboards and white walls throughout. We have kept our furnishings simple & therefore restful. Imagine dining outside, under the the stars and listening to the sounds of the ocean. A Webber BBQ is available. There is also a shady alfresco with lounge next to the outdoor dining area. A space to stretch out with a good book. There are two living spaces, one at the front of the house which includes open plan kitchen, dining & lounge with wood fire and a separate lounge tv room. There is ducted heating throughout. Our cottage and in fact all of the houses at Merricks Beach are on rainwater and as such we don't have a laundry at home. We pop down to the local shops where the Balnarring Laundromat is situated. The ladies there can offer you a service wash or you can DYI and slip around the corner for a yummy brunch or cuppa whilst the washing is being done. We do have an outside clothesline if you prefer your clothes to dry naturally. There is a little circular stainless steel basin in the bathroom if you would like to do any hand washing. This basin is also the perfect size for bathing a little one. We have left some Ecco friendly laundry detergent just in case. There is tea and plunger coffee & some organic sugar for you to enjoy when you arrive. The water you drink is from rainwater tanks that are filtered. White Beach Cottage is a relaxing and fun place to hangout. We love our beach cottage and we really hope that you have a wonderful stay.
Our friendly neighbourhood boasts beautiful beaches, yacht club, wineries, restaurants, cafes, galleries, Peninsula Hot Springs, day spa at Redhill, local surf beaches and golf course.. Merricks Beach has many quirky cute cottages and sweet tree lined roads to wander along. It's a seaside community who regularly gather for foreshore clean ups and who deeply care for the environment. It's the kind of place where you can knock on your neighbours door if you need something. Our next door neighbour a has a garden full of unique sculptures - my favourite is a Michael Luneig sculpture of a bird & egg that we are lucky to see everyday from our front porch. We are members of the Merricks Beach Association and as such have use of the tennis courts on the cliff walk so byo tennis racquets and balls.
The second time we have stayed at Davini's house, and we loved it just as much. Such a great house for a family getaway!
Natalie
2016-06-14T00:00:00Z
We had the best family Christmas holiday at Davini's beach house! The house was absolutely immaculate when we arrived and it had everything we could possibly need. With a 2 minute walk to the beach and 5 minutes to the shops it made for a truly relaxing time. The beds were very comfortable and shower amazing! We will definitely be back and would recommend to all our friends and family!
Sarah
2015-12-31T00:00:00Z
Beautiful place in an even more beautiful surrounding
brendan
2017-03-11T00:00:00Z
Great location - close to all merricks beach has to offer i.e. Beach, yacht club and tennis courts.
Larry
2017-01-28T00:00:00Z
We had a wonderful stay at the White Beach Cottage. The house was clean & had everything we needed. Thank you!
Katherine
2017-01-14T00:00:00Z
Our time at Davinis place was superb, we absolutely loved it. The house is equipped with everything you need and more. Communications were excellent in the lead up and myself and the group had a wonderful time at the cottage. One thing that really stood out was just how comfortable the beds are! A perfect nights sleep. I'd love to return one day and would recommend to anyone who will listen :) thanks Davini for your lovely hospitality!
Allaina
2015-11-09T00:00:00Z
A true beach retreat! Davini's place is better than can be captured. She has gone over and above to make the home cozy and welcoming. Merricks beach area is lovely and quiet with easy access to local goodies. The beds are fabulous - including all the bunks! We will be back!
Rebecca
2017-02-15T00:00:00Z
My family spent the weekend at Davini's for a wedding. Her hospitality was evident from the beginning with regular contact and even well wishes on the big day. Her house is even better than the pictures, the rooms are spacious and all details are thought of...extra glasses, insect spray, candles etc. It is literally a 5 minute walk to the beach and there are cafes nearby. I would definitely stay here again.
Paula
2016-03-08T00:00:00Z
Room Type
Entire home/apt
---
Property Type
House
---
Accommodates
10
---
Bedrooms
Merricks Beach, VIC, Australia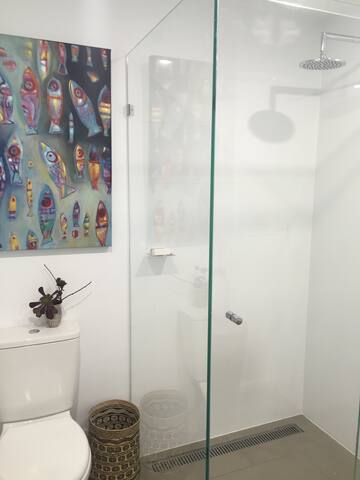 Merricks Beach is a short 70-minute drive from Melbourne - easy to get to for a weekend escape or for longer holidays. Our beach house is fun and comfortable. It accommodates both couples looking for a romantic retreat and small-to-medium-sized families. It's a five-minute walk to the beach and local tennis court, and is equipped with everything you need for a relaxing holiday. It's also close to plenty of Mornington Peninsula's finest wineries and restaurants, as well as Point Leo surf beach.
This delightful three-bedroom beach house is ideal for both families and couples. A main family living area - with original '80s conversation pit and fireplace - and a backroom with amenities for kids means everyone can have their own space. There's plenty to keep both adults and kids happy. Bedroom 1: upstairs, loft-style bedroom with king-sized bed, desk, drawers and hanging space. Bedroom 2: small bedroom under the stairs with queen-sized bed, dressing table and hanging space. Bedroom 3: large backroom bedroom with two single beds, two trundle beds, a fold-out bed, as well as TV, DVD, Netflix and Wii. Bathroom: there is one bathroom (with shower), two toilets and an outside shower. The conversation pit: the architect-designed '80s conversation pit is both the talking point of the house and the ideal resting place. Sit and read a book or have a quiet snooze after a walk! Outdoor decking: set among the trees, enjoy a meal or evening drink on the outside deck. Condiments: including oil, vinegar, salt, pepper, tea and coffee are supplied. Kids' activities: • Large trampoline • Wii • Board games • Tennis racquets for a game on the community court. The beach: The tranquil child-friendly beach is an easy five-minute walk away. And it's not just beautiful in summer. A walk along the beach - Balnarring in one direction and Point Leo in the other - can be enjoyed any time of the year. Local shops: There are local shops five minutes' drive away in Balnarring and 10 minutes' drive in Red Hill. Wineries: Not only is the Mornington Peninsula famous for its vineyards, but it's also one of the few regions in Victoria where you can choose from casual cafés, chic restaurants and Chef 's Hat fine dining. Fill your picnic basket at a farmgate or share a regional platter at a winery restaurant. Take high tea, book a cooking class, enjoy casual piazzas overlooking kitchen gardens at Montalto and then wonder through the acclaimed outdoor sculpture – it's all here.
Favourite restaurants: Ciao Bella 2998 Frankston-Flinders Rd, Balnarring. Victoria (PHONE NUMBER HIDDEN) Dedicated to the presentation of genuine cooking traditions, Ciao Bella prepares authentic pizza using quality ingredients and freshly prepared hand-pressed dough. In addition to the pizza menu there are always a few pizza specials based on what is being harvest in our garden and on local farms, as well as some non-pizza options. They also provide a takeaway service. Montalto Vineyard & Olive Grove 33 Shoreham Road Red Hill South VIC 3937 Mel Ref:(PHONE NUMBER HIDDEN) Montalto produce finely crafted Mornington Peninsula wine with real character from 6 vineyard sites across the Peninsula. The chef's hat rated Montalto Restaurant is imbued with a provincial spirit, from a personal greeting at the front door to the food on the plate in front of you. Alternatively, have a more low-key meal in the adjoining piazza. It offers simple, tasty food with wine that can be enjoyed in a garden or courtyard table setting. Polperro Winery 150 Red Hill Road Red Hill Victoria 3937 Mel Ref:(PHONE NUMBER HIDDEN) Located in the famous wine region of Red Hill on a stunning 25 acre working property. Polperro delivers a complete vineyard, food and wine experience, offering a bistro, cellar door and luxury accommodation onsite. The bistro has a refreshing, laidback approach to drinking and dining and has been labelled as an "absolute must" for foodies. Foxeys Hangout Winery 795 White Hill Road Red Hill VIC (PHONE NUMBER HIDDEN) Built on a historic farming property in Red Hill. The cellar door features large windows that let in a picture-perfect view of the vineyards in the valley below the winery. Small and intimate, Foxeys Hangout serves a range of still and sparkling wines as well as dessert and fortified wines. The winery focuses on pinot noir, pinot gris, chardonnay, and shiraz wines, and for two years it received the Best Wine of Show at the Victorian Wine Show.
Room Type
Entire home/apt
---
Property Type
House
---
Accommodates
8
---
Bedrooms
Merricks Beach, VIC, Australia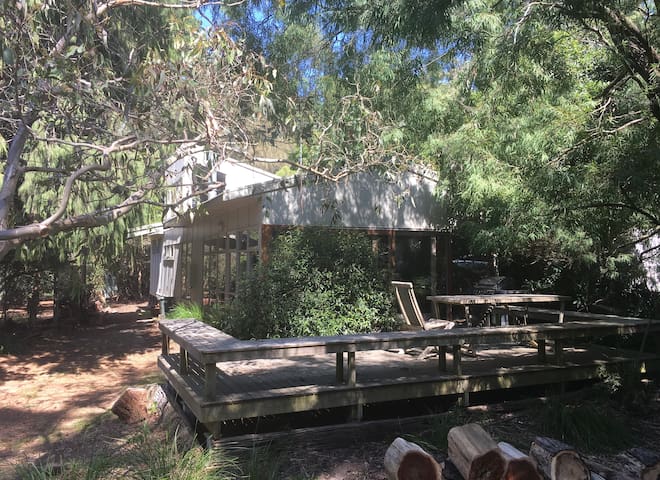 Only a couple of blocks from a magical beach, our quaint weekender is surrounded by established trees and is across from farmland. Enjoy the tranquility and views while relaxing on a hammock and the kids play in the large yard and new cubby house.
The lounge is furnished with danish furniture and has a working fireplace. There is also a Bose mini link sound system, TV and DVD player. (Please note there is no Wifi but we have had no issues with mobile reception). The lounge area also includes a dinning table which is extendable to fit eight people. We have a great range of toys, indoor and outdoor, which you are welcome to use, as well as a selection of kids and adult DVDs for those rainy days. The sun room is a favourite for the kids to relax and play, while out of the way of adults. The kitchen is equipped with an electric stove/oven (which is new), fridge and pantry area (dishwasher not working). The bathroom is spacious with a shower (please note there is no bath). Sleeping configuration (Please note that linen is not included) - - Bedroom 1: queen bed - Bedroom 2: double bed (this bedroom is accessed through Bedroom 3) - Bedroom 3: two low bunks (only for younger kids, NO adults) Our front yard is across from acres of farm land in which horses regularly roam. Relax on the front porch or on the hammock and enjoy the views. At night enjoy the night under the bright stars while enjoying the heat from our fire pit. Our gardens have many large tree which provide shade in summer and there is a large lawn area at the front of the house for those keen on some family cricket. Please note that the backyard is being re-established with natives, so it is a work-in-progress at the moment. (Beach photo is of the local beach, NOT a view shot from the house)
Merricks Beach is a small seaside village located on the eastern side of the peninsula on the Western Port Bay. Merricks has a rather significant koala population and a host of manna gums and pine trees lining the streets. It is one of the few coastal places within a 100 km radius of Melbourne that has been basically untouched by development (it is one a very few beachside areas that has retained dirt roads and the village feel). The main beach is sheltered and does not get overly busy in summer. On the foreshore is the Merricks Beach Yacht Club, and toilet facilities. Further down, are two tennis courts. Great views of Phillip Island, the peninsula and Western Port Bay can be seen from the top of the high cliff after the main beach on the eastern side. Wildlife is abundant on the foreshore reserve that starts on Cliff Road up on the cliff, and goes down to the yacht club at the main beach. Merricks is home to the Merricks General Store on the Frankston-Flinders Road, about half way between Balnarring and Shoreham. It's origins date back to the rural 1920's era when it provided both supplies and society to the local community.
Beautiful house, sensational setting. All of the facilities were as described, the photos are good at showing the layout of the house. The kids loved the cubby house and the play room. A perfect beach house, a few minutes walk on safe streets to the beach. Delightful, comfy, and we wanted for nothing. Thanks Arte, we'll be back!
Bill
2016-09-25T00:00:00Z
What a delight - the house is beautiful and welcoming - the kids room is very well set up and there's a wide array of things to keep them amused when you're not at the beach (which is a 3 minute walk away down very quiet roads). Overall, we were utterly delighted, this was our second stay at Magic of Merricks Beach, and it won't be our last!
Bill
2017-01-28T00:00:00Z
We loved the house and garden and the location was just perfect. The place is really well set up for kids too.
Caroline
2017-02-04T00:00:00Z
Very friendly and communicative hosts. The place was fantastic. Great vintage beach house feel. Perfect for families kids or small groups. Overall, highly recommended!
David
2016-11-12T00:00:00Z
A lovely little cosy house just a short walk from the beach. We particularly liked the inside fireplace and outside fire pit. (There's also plenty of heat from the wall units as well) The kids loved exploring the property, playing on the swings and in the cubbyhouse. The inside play room is a nice touch. Would recommend for family groups.
Mike
2016-08-20T00:00:00Z
We enjoyed a relaxing family long weekend at the house. Everything was as described in the listing. The kids loved playing in the yard and with the toys. Was great to not need to pack toys and beach things as they were available for use. Was a very easy walk to the beach and a short drive to some lovely wineries. The fire pit was great to chill out by at night and toast marshmallows! A great spot for a low key chill out from the city.
Taryn
2017-03-13T00:00:00Z
Perfect location only a short stroll to an expansive beach. Great getaway for a short period of time. Relaxing and peaceful. Dogs loved the space.
Charles
2016-08-29T00:00:00Z
Had a wonderful family stay over Easter. We could hear the ocean from the house and it was a quick walk to some stunning beaches. Evenings were spent around the fire pit in the garden with a bottle of great local wine. There was heaps of toys and play equipment for the kids and the cubby house was a huge hit. The house itself was great, very comfortable and everything you need. Everything worked very smoothly with Arte and responses were quick and accurate. Look forward to coming back
Matthew
2016-03-30T00:00:00Z
Room Type
Entire home/apt
---
Property Type
House
---
Accommodates
8
---
Bedrooms
Merricks Beach, VIC, Australia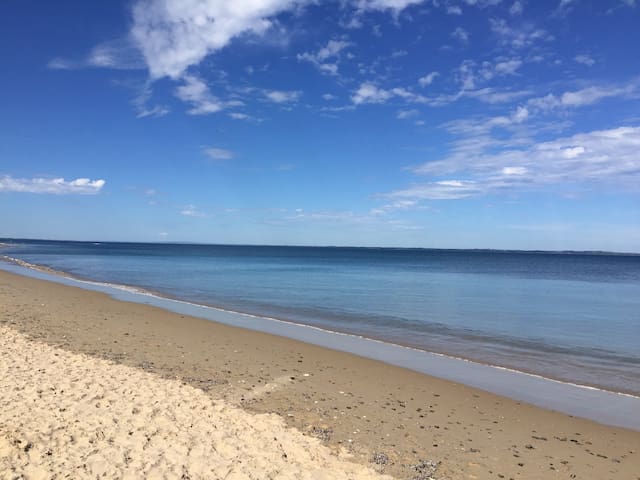 Charming Two Bedroom Beach House with extra set of bunk beds in gallery Original 1950's designed 'small house' by Robin Boyd Renovated kitchen and bathroom Outdoor deck with BBQ 5 minute walk to beach
Great old-style beach house - it's not opulent luxury but everything was great during our stay - and we loved it. Merricks is a quiet place, very peaceful, beach is the main focus the kids loved seeing the cows graze in the paddock across the road. We are already keen to re-book! Thanks!
Josh
2017-01-29T00:00:00Z
Lovely house a short stroll to the beach. Merricks is a beautiful location and I'd highly recommend staying here! Pam was so helpful and quick to respond, and it's a very comfortable house. Highly recommend!
Mark
2016-10-16T00:00:00Z
We had a great stay with our two children. Beach is walking distance and the area very quiet. The kids enjoyed the basket of toys.
Jessica
2017-02-25T00:00:00Z
Pam was a great host and ensured that the house was ready for our arrival. We stayed in the house over the long weekend and found it to be thoroughly relaxing and there was plenty of room for our group of 4 people (There are also two sets of bunk beds which we didn't use). The house has everything you need to make your stay comfortable including a well serviced kitchen if you enjoy cooking as we did. The area is quiet and peaceful and the perfect spot to explore the region including Red Hill, Flinders and Bushrangers Bay. The closest place to buy groceries is in Balnarring which is a short 10 minute drive. All in all a cute house for a weekend getaway (only 1 hour from Melbourne). We will be back :)
Nicholas
2016-03-16T00:00:00Z
This is a really charming, traditional beach house with everything you need. It's a very short walk to the lovely local beach. Pam was extremely helpful in answering our queries and ensured the house was in top order when we arrived. We gulped down the complimentary champagne and chocolates in no time. We would definitely like to stay here again.
Linda
2016-01-08T00:00:00Z
Our family had a lovely stay at Pam's place. The house was clean, tidy, well presented and everything worked well. The house is perfectly in keeping with the laid back beachside feel of Merricks Beach. This makes it an east and relaxing place to stay.
Luke
2016-10-01T00:00:00Z
Hi Pam, Thank You so much for a fantastic Australia Day weekend down at your lovely beach house. Please excuse my late post, I have had a busy week with the tennis and a short working week. We loved the house, it was perfect for a relaxing weekend away and the cold rainy weather did not phase us as the fire was a nice enhancement even in summer. We would definitely welcome spending a week down at Merricks again next summer if available. Kind Regards Justin Alexander
Justin
2016-01-26T00:00:00Z
Room Type
Entire home/apt
---
Property Type
House
---
Accommodates
8
---
Bedrooms
Merricks Beach, VIC, Australia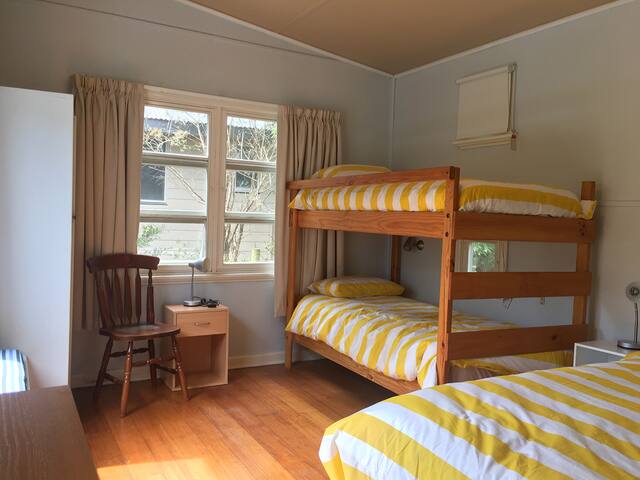 Comprising of open plan living and dining with wood fire, well appointed kitchen and breakfast bar all opening to rear garden with ample room for the kids to play. Very well presented with modern furniture. Master with ensuite and a central main bathroom servicing a further 3 bedrooms. Large outdoor deck with outdoor shower and fabulous play area for the children. Parking undercover for one plus further spaces. Fully fenced and pets considered. BYO linen
Bedroom 1. 1 Queen Bedroom 2. 1 Queen Bedroom 3. 1 Double & 1 x Bunks Bedroom 4. 2 x Bunks
Short walk to the beach. Close to Merricks & Somers General Stores and wineries.
The host canceled this reservation 27 days before arrival. This is an automated posting.
Brian
2017-02-12T00:00:00Z
Room Type
Entire home/apt
---
Property Type
House
---
Accommodates
12
---
Bedrooms
Merricks Beach, VIC, Australia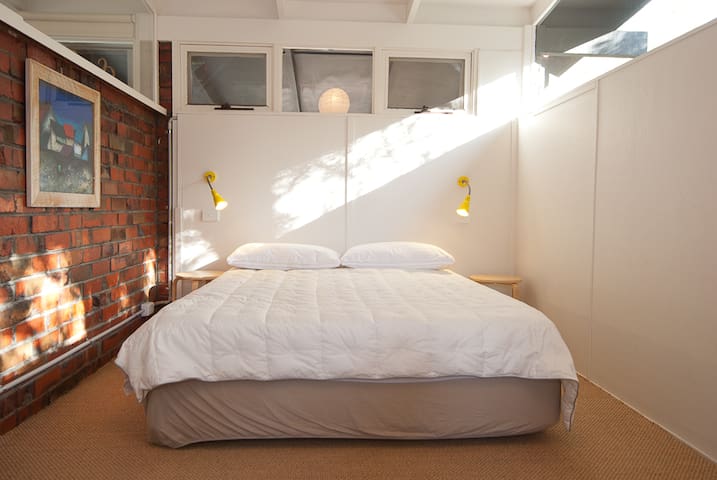 The unique charm of Beeswing Cottage evokes a feeling of yesteryear with its high ceilings, & beautiful wooden floors. - Relax on the deck overlooking the private garden - home to many birds, bunnies, visiting koalas etc. - 5 min stroll down unmade, tree-lined streets to the beach, lookouts & walking tracks. - Enjoy the cosy ambience of the delightfully renovated cottage. - Shops a 5 min drive. $140 - $240 per night. Less for stays over 7 days. Check In & Out is flexible when possible.
The cottage has comfortable furniture inside and out, and can accommodate up to 4 guests maximum. There is a queen bedroom, two single rooms (one with a desk), and an additional private sitting room with its own TV/DVD. The open plan lounge-dining area adjoins the kitchen, and the separate toilet is accessed through the bathroom. The deck area offers both sun and shade and overlooks a well-established garden with an appealing array of shrubs and trees. We have a NO PETS policy out of consideration for kolas and other local fauna. OTHER FEATURES - Reverse cytcle aircon - 2 TVs, each with DVD player, Bluetooth MP3 speaker in lounge, CD player in sitting room, DVD'S, books and games, radio - Luxury recliners in lounge and sitting room - Comfy beds, variety of bedding including quilts with covers (SHEETS, PILLOW COVERS & TOWELS ARE NOT PROVIDED) - Tea towels, hand towels & bath mats provided - Kitchen utensils and appliances - BBQ (electric) - Hair dryer, heaters, standing and bed-side fans - Fire alarms, fire blanket and extinguisher are installed. DO YOU HAVE ADDITIONAL REQUIREMENTS? The owner is happy to be contacted for more information about the property, including any requirements you may have that have not been mentioned.
There are so many things to do. A wide range of wonderful, well-known eateries, wineries and restaurants are within 5 to 15 minutes drive. Quiet beaches, surf beaches, maizes, national parks, wetlands, Arthurs Seat, Flinders Golf Course, Red Hill day spa, Peninsula Hot Springs, skate park, horse riding and more, all 5 to 30 mins away. Merricks Beach is a one hour drive from Melbourne and is only 5 minutes from Balnarring Shopping Village which boasts an excellent super market and quality shops and eateries. This is a safe and friendly community where many members work together to protect and preserve the environment and foreshore.
We had a delightful weekend in Linda's gorgeous cottage. We were welcomed by Linda and she kindly explained the things we needed to know, like pointing out the cute baby possums nearby! The sound of the waves breaking at night was very restful. The cottage was very comfortable and beautifully set up for guests. We'd highly recommend a stay to others.
Dennis
2016-04-05T00:00:00Z
Linda greeted us personally as we arrived in the dark. She had her lovely cottage already heated and the electric blankets on. The cottage is picture perfect inside and out, exactly as described and photographed.
Jodie
2016-06-14T00:00:00Z
Room Type
Entire home/apt
---
Property Type
House
---
Accommodates
4
---
Bedrooms
Merricks Beach, VIC, Australia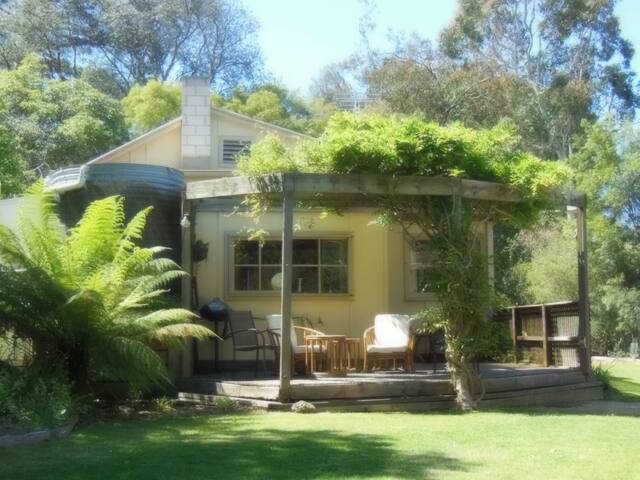 Stunning location on a private property Iluka Retreat with views if the valley and lake below. Glamping is the ultimate in a camping experience with all the trimmings. Camp kitchen with fridges, toaster, kettle, has cook tops, BBQ and hot showers too!
Room Type
Private room
---
Property Type
Tent
---
Accommodates
4
---
Bedrooms
Red Hill South, VIC, Australia
1. The Kookaburra Room (Queen bed) is $140 per night. 2. The Kookaburra Room AND The Sewing Room (Queen bed) $280 per night. You'll be sharing the house with us and our two Burmese cats, so we'd like to know a little about you, your travel companions and your reason for visiting Red Hill, so please send an enquiry first. Please don't request a reservation til we've discussed your visit! Red Hill is the heart of the beautiful Mornington Peninsula. Plenty of vineyards, restaurants, golf courses of the highest standard. Galleries, markets, beaches are only a few minutes away. Our property comprises several acres of garden, bush and paddocks. We run a few sheep (to keep the grass down so Paul can find his golf balls) and grow our own vegetables. It's a five minute walk to the award winning Paringa Estate winery and a ten minute drive to magnificent Arthurs Seat State Park, where you can walk with kangaroos as well as enjoy views across Port Phillip Bay. Sleep in peace and darkness - no noisy roads or street lights here! Wake to the sound of the birds, feed the kookaburras, king parrots and galahs. Watch the yellow tailed black cockatoos. Spot a wedge tailed eagle. If you're lucky, see a koala and kangaroos in our garden! Delicious house breakfast included. We look forward to seeing you at The Kookaburra Room soon!
We had a really lovely time at Jil and Paul's beautiful home. Jil and Paul were both extremely welcoming and accommodating hosts. Jil was very helpful in providing tips and information about the area that helped make our stay more enjoyable. The room and home is lovely, and the gardens were beautiful with interesting wildlife. It was my first time to red hill and I have to say it is quite spectacular. I highly recommend staying here. Freshly baked bread and delicious breakfast to boot!
Katerina
2014-11-04T00:00:00Z
Very hospitable hosts, we enjoyed the coziness and good conversation that Paul and Jill provided. Definitely recommend.
Ryan
2012-04-12T00:00:00Z
Jil was the perfect host and the Kookaburra room was delightful. The lovely home is immaculate, the two Burmese cats accommodating, the kookaburras arrived on schedule and the King parrots joined us for breakfast. The breakfasts deserve special mention — homemade bread or muffins, muesli, marmalade and great juice, fresh fruit and coffee. A really lovely place to stay on the Mornington Peninsula. We were there for a wedding so didn't sample local restaurants etc but believe they are many and good. At Jil's suggestion we did go to the Red Hill market that certainly lives up to it's reputation.
Carol
2016-03-08T00:00:00Z
Jil and Paul have created a beautiful space for you to relax. We were greeted by Jil and her lovely cats. Both Jil and Paul were fantastic hosts with a great wealth of knowledge of the local area. A fantastic home made breakfast with home made jams and honey from a friends bee hive proved to be a big hit... same goes to cutting the fresh bread ;)
Paul
2014-11-10T00:00:00Z
We had a wonderful experience at Red Hill as Jil and Paul warmly welcomed us into the heart of their home for 6 nights in March. They have a beautiful home located among vineyards and rolling pastures, where we enjoyed waking to the tranquility of the attractive Mornington countryside and birdsong. Our hosts were generous and helpful with local knowledge and recommendations for daily itineraries to share. A shared breakfast was a great way to start each day, and we felt pampered every day of our stay. I did enjoy the morning coffee and the chats, and meeting kindred spirits.
Steve
2014-04-09T00:00:00Z
The girls and I had a super stay, albeit a flying visit. The breakfast was super and Jill was able to provide us with some tips on places to visit the next day, where we could stuff our faces even more!
Laura
2014-06-10T00:00:00Z
Jil and Paul were fantastic hosts and made us feel very welcome, ensuring we had a pleasant and relaxing stay. Even the king parrots made us feel at home, eating seeds right out of our hands. Jil and Paul have a lovely house, with a verandah to soak in the morning sun and view the parrots, kookaburra and occasional kangaroo. It was the perfect place to stay, tucked away in a quiet location but well placed to quickly reach the many attractions on the Mornington Peninsula. Jil also gave us lots of useful information about walks in the area. On one of the walks, along the Blowhole track, we got to see two humpback whales – a first for us and a real treat. By the time we left, Jil and Paul felt like old friends. Thanks for a great weekend – we look forward to visiting you again!
Adrienne
2012-08-20T00:00:00Z
Jil and Paul were lovely hosts and we enjoyed our stay very much in the Kookaburra Room. We were even woken up by a kookaburra in a tree next to our bedroom window! Wonderful breakfast with delicious homemade bread and the bed is very comfortable! We will definitely return to visit Jil and Paul.
Emily
2012-03-13T00:00:00Z
Room Type
Private room
---
Property Type
House
---
Accommodates
4
---
Bedrooms
Red Hill South, VIC, Australia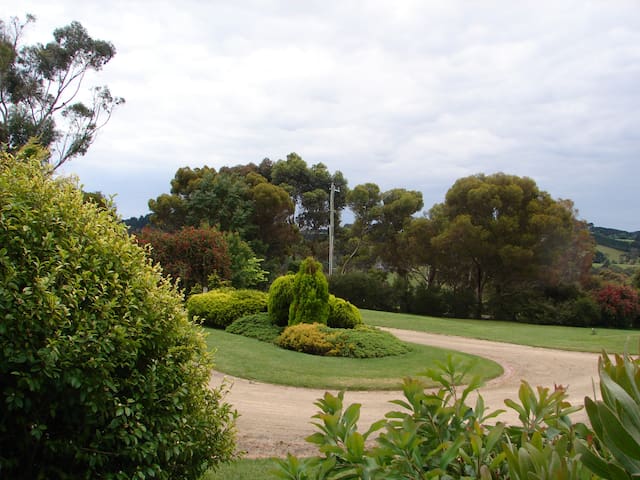 Our studio, separate from main residence, with ensuite, sits in a large garden. Close to several beaches, the cafes of RedHill Balnarring and Merricks and in the middle of orchards, wineries, bike trails, the Merricks walking track. It has a queen - sized bed (and sofa- suitable for small child).
The one hectare garden attracts many beautiful birds and occasionally a koala. The trees provide plenty of shade and privacy .
The views over farmlands towards Westernport and towards Philip island are particularly stunning. There is a great variety of places to dine particularly in Red Hill, Main Ridge and Merricks. I love the markets at Red Hill and Boneo and the Boutique dairies, breweries and distilleries. Great walking and cycling tracks.
A lovely little cottage with a gorgeous garden and seating area outside. Perfect for a little getaway to visit the wineries. Sara was a great host and helped suggest transport around the area for us too before hand. Will definitely stay here next time we're in Redhill.
Georgia
2017-01-20T00:00:00Z
Wonderful, secluded studio, where you can enjoy the gorgeous garden and tranquil surroundings. Close to all the attractions of the area.
sally
2017-01-08T00:00:00Z
A lovely little private cottage separate from the main residence with a georgeous seating area outside. Sara was a great host and helped suggest activities and places to visit around the area. Will definitely stay here next time we visit Red Hill.
Janette
2017-03-18T00:00:00Z
This is a lovely, very private study in a serene garden setting. The study is bigger than it appears in the photos and we felt we had plenty of space even with our 7-month old's cot by the bedside. The hosts are very friendly and welcoming yet afford you privacy and quietness (and delicious home-made cookies). We'd definitely stay there again.
Felix
2017-03-05T00:00:00Z
Lovely room and garden. Very nice host. Would definitely stay here again on a trip to Mornington Peninsula
Alex
2017-03-13T00:00:00Z
Lovely, peaceful location with everything you need for night away
Rowena
2017-03-03T00:00:00Z
Fantastic location, set in lovely garden and surroundings. Sara was a great host very friendly, helpful and informative. Accommodation was very good with lots of attention to detail.
Dean
2017-02-26T00:00:00Z
A beautiful place to rest your head! The location was perfect for travelling to the beach, restaurants and rural areas alike. The host was very hospitable and ensured that we were well accommodated at all times. We will be back!
Elizabeth
2017-01-07T00:00:00Z
Room Type
Private room
---
Property Type
Bungalow
---
Accommodates
3
---
Bedrooms
Red Hill South, VIC, Australia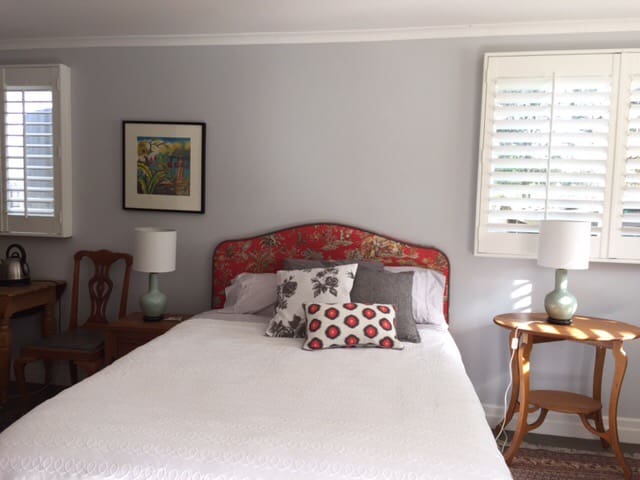 My place is good for couples. Beauford Lodge is a new b&b, a peaceful semi-rural retreat, just one hour from Melbourne, on the Mornington Peninsula. Sparkly wine on arrival and home made bread for breakfast.
Guests can enjoy a walk along the horse trail to Epicure, Red Hill Store or venture further to the Merrick store, all walking distance from Beauford Lodge. Guests can relax and unwind, stroll around the gardens, feed the parrots, or just sit and enjoy the natural bushland.
Walking distance to The Epicurean, horse trail to Merricks or Red Hill store. Red Hill is a famous winery region and there are an abundance of restaurants to choose from. Do recommend you pre book a restaurant if you are coming during peak times.
A wonderful B&B - beautifully set-up and very inviting. The vista through the entrance is gorgeous. Everything you need is there. Host very friendly and helpful, and respects your privacy completely. Very highly recommended.
John
2016-12-10T00:00:00Z
We spent a wonderful holiday at Elise's place! She warmly greeted us upon arrival, gave great recommendations on the area, and provided many unexpected extras to make our stay that much more enjoyable. The cottage is lovely inside and out, and is in an ideal location. We walked and ran the nearby trail every day, which takes you by farms and vineyards one way, and to restaurants, a grocery and boutiques another. Highly recommended!
Anna
2016-12-27T00:00:00Z
The property was perfect, beautifully appointed and in a fantastic location. It walking distance or a short drive to the local shops and many wineries as well as being central to great beaches. Elise was a great host making our stay very comfortable and relaxed. We highly recommend Elise's property for those wanting a loverly few nights on the mornington peninsula.
peter
2017-01-05T00:00:00Z
Beauford Lodge has been the highlight of our Great Ocean Road trip! The space has been beautifully designed and decorated and was very comfortable for two people. It was supremely located, a short walk to some excellent local restaurants along the walking track and a short drive to some nice beaches. I would highly recommend the nearby winery Polperro, we went for lunch and stayed the whole afternoon! Elise was a fabulous host, very easy to communicate with and gave us a comprehensive guide on the area before we got there. But perhaps most impressive were the lovely little touches Elise has thoughtfully crafted. From the home-made bread to the garden roses in the bedroom, it all made our stay unforgettable and we most definitely will be back!
Jessica
2016-12-31T00:00:00Z
Room Type
Entire home/apt
---
Property Type
Bed & Breakfast
---
Accommodates
2
---
Bedrooms
Red Hill South, VIC, Australia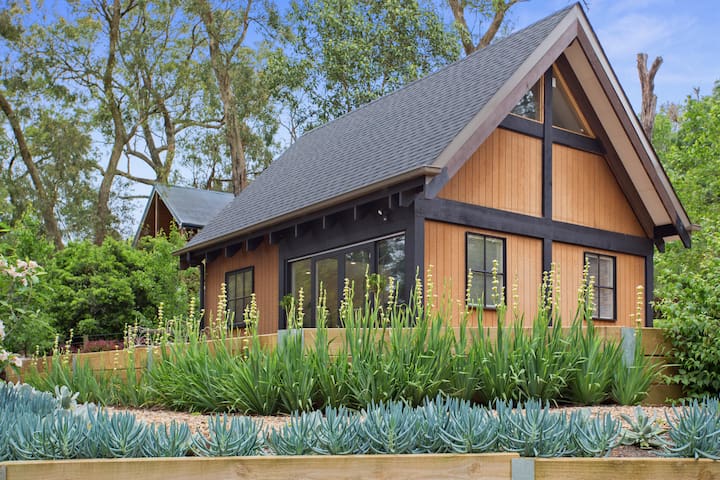 This cosy and self contained/detached studio is situated in the heart of Red Hill, an ideal location allowing you to explore all that Red Hill has to offer.
In walking distance (approx 500m) to the renowned Epicurian, general store, wineries (Polpero is approx 900m away) and the Red Hill - Merricks walking trail, you will be able to enjoy the best that Red Hill has to offer. The main dwelling is occupied by Ralph, who is retired and loves to travel. His best mate Rama (dog) also happily lives here, along with a couple of chooks. The studio is fully detached and private. It is a quaint cottage that comprises of 1 bedroom a separate sitting area and kitchenette. The kitchenette contains a bar fridge, microwave, kettle, toaster, Nespresso coffee machine and electric frypan for your convenience. On arrival you will receive some breakfast goodies from local producers. All your fresh linen and towels will be provided.
There is an abundance of wineries, restaurants and cafes.
The host canceled this reservation 13 days before arrival. This is an automated posting.
Susan
2017-04-03T00:00:00Z
Room Type
Private room
---
Property Type
Guesthouse
---
Accommodates
2
---
Bedrooms
Red Hill South, VIC, Australia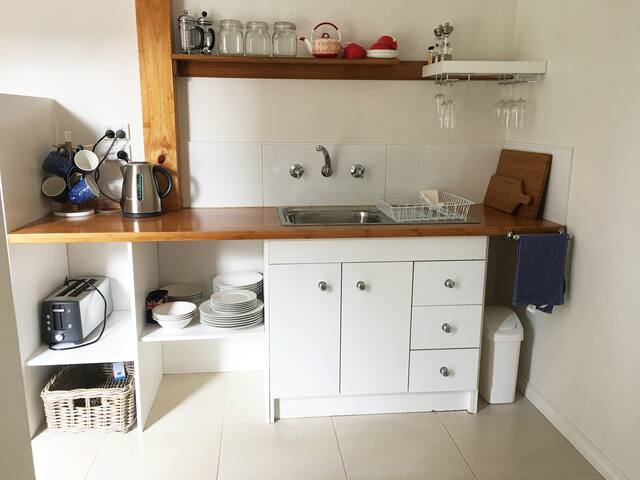 Peaceful and Stylish Red Hill Sanctuary. Great Red Hill escape for entertaining and relaxation. Well appointed with new kitchen and bathrooms and 3 comfortable bedrooms located at either end of the house, with a large open living and dining area that leads out to an expansive deck overlooking the beautiful and luscious endless grass and garden. Walking distance to central Red Hill hub, walking and biking tracks and 5 minutes drive to every top winery. This is Red Hill at its best.
Room Type
Entire home/apt
---
Property Type
House
---
Accommodates
6
---
Bedrooms
Red Hill South, VIC, Australia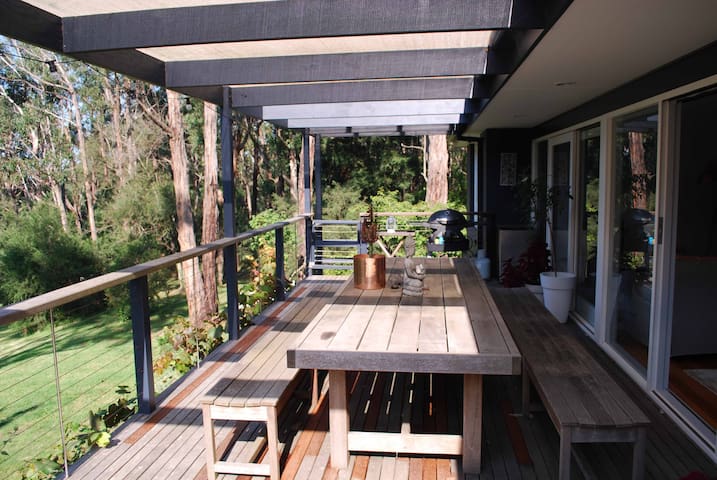 Beautiful, private cottage set on 5 acres with views over farm land. Spa, wood heater, air conditioning. Breakfast provisions provided. Relax on the deck with a drink or visit some of the Peninsula's attractions including restaurants and wineries. Red Hill Brewery is over the road. Minimum two nights.
Fantastic stay!!!! Beautiful place, thanks again. So much to do in the area
Adrian
2016-11-27T00:00:00Z
Best fireplace ever. Lovely clean and cosy cottage perfect 1hr 10 drive from melbourne.
Nic
2016-06-06T00:00:00Z
Lovely cottage in redhill. Great distance to a few wineries and sally provided food for breakfast as well as a prepared fire (due to some cold weather!!). Perfect place to stay while we were at a wedding at redhill winery. We will be back if in the area again!
Polly
2016-03-20T00:00:00Z
My wife and I loved our stay here. It was very peaceful, well kept, had a beautiful wood heater and had no shortage of firewood! Would definitely recommend.
Joel
2016-05-28T00:00:00Z
Very peaceful, well equiped, accurately described. Would definitely visit again.
Sarah
2016-01-09T00:00:00Z
We had a wonderful time at Sally's place in Red Hill. It was exactly how described. VERY clean and a fantastic location. Sally had the fire ready to be lit on arrival. The fridge and cupboard were stocked with eggs, bacon, bread and milk. Sally was easy to communicate with. I would highly recommend staying here. I would most definitely stay here again.
Emma
2016-05-02T00:00:00Z
Beautiful tranquil setting - lovely paddocks with animals going about the important business of eating grass ; red hill brewery is just across the road and e.g. Montalto vineyard a 20 minute walk down the road should you wish to partake. Red Hill is a great area to explore / eat drink and relax ....
Basil
2016-01-06T00:00:00Z
Perfect getaway with everything we could need and completely private. Located in a fantastic position in red hill south, just down the road from the general store and great wineries. Looking forward to visiting again. Thanks Sally.
Jess
2015-12-31T00:00:00Z
Room Type
Entire home/apt
---
Property Type
Bed & Breakfast
---
Accommodates
2
---
Bedrooms
Red Hill South, VIC, Australia
Tucked away on 5 acres of lavish gardens and towering trees, The Kookaburra Cottage is a peaceful escape from everyday life. The cozy self contained cottage has three well appointed bedrooms. A master bedroom with a king bed, a second bedroom with a queen bed and a top single bunk and the children's room has a single bunk bed. The open kitchen is well equipped with a gas top stove, fireplace, microwave, coffee machine, refrigerator and connecting to the living room with a Breakfast Bar.
The Kookaburra Cottage is a family friendly and pet friendly retreat. The peaceful garden setting also provides many opportunities to spot our beautiful local birds such as the Kookaburras, Parrots and Cockatoos.
The Kookaburra Cottage is located in the heart of Red Hill South and backs up to the Merricks to Red Hill Rail Trail which offers an easy walk to stores and restaurants. Local wineries in the vicinity include Polperro, Paringa Estate, Port Philipp Estate and Prancing Horse Estate. For all beach lovers and surfers, Point Leo Beach is a five minute car ride away.
Lovely cottage, with amazing grounds for children and adults. Lovely hosts. Faultless!
Emma
2017-01-11T00:00:00Z
Serene. Perfect for a Melbourne Summer retreat.
Sukhpal
2017-01-04T00:00:00Z
What a lovely stay! There were four of us and an infant and we all had enough space and felt comfortable and relaxed here. The cottage is quaint and private, and set on a lovely large property. The beds were very comfortable and enough linen and bathroom ammenities were provided for all of us. The kitchen was sufficiently stocked but there is no oven (this didn't bother us in the slightest though). Jannicke was incredibly welcoming and friendly and there are some lovely homey touches to the cottage that made us feel even more welcome and comfortable. We felt very comfortable contacting Jannicke if there were any concerns. We loved the walking track at the back (walking distance to local shops and restaurants) and the trampoline would be a hit with older kids / big kids. The road leading to the property was also lovely to walk along, lots of different animals along the way! We LOVED Bruno (the family dog on the property). He is very friendly and gentle, but we also knew that if we weren't ok with dogs, Jannicke would have made sure he left us alone. Overall a very relaxing, comfortable stay. I'd definitely recommend staying here!
Serena
2017-01-14T00:00:00Z
A beautiful place to stay with family or friends. The cottage is such a lovely place to stay.
Kristy
2017-01-22T00:00:00Z
Thoroughly enjoyed our stay at Red Hill as it started off with a lovely beginning, Jannicke was so polite and courtous and lovely to meet she was so friendly and made us feel at home. There were decorations and chocolates on arrival for the new year which we were so thankful for. Her husband and pet lab Bruno were a wonder to meet and were super friendly as well. The cottage is absolutely stunning, better than in the pictures and their backyard is off the Red Hill Rail Trail which we enjoyed very much. Overall a wonderful experience and would love to come back again :)
Linh
2017-01-01T00:00:00Z
Beautiful property and lovely inside, well equpped. Jannicke went out of her way to make sure we were settled and also provided a few things for our baby. Would definitely recommend this place.
Katrina
2017-03-04T00:00:00Z
Great little cottage, very cute! Wish we could have stayed there longer to have fully appreciated it all...
Courtney
2017-03-26T00:00:00Z
Jannicke was a wonderful host and this cottage was gorgeous! It looks just as it does in the pictures, tucked away in a tranquil street, amongst the trees and greenery. A perfect location for a girls weekend away. There are great walking paths nearby and it's only a short drive to nearby wineries and Point Leo beach. We had such a lovely time and would definitely come back again! Thanks Jannicke!
Melanie
2016-12-30T00:00:00Z
Room Type
Entire home/apt
---
Property Type
House
---
Accommodates
5
---
Bedrooms
Red Hill South, VIC, Australia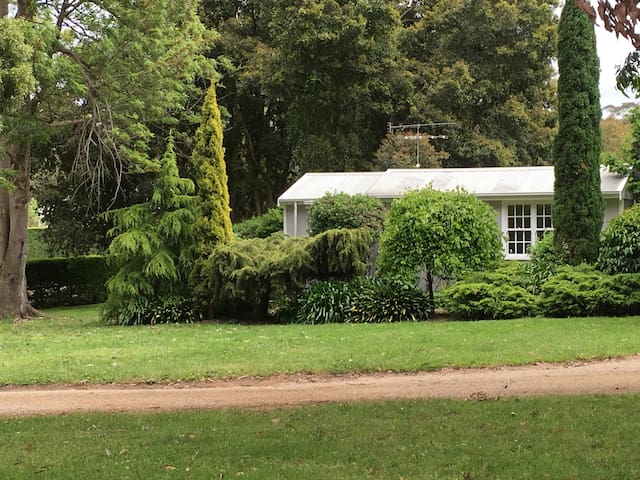 Large house in Red Hill Sth set on 4.5 acres complete with pool and tennis court. Four bedrooms, three with built ins including Master with ensuite and walk in robe. Two spacious living zones with fire place in an open plan living room.
What a beautiful place to stay! Scenic views, tranquil property. Room and space for a large family group. Host is easily contactable and very obliging. Thanks Brett, we had a great stay
Carol
2016-10-02T00:00:00Z
Fantastic location, walking distance to brewery and wineries, great facilities, ideal for families with primary school aged children. Perfect for my two boys who divided their days between the pool, tennis court, basketball ring and the gardens. Thanks again Brett!
Jamie
2017-01-09T00:00:00Z
We absolutely loved our weekend away in this beautiful home. Amazing gardens, great location to our favourite wineries, and a perfect way to relax. Can't wait to stay again!
Celeste & Sam
2016-11-20T00:00:00Z
Patsy's Gate is such an amazing place to stay. It looks more beautiful in person than in the pictures.. and we loved the spacious clean house, pool and tennis court. Our dog loved it too! Also the views are stunning. Brett was always in contact and check-in was so easy. We would definitely recommend staying here!
Jana
2017-03-14T00:00:00Z
Very spacious house & gardens, everything you need is there including a very well equipped kitchen. Good location close to a brewery, wineries & restaurants. Loved the wood fired pizza oven. We had a bit of trouble getting the spa to going but our hosts were very responsive in rectifying that. We had a great weekend, thanks Brett & Justine.
Brendan
2016-11-27T00:00:00Z
Brett was a wonderful host and made us feel very welcome. He was really quick at responding to any queries that we had and was great to deal with. We had a great stay over a long weekend and enjoyed the very close walk to the Red Hill Estate. The house is very spacious and had everything we needed for a great weekend away, shame it was a little too chilly for the pool! But the tennis courts were a hit with the kids. Thanks again Brett.
Samantha
2016-11-07T00:00:00Z
Fantastic, spacious, well located property with great indoor and outdoor facilities. Brett was the perfect host, accomodating and very prompt in correspondence. We had a great long weekend stay in Red Hill, thanks Brett!
Maximilian
2016-04-04T00:00:00Z
Great outdoor areas. In a good location for exploring the region. Would definitely go back in an instant.
Emily
2017-01-30T00:00:00Z
Room Type
Entire home/apt
---
Property Type
House
---
Accommodates
10
---
Bedrooms
Red Hill South, VIC, Australia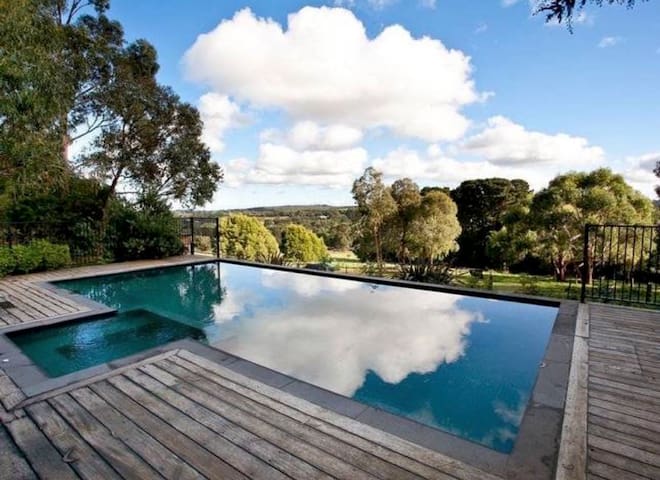 Enter dates to see full pricing. Additional fees apply. Taxes may be added.