Casa situada en el Valle de Lizoain-Arrasgoiti a 15 minutos de Pamplona. Entorno tranquilo y natural desde el cual podréis visitar Roncesvalles, Foz de Lumbier, las Bardenas Reales, la Selva de Irati o disfrutar de las fiestas de San Fermín.
Casa de dos pisos, registrada en Turismo de Navarra con el código UVTR0401, en el primero se ubica la cocina completamente equipada para su estancia ( aceite, sal...) un amplio y luminoso salón con chimenea y un aseo. En el segundo piso podéis encontrar 3 habitaciones, en la principal está el baño con secador y productos para la higiene personal ( Champú, gel y toallas ) La casa está rodeada de magníficas zonas verdes y poseé un jardín privado con barbacoa y leña preparada para su uso. Disponemos de conexión wifi así como un garaje y zonas donde aparcar con facilidad. Todas las ventanas tienen mosquitera.
LIZOÁIN: Es un pequeño pueblo prepirineico de unos 50 habitantes. En los valles predominan el cultivo del cereal y en los montes de alrededor los bosques de coníferas. -Lugares de interés: *Iglesia de San Miguel: Recuperada como centro cívico del Valle *Parque Celta: Junto a la iglesia de San Miguel *Vía Verde del Ferrocarril Irati: Para pasear y circular en bicicleta. *Puente medieval de Lizoáin: situado sobre el río Erro con agradables zonas de baño.
Lovely house in Lizoain. We were met by Mikel and Lydia, his sister in law, who were very welcoming. Lydia spoke excellent English and they made us feel very welcome. Mikel's mother had even made us a superb cake! The house is fantastic - beautiful and tranquil with amazing views, especially of sunflowers! Highly recommended.
Damian
2015-08-03T00:00:00Z
Mikel was the perfect host! I stayed here with 4 friends. Since I speak English (but no Spanish), and he does not speak English, I communicated with his sister-in-law. They were both very nice. The place is beautiful and has everything you need (full kitchen, full bathroom, washing machine, dishwasher). Mikel's mother even made us a cake! We ate it the first evening we were there and it was fantastic. The beds were comfortable, and there was lots of space for everyone. Just note that this home is not in the city, it is about a 20 minute drive away. We cabbed in and out of town each day. Alternatively, you can rent a car.
Ben
2015-07-11T00:00:00Z
Mikel was a very welcoming host! He provided us with a delicious cake, allowed us to use his bikes and his home was absolutely beautiful! We especially loved the views and cozy fire. Thanks so much for a lovely stay!
Nisha
2016-05-03T00:00:00Z
Really great host, pleasure of a town! I would highly reccomend!
dylan
2016-07-14T00:00:00Z
Accueil chaleureux! Maison décorée avec goût et confortable. Bel environnement au coeur d'une vallée verdoyante. Nous avons profité d'une semaine de rêve chez-vous. P.S.: votre gâteau d'accueil était divin au point que ma conjointe aimerait bien connaître la recette pour le fabriquer... Louise et Jacques (Québec, CANADA)
.Jacques
2016-04-24T00:00:00Z
Lizoain foi muito diferente como experiência, ficar numa casa ótima e confortável no campo em cidade Vasca. Mikel foi super atencioso. Fernando.
Fernando
2016-01-29T00:00:00Z
La estancia ha estado genial. La casa es preciosa y esta equipada con todo lo necesario y mucho más!! El entorno es precioso y esta cerca de muchos sitios para disfrutar de la naturaleza o un turismo más cultural, gastronómico... Nos hemos sentido como en casa y repetiremos.
Maitane
2016-08-15T00:00:00Z
La casa se sitúa a unos 15 minutos del centro de Pamplona pero en medio de la naturaleza es muy confortable y acogedora, es ideal para descansar en familia. Hay juegos para niños y pueden jugar fuera en toda seguridad. La madre de Mikel nos había preparado un bizcocho delicioso , fue genial para almorzar con los niños. Lo Recomiendo
Sandra
2017-04-02T00:00:00Z
Room Type
Entire home/apt
---
Property Type
House
---
Accommodates
6
---
Bedrooms
Lizoain, Navarra, Spain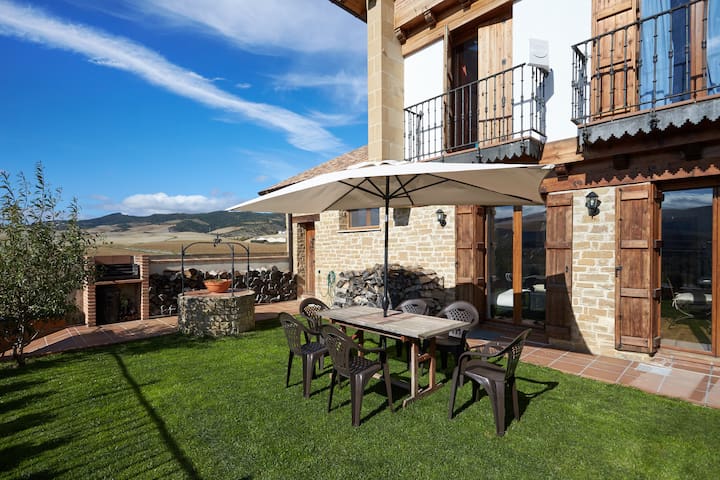 It is a large house with two floors and basement, with garden and beautiful views of the mountain Irulegi.
It is a very quiet village, ideal for walking or cycling.
The host canceled this reservation 2 days before arrival. This is an automated posting.
Juan
2017-02-23T00:00:00Z
Very sweet family, very welcoming. The communication was not a problem. Nice kitchen. Thank you for the warm room during this could winter.
Nicolas
2016-12-29T00:00:00Z
Maite y su familia han sido muy agradables conmigo y me han ayudado mucho con mi viaje. La casa esta en un bonito enclave y muy cerca de Pamplona, aparte de tener todo lo necesario para encontrarse cómodo. Además me recomendaron un sitio para comer que fue el mejor de todo el viaje.
Jesus
2017-04-04T00:00:00Z
Maite y su familia han sido excelentes anfitriones. Nos hemos sentido muy acogidos y muy a gusto. La ubicación es un lugar muy tranquilo al tiempo que cercano a Pamplona.
Montse
2017-04-08T00:00:00Z
Room Type
Private room
---
Property Type
House
---
Accommodates
2
---
Bedrooms
Aranguren, Navarra, Spain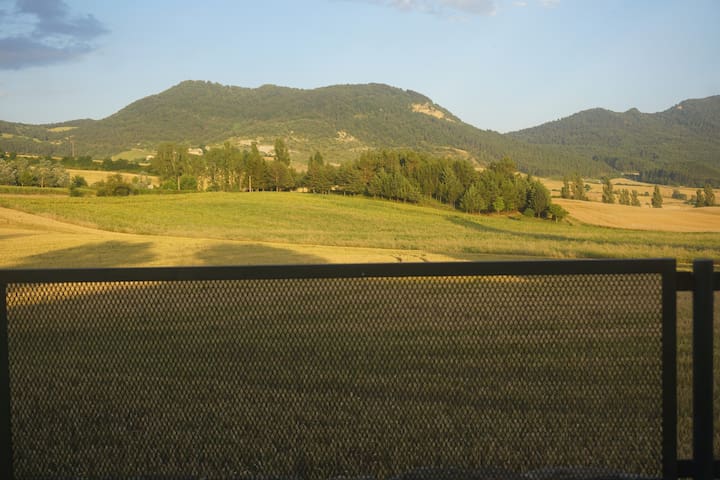 The stay at Elcano was wonderful! Not only we enjoyed San Fermin, but Unai was the best host. He showed us where to go, eat and visit. His wife also baked us a cake!!! The house is like no other I have stayed in. The history and beauty of the place unique. 100% recommend you stay here if you are going to pamplona. PS. You do want to get a car though. It's 10 minutes from the center of pamplona in car and there is a shortage of transportation options.
Sebastian
2016-07-11T00:00:00Z
Bonita casa solariega de estilo navarro, cómoda , acogedora y sorprendentemente bien ubicada, permite disfrutar de un entorno rural a minutos escasos de Pamplona, todo un descubrimiento. La vivienda dispone de todas las comodidades precisas para disfrutar de la estancia y el propietario estuvo atento en todo momento a nuestras dudas y/o necesidades. Aconsejable sin duda.
Paolo
2015-08-22T00:00:00Z
Es una casa muy tranquila con gran jardín, a tan sólo 10mn de Pamplona en coche por lo que muy cómoda. Unai fue encantador con nosotros, flexible y muy atento.
Esther
2015-08-28T00:00:00Z
Room Type
Entire home/apt
---
Property Type
House
---
Accommodates
10
---
Bedrooms
Elcano, Navarra, Spain
Incredible deluxe room in Muskilda, my grandmother's original house in Urroz (Navarra). The best spot to exploring the area in a hurry or just detox your life!!!:) original furniture and exquisite decoration.
Muskilda house is my grandmother's family house in Urroz (Navarra), a charming little town close to every single area of Navarra (is just in the middle). When I was a child all the family members got together every summer in this house, and doors where always open to every single traveler. That's why I receive people from all over the world. I love to know you!!!!
The neighborhood is quiet and extremely beautiful. A big square in front od the building. Just go outside a make a siesta in the grass:)
La experiencia que uno tiene al hospedarse en Muskilda es inmejorable. Hacia mucho tiempo que no viajaba y conseguían que me sintiese como en casa. Todo está cuidado hasta el más mínimo detalle y la habitación es acogedora, decorada con buen gusto y con unas camas comodísimas. Carmentxu es una anfitriona como pocas que nos ha ayudado y dado los mejores consejos cuando se los hemos pedido. Le agradecemos totalmente las sensaciones y experiencia que nos llevamos del tiempo que hemos estado hospedados. Sin duda repetiremos.
Alex
2015-07-12T00:00:00Z
Room Type
Private room
---
Property Type
House
---
Accommodates
2
---
Bedrooms
Urroz Villa, Navarra, Spain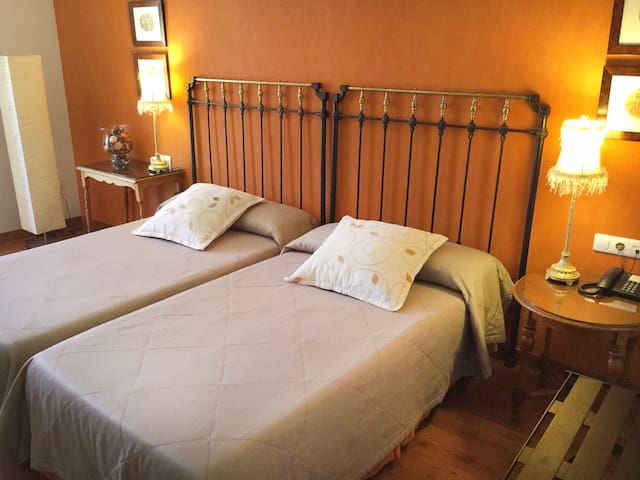 Casa de campo"Los Trigales" : Un lugar de encuentro y convivencia donde la belleza es un regalo. El ambiente de familia se mantiene con esmero y elegancia. Todo en ella nos invita a ser felices y a hacer felices a los que nos acompañan.
Las vistas son de una belleza serena muy especial. La sensación desde el porche cerrado y acristalado es la de estar en un barco sobre los trigales. Está muy bien situada, muy cerca de Pamplona y con muchas posibilidades de excursiones preciosas
Pocos vecinos y buena gente
Room Type
Entire home/apt
---
Property Type
House
---
Accommodates
8
---
Bedrooms
mendioroz, Navarre, Spain