Anna is close to many community colleges, universities, and hospitals. North Dallas, Richardson, Plano, Allen, McKinney, Fairview, Frisco, Little Elm, and Sherman are within easy reach. The Select Air bed adjusts to fit you. The bathroom has a beautiful, European-style tub enclosure. All closets were professionally designed by "The Container Store" for maximum storage. Streaming shows on the flat-screen TV is trouble-free. This is a Christian home with a smoke-free and pet-free environment.
My home is almost brand new and since moving in many upgrades have been made to the house. Toilets are ADA-compliant at 17" tall. (However, there are no bar.) Virtually all lighting is LED in the bright-white range (6000L). Kitchen counters have been upgraded to quartz. The guest bathroom has a beautiful European-style, trackless tub enclosure. All closets have been converted to Elfa by "The Container Store". All televisions have an Amazon Fire Stick attached. Amazon's "Dot" is beside your bed; no worries about bringing an alarm clock or radio. Just say "Echo, set an alarm for 6:00 a.m." Or "Echo, play Mozart's violin concertos." It is an amazing little gadget. A fire extinguisher, first aid kit, even a small sewing kit can be found in the closet. A second fire extinguisher is in the bottom drawer of the night stand closest to the windows. Bring your favorite K-Pods as there is a Keurig station in the kitchen.
great quiet place to stay near plano
James
2016-12-17T00:00:00Z
Tobi's house is great! It's clean, comfortable and a very safe and family friendly neighborhood. Short commute to Plano as well. Tobi is a great host and she is always willing to help with any needs! Highly recommend to other guests :)
Ashley
2017-03-25T00:00:00Z
Tobi's place is well equipped: comfortable bed, TV, dedicated bathroom, equipped kitchen with pantry and refrigerator space. It's quiet and relaxed.
Steve
2017-01-27T00:00:00Z
Room Type
Private room
---
Property Type
House
---
Accommodates
1
---
Bedrooms
Anna, TX, United States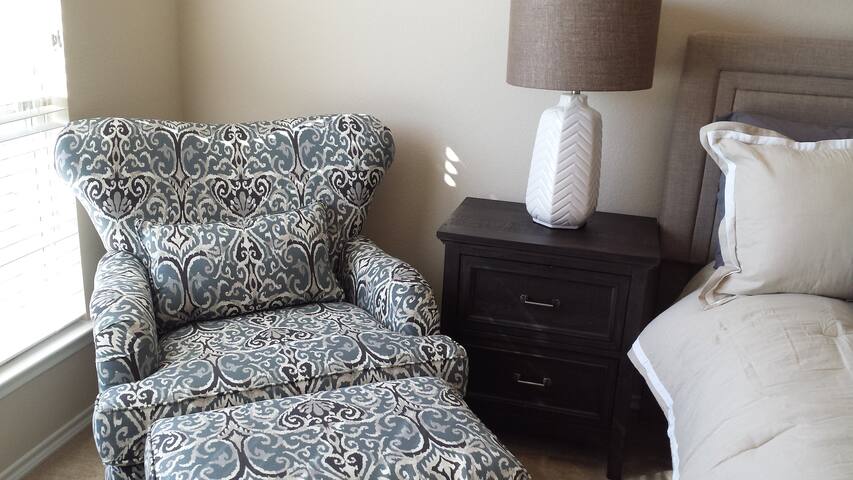 -centrally located in Mckinney, yet on one of the last remaining undeveloped roads within city limits in private setting surrounded by farmland, with the authentic feel of living in the country. -large back patio and deck with hot tub, and country air. -less than 10 minutes drive to four major highways (Hwy 5, Hwy 380, Hwy 75, Hwy 121) -this is a smart home, with a nest thermostat, high speed internet, keyless touchpad entry, applet tv, and blue tooth surround sound on the back deck.
-Private master bedroom with queen sized bed, ceiling fan, chest of drawers, armoire for hanging clothes, laundry basket, nightstand, chair, and small desk /workspace. -Private bathroom (not shared). -Towels, hair dryer, body wash, conditioner, and shampoo are provided.
- quiet, country life in the city. - only one neighbor, - otherwise surrounded by open farmland. - 5 minutes to historic downtown with lots of shops and dining / bar options. -Less than 10 minutes drive to four major highways (Hwy 5, Hwy 380, Hwy 75, Hwy 121)
Staying at Lukes was a great experience and I will stay there again if I ever come back to Dallas. The internet was fast, the people were friendly, everything was clean and the stay far exceeded our expectations. My girlfriend and I lived there for a full month and had no bad experiences during our stay. The house is far enough from town that there is no noise pollution or worry of crime, but close enough to still go out and do stuff. Book it.
Ryan
2017-03-05T00:00:00Z
Awesome find! Will definitely stay agin when we are in the area. If cleanliness is next to Godliness, then this place is holy. No detail was overlooked, including beautiful twinkly lights in the backyard upon arrival. Plenty of coffee, complete privacy and just all around fun. Luke is an excellent communicator and genuinely cares about his guests.
Christina
2017-04-02T00:00:00Z
This is awesome house, room and place! Around are fields and forests, only silence and nature. House is very beautiful and cozy, not big, automated, with all amenities, very stylish. Large and comfortable veranda with great relaxing views. Separately want to note the thoroughness with which everything is done. You have signed the shelf in the kitchen and in the refrigerator. In the bathroom plenty of towels, soap, shower gel, shampoo, cotton buds and even a hair dryer! A five minute drive shops and restaurants. In the room a lot of space, a small desk, a wardrobe and a chest of drawers, two windows with mosquito nets. We really love this house!
Aleksei
2016-05-20T00:00:00Z
The home is extremely clean and exactly what we needed while visiting family in the area that don't have the extra room for guests.
Debra
2016-12-06T00:00:00Z
Luke is great host, responds quickly and politely. Great stay again at his lovely place!
Natalia
2017-01-27T00:00:00Z
I have been staying at Luke's place several times and it always clean, nice and friendly space! Luke is amazing host,always available to answer questions and accommodate guests. He adjusted my stay for early check in due to my unpredictable schedule without any problems. I will highly recommend his place for everyone in the area!
Natalia
2017-03-09T00:00:00Z
I can't say enough good things about Luke and our stay at his home! First of all, our schedule was strange & slightly unpredictable while we stayed with Luke, but he didn't flinch a bit. He stayed in contact with us the whole time we were traveling to the area. The accommodations were spotless, comfortable, inviting & PERFECT. The location couldn't be better. It is close to historic downtown McKinney and all the fun that offers, but it is in a peaceful country setting away from the noise & lights of town. My only regret was that we weren't able to take advantage of his beautiful back deck. We have already decided we will be back! Luke's home is beautiful & inviting. Luke is an absolute treasure!
Rebecca
2016-01-25T00:00:00Z
I have stayed at Luke's place for several times and was always happy with accommodation! House is cozy, clean and welcoming! Luke is always available by text or phone and responds immediately. I will definitely book again ones in the area.
Natalia
2017-01-17T00:00:00Z
Room Type
Private room
---
Property Type
House
---
Accommodates
2
---
Bedrooms
McKinney, TX, United States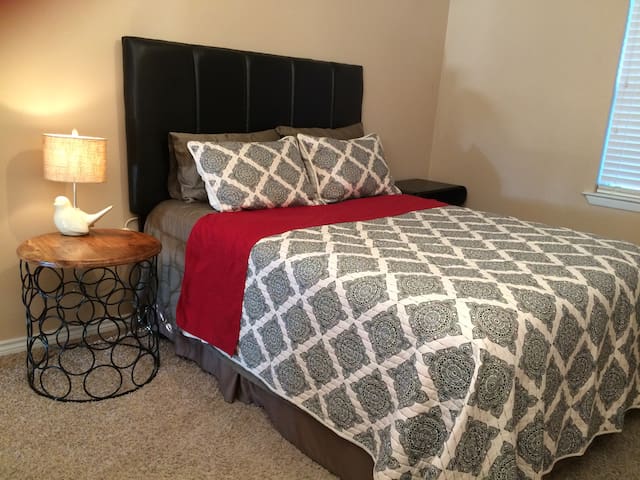 We know you will enjoy our charming renovated country cottage during your stay. Features include beautiful hardwood floors, new upholstered furniture and antiques, dining (4-10 seats), large well equipped chef's kitchen, comfy beds with quality linens for a good night's sleep, private and gated 6 acres and so much more! Located 35 minutes North of Dallas and an easy drive from DFW airport. We live a quick 20 minutes from the cottage and are available should a need arise. Enjoy your morning coffee or tea on the large covered front porch....you are sure to spot a Cardinal!
Our Cardinal Cottage is nestled among towering trees on 6+ acres. Beautifully appointed with quality furnishings.
We are so fortunate to have the beautiful rural setting to offer with such easy access to all the cultural highlights of the Dallas-Forth Worth metroplex!
Room Type
Entire home/apt
---
Property Type
House
---
Accommodates
8
---
Bedrooms
Melissa, TX, United States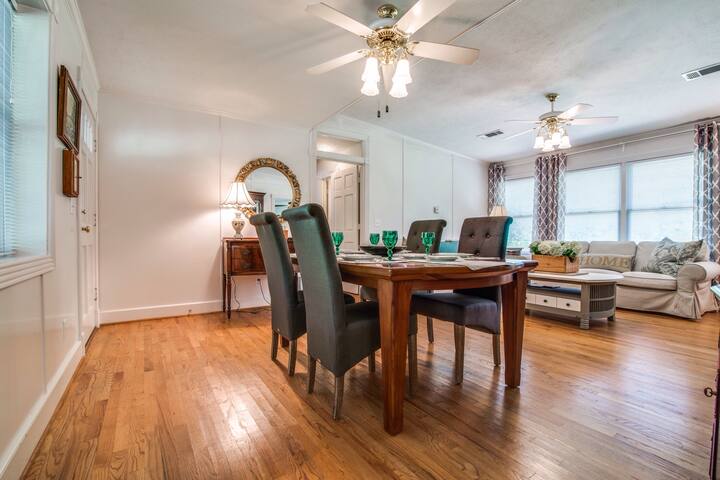 "Life on the farm is kinda laid back" for guests! Private entrance, stairs and spacious separate wing with two bedrooms, one bath and a kitchen, on a sixteen acre farm. Enjoy the peacefulness of our "gated community", it's the best HOA on earth!
This is an upstairs suite, two bedrooms/kitchen and one bath. One bedroom has a king sized bed, and a breakfast table. The small but fully functional kitchen is in one of the bedrooms. It has a sink, full size stove/oven, dishwasher, fridge/freezer, microwave, keurig coffee maker, kitchen aid mixer, a toaster, and dishes/silverware (any specialty kitchen items needed can likely be supplied from the downstairs kitchen upon request). Breakfast items are available for guests (Farm Fresh Eggs, english muffins and fruit). The second bedroom has a bunk bed with twin on top and double bed on bottom, plus a sitting area.
Though our farm is surrounded by other rural properties, it is less than 10 miles to the beautiful downtown Mckinney Square with it's fabulous dining, shopping and live music entertainment. Right next door is a family owned petting zoo. They have "Open Farm" dates once a month. Enjoy the antics of their front pasture (complete with kangaroos) as you drive by if your visit doesn't coincide with one of those dates! Also within a comfortable distance are Allen, Frisco, Plano and all things Big D!
Room Type
Private room
---
Property Type
House
---
Accommodates
5
---
Bedrooms
Princeton, TX, United States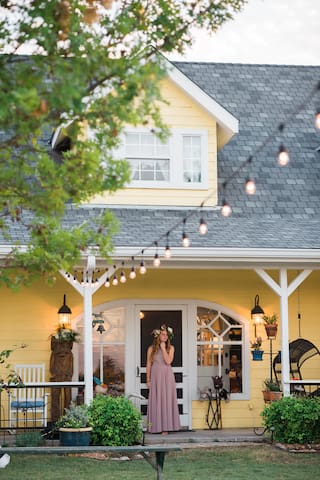 All yours: entire house in the heart of McKinney's Historic District. Thisrenovated 2 bd/2bath 1942 home has full kitchen, washer/dryer, cable TV & WiFi. Pet-friendly. A short walk through lovely neighborhood to downtown shops & eateries.
Mid-century charm, recently renovated. Mockingbird Cottage, 1300 sq. ft, honors its vintage character while providing a lovely, modern accommodation. Renting to adults and families with children over 12. Ideal for a writer, artist, or student study retreat, for a honeymoon getaway, or for a visiting business person wanting to have a sense of home. Perfect for those waiting to close on their own new homes, for groups of friends visiting McKinney, or for housing extra family during holidays or special events. -=-House Features-=- Mockingbird Cottage has two large bedrooms, a full bath with original Art Deco tile/tub, and a second ensuite bath with a shower. Fully-appointed kitchen. Additional appliances: ironing board & iron, washer/dryer, blow dryers. -=-Kitchen=- Refrigerator/freezer, dishwasher, stove/oven, microwave, blender, toaster oven, tea kettle, coffeemaker, French press, corkscrew, cookware (pots, skillets, baking pan, utensils), and complete table service for six. Theatre-style popcorn cups for movie night in. Window herb garden has rosemary, sage, and thyme for your use! -=-Comforts-=- Hardwoods w/area rugs. New cork tile in second bathroom and in kitchen is soft underfoot. Central heat and air upgraded w/new system in Sept. 2013. Ceiling fans in every room. Sleeping: Front "Goldfinch" bedroom has a new American queen bed and a twin. Large bathroom just a few steps away. "Dove" bedroom has a new queen four-poster bed and a twin, with an ensuite bathroom. Eating: Antique dining table seats 4-6. Eat-in kitchen bistro table seats two. Living: House features an assortment of indoor and outdoor spaces in which to work or telecommute comfortably. Upgraded cable 200+ channel TV, Wi-Fi / internet access. Clock radio in living room has USB for charging devices, alarm, line jack for music playback, and Bluetooth capability. Takeaway library. If you find a book you can't put down -- don't! Just take it with you and note it in the guest book. If you have a book you've finished and want to leave for the next guest, pay it forward. Feel like a game night? Mockingbird Cottage has playing cards, Monopoly, Scrabble, Clue, and Yahtzee available for play. -= Children =- We love children, but Mockingbird Cottage is most appropriate for babies in arms and children ten and older. We cannot host crawlers, toddlers, and children under ten. -=-Pets-=- We are one of the few properties in the area that is pet-friendly. Please see our pet acceptance policies as described in House Rules prior to booking. The entire property has been certified as a Wildlife Habitat by the National Wildlife Federation (we provide food, water, cover, and places to raise young for birds). If you are a bird-watcher, we are on the migration route for many species and in the nesting area for quite a few. A female mockingbird routinely nests in the flowering quince in the front of Mockingbird Cottage, which is named for her.
McKinney's beautiful Historic District features many Queen Anne and Carpenter Gothic Victorians and Arts-and-Crafts-era homes--from grand mansions to tiny bungalows. We love and are proud to share our neighborhood, just a short distance from the downtown square, ca. 1848. On some evenings, music from restaurants on the square can be heard on the front porch. Horse-drawn carriages often pass --and rides are available for hire. On calm days, hot air balloons may fly over. (Hot air balloon rides available locally, as well.)
Great place to stay! Full of charm and wonderful hosts. There were fresh flowers, coffee cake, juice, snacks, and soda as well. We saw movies in the cottage so rented a movie but couldn't locate the DVD player so I called C.J. and she brought us one and hooked it up even though it was 9:30 PM when I called! Now that's great hosting!
Pam
2016-05-02T00:00:00Z
CJ and Ellen are wonderful hosts! They accommodated all our needs. Their small home has two very spacious bedrooms and large kitchen and living room making our family's stay very comfortable. The home is within walking distance to the village if historic McKinney. We enjoyed going into town to shop in the quaint stores and ate in a few restaurants. We would love to return the next time we have a family reunion
Leslie
2014-08-04T00:00:00Z
I cannot say enough good things about my experience at the Mockingbird Cottage. The accommodations were more than expected. The hosts paid much attention to little details that made the stay most enjoyable from snacks to music and decorations. Plus, I am forever grateful for the opportunity to bring my dog along for my visit to TX.
Meagan
2015-11-27T00:00:00Z
Thank you for the wonderful communication! I truly hope to visit your cottage again!
Meredith
2015-11-28T00:00:00Z
C.J. was on her way to the hospital and still managed to call us just prior to our arrival to make sure that we could settle in even though she could not be there. Everything was self explanatory with thoughtful notes left around the property. We were comfortable and relaxed right from the start.
William
2016-06-10T00:00:00Z
This was the best Airbnb we've stayed at yet! The house was beautiful, clean, spacious, and well-equipped. It was also located perfectly for a short walk to the downtown square. The check-in and -out process was super easy, and C.J. and Ellen's communication with us was great. Fantastic!
Donovan
2016-08-30T00:00:00Z
C.J.. And Ellen are wonderful hosts! The cottage was everything we expected and more, perfect for our girls night slumber party! The neighborhood is absolutely gorgeous and it is less than a mile walk to the Town Square. C.J. And Ellen had snacks and drinks awaiting us when we arrived as well as cute Christmas decorations that made the cottage warm and inviting. I will definitely be back. Thank for giving us such a great time and letting us borrow your cottage for the night!
Caitlin
2015-12-06T00:00:00Z
Great house. Lovely hosts left us breakfast items. House has everything you need for a home away from home stay. Thankyou so much
Peter
2014-10-20T00:00:00Z
Room Type
Entire home/apt
---
Property Type
House
---
Accommodates
6
---
Bedrooms
McKinney, TX, United States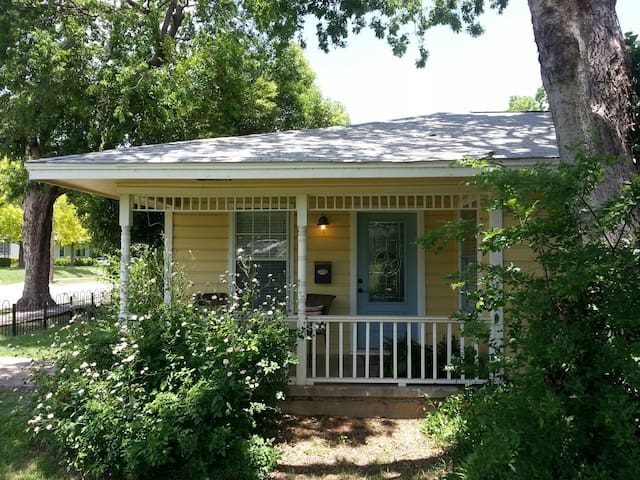 ¡Mi casa es su casa! This cozy and colorful 2 bedroom/1 bathroom is perfect for an overnight oasis or weekend getaway. This is my primary home, but I often hit the road on weekends and fill my summers with travel. There is nothing better than finding that charming 'home away from home' and I hope my 'casita' can be that for you!
Amenities include: -Fully furnished rooms with sheets, towels, etc. -Kitchen utensils/dishes, and modern appliances--range/oven, microwave, toaster, refrigerator, disposal **Note: Dishwasher does not work (For looks only ;) -Washer/dryer. -Heating and air conditioning -Wifi available throughout the home and the living room -TV has access to Netflix, Amazon Prime, and Hulu. -Full bathroom, hairdryer -Onsite parking
I dreamt for years of living in a little home in the Historic District of McKinney. I would often drive around the neighborhood and get lost in the details of the beautiful old homes. Now I live just 1.4 miles from the square and am surrounded by artists and wonderful, warm people. The McKinney square is idyllic--shopping, spas, gallery hopping, wining and dining, live music--you name it!
We were coming into town for a wedding and picked Laura's place since it was so close to the venue. She's very nice and accommodating, and her place has been one of the best I've stayed at. I'll definitely be back next time I'm in town.
Jimmy
2017-03-11T00:00:00Z
I strongly recommend Laura's house if you need to be anywhere close to McKinney. Quick and responsive with a simply wonderful house, I'll sure be staying again!
Sean
2017-02-04T00:00:00Z
We had a great stay at the Colorful Casita! It was cute, clean, and had everything we needed for a comfortable and happy get away. Super close drive to the square. We loved it and would recommend it to anyone looking for a fun place to stay!
Kelley
2017-04-02T00:00:00Z
So glad I got to stay at Laura's colorful Casita! It was absolutely perfect. Charming house. Comfortable beds. Super clean. All the necessities. The location is perfect too. It's quiet, yet super close to downtown. And Laura was an awesome host and made sure I had everything I needed!
Megan
2017-03-08T00:00:00Z
The colorful casita is amazing...super cute, quiet, eclectic neighborhood close to everything in McK. Laura is an amazing host who responds quickly and makes her house your home for your stay. she even told us about the 2017 Arts in Bloom festival, which was awesome. ...and be sure to hit up Bill Smith's Cafe and Dow town while you're there!!!
Kimberly K
2017-04-08T00:00:00Z
Laura is an amazing host! Her house is lovely; bright, clean, and very comfortable. She had great communication, responded quickly to questions, and checking in was easy. We were staying in town for an event at the Allen Center and Laura's house was just 15 minutes away. I hightly recommend staying here if you can. We had a wonderfu time. We already reserved her house again for our next trip to town!
Tara
2017-01-29T00:00:00Z
Comfortable, convenient, charming colorful casita. Laura was a spectacular communicator. We enjoyed our stay!
Bessie (Don)
2017-02-18T00:00:00Z
Our stay at Laura's was great! The house was exactly as described, very clean, and just the right amount of space for 3-4 people. She was very kind and responded quickly to messages. This house is conveniently close to the things we wanted to see, like the historic square, and there is a big grocery store nearby. I recommend staying here!
Brittany
2017-03-26T00:00:00Z
Room Type
Entire home/apt
---
Property Type
House
---
Accommodates
4
---
Bedrooms
McKinney, TX, United States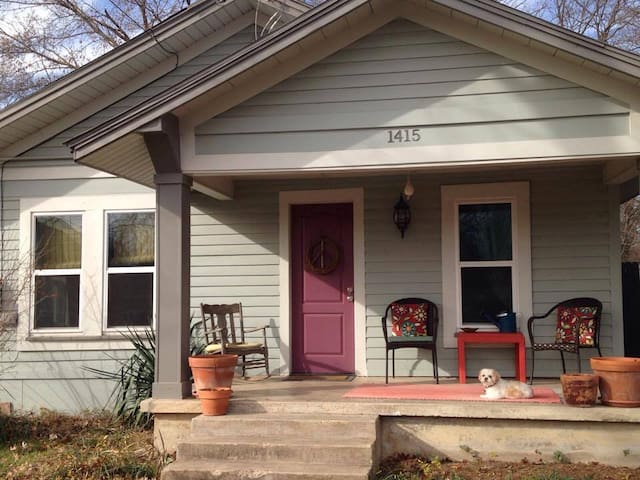 Behind our main home in historic McKinney, we have refurbished a 1920's arts & craft style guest house. This 570 sq. ft. house has been completely redone inside to now include a living area, full kitchen, bedroom, and full bath. We welcome guests for an overnight stay, or an extended stay over weeks or months. Amenities in the guest house include: Fully furnished rooms with all sheets, towels, kitchen utensils/dishes, and modern appliances Heating and air conditioning A spacious, fully equipped IKEA kitchen that we installed in 2011. New Whirlpool appliances include range/oven, microwave, toaster/oven, dishwasher, refrigerator, disposal, and washer/dryer. Included local TV and Roku (Netflix/Amazon Prime/streaming), secured wi-fi internet access, DVD/CD player, and sound system A full bathroom Iron, ironing board & hair dryer Onsite parking by the guest house, or on the street Basically, you can walk into our guest house with your suitcase(s), unpack them, and you're home. We invite our guests to enjoy the flagstone patio and grill between the guest house and our main home. Guests also enjoy relaxing on the spacious front porch of our main home. We live in the heart of McKinney's Historic District. In addition to seeing the many older, picturesque homes in this area, we are a short 10 minute walk from McKinney's Historic Downtown Square. Many of our guests enjoy the variety of restaurants, entertainment, and unique stores on the Square. McKinney is 30 miles north of Dallas. Access to North Dallas is about a 25-30 minute drive on US75 or new tollways. We are long-time Dallas and McKinney residents, so we can assist guests with directions and suggestions for attractions, entertainment, restaurants, and shopping in the Dallas-Ft. Worth area. We will respect your privacy. Come enjoy McKinney and stay with us in our quiet, relaxed neighborhood.
The apartment was delightful and so were the hosts. They graciously accommodated our floating arrival time and were very helpful in providing information about local attractions and restaurants. The guesthouse is a 15 minute walk from a charming downtown area, with a good selection of eating places and antique stores, and the walk to downtown goes past numerous well-maintained historical homes that were interesting to observe. We enjoyed drinking the bottle of wine our hosts provided and we regret that our mutual scheduling conflicts prevented us from spending an evening on their front porch getting better acquainted. We really enjoyed our stay and feel lucky to have found this charming place.
Nancy
2014-09-24T00:00:00Z
We always feel welcomed at the Green Bungalow. This is our 5th or 6th stay and we wi definitely return. Mary Jo and Gary have become good friends so they are part of our Texas family.
Lynn and Celia
2016-10-31T00:00:00Z
Absolutely loved our stay at Mary Jo and Gary's bungalow! Wonderful, thoughtful hosts, cozy home with all the amenities we needed, walking distance to the square downtown - could not have asked for anything more!
Kaitlin
2016-04-20T00:00:00Z
A very comfortable experience
Andrew
2015-01-06T00:00:00Z
This place was an absolutely wonderful experience. It was so private and cozy. It had all the amenities that one would need for cooking, grilling and very convenient to historic downtown McKinney. Our host Gary and Mary Jo were very hospitable and readily available if needed. We will be coming back! Loved it!
Elva
2015-09-21T00:00:00Z
The Cottage was perfect. Gary and Mary Jo made sure we had everything we needed and were genuinely concerned about our comfort. We were very pleased and enjoyed our two week stay. We feel blessed that we found this home away from home. The location was so convenient to downtown McKinney and we would recommend it with out hesitation.
Harold
2015-01-31T00:00:00Z
Gary and Mary Jo were exceptional hosts! The guesthouse was comfortable and completely stocked with anything you could possibly need. The A/C was cold and the WiFi was fast. Gary and Mary Jo were kind enough to take us on a Sunday evening stroll through downtown McKinney, which we enjoyed. We definitely recommend their guesthouse to anyone looking for a place to stay.
Curtis
2013-07-16T00:00:00Z
Wonderful place, quiet neighbourhood, gracious hosts. This was a central location and walkable to most places. A great house with all the amenities. Overall a great place to stay.
Ben
2017-03-28T00:00:00Z
Room Type
Entire home/apt
---
Property Type
House
---
Accommodates
2
---
Bedrooms
McKinney, TX, United States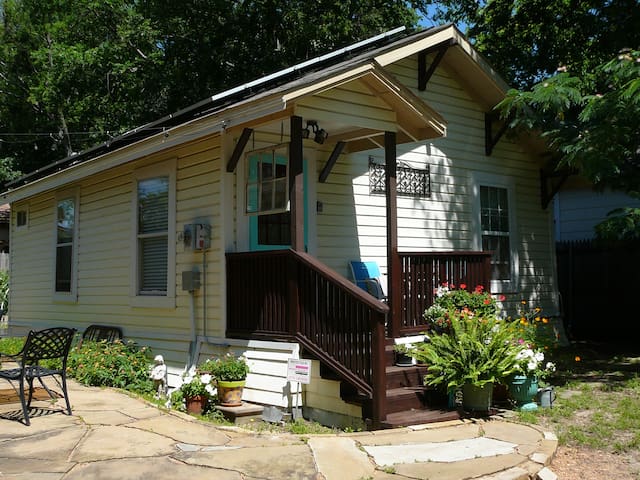 My place is close to many restaurants and retail stores Target (3 min), Walmart (5 min), etc. Close to highway 75 and SRT 121, providing quick access to highways. how spacious and clean it is. The second floor is entirely for guests, ensuring near full privacy. If more space is needed (extra bedrooms or couches), then please be sure to inquire! We can work out a deal. My place is good for couples, solo adventurers, business travelers, families (with kids), and big groups.
This listing is in a newly renovated house, so everything is clean and in great condition. The bed fits two but we can provide extra blankets to larger groups so guests can sleep on the floor (there is lots of floor space in the bedroom). The TV in the game room upstairs is fully equipped with dish satellite, netflix, and surround sound. It also has lots of floor space and we have plenty of board games, so its a great room to hang out in with large groups.
The neighborhood is right across and down the street from the Mckinney police department, so it's as safe as could possibly be :) VERY friendly and open neighborhood in a nice part of town.
Very nice stay! Clean, quite and peaceful. I had a very comfortable stay, They even guided me about the local restaurants and other places around. I had a great time. I would highly recommend their place if you're on a business trip and need a quite environment . Thanks again.
Shachetan
2017-02-22T00:00:00Z
Room Type
Private room
---
Property Type
House
---
Accommodates
1
---
Bedrooms
McKinney, TX, United States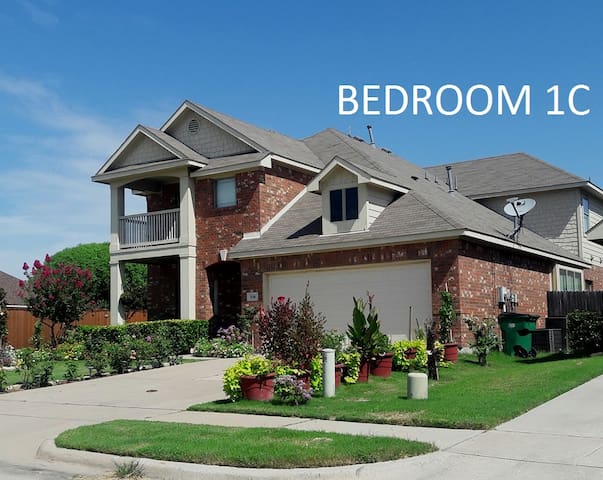 A delightful bedroom, twin bed, designer bedding, private ensuite 3 pc bath, TV in room, personal beverage center stocked for Keurig, private refrigerator, an additional roll-away bed available Access to the outdoor space with pool & deck Home is in the historic district just walking distance to the downtown square McKinney is known for having a vibrant downtown area and If it's any testament to the town, Money Magazine rated McKinney #1 place to live!
Home is quite and private. This private room has a twin bed with available roll-away at no charge 3 pc ensuite bath, closet, TV in room personal frig, personal coffee maker & dry bar
Our downtown square is with in walking distance and has several wonderful restaurants (URL HIDDEN) (URL HIDDEN) (URL HIDDEN)
Just as described, safe and comfortable.
DUSTY L.W.
2015-12-07T00:00:00Z
Beautiful home, comfortable room and a great location. Always a pleasure to stay with Carol, Larry and sweet Cocoa !
Shirley
2016-10-12T00:00:00Z
I had a great say with Carol and her husband. Super nice and friendly. She has thought of everything. Super comfy bedding. House was nice and cool and a perfect place for me to stay over before my business meeting. This was the 2nd booking. I expect I will be back. Thanks guys!
Daniel
2016-06-07T00:00:00Z
Great location, comfortable bed, wonderful hosts !
Shirley
2017-04-11T00:00:00Z
The most wonderful place we've stayed! This was our 5th stay! We will go back!
Linda
2017-03-15T00:00:00Z
Comfortable and a great location. Carol, Larry and Cocoa are wonderful hosts. Highly recommend !
Shirley
2017-01-27T00:00:00Z
Lovely charming home! Carol and Larry were wonderful hosts, comfortable bed, great coffee. I highly recommend and will look forward to visiting again.
Shirley
2016-07-14T00:00:00Z
Carol and Larry are a lovely couple with a unique Victorian farmhouse. What a blessing to have them open their hearts and home in a true Texas fashion. The accommodations will not disappoint. Their home is one of a kind and most comfortable. I learned they did renovations and updates themselves using recycled materials. You'll walk away feeling like you've been welcomed in to a new family or created new friendships. Can't wait to return to McKinney for another stay!
Jennifer
2016-08-19T00:00:00Z
Room Type
Private room
---
Property Type
House
---
Accommodates
1
---
Bedrooms
McKinney, TX, United States
A unique and comfortable room in my modest 1930's home in a beautiful historic district. McKinney is a warm community with it's best parts within a mile from my home, including the town square, parks, grocery, movies and freeways.
The room is crisp black & white with red. Fully furnished with a double bed, mini fridge, microwave, couch, dresser, desk and closet. Windows overlook a large shaded backyard filled with birds & squirrels. We share the bath and you may use the kitchen.
I choose this neighborhood for it's historic homes and close knit community atmosphere where it's easy to get to know my neighbors. I'm surrounded by beautifully restored homes and friendly streets filled with joggers and dog & baby walkers. You can walk to so many fun things on the town square, where there's always live music, a play, concert or old movie as well as distinct restaurants and shops. McKinney is 'Unique by Nature' and has been voted among the top best towns in America by Money Magazine repeatedly over the last several years. Come find out why for yourself!
Chrisy made my stay feel like a home away from home! She helped me get my bearings in McKinney and was extremely helpful in me finding my next place to stay!
Zach
2016-10-14T00:00:00Z
What's a great place for our stay. We attended a wedding at The Flour Mill and Chrisy's home was in a great location for us to get there easily. It was so nice to have our own entrance as we came in late and left early.
Kim
2017-04-08T00:00:00Z
Chrisy's home was so lovely, charming, and comfortable. Chrisy herself was welcoming, very kind, and overall a great host. I had a very short stay, but very much enjoyed my time. If you're in McKinney, I highly recommend Chrisy's home.
Grace
2017-04-09T00:00:00Z
Chrisy's place is a wonderful, quiet, comfortable one-room place to stay. I was very comfortable there and would definitely stay again if in the area.
Linda
2017-03-04T00:00:00Z
I had an amazing stay with Chrisy. Her and her father, Joe, were so very welcoming and kind. Everything was exactly what Chrisy said it would be, and I wouldn't have changed a thing. I felt so incredibly comfortable, and Chrisy was so very knowledgable with things to do around the area. Her home is in such an adorable, historical area and I loved just walking around the neighborhood. Would recommend her and her home to anyone traveling through that part of Texas.
Dominique
2016-05-19T00:00:00Z
Chrisy was a very gracious host, and cares very much about her guests. She is very accommodating and an excellent communicator. Her home is so charming and unique! I would stay with her again and again
Sandy
2016-12-04T00:00:00Z
I just cannot rave any more about Ms. Chrissy's place! For starters her home built in the 1930s is absolutely beautiful! And she is one crafty and talented woman. Ms. Chrissy was so warm and welcoming and her pets are sooo cute! I would definitely book her again!!
Lyric
2016-10-23T00:00:00Z
I thoroughly enjoyed my stay. Very friendly and accommodating folks.
David
2017-03-29T00:00:00Z
Room Type
Private room
---
Property Type
House
---
Accommodates
2
---
Bedrooms
McKinney, TX, United States
Our home is a 1940's Craftsman, 1400 sq.ft, 2 bedroom, 2 bath bungalow with sweet front porch and swing, back deck, and yards in a phenomenal, quiet, gorgeous walking neighborhood, only six blocks from coffee, wine, shopping, galleries, and other neat meeting places in historic downtown McKinney.
Being a short walk to the center of historic McKinney is one of the best things of our little home. Also, having a front porch to watch the rain and the world. and a small deck in the back is nice too. Kids still ride their bikes around the block here and play outside which we love!
We think our neighborhood is priceless. Quiet, very pretty, walkable, bike rideable, and close to downtown.
Room Type
Entire home/apt
---
Property Type
House
---
Accommodates
4
---
Bedrooms
McKinney, TX, United States
Our place is a walk to the McKinney Square, which offers a variety of shops, restaurants, bars, live music and more. The house is part of the historic neighborhood - a great place for evening strolls. You'll love our place because it is equipped with a comfy bed, great natural light and a spacious bathroom and closet. We provide a mini-fridge, microwave and Keurig individual coffee maker. We are excited to welcome people from all walks of life, including people of colors and LGBT folks.
This guesthouse is connected to our primary residence, but you will have your own private porch and entrance as seen in the pictures. The bedroom contains a comfy double bed, a couple of chairs and an armoire for storage. The armoire also contains your mini-fridge, microwave and Keurig coffee maker. The bathroom has a bathtub/shower, and off the bathroom is a walk-in closet that would be great for long term guests.
McKinney was founded in 1851, and most of the homes in our neighborhood were built in the early 1900s. The historic McKinney Square, about a ten minute walk from our place, is a great place for just about whatever you're looking for. Restaurants, antique shops, clothing stores, bars and more are all right there. Let us know if you are looking for recommendations!
Cute and cozy getaway and super close to downtown. Nice short walk to the shops. Ryan and Georgia were extremely kind and helpful.
Chelsea
2016-11-05T00:00:00Z
We loved the location; the room was small, but the bathroom was spacious. Everything was clean and our host changed the towels and emptied trash mid-way through our week-long stay. The primary concern for us was the fact that the room was immediately adjacent to the kitchen of the main house, which we found to be a little challenging. As with most family homes, the kitchen serves as a hub of activity- and even the quietest of conversation on the other side of the door was easily audible. Our hosts were responsive when we expressed any need or concern, yet, sleeping in remained entirely out of the question. The room would be fine for a night or two- particularly for a single business traveler; however we could not recommend it for a vacation stay.
jaime
2016-11-19T00:00:00Z
This was the perfect place for my in-laws. Ryan, Georgia and Henry were excellent hosts. The place is very clean and open. If we have the opportunity, we will use them again.
Gina
2016-10-06T00:00:00Z
The guest house is adorable. It is clean and looks just like the photos. Ryan and Georgia are great hosts. They were very responsive. There is no temperature control in the unit and the room was cold on the cool, rainy night when we arrived. I called Georgia and she resolved the issue right away and offered an extra blanket. The walking path (driveway) to the guest house is a bit tricky. It's narrow and difficult to walk around the host's car without stepping in mud due to the rain. The door separating the bedroom from the main house was being repaired the day we left. There were no apparent locks on the door. The room has lots of windows. The bathroom is very clean and nice size. Great water pressure and temperature in the shower. We had a pleasant stay.
Robyn
2017-04-13T00:00:00Z
This was our second stay with Ryan and Georgia. Love this cozy little space! We were lucky enough to have a sunny day to enjoy the deck. It is an easy walk to the square where there are lots of fun restaurants and bars for the night, and several coffee shops and diners for the day. Great spot!
Christopher
2017-03-08T00:00:00Z
Ryan and Georgia are absolutely perfect and the room is superb! Not once did I feel unwelcome or awkward like I was intruding. They let my 3 year old and I do our thing. I knew they were a call or text away and my things were secure. Fortunately I'll be back soon! For my first Airbnb, I'd give it 10 stars. I'm only allowed five though.
Emilie
2017-03-15T00:00:00Z
What a delightful Guesthouse! Amenities and pictures are exactly as described (Enchanting decor and fabulous bathroom - and everything squeaky clean). The location was ideal - about a five block walk to charming historic downtown McKinney. Room amenities included microwave, mini fridge, and Keurig (with coffee!) - which was all I needed (especially with the nearby dining options in downtown McKinney). Ryan was quick to respond when I contacted him. Thumbs up!
C.
2017-03-12T00:00:00Z
We had a very enjoyable stay, the guesthouse was fully stocked with everything we might need. The room was larger than I anticipated, and was airy and bright. It was close to town, so we could easily pop over to meet up with friends for brunch and dinners. The neighborhood is adorable and quiet. My Husband enjoyed a couple adult beverages on the patio, while he listened to music and decompressed. We had our son (17 months) with us too, and the space was large enough for everyone to feel comfortable and enough space for our tiny toy to play with his toys and enjoy looking out the windows. If we ever come back to town, we'd definitely book again!
Julie
2017-04-02T00:00:00Z
Room Type
Entire home/apt
---
Property Type
Guesthouse
---
Accommodates
2
---
Bedrooms
McKinney, TX, United States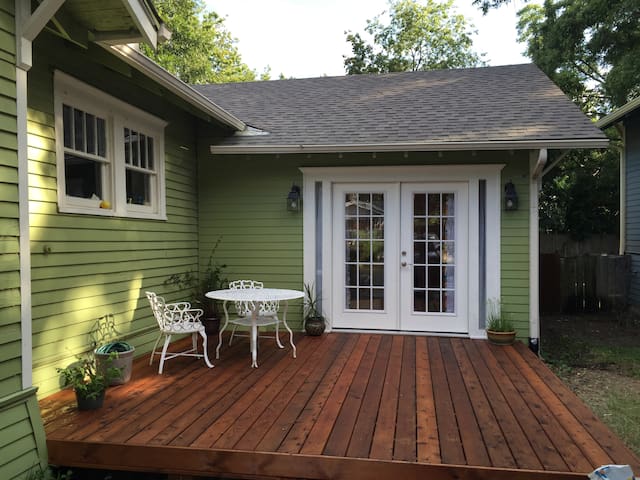 Private entrance to a 1 bedroom suite (200 sf) just steps away from one of the oldest thriving historic downtowns in Texas w/ over 100 unique shops & restaurants. TV, mini-fridge, microwave & beverage center. Home baked sweet treat upon arrival.
As a life-long resident of the McKinney area- I can help you live like a local. Let me suggest a fabulous restaurant off the beatin' path that only the locals know about. Are you a craft beer kind of person? Or more of a wine person? Either way - I can recommend a truly unique way to spend a Saturday afternoon enjoying a local glass of wine or local brewed beer.
Walk through the neighborhood, listen to the birds and catch up on the latest neighborhood news and weather. A stroll through McKinney's historic district takes you to another time when things were slower and people had time for neighbors and the outdoors. Meander past mature trees, lush, colorful gardens and houses dating from the 1890s to the present, but not too fast! The eclectic mix of architecture and landscape tells the remarkable story of the people who built and have lived in McKinney over the decades. Explore Downtown - McKinney has one of the oldest thriving historic downtowns in Texas. The downtown commercial district offers more than 100 unique shops and a dozen or more unique restaurants. Art galleries, furniture stores, antique, gift and home décor shops and apparel boutiques offer treasures for your shopping pleasure. Business hours for many of our shops are Monday-Saturday from 10 a.m. to 5 p.m. and Sunday from noon until 5 p.m. Historic Downtown McKinney is a true destination. Stroll the square and see a show, taste a new wine and enjoy the live entertainment. Discover Downtown McKinney and enjoy the new, the unique and the fascinating. It's our specialty.
This was hands down the best AirBnB experience I've ever had. Christie is so, so wonderful! And the property itself is so gorgeous and private! Firstly, when I opened the fridge there was a cake and a wonderful welcome note. The room has a private bath, and wonderful views of the huge backyard. I felt very comfortable and accommodated. Plus, I think I drank a huge amount of coffee that Christie had in the room. I feel, honestly, that it is more of an apartment and less of a room, so it's incredibly easy to get situated. It's spectacularly comfortable and the location is great if you plan on exploring the historic parts of McKinney! I really can't say enough about this experience, if you're in the area you HAVE to stay here! Just trust me.
Alisa
2016-04-15T00:00:00Z
Another great stay at Christie's.
Gloria
2017-01-29T00:00:00Z
Very clean and nice. I found Christie to be very kind and conscientious! Had no trouble and 4 great nights. Would stay there again.
Susan
2017-02-23T00:00:00Z
3rd time staying at Christie's and I still love it. It's the perfect amount of space for me and I love the separate entrance. Christie is awesome and responds quickly to anything I need.
Ashley
2017-02-02T00:00:00Z
i loved staying at Christie's!! she's such a nice, thoughtful person and so helpful. the private room is very comfortable and had everything i needed. i felt very safe staying there by myself. it's close to quaint shops and cafes.
Elizabeth
2017-03-06T00:00:00Z
I didn't realize the room was oriented more for one guest than for a married couple. I should have looked closer at the photos. I would have given 5 stars as a single guest. The room was very quiet, peaceful and restful. It close to the town square and other locations we were interested in. The hospitality was great.
Gerald
2017-02-26T00:00:00Z
Christie made sure I had all I needed! Her room has a private entrance and it's own driveway. It was perfect and a great value for the money. I will be using it again! Thanks Christie.
jim
2016-08-12T00:00:00Z
Christie's home was excellent for my stay in McKinney. I walked down to the square both nights I stayed there. The room was perfect and I had my own entrance. I highly recommend Christie's home.
Gabe
2017-03-18T00:00:00Z
Room Type
Private room
---
Property Type
House
---
Accommodates
2
---
Bedrooms
McKinney, TX, United States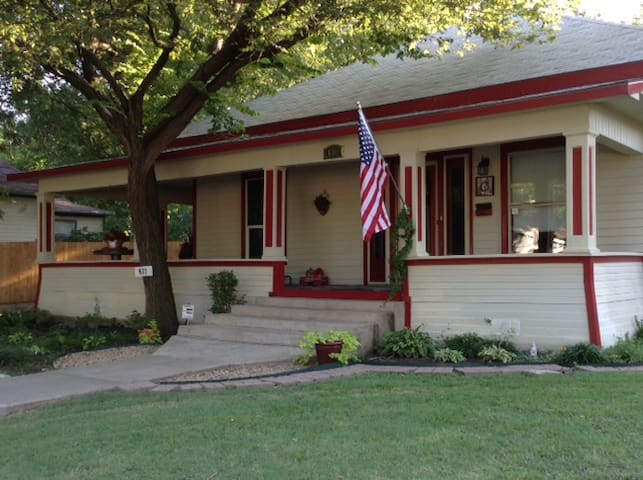 Tucked away on a 30 acre equine sanctuary, this cozy guest home features a claw foot tub, a peaceful sitting area and scenic views. Wake up to enjoy nature and horses grazing in nearby pastures. Only 6 minutes from Historic Downtown McKinney.
Located on a peaceful equine sanctuary, this guest home features a collection of eclectic vintage decor overlooking a serene natural landscape. Featuring Eileen Fisher linens and a Tempur-Pedic mattress and pillows. Unwind from city life with a warm relaxing bath in a claw foot tub or enjoy the cozy sitting area with a cup of tea and a good book.
Travel down scenic tree canopied country lanes to find yourself at a tucked away location only six minutes from Historic Downtown McKinney. Enjoy boutique shopping, antique hunting, fine dining or catch a show at the McKinney Performing Arts Center. McKinney named the best place to live in America by Money Magazine, so come and enjoy for yourself!
Perfect spot for a getaway! Downtown historic McKinney is just a few minutes drive away with shops, restaurants and bars. My girlfriend and I also checked out a local winery called Mitas Hill. Patrice is a great host! She lets you enjoy your time alone but she is also a quick responder if you have questions. Definitely the spot for quite, stars, fireflies and relaxation. away from the city.
Dillon
2016-05-30T00:00:00Z
Such an amazing place. Its a really rustic room with a lot of charm. Clean and plenty of towels! Lol we loved it here :) patrice is also a wonderful host. She communicated with us and gave us directions beforehand, and afterwards when we got home and my husband had misplaced his wallet, she was really kind and helpful and looked in the guest house for us :) a really wonderful experience!
Celadon
2016-10-09T00:00:00Z
Wonderful host and home! What a great location--make sure to visit downtown McKinney for eats and drinks and strolls :) Highly recommended--thanks, Patrice; we'll be back!
Jessi
2015-12-28T00:00:00Z
Patrice is a fabulous host and her space is perfect for a creative gal like me. Patrice has a Keurig in the unit which was a treat as I worked on my latest project. She also provided fruit and water and a pastry for breakfast. The layout of the room is ideal and the flow of the space is an inviting, homey and eclectic blend of old and new, rustic and contemporary, practical and whimsy and invites every guest to relax and rest. The bed and bedding is super comfy. If you are looking for a quiet place to stay where you can hear crickets and not much else, then I highly recommend. I look forward to a return trip.
Wendy
2016-05-09T00:00:00Z
What a great little place and a friendly hostess! Granola, Muffin, and Fruit for breakfast. You would never know you're 5 minutes from everything!
Susy
2016-09-18T00:00:00Z
My stay at Patrice's guest home was lovely. I went to get some R&R mixed in with a little bit of work, and it was the perfect place to do so. Patrice's guest home was far enough away from the city to be able to see the stars and feel away from town, but close enough to do some exploring of downtown McKinney (which is wonderful!). The guest home is extremely cozy and warm and is perfect for a quick getaway. Patrice was extremely welcoming and kind, and gave me some good tips about where to dine in McKinney. She and I had a couple of lovely chats. I would go back in a heartbeat. The warmth and comfort of this place, the seclusion of it while still being somewhat close to town, along with Patrice's welcoming and kind presence was wonderful for me, and I would recommend it to anyone looking for a weekend getaway.
Alison
2016-03-14T00:00:00Z
We loved it Patrice! We'll see you next year for our 1st anniversary! Thanks for being so flexible!
Kati
2016-10-28T00:00:00Z
Patrice was an excellent host! My girlfriend and I were celebrating our one year anniversary and wanted a special place to celebrate and this cozy zen like country setting was perfect! As soon as we walked into our country get away we were amazed at how clean and inviting everything was. There is some truly great antiques and things from a time long gone in the room that make you feel like your in a simpler time period. There's a great little walk down by a creek that Patrice told us about that we greatly enjoyed. Patrice even took the time out to show us some of her projects she was working on. Overall my girlfriend and I had a wonderful relaxing experience and a chance to just unwind and will definitely be back. Thank you Patrice for your hospitality! You helped make our anniversary that much more memorable!
Jason
2016-02-22T00:00:00Z
Room Type
Entire home/apt
---
Property Type
Cottage
---
Accommodates
2
---
Bedrooms
McKinney, TX, United States
-Large room with a comfortable queen sized bed -Spacious full bathroom -3 miles west of Downtown McKinney -2.5 miles from Baylor Medical Center in McKinney -7 miles from Allen Premium Outlets -Dozens of great restaurants nearby
Our home offers plenty of space and privacy if desired. -Queen sized bed with soft bedding -The bathroom is shared only with other guests
We live in a quiet, established neighborhood with quick access to both Highway 75 and US 380 and SH 121 (Sam Rayburn Tollway). Downtown McKinney, which boasts great shopping and food choices, is 3 miles away. Shopping and restaurants, both privately owned and chains, are within a 10 minute drive.
Matt was freaking awesome. Wish I had booked another night... :) thanks guys!!
Ryan
2016-10-26T00:00:00Z
Very Hospital people with a nice selection of video games :)
Ellejee
2016-05-14T00:00:00Z
Amazing Host who are very accommodating to needs of their guest. Excellent communication with quick response time. It's clean, quiet neighborhood for comfortable nights rest. Highly recommend these host. We were here for a wedding in the area and booked this place and enjoyed it so much, we booked for several more nights.
Jen
2016-10-12T00:00:00Z
Staying with Matthew and Kelly was easy and relaxing. I enjoyed full access to their kitchen and fridge space, and especially liked play time with Zoe, their dog. As hosts, they were accommodating, caring and, communicative. It was easy to get to and from their house, which was close to the historic square, shopping and dining and yet residential enough to be quiet and peaceful. Thanks guys for a rejuvenative experience.
Cheryl
2017-02-27T00:00:00Z
Matthew and Kelly are the epitome of excellence when it comes to hosting. We arrived on a holiday and they went out of their way to make sure we were welcomed at the home - despite the fact that we arrived earlier than I initially told them. The neighborhood is safe, the home is beautiful, and the room is spacious. We only stayed for one night, but their hospitality makes us wish that we stayed there for a week. If you ever want a room in the McKinney area, Matthew and Kelly is the only way to go.
Kelvin
2016-03-31T00:00:00Z
Having just been there for a couple of days I can say it was clean, comfortable, convenient and communication was great. I was able to meet up with Matt a Kelly. Amazing couple to say the least. Friendly, inviting and hospitable. Will be back. Thanks guys.
Kevin
2016-10-31T00:00:00Z
This is my second stay and I would definitely recommend this home. The bed and pillows were super comfortable and the home was very peaceful. Loved getting to meet Matthew's wife and doggie, Zoe! Thank you guys for making your home available! If I am ever in Texas for additional training, I will be staying with you again! eab
Elizabeth
2016-08-22T00:00:00Z
Matthew and his wife were extremely great host!!! They were very accommodating for our check in and out. We were only in town for a short period of time only needing a pillow to crash but John and I can tell that they have everything thing to be "Super Host" All in all it was a wonderful experience and we would recommend them to any future guest!!
Elizabeth
2016-11-26T00:00:00Z
Room Type
Private room
---
Property Type
House
---
Accommodates
2
---
Bedrooms
McKinney, TX, United States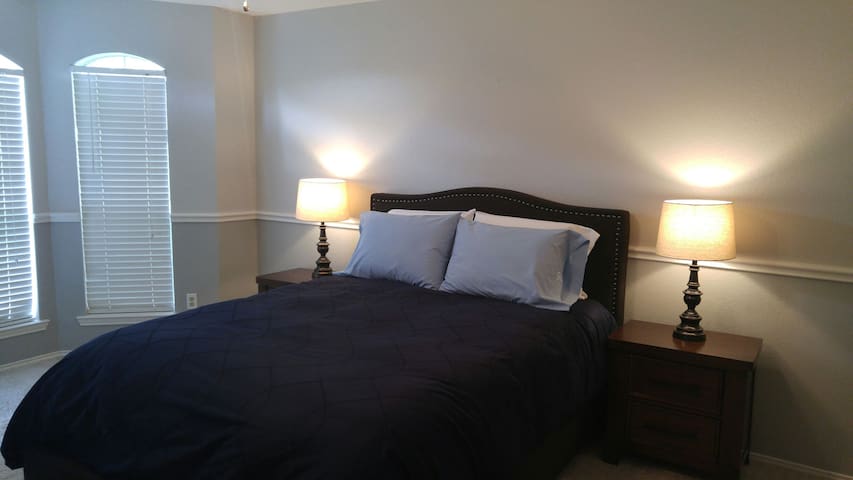 Private 5Bed Bedroom, Private Dressing Room & Sink, Shared Bath w/ Tub, Shower, Toliet(private if the other room isn't rented) AC, Shared Fully Equipped Kitchen, Pool, Hot tub, Living Room. Plenty of concrete Parking, Patios, outdoor seating areas.
Room Type
Private room
---
Property Type
House
---
Accommodates
6
---
Bedrooms
Melissa, TX, United States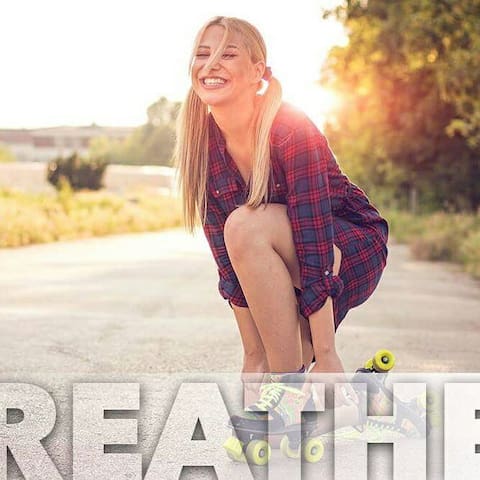 Texas Starlight Ranch sits on 18 acres of land and is also a nature preserve. My place is close to restaurants and dining and family-friendly activities. You'll love my place because of the ambiance and the outdoors space. My place is good for couples, solo adventurers, business travelers, families (with kids), and big groups. Texas Starlight Ranch is also great for Holiday Parties for Thanksgiving, Christmas and New Years.
Fully stocked kitchen, Induction Stovetop (can only use iron pots, already provided)
18 acres of Texas land, if you are exploring please be aware of wild animals and safety
I had a small gathering where I had a few guests from out of town and we all loved the property. It was beautiful and clean and we all enjoyed our weekend.
niza
2017-03-26T00:00:00Z
Everything was great, definitely would recommend this place!
Iryna
2016-09-25T00:00:00Z
Really enjoyed the stay. The house and the property are beautiful.
Chris
2017-03-18T00:00:00Z
Everything went well, and Desiree was very welcoming. However, she did advise us that the only thing we needed to do prior to departure was take the trash out, however the listing has different instructions for cleaning. Perhaps there is an update needed.
Rain
2016-10-16T00:00:00Z
Hania has a wonderful property and it is exactly as listed. I hosted a group of colleagues for a cookout and it was the perfection location for us. The kitchen is very spacious and there is plenty of outdoor space for grilling and playing games. Hania ensured that all of our needs were taken care of and I would highly recommend her as a host.
Gini
2016-07-01T00:00:00Z
Great place.
Nicholas
2017-01-17T00:00:00Z
Desiree was on spot with everything,! She was there to meet us and took care of everything we needed. We rented this location for a surprise 40th birthday party for my son in law, everything was as listed and better. Everyone who attended the party was in awe of the house, wanted to know how we found such a beautiful house in a great location. It was a hit! This is a beautiful place in a great location, you won't be disappointed! We would definitely rent again.
Donna
2016-10-02T00:00:00Z
This house is perfect for any events. Enough room in the house to not feel packed from any visitors coming and going. The outside is wonderful, wish the weather would have been better to be able to really enjoy the land.
Taylor
2017-03-05T00:00:00Z
Room Type
Entire home/apt
---
Property Type
House
---
Accommodates
8
---
Bedrooms
McKinney, TX, United States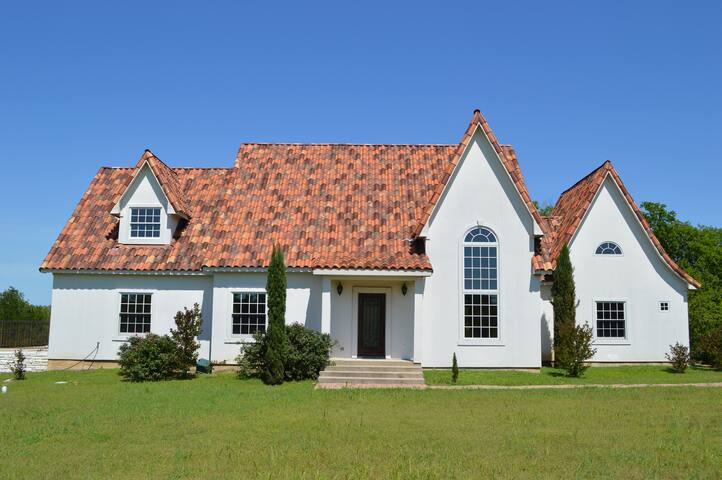 My downstairs efficiency apartment is close to old downtown McKinney near Highway 75, 5 and 380. You'll love my place because it is newly updated and professionally designed. It is light, white and and neat as a pin. It has a private patio of pink crushed granite with furniture and flowers for fun in the fresh air. We have a beautiful treed backyard. Neat Suite is just a short hop to old downtown Mckinney where you'll find lots of non-chain restaurants, bars, antique shops and laundromat close.
Cute, quaint, clean, and sufficient. Lee's place was absolutely perfect for my first BnB experience. I travel for business a lot in the N. Dallas area and the apartment fit all my needs. I loved how close this location is to downtown McKinney (which if you aren't familiar with the area, I HIGHLY suggest checking out when you stay here). I'd recommend this place to anyone looking to stay in the area, and most certainly over staying in a hotel!
Avery
2017-03-22T00:00:00Z
Great location! Connley was quick to respond to questions and a gracious host.
Bryan
2017-03-28T00:00:00Z
Very nice decor, private, plenty of space, and relatively close to anywhere you would need to get to in McKinney. Hosts responded promptly and were accommodating.
Brooklyn
2017-01-10T00:00:00Z
This a great place! It's a beautifully decorated, cozy and quiet little efficiency retreat. Just a few blocks to walk to Historic downtown McKinney which is filled with nice shops and restaurants. Close to groceries and movie theaters. It offers cable TV and internet. Lee and Janet are lovely people. I really enjoyed being there -- twice!
Janice
2017-03-10T00:00:00Z
This place looks new. Really nice and clean. Enjoyed my stay. Connely is very friendly and helpful. Would stay again
colleen
2017-03-03T00:00:00Z
Everything was great!
Khadevis
2017-01-27T00:00:00Z
Room Type
Entire home/apt
---
Property Type
Flat
---
Accommodates
5
---
Bedrooms
McKinney, TX, United States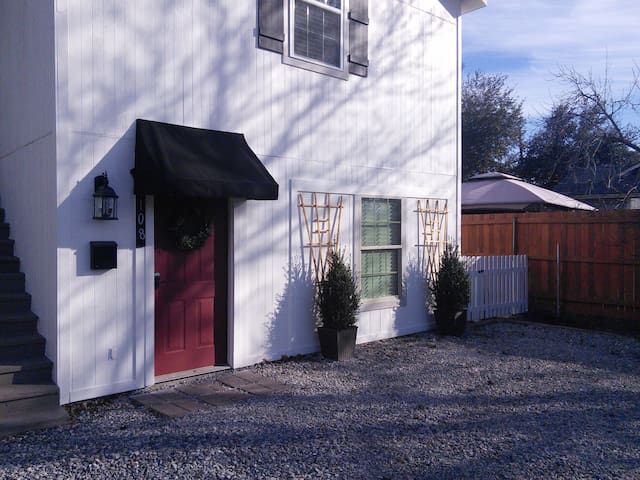 Enter dates to see full pricing. Additional fees apply. Taxes may be added.