Enter your check in date in the format dd-mm-yyyy
Enter your check out date in the format dd-mm-yyyy
Listings you can book without waiting for host approval.
Enter dates to see full pricing. Additional fees apply. Taxes may be added.
This July and August, you can try one of these 100 highly-rated homes, at all price points, and experience a local's view of Sonoma. 24-hour check-in, Instant Book, and local wine and snacks let you just sit back and enjoy your trip.
Casa Sierra Maestra is located in Santo Domingo, in a green and peaceful valley, just in front of the Turquino National Park. Locate close to the river, you can take a seat at the terrace and enjoy a very good view to the river and to the mountains while drink a refreshing mojito for welcome. Otherwise we organize excursions to la Comandancia de la Plata, Pico Turquino, horse riding along the river and different tours directly with ECOTUR. We will work for your good stay in Casa and all village
We had a beautiful scenic drive to Casa Sierra Maestra. Before we even had a chance to get out of the car, Ulises had already walked across the river to meet us and help with the bags. The river is pretty shallow and easy to walk across the little bridge to the beautiful and serene Casa Sierra Maestra. Upon arrival, Ulisses offers a complimentary drink. We were in a stand-alone little villa with a large bedroom and private bathroom. The villa was brand new and had nice new tile flooring. It came furnished with queen size bed, two chairs for a sitting area, nightstands, fan, and A/C (although you really don't need the A/C in the night). Everything was very clean. In the back of the place is a coffee bean drying setup and mountains where coffee bean growing takes place. The restaurant is a great hangout spot as it overlooks the river. The food is delicious, and when there is enough demand, Ulises and his family will put on a nice pig roast. Great location if you want to do any hiking in the Parque Nacional Turquino, as it's right next to the entrance. It's also nice to walk along the river if you didn't want to do serious hiking. Casa Sierra Maestra reminds me of the great agriturismos in Tuscany. We had a great stay and look forward to going back!
See
April 2016
Both Ulises junior and senior are really friendly. Ulises jr speaks very well English and is willing to help with any questions, tours etc. The surroundings are great, it's beautifully located. First night we had a great dinner: Pig Spit, very tasty! Only remark the mattresses were saggy and the towels small and a bit old. Also breakfast can be improved. But those are just details, overall we had a great stay and would definitely recommend Casa Sierra Maestra.
Manon
November 2016
We had an amazing time at Casa sierra Maestra. Located in the middle of the sierra maestra, this casa worth the trip! Indeed, you'll be surrounded by nature, animals ans beautiful landscape. The proximity with the national park is really convenient and the hosts do their best to make your stay relaxing. We had a room located just in front of the lunch/diner area so it was a little bit noisy if you want to get some rest during the day. But it is perfectly ok during the night! Futhermore, there is a nice free hiking just along the river (in front of the casa) that leads to a very nice natural pool!
Caroline
January 2017
We had a great stay at Ulyses' house. It is a family business, were you can meet 3 generations. Really nice atmosphere and incredible location (middle of nowhere). Due to this, the food is cooked with natural and local products, and taste amazing (pork with lemon sauce). They organized everything for us (taxi from and to bayamo + sierra maestra excursion), which let us all the time to relax and enjoy our stay. Thank you very much
Elise
December 2016
What a wonderful family! This is heaven on earth, so beautiful! Definitely the best place to stay in this village, if you want the real authentic experience. Animals walking around the house and the constant sounds of Cuban jungle. We felt safe and at home at all times.They provided us with amazing food and drinks. There is a river running just outside the house which is a perfect place to chill. During the day they had many different excursions to join. We learned and saw so much interesting Cuban history! Thank you so much
Anne
August 2016
Delicious fresh juice on arrival and introduction to the place. Felt completely at home and welcome.
Georgia
July 2016
Lovely place and very helpful family with a great amount of English which was very helpful. Food is v basic. And the bathroom was clean but in slight disrepair. (Light barely worked, toilet didn't have seat and the shower was completely messed up temperature controls.) But the peacefulness of it made my two most relaxing days in Cuba!
Conor
August 2016
Location is great, people are wonderful, best pollo in Cuba, don't miss this
Wilma
November 2016
Room type
Private room
---
Property type
---
Accommodates
3
---
Bedrooms
1
Bartolome Maso
The house is located in Santo Domingo, it has 3 rooms with private bathrooms, 2 beds in each one, Air-Con, hot water, terrace & restaurant service. We organize excursions to Comandancia de la Plata and Pico Turquino. Taxi from/to Bayamo provided.
El mirador de Arcadia es un espectáculo. Estuvimos ahí tres días pero me hubiera quedado por semanas. Lindísimo lugar para descansar y locación ideal para realizar todas las excursiones en la Sierra Maestra. Arcadia y Ernesto son muy amables, nos hicieron sentir en casa. No se pierdan las cenas... ¡riquísima comida casera!
Jose Pablo
December 2016
Der Weg zur Casa war sehr beschwerlich. Die Straßenverhältnisse sind sehr, sehr schlecht und unser Fahrer dachte die Unterkunft wäre IN Bartolomé Masó und nicht in Santa Domingo. Ich hatte die Adresse 1:1 von dem Inserat kopiert was aber anscheinend für Kubaner nicht klar war. Die Wanderung zum Rebellencamp was anstrengend aber sehr beeindruckend. Die Unterkunft ist sehr einfach, aber total ausreichend. Ein Bisschen Englisch wäre allerdings von Vorteil.
Simone
November 2016
Room type
Private room
---
Property type
---
Accommodates
2
---
Bedrooms
1
Bartolomé Masó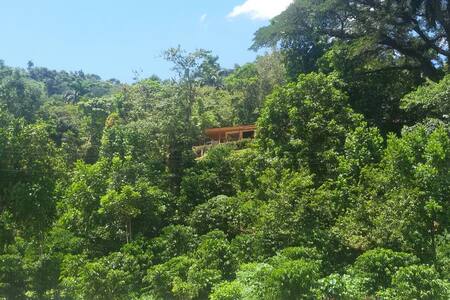 Ulises and his family are absolutely wonderful hosts. We were served with a welcome drink on arrival. The room and bathroom w ere both very clean. The place is right on the foothills of the mountains and ideal for anyone planning to hike Pico Turquino. The breakfast and dinner are extremely reasonable and absolutely delicious. Fresh juice and fruit are served with each meal. Really enjoyed the time spent at this place!
saurabh
January 2017
Ulises' place is a gem, not to be missed in Cuba!! the cabins are perfectly located to explore the Sierra Maestra. It is remote and quiet, with a river just down the path to explore too. Enjoying a cocktail and a meal at the end of the day, in that setting was very special. We highly recommend!
Marion
January 2017
Ideal für einen kurzen Zwischenstop, um den Süden Kuba's zu erkunden! :) Wir (4 Personen) erreichten das Apartment sehr spät. (ca. 24 Uhr). Dennoch war es ein reibungsloser Check-In. (Guter Telefonkontakt) Es liegt mitten im Dschungel, direkt an einem Fluss, indem gebadet werden kann. Das Apartment ist super! Alles vorhanden was man benötigt. (... Klimaanlage, Handtücher.. bequeme Betten) Die Gastgeber sind sehr freundlich. Es gibt einen gratis Begrüßungscocktail. Wir hatten zudem noch einen platten Autoreifen -> ein Freund des Gastgebers kümmerte sich unverzüglich darum und reparierte uns den Reifen für 10 CUC. Das Frühstück kostet 5 CUC. Allerdings gibts es keine Möglichkeiten Vorort anderweitig zu frühstücken... Es ist ein typisch kubanisches Frühstück. (Saft, Kaffee.. Brot, Tortilla...) An der Bar des Apartments werden den ganzen Tag über Cocktails angeboten. Der direkt vorbei fließende Fluss.. lädt zum baden und entspannen ein. (Mehre "Pools" im Wasser flussaufwärts in etwa 200 Meter vorhanden) Also Cocktail an der Bar schnappen und einfach genießen! :) Auf der anderen Flussseite gibt es einen kleinen Shop, in dem alles notwendige eingekauft werden kann. Das Apartment ist sehr zu empfehlen!
Michael
October 2016
Eine sehr tolle Erfahrung, in dieser casa einige Tage zu verbringen. Gründe dafür gibt es viele, da wären die neuen modernen Zimmer, ein leckeres, reichhaltiges Essen vor grandioser, historischer Gebirgskulisse am Fluss und nicht zuletzt der sehr aufmerksame und freundliche Gastgeber. Eine Naturoase zum Entspannen und Wandern. Idealer Ausgangspunkt für Wanderungen in der Sierra Maestra und Besteigungen des Pico Turquino. Sehr zu empfehlen.
Anne
July 2016
Room type
Private room
---
Property type
---
Accommodates
4
---
Bedrooms
1
Bartolome Maso